Manchester, England
June 2001
"It doesn't matter where you go...
its who you go with that counts."
If you'll recall from the last Road Trip Write-Up, we mentioned that our next non-sedentary adventure would be a bike or walk down the Mosel River in Germany. Well, here's the report on THAT trip.
After much research and planning, we decided we would bike from the lovely town of Trier, Germany (near the Luxembourg border) to Koblenz. This would involve about 60 miles of basically downhill riding, since we would be following the flow of the river. Although we were not able to reserve bicycles in advance (I have yet to get a response from ANY bike rental vendor in Germany), we decided we'd chance it, and headed for the airport after work on Wednesday 06Jun. The plan was to fly to FRA (in Business Class, of course) Wednesday on either the 5:35 flight or the 7:55 flight, whichever worked out, train to Trier on Thursday, rent bikes and overnight there. Friday we would bike to Piesport, Saturday to Zell, Sunday to Muden, Monday to Koblenz and then train back to FRA on Tuesday and fly home. There were going to be six of us on this trip... BJ and I, two friends from the Germany walkabout, and two "new" folks that we have not had the pleasure of traveling with before (both veteran nonrevvers... just not with BJ and I).
For reasons not yet fully understood, one of our group chose to use his S1R pass for the FRA flight. This was great for him, since he secured a Business Elite seat on DL20, the first Germany flight of the evening Wednesday. The rest of the group, on S2's, didn't make that flight. Not a problem, since the second flight had looked better all day. We had agreed to hook up at the airport in FRA before traveling onward to Trier, and that if we separated, we would "communicate" with each other via BJ and my PNR. Turns out, that was a good idea. The second FRA flight went out with NONE of us on it. Full flights, summer loads to Europe. Perhaps you remember an earlier adventure write-up remark about "flexibility" being important. Thirty minutes after the second ATL to FRA flight left, there happened to be an ATL to MAN(chester England) flight with 5 Business Elite seats available, so the rest of us took off for England (not without help from two very accommodating gate agents in Atlanta. I wish I had their names).
Arriving fully rested in Manchester on Thursday morning, we scurried over to the Delta ticket counter and confused an agent there by having her put a remark in our PNR advising our missing comrade that we were in Manchester and that we felt he should come meet the 5 of us, rather than the 5 of us coming to FRA to meet him. A quick review of flights showed that 2:30 was the earliest that we could reasonably expect him to arrive, so the rest of us wandered off to research touristy things to do in England, kill some time and kill some brain cells (did I mention that there is an airport bar in the MAN airport that has Boddington pints on special for one pound 20? That's about $1.75). An hour or so after our comrade's flight should have arrived in FRA, we went back to the ticket counter to redisplay our PNR, to see if he'd gotten our message. The agent, as she was closing down the counter (there's only one flight a out of MAN), looked at our PNR and advised that there was no information from our comrade. Back to the bar...more brain cells lost. Around noon local time, we called the new Delta European Reservations center in London (toll free, I might add!) and asked them to display our "special" PNR yet again. Much to the humor of the agent I spoke with, we discovered that it had now been updated, and looked like this:
SPCL- 1.PLS ADVISE MR H. TO TRVL TO MAN ASAP
2.PAX WILL LEAVE FURTHER MESSAGE WHEN THEY HAVE FURTHER INFO
RMKS- 1.PAX ARE DL EMPLOYEES DOE 12/19/77
4. PLZ ADVISE HS OF PLANS
5. OK. LH4696 ETA 220P IN MAN. SEE YOU THEN
6.SPCL PLSE INFORM MR MOORIS HE CAN BE MET AT THE BAR IN T2
What it basically says is... "Mister H." (our missing comrade) is on his way to Manchester, and will arrive at 2:20. Back at the table, after speaking with the Tourist Information folks at the airport, we decided we'd head to "The Lakes region" and try to hang on to the bike adventure.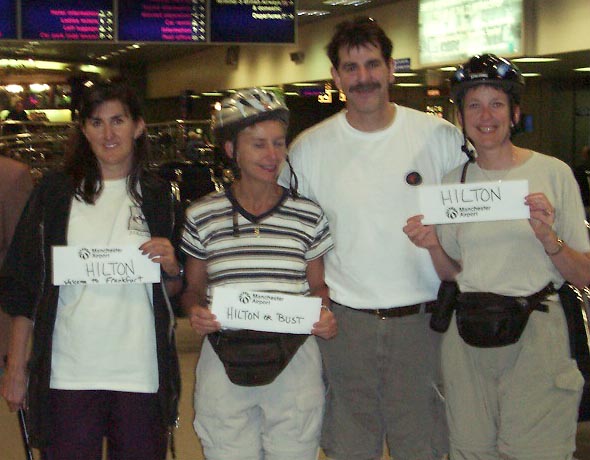 Meeting up with our comrade, we found the train station (conveniently located in the airport in MAN), and took a train to Windermere. (We actually bought tickets only as far as Kendall, about 3 stops shy of Windermere, but decided on the train ((Flexibility!! Flexibility)) that we'd prefer to start our biking in Windermere.) In Windermere, we found a reasonable B&B (The Kendall Chase), checked in, dropped our packs and headed off to "explore the town" (another way of saying "find the pubs"). Following a wonderful dinner (at The Lamplighter), we bedded down for Thursday night.
Friday morning had us up and out, after a "Full English Breakfast", locating a bike rental vendor (Country Lanes Cycle Center), and securing 4 hybrid bikes and 2 mountain bikes for our planned 3-day cycling adventure. We checked out of our B&B, after reserving the same 3 rooms for Sunday night, (since we needed to head closer to MAN on Monday, in order to make the 11:50am departure) and struck out towards Keswick. As we left, the bike vendor warned us of a long hill, about 2/3's of the way to Keswick, just past Grasmere.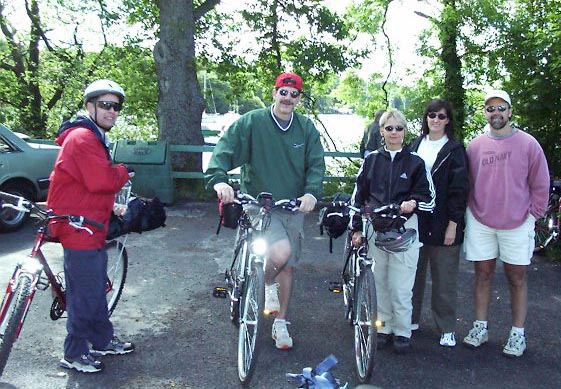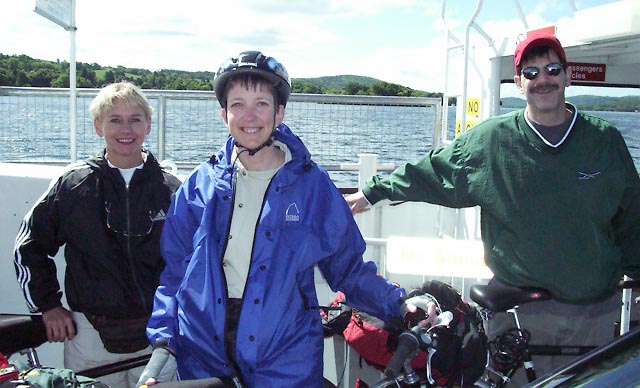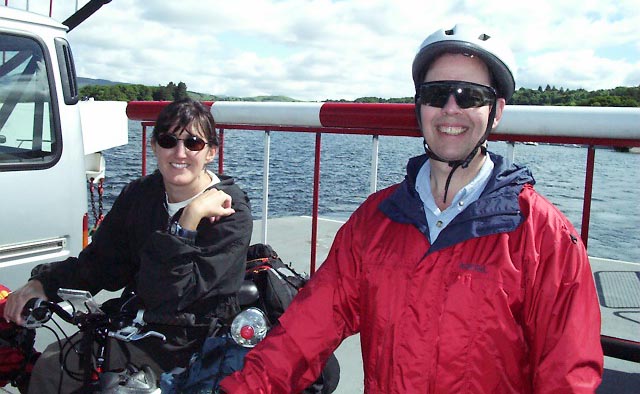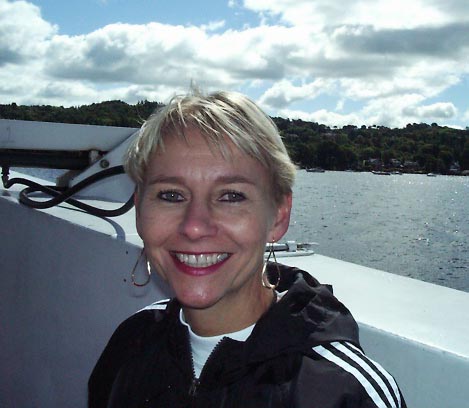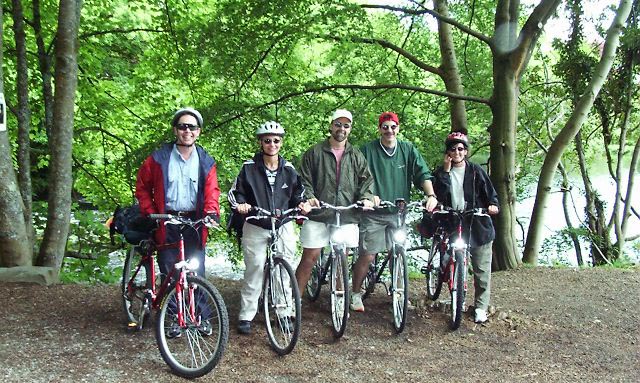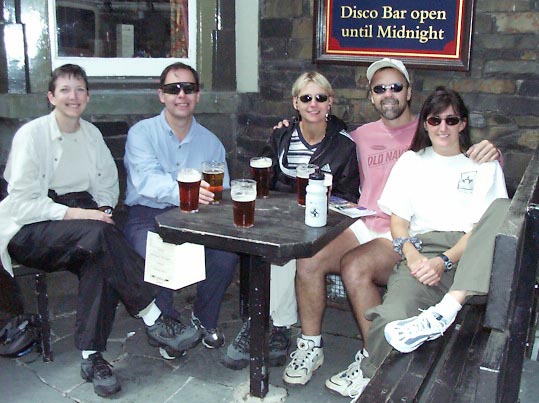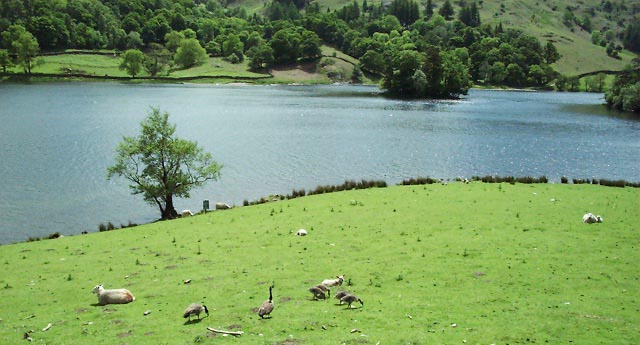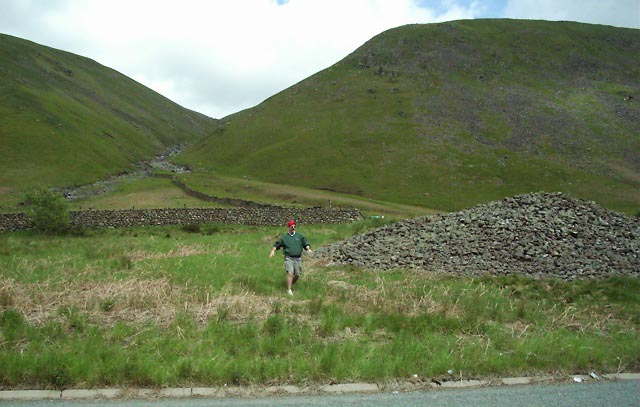 We had a beautiful ride, along Lake Windermere, through the countryside (lots of "Warning - Closed - Hoof and Mouth" signs, and lots of hills, that had us worried, since the vendor never mentioned THEM), lunch and a pint in Ambleside (even the town names are lovely) and then found THE HILL. It was long...not a real steep grade, but long...lonnnnngggggg.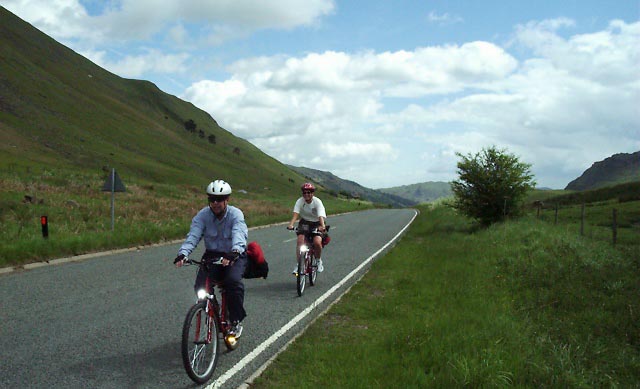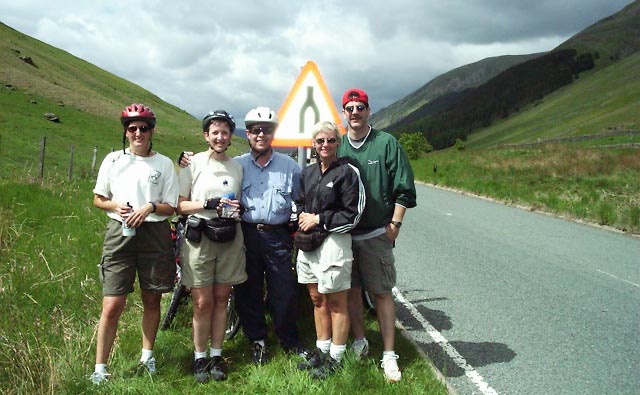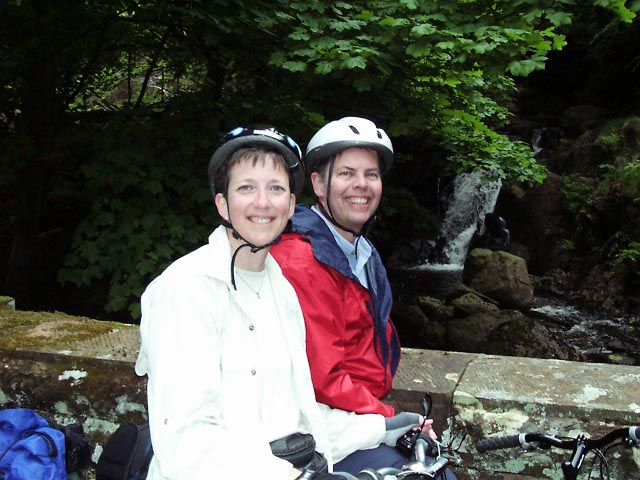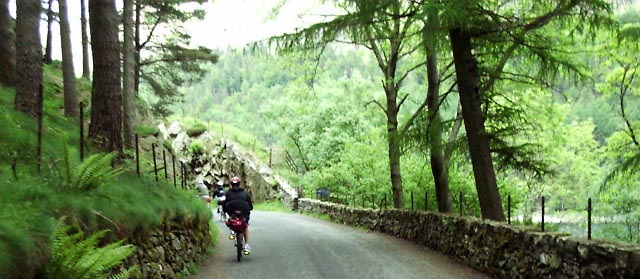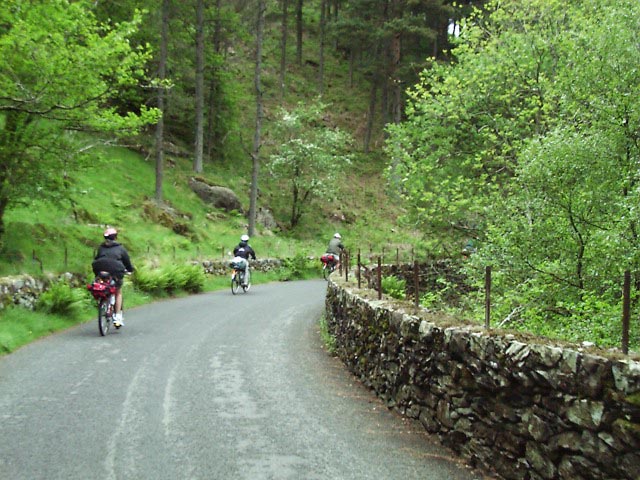 Once over the top, it was a fairly easy, mostly downhill ride into Keswick (total mileage for Day 1, 31), where we again found a nice B&B (The Shu-Le-Crow Cottage www.shu-le-crow.com), reserved rooms for 2 nights here, and "explored the town" again.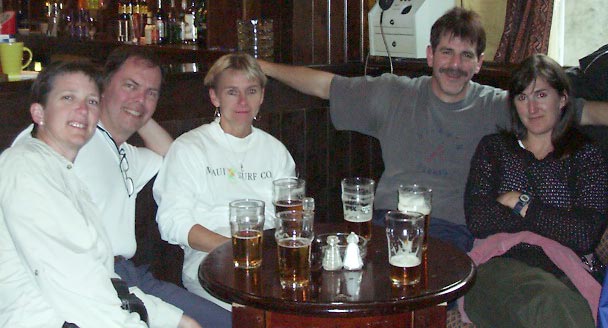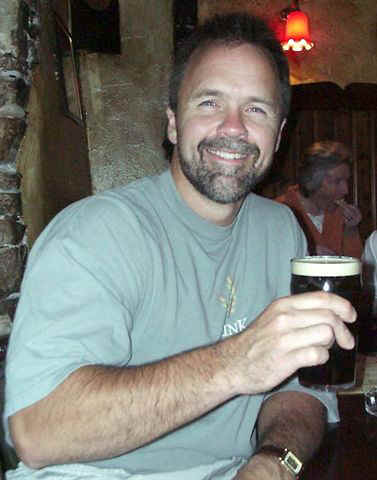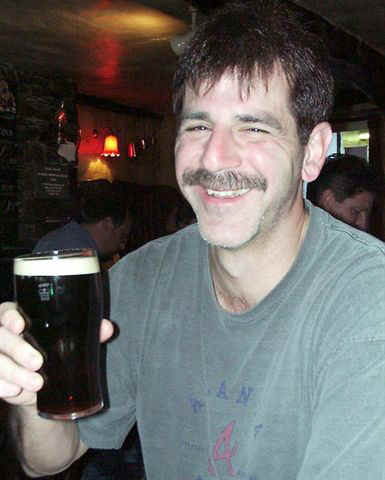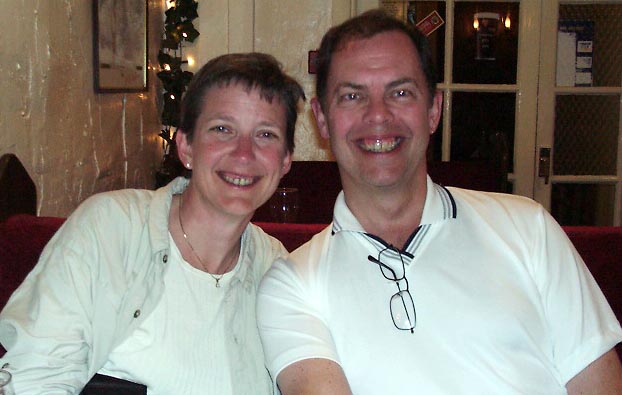 Dinner was at the Dog and Gun. By the way... the Brits are very structured in their dining and drinking rules. Food is served from noon to 2, then from 5 to 9. Nothing in between or after. Pubs are open 'til 11:30pm, but you can't get in, or get served, after 11.
Saturday morning broke with it raining (did I mention that it's light until 11pm, and starts getting light again around 4am?), so after our second "Full English Breakfast", we hopped a bus for the nearby town of Cockermouth (okay..so they aren't ALL lovely names) where the Jennings Brewery offered tours (one of our party is a master home brewer).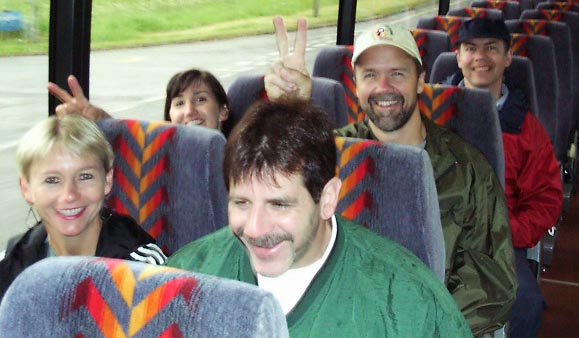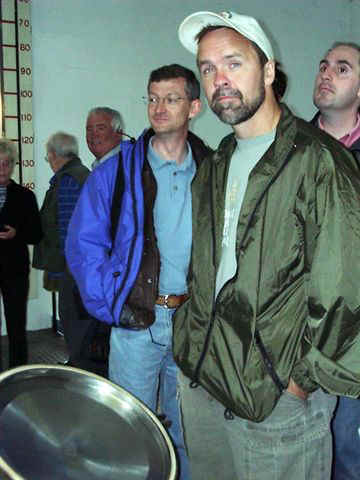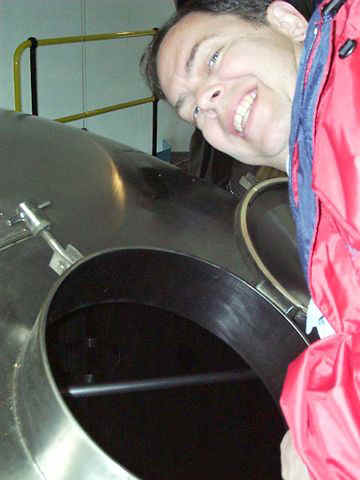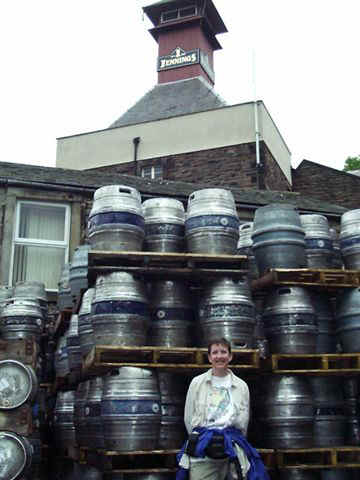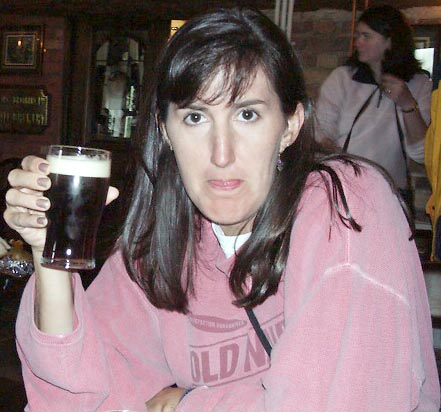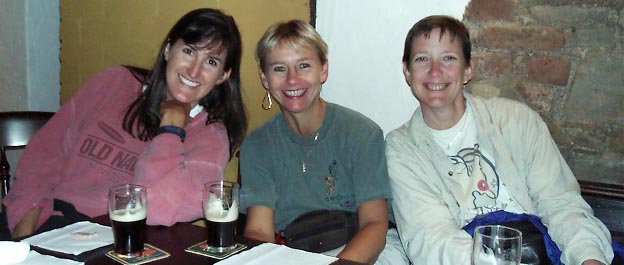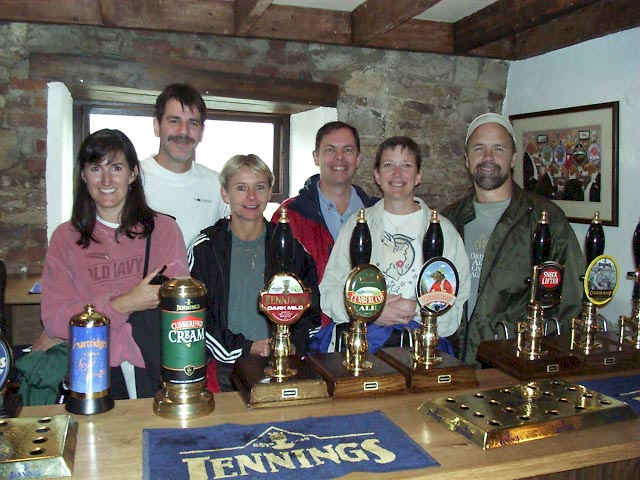 After the tour (and tasting) we lunched in Cockermouth, stopped at a micro-brewery (The Bitter End)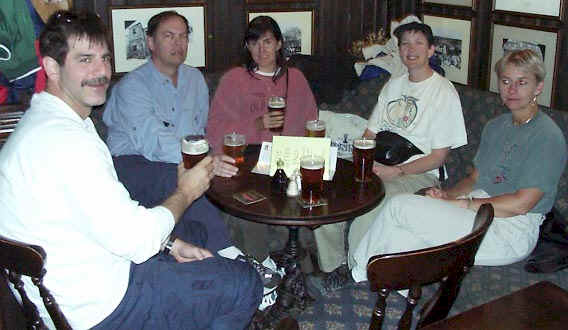 Then we headed back to Keswick, where, by now, the rain had stopped. Jumping on our bikes again (ouch...ouch...ouch... now THERE'S a place I'd never been sore before), we took a quick ride around Lake Keswick... level on one side, hilly on the other.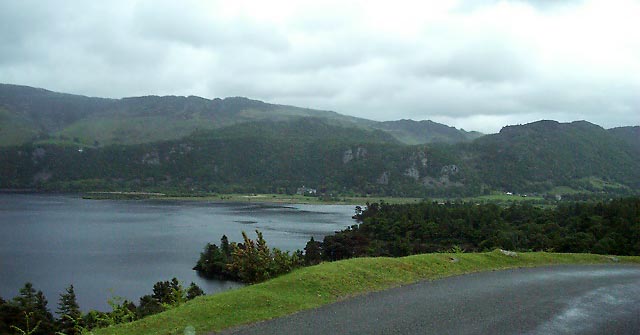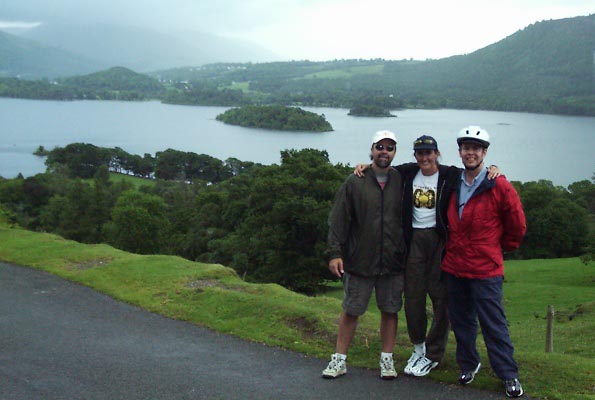 The non-competitive 4 in the group stopped at the Marina Pub, where we luckily missed a 30 minute gully-washer while we rested (and, of course, killed more brain cells), while the other 2 raced to town. Back in town, we dined at The Georges, then headed back to the Shu-Le-Crow, where we shared our Ameretto with the proprietors, who shared their wine and beer with us. A lovely end to Day 2, a 12 mile day.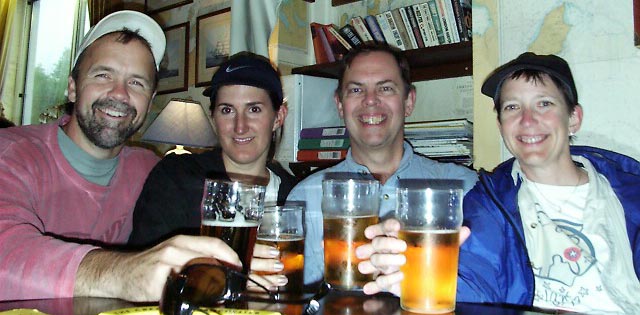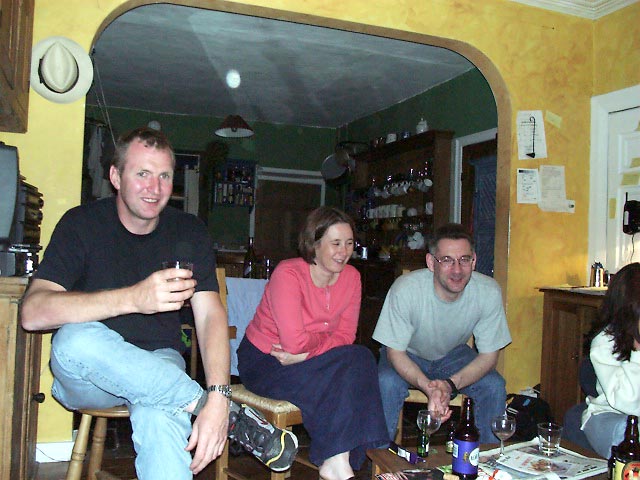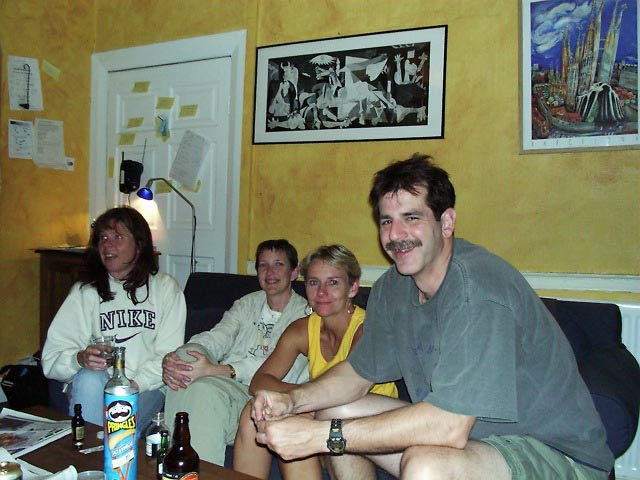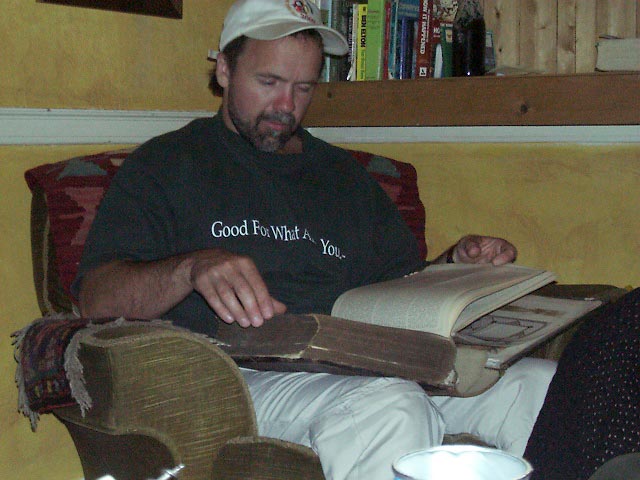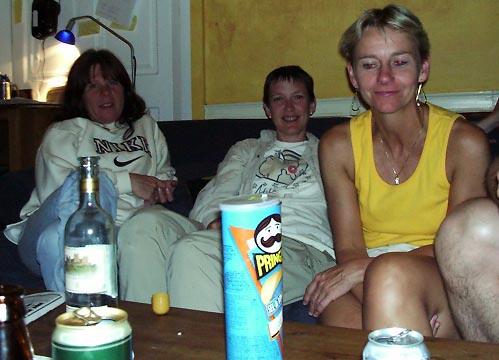 Sunday morning, another yet another "FEB", we struck out for our return to Windermere, along a different route this time. Today's travel had us heading east towards Penrith, turning off at Troutbeck, around Lake Ullswater, then (we were warned ahead of time, so it wasn't a complete shock) through the Kirkstone Pass. The first 8 miles, while not the most level miles we covered, went by in about an hour. We thought we were kickin' b*tt! The next 8 or so weren't bad either, and we lunched and had a pint beside the lake.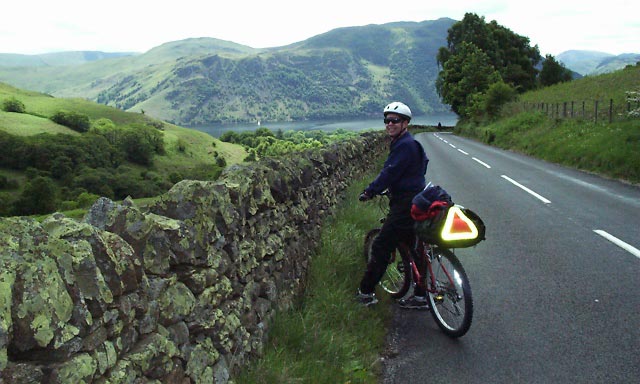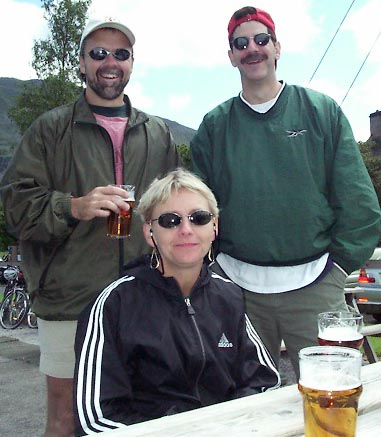 A mile or two past lunch, we came to the bottom of the pass. For the first time in my life, I saw a roadside that said "20% Grade - 1 Mile". Before this, 12% is the steepest roadside warning that I had ever encountered. Not only that, there were two "13% Grade" signs over the mile and a half after that.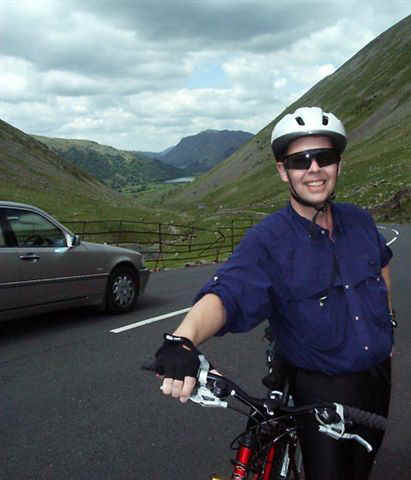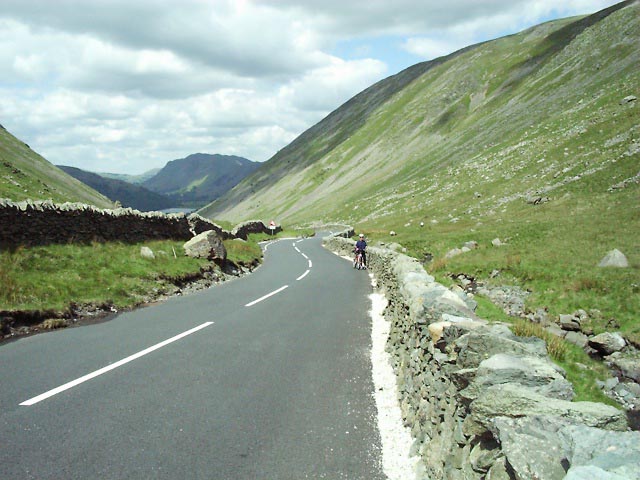 Altogether, we gained approximately 1,200 feet in a little more than 2 miles. After a pint at "The Highest Pub in England", which sadisticly had the restrooms UP a flight of steps, we headed down the hill, towards Windermere. I did not have to pedal for at least three miles. Finally, some downhill. This was an exhilarating ride, and (almost) worth the climb. Back into Windermere around 4:30pm (Day 3, 32 miles), we turned in the bikes, checked back into The Brendan Chase, ate dinner again at the Lamplighter, (which we opened AND closed that night...once you find a restaurant in Britain that serves good food, you go back), then back to the B&B to share a bottle of wine (that we'd remembered to purchase before the stores closed). We were amazed at how light it stayed - this picture was taken at 10PM!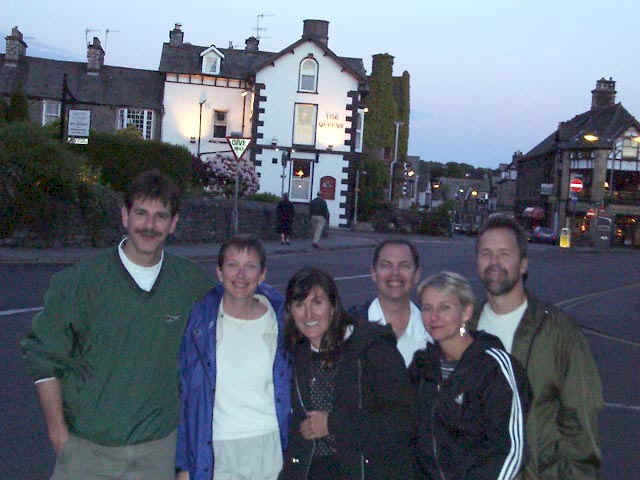 Still reading? Wow! Monday morning, after that "FEB", we jumped the train southwards (remember, our tickets aren't any good until we get as far as Kendall) , and got off in the industrial town of Lancaster, within easy striking distance of Manchester "tomorrow". The Tourist Information center in Lancaster found us two B&B's to stay in (the town was pretty full, and they were unable to find one that could accommodate us all... neither B&B was remarkable enough for me to remember their name). Since it was still before noon, we took a bus over to the tourist town (trap) of Morecombe.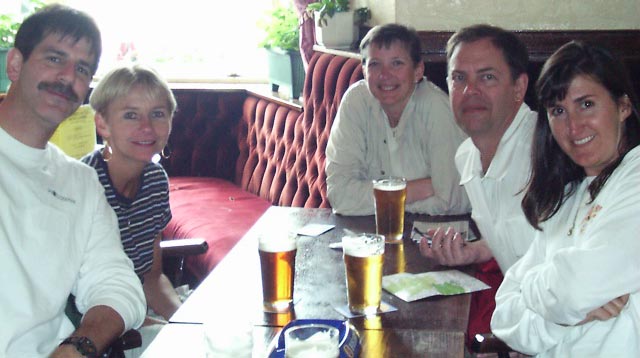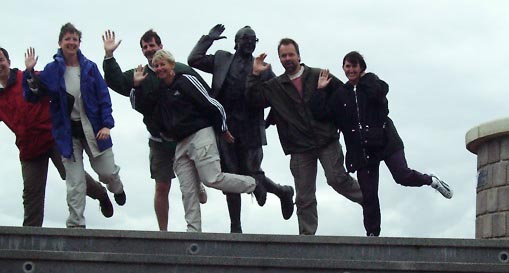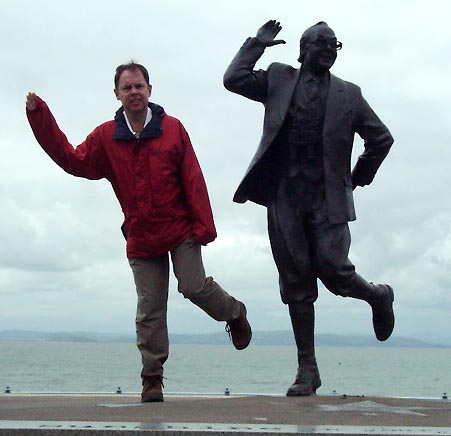 But after an hour or two, we headed back to Lancaster and "explored the town". Dinner at a neat place, whose name I can't remember either (hmmmm...dead brain cells? It's been 5 days of this) and off to bed.
Up early Tuesday, train to MAN, Business Elite back home.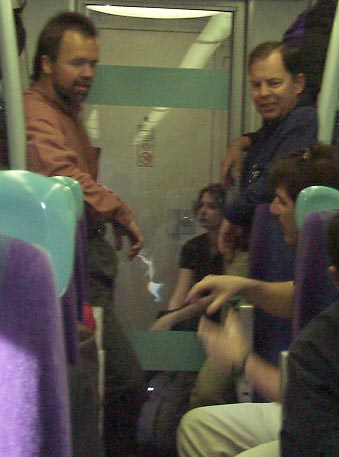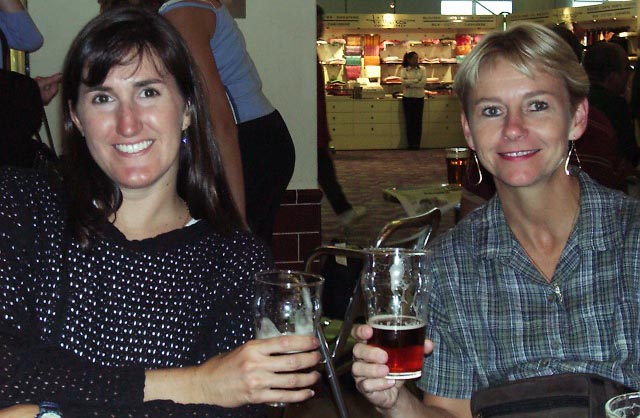 There's not time for everything, but...buy me a beer one day and ask me about:
"The Ugly Man"
"Bark bark bark bark"
"Roger's not here"
"You look like a million bucks. Or two"
"I've had that beer in England before"
Another GREAT trip. Thank you to all of my traveling companions.
Trier is still in the future. We WILL do that trip. And we heard that Scotland is flat, once you get up around Edinburgh.
Tony Morris
tony@bjandtony.com