Black Forest, Germany
July 2004
"Heute Ruhetag"
As usual when planning for a trip, this one required some research on flight availability. We narrowed our choices down to a few possibilities and finally decided that Germany (into FRA and out of STR) looked like our best bet. We left on a Saturday, which gave us all day to procrastinate about packing. We didn't even get around to showering until it was almost time to go to the airport. BJ didn't allow quite enough time to dry her hair but no matter; she knew she could dry it in the airport restroom since she'd done it before. Since it was a Saturday, we couldn't check in from work. We were afraid we would be forced to stand in the International Check-In line. Before we got in the LONG line, Tony asked one of the roaming agents who pointed us to an area for "International Check-In with No Bags". It looked like no one was working that line, but the roaming agent assured us that the next agent over would check us in. We'll have to keep this in mind for future trips. It was a nice time saver!
They've changed the security lines again. Now in addition to a single queue for checking your documentation, they've made two queues for the x-ray machines. It was hard to tell which one was the shortest since it was difficult to see how far they snaked around. The TSA has significantly reduced the number of active x-ray machines also. We made it through with time to spare though, so BJ headed to the restroom to finish drying her hair. The electrical outlet in the restroom didn't work, so Tony found her sitting on the floor in E-concourse, plugged in. She looked like Tom Hanks in "Terminal" performing her ablutions in front of the other travelers.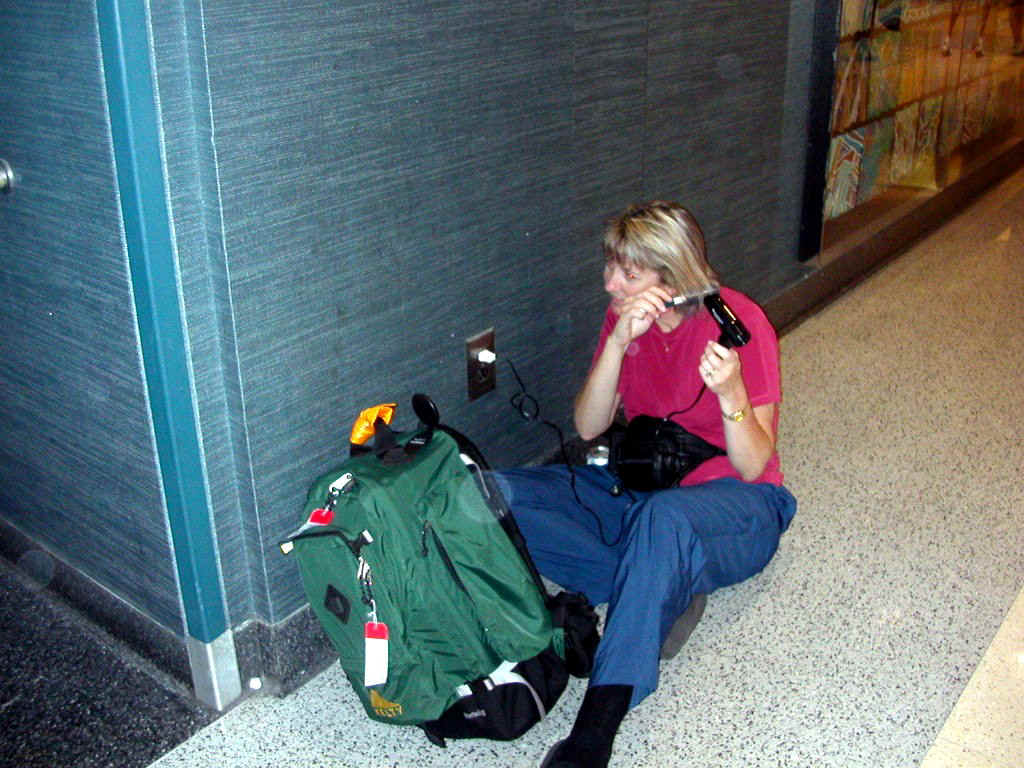 From seats 13H & 13J, we enjoyed a cute movie, Envy while we dined on Eggplant Ravioli for Tony & Crabcakes for BJ. We both fell asleep immediately after our ice cream sundae and slept until shortly before landing. After changing clothes in the airport restroom (further reminiscent of "Terminal"), we picked up our Alamo rental car, a brand new black Opel Corsa. This was going to be a "driving trip".
We set out for Heidelberg where we (unintentionally) took a rather long walk. BJ was intent on finding the Tourist Information Bureau so that she could get a map and book about the Black Forest. Tony spotted the large familiar "i" that indicates Tourist Information all over Europe. We followed the "i" signs for what seemed like miles but never found a Tourist Information office and we seemed to be getting farther and farther from civilization. We finally decided that the letters ADAC under the "i" sign stood for something that translates to the "General German Automobile Association". We gave up when we got to the entrance ramp to the expressway and turned back toward town. On our own, we found a nice walking section and stopped at Perkeo Historische Gasthaus for a couple of Heidelberger biers and some tagessuppe Maultaschen (soup of the day; today it was a soup of stuffed dumplings). Revived, we strolled around Heidelberg trying to remember things from our previous trip. The only thing that looked remotely familiar was the square with a view of the castle at the top of the hill.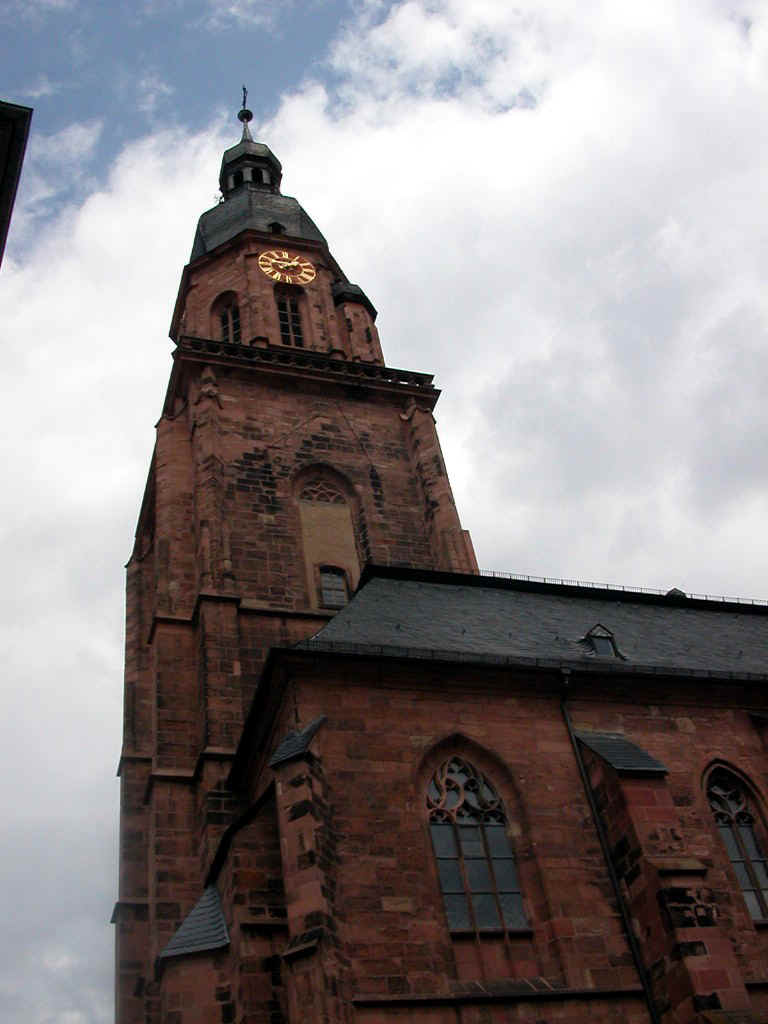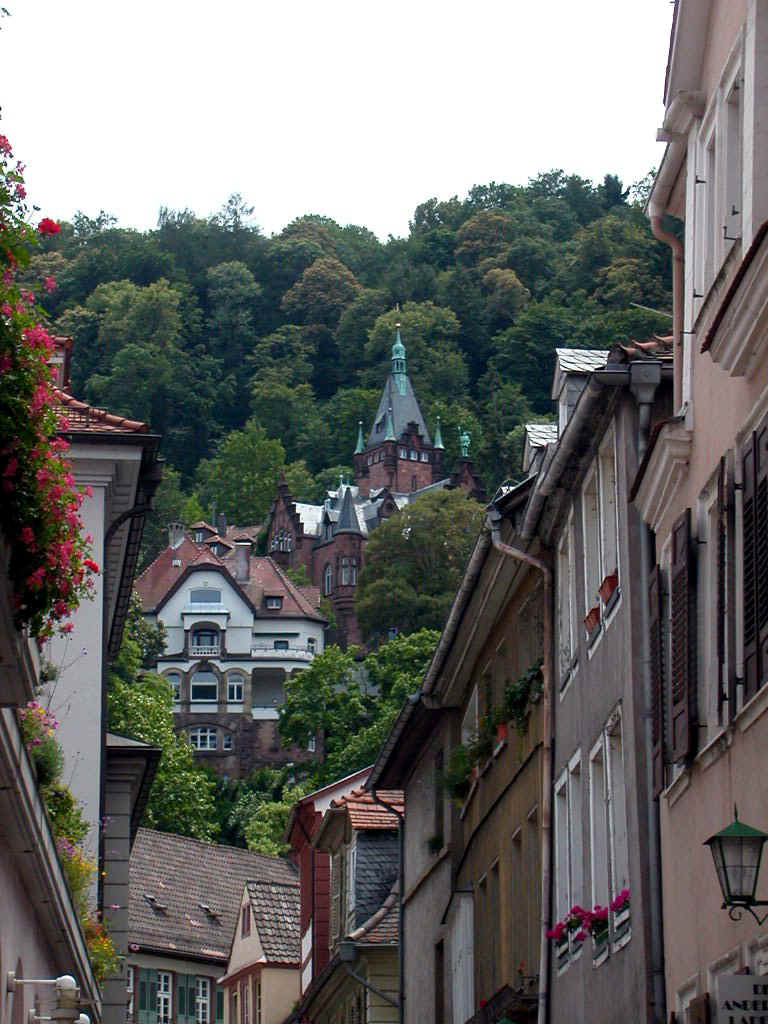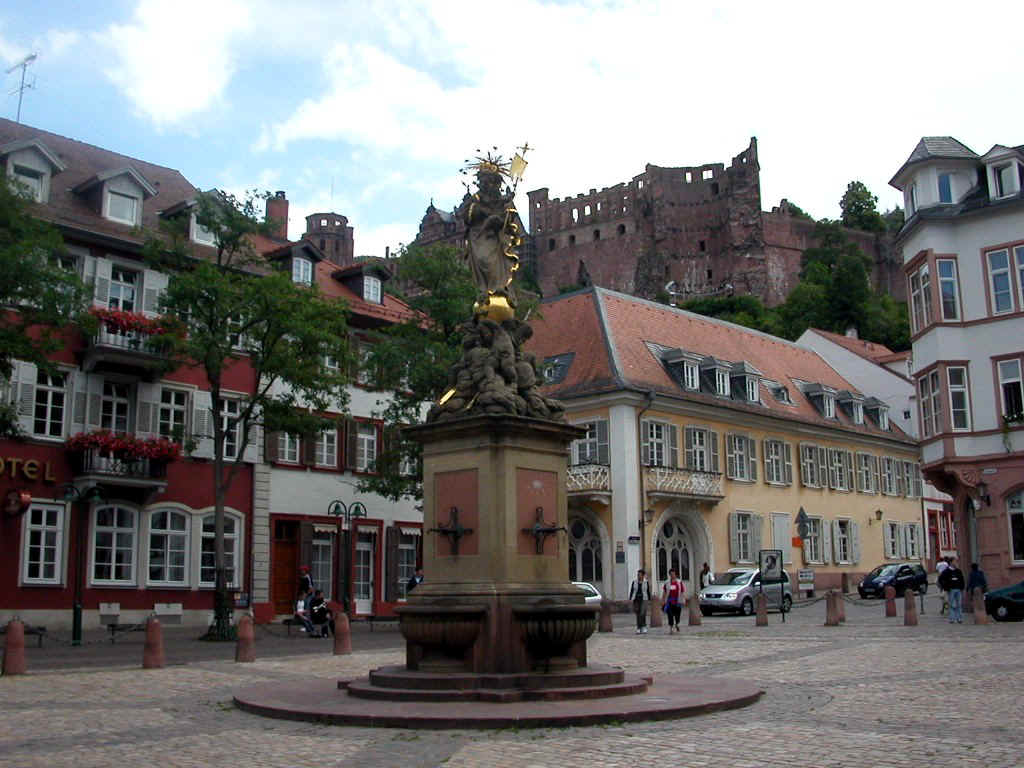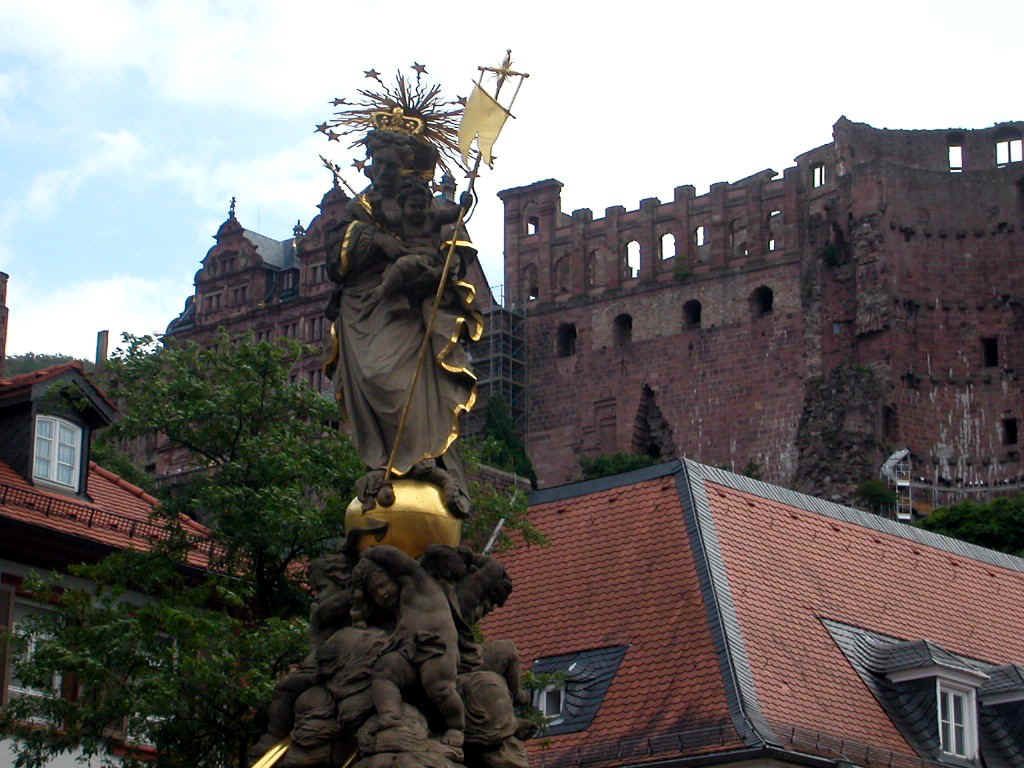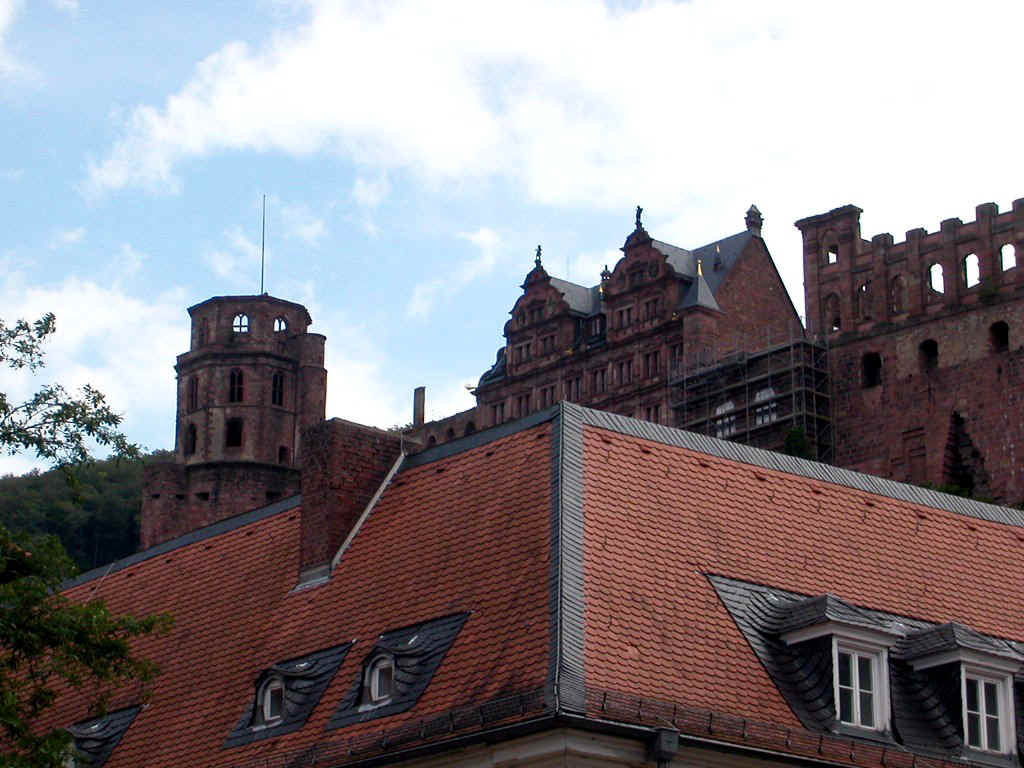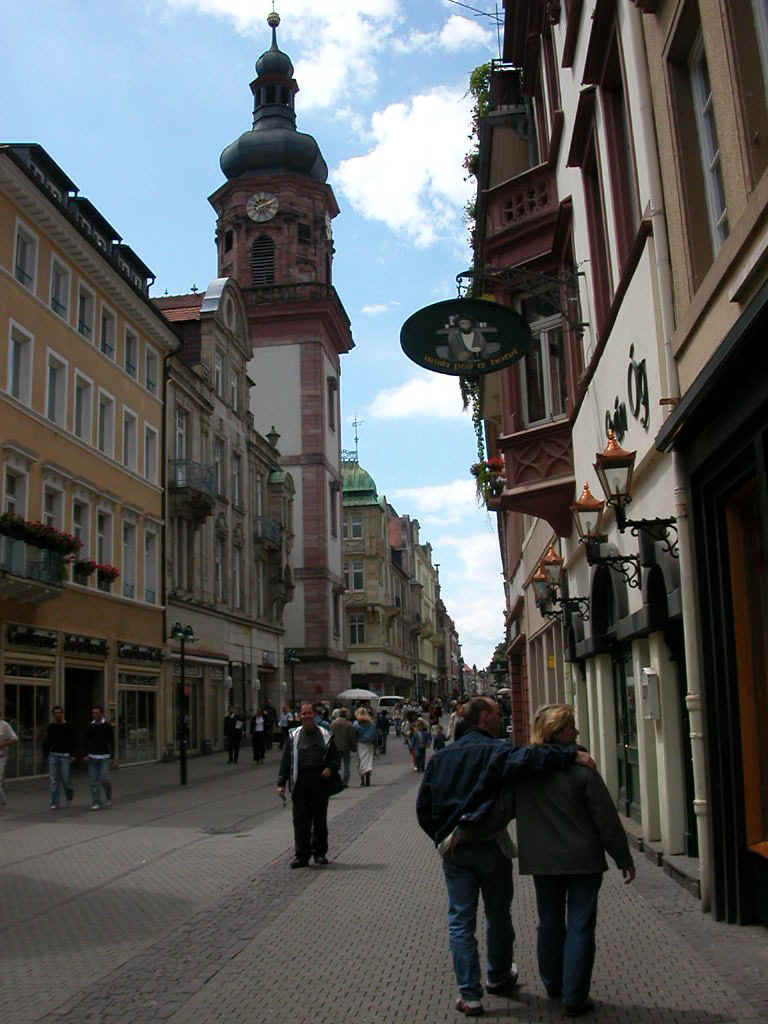 Back on the highway, we headed for Karlsruhe. We parked the car and set out on foot to find accommodations for the night. The Erbprinzenhof Hotel was an ideal location just a block from the main shopping street, Kaiserstrasse and fairly reasonably priced at €78 for a Doppelzimmer mit Dusche, WC & TV (Double bedroom with a shower, toilet & TV). Parking was €6 so we opted to leave our car parked on the street since it is Sunday and street parking is free today. After we settled in, we decided to head toward the big Ferris wheel that we could see in the distance.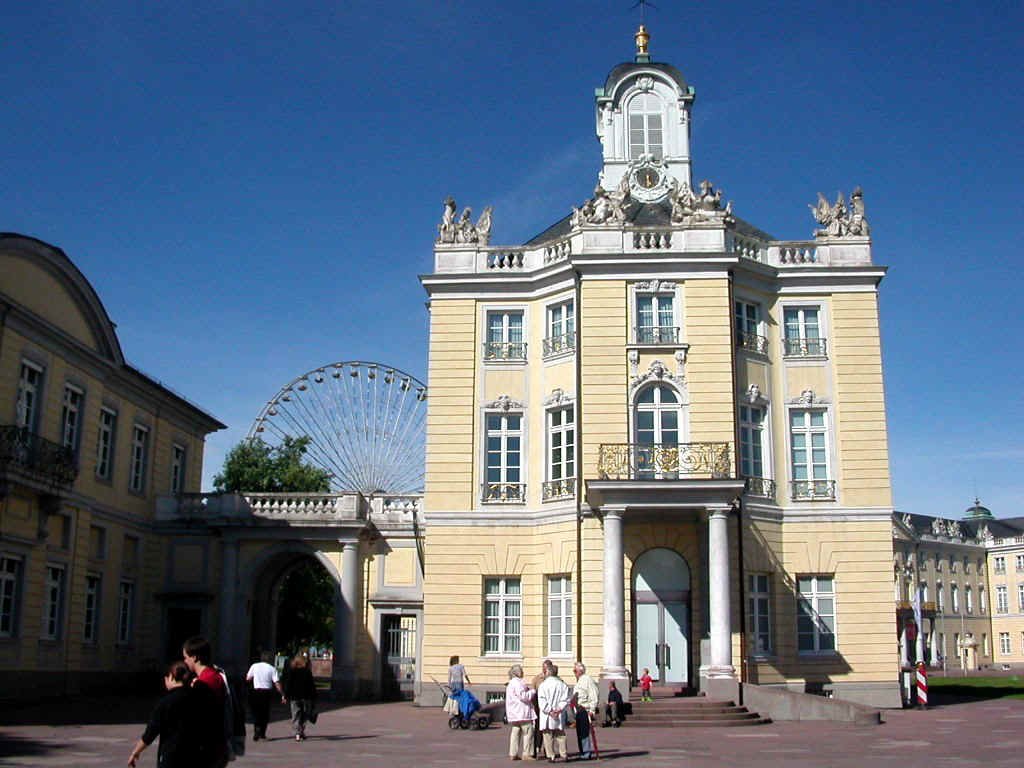 The wheel turned out to be on the grounds of a 17th century palace. A quick buzz around the palace and we found a sunny spot at Das Schloss Cafe to relax while we watched the Ferris wheel.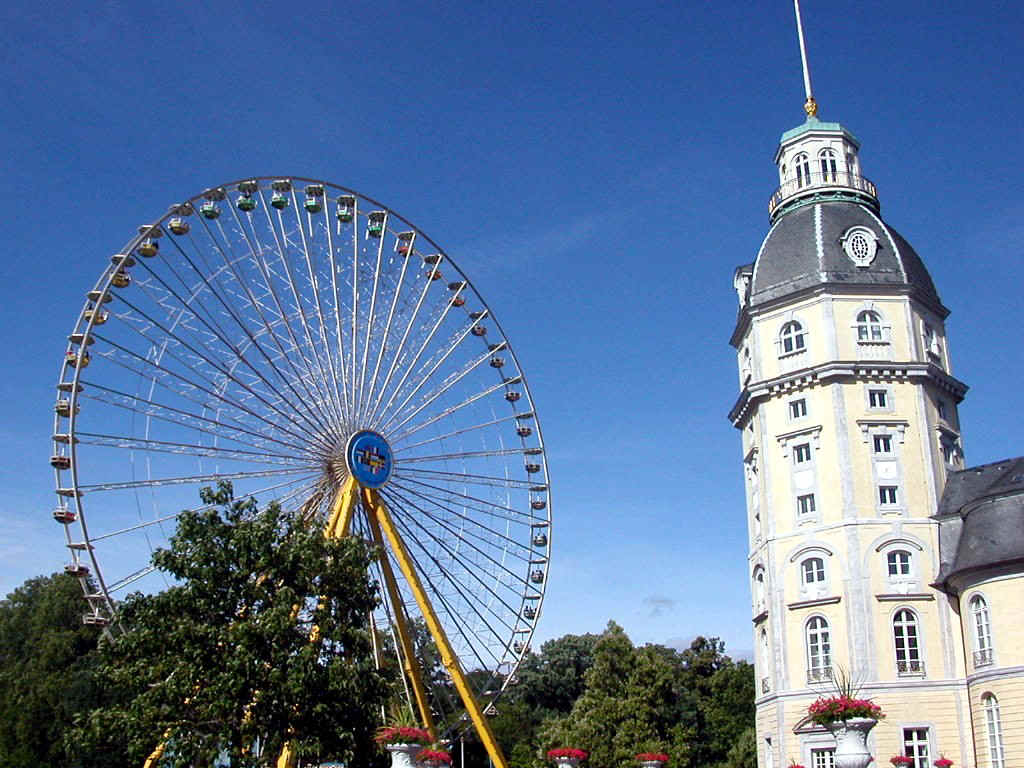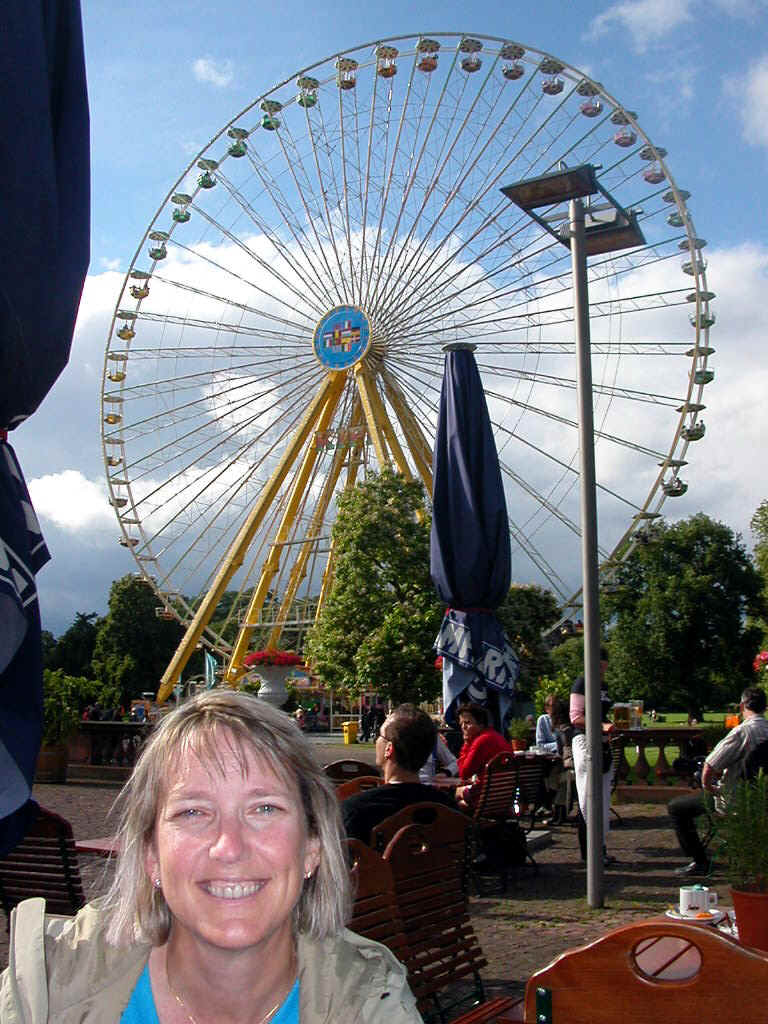 We just had time for a couple of hoepfner pils biers before the clouds really started to look dark and threatening. We had no sooner started back for Kaiserstrasse than the bottom fell out. Although we had on our raincoats, our pants still got soaked. We got a little turned around (lost) and it was raining too hard to get our map out, so we ended up taking a rather long way back into town. Finding some shelter along the way, we waited until the rain slacked off. By the time we got back to our neighborhood, the rain had stopped, our nylon pants had already dried and we were no worse for wear. We had a nice dinner of Schnitzel paniert mit Pommes-frites und Bratwurst mit Bratkartoffeln at Krokodil am Ludwigsplatz. We made it an early night since we were a bit tired from the flight.
Monday, after the traditional German Fruhstucksbuffet (breakfast buffet consisting of rolls, meats and cheese) at the hotel, we did a little more shopping in Karlsruhe. We bought a map of the Black Forest in a bookstore but all of the guidebooks were written in German (as one might expect when in Germany). We jumped on the expressway and zipped down to Offenburg.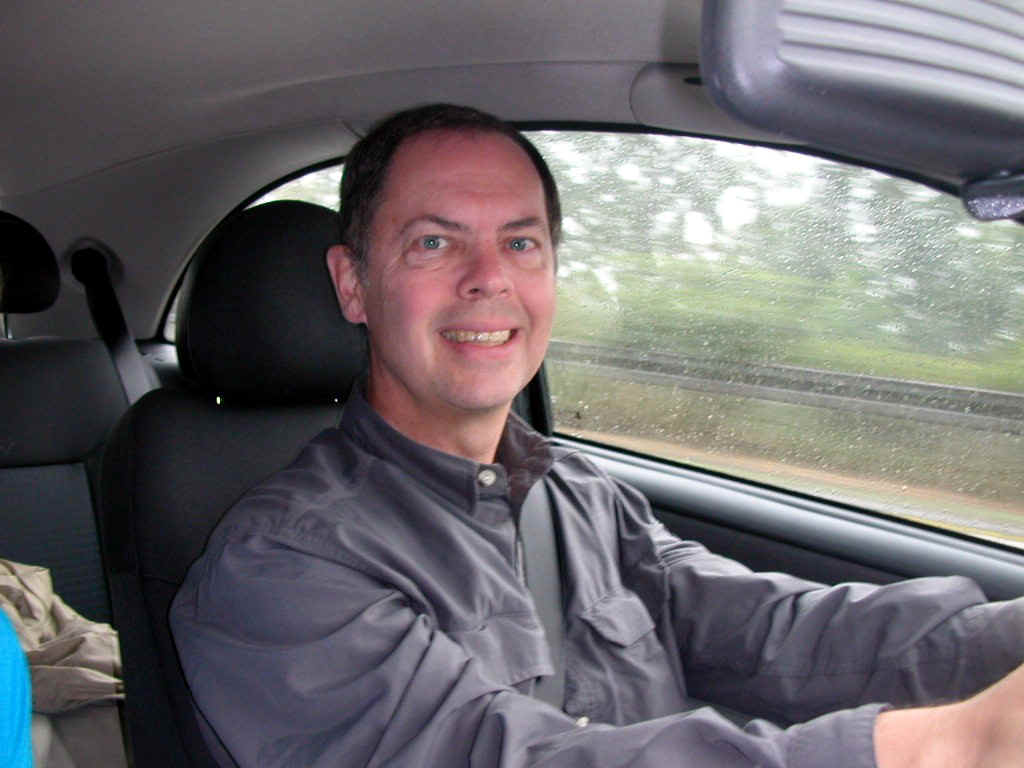 At Offenburg, we got off of the expressway and took a smaller, more "touristy" route to Freiburg. In town, we went to the train station and asked for directions to the Tourist Information Office. At the "i" we picked up a book and a couple of brochures about the Black Forest, then it was back in the car and off to a smaller town. Freiburg was a little bit daunting. We found a cute little pub in Sankt Peter called the Klosterstuble where we studied our Black Forest information over a couple of Ganter biers. We took some scenic winding roads through some very pretty little villages and wound the day up in Schonwald. Here we found a room at the Hotel Pension Schwartzwaldtanne (€50 for Doppelzimmer mit Dusche, WC & TV including fruhstuck). A rain continued intermittently throughout the day so we opted to drive to the Restaurant Cafe am Sommerberg for a pre-dinner beverage. It was in Schonwald that we first encountered "Heute ruhetag". After our beverage, we went in search of a place for dinner. We discovered signs reading "Heute ruhetag" in several restaurant windows. Upon consulting our German English dictionary, we discovered that this means, "Today resting day" (closed). Monday seemed to be the "resting day" for most of the restaurants in Schonwald. We wound up back at our hotel where BJ had an excellent forelle (trout) and Tony had another wiener schnitzel. A nice Spatburgunder Rotwein (red wine) accompanied the meal.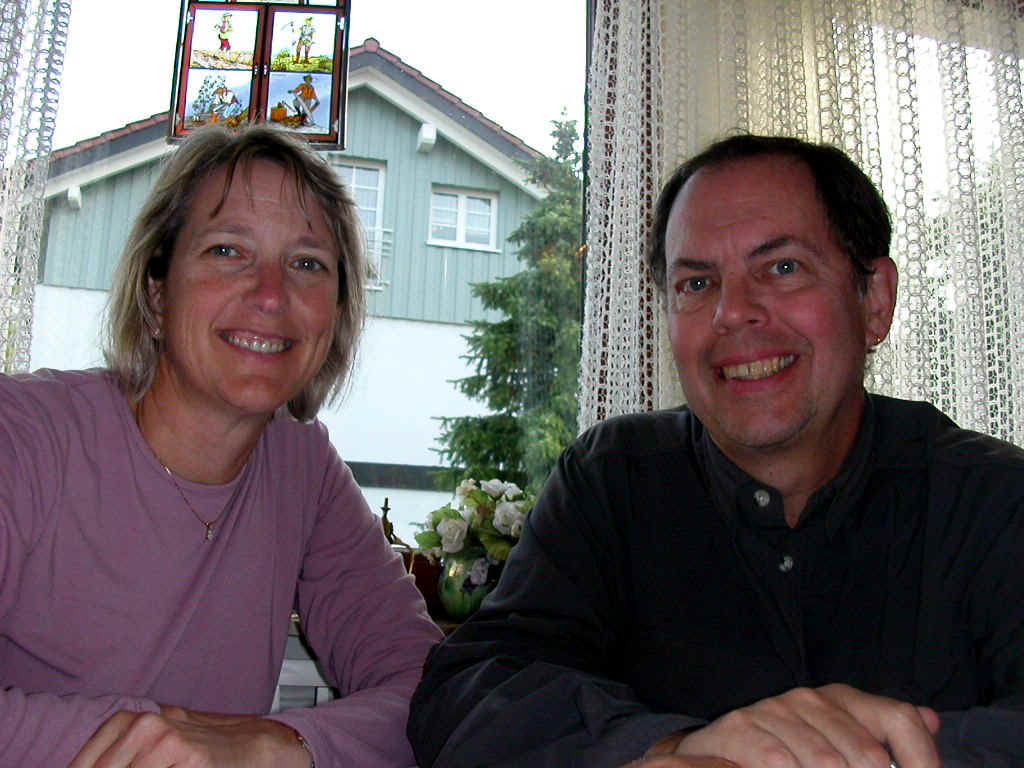 Tuesday after Tony retrieved our raincoats from the hotel's restaurant (where we had accidentally left them the night before) he went on a search for a Diet Coke but to no avail. We had our fruhstuck, quickly packed up and headed for another town that might have a Diet Coke for Tony. We took a beautiful drive that led us to Bettenhau where we stopped into the Adler Pub for a couple of Alpirsbacher pils. More driving led us to the Restaurant Olive in Iselshauseh where we sampled Das Hochdorfer bier. Ready to find a place to settle for the night, we headed toward Bad Teinach. We got there just before and managed to slide into the Tourist Information Office right before they locked up for the evening. We picked up a hotel directory and were encouraged by the number of hotels in the small town. We decided on the Hotel Goldenes Fass (€52 for Doppelzimmer mit Dusche, WC & TV including Fruhstuck). It is a cute hotel, ideally situated and every room has a balcony.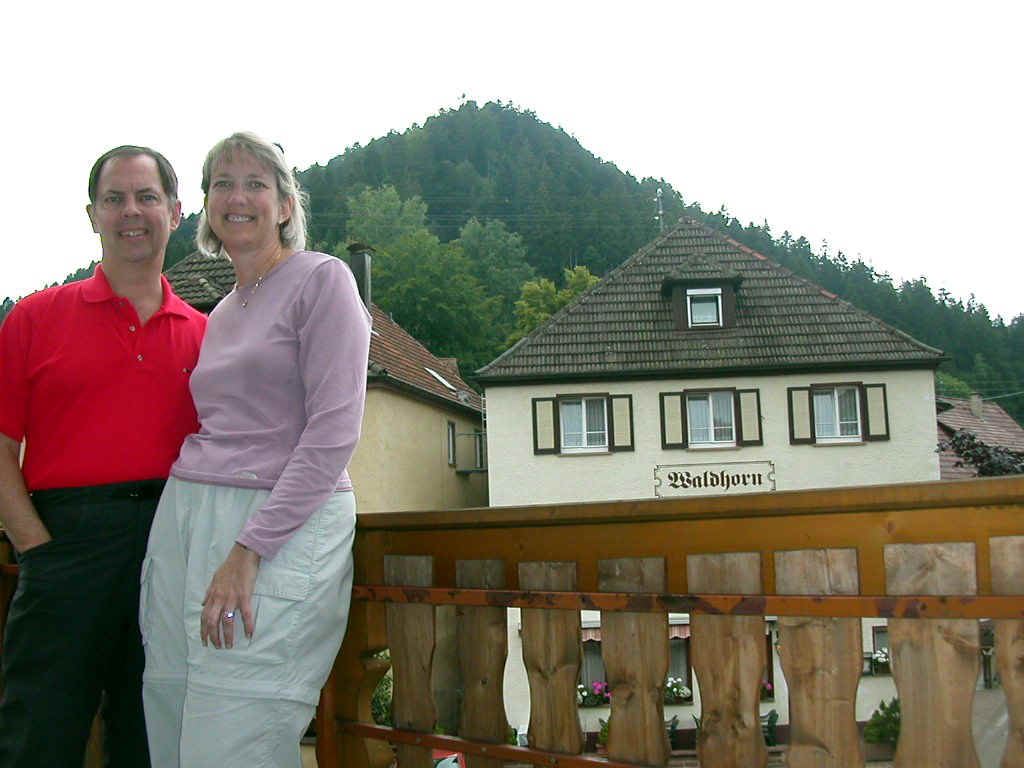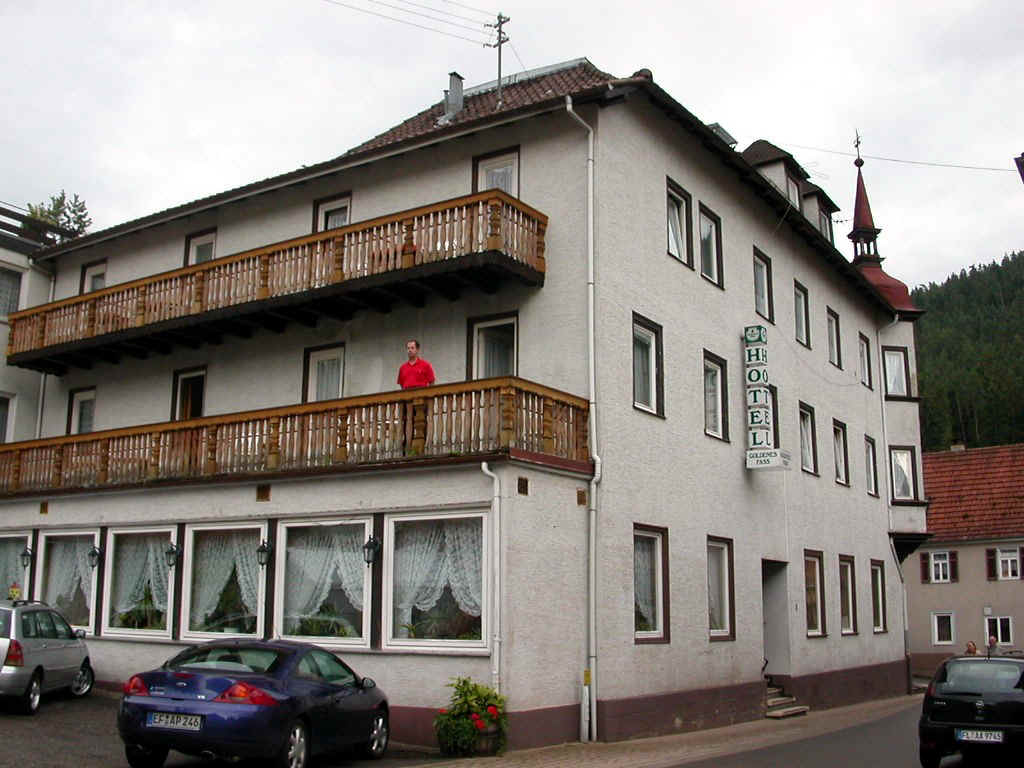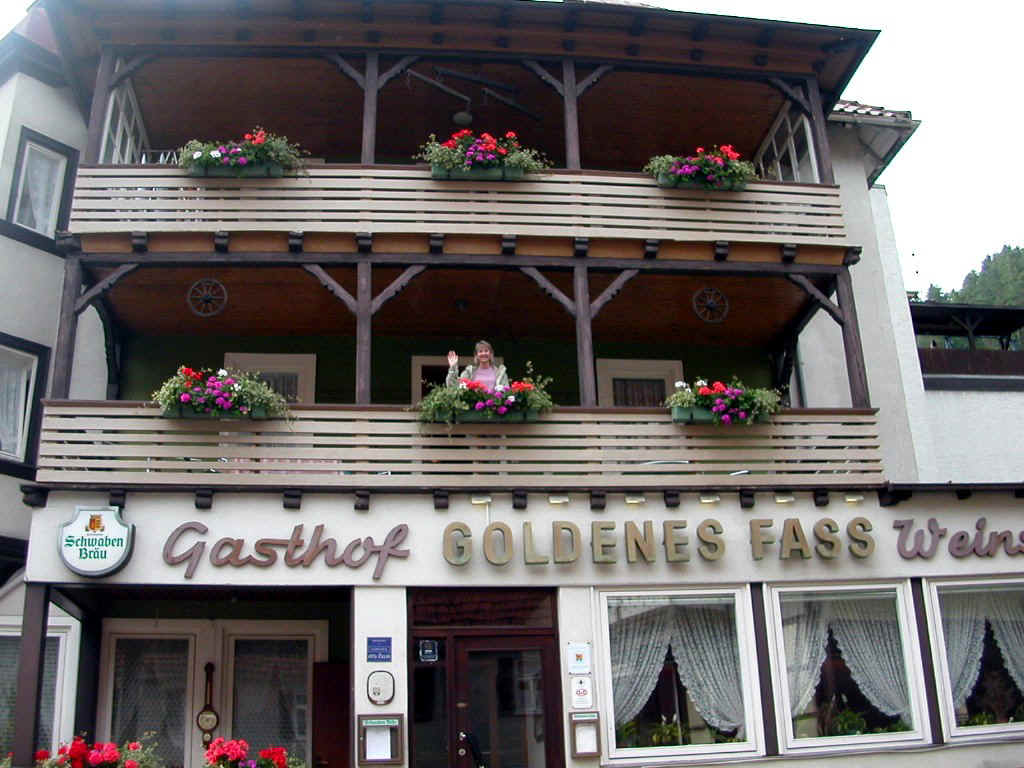 They only drawback was that it seemed really old and had a rather musty smell. There was a stuffed pig (a real one) right outside our room that was a little disturbing.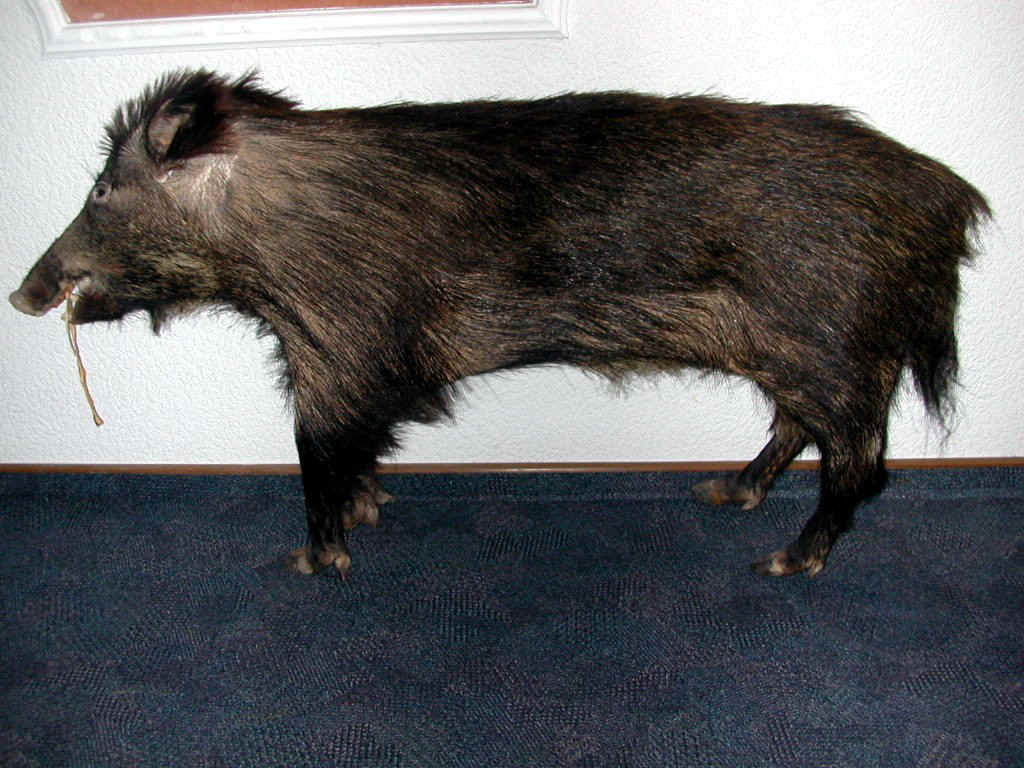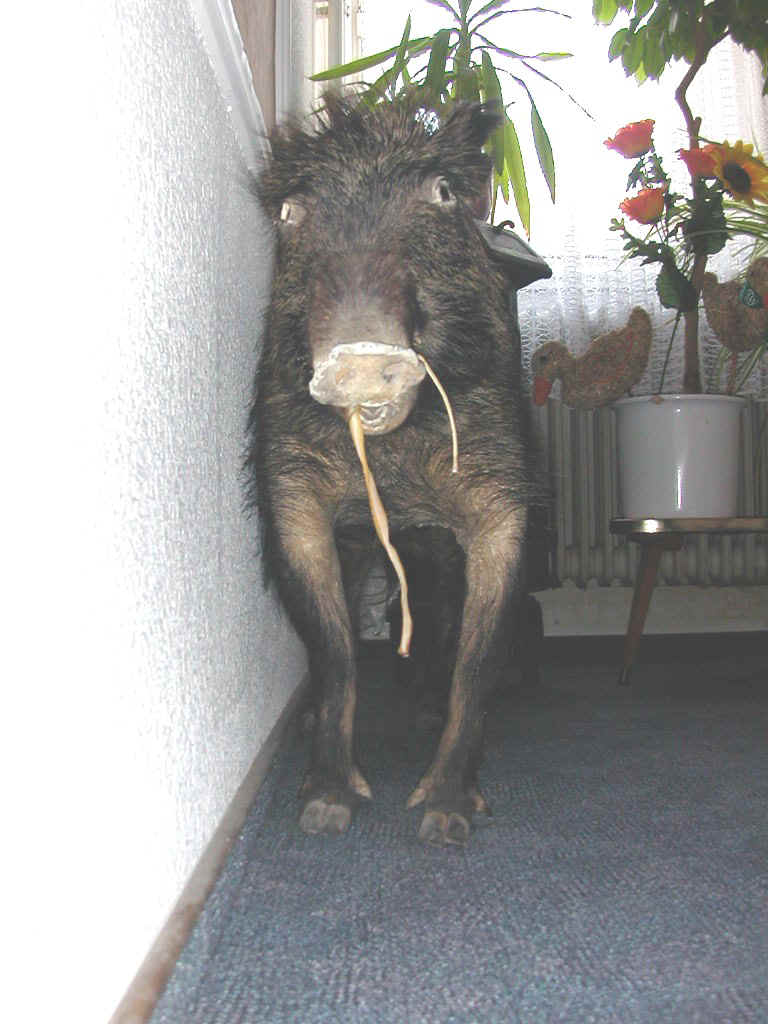 After checking in we hiked up the hill to the Schlossberg Cafe Restaurant where we enjoyed a bottle of Fellbacher Weingartner Trollinger (red) wine while we basked in the sun and enjoyed a beautiful view.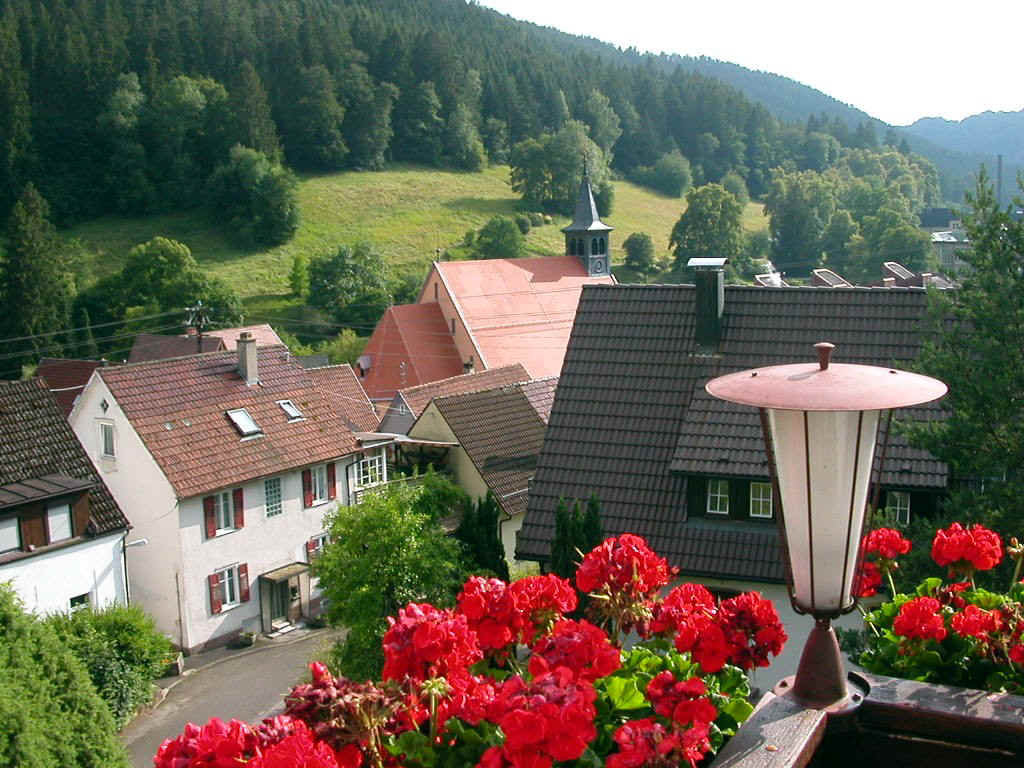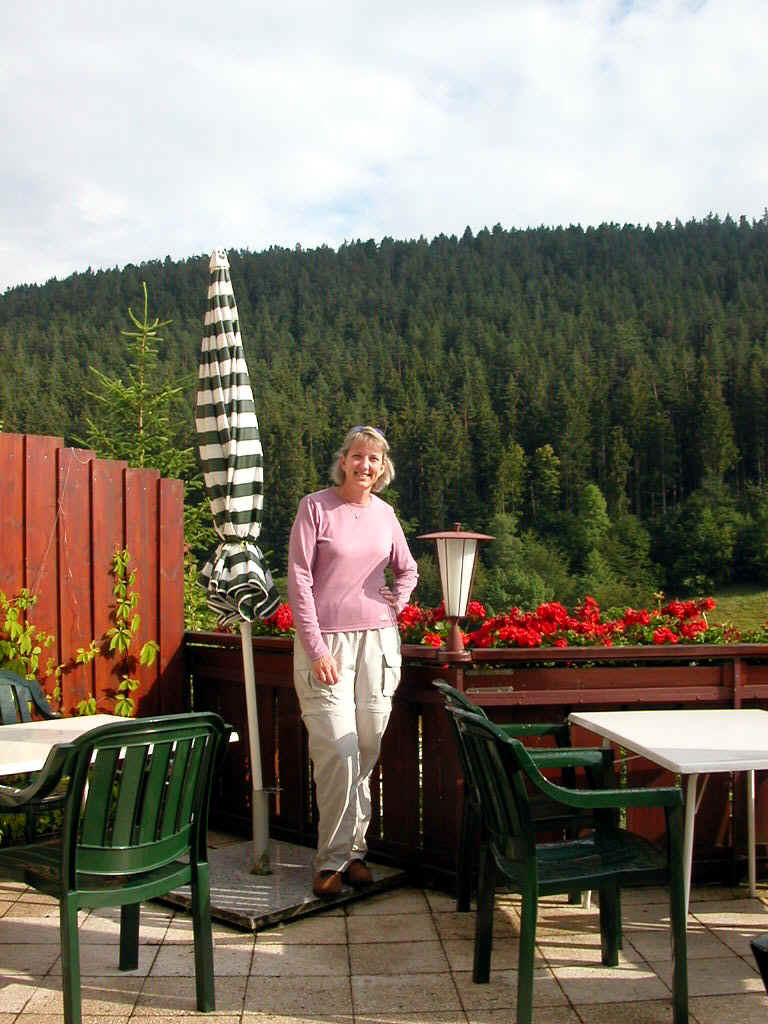 Back down in town, we discovered that Heute ruhetag in Bad Teinach seemed to be Dienstag (Tuesday). We finally found a place that was open, the Gastof Pension Waldhorn Restaurant, where we had Schweinschnitzel & Argintinan Rindsteak mit Kroketten accompanied by Affentaler spatburgunder (still more red wine).
Wednesday turned out to be a gorgeous day so after fruhstuck, we went for a walk on some of the many hiking trails around the hot springs (Bad is German for Spa, by the way… we are in Bad Teinach).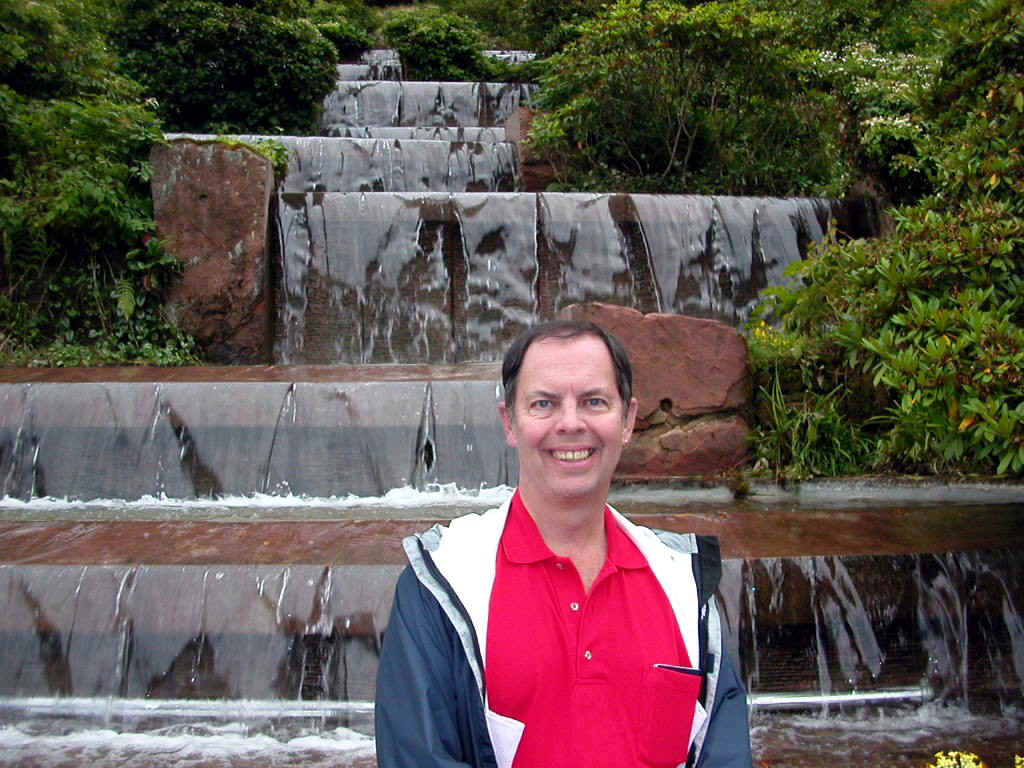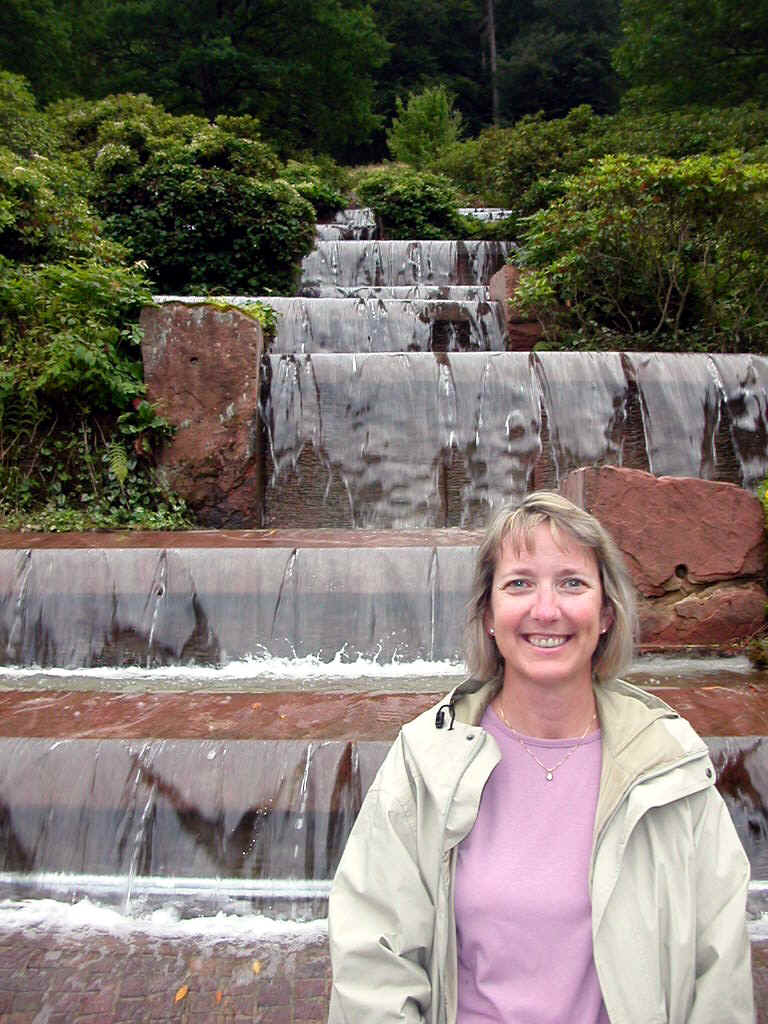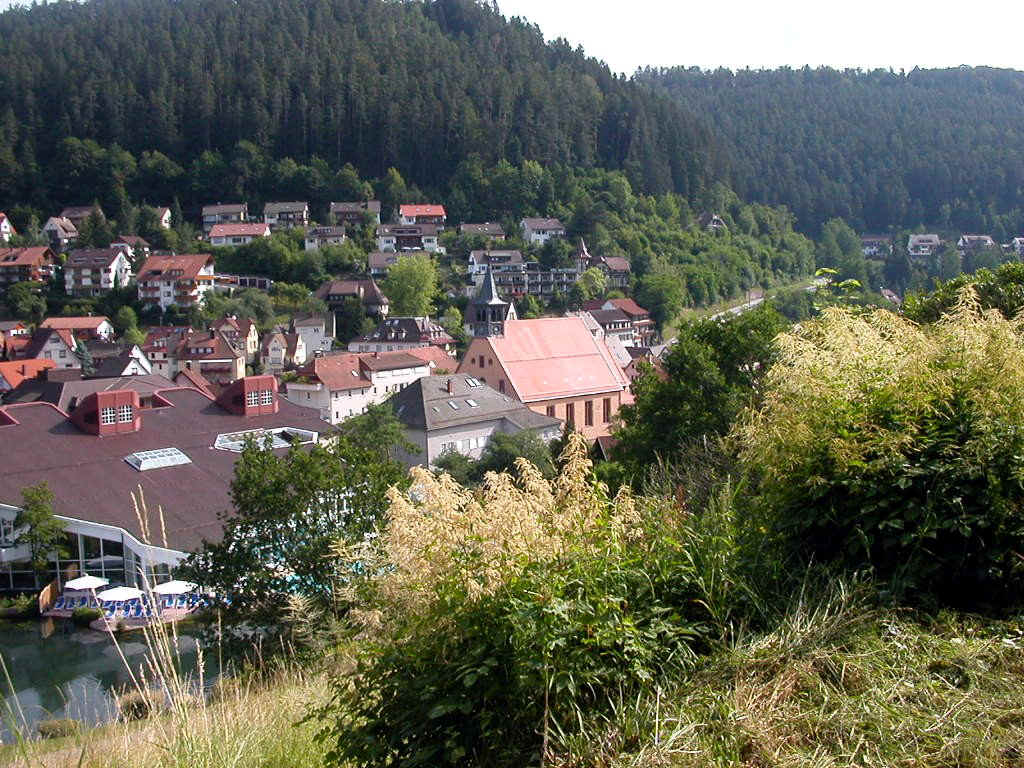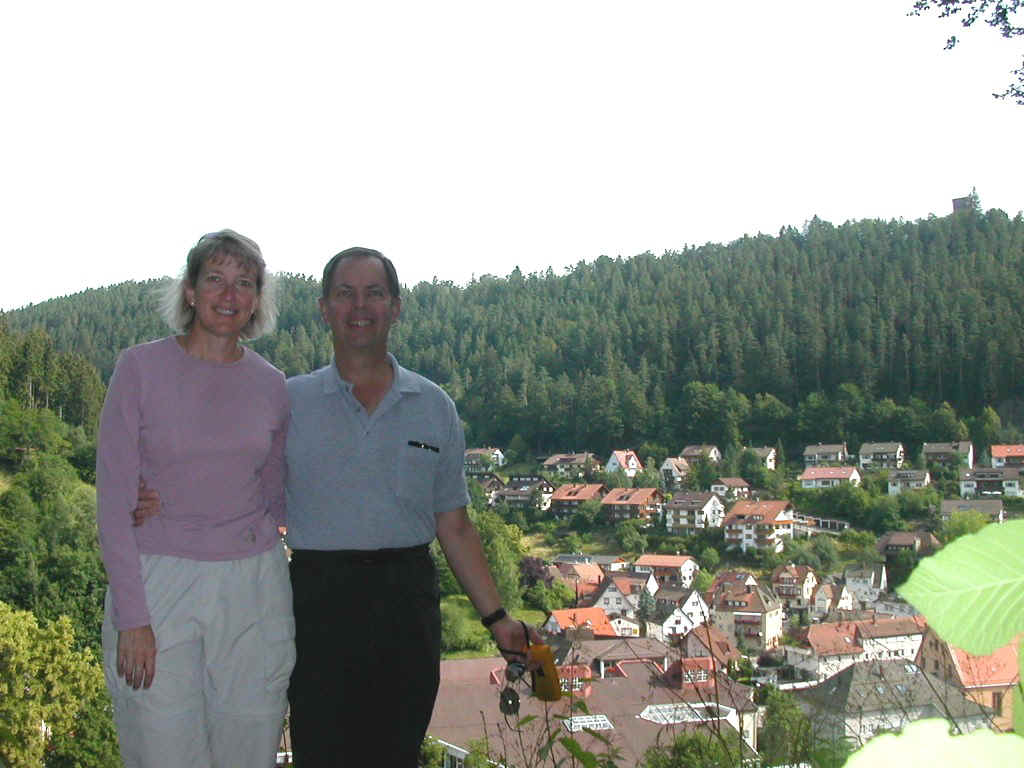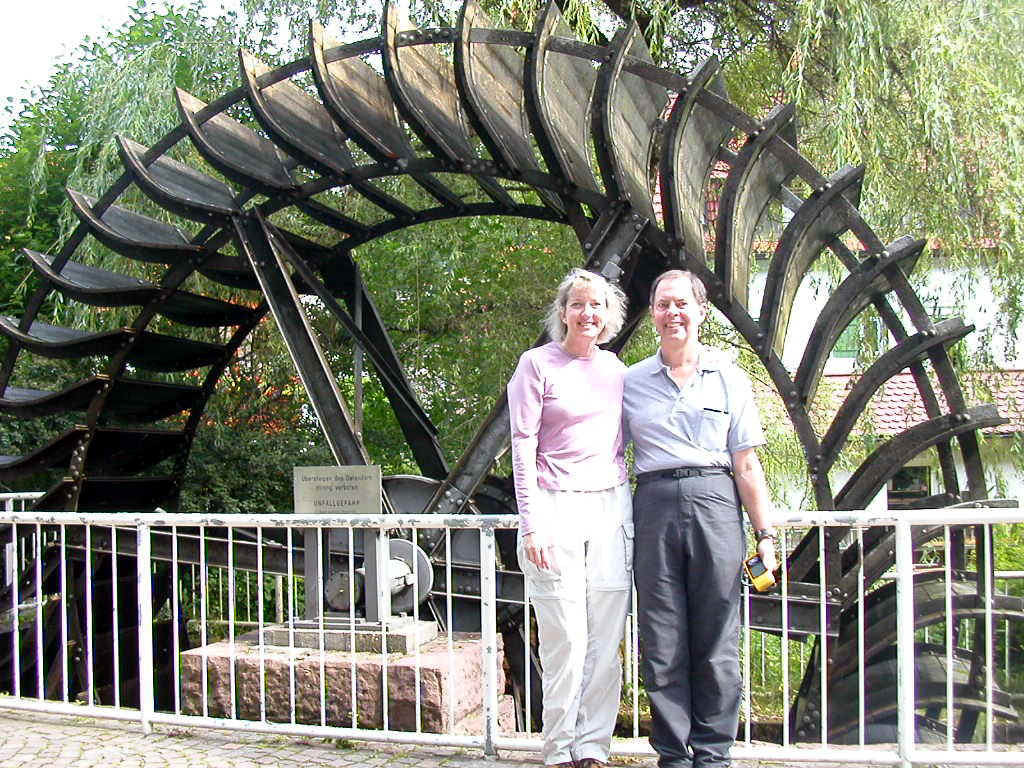 Back in the car, we wound our way up toward Pforzheim and then back down to Tiefenbronn along some beautiful roads. We stopped in Hausen at the Hotel Pension Zur Wurmbrucke on the river for a Stuttgarter Hofbrau bier.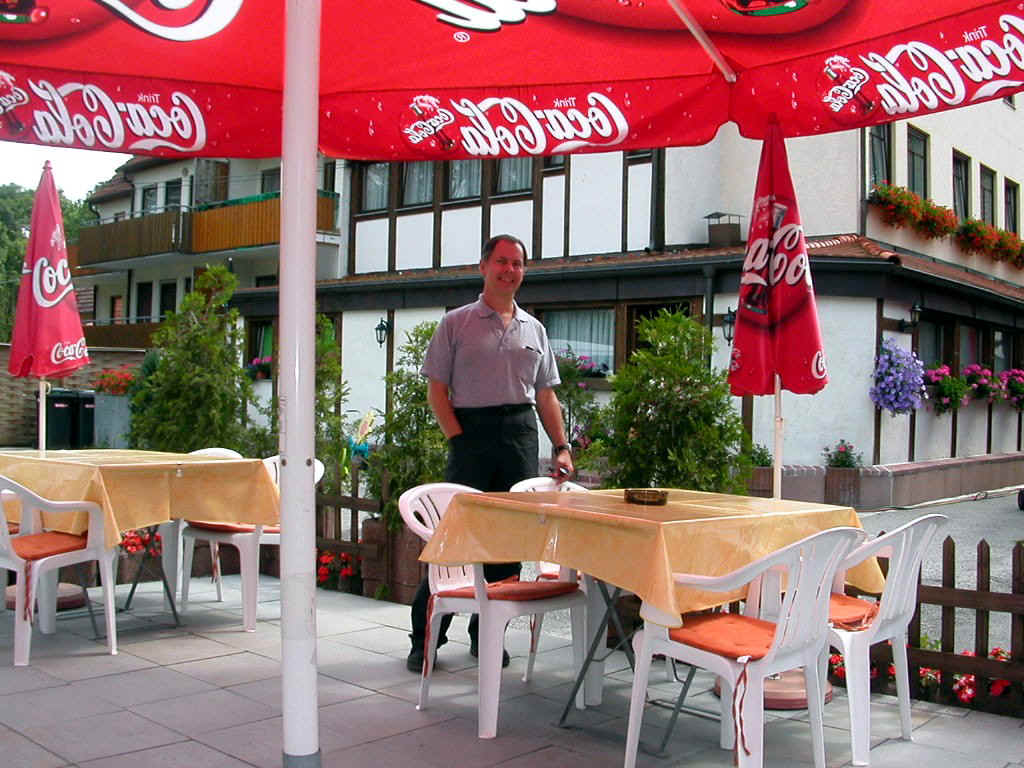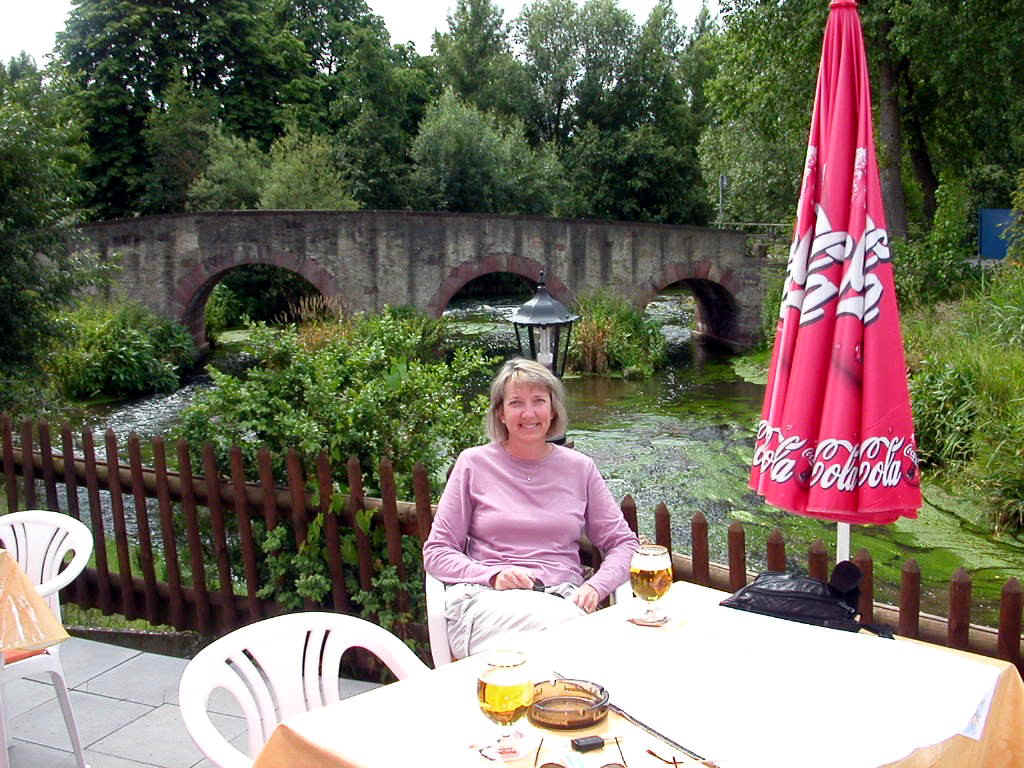 After exploring the Naturpark Schvnbuch we stopped for a late lunch in Nurgingen. We had French Onion Soup and Italian Toast with some Meckatzer Lowenbrau Weiss Gold biers at the Restaurant Cafi Stoll. After lunch, it was time to start looking for a place to settle for the night. This turned out not to be as simple as expected. We drove through Neckartailfingen, Neckartenzlingen, Pliezhausen, Altenburg, Kirchentellinsfurt, Walddorf, Altenriet, Aich, Aichtal and Oberensingen before we wound up in Neckarfingen again. We spotted a hotel so we found a parking place & walked to it only to find that it was closed. We stopped into the Gasthaus Lowen to ask if there was a hotel in town. There wasn't, so we had a couple of Dinkel Acker biers while we discussed our strategy. We plotted a route to the Stuttgart airport and decided that if we didn't find a hotel on our route we would just stay at an airport hotel. In Wolfschlugen we found the Reinhardshof hotel! It was a very nice hotel – at €90 it was a little more expensive than we would have hoped, but we were ready to stop for the day. Our first choice of restaurants was, you guessed it, Heute ruhetag so we went on to the Restaurant Sonne and had a very delicious meal of pasta carbonara & gorgonzola (not a traditional German meal, but very filling). We stopped into the Gasthaus Rossle on the way back to the hotel for some rotwein. The bartender was playing some sort of dice game with some of the patrons. After several rolls of the dice they would declare a loser who bought the others a shooter of Ramazzotti.
Thursday, we had our best fruhstuck of the trip – same food as everywhere else except the rolls were warm! As we left for the airport, the hotel owner gave us each a Twix for our trip home. It was a very short drive to the airport. When we checked in for the flight (one flight a day), the agent warned us that it was a very full flight and we might not get on. Since we had insider information otherwise, we weren't too concerned but when we still hadn't been cleared 10 minutes before departure, we were starting to sweat. We finally got our (Business class) seats, along with about six other stand-by passengers, but a number of stand-bys were left at the gate. There were still a number of empty seats on the plane but we must have had excess cargo or headwinds or something that prevented them from filling all of the empty seats. We felt bad for all of the other standbys left in the gatehouse (while we had champagne, warm nuts, stuffed chicken, steak, ice cream sundaes, salad, shrimp quesadillas and chocolate cookies and arrived home absolutely stuffed).
The Black Forest looks like it would be a beautiful hiking or biking trip. Next time we visit, we will probably try one of those means of transportation.