Glenderry, Ireland
May 2006
"The Derelict Cottage"
Tony has been talking about retiring to Ireland for several years now, but he has recently gotten serious enough to start looking for property. His requirements are fairly simple. He wants a house with an ocean view near a town with several pubs and restaurants that is convenient to the Shannon airport. While I love to visit Ireland, I am not yet convinced that I want to live there, but I agreed to consider it if he can find just the right property at just the right price. He searched the real estate listings and found a piece of property listed as a "Derelict Cottage with spectacular sea views." It was extremely well priced so we thought it might be worth a trip over to take a look. We couldn't leave until Friday since we had to attend "Les' Luau for Leukemia and Lymphoma at Limerick" http://www.lesnelson.com/ on Thursday, so we knew flying standby would be tough. Surprisingly, both the Dublin and Shannon flights seemed to have available seats. Since the Shannon flight was configured as an all coach airplane (ick), we decided to take our chances on the Dublin flight. When we left the house, the Dublin flight still showed 36 empty seats so we felt fairly confident we would get on. By the time we arrived at the employee service center at the airport, the flight was showing negative availability! Being compulsively early, we thought we had time to make the Shannon flight if we ran out to gate T1. No luck. The sign over the gate showed, "Flight Dispatched". Tony wanted to go home without trying for the Dublin flight, but I was optimistic that there might be some reserved seats that would be released later. We went to the gate and waited. Trading on some "insider-information" (thank goodness for a PDA with internet capability), we found out before we were called to the counter that we had been cleared in coach seats that were not together. Not wishing to seem ungrateful, but also not wishing to travel in coach on a full aircraft, we told the gate agents that "something had come up" and we would not be able to travel. (I know, I know; we're spoiled.) We left the airport and went to our favorite pizza place, Bella's. When we got home, we put a movie in the DVD player and pretended we were in business class seats.
The next morning, we discussed what we would do with our now-free weekend. We thought about taking a Jeep ride up to the North Georgia mountains, but then it occurred to us that we might still be able to make the Ireland trip. Since we were going to spend Saturday driving from Dublin to Shannon anyway, we decided that if we flew directly to Shannon, we really wouldn't miss too much of our trip. While checking the Shannon flight, we noticed that last night's Dublin flight had actually left an hour late, completely full with no non-revs on board. Tonight's Shannon flight had lots of seats available, so even though it was an all-coach aircraft, we would have plenty of room. The plane is actually a "domestic" 767-400 ER still configured with a First Class section, so there was a chance we would get to sit up front even though the service would be coach service. We were cleared in 4E and 4F over an hour before flight time, so there was no suspense. The First Class seats are only slightly larger than those in the coach section, but the real advantage is that each one has an in-seat video unit. Since we had recently seen the May movies on our Tortola trip, we were glad to have a different distraction. Cocktails were available for purchase along with a complimentary pack of peanuts prior to the meal service. Tony and I sampled one of each of the available entrees and were pleasantly surprised. The pasta entrée was a little skimpy on the portion size, but was a flavorful stuffed tortelloni. The chicken entrée had an oriental flair. It was a larger portion, very moist and tender, accompanied by rice and carrots. Both meals came with cheese and crackers, a roll, a salad and a brownie. Following dinner and a nap, we awoke to find a breakfast box on the armrest. The warm bagel, cream cheese, banana and orange juice didn't interest either of us.
Sunday morning around we landed, cleared immigration, and headed for the rental car counter (Thrifty). This time we remembered to bring a letter from our credit card company showing our coverage in Ireland, so we did not get the usual run around about declining full coverage on the car. We jumped in our little Fiat Panda (possibly the same one we had in January), programmed "Jill" the GPS for Ballyheige and were on our way. From looking at the map, we had estimated the drive to be about 45 minutes or an hour, but it turned out to be closer to 2 hours. Today it was raining and a bit cold. Locating the "Derelict Cottage" in Glenderry, just outside of Ballyheige, was no problem. It was exactly as described. The view was spectacular and the cottage was most certainly derelict.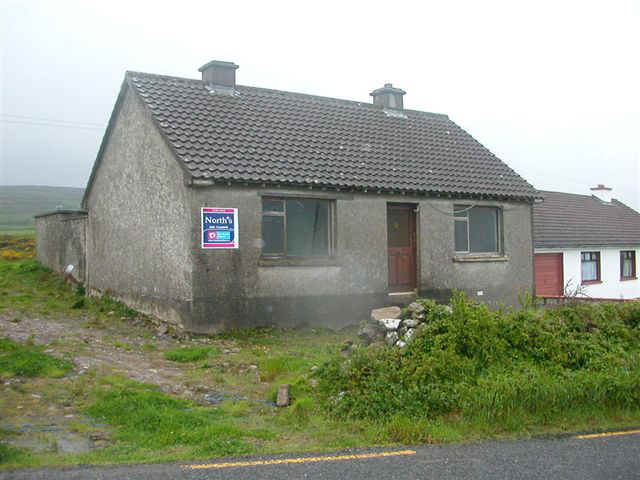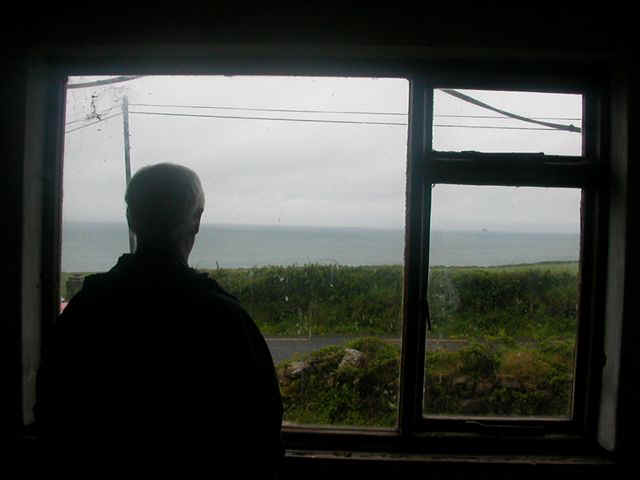 The back door was open so we were able to look around inside.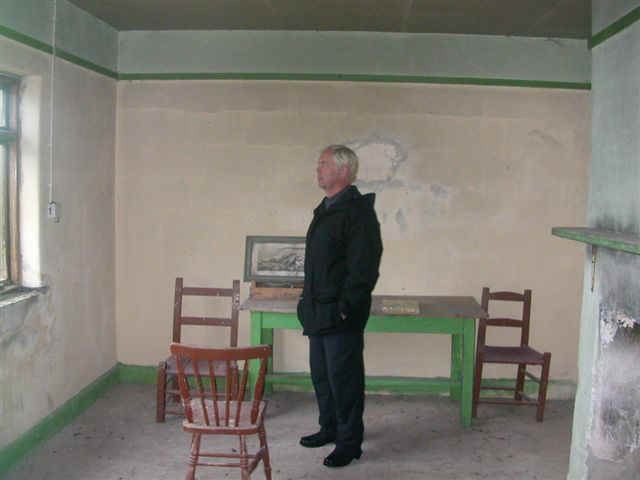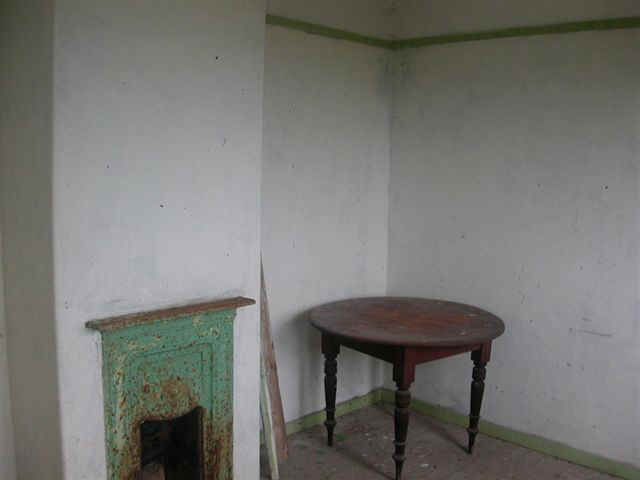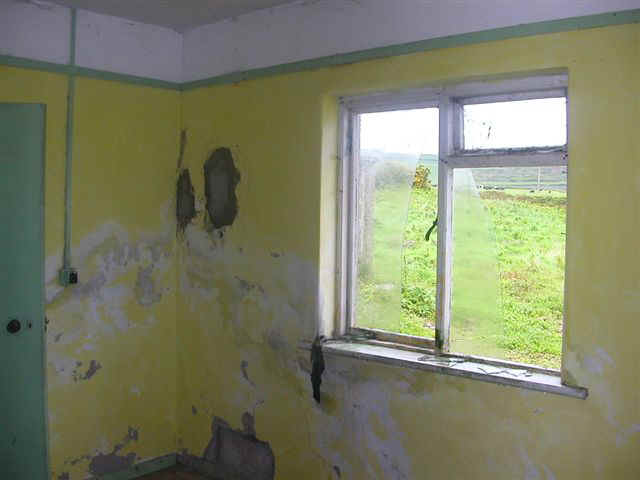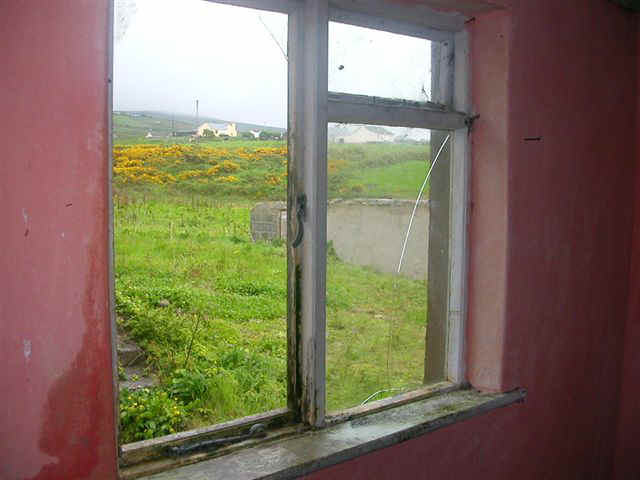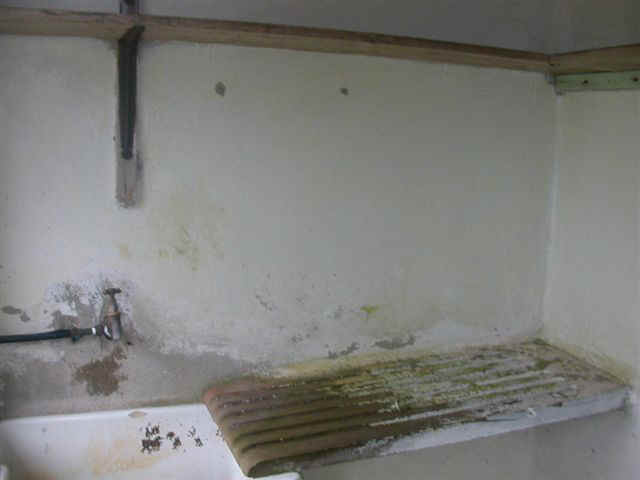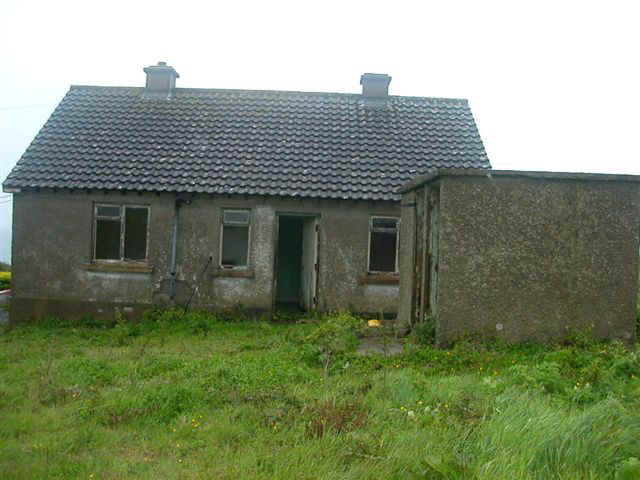 It was a four room house which in itself was not a problem, but none of the four rooms was a bathroom or a kitchen. There was a structure out back that may have, at one time, been the kitchen and bath.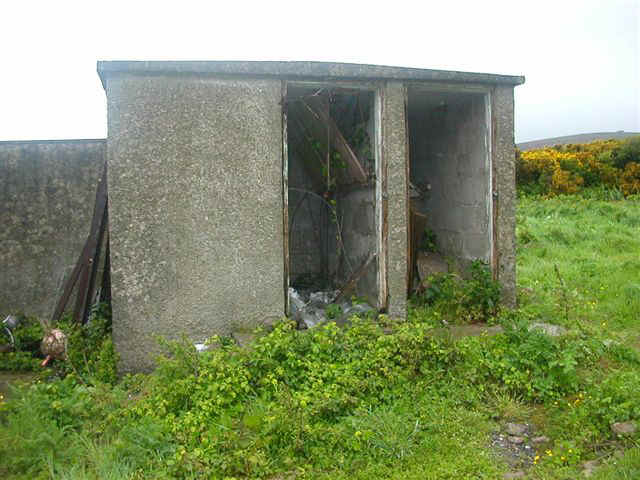 We decided that it would be too much of a project for us to make this livable (Tony: I am still torn about this. We can do it. We can't do it. We can do it).
Leaving the "derelict", we drove further out to Kerry Head at the end of the peninsula. On the way, we saw a beautiful ¾ acre lot for sale. We made a note of the real estate company and then drove back to Ballyheige where we found Jimmy Browne's Pub. Since we had skipped breakfast, we were ready for some of that delicious Irish soup, but we were just a little too early. We sipped a Harp and tried to dry out while we waited.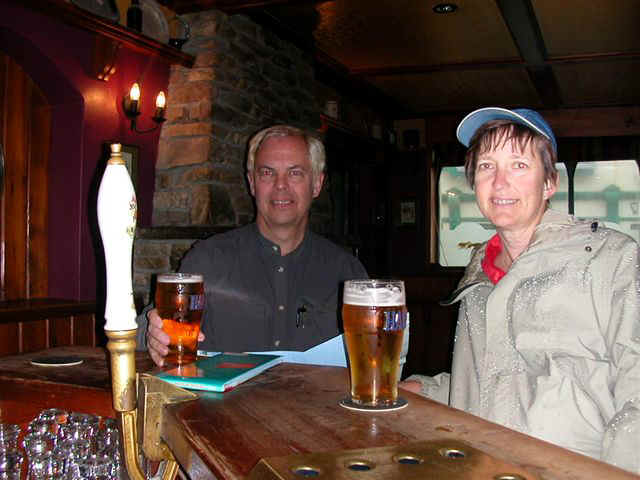 Soon our vegetable soup and brown bread arrived!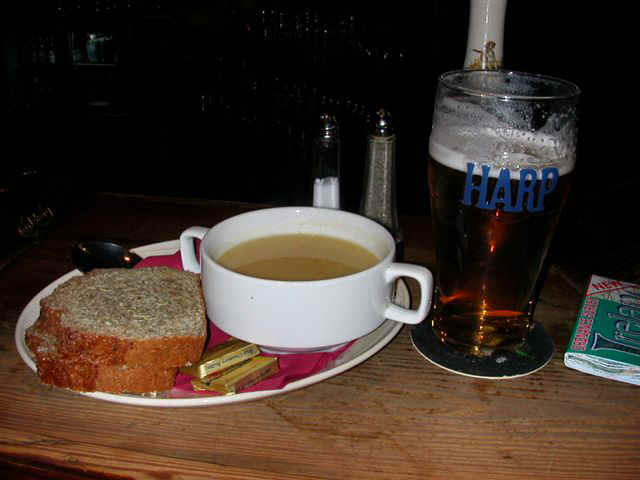 Remembering our earlier trips, and thinking about how early it gets dark, we got out our maps and decided on Tralee as our destination for the evening. We found a parking spot in front of Sean Og's pub and noticed the "Accommodations" sign. Tony went inside to check and came back with a key. 30€ each per night for Bed and Breakfast was in our price range.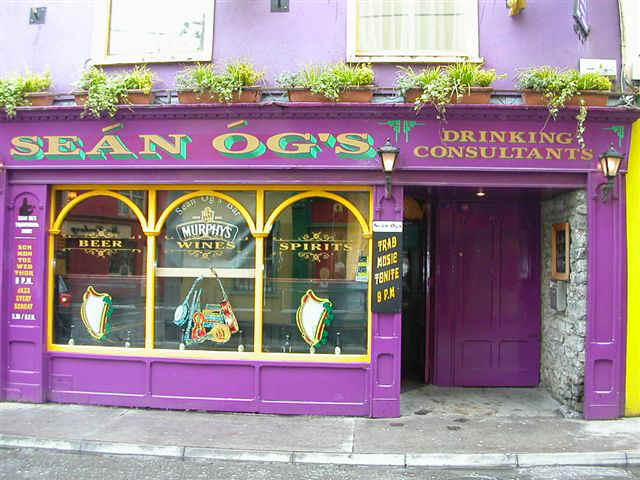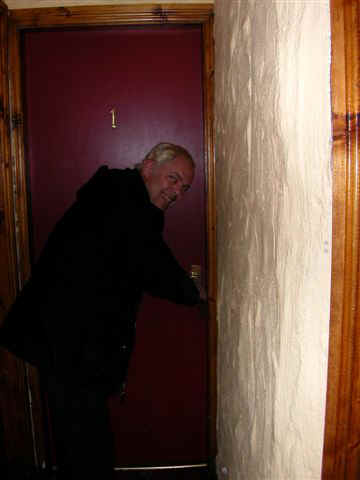 The room had a heater that we could control – very unusual in a B&B in Ireland. Usually, there is a furnace with a knob, but no matter which way you turn it, it has no effect. The heat comes on when the proprietor is ready. We turned on the heat and took a short nap before setting out to explore the town.
We saw a number of real-estate companies with properties posted in the window and found the lot that we had seen near Kerry Head was listed at only 35,000€! A steal for ocean front property! We enjoyed dinner at Kirby's Brogue Inn and then went back to our room for dessert of kindereggs and red wine.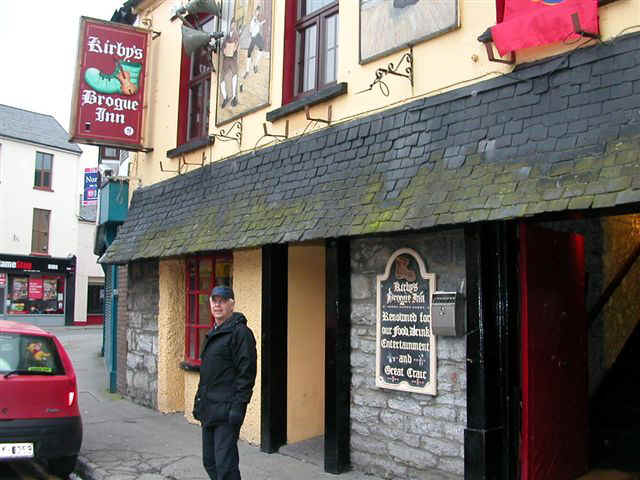 Sean Og's advertised live music, so we decided to have a night cap in the bar downstairs. The small room was elbow to elbow. We edged our way to the bar to order and then found a quiet place near the door. I overheard two ladies speaking with an American accent so I struck up a conversation. Ruth and MaryAnn were sisters who were taking the trip to Ireland that they had been planning for 10 years. They had booked a B&B in Tralee, but when they arrived, there was a closed sign on the door. They phoned the proprietor and learned that the place had been flooded, so arrangements had been made for Ruth and MaryAnn to stay at Sean Og's. We exchanged stories about our travels. Ruth runs a B&B back home in Carrollton, Kentucky http://www.bbonline.com/ky/highland/ so she was interested to see how the Irish do it. It had been a long day for us, so we decided to hit the hay. Our room was extremely warm and the bed very welcoming. Oh, and by the way, in May, the sun comes up around , and it doesn't get dark until almost , so there is no need for us to start looking at lunch for a place to bed down for the night.
The next morning, we had breakfast (Full Irish, of course) with our new friends MaryAnn and Ruth.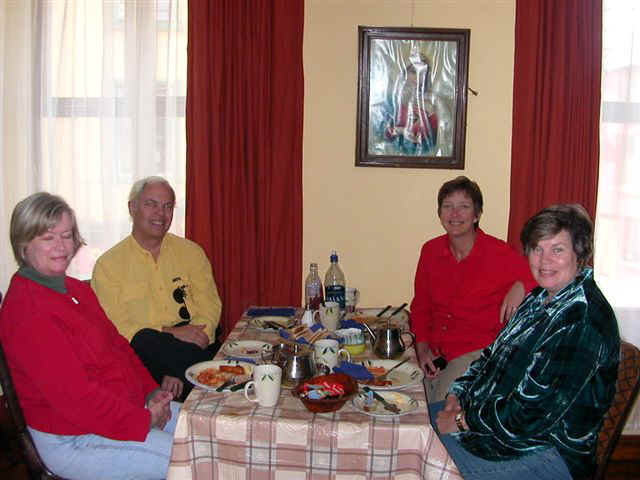 We decided to stop in at the real estate office to inquire about the lot before leaving town. The agent said that the lot was being sold, "As Is" which she explained meant that it would be difficult if not impossible to get a permit from the planning commission to build. She said that only a local might have a chance to develop it, but even a couple of locals had been turned down already. (Tony: Remind me to tell you my thoughts on real estate marketing in Ireland. "Derelict". "As is". Whatever happened to "fixer upper" or "has potential"??)
From the map, it looked like there was a ferry across the Shannon River from Tarbert to Killimer. http://www.shannonferries.com/ This was perfect since we wanted to explore the Loop Head peninsula, which is on the "Shannon side" of the river. We arrived at Tarbert a few minutes before the ferry would depart.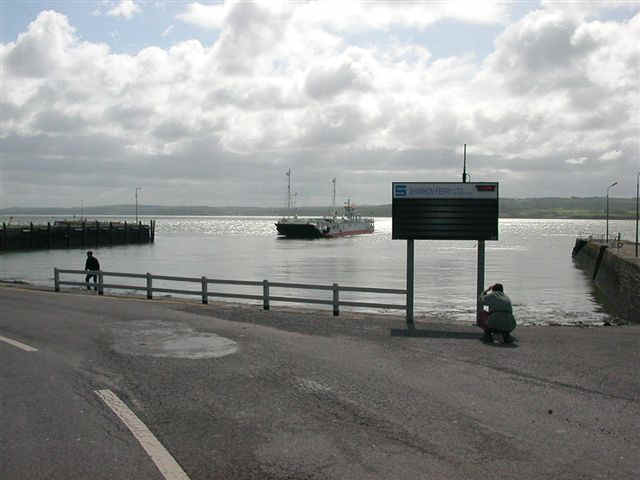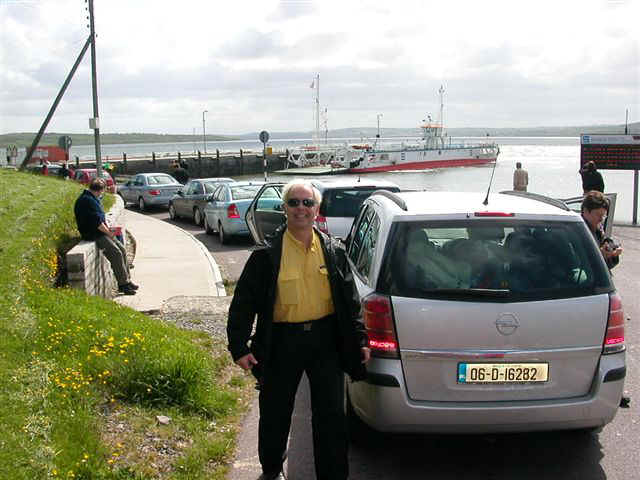 The cost was a little steep – 15€ one way or 25€ round trip – but the ride was nice. It was a sunny day but the wind made the 20 minute trip a bit chilly.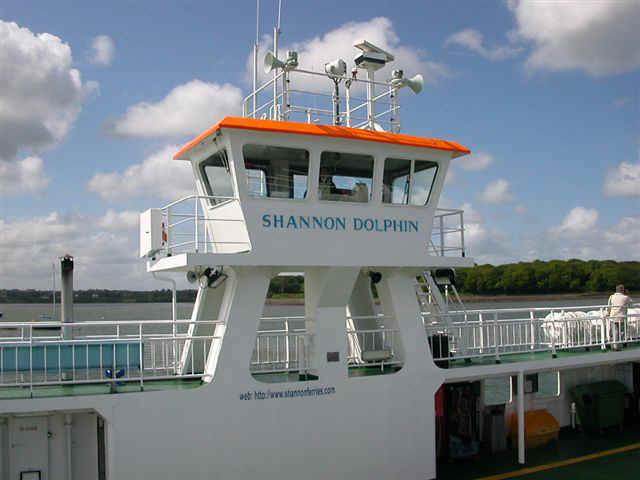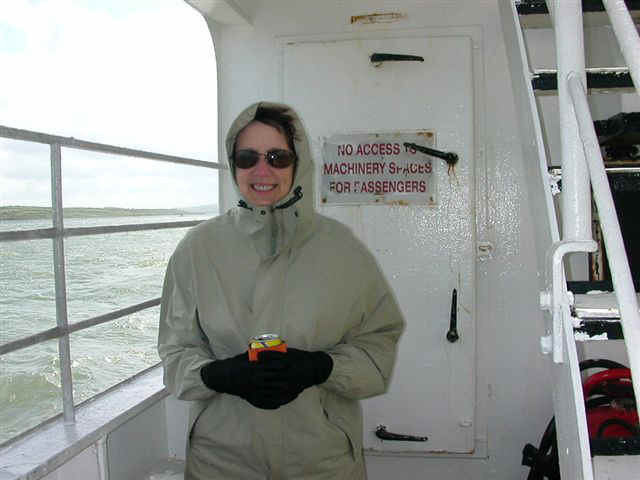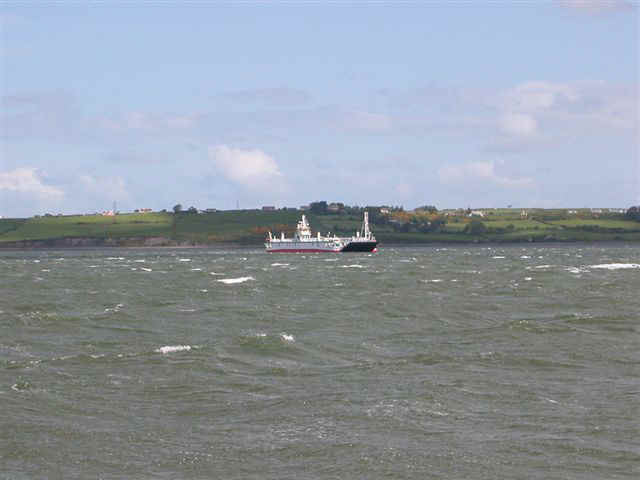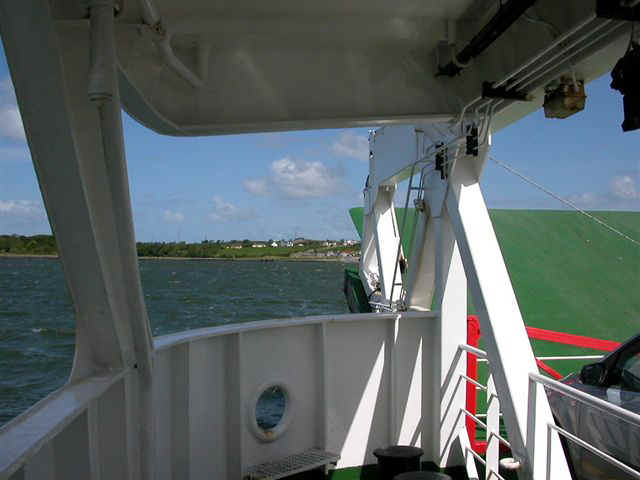 We landed and started driving along the coast toward Loop Head, occasionally stopping to look at some new construction along the way and make notes about the real estate companies. By the way, we think we have the maps figured out. A yellow road is paved with grass growing in the middle and a grey road is unpaved with grass growing in the middle.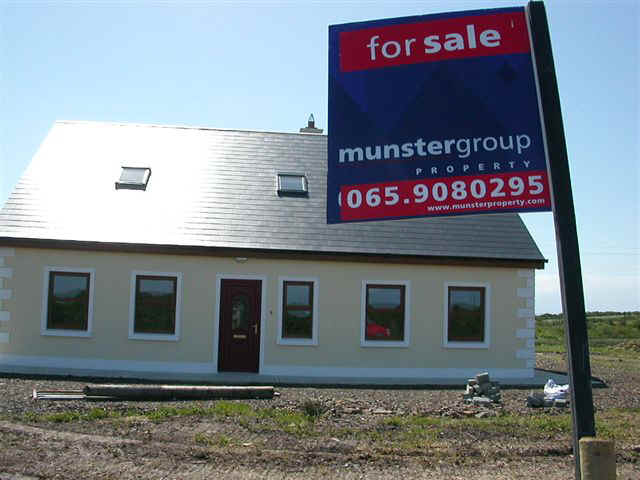 We targeted Carrigaholt for lunch. It was a picturesque little fishing village with 4 restaurants and 5 pubs. We picked Keane's, but were redirected to the Long Dock http://www.thelongdock.com/ when they learned we were in search of food.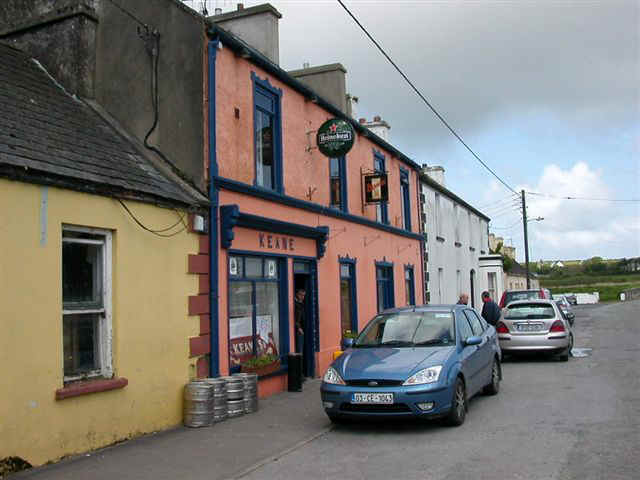 I had the wonderful fish chowder and Tony had the vegetable soup while we warmed ourselves next to their welcoming fire.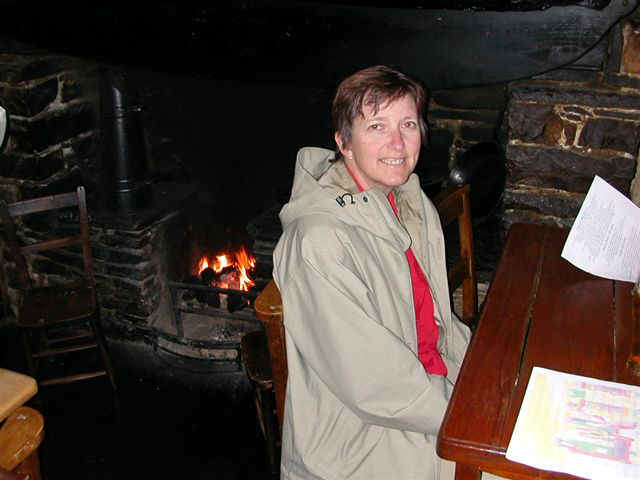 We continued our drive along the coast to Loop Head before reversing direction.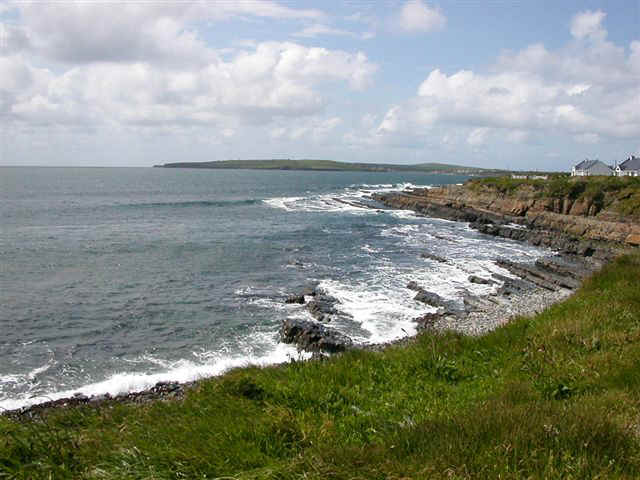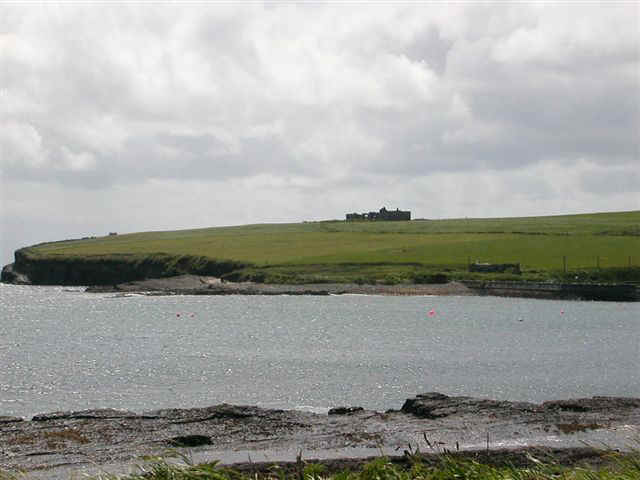 We took a left at a fork to continue the loop on the north side of the peninsula. On this road, we noticed a very cold looking man with his thumb out, so we gave him a ride to Cross Village (If you'll remember, we have accepted rides before, after hearing how hitch hiking was safe in Ireland. We thought we'd pay back a little to Karma). Further up the coast, we climbed a big hill with spectacular views back across to the Shannon River.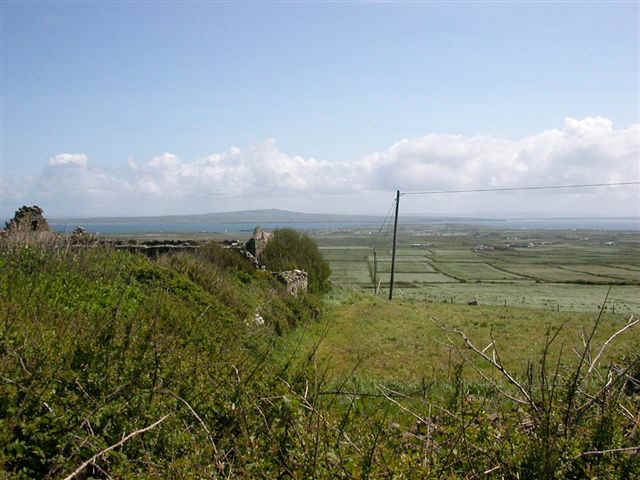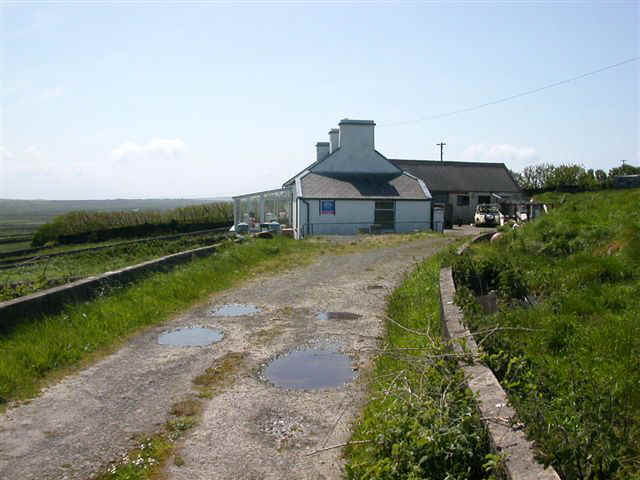 There was a house for sale at the top, so we made a note about it. Continuing along the coast, we were awarded with more great views.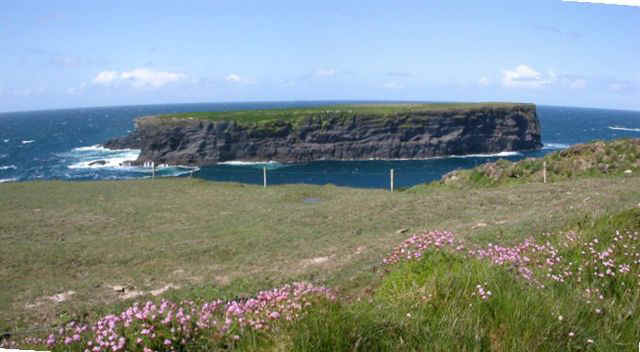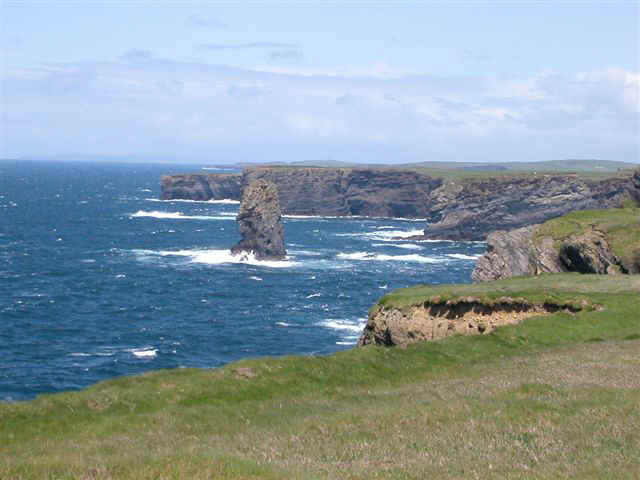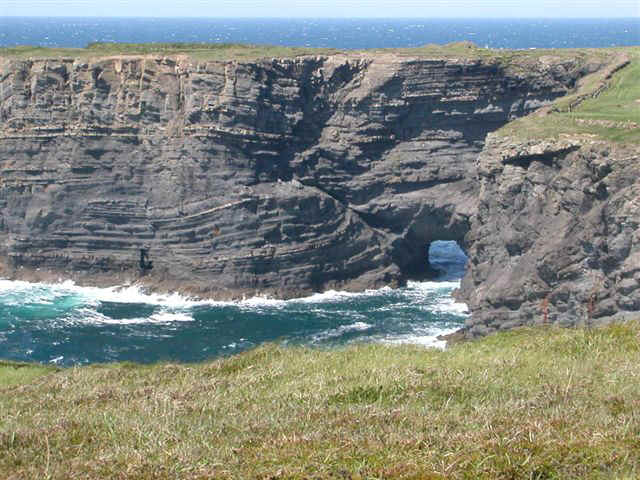 At the bottom of the hill, we turned back toward Kilkee where we stopped into Hickie's pub for a pint and to plan the rest of our afternoon.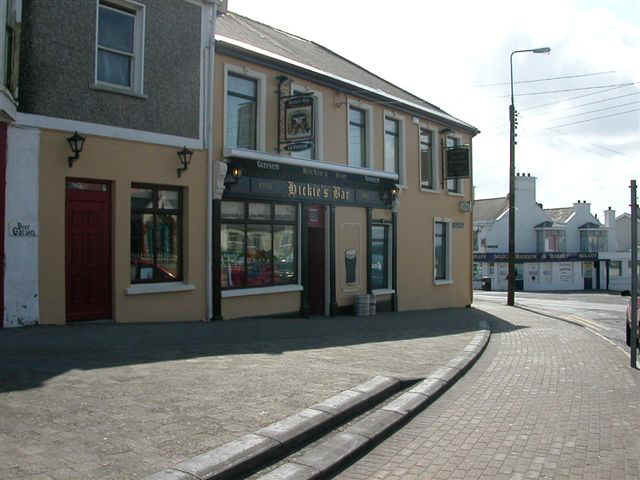 As usual, we wanted to find a place to stay close to the airport. Of course, our first thought was Ennis where we had stayed on several other visits, but decided to go on to Newmarket-On-Fergus to see what it had in store for us. In N-O-F we spotted the Hunter's Lodge and went inside.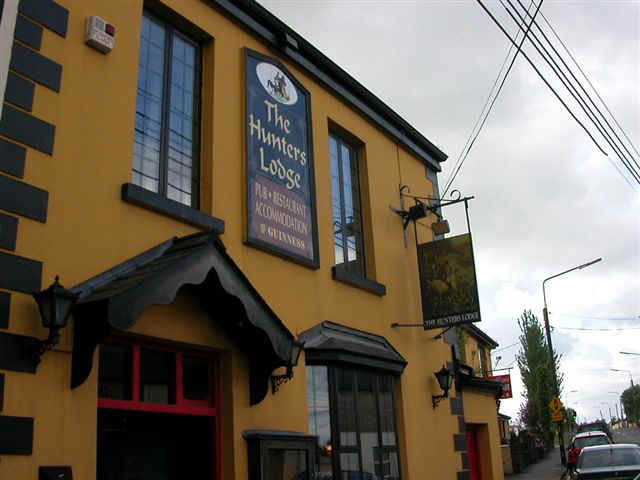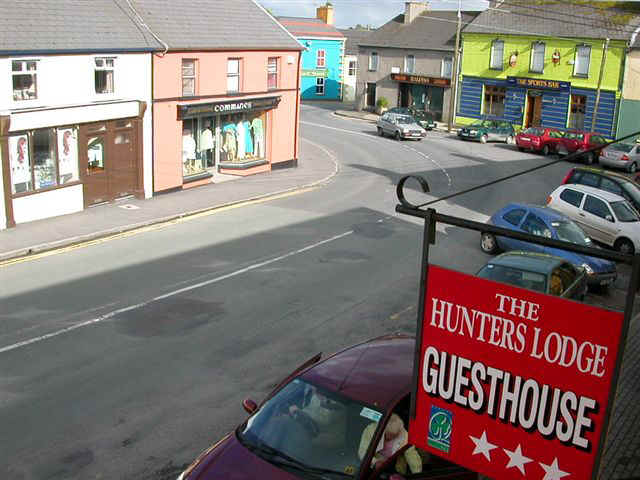 The proprietor said they had rooms available and the price was reasonable (35€ per person without breakfast). We told him we had an early flight the next morning and would be away probably before he got up. He corrected us, telling us that he probably wouldn't have gone to bed by then, "This is Ireland, after all!" After dropping our bags in the room, we set out to explore the town. We were very pleased to find that it is a cute little village with a number of pubs and restaurants. We enjoyed a walk through a quiet little park and took a peek at the sports field where a few kids were practicing hurling. A pre-dinner beverage was in order at O'Neill's pub, across the street from our room.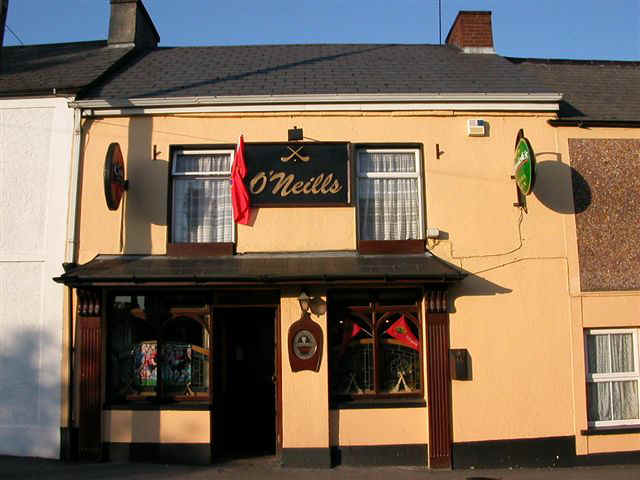 The lady behind the bar cheerfully served us our pints and then shortly after brought us the guest book and "the house specialty".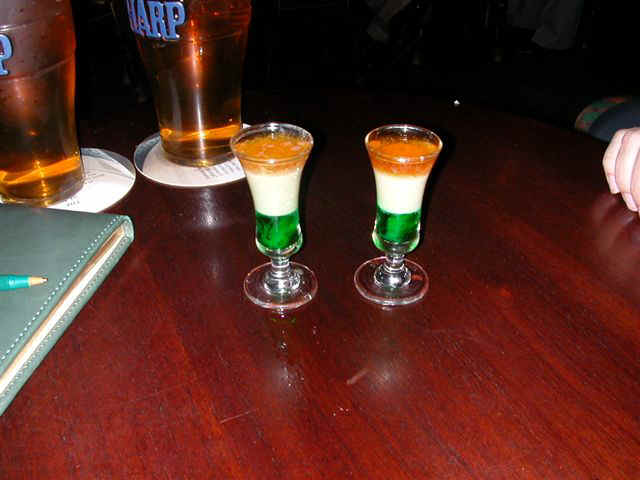 While I was taking photos of the cute little drinks, one of the gents at the bar instructed me, "You're supposed to drink it, not take its picture!" So we obliged.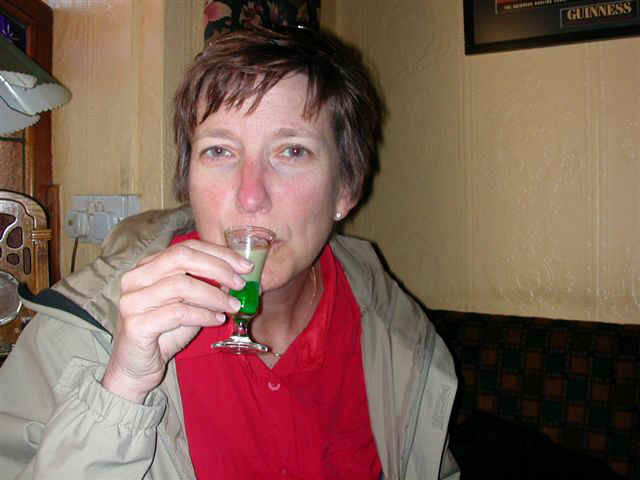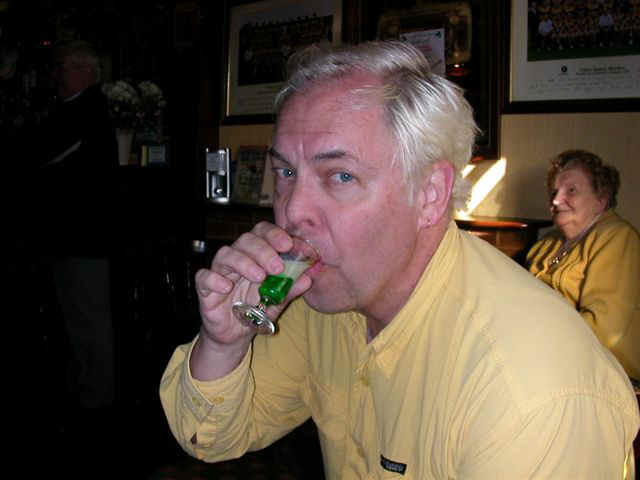 It wasn't until we flipped through the guest book and saw the other entries that we realized we were drinking an "Irish Flag". The lady just wagged her finger when I asked what was in it, but I think it was Crème de Menthe, Bailey's Irish Crème and Butterscotch Schnapps. Since it stays light much later in Ireland in the Spring, it is hard to keep up with the time. We had to hurry to finish our beers to make it back to the Hunter's Lodge for dinner. Last orders had to be placed by ! The fare was Fish & Chips for me and Chicken Gougons for Tony. We're not sure what part of the chicken a gougon is, but it was delicious. Dessert was again, Kindereggs, and then it was time for bed.
The next morning, we woke up around . Since we were only a few miles from the airport, there was no need to rush. We turned in the car, took the shuttle to the terminal and checked in for the flight. We were cleared in seats 3A & 3B, bulkhead seats. The meal was again, pasta or chicken. Penne pasta with vegetables and Italian chicken with rice and vegetables. After lunch, I strolled to the back of the plane and found a vacant 3-across that was perfect for a nap. I returned to my seat just in time for the afternoon snack of 4 cheese pizza.
We landed at and were home, unpacked and seated on the sofa by , with Tony searching for more Irish real-estate opportunities.
Stay tuned. I have a feeling this story is not over yet!
BJ (and Tony Morris)
bj@bjandtony.com