Edinburgh, Scotland
June 2006
"World Cup Time"
This trip started like so many others do; 4 of us at the airport bar, waiting to board. Actually, the trip began with Delta's new service from Atlanta to Edinburgh, Scotland. As you may have read before, as much as we'd like to visit Europe in the warm months, we always find it difficult. Summer time is when everybody wants to go to Europe, so we generally save those destinations for the cool months. But new service appeared to offer new opportunity. The flights to Edinburgh during the first few weeks looked good, so our travel buddy N. started talking things up. As usual, we faced the "leave Thursday come home Monday" versus the "leave Wednesday come home Sunday" dilemma. So of course, we decided to leave Wednesday and come home Monday. Because of a last minute illness, BJ would not be able to accompany us; it was going to be me, N., K1 and K2. I had traveled with these women before, but never as a group, and never without BJ. We all decided that once we "got our cycles synchronized", everything would be fine. Additionally, our friend David arranged a business meeting in London starting the Monday of our planned return, so he arranged to fly over Thursday evening, with his sister in law, Marlene, and hook up with us at our hotel. Back to the airport bar; we shared a table with a delightful gentleman who was flying to Shannon Ireland that night. Or so he thought. After a three hour delay (we got to share the table longer than expected since we took a 90 minute delay ourselves), his flight cancelled and our flight boarded. We took our four business class seats together, and after a welcome glass of champagne and a few glasses of Spanish red wine for the ladies and Italian red for me, (on top of a good bit of red wine at the airport bar), chicken for N., pasta for me, it was lights out.
Arriving refreshed (after 6 hours of sleep) in Edinburgh, we quickly cleared customs and headed out to the lobby to hit an ATM and pick up our rental car. Before leaving, I arranged an inexpensive 1 day rental with Thrifty, since we had agreed that we would like to spend a day and night in St. Andrews. Although none of us are golfers, the group had decided that there would be enough "history" (aka. "bars") to keep us happy for a day or so. Although slightly off-airport, we quickly arrived at the Thrifty counter (in the lobby of the Quality Inn Hotel, and right next to the site of the HUGE Royal Highland Festival (more on that later). After a 20 minute "walk around" of the car, where the agent showed me every possible feature of the car (prompting N. to ask "Are we buying this car, or just renting it??) we jumped into a beautiful, 6-speed, turbo-diesel, power everything, full-length-moon roof-equipped Peugeot 407 station wagon and headed north.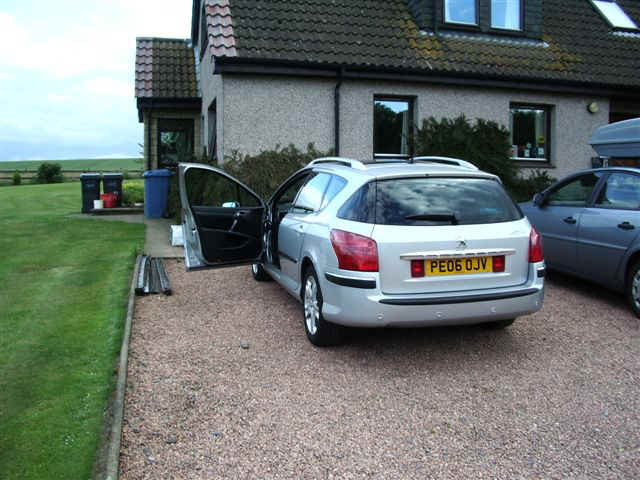 Traffic around the Highland Show was awful, and the roads are very confusing, so it took all 4 of us to navigate out of town. Once away from town, across the Forth Road Bridge, the miles started to click away. In less than an hour, with N. and K1 both looking a bit green (neither likes to ride in a car, and both prefer the front seat) we stopped in the lovely town of Cupar for lunch, and, you guessed it, a fine Scottish beer (Belhaven's Best). Interestingly, the Belhaven's Best Light, which I ordered, was darker in color and richer in flavor, than the Belhaven's Best. As it turns out, the Light for Belhaven's means "light alcohol"; 3.5% instead of 5.5%. We grabbed a few sandwiches and sat down in the pub to watch the World Cup. That's when the bartender told us that his satellite dish was down and we wouldn't be able to watch the game there. Pounding down our beer, we jumped back into our car and drove the last 10 miles or so to St. Andrews.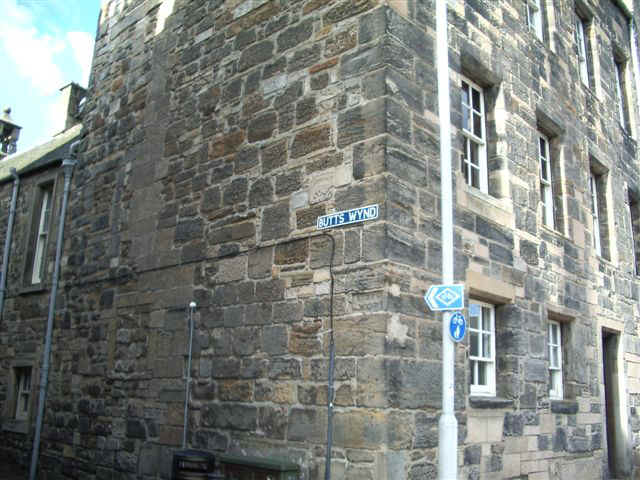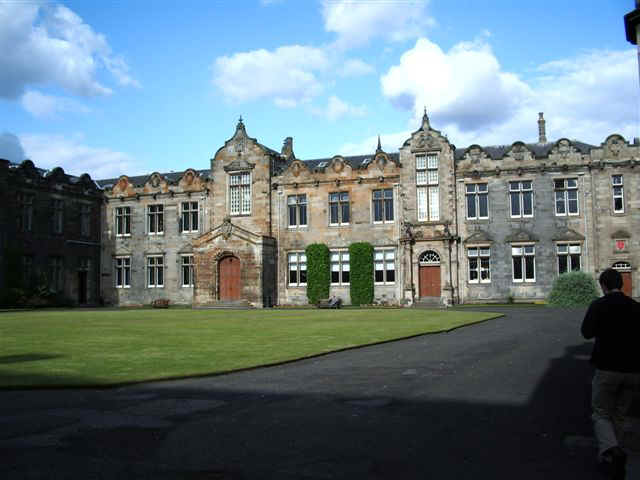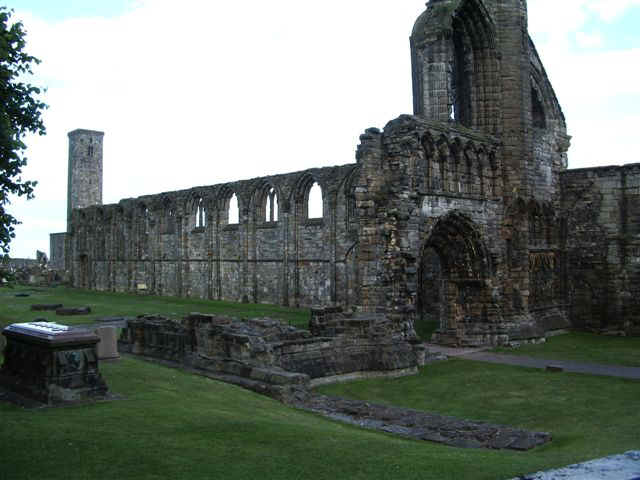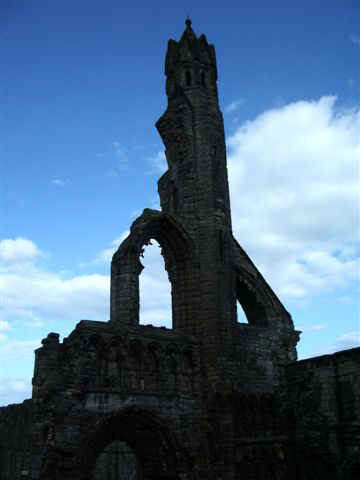 We parked on the street, asked a construction worker where HE would go if he was going to watch a "football game" (a sports bar called Ma Bells) and sat down just in time for the kick off of USA versus Ghana. After the game (we lost), we drove the 2 miles out of town to our home for the night, the lovely Spinkstown bed and breakfast (http://www.standrewsbandbs.co.uk/spinkstownfarmhouse.htm ).
Here we learned why it had been so difficult to find a room in St. Andrews; this entire week is Graduation Week at St. Andrews College. There are 2 ceremonies each day for the week. That also explained why we saw so many lads in kilts, and lassies in black robes and mortar boards in town. After dropping our bags, we headed back to town for a glass (or two) of wine at the Fairplay Bar, while we decided what we'd do for dinner. The consensus was that Ma Bells had been fun, inexpensive (relatively) and had excellent television availability (since there was another soccer game coming on at ), so we headed back there.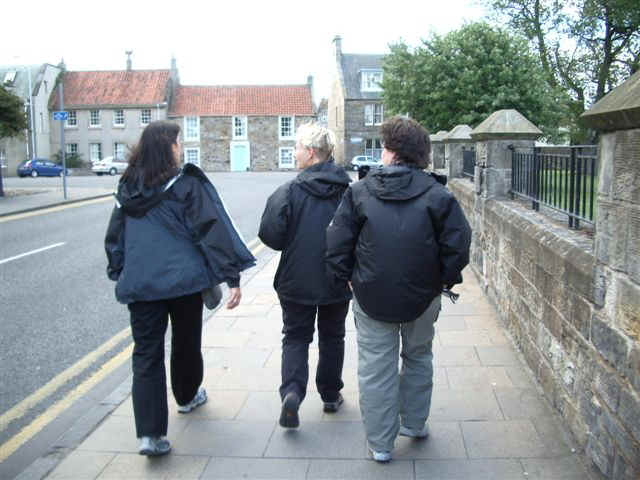 The pizza that we had seen on the menu at lunch was, sadly, sold out, so it was sandwiches and salads (and wine, of course) for tonight's dinner. Around we headed back to our B&B (it was still light outside, until almost ; and light again by !) where we shared a bottle of wine or two in the lounge, then off to bed.
Friday we were able to sleep in, since we didn't have to have the car back until around , and David's flight was running a bit behind schedule. Our hostess had advised that breakfast was "any time between and ". Then she let us know that she already had someone at 8:00, so we selected 8:15 for breakfast. Most of the group went for the full Scottish breakfast (much like the full Irish breakfast, or the full English breakfast) and were stuffed by the huge bowl of fruit that was delivered before the cooked food arrived. We met a lovely couple at the table who were in town for their daughter's graduation ("She wants to take a year off and be an au pair in the USA, preferably near Boston."). We then headed over to the Old Course at St. Andrews since our hostess had suggested that we have a cup of coffee in the "19th hole" because it has lovely views of the course.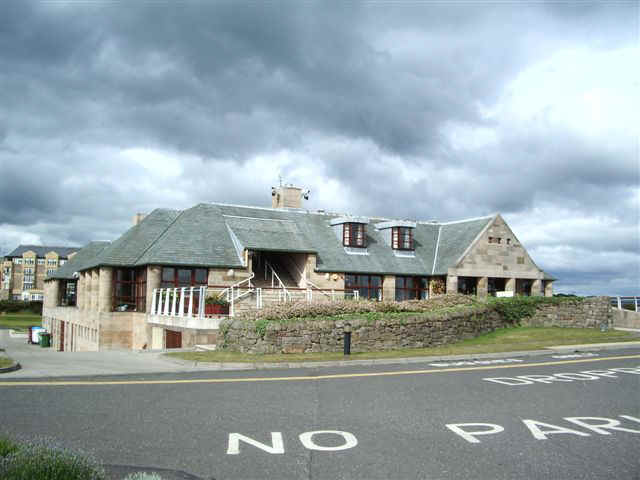 After shopping in the pro shop, we stopped in the lounge for a Bloody Mary. "We're sorry. We don't serve alcohol until ." Do these people even UNDERSTAND golf!!??? Around we piled back into the car and began the drive back south, stopping to top the tank off, and to let the back-seaters get some fresh air. With much appreciated assistance from the passengers, we got the car back on time, and loaded into a cab for a short ride to our hotel for the next 3 nights, the Corstorphine House (http://www.corstorphinehotels.co.uk/booking.html) , where we (thought we) had reservations. The taxi dropped us off less than 10 minutes after David and Marlene had gotten to the hotel. That was fortunate, since we were all together when we learned that the Corstorphine didn't have any rooms! (That Royal Highland Show had taken most available rooms in Edinburgh this weekend.) After a quick phone call, however, the Corstorphine had arranged us a "family room" (quad) and a double room at their "sister hotel" the Cumberland. The Cumberland had been N.'s first choice, but she could never get rooms confirmed there. After buying an all day bus pass, we road about 2 miles closer to town, to our hotel. Perfect! The Cumberland is in a much nicer, more convenient location, near the Haymarket train station. After checking in and dropping our bags, we walked off towards town center, stopping at The Grovesnor for lunch and a Tennant's beer (or two).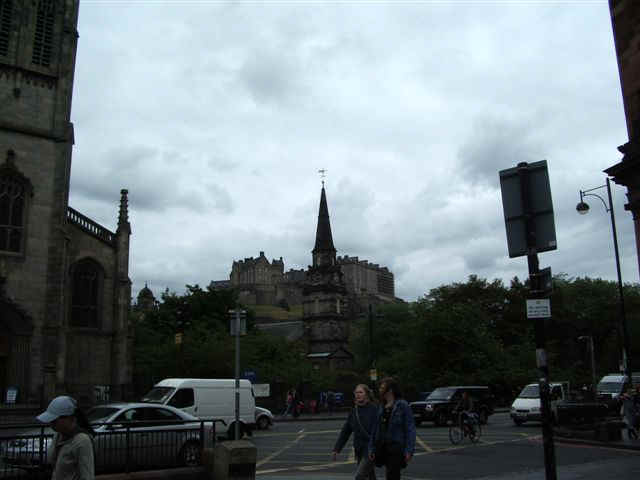 Continuing in, and up, we arrived at the heart of Edinburgh, the old Edinburgh Castle, where we enjoyed a fascinating tour hosted by a Scot named Jim.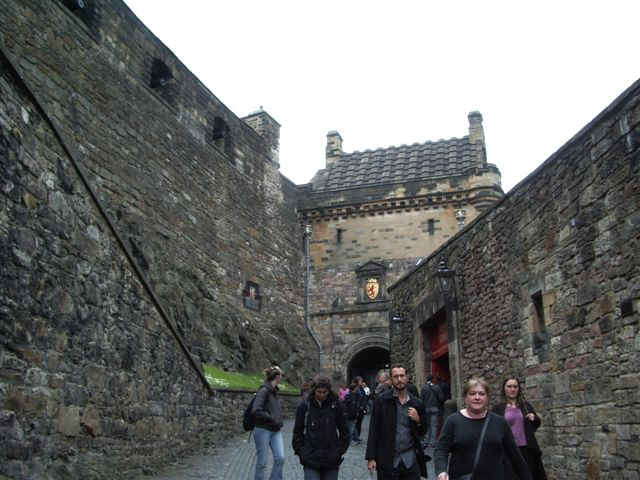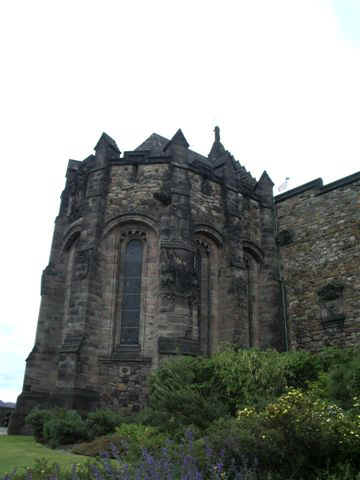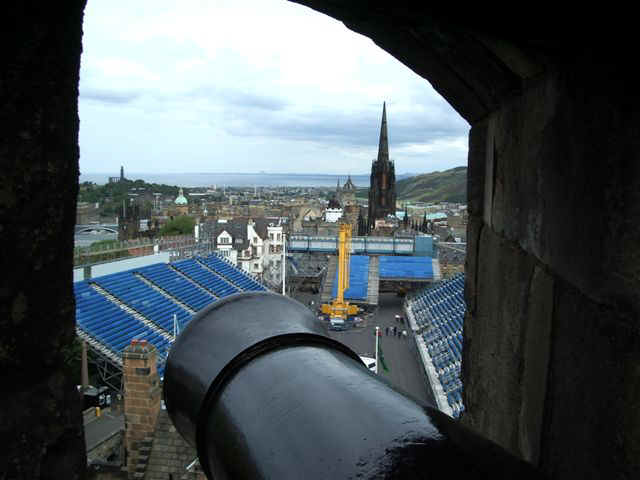 After the tour, we wandered down the "Royal Mile" (a shopping street) stopping at the Worlds End bar for some refreshment. Here we asked several "local" folk if they had been to the Royal Highland Show. After more than one blank stare, we decided that perhaps we would skip the show as well. Putting together everything we learned about it, we decided that is was an agricultural show, and, while hugely attended, it was attended mostly by the rural, farming folks who come into Edinburgh just for the show. As we started moving back towards our hotel, we walked towards an area described as "quaint", Dean's Village. It was certainly quaint, but was residential only; no shopping, no stores, no pubs. Our next target was the Dalry Road area, where we had heard that there were several excellent Italian restaurants. We settled on a little place called Il Tricolore (63 Dairy Road); perhaps 10 tables, with the manager, his wife and daughter out front, a chef in the kitchen, and the World Cup on TV. The food was excellent, as was the service, even though the manager looked like he was running laps. After dinner, we headed back to guest lounge at The Cumberland, where we shared several bottles of wine with Ian, from Belfast (who greeted us with, "Good evening. I am DRUNK.") and later, 3 friends from the Shetland Islands, who WERE in town for the Highland Show. The Shetland boys had just returned from Glasgow, where they had seen the Eagles in concert!! Around (just recently dark), our group headed off to bed.
Saturday morning, we again met for breakfast around . There were several "full Scottish breakfasts, a couple of "vegetarian breakfasts", and two or three "continental breakfasts". None were particularly memorable. If you stay at the Cumberland, don't fret missing breakfast. After breakfast, the 6 of us struck out for the Holyrood Palace area, which took us along the Royal Mile again.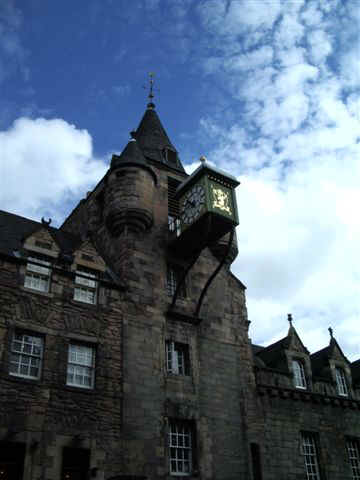 After a beer at a nice little outdoor café near the palace, we agreed that we would like our next beer to be "on the water" and thought that something called the Leigth Walk would be entertaining, since it ended at the harbor. We walked, and walked, and walked. Although the map showed a footpath along the River Leigth, we could never find it. Instead, we ambled along a busy street not unlike Buford Highway in Atlanta; a very ethnically diverse road with fast food shops of every kind. After about 6 miles, we made it to the harbor, only to find a very American-style shopping mall. We looked around and settled on an outside table, overlooking the harbor and the royal yacht, at The Zinc Bar for lunch. (If you miss it, don't fret.) Since we felt like we had all gotten our exercise, we elected to take the bus back to town center. Once we got back to town, we settled in at Oliver's WunderBar just in time for more soccer; Germany versus Sweden.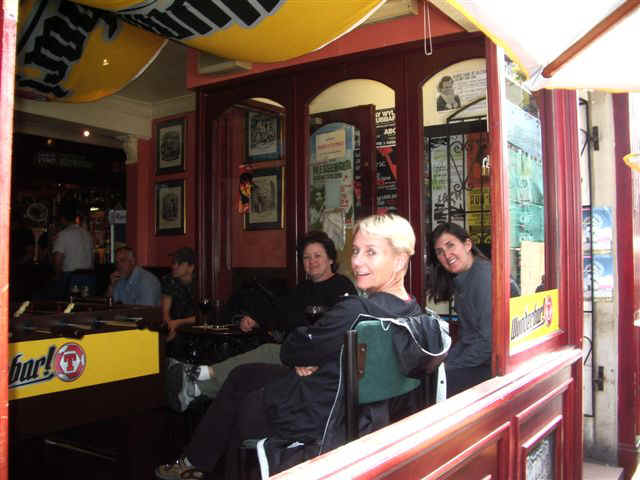 David and Marlene, who apparently aren't as fond of beer as the rest of us, headed out on their own to check out train schedules (since they were heading to London on Sunday) and then took a side trip to find a church that was central to the book The DaVinci Code. After watching Germany defeat Sweden, the 4 of us started walking back to towards the Haymarket, where we had seen (smelled, actually) a Nepalese restaurant where we (thought we) had agreed to have dinner. To make a short story boring, we eventually hooked up with David and Marlene at The Kuhkukeri (after a little wine and soccer at the Haymarket Bar) and enjoyed a wonderful, filling, and reasonably priced meal of various curries and stews with rice. Leaving the restaurant, we saw a beautiful rainbow over the city.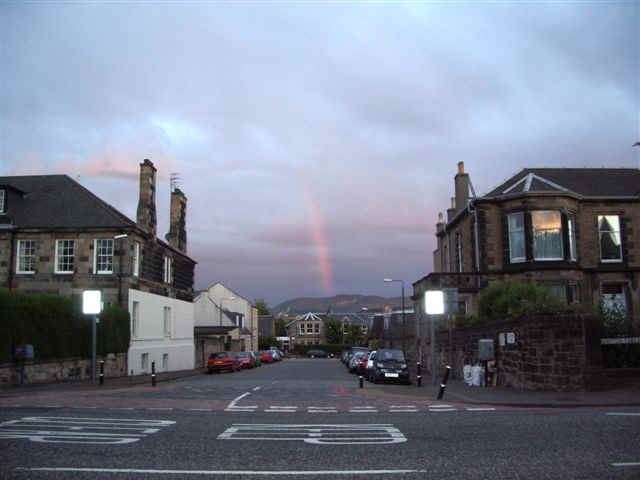 Back at the hotel afterwards, we again shared a little wine with 2 of the Shetland Islanders, before our bedtime.
Sunday morning, a bit of miscommunication had the boys at breakfast at and the girls, uh, still in bed at . There was no real hurry today, though, since David had a flight to London City airport, and Marlene had a -ish train. Once we were all finally up and about, David jumped on the bus for the airport, and the rest of us headed for the Waverly Station to catch our train(s); Marlene to London and the rest of us to Sterling where we planned to spend the day.
Sterling is an absolutely darling little town less than an hour from Edinburgh (and about 30 pounds, round trip for 4 people, if done as a day trip). In Sterling, we (of course) stopped for a beer on the way up the hill to the beautiful Sterling Castle.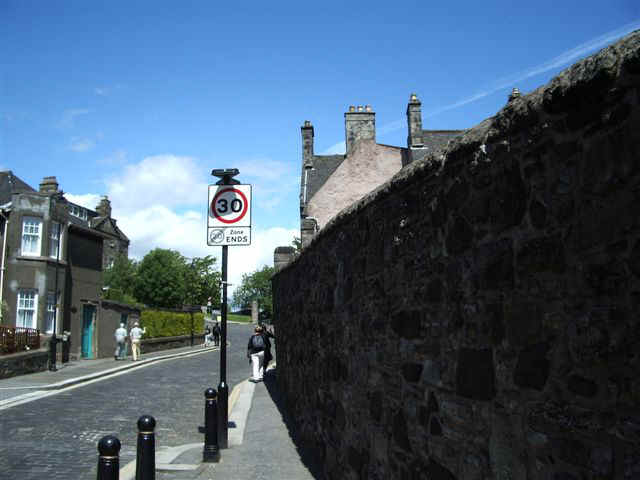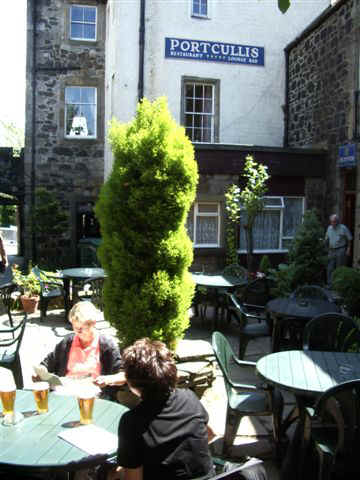 We spent several hours inside the castle, taking in the sights, including a falconer.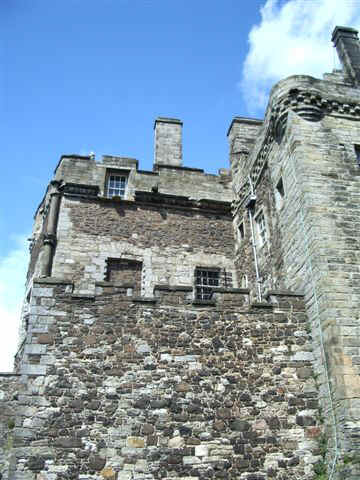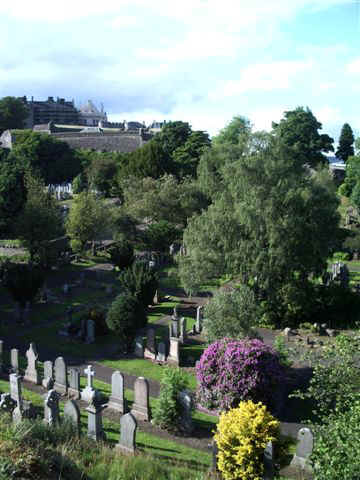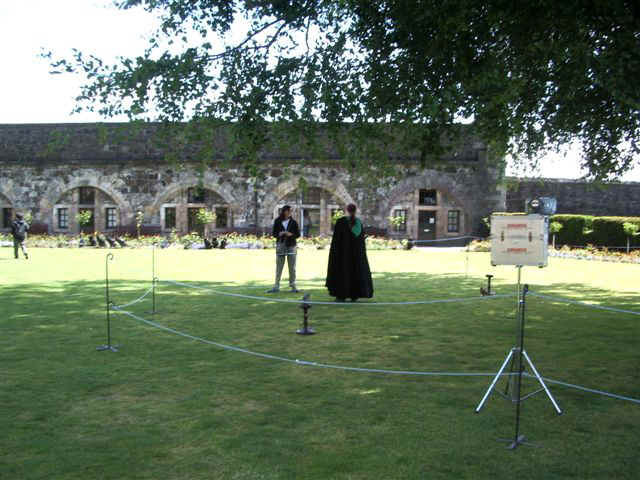 Afterwards, we headed back down the hill to find a pub with televisions; today England was playing Ecuador and we weren't sure how the Scottish crowd would react; but we knew we wanted to see it! Stopping at O'Neill's (an Irish pub in Scotland), we found a table, and the first pitchers of beer I've ever seen outside of the U.S. Any time the English soccer players performed well, about half the crowd at O'Neill's cheered, and the other half booed. It was very entertaining. We hit the train back to Edinburgh Haymarket station, and stopped into La Partenope (http://www.edinburgh-festivals.com/cityguide.cfm?id=57972003&vid=2743) for a little more Italian food. We were all frustrated to find this sign, less than 300 yards from our hotel.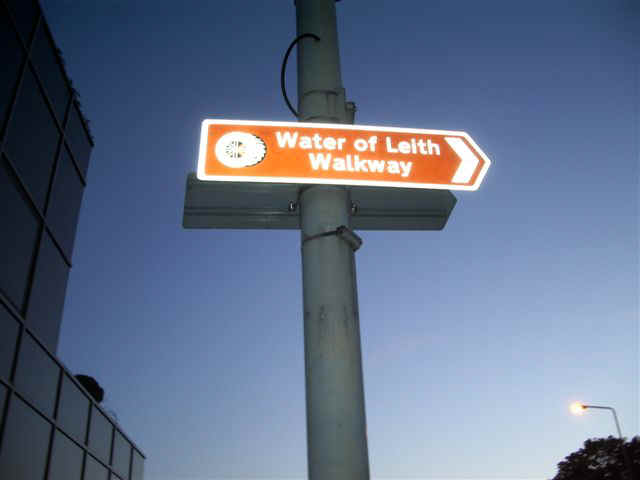 Back at the hotel, we finished the last of the wine and headed off to bed. Tomorrow we (thought) we were (all) heading home.
Monday morning we awoke late, cleaned up, checked out and jumped on the convenient Express Bus to the Edinburgh Airport (3 pounds each; only 2 stops from our hotel to the airport) and checked in for our flight. Prior to going to bed last night, we had checked the flight and it was showing 19 business class and 6 coach seats available. When we checked this morning, it was 3 business class and minus 26 coach. This prompted everyone to check in with an S2 priority. The S2 helped N. and I get home, but sadly, we were forced to leave the 2 K's. AND I WAS IN COACH! My word! Fortunately K1 and K2 made it (with S2's) onto Tuesday's flight, only a day behind schedule. Reminder to self: Europe is for the winter, Europe is for the winter, Europe is for the winter.
As a side note, and adding on to N.'s observation about prices: prices in Scotland, like the rest of the U.K. are very deceptive. Take a bottle of wine, for instance. In the U.S., a bottle of Brand X wine might be 7.99; in Europe, that same bottle is 7.99; and in the U.K it's also 7.99. The problem is, in the U.S. that 7.99 is a penny short of 8 dollars. In most of Europe, it's 7.99 Euros, about 10 dollars, but in the U.K., that 7.99 is just short of 8 pounds, which is about 15 dollars. The prices can sneak up on you. That B&B at "45 per person per night" doesn't sound bad, until you realize that's about $160 per night.
Respectfully submitted,
TM
Tony Morris
tony@bjandtony.com