Leeds, Alabama
September 2006
"It's the Pits without BJ"
With BJ headed to the Delta Women's Golf Tournament in Phoenix, I decided I needed to do SOMETHING this weekend. Flights back to Europe looked marginal, at best, although I did have a friend who might be going over for business; meaning a free place to sleep. A "Perfect Storm" of inspiration (third glass of wine, no National Powersports motorcycle auction, a motorhome in the driveway that hasn't moved in 3 months) had me call my brother to see if he was racing anywhere (www.valucycle.com) this weekend. Indeed, Tim and his wife and daughter were planning a trip to Barber Motorsports Park (www.barbermotorsports.com) in Leeds (just "this side of" Birmingham, Alabama; about a 2 ½ hour drive). Tim is a motorcycle roadracer (big pills, small brains) and there was to be a WERA event this weekend. They were going over Saturday morning, and returning Sunday afternoon. I invited myself to meet up with them at the track, offered to let his wife stay home (in case she was only going as his backup driver, in case "something happened" while he was riding), and googled the exact location of the track. My GPS is nowhere nearly as sophisticated as BJ's, but since I was taking a laptop with Microsoft Streets and Trips 2006, I wouldn't be "alone" on this trip.
After topping off the fresh water tank and "refreshing" the tires, I loaded up with "expendables" for the trip; Diet Coke, Fresca, ice, hummus, celery, wraps (still South Beaching), several grilled hotdogs and hamburgers, condiments and… a bottle of Zinfandel, the perfect wine accompaniment for 'burgers. Around 0900 Saturday morning, I headed out. A quick stop for 35 gallons ($83.83 Aarrggh!) of #2 Diesel, a short, uh, "rest stop" and an hour or so behind the wheel had me in Alabama in short order. Cresting a hill, I noticed something unnatural ahead; there were a few cars slowing down in both directions on I-20. Then the picture started to come together. There was a tractor trailer truck off the road ahead of me, pointed in "my direction", tilting over on its side; there was a large amount of dirt on the roadway; there was a 60 yard long, 10 foot wide path "plowed" through the grass dividing the lanes; and there was half of a small car sitting in the median. I realized that I had just missed witnessing (or, 30 seconds earlier, being involved in) a horrible accident and fearing the worst, I pulled over to offer whatever assistance I might. Fortunately (for me AND the teenage driver of the small car) an Army nurse was the first person on the scene. Remarkably, the young driver apparently suffered only a bloodied nose, and some seat-belt rash. Going back to my camper, I bagged up some ice cubes and delivered them to the nurse, and to the tractor trailer truck driver, whose only physical complaint was about his ribs. Although the young driver could answer questions (What's your name? Where do you live? What day is it?) he said that he had no recollection of the accident. Another trucker, who had stopped and was with the injured driver, advised that he had "seen it all". He told me that he had seen the white car stop in the left lane of the Eastbound Interstate and start backing up towards a gravel "cut over". The soon-to-be-damaged truck moved left, but then the white car, still backing up, swerved into the right lane, causing the fast approaching truck to swing left to avoid him. One more swerve back into the left lane put the white car in the perfect place to be cut in half, and put the tractor trailer into an uncontrollable ride across the median and into oncoming traffic, where fortunately, he was safely avoided by everyone travelling westward. About 15 minutes after I stopped, an ambulance arrived and I decided that "my work here was done". Back on the road, but driving very carefully, I arrived at Barber Motorsports around (Eastern time; I never reset my watch for Central time.)
In the unlikely event that someone challenges you to a "Name the nicest racetrack in the USA" contest, the first place that should come to mind is Barber.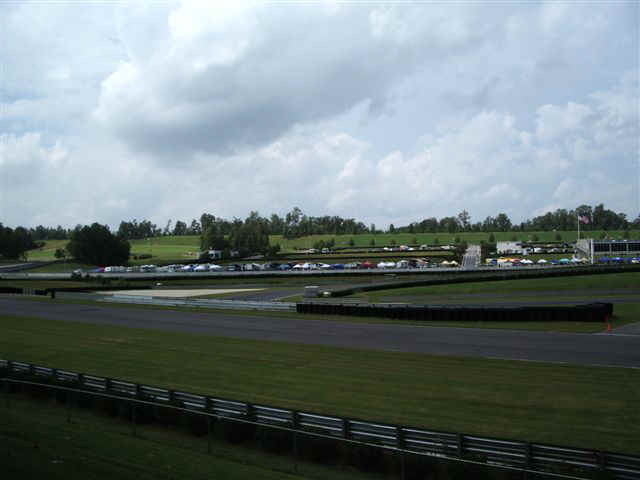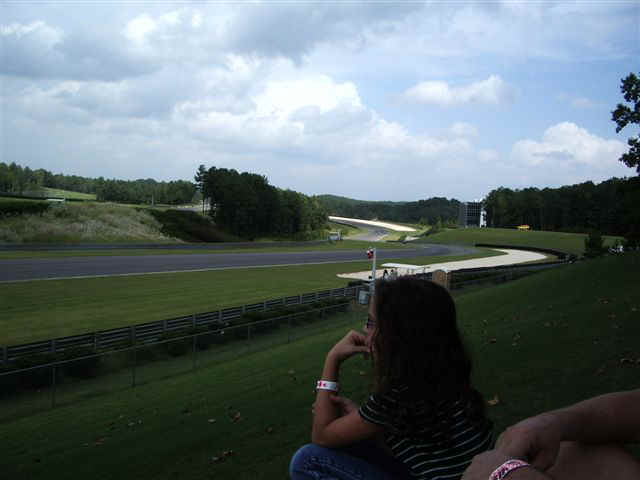 I cannot say enough about how beautiful the facility is, and I am pretty partial to Road Atlanta. RA is pretty, but Barber is in another league altogether; great spectator facilities (read that as "bathrooms, showers!, concessions, more bathrooms"), great parking, wonderful views from many different locations around the track, an interesting "technical" race course, visible (and some oddly hidden) "artwork" and a 4-level paddock area for the racers (and their crew member brothers).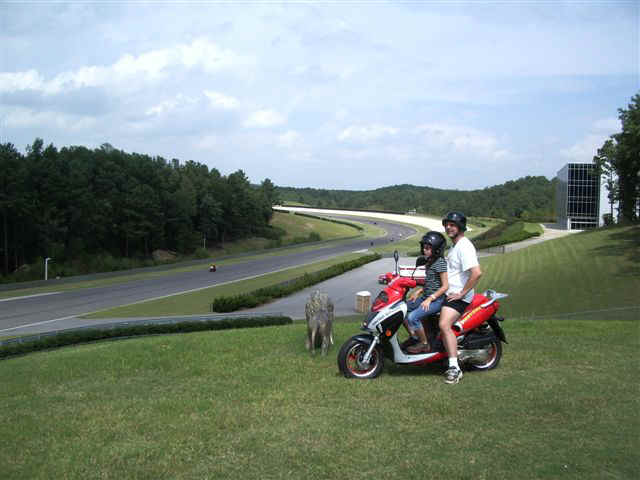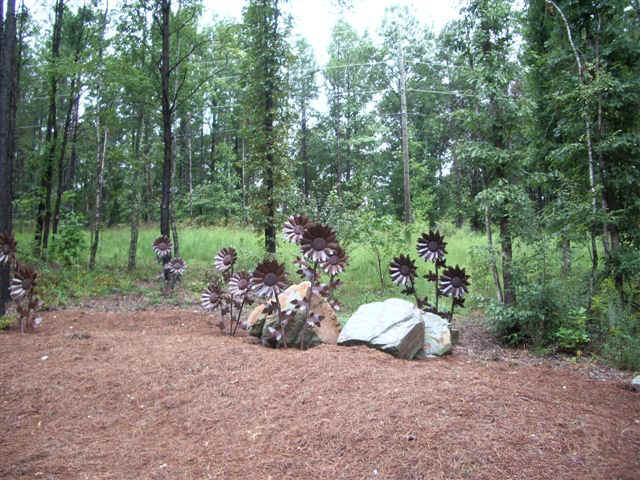 It's a good thing the track was so pretty, because watching Tim race was a bit of a denouement. He was racing in something called the "Mini" class (anything 85cc's or less is legal) and he had the fastest time in his class in practice. For his race on Saturday, he finished second. Did I mention that there were only 2 bikes in his class? Tim, a 180 pounder on a lowered motorcross bike, and a 115 pound 14 year old (big pills, no brain) on a hybrid roadracing Honda RS125 chassis with a class-legal engine. The kid could smoke Tim anywhere on the course... and did. After the race, Tim and "the kid" talked a bit, and both agreed that it is more fun when you have someone to race with, so… the kid agreed that they would "play together tomorrow" (since there would be another practice, and race, on Sunday.)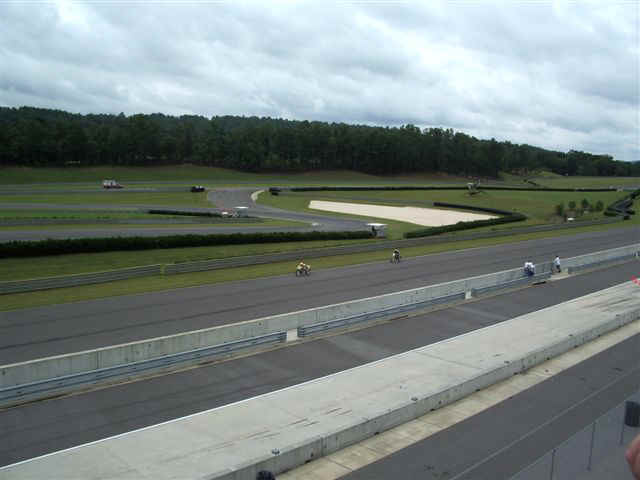 Done with his racing duties for the day, Tim, Emma and I took the scooters that ValuCycle thoughtfully supplied, and road around the outskirts of the track, to the Barber Motorsports Museum, on property… another plus for this facility.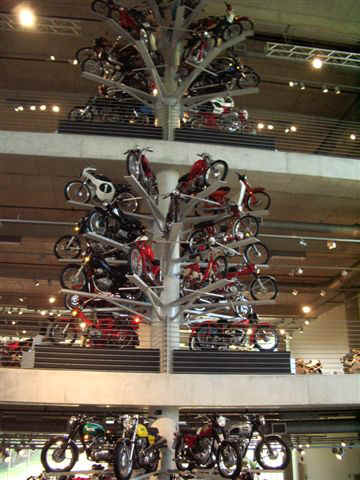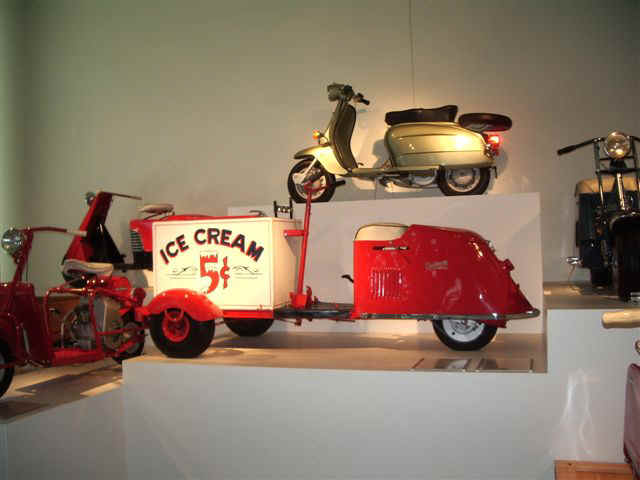 Hey, is that my old RZ?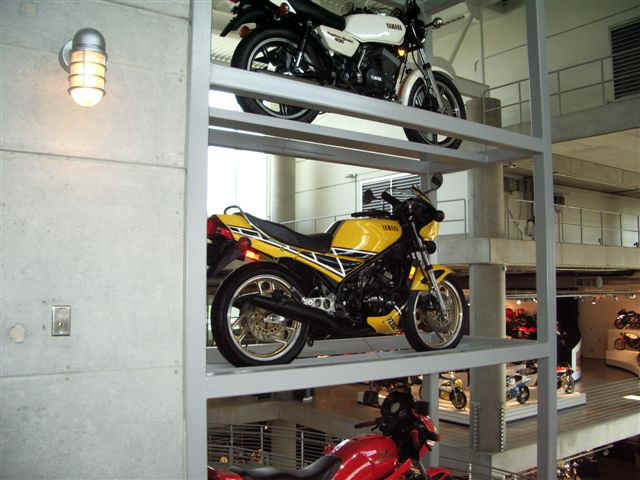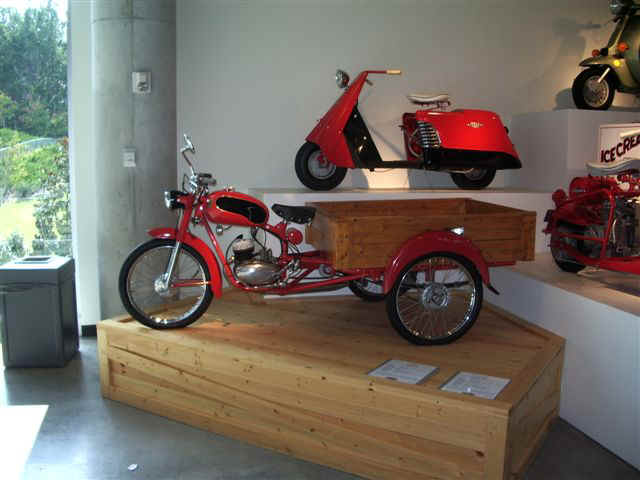 Returning to our adjacent motorhomes after visiting the museum, Tim, Barbie and I spent some quality time sitting around outside our RV's, chatting about old motorcycles, earlier times and so on… did I mention Zinfandel?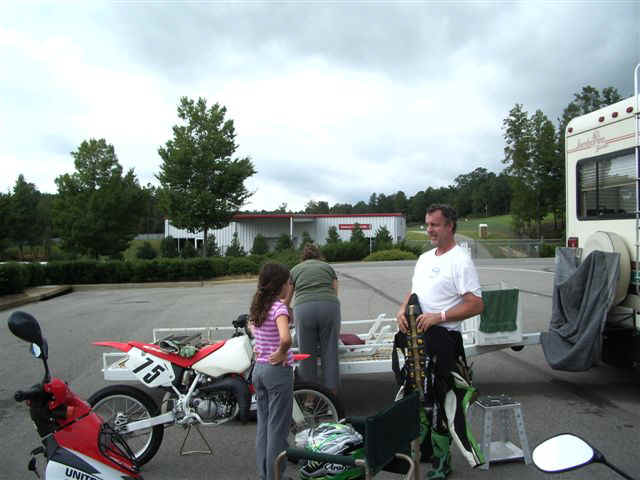 Sometime Sunday morning, around 0400, I woke to the sound of rain and had to shut some windows in my camper. Trying to sleep in, since I assumed the day would be a scratch because of the rain, I lolled in bed until about 0830. When I finally got up and dressed, I went ahead and donned my rain gear, to help Tim pack. Outside, Tim advised that the rain storm was soon to pass, and he thought they'd try to stick it out for practice and the second round of Tim versus the Kid. Sure enough, around 1000, the skies cleared, leaving behind a beautiful rainbow and a drying track. The 1115 Mini-class practice certainly looked a lot more fun, as Tim and the Kid swapped leads at least 6 times each lap. After a short break, it was race time again. And again, it was "second place" for Tim and "next to the last" for the Kid.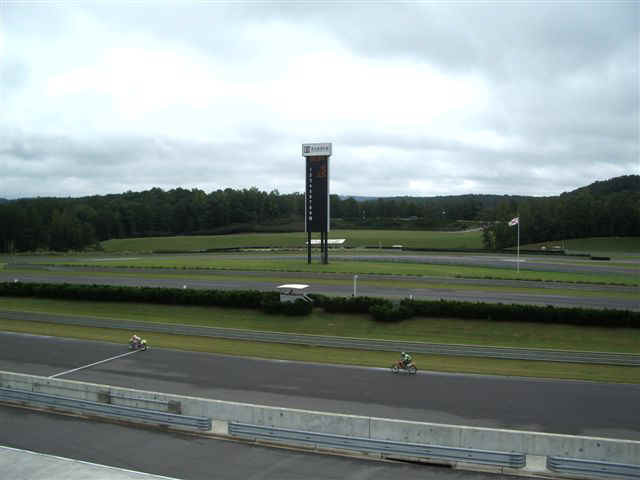 A short time after this race, with Tim now holding 2 Second Place finish trophies, I was ready to head East. This time, I had a very uneventful, as-advertised 2 ½ hour drive home.
TM

tony@bjandtony.com