Tortola, BVI
August 2007
"...And I have traveled the world!"
After we talked about our wonderful visit to Tortola the previous year, several more people decided to jump on the band wagon this year, so our party of seven from last year grew to a party of eleven this year. Eleven people are a lot of people traveling stand-by, but the flights looked fairly open so we didn't think it would be a problem. As departure date approached, the flights started to fill up, so "Nervous-as-a-Cat" Cathy decided to cash in some Frequent Flyer points for a real ticket to Saint Thomas. The rest of us decided to chance it. We listed for the Atlanta to Saint Thomas flight, but because we wanted to be prepared, we went ahead and purchased some reduced rate stand-by tickets on American Eagle and Cape Air from San Juan to Tortola as well. (These are only available for airline employees and only on airlines that have an agreement with the employing airline).
We decided to deviate slightly from "Essential Rule of Non-Revenue Travel" #4 "Never check a bag…" Between the eleven of us, we filled one bag with items from all eleven people, including sunscreen, bug repellant, hair products and other liquid items that we could not carry on. We made Cathy (on her Frequent Flyer ticket) check the bag so we could be sure it would be boarded even if the stand-bys were not.
On travel-day, Thursday, the eleven of us met at the gate.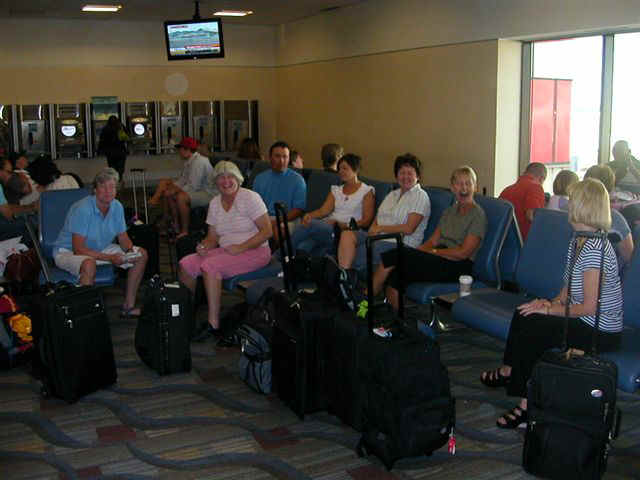 Those of us wearing sandals talked about how we hated walking barefoot through the security checkpoint. I got an idea for some "shields" that would stick to my feet and protect me from the dirty floor. I made a note to try this out.
Some people were traveling on a higher priority than others. This varies by airline, but our airline grants each employee a limited number of higher priority stand-by tickets each year. Those of us who like to travel to Europe frequently decided that we preferred to save our priority tickets for the possibility of needing it to get on an 8+ hour flight to Europe later in the year, so we checked in using the lower priority. Retirees are not eligible for the higher priority after retirement. As it turned out, the higher priority was needed to get on the St. Thomas flight. Only JeRie, Karla, Wendy, Mary and Frequent Flyer Cathy got seats. The rest of us started looking at Plan B.
Plan B had been to fly to San Juan, but the flights to San Juan looked worse than the flight to St. Thomas had looked, so we decided to go to Plan C. Plan C was to wait until the next day and fly to St. Maartin. We went back to the ticket counter and purchased reduced rate stand-by tickets on Liat and Winward Islands from St. Maartin to Tortola. Since we would be traveling the next day, this would give me an opportunity to try out my shield idea.
Friday, after passing through security with my new shields, I realized that the idea would need some refinement. The shields were too narrow and they left a sticky residue on my feet.
The six of us remaining, met at the airport in time to go to the Crown Room, using our newly purchased Crown Room memberships. We enjoyed beverages and snacks before heading to the gate. The St. Maartin flight was more open than the St. Thomas flight had been the day before, so we were cleared quickly and boarded early.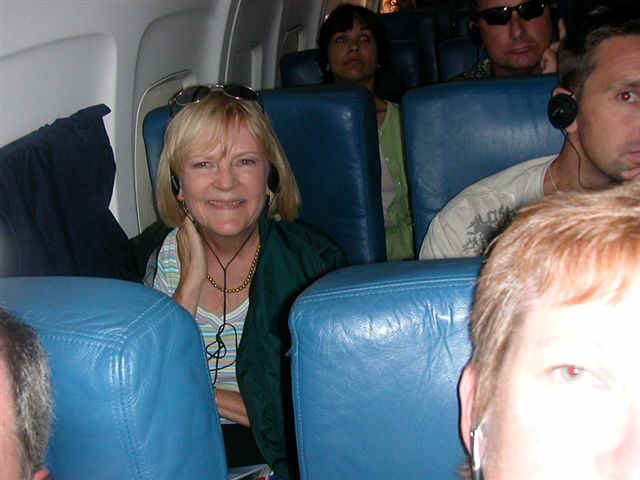 Karen and Bobby even got to sit in First Class. The movie was "Fracture". It was pretty good and helped pass the time.
It was pretty confusing when we got to St. Maartin. We found a line for WinAir which we assumed was the same thing as Winward Islands Airline. We stood in the line which didn't seem to mean anything since the agents would come from behind the counter and take paperwork from the people behind us in line, take it back behind the counter and process it. Finally, we reached the counter and asked if we could stand by for the flight. The agent said she could not accommodate all six of us on that flight but she could put all of us on the flight. We asked her how many of us she could put on the flight and she said three, so we asked her to put three of us on. She asked which three and we just told her whichever three she had in her hand. It turned out to be me, Bobby and Tony. Yeah!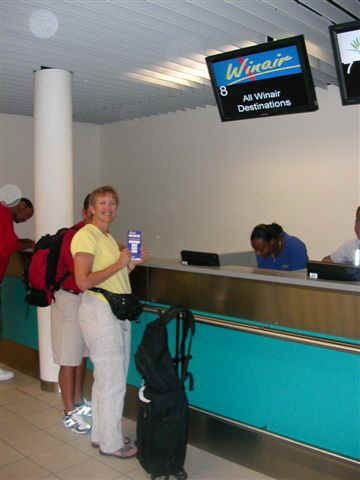 The other three decided to stand by for the Liat flight at , but Liat did not have a ticket counter inside the secure area, so they had to go through Immigration to get to the ticket counter. They got a bit of a run around because they had not listed for the flight, but were eventually allowed to stand by. The LIAT flight was right next to the WinAir flight so we were able to see that our friends had been cleared on the flight. Our plane was a 20 seat configuration and after we boarded, we saw that there were 3 empty seats, but our friends were already on their way to their LIAT flight.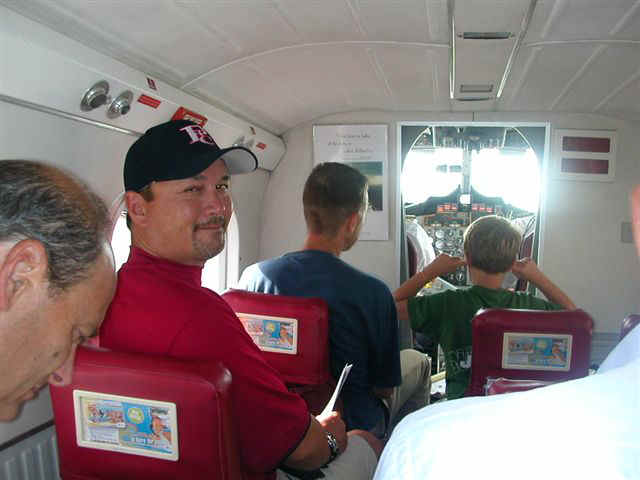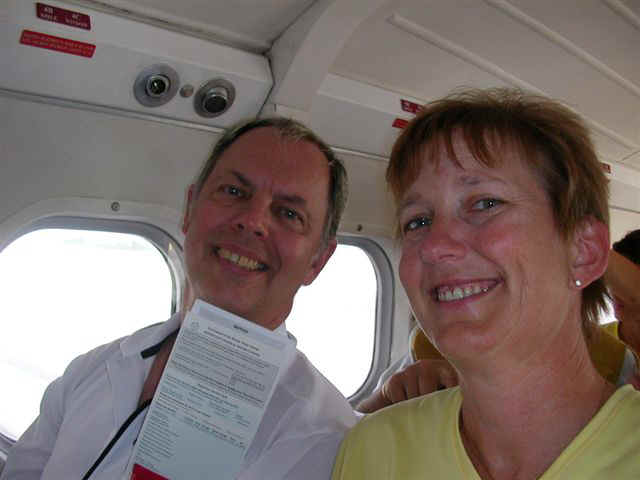 It was about a 40 minute flight, but we circled a few times before we landed, so the LIAT flight which left after ours, landed before we did. There was a line at Immigration. We could see Sue, one of our LIAT standbys waiting for us on the other side. We wondered where the other two were. When we finally made it through, we discovered that the other two were still in St. Maartin. It turned out that there were only 2 seats available on the LIAT flight, so rather than leave anyone behind alone; they had both decided to stay. We were sure that they would get on the flight, so we grabbed a cab and headed for the resort. The charge was $6 per person, very reasonable, we thought.
When we arrived at the Tamarind Club, our friends had just gotten out of the pool. We had a joyful reunion, deposited our bags in our room and then met back at the bar for our free Welcome Cocktail.
We were happy to see all of our travel companions as well as our Tortolan friends, Kah-tee, Ashbell, Cindy, Clint, Katie, and Eric. Of course, the dogs, Maverick, Chiquita, Buster, Molly and the new dogs Bonnie & Lila, welcomed us too.
We listened to the others' stories about their trip and told them stories about ours. They had walked down to the beach at Josiah's Bay that morning and then returned to spend the rest of the day by the pool. One of the highlights of their day seemed to have been a poorly executed "cannonball" dive that was rated a 3 on a scale of 1-10. Some described it as more of a "can opener".
Lydia, the waitress, was expecting a party of 18 later in the evening so she suggested we go ahead and place our orders. Mary, our flight attendant friend, had tasted the Tuna Tataki appetizer the night before and declared it to be the best she had ever had, "and", she added, "I have traveled the world." She later amended that to include, "I have traveled the world… from Mobile, Alabama to Jackson, Mississippi." Tony and I decided to split the Penne Pasta with Roasted Pears and Walnuts in a creamy Gorgonzola sauce. Delicious! I had a taste of the Tuna Tataki and it WAS delicious!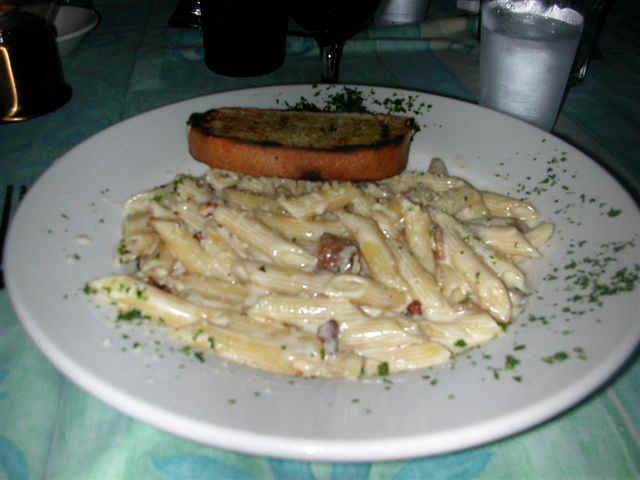 Following dinner, we split into two teams for the Trivia Contest. Our team didn't know very many of the answers, but when we did know one, one of our team (who might have been over served) would inevitably shout out the answer, so there was no chance that we would be the only ones to get it right. Surprisingly though, we didn't come in last.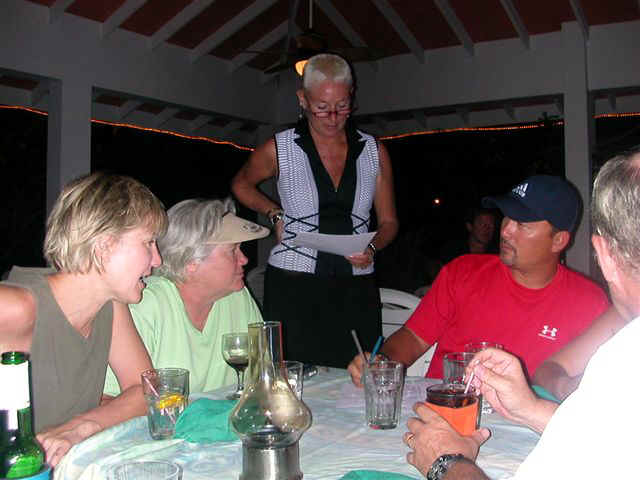 We expected our last two travelers to arrive at the resort around .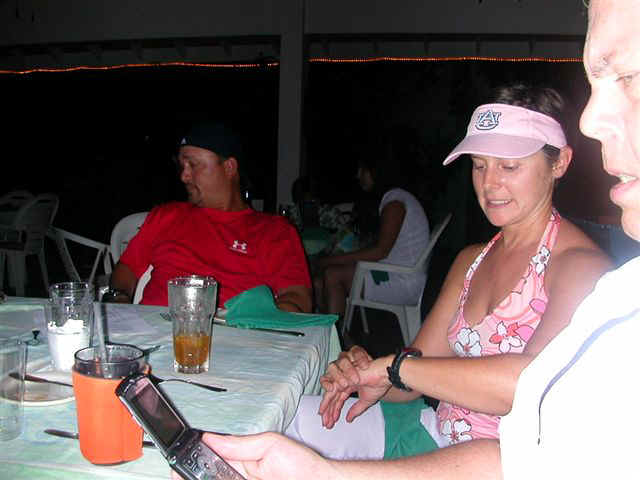 When they weren't there by , we started to worry, but finally at , they appeared, looking a little bedraggled but happy.
As it turned out, WinAir did not operate a flight, but they did operate a flight from St. Maartin to St. Eustatius and on to Tortola that did not appear on the schedule. Besides the airline employees, there was only one other passenger on the flight. We visited for a little while and then made it an early night since we were tired from the travel day.
Saturday morning, I woke up early and took a walk, hoping to get back before it got hot. Truthfully, it was already hot when I left the hotel.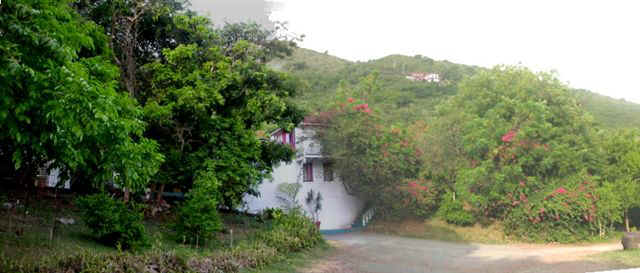 I took a right out of the parking lot and headed up to the top of the hill where there was a sign indicating that Road Town was to the right. I could see the ocean straight ahead, but it was a fairly steep downhill that I did not want to walk back up, so I turned around and returned to the hotel. On my way back, I was barked at by some dogs and it reminded me of the stories Kah-tee had told us on our previous trip about people being mauled by Rotweillers. I hurried back to the hotel!
Cathy had left to go for a walk shortly after I did, but she turned left out of the parking lot and walked to Josiah's Bay. On her way back, she encountered a group of cows standing in the middle of the road. She was standing there studying them, trying to decide if one was a bull and whether she should try to sidle by them when a man in a car pulled up. He asked her if she would like a ride around the cows. She gratefully accepted and climbed in with the man who was drinking Guiness at ! He drove her around the cows and let her out. As she continued her walk back to the hotel, one of the cows started following her. We enjoyed her description of the encounter!
I enjoyed catching up with Cindy. She is still teaching school and is starting a library on the island.
Kah-tee cooked us a good ol' Southern breakfast, complete with grits, eggs, biscuits and bacon.
Our old friend Collin, the taxi driver, came to pick us up at to take us to the ferry dock so that we could take the free ferry over to Marina Cay (pronounced key). I'll give Collin a plug here – he provides the best taxi service and sightseeing tours anywhere, "and I've traveled the world"! He's very personable and seems to really enjoy interacting with his customers. If you are planning a trip to Tortola, give Collin a call! Here is his contact information:

Collin Taxi Service & Sightseeing Tours
Collin Maynard


Long Look,

Tortola, BVI
Cell: 284.443.1514
Tel: 284.495.1982
Alt: 284.543.8396

The ferry was right on time. Our eleven group and a few others pretty much filled it up. It was a short ride to Marina Cay.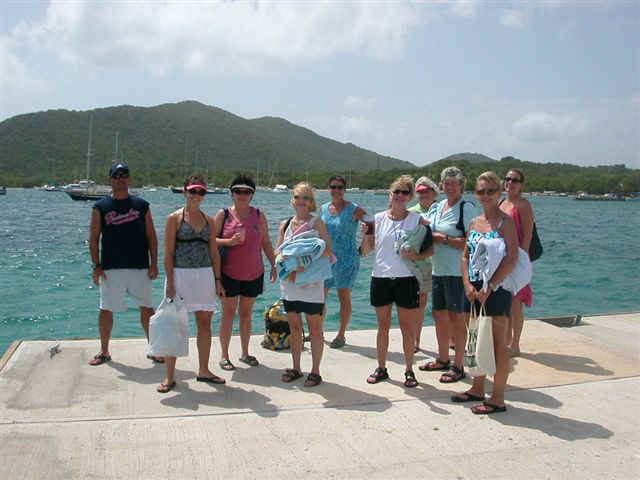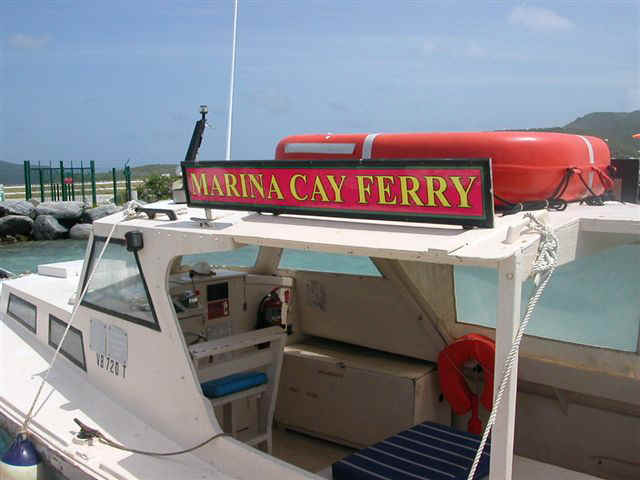 We spent the day at Marina Cay, a little island surrounded by crystal clear beautiful blue water.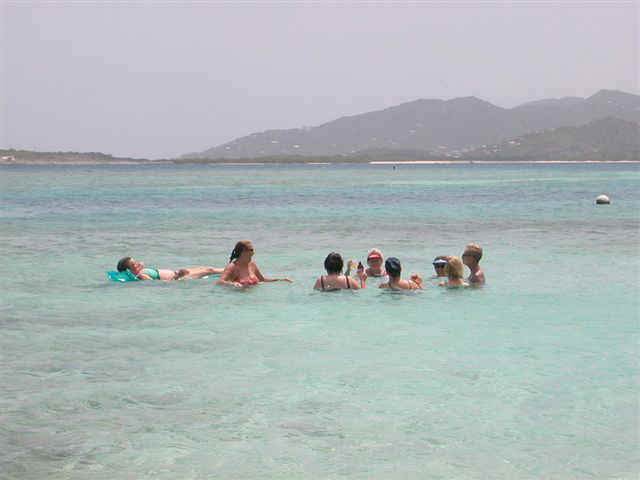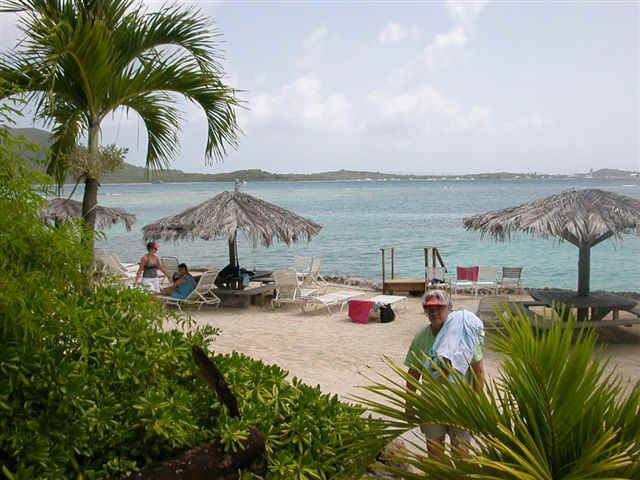 Just before lunch, I borrowed Mary's rented snorkel equipment and took a brief tour around the area. When I got back, it was time for lunch, so I picked up a menu from Pusser's. Mary asked me if I had seen any fish. I pointed to the menu and said, "Yes, the grilled Mahi mahi sandwich." She meant had I seen any fish while I was snorkeling. We laughed and laughed. I described the purple fish I had seen which Kah-tee said were Doctors. Then, of course, Mary said she had seen some Nurses. Everyone joined in, saying they had seen Pediatricians, Dermatologists, Psychiatrists and even Gynecologists. As the waitress was delivering our lunch a sea gull swooped down and helped himself to one of the fish fillets on Mary and Cathy's Fish & Chips order!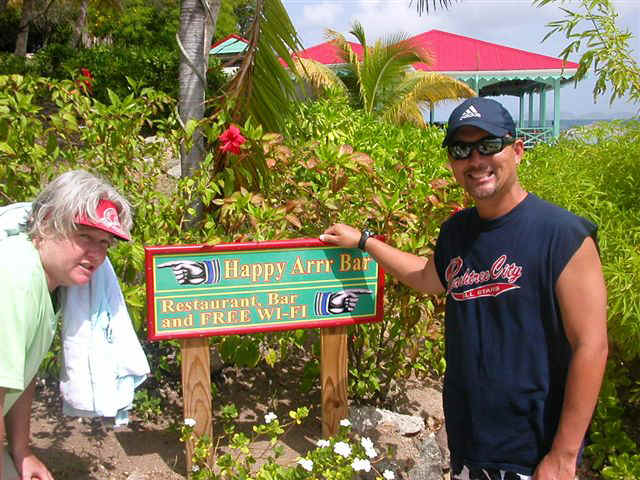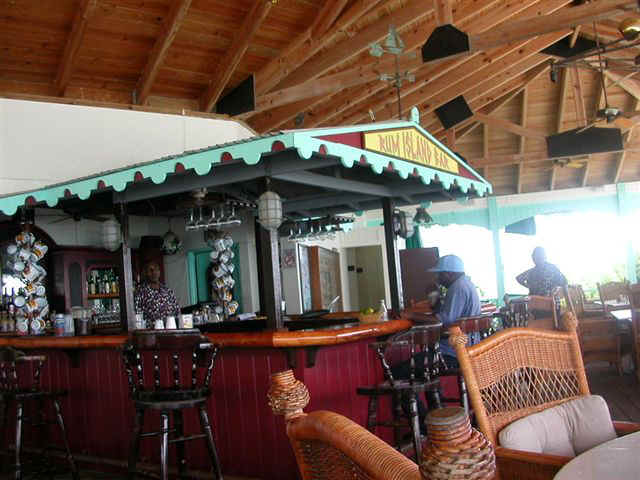 We headed back to Trellis Bay on the 2:45PM Ferry.
Collin was waiting for us and took us back to the hotel, stopping at the store on the way for some Diet Cokes for the addicts. Back at the hotel, we all jumped in the pool and gathered around the pool bar for some afternoon cocktails.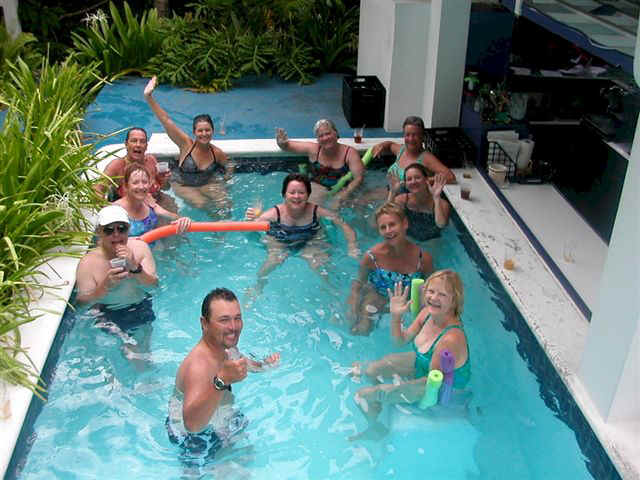 The Bushwhacker was my drink of choice, but it was so rich that I could only have one. It is a frozen drink made with Kahlua, Rum, Crème de Cacao and chocolate syrup. Gin and Ting was also a popular choice for the afternoon cocktail. We gave our room numbers to the bartender for the drink charges. Karla accidentally said Rum 2 instead of Room 2 when she was ordering and almost got an extra order of Rum. After that, we all gave our room numbers as Rum #.
Following Friday's "lead", an impromptu "cannonball" diving competition cranked up as the cocktails started flowing. We were chastised for being loud and spilling water over the edge of the pool into the bar area. Eric threatened to give us all a puppy.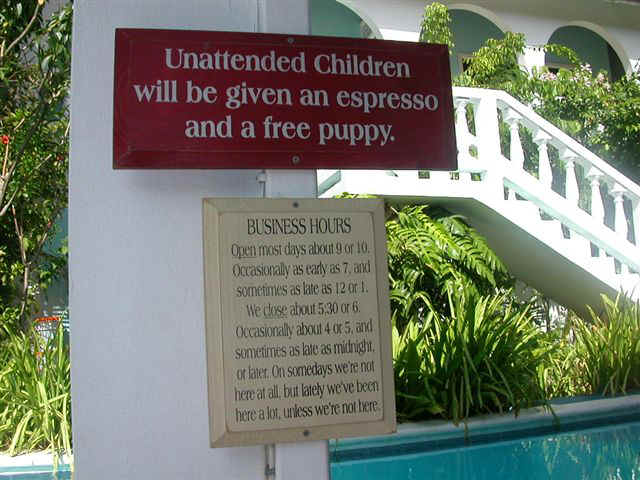 We had another delightful dinner. This time I ordered the Tuna Tataki and had a nibble or two of Tony's pasta with sausage. I also tasted the Coconut Shrimp – it was another "Best… I have ever had… and I have traveled the world."
We retired to Rum 2 after dinner and reminisced about the day's activities before heading off to our respective Rums for the night.
Sunday morning Sue and I took a walk to Josiah's Bay Plantation. On the way, we were passed by two men in a car. Shortly after they passed us, they stopped the car and started backing toward us. It made us nervous, so we breathed a sigh of relief when they backed past us and kept going. They drove past us again and started yelling at some pigs in the pasture next to the road.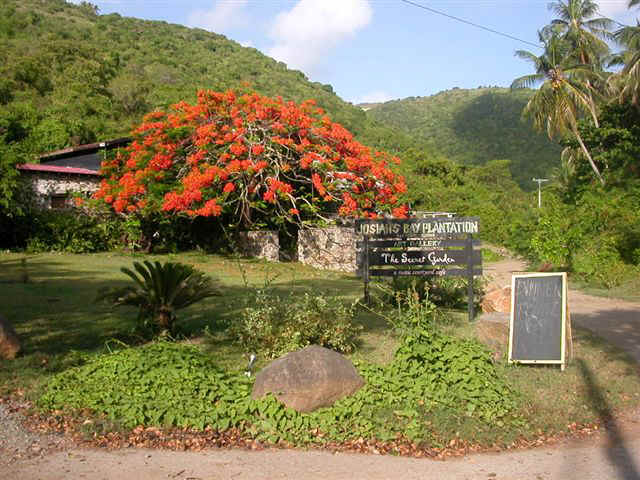 Sunday is a big day at the Tamarind Club. They do a HUGE brunch business. AND, because the hotel was closing for the season, this particular Sunday, they were having their "Drink the Bar Dry" party.
Tony helped Eric move furniture in preparation for the party.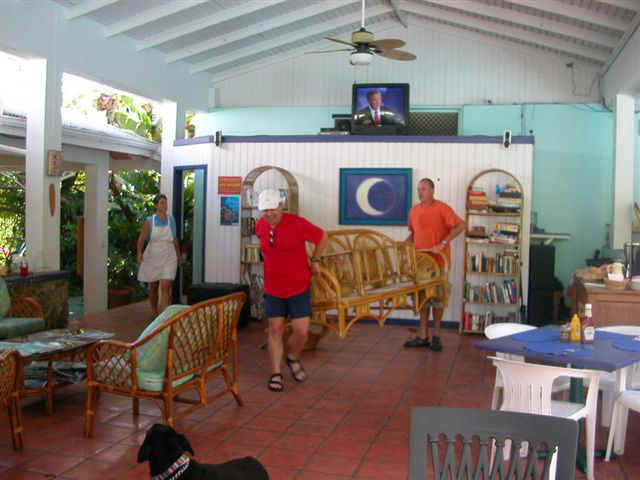 We discovered that Mary's sunglasses had been broken during the "cannonball" exhibition the day before and since we didn't have any tape to fix them, I decided this might be another use for "the shield"! The repair was almost undetectable!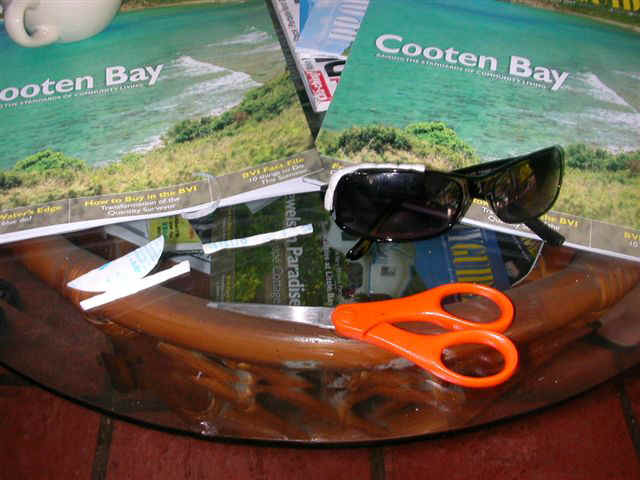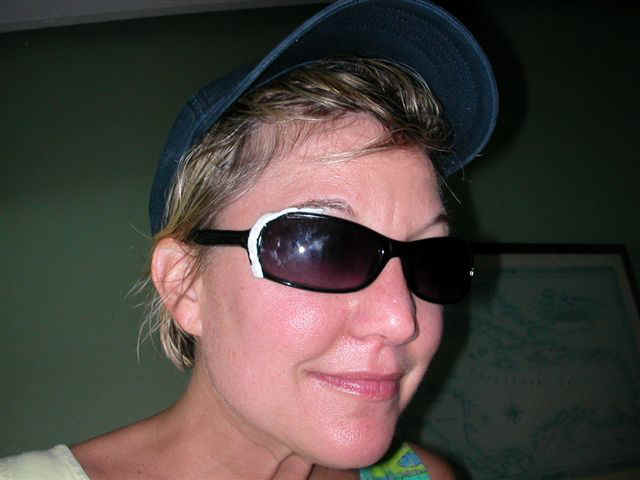 Kah-tee made us a reservation for brunch at eleven so we could eat before they got crowded. Brunch included a complimentary Mimosa, Bloody Mary or Bloody Caesar (complete with celery).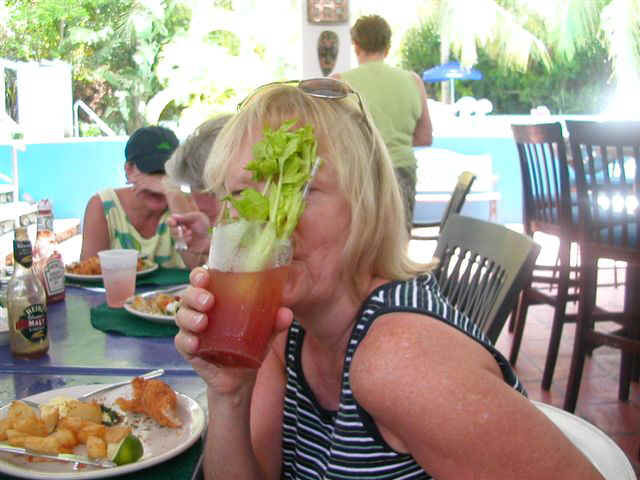 Several of us ordered the Fish and Chips. They were – hands down – the BEST Fish and Chips we had ever had… "And we have traveled the world!"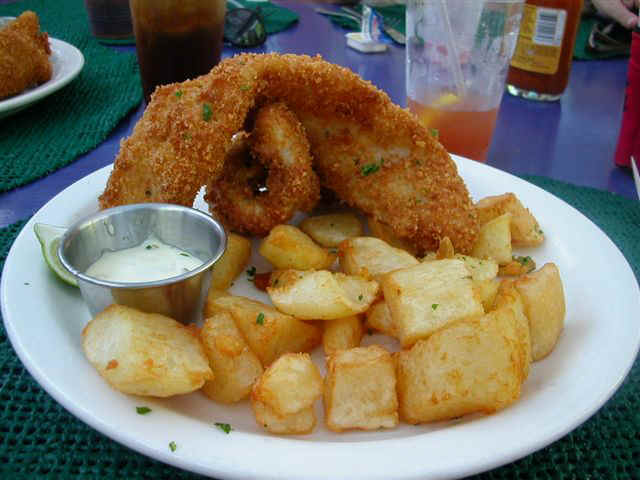 Other tasty items included the French Toast and the Omelet, just to name a couple. No wonder they have such a big brunch crowd!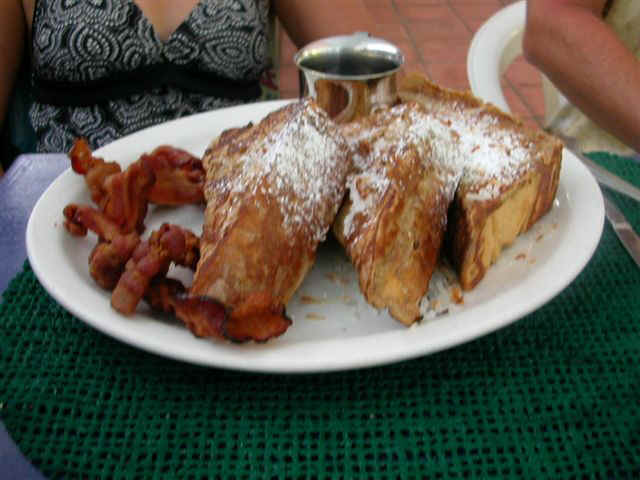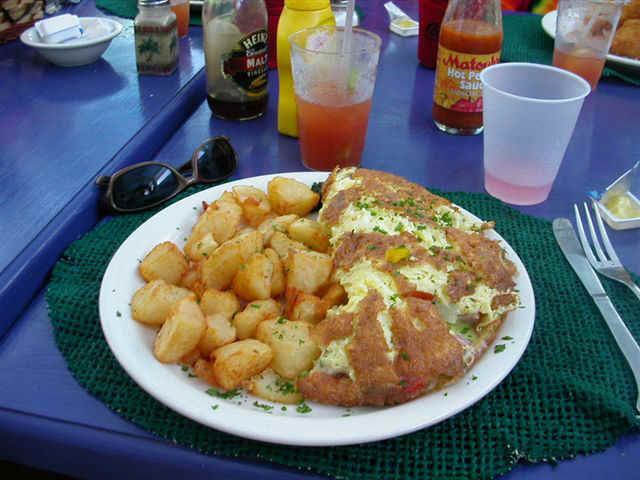 After brunch, we enjoyed playing keep-away with some of the children in the pool. When we tired of that, we decided to walk down to visit Naomi's daughter (Naomi was out of town) at Josiah's Bay. It rained on us during the walk to the beach, but it passed over quickly. I made friends with a little girl. She spoke so softly that I couldn't hear her when she told me her name so I nicknamed her "Pippi Longstockings". Pippi fell asleep in my lap, so her father came and took her off to bed (Kaleisha is her "real" name.)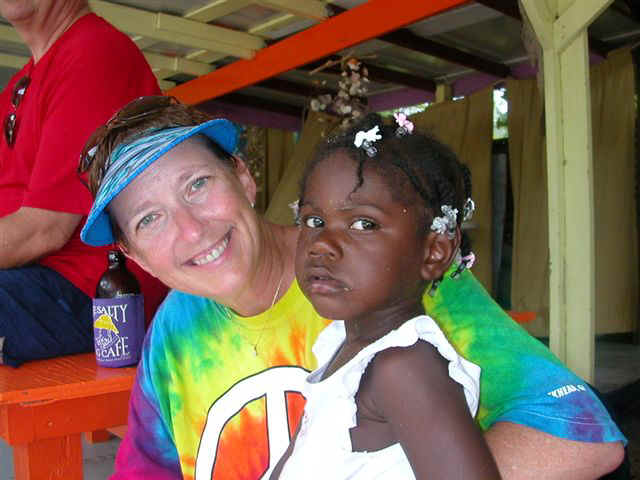 Naomi's daughter said we could take some chairs to the beach if we promised to bring them back. Karla had a bit of a run in with a man over one of the chairs, but she eventually won out.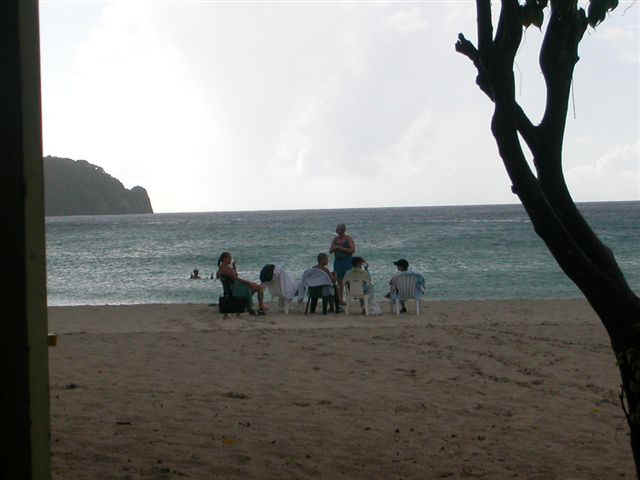 We did some water ballet routines in the ocean and played in the waves until almost sundown.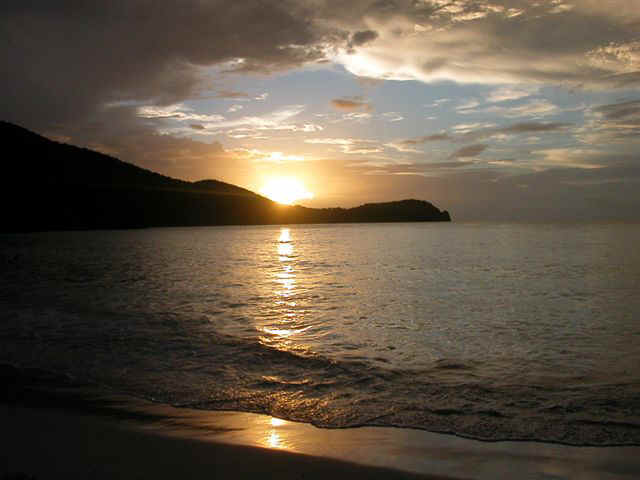 Darkness was starting to overtake us, so we decided to head back to the Tamarind. We were afraid the "Drink the Bar Dry" party was going to be a zoo, but it was still fairly tame when we got back. We bought a ticket for the buffet – a bargain at $15. The buffet included artichoke dip, hummus, pork tenderloin, jerked chicken, plantains, rice, chicken wings and too many other things to mention.
After dinner, we danced the night away to the live band. We went to bed around , but the band continued to play until . We should have stayed up and danced since we couldn't sleep anyway!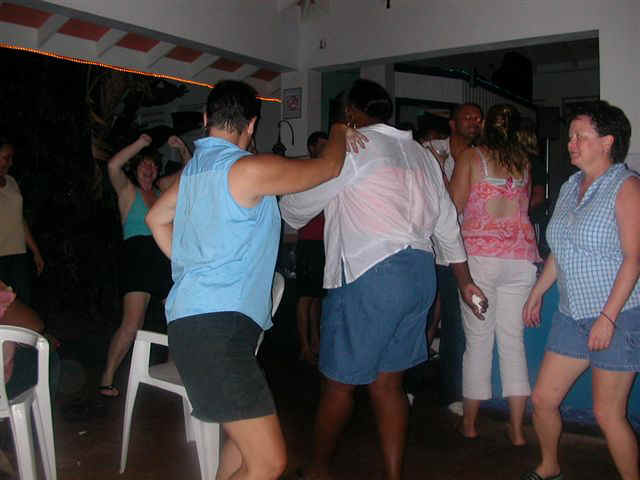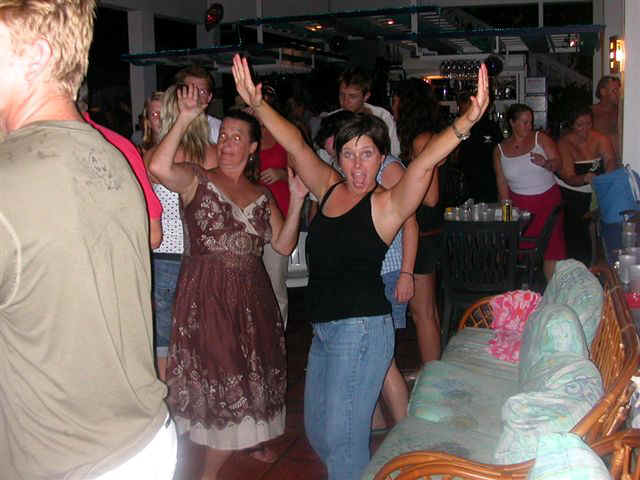 Monday morning came early. We showered and packed and then headed down for coffee. Kah-tee told us the hotel was closed so we would have to wash our own dishes. She gave us each a bag of salt from Salt Island. We thought this might look suspicious going through customs.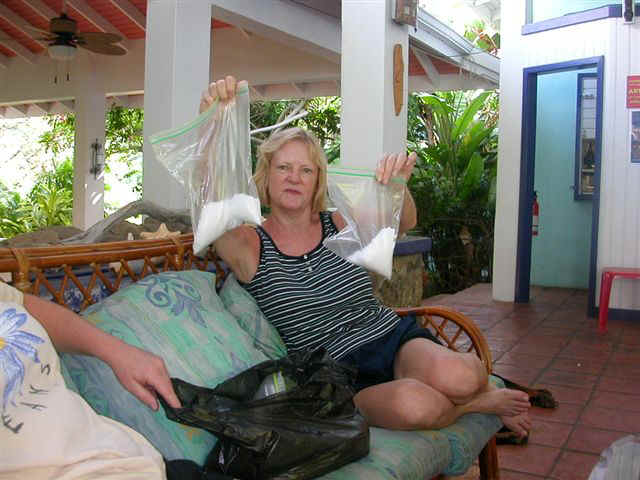 The flight home from St. Thomas did not look as good as the flight from St. Maartin, but we didn't want to hassle with standing by on the island hopper airlines, so we elected to take the ferry back to St. Thomas. It was a pleasant ride.
We settled our bills and were ready to go when Collin came to pick us up at . We waved goodbye to Kathy and Ashbell as we drove away.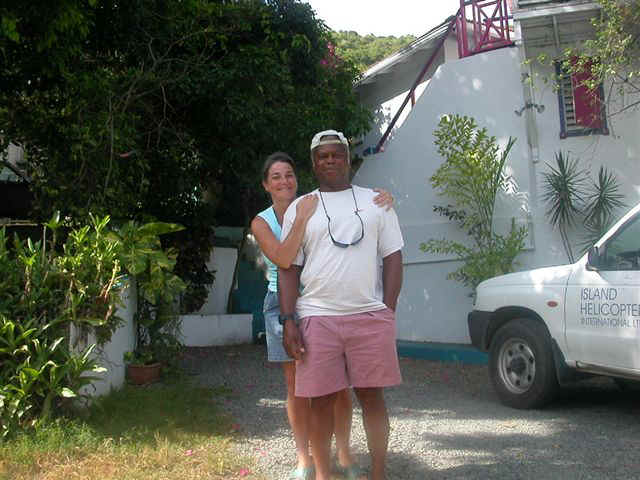 The ride to the Ferry Dock was $8 per person including tip. The Emancipation Festival was still going on from the night before so traffic was a bit difficult, but we made it in plenty of time for the 10AM Road Town Fast Ferry.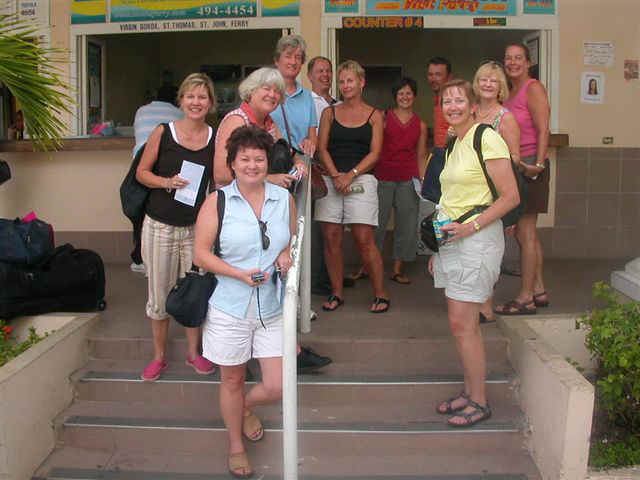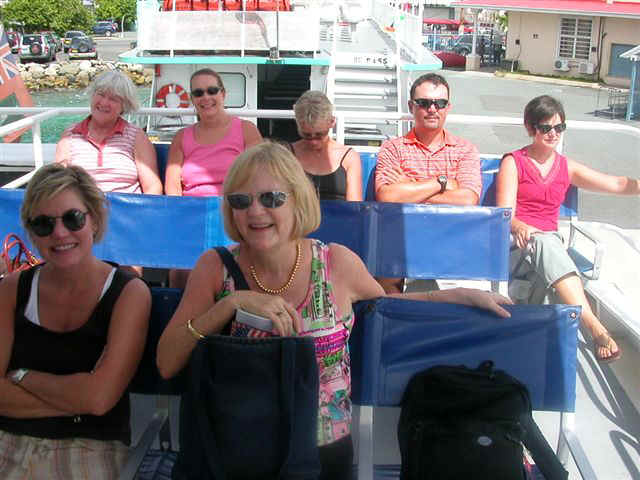 It took quite awhile to get through Immigration and Customs. We forgot about the duty free limits and had packed all of our duty free items in one box. Next time we need to remember to divide them up so that we will be within the duty free allowance.
All eleven of us got seats on the flight out of St. Thomas, thank goodness! Most of us were in center seats, but we didn't mind. We were ready to settle in for a nap after our sleepless night.
We all agreed that this was one of the BEST vacations we had ever been on... And we have traveled the world!