Roquetas de Mar, Spain
September 2011
"Special Delivery"
BJ's sister called to tell us that our niece, Lauren, was planning an extended trip to Spain. She would be doing an art internship in Roquetas de Mar. BJ's sister was nervous about sending her daughter to Spain for 3 months, so we decided to accompany Lauren to her destination to check things out and make sure that it was an okay place for a young girl to spend time.

Roquetas' nearest major airport Malaga, but Delta only flies there seasonally and September is not the right season. We decided to fly to Madrid, rent a car and drive the 6 hours to Roquetas. We were quite fortunate to get business class on an aircraft with LIE FLAT SEATS!!!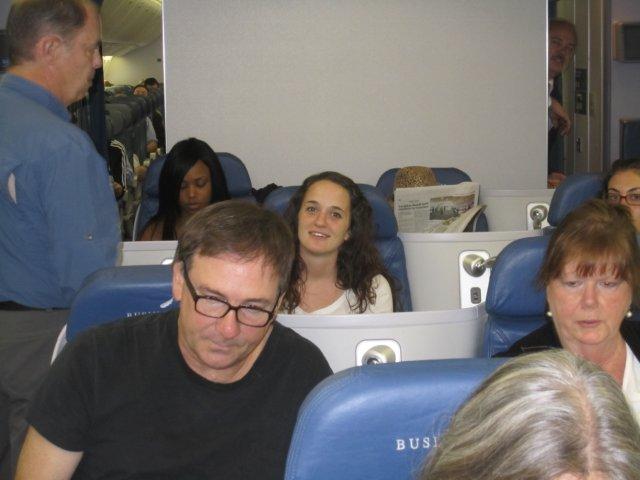 This would enable us to sleep well on the way over and be rested for the long drive. Dinner, a movie and a glass of wine (or two) and we were sleeping peacefully. When we arrived in Madrid we were pleased to see that all of Lauren's luggage (and there was a lot) had arrived.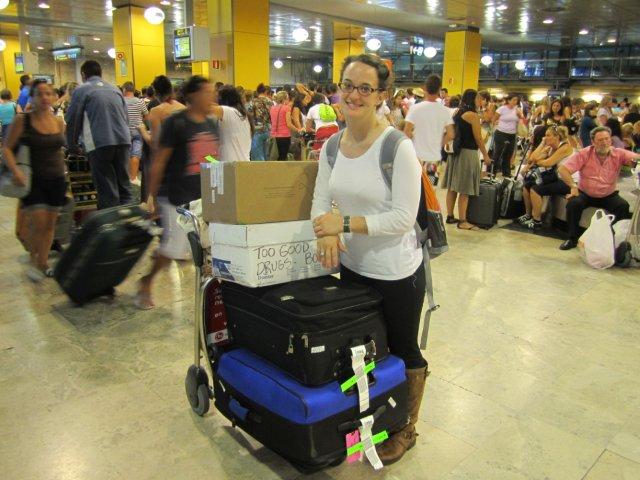 We had a little trouble locating the Thrifty counter (a small sign above the Avis counter was all that identified it), but we were soon on our way. Getting out of Madrid was a little tricky - we made a few wrong turns, but eventually we were on the road. Thank goodness for the GPS!

Lauren slept most of the way to Roquetas, which was fine because we were on major highways and there wasn't much to see except the occasional bull statue.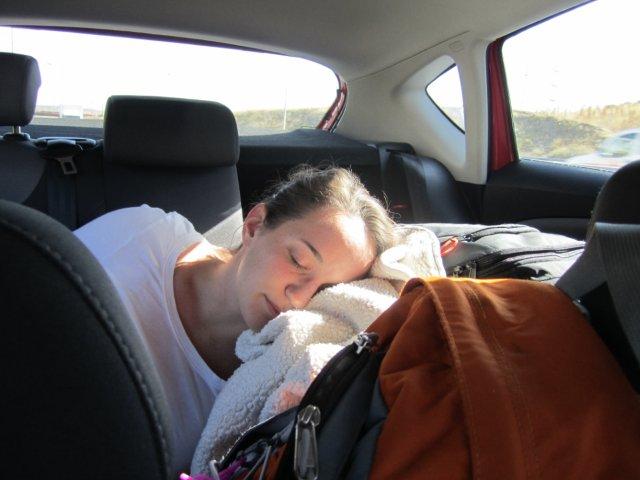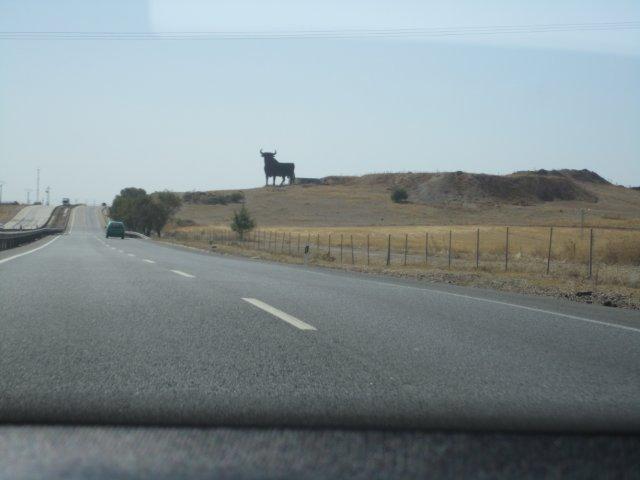 We made a stop for gas and BJ tried to get coffee but apparently to-go coffee is an American thing and we didn't want to take time to sit down and drink it, so we hurried along. We stopped for lunch at the roadside hotel/restaurant El Oasis where we had sandwiches and the long awaited coffee for BJ.
The approach to Roquetas left us marveling at the sea of white plastic. The area was awash with greenhouses that were staffed by African and Romanian immigrants. Lauren would be working on art projects with the children of these immigrants.

The three of us, tired from the drive, finally arrived at Lauren's apartment in Roquetas de Mar.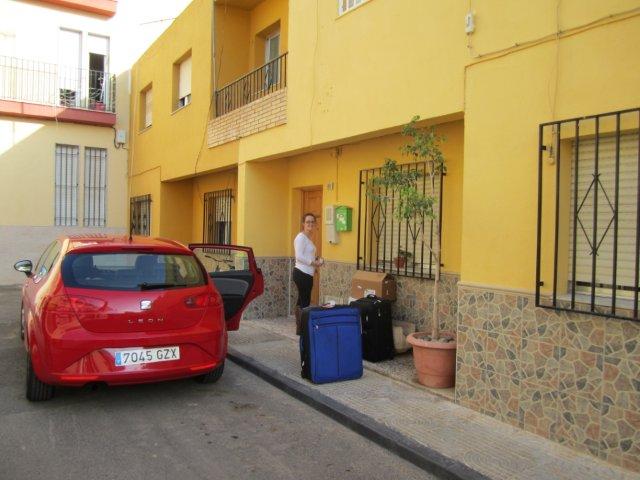 The apartment was on a clean quiet street but the surrounding neighborhood seemed a bit questionable to us.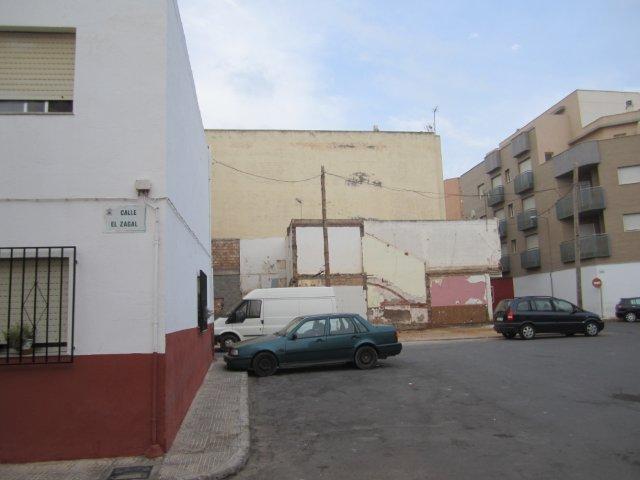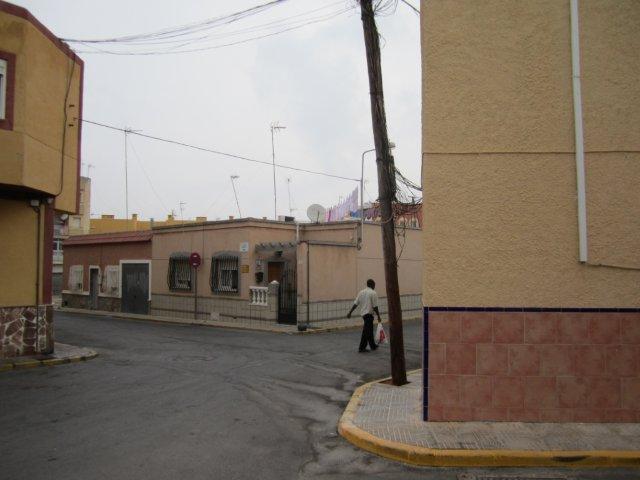 Lauren called her sponsors, Tiffany and Joel and they came over with their kids to open the apartment and give Lauren a little orientation.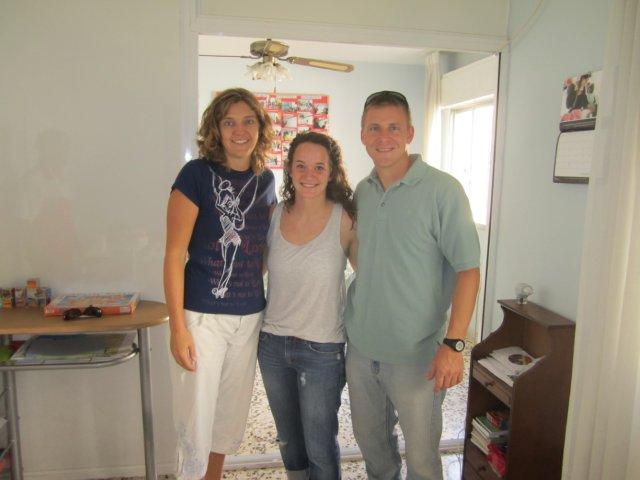 Lauren would be the only tenant in a spacious 3 bedroom apartment. Usually the house is shared by several interns but there were not any others at this time. While we got settled in, the sponsors went to the grocery store and got ingredients for tapas. They set out a spread of bread, cheese, meats, tomatoes and fruit for our dinner. They tried to reassure us that Lauren was in a safe neighborhood, explaining that it was a poor area, but not a high crime area.

They don't do air conditioning much in Spain, but the apartment did have some fans so we slept well.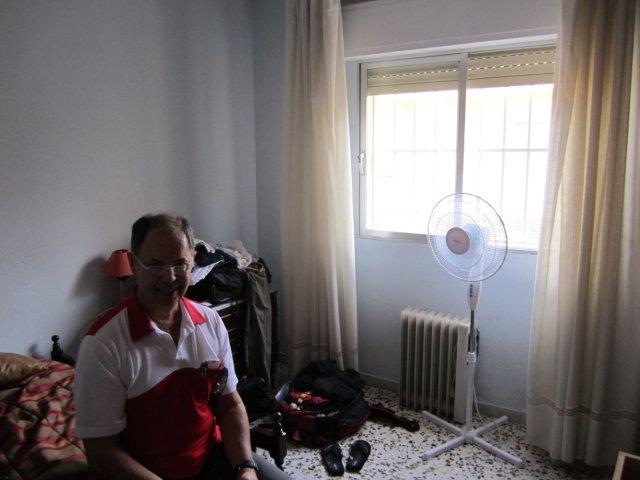 BJ zipped off the legs of her zip-off pants turning them into shorts for the hot day, but Lauren warned her that Roquetas was a predominantly Muslim area and women did not show their knees, so she zipped the legs back on. Tiffany and Joel picked us up and took us on a drive around Roquetas, ending up at the Churreria Padosan. Churros (think long thin doughnuts) and Chocolate are a favorite treat in Spain. Joel and Tiffany like to dip theirs in sugar as well as chocolate.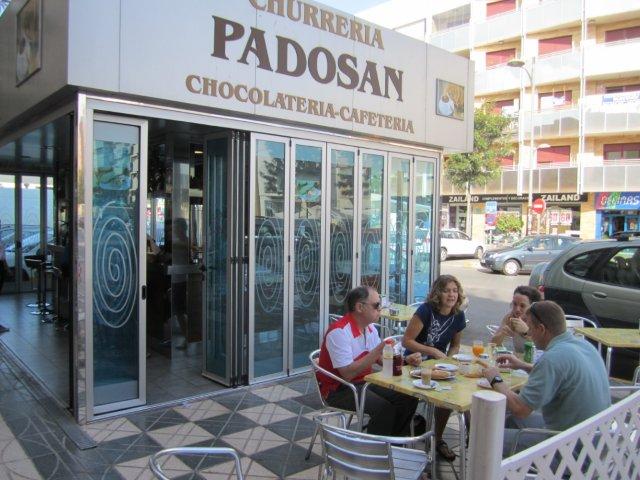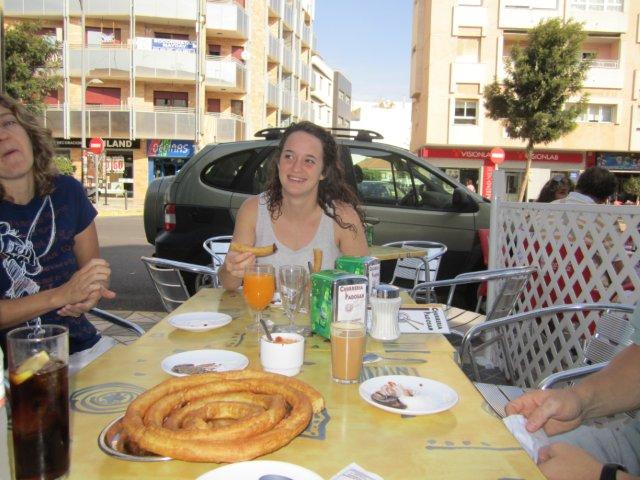 After breakfast, Tiffany and Joel left us to explore a bit on our own. First on the agenda was a driving lesson for Lauren. She would have access to a car while she was there, but she was unfamiliar with manual transmissions so we found a big parking lot where we let her practice slipping the clutch on the rental car. She did pretty well and our necks weren't permanently jerked out of whack; nothing a chiropractor couldn't fix.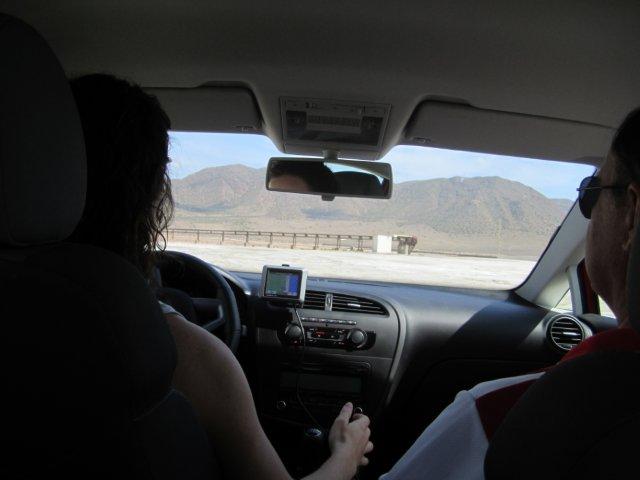 Tony took over the driving again to get to the lighthouse at Cabo de Gata where we had a fabulous view of the coast.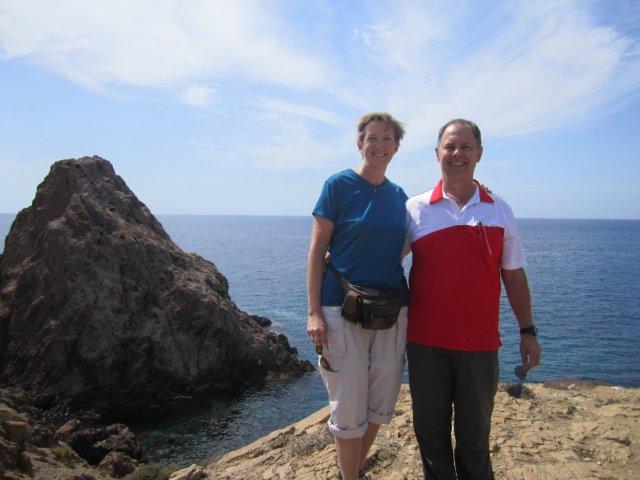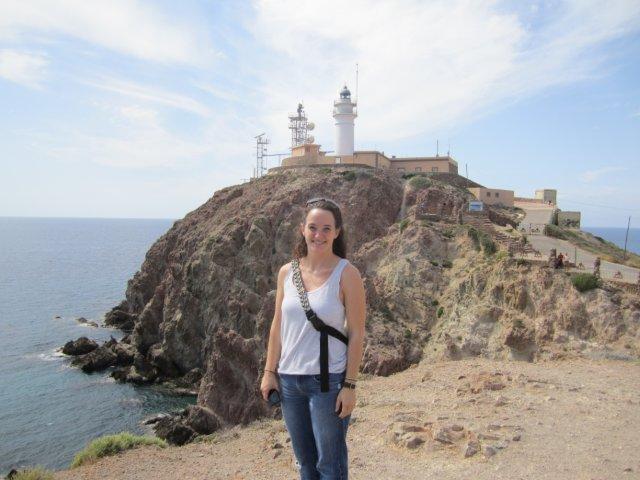 Our favorite meal of the trip was lunch at Almadraba, a little sidewalk cafe overlooking the ocean. We ordered several tapas dishes to share and enjoyed the beautiful weather.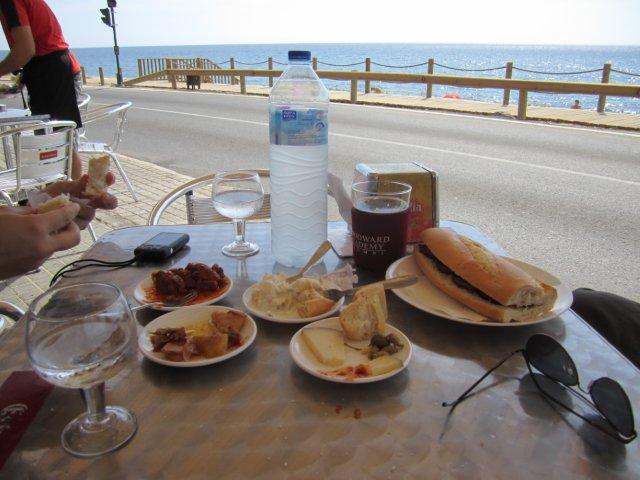 Next, we drove up to Nijar, famous for its pottery. While BJ and Lauren shopped, Tony found a little place to relax called La Unta. He found a table away from the door so he wouldn't have to listen to the loud singing (which sounded more like moaning) coming from inside.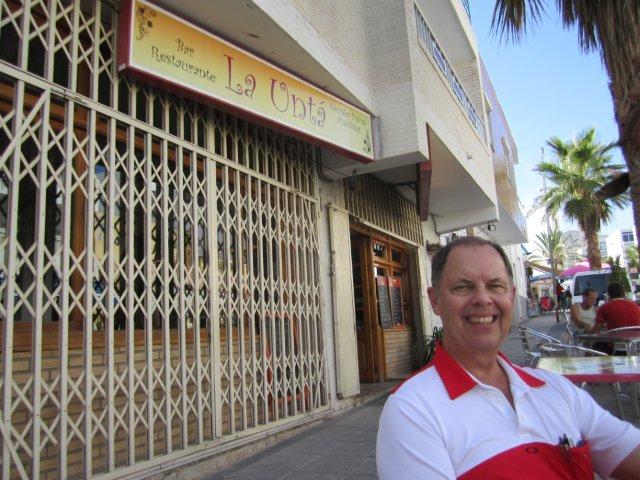 We took an unintentional driving tour around Almeria, trying to get to the castle Alcazaba. We drove up streets that may not have been intended for cars. They were so steep we couldn't see over the hood and we just hoped there was more road behind the hood! We arrived at the top of the hill to find that we were not at the main part of the castle but at a statue, but we did have a good view of the city and the castle in the distance.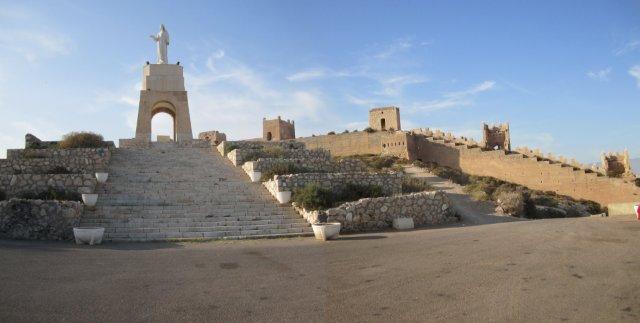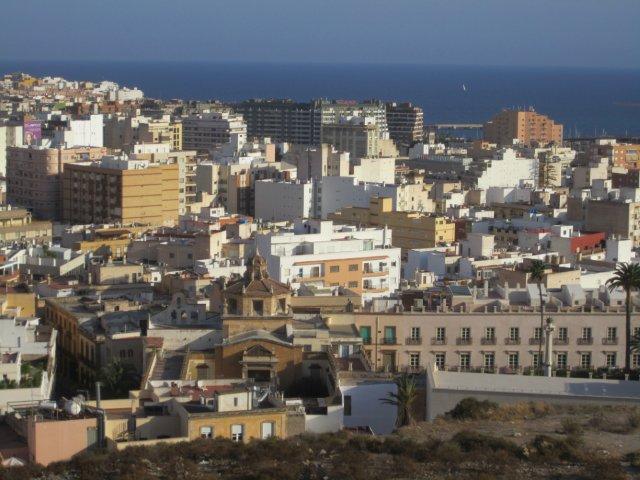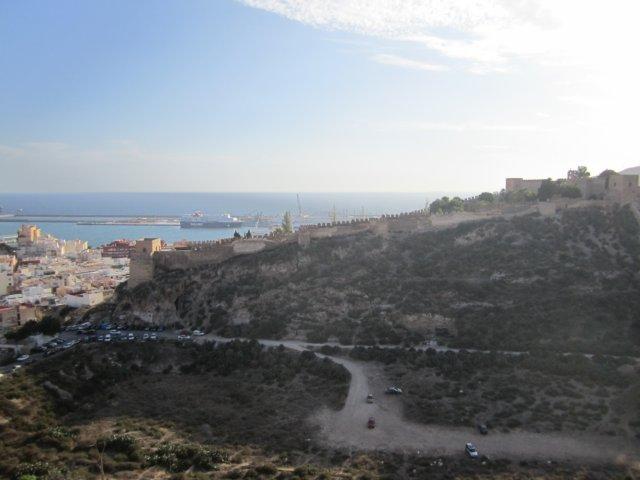 We bought some trinkets from the little old man at the top of the hill who seemed to live there.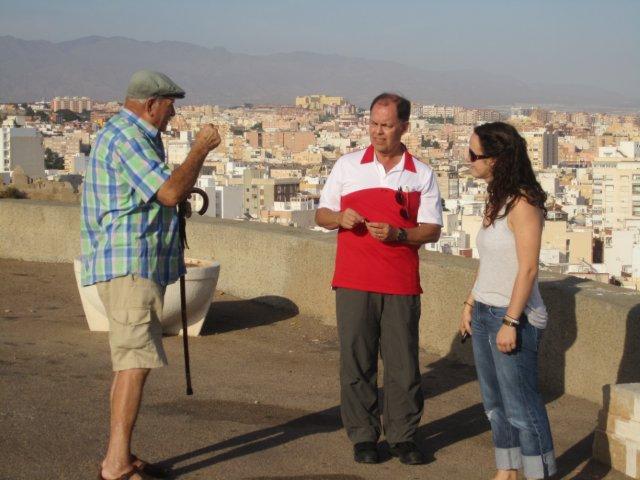 When we got back to Roquetas, we wandered around looking for something for dinner. Apparently we were on the wrong time schedule so food wasn't being served yet at most places. We had our first Doner Kebap just around the corner from Lauren's apartment. It was pretty good!

After dinner, we decided to check on our return flight and found that it had fallen apart (that's airline talk for a flight being oversold), so we decided to fly home a day earlier than planned. The next morning, we packed our bags, said a reluctant good-bye to Lauren and set off on the long drive back to Madrid. Before we left Roquetas, BJ wanted to put her toe in the Mediterranean, so we made a quick stop by the beach.

We passed lots of windmill farms and olive groves along the way.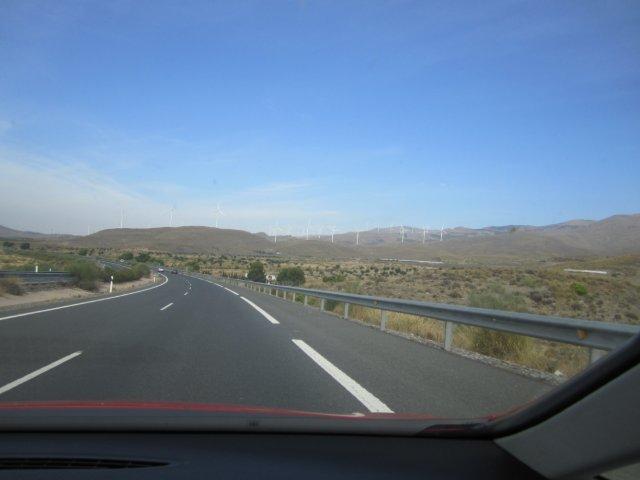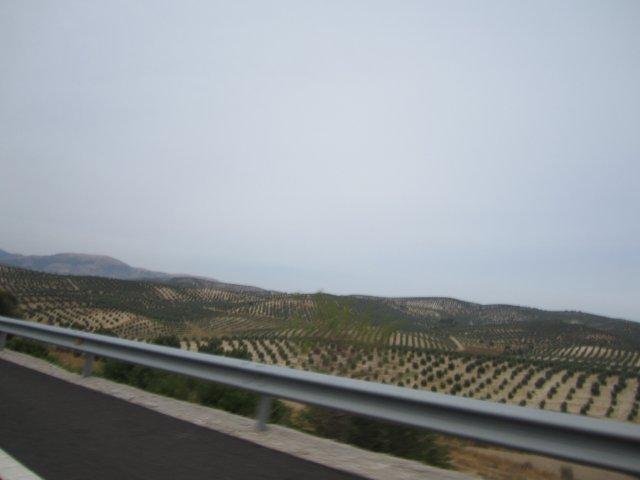 We stopped for coffee at El Mirador, where they served us olives with our coffee. Oh, and for 2 Euros, you could by some panties from a vending machine. Nice place!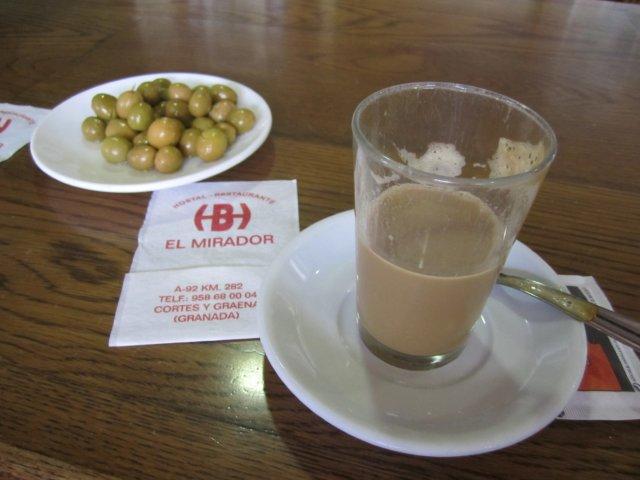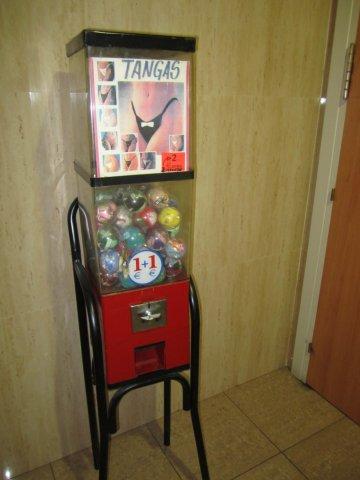 Lunch was a sandwich at La Cabana del Serrano.

The bulls that we'd seen on the way to Roquetas were replaced with Spanish guitar players on the way back.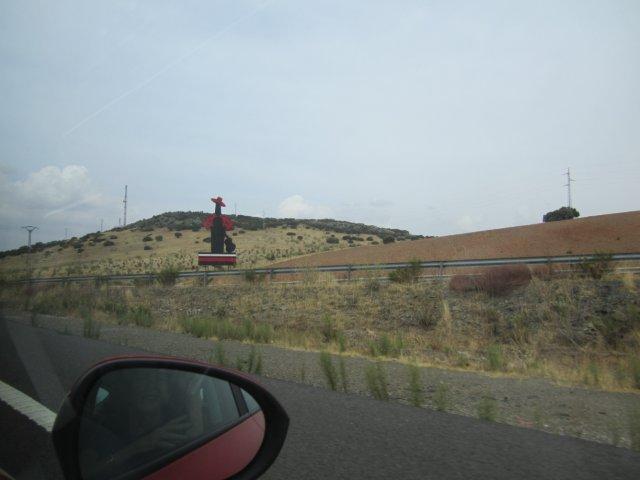 We got back to Madrid in the early evening so we turned the car in at the airport and took the shuttle to the airport Hilton. BJ's Hilton Honors Diamond status got us an upgrade to the Executive Level with access to the lounge, so we made a dinner of the snacks and beverages in the lounge.

We decided we had a better chance to get home on the later New York flight so we slept in the next morning and had a leisurely breakfast before taking the shuttle to the airport. We checked in for the flight and made our way to the gate to wait for our name to be called. We were relieved to hear, "Morris, party of 2, please approach the counter", but disappointed to hear, "We have 1 seat available, would you like to split?" We decided to stick together since neither of us had to be at work the next day. The party of 2 behind us also decided not to split, so a very lucky party of one got to go home.

We made friends with the party of 2 behind us, Dave and Louise, a pair of inexperienced stand-by passengers. We discussed options for trying to get to another airport to get home, but after checking all of the alternatives, decided to try for the Atlanta flight the next day. We were able to get rooms for ourselves and our new friends at the Hilton and were again upgraded to the Executive level. Having recently spent time in Madrid, we decided not to make the trek into town and just enjoyed the hotel amenities, including relaxing in the heated pool and sauna. We dined on the tapas in the lounge and played cards with our new friends until the staff said it was closing time.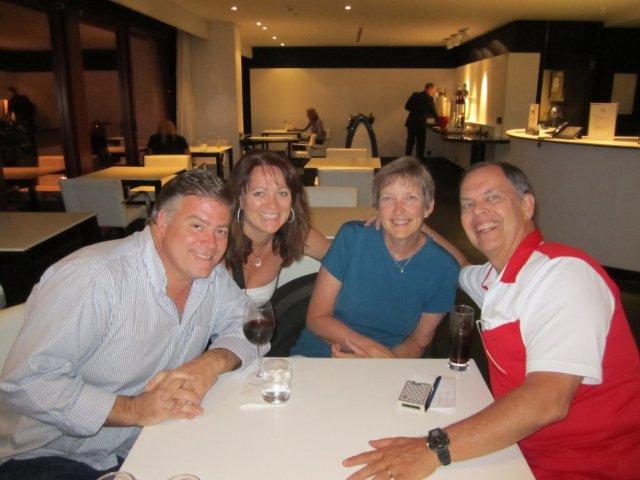 We met for breakfast and then took the early shuttle back to the airport. This time we found the kiosks so we avoided the line at check-in and made it to the gate quickly. We discussed what we would do if we were asked if we would split. We decided that Tony would go, since he needed to get back to work and BJ would try for the later New York flight. We warned our new friends to be ready with their answer to the "split" question as well. They decided that they would stick together. We heard their names called to the gate and asked if they would split. This time the agent explained that they had one seat available in Business Class and one seat available in Coach. We knew this was a good sign for us because we were ahead of them on the list. Our friends decided to split between the cabins so Louise took the business seat with us and Dave went back to coach. Just before take-off, Dave came forward to tell us that they needed him to give up his seat for another passenger. At this point, Louise was settled into her Business Class seat so she decided splitting wasn't such a bad option, but she was pretty nervous about her decision.

When we landed in Atlanta, we learned that Dave had gotten on the New York flight and was waiting for a connection. We said goodbye to our new friend Louise and set off to find our friend Maren who had just flown in from Dusseldorf.
It was a good trip and while we felt apprehensive about leaving our "Special Delivery" in Spain for 3 months, she seems to be enjoying herself and making lots of friends. You can follow her blog at http://laurenables.blogspot.com/

BJ
bjandtony@bjandtony.com