Derby, England
June 2012
"The Olympic Oylmpic Torch"
When BJ learned that her friend Jerri had been selected to run with the torch for the 2012 Olympics in England, of course we started thinking about going over to cheer her on. We kept checking flights immediately and were cautiously optimistic. Right up until the week of travel, it looked like we would be able to get a seat to Manchester, the closest Delta destination to Derby (pronounced Darby) where Jerri's torch assignment would be. We made arrangements to meet in York on the Thursday before her run. That would give us time to get acclimated to the time change while we toured the cute little walled city of York.

As the week of travel approached, the number of available seats on the flight dropped. BJ spent some time exploring options and decided that we had four opportunities to get 'across the pond' on Wednesday. There was a Manchester flight, then an Amsterdam flight and two London flights we could try for. We figured with all of those opportunities, surely something would pan out.

There was a retirement party near the airport for BJ's old boss on our date of departure, so we headed down early to catch the end of the party and then it was on to the airport. Our friend dropped us off at the new international terminal and we had some refreshments in the F Concourse Delta Sky Club before heading to E concourse for our first opportunity to stand by . We had a quick drink in the E Concourse Sky Club and then headed for the gate(s). The Manchester flight and the Amsterdam flight were just 20 minutes apart, but thankfully they were at adjacent gates so we could stand by for both. BJ stayed at the Manchester gate until she determined that we wouldn't get on, and then she came to the Amsterdam flight. We didn't even get close to getting on, so we headed back to the F Concourse Sky Club where we were starting to get to know the staff. We had a pretty long wait until the London Heathrow flight. Again, we didn't even get close. There was one more Heathrow flight at 10:45PM and we knew that there was no real point in hanging around, but decided that since we were already at the airport we would wait until it left.

As expected, we didn't get on, so we headed to curbside to try to figure out how to get back to our car from the new International Terminal. A taxi is an option, but the drivers are usually unhappy to have to get out of line for such a small fare. Sometimes one of the hotel shuttles will drop us off, but they don't run regularly to the new International Terminal. We took the free shuttle from the International Terminal to the Domestic Terminal and asked the driver to drop us off on the way. We met a nice family of folks traveling on buddy passes who had tried all of the same flights we did. They were trying to get over to see their son who is studying in Cardiff for the summer.

We got home after midnight and stayed up just long enough to make a plan for the next day. We decided we would fly to Detroit around noon and then catch a flight from Detroit to Amsterdam. From there, we would stand-by on KLM to Manchester.

When we got up Thursday morning, the Detroit to Amsterdam flight had fallen apart, but the direct flight from Atlanta to Manchester was looking better. We decided that rather than get stuck in Detroit, we would just try the direct Manchester flight out of Atlanta and maybe the Atlanta to Amsterdam flight afterward. We weren't going to bother with the Heathrow flights since they looked worse than the ones we didn't get on Wednesday.

We got to the airport with barely enough time for a drink in the crown room before heading to the gate. We found the family we had met on the bus the night before waiting at the gate. We pulled the stand-by list up on our phone and it looked like we would get on, but only two of the family of four would get to ride. They had purchased some expensive, but refundable back-up tickets through Amsterdam so two of them took the seats to Manchester while the other two traveled through Amsterdam.

Once onboard, we sent an email to our pet-sitter to let him know we had gotten on and settled into our business class seats! Dinner, a movie and a nap, and we were in Manchester. We pointed our new friends in the direction of the train and went to Alamo to pick up our rental car. We aimed the GPS at Derby and got there in time for lunch with Jerri and Rick at Thomas Leaper's pub.
After lunch, we took a stroll around downtown Derby and stopped into the Tourist Information Office to get a map and torch relay schedule.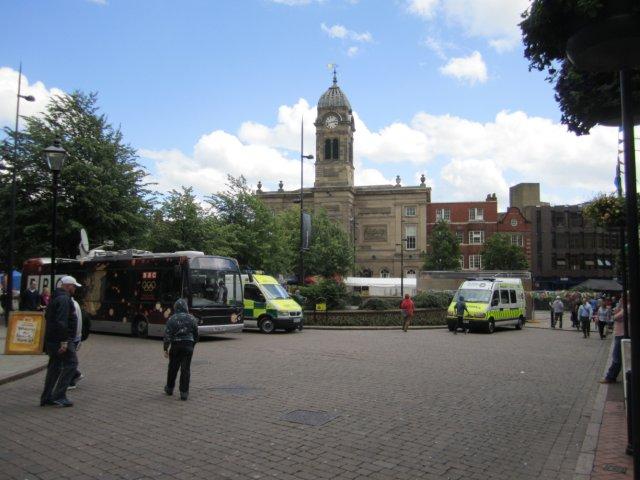 We made one small (but costly) mistake when parking the car. We fed the meter, but misread the end time, so we got a 25GBP parking ticket. Lesson learned.

After lunch, we went in search of Jerri's torch route. It was just up the street from Frankie & Benny's, a little restaurant that we learned would open at 5:30AM the next morning for the torch run. We could park our car there, have breakfast, then watch Jerri run with the torch.

We visited with Jerri and Rick for a little while. Jerri showed us all of her torch souvenirs, including the cool torch earrings, torch bearer jacket and even her torch bearer tattoo! She had and interesting story about the tattoo.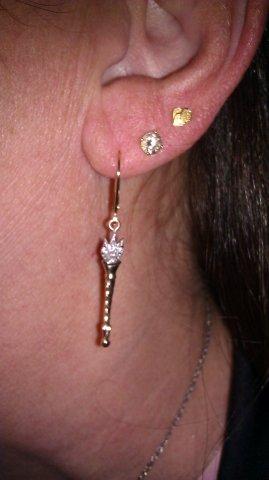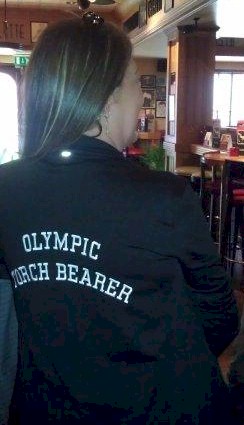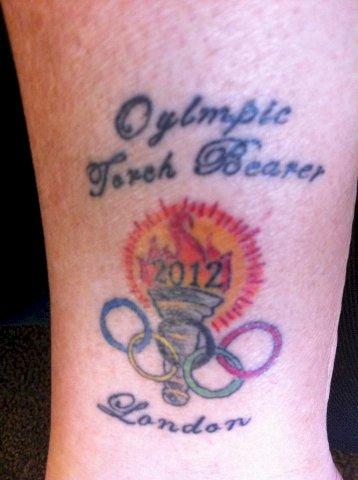 She proudly posted a picture of the tattoo on www.facebook.com and got several complimentary comments on the post. The next morning as she was driving to work, she got a call from a friend who said, "Very funny Jerri, I want to see a picture of the real tattoo." Jerri didn't know what she was talking about and tried to look at the tattoo on her ankle as she was driving. She was shocked to discover that the word Olympic was misspelled. When she went back to the tattoo artist, he assured her that he could fix it with a 17 step process. Jerri has such a great attitude and sense of humor, she decided to leave it as is. Her comment on facebook was, "Yes, it really is mine! and yes it is permanent...will not peel off or wash off, and no, I am not getting it fixed.... I never regret anything that makes me smile... only a couple of months old and already brought many laughs!"
She got a lot of publicity from the misspelled tat! There is a BBC video and lots of other references from various news sources:
BBC Interview: http://www.bbc.co.uk/news/uk-england-derbyshire-18890901
CBS: http://www.cbsnews.com/8301-33747_162-57476028/olympic-torchbearer-gets-tattoo-with-major-misspelling/
ABC: http://abcnews.go.com/blogs/headlines/2012/07/olympic-2012-torchbearers-tattoo-gone-wrong/
Yahoo Sports http://sports.yahoo.com/blogs/olympics-fourth-place-medal/big-error-olympic-tattoo-160521077--oly.html
Huffington Post: http://www.huffingtonpost.co.uk/2012/07/19/jerri-peterson-london-2012-torchbearer-receives-oylmpic-tattoo-pictures_n_1686269.html
KRJH TV http://www.kjrh.com/dpp/news/local_news/former-tulsan-olympic-torchbearer-jerri-peterson-gets-misspelled-commemorative-tattoo
London Telegraph: http://www.telegraph.co.uk/sport/olympics/9411625/Torch-bearers-tattoo-misspells-Olympic.html
SportsGrid: http://www.sportsgrid.com/weird-but-true/torch-bearer-lady-isnt-that-upset/
The Inquisitr: http://www.inquisitr.com/280501/olympic-tattoo-spelling-mistake-make-sure-your-artist-consults-a-dictionary/
Mirror News: http://www.mirror.co.uk/news/uk-news/video-oylmpic-tattoo-london-2012-1149607
Larry Brown Sports: http://larrybrownsports.com/olympics/olympic-torchbearer-jerri-peterson-misspelled-tattoo/147207
Been Thinking: http://beenthinking.org/2012/07/19/oylmpic-tattoo/
We left Derby for Birmingham, where we would spend the night. We had a room at the Hilton while Jerri & company were staying at the Crowne Plaza. We were really pleased when we checked in and realized we could walk from our hotel to theirs. We relaxed at our hotel for a bit and then walked to the Crowne Plaza. After texting back and forth to let them know we were there, we discovered that we were at the wrong Crowne Plaza. The one they were staying at was a 20 minute drive. We had to get up at 4AM the next morning so we decided not to make the drive.

We were at Frankie & Benny's at 5:30AM on the dot the next morning. We met up with Jerri's husband, Rick. He had another Intercontinental Hotels employee torch-bearer, Juliette and her husband Norman with him. We had breakfast while we waited for it to be time for Jerri's torch run.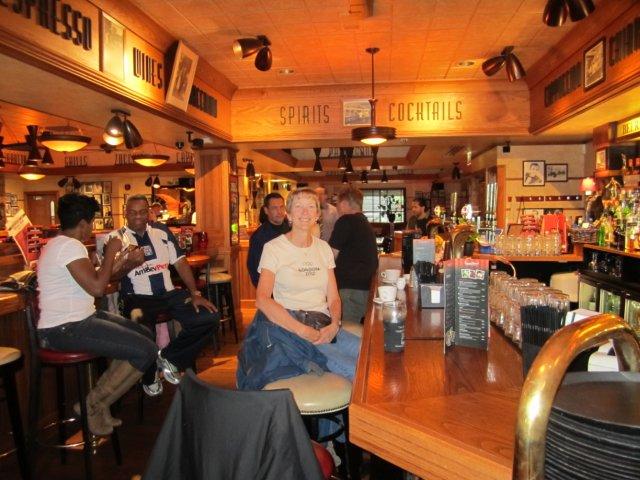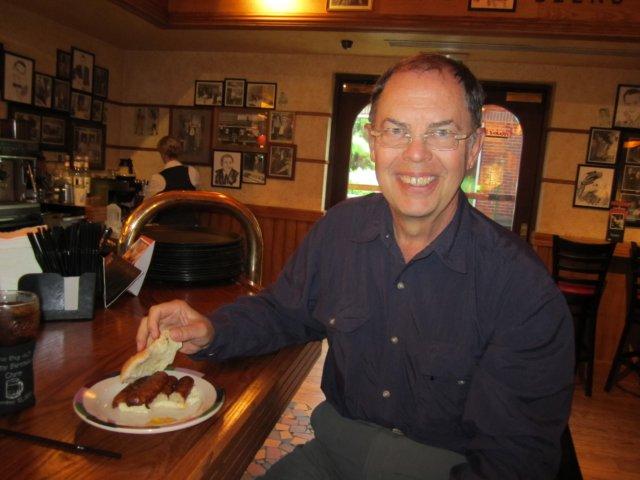 When it was just about time for us to go outside, it started to rain. This didn't deter the crowd that was lined up to cheer Jerri on! The Salvation Army Band was playing in full uniform with the rain dripping off of their instruments.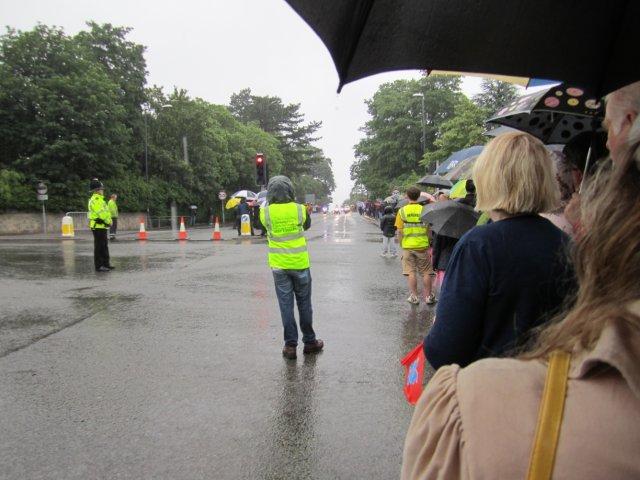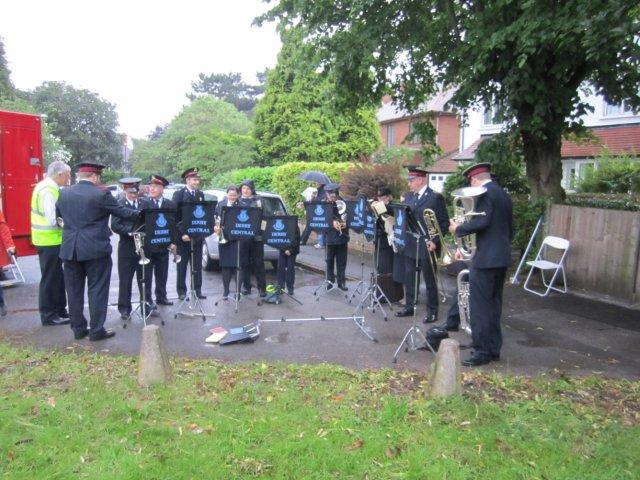 We spread ourselves out along Jerri's route so we could get pictures of her along the way.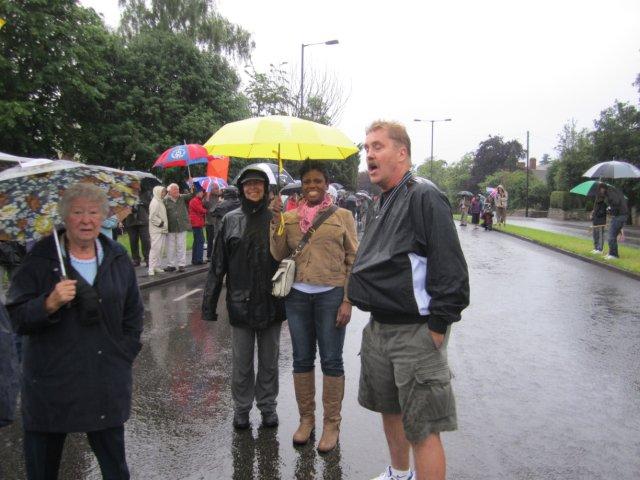 Tony tried to get some shots of the hand-off to Jerri, but couldn't get a good shot with all of the umbrellas in the way.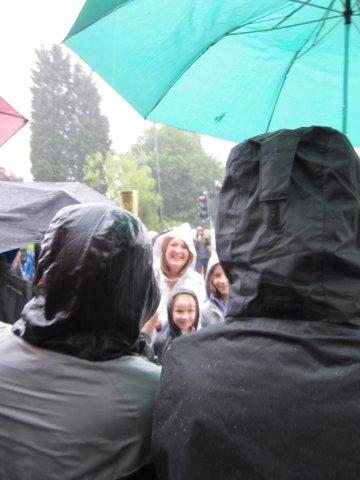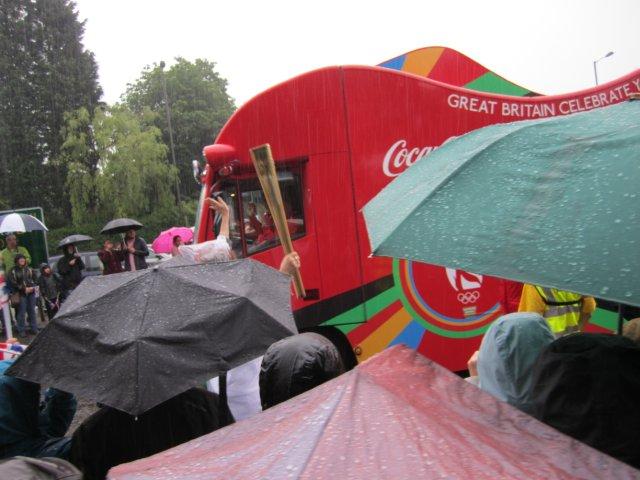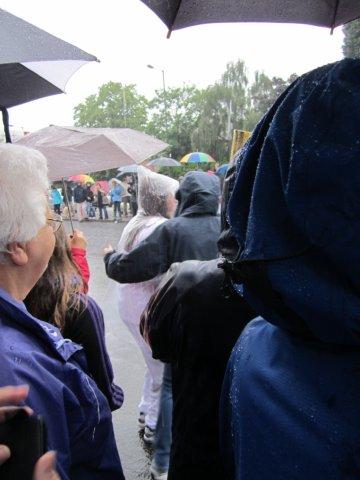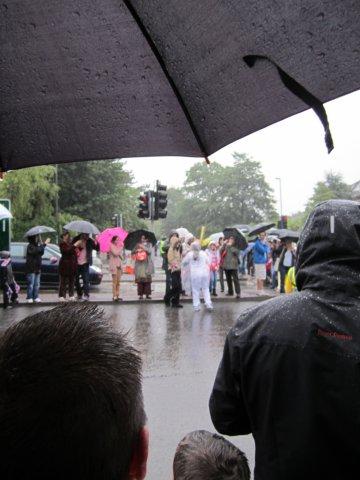 BJ was planning to take a video of the run with her phone but the rain caused the phone to turn itself off just as Jerri was approaching. BJ ran alongside Jerri until the phone rebooted and then got a very shaky video.
If you watch the BBC coverage of the event (below), you can see BJ, Tony and Jerri's husband, Rick running on the sides of the road along with Jerri!
It was very exciting and was over much too quickly. Jerri had to ride the bus back to a central location after her run so we went back to Frankie & Benny's to dry off. The bathroom hand dryer did a pretty good job of drying out our cameras and cell phones.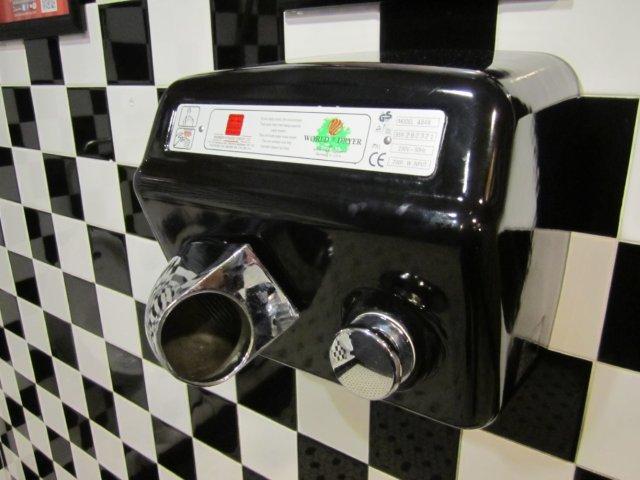 When Jerri got there, she was surrounded by adoring fans (including us) who all wanted a picture with her and the torch.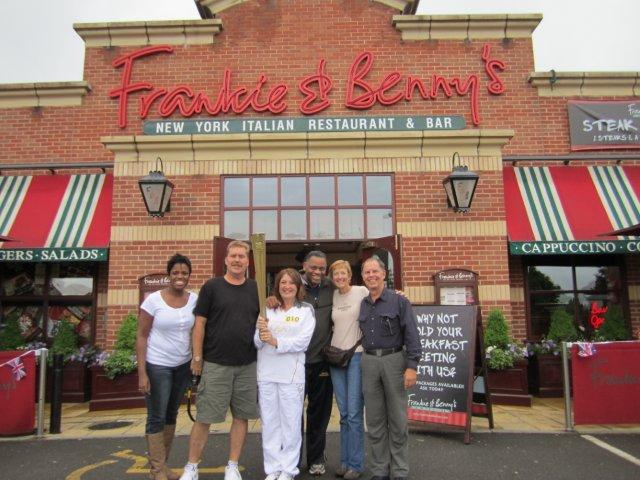 The staff at Frankie & Benny's got some pictures with the torch to mount on their wall. Even their mascot got in on the action!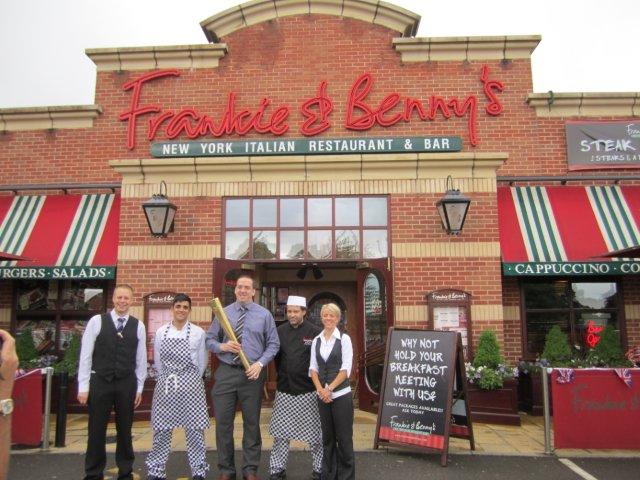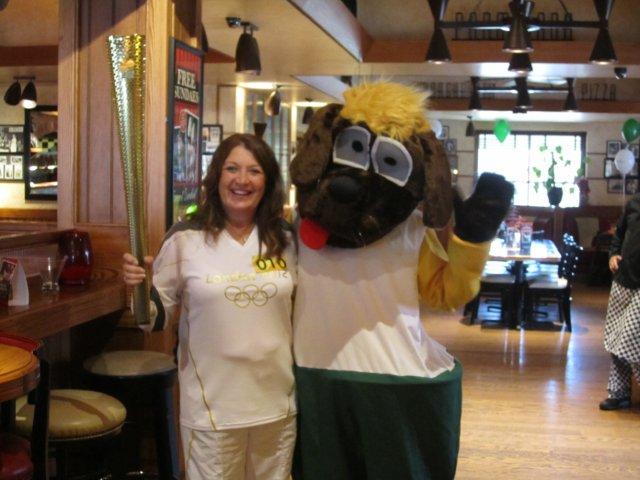 BJ wanted to get in on the action, so she took the torch for a little mock run. She later photoshopped the flame in to give it the feel of authenticity.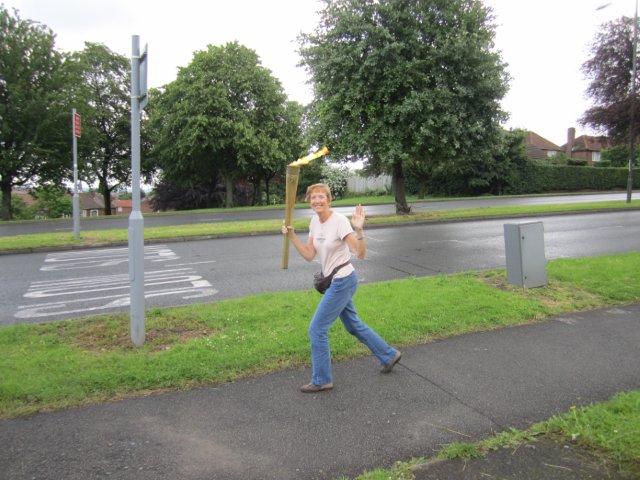 The torch was a pretty awesome thing to behold, or be holding!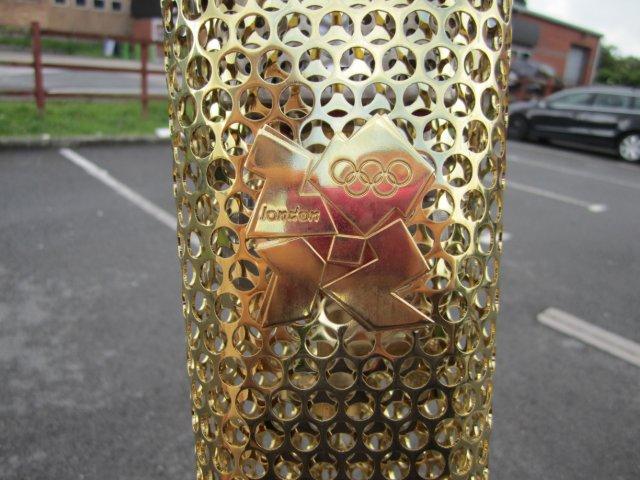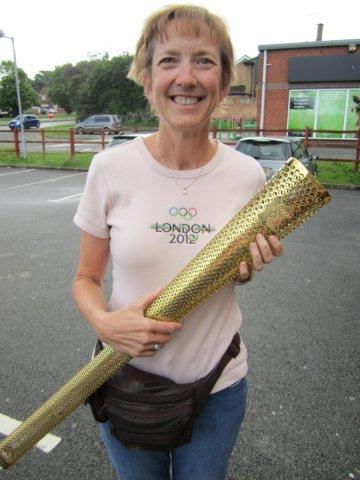 Our energy level started to wane and we decided to head back to the hotel for a nap. The Hilton had a great swimming pool so we took a short dip and then napped until it was time to meet Jerri & Rick for the Birmingham Torch Celebration.

Rather than have to deal with a complicated parking situation, we decided to take the metro into town. We made a reservation on the Hlton's 4PM shuttle that would take us to the metro station. When we got to the door of the hotel, the doorman said the shuttle had just left, "on time". BJ said she thought it had left early and the doorman said, "Your watch says it is 4PM and my watch says it is 4PM, but the shuttle driver goes by his watch and he left on time at 4PM." Then he told us that it was a 5 minute walk to the metro station and showed us the route, so we were happy.

It was about 3/10ths of a mile from the New Market train stop to the Crowne Plaza. We found Jerri and Rick waiting for us in the lobby. We grabbed a cab to take us to the celebration in Cannon Hill Park. We told our cab driver that Jerri had carried the torch and learned that his son had also carried the torch!

We had a great time at the celebration. Jerri was interviewed by a TV station and BBC radio.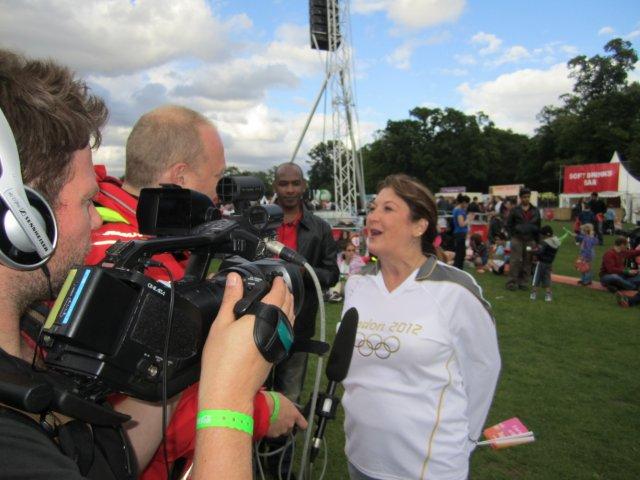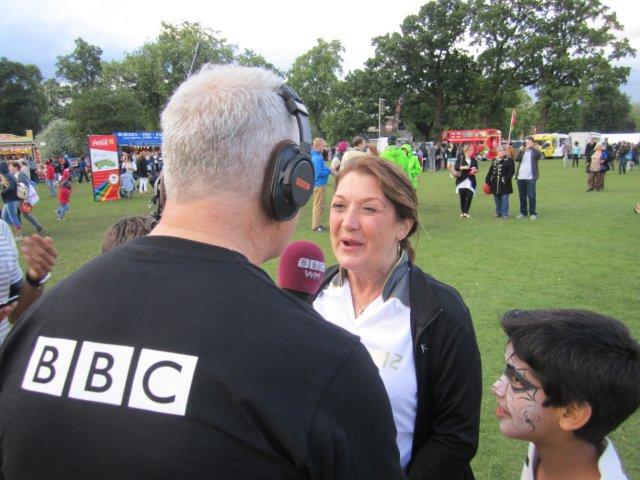 She sighed autographs and hugged other torch bearers.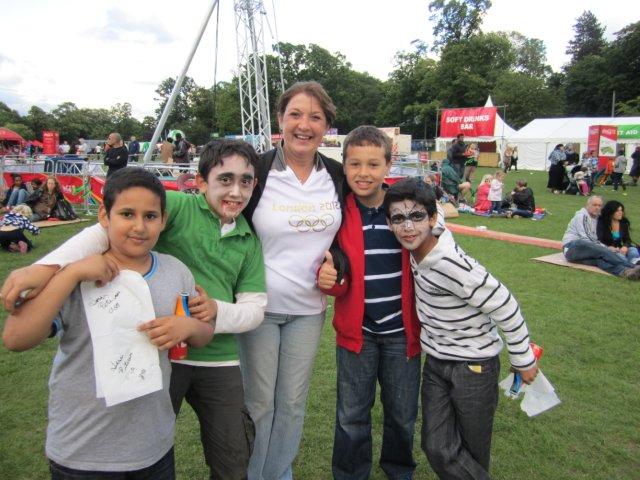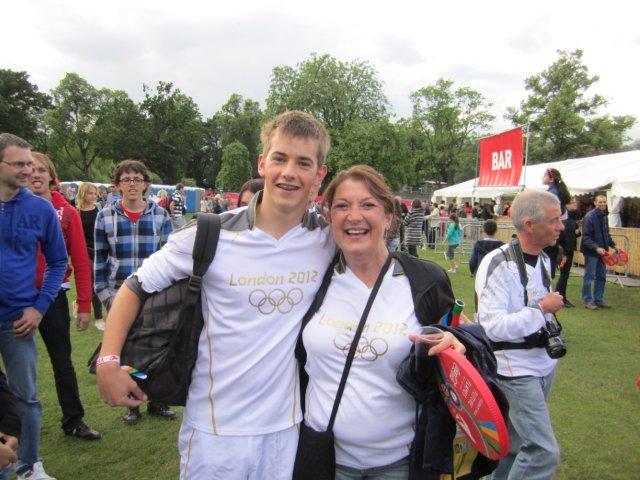 We got some commemorative Coca Cola items, saw some music and dancing acts and then watched as the torch came into the park and lit the caldron where the flame would stay for the night.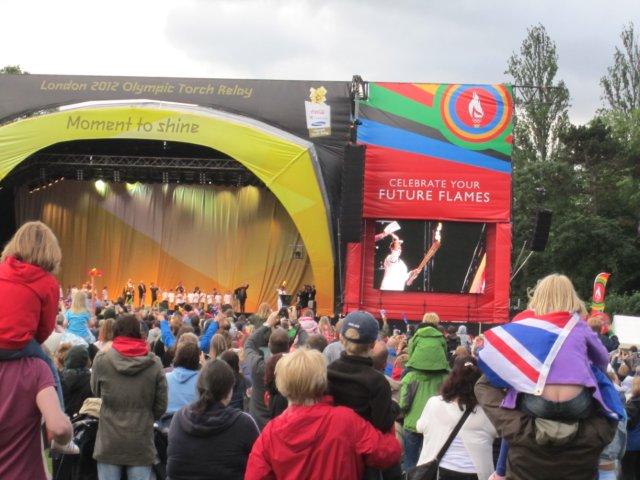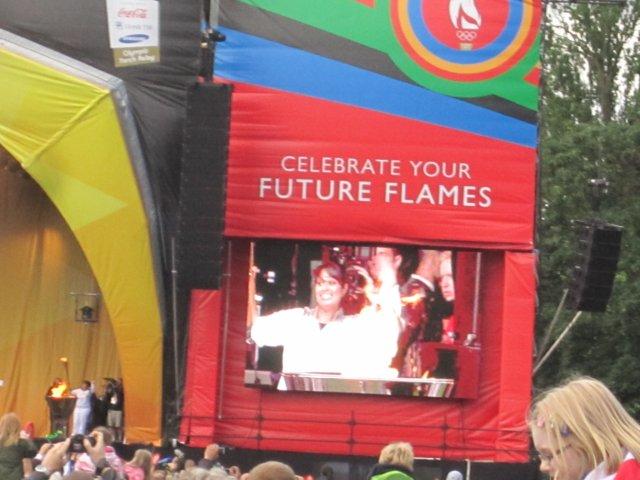 We tried to get a taxi from the park back to the hotel, but thousands of our friends were doing the same thing, so after a brief chat with the bobbies ouside the park, we started walking back to the hotel.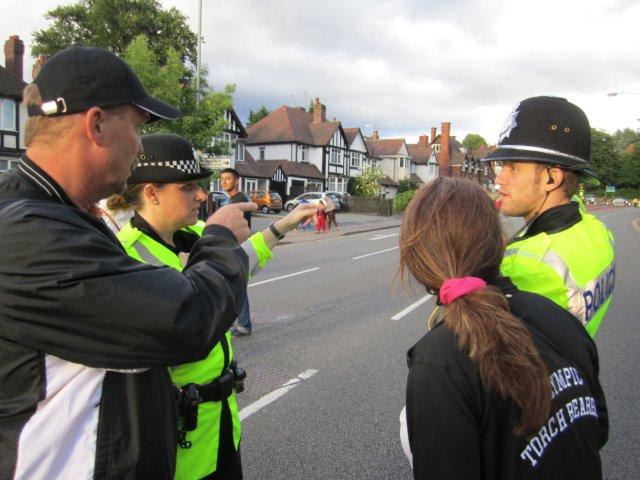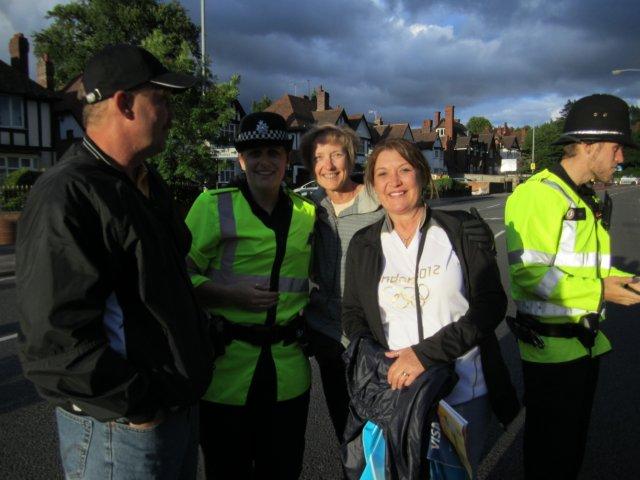 Just before it started to rain, we were able to flag down a taxi and avoid getting wet. We had dinner at the Crowne Plaza and then caught the train back to the Hilton.

On the train, we had a nice conversation with some music enthusiasts who were returning from a Mike and the Mechanics concert.

The next morning, we had a leisurely breakfast and then packed for the continuation of our journey to Liverpool. We had originally planned to spend 2 nights in Liverpool, but after checking our return flight options we decided we would be better off to cut our trip a day short, spending only one night in Liverpool.

We checked out of the hotel and got in the car. BJ tried to program the address of the Liverpool Hilton into the GPS but the street was not found. The only Hilton that the GPS could find in Liverpool was some eleven miles away, so we decided to just program the GPS to go to the Tourist Information Office. As it turned out, the Hilton was very close to the TI.

When we got to the hotel, there were lots of teenage girls crowded around the entrance. We checked in and went to the Executive Lounge to plan our sightseeing. There were some musicians in the lounge singing and playing the guitar. We looked out the window and saw that the teenage girls were now out on the street waving up at the Executive Lounge.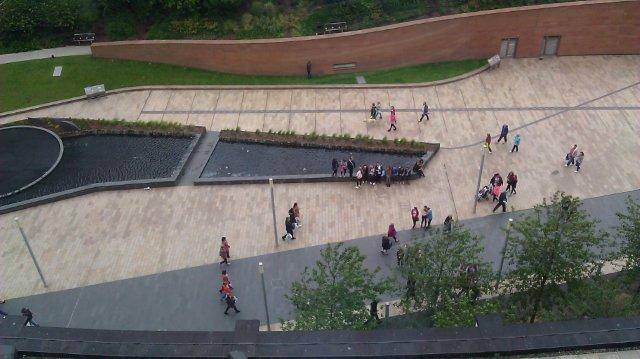 As the musicians were leaving the lounge they gave us an autographed picture and we learned that it was Connor Harris, an urban artist. http://www.connorharris.org/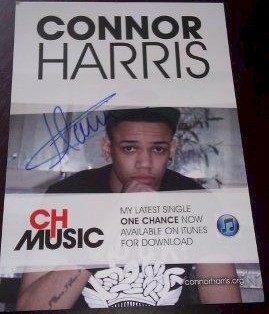 We walked along the waterfront admiring the sights and then stopped into the Beatles Store. There was a free picture gallery inside the store.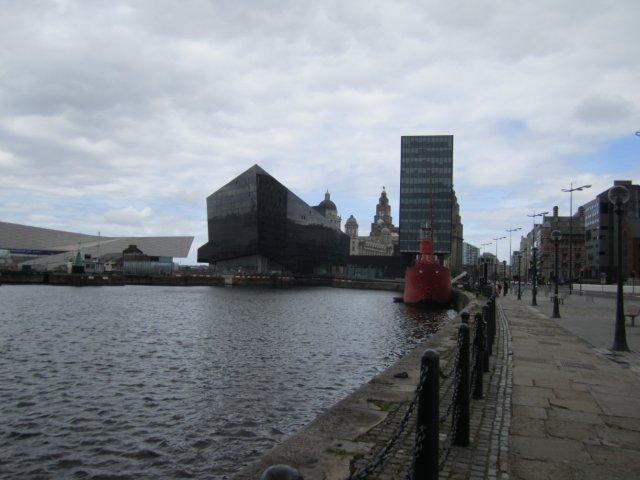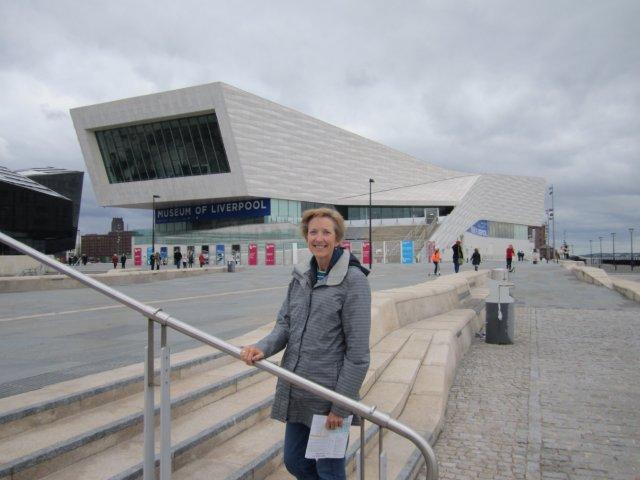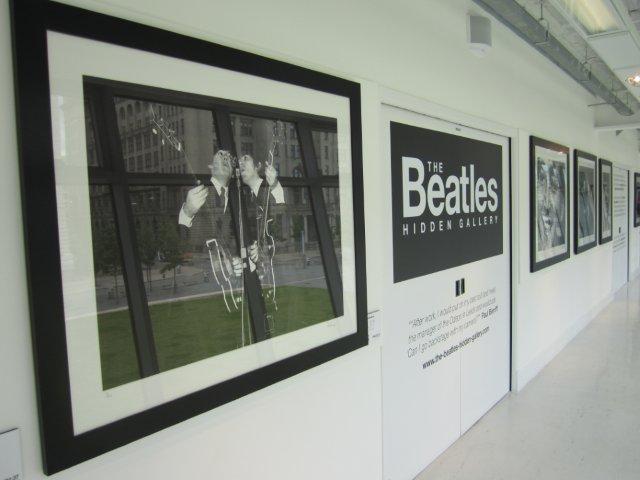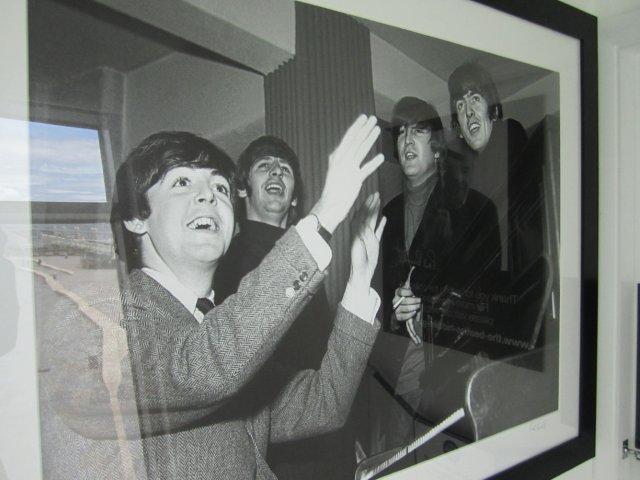 Afterward, we had some chips and a beverage at the Pumphouse and then took a scenic walk around Liverpool.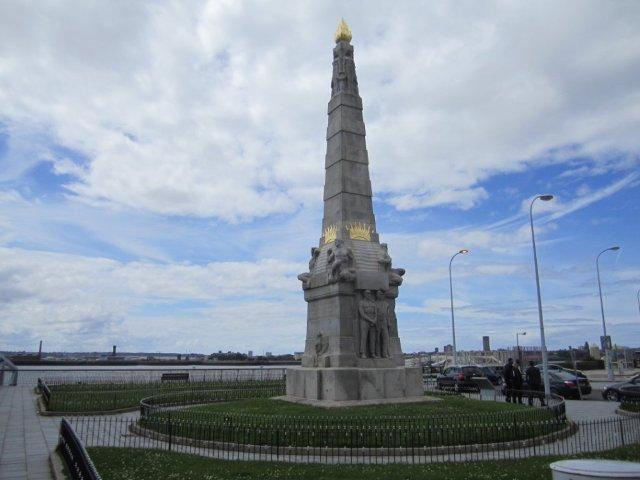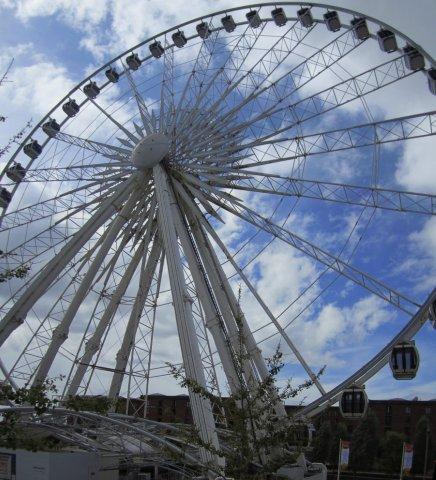 Our walk led us to the Liverpool Cathedral.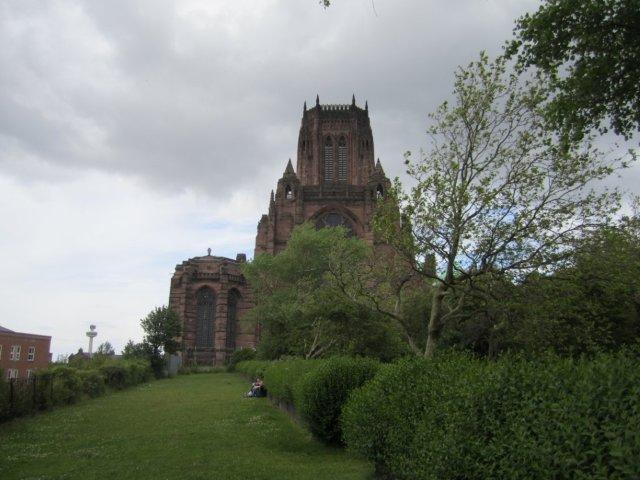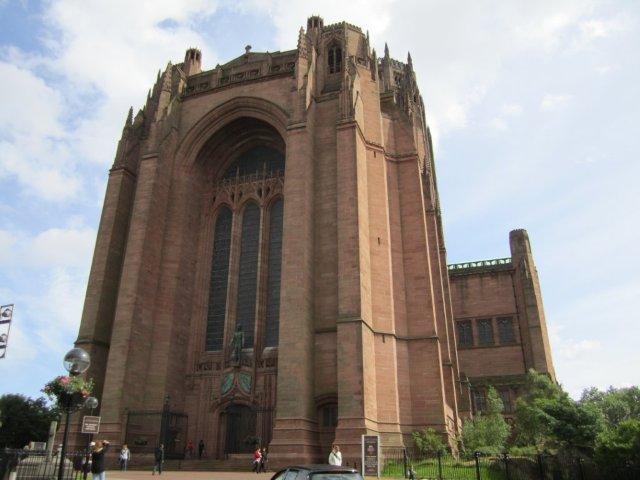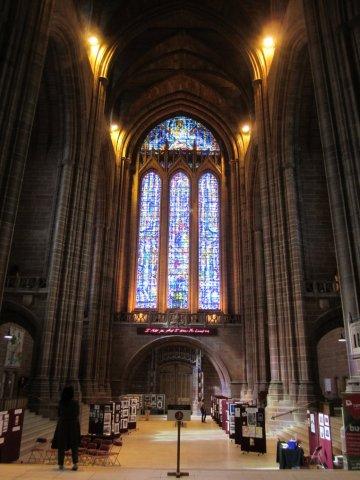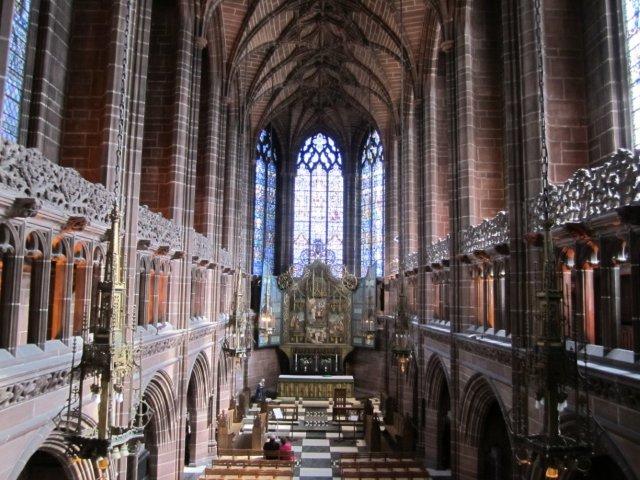 The route back to the hotel took us past China Town and the Rope Walks District.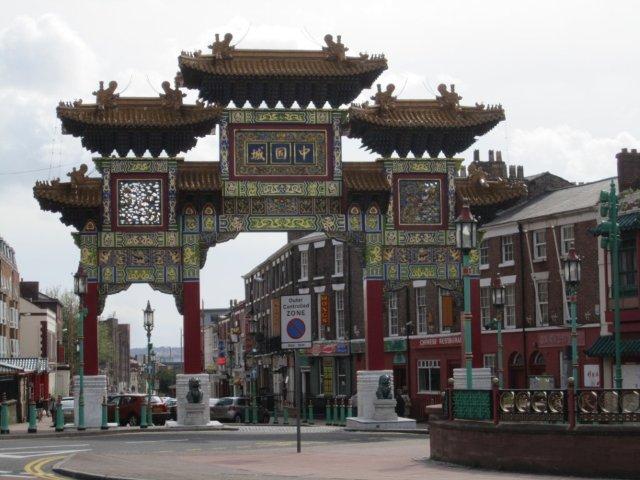 Back at the hotel, the teenage girls were still out front, waiting for Connor Harris to make an appearance.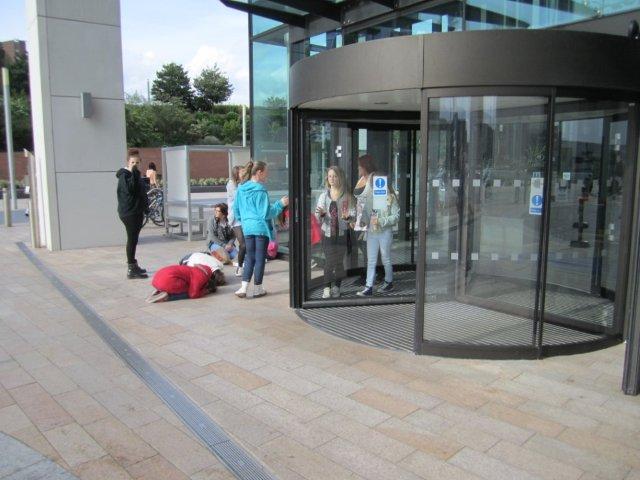 We hurried up to the Executive Lounge to get a good seat near the TV for the final game of the Euro Cup Soccer tournament.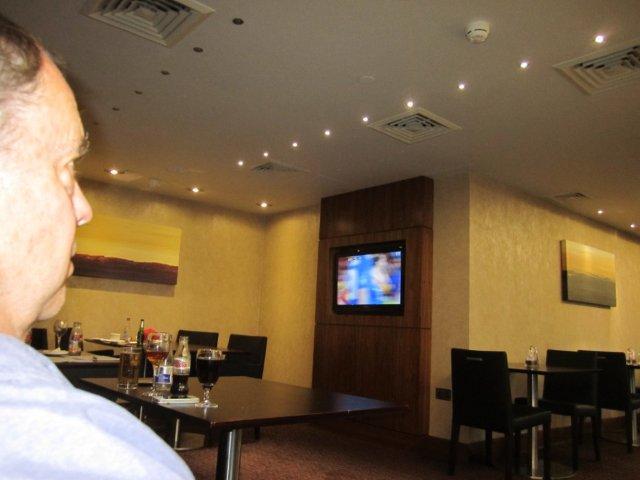 The next morning, we got up early to drive back to Manchester for the flight. We remembered that the Manchester Delta staff requires that the standby passengers wait outside of the secure area to see if they will get a seat.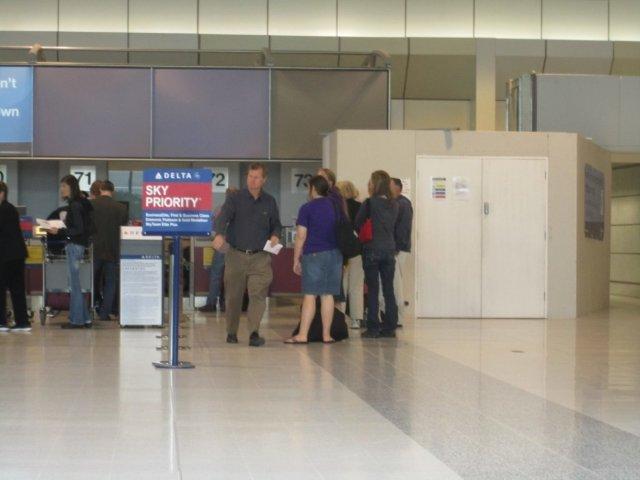 At about a half hour before departure time, we were allowed to go to the gate, leaving us barely enough time to get through security, especially since BJ's bag had to be searched for a bottle of water she had forgotten to remove.

We were very pleased to get business class seats together for the flight home, and even more pleased the next day when we learned that we would not have gotten on the flight had we stayed another day.

BJ and Tony
bjandtony@bjandtony.com