Zurich, Switzerland
November 2013
"Expovina"
The main purpose of the trip was to taste wine... on boats! We found We couldn't believe this is the 60th year they have held this fabulous event and the first time we have discovered it. Expovina is an event where a number of boats dock on Lake Zurich, then wineries and distributors set up booths where patrons can taste 4500 different wines at 170 booths. The cost of admission is only 20 Swiss Francs! A bargain!

Our entire group was fortunate enough to score business class seats going to Zurich. Delta has changed their method for business class service, and, in our opinion, not for the better. Instead of the warm nuts served after take-off, there was a packet of sugared almonds & berries at our seat when we boarded. We squirreled ours away in our luggage, still expecting to get the warm nuts later. Previously, we would have been offered a beverage with our warm nuts before the meal, but the new service has the attendants serving the first beverage with the appetizer. The meal service is all done from a cart in the aisle, which means that folks seated at the back of the cabin (us) have to wait a fairly long time to get a beverage. Then there is a long wait for the main course and dessert while the cart works its way down the aisle again. We sound a little spoiled (and we are), but most of our concern is for the paying passengers. We want Delta to put its best foot forward for its customers!

We slept through breakfast and woke up fairly refreshed just as we were landing in Zurich. We made our way through passport control and customs and found the shuttle bus for the Airport Hilton. Through effective juggling of affinity credit cards, we have managed to maintain Diamond status with Hilton Hotels for several years. It is a great benefit, especially in Europe where we are almost always upgraded to an executive room with access to the executive lounge. The Zurich Airport Hilton was no exception. We were upgraded to a King Relaxation Room on the 3rd floor which was downstairs from the lobby. The room was very large and had a desk that looked like a disc jockey stand overlooking the bed. The bathroom had a whirlpool tub and a separate shower. The unusual thing was a window that looked into the bathroom from the bedroom.

We changed clothes and met the rest of our group in the Executive Lounge. Breakfast was still being served, so we lounged around a bit over coffee and breakfast. We finally got moving a little after 10AM. Because we were at an airport hotel, we had to catch the hotel shuttle back to the airport to get to the train station. Figuring out how to purchase tickets for the train was a little challenging but there was a nice man nearby who advised us what to purchase. After we bought our tickets, we asked him which track was for the departure to Zurich HB. He said that the trains were not running because of a strike. We all looked concerned and then he laughed and told us which track to go to.

Rich had printed a walking tour of Zurich Altstadt (Old Town) so we decided to follow it and see some of the sights before going to the wine boats.

First we strolled up Rennweg which was adorned with lights. We commented that it would be beautiful at night.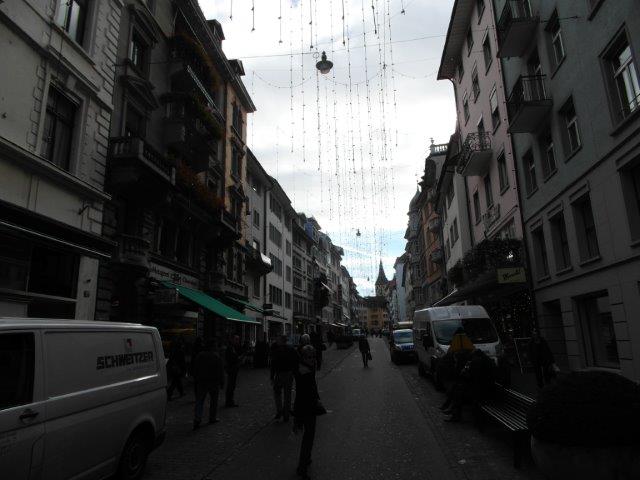 Half-way up the street, we came to a well from the Roman-era which had only been discovered when the street was renovated.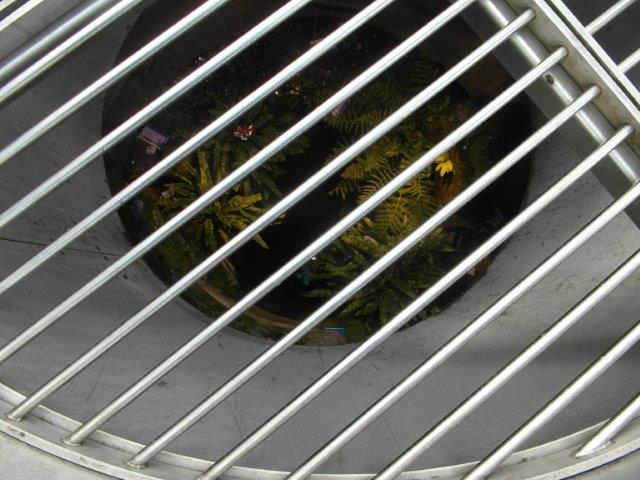 Next on the tour was the Lindenhof, a park overlooking the Limmat River.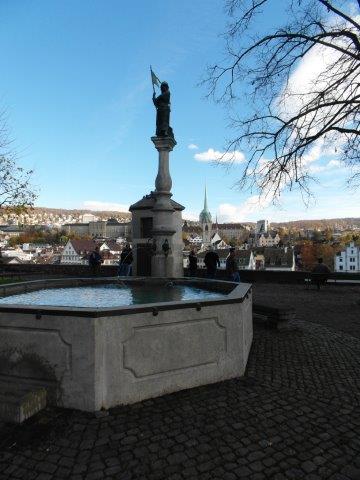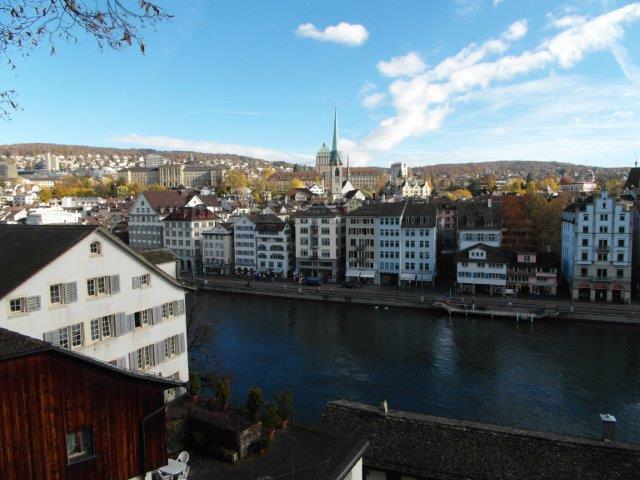 St. Peter's Church which was the first Protestant house of worship in the city of Zurich after the Reformation.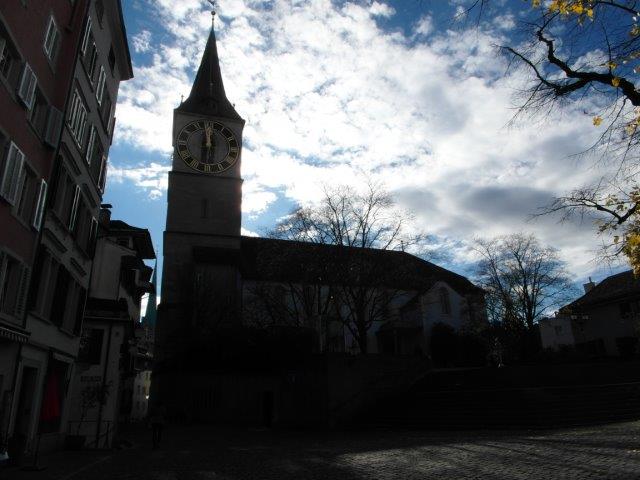 Down the steps at Thermengasse were the excavations of a former Roman Bath which were discovered in 1983 during renovation work on a toyshop. Displays on the wall show how the baths looked in their prime.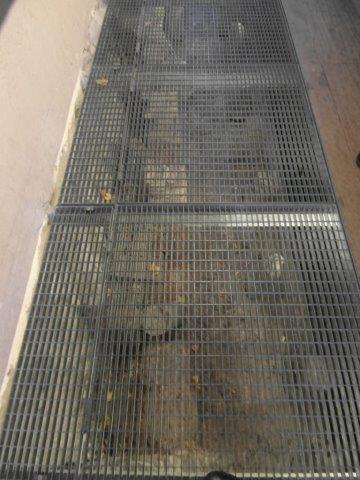 Our tour took us to Fraumunster and its famous stained glass windows designed by Marc Chagall. We ducked inside for a quick look but weren't permitted to take pictures.
Across the Munsterbrucke (Cloister Bridge), we went to the Grossmunster. According to legend, the Grossmunster was founded by Charlemagne, whose horse fell to its knees over the tombs of Felix and Regula, Zurich's patron saints. Again, no pictures were allowed to be taken.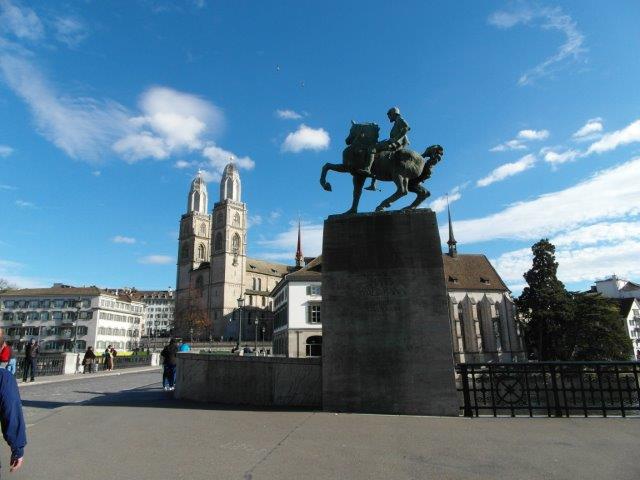 We decided to end our tour for the day and stop into Le Dezaley Restaurant for a beer and bathroom break. Afterward, we headed for the lake and the real reason for our trip. We took one last look at the city behind us as we walked to the lake.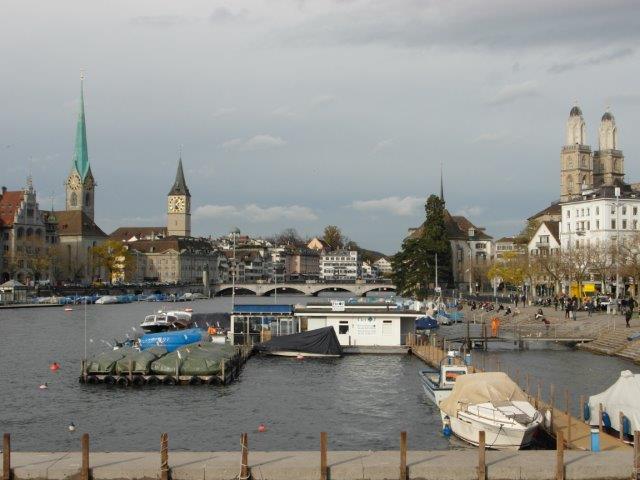 Expovina was great fun!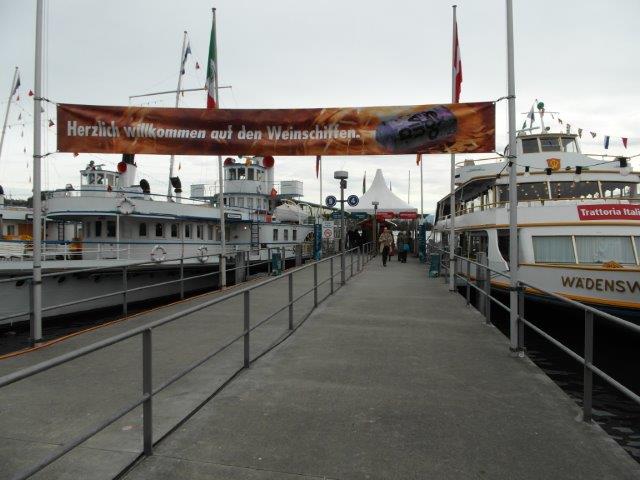 The vendors were not allowed to sell wine at the event so there was no pressure to buy anything once we had paid our admission. Each booth gave us a fresh glass to taste which was bothersome to eco-friendly Pat. We tried to take our glass with us from booth to booth, but the vendors would always take our glass and give us a clean one. We tasted mostly reds and tended to spend more time at booths where the pourers were friendly. We especially liked the Jeggli booth.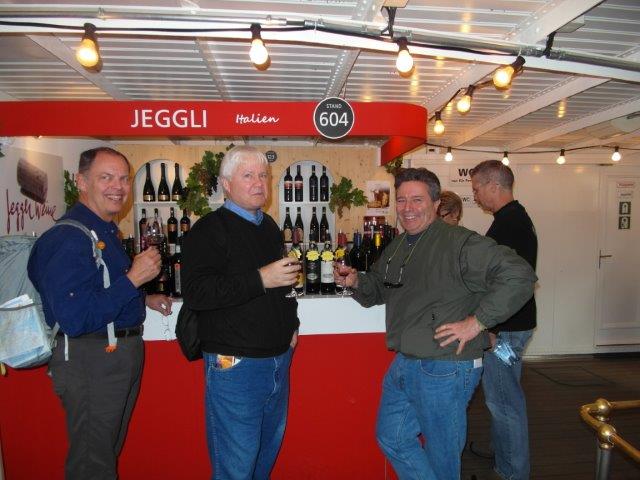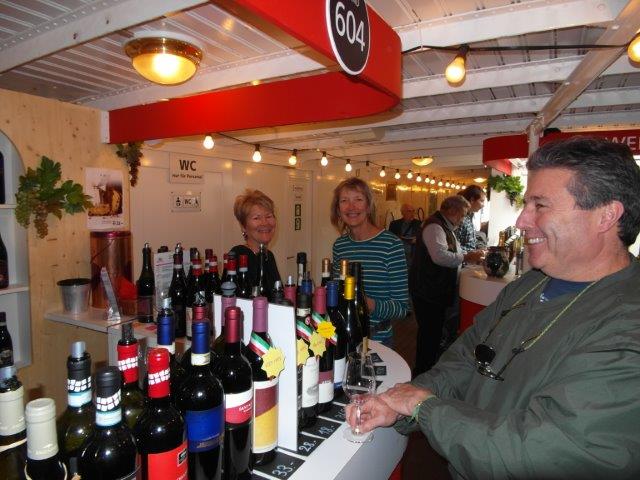 We made it to two boats before we decided we needed to get something to eat.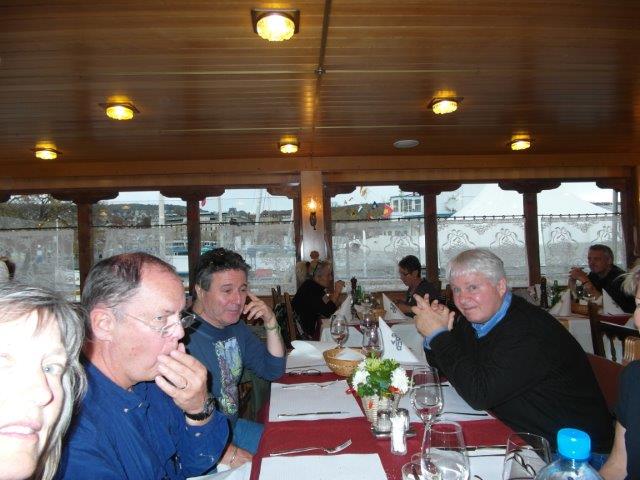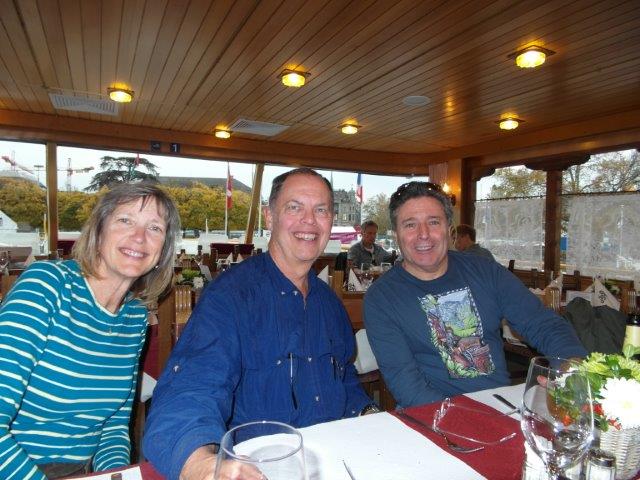 One of the boats had an Italian restaurant on board. We split some expensive pizzas and then tasted a few more wines before we decided to call it a day. Wimpy, yes, but in our defense, we had flown all night.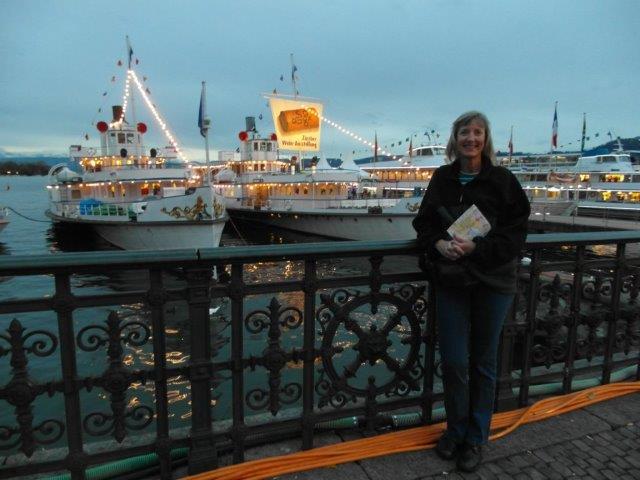 The walk back to the train station afforded some lovely views of the city, all lit up.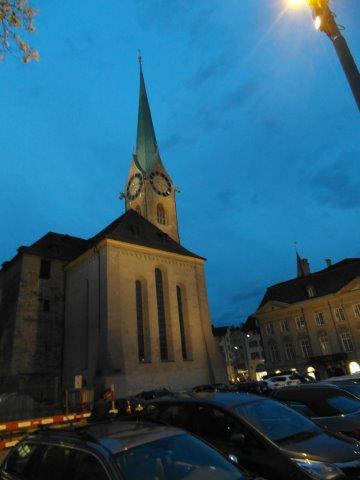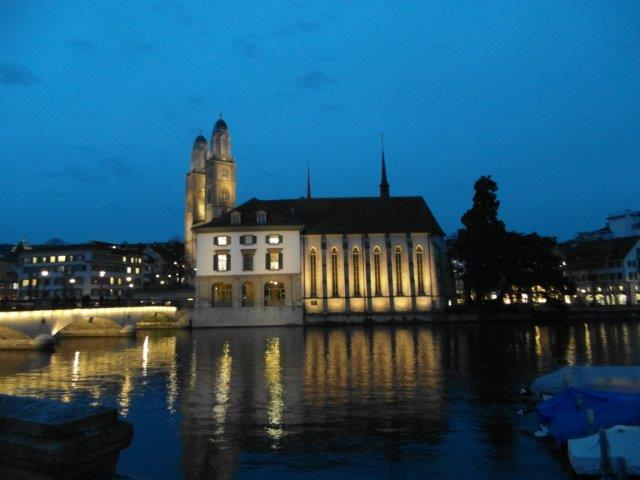 We got back to the hotel in time for the manager hosted cocktail party complete with wine (we'd had enough) and snacks. We managed to stay awake until after 8PM and then we said our good-nights and headed off to bed.

The wi-fi was a bit spotty at the hotel so we were very happy that we had signed up for T-mobile's new international data plan. BJ woke up around 4AM and was able to download a book to entertain her while she couldn't sleep.

The hotel was built into a hill, so our room was level with the airplanes as they took off. When we woke up, we opened the curtains and watched several take-off and landings.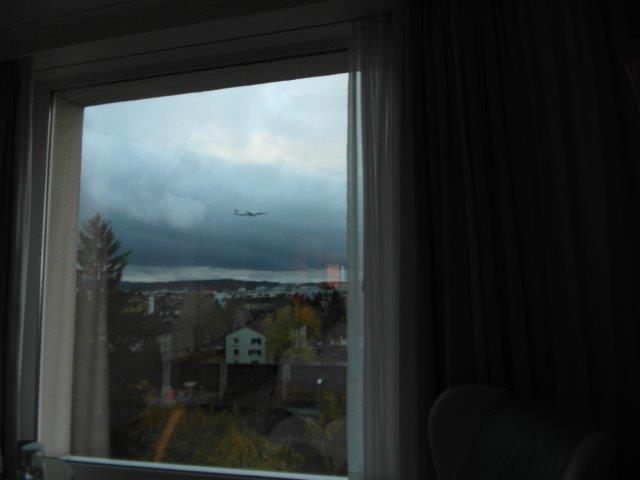 We met the gang for breakfast in the lounge where there was more opportunity to watch the airplanes. Great entertainment for airline employees!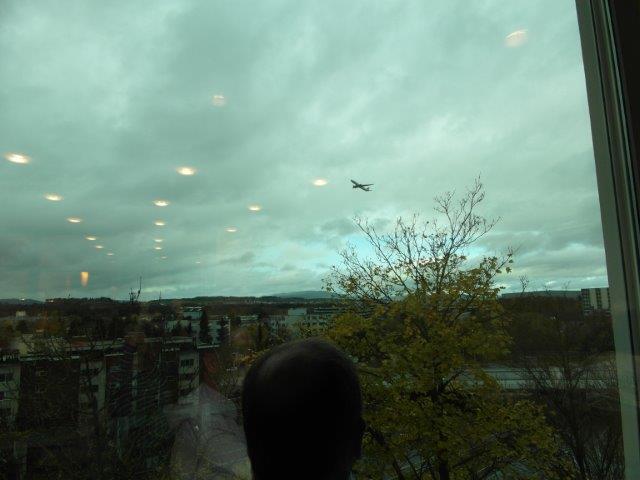 The train pass we had bought the day before was a 24 hour pass, so we decided to try to get into town using the same pass. We had one straggler who almost made us miss our window but we talked the shuttle driver into waiting. No one ever checked our tickets on the train but we didn't want to take any chances.

What was supposed to be a rainy day, turned beautiful when we got to town.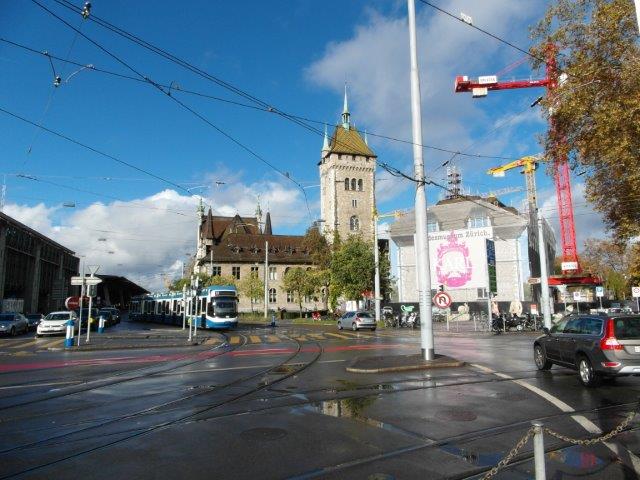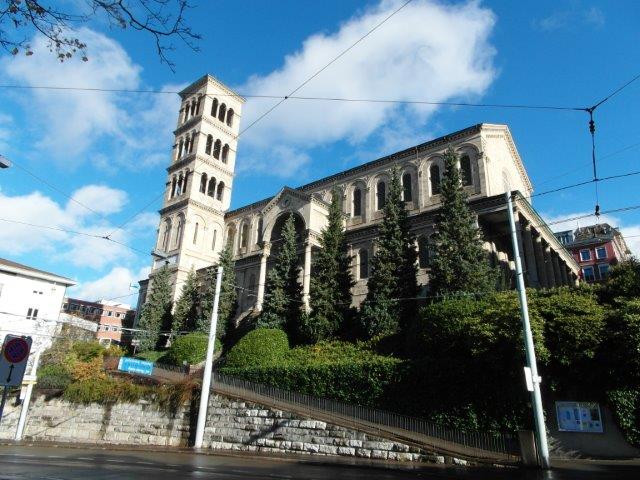 BJ remembered some interesting sculptures from a previous trip so we spent some time trying to find them before she realized that they were in Konstans, not Zurich.

We followed the green route on the Tourist Information map which took us through the main shopping streets and past several statues & monuments.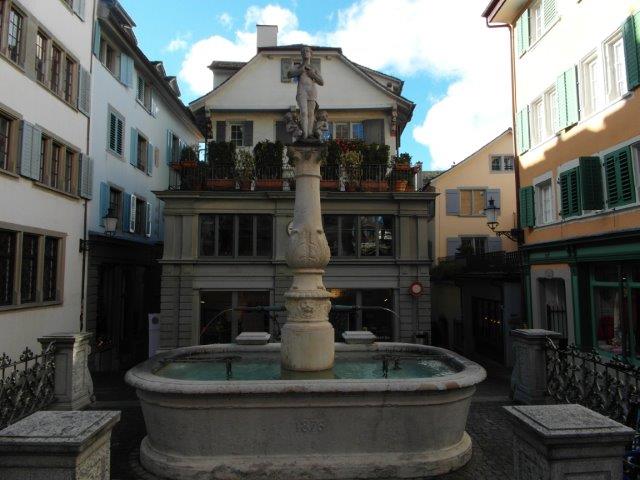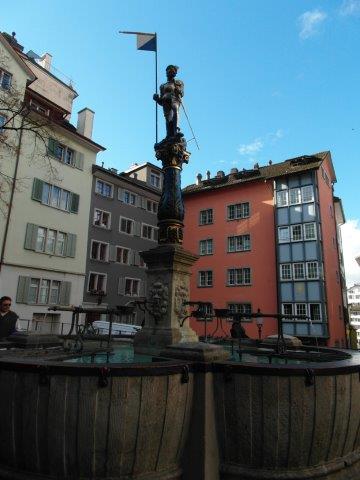 We found a great little outdoor cafe, Zunfthaus zur Zimmerleuten, and enjoyed a snack before heading to the boats again.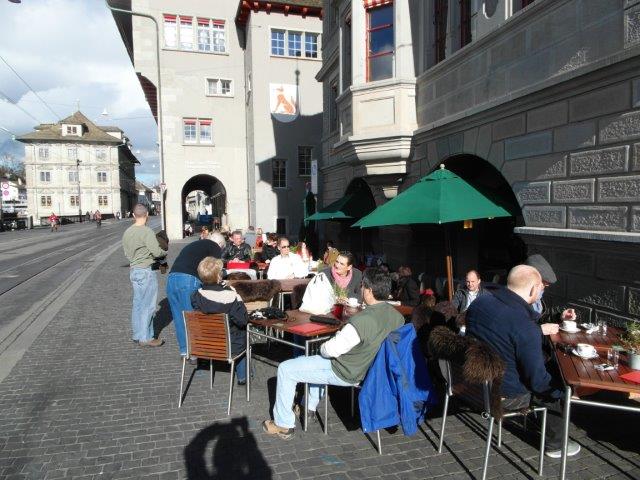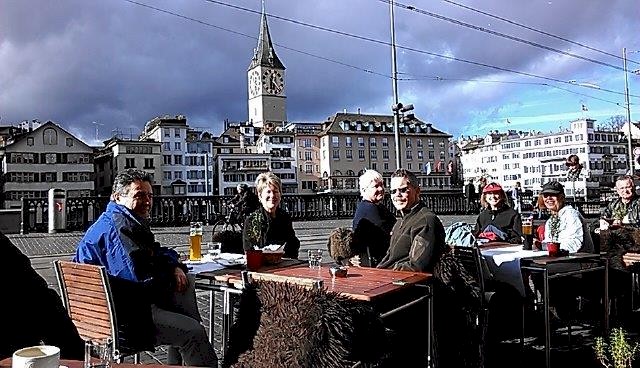 After our snack, we headed back to the boats for another round of Expovina!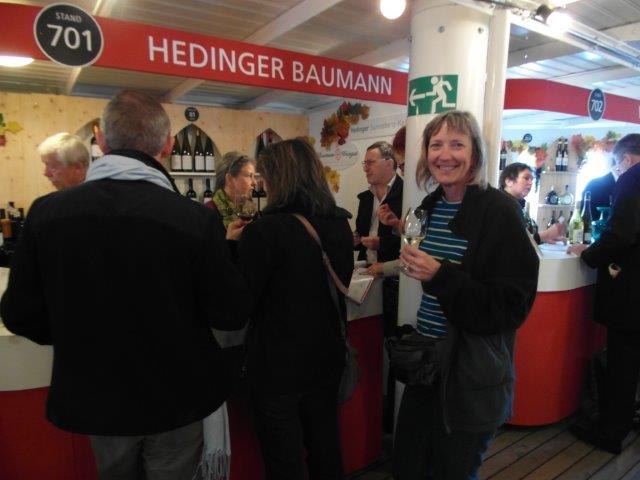 It was just as much fun the second day as the first! After we tasted enough wines, we decided to head for a Thai restaurant we had seen earlier in the day. It wasn't the best Thai food we'd ever had, but it was warm and filling!
We took the train back to the hotel and got back in time for cocktail hour in the executive lounge again. We had thought we might stay another day, but the weather forecast showed that it was going to be pretty rainy so we cancelled our room for the next night and changed our flight to the following day.
Only one of our party was fortunate enough to get to sit in business class on the way home, but the flight was pretty open in coach so we were happy with our three-across.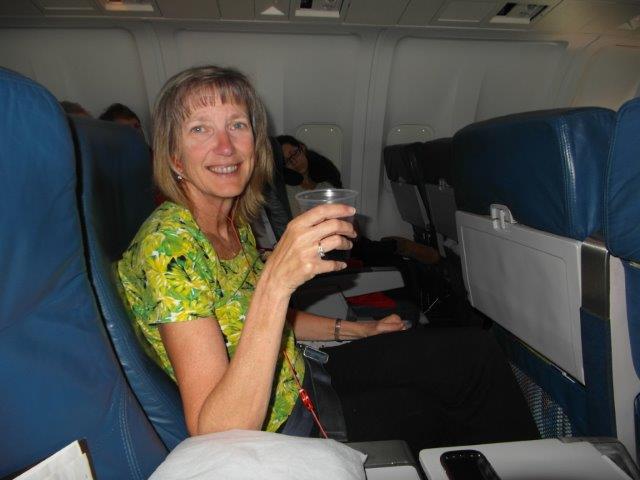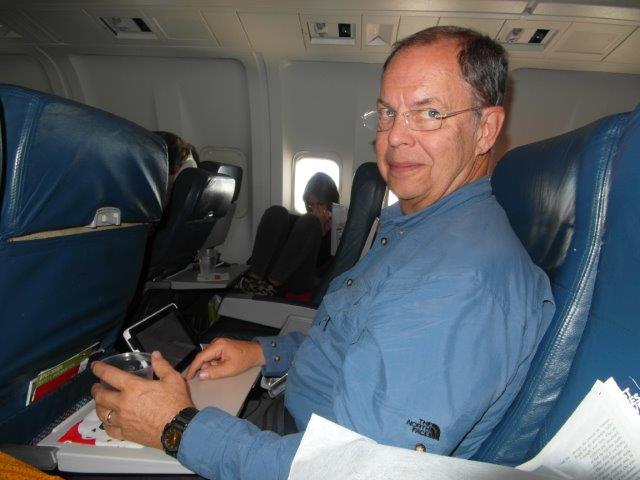 Another fun trip! We may have to make this an annual event!
BJ and Tony
bjandtony@bjandtony.com