Grand Canyon
June 1990
Vacation in Hell!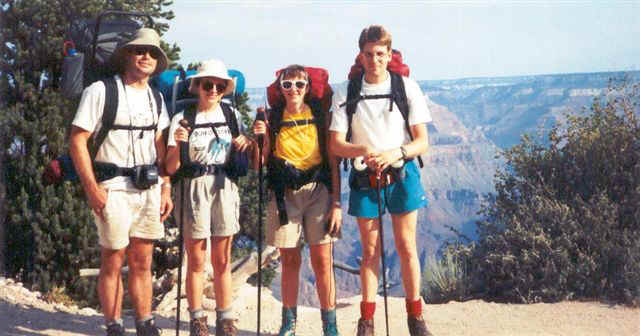 In order to spend your vacation in Hell, you must first spend lots of money on equipment to prepare yourself for any eventuality. It is necessary to invest in Colin Fletcher's book, The Complete Walker III, and completely <![if !vml]><![endif]>familiarize yourself with the techniques and equipment needed for a strenuous hiking trip into Hell. A shopping trip to L.L. Bean's in Freeport, Maine should be planned months ahead of your vacation. An expensive backpack must be purchased. Mine cost $130. You might want to spend more. You'll need a new lightweight backpacking sleeping bag. It doesn't need to be rated for very low temperatures as it doesn't tend to get very chilly in Hell. This should also be fairly expensive. Mine cost $90. A bedroll of some sort should be purchased. It should be light weight, compact and expensive. Mine cost $40. New hiking boots are a must. You'll want to spend weeks shopping for these. Make sure you get some that can be color coordinated with your outfits. Mine cost $70 and are a lovely teal color. Your walking stick should be collapsible and compact. Mine? $45. Your clothes are the most important purchase you will make. You will need pants that can convert to shorts by zipping the legs off. Mine cost $38. The rest of your wardrobe should consist of lightweight sturdy shorts and shirts that coordinate with your hiking boots. Socks are very important. Wool hiking socks cost at least $5 a pair and you will need at least 2 pair for a 3 day hike into hell. Polypropaline liners for your socks are $3 a pair. Throw a couple of those in your pack too. Now that you are outfitted and ready for your vacation, read the following account of my vacation. I hope you saved the receipts for all of that equipment you just purchased because I think you'll want to return it!
Jean Grenier (not her real name) and I had been <![if !vml]><![endif]>discussing a hiking trip into the Grand Canyon for a couple of years, and finally decided to plan one. We decided that we would like to carry all of our equipment in a backpack and camp at the bottom of the canyon. We applied for a permit from the National Parks Department. We wanted to do this trip in April or May, but permits are difficult to obtain, so the first one we could get was for the weekend of June 30. My husband, Tony (not his real name), although interested in the trip, has had some problems with his knees and decided that it was best that he not try this. Jean's husband, Tom (not his real name), signed up for it. Eric Small (his real name), who works in my office heard us discussing the trip and invited himself along. As the date for the trip approached, we made all of our necessary purchases as outlined above. We decided that the best plan would be to start at the South Rim and hike to the bottom and camp. This was a 7 mile hike and would take 1 day. We would hike out to the North Rim in 2 days, spending the night at a campground halfway up. This would be a 14 mile hike.
Originally, Jean and I planned to fly out Wednesday, do some sightseeing, drop a rental car at the North Rim, and shuttle around to the South Rim to meet the boys and start the hike on Saturday. This didn't work out for me due to some family commitments. My father was scheduled for hip replacement surgery on Monday, but after prepping him and taking him down to the operating room, the doctor discovered that he didn't have all of the necessary parts for the hip replacement operation, so it had to be postponed until Thursday when he could get all of the right parts. Also, on the previous Friday, my sister gave birth to a baby girl who had to be rushed to Egleston Hospital and gave us quite a scare. I wasn't sure I was going to get to go on this trip at all at that point, but things calmed down and I was able to go. I would later regret this. Read on.<![if !vml]>
<![endif]>Eric and I flew to Las Vegas on Friday morning. Being airline employees who travel standby, we hadn't made any arrangements for getting to the South Rim. We were hoping to be able to catch a commuter plane over. Most airlines have a dress code for employees who are traveling standby, but small commuter airlines are sometimes more relaxed about this. Eric and I were hoping this was the case when we changed into some of our hiking clothes and checked our bags with our traveling clothes at a luggage check at the airport. We purchased stand-by tickets for America West to the Grand Canyon. After the ticket agent checked our backpacks for the flight, she noticed that we did not comply with their dress code for employees. She said that I would need to be wearing long pants instead of shorts and that Eric would have to wear a shirt with a collar. I asked her to get my backpack back so that I could get some pants from it, but Eric didn't bring a shirt with a collar, he only had T-shirts. She went back to the back to see if she could find something for Eric to wear, and meanwhile, I took one of my shirts out of my backpack and told him to try it on. It bulged at the seams and buttoned on the wrong side, but it had a collar and the ticket agent said it would be fine.
When we arrived at the Grand Canyon Airport, we found a bus out front and I asked the driver if he could take us to the Bright Angel Campground. I had the names of the campgrounds confused and didn't realize that Bright Angel was the campground at the bottom and was only accessible by hiking there. We were actually staying in Mather Campground in Grand Canyon Village the first night. He looked at me a little funny and said no, that he could take us to Grand Canyon Village and we could hike to Bright Angel Campground. Still confused, I asked him if we could get a taxi to take us to Bright Angel Campground. I would later wish desperately that he had said yes. After finally resolving my confusion, we paid our one way fare $4 plus $2 admission to the park and were on our way. We met Jean and Tom at the campground. They had eaten nothing but granola since Wednesday and were quite tired of it. In fact they complained about it so much that we called them the Granola's instead of the Grenier's for the rest of the trip. We hiked along the edge of the canyon in the afternoon and took in the splendor of it. It was a breathtaking view. Some of the trails were visible from the top. It was very temperate that afternoon, somewhere in the high 80's or low 90's. There was a free shuttle that took us from the campground to the Arizona Steakhouse (about a mile and a half) for dinner. It was pretty crowded and we had to wait for a table. By the time we had finished dinner, the shuttle service had stopped running and we realized that none of us had brought a flashlight from our tents so we had to hike back to the campground in the dark.<![if !vml]><![endif]>
Camping at the top was fairly pleasant. In the morning, Jean, Tom and I munched on granola bars while watching Eric "Julia Child" Small prepare his omelet on his backpacking stove. We had wanted to begin our hike at first light (about ) but the campground was about 3 miles from the <![if !vml]><![endif]>beginning of the trail.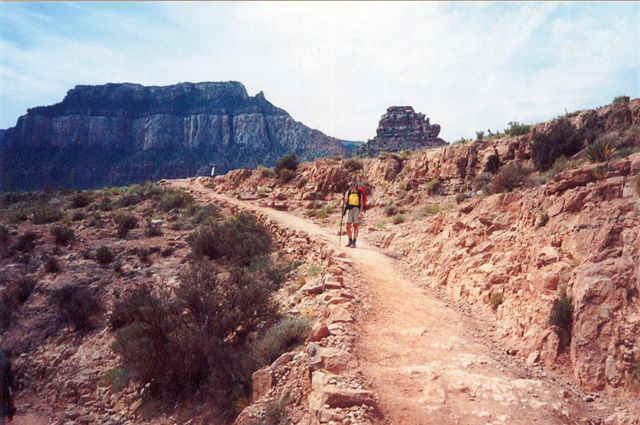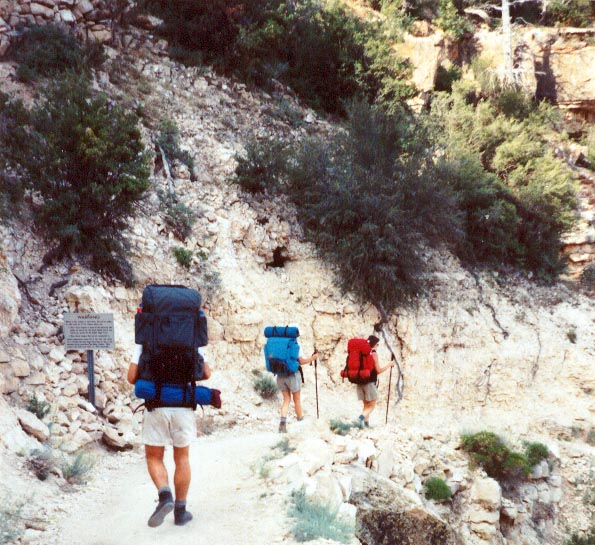 We had over a gallon of water each to drink on the trail. We stopped a couple of times for water breaks and to munch on granola. Soon, with the temperature creeping steadily up, I began to feel weak. We stopped for another break and a very nice couple stopped to chat. They must have been able to tell that I was having trouble because the man offered to carry my pack to the bottom for me since they did not have packs of their own. I gratefully declined, thinking that after a few minutes rest I would feel revived and be able to continue. I took my boots off and checked for red spots on my feet, just like Colin Fletcher recommended in his hiking book, then we continued on for a few more <![if !vml]><![endif]>hundred feet when I began to feel dizzy.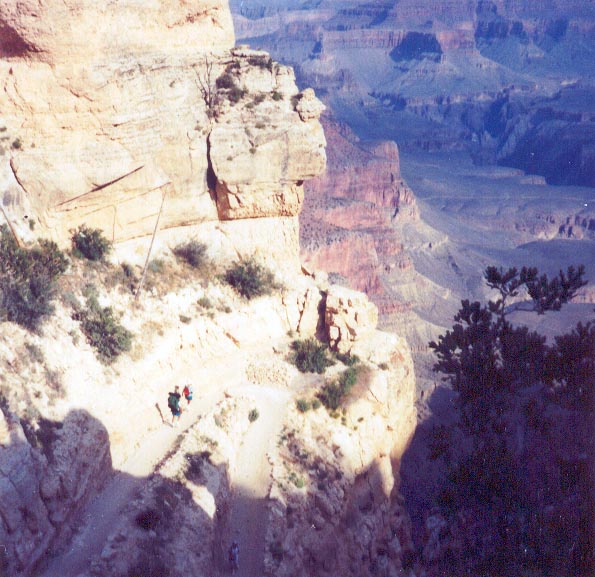 I thought to myself that if I fainted here on the edge of the canyon it would definitely be fatal so I again prevailed upon my hiking companions to take another break. They noticed my knees buckling when I stopped and quickly began distributing some of the items from my backpack into theirs. We snacked on granola and dried fruit and drank some more of our precious, now warm water. I had not brought a hat with me on the trip because I didn't want to get hat-head, the phenomenon that occurs when the hair takes on the shape of one's hat and remains in that shape even after removing the hat. But perceiving that I was near death, I decided that having hat-head would not be as bad as being dead so I improvised and made a hat from a wet bandana, a sweatband, and a visor. This provided some relief from the unrelenting sun. Several more miles (and several more hours) into the canyon, we finally saw a sign that said that we were 1 1/2 miles from the bottom. I commented that I was not sweating and that I had started to break out in goosebumps. I felt like such a weenie. I looked admiringly at Jean and complimented her on what a He-woman she was. She turned to me with much the same look on her face that I had had on my face for the last several miles and said, "I'm nauseous, I can't make it any further." The four of us took <![if !vml]><![endif]>refuge in the shade of a large rock and stayed there for an hour.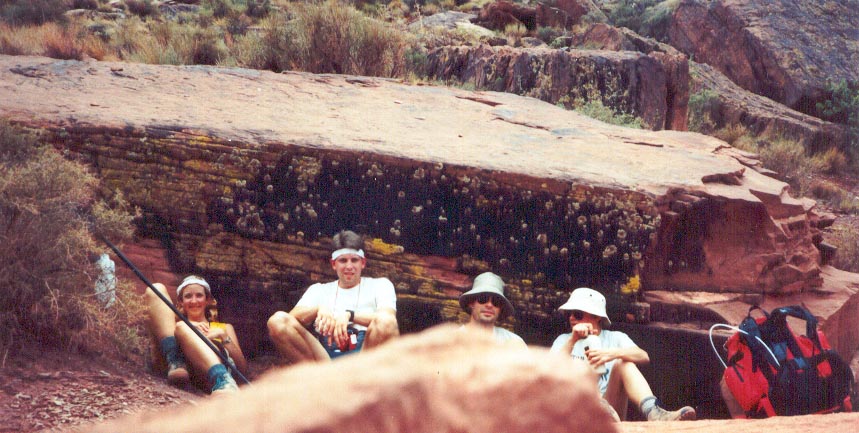 When we finally coaxed ourselves out into the sun again, we were only able to make it a few hundred more yards to the next shady spot. The fellows, anxious to make it to the bottom, decided that they should carry our packs for us. The angels of mercy did this and it made the remainder of the hike much easier. At the bottom, there was a tunnel, and then a bridge across the Colorado River and then the glorious beach. After a few moments rest in the tunnel during which I expressed my undying gratitude to Eric for carrying my pack, and promised to be his life-long servant for him having saved my life, he gave me back my pack and we continued across the bridge and onto the beach.
<![if !vml]><![endif]>As soon as we neared the beach, we left a trail of packs, hats, sunglasses, shoes, and cameras, and ran headlong into the Colorado River. The river, a refreshing 40 degrees was so cold, it was painful.
We must have looked pretty rough, because some <![if !vml]><![endif]>boys who were at the beach told us that they thought we could get a helicopter ride out of the canyon in the morning.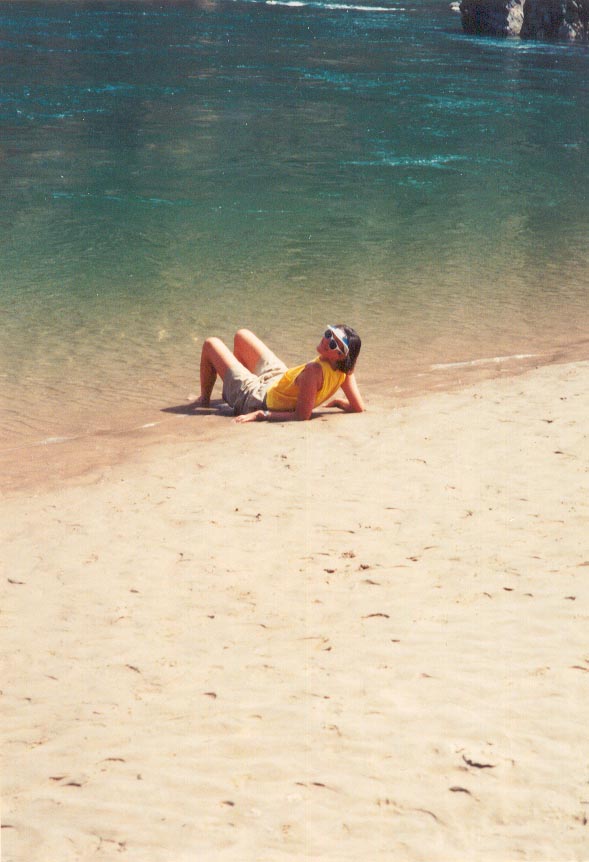 After a couple of dips in the Colorado, we gathered our things and hiked another mile or so to Bright Angel Campground. We set up our tents and Eric and I feasted on a peanut butter sandwich that we split. Jean and Tom consulted a park ranger about our getting a mule or helicopter ride out of the canyon. They were told that unless it was an extreme medical emergency, such transportation could not be arranged. Jean told the ranger, who was very rude, that we had almost suffered heat strokes on the trail on the way down. The ranger told her that people did not really have heat strokes and that they had people who hiked in and were so dehydrated that they had to be given I.V.'s with 4 quarts of water when they got to the bottom and they still hiked out the next day. This information did not please any of us. Eric decided that we had all died and gone to Hell and this was it. We had made reservations for dinner at Phantom Ranch ($15 per person for second seating stew dinner). We understood that there was also a Canteen and a General Store in addition to the restaurant there. We walked over there early for dinner intending to get a soda from the Canteen. When we got there, we discovered that there was only one building and it served all of the afore mentioned purposes at different times during the day. It was serving as a restaurant when we arrived and was only open for the early seating for dinner. They would not let us in to get a drink, so we had to sit outside and wait. While we waited in the sweltering heat for the second seating for dinner, we discussed our options for getting out of the canyon. The ranger had told us that if we wished, we could check a 30 pound duffle bag to be taken by mule back to the South Rim for $25. This idea definitely appealed to us. I felt like we could check some of the unnecessary equipment such as tents and sleeping bags in the duffle and still hike to the North Rim as planned, picking up our duffle bag on a subsequent trip. Another suggestion was made that the guys hike to the North Rim and pick up the car, and the girls take the less strenuous Bright Angel Trail up to the South Rim. Finally we decided that we should all take the less strenuous Bright Angel Trail, but that Tom should go ahead of us as quickly as possible in order to catch the one shuttle a day to the North Rim. Then we could take our time getting to the top, and he could retrieve the car and pick us up. We were finally allowed to enter the restaurant and were seated at a table near what passed in the canyon as an air conditioner. We were instructed as if we were school children how to serve our plates. The stew was passable and was served with a tossed salad and cornbread. To complement the meal, we had our choice of water (not ice water) or tea (not iced tea). Eric said, "So this is how they do chow in Hell." Poor Jean, still nauseated, was not able to enjoy the stew. We were instructed to pass our plates to the end of the table when we had finished, but to keep our bread plate for dessert. After finishing our chocolate cake and passing the remainder of our dirty dishes to the end of the table, we were given instructions on how to behave for the remainder of the evening. The building would become a Beer Hall at and we weren't to ask for anything to drink until then as the staff didn't have time to fool with us. We were also not allowed to make arrangements to have duffle bags carried out of the canyon until either.
Jean and Tom went back to the campsite since Jean wasn't feeling well and Eric and I waited until at Phantom Ranch. We decided to go ahead and check 2 duffles. We had to wait in line at the Beer Hall to pay for these. As we stood in line, we looked at all of the people down there and wondered if they had ever been there before, and if they had, why they had come back. When we got back to the campsite, Jean was feeling a little better. Tom had seen 2 scorpions in their campsite. We set our alarms for so that we could get an early start the next morning. The tents were like saunas. Sleeping was impossible. We tried our heads at first one end of the tent and then the other, but there was no relief from the heat. Finally, arrived and we broke camp. We stuffed as much of our equipment as we could into Eric's and my backpacks. We both had internal frame packs which could be checked on the mules. Jean and Tom's external frame packs could not be checked. We hiked back over to Phantom Ranch to check the duffles. They had to be weighed and could not exceed the 30 pound limit. Both of the packs we intended to check weighed over 35 pounds. We began unloading them to try to get them under the 30 pound limit. Finally we decided that we were going to have to check yet another $25 duffle to the top. When we went in to pay for it, we had yet another hassle as the building was only open as a restaurant for breakfast at that time. The rude little man finally agreed to open the cash register and take our money. Another woman was purchasing something just ahead of us and her purchase came to $2.15. She handed the man $3.00 and was digging in her change purse and said, "I have 15 cents." The man said brusquely, "I've already rung it up.", gave her the change and said, "If you'd like to lighten your load, you may put that in the tip jar." After we paid for our duffle, Eric asked if he could buy a cup of lemonade. The man said, "No." Eric having had just about enough, politely told the man what he thought of his attitude and the way people are treated down there in Hell. We finally wound up with three 28 pound packs to check.
Tom went ahead and started hiking while we were finishing getting all of the equipment squared away. We finally got started hiking about Hiking was a little more pleasant in the cool of the day, and Bright Angel Trail crossed several streams where we could splash water on our burning faces. There were 3 rest stops along the trail and 2 places where we could get water. It took us 8 hours to climb out. One of the rangers at the bottom had advised us that we weren't drinking enough water unless we had to go to the bathroom every 2 hours. Since I hadn't gone to the bathroom once during the 8 hour hike down, I figured I should double up on my fluids hiking up. That worked. I had to use the bushes a couple of times on the way out. We polished off the rest of the peanut butter sandwiches that I had brought and ate more granola and triskets. As we neared the top, I thought I heard a car just around the next bend. I got very excited and pulled ahead of the others, but when we rounded the corner, it was a man working on the trail with a jackhammer. The closer to the top we got, the more crowded the trail became. People were staring at us like we had just come back from Hell (which we had). One guy looked at me and turned to his buddy and said, "I don't think we should go any further."
At long last, we emerged at the top, triumphant in our quest and started over to the Bright Angel Lodge where Tom was supposed to have left us a message that he had arrived safely. We expected him to be well on his way to the North Rim at this point. But, we met him walking toward the head of the trail. The shuttle to the North Rim had been cancelled. He had rented a campsite for the night for us and said we would stay over and catch the shuttle the next day. It was my turn to have had enough, this time. I wanted out! I was concerned that the shuttle would be cancelled again the next day and that we would never get out. I insisted that we explore other alternatives. We checked with the desk at the Lodge, and they said a taxi to the North Rim would cost us $450, but they gave us the numbers of the only 2 rental car companies at the Grand Canyon. We called, and the best deal we could get was $47 a day with 100 free miles, 25 cents a mile after that and $150 drop off fee to drop it off at the North Rim. We decided to do that. Tom and I went to the airport to rent the car while Jean and Eric went to the Livery Stable to claim our packs. When they got our packs and sorted through them, they noticed we were missing Eric's binoculars and Jean's sleeping bag, so the rangers called down to the bottom. Eric's binoculars were laying on the table by the scale where we had weighed the packs and there was a sleeping bag in a plastic bag lying next to the table also. The rangers promised to have them sent up by mule and ship them to us via UPS. After we had picked up Jean and Eric and the equipment and were driving away, I looked back and noticed that Jean and I had left our walking sticks leaning against the barn, so we had to go back for those.
We swung by the campground to pick up Tom's pack and began the 250 mile drive to the North Rim. We stopped at the only opportunity to get something to eat along the way, which was a service station, and we all bought burrito's and Cool Ranch Doritos. This and a Diet Coke, the first in days, was dinner. By the time we got to the North Rim, it was dark and we were all starting to nod off. We drove to the campground first, but it was full. Then we drove to the Lodge and sent Jean in to see if they had any rooms. They didn't. Then, too tired to go on, we decided to drive to our other rental car and just sleep in the cars. We affectionately dubbed them "The Skylark Inn", and "The Topaz Motor Hotel". About I awoke with a start because my burrito had decided it wanted to come back up. I fumbled with the car door, got it open and made it to the edge of the parking lot before throwing up. Eric, a little hard of hearing, did not hear me tell him I was going to throw up, so he didn't know what was going on. I got back in the car and drove to the Lodge to use the restroom. Eric still didn't know where we were going. When we got to the public restrooms, there were a couple of men hosing them out with some sort of power hose. I asked if I could go in, and they said no, but there was another restroom downstairs, around back, and up the steps to the loading dock. It wasn't the cleanest restroom I've ever been in, but it served it's purpose. We drove back to our parking spot and slept for a couple of more hours.
When we got up, we decided we could all use a shower. There were showers at the campground, but they were $1.75 took only quarters. We went to three places to get enough quarters for all of us to shower. One of the places we went was to the cafeteria for breakfast. Most everything on the menu for breakfast was some sort of biscuit or biscuit combination. I saw some grits on the hot food line, and although I had not seen them on the menu, I ordered them. The cook said, "You want biscuits and gravy?". I said, "No, grits." He said, "We don't have any grits." I looked at the bowl that had the grits in it and saw that it was oatmeal. I said, "I'll have some oatmeal then." He said, "We don't have any oatmeal." It was then that I realized that what I had been looking at was gravy. I ordered some hash browns. The shower felt marvelous, although for your $1.75, you only get 5 minutes, which is barely enough time to get the soap on and get it rinsed off, once you get the temperature adjusted. After our refreshing shower, we turned the other rental car back in and started the somewhat uneventful drive back to Las Vegas. We drove through Zion Canyon and stopped at a hamburger joint for lunch.
We stopped at a gas station in Las Vegas at . Along the way, we had discussed what time the return flight was, but none of us had a flight schedule or so we thought. When we got to the gas station, Tom realized that he had a schedule in the trunk. He got it out and we saw that the return flight was at so we hurried to the Alamo place and Jean went in to change clothes while Tom went to check the car back in. Eric's and my clothes were still at the airport at the baggage check. Eric and I carried all of the equipment over to the shuttle stop, and when the shuttle came by, we grabbed our packs and jumped on, leaving Jean and Tom at the Alamo place. We got to the airport around a , and ran to the baggage check which is run by Mutual of Omaha. I knocked on the window and yelled for someone to please come and help us. A man slowly strolled out and said, "What's the rush?" I said, "We're going to miss our flight." He said, "You should have gotten here earlier." Finally, he gave us our bag and we rushed out to the Delta check-in counter. As I mentioned earlier, there are certain dress codes which airline employees must comply with when traveling. We were still wearing out canyon clothes and did not meet these requirements. I told the ticket agent that we were trying to make the 5:10 flight through Dallas to Atlanta and that I knew we weren't dressed appropriately but that we promised to change before we got to the gate. He took pity on us and checked us in, but said he was going to radio to the gate and make sure they checked our attire. We did our best Clark Kent impression and made it to the gate by The gate agents were very nice. We explained to them that we had just returned from the canyon and they were interested to hear how it was. "It was Hell.", I told them. They laughed. I told them that we were traveling with another couple whom we had left at the Alamo place and we hoped they made it. They looked at the standby list and said they hadn't checked in yet. At , we decided we had better go ahead and board the flight. As we were handing our boarding cards to the flight attendant, the gate agent shouted, "They're on the list!" We seated ourselves on the plane and got the camera out to get their picture as they made the mad dash onto the plane. They ran onto the plane, took their seats, the door closed, and the plane pushed back. We were served a delightful steak dinner with an ice cream sundae to top it off. We changed planes in Dallas, and I found an empty row to stretch out in. I tried to get some sleep but was a little too keyed up from the weekend. We arrived back in Atlanta at Tuesday morning. I had to beg a ride home from Jean, and she had to take both of the boys back to the Delta General Offices to get their vehicles. We had her little Audi filled to capacity with all of our baggage. I finally put my little head on the pillow at home at 2:30a.m.. The alarm went off at signaling that it was time to go to work and tell all of the canyon stories! I was the only one of the "Hikers from Hell" that made it to work Tuesday.
BJ Morris
bj@bjandtony.com