Shannon, Ireland
January 2002
"Ireland 2 - Morrises 2. We're tied!!!"
To all of you who thought we were crazy for planning a bicycle ride in Ireland in January, I say "Yeah, you're right, but hey… sometimes you just gotta' do what ya' gotta' do."
First, a quick recap of our Irish Winter Aerobic Get-abouts:
Trip One – "Let's Walk a Loop Around County Clare"
Too far. Got lost. Sore feet. Rainy, windy, limited opportunities for eating and sleeping.
Result – Ireland 1, Morris' 0 (By the way, I'll pay dearly for a copy of the write-up of this trip, if anyone still has it.)
Trip Two – "Let's Walk from Limerick to Dublin"
Too far. BJ got sick. Tony spent too long at a wake.
Result – Ireland 2, Morris' 0 (You'd think we'd learn)
Trip Three – "Let's Walk a Loop Near Dublin"
Perfect weather. Perfect distances between towns. Beautiful beach walk, among others.
Result – Ireland 2, Morris' 1
Trip Four – "Let's do that Loop Around County Clare on Bicycles!"
Which brings us to THIS travelogue.
Result – Ireland 2, Morris' 2.
************************************************************************
Preplanning for this trip began in October (unless you consider that fact that I have been buying "stuff" for this type of trip for years… an ongoing "discussion" between BJ and I… but we'll save THAT for another post.) BJ and I had decided that we wanted to try Ireland in the winter, again, since the flights are wide open, and that we thought bikes would be kinda' neat. We're relatively new to biking, but have done a couple of 20+ mile rides (on the flat Silver Comet Trail near home), as well as a hilly, but EXCELLENT biking adventure in Germany, or rather, England, back in June. I started reviewing the GoIreland and Irish Tourist Board websites for bike rental vendors near the Shannon Airport. We considered biking Shannon to Dublin (repeating ground covered on Trip Two), or another Clare County Loop (Trip One). Inertia led us to leave that decision until later, since getting information BACK from vendors proved "challenging" (and included having inbound emails quarantined because of viruses, and one vendor whose website said "Open Year Round", which turned out to mean "April 'til October"). Anyway, at the same time we were locating a reliable vendor, we were putting together a group of possible participants. Our intention was to be in the 4 to 6 rider range (in order to avoid "overwhelming" a potentially limited supply of open B&B's), but as time for the trip crept closer, group size gelled at three (for some reason, folks just don't like the idea of Ireland in January… see Trip One and Trip Two). The trip was going to be BJ, our good friend (but seldom travel-buddy) Page Smith and myself. (Page is the true biker in the group, which is good, since, among other things, neither BJ nor I would have even known how to change a tire tube, and we weren't sure we would get our aerosol "bike tire fix-a-flat" through the tough new airport security. We did get it through, which you can't count on, but didn't need it. Nor did we need Page's flat-changing ability, thank goodness, but might have, since we would be riding skinny, high pressure-tired touring bikes. Actually, Page had more trouble getting through security than did our fix-a-flat". Full body search upon return to Atlanta.)
The three of us left Atlanta on Friday night, the 18th of January, in a half-full Business Class (in front of a half-full Coach Class… another reason to go to Ireland in January.) Dinner and movie, then about 4 hours of sleep… not a bad way to travel. We arrived Saturday morning in Shannon, on time and relatively refreshed, around 0800 local. While changing clothes we managed to miss the first bus to Ennis, where we were to pick up our bikes. Saturday/Sunday bus service is a bit less frequent than weekday service but not inconvenient. This gave us time to change clothes again… and again. For some reason, we all wanted to try on everything we carried with us, during the first hour we were in Ireland. It might have had something to do with the weather (48 degrees and overcast… the way it was for a good portion of the trip) or it might have had something to do with the fact that we were still undecided about whether we would ride "today", or wait until tomorrow. Around 0930 we boarded the Airport-to-Ennis bus for the 30 minute ride to town. By the way, the Irish have gone "Euro" with their currency, and it seems to me that American's are getting a great deal right now. Prices are still frequently listed in Pounds, and the shopkeepers/bartenders/hosts convert the prices to Euros. The thing is, it seems that they'll take an amount, like 40 Pounds, translate it to about 50 Euros and charge that. (The exchange rate is regulated and monitored. It's the same throughout Ireland.) But the Euro to Dollar rate is just about the inverse of the Pound to Euro rate, so a 40 Pound room becomes a 50 Euro room, which translates back to about a 45 Dollar room. Result – it's almost like the buck is worth a punt, which is a GREAT rate for us right now. Get there soon!! Anyway, back to the bus… after all that math, we bought round-trip airport-to-Ennis-to-airport bus tickets for roughly $3.20 each.
We arrived in Ennis (a familiar town from Trip One) and headed to Town Square to look for our bike shop. After a bit of concern, since I couldn't find where I had saved the piece of paper with the address, we located "N Tierney Fishing and Bike Shop" about 40 meters off of town square. Noel Tierney, the proprietor, led us upstairs so that we could pick out our rides for this adventure. BJ wanted a step-through frame, and found a 21-speed Raleigh with front- and seat-post suspension. Page and I (with somewhat shorter legs) chose unsuspended (but slightly lighter) 18 speed Raleighs. The bikes were similar to the "hybrids" that most of the folks used on the Germany / England ride; i.e. easy-rolling, high-pressure tires like a "racing" bike, but an upright riding position (that us old folks appreciate). By this time, we had decided we'd go ahead and ride the 18 miles to Gort today, to get a taste of the upcoming week. After some final bike "tuning" by the folks at Tierney's, we were ready to load up.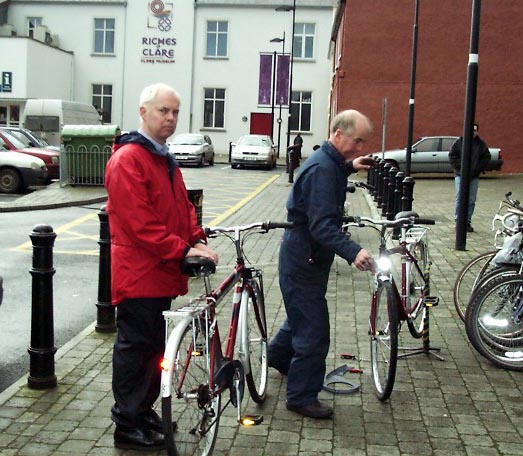 By the way, to this point, no money had changed hands. We didn't need to put down a deposit to hold the bikes for us, since it's the slow season for rentals. We settled (40 pounds/bike/week became some number of Euros/bike/week, that ended up costing BJ and I a total of $90.73. 80 punt is 90 bucks) our bill and started loading up. Did I mention our panniers? (Pan-years…. Pan-yays… Pan-ears… Pan-yers…. that luggage that you hang on the rack on the back of your bicycle.) We all three carried them and they are wonderful. They hold much more than you would think, are much more convenient to open while on the bike (than a backpack bungeed to the rack) and carry the weight much lower on the bicycle than what we had last time. Start shopping for a cheap set now, if you think you'll ever go riding.
After completing the loading, we pedaled off at noon towards Gort, 18 miles away on the N18. The N18 (N means National… it's a bigger road than some, but basically an undivided 2-lane with an extra slow-moving-truck-or-car-or-bike ¾ lane on each side… most of the time) was a smooth and relatively level ride, although somewhat noisy with lots of cars and trucks passing frequently. During the 2½ hour ride to Gort, we had about 30 minutes of very light rain, which was not at all unpleasant, and since we were all wearing raingear anyway, proved to be no inconvenience. We stopped at the edge of Gort at 1430 for our first bowl of most excellent Irish soup (mushroom, this time) and our first pint of Irish beer. Rested and refreshed, we pedaled the last 200 meters into town, checked into the Sullivan (my third time at this place) Hotel (63.50 Euro total for 2…that's $57.61) for bed and that lovely Full Irish breakfast. After a brief clean up (read "shower") we pubbed around town (Gort is a 6 or 7 pub town… we only hit 4 including lunch), had dinner at Sullivan's and headed off relatively early to bed.
Sunday dawned late (sunrise, and our alarm clock calls, coincided around 0800 each day. Sunset, by the way, was around 1700 each day). Meeting at 0900 for that Full Irish breakfast became an almost daily event… every day but the last, where we met a little earlier, and for a lighter breakfast, in order to make our bus back to the airport, but that's for several paragraphs from now. We took our time today, and finally headed out of Gort around 1100, destination: a midday stop in Kinvara. It was about 50 degrees and partly cloudy when we left. Taking the back roads, instead of the N-road, to Kinvara led us through some beautiful countryside. We did manage to take the longer of the two possible "back ways" to Kinvara, but finished the 10 miles by about 1230.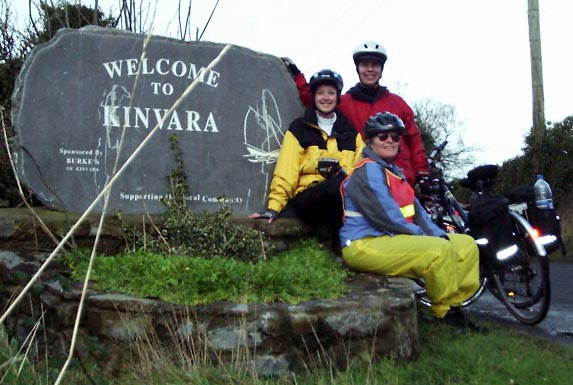 Another aside… at one point, we stopped at an intersection to try to determine which way to go. We flagged down a passing car, and asked about the way to Kinvara. The driver suggested "go to the church there, turn right, go about a mile and take the left fork straight into town." We headed off, made the right turn at the church, and about 2 minutes later, the same car came scurrying up to apologize and tell us "It's right at the fork, not left. Sorry." What WONDERFUL people! He went out of his way to keep us on course. After soup and a pint, we headed to our final destination of the day, Ballyvaughn, 11 miles away on the N67. The N67 was not so bad today, being much less traveled on a Sunday than was the N18 on Saturday.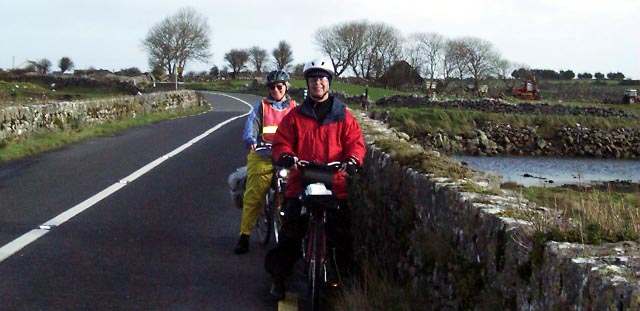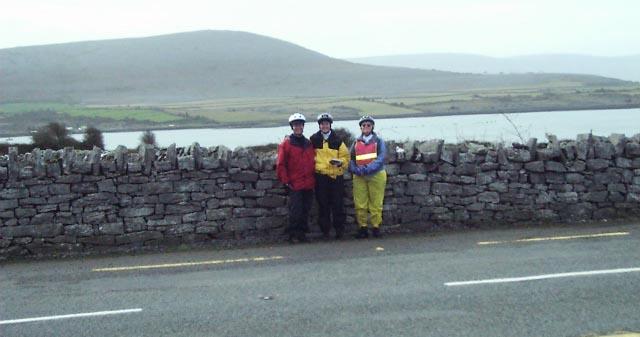 Upon arrival in Ballyvaughn, we checked into O'Briens B&B/Pub/Restaurant… basically the only B&B in town open at this time of year, since the Royal Hotel was closed for the month. Ballyvaughn is now a two-pub town, O'Briens and Monks. We hit both, supped at O'Briens and wandered off to bed around 2200… a great 21 mile second day.
Monday dawned at 0800, breakfast at 0900 and this time we were able to get away around 1030. We loaded up our bikes in pretty good weather (about 50 degrees and overcast… sound familiar?) and headed out along the Coast Road (a bit longer than an available N-road, but along the Galway Bay… should be beautiful and we will avoid Corkscrew Hill that BJ and I trudged up on foot on Trip One.)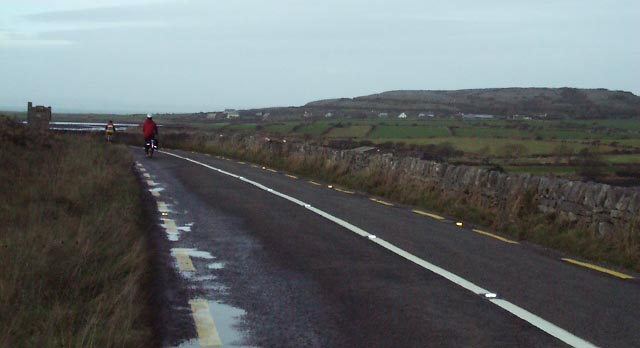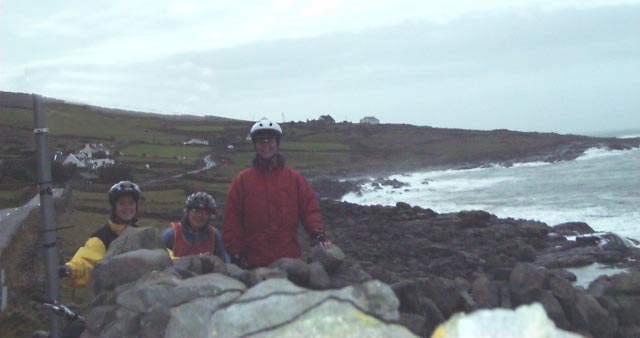 About 10 minutes into the ride, we hit headwinds, and 30 minutes of hard rain. About the time the rain stopped, the road opened out onto the open water of the Bay and we started climbing, still mostly into the wind. What beautiful scenery (water on the right, the Burren on our left) and a rugged coast line with waves crashing in… almost enough to make me forget my tired legs and sore bottom… not quite, but almost.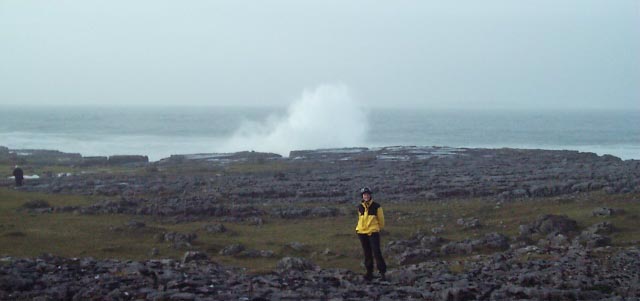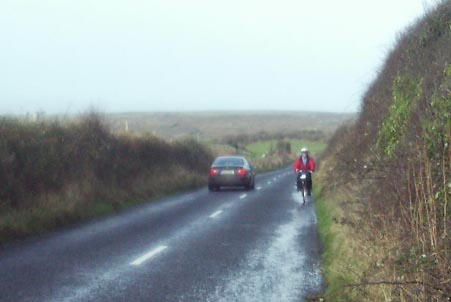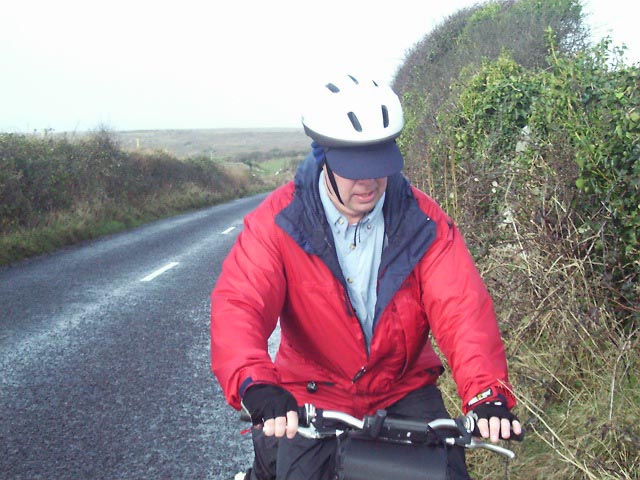 We passed several small towns along the way, but only saw one pub, and it didn't seem to be open… no matter how hard we knocked on the door. Oh yeah, when we stopped to see if the pub was open, Page managed to fall off her bike, rolling into the road, which, fortunately, was empty at the time. Just didn't quite get her foot down in time I guess. No injuries so it was back to pedaling. We arrived in Doolin, today's final destination, 18 miles from Ballyvaughn, around 1400. Doolin is the "traditional music capital of Ireland", but nobody seemed to want to play on Monday. Soup and a pint at O'Connors, dinner and a pint at McGanns, after dinner drinks at McDermotts (along with the 21st birthday party of one of the patrons) and then to bed at Killilogh's B&B, at 25 Euro/per person, single or double.
Tuesday, up at 0800, breakfast at 0900 and on our way at 1015 (45 degrees and partly cloudy). We planned a short day today, since we knew Doolin was at sea level, and we would be passing the tourist center at the Cliffs of Moher (200 meters above sea level) which meant a bit of a climb, and a long stop.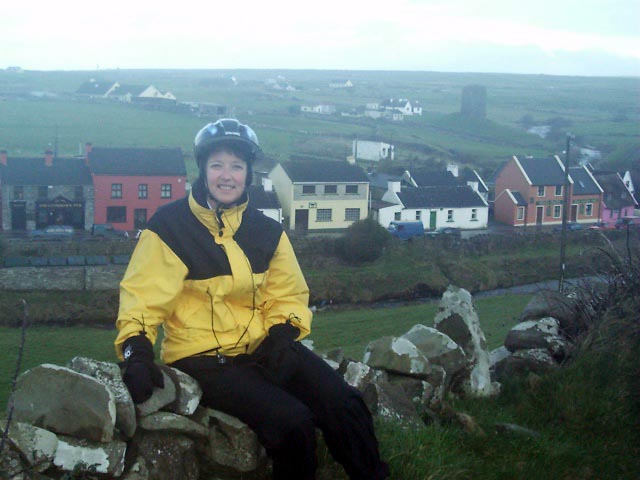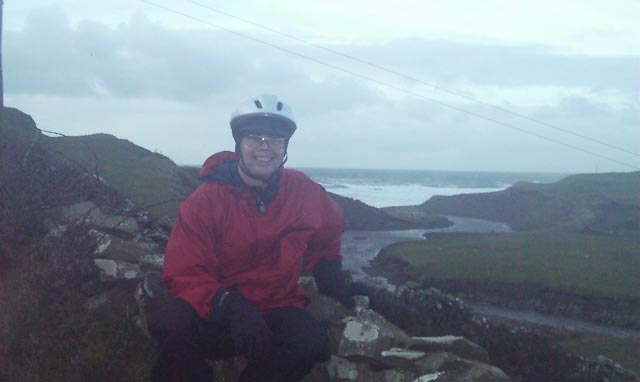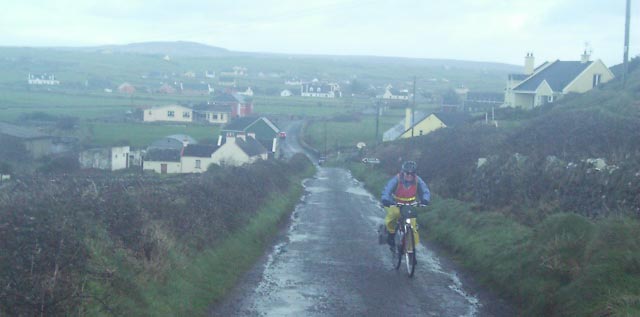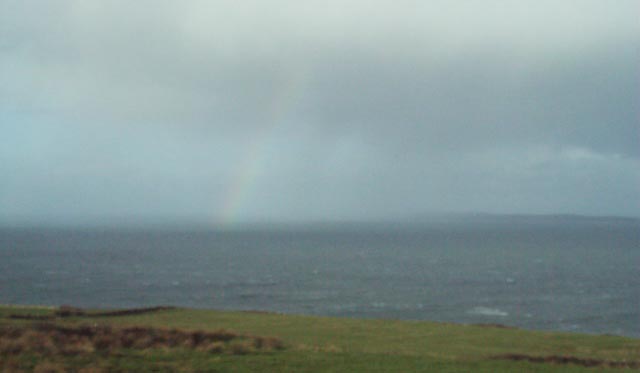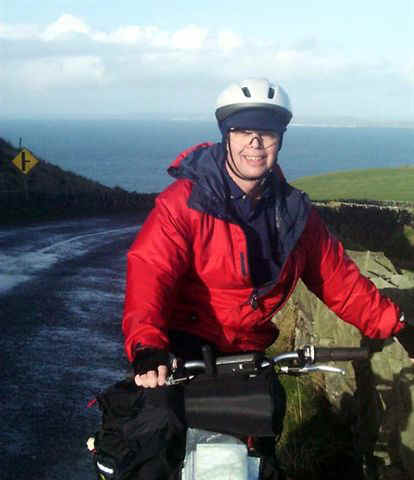 We arrived at the Cliff's at 1150, took some pictures, checked out the tourist shop then hit the road for the ride down into Liscannor, where we had lunch and a pint (excellent seafood chowder at Vaughns).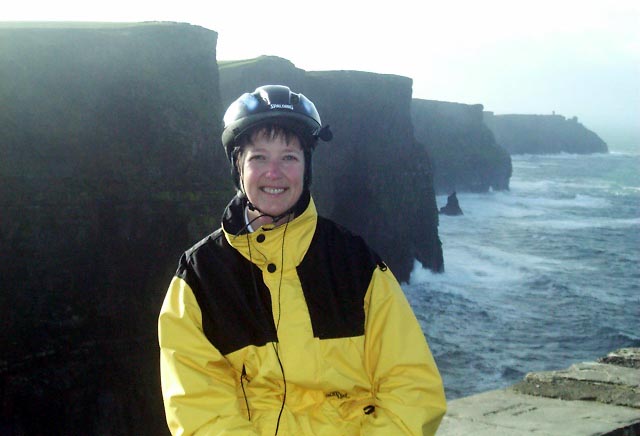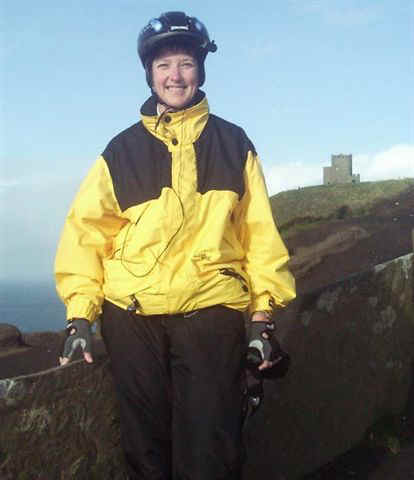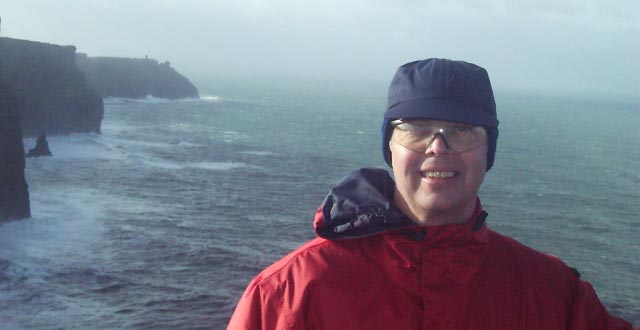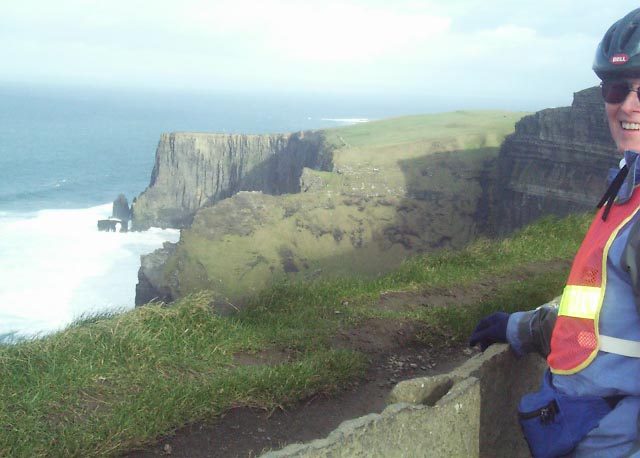 It was a quick ride, but we managed to hit another 20 minutes of rain, some of which felt like sleet. The good news is, this was to be the last real rain we encountered on the trip. After lunch, we easily pedaled the last 4 miles to Lahinch, today's final destination, about 12 miles from our start. In the summertime, Lahinch is a seaside resort (well, it's always seaside, but in the winter, about half of the hotels close up). We found the Lahinch Golf Lodge B&B (25 Euro single, 45 double), around 1500, settled in to watch The First Knight on the VCR in their group room and enjoyed hot tea and fresh scones provided by the proprietress.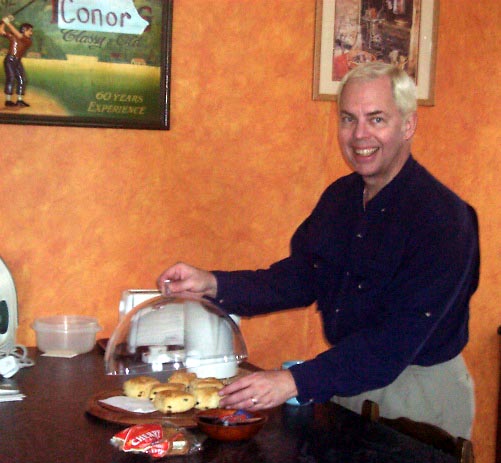 After the movie, it was O'Looneys for a pint, Mrs. O'Briens Kitchen for dinner, and the CornerStone for another pint (or two).
Wednesday, 0800, 0900, off at 1015 (50 and overcast). We have another short day planned, today… not because we are tired so much as because the towns we wanted to end up in just worked out that way. After the first 30 minutes of very minor, occasional drizzle, it was time to unzip our coats, since it had warmed up to about 55 (and I throw off a lot of heat when I pedal, it seems.) We stuck to the back roads again today, along the coast, but without the wind, and detoured out to see Spanish Point. As before, absolutely beautiful scenery.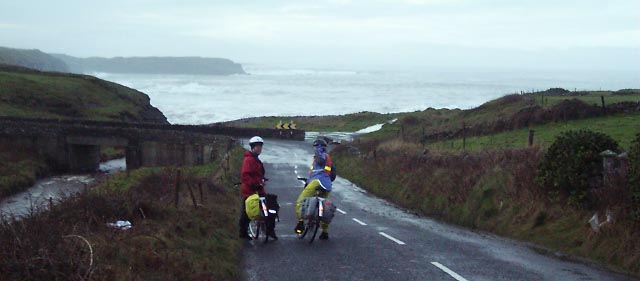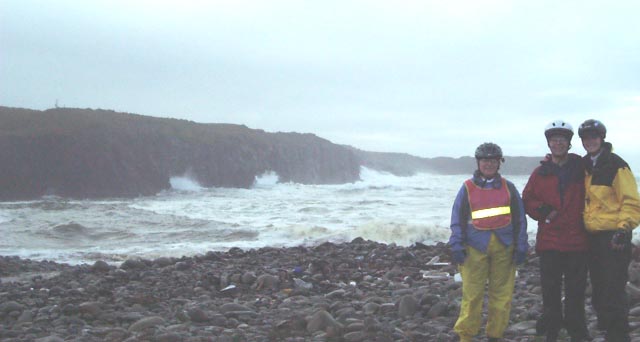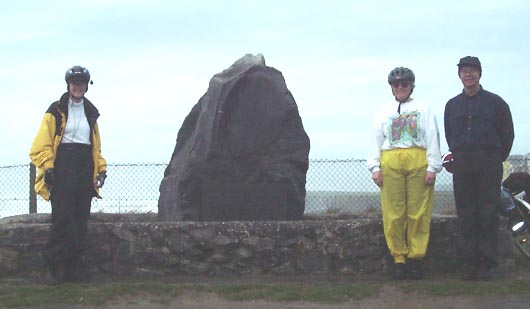 We hit Miltown Malby, today's 11 mile destination, by 1300. We had lunch at O'Laughlins (soup and a pint), checked into Kelleys B&B/Hotel (23Euro each, single or double), and explored Miltown Malby, picking up a box of Robt Roberts Decaf Tea for a friend who can't get it in the States. Did I mention that Miltown Malby is a 15-pub town?? (at least!!) It, too, is a seaside resort, in season, so it's ready to support a big summer crowd. We didn't manage to see the inside of all 15 pubs, but we did visit Westbridge (twice, in fact), Michael A's and our own Kelly's.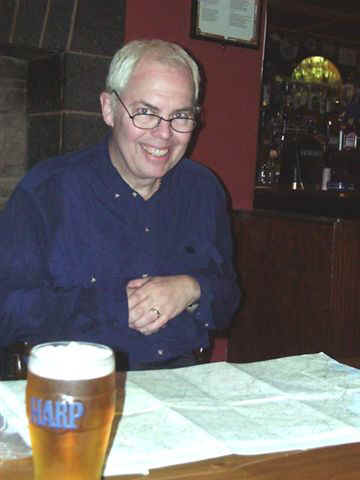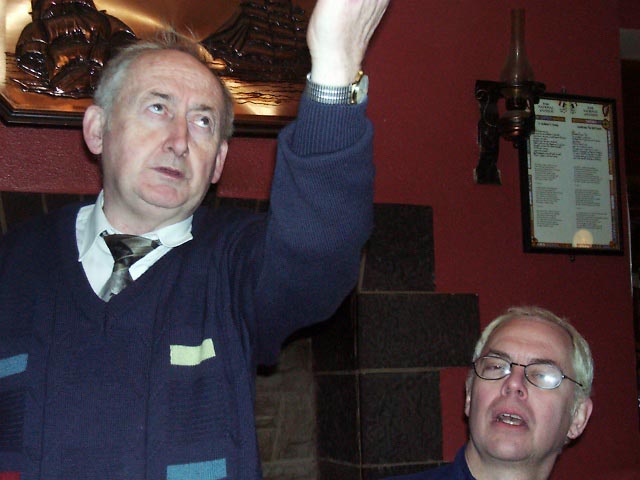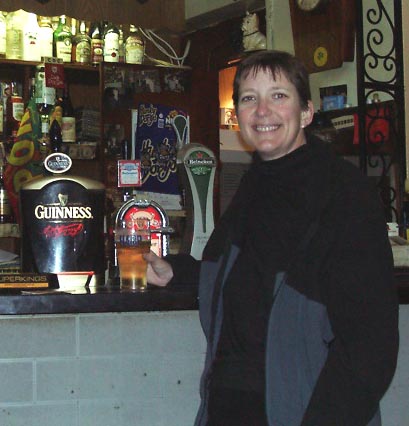 At lunch, and at Westbridge, we were told that our planned trip tomorrow (back to Ennis) would require a trip up a big hill, but would otherwise not be too tough, and that the last 6 miles (of 20 total) would be flat. Our planned route would take us on the R474 (R means Regional… according to my map, that just means "minimum width 4 meters"). Both folks we talked to advised us to "stay right at the fork" and stay on the R474, avoiding Inaugh and a good bit of road construction. We headed to bed with a bit of apprehension about the climb tomorrow, but otherwise ready.
Thursday, 0800, 0900, 1000… got away a little earlier today. And what a BEAUTIFUL day it is! It's probably 55 degrees and cloudless. Before we make it to the top of the hill (which turned out to be more of a series of "gain 5 meters, flat for 100 meters, gain 5 meters, flat for 100 meters" ride, so it was nowhere near as difficult as we had feared) we have all shed our rain gear, which was our normal just-in-case biking attire, and are wearing only shirts and biking tights.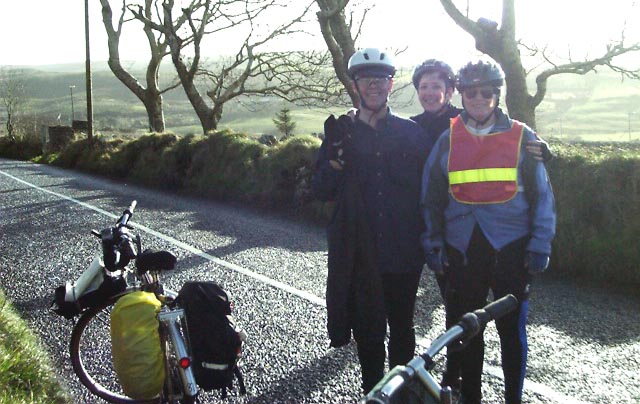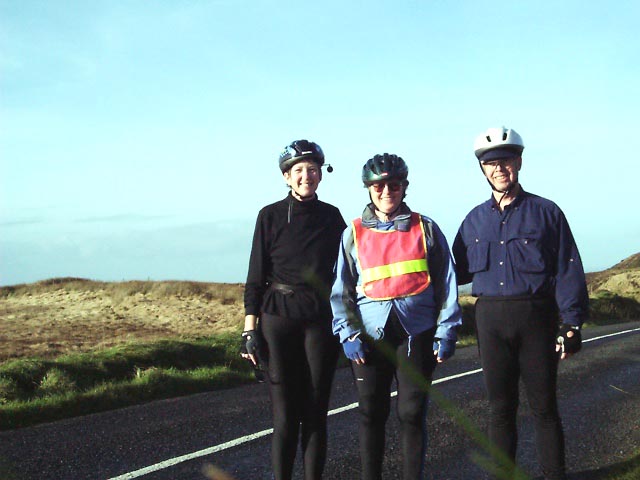 At the top of the hill, as advised, we stopped and looked back down on Miltown Malby, Spanish Point and the Aran Islands. Then it was a quick (and cool!) ride trending downhill through the town of Connolly (no pub, why stop) into the town of Kilmaley, where we had a pint (no food served there, so we ate the cookies we had carried "just in case") and completed that last, flat, 6 miles around 1430 (total today, 20 miles). For our last night in Ireland, we chose the Rockfield B&B (23 Euro pp triple… the only room available at the Rockfield), since it was close to both town, and the Ennis bus station, for our departure. We returned our bikes to Tierney's, called Delta to change our return from Saturday to Friday (we'd shaved a day off since we ended up biking that first day to Gort), wandered through town (read that as "hit a pub or two") and finished up at a little place called The Railway Bar where three somewhat intoxicated folks animatedly discussed the merits of Heaven versus Hell.
Friday morning, 0700, 0740, 0810 for the short walk to the bus station, where we used the other half of our already paid for round trip back to Shannon Airport. The return ride took a bit longer (55 minutes, seemingly stopping at EVERY stop) but got us back in plenty of time. With a wink, the agent at check-in let us know that there would be no problem getting on the flight (Cocktail Seating), and we headed off for some last minute Duty-Free shopping. Good seats, a couple more movies and back to Atlanta, on time.
That's it!
Equipment Additions? BJ's going to make us some very lightweight "gaiters". The only water problems we had (since we were pretty much wrapped in breathable, waterproof clothing the few times that it rained) were caused by water running down our rain pants, and into our (waterproof) shoes. And we'll probably take a handlebar mirror next time. (We had headlights, and a taillight, that we never needed). And maybe a better shoulder strap for carrying the panniers. When they aren't on the bike, they are a bit unwieldy.
Links: Noel Tierneys Bike Shop: http://www.tierneysbikehire.com/
BJ & Tony's Home Page: http://www.bjandtony.com

Tony and BJ
tony@bjandtony.com