Belgium
March 2002
"A Rib Tickling Breaking Experience"
BJ and I went to the airport Friday, the 15th of March, without knowing exactly where we were going. [Jump back about a month earlier: We decided that we'd head to Brussels, and try biking, since the area we would tackle was reputed to be FLAT, and flights to BRU looked great… at least they did when we started looking. By the week before our scheduled departure, the BRU flight has begun looking real iffy, and we started looking into alternatives. Frankfurt and Stuttgart Germany, Manchester England, Amsterdam the Netherlands were all possible alternatives. In fact, based on seat availability, I was so sure that we would be going to Manchester that I wouldn't need to take my panniers/luggage to work with me (since the Manchester flight left late enough for me to go home after work, change out of my work clothes, shower and shave again, etc). Jump back to the present.] Friday morning, almost as an afterthought, I threw my bag into the car and headed for work. Around noon, BJ called and suggested that we try for the 5:40pm flight to Brussels. Good thing I brought my bag with me! Of course, I was carrying literature and maps for Germany, England and Belgium. We had the (clever, it seemed) idea to place each set of destination information inside of self-addressed intracompany envelopes, so that we could leave information on the destinations we didn't need in Atlanta. Such are the considerations for the airline standby traveler. (ps. We left on the 15th… today is the 27th… I still haven't seen the envelopes I mailed to myself… oh well… the best laid plans.) We placed ourselves on the standby list for the BRU flight, headed to the gate, and waited. Lo and behold, around 5:20, we were given boarding cards for the last two seats on the flight (Business Class, of course) and off we go. Belgium it is! Champagne, hot nuts, red wine, dinner, ice cream sundaes and a movie and then it's time for a nap. Tomorrow morning we'll finish planning this trip, now that we're on a plane.
Saturday morning, still in the air, we finalized our Belgium plan. We'd take the train from the BRU airport to Gent (less than 7 dollars each), rent bikes at the train station (since Gent is one of the train company's year-round bike rental locations and we had literature describing their "B-Excursion" which includes a bike and a one-way train trip), jump back on the train (with the bikes) and train to Oostende, on the coast. From there, we'd have a leisurely ride, with the prevailing wind, back to Gent, where we'd turn the bikes back in and head home.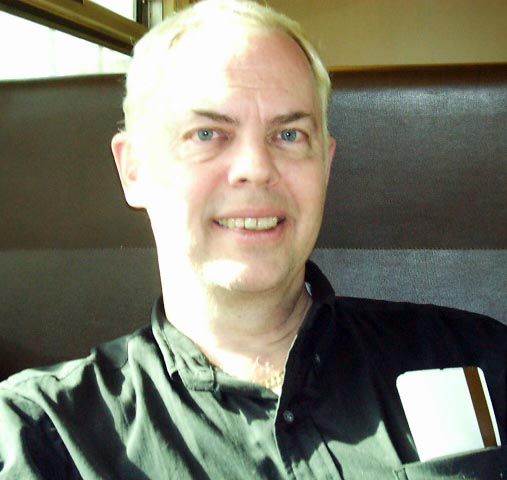 At the time, I didn't realize how close Oostende and Gent were to one another. I was allowing about 5 days for this trip, and they are only about 55 miles apart! Not that it mattered, though… at the Gent station we learned that "all the bikes have flat tires" and are not rentable… too early in the season, it seems. Okay… time for Plan B. We head off towards Tourist Information where we learn that there is a bike rental place, just around the corner (called, appropriately enough, Biker). We are able to secure two nice 7-speed tourers (they don't need 21- or 24-speed bikes in Belgium… it's flat!) for 5 days at a cost of $36 each. Now we've got bikes, but no other real plans.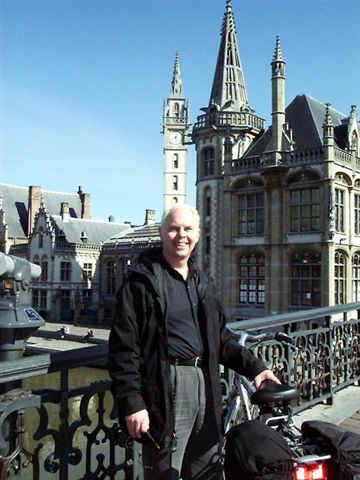 When in doubt, what do you do? Do what we did… find a place to have a beer. Did you know that Belgium brews over 150 different beers? Over a glass of Jupiler, we laid out the maps, and a route, that would take us as far West as Oostende, via Brugge, even though we'd be heading into the wind. From there, we'd pick a route home… no reason to pin ourselves down more than that. Our next task was to find a place to sleep. The Ibis, right on the big pedestrian square in the center of town, was our first choice. Of course, it was full. From our 1999 trip through Gent, we knew that hotels were hard to find… not that there aren't any… they're just hard to FIND. Anyway, to make a long story shorter, BJ was able to take us straight to the Hotel Erasmus, where we stayed last time we were in town. We ended up getting the only room they had available that night, which happened to be the least expensive room they have, because "sir, the bed… it is somewhat small" (about ¾ of a double bed) and also happened to be the same room we got three years earlier! After checking in and dumping our bags, we hit the town of Gent, looking for a bookstore (we wanted a better map) and a place for lunch (and beer.. see above reference to 150+ types). In the bookstore, we located an entire wall of Belgium maps, including one that had a listing of all of the Belgian "FietsRoutes". What's a fietsroute, you ask? If you live in Atlanta, think Silver Comet Trail, only hundreds of miles long. The Belgians have created marked, managed trails all over the country (as have apparently the Dutch, using different signs, but in their own country). The routes intended for bikes are paved (asphalt or cinders), but there is also a separate network of trails intended for hikers, or Mountain bikes… some paved and some not. In places, the fietsroutes run along regular streets. When this happens, it's along less-traveled back roads, but even then, the routes are marked (directionally, by the way… Route 1A, for example, runs east to west while Route 1B is the same route, in the other direction… it's great!) Well, we bought the Fietsroute map, found another café (see "beer" above) and created Plan C. Details follow. After a nice dinner of goulash, chicken and, of course, French fries (frittes… apparently the national food, since they were served universally) it was back to the Erasmus and to bed.
Sunday morning broke cloudy and a bit rainy. After our included breakfast (which typically consisted of cold cereals, hard rolls, croissants, cheeses, cold cuts, yogurt, coffee or tea, apple and orange juice, fruit cocktail, butter and jams… not that we ate that every day… it was simply available), we headed out of town. We got on the road about 0950 with our target today the lovely (somewhat touristy) town of Brugge, about 36 miles away, and we would be following the FietsRoute LF5A. Somehow, we managed to get out of town easily and almost immediately located the fietsroute signs. At this point, we didn't really know the difference between LF5A and LF5B (remember, that would be the same route, but in different directions), but it caused us no problems. For the LF5, the A and the B run on different sides of the same canal (called the "Gent-Oostende Canal" on the map) for a good portion of the trip.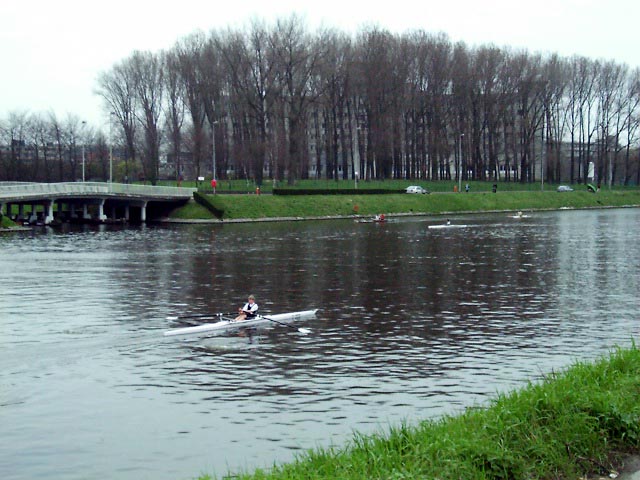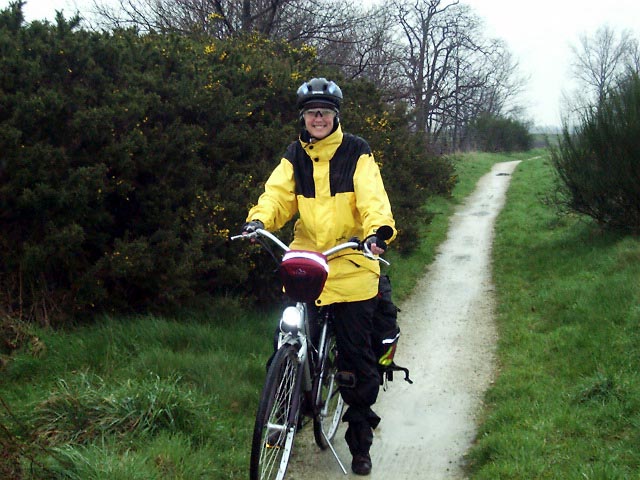 At one point, "our" canal intersected another canal, forcing us to "cross-over" the intersecting canal. The fietsroute signage took us about 300 yards off the Gent-Oostende canal, to a road-bridge over the intersecting canal. We had to push our bikes up 2 flights of steps to get onto the bridge, but even the steps had a ramp with a "groove" for the bike tires formed into it, making the push a little easier. On the other side of the bridge, we rode about ¼ mile on a surface street (marked with LF5A signs) before we hooked back up with the "tow path" along our original canal. (Remember, before steam engines, canal boats were pulled by teams of horses, who walked along these "tow paths". They've now been paved for bicycling… gotta' love the Belgians.) Around lunch time, we rode into the little town of Aalter, then followed the street signs to a restaurant called the Ten Dauwe, where we stopped for a mid-day break and dry-out (see "beer" above). Back on the bikes, we finished the day's ride to Brugge and checked into our home for tonight, the Hotel Mallberg. After changing into "town clothes", we set out, locating the Hotel Tereien, (where we stayed in 1999 on our motorscooter tour of Belgium) then toured the town and relaxed. Did you know they brew over 150 different types of beer in Belgium? By the way, it's Saint Patrick's Day, so we found the only Irish pub in Brugge, and had "pint" of Kilkenney's, the only non-Belgian, non-Guinness beer they poured. Dinner consisted of excellent French Onion soup, cheese croquettes and pasta Gorgonzola, at a lovely restaurant whose name we failed to keep.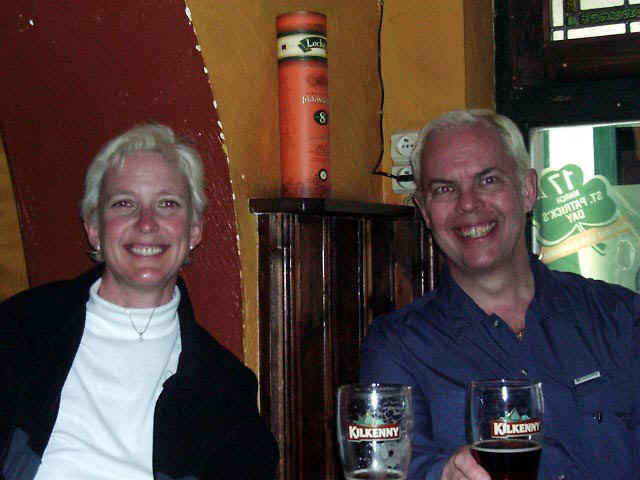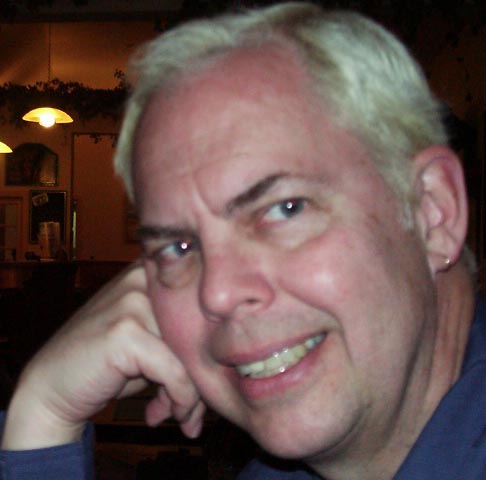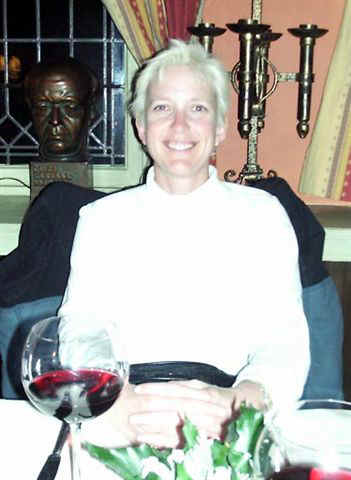 Monday morning broke looking much like Sunday morning had. Gray and spitting rain. After another carbohydrate-load (breakfast), we set out for today's destination, the city of Nieupoort, along the FietsRoute LF1A. Around 1330, we rode into the town of Leffinge and stopped to take a break (beer). While we sat, the "bottom fell out", as they say, and the rain began in earnest. After killing as much time (and a few brain cells) as we could, we saddled back up and continued our ride. It's still flat, but we are now fighting a 20 knot crossing headwind that is blowing dime-sized raindrops into us with painful vigor. In fact, at one point, while we were stopped (griping at each other about the weather), the wind blew hard enough to knock a distracted BJ off her bike. Finally, after 27 miles total, we ride into Nieupoort around 1530 and check into the Pellikaan Brasserie Hotel (thanks to a tip at the ubiquitous Tourist Information Center. We wouldn't have known that the Pellikaan WAS a hotel if not for them). Nieuport turned out to be our favorite city of the entire trip. Gent is too big, Brugge is too touristy, but Nieuport is perfect. Big enough to have plenty of restaurants and bars, but apparently small enough not to attract the crowds. Of course, the sun came out while we were changing into our "town clothes" again (so our biking clothes can dry out)... oh well.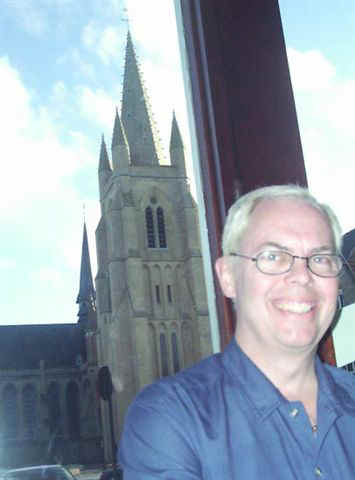 Taking advantage of the nice weather, we head indoors at a little bar called "Altamira" (www.proximedia.com/web/de-mooie-molen.html) for a beer. Did you know that they brew over 150 different beers in Belgium? Inside, we join the owner Jaak (who is behind the bar), his wife Mia, on "our side" of the bar, two "local women", Jo-Anne and Juliet, and a German gentleman. I wish I could describe what a great time we had! Of course, we were the center of attention, being foreigners and all. The German spoke good English, the local women spoke Flemish and "some" English, Mia and Jaak spoke everything and BJ and I just smiled and nodded, understanding very little but having a great time. The German bought a round for the house, I bought a round for the house, plus a round for the ladies, and who knows what else. All I remember is having a wonderful evening.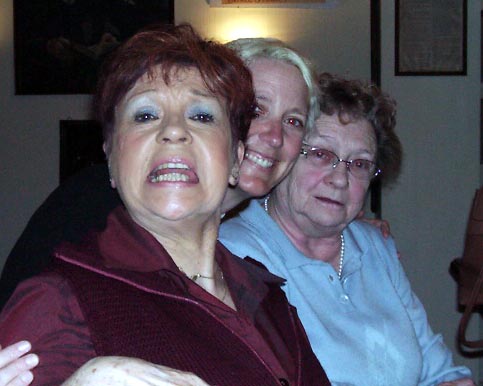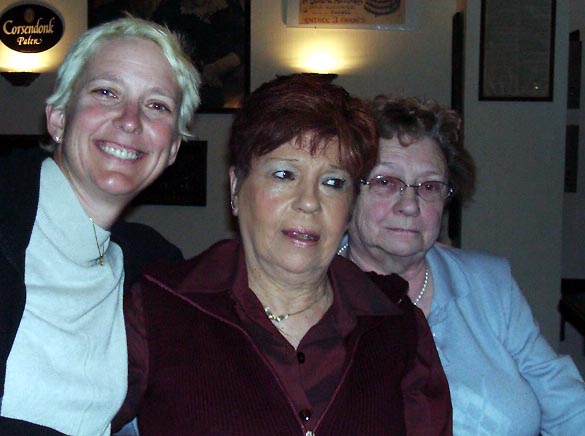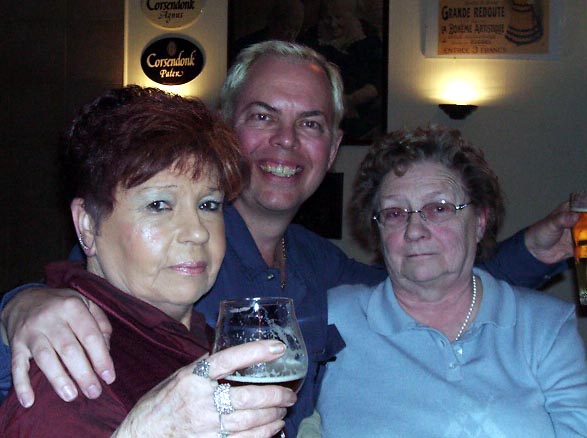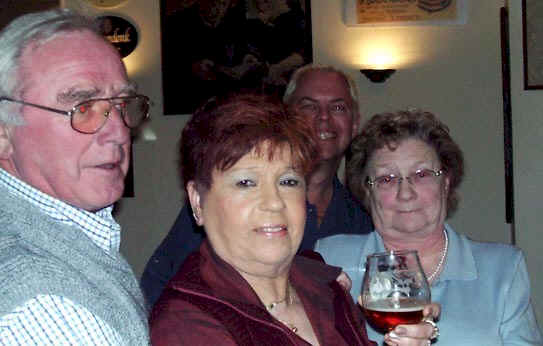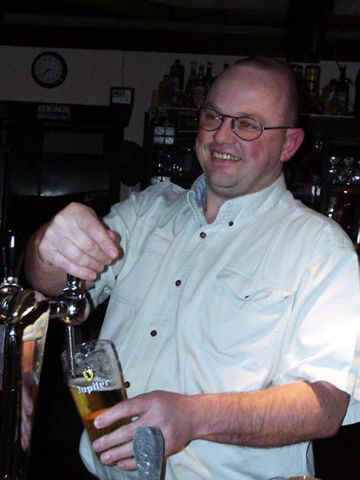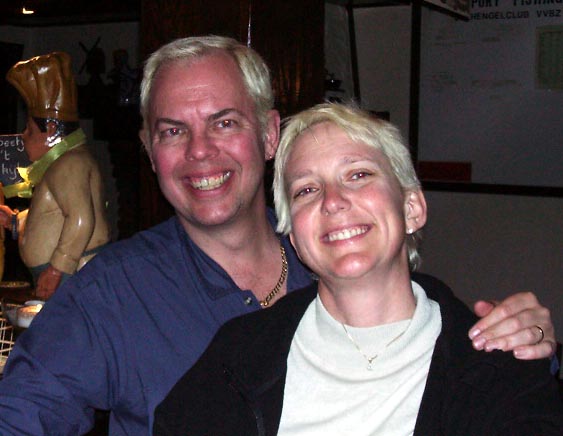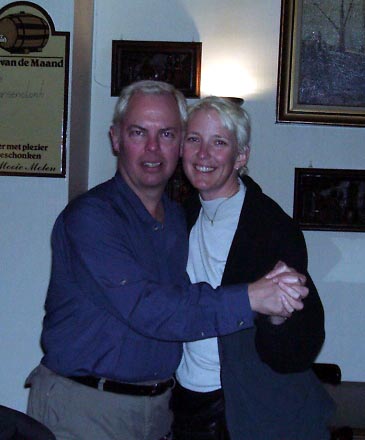 We ended up getting back to the Pellikaan after they had stopped serving dinner, but not before they quit serving warm apple tort with ice cream… a perfect way to end the night.
Tuesday, after breakfast, we turn south and head out on the LF6. Today the weather is cooler and there is no rain. For the first part of the ride, we are not on a canal. Rather we are on an arrow-straight, pool table-flat section of cinder covered path. Straight through the countryside, with farms on both sides of us. Every few miles we pass a "TrekkersHut", which is set up for walkers who may need a place to rest. (The LF6 is intended as much for hikers as for bikers.) At 1230, we stop at a restaurant along the way in Zuidschote where we have a lunch of "Croque Monsieur" (think of the best toasted ham-and-cheese sandwich you ever ate) and a beer. After lunch, it's back on the bikes to complete our trip today to Ieper (that's an "Eye", not an "Ell"… it's also shown as Ypres on some maps).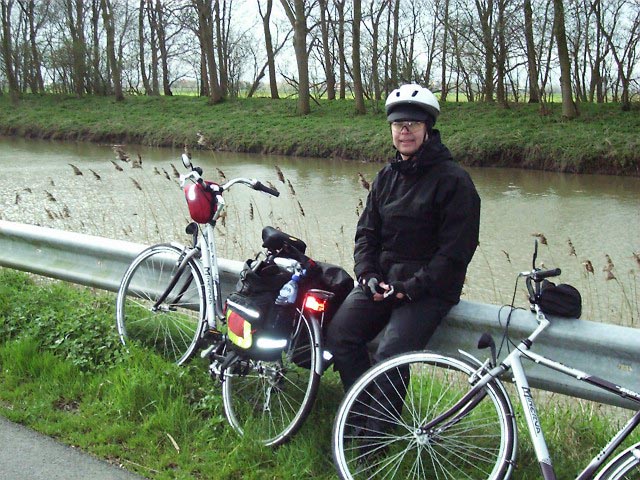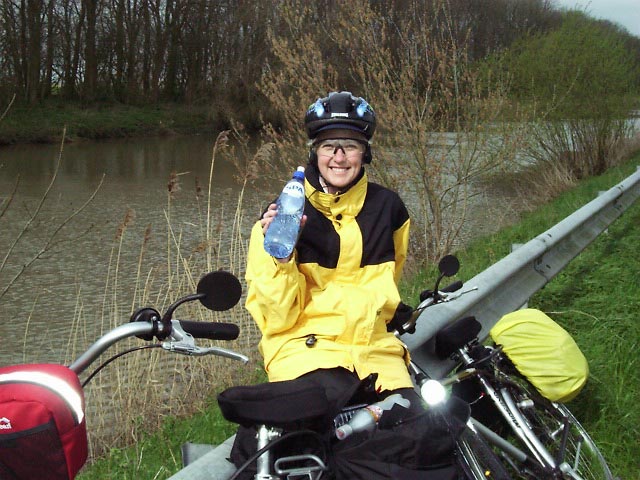 The approach to (and exit from) Ieper is dotted with memorials to the soldiers who died in the many World War One battles that occurred in this part of Belgium. Trenches and bunkers are still visible. Twenty four miles today. We check into the Sultan Hotel, on the main square, and hit town.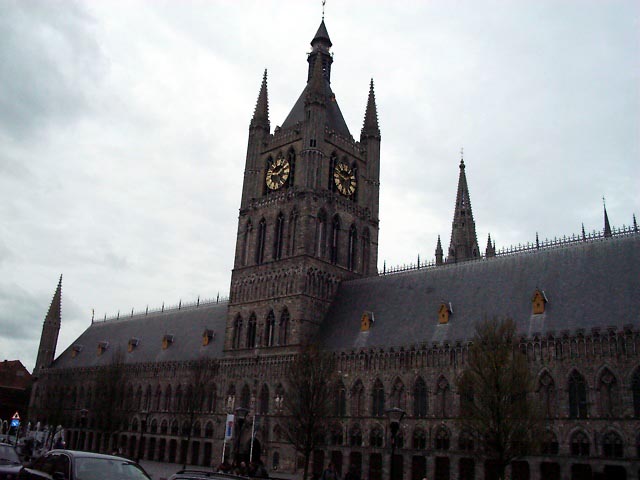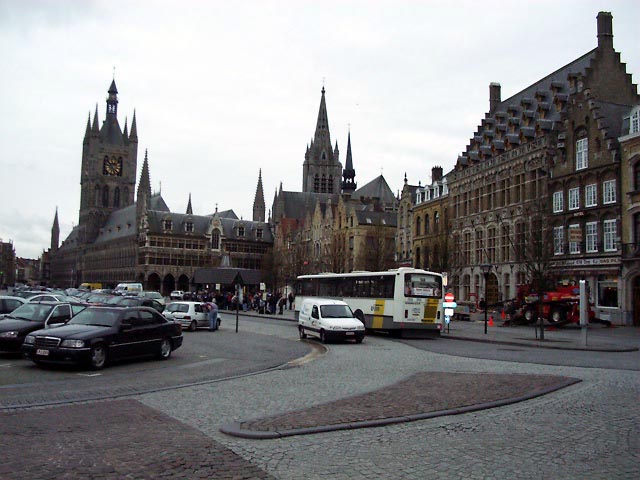 Dinner is more onion soup, another Croque, more croquettes and Sole Menieurre, followed by Kindereggs!
.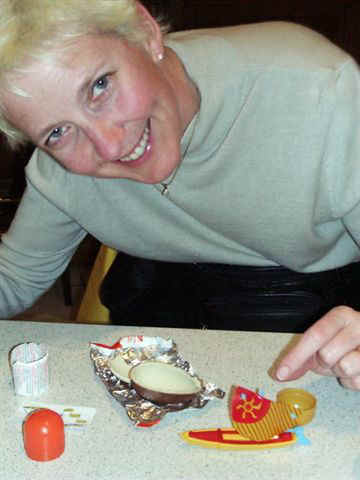 Wednesday is probably the best riding day yet. It's a beautiful day, our destination is Kortrijk is only 24 miles away, and we've got a 15 knot tail wind. The route today is pretty twisty, but the wind seems to be always at our backs. A good portion of today's route is on surface roads, but they are very lightly traveled and well marked.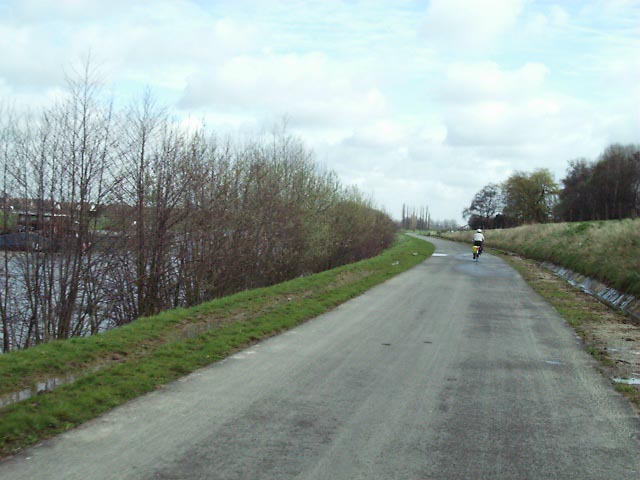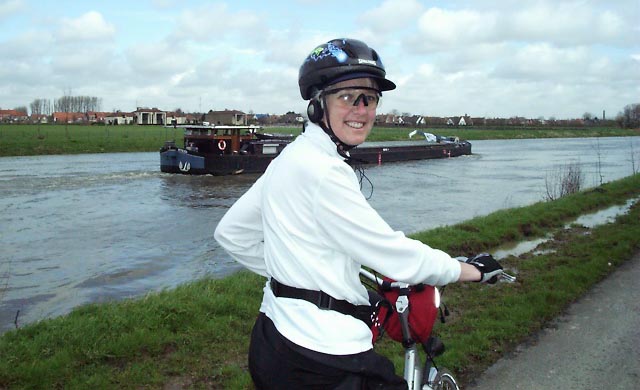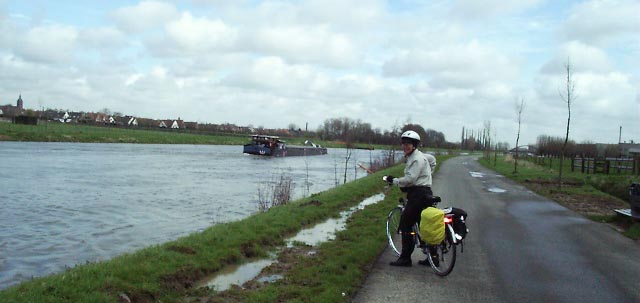 We didn't even stop for lunch, since we made it to town before 1215. We checked into the Central Broel Hotel, just off of a major square and grabbed a lunch of tomato soup, a "broodje" ( think submarine sandwich) and a beer. Did I mention… never mind. We then toured the town on foot. Kortrijk is more of a "business town" than a "tourist town", but there is still plenty to see and do there.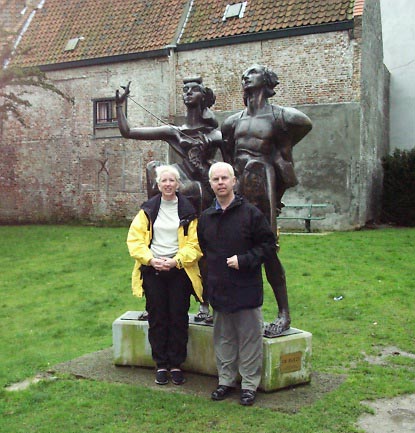 We stopped at a little cheese shop and picked up bread and cheese, for breakfast in our room tomorrow (since breakfast was optional, and expensive, at the Central Broel). Dinner was at our hotel; a steak for me and veal and pasta for BJ, followed by a glass of wine.
Thursday was another nice day. Gray, but temperate and not raining. There isn't a fietsroute between Kortrijk and Gent (our destination today… having gone full circle in Flanders), so we would be on surface streets today. Basically, we rode straight up the N43 towards Gent. Although that "N" means "National Road" (not an Expressway, but a busy road nonetheless), there was still a bike-only section the entire way… either a painted section of the road, for bikes only, or a portion of the sidewalk. Flat, and with a tailwind, put us into Deinze around lunchtime (beer). Not a pretty ride, although it's difficult not to enjoy just being outside and riding. After 26 miles, according to my GPS, we approach the town of Ghent. Following multiple signs towards "Centrum" (the Town Center), using the GPS, we manage to get completely lost and spend 3 ½ miles going in circles. Turns out my GPS has both "Ghent" and "Gent" within a mile of each other… whatever that means. Anyway, lost, driving in circles, and watching a woman drive her car the wrong way along a trolley-only road, I managed to run into the back of BJ's bike and fall down, my first incident of the trip. (Although we have each now fallen once, I will learn 4 days later that I have broken a rib… ce' la vie!) Once we get our bearings, we head for a "known entity", the Hotel Erasmus again, get the same room, turn in our bikes, and head out on the town. For dinner we found a charming little canal-front restaurant where I had steak (again) and BJ had the "Suggestiemenu", which was a multi-course meal with asparagus, both green and white, in 3 of the courses (it's in season).
The biking is over now. All that is left is getting home. Friday morning we take the 0815 train direct from Gent to the Brussels airport, arriving at 0920 for an 1130 departure to Atlanta. Plenty of time, you would think. Well, we spent 25 minutes in the Check-in line, 10 minutes in the Passport Control line and 10 more minutes to get through the security x-ray line. Now in Duty Free, but with less time than we'd hoped, we head out for the gate. Mid-concourse, there is another 10 minute line where everyone's boarding card is individually inspected, followed at our departure gate by another wait in a 10 minute line, then a full-body search and a full carry-on bag search (this last search is after the last bathroom… better not have to go any time soon!). If we had gotten a boarding card (which we ultimately didn't), there was one final body-and-bag search before boarding the plane. Turns out only 2 nonrevs got on the nonstop to Atlanta, an S1R and an S3B (no one between the two was willing to split to take the single seat.) While waiting to NOT get on the flight, we started talking to two young, pretty, obviously nonrev, ladies. That turned out to be good, because the young gentleman behind the counter was more than happy to check every possible way to get them back to Atlanta on Saturday, and we got to watch. Back out the concourse, we passed through Belgium customs, found a room at the nearby Ibis Hotel (weekend rate!) and walked to the closest town of Diegem. Did you know that they brew more than 150 different beers in Belgium? A lovely dinner of goulash, and stuffed peppers, then back to the hotel, where the clothes that we have washed in the sink are now dry, and to bed.
Saturday, not willing to give up on a sure-thing, we targeted the flight back to JFK. Of course, we were pulled out of the Check-in line by a Security Guard who took us all the way down the terminal for a full bag search BEFORE he found out that we weren't checking bags… we were carry-on only… and they only perform this extra inspection on checked bags. Business Class to JFK, and a tight flight from JFK to Atlanta got us home… ready to go again.
Hope you enjoyed reading about it.
Tony and BJ
tony@bjandtony.com