Tortola, BVI
August 2002
"Beware of Zeus Juice!"

If you're going, I recommend finding a friend who lives there! Several months ago, our friend Kathy decided to leave the corporate world, and move to Tortola. She bought a boutique at a resort, and now she sells sunscreen, spices, swimsuits, sundresses, and bug spray. I think she makes most of her money on bug spray!
Tony and I decided to celebrate our 15th wedding anniversary by visiting Kathy in Tortola. We arrived in San Juan on Thursday morning, and started looking for transportation to Tortola. Our options were American Eagle, Air Sunshine, and Cape Air. We missed a Cape Air flight by about 2 minutes. American Eagle is in another terminal, so by the time we got down there, we had missed an American Eagle flight by about 2 minutes. We went back to Cape Air, and bought a ticket on a later flight, but decided to stand by for a couple of American Eagle flights while we waited. We got on the next American Eagle flight, arriving in Tortola at around 1PM. Kathy was waiting for us, and whisked us off to Prospect Reef, the resort and the home of her boutique.
At the front desk, Kathy tried to arrange an upgrade on our room, but ESPN was filming a sport-fishing tournament locally and had filled up the nicer rooms with their staff. When the manager learned that we were celebrating our anniversary, he had a bottle of champagne sent to our room, which was a nice touch. The resort was a bit rustic, but our room was clean and had air conditioning. We were a little concerned when we saw the mosquito net over the bed but it turned out not to be needed.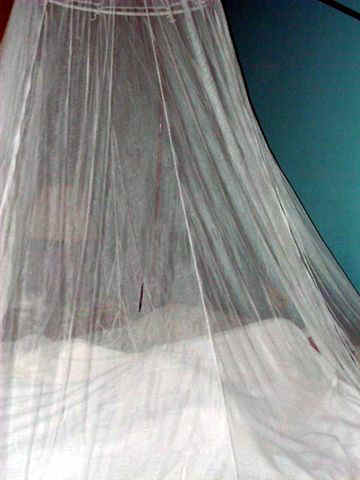 The room had a refrigerator that was only slightly chillier than room temperature, but they provided a small cooler and there was an ice machine not far from our room. After we changed into shorts and had lunch at the dockside restaurant, Kathy took me to an ATM. This was critical because almost nowhere on the island did they take credit cards. (Kathy said the limit on the ATMs in Tortola is $700 a day, subject to the limits of your financial institution.) After the ATM, we went to the grocery store to get supplies. Kathy recommended that we get a particular brand of bottled water because the quality of the other brand was questionable.
Thursday evening, we had hors d'oerves at Kathy's sister Cindy's house. Cindy, her husband, Eric and their daughter, Catie live in an apartment just up the hill from Kathy's apartment. And when I say up the hill, I mean a 50% grade. Four-wheel drive is a must! Cindy made us wonderful homemade foccacia bread and calzones. After our appetizers, we picked up Kathy's friend Ashbel and headed out to a wine tasting on Beef Island.
Friday, we awoke to the sound of chickens outside our door. Feeding the chickens became our morning ritual. The mother hens would bring their babies to get the bits of bagels we dropped for them.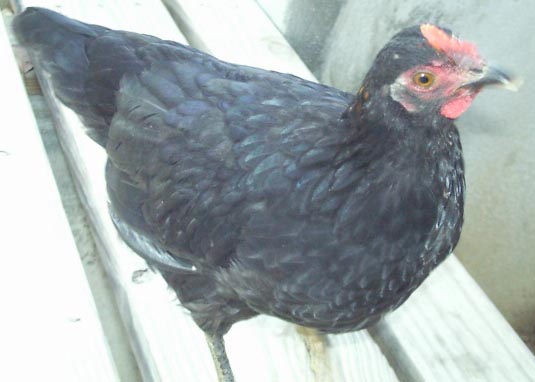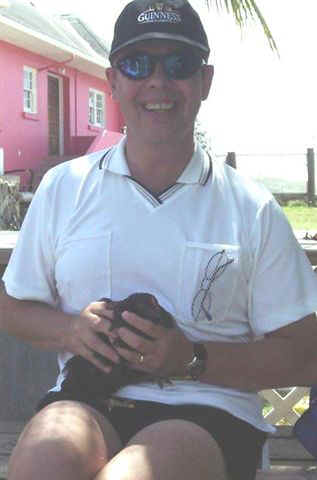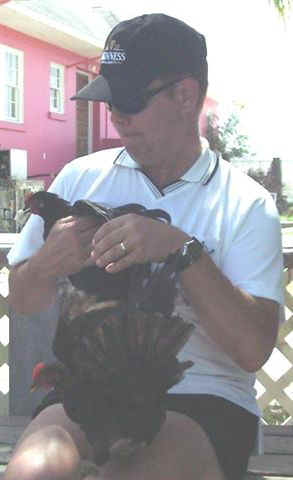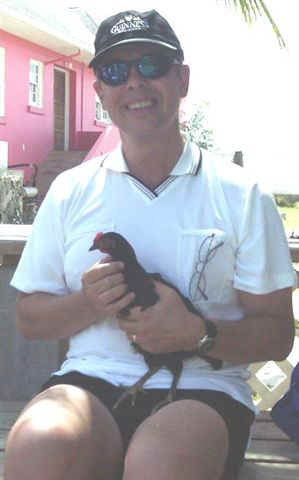 After feeding the chicks, we took our books to the edge of the "Sea Pool" (an ocean-fed salt water swimming area) and read in the shade of the thatched umbrellas.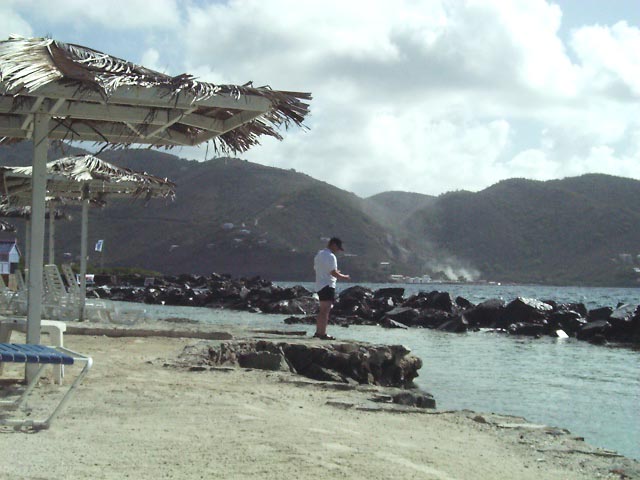 Then we went by Kathy's shop and made a few purchases. We got some spices, a sundress (for me), and some much needed bug spray. Kathy then drove us to the property where Ashbel is building a house. Again, four-wheel drive was required to make the steep climb. Kathy says in Tortola, people just build as they get some extra money. It looks like Ashbel has been working on his house for a while. He has a cistern and one bedroom built, and has finished the grading for another bedroom. The view is gorgeous.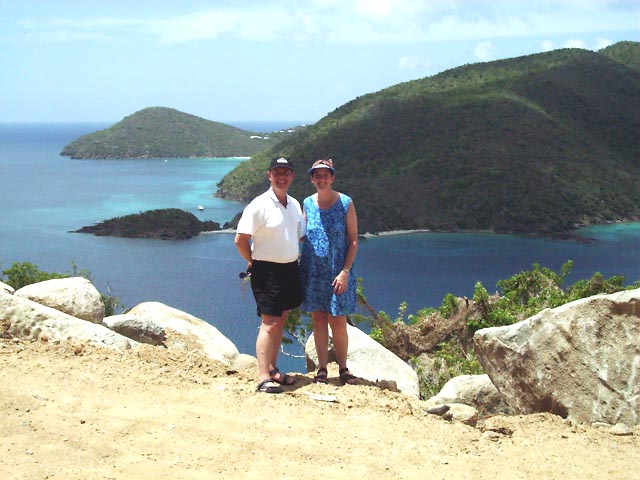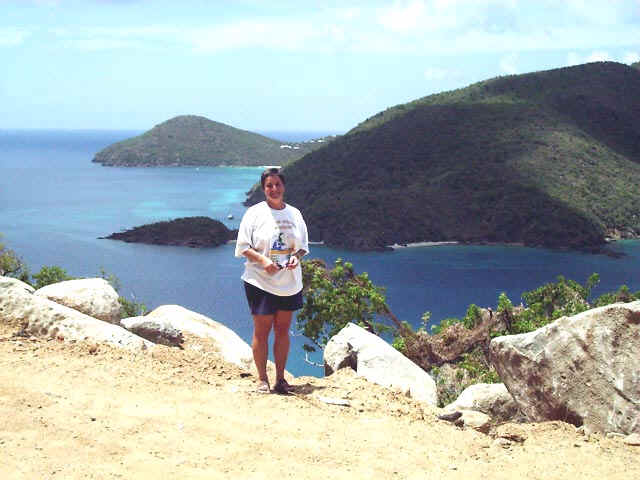 From there, we went to Josiah's Bay where Kathy's friend Naomi runs a restaurant. Naomi, assisted by Kathy and Cindy, fixed lunch for us and we enjoyed a stroll down the beautiful beach. We met Naomi's great grandchildren, Colique and Coliqua.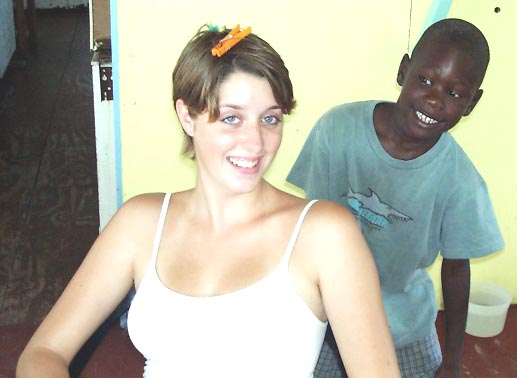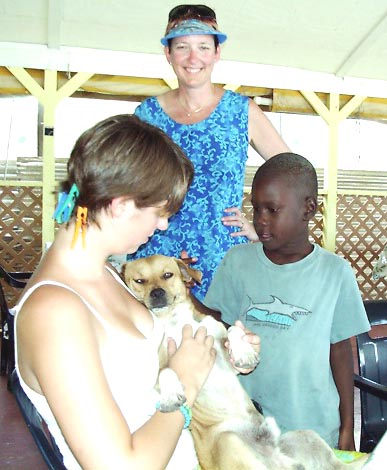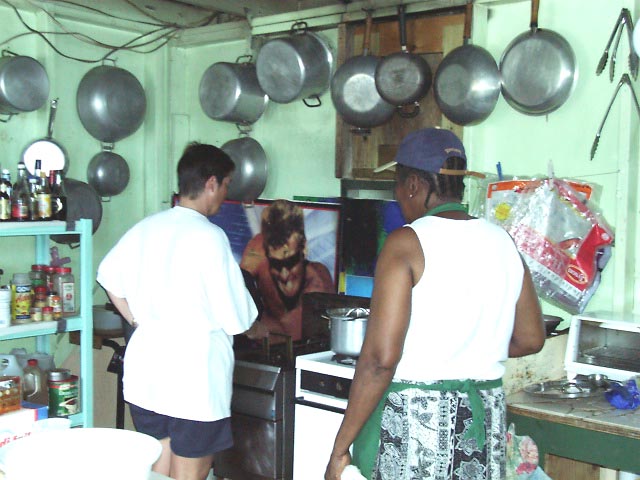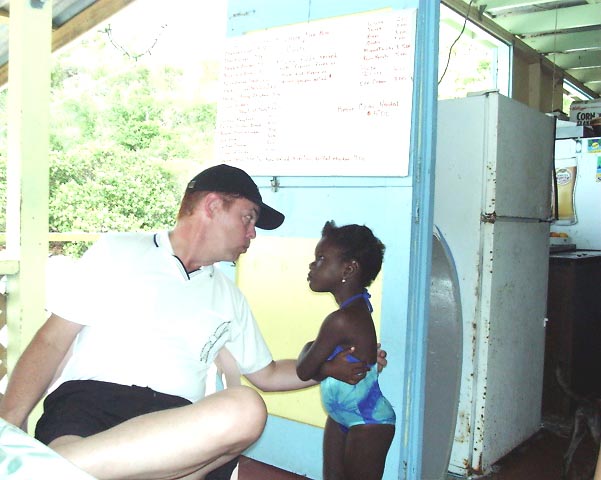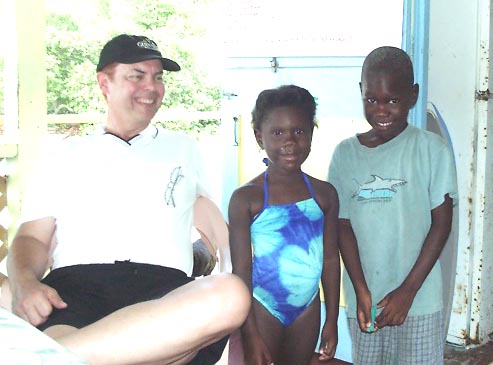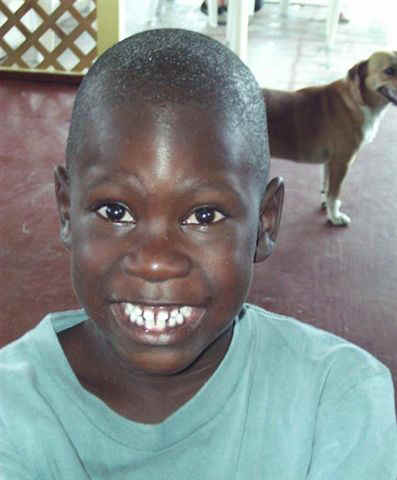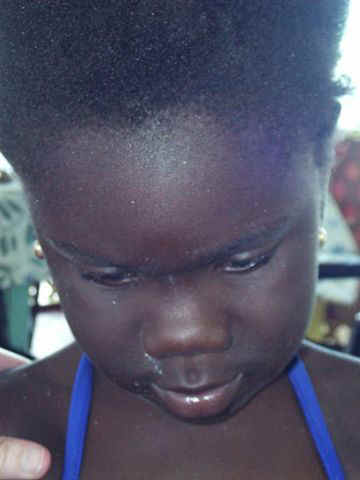 After lunch, Kathy drove us on a tour of the island, enjoying the beautiful views and stopping at the Bomba Shack, home of the world famous Full-Moon party. Here, once a month, Bomba entertains locals and tourists with "Bomba Tea" (remember psychedelic mushrooms?). Bomba is a big Buddha-like man who was displeased that the Full-Moon party the night before had only netted him one pair of panties.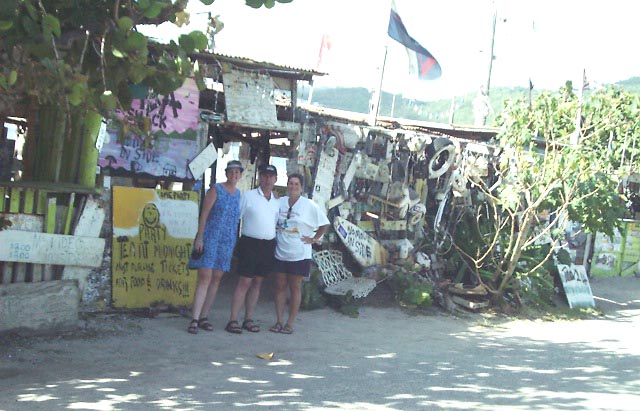 After the tour, we dined at Cindy's. Eric cooked some fabulous fresh lobster tails on the grill, using some of the "Rub-a-dub" spices from Kathy's shop.
Saturday, after feeding the chickens and reading our books, we wandered down to the dolphin lagoon to watch the ESPN crew swim with the dolphins. If I were willing to pay $150 to swim with a dolphin, this is where I would do it! There was much more interaction with the animals than I have seen at other similar places. The dolphins jumped, spun, pushed the swimmers with their noses, and pulled the swimmers with their dorsal fins.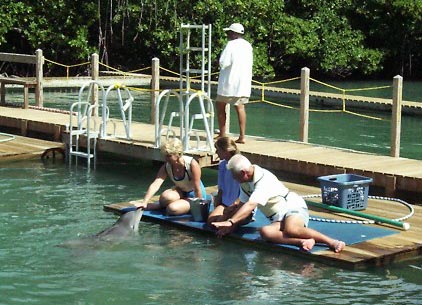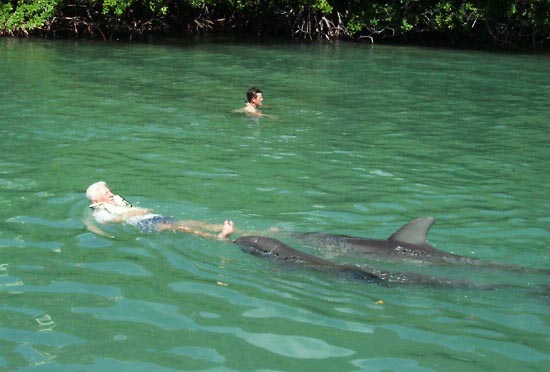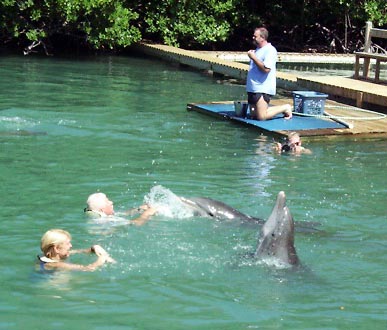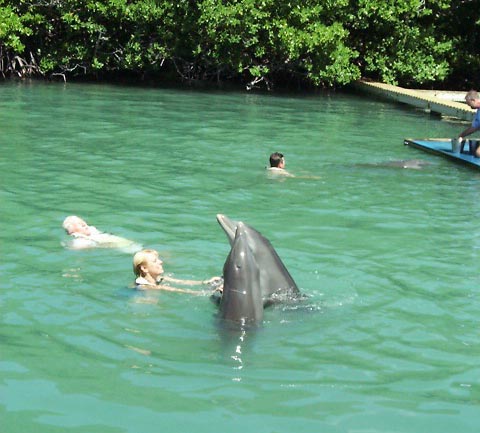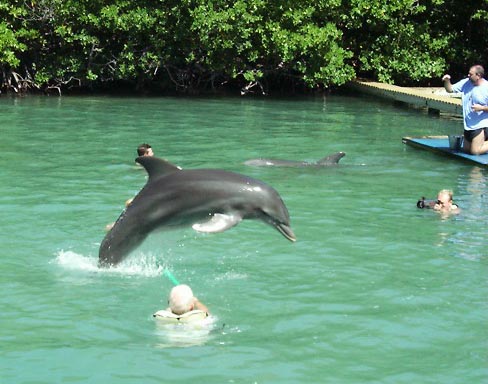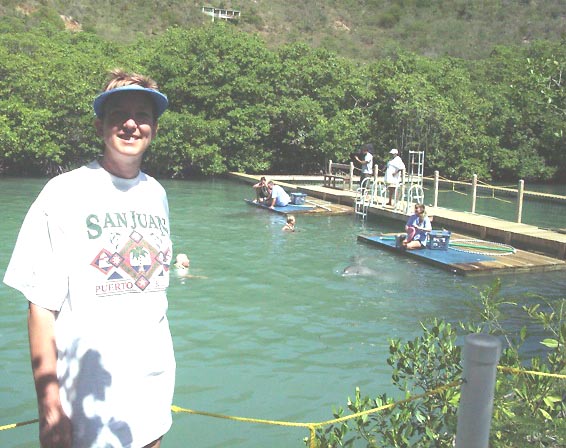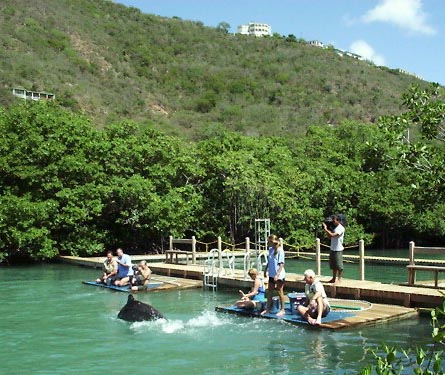 Kathy picked us up around 10:00 and took us to Ashbel's shop where we boarded his boat and cruised over to Jost Van Dyke. Cindy had prepared a wonderful picnic with lobster and chicken salads from the previous night's dinner. After lunch, we floated in the ocean and napped under the trees.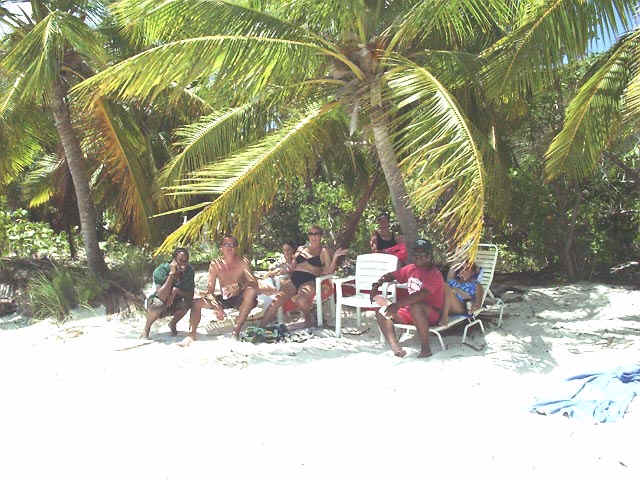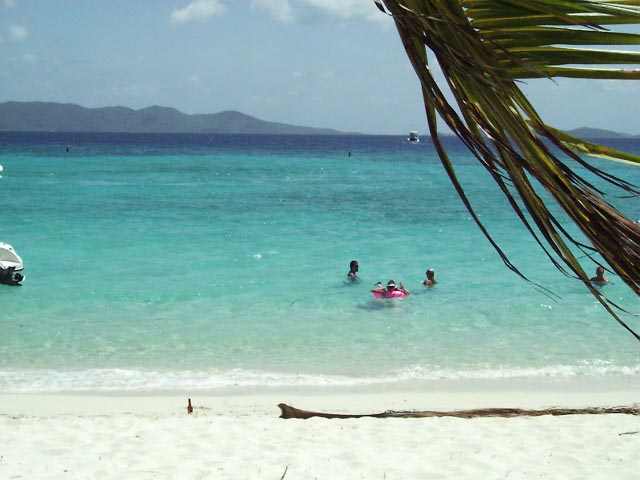 Later we wandered down to the beach bar to find Catie, her friend Akim and a tourist engaged in a very tense game of Jenga. After sampling a "Pain Killer", the bartender's specialty, we cruised back to Tortola for dinner at the Tiger Restaurant, a favorite of the local folks.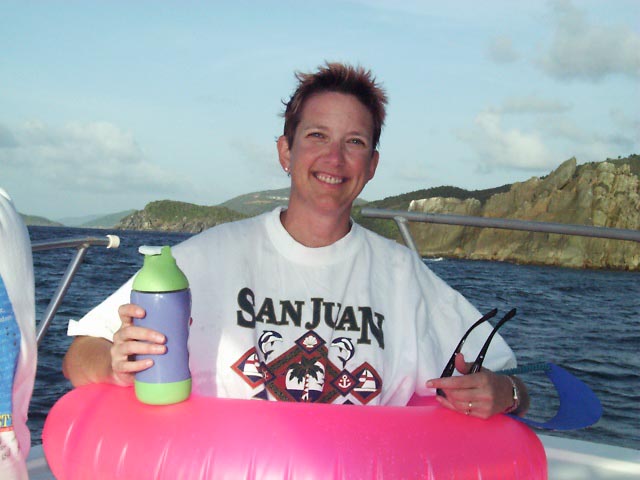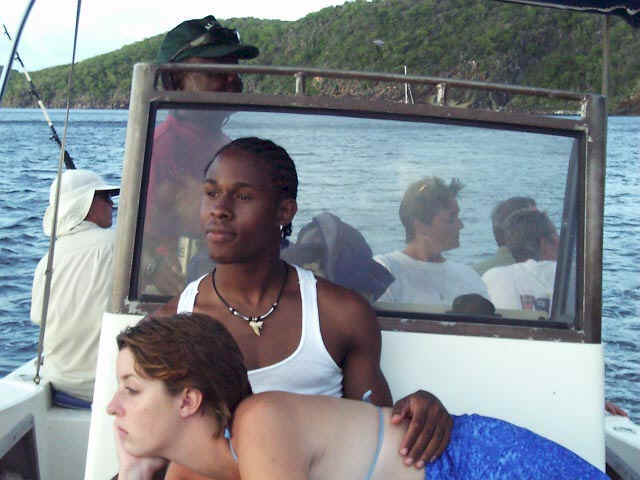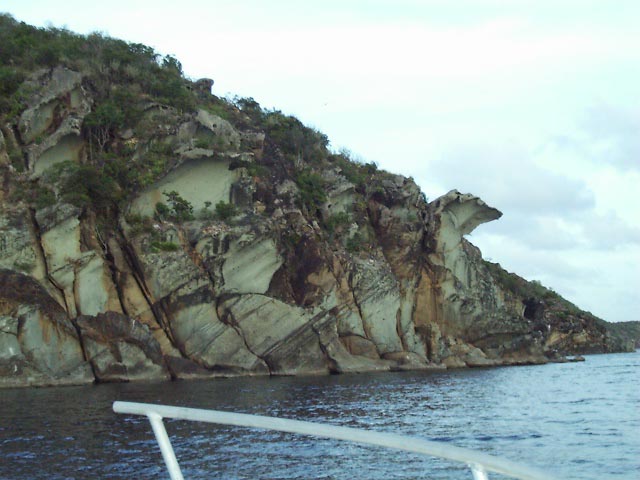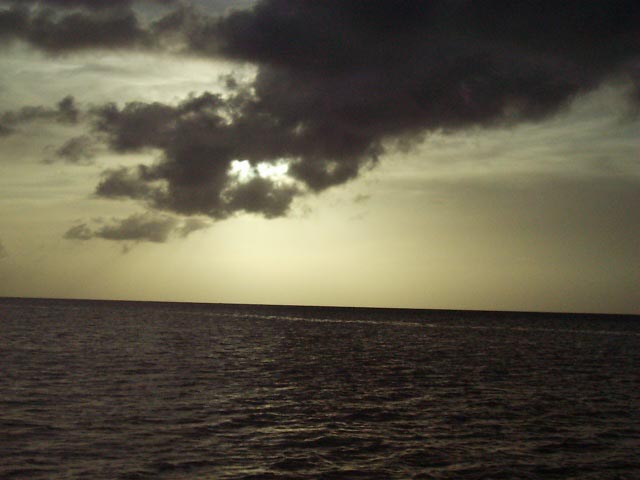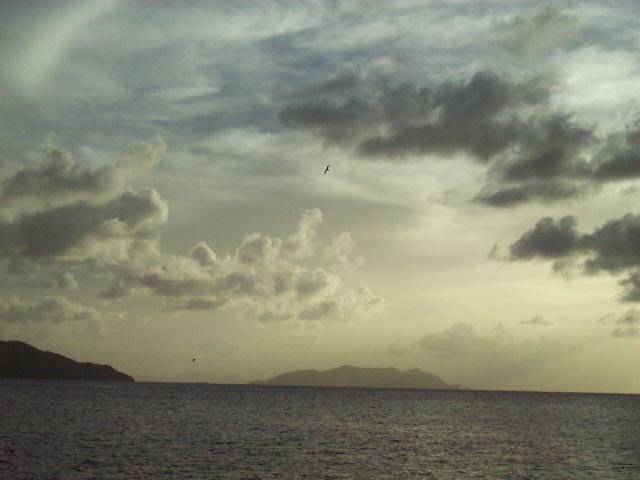 c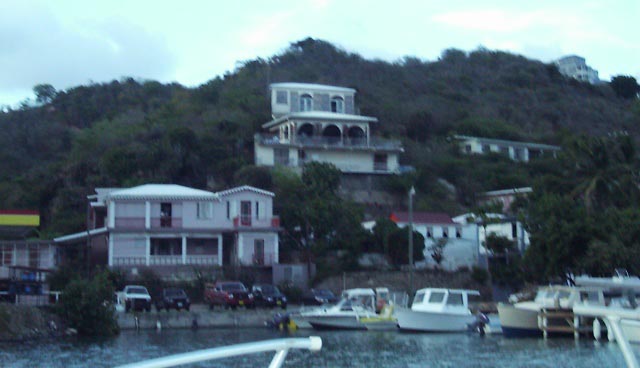 Sunday, of course, we had to feed the chickens and read our books, as had become our ritual. Afterwards we took the 25-minute walk into Roadtown to hit the ATM again, having used up most of our cash by now. Then Kathy, Ashbel, Cindy, Eric, Catie, and their friends Stick and Yvonne picked us up at the Prospect Reef dock in the boat and took us over to nearby Norman Island, which includes an underwater Park. Here, I learned that I don't really hate snorkeling if I can lie on a float and just put my face in the water. It gets me just the separation I need from the gross pulsing jellyfish creatures. We saw lots of colorful fish, including barracuda and a baby reef shark.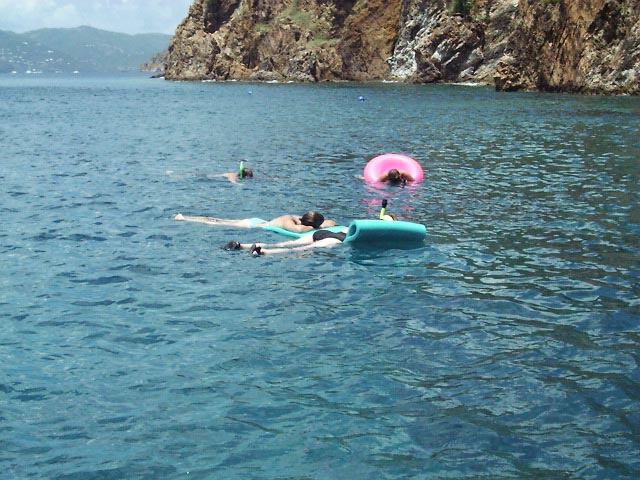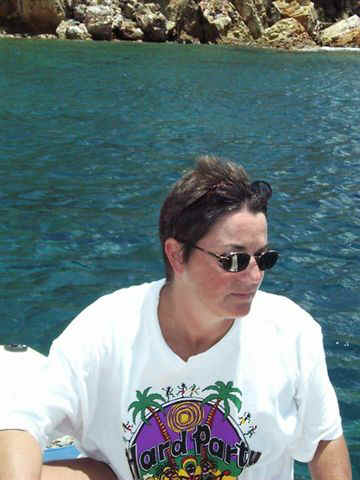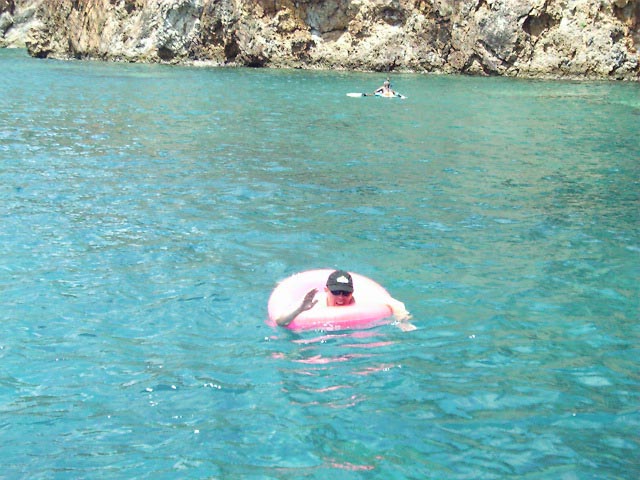 After lunch on the boat, we headed over to a floating bar/restaurant called the Willie T. The story is that you get a free T-shirt if you jump naked off of the boat. I didn't get a free T-shirt, but I am afraid that if I had drunk one more of the bartender's specialties "Zeus Juice", I might have. I must caution you about Zeus Juice. Think about the side effects before you drink it. We spent the rest of the afternoon on the boat, taking turns jumping (in our swimsuits) into the water.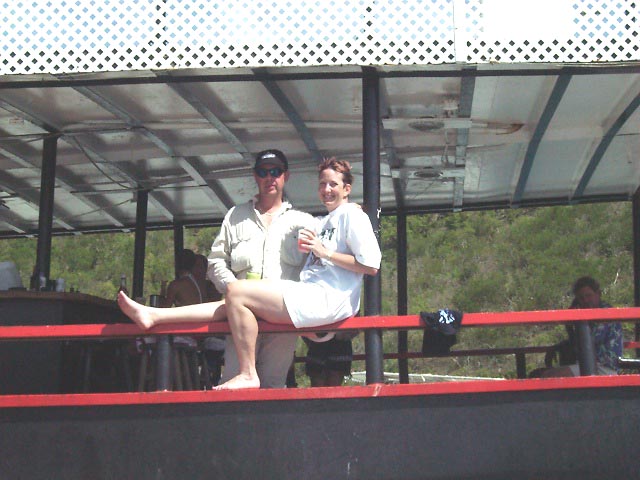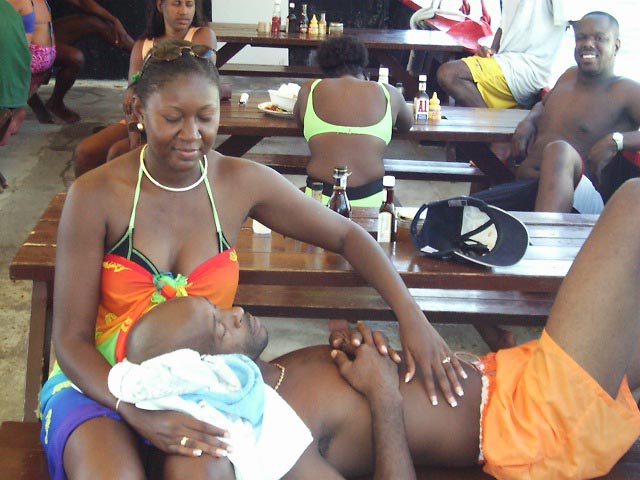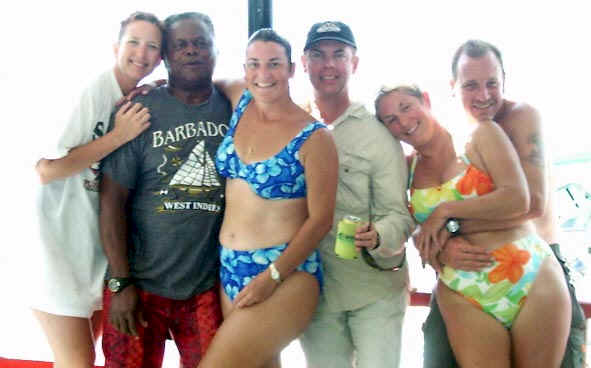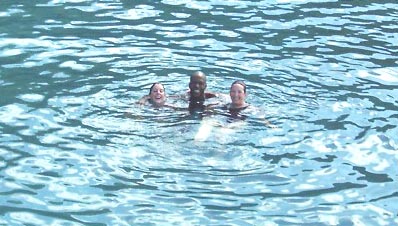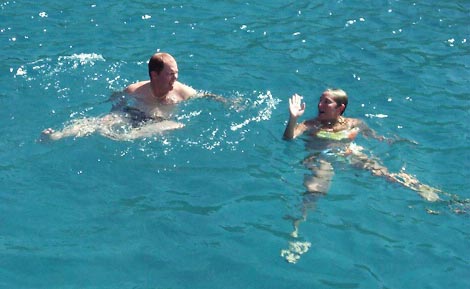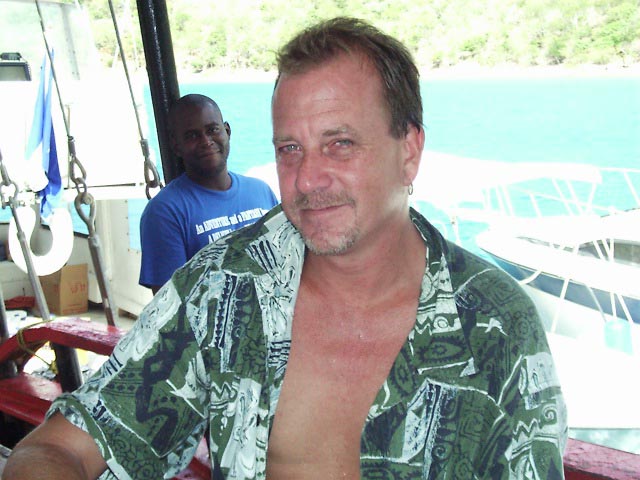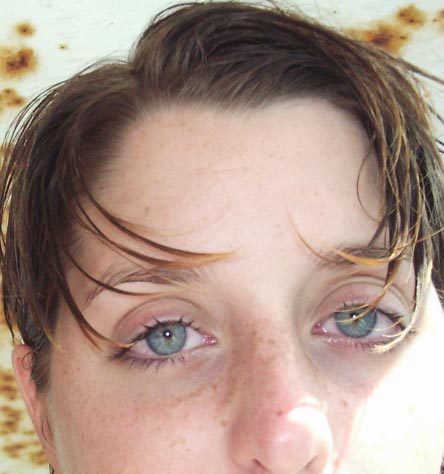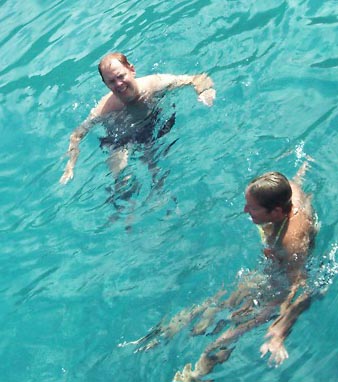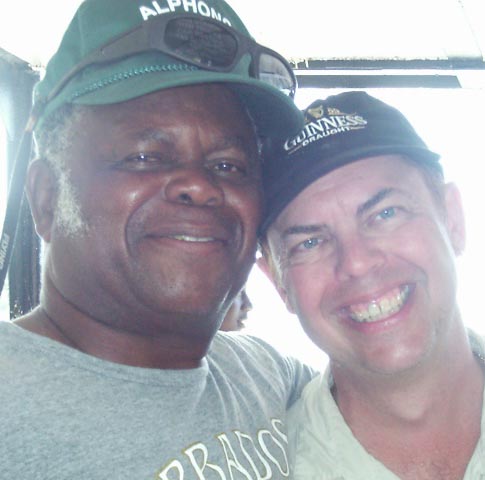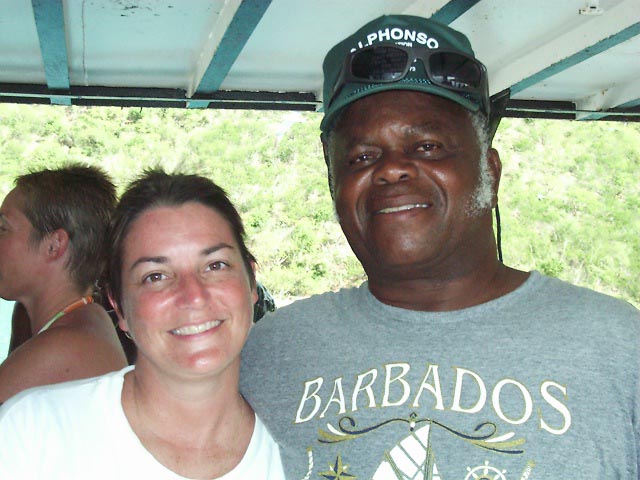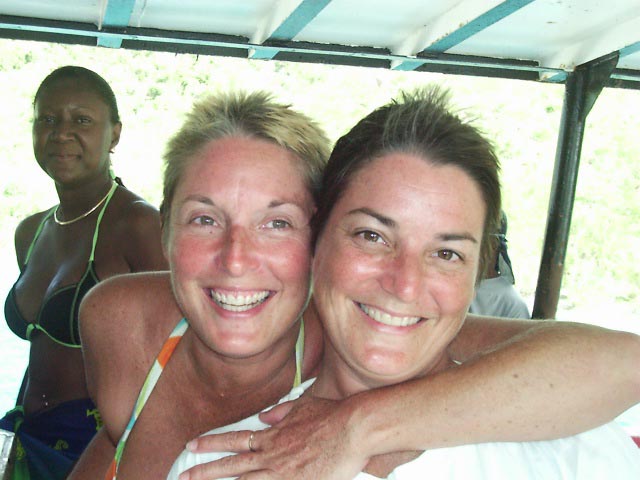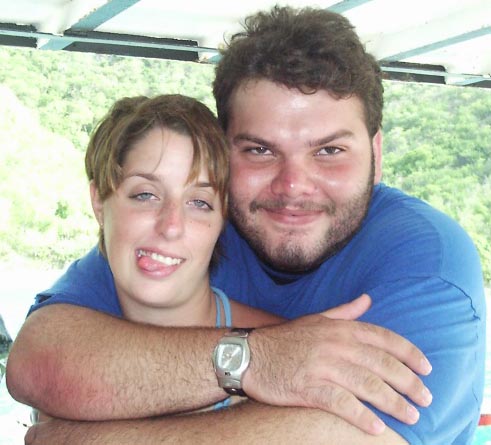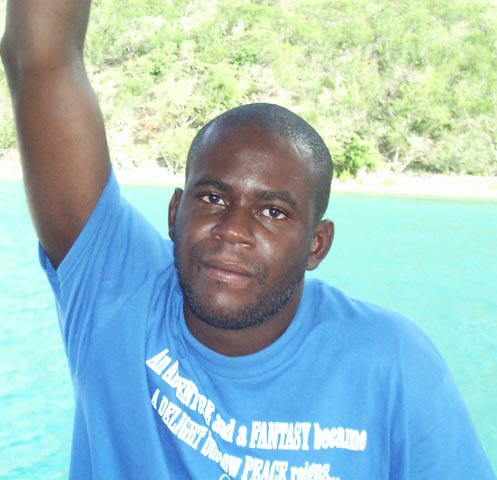 The gang dropped us back at the dock at the resort in time for the complimentary cocktail party, and we were in bed by 8PM.
Monday, sadly, was departure day. We fed the chickens one last time and Kathy took us back to the airport. While waiting for our Cape Air flight to San Juan, we enjoyed a chicken pattie from Ashbel's cousin's food stand at the airport. Then we boarded our 10-seat Cessna 402(!!) for the flight back to San Juan, with the young pilot talking over his shoulder, pointing out sites along the way.
BJ and Tony Morris
bj@bjandtony.com