Trier, Germany
September 2002
"Who Can Have the Most Fun?"
Well, it's been three months since our last biking adventure (this sounds like confession, doesn't it? "Father forgive me, for I have sinned. It has been three months…"), and given that winter will be here soon, we decided we try to squeeze in one more this year. We have had a "Trier to Koblenz" bike ride down the Mosel planned for quite some time, but have never gotten the group and the time together at the same time. This wasn't to be it either, but we thought we would do a bit of scout work for that trip. A date was selected (a 4-day weekend late in September), and a six-group was put together consisting of most of "the usual suspects". Since one of our buddies was unavailable (because he would already be in Germany on an Oktoberfest trip), we picked up a newcomer; a co-worker friend named Melissa. Several days before we were to leave for our trip, one of our beta-males had to drop out due to, of all things "work", leaving us with an odd number, and leaving Tony, the alpha-male, severely outnumbered by females. We quickly put the word out to some potential beta-males about the opening, but got no takers. On the morning of the day we were to leave, One of our group sent an "instant message" to David (a long-time-friend-but-seldom-travel-buddy), inviting him to join us. David borrowed a book bag from his son, packed it with a few necessities, made arrangements for a couple of vacation days, and met us for the ride to the airport. Chalk one up for David for being so spur of the moment!
As we were describing the purpose of the trip to David at the airport, we recounted our experiences on previous trips where some members of the group had been very competitive about the bicycle riding. David issued the challenge that we should make the competition for this trip about who could have the most fun, rather than who could bike the fastest! We all agreed that this would be a good competition and vowed that we would each win.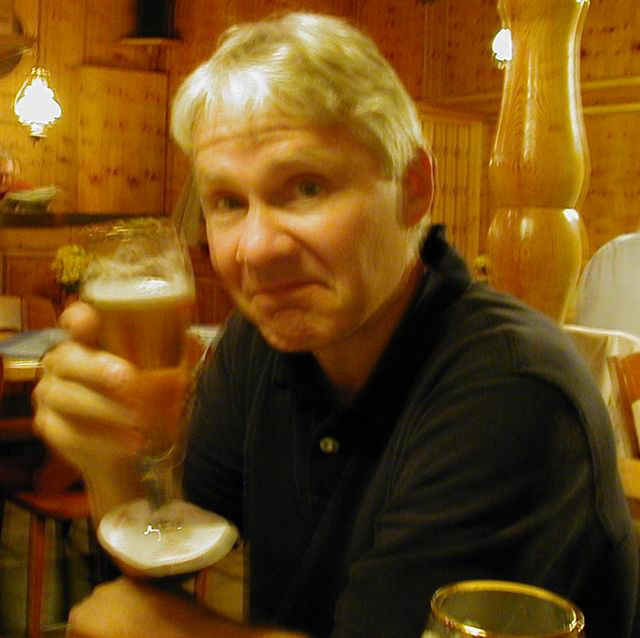 As standby experiences go, this one was pretty boring compared to some of our other trips. We were all given Business Class seating on the first flight we attempted so we wouldn't be needing to try to hook up in Frankfurt (although we DID have a back-up plan for that). Out of Atlanta, on time, we all settled in for dinner and a movie. The next morning we learned that Melissa (whose in-seat audio/video equipment was non-functional) was given a rose by the flight attendant in lieu of the movie. Since we all prefer in-flight entertainment to a rose, we told her that this incident put her somewhat behind in the fun competition.
Arriving in Frankfurt, we made our way to the train station and purchased tickets to Trier, our destination, then headed to the airport bar to have a German bier while we waited for our departure time. Not realizing how far the track was from the bar, we had to run to catch our train (German trains are noted for their on-time departures… usually), only to find that it was delayed. Once on board the train, we found seating in the beverage car where we enjoyed more German biers. That delay out of Frankfurt caused us to miss our connection in Koblenz, so we had to take a non-express train, turning a 60-minute ride into an almost two-hour ride. Initially, we couldn't find six seats together on the train, but did manage to get seats in the same car. David sat with 6 somewhat animated German men who offered him a shot glass of clear liquid, refuted to be some sort of pear liqueur, and some sort of sausage. Believing that this would add to his score in the fun competition, David drank and ate what he was offered. After a few stops, some seats opened up near David, so we all moved to that end of the car, wanting to add to our own fun scores. After I had sampled the sausage, which looked like a giant hot dog, one of the men got up in the aisle of the train and whinnied and stomped his foot to indicate that the sausage was made from horse meat. I am choosing to believe that he was pulling my leg.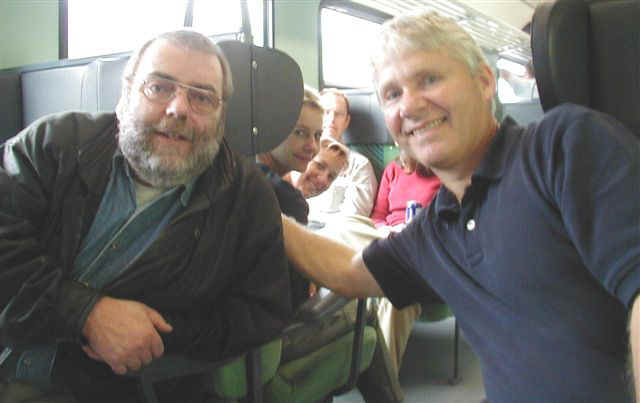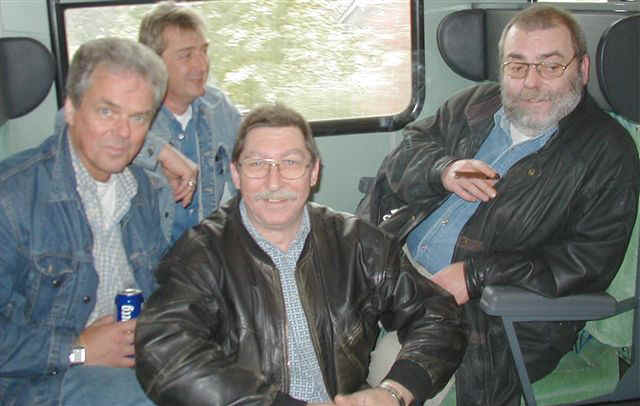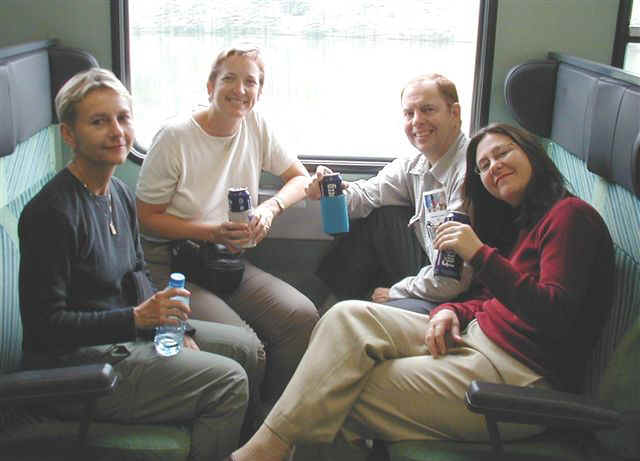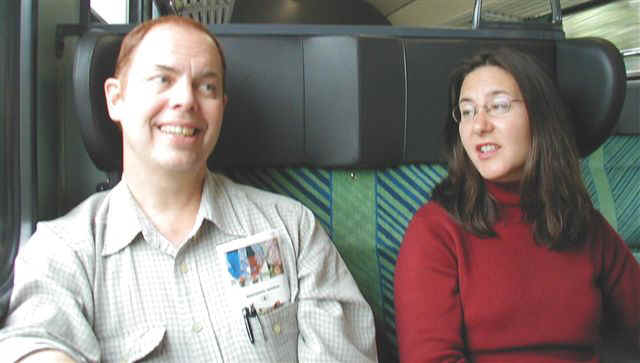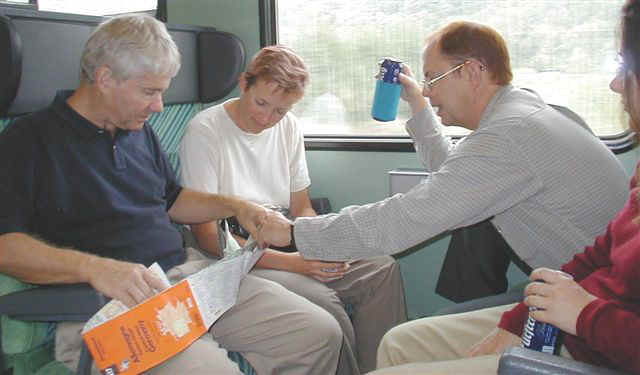 We arrived in Trier around 1330 and took the 15-minute walk into town, stopping along the way for bier and some baguettes. One of our friends made the mistake of depending on me to translate the non-bier portion of the menu for her, and I overlooked that the Camembert baguette had Preiselbeeren (cranberries) on it. This was not her favorite meal of the trip.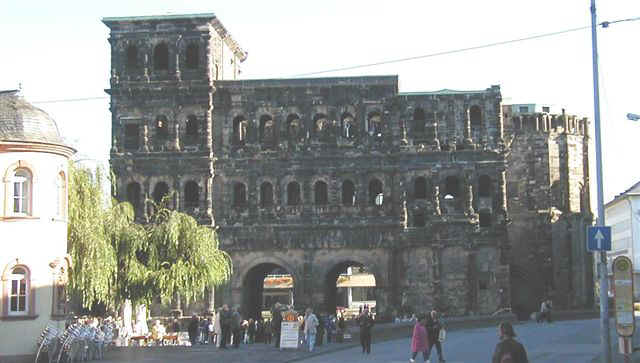 Like Goldilocks, it took us three tries to find a place to sleep. The first hotel was too full. The second hotel was too expensive. The third hotel, the Hotel Haag, was just right! It fit almost all of our requirements. We had the requisite number of rooms and beds, but were a little shy of toilets. One room only had a sink and a shower, and its occupants were expected to use the toilet down the hall. The four girls decided that the two boys should take the room with no toilet. The tiny glass enclosed shower in the boy's room was out in the middle of the bedroom. We referred to it as the "show shower" since there would be no privacy for its occupant. This later turned out to be important.
Melissa lost a few more points from her fun score by electing to take a nap while the rest of the group went to investigate our bicycle rental options. We left Melissa a walkie-talkie so that she could hook up with us after her nap. The bicycle rental shop was behind the train station; so back to the station we went. We selected the 6-euro/day basic three speed bikes for our anticipated level ride along the Mosel. We decided to wait until the next morning to pick up the bicycles in case rain foiled our plans.
We went for a short walk along the Mosel and stopped at a grocery store for Kindereggs and bottled water. Our friend, again relied on my German translation skills to decide whether the water she wanted to purchase was carbonated. I assured her that it was not. Of course, it was, and it spewed when she opened it.
Sleeping Beauty finally awoke from her nap to join us for a glass of wine near the hotel. We sent her in search of some non-carbonated water. It took her a long time to find it, but she eventually returned with 6 bottles of what the shopkeeper had assured her (in broken English) was non-carbonated water. Of course, it too spewed when we opened it. Over more wine, the discussion turned political, as it usually does with this group. After covering the usual "easy" topics (gun control, abortion, death penalty), David brought up for discussion the subject of legalizing medicinal marijuana. Medicinal marijuana then became the topic that everyone brought up when political discussions were becoming hostile.
We had an excellent traditional German dinner at a restaurant of David's choice (whose name we sadly failed to note). We elected to give him some fun points for picking such a good restaurant. Exhausted from the trip, we all turned in early that night (even Sleeping Beauty).
<![if !supportEmptyParas]> <![endif]>
The next morning (Saturday), we awoke to a beautiful day. After breakfast at the hotel, we picked up our bikes (three-speed bikes, by the way, have a front hand brake and a "coaster brake". Remember those? Not the easiest thing to get reacquainted with) and started our ride along the Mosel toward Luxembourg. After several miles upstream, we turned northward, along the Sauertal River, which separates Germany from Luxembourg. Our first stop was at a lovely little biergartin.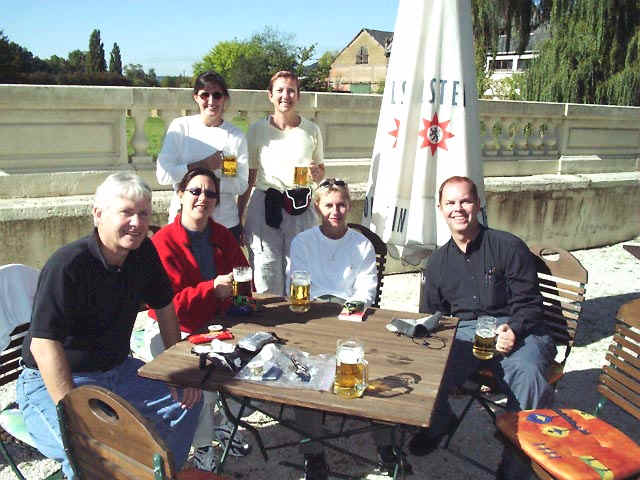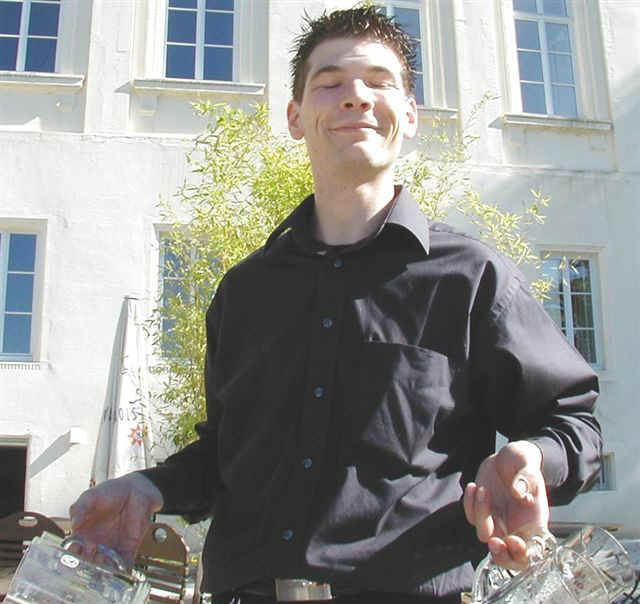 After several biers there, we continued along the path until we crossed the border into Luxembourg.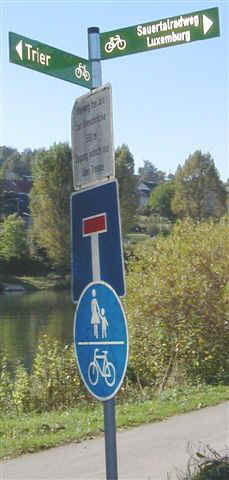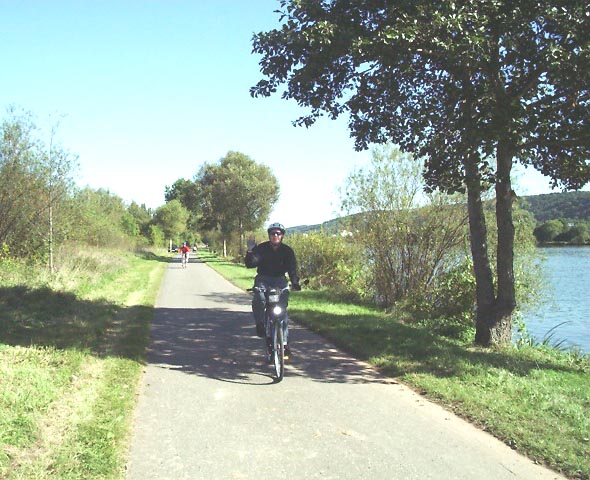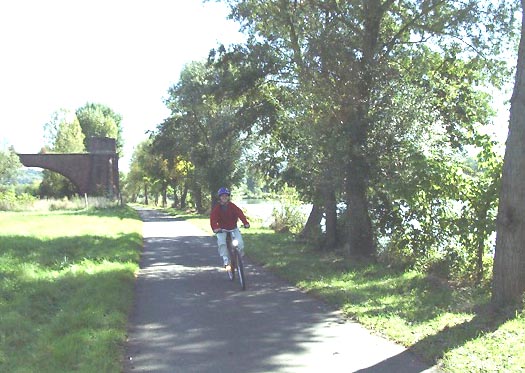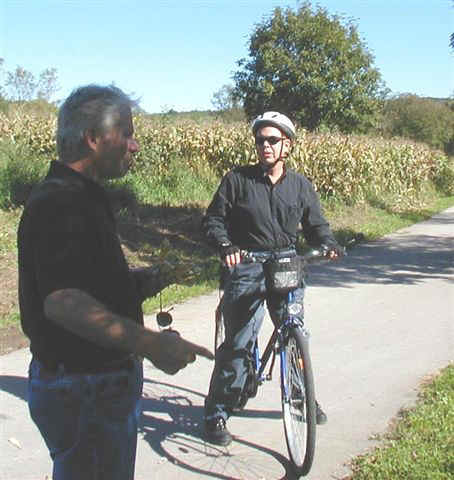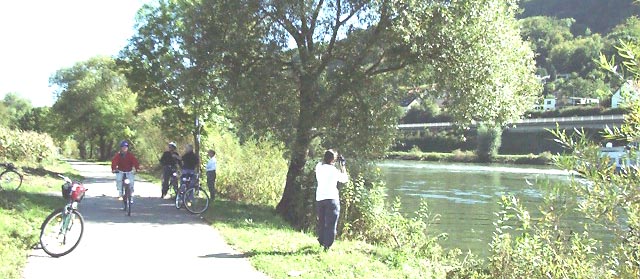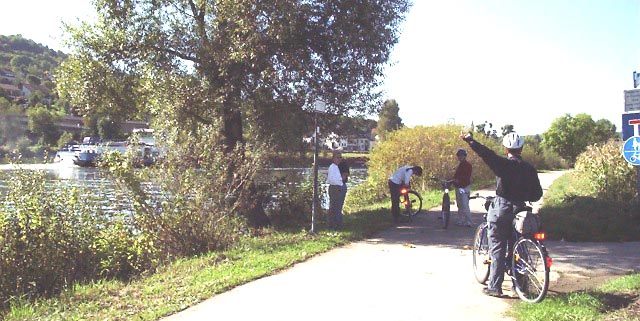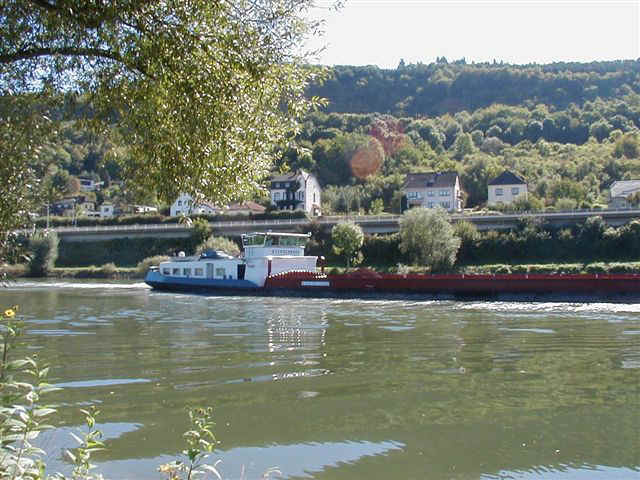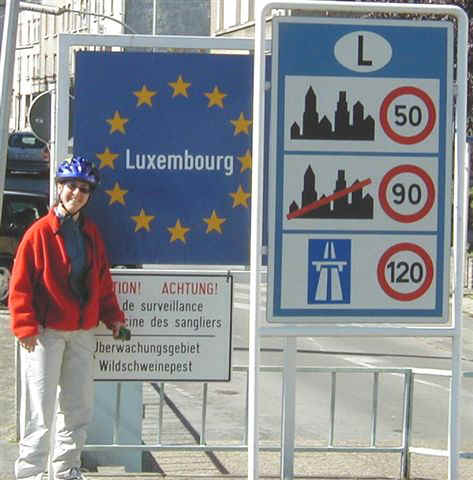 The scenery in Luxembourg was beautiful. We had to make several stops for photos.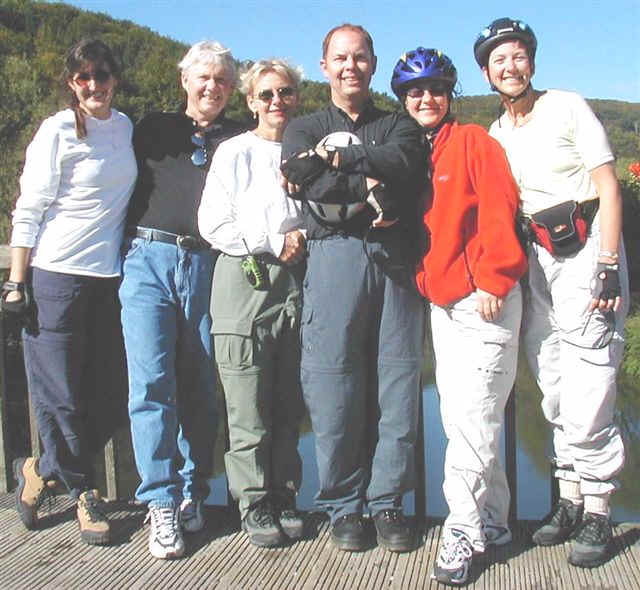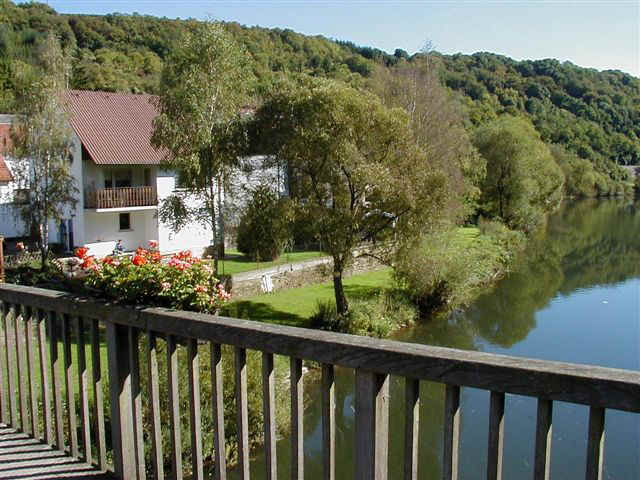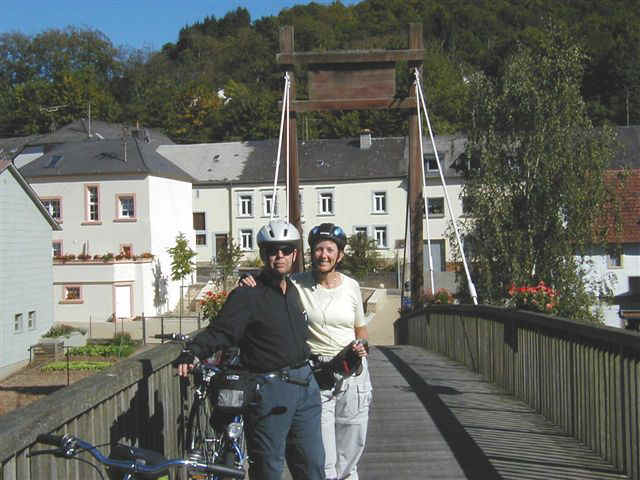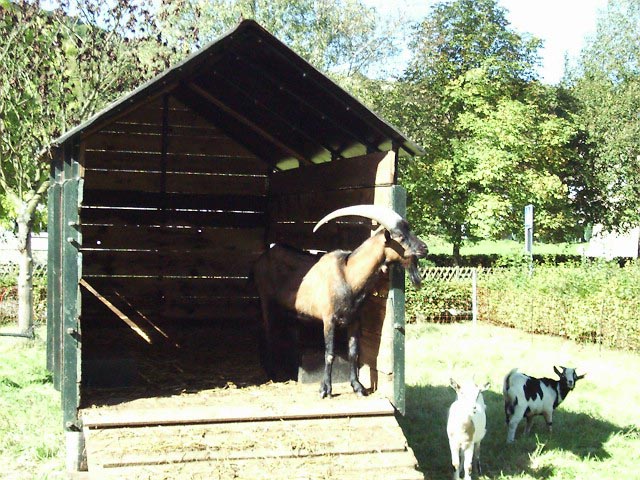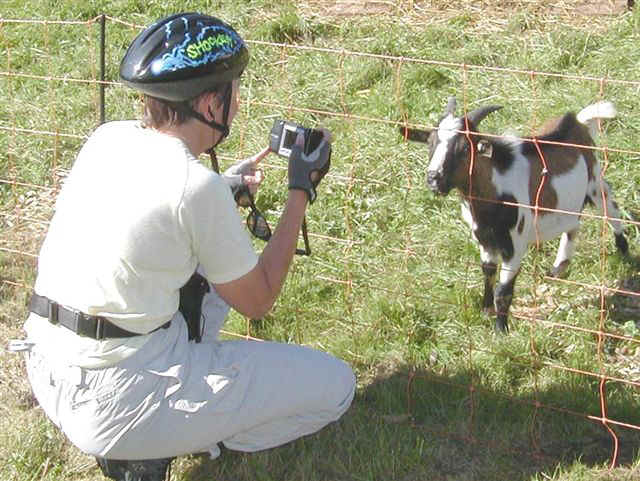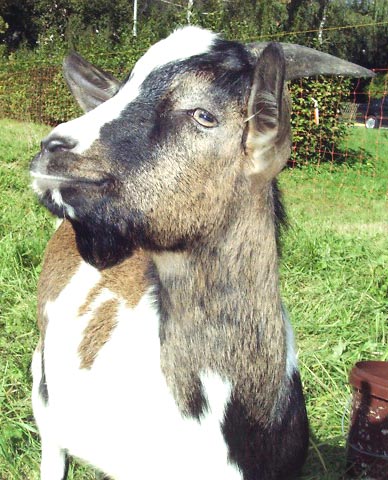 We rode on in search of a quaint little place for lunch. Once again, as we so often do on these trips, we failed to remember the strict mealtimes. We finally found a place in Rosport, Luxembourg that appeared to be serving food. The proprietor came out to tell us that they were closed, but we begged and she fixed us some Croque Monsieurs and Pomme Frites. In Luxembourg, by the way, neither French nor German but something in between, is spoken; thus the Croques (French) and Pommes (German) and we have no idea where the word "Humpen" came from (meaning Large… as in bier).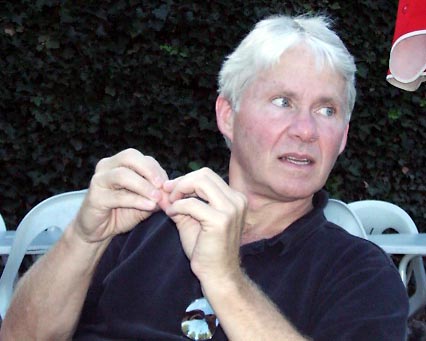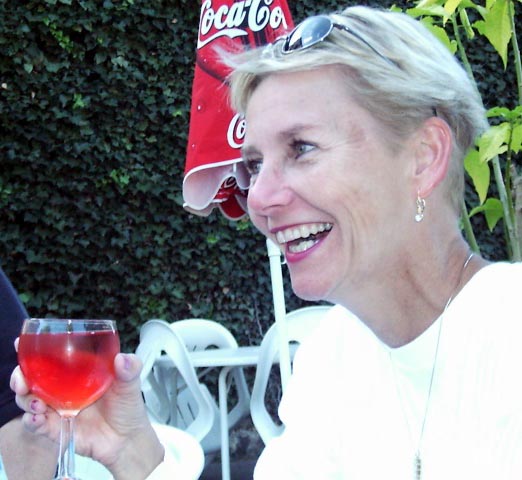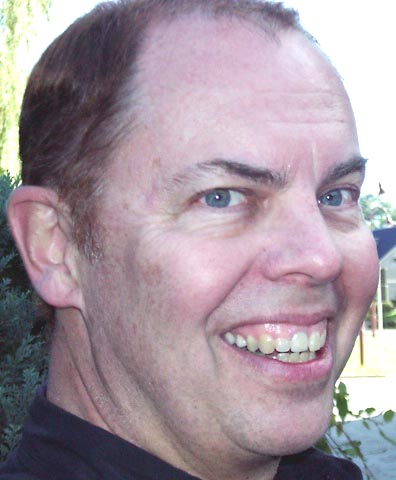 After lunch, one of the girls in our group took another girl and David on a quest to Echternach to look for a souvenir that she had been unable to procure on a previous trip. Tony, Melissa, and I, the less aggressive riders, decided to start back toward Trier. We made fairly good time on the ride back until Melissa spotted the Johanneshauf Weinhaus. Of course it was a mandatory stop.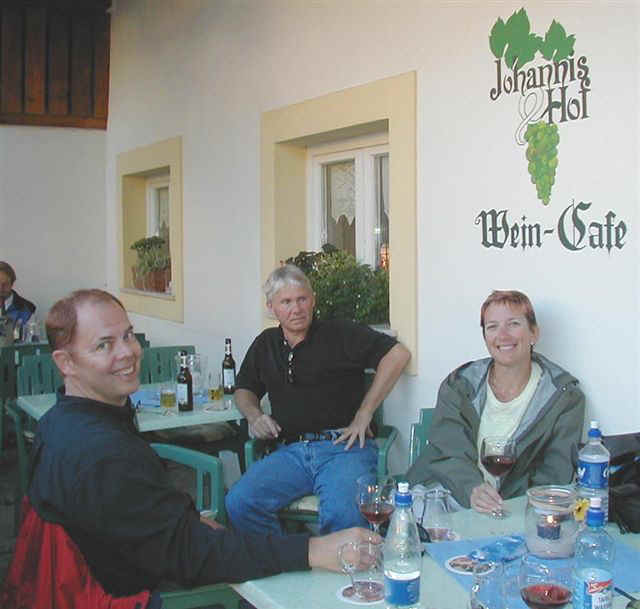 I had a small bungee cord incident in which I unhooked the bungee that was holding my backpack on the back of my bike. Then I moved the bike across the street. The bungee hooked itself to the spoke of my wheel and one end broke off. The other end wound itself tightly around the rear axle of my bike. I was able to disentangle it, but not without getting grease all over my shirt. The souvenier hunters caught up with us at the Weinhaus and after sampling the local wine, we all started back to Trier together. The last hour or so of the ride was in the dark, and we were thankful that the bikes came with headlights. For Melissa, Tony and I, this was a little more than a 40-mile day. The others clocked almost 50 miles. Dinner was at a restaurant recommended by the proprietor of our hotel. The Restaurant Wirtshaus "Zur Glocke" at Glockenstrasse 12 served a fine dinner. The German men at the table next to us sang a song that ended with a "Hey" flourish every time they got a fresh round of bier. We decided that we should have a song too, but could not agree on one. We tried several, ending each with "Hey" and taking a drink of bier. After dinner, we decided to try to absorb some local flavor at a couple of nightclubs. The Schickeria was a pretty happening place, but it was too hot and smoky for us. In the bathroom, I encountered a girl who seemed to be telling me in German that she had dropped her belt in the toilet (of course my German being what it is, this may have been telling me that the water in the toilet is not carbonated). We moved on to the Blue Shell bar next.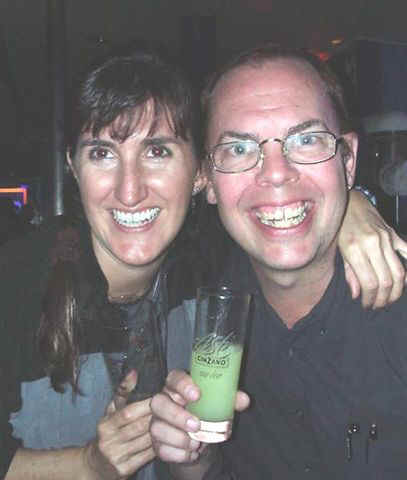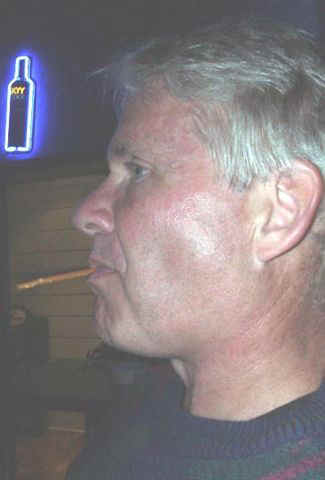 This was a little quieter and we worked on our bier drinking song a little more. Tony ordered Absinthe, a drink that is supposedly not available in the United States. My internet research (and we know it must be true if it came from the internet) says, "Absinthe contains a psychoactive neurotoxin called thujone which comes from wormwood. The FDA insists that US food must be free of thujone." All I know is that it smelled like liquorice. I didn't taste it. We finally returned to the hotel sometime after two in the morning. The girls found a cardboard cutout of a gladiator man in the lobby of our hotel and took him to their room.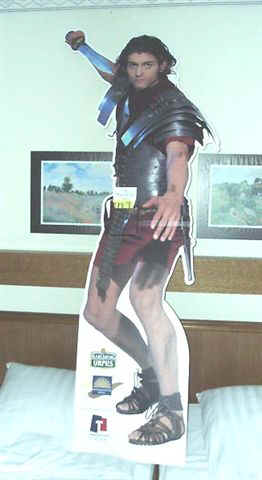 Sunday, everyone got a slow start. I was the first to arrive at breakfast around 9AM, joined shortly by David. David said that he had left the room to give Tony some privacy in the "show shower". Two of the other girls soon wandered down and Melissa arrived just before breakfast was over. We kept expecting Tony to enter the breakfast room, but he never did. We wondered what was taking him so long, and decided that he must have gone out for his morning Diet Coke. Finally around 9:45, David went back up to the room to find that Tony had been locked inside the entire time. David didn't realize that when he locked the room from the outside with the key, Tony had no way out. There was no window and no phone in their room, so Tony was stranded. Oh, and there was also no toilet, so had nature called, Tony felt that he would have been obligated to go in David's shoe. (Quote from Tony: "…whistling didn't work. Pounding on the wall didn't work. Pounding on the door didn't work. Stomping on the floor directly over the breakfast room, filled with all of my friends, didn't work either. Next time, I WILL use the shoe!!!")
We checked out of the hotel, packed up and dropped our backpacks at the bicycle rental shop before starting our day's bike journey. After returning in the dark on the previous day (and with some of us suffering from serious sore, uh…), we decided to target only a twenty-mile day. We left Trier on the northeast side of the Mosel riding toward Bernkastle.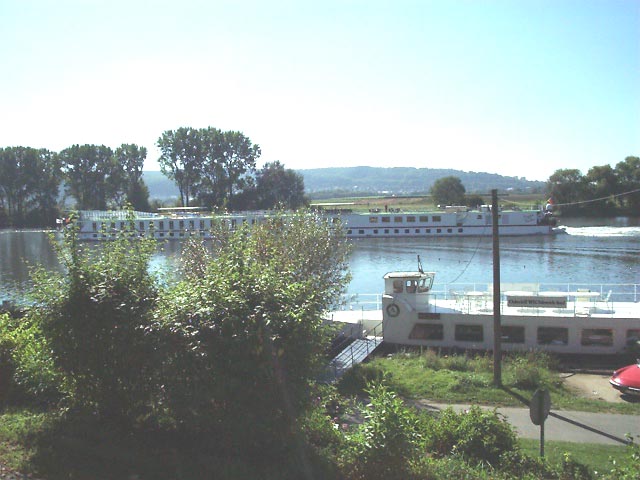 We stopped for lunch at a lovely place overlooking the river. While we feasted on Gullaschsuppe, cheese, salami, and wursts a handsome water-skier behind a MasterCraft entertained us.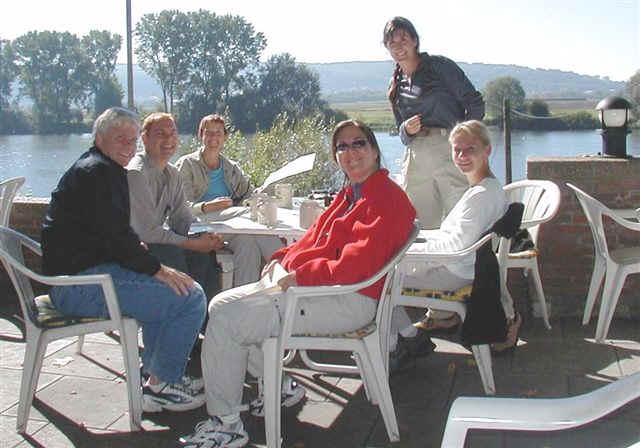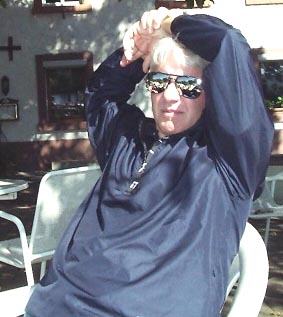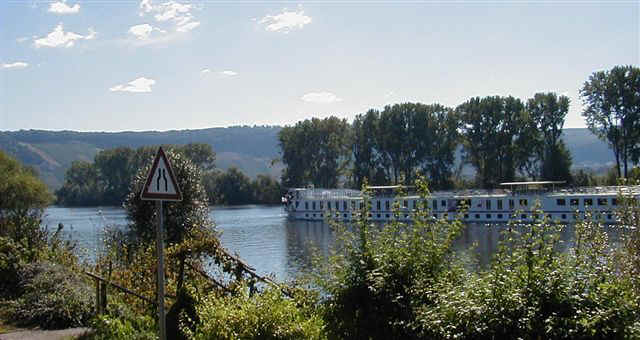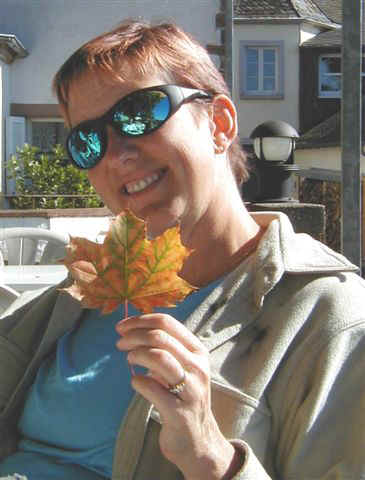 After lunch, we started back for Trier.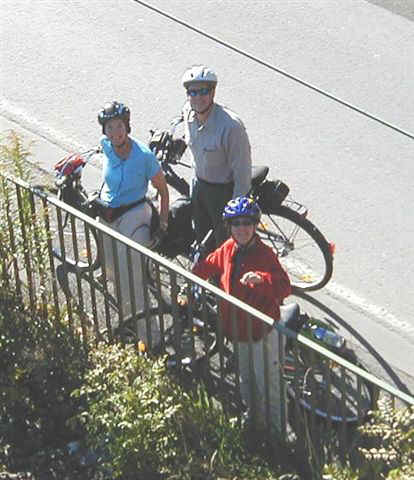 One more stop for biers overlooking the Mosel and we were back at the train station.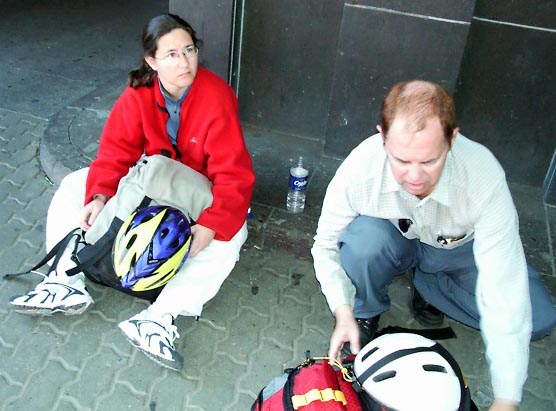 After turning in our bikes, we once again found seating in the beverage car on the train.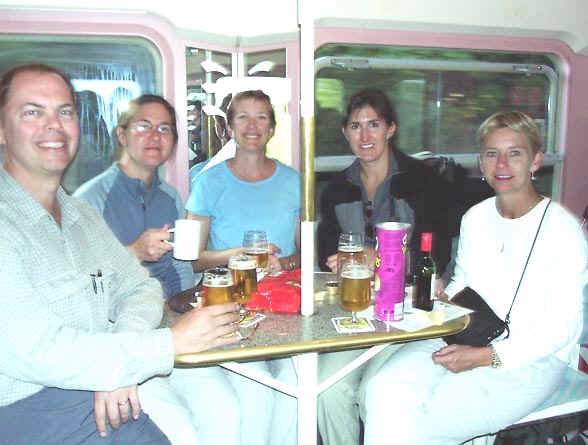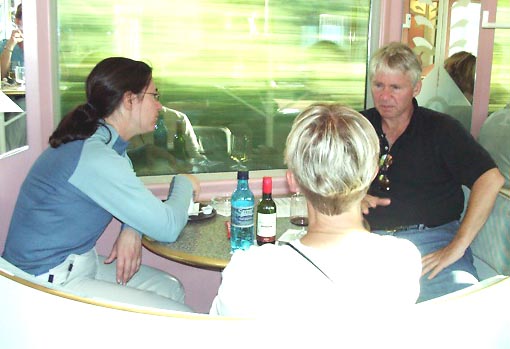 After a connection in Koblenz, we stopped in Rudesheim for the night. We checked into the Hotel Felsenkeller, where Tony and I had stayed on a previous trip and had dinner at a wonderful restaurant at the top of the narrow walking street where we tried the local flaming coffee treat.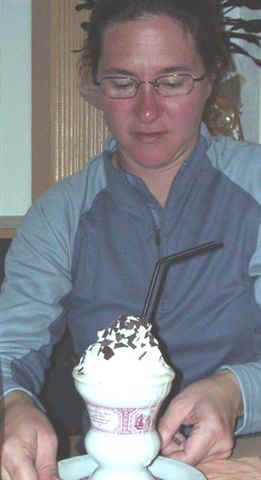 Monday, departure day, David, Tony, another friend and I met in the lobby to wait for the youngsters. Finally, we called to hurry them along. Melissa finally came down and our other friend sauntered down a little later. By then, it was questionable as to whether we could make it to the train station in time to catch our train. Our straggler asked one of the early birds why we were rushing so, and when the friend told her what time it was, the straggler realized that she had set her watch incorrectly. After all of the rushing, our train was delayed and we had plenty of time (see note about German train on-time performance above).
We made it to the airport with time to spare, though and were told that the flights were pretty full, but we would probably get out. Standing in line to check in, we got stuck behind another non-rev who was rather high maintenance and took a long time to get checked in. We overheard that he was using priority S1R for his travel (this is a higher priority than ours). We referred to him as "S1R Boy". We got on the standby list for the first flight, bought some more Kindereggs and chocolate to take home and headed for the gate. Our bags passed through X-Ray machine number one. When we got nearer to the gate, our bags passed through X-Ray machine number two. David had to remove his shoes so that they could be X-Rayed. We joked that they had detected what Tony had deposited in the shoes while he was locked in the hotel room. While waiting for the flight to board, we noticed that the man seated behind us had what appeared to be piece of cheese on his head. I'm sure it was a bandage, but it was cut irregularly and looked just like a piece of Swiss cheese. We called this man "Cheesehead".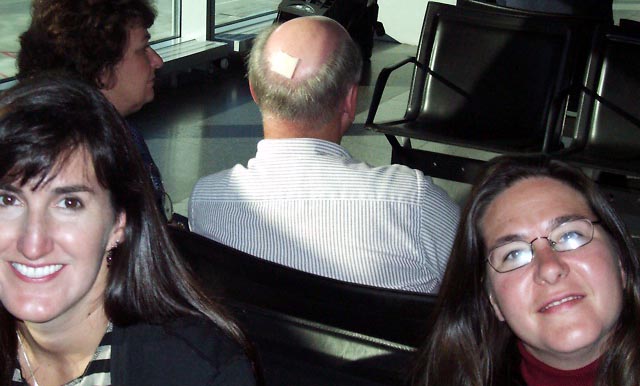 We kept watching S1R Boy because we knew that we would not be boarded until after he was. After the passengers finished boarding, we noticed that there were still about 28 people in the gatehouse. Two of the 30 nonrevs had been boarded on the flight. The gate agent turned to those of us remaining and announced, "My dear standby passengers, I don't know what to tell you." We all laughed. We had a bit of time before our next flight, so off we went to the American Café for biers and snacks.
Our next two opportunities to stand by were at the same time, so we had to decide between them. We elected to stand by for the Atlanta flight rather than the Cincinnati flight. S1R Boy chose the Cincinnati flight. Back through security, our bags got their 3rd X-Ray of the day. The Atlanta flight turned out to be a good choice (for one of our party). 24 nonrevs stood by for this flight. 6 got on. Our friend got very lucky because there was one seat left and she was next on the list behind two parties of two who didn't want to split up (one of the parties was me and Tony). We were all sad to see our friend go without us, especially since she had all of our remaining Euros and a pair of walkie-talkies that would later prove to be useful. After the Atlanta flight pushed back from the gate, the remaining 5 in our group rushed over to the Cincinnati flight in case they had seats left. We explained to the agent that we had come over from the other gate, hoping to get on the Cincinnati flight. He responded, "Yes, well, hope springs eternal, doesn't it?" Again, we all laughed. The Cincinnati flight boarded 1 nonrev (not S1R Boy) and left another 24 at the gate.
Our last opportunity for the day was a flight to New York. We sat nervously in the gatehouse waiting to hear our names. We continued to watch S1R Boy. Someone commented that he looked like he may have smoked some medicinal marijuana. Melissa said that he probably hadn't even checked in for the flight because he was tokin' it up in the bathroom. The flight left with no nonrevs on board. As it turns out there is a little known German school holiday called Autumn holidays (9/30/2002-10/11/2002) that had everyone (except us) traveling. I recommend checking the http://www.holidays-info.com web site when planning your travel. Flights the next day didn't look any more open, so we started looking for options out of other cities. Our new friend Milko let us use his computer to check our options.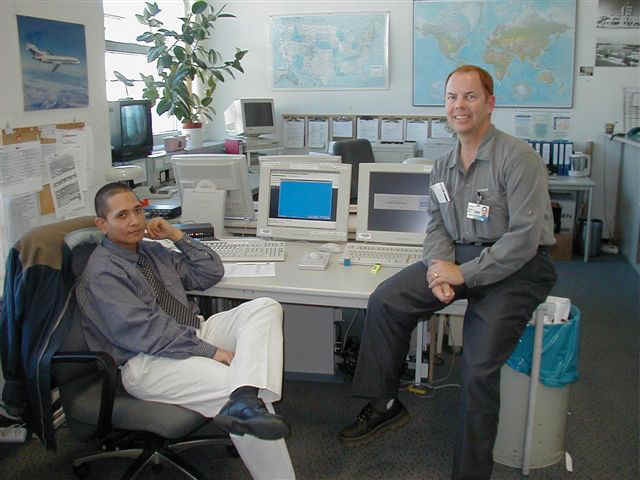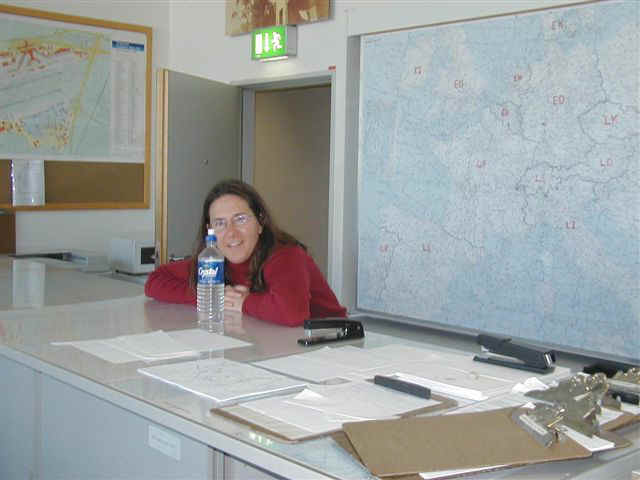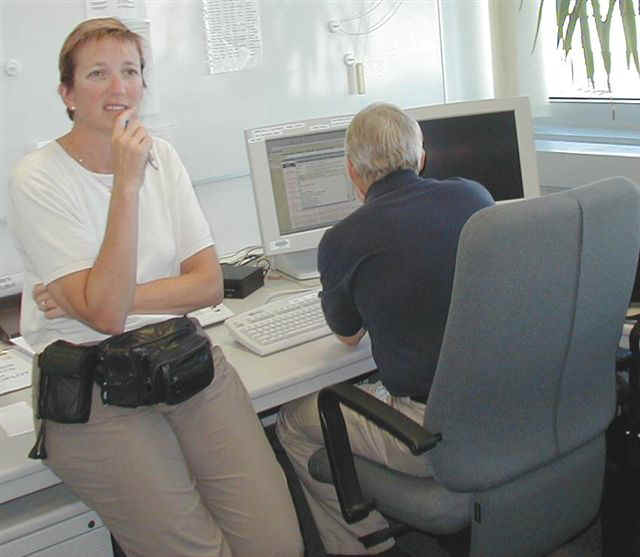 The most likely choice seemed to be for us to go through London to get home. We struck up a conversation with another non-rev wearing a blue suede sport coat. Melissa asked if she might feel of his coat and remarked how soft it was. Henceforth, we referred to the man as "Ultrasuede Man". Ultrasuede Man had decided that London was the way to get home as well.
After sending emails to our bosses and friends, letting them know that we would be delayed, we stood by for an Air France to Paris and then on to London Heathrow. Air France was a very accommodating airline. They gave us seats at the ticket counter and we had a leisurely stroll out to the gate. Our bags went through X-Ray (4th X-Ray) once more in Frankfurt. While we waited at the gate, we sent one of our party out for refreshments. She returned with 6 biers, forgetting that there are now only 5 of us. We drank our 5 biers, and named the 6th one after our dearly-departed friend (not dead - just departed from Germany).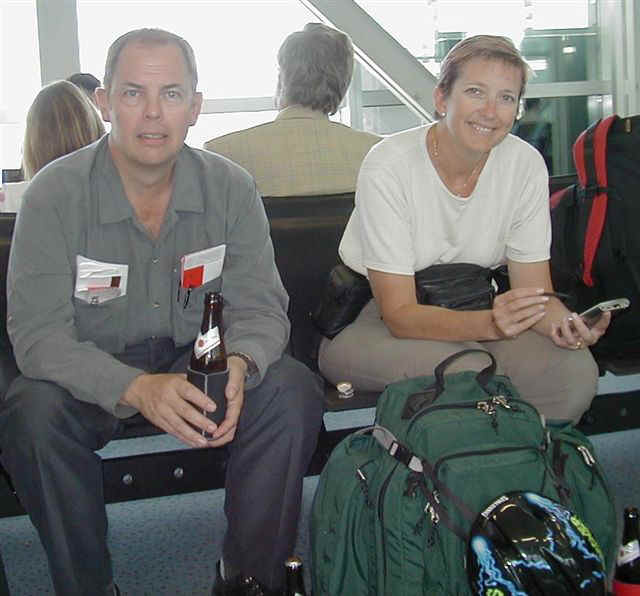 We documented its journey with pictures for the remainder of the trip.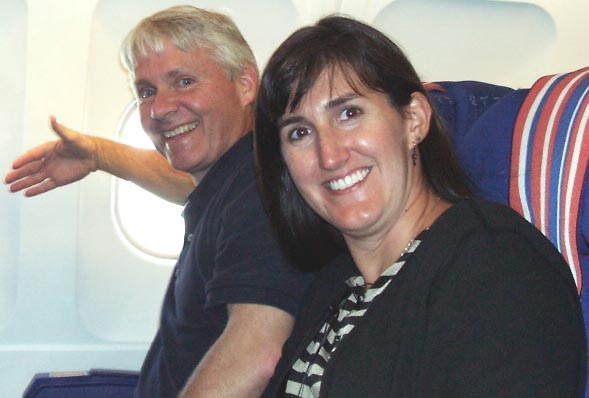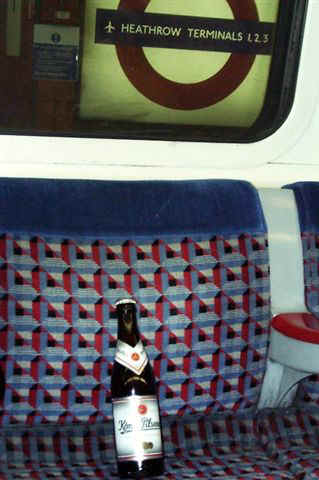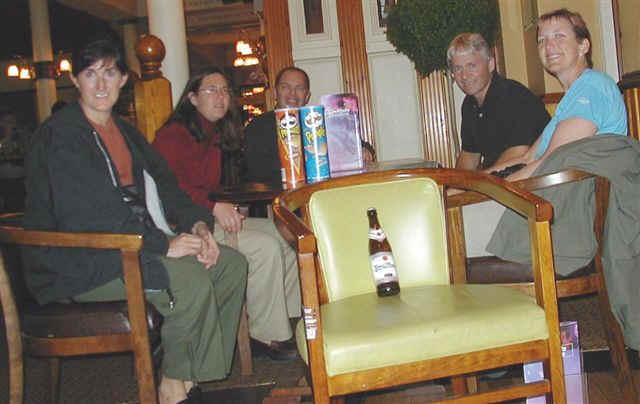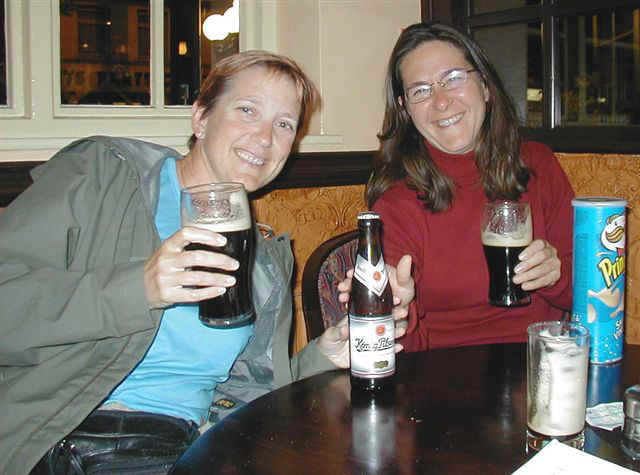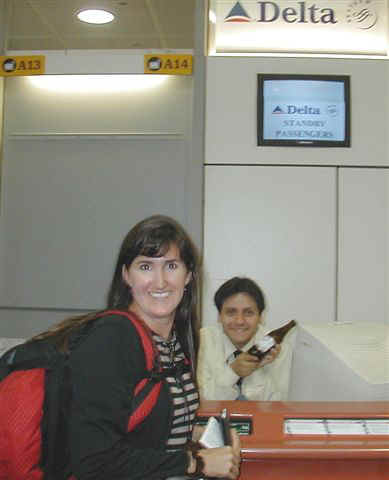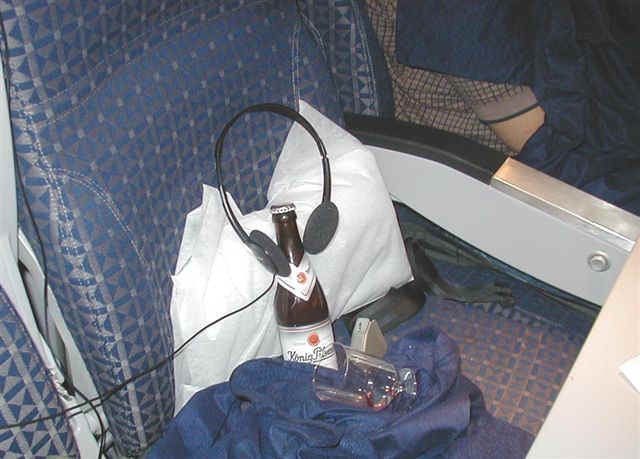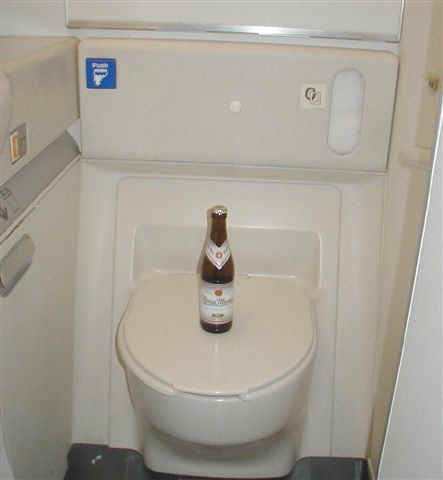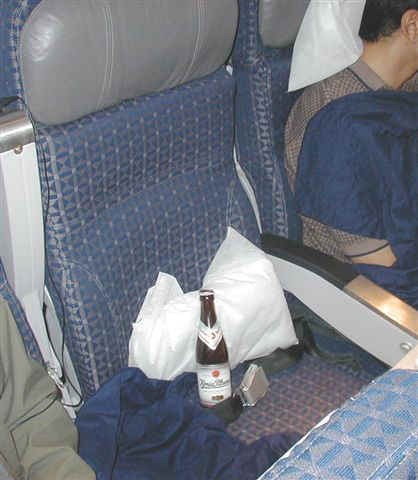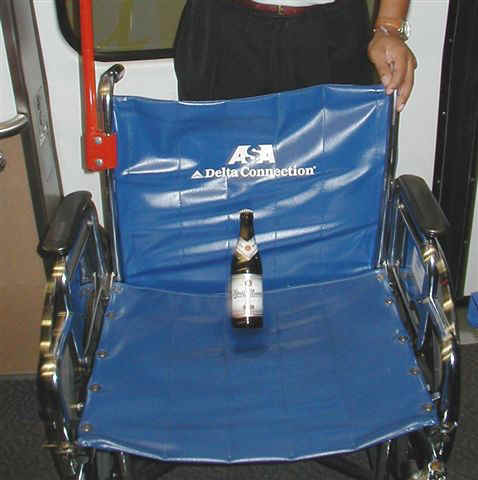 We made a sub-minimum connection in Paris where our bags were X-rayed (5th X-Ray) once again. It was during this X-Ray that I dropped and broke my digital camera. Boo Hoo!
In Heathrow, we made a poor choice of Bed and Breakfasts. The Crompton Guest House in Hounslow Central, while convenient was somewhat unsatisfactory when it came to bathroom cleanliness. Melissa and our other girlfriend shared a room that I referred to as the bowling alley.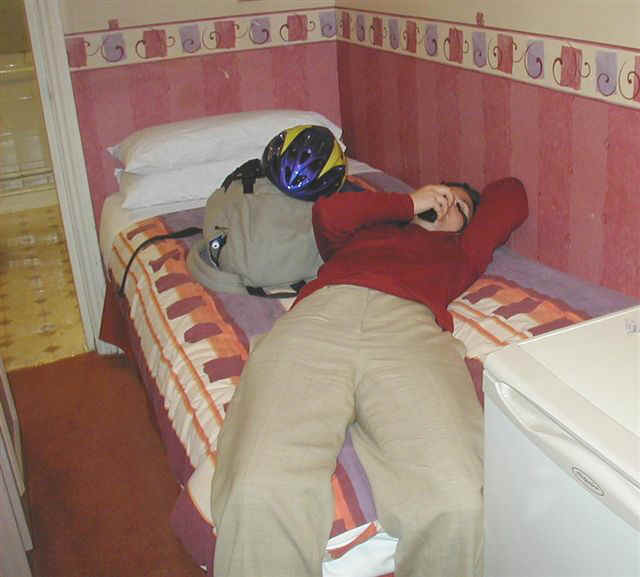 It was long and thin and had two twin beds end to end. It smelled of mildew. The bathroom in our room was just one big tile room with a showerhead in one corner. Mold and mildew abounded.
We didn't feel particularly safe in the Hounslow Central neighborhood. Melissa carried our dearly-departed friend (the beer) in case she should require a weapon. We had a Chinese dinner at Schechuan City followed by beers at the Bullstrode pub next to our B&B.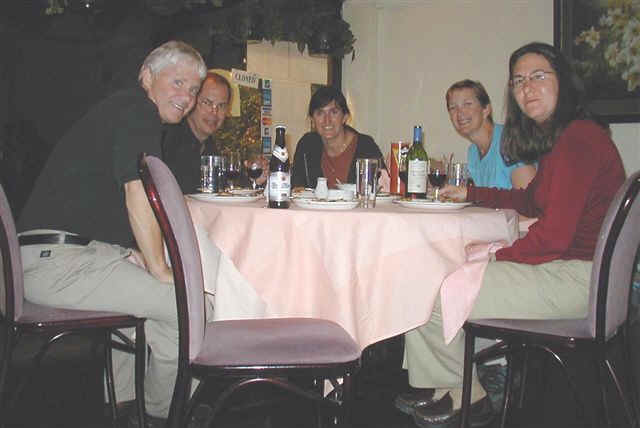 The bartender made a beautiful shamrock design in the foamy head of our Guinness, but Melissa insulted him by suggesting that he used a stamp to make the design.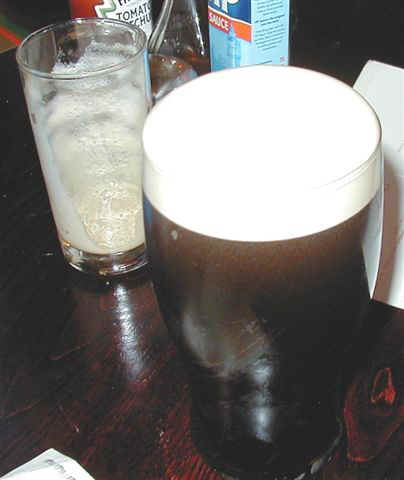 Tuesday morning, we took the tube back to Heathrow Airport to catch the Speedlink bus to the Gatwick airport. Melissa and David headed off for coffee, Tony to the restroom, and our other friend to use the phone. I waited in line for about 10 minutes and when I finally got to the counter, the lady insisted that we must all present ourselves and show picture ID to purchase the tickets. She suggested that I must get back in line until my fellow travelers got back to the area. Fortunately before she made me get back in line, they showed up. David had just purchased time on an internet machine when I yanked him away to catch the bus that was supposed to leave in 30 seconds. Of course it was 45 minutes late, but we made it to Gatwick in plenty of time. Our bags were X-Rayed again (6th X-Ray). We talked to Ultrasuede Man. He had flown British Airways to Gatwick and recommended a lovely B&B. I made a note of it in case we are ever in need again. We were very happy to get boarding cards on the flight back to Atlanta, even if they were in coach. I was a little miffed to have a center seat in a row that didn't recline, but I soon found a bright spot. In the center seat, one can order cocktails from flight attendants in both aisles! This is an excellent discovery since the cocktails are free in coach on transoceanic flights. After several glasses of wine, Tony and I began to reminisce about the man with cheese on his head that we had seen in the gatehouse in Frankfurt. Since our coach meal included a slice of cheese, you can imagine where that ended up.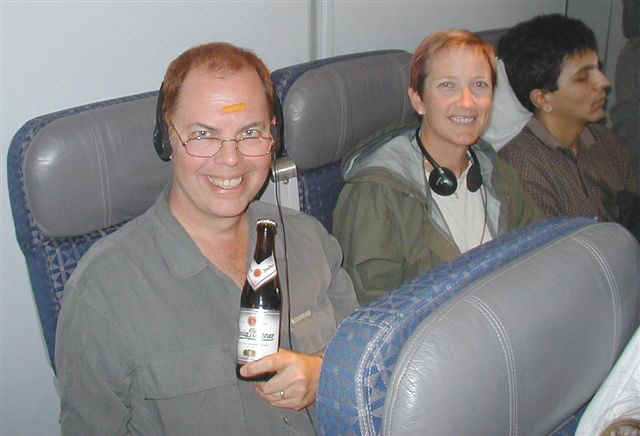 After lunch, we retired to the center section of the plane to stand up for much of the remainder of the flight. We took turns going to the galley to ask for more red wine. We were joined by Carlos Barbosa-Lima, the famous Brazilian guitarist and composer. Carlos was lamenting the fact that he had to travel coach while his guitar was in business class.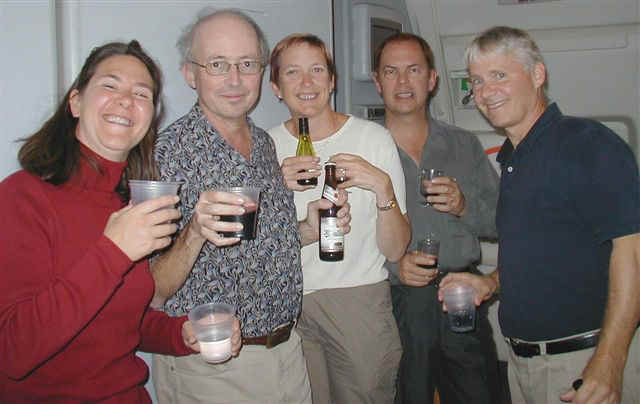 Upon arriving in Atlanta, our bags were X-Rayed one last time (7th X-Ray) before we were allowed to leave the airport.
Post trip analysis revealed that S1R Boy, now known as Medicinal Marijuana Boy, indeed was NOT on the standby list for the JFK flight, so we must assume that our assumption about medicinal marijuana was correct.
Shortly after our return, Delta issued the following statement:
Delta will announce plans today to implement a fee for alcoholic beverages served in the economy cabin on international flights. Beginning Oct. 15, DL will charge $4 for alcohol, including beer, wine and spirits on its international flights between the U.S. and Europe, India, Japan, Argentina, Brazil and Chile. On March 1, 2003, the carrier will phase in the charge on its remaining Mexican, Central and South American flights. "The unprecedented financial pressures facing the airline industry have made it necessary to make many changes, which will allow Delta to better manage its costs during this difficult period," said Tim Mapes, director-Product and Services. "We will continue to focus on providing the services that our customers value most including safety, security and reliability."
Coincidence? We don't think so. Next thing you know they'll be restricting the Medicinal Marijuana usage in the gatehouse!
BJ and Tony Morris