Venice, Italy
January 2003
"Jaw-dropping Romantic"
Tony and I are becoming disciples of Rick Steves, the author of numerous excellent travel guides. Although we are too frugal (cheap) to actually sign up for one of Rick's organized tours, we usually try to take one of his guidebooks along with us when we travel, and we always enjoy reading about his tours on his website. In Rick's description of his "Best of Venice in 7 Days" tour, he refers to Venice as "jaw-dropping romantic". This description gave us some pretty high expectations of Venice and we were not disappointed!
The non-rev travel was extremely uneventful which is a rare treat for us. That is probably the difference between traveling as a two group and traveling as a hoard. Our pilot for the flight to Milan was an old neighbor of ours. We enjoyed visiting with him in the gatehouse while waiting for the flight to depart. We settled into our business-elite seats, savored champagne and hot nuts followed by seared ahi tuna appetizers, salads, and entrees of beef tenderloin accompanied by a nice French Bordeaux. During the meal, we were entertained by the light comedy, Simone.
Just before we dropped off to sleep, we were obliged to eat ice cream sundaes. It would have been just plain rude not to!
01/17/2003
We awoke just in time to raise our seatbacks to their upright and locked position for landing. A breath mint each, and we were good to go! Just inside of passport control was a connections desk where we were issued seats on the Alitalia flight to Venice. We found the ATM machine and got what we thought would be a gracious plenty of play money for the trip and then headed off to find transportation. After some investigation into the various transportation options, we decided to take the bus (~$1.50 for both of us). When we arrived at the bus station, our intention was to take a boat to St. Mark's square, but the weather was so pretty, we decided to walk. It was a nice way to get oriented and very refreshing after sitting on an airplane for so many hours. Tony's backpack was much more manageable for the bridge crossings than my roll-aboard, but always the gentleman, Tony frequently helped lift my bag up and down the steps. When we neared St. Mark's Square, we stopped at a lovely little restaurant called La Grotta for pizza and wine.
Two blocks beyond St. Marks, we found the Hotel Fontana with very little difficulty, although when we arrived, the door was locked. We peered in the windows and knocked at the door. A passerby noticed our dilemma and pointed out the doorbell that was cleverly disguised as the nose of a lion next to the door. Pressing the lion's nose brought the desk clerk out of hiding and he let us in.
Our room, which overlooked a small piazza, was quite nice. Tightly fitting shutters made the room so dark that one morning we even slept through breakfast! The room was outfitted with a king sized bed, a sitting area, and a small bathroom with a teacup sized bathtub. The only complaint we had was that we think the pillows may have actually been bags of cement mix with pillowcases.
After changing clothes, I took Tony on a forced march around the near end of the island to get our bearings before stopping for a glass of wine.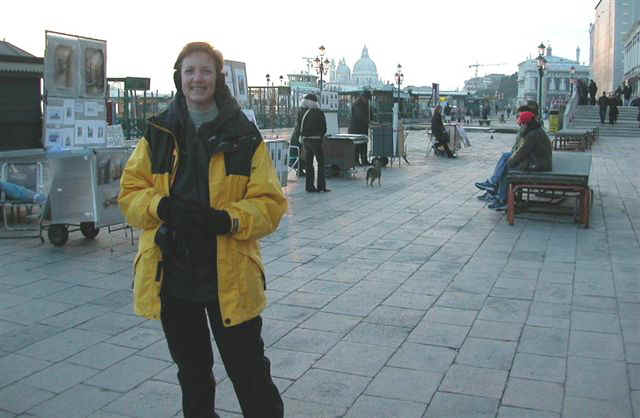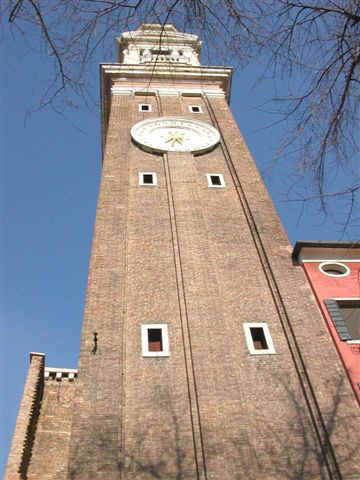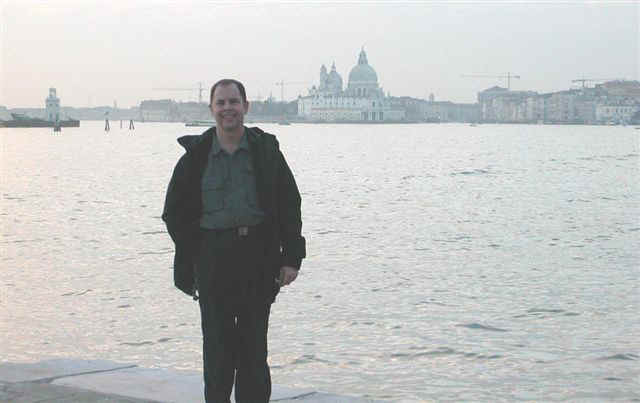 We found a cute little wine bar and collapsed into a glass of Montipulchiano. I wanted to make a note of the name of the bar, so I copied it from a menu on the wall: "Listino Prezzi". It was not until we had visited some other bars that we realized "Listino Prezzi" means price list. The real name of the wine bar (discovered on a subsequent visit) was Cavitappi. We finished our first evening in Venice with wine and cheese at Aciughlia and a KinderEgg before making head-shaped indentions in our concrete pillows.
01/18/2003
The breakfast buffet at the hotel offered cold rolls, cream cheese, processed Swiss cheese, strong coffee, cereal, juice, and milk. We followed the "St. Marks to Rialto" walk from Rick Steve's Venice 2003 Guide, stopping to do a little window-shopping along the way. The major products of Venice seem to be colored glass objects and Mardi-Gras style paper machete masks.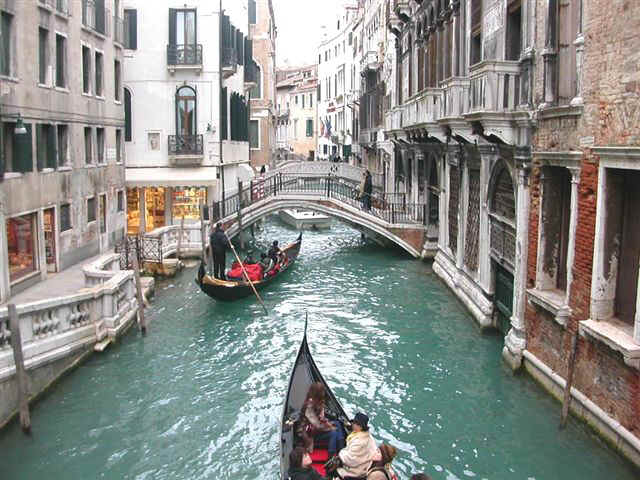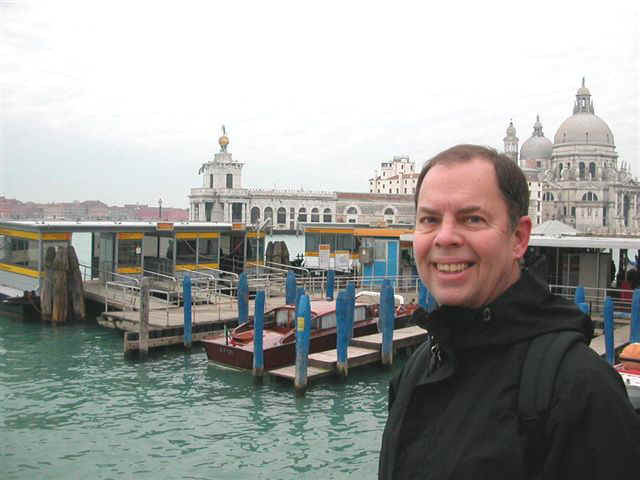 The neatest sight on this portion of the walk was an unusual exterior spiral staircase.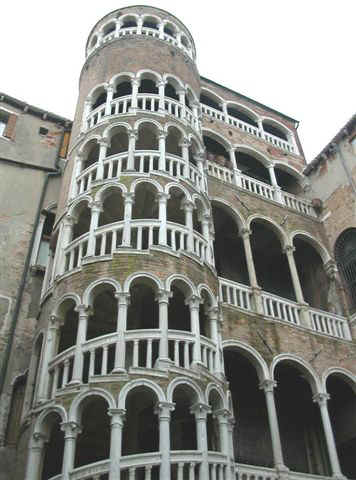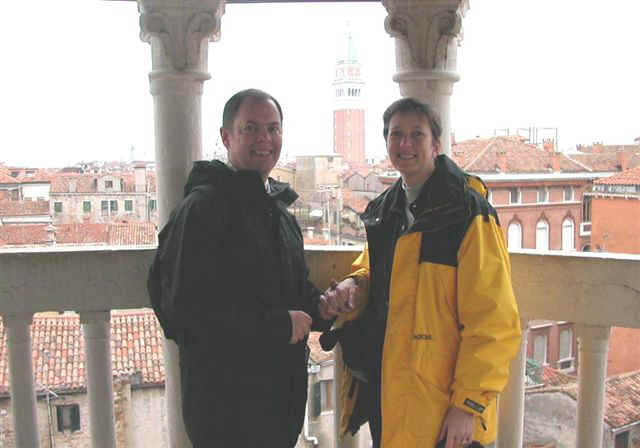 After crossing the Rialto Bridge, we picked up the trail of the "Rialto to Frari Church" walk.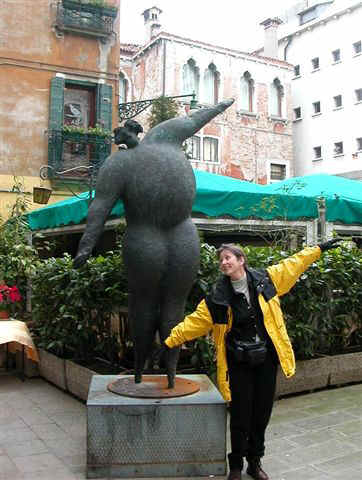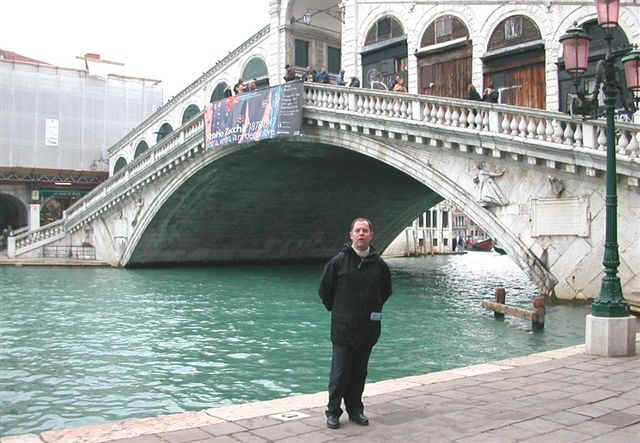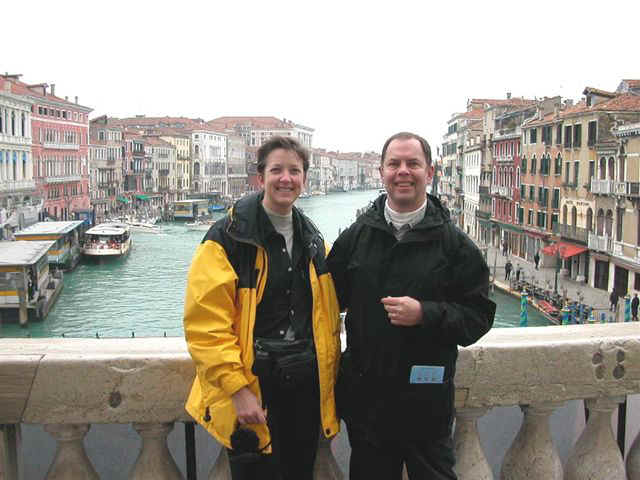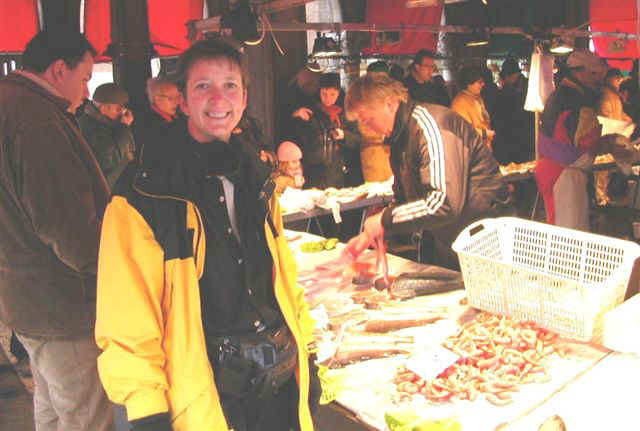 We stopped at the Trattoria Rivetta for a lunch of Gnocci with Blue Cheese sauce and Pizza Diavola.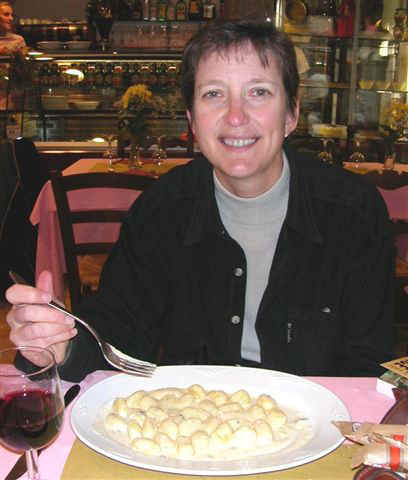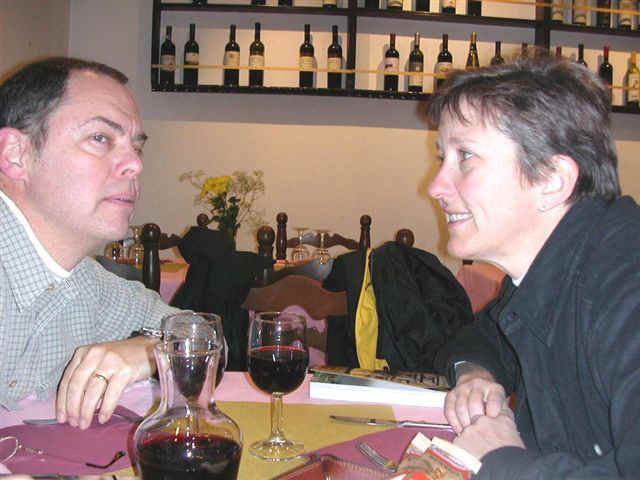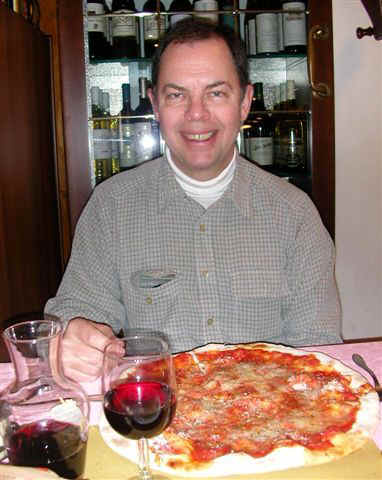 It was at the Bar Caffe Ca'Foscari, at the corner of Crosera and Dona Onesta, where we stopped for a beer that we discovered that "Listino Prezzi" was not a chain of franchise bars. One more stop for beers at the Bar Foscarina, and then it was time to switch to wine! Vino Vino was a great little find, tucked away just a few blocks from St. Mark's Square. A small bicchiere (glass) of vino rosso was priced at a very appealing 1 euro!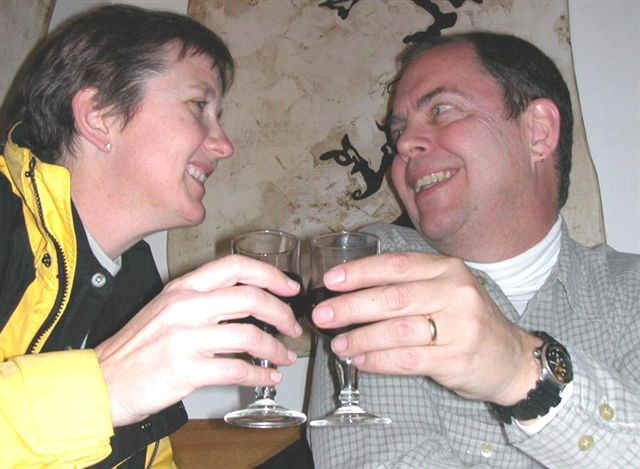 Dinner was at Osteria Da Carla where we made our selections from the Pastas of the day.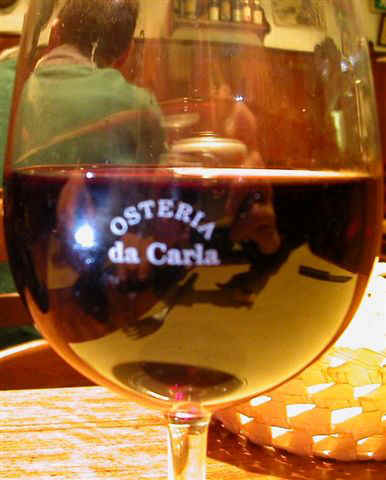 I had Gorganzolla and Fungi, and Tony had Ravioli and Pomodore. Osteria Da Carla, which seats 20, was expecting a party of 20 shortly after we arrived, so we didn't have time to linger over our dinner. We stopped by the restaurant next to our hotel, Risrorante da Roberto for Tiaramisso & Creme Caramel before turning in for the evening.
01/19/2003
We picked up brochures from the Tourist Information Bureau on three nice walks through Venice, and embarked on the "Zattere to Piazzale Roma" walk. We heeded Rick Steve's warning about the pooping pigeons.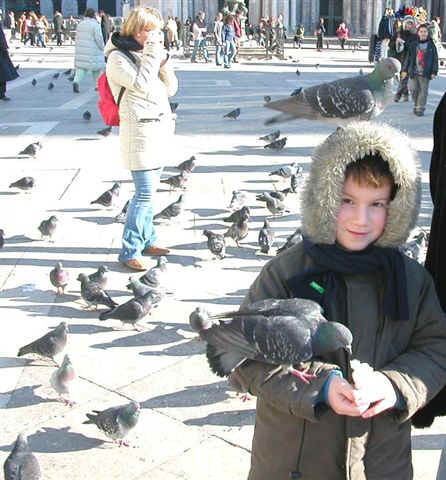 It was a gorgeous sunny day, so the Bar Salus Campo on the s. Margherita square enticed us to take a break at one of their tables in the sun for a beer and a ham & cheese panini. At Rick Steve's recommendation, we took Vaporetto Number 1 for a slow ride down the Grand Canal.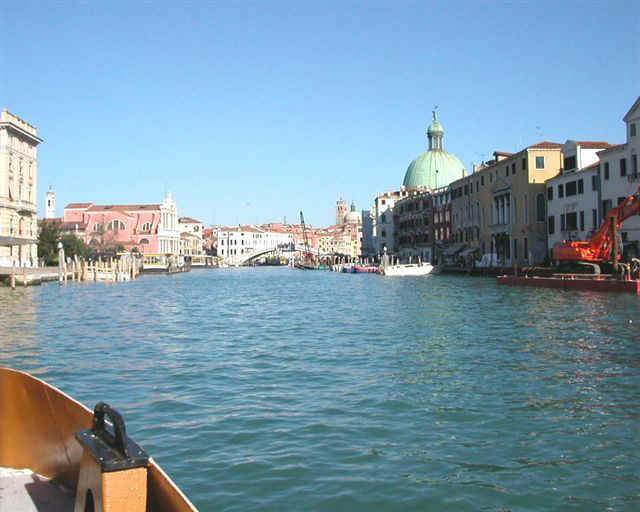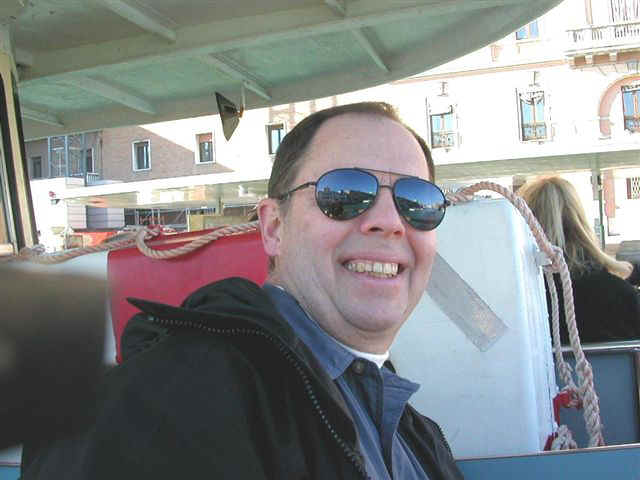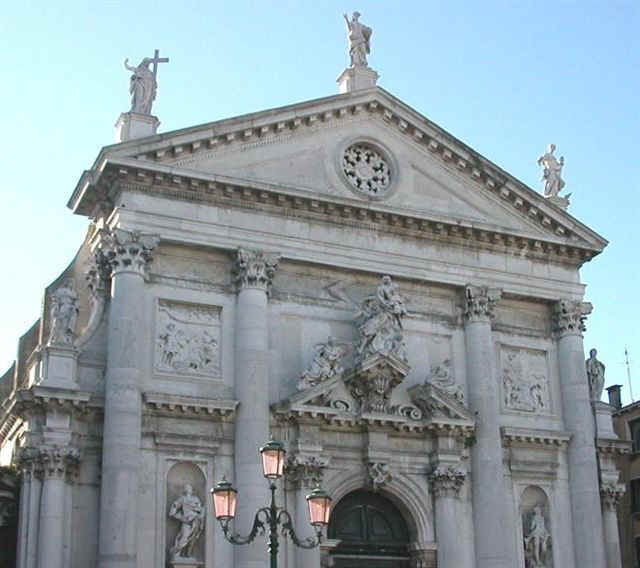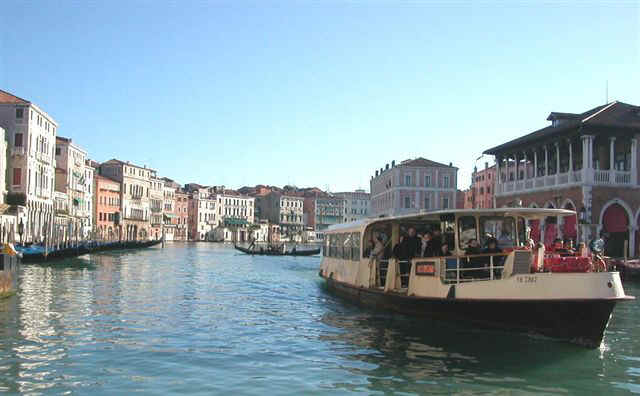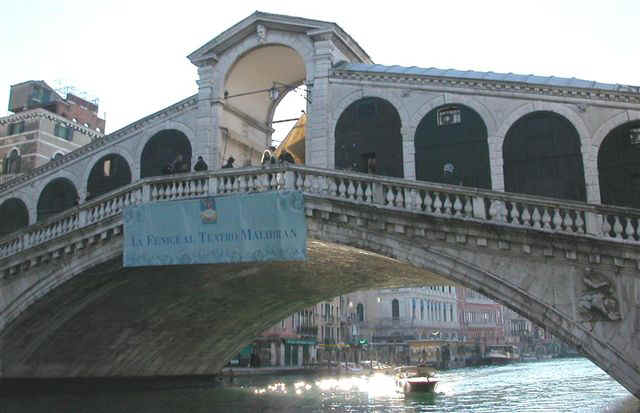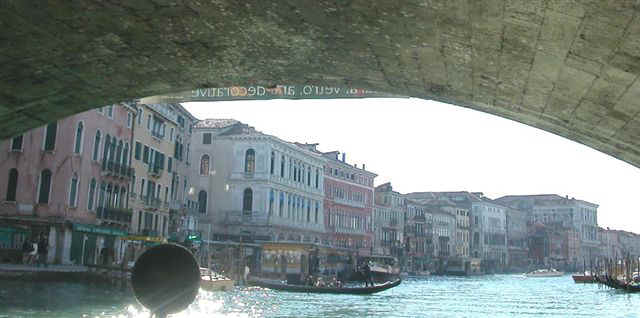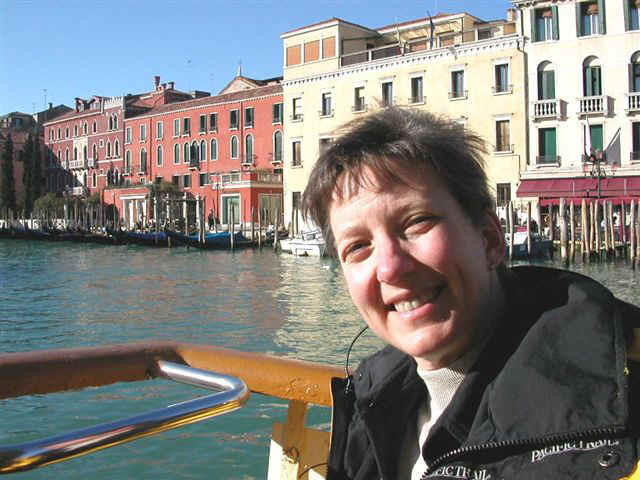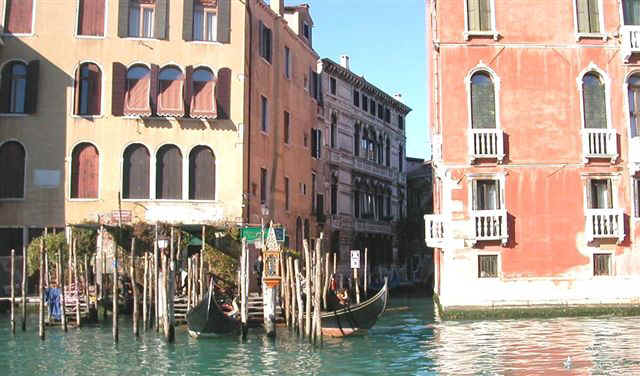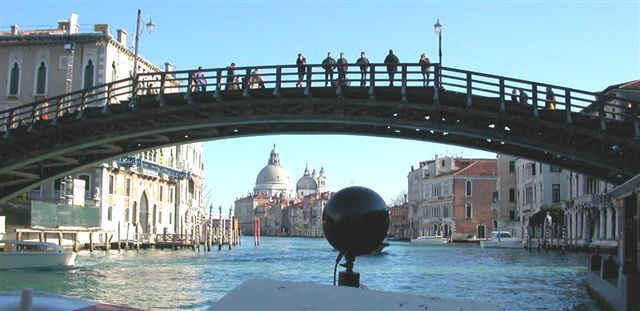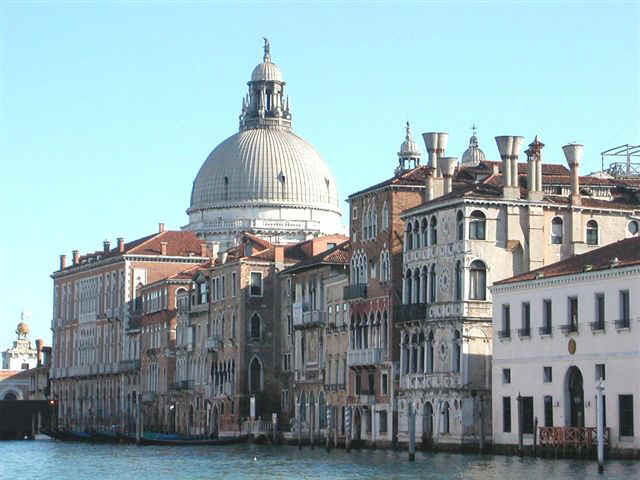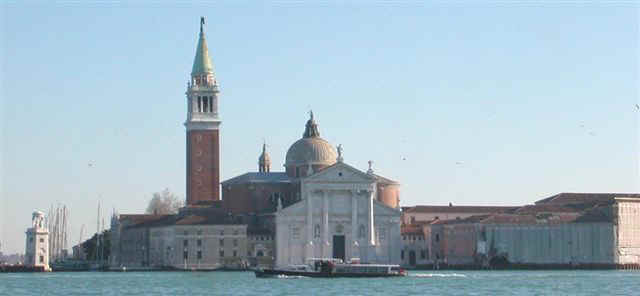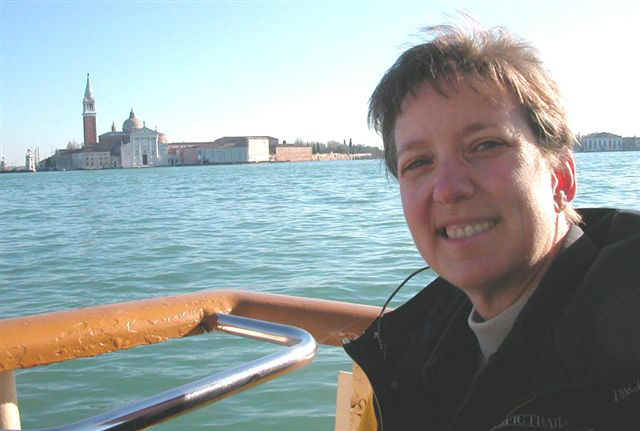 We found sunny seats on the front deck and enjoyed the scenery on the one-hour ride. When we got back to our side of town, we stopped off for another beer at a sunny table on the Grand Canal at the Hotel Savoia and Jolanda. The great atmosphere and wonderful view drove the price of the beers up significantly, so we made ours last! Later, we enjoyed a mid-afternoon snack of a veggie sandwich at the Snack Bar Cavallo at Monument Colleoni along with a glass of wine. Dinner was at the Trattoria alla Rivetta, right around the corner from our hotel. We shared appetizers of eggplant and ravioli until Tony realized that the eggplant dish had anchovies on it. Tony had the Veal Bolanaise and I had the Veal Marsala. This was a popular restaurant!
We were unsuccessful in finding a nearby restaurant serving Tiaramisso, so we settled for some candy from the Pasticceria Canonica. Always the romantic, Tony got a piece of white chocolate in the shape of a heart. Back at the hotel's own bar, we had a very reasonably priced (1 euro) glass of wine before retiring.
01/20/2003
On our last full day in this romantic city, we bought a 24 hour pass on the Vapporetto (think City Bus that floats... Vaporettos make up Venice's Public Transportation System). We took the boat to Ferovia where we began the other two walks we had gotten from the Tourist Information board. The first, from the Railway Station to the Fondamente Nuove took us into the Venice Ghetto; an area of historical significance for the Italian Jewish community.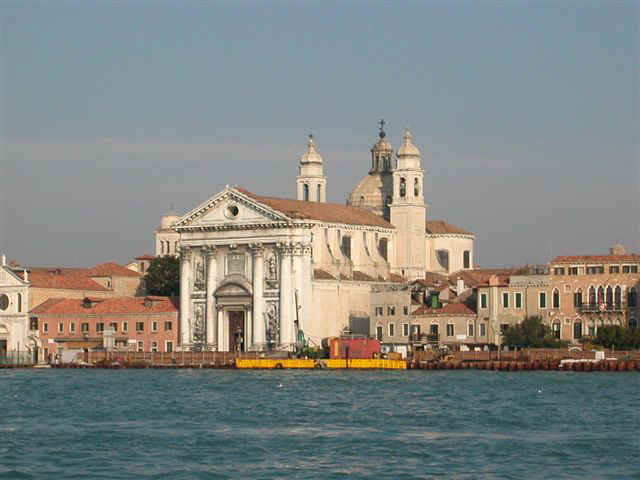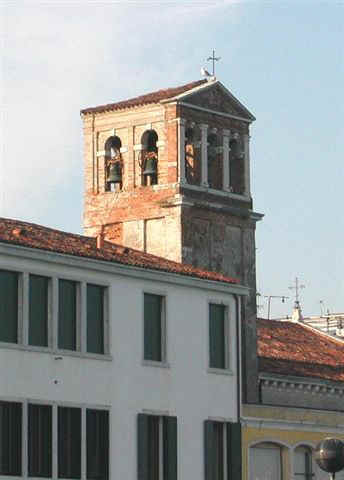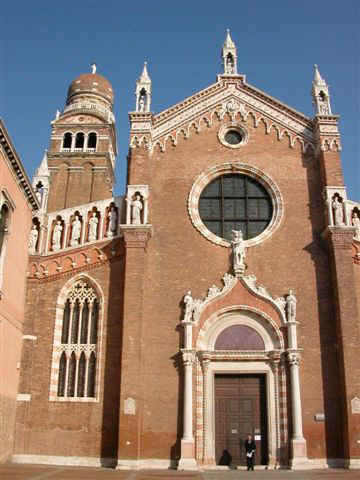 We took a break from the walk at St. Angelo in order to take a Traghetto across the Grand Canal. A Traghetto ride is just like a Gondola ride, only shared with 4 or 5 people... and costs 40 cents each instead of 50 dollars!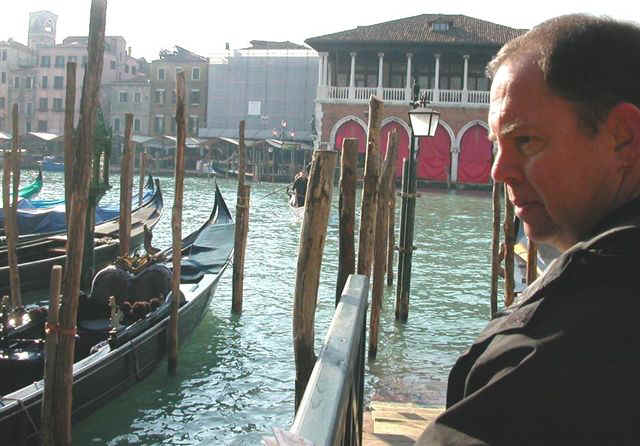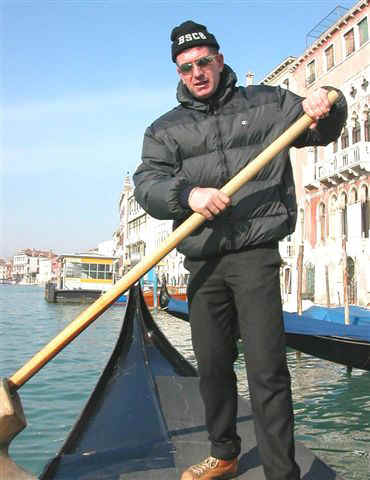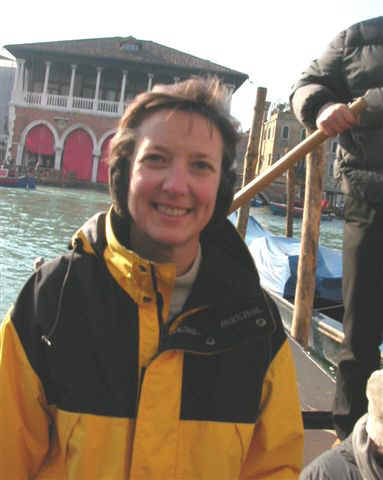 We had a beer at one of the crowded little restaurants near the fish market called Osteria Da Pinto All Arco before taking the Traghetto back across the canal to continue our walk.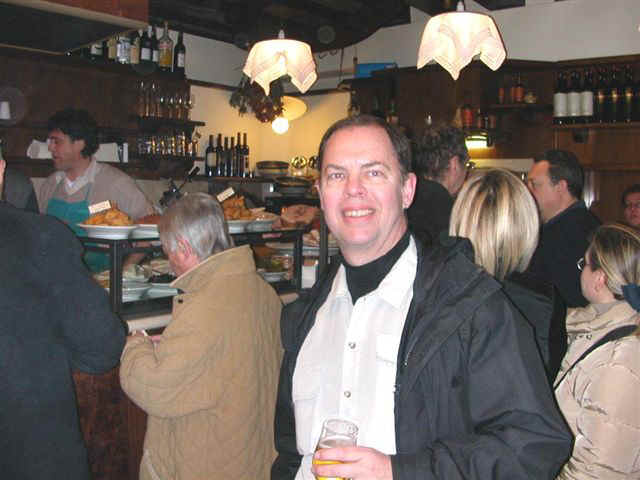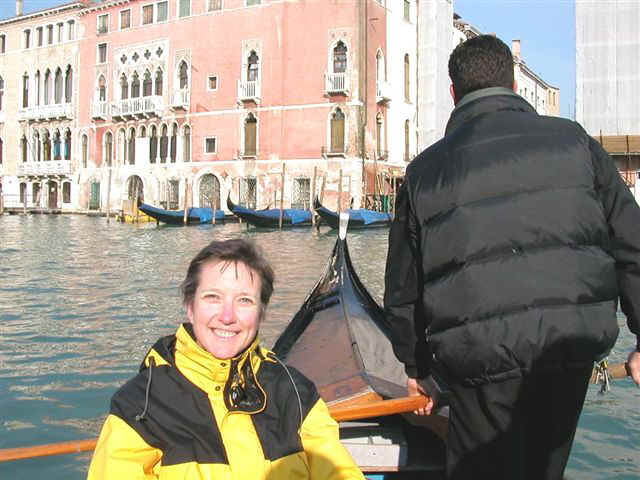 When we finished the walk at Fondamente Nuove, the Al Cupido Bar, Pasticceria and Gelateria con Servizio al Tavolo was conveniently located for a beer and ham and mushroom panini stop. Next we followed the "Fondamente Nuove to the Biennale" walk, but stopped about halfway through when the route came very near our hotel. We decided to jump on the Vapporetto and ride over to St. Georgio Maggiore to climb the bell tower, but while we were waiting for the boat to leave the dock, I read in our guidebook that the church was closed from noon to 3:30PM. We leapt from the boat and headed for the Latterja Snack Bar Romina e Sara Con Saletta Interna where we had a couple of glasses of wine at an outside table in the sun. Tony bought some biscotti that we crumbled and let the little birds eat from our hands.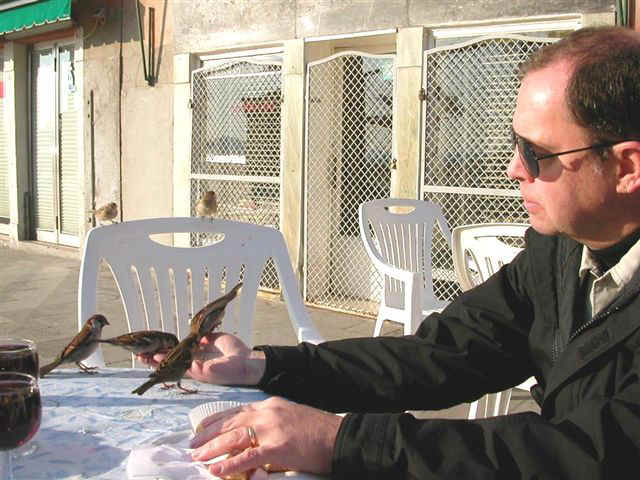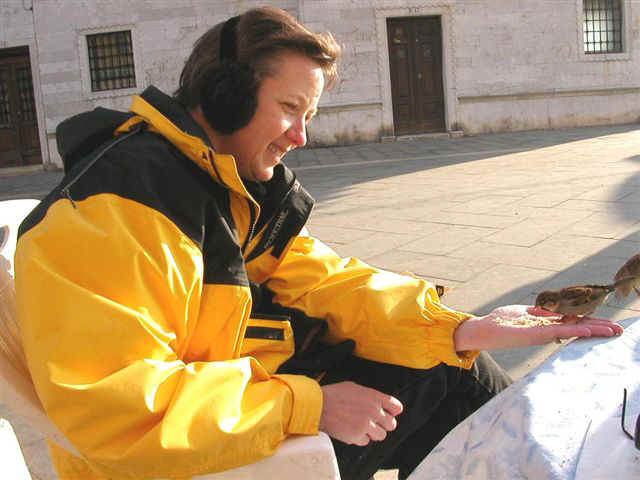 I pulled out the trusty Rick Steve's guidebook and discovered that St. Georgio Maggiore is closed on Mondays anyway, so we decided to do the St. Mark's Basilica Tour. I was much more interested in St. Mark's after I learned that this is the actual location that houses the remains of the Mark of Matthew, Mark, Luke and John!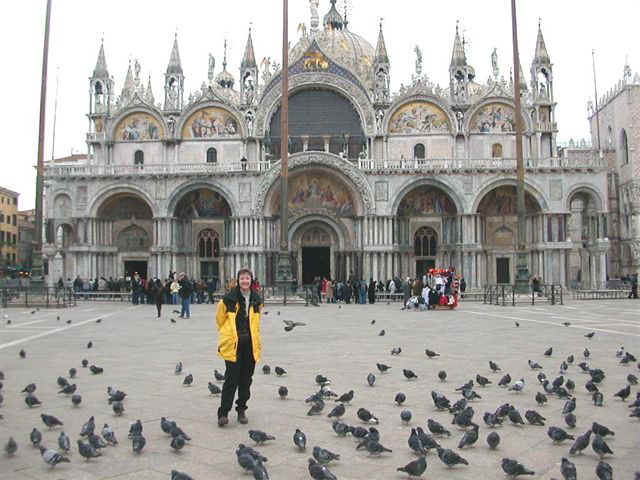 Following the Basilica Tour, we spent the rest of the afternoon at Vino Vino. We had several glasses of wine and shared a plato misto (mixed plate), a mixture of cheese and some sort of sausage that resembled raw ground beef.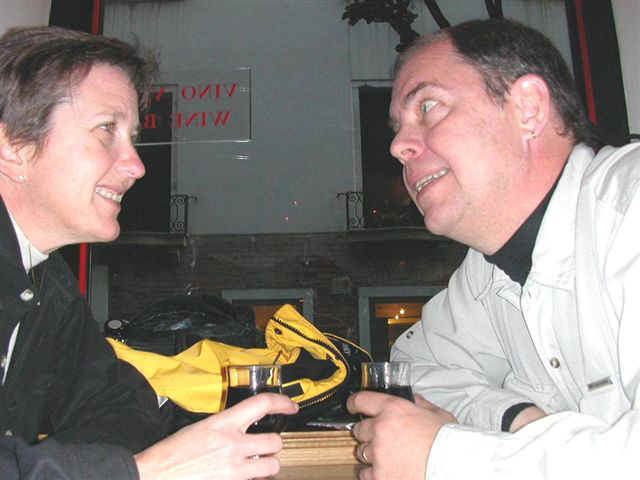 We decided to go for a known entity for dinner, so we revisited the Osteria da Carla. I had Ravioli & Pomodoro and Tony had Amatriciano. I had a second course of mixed vegetables, and we shared a crème brulee.
01/21/2003
Too soon, we had to begin our long journey home. After checking out of the hotel, we took the Vaporetto back to the bus station and caught the bus to the airport. We made good connections, so the trip to the airport took a little less than two hours. We caught the Venice to New York flight at noon and watched 4 movies (Road to Perdition, Bloodwork, The Banger Sisters, and The Usual Suspects). Tony had the lamb chops, but I still hadn't had enough pasta, so I opted for the ravioli. Of course, there was the obligatory ice cream sundae after the meal, and shortly before we landed in New York, a light snack of a shrimp salad. Our layover in New York was about 2 hours, but it passed quickly and we were soon back in business class headed home. They made me eat again, this time, a shrimp salad sandwich and southwestern soup followed by a piece of lime cake. The movie, My Big Fat Greek Wedding, barely had time to finish before we touched down. By the time we reached Atlanta, I was as full as a goat! Time for the post-Venice diet to begin!
BJ and Tony Morris