Zurich, Switzerland
April 2003
"Bicycling Through Three Countries in One Day!"
Mid-spring. The usual suspects. The usual plan; meet at the airport with a destination in mind, but be flexible enough to go somewhere else if there aren't enough "leather seats" for the entire group… a seven-pack this time. The original trip was going to be the long-planned, occasionally targeted, but thus far never accomplished "Trier to Koblenz down the Mosel" non-athletic bike ride. But as has happened before, about a week prior to departure, the Atlanta to Frankfurt flight started looking bad enough to make alternate travel arrangements. Looking for a similar experience (meaning something that a group with diverse biking talent and stamina might enjoy) we settled on a trip that we had talked about, but never planned; a ride around Lake Konstanz (aka. "The Bodensee"). The nearest Delta city to the lake, Zurich, was wide-open on both departure and return dates. The Zurich flight was also in the first "International push" in Atlanta, meaning we would still have an opportunity to get to another European destination on departure day if the Zurich flight fell apart. We chose Shannon Ireland as a backup destination, but thankfully, didn't need to utilize it. Champagne, warm nuts, "Dinner and a Movie" (Adaptation with Nicholas Cage was my pick of those available… not recommended), wine, dessert and a 4-hour nap and suddenly we were in Zurich.
After a quick and completely non-intrusive pass through Swiss Immigration and Customs, it was downstairs to locate the train that would continue our journey. The gods were smiling on us today, and after a layover just long enough for everyone to change into "something more comfortable" (and drink the first beer of the trip), we caught a one hour and 5 minute ride direct train from the airport to our initial destination, Konstanz Germany.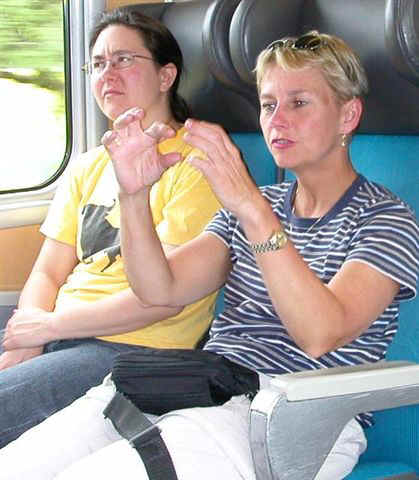 It being around noon now, and running on 4 hours of sleep, our first goal was to locate a hotel so we'd have a place to sleep tonight (Monday night) and a place to drop our backpacks so that we could enjoy Konstanz. Convenient to the train station, open, and with inexpensive and available rooms, we settled in to the GastHaus Centro; a small, clean hotel that uses the onsite McDonalds as their breakfast facility.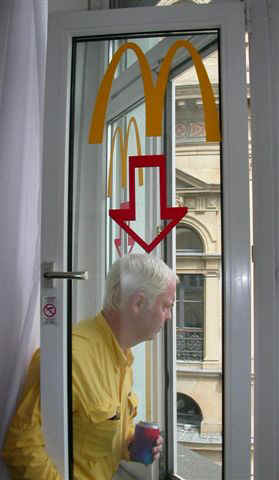 Melissa, BJ and I shared a two room "mini-suite" (which worked out well later that night, when my snoring drove BJ in search of a quieter location.) It's reported that some rooms may have had a refrigerator, but when quizzed later, no one could remember for sure whose room it was. The mini-suite was on the second floor (which we would call the third floor here, since most European countries start counting floors at 'zero'), near the beer-and-wine vending machine in the hall. You've got to admire the Germans for that. After offloading the bags, and a brief cleanup, we all hooked up and headed back across the street to the Bicycle Shop, conveniently located next to the train station. At the bike shop, we reserved 7 bikes for Tuesday through Friday. (Our plan was to get as far around the lake as we could and still be back by Friday afternoon, so we could take the 7:05AM train back to Zurich on Saturday morning.) The bikes that we reserved were standard 7-speed coaster-brake bikes that we could have for 7€ per day; that being the only ones available in such quantity without a prior reservation. (1€ = $1.12 to $1.15 at this time… not a favorable exchange rate for Americans). The shop would open 'tomorrow' at 9AM, so with that detail taken care of, we headed off to complete our last pre-departure detail; locate money. Several ATM's later (some members use an ATM Card instead of a Check Card, and some ATM machines just seem to prefer the Check Card) we all had cash and, as usual, a raging thirst. While some were still settling in at the hotel, the rest of the group had beers at an outdoor café. Melissa was reprimanded by the proprietor for having a McDonald's cup on the table. There was no mistaking how the man felt: "McDonalds ist Scheiße." At our next stop, a lovely waterfront establishment, we enjoyed wursts with senf (mustard). Be careful that the slippery senf doesn't cause your wurst to squirt out of the bun and leave a nasty stain on your shirt.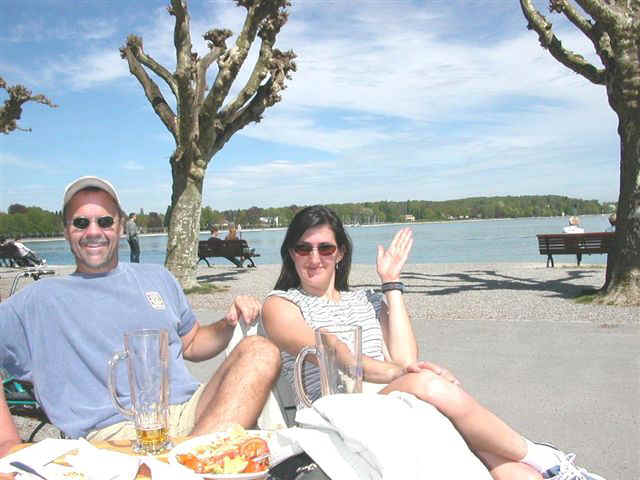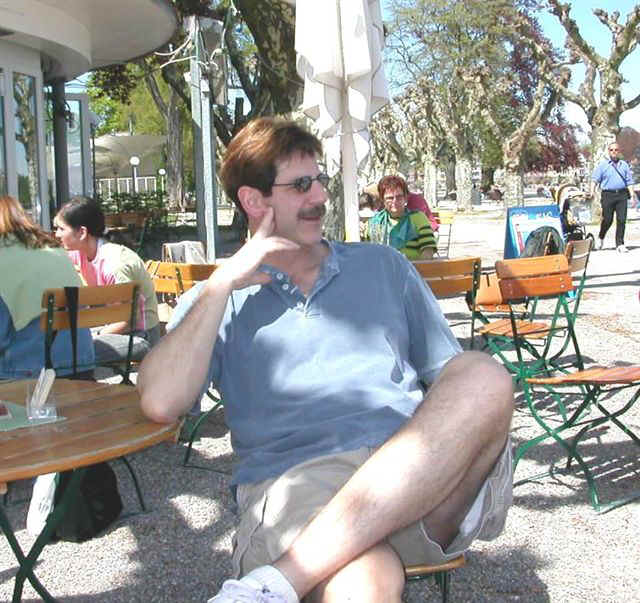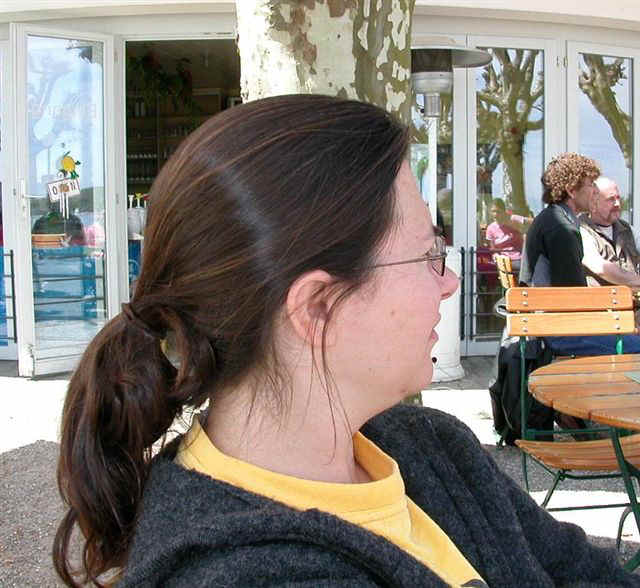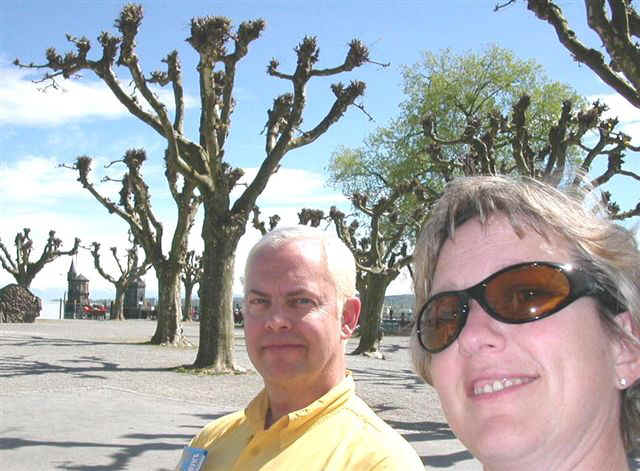 The rest of the afternoon and evening are a bit of a blur.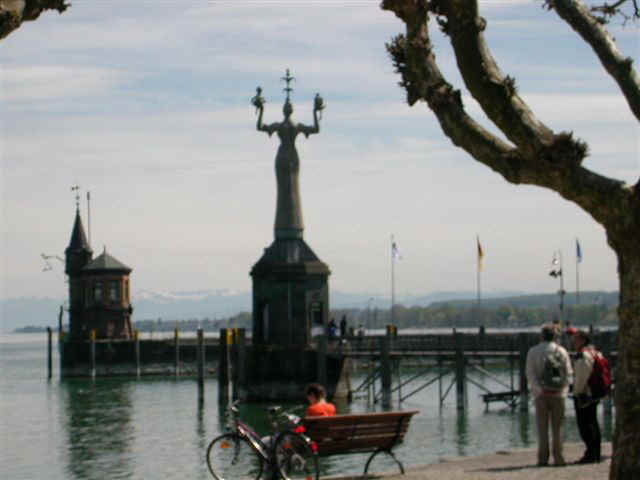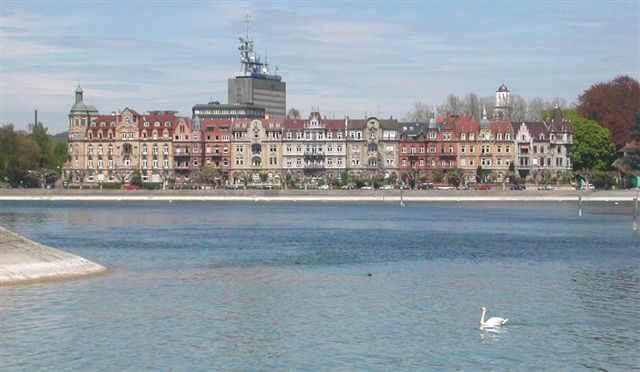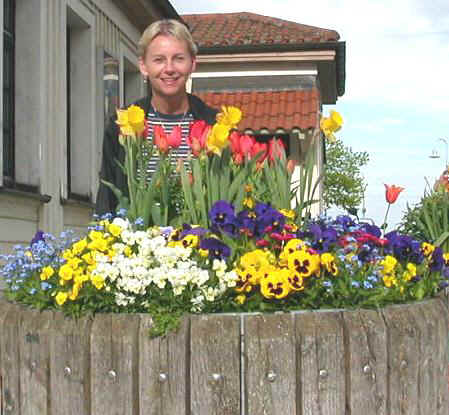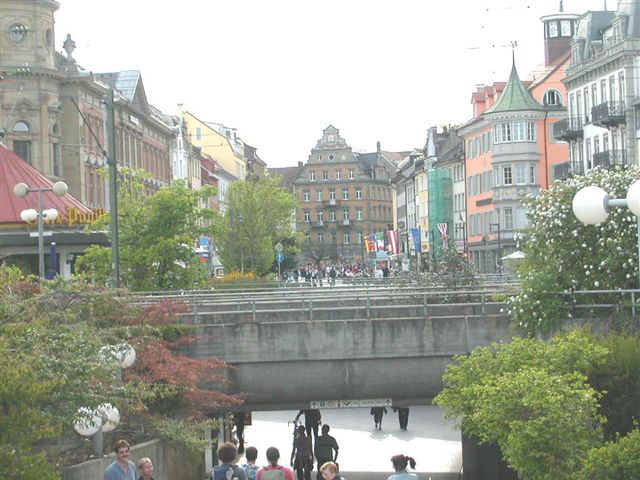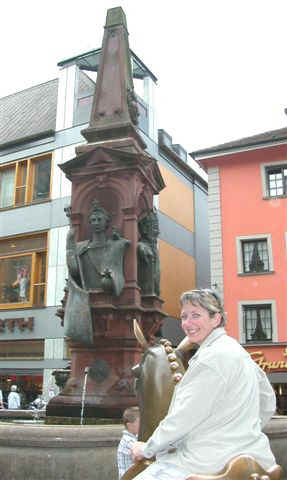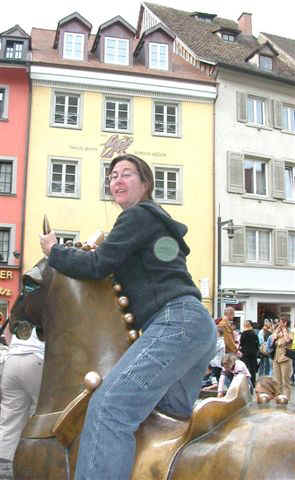 Jet lag, combined with outdoor beer at two different places on the waterfront, working out "booger issues" (no comment), dinner and wine upstairs at a pizza place run by Middle Easterners, and several hours in an, of all things, Irish Pub will sometimes do that to you. Around midnight, it was off to bed for most of us.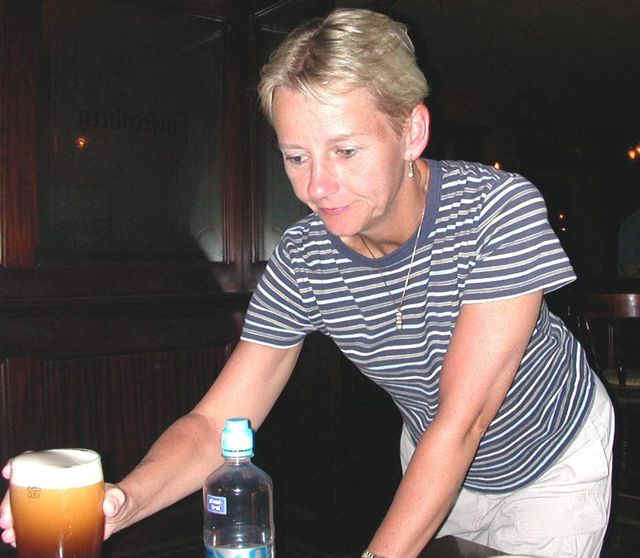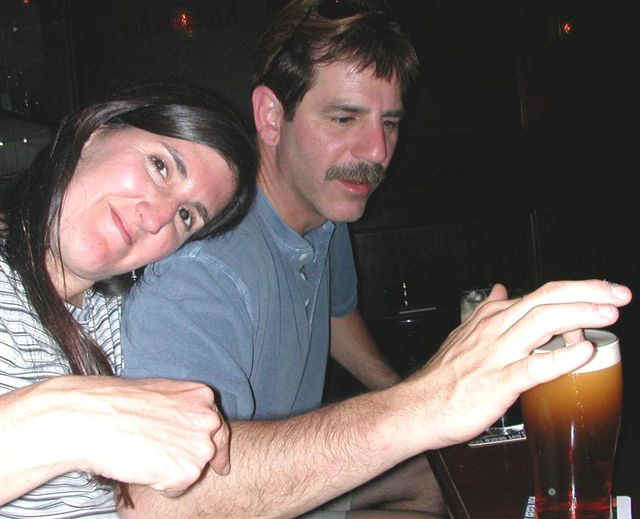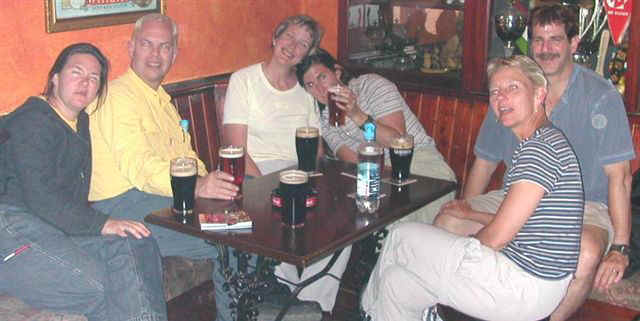 Tuesday morning broke temperate, but spitting rain. After a delightful (no, seriously) breakfast downstairs at Mickey D's (great coffee and table service!) it was time to pick up our bikes and head out. Sometime during the course of the previous evening, we had decided that we would travel "counterclockwise" around the lake and try to make it all the way to Lindau on the first riding day. This would allow us two days in Lindau, since it had been very favorably reviewed by one of the bikers' buddies. When BJ and I arrived at the bike shop, the owner was just opening up. He immediately let us know that he'd had a cancellation the night before, and, if we wanted, we could have Bauer 24-speed, gel-cushioned, seatpost-sprung, front-suspended hybrid bikes instead of the standards we were expecting. BJ and I agreed that the group would be happy with that (without regard to price considerations, which turned out to be at the same 7€/day!). The remainder of the group trickled in so we strapped our backpacks, handlebar bags, mirrors, bottle holders and all manner of accoutrements onto our bikes and rolled towards the edge of town, departing around 10AM. Pedestrian traffic was heavy leaving town and my bike managed to take a spill trying to avoid a collision. (It can be difficult to maintain one's balance going .0005 miles per hour with a backpack strapped to the back of a bicycle.) No harm done though. Less than a half-mile from our start, we left Germany and crossed back into Switzerland (via a no-longer-used Border Checkpoint, complete with hinged barricades). The first third of today's ride would be on Swiss bike paths. (By the way, the entire route around the Bodensee is pretty well marked, and generally consists of dedicated bike paths; most of them paved.) Less than an hour out of Konstanz, it was time to come out of the rain gear, since the weather had greatly improved. Somewhere around Romanshorn, we stopped for lunch (beer) accompanied by pomme frites. BJ and I had recently watched the movie, Slingblade, so we were ready with the appropriate quote, "I shore do like them french fried pertaters, um hum."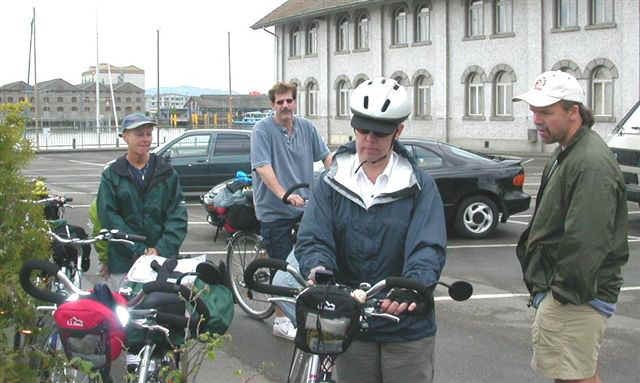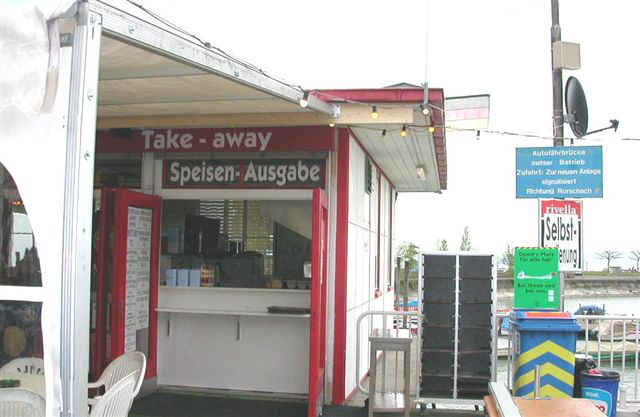 Somewhere west of Arbon, part of the group unintentionally got separated from the rest. This involved both a behind-a-tree bathroom stop and an unclearly marked fork in the path at a railroad crossing. Anyway, we ended up breaking into a four-group and a three-group and the four, who thought they were behind the three, hurried on, frequently calling on our now always present (see Germany 2002) walkie-talkies. Of course the three, who assumed they were in the lead, dawdled along, and finally stopped. Radio signals bounced across the water "Do you see a campground?" "No but I am looking at a fountain on the lake. Is it on your right or your left?" "What fountain?" The signals grew fainter and the four-group finally did what any hiker would know to do in the same situation… stopped for a beer. After a bit more violation of Swiss radio airspace, it was finally determined that the "fast" three-group was still in Arbon… a town that the "slow" four had passed half an hour before. So, it was time for a second beer, while the now fast four waited for the new slow three to catch up.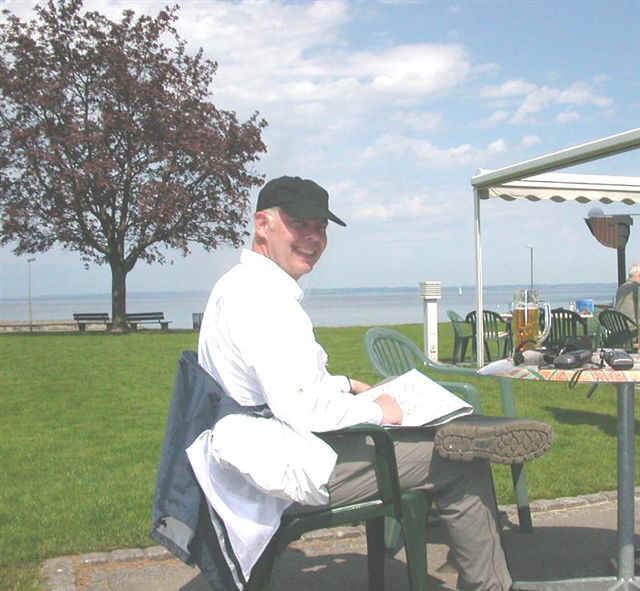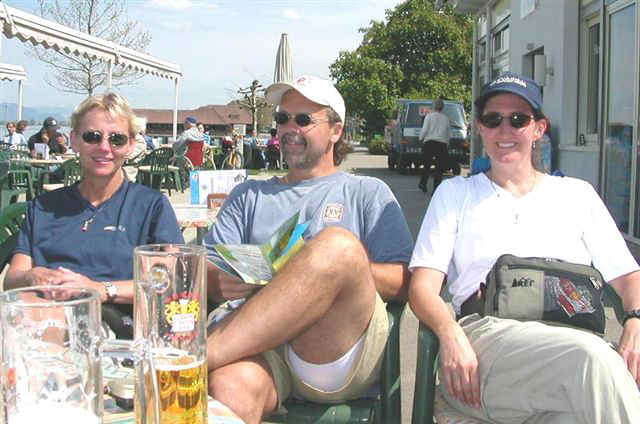 Once reunited, we trekked on towards Rorschach (Editorial Comment: Where I would have been delighted to call it a day. I subtly borrowed another line from the movie Slingblade to emphasize how I felt about continuing on, "I don't reckon I got no reason to kill nobody." But my companions paid me no heed.) So we casually left Switzerland and entered Austria, our second country of the day.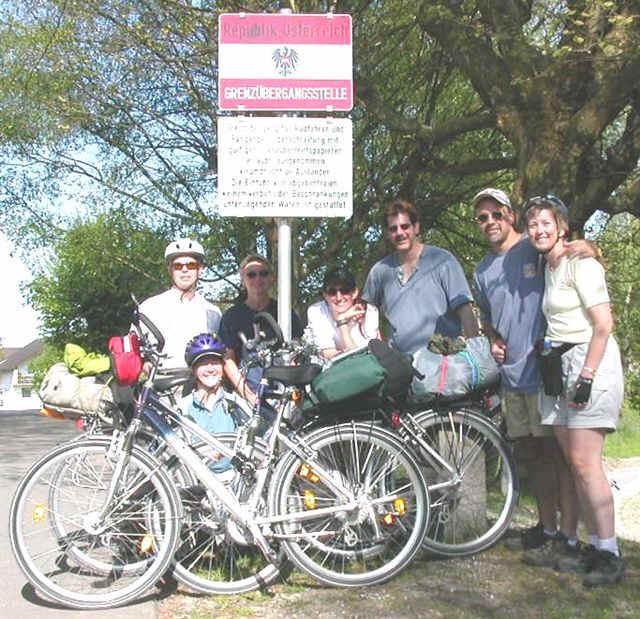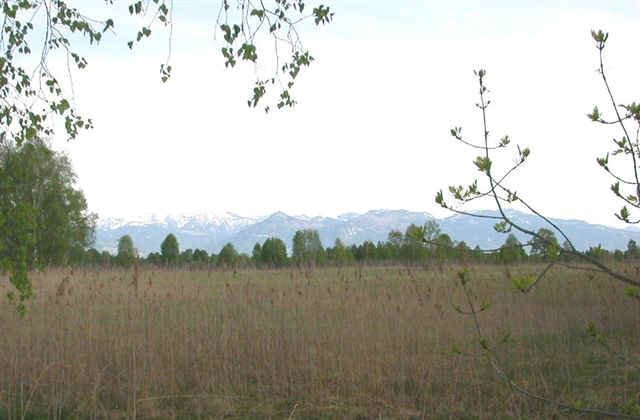 Of course, upon entering a new country, we had to briefly stop for a beer and a bite before continuing on past Hard to Bregenz.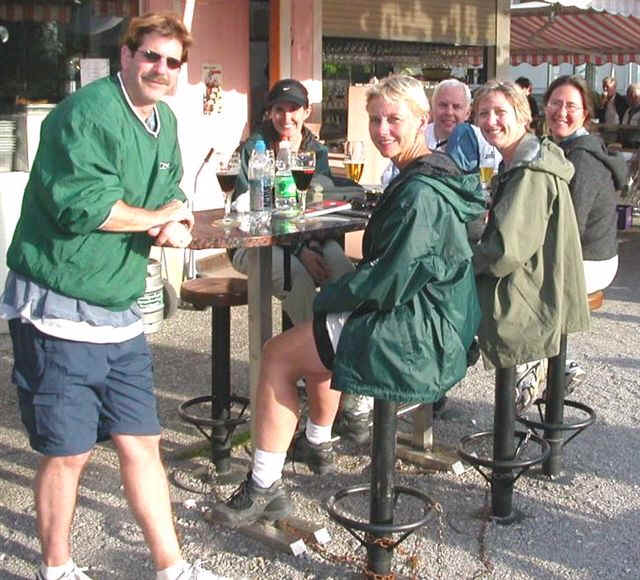 Exiting Bregenz, at a stop light, we struck up a conversation with a gentleman who noticed our backpack equipped bikes. He became our self-appointed tour guide and took us to the on-the-water Bregenz Amphitheater which had an amazingly odd looking structure built out over the water. (Significant only because we were able to see it the next day, looking back from the other side of the lake, with a telescope.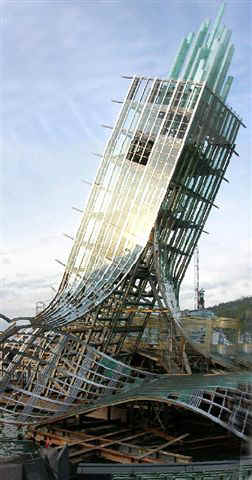 We were also able to see the previously mentioned fountain as well.) After the detour to show us this site, our new Bregenz friend rode with us all the way to Lindau (about 8 more miles and back into Germany, our third country for today) just to help us find our way, as by now it was starting to get dark.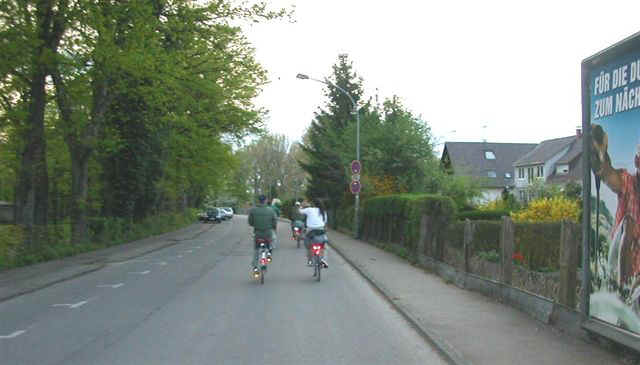 Arriving in Lindau, about 8:30PM and 50 miles from our start, we again split up (on purpose this time) to locate a place to sleep. Our new Bregenz friend insisted that the island would be too expensive for us and we would want to stay at a youth hostel. We really weren't interested, but he had been so nice that two of our group accompanied him to the youth hostel where, as expected, they were told that our group exceeded the age limit for the hostel. Accommodations for one night (we asked for two nights, but the hotel was "full" tomorrow night) for seven folks were quickly located at a lovely place (The Hotel Pension Noris) just 150 meters from central harbor on the island of Lindau.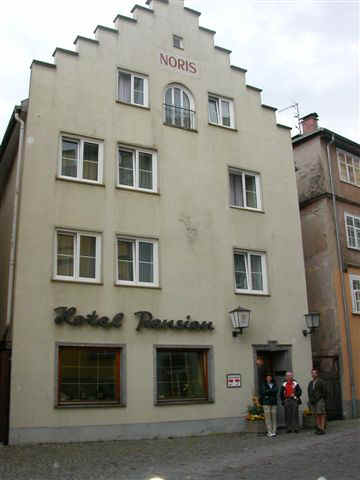 After checking in and unloading our gear, there was just time for dinner at a great little restaurant near the bridge to the island (it's Spargle Season! SpargleCreamSuppe!! That's Cream of Asparagus to you and me. Excellent!) followed by wine at a nearby hotel bar (that we ended up closing down… the manager ran us off to bed sometime after midnight).
Wednesday morning (clear and cool), at breakfast (meat, cheese, eggs, bread, butter, jelly, juice and coffee), we learned of yet another cancellation that enabled us to reserve a second night at the Noris, so we wouldn't need to be moving today… which was great because I certainly didn't feel like moving at all (did I mention that 50 miles is 20 too many for me?); much less schlepping our bags to a new hotel. Most of the group chose to relax and spend the day doing the tourist thing in Lindau while a couple of the more advanced bikers got back into the saddle and did an all day out-and-back ride along tomorrow's route… just for fun. My idea of fun was to stay in town, climb to the top of the Lindau Light House (where that telescope was, which allowed us to visually backtrack to the café where the slow 4 waited for the fast 3), shop, walk around and, well… you know the rest… goulasch soup, pretzels with senf, beer.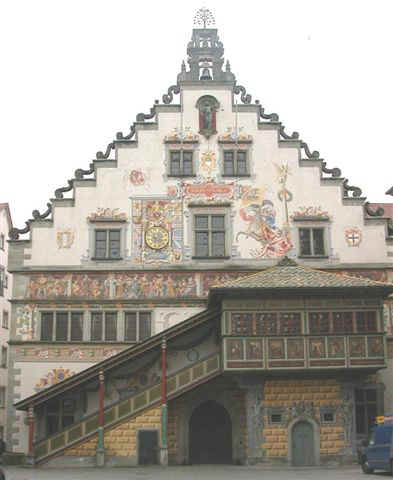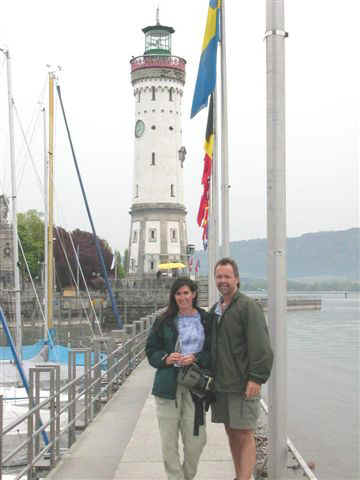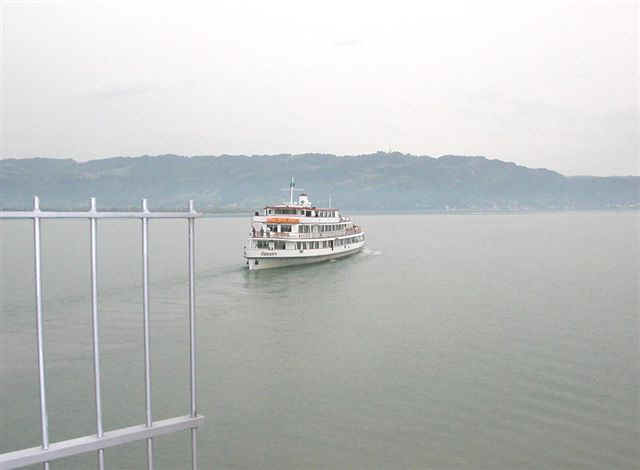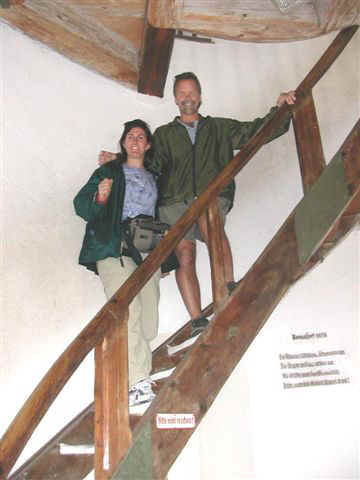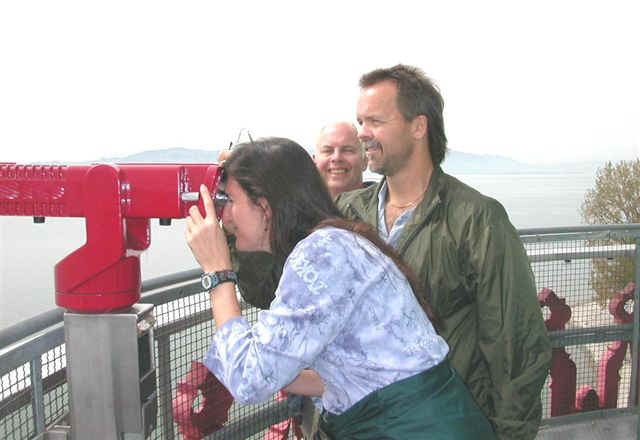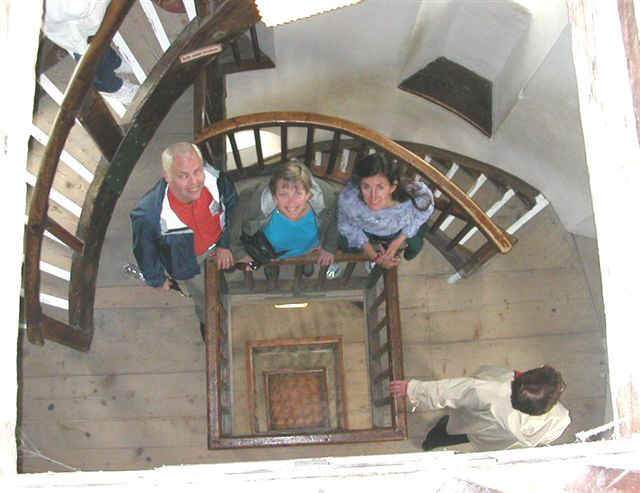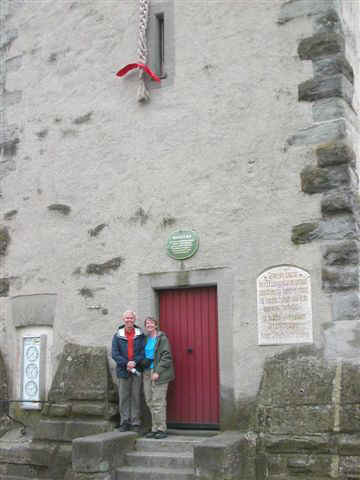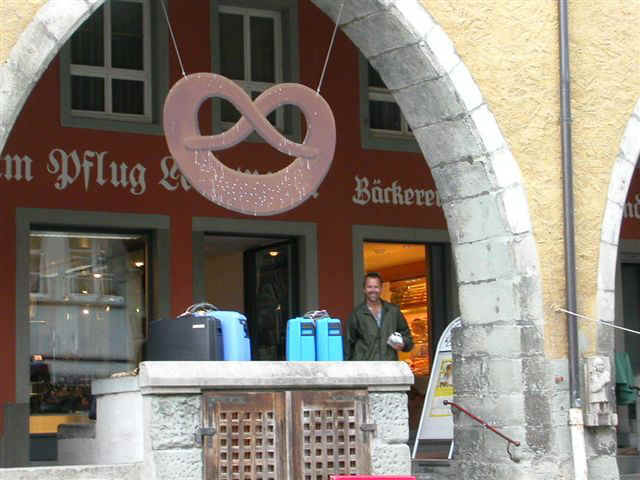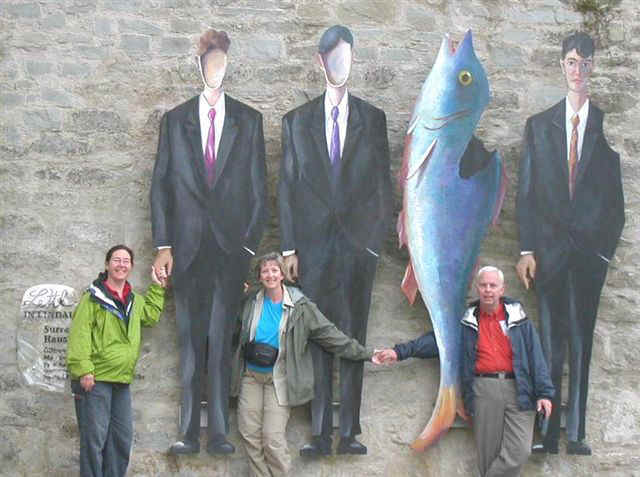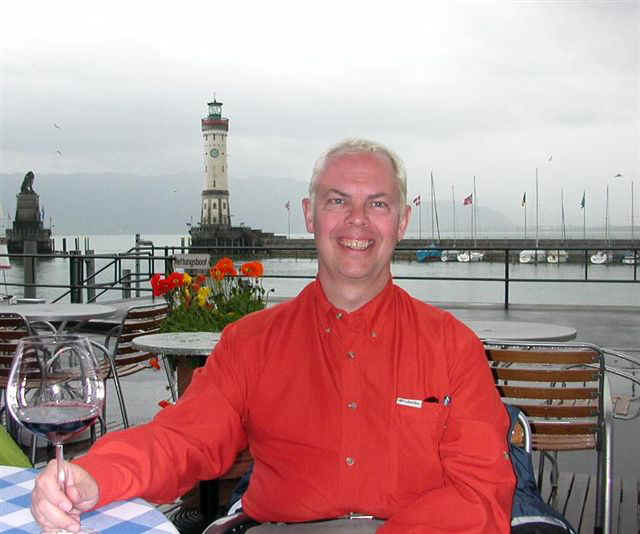 At one point, Melissa went back to the room for a quick break. Several hours later, we stopped by the room to find out what had happened to her. She says she sat down in the chair for a moment to rest her eyes, woke up, moved to the bed and went back to sleep. What she thought was a 30-minute nap ended up being more than 2 hours. You can ask her how she got the nickname Tow Haired Sleeping Beauty (after all, she's a brunette). Around 6:30PM, we hooked up with the serious bikers at the harbor side Paulaner Hotel (outdoor beer) and sat through the first rain of the day. Tonight's dinner was traditional German food (BJ had the largest pig knuckle we'd ever seen) and was followed by a return to the Noris, where we shared several bottles of wine and a few liqueur-enhanced-KinderEggs before heading off to bed, again around midnight.
Thursday morning is a beautiful, clear and cool day. After another filling breakfast at the Noris, it's time to load up and head for tonight's destination, Uberlingen. The serious riders had scoped out a beautiful stop an hour and five minutes from Lindau (the rest of us only took an hour and ten minutes to reach it). Sitting outside, in the sunshine, looking over the harbor, one of our group (a blonde wanna'be?) opined "Look at all those boats. There must be a lake near here". Yeah… the Bodensee and we've been riding around it now for more than 60 miles. We all had a good laugh at his expense. BJ studied up on how to ask (in German), "Will you take our picture?" and was delighted to be able to use that line on a German couple at the next table (who also spoke excellent English, but complimented her on her German).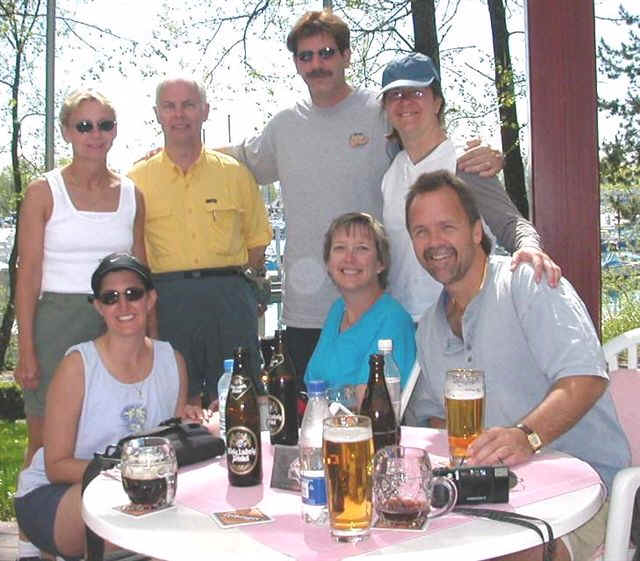 Back on the bikes, we targeted Friedrichshafen (yesterday's turnaround point for the serious riders) for today's lunch. Somewhere short of town, we again separated, in error, because of another tree-stop. This time, however, it was a 6-group and a singleton… and the singleton was without walkie-talkie (a strategic and tactical error). We split up (actually, most of us sat down for pizza and a beer at the Centrale Ristorante) to search for the loner who soon turned up (after riding back and forth over the same ground 3 times looking for us). The again-reunited group headed out after lunch for our next planned (beer) stop, the old city of Meersburg. Along the way, BJ and I passed a romantic little hotel that we stayed at in Hagnau many (many) years earlier, as well as a winery that we had stopped at one day during a local harvest festival, where we enjoyed the best wurst we've (still) ever found, along with 1 DMark/glass wine. Meersburg was a hive of activity. People were shoulder to shoulder walking along the bike path and we had trouble negotiating our way into town. Today is May the 1st, and it's… May Day… a major labour holiday in Germany and everyone (but the hotels and bars) has the day off today.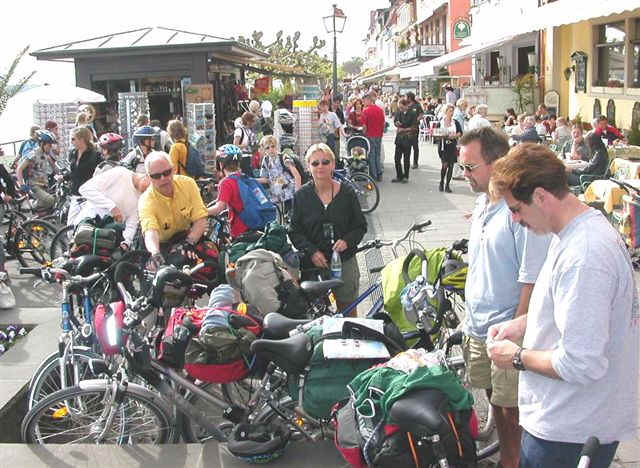 Don't worry, though. We found an outdoor bar, on the waterfront, and enjoyed yet another refreshing beer. Back on the bikes for the last few miles of today's trip; about 30 total (for all but the loner, who added a few miles to HIS day). Riding into Uberlingen, we feared that we'd have trouble finding a room tonight, since it's a holiday. Stopping at the Hotel Ochsen (Oxen), we inquired about room availability and were delighted to get three rooms that met our requirements. We stowed our bikes in the hotel's lockup, and headed out looking for entertainment (Okay… beer). Since there was a really nice upstairs lobby area in the hotel, we thought it might be nice to share a bottle of wine (or two) at the hotel again after dinner tonight. BJ and I walked (past a table full of outdoor café revelers) into a bottle shop and started shopping. A man followed us in and quickly spoke about 100 words of German to me. In my best German, I replied, "Do you speak English?" He held up a finger, turned and walked back outside to find an English-speaker. We resumed our shopping, and picked out several bottles of wine for tonight's get-together. A moment later, a woman walked in, and in English, asked me if we needed help. I said, "No, we have what we want and are ready to check out". She then turned and brought the first man back in to check us out. As it turns out, the wine store was closed, and all of the employees were sitting out front, enjoying the end of the holiday, when we barreled past them into the store. We apologized for the inconvenience, but not before we'd paid for tonight's treat! Tonight's dinner was at a lovely outdoor café with heaters (as it was dark and turning cooler) where we again included SpargleCreamSuppe with our dinners. Then it was back to the hotel and up to the "first floor lobby" (on the second floor) where the seven of us entered into a somewhat heated discussion on exactly how to solve ALL of the world's problems. We may have been successful, but no one could remember the next day. Did I mention that there was wine? All I know for sure is that somehow I tagged Melissa with the nickname "Stupid". You'll have to decide for yourself. To bed, again, around midnight.
Friday morning started a little earlier than the others, since we had several irons in the fire for today. The more serious five riders wanted to "finish the loop" and ride completely around the lake. BJ (and therefore I) wanted to take the ferryboat across the lake to Konstanz and find a hotel for tonight's stay and then ride back to the island of Mainau, which BJ had read about in a guidebook. Then she and I would meet up with the riders there, as they continued their loop. Anyway, after breakfast (more meat, cheese, eggs, bread, butter, jelly, juice and coffee) the seven of us headed out. BJ and I boarded the 9:50AM ferry that zigzagged back and forth across the lake, and would stop a total of 5 times before it would reach Konstanz. The ferry ride was beautiful but slow.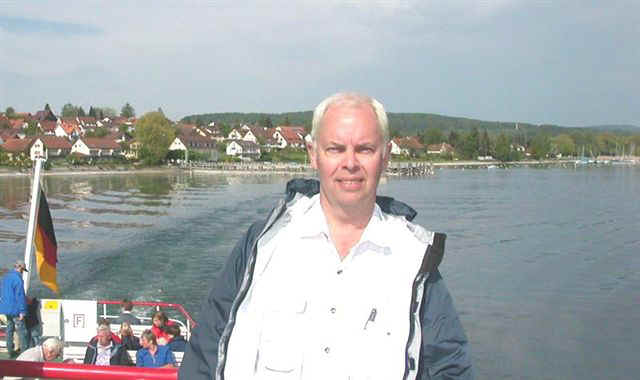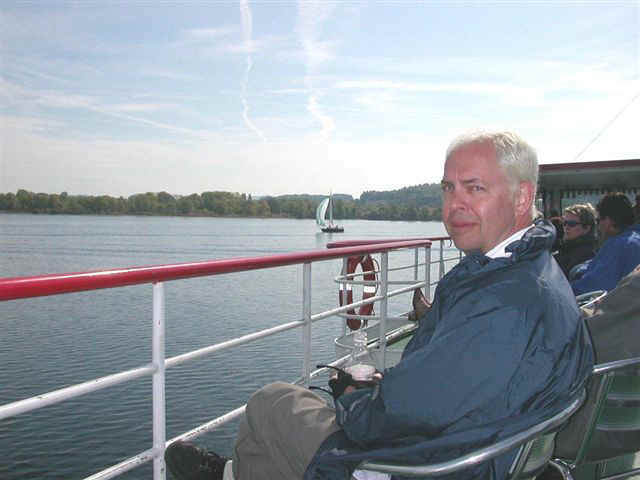 We made an impromptu decision to get off at the Mainau stop, and bicycle from there into town, find the hotel, and bike BACK to Mainau to hook up with our friends at a previously agreed to 2:30PM. That way, BJ and I would get a little more riding in today. Stopping at Mainau, we offloaded our bikes after all of the foot traffic had exited the boat (approximately 750 people… it's still a holiday and Mainau is a local tourist attraction.). Walking up to the turnstiles that allow entrance to the island (our ferry has by now sailed) we are a little disappointed to see a 10.50 € admission charge (it's not the money… it's just that we were using Mainau as a meeting point, not a destination) but decided to press on… until the man at the turnstile says "No bikes are allowed on Mainau". I explained that all we wanted to do was to get "through" Mainau, to the Mainland and that we'd gladly walk our bikes the kilometer or so. "That is not possible. Bicycles are not allowed on Mainau. You can lock them up outside the turnstiles and walk around Mainau, or you can catch the next boat and take them off with you." (The Slingblade line comes to mind again… "I don't reckon I'll kill anybody today.") Hmmmmmm. Change in plans. Back to the docks, we found that another ferry was only an hour away (of course, it too would go to Meersburg before it went to Konstanz). Fortunately we could use the same "Uberlingen-to-Konstanz-with-bike" ticket that we'd bought earlier. While waiting for our outbound ferry, we met the harbormaster, who was delighted to get to use the English he had learned 50 years earlier, while in college in the States. "Americans are the nicest people on Earth" he commented (and he studied in New York?!). Once back on the ferry, and seeing that BJ and I were likely to be almost 1:00PM getting to Konstanz, making a 2:30PM meeting with the group at Mainau unlikely, we got on the walkie-talkies again, to try to contact the riders. Communication was spotty at first (in fact, for about 30 minutes only one clear phrase came through… Melissa was heard saying, "This is like the movie Deliverance". BJ and I were suddenly glad we'd decided to ferry today instead of bicycling.) We were finally able to contact one of the riders and confirm that they should "Bypass Mainau and meet us at the bike shop at 4:30PM".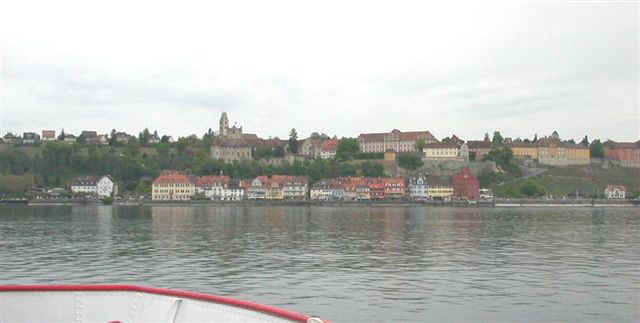 Arriving in Konstanz, BJ and I returned to the GastHaus Centro, with the hope that they TOO had had a cancellation that would allow them to accommodate our group tonight (since on departure, they had advised that they were full tonight… this was before we knew we were traveling during a holiday). This time we weren't so lucky. They were still full. After unsuccessfully checking at several more hotels, BJ and I decided that the quest would be easier without the bikes. We swung back by the bike shop, turned in our "wheels" and set out in earnest to locate a place for 7 weary heads to sleep tonight. After checking with 9 different properties, none of which could hold the entire group, we started backtracking and ultimately settled on two rooms at one place (The Goldener Sternen), and two rooms at another nearby hotel (The Bayrischer Hof). BJ and I then immediately dumped our bags, grabbed lunch and a beer, and headed closer to the bike shop, for our just-around-the-corner 4:30PM reunion.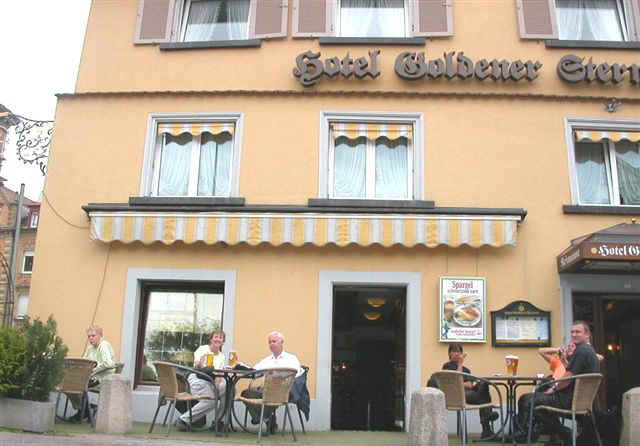 We sat down outside a little café (beer) next to the bike shop, and kept an eye open in the likely direction of our friends' approach. As 4:30PM neared, we turned on the walkie-talkie, just as the 5 were coming into radio range… and learned that they had somehow misplaced Melissa in Konstanz! Almost one by one the troopers pedaled by our café, turned in their own bikes and joined us, eventually including the almost lost Melissa. Over a beer, BJ and I learned that the earlier "Deliverance" message was a reference to the fact that the group had inadvertently gotten off of the bike path, and onto a walking trail. This little detour cost them more than an hour as they slogged through mud, pedaled over rocks and stumps, lifted their bikes over mid-trail turnstiles, intended to keep bikes OUT, and tried to explain to passers-by that they really didn't WANT to be on this particular path. Man, the ferryboat ride was JUST right with me.
You probably know the rest of the story already. We got everybody into their rooms, met up again later for some before dinner wine, had a lovely last-dinner-in-Germany and finished up with a little more wine in the ground floor lobby of the Bayrischer Hof. To bed a little earlier tonight, then up, out, catch the 7:05AM train back to the airport with plenty of time to settle into leather seats for our return flight to Atlanta.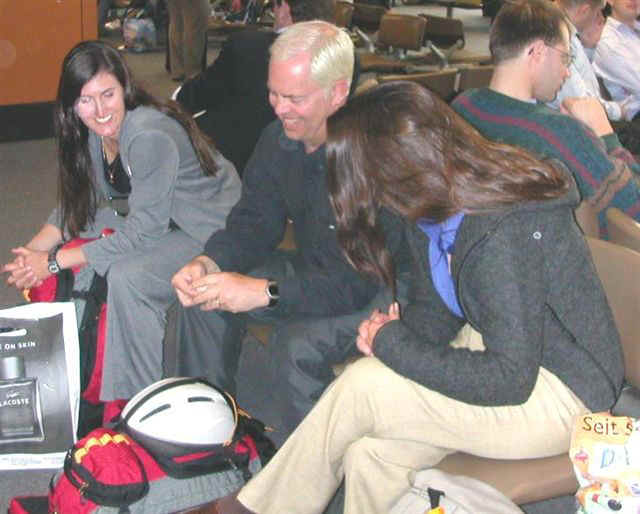 Champagne, warm nuts, "Lunch and a Movie" (Two Week Notice with Hugh Grant and Sandra Bullock… Cute…recommended), wine, dessert (served by BJ's flight attendant friend and golfing buddy, Robin) and a nap and we were back home in Atlanta. Tired but happy.
Follow on note: There were two power levels of walkie-talkies on this trip. Two mile range and 5 mile range. Since returning to the States, everyone with a two mile radio has already upgraded to the 5 mile style. If you are interested in some used 2-milers, I know where you can get a couple.
BJ and Tony Morris