Rome, Italy
November 2005
"Thanksgiving Blessings"
Delta imposed an embargo on Friends and Family travel during the Thanksgiving holiday, so we thought our traditional "Travel To Europe with Nieces and Nephews" plan was foiled. There were trip plans brewing and we were thinking of tagging along without the kids, but as the dates of travel firmed up, we realized that they did not coincide with the embargo dates so the kids were good to go! We started doing our usual assessment of available flights to choose a destination and much to our surprise, it looked like it might be possible to travel to Rome. We had taken my nephew Jared to Rome when he was 8 or 9 and he has been begging to go back ever since. After our indoctrination into traveling with 2 kids last year turned out not to be too terrible, we decided to try it again, so we invited both of my sister's younger kids, Jared and Lauren (18 and 15).
Based on the flight availability, we decided we would leave on Sunday, connecting to Rome through New York, and return on Friday on a direct flight. As our departure date neared, the Friday flight filled up, so we moved our return date back to Thursday. This suited my niece just fine since she was supposed to compete in a cheerleading competition on Saturday and she wanted to be sure to be home for it.
We were supposed to be a group of twelve this time, but our friends Sandy and Scott were not sure they could take their kids out of school for the whole week, so we decided that the remaining 8 would make our plans & hopefully hook up with the others later. We added some new travel companions for this trip, Karen (a Delta Flight Attendant) and her son Justin. Nancy and David, our longtime friends and Thanksgiving travel companions rounded out the group.
On Thursday, before we were to leave on Sunday, Nancy and Karen came over and we started looking through travel guides and surfing the internet for hotels. We opted not to stay in the convent where we had stayed before. The location was perfect (at the top of the Spanish Steps), but the 10:30PM curfew was just too restrictive. We sent emails to about 8 hotels asking about accommodations for twelve. The next day, we had a number of negative responses and two positive ones. Based on price and location, we selected the Hotel Clarin, described in Rick Steves' Italy Guidebook as "a plain and worn slumbermill". The flights were starting to look a little less promising, so I was a little nervous about confirming the rooms, but finally talked myself into it.
Adding the New York connection always complicates a trip to Europe, especially when traveling with the lower priority buddy passers so we decided to go for an early flight to John F. Kennedy airport and be prepared for a long layover. We met Nancy, Karen, David and Justin at the airport and checked in for the flight. The employees and dependants decided to use their limited higher priority passes for the flight, but the buddy passers (Jared and Lauren) were stuck with their lower priority.
Tony and I were prepared to give up our seats if Jared and Lauren did not get cleared. Delta has added a Gate Information Display System (GIDS) to their gates which displays seat availability and standbys. It was obvious as soon as we saw the list that the buddy passers would not be boarded. We told the gate agent that we were traveling with buddy passers and she said if they did not get on, we could turn our seats back in. As departure time neared, chaos reigned in the gatehouse. There were lots of large parties waiting to be cleared. We turned our seats back in and she cleared a party of five. Then she closed the door. We hung around to make sure that we would be transferred to the standby list for the next flight. After she took the paperwork down to the plane, she came back out and called the next party of 4. Some of them had wandered away from the gate, so I volunteered that we were a party of 4. We almost got on, but the others made it back to the gate in time. (Hanging around the gate until the plane pushes back is one of our Essential Rules of Non-Rev Travel). We visited with the other standbys and talked about everyone's Thanksgiving plans. Some were going to Rome and others to Milan. We went to the gate for the next flight and not only were cleared, but all got seats in Business Class! As I was boarding the plane, I bumped into a flight attendant who was facing away. When she turned around, it was Stacy, one of my golfing girlfriends from the Delta Golf Tournament. It was awfully good to get to visit with her.
We found Karen, Nancy, Justin and David in the food court. They had heard from Sandy and Scott – their son McLean was sick and would not be able to come. Sandy would stay home with him, but Scott and Claire would come the next day. The GIDS screen at the gate had promising information this time. The buddy passers would not get to ride in Business Class, but the kind gate agent gave them a 3 across all to themselves. I breathed a HUGE sigh of relief as we taxied down the runway. The flight was uneventful. We watched "The Perfect Man" and then had a nice nap. I went back to check on Jared and Lauren and it appeared that they were sleeping too.
After we landed and were disembarking from the plane, I asked the kids if they were sure they had all of their things. They assured me that they did, but as we were walking up the jet way, Jared realized that he had changed into his tennis shoes and left his dress shoes on the plane. He had to swim upstream to get back to the plane, but he got his shoes. We changed out of our flying clothes and then headed to the ATM machine. It would not take our cards and there was something written in red that we assumed meant it was out of order. We made our way to the train station and bought our tickets (9.50€ each – Thankfully Tony had some Euros left over from a previous trip). The man at the ticket window said the train was leaving right away and we should hurry. We ran, but when we pushed the button, the door would not open. It pulled away while we were still pushing the button. It was 30 minutes until the next train, so we found another ATM machine and got some money. A shuttle service offered to take us to our hotel if we had not validated our train tickets, but we thought it would be quicker and more comfortable on the train without the traffic. We figured out how to validate our tickets (put it in on the right side of the slot and slide it to the left), and waited for the next train.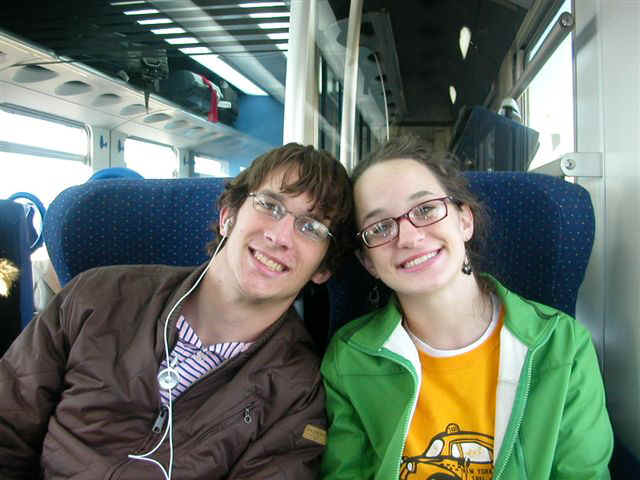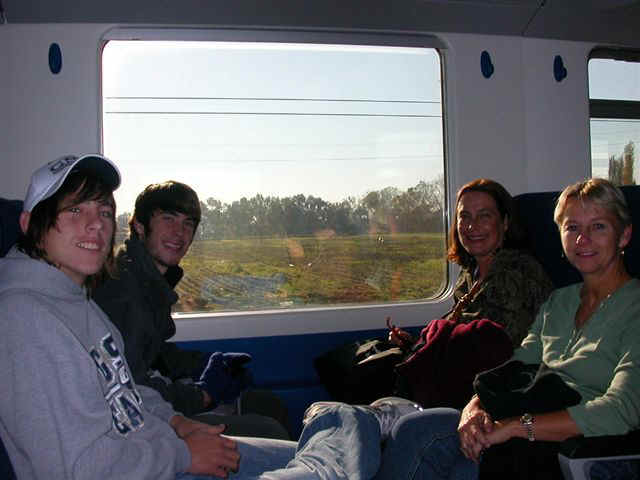 Our hotel was a 20 minute walk from the train station. Although it was not particularly well marked, we found it without problems. The entry was through a giant set of wooden doors and the hotel was on the second floor of the building. There was an antiquated elevator which the kids were excited to get to ride.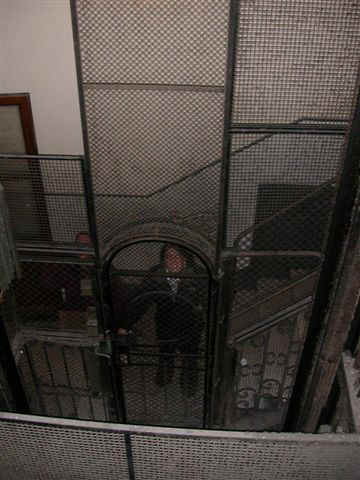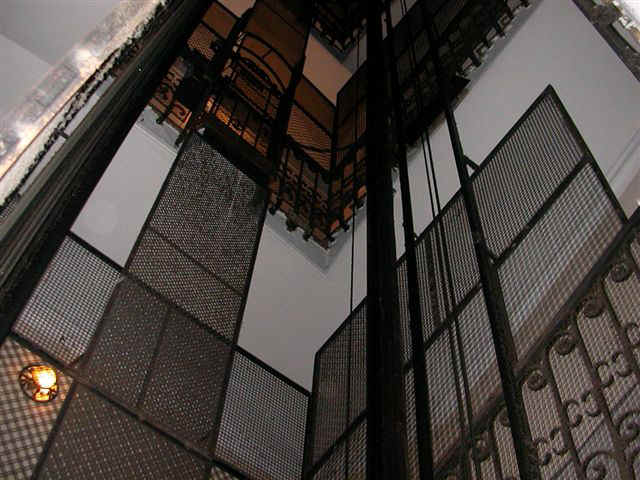 Most of the adults opted for the stairs. Franco greeted us and gave us keys to our rooms. The first two rooms he gave us had double beds which would not do at all for Jared and Lauren, so Franco changed them to a room with 2 twin beds. The hotel was pretty much as Rick Steves had described. Well worn, but clean, so it suited us just fine. The bathrooms were tiny and a large person would not fit in the miniscule shower which was wedged next to the toilet.
We decided to walk toward the Colosseum, stopping for lunch on the way. We found a restaurant called "Wanted" with nice outdoor seating. We sent Jared to find out what time they opened. Even though they didn't actually open for another hour, the proprietor agreed to serve us anyway.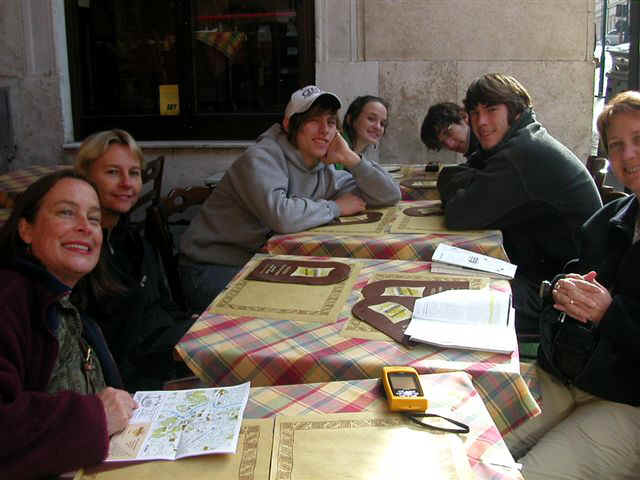 Most of us had pizza, but Justin ordered a "Grilled Cheese", thinking it would be a grilled cheese sandwich. Wrong. It was just a dish of grilled cheese. The adults had a liter of wine for 8€ while the kids had 6 Cokes for 18€! We made our way to the Colosseum where we were accosted by Americans, of all things, trying to sell us a tour. We opted to just wander around on our own. Entry to the Colosseum was 10€ per person.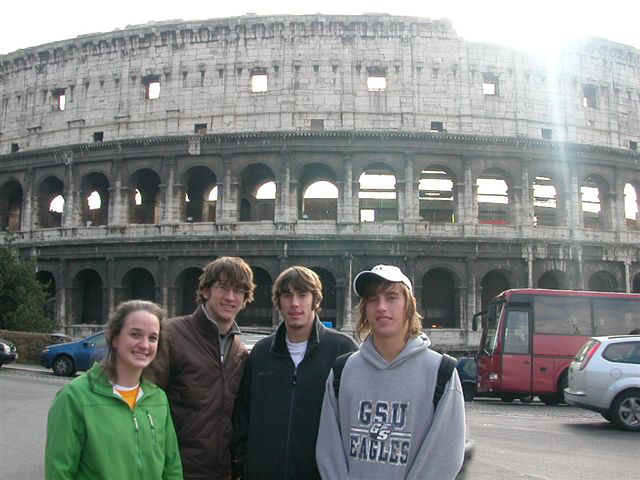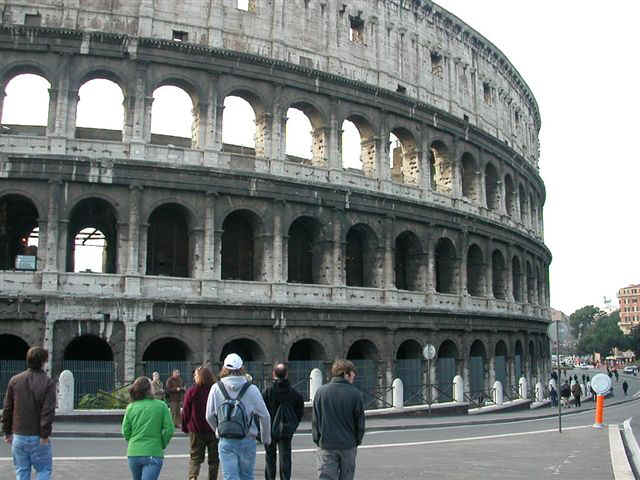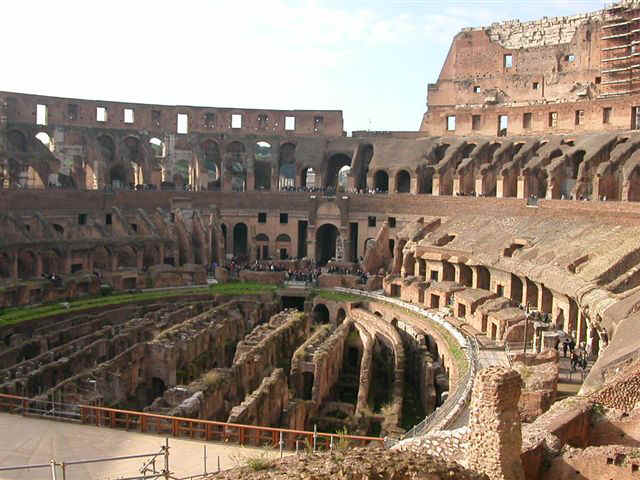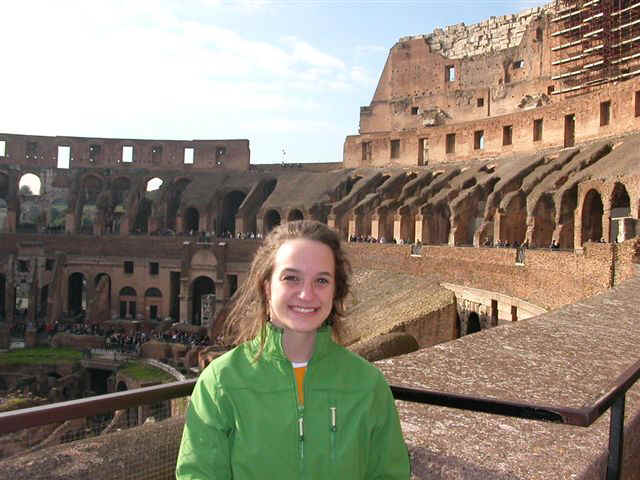 After the Colosseum, we wandered through the Roman Forum, past the Wedding Cake and then to the Pantheon.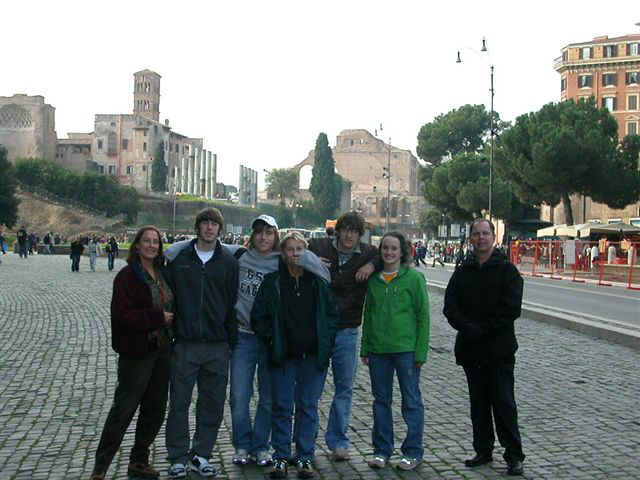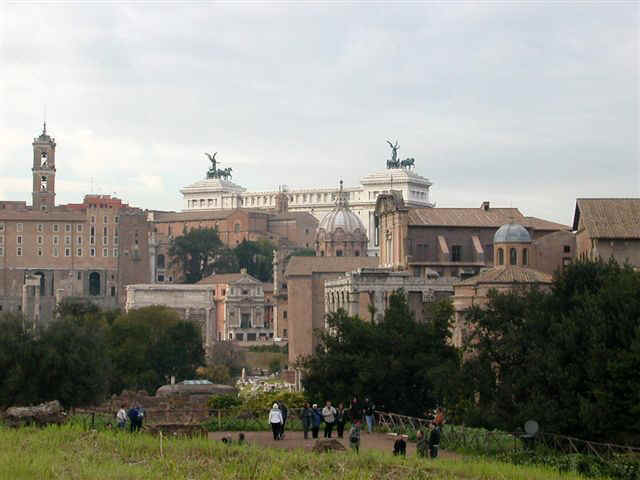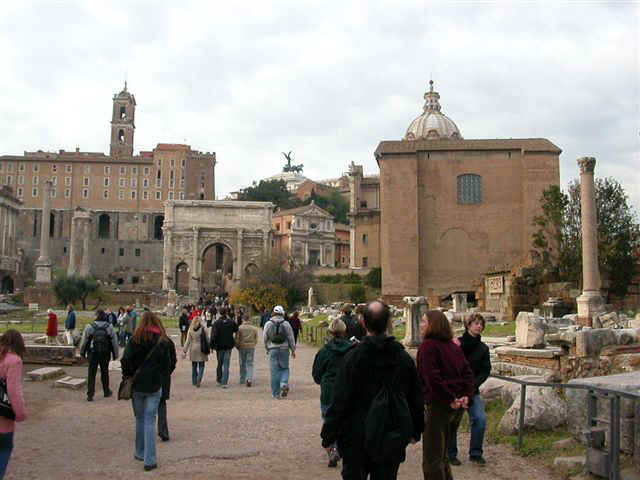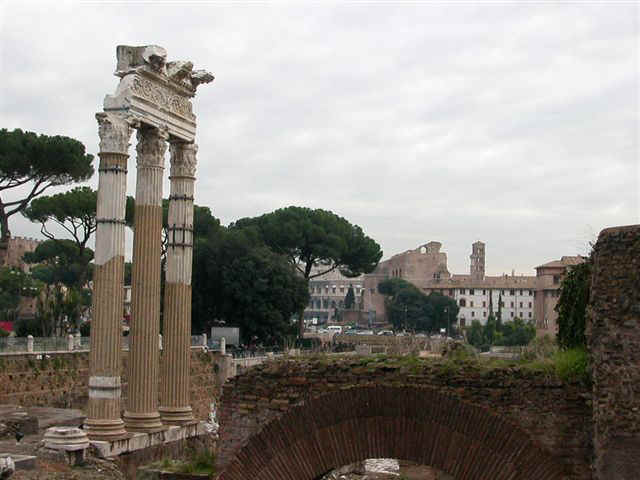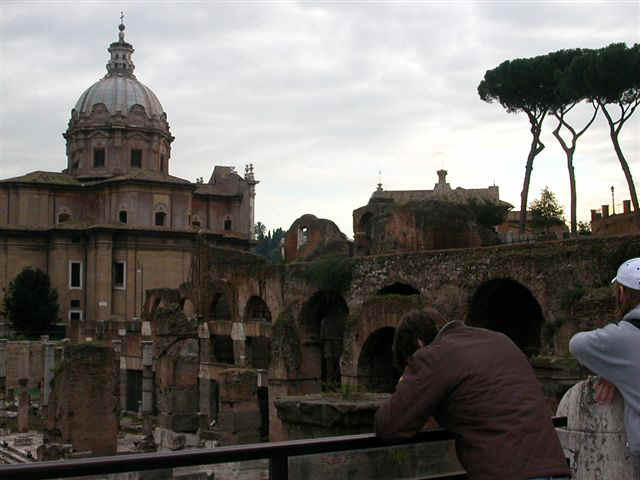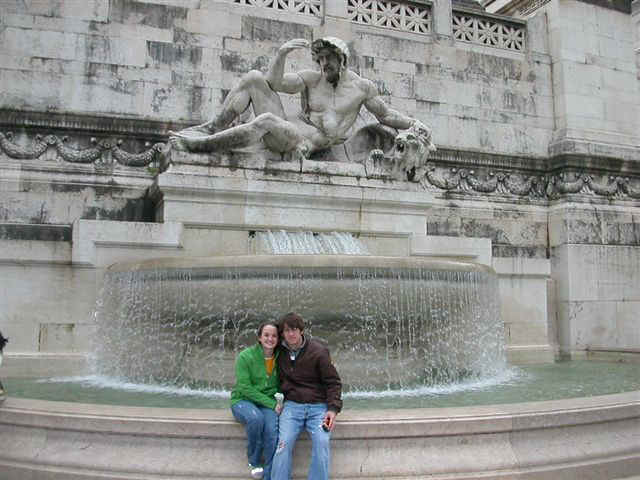 By now, Justin's grilled cheese had worn off, so he (and the other kids) were ready for McDonalds.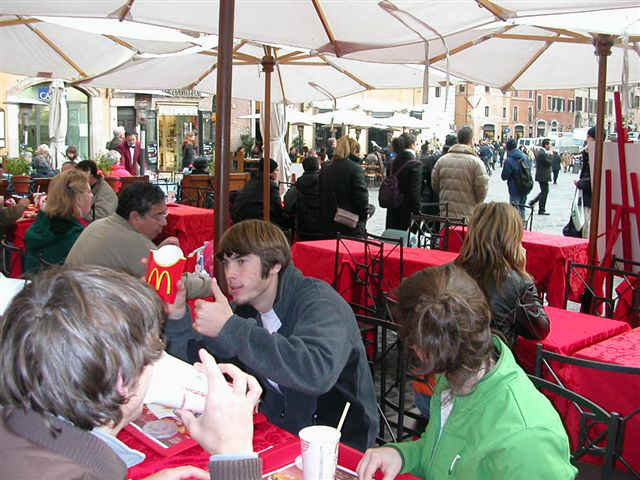 The adults found a little wine restaurant called Di Rienzo just around the corner and rested over a glass of wine while the kids went to shop. After relaxing and refreshing, we looked around the Pantheon.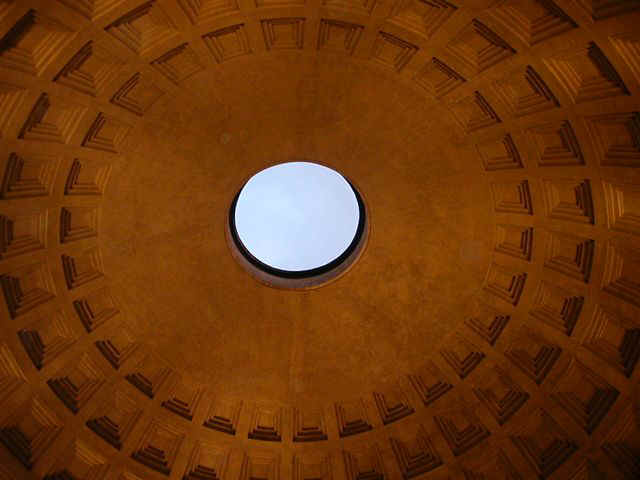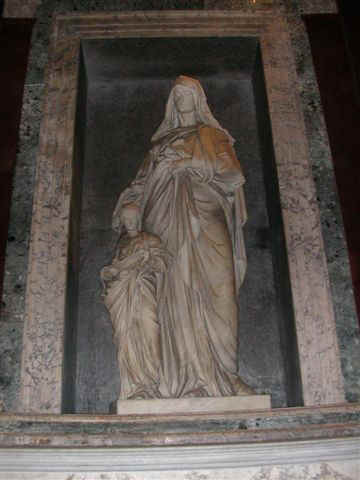 We decided to try to find the restaurant Ciao Bella so we could make reservations for the next night. After a few wrong turns, we finally found it. Since it was our first night, we decided to head back toward our hotel for dinner. As we passed Via Sistina, we recognized a restaurant where we had eaten before (9 years before!), so we decided to stop in. They turned the lights out just as we were approaching. Could they possibly have remembered us from 9 years before??? No matter, the restaurant next door, La Tavernetta was open and we had a delicious meal.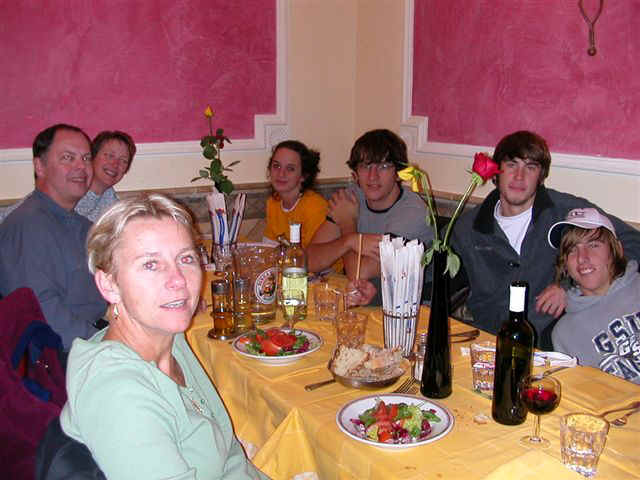 We found a shop for Kindereggs and Diet Cokes on the way back to the hotel. After we had our Kindereggs with the kids, Nancy, Tony and I decided to go out for a night cap at the restaurant around the corner. When we got to the ground level of the hotel, we thought we were locked in. The immense doors were latched at the top. We were about to go back upstairs to ask how to get out when we noticed a tiny door cut into one of the larger doors. A pushbutton beside it opened it.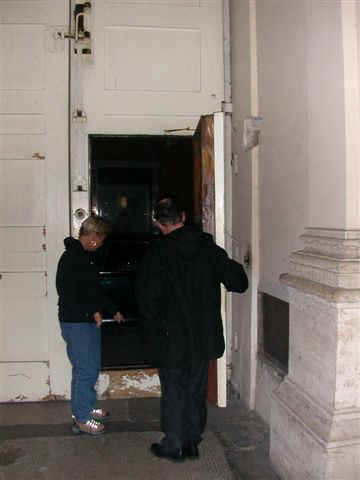 We had wine at Il Pomo d'Oro where we met two Irish women. They asked our advice on what to see while they were in Rome.
Tuesday, we had agreed to get up at seven so we could get an early start. It was my job to wake everyone up by knocking at their doors. Two of the rooms had showers with a dip in the floor, so a couple of the youngsters almost took a tumble. Breakfast was very simple. A plate with a package of toast, a package of honey and two packages of jam. The proprietress brought a sweet croissant and offered coffee or tea. I ordered coffee and asked for cream, but she said she didn't have cream and offered milk. It seemed to be watered down milk, because it did not change the color of the coffee when I added it. We asked how everyone had slept. David said he slept fine until he woke up and was frightened by his hand. He had fallen asleep on his arm and his hand had gone to sleep, so when he touched it, he couldn't feel it and thought it was someone else's hand. We had a big laugh at that.
The weather was colder than we had expected and it looked a bit rainy so we bundled up before starting out for St. Peter's Basilica. We passed the Spanish Steps along the way, but there was not much activity on a cold damp morning.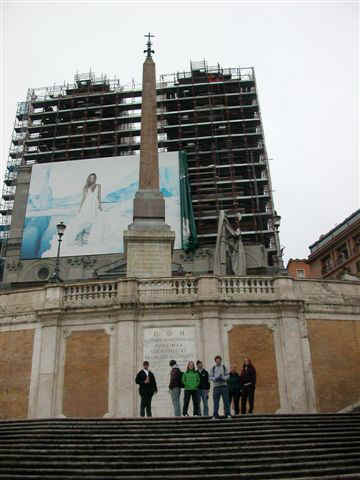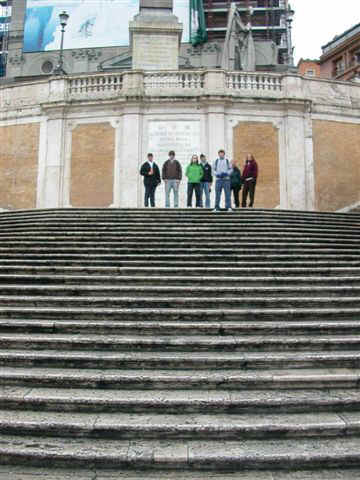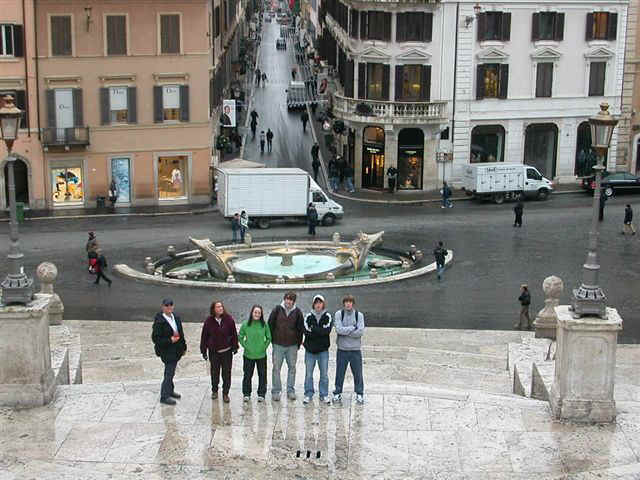 After walking down the shopping street in front of the Spanish steps, we crossed the quiet winding Tevere River.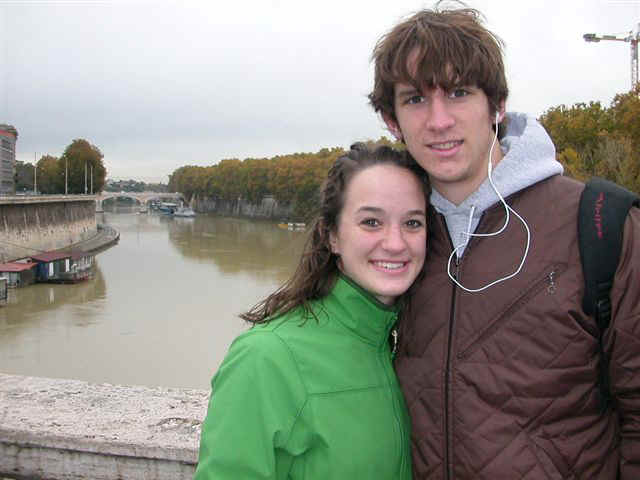 The approach to St. Peter's was as impressive as we remembered.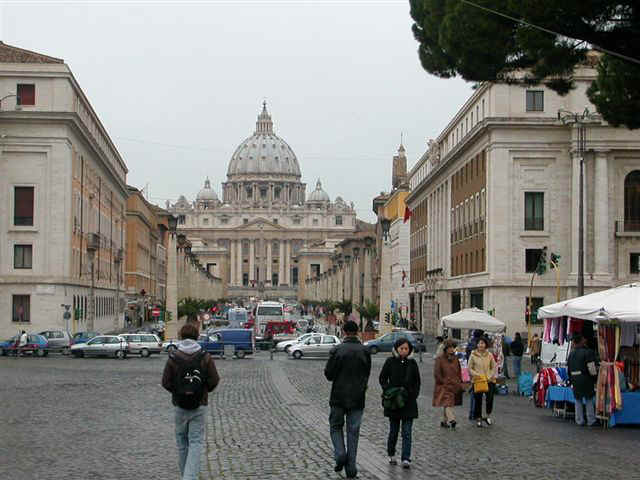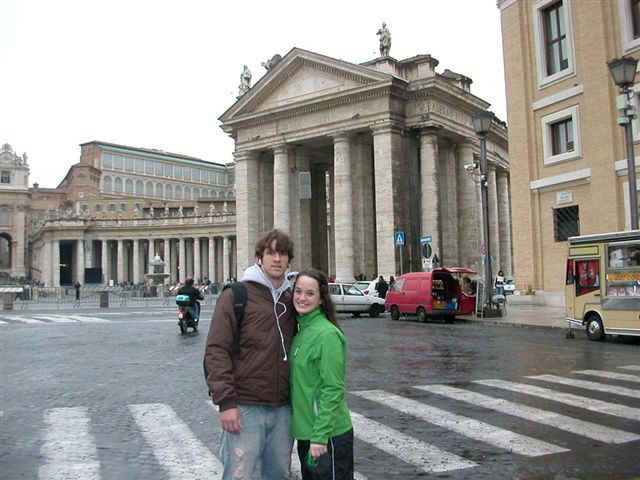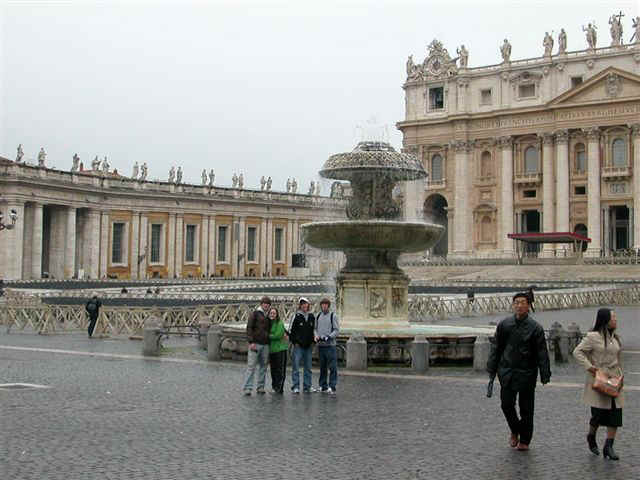 At St. Peter's, we decided to go to the dome first and took the elevator to the first level to avoid a 200 step climb. Then we had to walk 320 steps to get to the top! We were rewarded with a close up view of the inside of the dome and then a spectacular view of the city. The 320 step climb was a combination of spiral stair cases and narrow leaning stairs as we circled the dome on our way up.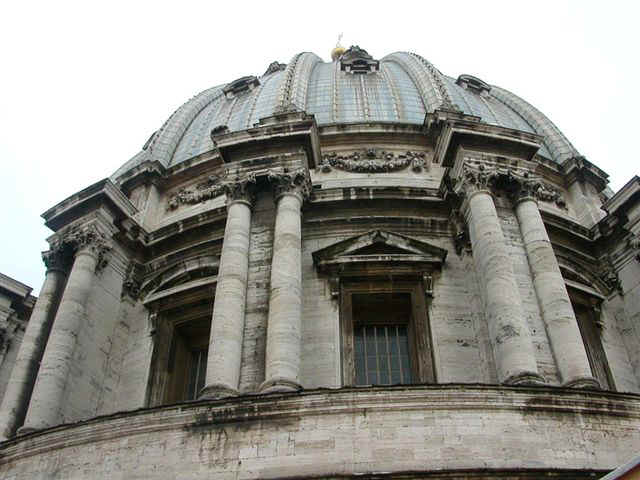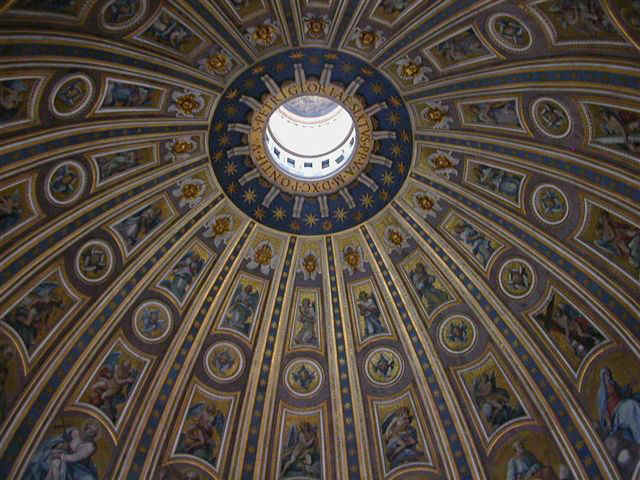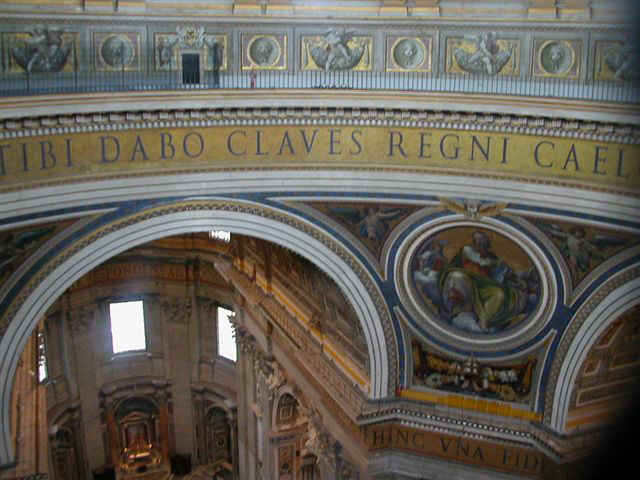 The view from the top was well worth the sweaty claustrophobic climb, even for those with a fear of heights. We could even see snow on the mountains in the distance.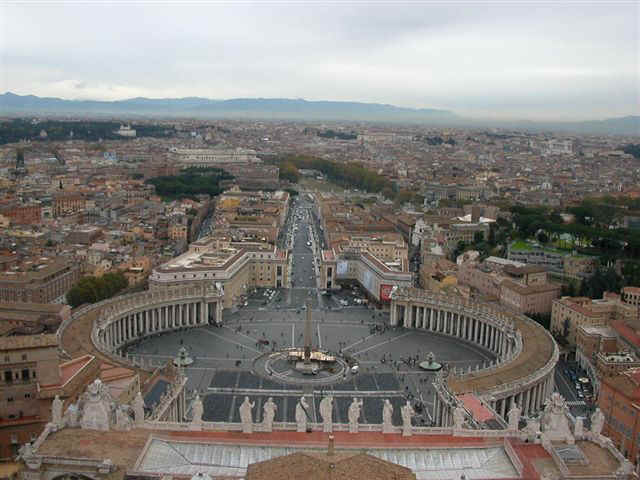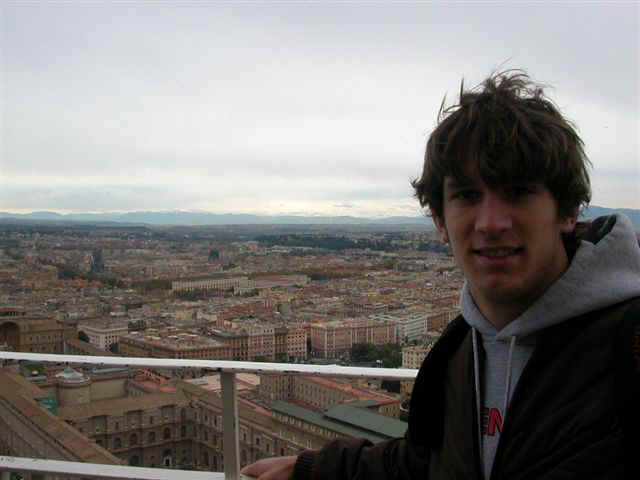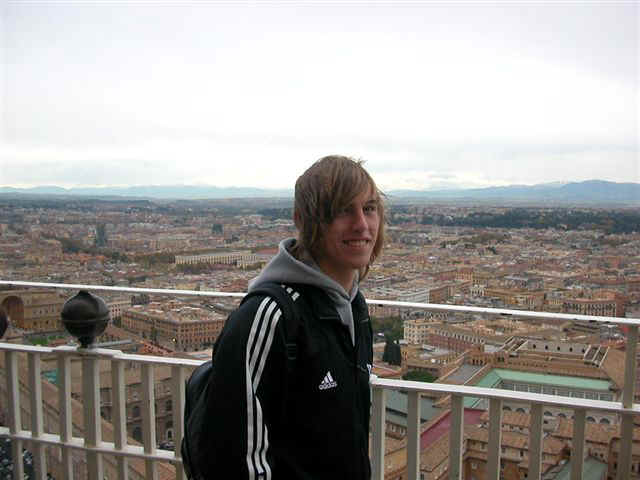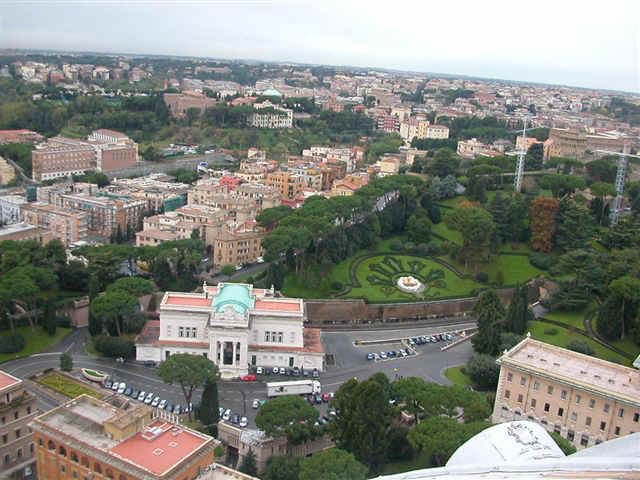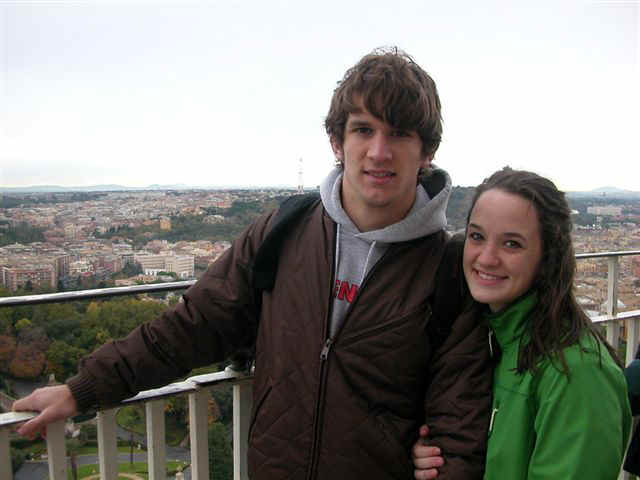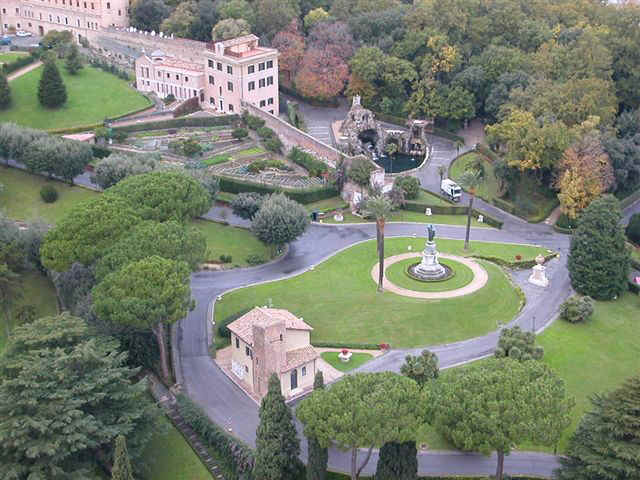 After we descended from the dome, we rested for a few minutes to catch our breath before riding the elevator back down.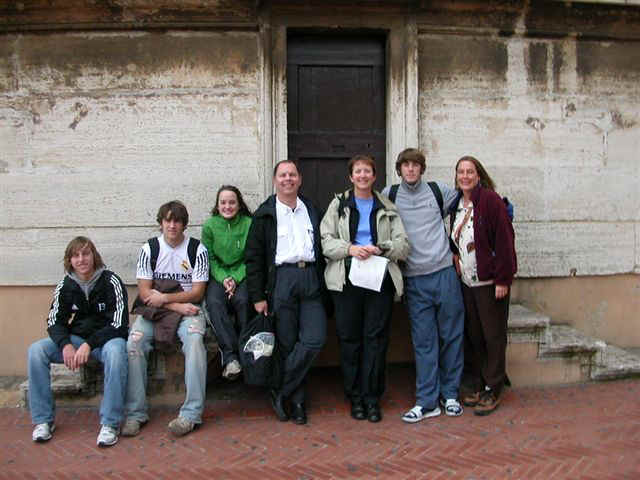 We toured the Basilica, admiring the statues and paintings. Flash cameras were not allowed inside the Basilica but we were able to get a few pictures of some of the impressive art work including Michaelangelo's Pieta.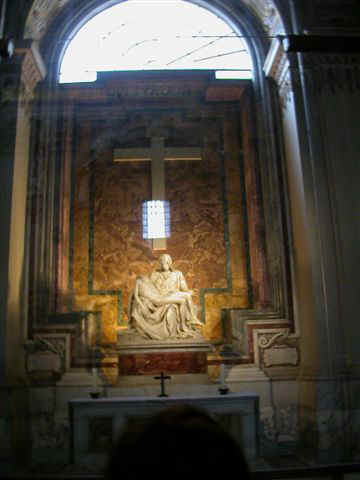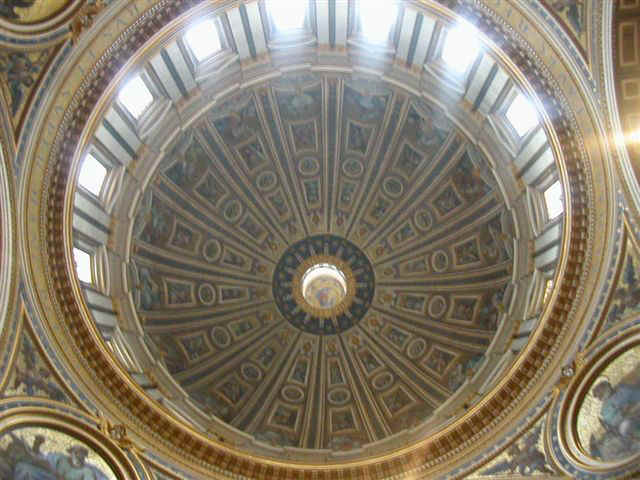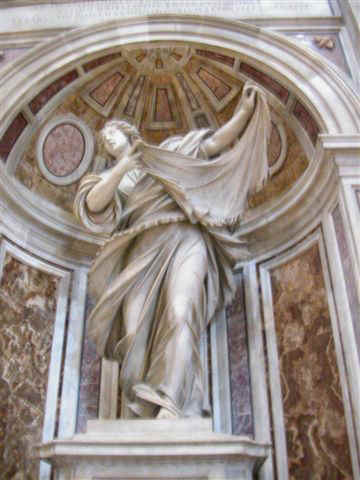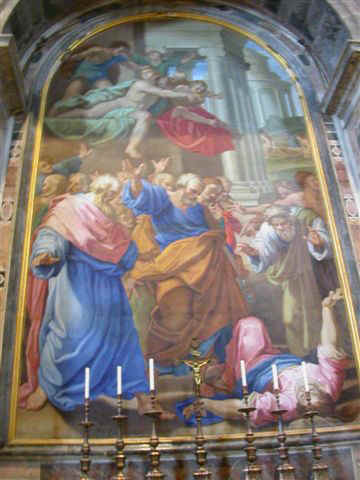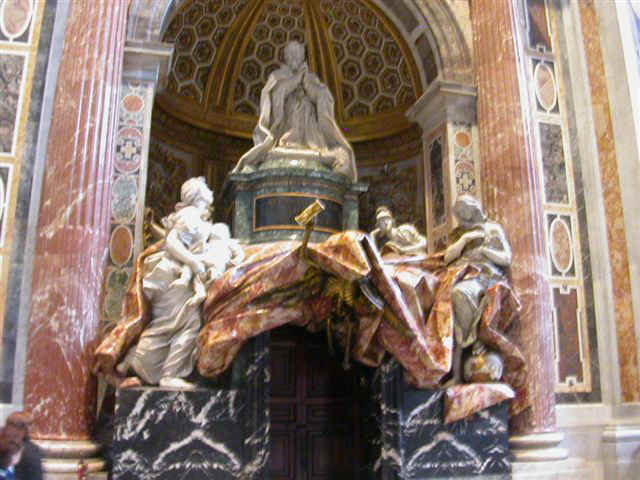 We just had time to descend to the lower level to see the tombs before we needed to walk back to the hotel to meet Scott and Claire.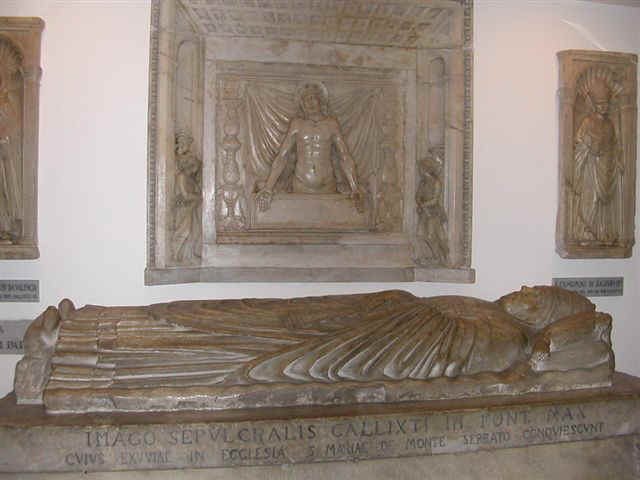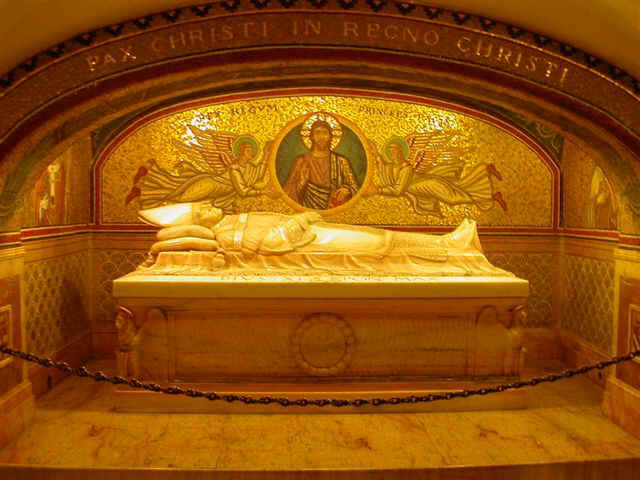 Outside, we admired the colorful uniforms of the Swiss Guards and took one more look around Vatican City.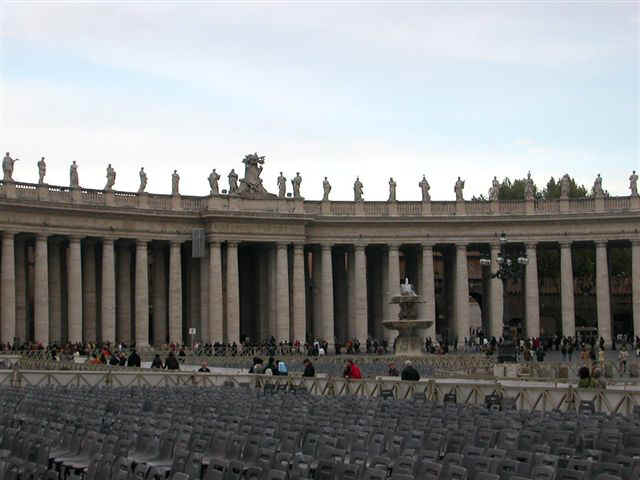 On the way back to the hotel, we crossed the Tevere again. We stopped for a few photos with the Castel St. Angelo in the background.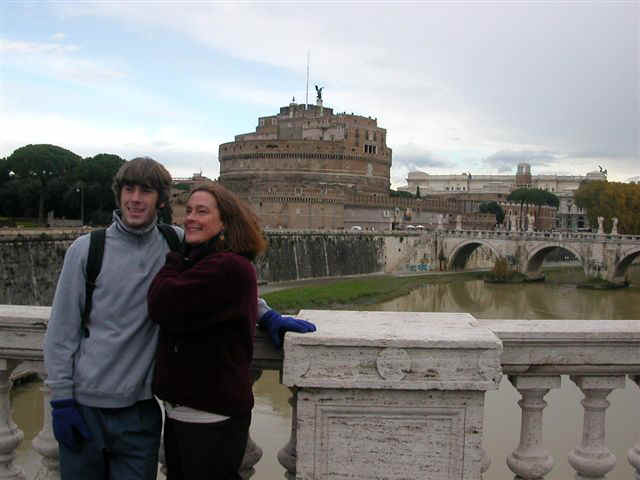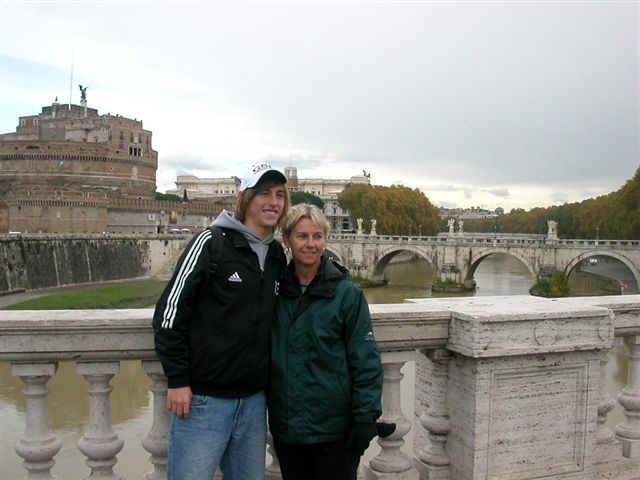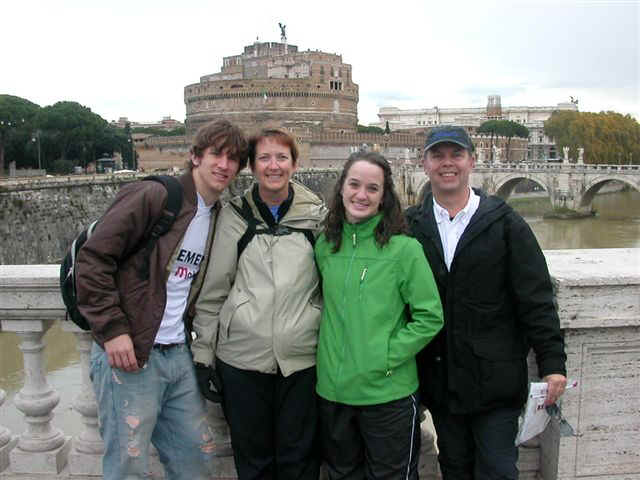 It took us about an hour to get back, so we were ready for lunch. We grabbed an outdoor table at Il Pomo d'Oro and ordered pizza. Scott and Claire arrived just as we were finishing lunch. We decided to take the kids to a park and let them work off some energy kicking the soccer ball that Jared had cleverly brought with him.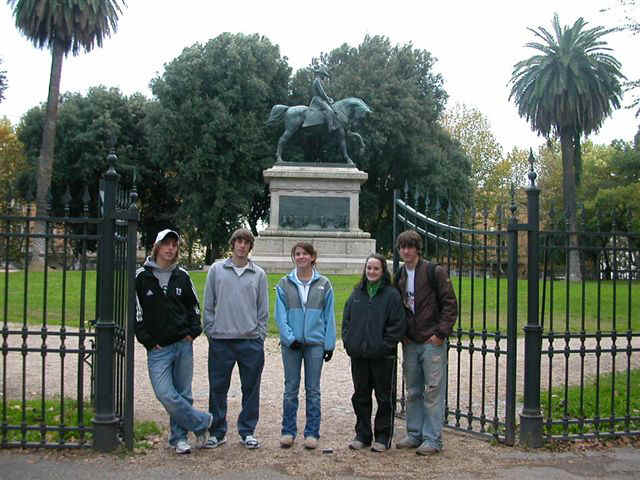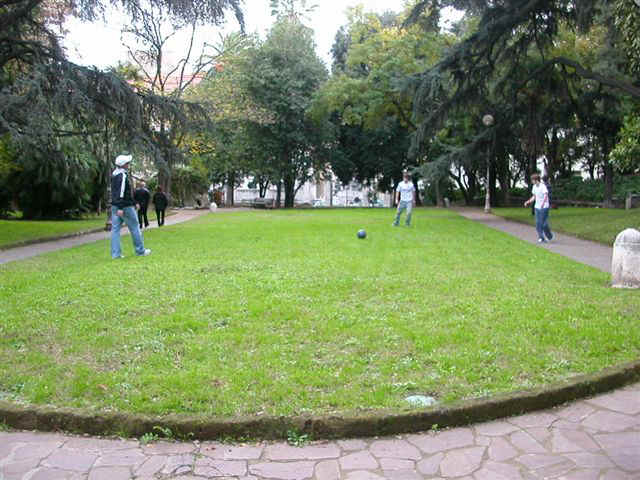 Afterward, we headed for Trevi Fountain. It was very crowded, but much to our surprise, we were not bothered by gypsies or pickpockets. We threw a coin in the fountain to ensure our return to Rome!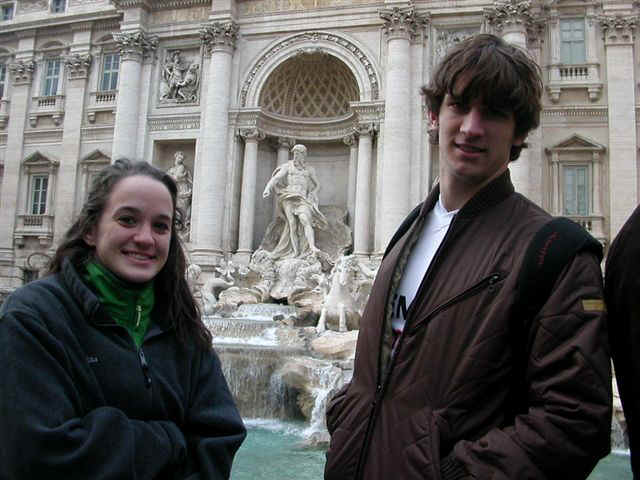 We wandered around, doing some shopping and wound up at the Pantheon again. We stopped for wine and hot chocolate at M. Agrippa while some of the kids did more shopping.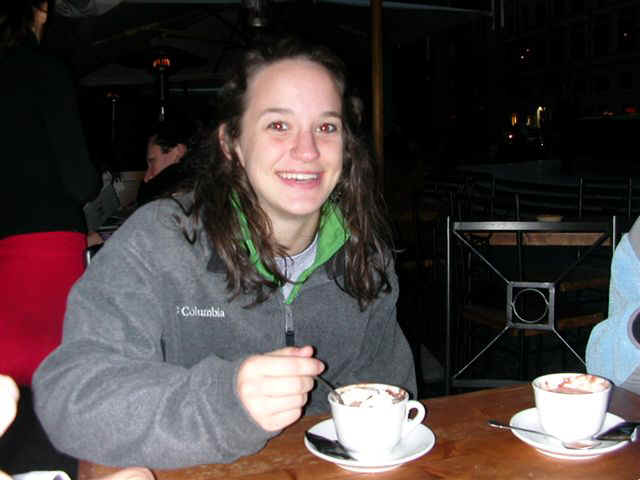 Ciao Bella was delightful, although a bit pricier than we remembered.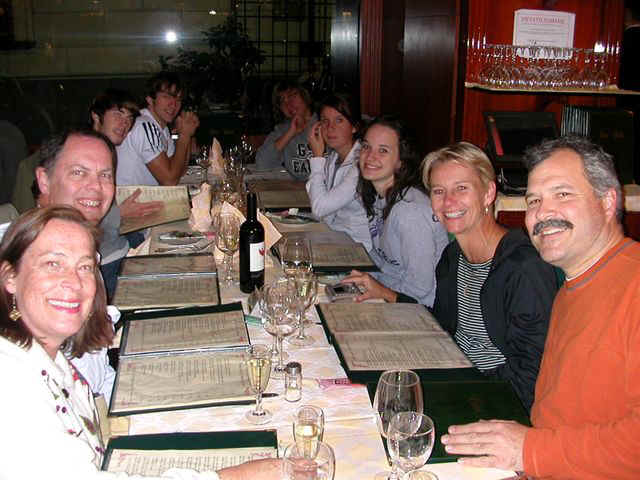 They served us champagne (kids too) to start and then we had appetizers of Tomatoes and Mozzerella, Cheese, and Calamari. For our entrees, we had an assortment of pastas, eggplant, steak, salmon and sea bass. I had the BEST Tierra Misu, accompanied by an after dinner Lemoncello drink. Nancy thought her glass was smaller than the others, but we assured her it was just her imagination.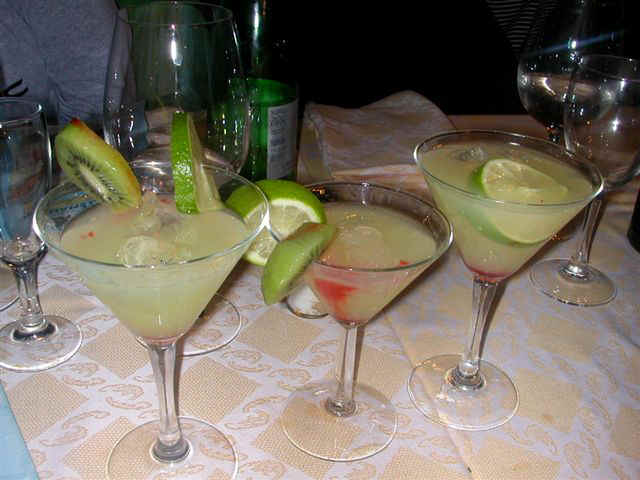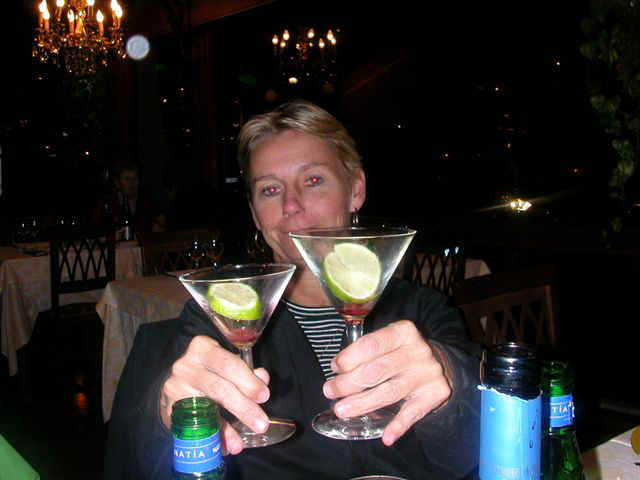 Back at the hotel, Karen, Nancy, Lauren and I opted to stay inside while Tony, Scott, Justin, David, Jared and Claire went to the Café Strega to watch soccer.
Wednesday, we were up early to go to the Vatican museum. We had purchased some Baileys Irish Crème the day before to give our coffee some color, so it was much better. We caught a very crowded subway to the Vatican, avoiding the hour walk. There was a bit of a line to get into the museum but it moved quickly. The hallways leading to the Sistine Chapel were breathtaking. We took lots of pictures of the frescos on the ceilings.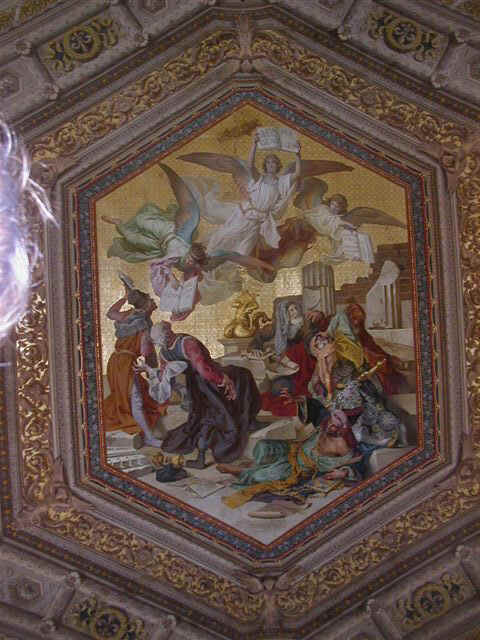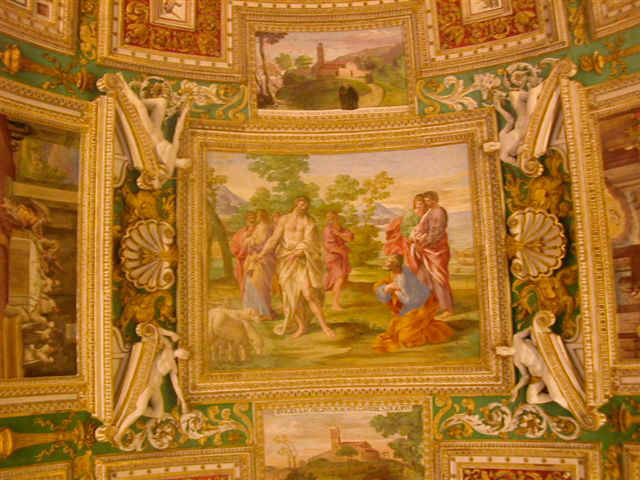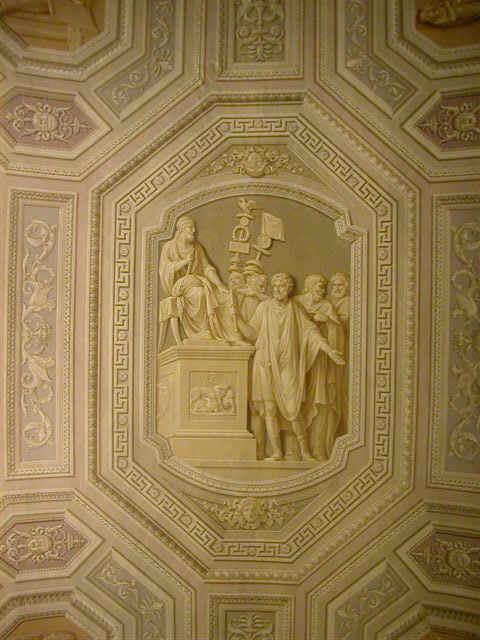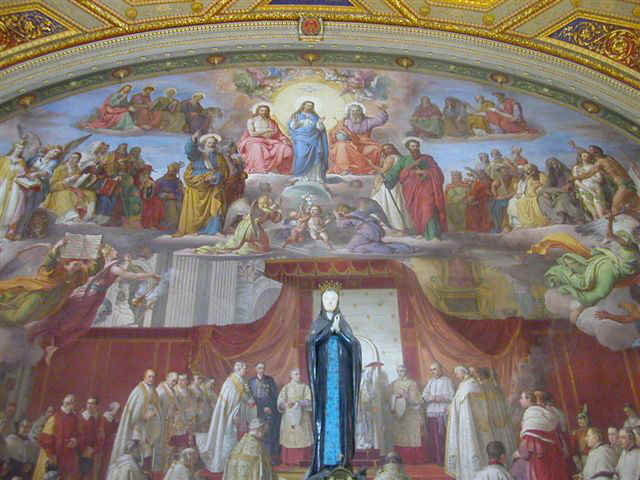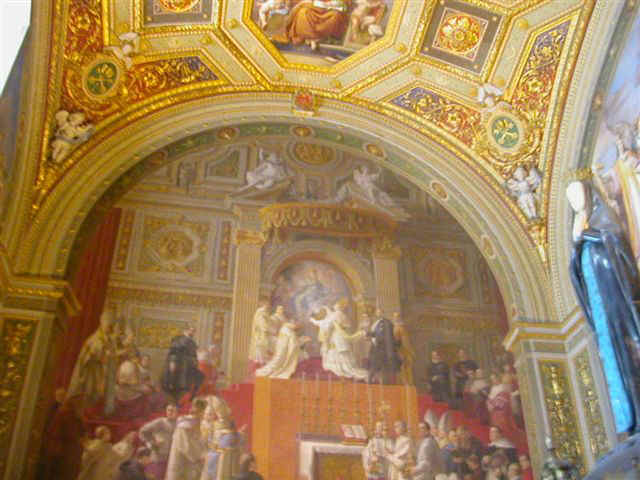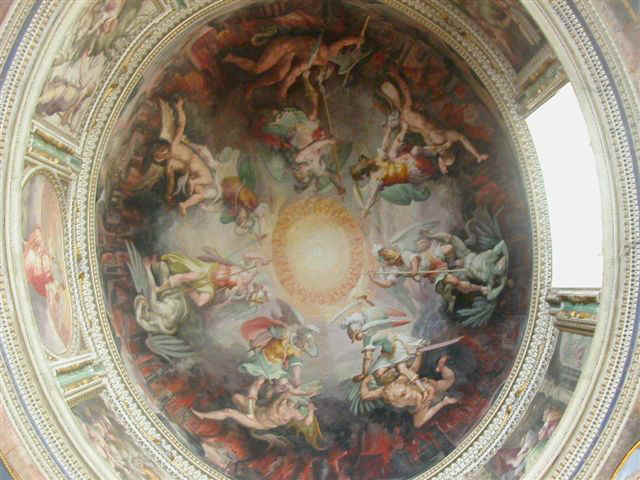 When we got to the chapel, I was surprised by how small it was, especially the famous first touch painting.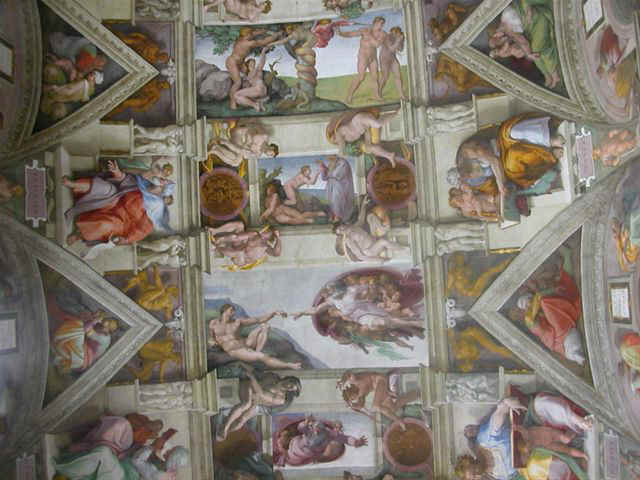 After we had gawked at the chapel for a bit, our group reconvened in one corner, but we couldn't find Karen. We moved toward the exit, admiring more beautiful art along the way.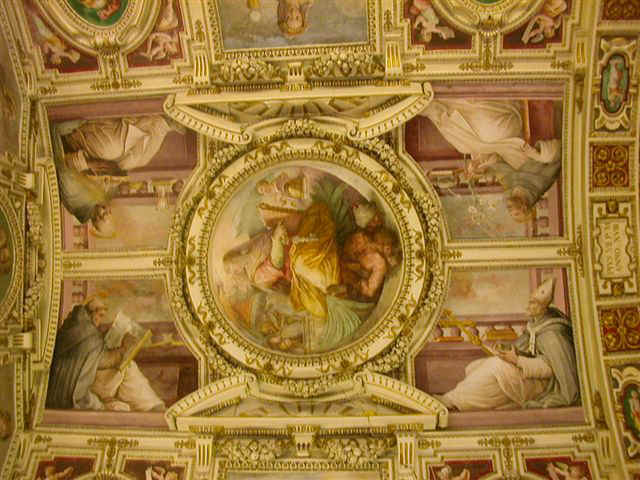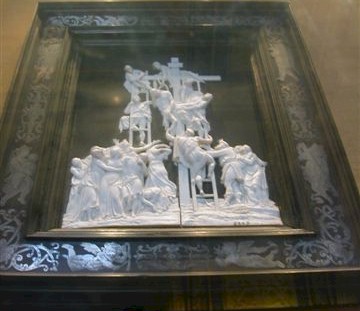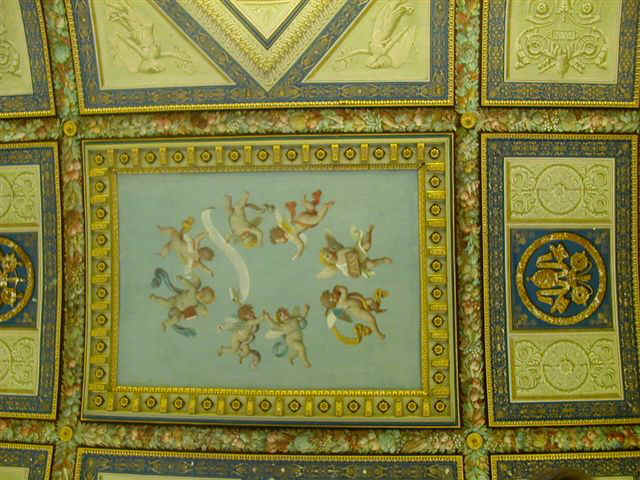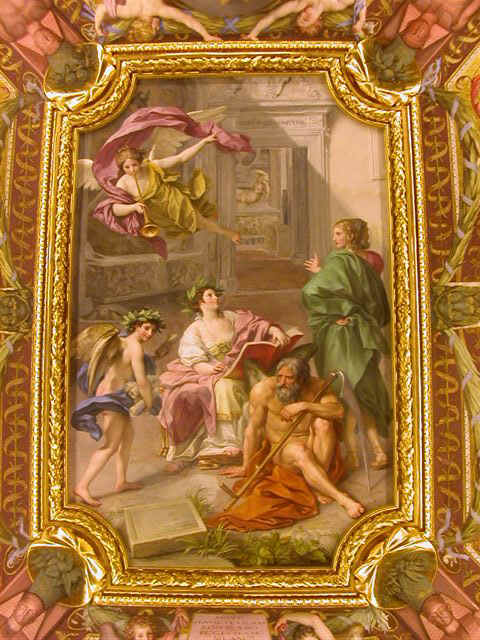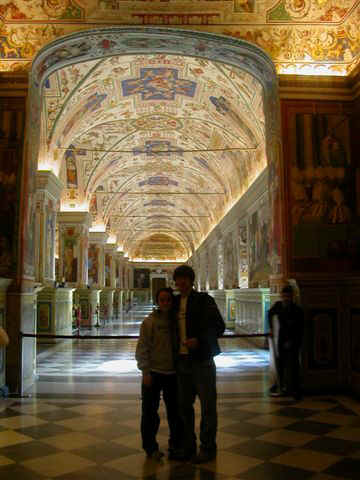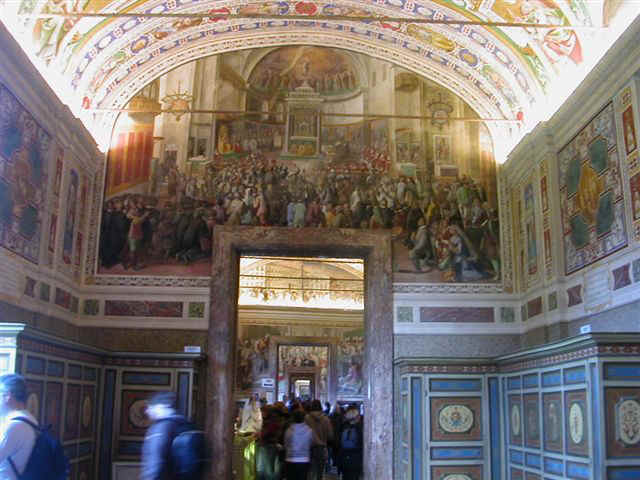 We finally found Karen outside. We decided to cut through St. Peters Square so Claire could see the Basilica on our way back when who should we see but the Pope!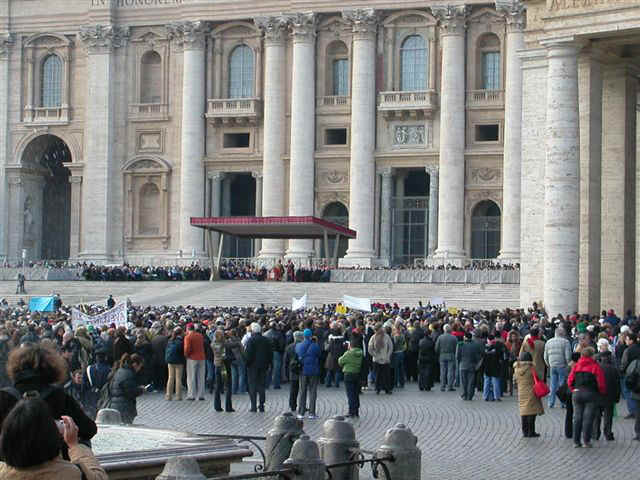 We knew that he gave a blessing at 10:30 on Wednesdays but figured we had missed it. We got there just in time to get our blessing!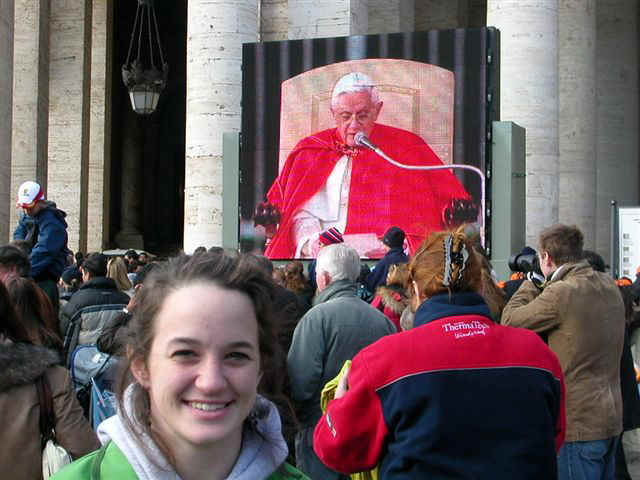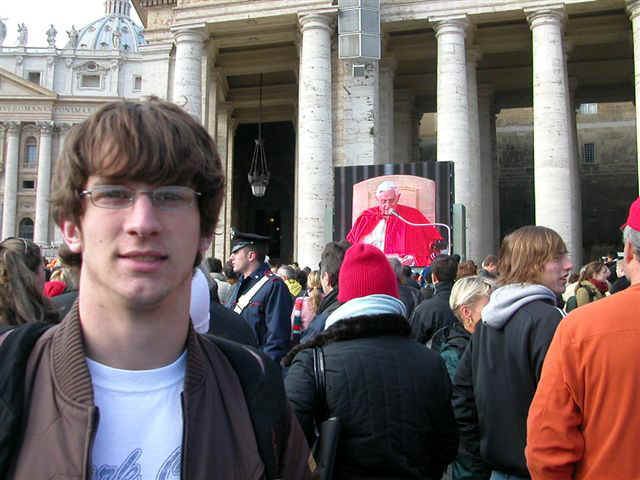 We stopped at the Universal Bar on our way out of Vatican City to rest our feet. We talked about how blessed we felt after our audience with the Pope.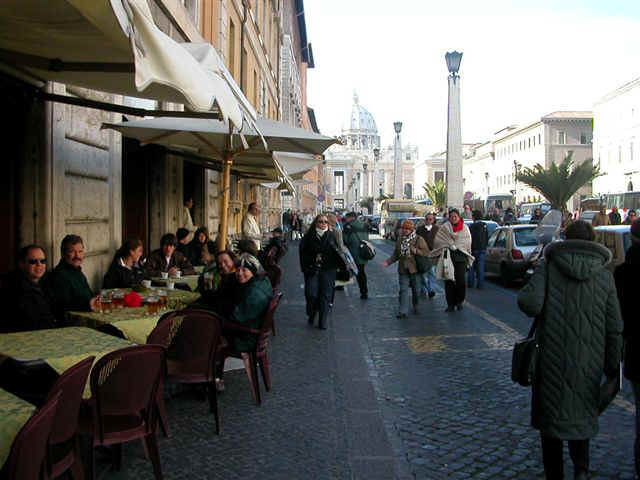 Revived, we went off to shop some more. We crossed the Tevere on a pedestrian bridge filled with artisans selling their wares.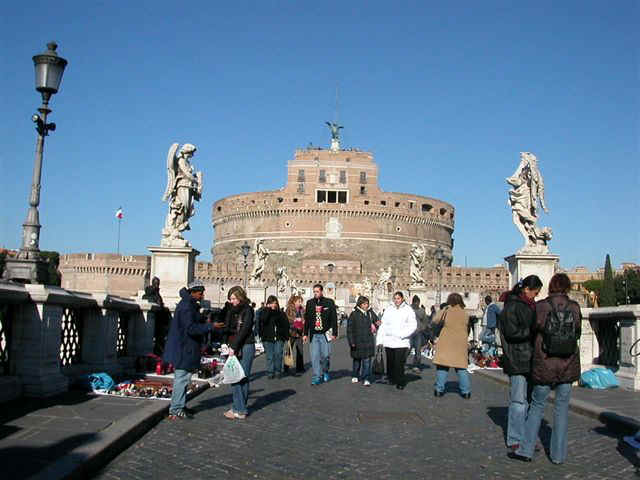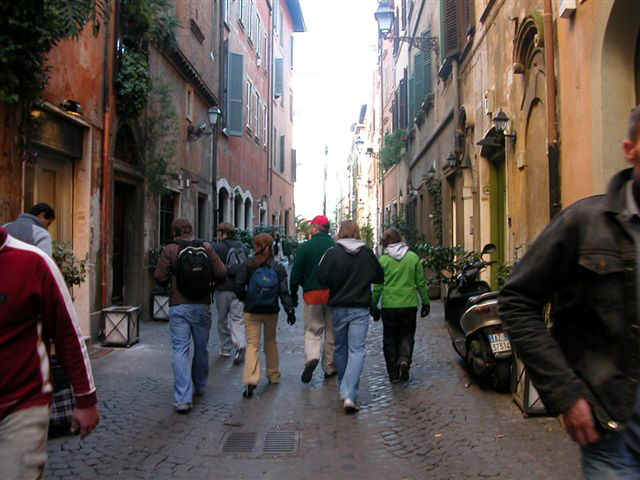 We wound up in Piazza Navonna.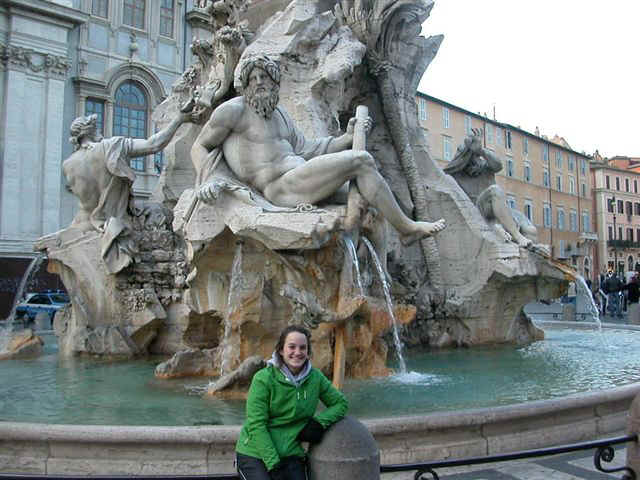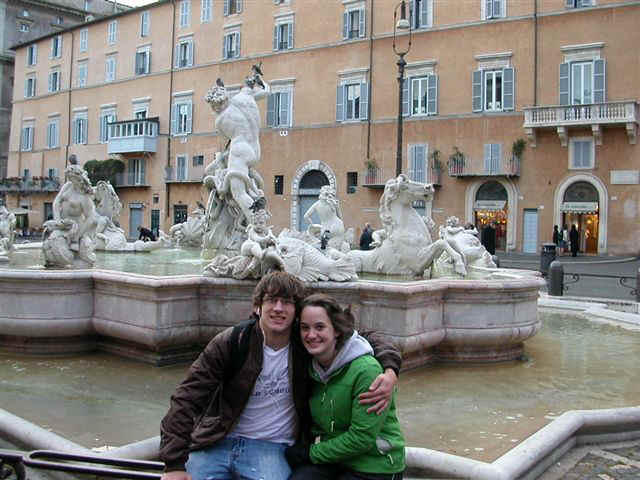 A couple of the kids got their caricature drawn.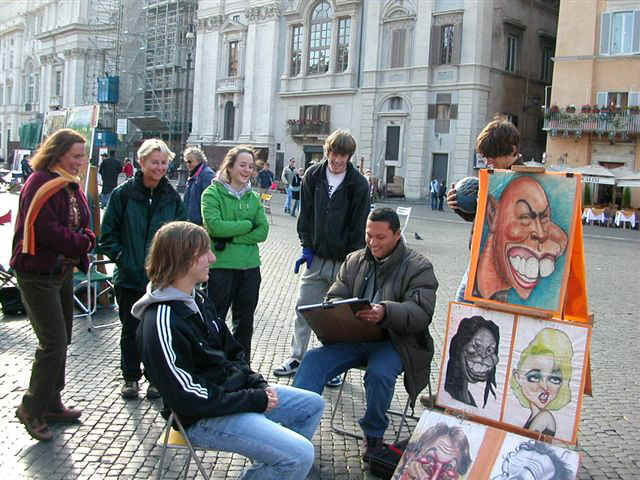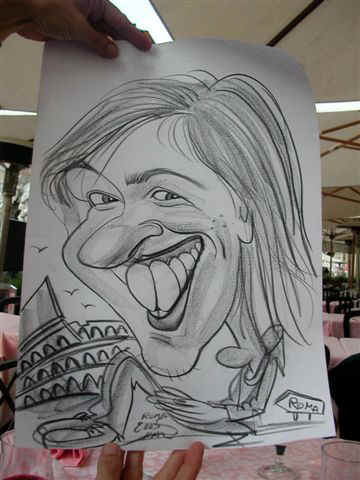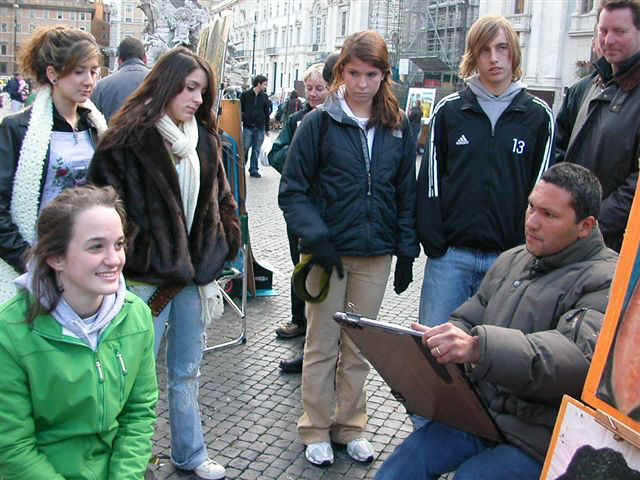 Lunch was at the Restaurant Tucci. It was difficult to select a restaurant because of the barkers who came out to tell you about their menus. One even told us that the restaurant next door served frozen food. We finally settled on Tucci because no one bothered us while we looked at the menu.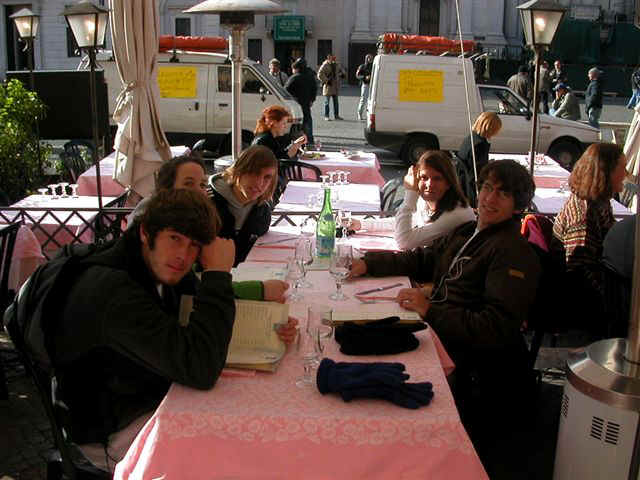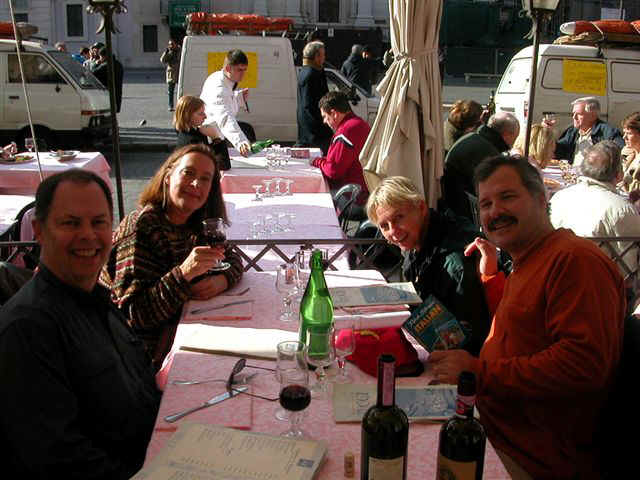 Most people ordered pizza, but I decided to be adventuresome and try the crostini with anchovies. I thought it would be a sandwich, but it was just some big croutons. The adults enjoyed another glass of wine at Tucci's while the kids played a pick up soccer game in the piazza. We found out later that the police asked them to stop several times.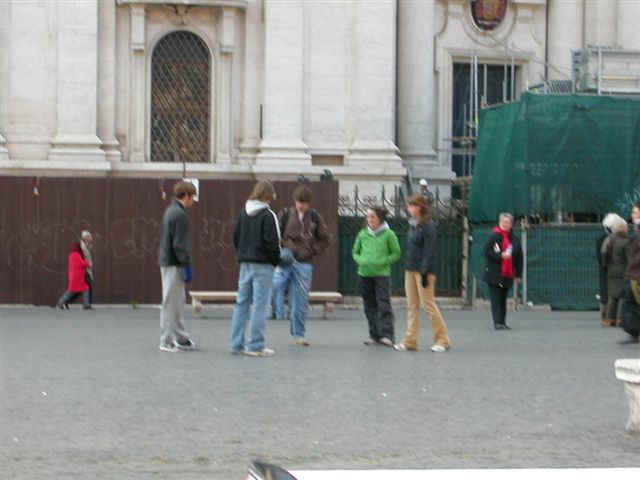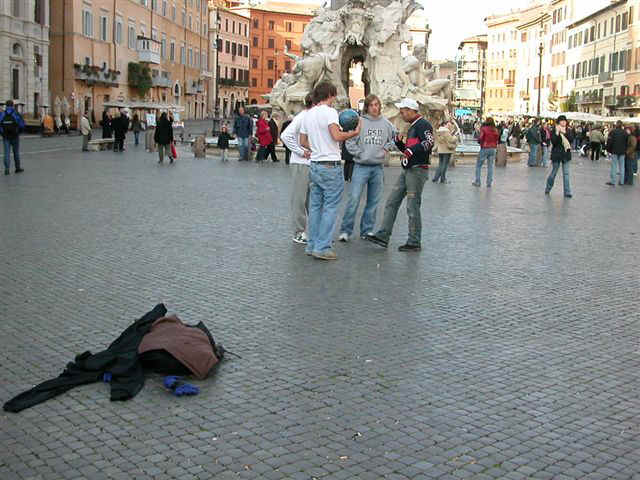 More shopping took us down the fancy smancy street (via Condotti) in front of the Spanish Steps.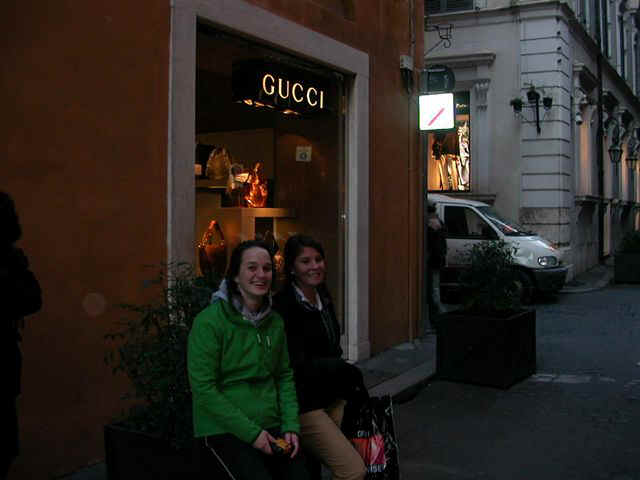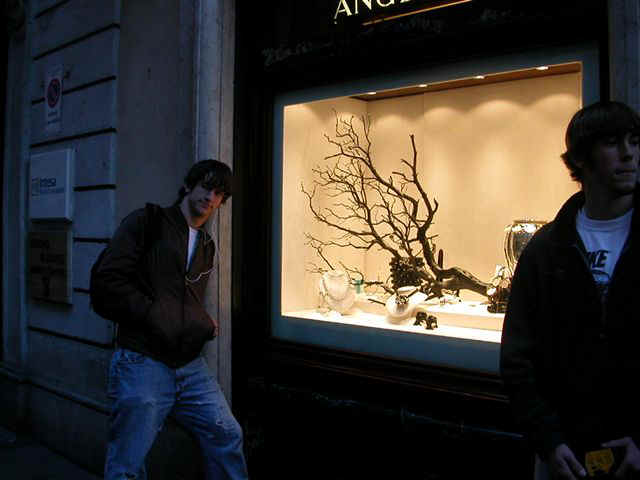 At dusk (around 4PM), the Spanish steps were teeming with activity.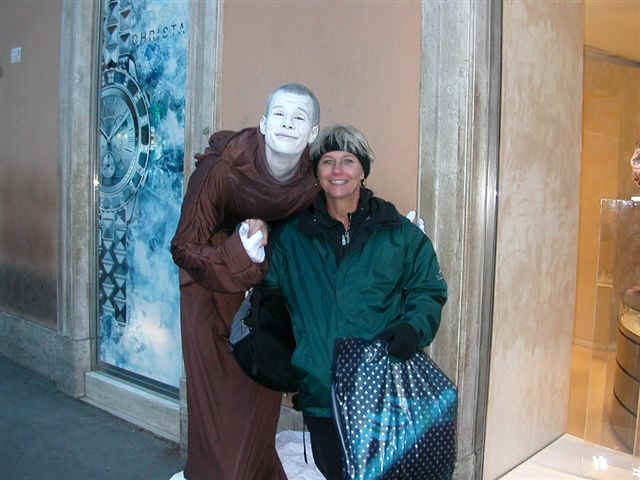 Our feet were starting to complain when we came upon the Wine Bar Cesaretto on via Bocca di Leone 44a 00187. It was an adorable place with seating upstairs in the wine bar for only about 10 and downstairs were 4 tables for 4. It was one of the oldest wine bars in the city. When we left, it was dark, so we swung by via Condotti to see the pretty lights.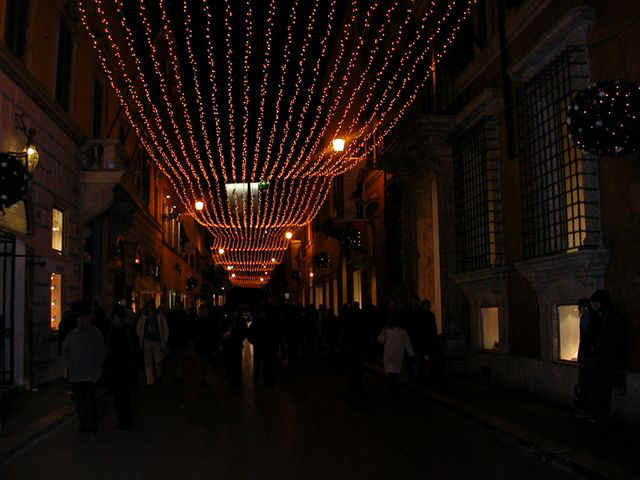 The kids begged to go to Strega (where they had watched soccer) for dinner. That was just fine with everybody. It was very near the hotel, had a nice selection, and was reasonably priced. Back at the hotel, the adults decided to finish the evening with a glass of wine in the lobby. The desk clerk said it would be fine as long as we didn't spill. The kids begged to be allowed to go outside and kick the soccer ball around since it was their last night in Italy. I didn't think it was wise since it was already eleven o'clock, but the other parents said that if they stayed together they could go, so we let them, but told them to be back by midnight. They were as good as their word and came back at midnight.
We decided to go ahead and pay for our rooms since we had an early train the next morning, but there was some confusion over our bill, so the desk clerk asked us to wait until Franco arrived the next morning. He said Franco would be there by 7AM. The clerk said that we needed to get to the train station at least 15 minutes before our train so we could buy our tickets, but if we settled with Franco at 7, there should be no problem.
The next morning, it was my job to wake everyone up at 6AM. It was very dark in the hallway so I could not see the room numbers. I knew both of the other rooms were at opposite ends of the hall. I found the first room with no problem and then felt my way to the other end of the hall, but when I knocked on the door, an unfamiliar lady answered the door. It appeared that she was already awake, thank goodness! I apologized and went back to my room for a flashlight to make sure I got the right room on my next attempt.
Everyone was ready to leave at 7, but when we went to the desk, the clerk told us Franco's shift started at 7:30. We told him that we had a 7:50 train and could not wait for Franco. The hotel only accepts cash, so we asked him to give us a receipt for what we planned to pay and we would settle it with Franco by email when we got home. He started to do this just as Franco arrived, so he turned it over to Franco. Franco was very personable and straightened out the bill right away, but we were still very late leaving the hotel. We hurried to the train station and made it two minutes before departure. We paid for our tickets but did not have time to wait for our change. Return tickets on the train were 11€ each (plus tip since we couldn't wait for our change). We breathlessly took our seats for the 30 minute ride back to the airport.
There were plenty of seats on the flight home, so it was a bit less stressful than the trip over. We watched "Wedding Crashers" and "Must Love Dogs", two very cute movies on the way back. We forgot to remind Jared of one of the Essential Rules of Non-Rev Travel regarding the dress code and were surprised to see that he had changed into shorts on the way home. Thankfully he had not sat in his assigned seat, so hopefully the crew did not realize he was traveling on a pass.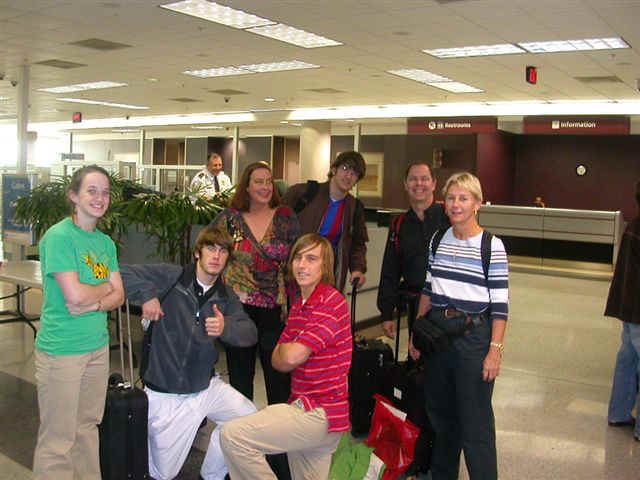 Another great trip!
BJ and Tony Morris
bj@bjandtony.com