Galway, Ireland
January 2006
"The Soup Diet"
I'm sure Martin Luther King, Jr. would be awfully disappointed in us if we did not observe his holiday by doing what makes us happy – traveling! Tony's been itching to go to Ireland again (he only went twice last year!)
We got "great" seats (which, as you know, means Business Class) and even got to visit with Sally, one of my golfing buddies who happened to be working as a flight attendant on the flight. Tony declared that he was going on the "Soup Diet" as soon as we got to Ireland. He said the soup diet would include the Full Irish Breakfast and Soup. This sounded like a great idea to me – since I love the Irish soup and can't resist the Irish Breakfast. No need to start the diet too early though, so we didn't skip any of the courses served to us on the airplane (including the Ice Cream Sundae).
We arrived on the 13th of January for our 13th trip to Ireland! We had the usual hassle with the rental car company over the insurance. So far, every rental company we have rented from in Ireland is convinced that MasterCard is the only credit card company that covers cars in Ireland. Our credit union has specifically purchased worldwide Loss Damage Waiver coverage for our Visa (including Jamaica and Ireland, which many card companies exclude). The challenge is convincing the car company to allow us to waive the coverage. We showed them the Loss Damage Waiver Pamphlet that showed worldwide coverage with no exclusions, but they wanted a document that specifically "included" Republic of Ireland. They finally accepted a letter from the Credit Union as proof. Aarrgghh!
Once we reached an agreement with the rental car counter, we took the shuttle out to the lot and picked up our lovely red Fiat Panda. We got all settled in and positioned our GPS units (that's right, unit"s"… Tony has his Garmin eMap and I have my brand new Garmin Nuvi that Santa brought me). We programmed Galway as our destination and started our journey. It was, of course, raining – this is Ireland, after all. The wipers stopped working about 1.5 miles from the airport! We had to double back to the rental car lot – a treacherous drive in the rain without wipers. They exchanged our Fiat for an identical one and once we had moved all of our luggage and GPS units, we were off again.
We were going to stop for a beer in Galway to plan the rest of our trip, but there was a lot of traffic in town, so we decided to go on to Salt Hill where we found a lovely little pub called Molly O's at Jameson's Hotel and enjoyed a beer and some vegetable soup (predominantly carrot). We were off to a good start on the "Soup Diet".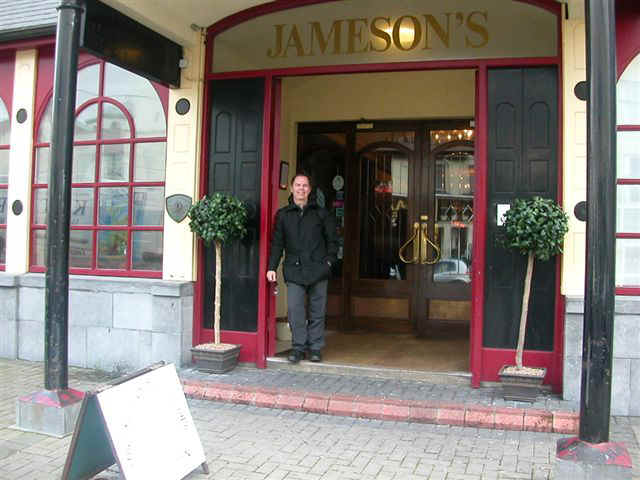 We mapped out the rest of our day. We would drive along the coast, through Barna and Spiddle, spending the night in Carraroe. We took an exploratory drive around Carraroe and happened upon this cemetery overlooking the ocean.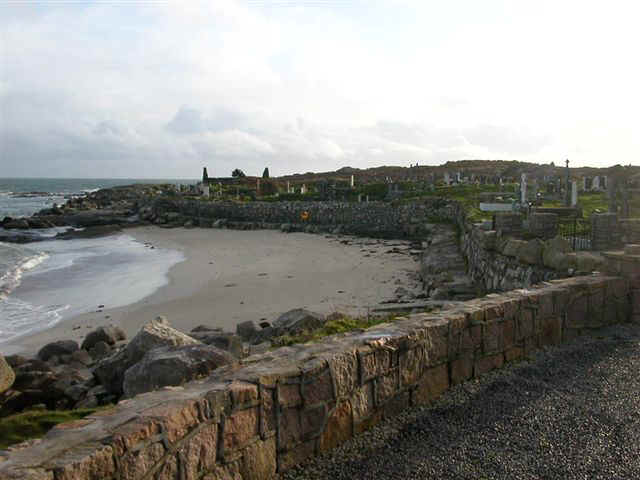 We found the Carraroe House, run by Ms. Lydon, in the B&B guide, but no one answered the door.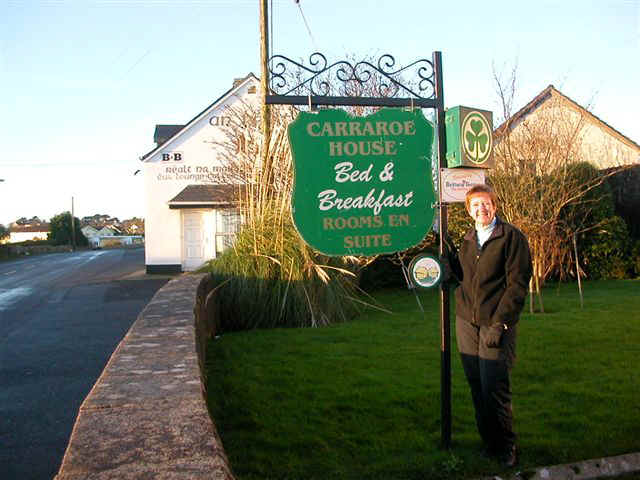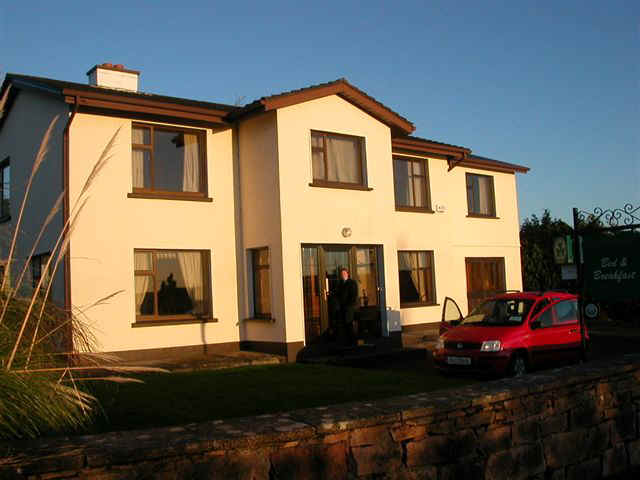 The pub right next door (Realt Na Maidine) advertised B&B as well, but they were not accepting guests during the off season. They had a wonderful welcoming fire, so we decided to stay for a beverage before continuing our search for accommodations.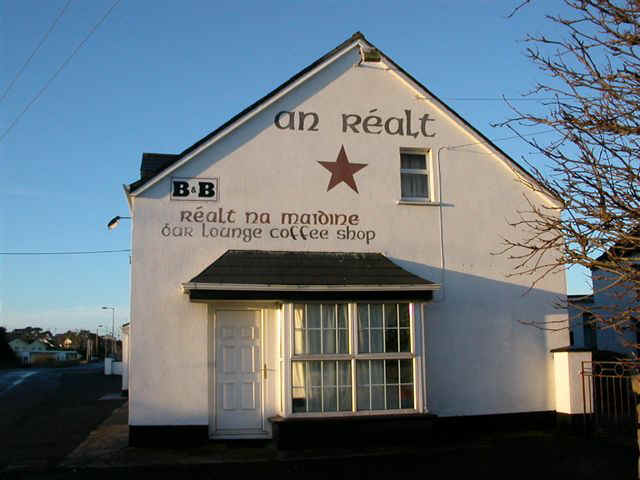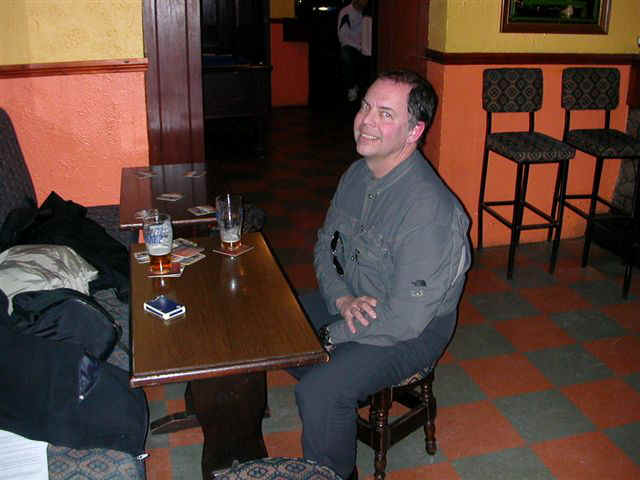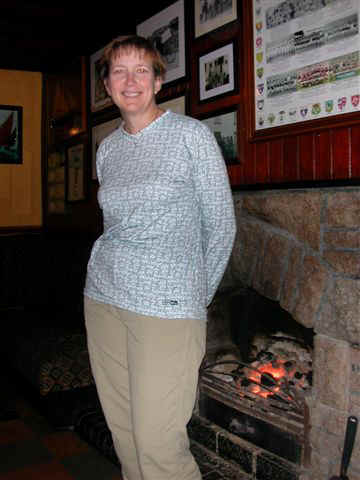 While we were enjoying our beer, the bartender called back to the Carraroe House and reserved a room for us. Mrs. Lydon had been out back and had not heard our knock. We finished our beers and went next door to check in. There was (gasp) no TV in our room, but we decided we could rough it for one night. We went down to the common room and watched a little TV until we were ready to go into town for dinner. Aside from an Asian restaurant, our only other choice for dinner was the Bia & Desch.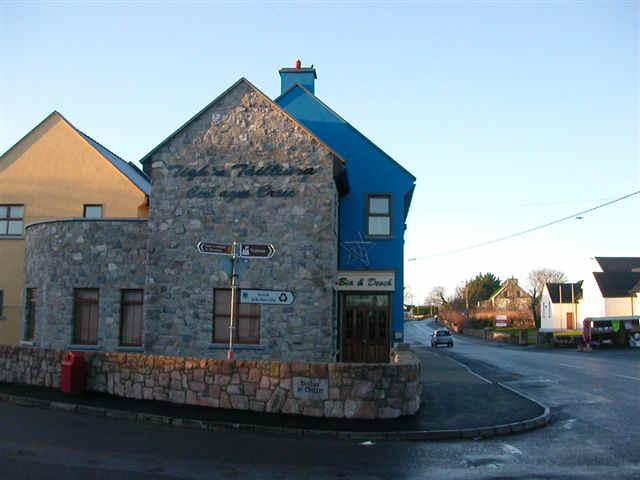 We ordered the soup and a beer. When the waitress delivered our food, she recognized our American accent. She asked if we were on holiday and then looked at Tony and said, "Your name wouldn't by any chance be Tony, would it?" When he said it was, she went ghostly pale and told him that it had been all over the radio - there had been an emergency, and he needed to call his family in Boston immediately. We assured her that it was not us they were looking for. We made it an early night, since it was our first and headed back to the B&B.
Saturday over our Full Irish Breakfast, we mapped out our route for the day.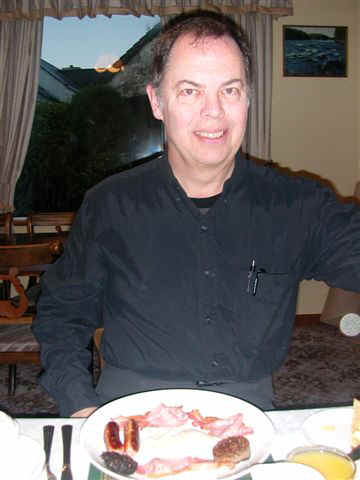 We started with a drive out to the two nearby islands, Lettermore and Groumna, both accessible by bridge.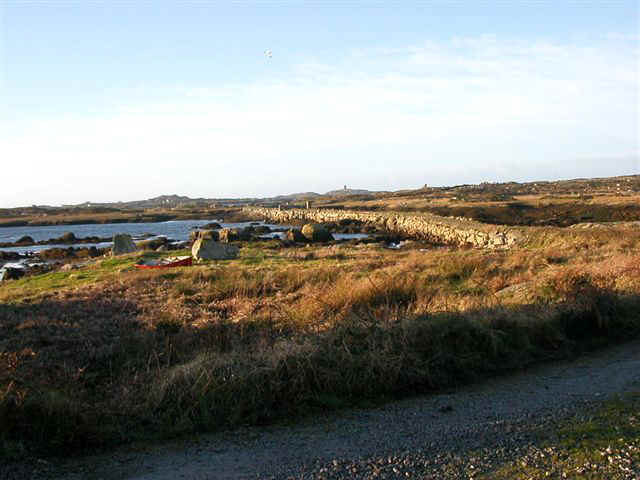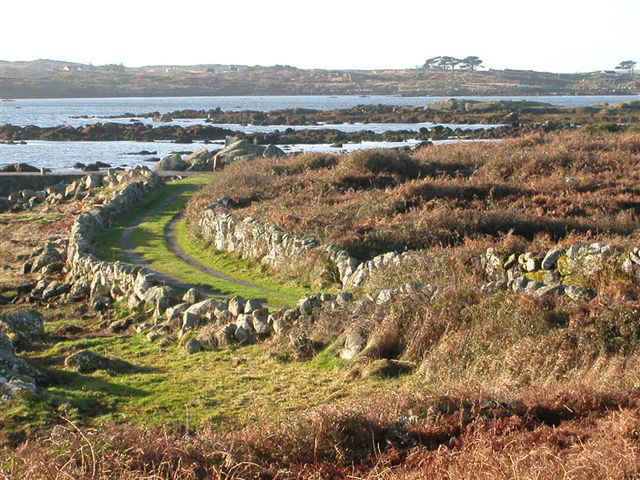 Then we took the coast road, stopping for a mid-morning beverage in Kilkieran at Coynes Bistro.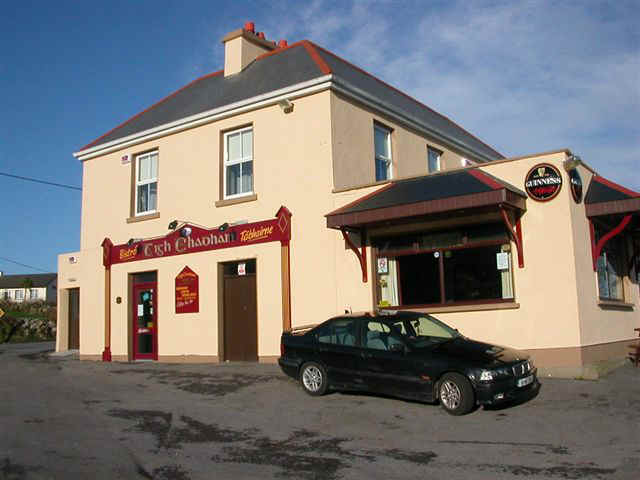 It was a gorgeous day and we had a beautiful view of the ocean from Coynes. We lingered over our beer and played a few hands of Casino. Our next stop was in Roundstone at the Shamrock.

Phillip, the manager, enlisted Tony's help to move a loveseat in front of the fire where we could enjoy our beers. We immediately detected that Phillip's accent was not Irish and learned that he was originally from California. Tony told Phillip about his dream to retire to Ireland and Phillip had lots of good advice and shared his experiences. He said that we needed to be prepared because no matter how long we stayed in Ireland, we would always be known as "blow-ins". As we were talking, another man with an American accent came into the bar and asked Phillip if he could accommodate 39 people for drinks. Phillip was glad to oblige. We talked to the new man who was traveling with a group from Boston. We asked if they had a "Tony" in their group, but they didn't. They were a rowdy bunch – having a great time!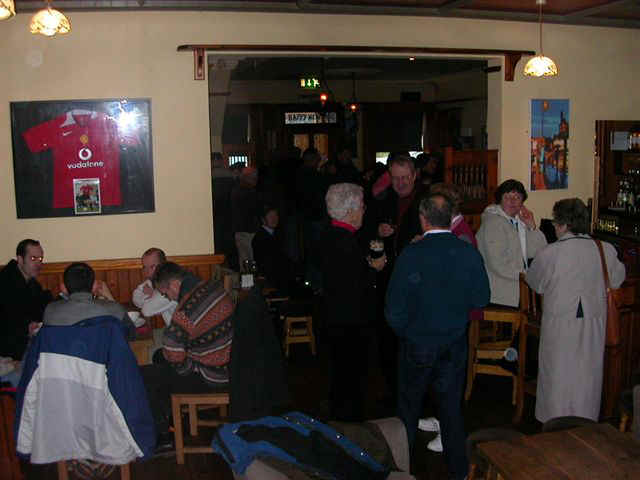 One fellow left his wallet in the restroom so they teased him about what he was buying in there & later slipped a condom in his pocket as a joke. We had a nice conversation with their bus driver – he was a fellow walking enthusiast, so he had lots of questions about our previous walks in Ireland. We said our good-byes to Phillip and the Boston crowd and started our drive to Clifden, the town we had selected for our night's lodging. We arrived fairly early, so we decided to park the car and walk around looking for a B&B. I found a couple that looked promising in the guide, but it is not easy to find them since they don't always give street addresses. I stopped to ask a young redhead who was out walking her dog if she knew where the Kingston House was. She said it was run by her aunt and was just around the corner, but was not open at the moment. She recommended the Dun Ri house which was run by another relative. On our way to the Dun Ri house, we passed the Ben View house next door to the Kingston house. www.benviewhouse.com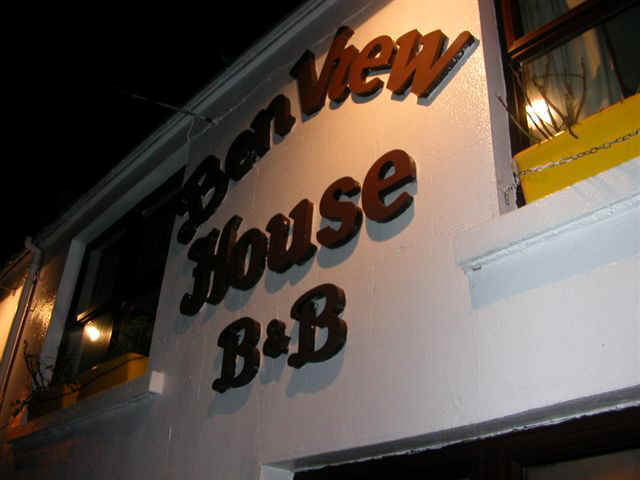 We liked the location so we decided to stay there. It was a charming place with a lovely breakfast room and public room. Desmund Morris was very charming as well, calling us by name as he asked if we would have the full Irish breakfast in the morning. After we dropped our luggage off, we set out to explore Clifden. It is a nice size town with a number of shops and, imagine this, pubs. We decided to try the lamb and vegetable soup at Griffin's Bar & Lounge first.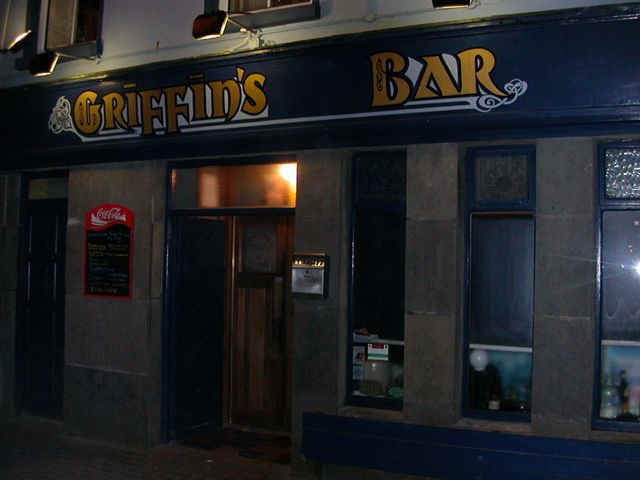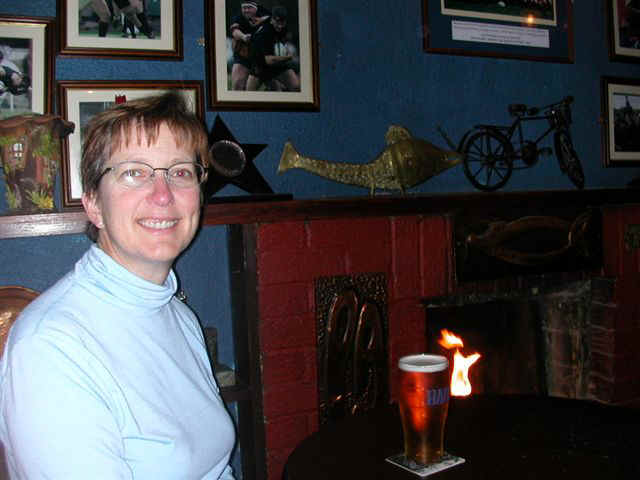 It was tasty, but not our favorite soup of the trip. We selected E.J. King's as our second stop.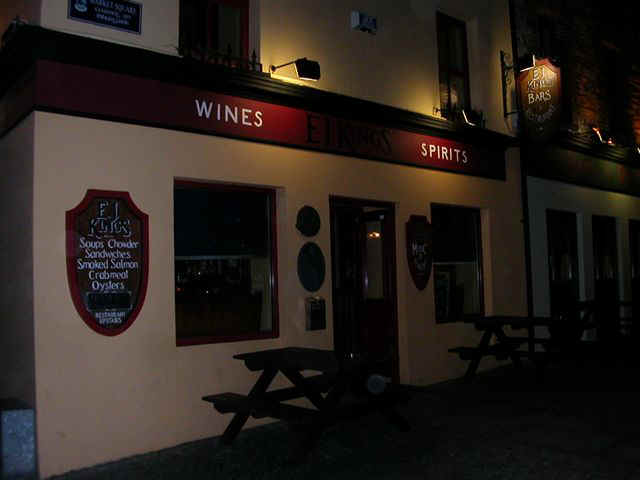 After a Jameson's for Tony and a Bailey's for me, we decided we needed some chips (not on our diet). Feeling full, we made our way back to the Ben View House where we caught a few reruns of "Everybody Loves Raymond" in the common room while we ate our kindereggs.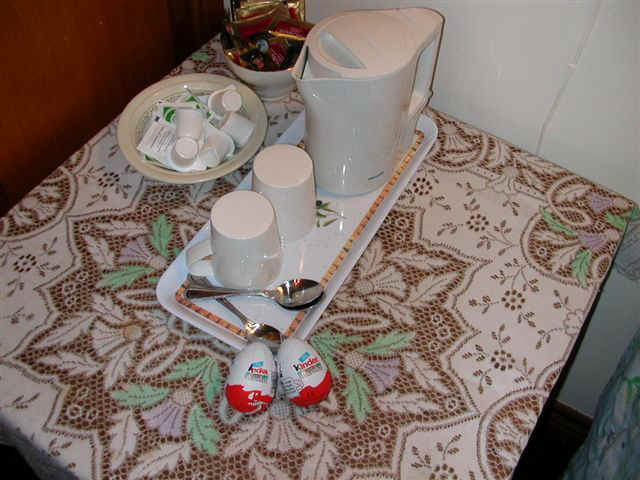 Sunday at the Ben View House, the full Irish breakfast (FIB) included pancakes and mushrooms along with the traditional assortment of sausages, bacon, egg, and tomato. Tony skipped the FIB and just had one of my pancakes and some of my sausages. (I am not one to share my bacon!)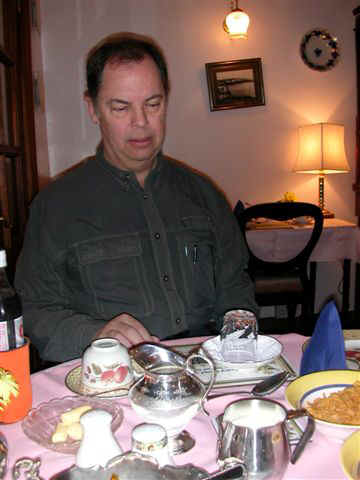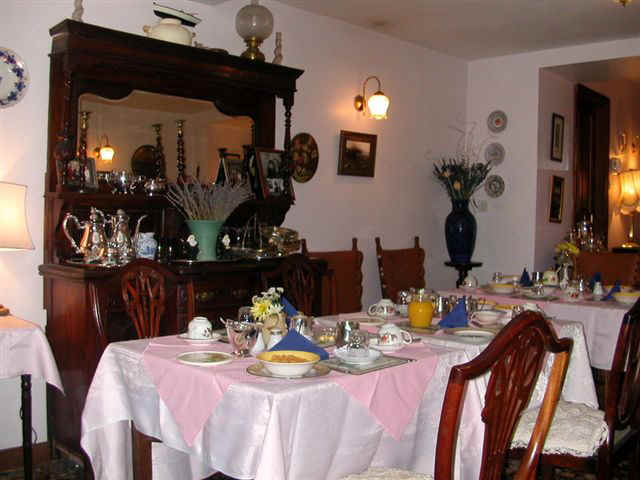 When we were touring the night before, we had noticed a road called Sky Road with a sign for a castle, so we decided to start our day in that direction. This is a "don't miss" if you ever make it to Clifden. The Castle Abbey Hotel was flying an American flag higher than the Irish flag.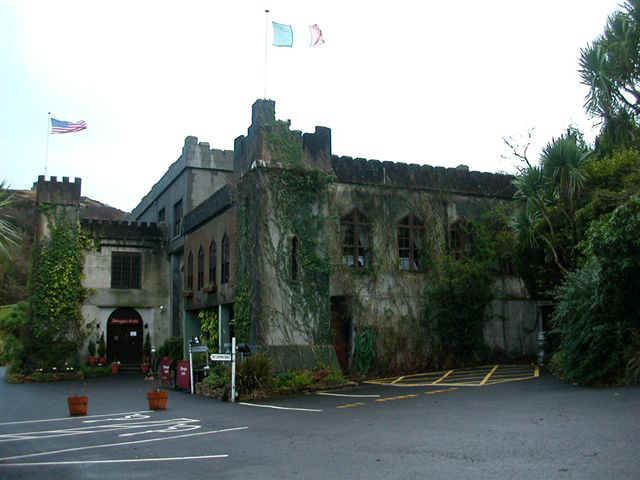 We're not sure what that meant – since the hotel was closed for the season. We took the lower Sky Road which was right on the coast and had magnificent views of the ocean. There was the obligatory castle, horses, thatched roofs and sheep along the way too.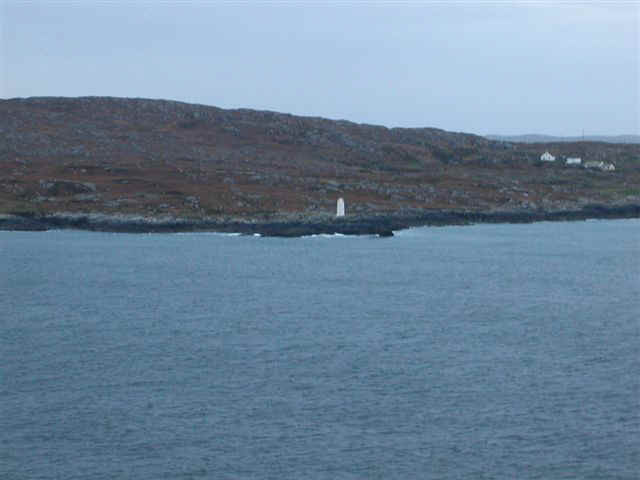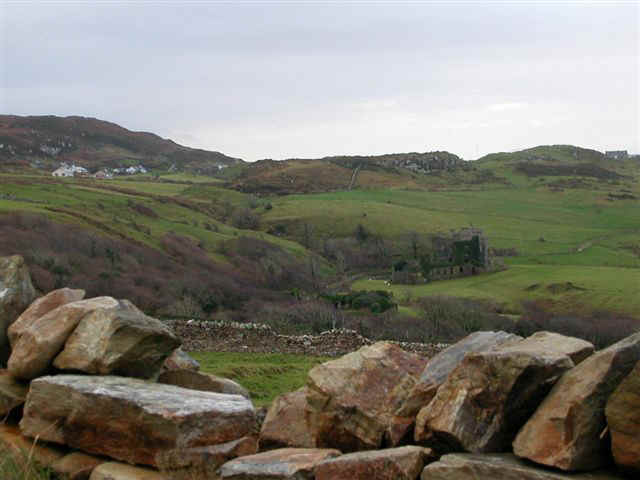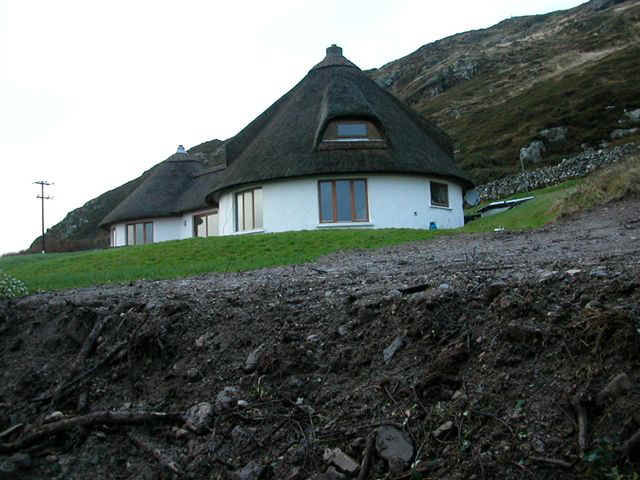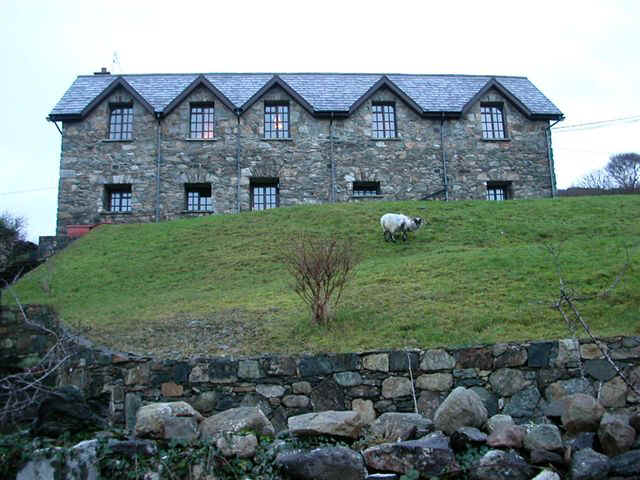 Lower Sky Road connected with Sky Road at a point and brought us back inland just north of Clifden. We made Leenane our next destination. Tony wished for a pub where he could also get gas for the car so we would only have to make one stop. Imagine our surprise when we came to the threeway stop in Leenane and saw Hamilton's Bar with 2 gas pumps out front! I've got a few other things I need Tony to wish for!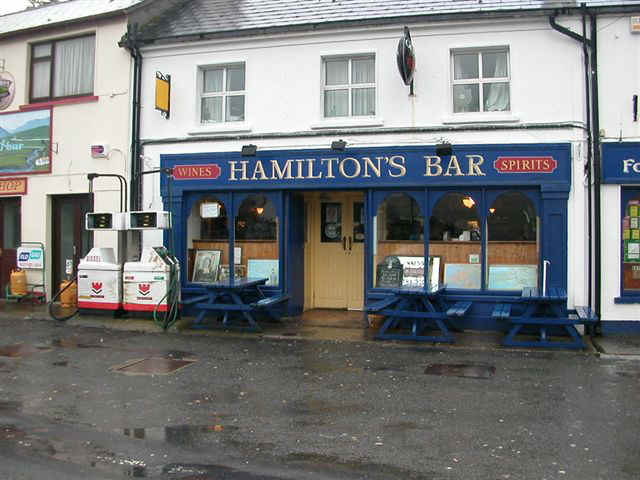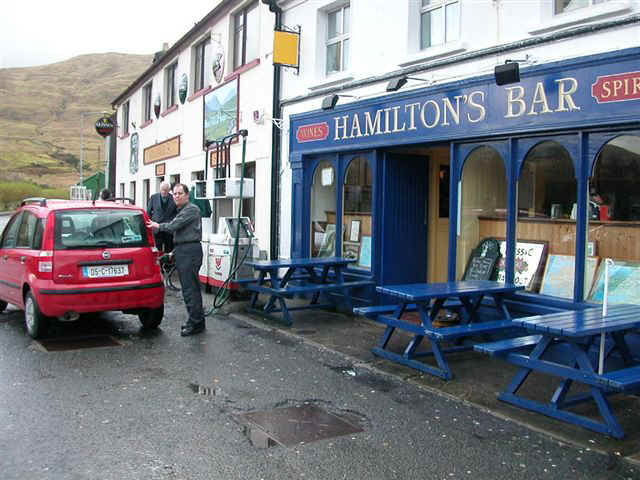 At Hamilton's, we positioned ourselves in front of the fire to enjoy a pint. Another couple wandered in and started looking at the notices posted next to the bar. In his Irish accent, he read one of the notices to his companion, "Look honey, free kittens…" then, after a brief pause, he said, "That's free as in no cost, not the number of them." We laughed.
The bus driver that we had chatted with in Roundstone had recommended the drive through Cong. He told us about the dry canal which was a joke on Ireland. It had been built complete with locks, but because of the limestone terrain, would not hold water. It was a joke on us too, because we could not find a dry canal. We decided to opt for the next best thing – a pub. Here we shared another bowl of soup and a couple of pints of Harp at the Crowe's Nest.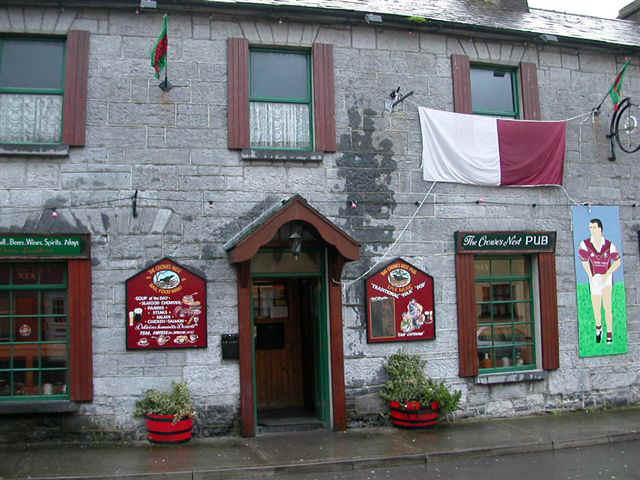 Rejuvenated, we started out again. This time, we decided to go follow some of the smaller roads that showed up on our map, but not on our GPS. This would get us closer to the edge of the lake. Wrong. We got close to the edge of the lake 3 times, but all of the roads were dead ends. It was starting to get dark, so we decided to get back on the bigger road and head toward Galway. As we were driving, I studied the map and the B&B guide looking for the best place to stay. We wanted to stay close enough to Galway to go into town and do some shopping the next day, so we picked Oranmore as our destination. We had to drive around a bit before we finally found a B&B that was open. The Castle View House was a welcome sight with its lighted sign since it was after dark.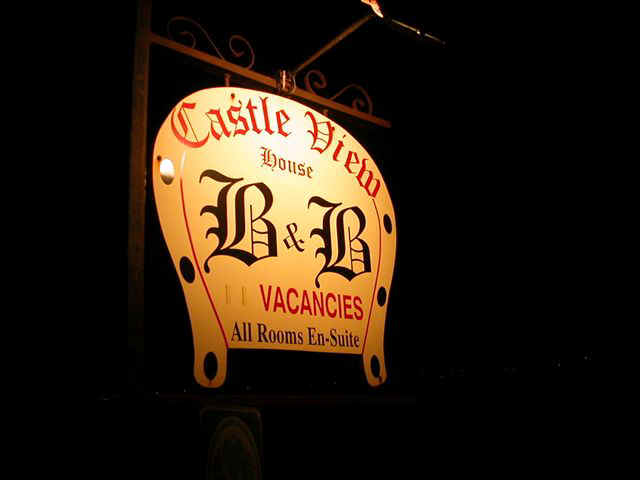 Pat Collins showed us to our room and recommended a pub in town that we could walk to for supper. She said it was a ten minute walk and that the weather was lovely. She was about half right. It was more like a twenty minute walk and the weather was only lovely on the way TO town. Keane's Pub had delicious soup and a TV where Tony could watch soccer.
We sat by the window so we could see that it had started to rain. We donned our raingear and headed up the street to the Olde Brewery for more beer and more Soccer.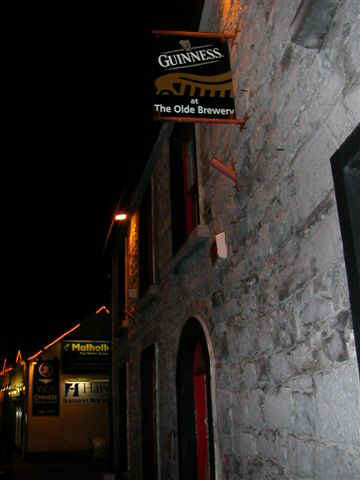 It was still raining when we left. Tony, always the gentleman, shined his flashlights on the puddles for me. Back in our room, we enjoyed kindereggs & Baileys.
Monday morning, Mrs. Collins served our FIB and then left to deliver meals to the poor, "to atone for my sins". We took our time getting ready so the business traffic would die down a bit before we made our way into Galway. We didn't know exactly where we wanted to be in Galway – just a nice shopping section, so we let Jill decide. Jill (the Garmin Nuvi GPS) is a pretty cool toy – she has points of interest built into her database. We selected "West City Center" and asked her to navigate us there. Not exactly what we had in mind.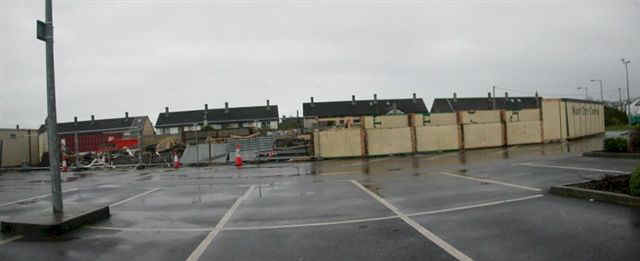 We decided to try selecting McDonough's pub as our next destination. This section of town was more like what we were looking for – when we got close, we pulled into the (incredibly expensive – more than 1 euro/hour) public parking deck. We found a nice walking street and explored some of the shops.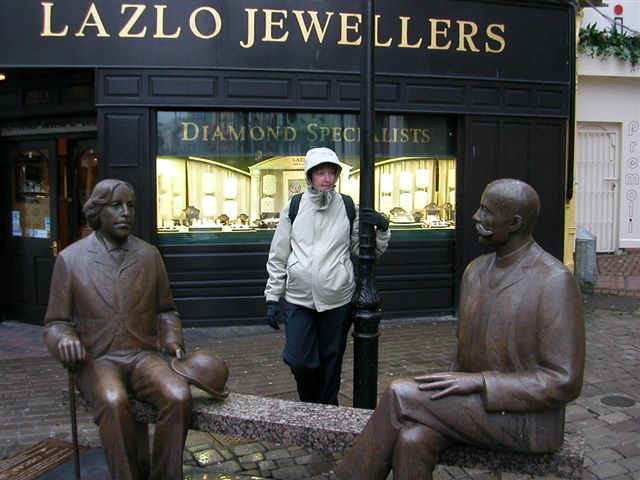 It was drizzling heavily, so we were surprised to see one of the pubs putting tables and chairs outside. We found a table in front of the fire at the Front Door Bar and played some cards.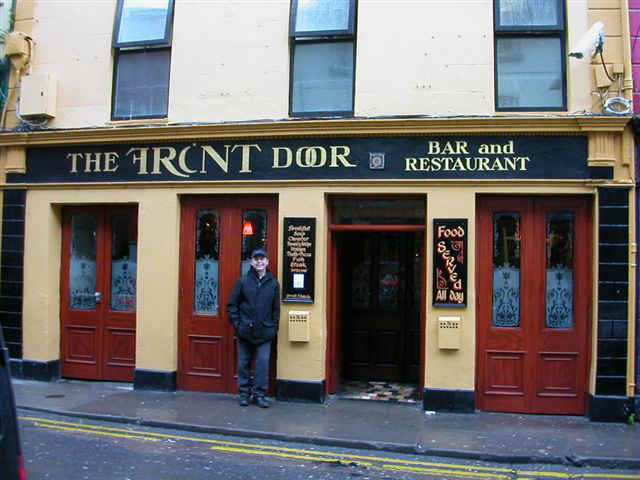 Tony wanted to stay all afternoon, but I told him I thought we should get out of town and find a place where we didn't have to pay so much to park. We left the pub through a different door and found that we were at the place that had been putting tables and chairs outside. Very confusing to have a pub with two different names, depending on which door you entered through!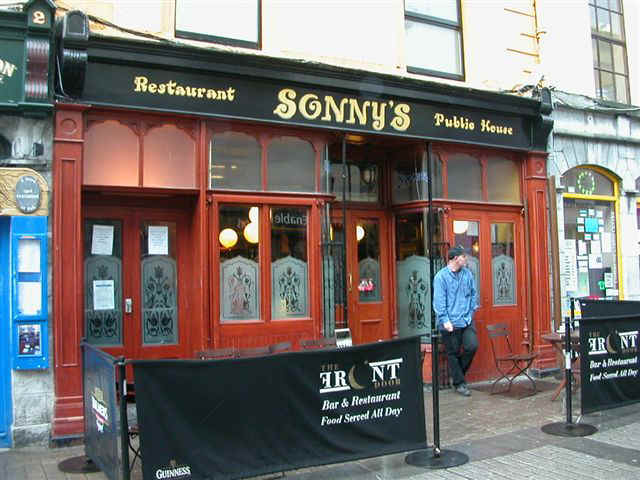 A short stroll back to the parking lot and we were back on the road – headed for Gort. In Gort, we had beer and soup at O'Grady's and played a few hands of rummy.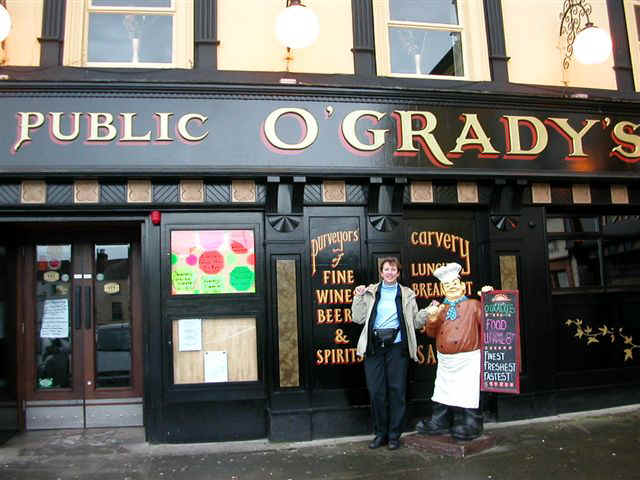 It was soon time to migrate toward Ennis, the town where we planned to spend the night. We thought we would try the Old Ground Hotel to see what their off season rate was. On a previous trip, they had been willing to negotiate, so we thought it was worth a try again. This time, they quoted us 110Euro – a bit steep compared to what we had been paying at the B&B's. We decided to go back to Rockfield's B&B where we had stayed on several previous trips. The sign out front of Rockfield's said 25Euro per person for B&B, so we rang the bell.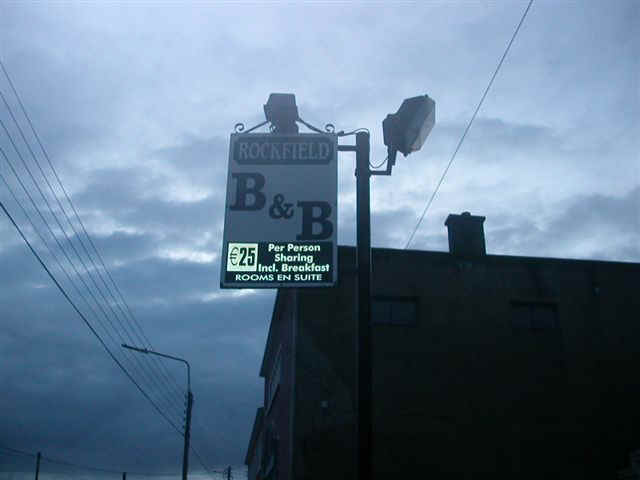 When no one answered, Tony decided we should leave a note, so we left our car out front and slipped a note through the door saying that we wanted a room and would be back before 6PM. It was early, so we walked around and did some shopping before stopping into the Queens Hotel for a pint. While we were there, we checked on their room rate in case Rockfield's was unavailable. They had rooms for 40Euro per person for B&B. We walked back to Rockfield's and found that they had a room available! It had a bit of a smoky smell, but otherwise was clean and comfortable. We dropped our bags and headed back out for more walking and a stop at Alexander Knox's pub for a Carlsberg. Knox's has a set of nice leather sofas by the front window where you can people watch.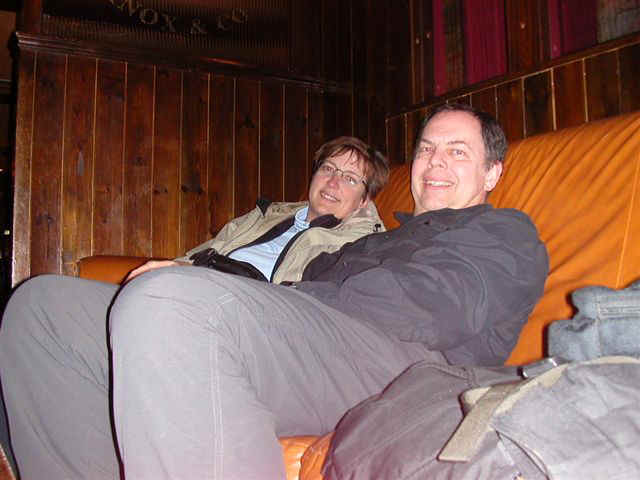 We finished the night at Brogans on O'Connell street. www.brogansofennis.com The waitress did not have the friendly personality that we had grown to expect in an Irish Pub, but she brought us our beers, soup, chips (what happened to the soup diet?) and after dinner drinks, so we couldn't complain.
Tuesday, Mrs. O'Driscoll served our last FIB of the trip and we were off to the airport. We had an uneventful flight home – in business class with the elaborate meal service, ending the soup diet. Back at home, the weigh-in showed that the Soup Diet was not a wildly successful way to lose weight, but at least we didn't gain.
Back to the drawing board – we need a diet we can stick to AND lose weight… Any ideas?
BJ and Tony Morris
bj@bjandtony.com