Venice, Italy
April 2007
"So, you are here. And so are you."
This was to be, by far, our most complicated trip, requiring us to do something we HATE to do - plan. We had been invited to a surprise birthday party for our friend Gordon (owner of the Limerick Junction pub). The party was to be in his home town of Limavady, Northern Ireland. Our friends Dr. Betsy and Ranger Jon would be traveling standby to the party too. Since they were novice standby travelers, I spent a lot of time researching their options as well. In the midst of all of the planning, our usual travel group decided that the Venice flights were looking favorable for travel, so we decided to combine the trips.
At the end of all of the planning, we had hotel reservations in Venice (a must, since it was Holy Week), a real ticket on Aer Lingus from Venice to Dublin, a hotel and car reserved in Dublin, and a B&B reserved in Limavady, leaving us only one night unaccounted for. This is way more planning than we are accustomed to.
Ranger Jon and Dr. B. had reservations on Ryan Air from London to Dublin, since the direct flight to Dublin looked dicey. My advice to them was to try for the Dublin flight and if they didn't get on, go to London, which looked more favorable for stand-by travel.
As the date of travel approached, the Venice group grew to nine. I had only reserved 3 double rooms and the hotel was full, so some of our travelers had to find other accommodations.
Travel day had me very nervous and watching our flights and our buddy-passers' flights. Dr. B. made her flight from Salt Lake City with 6 seats to spare. Whew! The Dublin flight looked so bad that they decided to skip the nerve wracking waiting to see and go for the London flight. Dr. B. called from her business class seat to describe the big grin on her face! After they took off, we could start concentrating on our trip.
The number of business class seats to Venice had been shrinking as the number of standby travelers grew, so the more junior of our group decided to fly through New York. It seemed like a good option, but the ATL-JFK flight took a pretty major delay, making it look like they would miss their connection. Once they landed in JFK, their flight had to hold on the ground due to a security breach. The security breach kept the terminal closed though, so their JFK-VCE flight couldn't depart either. Originally, they were supposed to arrive in Venice several hours ahead of the Atlanta flight, but it started to look like it would be a race to see who got there first. Our flight took a slight delay and pushed back around 8:15pm. Just before we shut off our cell phones, we got a text page from the New York group saying they were getting ready to board.
The first thing we did when we landed was check the arrivals board and see that we had won the race across the ocean by 1 hour.

The five of us who flew from Atlanta waited in the coffee shop for the New Yorkers to arrive.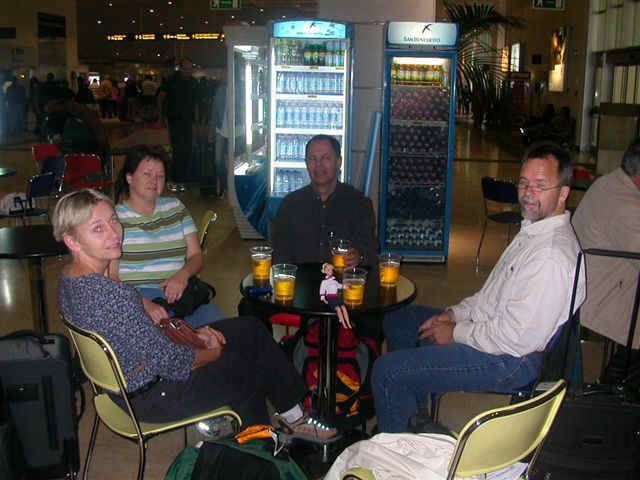 They looked frazzled! As it turns out, they had shared business class with a screaming baby!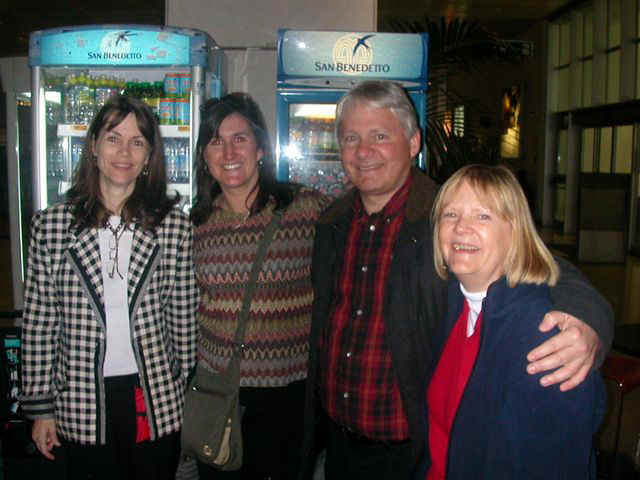 Once united, the now nine of us caught the 3 Euro bus to Piazalle Roma and then took a 6 Euro Vapporetto ride to the Rialto bridge, where we tried to follow our map to the hotel, but none of the street names matched up. Frustrated, we stopped for a beer and to ask directions.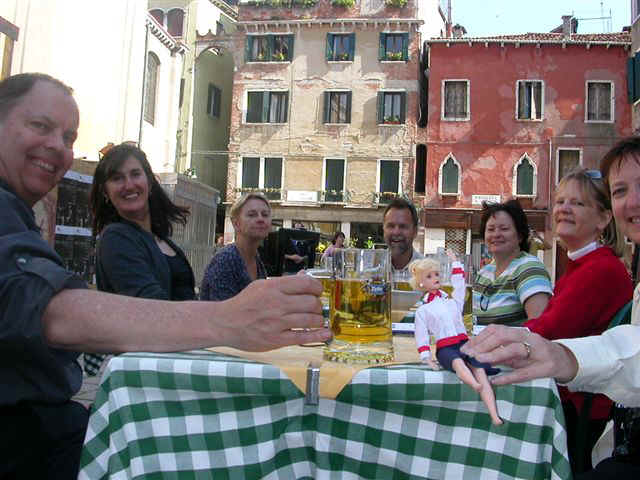 As it turns out, we were on the wrong side of the Grand Canal. We should have crossed the Rialto Bridge when we got off of the boat so we back tracked and crossed the busy bridge.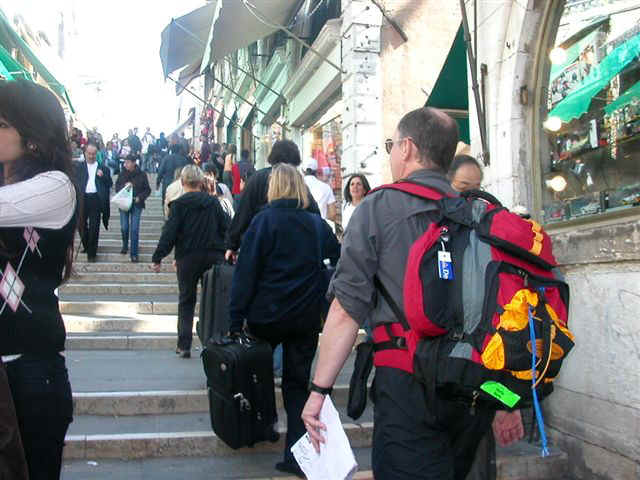 The hotel for the "original" seven of us was tucked away in the corner of a little piazza which housed the tourist attraction Scala Contarini del Bovola, a beautiful 15th century spiral staircase.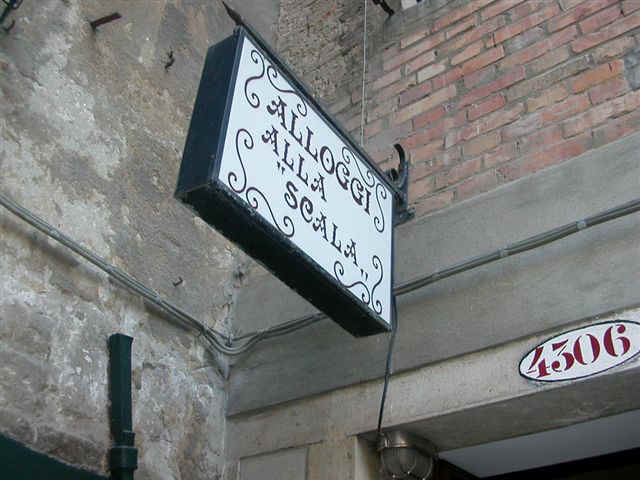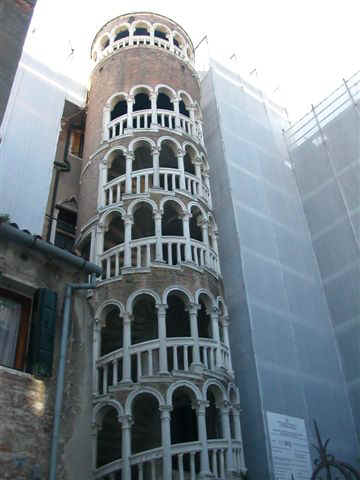 While the other two members of the group located their hotel, we rang the bell at ours and were greeted by Teresa (an Asian looking woman with an Italian accent; fascinating). She got us settled in to our rooms and set up a rollaway for our extra person.
After we dropped off our bags, we set off to meet the rest of our party at St. Mark's Square, hoping to find one of our favorite restaurants from a previous trip, Osteria de Carla, and make reservations.
Getting our bearings was not easy, so Tony and I finally split from the group to find the restaurant. It was much easier to navigate as a two group than to try to keep seven people herded together. We found the restaurant and they were delighted to reserve a spot for a 9 group at seven.
We found the rest of the group seated in the sun at a restaurant on St. Mark's Square.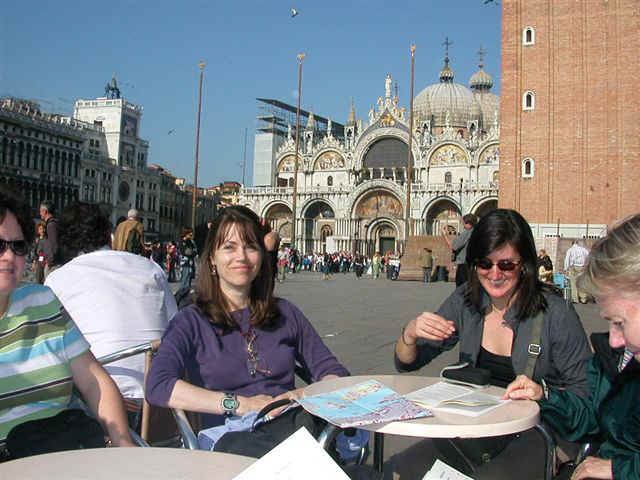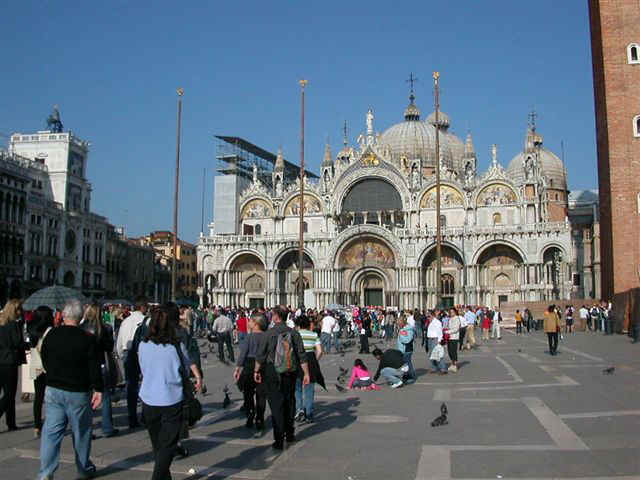 We were going to have a snack and a beverage, but when we discovered there was a surcharge of 5 Euro per person, because there was a band playing, we decided to find some place cheaper. Leaving the square, we found a cozy little place called Antica something or other where we split pizzas and wine. After our snack, we walked down the wide sidewalk along the Grand Canal to see our friends' hotel, the Pensione Wildner.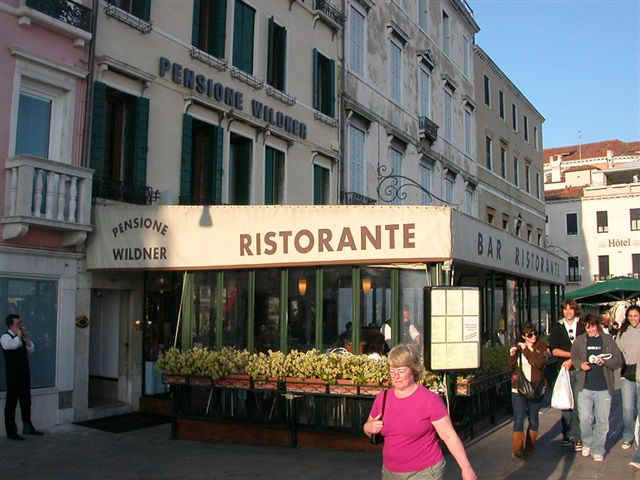 The walkway was very crowded and we got split up a few times, but thankfully modern technology in the form of text messages helped us find each other.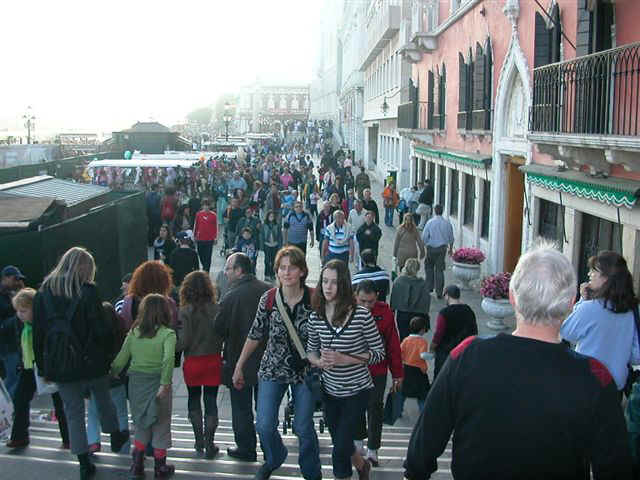 We were disappointed in our dinner at Osteria da Carla, since our previous visits had been delightful.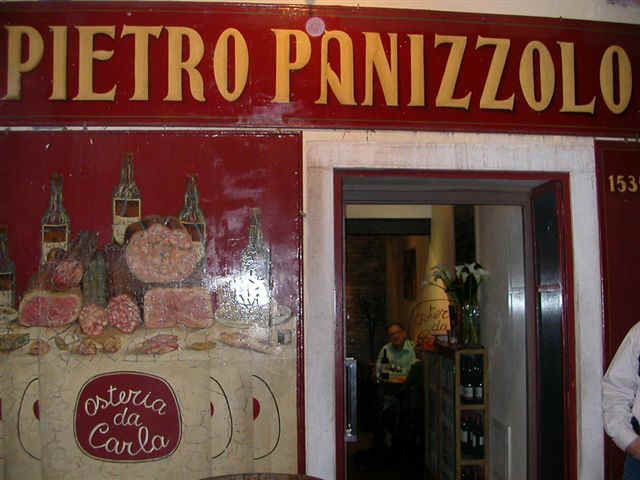 The selections were very limited. Most of us got pasta and some were still hungry after dinner.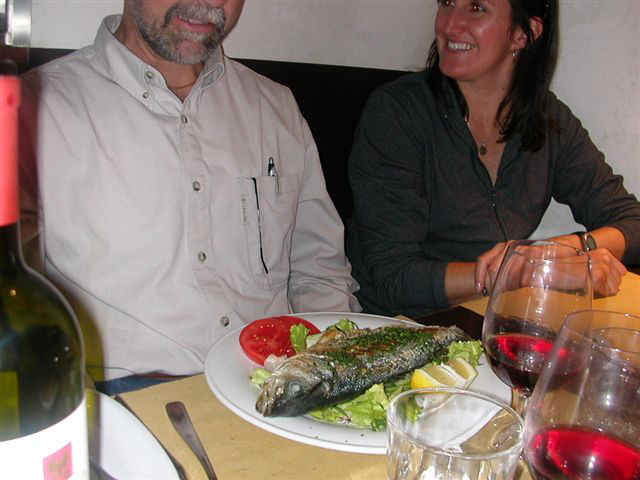 After dinner, the two staying at the Wildner headed back to their hotel while the rest of us wandered around and found a neat little wine bar called Leon Bianco (White Lion) with a host who looked like Raymond's big brother Robert from "Everybody Loves Raymond". Along with our wine, Robert served us some complimentary snacks which he said were made from porco, and to make sure we understood, snorted like a pig. We didn't really know how we had gotten there so we were a little worried about finding our hotel in the dark, but as it turned out, we were just around the corner from Campo Manin, the nearest landmark to our hotel. The seven of us at this hotel dragged all of our chairs into one of the rooms for a nightcap and to talk about the day's activities. During the chat, we had a couple of incidents with the chairs. One of our group broke two chairs before the night was over, so we had to pick at her a bit about that.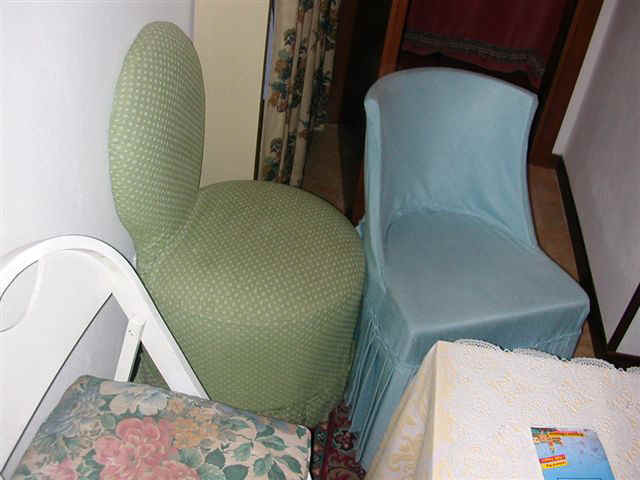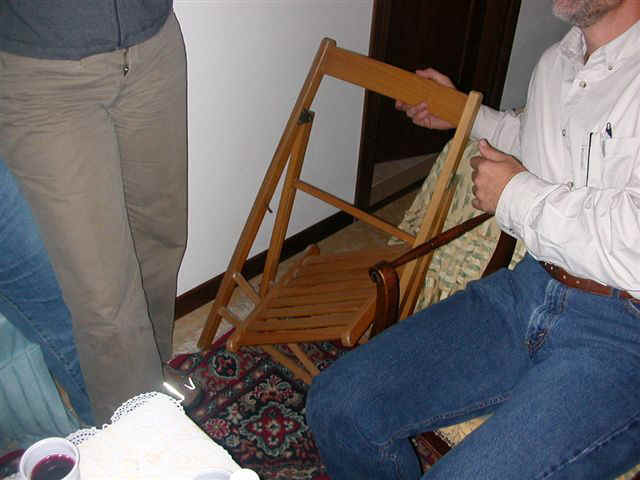 Our room overlooked the canal, so we awoke to the sound of boats navigating the turn at the corner of our building and to the sound of pigeons cooing. Love was definitely in the air for the pigeons. We saw a number of them performing a pre-mating dance ritual.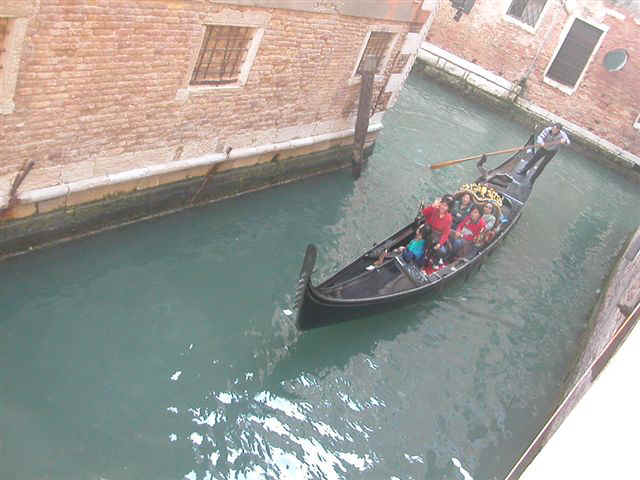 We had agreed to meet in St. Marks Square to start our day. Some of the group wanted to tour the church, so the early arrivers went ahead and got in the extremely long line while waiting for our group to assemble.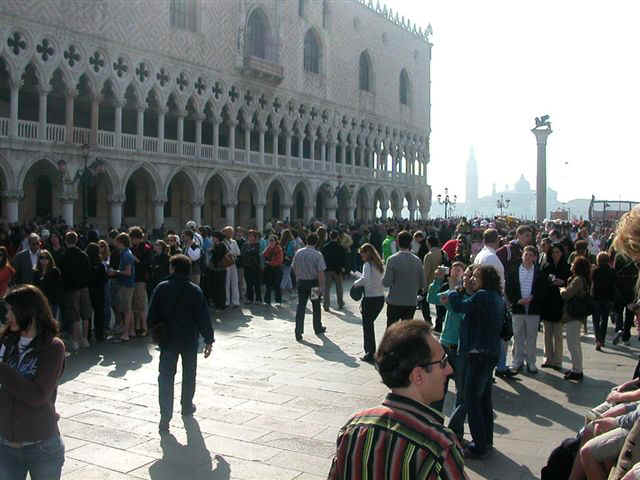 When the pair from the Wildner got there, one of them had read in Rick Steve's book that you could take your bags to the bag check and bypass the line. We were skeptical, so we sent two people to try it. It worked, so the rest of the group did it too. Tony and I had seen the church, so we opted to go for a walk instead.
Tony and I walked by our old stand-by hotel, The Fontana, and then continued onward to Via Garibaldi and had a baby beer (biera picola) at Osteria Del Garanghelo, a place with a clean and very necessary bathroom. Afterwards, we wound our way back to the Rialto Bridge to meet the others. It was EXTREMELY crowded (remember Holy Week), so we decided to set off in search of a quiet place for lunch.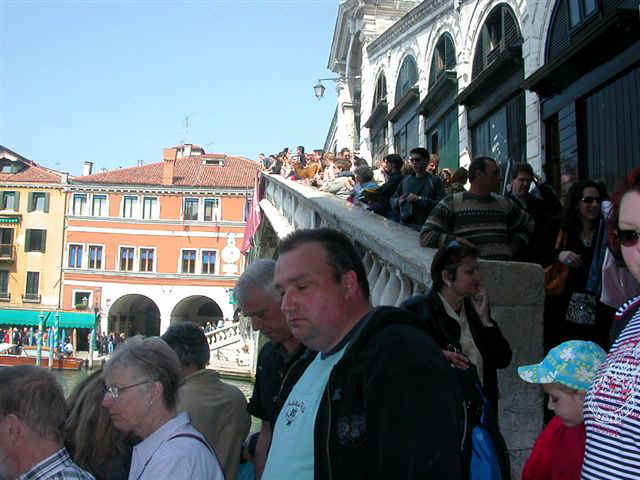 The pizza place at Campo Santa Maria was just the ticket! The weather was incredible, forcing us to put on sun screen to keep from getting burned!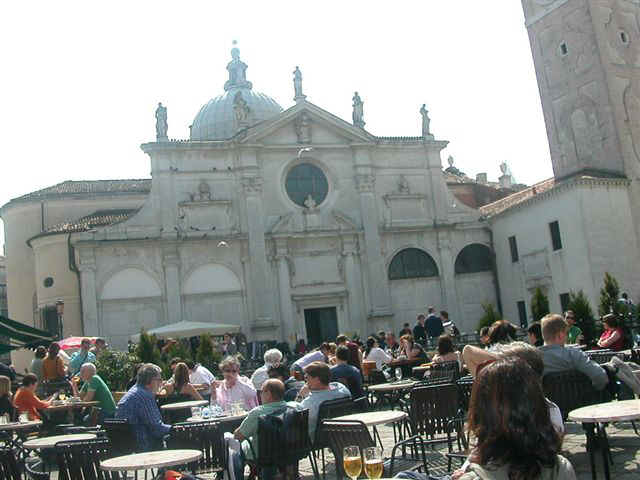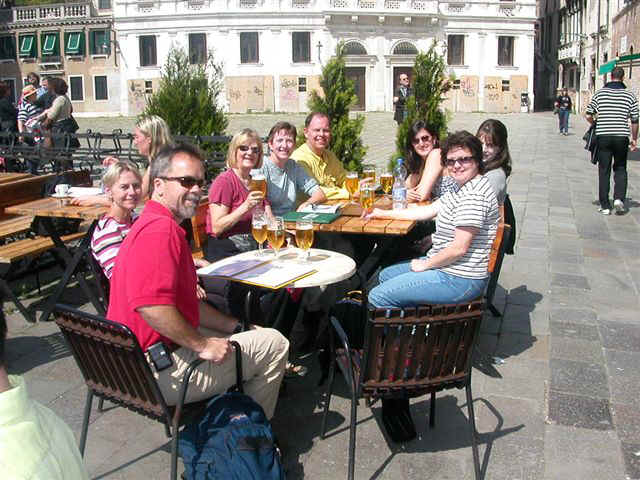 A couple from Baltimore heard our American voices and stopped to ask directions. We showed them our map and pointed to the square where we were sitting. The lady questioned, "So you are here?" One of our group responded, "Yes, and so are you." Everyone laughed. We even poke fun at strangers!
After pizza, we decided to follow a walking route from a brochure I had gotten from the Tourist Information bureau.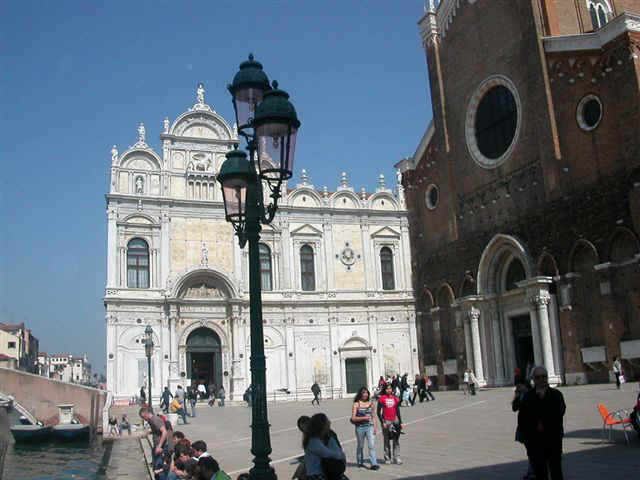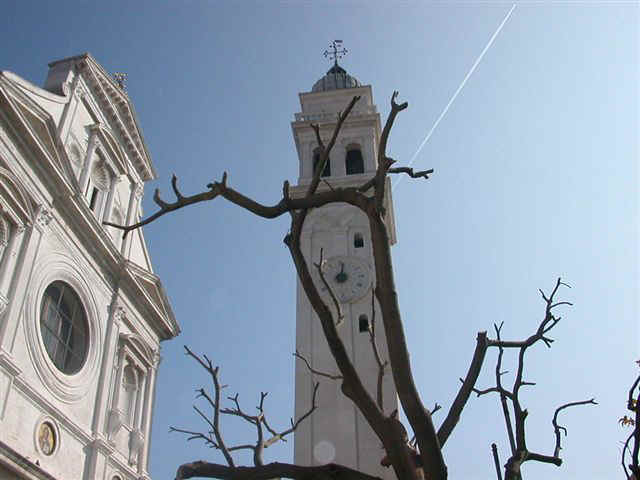 One of the stops was at the home of the famous poet, uh, uh, well, he was famous. Somebody asked me what the poet had written, so I just made something up. I said something like, "Roses are Red, Violets are Blue, I am a poet and I used to live here." Apparently as this got passed back through the group, a couple of people at the back of the group believed it. The conversation went like this, "What did she say? She said he wrote that famous poem about Roses are Red, Violets are blue. Oh, I have heard that one."
Our feet got tired before the tour ended so we stopped for a beer along the route at a place that had an elaborate gold stippled ceiling.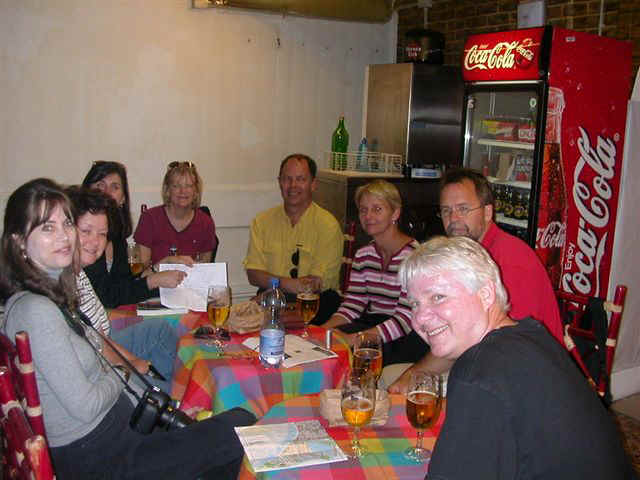 We continued the walking tour past the armory and then ended it early with a stop for wine on via Garibaldi.
The group split up to head to our separate hotels. Our "team" walked over to see the Accademia Bridge and then back to a shop near Campo Manin where we picked up some wine and snacks for later.
We planned to follow Rick Steve's advice and do a pub crawl for dinner, having tapas-like snacks and inexpensive house wine. The first stop was at Bacard Jazz near the Rialto Bridge. It was an interesting place, with bras hanging from the ceiling. The staff said if you took off your bra they would give you a t-shirt. None of our group got a t-shirt, but we did spot some nice bra's we'd like to have.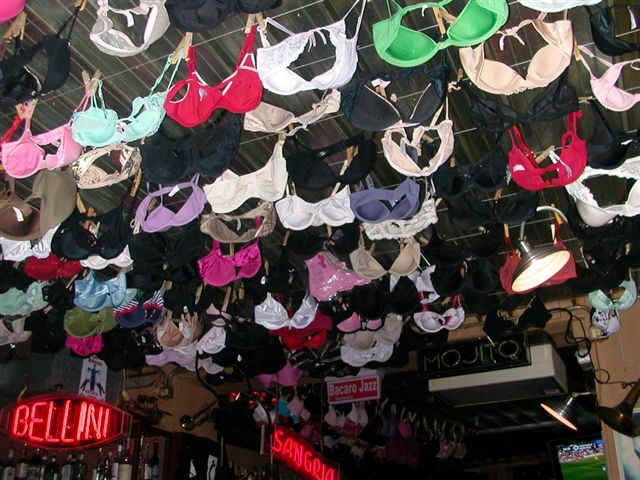 We got two platters of seafood, two platters of meat and a cheese platter. The seafood was very unusual, with lots of chewy squid-like items. The food and wine were much more expensive than we were expecting them to be, based on Rick's description.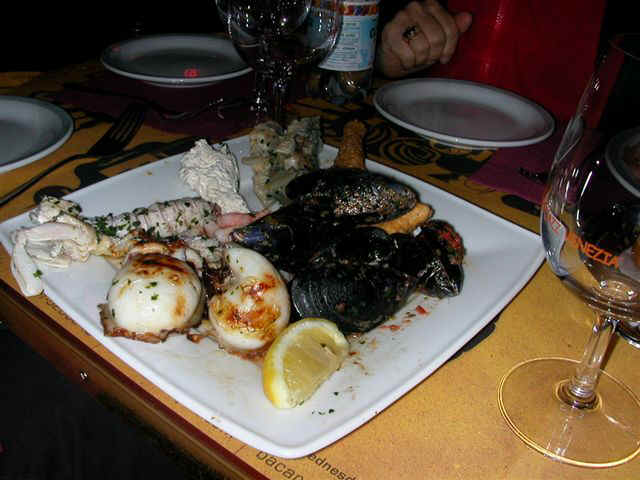 The second stop on Rick's recommended pub crawl was far too crowded, so we decided to abort and find a restaurant for dinner. We stopped at l'Olandese Polante, an Irish pub next the Canada Hotel. They didn't have much of a food menu, but the wine was only 7.50 Euro per liter! We shared some wine while we studying the guide book to find a restaurant, settling on the Agli Artisti and then set out to find it. The restaurant couldn't seat us right away, so we made another stop down the street for a beverage. Dinner was delicious. Tony and I split the tourist Meat menu which consisted of a caprese salad, lasagna, a pork chop with french fries and gelato. All of that was a very reasonable 19 Euro.
After dinner, we went back to the hotel for the usual nightcap. This time, we decided to sit on the benches in the breakfast area so we wouldn't disturb the other guests (or break any more chairs).
Sunday morning, the seven at our hotel caught the vaporetta to Piazalle Roma and then rode back along the Grand Canal to see the sights.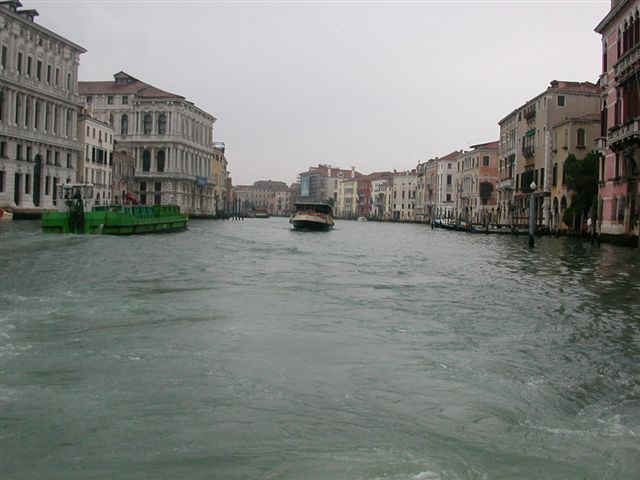 The boat was very crowded and by now, the sky was misting rain. We all got off at the Salute stop where some folks went inside the cathedral to light a candle. As we wound our way toward the Accademia Bridge, we came upon the cute little Corner Bar where we (of course) stopped for beers and a snack.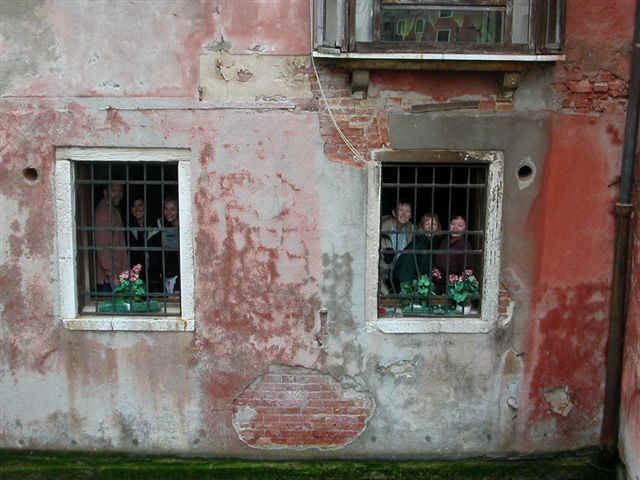 When we came out, the sun was starting to peek out. We met the rest of our group at Campo Manin and went across the Rialto Bridge in search of lunch. At the Ostaria Ai Storti, most of the group had pizza, but I opted for the Spaghetti Vongole. It had the cutest little clams you ever saw!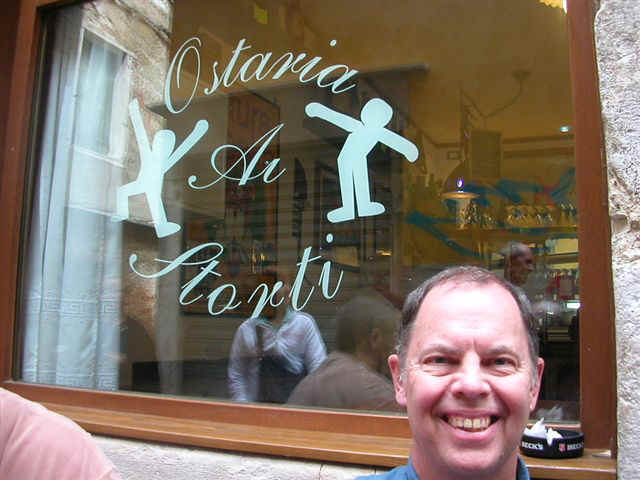 After lunch, we went to Ruga Street to do some shopping. The girls bought purses and Murano glass while the rest grabbed a gelato to enjoy as they walked. Then some of us took a break while others continued to shop, and shop, and shop. Too soon it was time for Tony and me to leave for the airport to start the next phase of our journey. When we split up, several were going to see the San Giorgio Maggiore. Tony and I headed back to the hotel, picked up our bags and then walked to Piazalle Roma to catch the bus to the airport.
Click here to see the continuation of our journey to Northern Ireland...