Limavady, Northern Ireland
April 2007
"Gordon's Surprise Party"
This is the continuation of a trip that started in Venice ...
We checked in for our Aer Lingus flight and were given seat assignments. So THIS is what it's like to fly with a "real" ticket! We had been worried about being able to take our backpacks as carry-on due to the weight restrictions we had read on the web site (6 kilograms each), but there was no question about it. We browsed through the duty-free shops and then sat in the wireless internet area. We were disappointed to find that the wireless was not free, nor did they seem to offer a by-the-hour rate. The only options we saw were monthly or yearly rates.
Passing through passport control, we grabbed a tramezzino (a wedge sandwich on soft bread with lots of mayonnaise) and some chips and headed for the gate. When our flight was called, we boarded a bus and were taken to the plane where we found we had a three across all to ourselves! Aer Lingus has an elaborate food and beverage menu including hot and cold selections available, all for purchase. We had an uneventful flight and arrived in Dublin ahead of schedule, only to find another passport control which took a very long time to get through. The agents seemed to be scrutinizing everyone very closely. We were surprised they didn't question us closely about the number of times we had visited Ireland (Tony's 4th trip of 2007, my 3rd). After getting through immigration we found the hotel board and called for the Hilton shuttle.
By the time we arrived at the hotel, it was past eleven o'clock, but we had gotten a page from our Venice friends asking for some flight information so we set up the computer and prepared to use the broadband connection from the hotel room. We had mistaken their advertised "broadband connection in every room" to mean that it was included in the room rate, but there was an additional charge so we opted to risk using our T-mobile sim card again. We'll know when we get the bill whether this was a good idea or not.
We slept very well and woke up at almost 9AM. There was a little bit of confusion about the bill since I was using my HiltonHonors points to pay for the room, but we got it resolved in time to catch the 10AM shuttle back to the airport to pick up our rental car.
We had a big hassle (as usual) about the car rental insurance. Thrifty refused to accept our credit card insurance even though we had brought a letter from our Credit Union indicating that we were covered, even in the Republic of Ireland. The insurance from Thrifty was 29 Euro per day, which is more than the rate for the car! After some arguing about it, the agent agreed to call the Credit Union. The first representative could not find documentation that we were insured, but she passed us to a supervisor who confirmed. The Thrifty agent reluctantly called his manager and they decided to allow it if they could put a 2000 Euro hold on our credit card.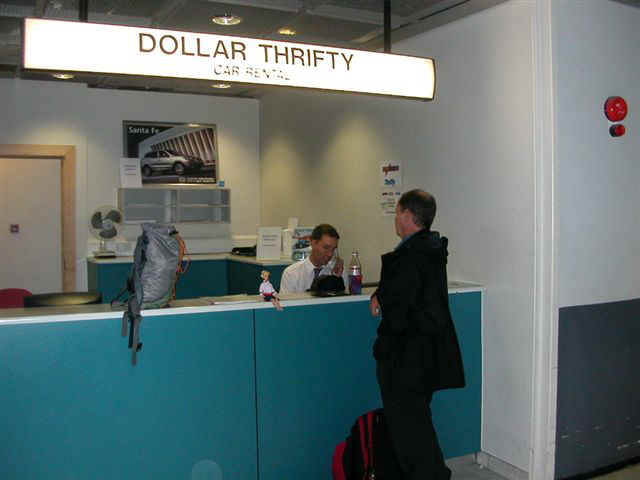 We finally got away from the airport at about 11:30AM. Jill, our GPS, optimistically had it taking us slightly over 2 hours to get to Limavady, but we were skeptical since I had read on the internet that it was a 4 1/2 hour drive. Jill was pretty close to right. We made a couple of stops for restroom and Diet Coke breaks and it took us about 3 hours.
We rang the bell at the B&B but no one answered so we drove into town to look around. Hoping to take a look at the Radisson hotel, we walked to where we thought it was. It wasn't there, so we asked at a small store. The owner, John Montieth (or Moncrief, we don't really understand the Irish accent very well), said that we could either walk back to town and go down the long winding driveway or we could keep walking in the direction we were heading and cut through the park. It was a lovely day so we took option two. It took us on a very nice walk along the river and eventually wound around to the hotel.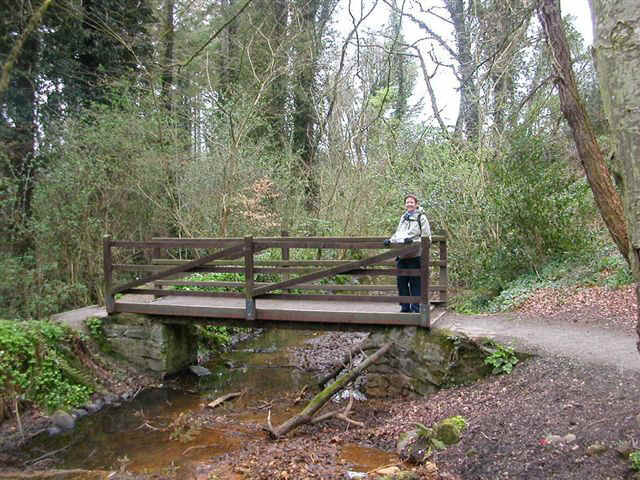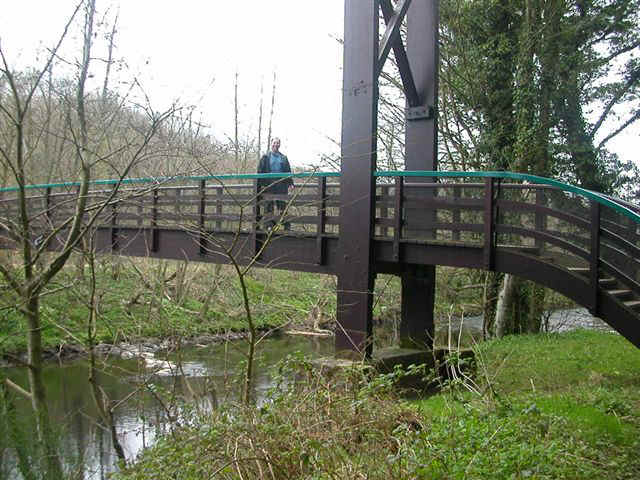 The golf course and hotel grounds were very pretty and green. There was a family flying toy airplanes out front since it was a nice windy day for it. We made our way back to town and at my suggestion drove back to the B&B to check in. Tony wanted to stop in town for a pint first, but it seems he and I have swapped roles and it is now me who is concerned about having a place to stay before darkness overtakes. At Whitehill, Mrs. McCormick greeted us at the door and showed us to our room. Dropping our bags, we freshened up a bit and then headed back to town.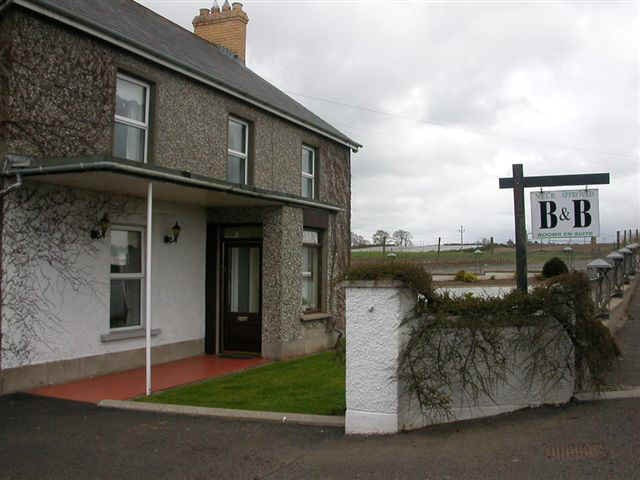 The Restaurant 50, where the party was to be held, was locked up tight with a garage door over the front of the restaurant. This made us wonder if we had the right night for the party. We sent a text page to a friend back home asking him to check the "evite" for the starting time. His reply said the party was to start at 6:30PM. Since we were a bit early, we had a pint of Harp at the pub across the street from the restaurant.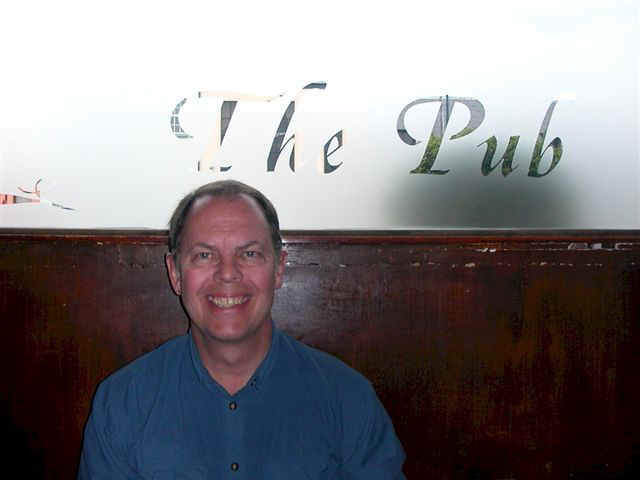 Shortly before 6:30, we saw the doors of 50 open and some folks go in. When we arrived, we were greeted by the United States contingent (John, ZoŽ, Patrick, Enid, Kevin, our buddy passers Ranger Jon and Dr. B., Tim and his family) and lots of Gordon's school friends. Before long, a totally unsuspecting Gordon and his family arrived. The look on Gordon's face was priceless.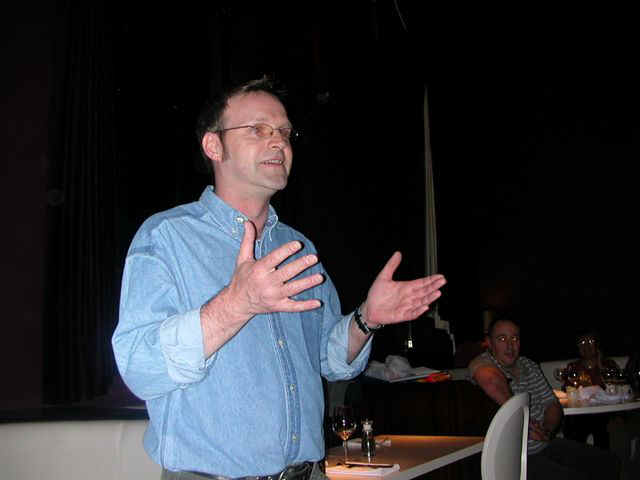 He looked from face to face, surprised and delighted to see everyone. We had drinks downstairs and then moved upstairs for dinner. We had a lively time, meeting Gordon's family and friends and sharing stories about our soon to be 50 year old friend.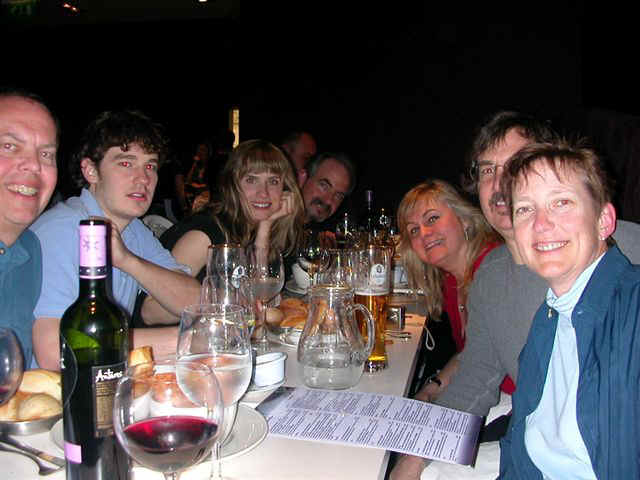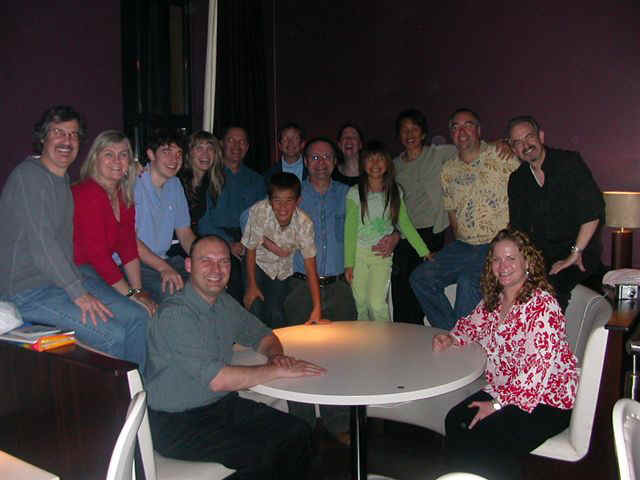 Later we walked down the street to Gordon's favorite pub (Owen's), getting in just before they closed the doors. In Northern Ireland, it seems that you can stay in a pub after 11PM if you are already there, but you cannot enter after 11PM. The front door was locked at 11, so when we got ready to leave, we had to exit the back door.
Our B&B was quite comfortable and breakfast was delicious. Two poached eggs on sweet greasy pancakes were surrounded by sausage, ham and tomatoes.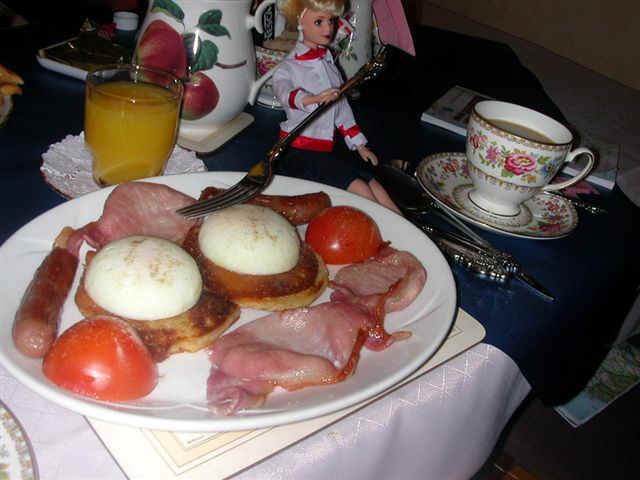 We had learned from some folks in town that the local currency (Ulster Pounds) would not be accepted in other parts of the United Kingdom outside of Northern Ireland, so we were disappointed when we paid with British Pounds Sterling and got Ulster Pounds as change.
After breakfast, we set out for Giant's Causeway, stopping by Gordon's parents on the way. We woke the ones who had gotten in at 3AM, but they graciously offered us tea and regaled us with stories about Gordon's childhood.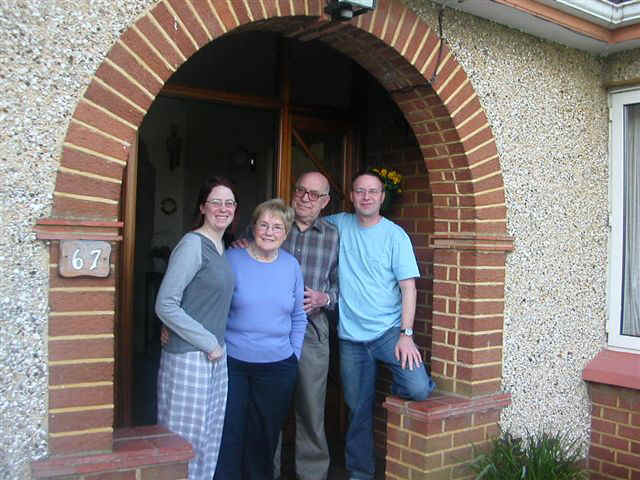 At Giant's Causeway we paid 5 Ulster Pounds to park, leaving us with just 10 to go. We walked along the upper trail first and then came back along the lower trail.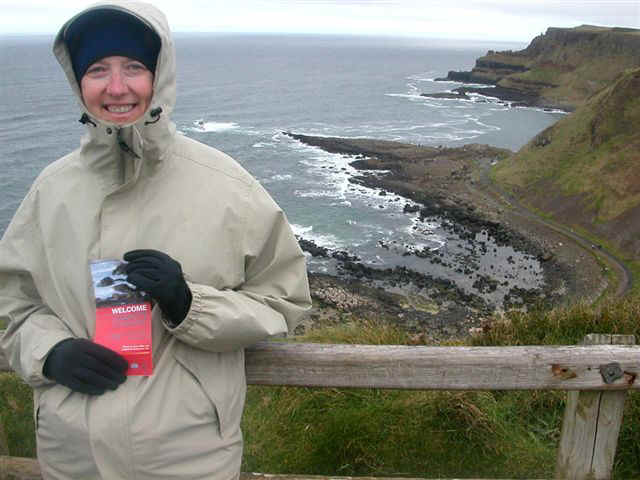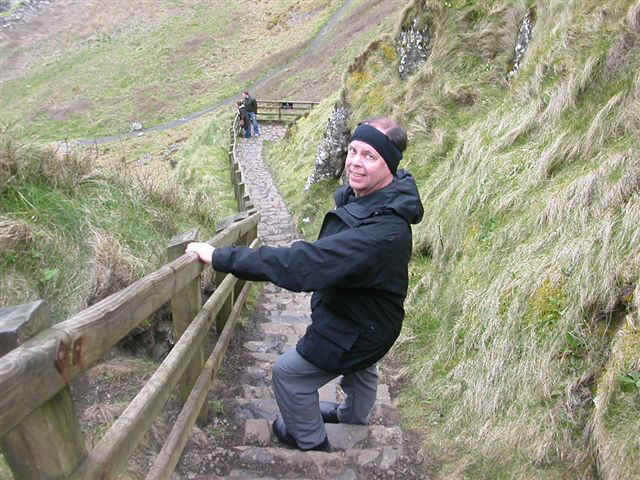 The formation of rocks is quite unusual.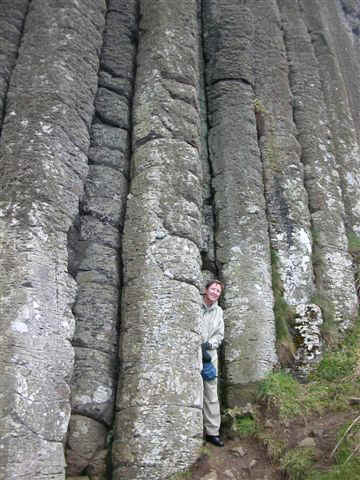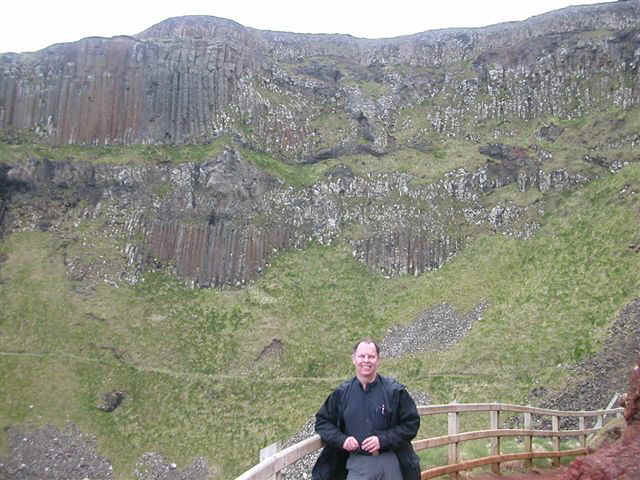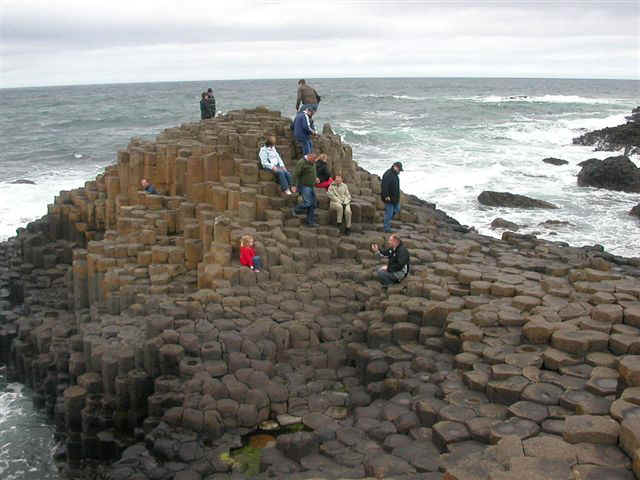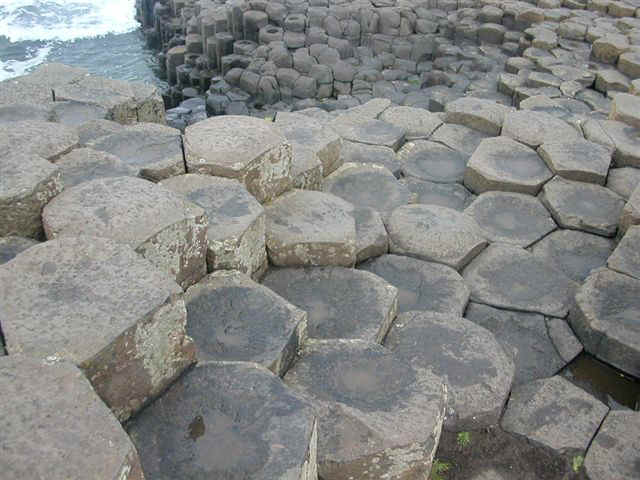 After the walk, we drove the scenic coast road down to Larne, marveling at the beautiful views including hundreds of tiny baby lambs along the road.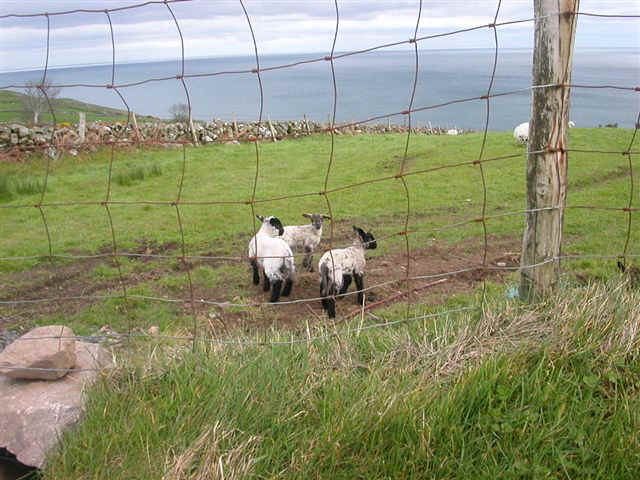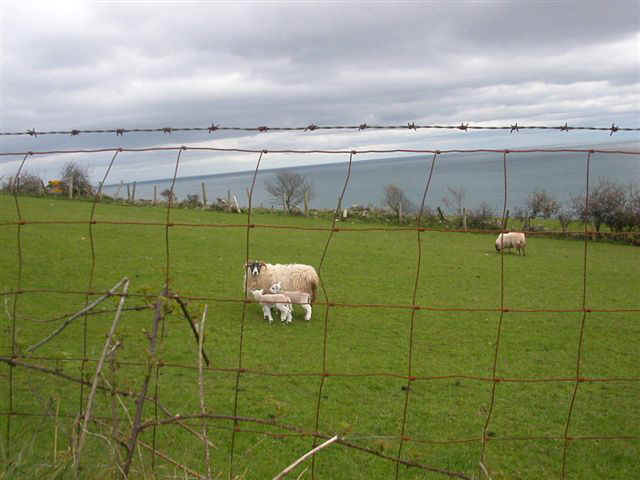 When we reached Larne, we decided we had better blast back down toward Dublin to get there before dark so we could find a place to stay.
It took us about 2 1/2 hours to reach Skerries, a seaside town just north of Dublin. We made one stop to get gas just north of Newry. Our remaining 10 Ulster pounds (about $20) got us only 1/4 tank of gas. In Skerries we found Ronnies B&B after stopping in a pub to ask directions. No one answered the door at Ronnies so we moved on to the next place on the list, the Jantol House. We realized as we approached that we had stayed here before. It was clean and modern and quite reasonably priced at 35 Euro per person per night. The owner, Mr. Tolan sent us to "Stoop your Head" for dinner where I had a delicious bowl of seafood chowder and Tony, the vegetable soup. Back at the B&B, Mr. Tolan let us use his computer to check the flight. The count was showing 18 available seats and only 9 standby passengers. Too close for us to be comfortable, but worth trying for.
The non-revenue gods were smiling on us! Tony, Ranger Jon, Dr. B. and I all got seats in business class! By the way, I don't think I mentioned that Dr. B. was sporting a new engagement ring at the end of the trip that I don't remember seeing before! They had something to toast about!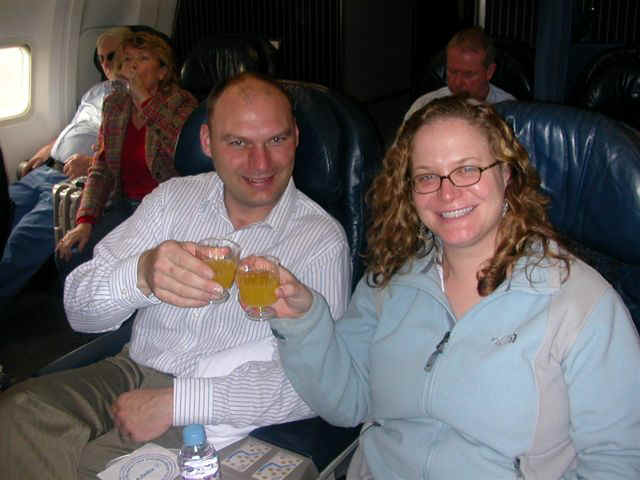 Happy Trails!
bj@bjandtony.com