County Clare, Ireland
February 2007
"Going Once... Going Twice..."
Still pursuing the perfect place to retire, we / I have made several trips back to Ireland in the last two weeks. Two weeks ago, BJ and I made the Thursday to Sunday run. Suspecting that you are tired of hearing about what we ate and watched on the flight, I'll keep it brief; BJ went for the duck while I sampled the excellent FlatIron steak, with "Marie Antoinette" and "Man of the Year" being the only movies worth staying awake for. Note: Delta is currently pouring Cline Zinfandel in Business Class. Finally, a red Zin!!! We had done a good bit of www.myhome.ie and www.mapquest.com research, and had narrowed our list down to about a dozen properties worth either an initial investigation or a follow-up visit. Friday morning we hit the ground running, with good weather and working electronics, in virtually the same rental car we had 3 weeks before; a different Nissan Micra, but one also missing a hubcap on the front right, like our last rental.
The first property on our list was an enchanting little cottage in a place called Ballina, overlooking the River Shannon. Little is the operative word here. There were two bedrooms, each large enough to hold a twin bed, a cute little kitchen with a wood stove, and a bathroom.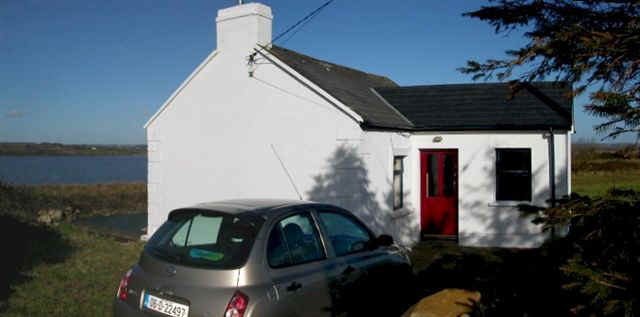 The view of the river was lovely though, so we decided to keep it on the list of places to consider. We looked at the next place in Ballyartney. The house was larger, but the view more distant. Another one to keep on the list.
Thinking that what we really want is a view of the ocean, more than the River Shannon, we struck out for the next property on our list, in the village of Cross. From there, we headed down southwest to look again at the Pilot Hill Lodge. It's perfect, except for its extreme remoteness (2 pubs within long-walking distance, although one of them was closed the day we were in town; that may be seasonal. Everything else is at least a 15 minute drive away). Then back northwards, to find a property that we had missed on the last visit; "The Ruins" in Corbally/Coosheen near Kilkee. This time we were able to find it (after two or three tries) and fell in love.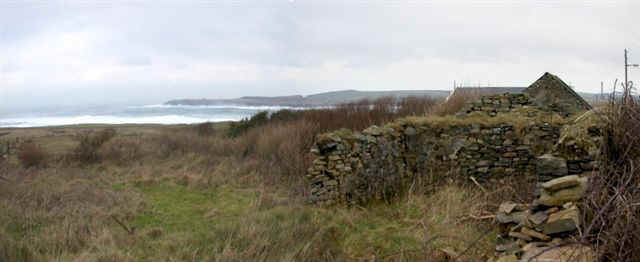 It's beautiful - close enough to the water to hear the waves crashing (when the wind isn't blowing) and less than 2 miles from the tourist town of Kilkee (with its restaurants, pubs and a full service grocery store). For tonight, we checked back in at the Bay View, in Kilkee (where we had stayed in January), although "Ms. Doubtfire" told us that there wouldn't be any breakfast, since they were remodeling. It was an early dinner for us, at an excellent Indian restaurant ("A Taste of Punjab"; a chain) before we headed off to bed.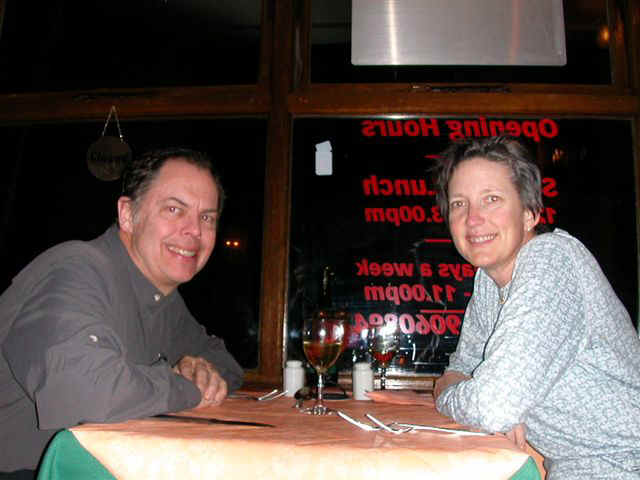 After a few early hours of sleep, we both awoke to the sounds of a party downstairs, with kids voices among the sounds. We were able to get back to sleep, occasionally waking to loud laughter, or more children's' voices. I assumed that these were just pub noises, since the Bay View is connected to Hickies' Pub. I figured that last call around would bring a halt to the noise, and since we weren't having breakfast, we could sleep in. I was wrong. The noises lasted well past , although I was able to sleep through most of it. (BJ tells me she was awake for a long time after , reading her book through the sounds). When I went downstairs Saturday morning around to settle the bill, I apparently woke Ms. Doubtfire, since she showed up in pants, with her pajama top half tucked in, and she mentioned not getting to bed until !!
Saturday was spent much like Friday, with us driving northwards towards Lahinch and Lisconnor, to check out properties on our list. After locating the last one (and being somewhat disappointed in it; they look SO good on the internet), we headed into Lahinch for a pint at Paddy Murphy's, with free wireless internet.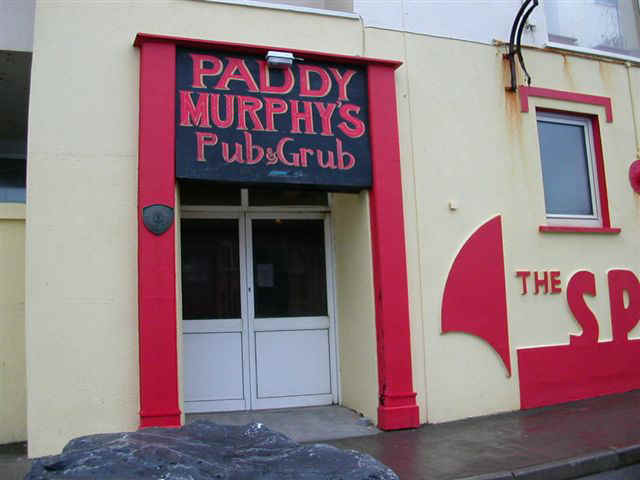 Well, it was free for us. They have wired PCs that they rent at 1Euro for 15 minutes of surfing, but "Baby" was able to connect via wifi, so we checked tomorrow's flight, and looked at a few property details that we needed. Ending the day with an easy drive back to the now familiar Hunter's Lodge in NewMarket on Fergus, we again stopped by O'Neills (where we cut off the complimentary Irish Flag shooter by announcing "We're back" as we walked in.) We finally got to meet the REAL Ms. O'Neill (Anna), since on previous trips we had managed to meet 3 of her daughters, who help run the place. After a walk around town, we dropped back in to the Hunter's Lodge pub for a dinner of soup and chips, then back to the room where we discovered we had free wifi. Since our flight out on Sunday wasn't until almost noon, we signed up for a pair of Full Irish Breakfasts at 8:30, then drifted off to (a pleasantly quiet) sleep.
Sunday morning, we were up, fed and on the road back to Shannon by . Arriving at Shannon, we were somewhat surprised to see a VERY long line at the Delta ticket counter. Perhaps we aren't used to departing Shannon when the flight originates in Dublin, but this was somewhat distressing to see. The distress, however, was unnecessary. We cleared security, made yet another tour of the Duty Free, passed through U.S. Immigration, then boarded the flight for the obligatory glass of champagne. After a few moments, a gate agent came aboard, and asked to see our boarding cards, and asked whether anyone had inspected our hand luggage. Somehow, they had a record of issuing us boarding cards, but no record of us getting on board. Once all of the nitty gritty little details were ironed out, we settled into our seats, chowed down on chicken (BJ) and pasta (me), grabbed our books (since none of the movies seemed worth watching) and napped our way home.
For 4 days…
As soon as we got home, I started "bugging" (via eMail) the real estate agent representing "The Ruins". At the same time, I started looking at flights back to Ireland for the coming weekend. Since BJ doesn't have as much "vacation time" as I do, and since my brother Terry (of the $1300 lunch) was on vacation that week anyway, I invited him to come along with me.
I finished my Atlanta legwork, and arranged for my brother and I to meet at the Delta Employee Service Center for check-in. Of course, between inviting him to go (on Tuesday) and departure day (on Thursday) a snowstorm in the Northeast and midWest managed to make a dramatic change to seat availability. Forewarned that seats (in Business) were more limited than previously thought, we checked in and headed for the gate. Ninety minutes later, I was seated in Business Class, and Terry was headed home. A group of 40 or so rugby players from Baltimore, and their groupies, showed up shortly before departure. Several of the players did not have seat assignments and were upgraded to Business. The last remaining seat, a center in the back of coach, was offered to Terry, but he wisely declined, since the agent was not sure she could confirm him from Dublin to Shannon. You know the drill by now; champagne, Flat Iron steak, Cline Zinfandel, sleep, Dublin, then Shannon. As I was passing through Irish Immigration control, the officer remarked that I was "just here last week". I acknowledged that "Yes, I was. My wife and I were looking at property, and we found something we liked, so I came back this weekend to see about buying it". This seemed to interest him and he asked me where the property was. When I said "near Kilkee" (which I pronounced KIL-kee and he pronounced kil-KEE), he followed with "Whereabouts?". So I said "It's actually in an area called Corbally/Coosheen" (which again, I pronounced as cor-BALLY and he corrected it with COR-bally). To my surprise, he said "Is it on that road that runs down the hill into the village?" Wow! This total stranger, 50 kilometers from where I wanted to buy a place, knew the street we were looking on! Small World, I thought; it would soon get even smaller. When I mentioned that, in addition to seeing the real estate agent, I would be opening an account at a bank, and would need a Solicitor (we call 'em Lawyers "over here") he suggested that I contact Michael Nolan, a solicitor in Kilrush that he had used before, with the recommendation the Mr. Nolan was both "honest AND reasonably priced". I made a note of the officer's name, and headed upstairs. After a short visit at Alamo Rent a Car (this time, a nicer Opel Corsa), I was ready to strike out towards Kilrush, to meet with the real estate agent. The route to Kilrush, from the airport, is via Ennis, and takes about an hour and 20 minutes.
On arrival in Kilrush, I quickly located the office of Sherry Fitzgerald McMahon Real Estate, and met with Richard Morgan, the agent I had spoken with. He showed me the plats of the "site" and we chatted for a few more minutes. I assured him that I was interested in the property, even without Planning Permission, and we discussed details on how to "close the deal". Things are done a little differently in Ireland. A buyer makes an offer, puts down a (fully refundable) "booking fee" (sort of like Earnest Money, but doesn't commit one to anything) then the offer is presented to the seller. There's a back and forth until an agreement is reached. Only THEN is anything put on paper, along with a 10% deposit. At closing, the balance of the funds are transferred to the seller. And everything that goes on paper is handled by the "Solicitor". So I made my initial offer (without the Booking fee; the agent knew that my NEXT stop was the bank, to open an account) and I headed down the road to get to the bank before they closed for lunch around . It took only a few minutes to realize that I wasn't going to be able to open an account "today"; their banking regulations are at least as complicated as ours, and although I had several forms of identification (a passport, a driver's license), I didn't have "proof of address" which requires a Utility Bill! I picked up a form to complete when I got back to the States, and headed around the corner to see if I could meet with the Solicitor, Michael Nolan.
Michael Nolan was, of course, out of the office, but his daughter Michelle, also a solicitor, was able to see a drop in without an appointment. When she heard that I was considering buying a piece of property "without planning permission" she told me that she would not even write the contract for me. Without the "subject to planning permission" clause, she was UNWILLING to write the contract. This worried me!! We talked a bit more, about the site, and it's location. When I described it to her, she knew exactly where it was, since her uncle apparently lives within 200 meters of the place! And did I mention that she also knew Paddy Deagan, the Immigration Officer that referred me to her father? There's that Small World again. Michelle's assistant who routinely attends meetings at the Planning Commission, suggested that I contact the Planning Commission and show them the plats that I had gotten from the real estate agent. Somewhat discouraged by all of the pessimism, I did what anybody in my position would have done; I headed to Crotty's Pub for a pint of lager! At the pub, I called the Clare County Commission and talked with them. They asked if I could bring the plat by their office (back in Ennis) so they could see what and where I was hoping to buy. I finished my Heineken, stopped by the Sherry Fitzgerald McMahon office to tell Mister Morgan that I was having to rethink my earlier decision, then headed off back towards Ennis, about 45 minutes away. At the planning office, I met with a representative who was very concerned about the location of the site. "That's an area of special environmental concern" (translated to say "even harder to get permission") she said, but when I dropped the phrase that the real estate agent suggested "But what about the West Clare Derelict Renewal Plan?" she asked me to wait a moment and went into the back office for several minutes. When she returned, she suggested that I speak with Richard Cronin, the Conservation Officer, who was, of course, out of the office. As I was about to depart, she noticed that I had copies of the "folio" (plat) and offered for me to complete a "Pre-Planning Application" (which is, after all, FREE!). I dropped off a rather hastily put-together PPA and headed out. Being a creature of habit, and beginning to think that this trip was turning into a bit of a bust, I headed to Lahinch, where I knew I'd find a decent place to stay (The Golf Lodge) and plenty of places to enjoy the hospitality of the Irish (nee. beer). A pint at Paddy Murphy's, dinner at Ms. O'Brien's Kitchen (they call it Cajun Chicken; we would call it BBQ Chicken) and I headed back to my room to sleep.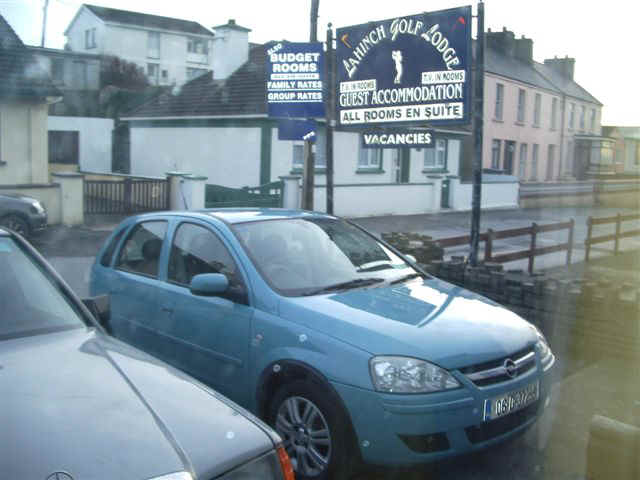 Saturday morning, I decided I would "walk the property" at The Old Ruins. Heading southwest, and thinking that maybe properties that already have "planning permission" might be a good idea, I stopped at a site in Doonbeg (that I had "found" via Mapquest between last week and this week). It is nice; not as nice as the Old Ruins, and a bit more expensive. Then I stopped at another place we looked at last weekend, also in Doonbeg, that also has "planning approved"; an RV Park. Continuing down the coast, I stopped at The Old Ruins for a photo session and a walkabout. It is very difficult to tell, from the documentation that I had, exactly what is "for sale" and I'd hoped that a walk on the land would make it more obvious. It didn't. In fact, it appeared that there may not even be any road frontage! After about an hour, I headed southwest, towards Kilrush one more time. Back at the real estate office, I obtained an additional plat, that shows that there is, in fact, road frontage.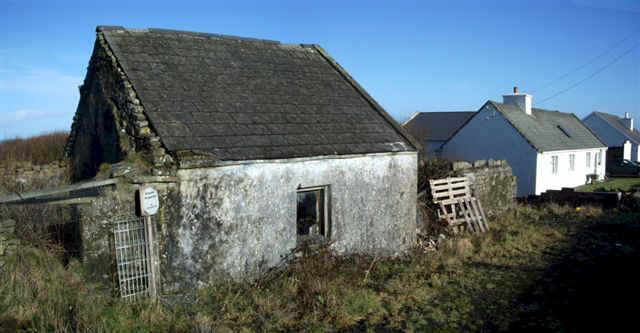 But the additional plat confuses the situation even more; it's impossible to tell whether the "shed" (shown above) is "on the property" (critical) or not. Then I nipped into Kelly's Pub for soup and a pint o'Harp (the proprietress was from New Jersey, but was too busy to shed much light on how she came to live in Ireland). Still discouraged, I headed back towards Newmarket, where I'd hope to stay again tonight, stopping at Mitchell's Corner Bar in Kiladysert on the way.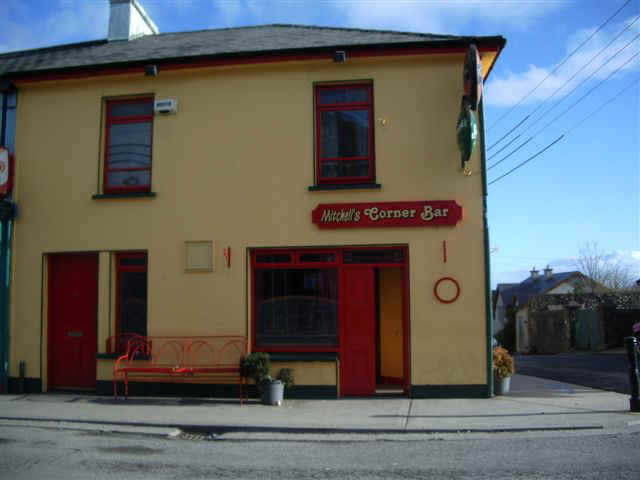 In Newmarket, I checked in at the dependable Hunters' Lodge, checked out a pint at the dependable O'Neill's Pub, watched Manchester United play Reading to a tie at the never-before-visited Sports Bar before returning to Hunters' Lodge restaurant for a plate of chips. By now, it was late enough for bed, so I called it a night; tomorrow I would head home, report to BJ, make a few telephone calls on Monday (to try to hurry my pre-planning application through the channels) and see where we stand. More to come soon (since "today" is Monday the 26th of February, and I am thinking of returning on Thursday. I now have an architect-contact in Ennis who may be able to assist!!) Will advise.
Respectfully,
Tony O'Morris

bjandtony@bjandtony.com
Update (12APR):
I did go back the following Thursday and met with the architect. He was encouraging about our ability to get permission to build and drew up some plans to present to the Planning Commission. We still did not have a commitment, but it looked promising enough that we thought we were ready to firm up a deal with the seller. The plans that the architect had drawn were for a modest 2 bedroom house utilizing the footprint of the original house as the front with 2 level extension on the back. It would be about 1300 square feet. Before we made our offer, we asked the architect to give us a ball park estimate of what it would cost to build the house he had drawn. He estimated €150-200 per square foot! WOW! Factor in the cost of the lot and the exchange rate ($1.33 = €1) and we were looking at WAY MORE money than we were prepared to spend on our retirement home! So, we notified the agent and the architect of our intent to abort the pursuit of this piece of property. We are back to the drawing board. Stay tuned...