Paris, France
April 2005
"Holy Cow"
Tony's brother (I'll call him Bro) mentioned that he was taking a "business" trip to Bordeaux with his friend, the wine buyer for a chain of liquor stores. The "business" at hand was to taste the 2004 Bordeaux wines to determine which ones to purchase. Sounds like a pretty good excuse for a trip to me! Bro decided to go over early so he could hang out in Paris and enjoy some savory dining experiences before meeting his friend in Bordeaux. Thinking he'd like some company in Paris, Tony and I invited ourselves along. (We were unsuccessful in getting ourselves invited on the Bordeaux tasting part of the trip.)
Bro, quite the planner, made dining reservations at some of Paris' most prestigious restaurants well in advance of the trip. Tony and I discussed that this was going to be a very expensive trip, but decided that it would be worth it to enjoy the time with Bro, so we decided to splurge. Bro reserved a room in a nice hotel near the Louvre and the Opera called the Etats Unis Opera. Tony and I reserved a room at the nearby slightly less convenient, slightly less well appointed and slightly less costly Malte Opera hotel.
As the time of travel drew nearer, it started to look like the lack of available seats on the Paris flights might foil our plans so I began looking for alternatives. The most favorable route looked like one through Stuttgart and then to Paris on Air France. Air France is one of Delta's partner airlines, so we were able to purchase a reduced fare on the connection through our affiliation with Delta. The fare was quite affordable, but we were disappointed to see that the addition of taxes caused the cost to more than double!
Sunday, the day of our departure, we packed. Bro had instructed that we would need formal attire for the restaurants, so I packed a silk jumpsuit and Tony a silk sport coat and a spiffy new ($7.95, about €6) silk tie that he had purchased the day before. We were able to bypass the LONG International Check-In line at the airport by going to the far left end of the counter to the "International Check-In No Bags" counter. We both whizzed through security without so much as having to remove our shoes and made it out to E Concourse with plenty of time to spare. Just as we were approaching the gate, the clasp on the belt on my fanny pack broke. Not to worry though, with time to spare, I was able to ride the train back to T Concourse where I knew there was a Wilson Leather shop. At Wilson's, I found a fanny pack almost identical to my defunct one. The trip was saved! As soon as I got back from T Concourse, I heard them calling for "Morris, party of 2". We retrieved our boarding passes and settled down into 1C & 1D. We enjoyed dinner (pasta with scallops for me and steak for Tony) while watching "Meet the Fockers". We barely made it though our ice cream sundaes before we were asleep. About an hour before landing, I awoke to the sound of the flight attendants offering "Orange Juissssssssssssssssss" and "Breakfasssssssssst" around the cabin. Thanks to my friend Karla who pointed out this annoying sound on a previous trip, I now can no longer sleep through the repetitive hissing of these two words.
In Stuttgart, the Air France agent assigned seats as soon as we checked in. It was a short flight to Paris. I had done my homework and decided that the Roissybus was the best way to get to our hotel. We were just about to board when Bro called. His flight had just arrived in Paris as well. We agreed to meet at his hotel in about an hour. The Roissybus dropped us off near the Opera.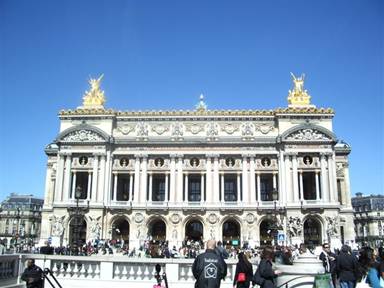 When we got off the bus, I whipped out my new wrist GPS (they don't call me gadget-girl for nothing) and navigated us right to our hotel door. Our room was tiny, with barely enough room to walk around the bed, but it was clean so we were satisfied. Bro called to say that he had just gotten off the Roissybus and couldn't find his hotel. We had him wait for us so we could show him the wonders of the new wrist GPS as we guided him to his hotel. As it turns out, he was on Chaussee d'Antin when his hotel was on Rue d'Antin. I guess "d'Antin" in Paris is like "Peachtree" in Atlanta. His hotel room was very nice with its own private balcony overlooking a quiet side street.
The weather was beautiful so we decided to find an outdoor café and enjoy a glass of wine. We found a nice sunny table near the Opera. The service was very slow, reminding me of my first trip to Jamaica where I learned the term, "Soon Come". Patience paid off though and we enjoyed a nice bottle of wine with some cheese as we watched the Parisians hurry by on the busy street.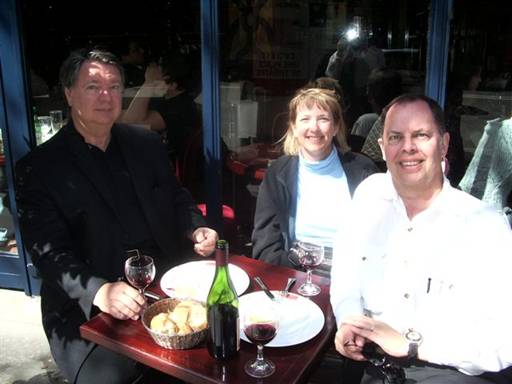 One fellow carrying a large clear plastic bag of what looked like Captain Crunch cereal entertained us by trying to figure out how we was going to transport this bag on his motorcycle. Tony thought the bag contained Bay Scallops from the seafood shop down the street. The fellow finally stuffed the bag inside his leather jacket and zoomed away, dropping his cell phone. We retrieved it, but were unable to get his attention. We contemplated making a few phone calls, but finally decided to turn the phone in at the restaurant. Paying the bill was as time consuming as ordering.
Bro mentioned that he needed to purchase a tie for the restaurant outings the next day. He had picked out a shop called Charvet from his tour book. I later learned that Charvet is where the Duke of Windsor shopped!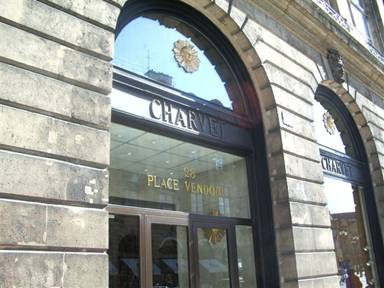 Bro discussed our plans for the trip with the snooty sales clerk who turned up his nose at Bro's plans to wear his sport coat to Taillevent until he learned that it was a lunch engagement. He approved of Bro's plans to wear a suit to the dinner destination. At this point, since Tony had not brought a suit, we started to think we might bow out on the dinner engagement. We decided to discuss this with Bro after the shopping experience. With the assistance of the snooty sales clerk, Bro picked out 5 ties to match his sport coat. In heavily accented English, the sales clerk said, "Now you have to decide on one."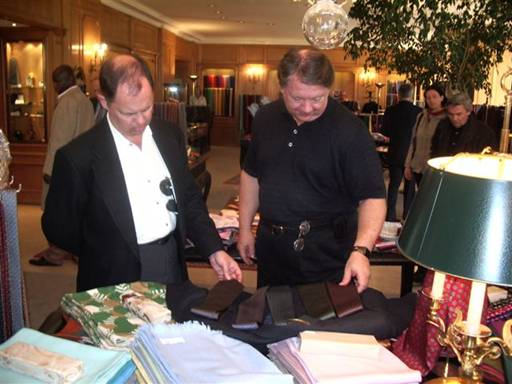 Much to the delight of the snooty sales clerk, Bro informed him that he would take them all. I learned why the clerk was so delighted when I finally found the prices posted on top of the tie racks. At €110 each, I decided I should stop referring to them as ties and start calling them cravates!
We left Charvet and started meandering toward the river admiring the sights along the way.

We stopped for a glass of wine across from the Louvre. It was here that we broke the news to Bro about our plans for dinner the following night. Bro took it very well and said that he didn't mind going to dinner by himself. We wandered into the gardens surrounding the Louvre.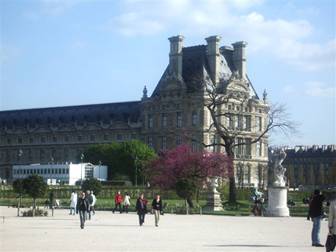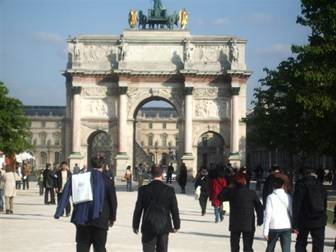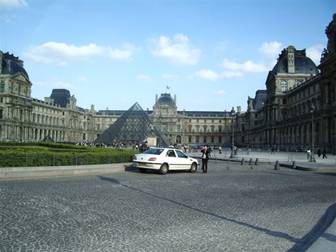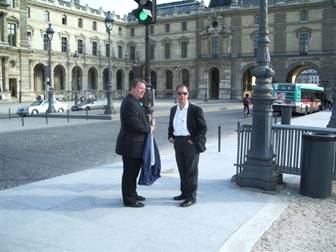 With some coaxing, I posed for a picture with one of the statues.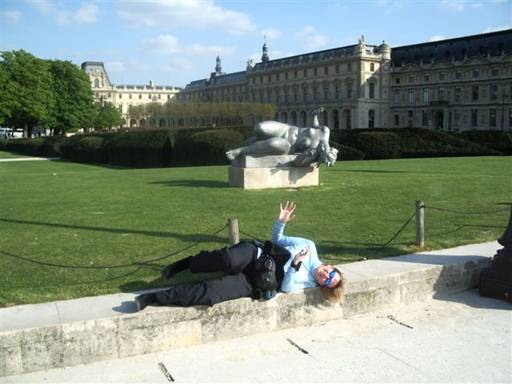 Since it was our first night, Bro had selected what he termed an inexpensive bistro near Notre Dame for our dinner spot.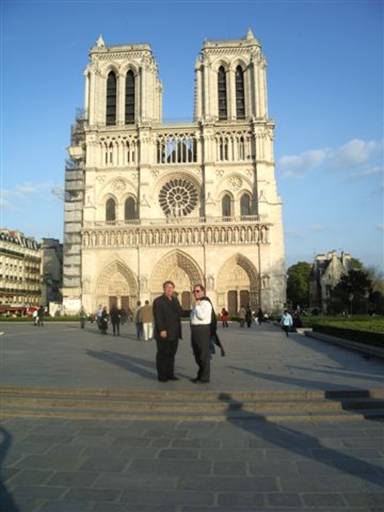 We were a bit early, arriving before the bistro opened so we stopped next door for a glass of wine. When Le Vieux Bistro opened, we sauntered next door to be the first customers. Bro asked us if we liked white wine, since we had only been drinking red wine all day. We both agreed that we liked Chardonnay, but not too many other white varieties. Bro and the waiter pored over the wine list and Bro finally selected Le Cygne, a Bordeaux Blanc which they jokingly referred to as a Chardonnay. It was delicious with just a hint of peach flavor. We enjoyed this with our appetizers of Goat Cheese Salad, Leek Salad, Fois Gras, and Duck Salad. The 2002 Roc de Cambos "Cotes de Bourg" accompanied the main course of Porc Medallions and Boeuf Bourguignon.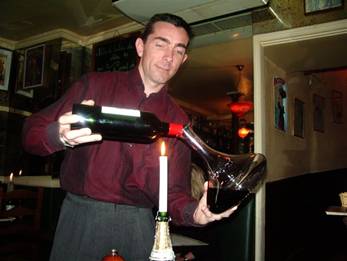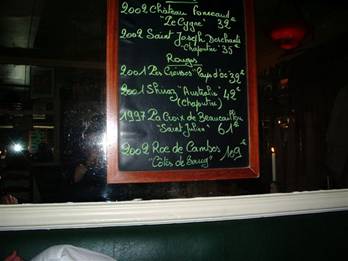 We shared desserts of Crème Brulee and Tiramisu. It was an excellent meal!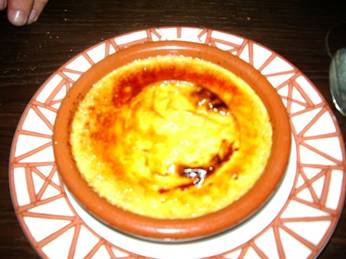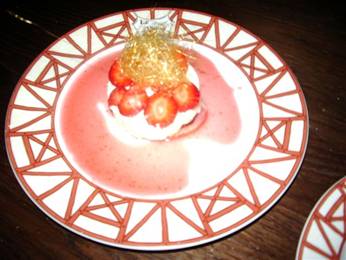 Bro's idea of inexpensive and mine didn't exactly align, but not so much that it caused me alarm. We made our way back to our hotels via the subway since our feet were hurting from the long walk in our dress shoes.
We fell into bed and slept until 10AM the next morning, only waking briefly for the 6AM wakeup call that the previous guests must have left for us. How thoughtful! Bro called shortly after we awoke. He too had slept in and missed breakfast. Bro suggested a taxi to our lunch locale, but my previous experience with Paris taxis has made me wary. (On a previous trip, a group of ten of us had split into 3 taxis at the airport. When we hooked up at the hotel, we had paid 3 VASTLY different amounts. It seems there are no regulations governing taxi rates in Paris). It was a beautiful day and we were only one subway stop from the restaurant, so we decided to take that route. Note how nice the boys look, Bro in his cravate and Tony in his tie!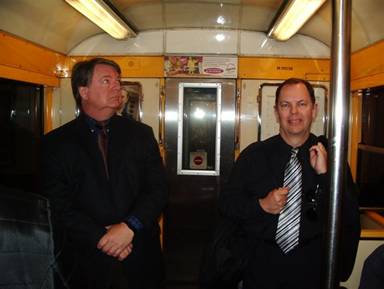 We arrived at Taillevent a bit early and loitered outside. I took a gander at the menu posted outside the restaurant while we waited. I almost gasped audibly when I read the prices. The least expensive appetizer was €42. I told myself that we were there to be with Bro, so we'd just have to splurge. After we were seated, we were offered a glass of champagne and some delicious melt-in-your-mouth cheese puffs. When I started reading the extra large menu with its extra large prices, all I could think was "Holy Cow!"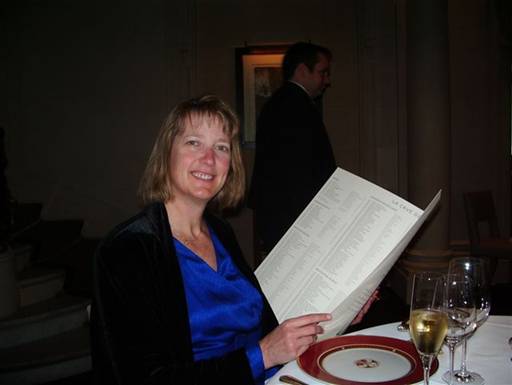 In addition to the extra large menu, we were also given a small tasting menu with two options, each with seven courses. One menu was €130 per person and the other was €180 per person. "Holy Cow!" I asked Tony if he had made a selection yet. He said he was thinking of the Goat Cheese Appetizer (€45) and the Filet of Boeuf (€80). "Holy Cow!" Bro asked if we would rather have the tasting menu (all at the table had to order this if one did). We said that we would have that if he wanted to. The waiter reviewed the items on the tasting menus. I mentioned that I didn't care for one of the items that he mentioned, frog legs. That was an item on the €130 menu. Suddenly, we were ordering the €180 menu. "Holy Cow!"
There was a wine list on the inside of the extra large menu, but Bro asked for the wine book. He ordered a bottle of honest-to-goodness Chardonnay this time for starters. An array of silverware and glasses was laid out, we unfolded napkins (the size of bed sheets) and the meal began.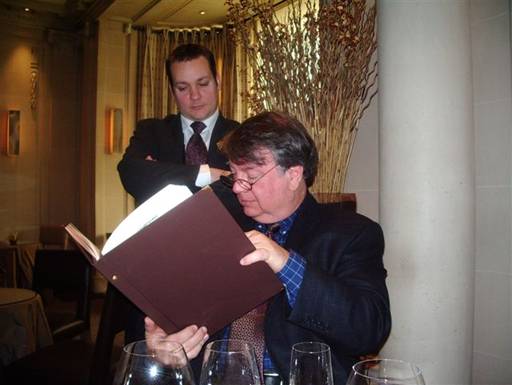 Course number one was a cold shrimp bisque in a tiny cup adorned with tiny shrimp atop a dollop of sour cream and two slivers of black radish. It was quite tasty. I ate mine and then polished off Tony's (he's not fond of seafood).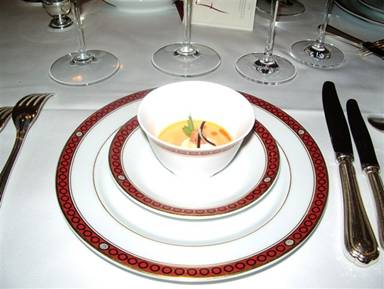 Course number two (Asperges de Provence) was a stalk of asparagus cut in two. The bottom part had been peeled. It was served in a teaspoon of warm broth and topped with truffles.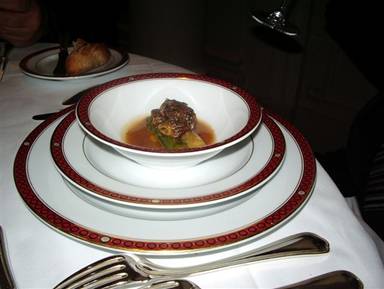 Course number three (Barigoules d'Artichauts) was Langoustine Lobster tails over artichoke hearts with olives. It was decorated with some green paste. The lobster tails were very tender (mine and Tony's both). He did eat his olives from this course.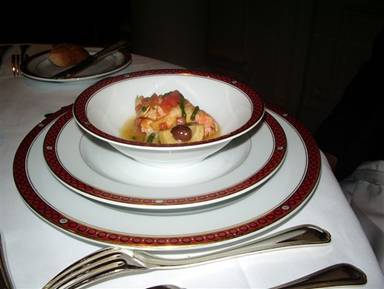 Between courses three and four, I decided it was time to check out the bathroom. As soon as I made a move to retrieve my purse, an escort was at my side to see me safely to my destination. The bathroom was beautifully decorated. I was not escorted back to the table, but I did have a new napkin (the size of a bed sheet) when I returned.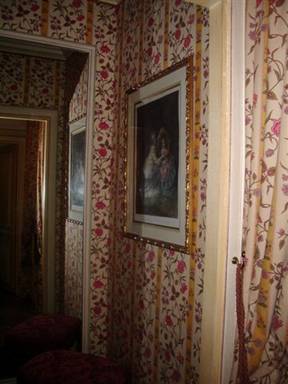 Course number four (Saint Pierre Au Basilic) was fish. It was a flaky white fish with a delicate crispy finish. A lovely assortment of vegetables accompanied the fish. The thin candied lemon slice was not only pretty but delicious as well. Tony actually ate some of his fish!
After course number four, we took a break to finish our white wine. Bro had ordered a red wine that had been opened and breathing at tableside for our remaining courses.
Course number five (Pigeons Farcis) was finally a non-seafood item – squab. It was prepared medium. Squab is not in my normal repertoire so I wasn't sure how to answer when the waiter asked, "How would you like your squab?"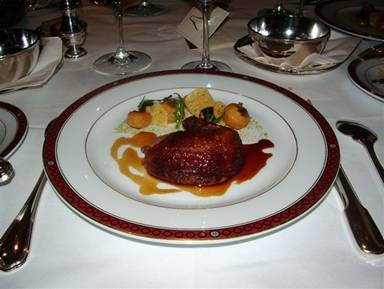 Course number six (Ossau Iraty) was my favorite course. When I saw it, I thought it was dessert. It looked like a tiny piece of cheesecake, but when I tasted it, it was not at all sweet. It had a very mild bleu cheese taste and was topped with raspberry jam and greens. It was delicious with the wine.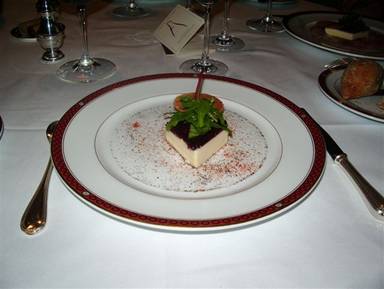 Course number seven (Cristallines aux Fraises and Gourmandises Chocolat) WAS dessert! Three plates of it. The first plate was a frozen fake strawberry with sugar sticks and a sorbet filled crispy tube thingy. 8 dots of melted sorbet decorated the plate. The second plate was the most wonderful warm chocolate cake with a liquid fudgy center. It was accompanied by a lightly dusted wedge of vanilla ice cream. It looked like the chef had created a musical score on the plate with chocolate and caramel syrup. The last dessert plate was an assortment of sweets and pastries.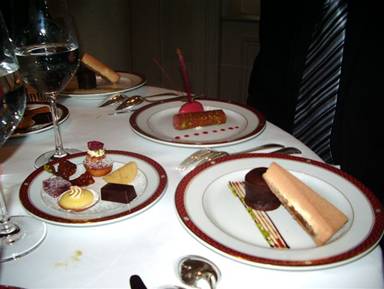 We enjoyed a glass of port with our dessert and then a glass of Cognac.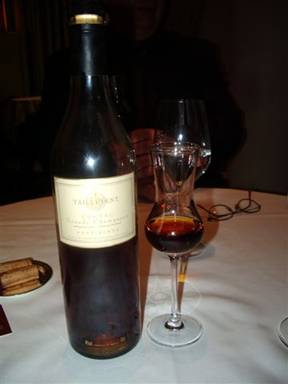 We think these were complimentary, meant to soften the blow of the last course which was the check. Bro insisted on paying for the wine and we didn't argue so our portion of the bill was only €360. "Holy Cow!" Later, we decided that we should chip in toward the cost of the wine so I snuck a peek at Bro's part of the bill when he wasn't looking. The Champagne was €42, wines were €210 and €180 and water was €10. The cheapest item was Bro's espresso at €4. We gave Bro another €100 which didn't come close to paying for our share, but Bro insisted that he would rather pay more and be able to order what he wanted. With the conversion rate for the Euro, our lunch in Paris cost the three of us almost $1300! "Holy Cow! Holy Cow! Holy Cow!" I didn't even know it was possible to spend that much money on lunch!
We were feeling pretty sluggish after lunch, so we decided we'd better walk back. We passed Bro's dinner destination, Lucas Carton on the way back. Still reeling from the lunch bill, Tony and I were quite relieved we had weaseled out of dinner! If lunch was $1300, how much would dinner be??? "Holy Cow!"
"Holy Cow!"
BJ and Tony Morris
tony@bjandtony.com