New Orleans, Louisiana
July 2005
"It IS possible to travel First Class..."
…if you fly during a hurricane. We have had to explain a lot of things about the United States to our new German roommate, Carina, including Tornados and Hurricanes. Hurricane Cindy passed through just before our planned trip to New Orleans, so we thought we might have beautiful weather for our trip. Hurricane Dennis was hovering over Cuba and the prediction was that he would hit land near the Gulf Coast sometime late Sunday or Monday, so we decided to chance it and go as planned to New Orleans Friday and Saturday. Carina wanted to take her (also German) friend Cindy with us. We thought this was a good idea so that Carina would have a playmate closer to her age. (They had gone to New York the weekend before and stayed out until in the morning dancing!)
Thursday, the New Orleans weather prediction for the weekend was 90 degrees and scattered thunderstorms. Tony and I packed umbrellas, raincoats and quick dry nylon clothing. The girls packed fashionable clothing.
We were planning to catch a flight, but since the girls could get off from work at lunch, we decided to try for a flight instead. Standby travel was no problem – it seems that no one wanted to go to New Orleans with a hurricane on the way. Carina got to sit in First Class for the first time ever! Now she is spoiled. The flight down was uneventful, but when we arrived, Cindy had a voicemail. As she listened to it, her eyes got wider and wider. Her message was from a friend telling her that they were evacuating New Orleans because of the hurricane. Tony asked at the airport and they confirmed that there was a voluntary evacuation. The prediction had not changed though, so we decided to forge ahead. Cindy was still not convinced that this was the right thing to do, but Carina was excited about meeting Dennis – HURRICANE Dennis! Since the girls were on a limited budget, we decided to show them how to see New Orleans economically. We caught the Jefferson Transit bus outside of Airport Entrance #7 on the upper level for $1.60 each. If you wish to use this option, be sure to visit http://www.jeffersontransit.org/ for the schedule and fares. There is not very much information available at the airport about the public busses. The E-2 Airport Downtown Express is somewhat inappropriately named – it takes 39 minutes to go approximately 15 miles and stops about every 200 yards, but it is significantly cheaper than the alternatives and you get to meet some very interesting people. We rode the bus to the last stop, Elk Place which was about 6 blocks from our hotel. We had chosen the Comfort Inn and Suites in the Central Business district. It turned out to be a very good choice, just 4 blocks from the French Quarter.
We dropped our bags and struck out for trolley that would take us to the garden district. The trolley was very crowded so we had to stand for a good bit of the ride.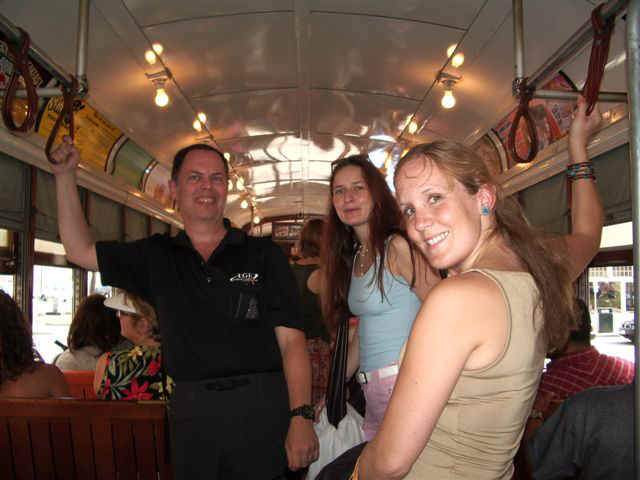 The further out we got, the more people got off the trolley. By the time we reached the end of the line, even the driver got off!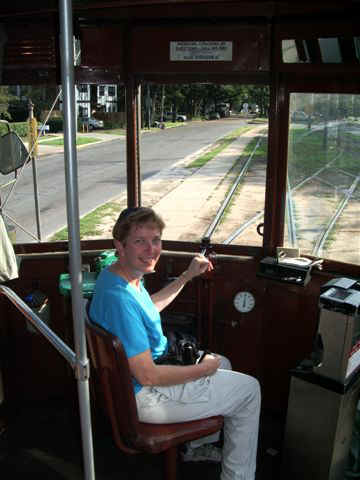 We had great seats for the return trip to the French Quarter. The girls took hundreds of pictures of the beautiful antebellum houses.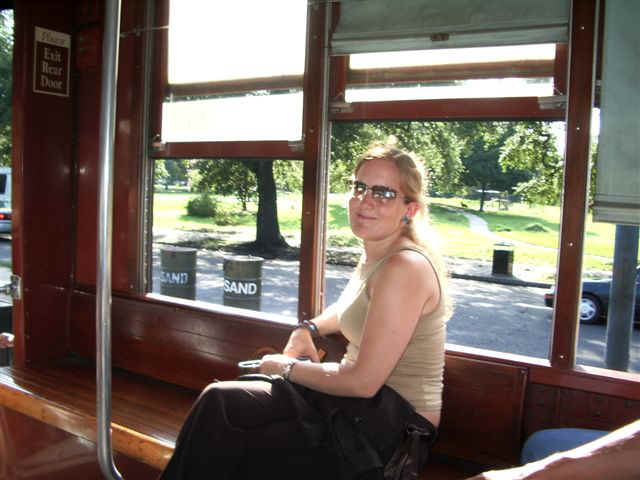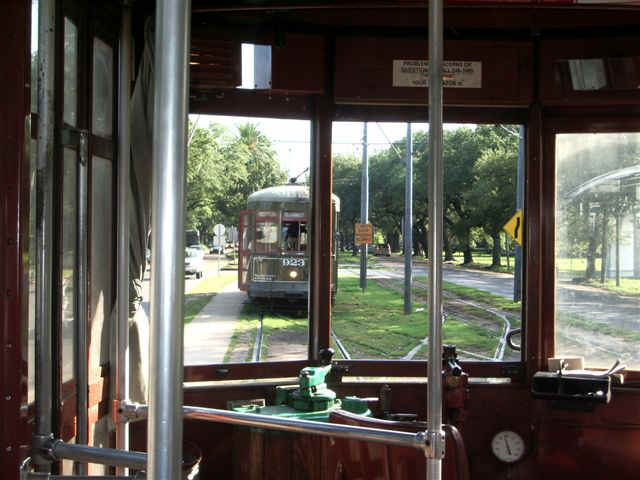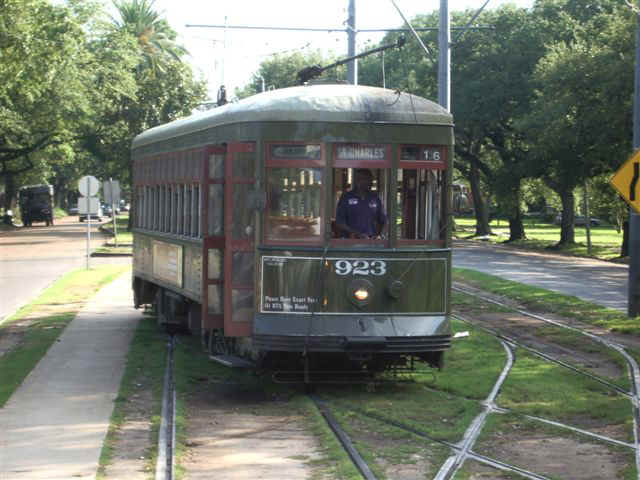 The trolley dropped us off at the edge of the French Quarter so it was just short block walk to Bourbon Street. We stopped for a cool beverage at the Musical Legends Park where the Steamboat Willie trio entertained us.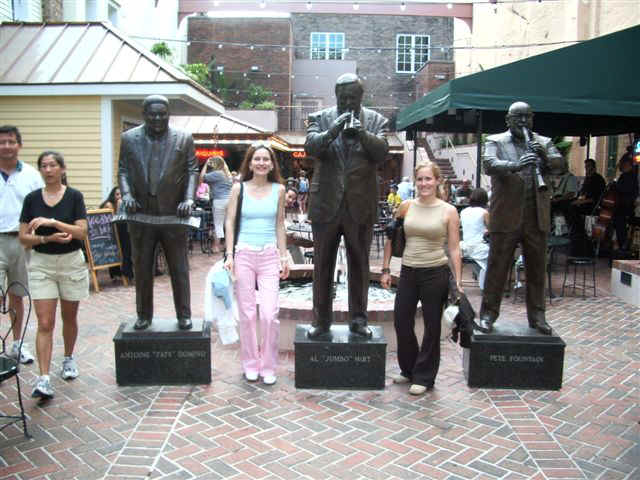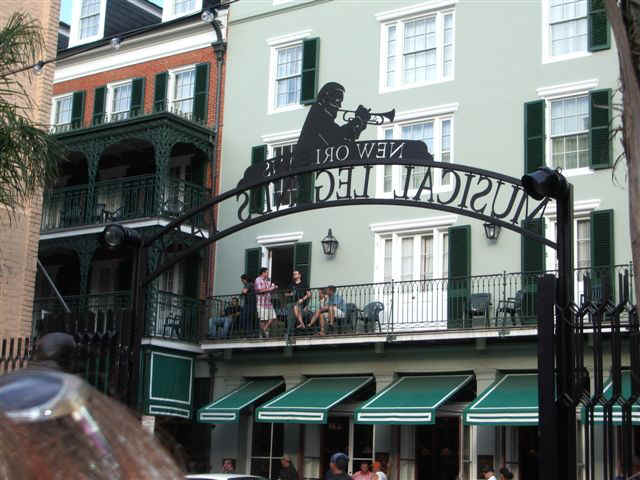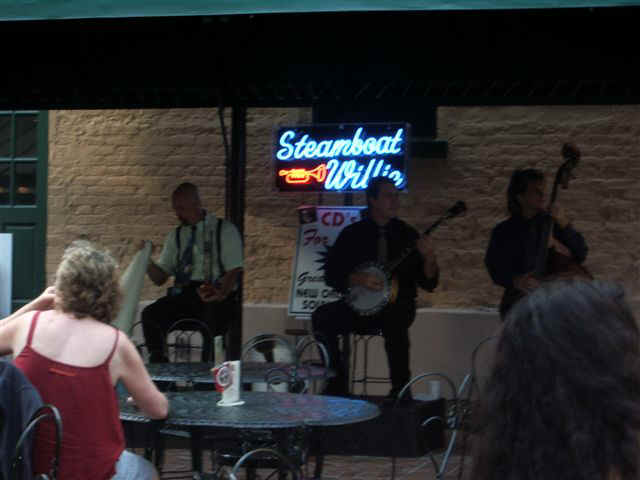 Cindy was selected for an audience participation number and got to play some sort of foghorn sounding instrument.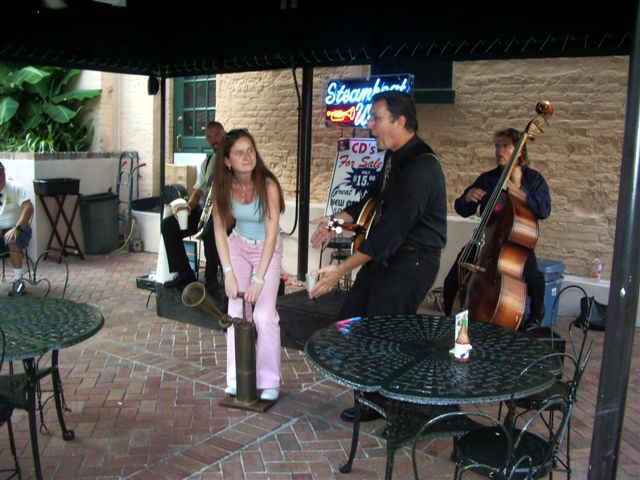 We studied the menu at some of the famous restaurants on Bourbon Street but decided that our budget would not support them. We decided on The Seaport – a reasonably priced restaurant that Tony and I had eaten at before. We were able to get a table on the balcony overlooking Bourbon Street, so we could enjoy people watching while we dined.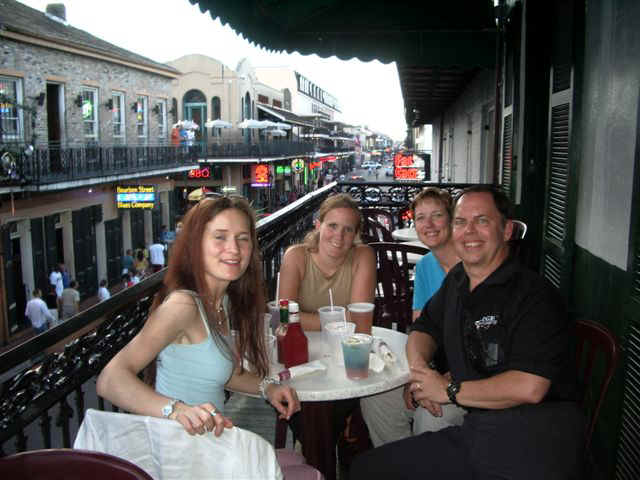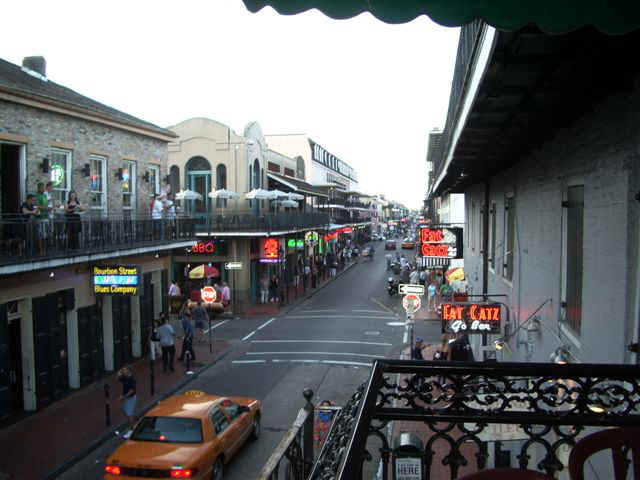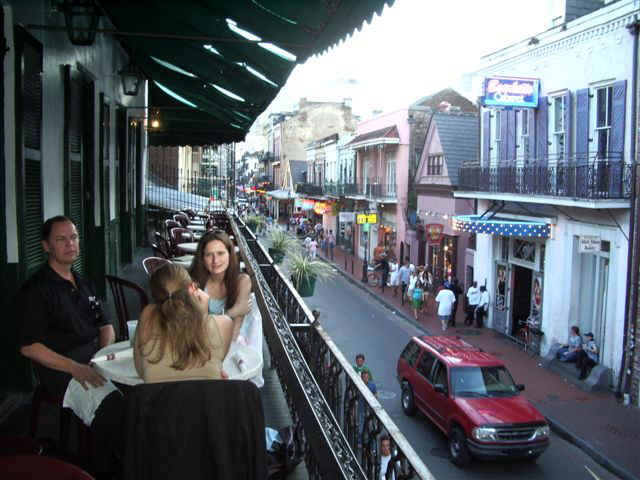 We had a bit of excitement when four police cars screeched up to the intersection below us and all of the police jumped out in hot pursuit of someone. The alleged criminal must have eluded them because they soon jumped back into their cars, turned on their sirens and zoomed away.
We encouraged the girls to try some traditional Cajun food, but didn't have much luck. Carina ordered a grilled chicken sandwich and Cindy had a shrimp salad. I ordered the Jambalaya and Tony had the Red Beans and Rice with Andouille sausage. Cindy was brave enough to taste of our dishes and really liked the Jambalaya.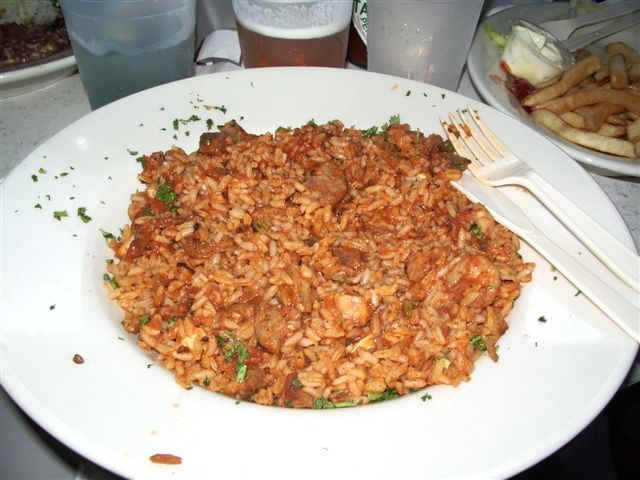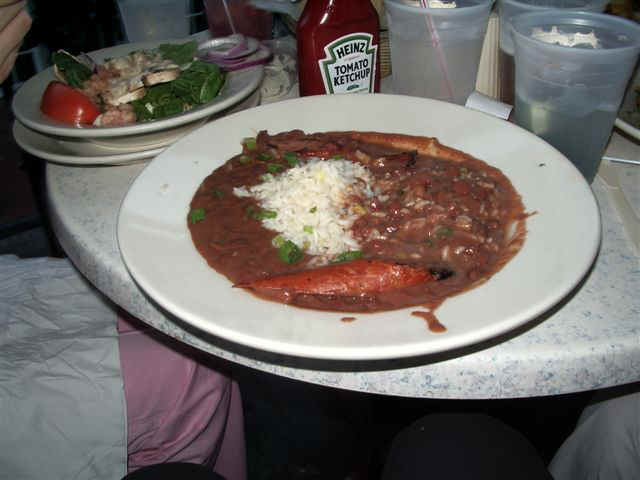 By the time we had finished our meal it was starting to get dark and Bourbon Street was coming alive.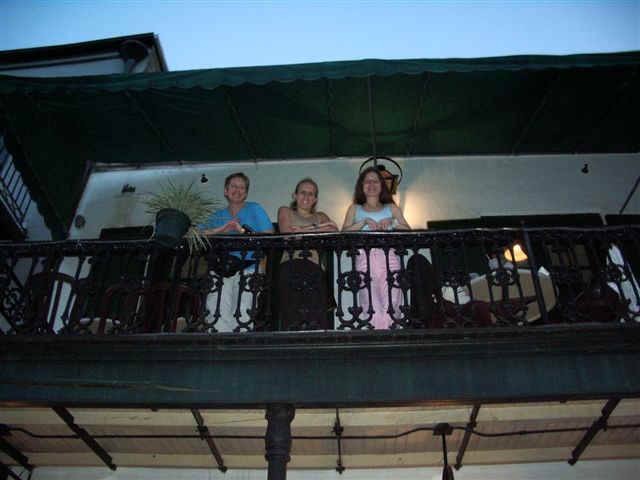 We wandered down Bourbon Street to St. Peter and turned in the direction of the River. There was a nice breeze along the river walk. We went in a few of the shops around Jackson Square where they had lots of novelties including whole stuffed alligators!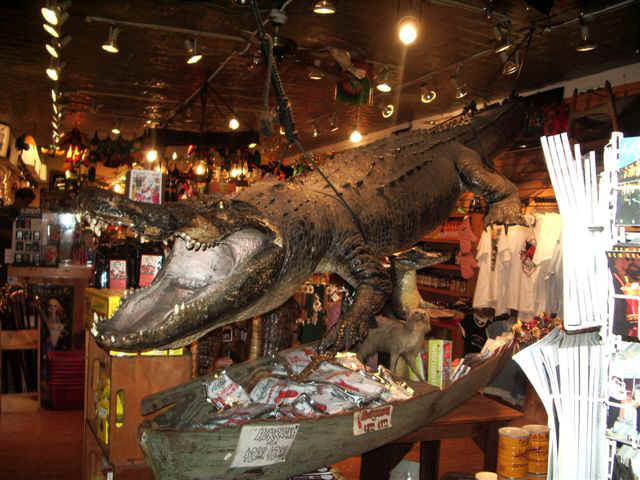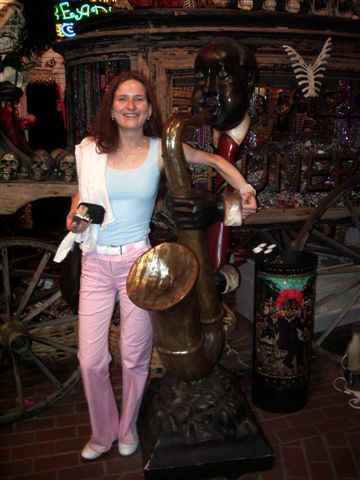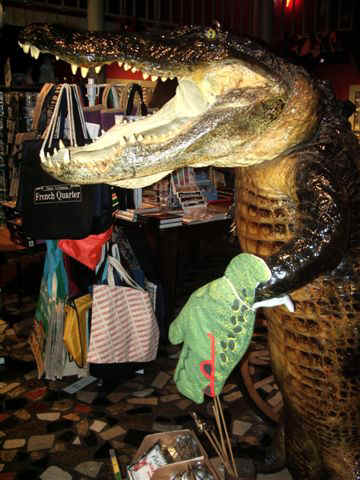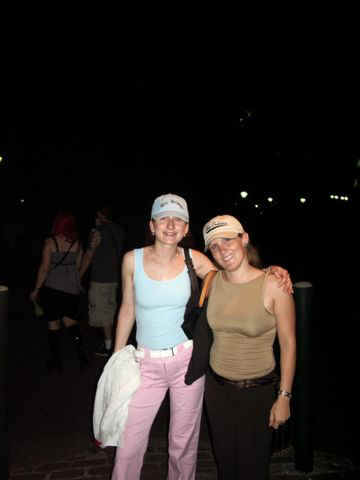 A praline (pronounced "Prah-leen" as I was corrected by the shop owner) was our dessert before we moseyed over to Pat O'Briens. In the piano bar, we insisted that the girls at least try a hurricane.
As always, the pianists amazed us with their vast knowledge of songs and the ability to play and sing while accepting requests written on napkins. Cindy requested a Bonnie Rait song, but they never got around to playing it while we were there. They did play my request, "Me and Bobby McGee".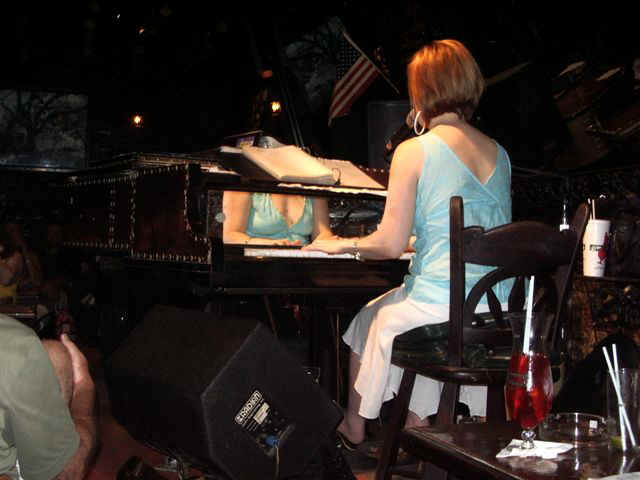 We decided to call it a night & head back to the hotel, thinking the girls might want to stay out longer, but they decided to make it an early night too.
The next morning, we got a slow start. Our hotel included continental breakfast, but we had to pass it up because our plans included beignets at Café Du Monde. We wandered through the quarter and along the river on our way.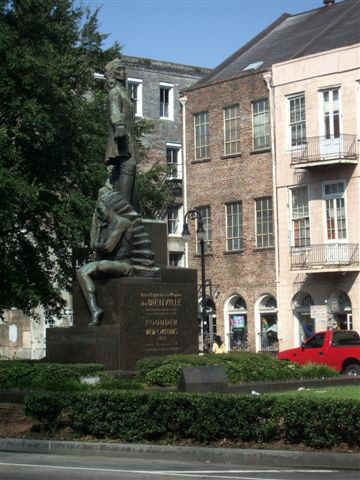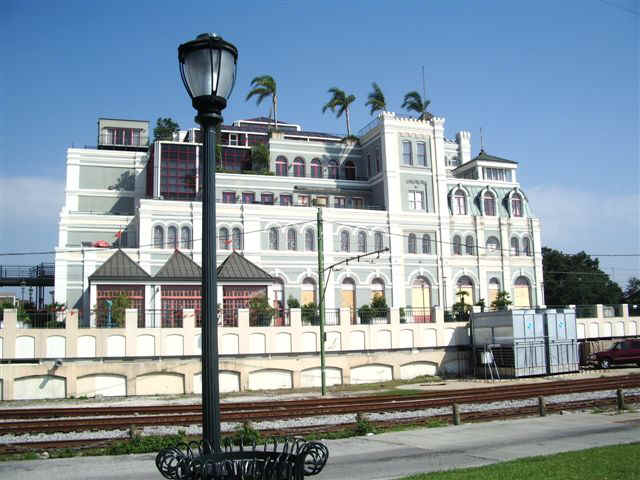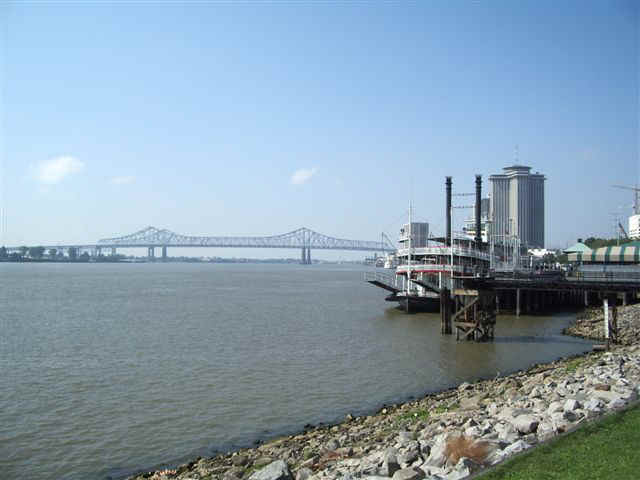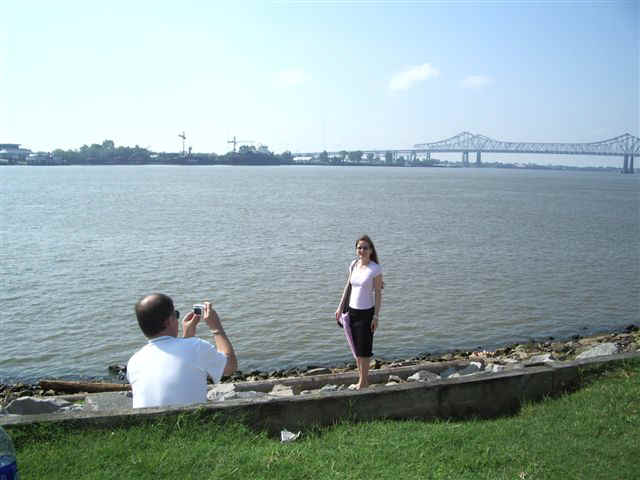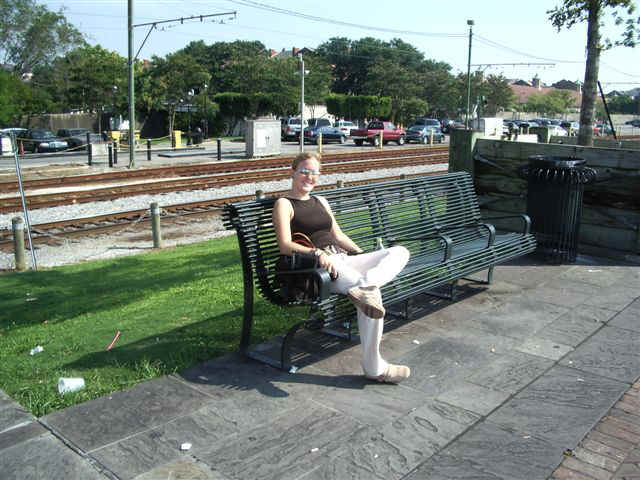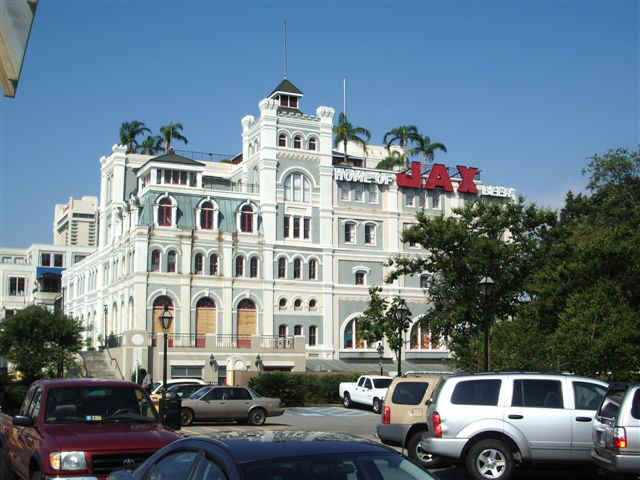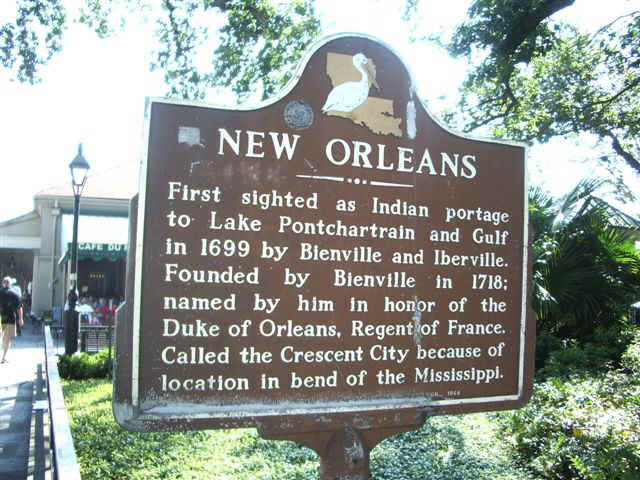 We got to Café Du Monde at just the right time! A table was available – very unusual for a Saturday morning during prime breakfast time! Sitting at a dirty table is required – if you wait for one to be bussed, someone will beat you to it!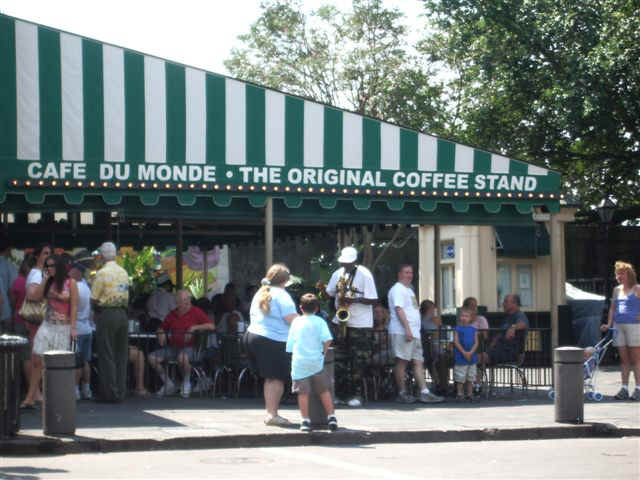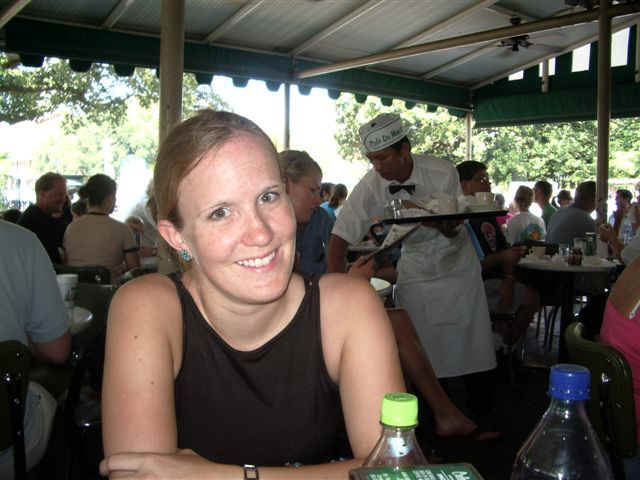 We ordered 3 orders of beignets for the 4 of us. They were much bigger than we remembered – we probably could have gotten by with 2 orders. We were able to eat all but one and since we always have a zip lock bag available for emergencies, we took the remaining one with us. Carina said she would have it for breakfast the next day.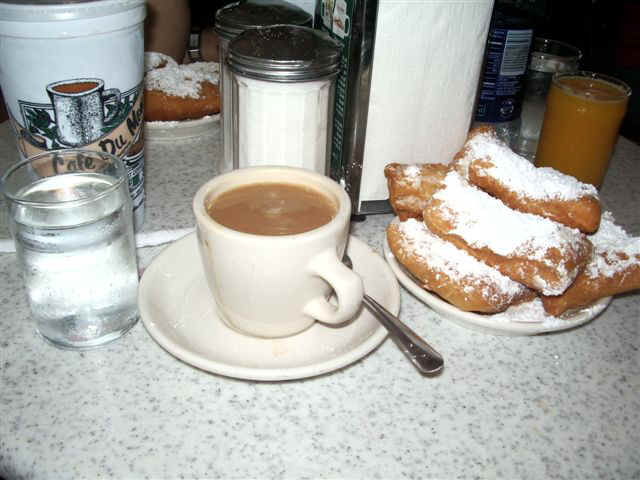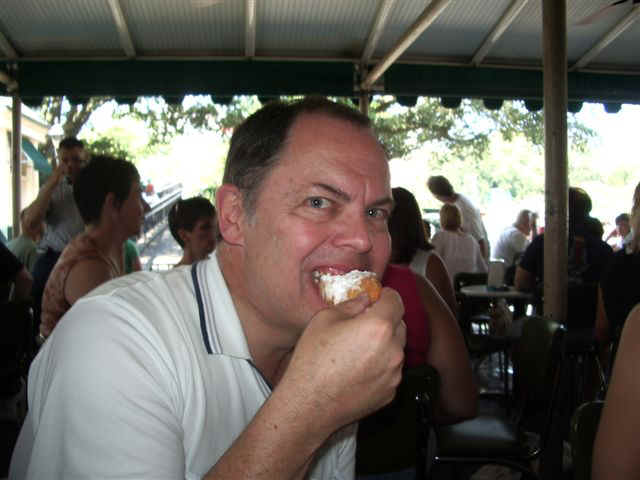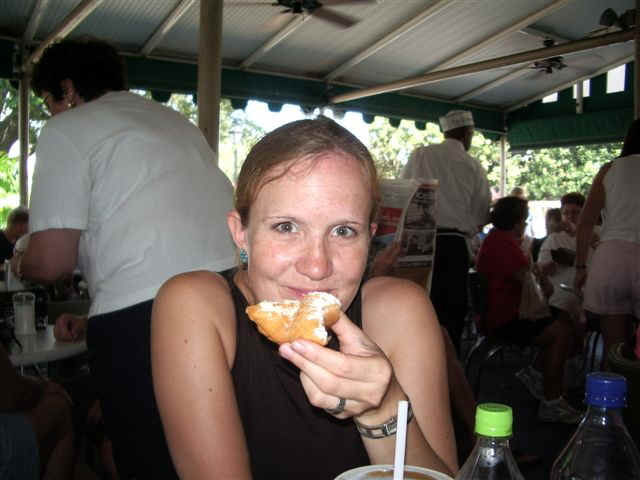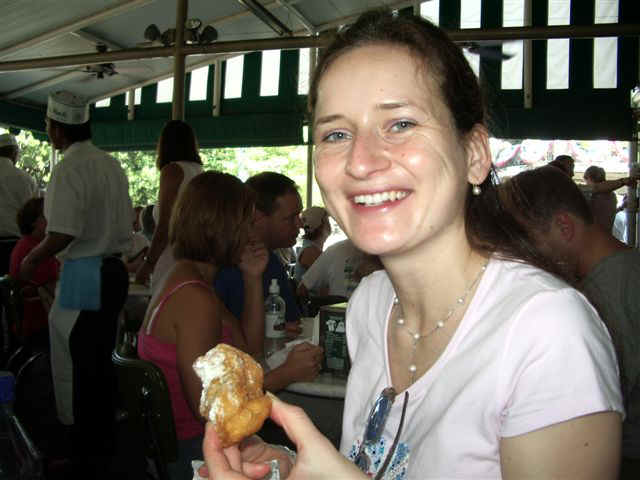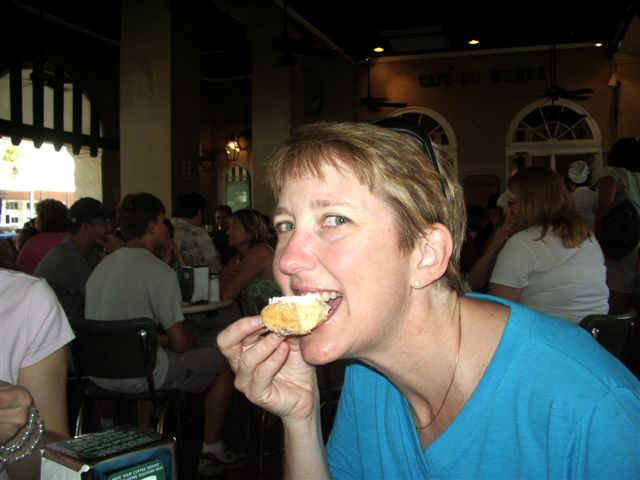 We decided to buy an all day transportation pass for $5. That would allow us to do some sightseeing on the trolleys and get back to the airport all for one price. We caught the river front trolley and rode it a short distance before our driver stopped to help the driver on the car in front of us try to fix his broken down trolley. We waited for 15 or 20 minutes before abandoning our voyage. Since we were near the French Market, we decided to walk thorough.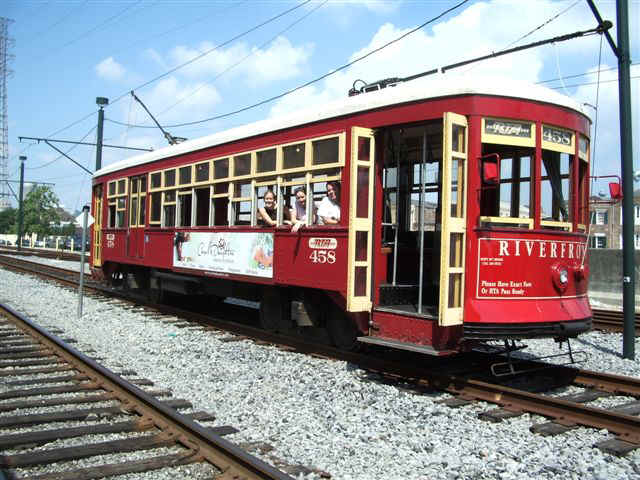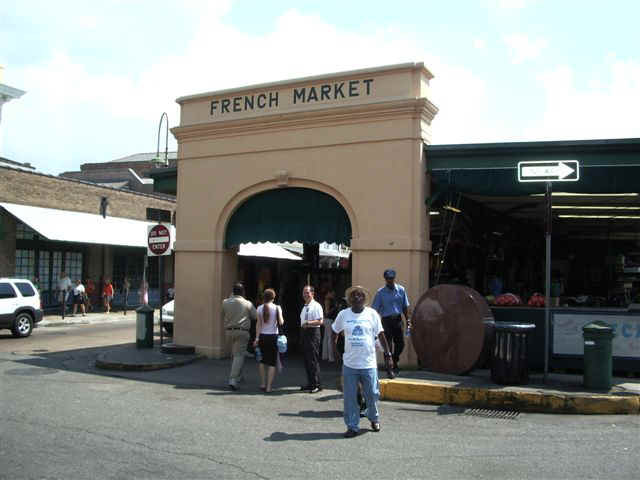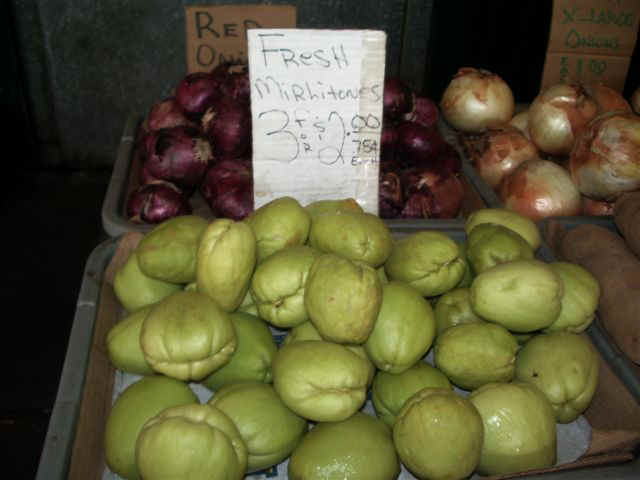 It was getting close to and we had a bus back to the airport, so rather than take any chances, we decided to go ahead and buy our muffletas for lunch. We put them in our backpack to eat later. I bought an extra one to take back to my lunch buddies in Atlanta.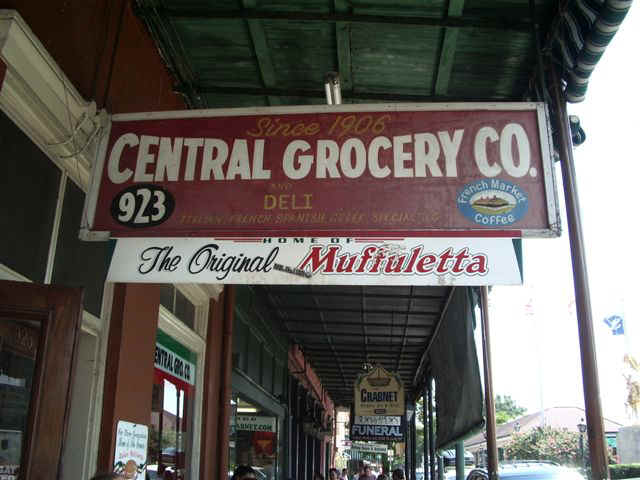 By now, the trolleys were running again, so we caught the Riverfront Trolley to where it connected with the Canal Street line. While waiting for the trolley, Cindy was serenaded by a local musician.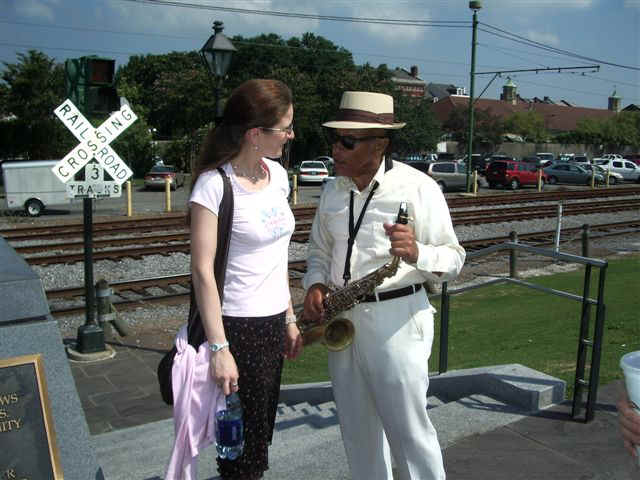 The Canal Street line took us to the cemeteries where we looked at the above ground vaults. Some of them looked ancient but had markers indicating deaths as recent as 1995. On our way back to the trolley stop, we passed a Jewish Cementary.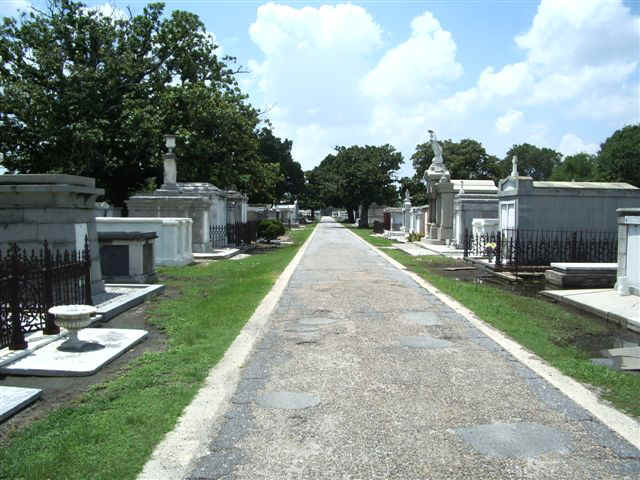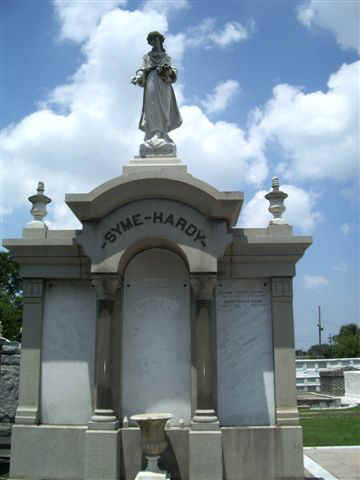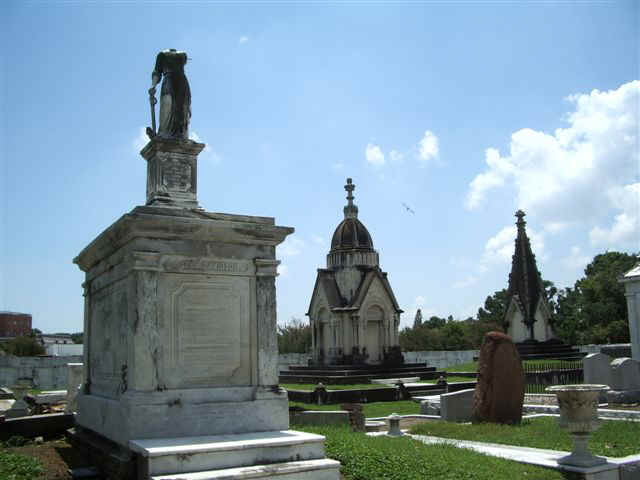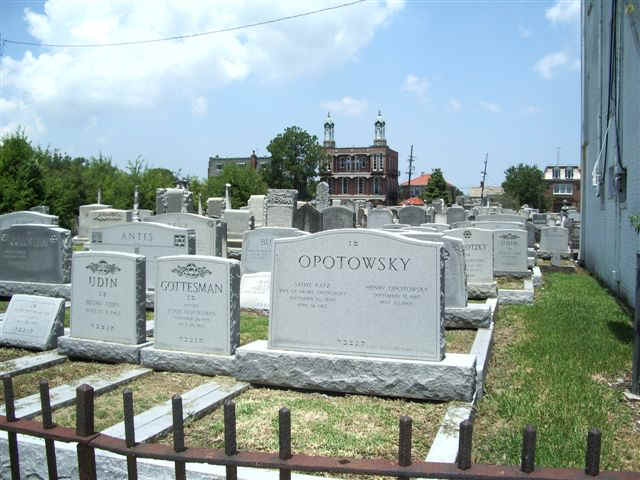 A funeral procession was proceeding along Canal street near our Trolley stop.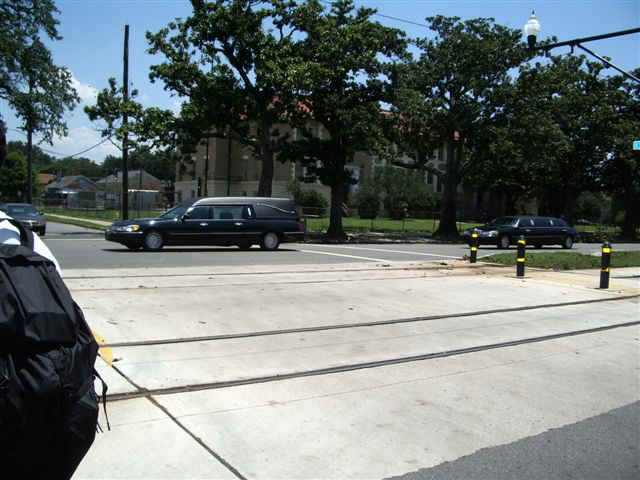 We waited in the shade until a trolley came and then dashed across the street to catch it. The girls didn't like the Canal Street line as much as the other trolleys because the cars were air conditioned and the windows didn't open.
Once back in the quarter, we decided to find a place where we could stop for a beverage and enjoy our muffletta. We found the perfect place – the Chart Room. Drinks were very reasonable and they didn't have a kitchen, so they didn't mind if we ate our lunch there, "as long as you don't make a mess."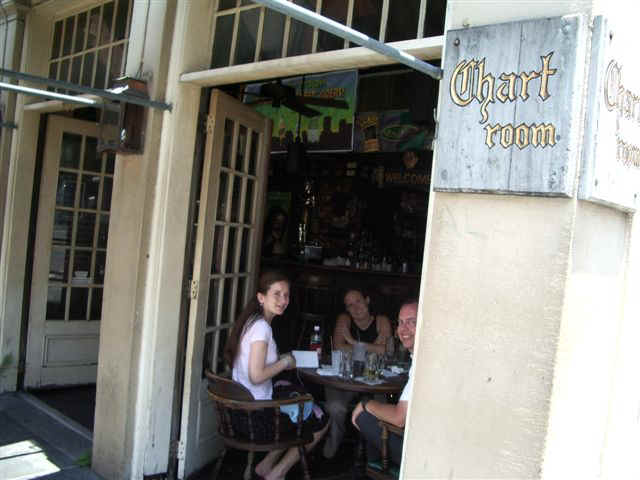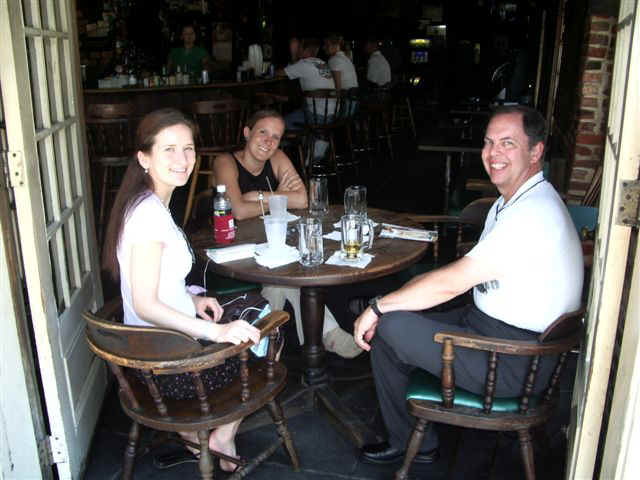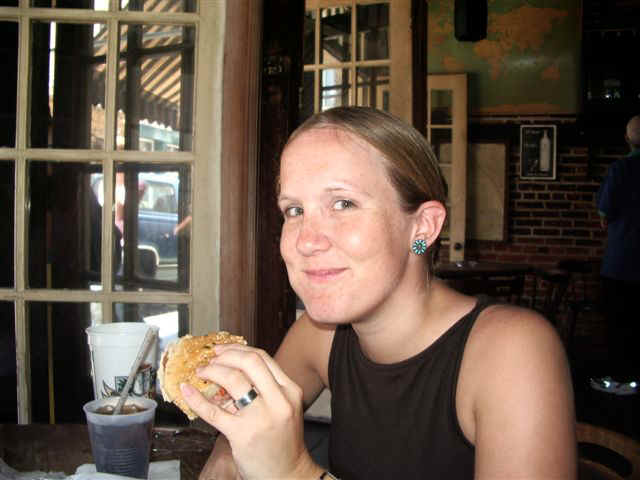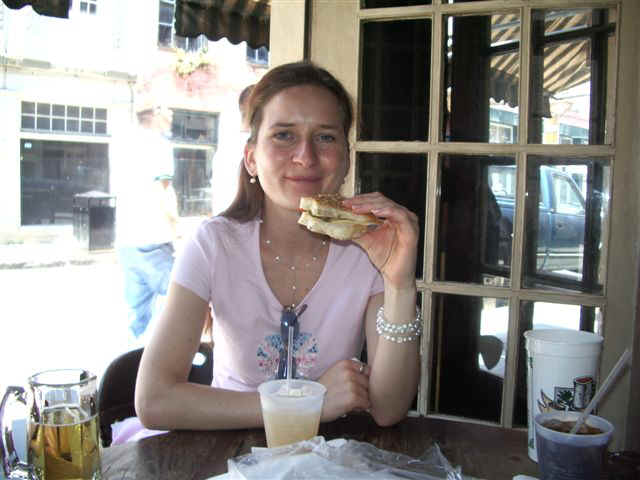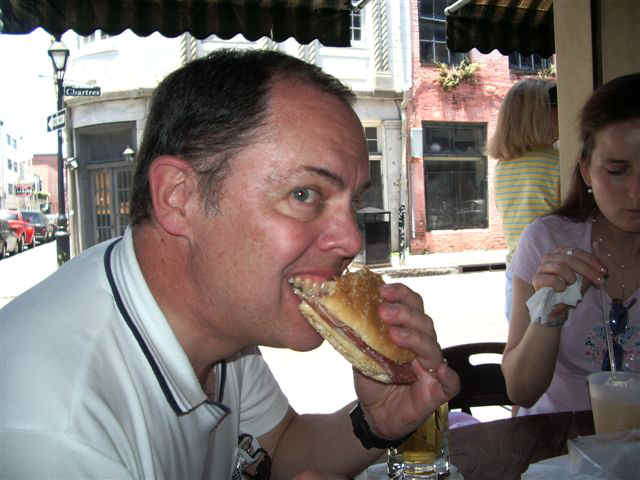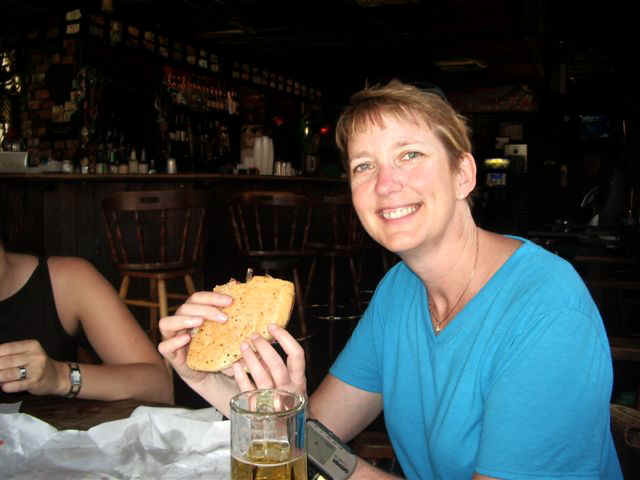 Tony decided to wait at the Chart Room while I went with the girls to make one more trip around Jackson Square. Then it was back to the hotel to pick up our bags and on to the bus stop. At the bus stop, we met some folks who said the busses were off schedule because of the hurricane. We settled in for a long wait, but the bus arrived right on schedule at .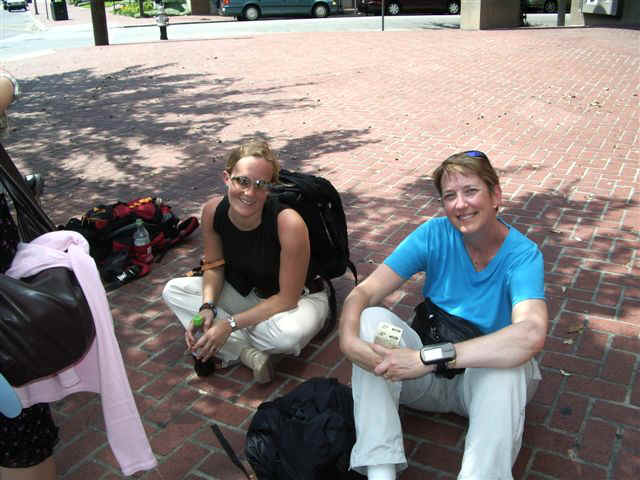 Back at the airport, we checked in for our flight. It was still showing plenty of seats available for standby travel. We changed from our hot sweaty New Orleans attire into something decent enough for non-revving and headed for the gate. Tony and I were cleared right away in First Class and were getting ready to board when they announced a 1 hour delay. Uh-oh! This could be trouble – it could mean that passengers showing up for a later flight might bump the standbys. We watched and listened to the gate agents accommodating just such requests. Finally they started boarding the flight, but Tony and I were afraid to board for fear that the girls would not get seats, so we waited. And waited. Finally, just before they closed the door, they called the girls and gave them exit row seats at the front of the coach section. Perfect!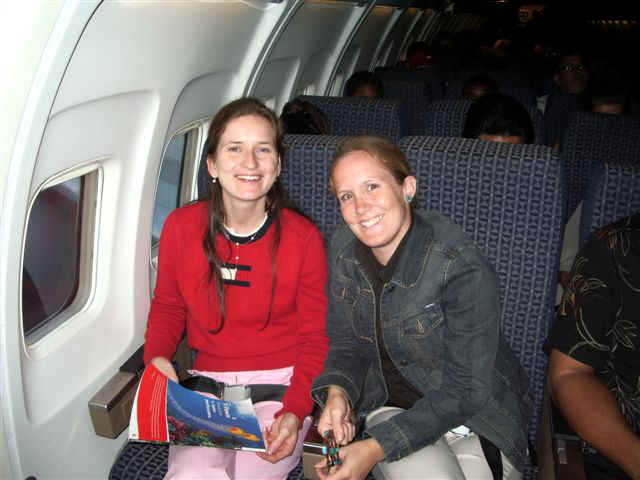 We were quite relieved when we pulled away from the gate. Before we took the active runway though, the pilot announced a ground delay. Cindy came up from coach to say that the girls were hungry. Tony dug the beignet and some peanuts out of his luggage and that satisfied them until the flight attendants made the rounds with snacks. At last, we said goodbye to New Orleans.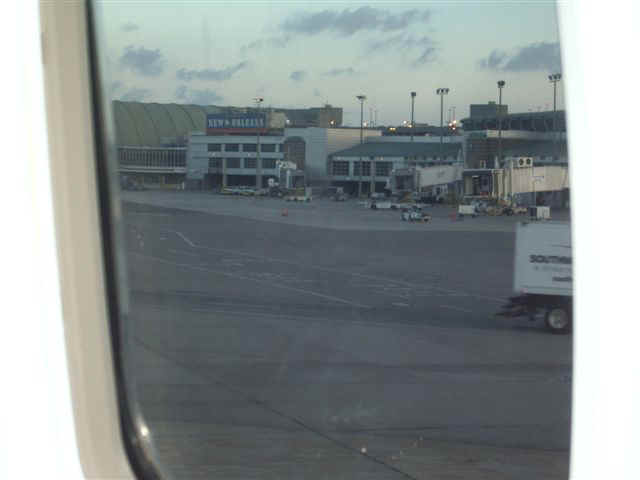 All in all – a very good trip. We didn't get to meet Dennis, but that was okay, we got to meet parts of him a few days later in Atlanta.
BJ and Tony Morris
tony@bjandtony.com