Tegernsee, Germany
September 2005
"Would it be easier if perhaps you spoke English?"
Our friend Karla sent out a note suggesting that we use our time off around Labor Day to do something other than "stuff around the house." We quickly jumped on the opportunity to go with her, as did our friend Sue. We had no particular destination in mind, so we decided to let flight availability make the decision for us. The destinations that looked possible were: Moscow, Munich, London, Frankfurt, Paris, Amsterdam, Brussels, Madrid and Manchester. Moscow initially held some interest, but the strict and expensive Visa requirements caused us to rethink that. Karla and Sue decided they wanted to show us Tegernsee, just south of Munich. They have been several times and love it. Munich flight availability continued to look pretty good right up until the day of travel. We checked in for the flight around , giving us ample time to get through security and settle in at our usual mustering point, the bar nearest the gate. We received a page from a concerned friend giving us the bad news that seat availability to Munich was looking grim. The Frankfurt flight at was looking good, so we decided to change. The agent was very accommodating and changed our listing without question. We got our friend back at the office to reserve a rental car for us in Frankfurt to be dropped off in Munich. Although we hoped to take the train, we wanted to have a backup plan. We finished our drinks and headed for the gate. Tony, Karla and I were given seats as soon as we got to the gate, but Sue had to wait until the last minute since she now travels on a lower (retiree) priority. We boarded the plane, but sat on the edge of our (business class) seats until we saw Sue board.
I had a nice surprise when I realized one of the flight attendants was one of my golfing buddies from the Delta Ladies' Golf Tournament. We visited a little, but she was busy & I needed to get my beauty rest. After dinner (chicken for me, beef for Tony), we both dozed off, skipping the ice cream sundae (for the first time ever!). I barely woke up for landing and was feeling quite refreshed when we stepped off the plane.
The Frankfurt airport is under construction, making it confusing and time consuming to get from Terminal 1 where we landed to Terminal 2 where the train station is. We had to take a bus which dropped us in an unfamiliar area. We finally located a train station office, but there was a very long slow moving line. Tony & Karla went in search of information elsewhere while Sue watched the bags and I waited in the train ticket line. Tony & Karla finally came back with some sketchy information about how much the train tickets would cost (with a group discount, it would be something like 225 Euro for the 4 of us – Either full price or 75% off for the first passenger & 50% off for the remaining passengers). It looked like it would be a long train ride (5 hours) with a couple of stops. We decided to use the less costly rental car, figuring it would be faster. A long walk to the rental car counter and a long slow elevator ride to pick up the car was followed by a long wait for the attendant to give us the keys. We were finally ready to depart the airport at , the same time the train would have left.
The car came with an onboard navigation system that took us a little while to figure out, but we finally got it set to Tegernsee. We nicknamed our onboard navigator "Cindy". Cindy would politely call out the directions in a stern but pleasant voice. When we went off course to stop for lunch, Cindy advised, "If possible, make a U-turn." We stopped in a little town just south of Nurnburg for lunch at Il Fagiano.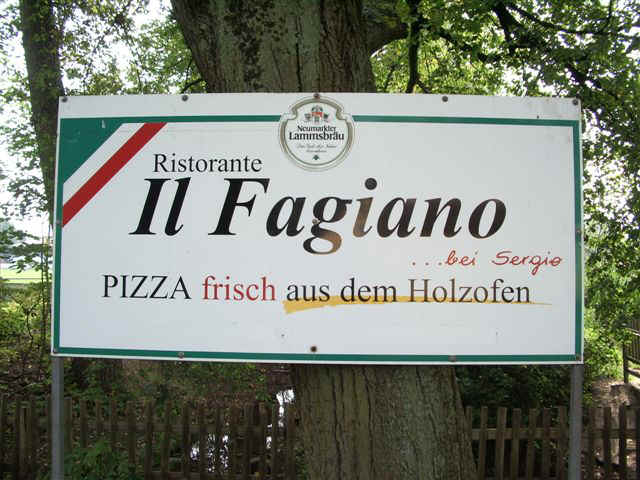 The proprietor spoke only Italian which we weren't expecting in Germany. Tony had just started a low-carb diet, so he decided on the Antipasto special for lunch. It turned out to be mostly things he wouldn't eat. Sea creatures with suckers & tentacles.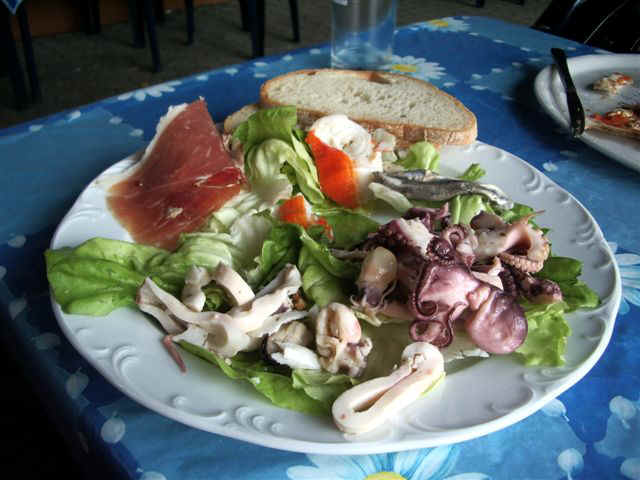 Sue & Karla split a small pizza with mushrooms and black olives. We decided the cook liked Karla best since her piece had 9 olives on it, while Sue's piece had 3. Tony looked on jealously while Sue & Karla polished off their delicious pizza and I finished my tomato soup. We made a stop for gas & Kindereggs (see every other Europe writeup) and then we were back on the road, expecting to make it to Tegernsee by 3. About 10 kilometers outside of Munich, Cindy advised us that there was some traffic ahead and offered to recalculate our route. We opted to ignore her since we couldn't see any traffic. Cindy was right (apparently Alamo's navigation service includes up-to-the-minute traffic information) and we soon came to a standstill. We let Cindy recalculate our route, but she took us to an entrance to the autobahn that was closed for construction. On the second recalculation, she took us to an intersection with a malfunctioning traffic light. When we finally got back on the expressway, Cindy said that traffic was stationary ahead. We let her recalculate once again and take us through downtown Munich. We lost about 1 ˝ hours trying to navigate around the traffic and through Munich. We finally arrived in Tegernsee around about an hour later than we would have been on the train. The Hotel Fischer-Stueberl was very welcoming! http://www.hotel-fischerstueberl-tegernsee.de/
Karola greeted us with the traditional Bavarian greeting, "Gruß Gottes" (which to me sounded like "Koos Koos") and showed us to our rooms. We had a nicely appointed room with a beautiful view of the lake.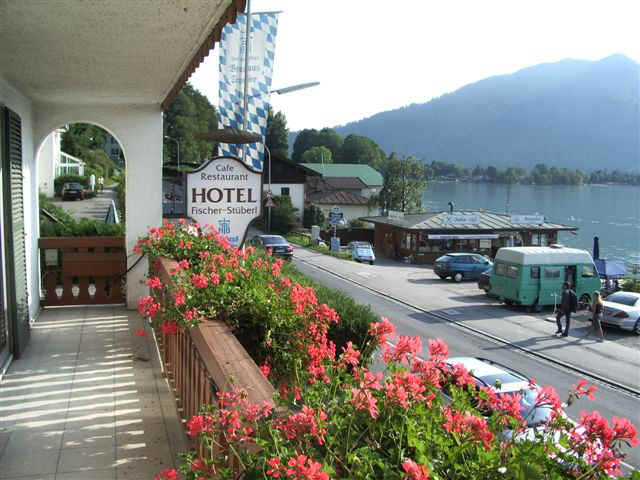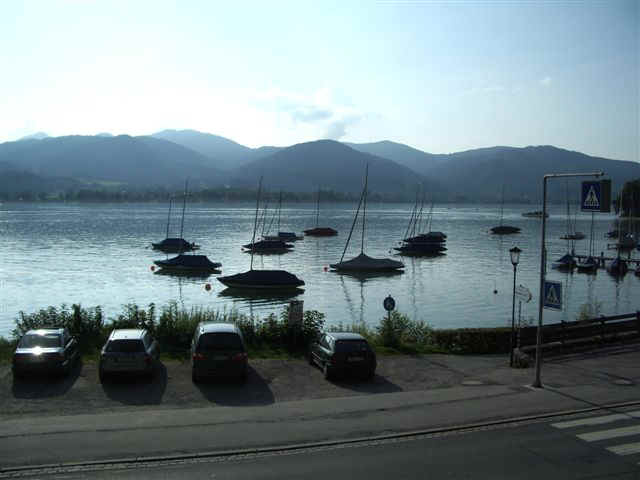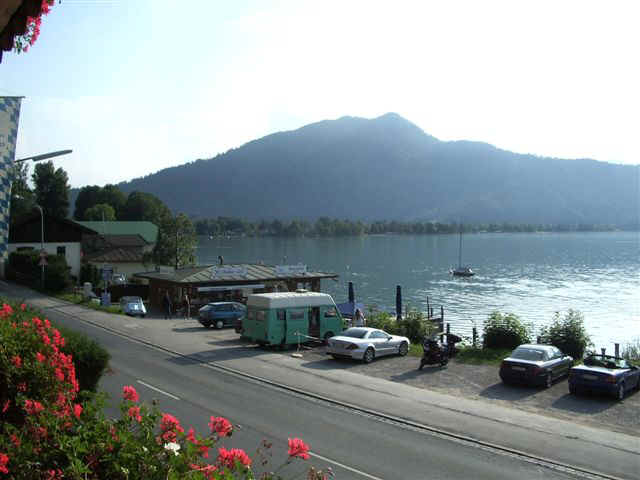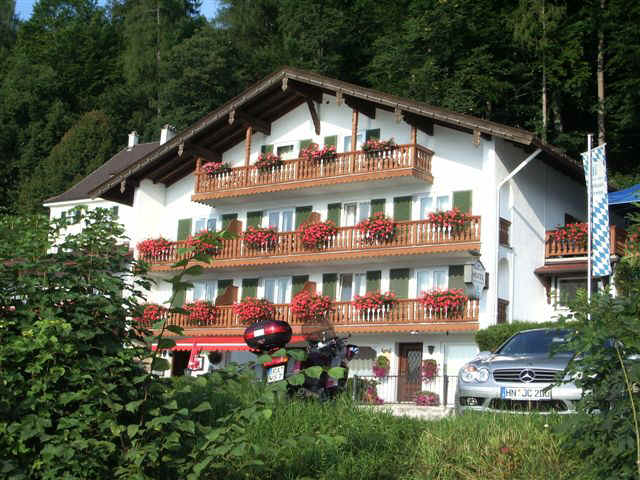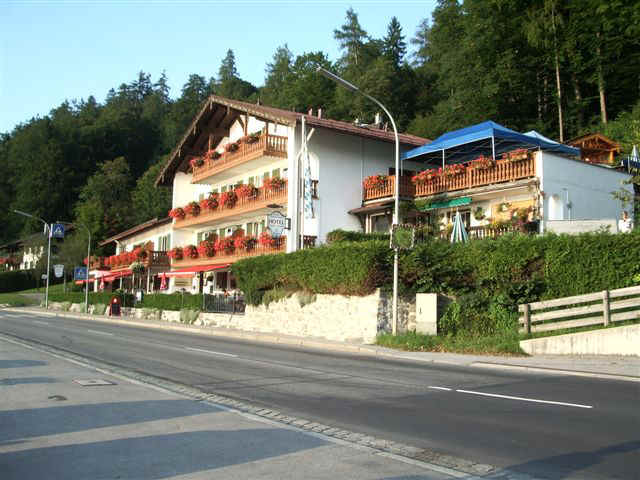 After our long drive, we were, of course, ready for a beverage. We walked across the street to the Seestern Café and Boat Rental.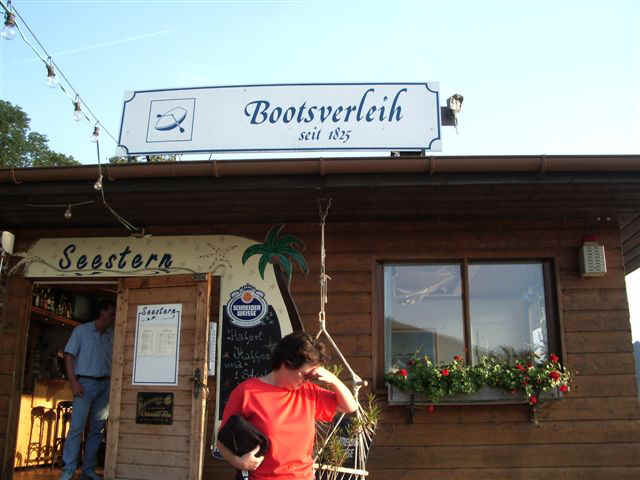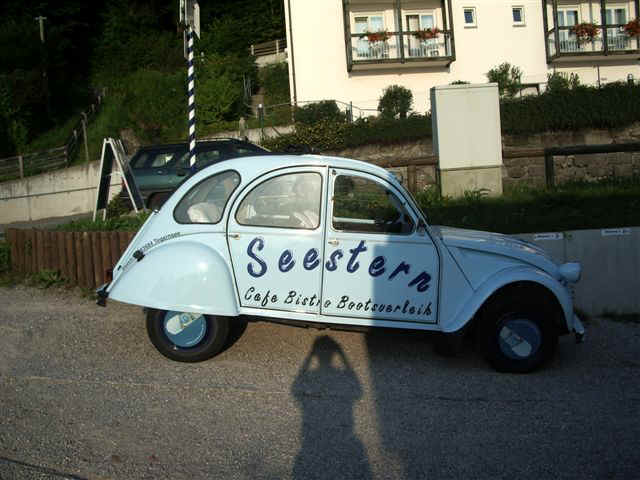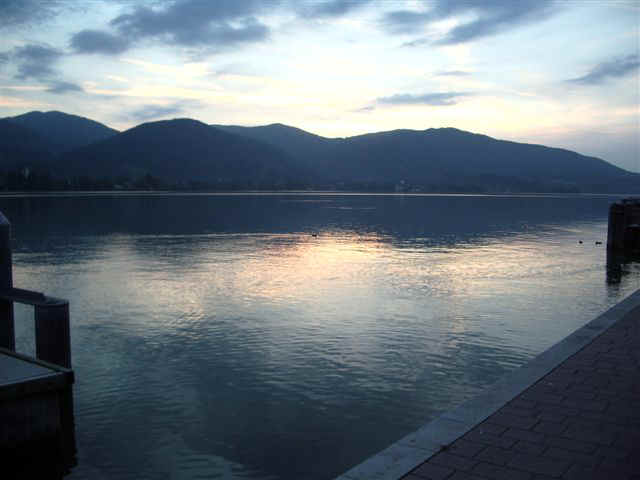 Afterward, ready to stretch our legs, we walked along the river to the Herzoglich-Bayerisches Brauhaus brewery for some beer, big German pretzels and cheese. Dinner was just down the lake a bit at the Seehotel zur Post.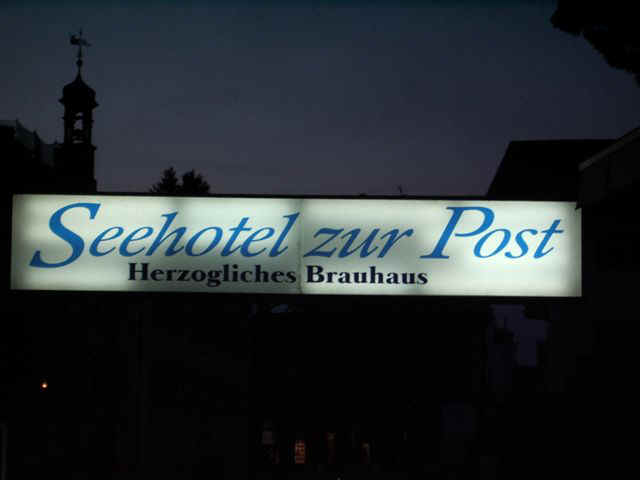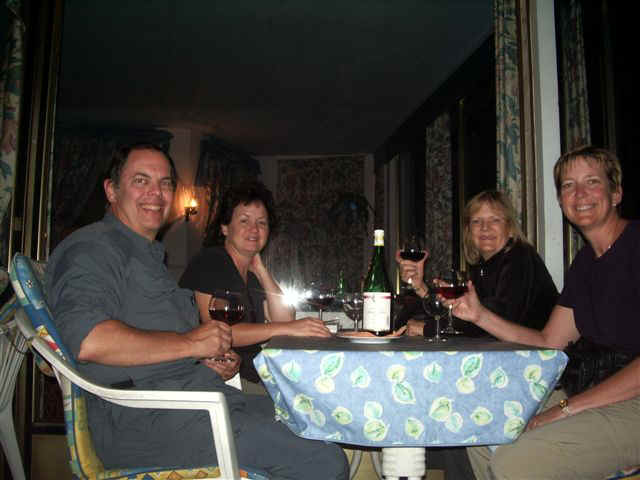 When we got back to the hotel, Tomas, the proprietor, was in the restaurant with his friend George (pronounced Shorsh). We stopped in for a short visit before retiring to the deck for a few glasses (okay, bottles) of wine before bedtime. As the evening ended, we were delighted by a lovely display of fireworks across the lake.
On Saturday, I awoke at 8. After a leisurely shower, I moseyed downstairs to see if the other girls were up, but found no sign of them. Tony was still in bed, so I decided to go for a walk. I went into town to see if I could pick up some contacts from the Optik store for a German friend back in America, but the store was closed.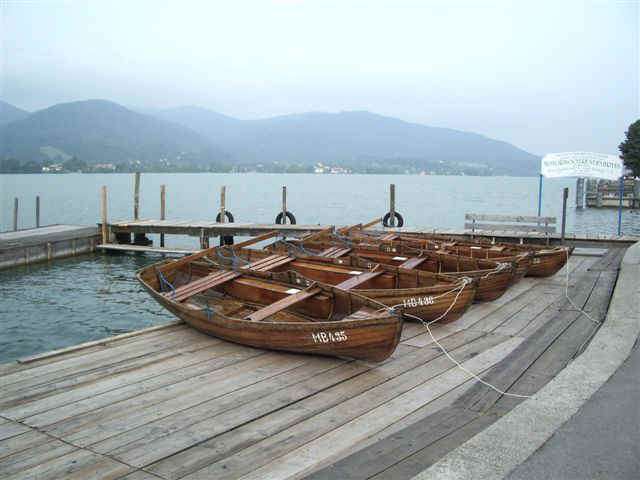 Back at the hotel, still no sign of the girls. I tried to rouse Tony from his slumber, but no luck. I took my book and sat outside the hotel until the girls finally showed up just before breakfast was over. We enjoyed the traditional German buffet of cold cuts, cheese, cereal and yoghurt. Over coffee, they told me about the hotel owner's family that they have been longtime friends of. Tomas and his wife Magdalena inherited the hotel from Magdalena's parents. Their son Tommy and his wife Karola (who also help out) have three children, Saskia, Korbinian and Julia. We met some of the kitchen staff as well, Ali and Sandra.
Tomas offered to drive us to the Optik store in the next town and then drop us off at the head of a trail so we could hike back to the lake. He could not go with us because he was busy preparing for a wedding at the hotel. Neither of the two Optik stores in the next town had the contacts our friend needed. Traffic was pretty heavy, so Tomas just pulled out in front of someone, commenting, "We must drive Sicilean style." The drive to the head of the trail was about 20 minutes. Tomas instructed that we go straight at every opportunity. He said the hike would be about 2 ˝ hours. He must have meant that it was about 2 ˝ hours to the first pub on the trail.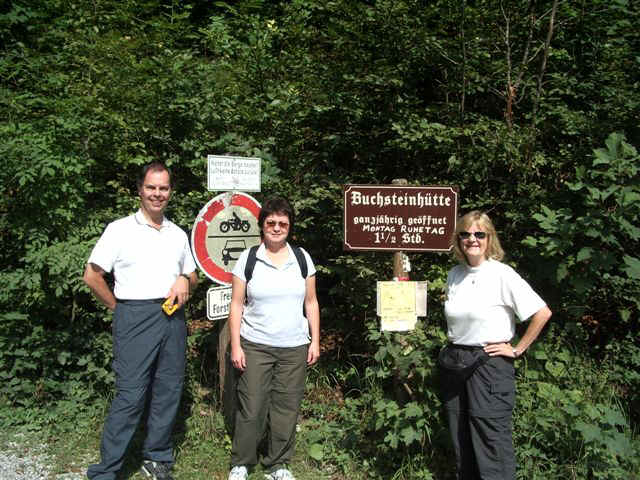 The scenery along the wide gravel road was beautiful. The riverbeds were an interesting gray color.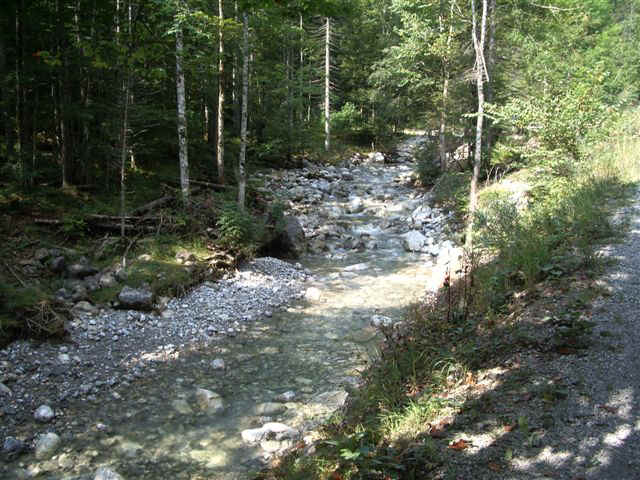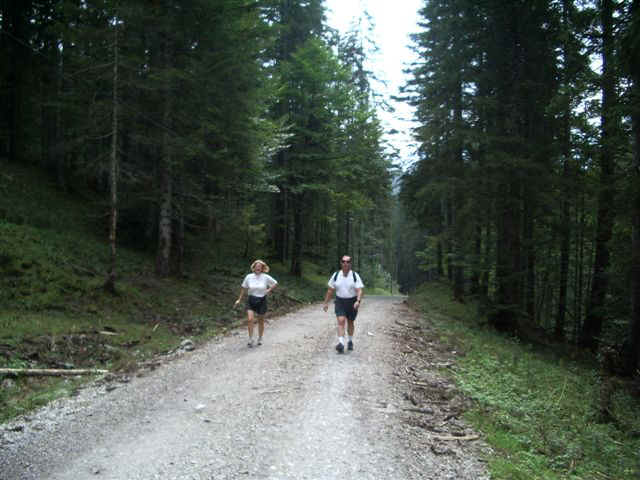 About 5 miles in, we came to Schwarze Tenn, a lovely little pub where we had lunch.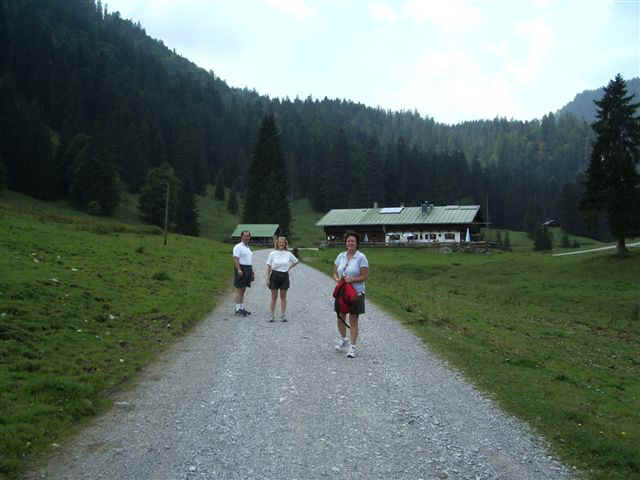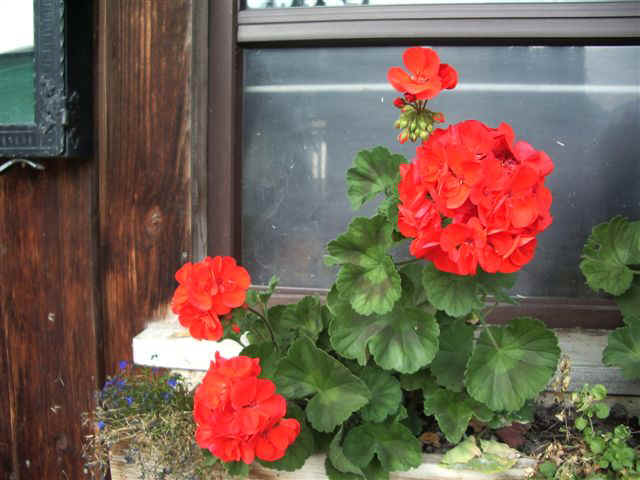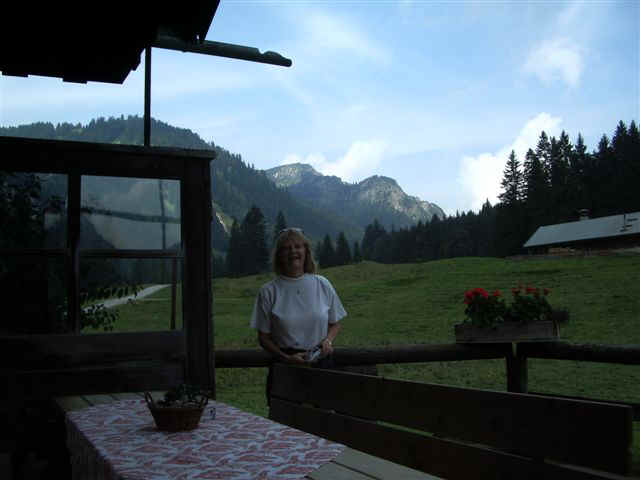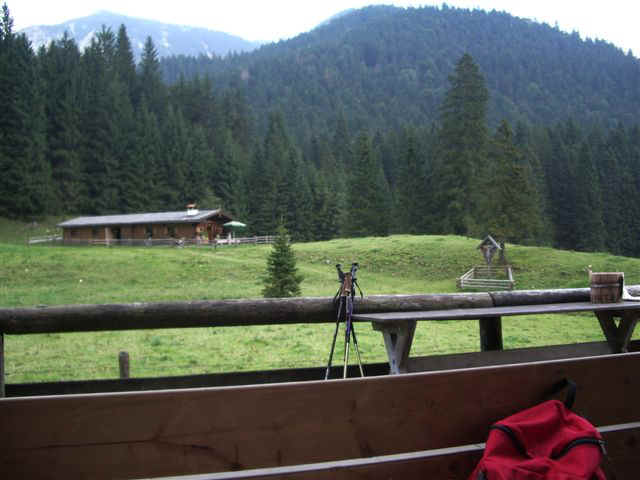 I had the pancake soup – with little shreds of pancake in a broth and the other girls had cream of potato soup. Tony ate the Babybel cheese I had snatched for him from the breakfast buffet.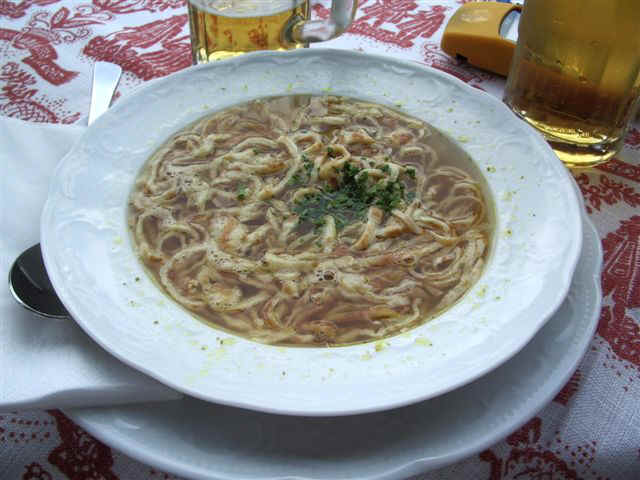 After lunch, we were back on the trail for what we figured would be a short jaunt back to the lake. Wrong. It was almost level, then gradually uphill for a bit, then level again for a bit, and then we saw a 20% grade sign ahead.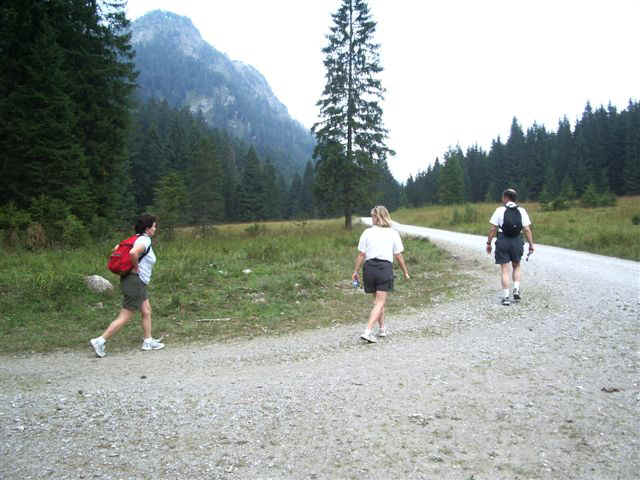 We huffed and puffed to the top of the hill and then it leveled out again just as we could see the umbrellas at the next beer garden (about 7 miles in)!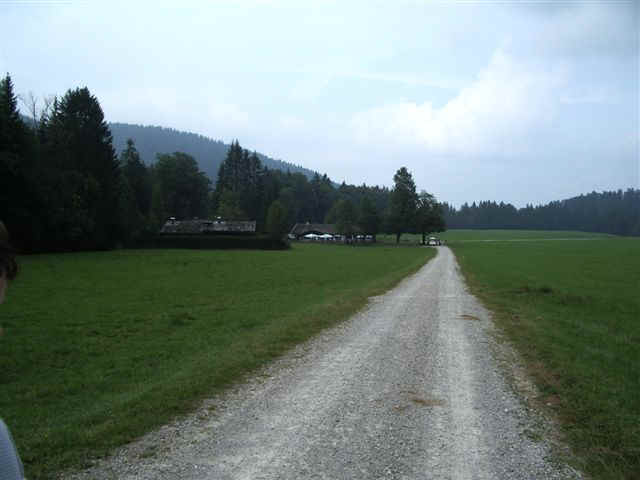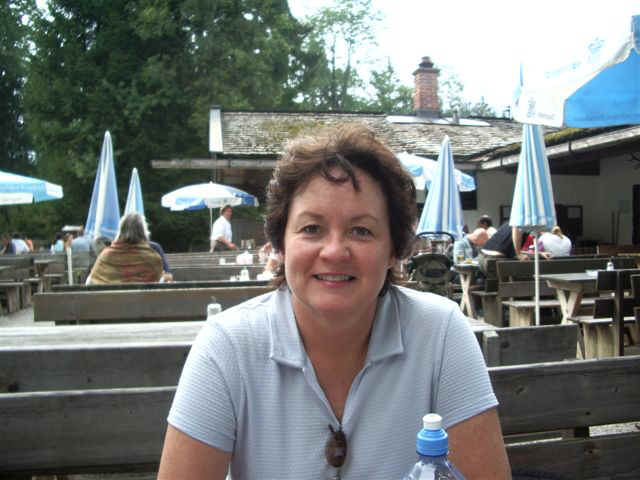 We found a nice table where we could watch the workers raking hay on the hill. Two workers cleared the hill with amazing swiftness while we enjoyed a refreshing beer.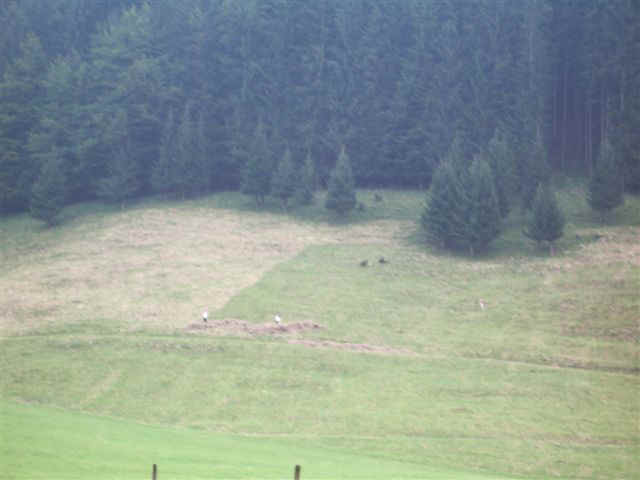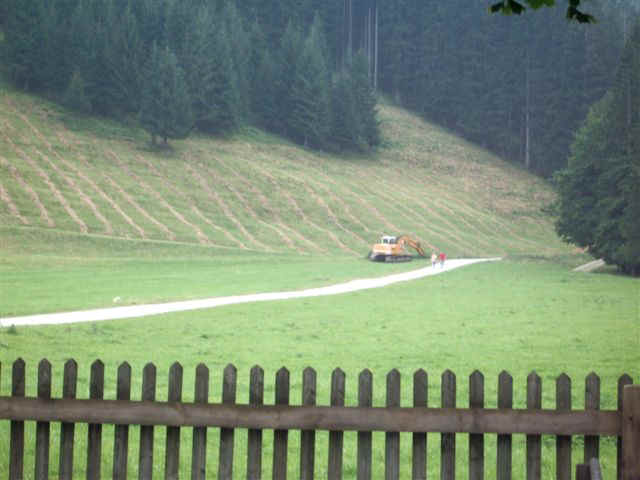 Continuing our walk, we passed St. George's Chapel. St. George must have slain a dragon.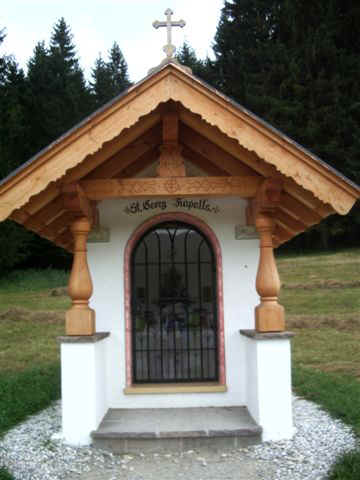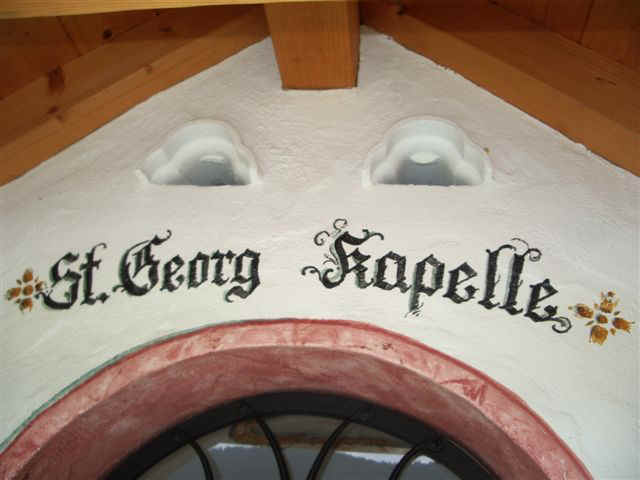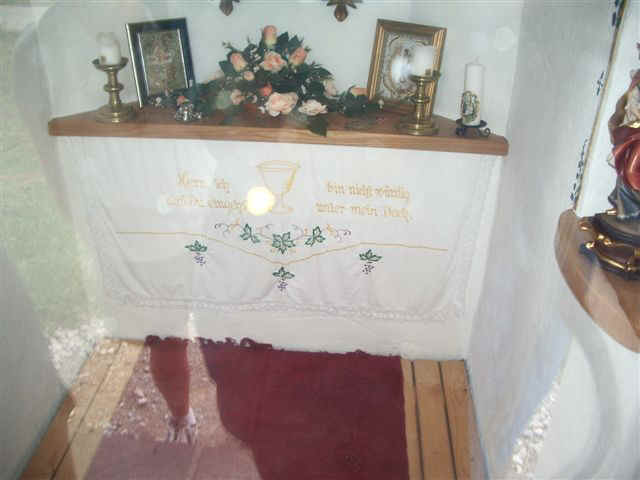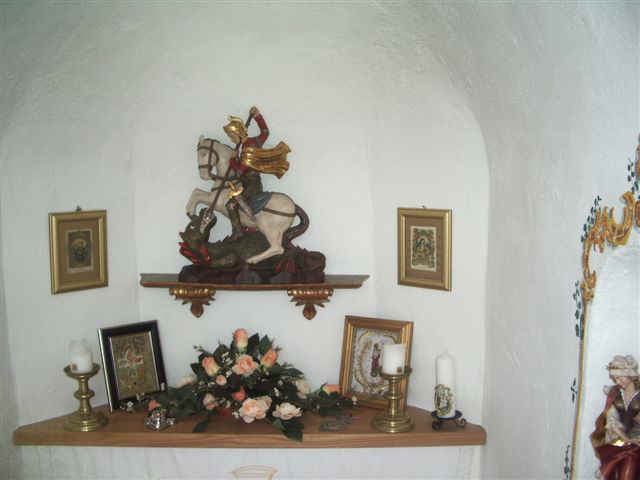 We stopped at the top of the hill above Bad Wiessee to watch a man taking parasailing lessons.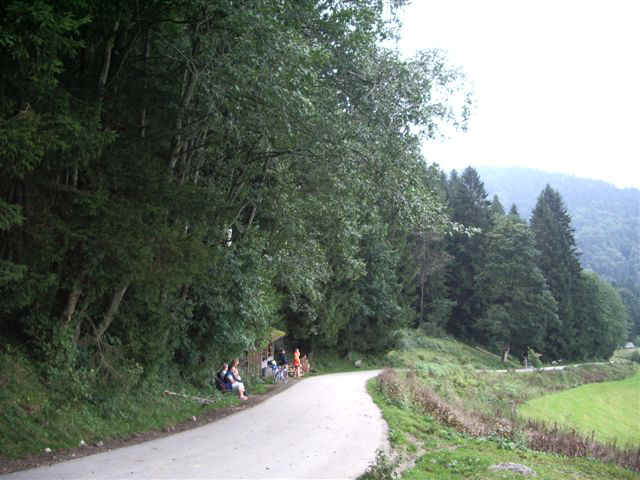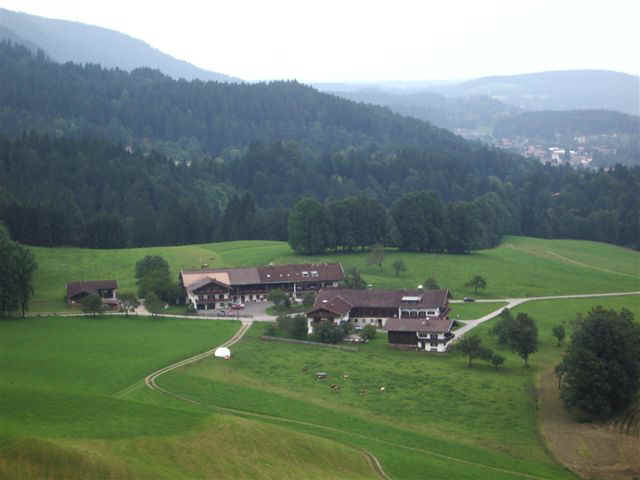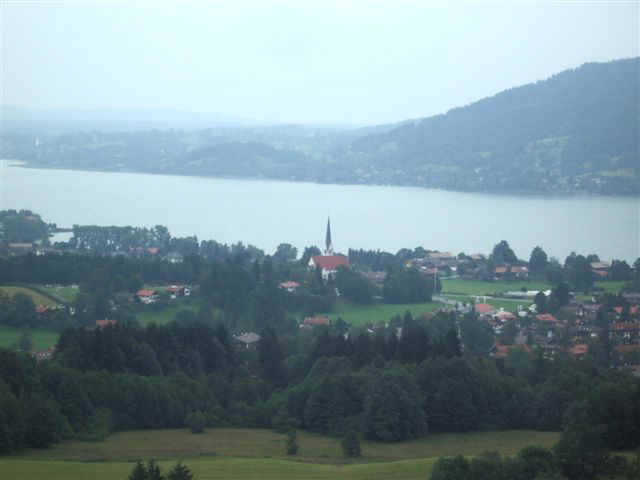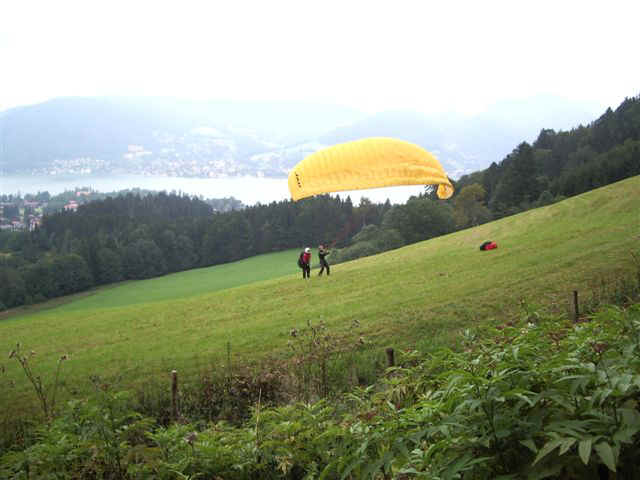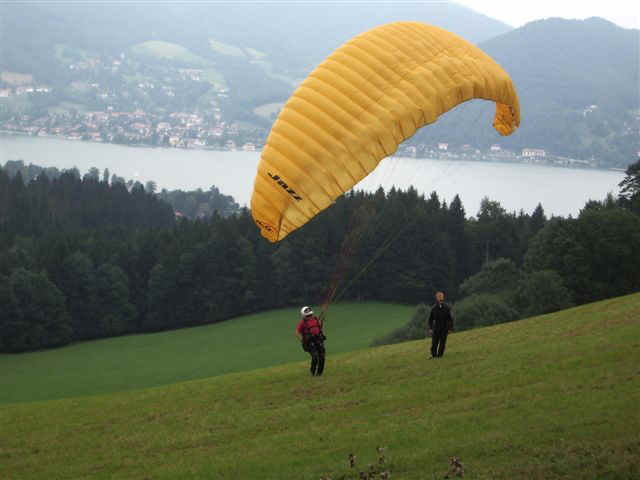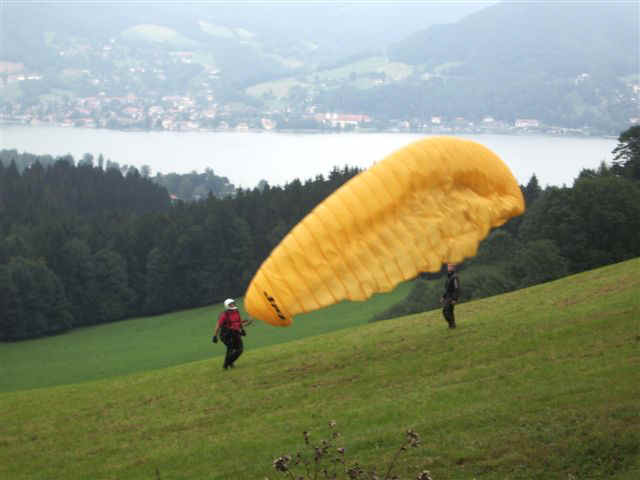 It looked like the perfect place for it, but when he finally got his parasail up, he had a very short ride as he sort of slid down the hill below his sail.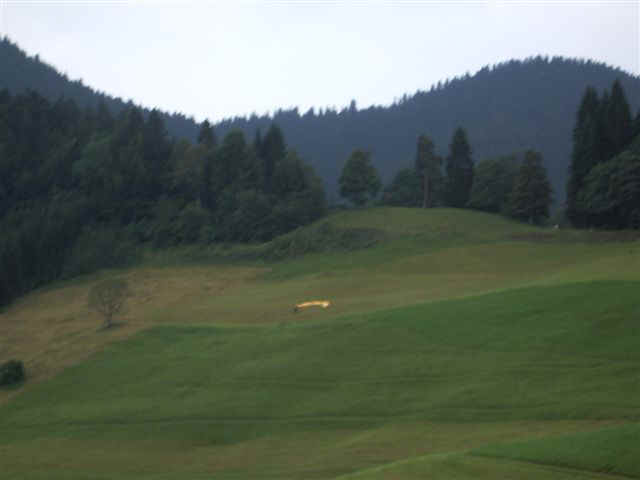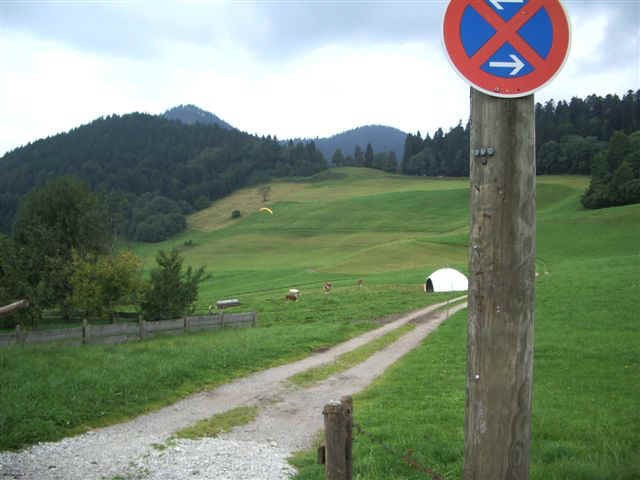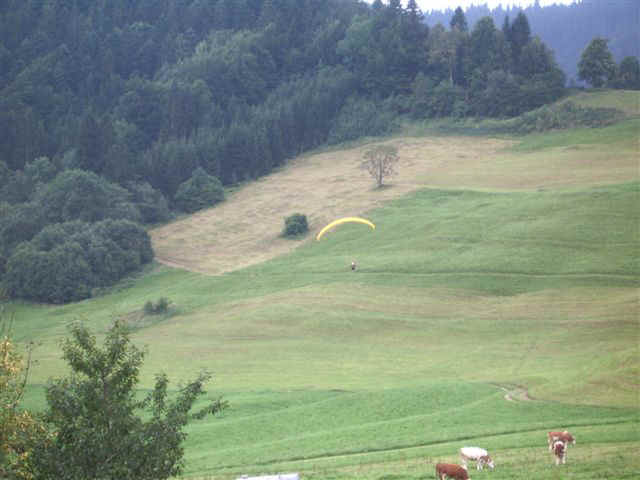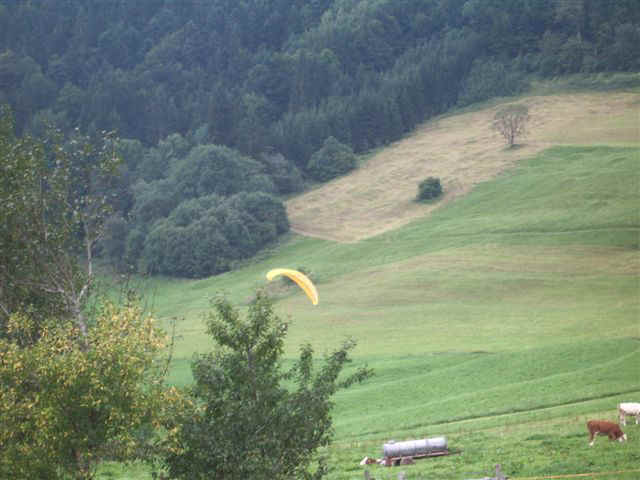 In Abwinkl we asked directions for the boat. The man we asked spoke animatedly as he pointed us in the direction of the dock. He must have been trying to tell us that the boat had just left. When we got to the dock, we saw a boat approaching, but the captain would not let us board when we told him our destination as Tegernsee. The couple on the top deck made a swimming motion and laughed at us. We finally figured out the posted schedule and decided that the boat to Tegernsee would depart an hour later. Time for a beer. We found a little park close by with a volleyball net & some nice tables in the sun where we could watch the local teenagers compete.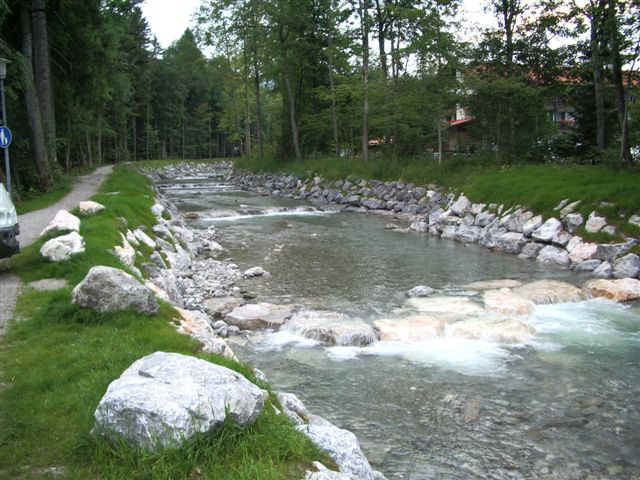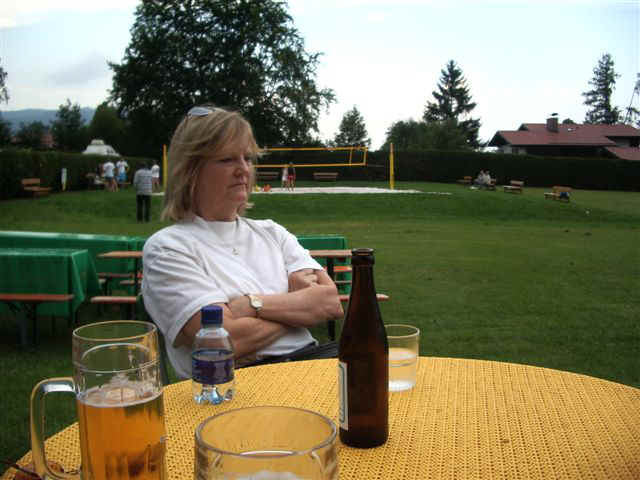 Back at the dock just in time to catch the boat! It was a short ride back across the lake.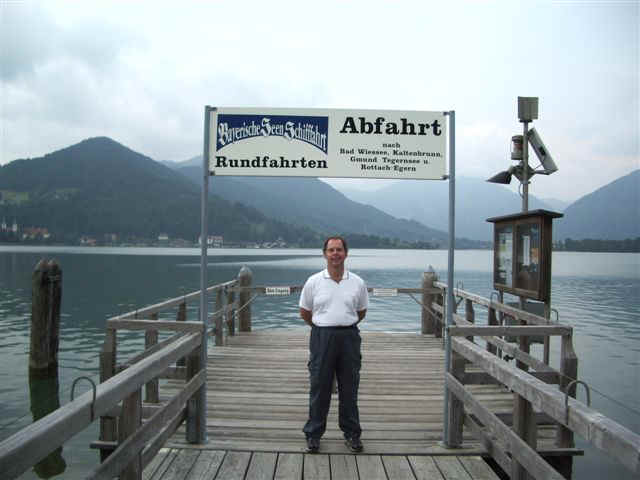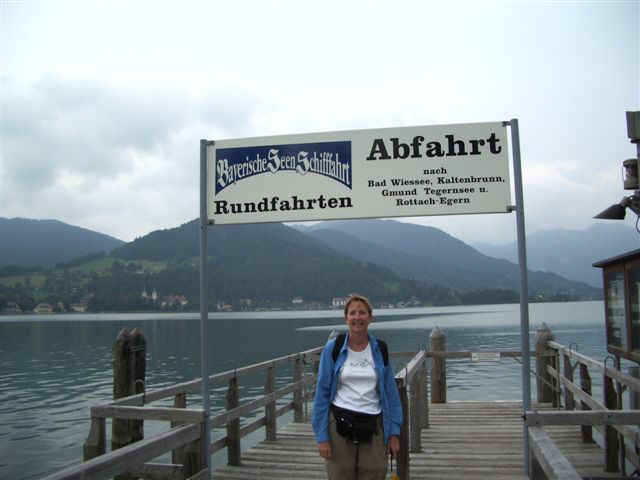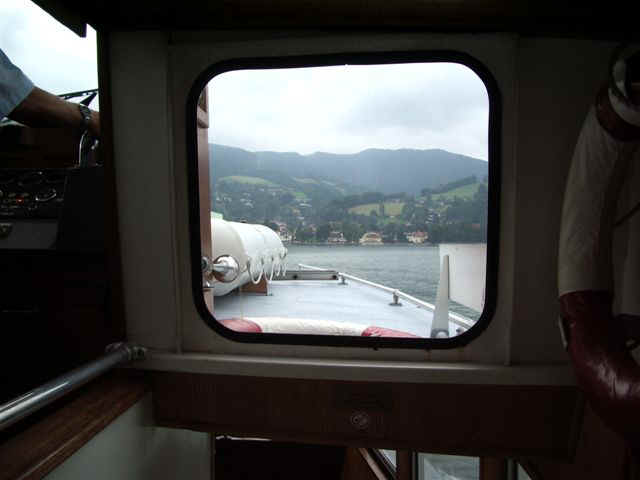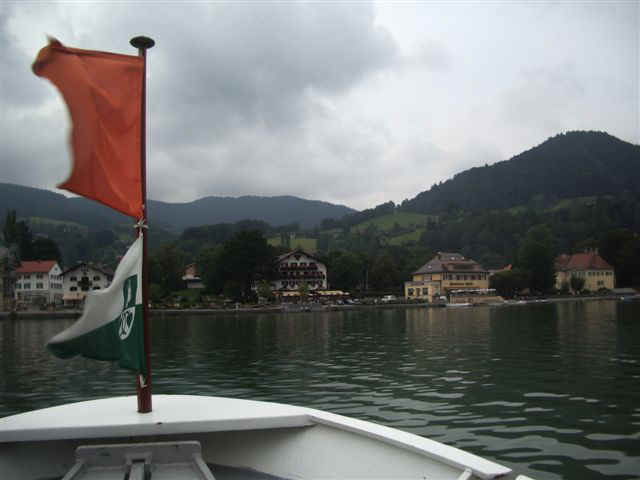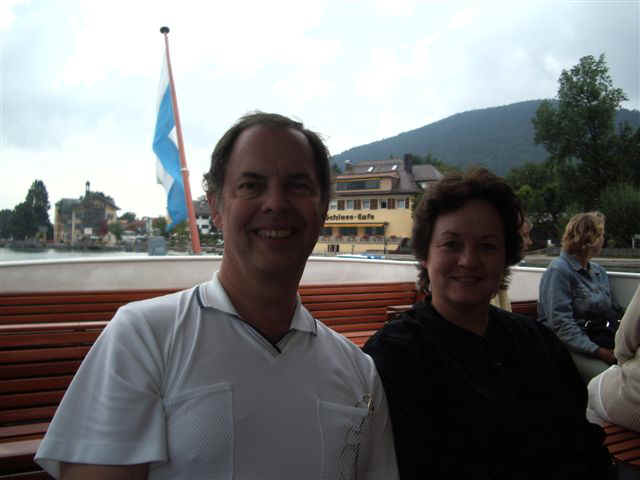 We looked at the menu at the Schloss restaurant. It looked pretty good, but we made Sue decide if we should eat there since it was her birthday. She made a good choice.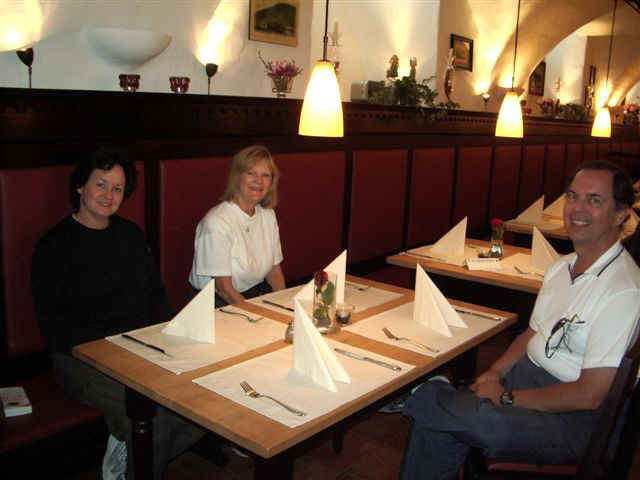 We had a cute little waitress who patiently waited while we phrased our order in German and then responded, "Would it be easier if you perhaps spoke English?" And we thought we were doing so well (Tony was peeved!).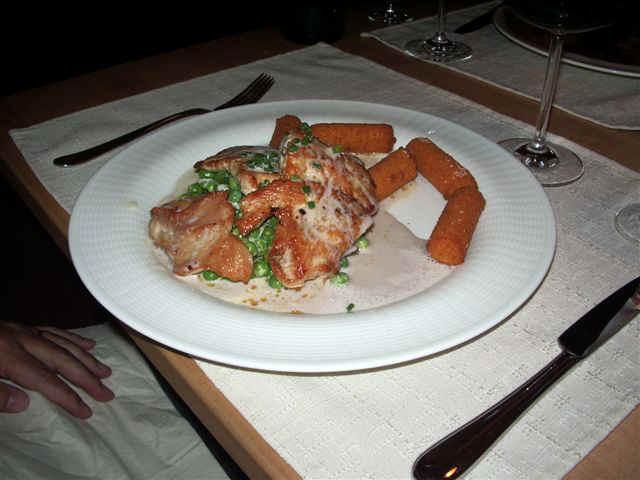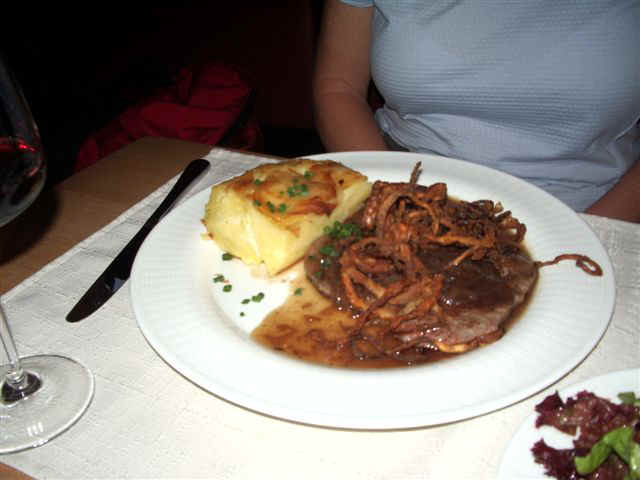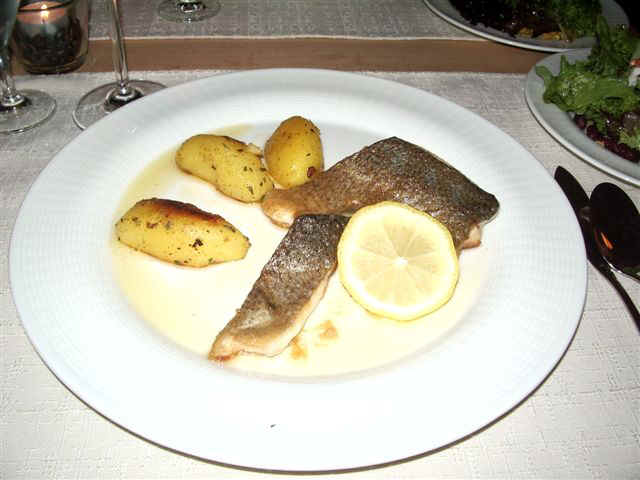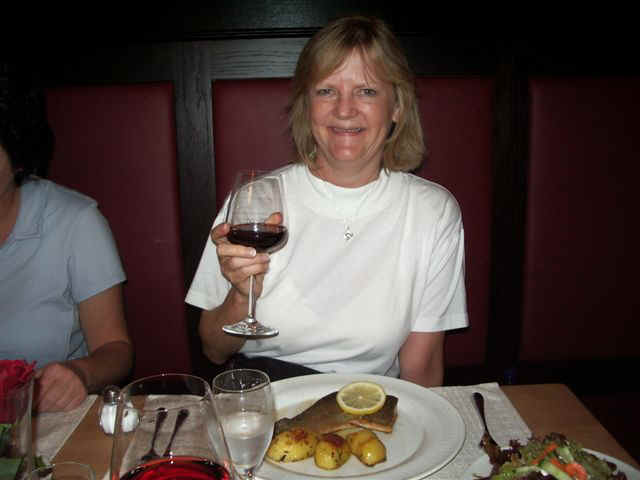 Sue conveniently went to the restroom so that we could order her surprise birthday "Tiara Mi SUE".
Back at the hotel, we agreed to meet on the terrace for a glass of wine. Tony went across the street to the Seestern to get a bottle of wine & met us at our usual table on the terrace. We didn't want to horn in on the wedding celebration downstairs. One of the other hotel guests must have thought the wedding noise was coming from us because she came to the door to shush us. We decided to move across the street to the Seestern to get out of her hair. From our table at the Seestern, we had the perfect vantage point for tonight's fireworks. Tomas explained later that someone just "has too much money" and sets off fireworks almost every weekend. We told Sue that we had arranged it for her birthday. We went back to the hotel when the Seestern closed and went to bed (or so I thought). Karla likes to be sneaky & go back out after others have gone to bed. She always selects someone to accompany her. Everyone hopes to be the one to be "called out" by Karla. Sue was the lucky one Saturday night. They went back to the Seestern for a night cap with the owners and then back to the hotel to join the wedding party.
Sunday morning, Tony awoke early, ready for his morning Diet Coke (he has a monkey on his back). The Seestern did not open until 10, so we took the car into town. When we got back to the hotel, we went to breakfast. We dawdled as long as we could, waiting for the girls, but they never showed up. Tomas told us that he had double booked their room so they would have to move. They finally awoke and then had to pack their bags & leave them in our room until their new room was ready. We decided on an easy (flat) walk around the lake for the day's activity. Tony was very excited when we passed an unusual sports car in someone's driveway.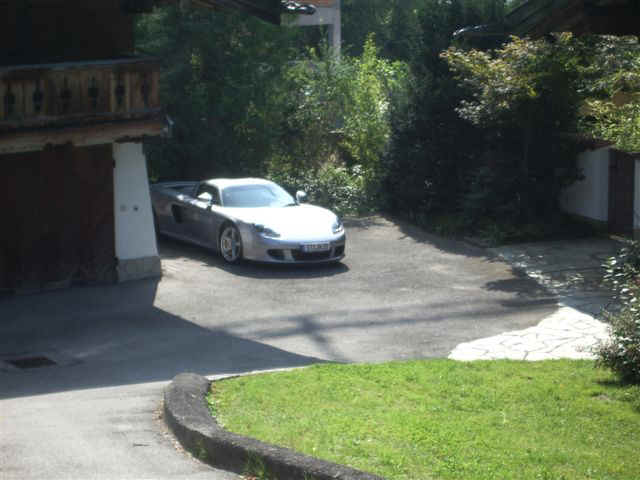 The weather alternated between very cool in the shade to fairly warm in the sun. We could hear a Bavarian band across the lake, but when we got to the band platform, they were packing up their instruments.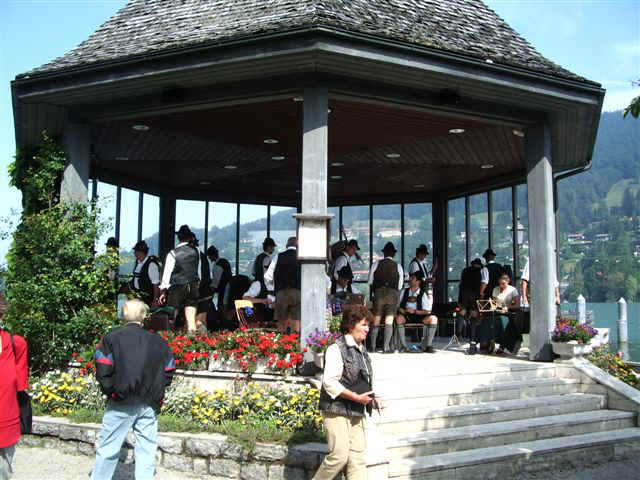 We meandered along the edge of the lake, stopping to admire the swans and ducks.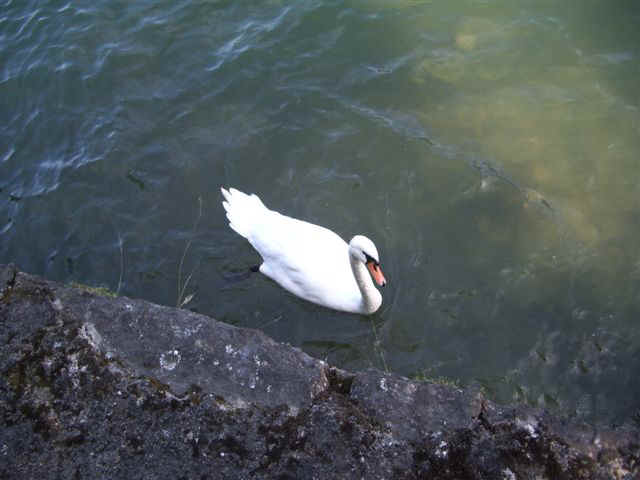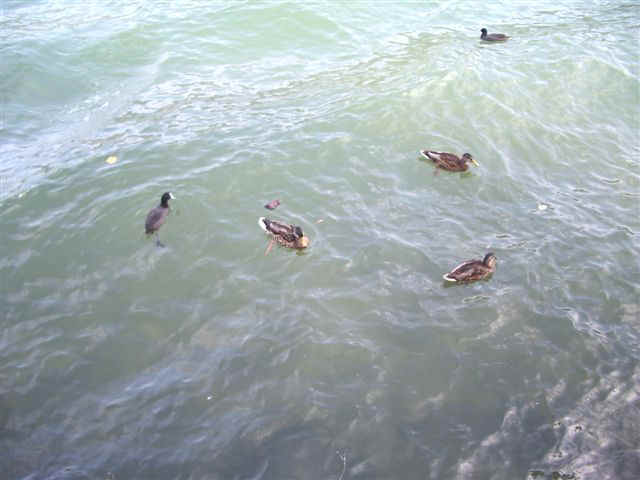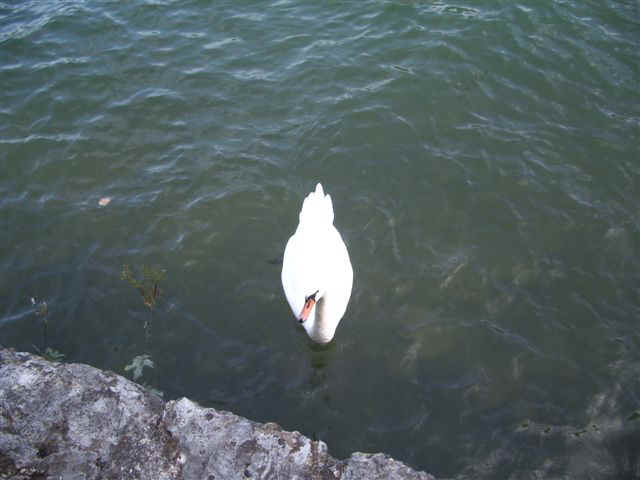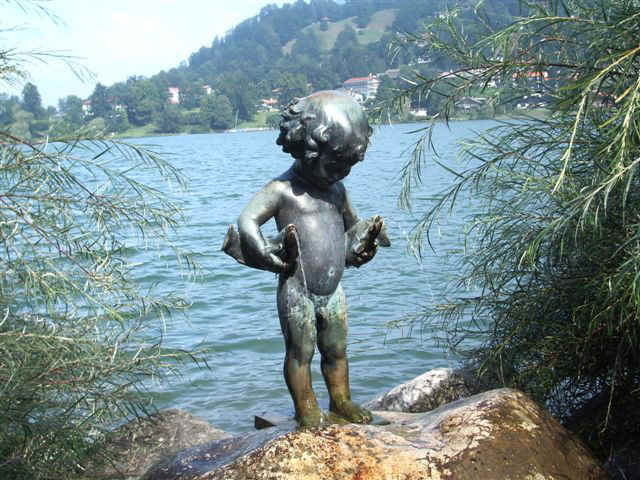 We stopped at Café Malerwinkl so the girls could have some Gulaschsuppe since they had missed breakfast.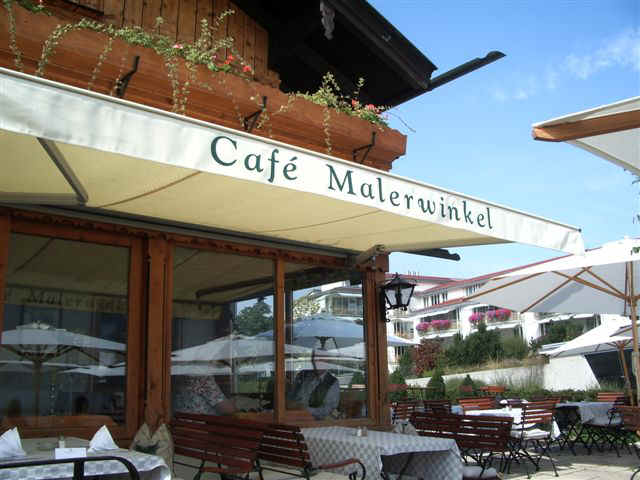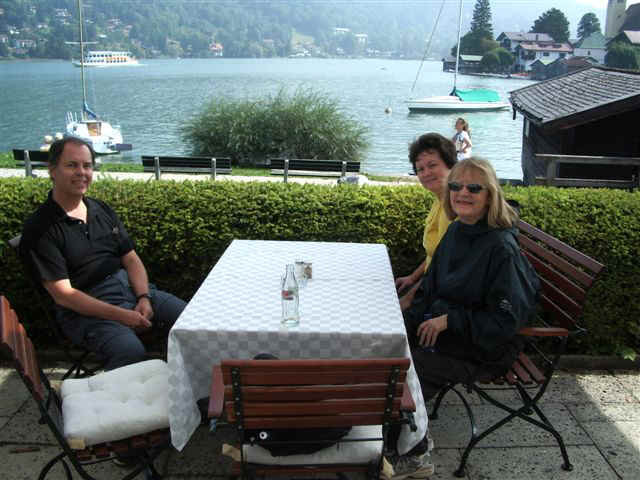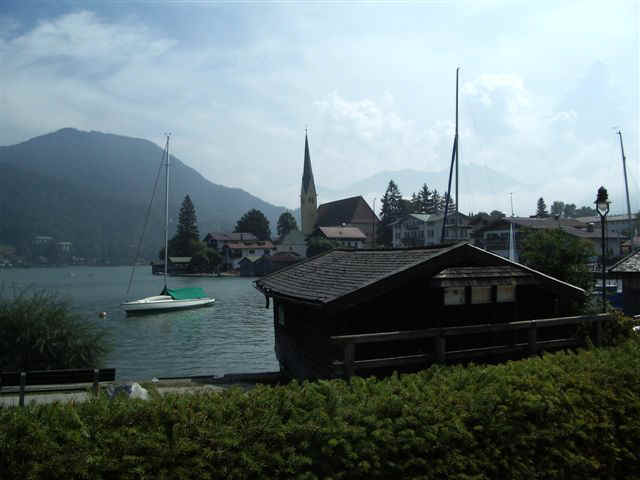 Continuing our walk, we found these statues of some portly Bavarians. I thought I might look thin in a picture with them, but as I posed with them, Sue commented, "Don't they look alike?". I'm still not sure if she was teasing or not.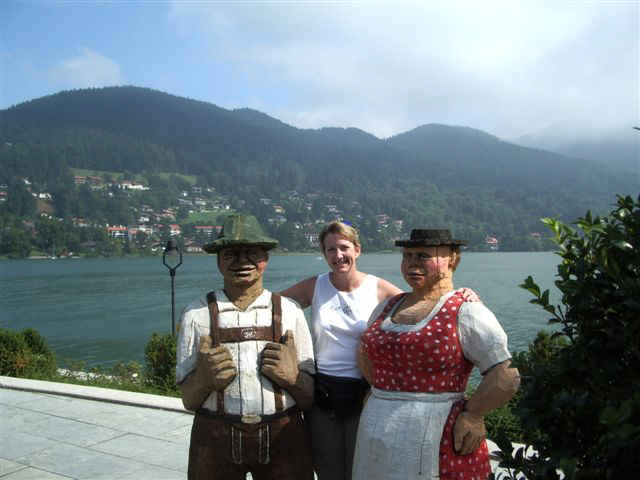 The wooden boat we passed reminded me of the Traghettos in Venice.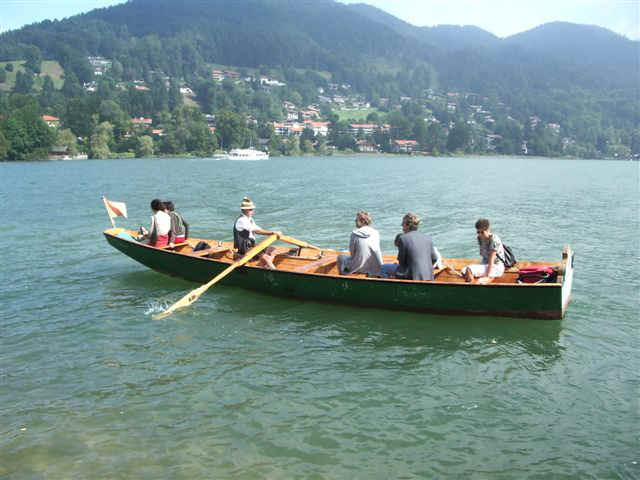 Lunch for Tony and I was at the Ubwinsler Hof where we had a wurst with sauerkraut. Mmm!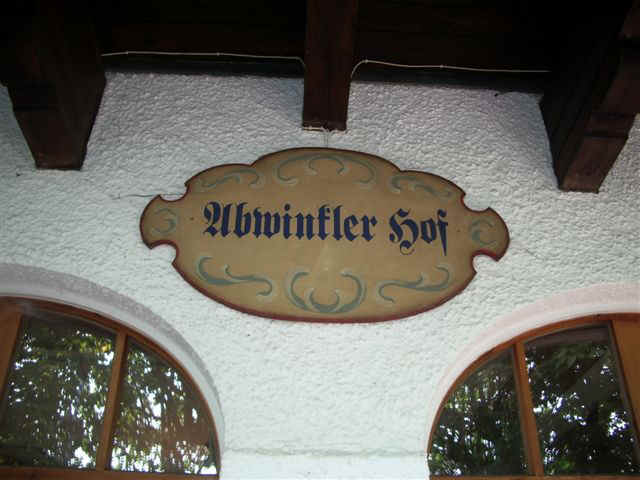 After lunch, we were ready to catch the boat back to Tegernsee. Too bad we didn't take a picture of the schedule when we were at the dock the day before. Once again, we arrived just after the boat had departed.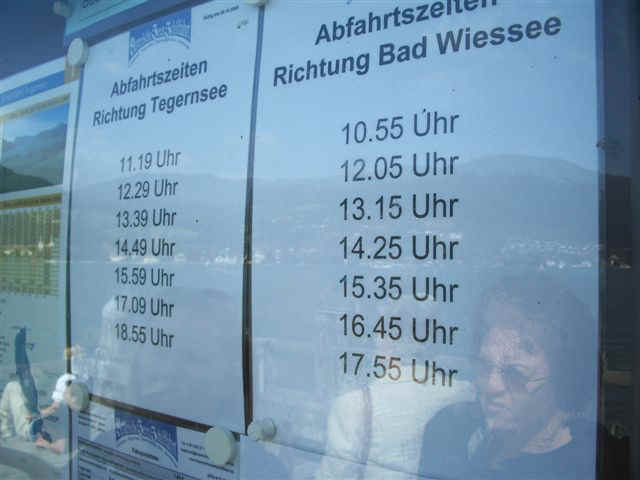 Back to our little volleyball park for a pre-ferry beer. This time we made it back to the dock in time to bask in the sun for a bit before the boat arrived. Karla spotted another parasailer against the hill.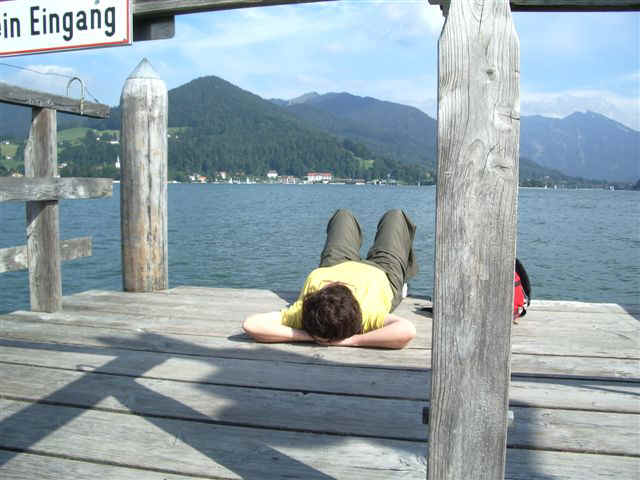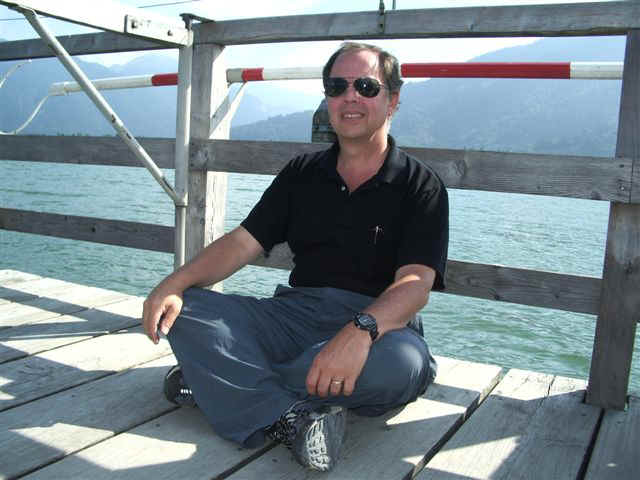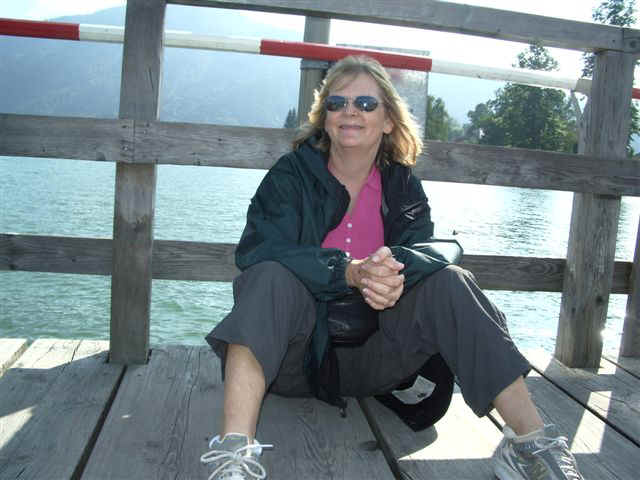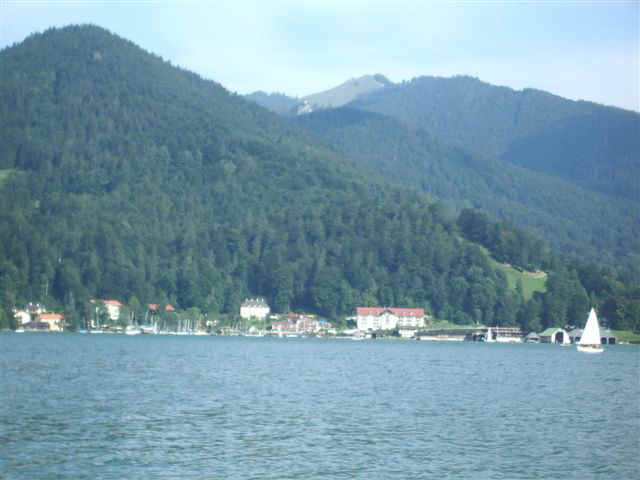 Back at the dock in Tegernsee, we were greeted by some performing Peruvian Indians.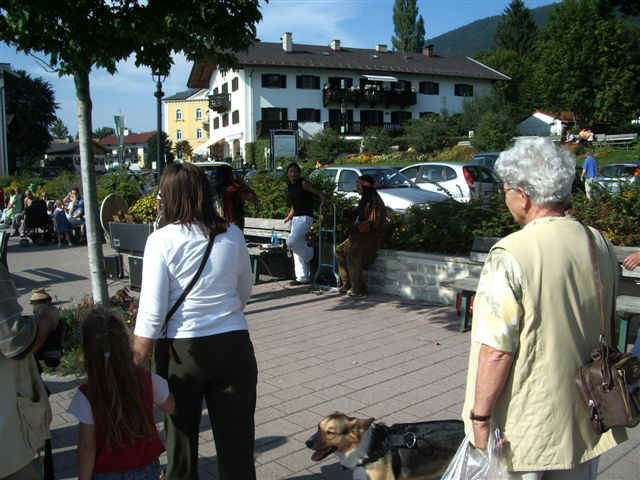 We stopped at the ATM on our way back to the hotel but Sue didn't have her ATM card. Tony and I wanted to get some chocolate for our German roommate who misses the Vollmilch chocolate from Germany. We took Sue with us to shop for chocolate so she could go to the ATM. The only place we could find chocolate was at the train station so we had to settle for Rittersport. We followed the signs back to the boat, but ended up on a dead end street. We dropped Sue off & then backed up the hill & turned around. Down the other side, the road narrowed until it was not wide enough for our car. We had to back up the road again. Finally we retrieved Sue and headed back to the hotel where we joined Karla on the porch. Tomas stopped by to visit & gave us a bit of history about the hotel and his career. We enjoyed the sunset and then went inside for dinner.
Tommy sat down with us to explain the menu & then went back into the kitchen to prepare the delicious dishes we had ordered. After dinner, Tomas, Tommy, Karola and Magdalena visited with us a bit. Tomas insisted that we have a farewell cocktail – something that tasted like liqorice. Magdalena fixed us a thermos of coffee and some cheese sandwiches for breakfast. Tony snuck across to the Seestern to get a bottle of wine (we had drunk all of their red so we had to settle for white) for our bedtime toddy. Back in the room, we ate our breakfast sandwiches & drank our wine. As far as I know, Karla didn't call anyone out, but she and Sue DID oversleep the next morning. Thankfully we had allowed extra time so no harm done. We said goodbye to the Fischer-Stueberl and the Seestern.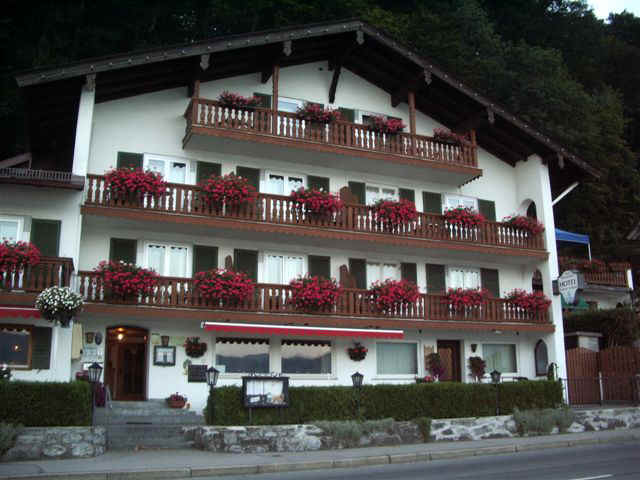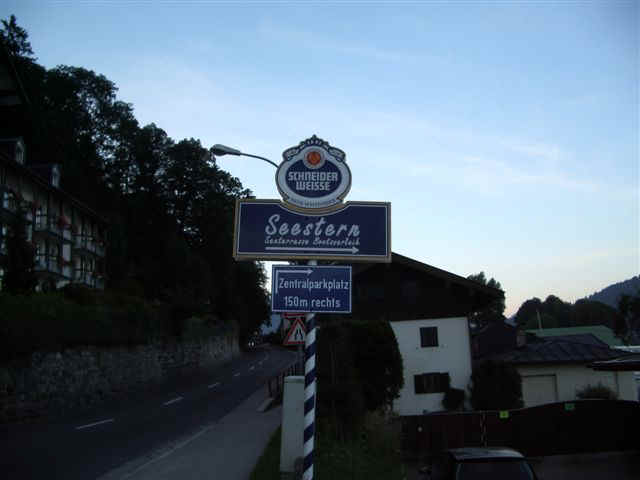 Cindy guided us back to the airport without incident. I slept most of the way home.
BJ and Tony Morris
tony@bjandtony.com