Huntsville, Utah
March 2005
"Youth and Athletic Ability versus Stamina"
We were very excited to receive an invitation to celebrate the birthdays of three of our friends on a snowboarding trip in Utah! While we don't snowboard, we figured we would tag along and ski while the others snowboarded. The trip was planned well in advance, allowing us ample time for lots of pre-trip discussions at our regular Sunday evening social gathering. Most of the attendees were new to snow sports, so there was clothing and equipment to be purchased. E-bay auctions were a great source for snowboards. Tony and I had all but given up skiing, but we still had our old equipment and clothing. The only issue we had was that some moths had gotten into our closet and stitched up the seams of our bibs, making them fit a little tighter than they had the last time we wore them. I understand that there was a plethora of these stitching moths in the Atlanta area recently.
The week of the big trip finally rolled around! Several of the non-rev eligible participants decided to forego the excitement of standby travel and book flights using their frequent flyer miles. Of course, Tony and I were not among those! We researched availability of leather seats on all of the possible alternatives for getting to Salt Lake City, even the little known Atlanta-Honolulu-Salt Lake City connection, but nothing looked like a "for sure". We toyed with the idea of taking the direct flight to Salt Lake, but it was already showing zero first class seats, so we decided we'd rather take a chance on a connection that might get us up front. Friday night, we had narrowed it down to either Denver or Los Angeles. By Saturday morning, it looked like Los Angeles was our best option. After we checked our bags and got to the gate, we were able to tell from the GIDS (Gate Information Display System) screen that we were too low on the totem pole to get to sit up front. Aside from those pesky Frequent Flyer upgrades, there were employees with 1969 and 1970 employment dates ahead of us. Why aren't they RETIRED??? Tony wanted to ditch the LAX idea and go for the SLC direct flight at that point, but since we had checked our bags (see Rule #4 of Essential Rules for Non-Revs), we couldn't switch gears at the last minute. No big deal though, we got a nice roomy 3-across in coach and had a fairly enjoyable flight to LAX. The movie was the latest "Bridget Jones' Diary" sequel – a nice distraction. The food available for purchase on the flight didn't appeal to us, so we waited and had Mickey D's cheeseburgers in LAX. We DID get to sit in leather seats from LAX back to SLC so all was not lost.
We picked up our rental car which quickly became nicknamed the "Butt-Ugly Orange Car" and headed toward our lodging, following the excellent directions that had been faxed to us. We planned to stop at a grocery or package store along the way, but there were none! In retrospect, we should have done our shopping in Salt Lake before heading to the outskirts. When we got to the last turnoff, and we still hadn't seen a store, we continued on into Eden to the grocery store. They did sell beer at the grocery store, but no wine. The nearest place to buy wine or liquor was about 15 miles away.
When we got to the neighborhood where our rental house was supposed to be, we couldn't locate the right house number. All of the information from the owner said the house was located at 9025 Kelly Drive. We rode up and down Kelly Drive, but there WAS no 9025. We tried to call several of the other travelers but no one was answering their cell phones. Finally we stopped and asked some folks who confirmed that there was in fact, no 9025 Kelly Drive. When we told them we were looking for a rental house, they pointed us to the house next door, which was 9052. Seems the owner may be dyslexic!
We were the first to arrive at the house, so we paged the others to tell them to do their shopping before they got too far out of Salt Lake City and let them know about the house number. They were way ahead of us and already had the supplies in the van. We took a look around the place. The information on the web (http://vacationhomes.com/17318 http://www.vrbo.com/29225) had said that it would sleep somewhere in the neighborhood of 13 people, but our own count showed sleeping capacity for 19, not including three full sized sofas! There were two separate upstairs wings and 4 separate downstairs wings. Six bathrooms were conveniently spread around. We selected a King bedroom suite on the front of the house as our domicile for the trip. We left the master suite for the trip's alpha-female and her servant, the Man-Child.
Shortly after we had gotten oriented, the van arrived and needed to be unloaded. From the amount of luggage and supplies, it looked more like we were moving in permanently than just staying for the week. While everyone got settled in, John busied himself making delicious chicken quesadillas. I was starting to like John! I later learned that John had not brought any ski clothes for the trip, but had brought a case of wine! I really like John! He has his priorities!
I made my way to the dining room and discovered the bucking chair. One leg was broken and folded as soon as I sat down depositing a very surprised me rudely on the floor. Everyone got a big laugh at my expense. After dinner, Lori introduced us to a great new dice game. I won the first round, but was beaten severely in the next two rounds by the Man-Child. Mark utilized a number of techniques including dice-whispering and calling his dollars "Moan-back", but none of his techniques netted him a win. Both Mark and the Man-Child were celebrating birthdays (more than a decade apart, but who's counting). The important part is that Mark, the elder was able to stay up until his birthday was over. (Stamina wins!) The Man-Child snuck off to bed well before midnight! Only a few of us were still awake to greet Q when he arrived.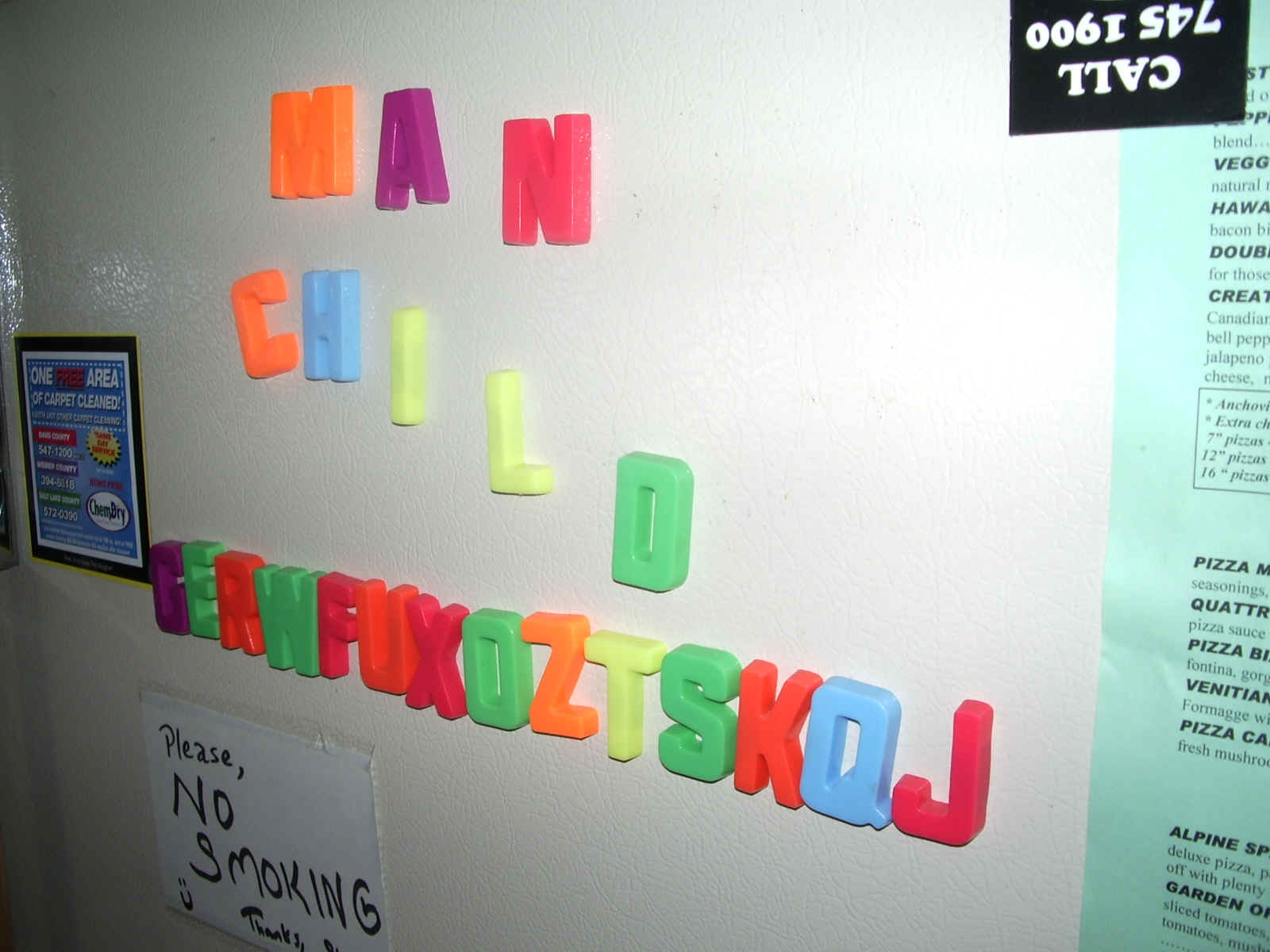 Sunday morning, we awoke to the smell of bacon frying! Since I don't normally eat breakfast, I knew it was not a good idea to chow down before hitting the slopes, but who can resist bacon? With most of the ski trips I have been on, there's usually agreement about meeting for breakfast around 8:00 so that we can get to the slopes by the time the lifts open at 9:00. Not so with this group. There was a lot of lying around in pajamas, card playing, eating and drinking, but no one seemed to have much of an inclination to get ready for skiing.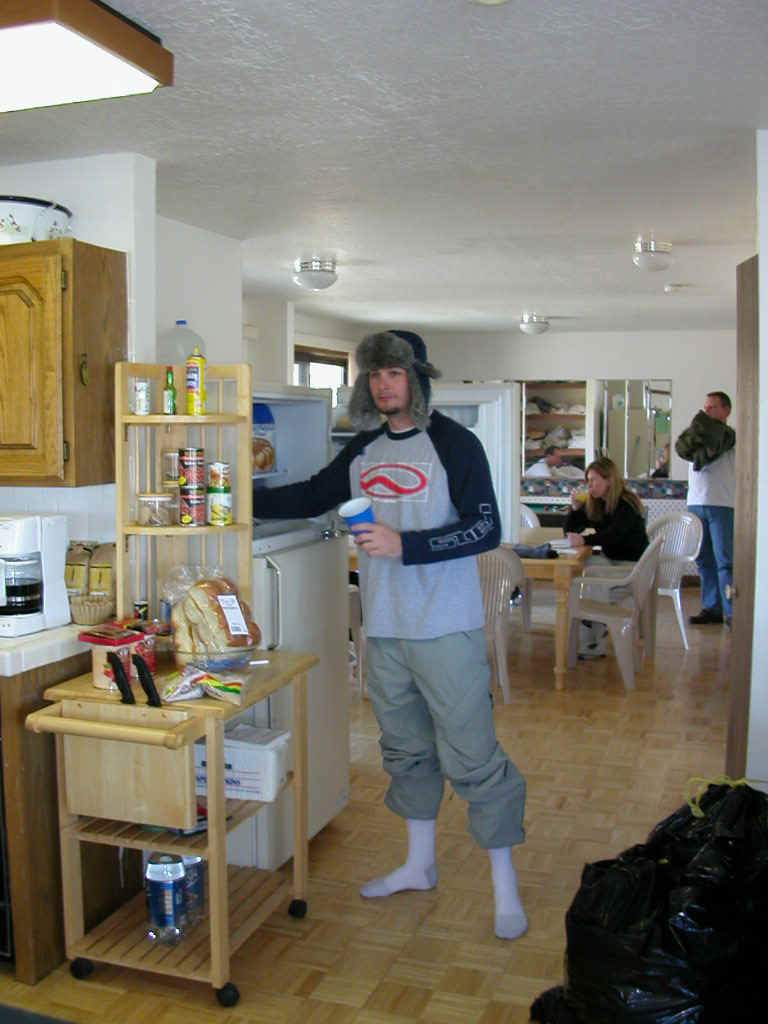 Finally around 10, it looked like some people might be starting to get dressed.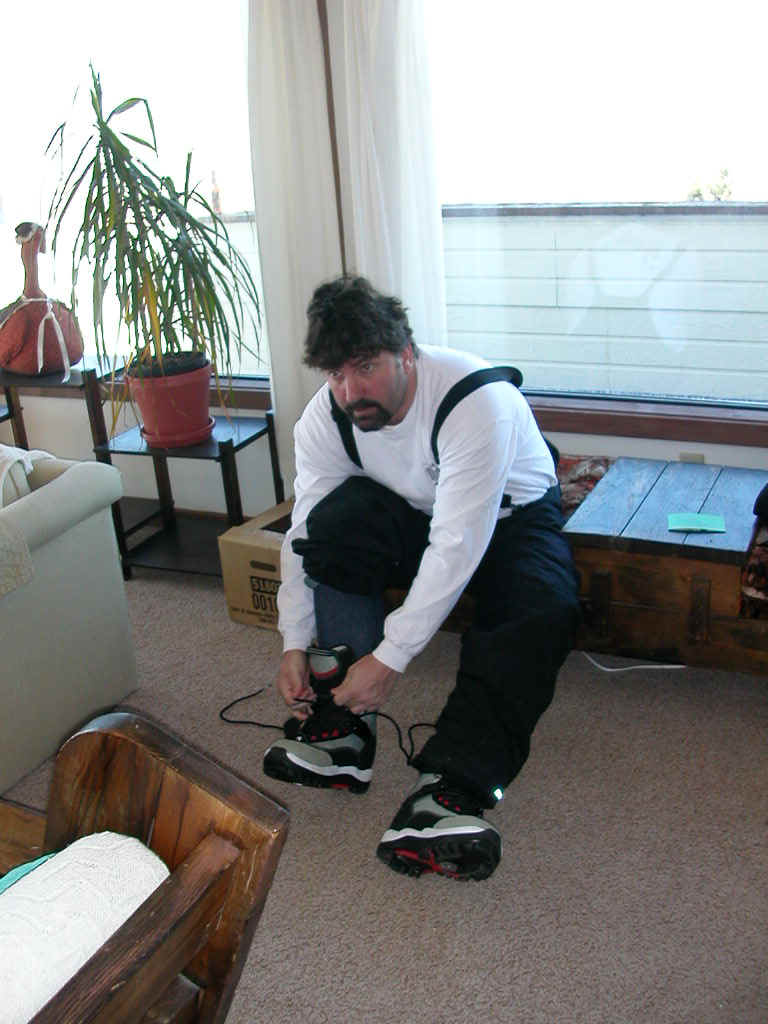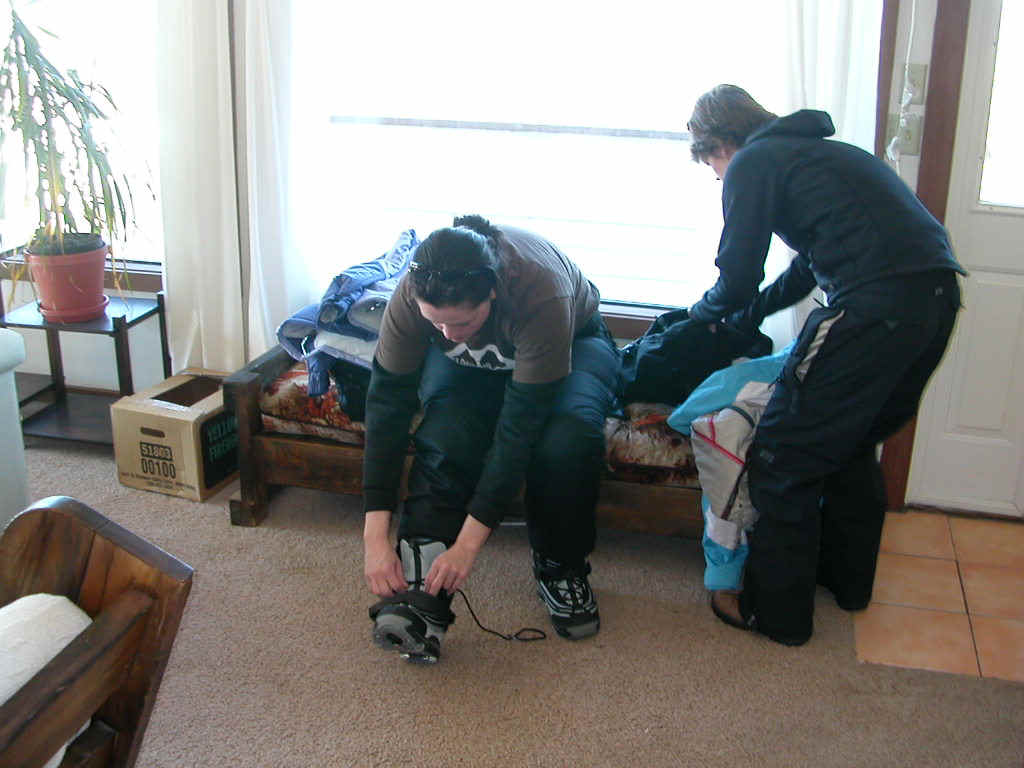 We got to Powder Mountain http://www.powdermountain.net/ around 11. The beginning snowboarders all signed up for a lesson. To the rest of us, it looked like they were taking a lesson in sitting since that seemed to be what they were doing most. To them, it seemed like they were taking a lesson in falling and climbing.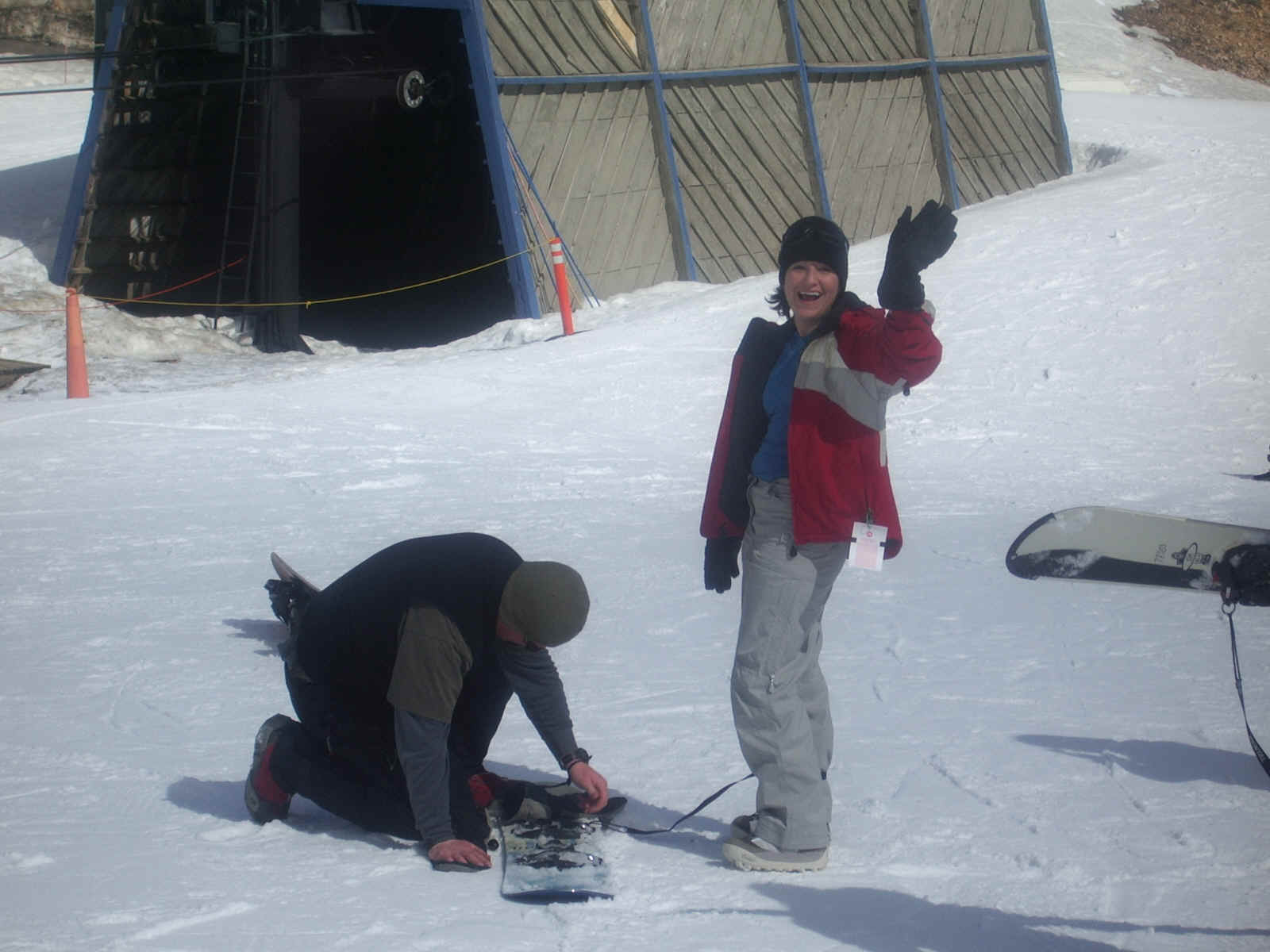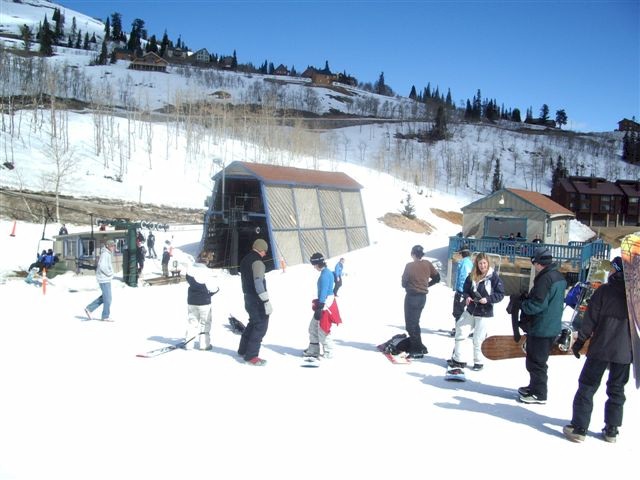 They were a pretty frustrated bunch when we met for lunch at the lodge.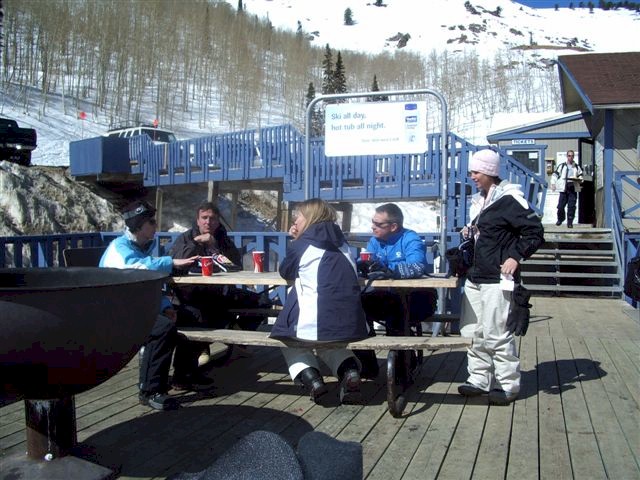 Z thought that they would be less frustrated if they just got on the Sundown lift and tried to learn on one of the green slopes. After lunch, four of the beginners decided to brave the lift. I went up first and took off my skis in case I needed to pull anyone to safety. Z described the lift process to the beginners, telling them that at the top, their boards would touch the ground and they could just stand up and slide away.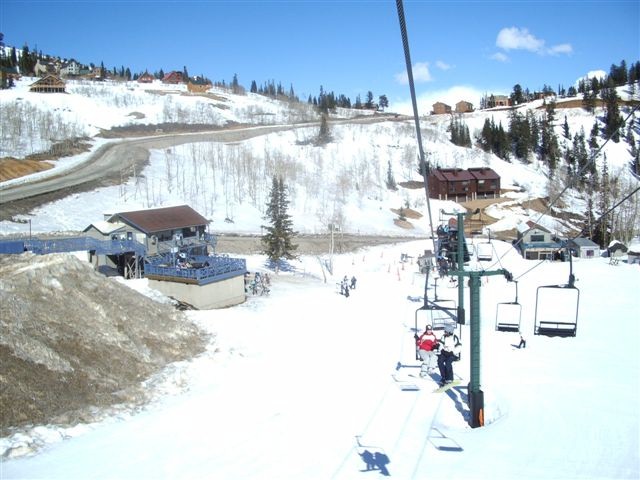 Most of them followed the directions, except instead of sliding away, they slid down. Dana did a more spectacular move I called the flying dismount. She kept waiting for her board to touch the ground as Z had described, but it never did, so she finally had to jump from the chair before it went back around. The experienced snowboarders worked with the beginners until they were too tired to move. A couple decided to walk down, another struggled down. The Man-Child was the only one that really seemed to get the hang of it (proving that youth and athletic ability are paramount). After we got back to the house, some of the group relaxed in the hot tub while the rest visited around the fire. Dinner that night was a huge pot of delicious chili and was followed by a Texas Hold 'Em tournament.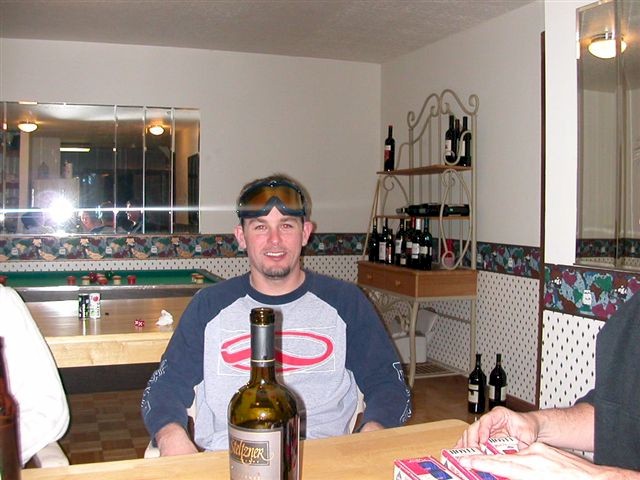 I quickly accumulated most of the chips and the field narrowed to just me, Mark and the Man-Child. We edged Mark out quickly and then somehow the Man-Child managed to win all of my chips. (Hmmm... youth and athletic ability win again...) Mark and I were the last two up and because we are both such social animals neither of us wanted to be the first to go to bed. (Stamina!) Mark finally "convinced" me to go to bed first by utilizing some ammunition he got from the chili.
Monday was Q's famous French Toast for breakfast. He claims to have majored in French Toast in college. Much to my surprise our "non-morning" friend arrived in time for breakfast! She had been vacationing with her family in Park City, caught a ride to the airport and then a shuttle out to our house. We were even more slow-moving on Monday than the previous day. The beginning snowboarders compared bruises and told war stories. Some went for an imaginary ride in the yard boat.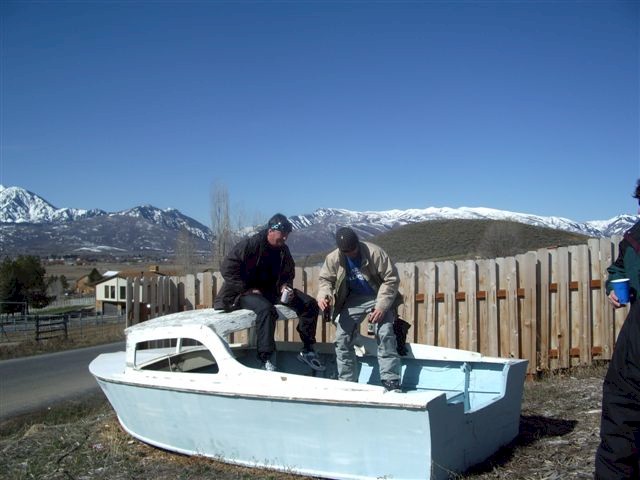 We finally left for Snow Basin around 11:30. We made a stop at a hardware store to buy knee-pads for the snowboarders. They all looked like they were ready to tile a kitchen floor! By the time we got our equipment and lift tickets, it was close to noon. The Man-Child went up the lift with the experienced folks while the rest stayed in the beginner area. The group on the mountain eventually split into three groups. Beginner – the Man-Child, Intermediate – me & Tony, and Advanced – the rest. We're not sure where the beginner and advanced groups went, but after a few runs on some nice blue and green slopes, the intermediate group (me & Tony) decided to head for the nice sun deck on the top of the mountain for some French fries and beer. After another run or two, we found the rest of the group outside the lodge at the bottom enjoying the sunshine. John had given up on snowboarding and rented skis. A jacket trade took place so John wouldn't be limited to just his beginner lift ticket. Somehow John ended up with Tony's jacket (complete with cell phone in the pocket). This became funny later when John started vibrating while they were trying to call Tony. Walking-Man and Jennifer Renea said their goodbyes and headed for the airport. Tony and I headed back to the house. The rest of the group tried to go to the "oldest continuously-operating bar" in Utah, the Shooting Star Saloon, but it was closed on Mondays and Tuesdays. Dinner Monday was beef stew that had cooked in the crock pot all day with potatoes and salad. Everyone was exhausted, so the atmosphere was much more subdued than the previous two nights. Mark and the Man-Child Played Casino. Everyone was in bed at a reasonable hour.
Tuesday, the leftover potatoes made a nice accompaniment for the bacon and eggs. The sore and beaten beginners decided to take a day off, as did some of the others. Five of us went up to Powder Mountain for the day. It was much cloudier and colder than the previous two days. We tried to stay on the sunnier slopes that were less icy. There was one jump opportunity that enticed the advanced boarders. After watching the boarders attempt, John, now on skis, decided that they weren't going fast enough, so he increased his speed and ended up landing on his back with his ski's several yards away. A few runs after that, we decided it was time to work our way back to the lodge. I had driven the "Butt-Ugly Orange Car" so I could leave in time to get ready for my flight home. I met Tony back at the house, changed clothes and left for the airport.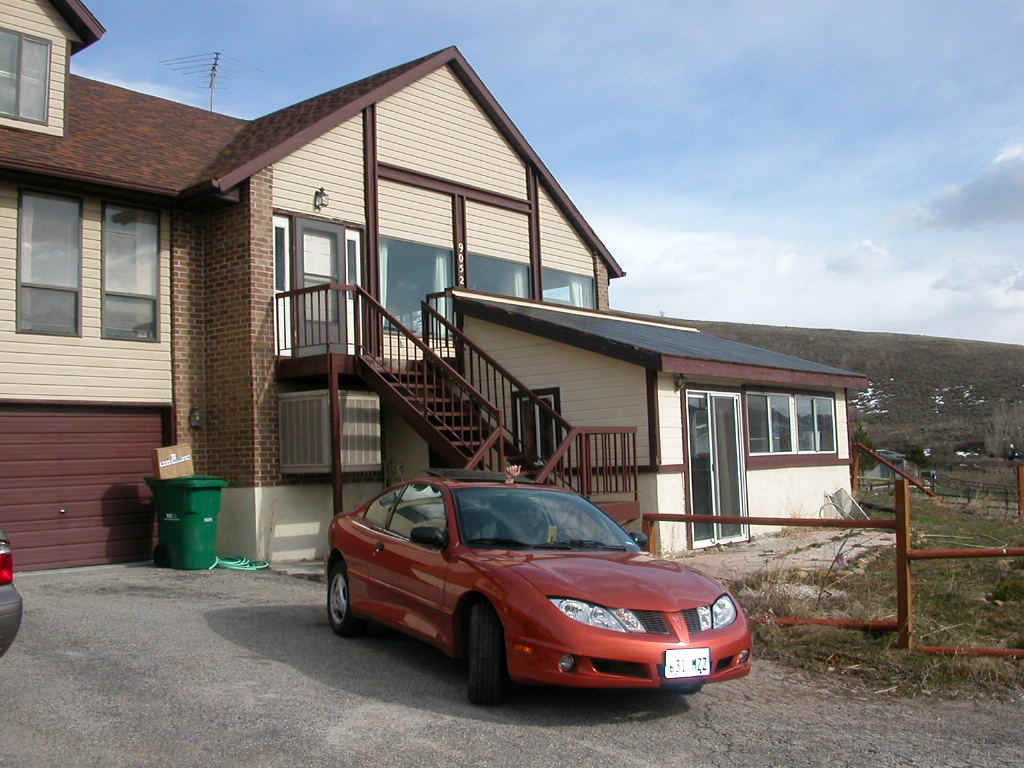 We had a lovely flight home – in leather seats, no less! Those left behind reported that although they missed us, they had fun after we left. One of the beginning boarders had to give up after she took a particularly bad fall. Back in Atlanta, after some x-Rays, we learned that she had broken her elbow! I KNEW there was a reason why I didn't try snowboarding!
It was a GREAT trip! We hope to be invited on the 2nd Annual Snowboarding Birthday trip next year!
BJ and Tony Morris
tony@bjandtony.com