Amsterdam, Netherlands
November 2007
"The Ark has Sailed"
We readied ourselves for our usual "Thanksgiving with kids" trip this year, counting on having other kids and parents with us, but as the date drew closer, we discovered that our usual companions would not be able to join us. Over the past few Thanksgivings, we had grown comfortable with our travel arrangements, counting on the other parents to make the rules. If they let their kids do something, Tony and I would let our charges do it too. This year, it seemed we would have to face these types of decisions on our own. The "kids" we would be traveling with; my sister's youngest two; are now 17 and 20, so we didn't expect to have too much trouble. We originally proposed flying to Zurich, taking a train to Konstanz and riding bicycles around Lake Konstanz. The girl child, Lauren, wasn't very enthused about having to pack in only a small backpack and riding a bicycle for 3 days so we started looking for other alternatives. My sister had emailed me a story about a man who had built an Ark in the Netherlands. The story was intriguing. Johan Huibers has spent 10 years constructing a replica of the Ark in the bible. The Ark is said to be 1/5 the size of Noah's Ark, but spectacular all the same. We decided to see the Ark for ourselves. The story my sister sent me said that the Ark was in Schagen, about 30 miles north of Amsterdam.
The Amsterdam flights looked remarkably good for our dates of travel. A friend loaned me her Rick Steves' guide to Amsterdam from 1999. I also sent Tony to the library for some guidebooks. The most recent guide he could find was a 2002 Let's Go Amsterdam. We loosely planned an itinerary. We would arrive on Tuesday, do a walking tour of Amsterdam, then Wednesday, we would spend the day in Schagen, seeing the Ark. Thursday we would go to some museums and tour the Heineken Brewery and fly home Friday. My sister and my father were both very excited that we were going to see the Ark. Just before we left, I decided to do a little more research on it. I found the official website http://www.arkvannoach.com/ and followed the link for the English Language. The web site said that the Ark was now in Rotterdam about an hour south of Amsterdam. I made a note of the address and was relieved that I had found it before we went to the wrong city.
This is the first year we have felt like the kids are old enough to make their own way to the airport, so we advised them to drive to the North Springs Marta Station and take Marta to the airport. We were supposed to meet at 3:00PM, well before our 5:10PM departure. They were running late, after arguing about which one would drive to the Marta station, but made it there by 3:30PM. My biggest fears about the trip were allayed when I saw them, their luggage and most importantly, their passports. After we checked in, I took their passports so I could make sure we had them for the trip home.
At the security checkpoint, we discovered that the boy child, Jared had paid no attention to my instructions about his liquids, so we had to discard a brand new bottle of contact solution and two large tubes of toothpaste. We found a table in the Crowne Room and let the kids go shopping for toothpaste.
All four of us got "good seats" on the way to Amsterdam. We were seated in front of the kids. As we were getting settled in, we were offered champagne, orange juice or a mimosa. We took champagne and turned to see that the kids were enjoying what looked like a mimosa!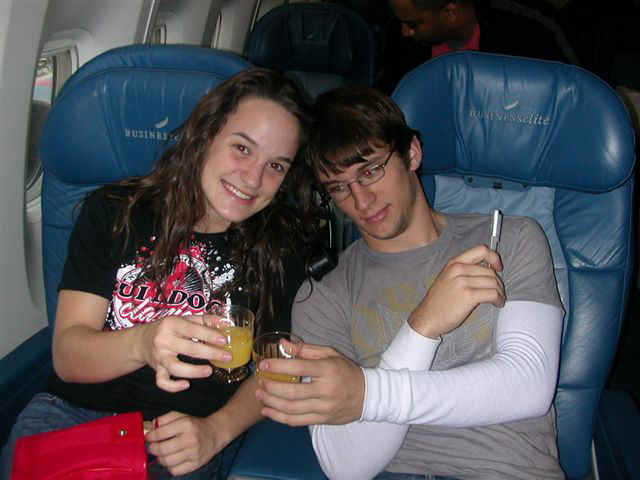 What should we do? Should we rat them out to the flight attendant? Should we take it away from them? Should we pretend we don't know them? Where were the other parents to advise us? We chose to enjoy our meal and movie (I Now Pronounce You Chuck and Larry) and not turn around again to see where the flight attendant was taking that bottle of wine.
We slept well and awoke as we were landing in Amsterdam. I made sure to check the seat pockets and under the kids' seats to make sure they had all of their things. On previous trips, we have had to reboard the airplane to get items (like shoes!) one of them had left behind. I have tried to stress that we are not moving to the airplane so they don't need to unpack yet! I found Jared's Playstation Portable (PSP) in the seat pocket. Someone would have been very sad if we'd made it off the plane without that.
We breezed through passport control and went to the train ticket kiosk. It was a little confusing. We first selected four of the "5 day return" tickets, thinking that meant 1 round trip ticket returning within 5 days. As it turned out, that option was for 5 round trip tickets, so we canceled that transaction and stepped out of the way so that someone else could use the machine. The next attempt, we selected 4 one way tickets and chose credit card as the payment method. The machine asked for a pin but wouldn't accept the pin for either of our credit cards. We canceled the transaction and stepped out of the way so that someone else could use the machine. The third attempt, we chose debit card as the payment method, but it said both of our debit cards were invalid. Before we canceled the transaction and stepped out of the way, I tried one last method. I chose credit card as the payment method, but presented my debit card instead. Bingo! We got our train tickets! €3,60 each ($5.30).
We took the train to the Centraal Station and walked across the street to the GVB office. We bought 72 hour tram passes for €13,50 each ($20.00). We boarded tram #4 for Rembrandtplein. I had booked our hotel through an online booking service, sight unseen. It is unusual for us to book a hotel in advance, but since we were traveling with children, I wanted to have all of the details worked out in advance. The Rembrandtplein Hotel was in our price range at €75/night ($110.00) per room. On our previous trip we had stayed near Rembrandtplein and knew that it was a nice locale with lots of restaurants and bars. I was pretty sure the Rembrandtplein Hotel wouldn't be 5 stars and I was right, but it was adequate for our needs. It was VERY OLD.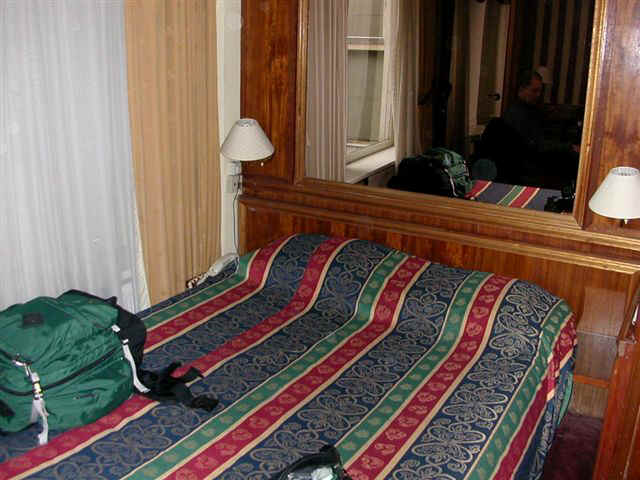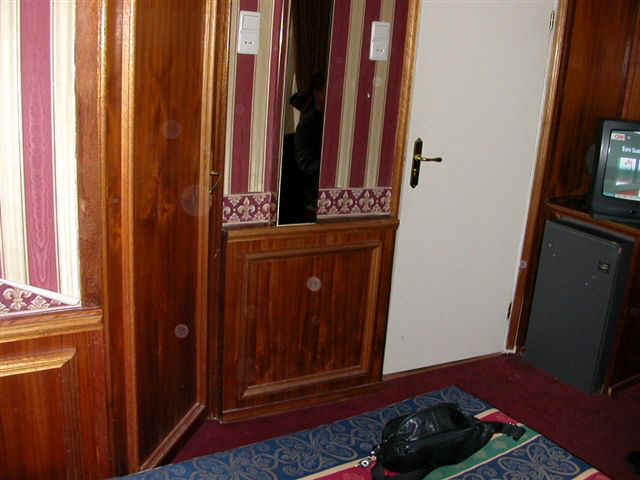 The building, on a quiet canal several blocks from Rembrandtplein was from the 1600's. Our room was up 4 flights of (very narrow, winding) steps and the kids' room was one floor above ours. The bathroom was like the one we had on our Columbia River Cruise Ship. It was a "shoilet" with just a curtain separating the shower and the toilet. With my flip-flops it was fine. The shower head was in the ceiling so there was no ducking down to get underneath it like in some European hotels.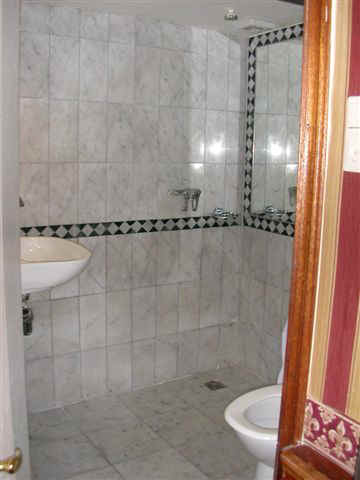 We set out in search of some lunch. I had read that the falafels near Rembrandtplein were particularly good, so we found a falafel place just off the square. None of us knew what a falafel was, but we all ordered one. It turned out to be a pita pocket filled with little fried balls of chickpeas. It was interesting. The kids were good sports and ate theirs, even though I could tell it wasn't their favorite food.

After lunch, we walked back toward Centraal Station and stopped off for refreshments at a smoky little place.
Then we set out to see one of the twenty one "must see" sights from the 2002 Let's Go Amsterdam Guidebook. It was a fountain that was supposed to be in front of the Casa Rosso Theatre in the Red Light District. We knew we must be close to the Red Light District when we saw this museum.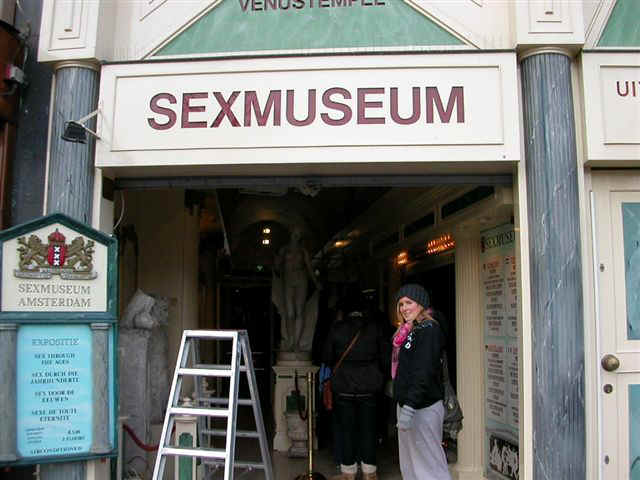 The fountain was supposed to be shaped like a large, ahem, body part. As we approached the Red Light District, we started to see the tell-tale red lights above doors. We had been to the Red Light District on a previous trip, but I didn't remember much about it. Tony commented that he would have been uncomfortable walking through the area WITHOUT his niece and nephew, but was especially uncomfortable now. We didn't see the fountain in front of the theatre, so we ducked into an alley to see if it was around back. In the alley, we came face to face with numerous scantily clad women posing in windows. We had to come back up the same alley to get back to the street. I took the guidebook into the Casa Rosso to ask where the fountain was. The nice bouncer told me that the government had made them take the fountain down two years prior.
We heeded the warnings about taking pictures, but as we made our way out of the area, did sneak this photo of some cannibis plants growing in a window.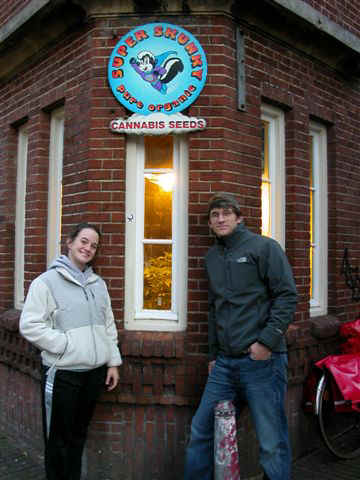 As we walked along the canals, we noticed that many of the buildings were leaning. Some were leaning forward, others to the side. They looked like they might be on the verge of falling.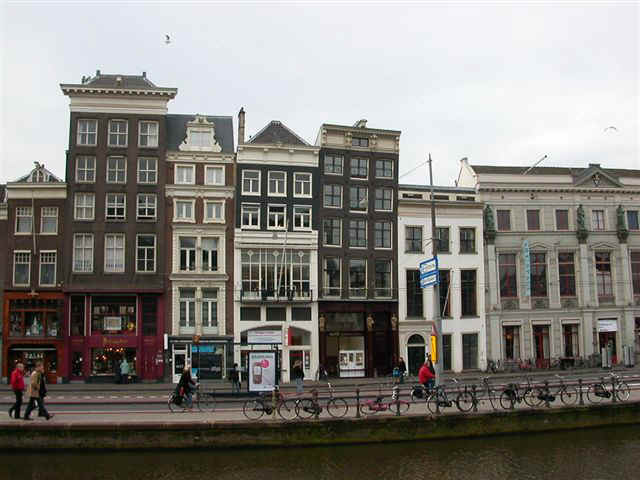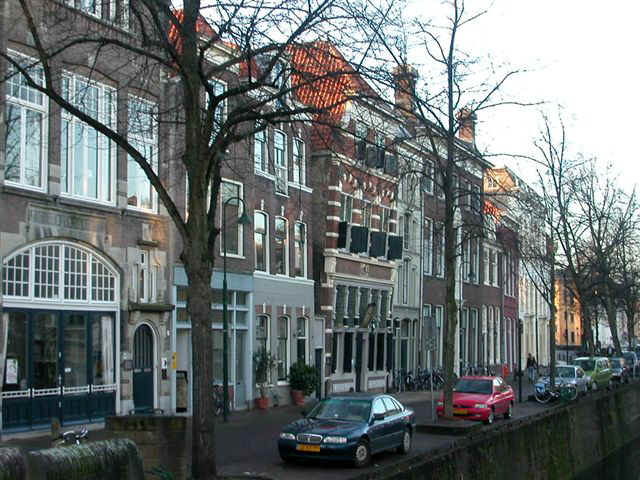 Amsterdam is the city of bicycles. And bicycles seem to always have the right of way. If you weren't careful you would be run over by one. There were hundreds of them parked outside of Centraal Station.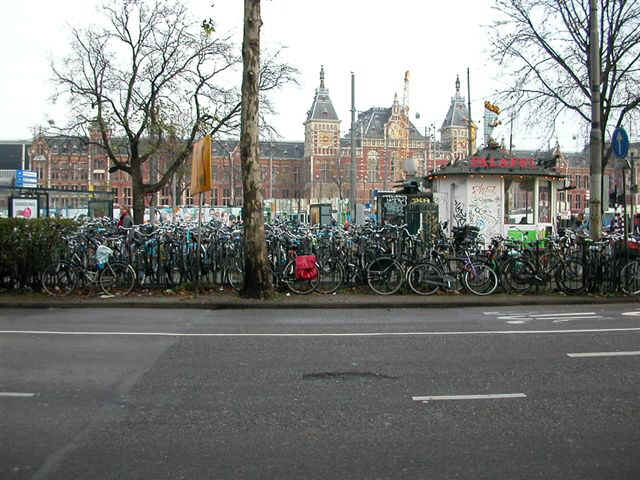 Amsterdam was a lot like Venice in that there were canals at every turn. The two big differences that we noted were that in Amsterdam there were cars on the streets and no steps leading up from the canal. In Venice if you fell into a canal, you would only have to swim a few feet to some steps to get out. Not so in Amsterdam.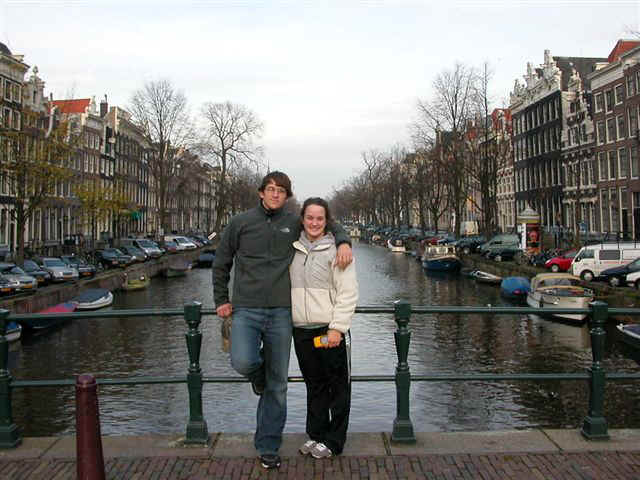 We found this statue of Multatuli (the pen name for Eduard Douwes Dekker), a famous Dutch writer.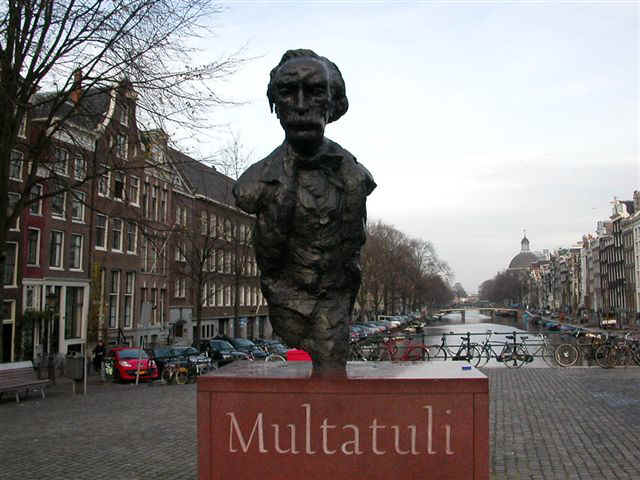 Next, it was on to the Anne Frank House. Tony opted to wait at the Café de Westertoren while I went in with the kids. At 17, Lauren qualified children's price of €3,50 ($5.20) while Jared and I had to pay €7,50 ($11.00) each. The place looks like a business from the front. On the inside it is unfurnished, so it is difficult to imagine what it must have been like when Anne lived there.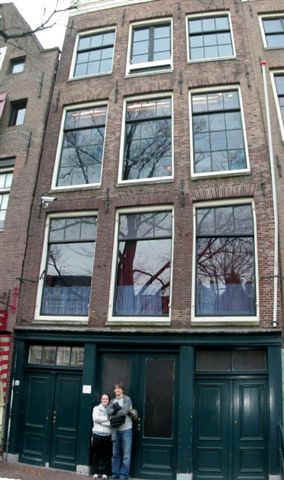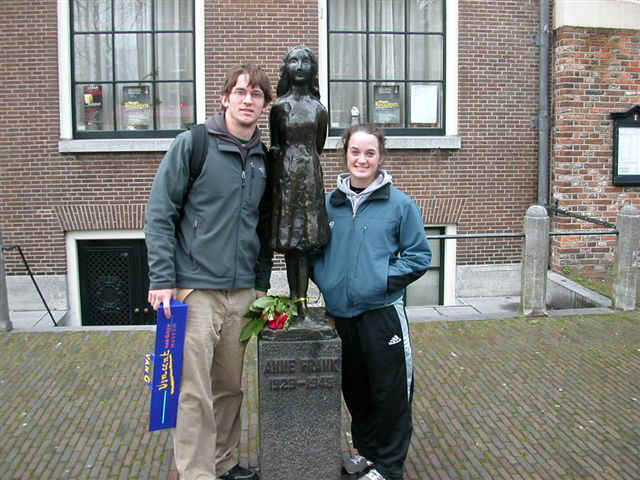 We hooked back up with Tony for some refreshments and a rousing game of 99. The kids were starting to wane, so we decided to take a tram back to the hotel and let them take a nap.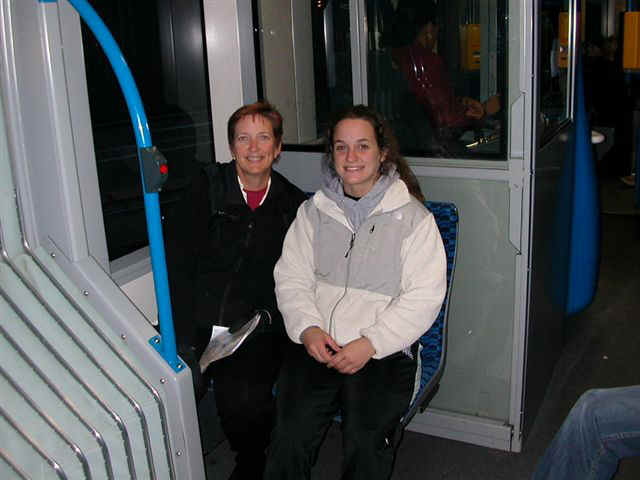 We woke up in time to go out for dinner. We had spotted a Thai restaurant around the corner from the hotel, but the menu was mostly seafood which didn't appeal to Tony. We decided to keep looking. It had started to rain so we didn't want to go far. We found the Ristorante Italiano Portofino that was advertising all pizzas for €7,50 ($11.00). It was perfect!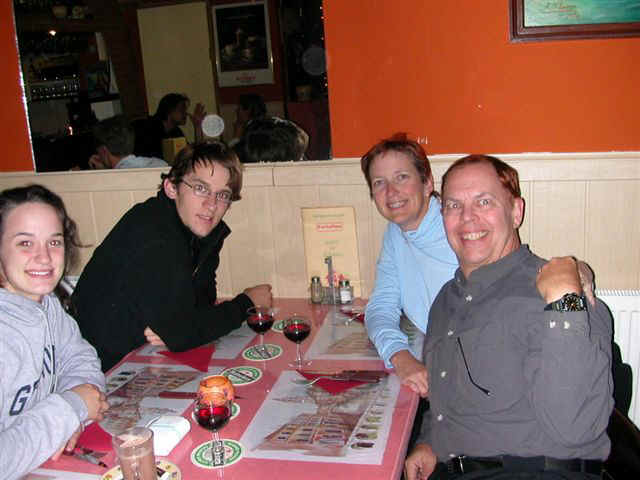 We dawdled over dinner and then headed back to the hotel. We reflected on our day over drinks at the hotel bar. The bar didn't look like it got much use. The glasses and soda cans were sort of dusty.
We made the climb up the 4 flights of (very narrow, winding) steps to our room and said goodnight to the kids who climbed up one more flight to theirs. We ASSUME that they stayed in for the night.
We had planned to get up at Wednesday so we could catch a train to Rotterdam to see the Ark. I tried to use the phone to call the kids room, but all I got was a strange beeping noise, so I climbed up the steps and knocked on their door. They answered the door and seemed to be moving about, so I went back downstairs to get ready. After my shower, I climbed back up and knocked on the door again. They were in the same position where I had left them 20 minutes before. I got them moving and went back downstairs. Twenty minutes later, I went back upstairs and found that they still hadn't made much progress. Back downstairs, Tony and I decided to revise our plans for the day. We would go to the train station and buy our tickets, but wait to travel until the next day. While we waited for the kids to get ready, I read the travel guide. I found a write-up on the little town of Gouda (pronounced How-da). Gouda, where they make the cheese of the same name, is between Amsterdam and Rotterdam so we decided to stop there on our way back from seeing the Ark.
The kids finally made it down to our room and we walked the few blocks to Rembrandtplein to catch the tram to Centraal Station. We went to the Service Center to buy our tickets. It was a little confusing, but once we understood that their system is just an elaborate "take a number" system, we got our number and got an agent. We were glad we had cash because they do not take credit or debit cards. Round trip tickets to Rotterdam with a stop in Gouda were €23,30 ($34.50) each.
The kids wanted to buy a pastry from the shop at the train station, but I had my heart set on one of the cheese pastries I had seen in a store window the day before. We passed several places that weren't exactly what I was looking for. I was about to settle for something else when I spotted Kaasland across a crowded square on Haarlemmerstraat. In the window were several mouth watering cheese covered bread offerings. We selected some and they put them in the oven for us.
There was no place to sit, so we went to the bar next door and found a table where we could enjoy our delicacies.
We took the tram to the Van Gogh Museum.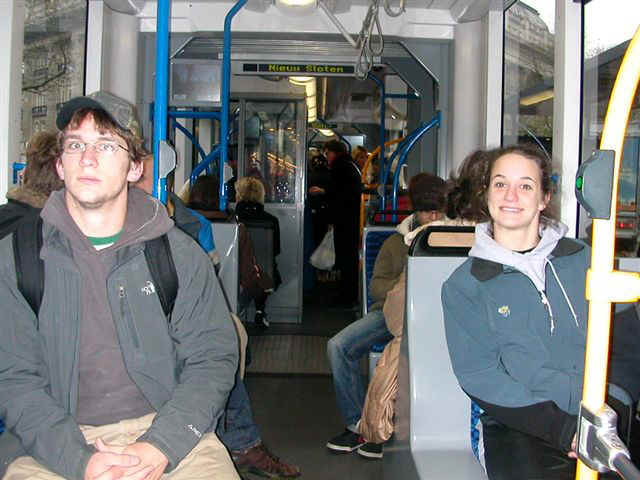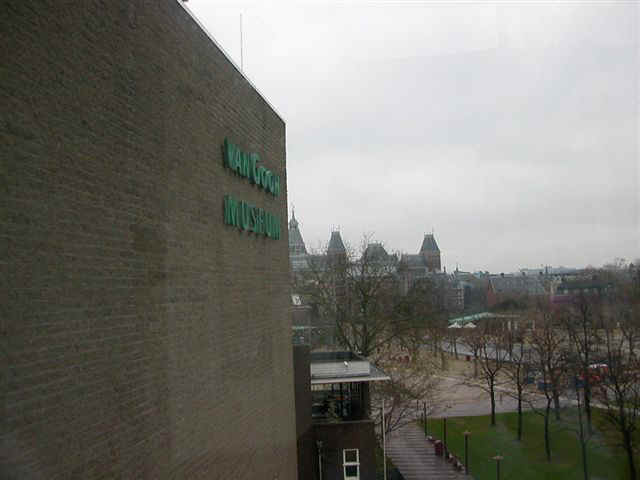 Lauren, again qualified for the children's price €2,50 ($3.70), but only after she stammered her birthdate when surprised by the question. The adults paid €10,00 ($14.80). The museum was very interesting. We didn't realize that Van Gogh had died so young. There was a special Barcelona exhibit in the Van Gogh building. Jared bought a print of Van Gogh's Skull of a Skeleton with Burning Cigarette to decorate his apartment.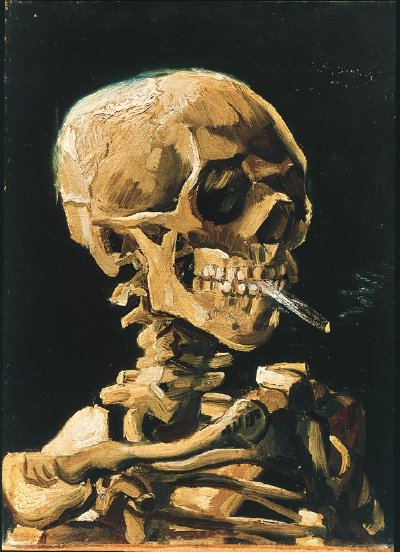 As we were getting our coats and backpacks from the coat check, I spotted someone I had worked with several years prior! It is a small world. This is not the first time I have run into someone I knew in a museum in Europe. I rarely see anyone I know in Atlanta, but maybe that is because I rarely go to museums in Atlanta.
The Van Gogh Museum was much less overwhelming than some of the other art museums we have been to (like the Louvre), but still, we had had our fill of museums, so we kept walking past the Rijksmuseum.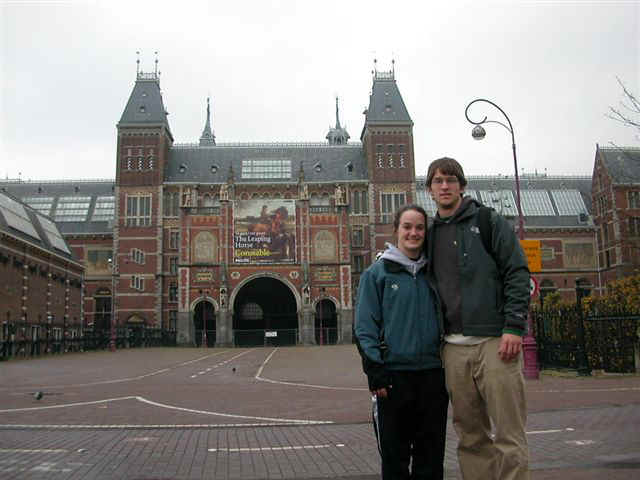 We were headed for the Heineken Experience. The last time we were in Amsterdam (1996), they were brewing beer at Heineken. Our 2002 guidebook said that it was more like an amusement park now and no brewing was done there. There was supposed to be a ride where you could pretend you were a bottle of beer going through the brewing process. We rounded the corner and saw the sign that said, "Closed for Renovation". We were very sad.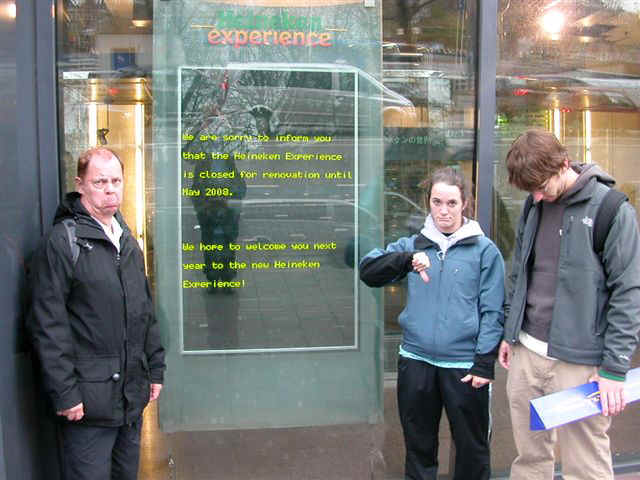 We stopped at the Café Berkhout for sandwiches and to plan our afternoon. Lauren enjoyed one of MANY cups of hot chocolate with whipped cream.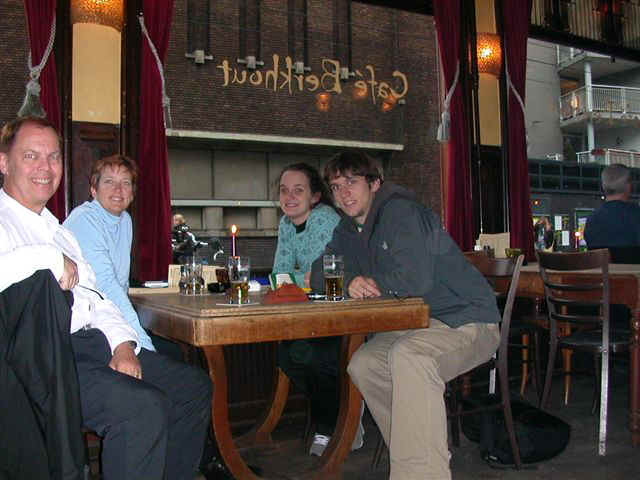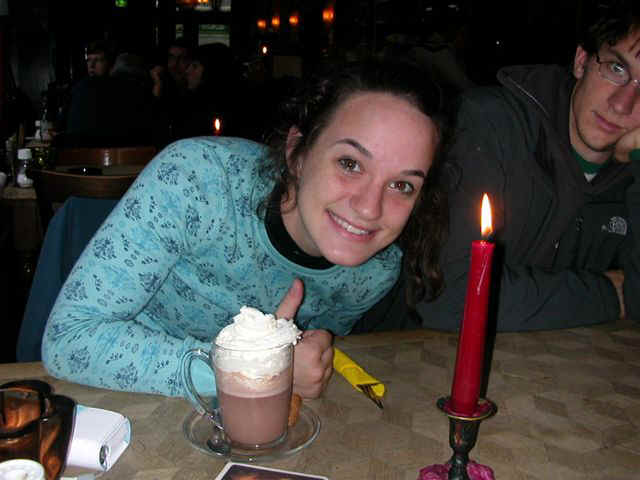 We read about the other museums in Amsterdam (there are over 50). Jared was interested in Electric Ladyland, The Museum of Fluorescent Art. It was near the Anne Frank House, so we took a tram. I programmed the address into the GPS and we walked to where the museum was supposed to be. We walked around the block and still couldn't find it. I stopped into a nearby wine shop and the owner had never heard of it. He looked at the address and said we were in the right place. We decided it must have gone out of business since the 2002 guidebook was published. When we got home, I found that there is still a website http://www.electric-lady-land.com. The map looks like exactly where we were. I don't know how we missed it!
As we were waking around, we passed this saucy character in a window. She appeared to think she was in the red light district!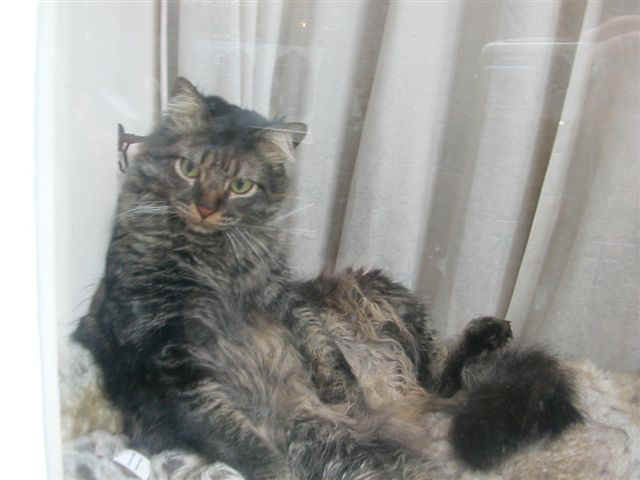 We decided to spend the rest of the afternoon meandering around town and shopping. Lauren's eyes lit up when we mentioned going to the Magna Plaza http://www.magnaplaza.nl/#. It was a beautiful old looking building that looked from the outside like it would house lots of treasures. It looked much grander from the outside.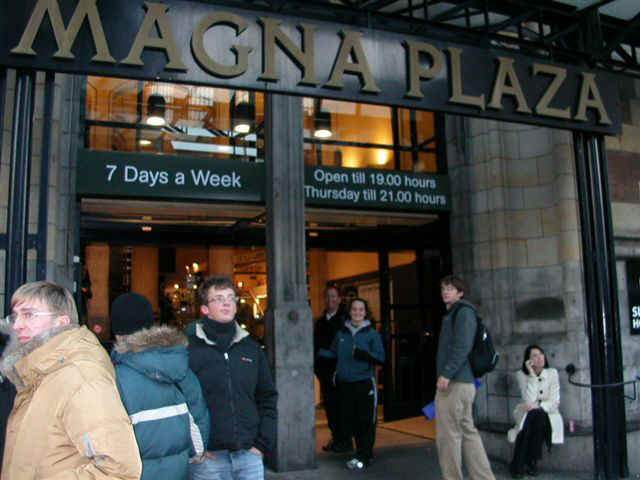 The kids bought some souvenirs including wooden shoes and a snow globe. I was pretty sure the snow globe wouldn't be allowed in carry-on luggage. We left the Magna Plaza and wandered our way down shopping streets back to Rembrandtplein.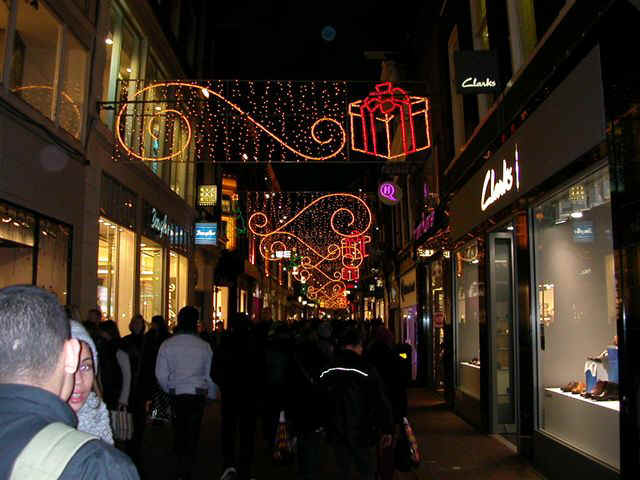 We walked around the square trying to decide where to eat. We finally decided on The Old Bell where the kids and I had delicious Fish & Chips and Tony had Wiener Schnitzel. When we got back to the hotel, we played cards at a table above the bar until it was time to go to bed. We taught the kids how to play Casino.
We made the climb up the 4 flights of (very narrow, winding) steps to our room and said goodnight to the kids who climbed up one more flight to theirs. We ASSUME that they stayed in for the night.
Thursday morning, we woke to our alarm at 8:00AM to give us PLENTY of time to get the kids up for the train. I had learned from the desk clerk how to dial their room. 19* The star was the key. But it didn't help. They wouldn't answer the phone. I STILL had to climb the flight of stairs to wake them up. As I was climbing up the stairs, I started worrying. What if they HADN'T stayed in for the night? What if they WEREN'T in their room? I was pretty sure my sister wouldn't forgive me if I didn't return home with them. I was very relieved when they answered the door. I hung around until I saw them getting up. Then I went back downstairs to get ready. I called upstairs every 10 minutes to make sure they hadn't gone back to bed.
It started out to be a foggy rainy day on Rembrandtplein.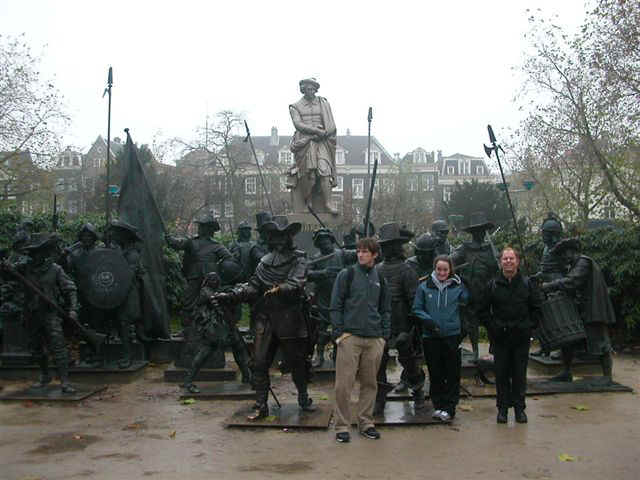 We caught the tram to Centraal Station in plenty of time for the 10AM train. We even had time to get a pastry in the station. The kids slept for the hour we were on the train. We arrived in Rotterdam around 11AM. The GPS said we were about 1.7 miles from the Ark, so we decided to walk. Rotterdam is a very modern city with lots of sky scrapers. We crossed over a massive bridge to get to the canal where the Ark was supposed to be docked.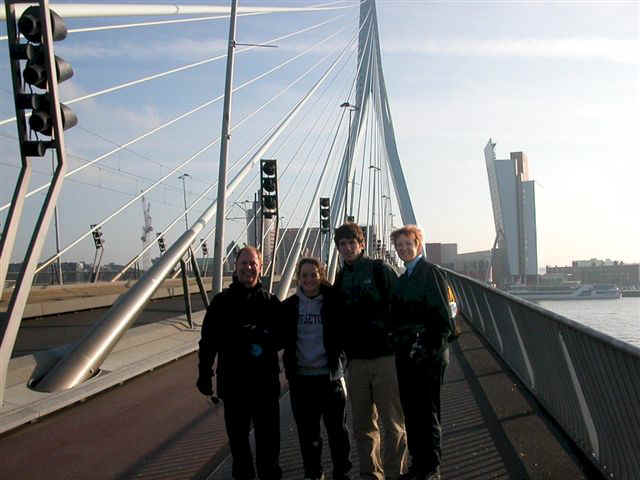 When we got to the canal, guess what! No Ark. I was optimistic, sure that it was just around the corner. Tony went into the hair salon beside the canal and they told him we had missed the Ark by 2 weeks. It had moved to Sliedrecht. I was on the verge of tears.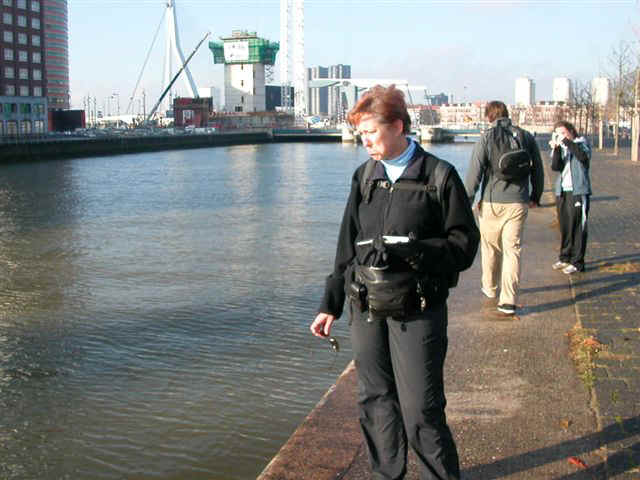 We jumped on a tram to go back to the train station. We didn't have a ticket so we had to buy one on board. The agent sold us a Nationale Strippen Kaart for €6,40 ($9.50), then he punched 4 of the 8 slots on the card. I think we could have taken 4 more rides on our card. Back at the train station, I insisted that we go to Tourist Information to see how much farther it was to Sliedrecht. It was only about 17 miles, but it would be another 40 minutes on the train and then 20 minutes on the bus to get there. I wanted to go for it, but I was outvoted.
At Tourist Information, when the agent looked to see where the Ark was, she went to the same website I had looked at before leaving Atlanta, but she followed the link for the Dutch language. Apparently IT was up to date with the latest information. The English side had not been updated.
The kids were hungry, so we decided to take the train back to Gouda for lunch. We almost missed the stop. There were no signs showing the name of the station. At first we didn't get off the train, but then I turned on the GPS and saw that we were ˝ mile from Gouda so we jumped off. We asked the ticket taker if this was the Gouda station. He said it was and commented that if the train had left on time, we would have missed our stop.
The first thing we saw when we walked into town was a store called the Arke. It was like we were being mocked!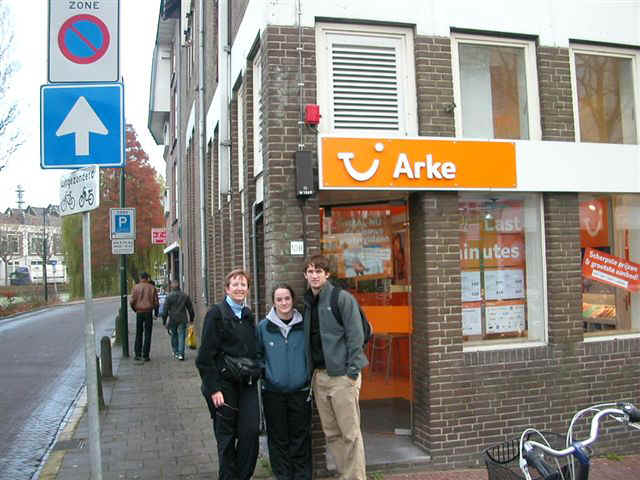 Gouda was a quaint little town. We lunched at the De Goudse Pijp where we had delicious tomato soup, a puff pastry with feta cheese, pea soup and a gyro.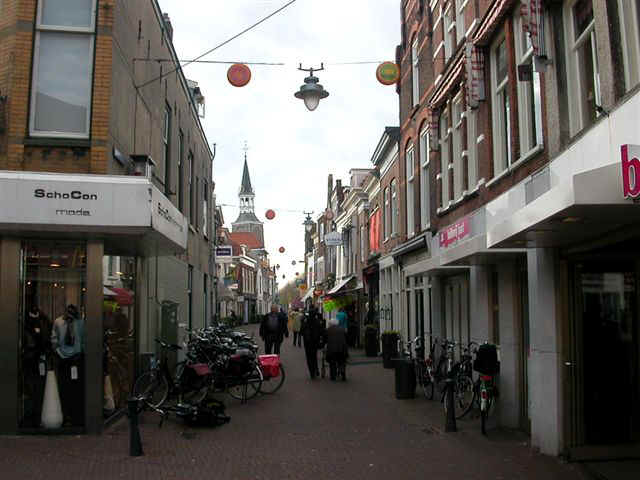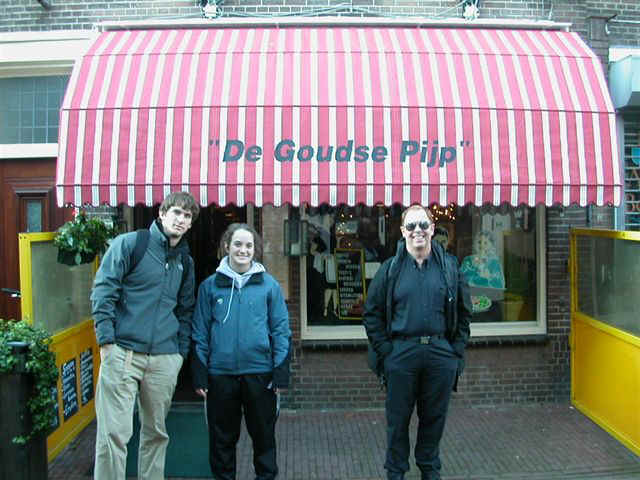 Of course Lauren had Hot Chocolate with whipped cream!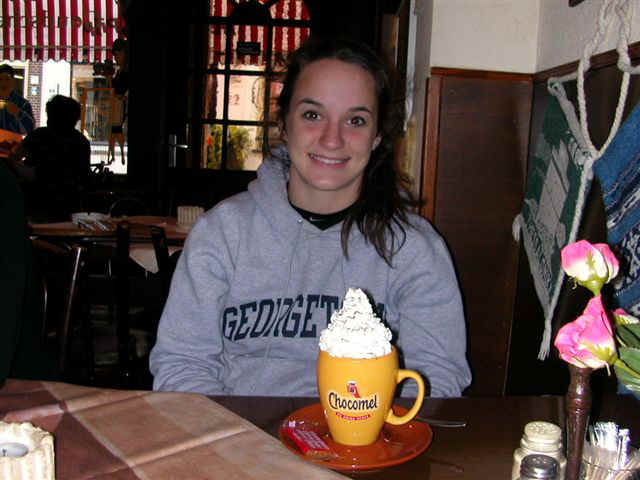 We continued on to the square. We arrived just in time to see them packing up the last of the cheese market. The square surrounded this beautiful old church.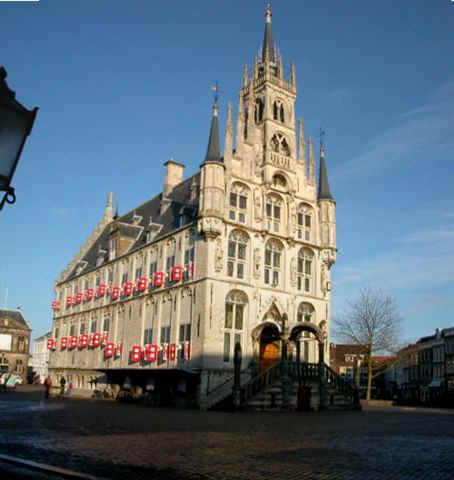 We went into the only cheese shop on the square. The smell upon entering the shop was sort of unpleasant, like stinky cheese, but once we got used to it, it was actually appetizing. We sampled some of the cheeses but didn't buy any.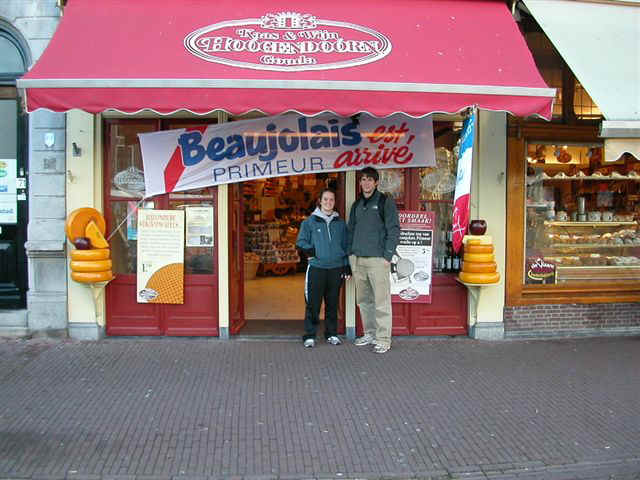 We continued to walk around town looking for an old cheese scale that I had read about in the 2002 guide book. We didn't find it, but Jared spotted an old windmill at the end of one of the streets. We walked out to see it.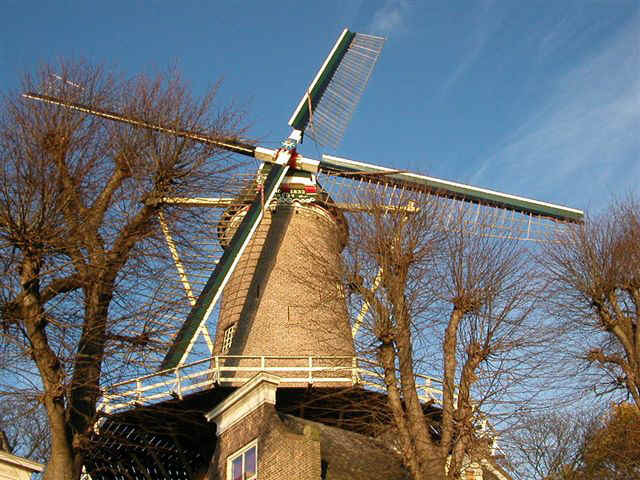 As we walked around, we saw a man doing some gardening outside. He invited us to go inside and climb up! It was really neat. It was from the 1800's but was in perfect operating condition. We were amazed at how quietly the gears meshed together when the windmill turned.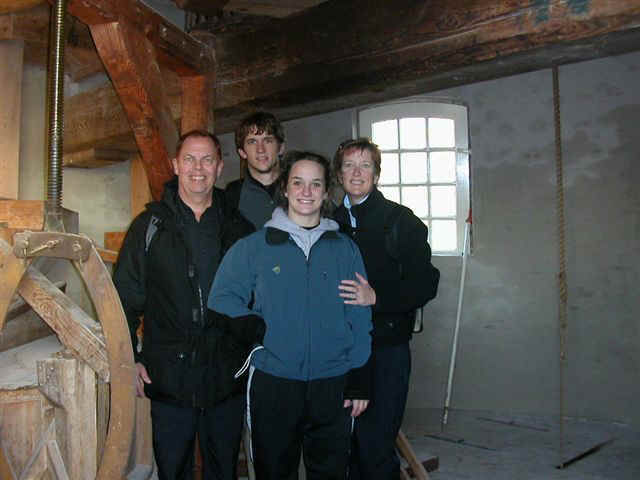 There was a platform on the outside halfway up that you could walk around on. There were ladders between the levels.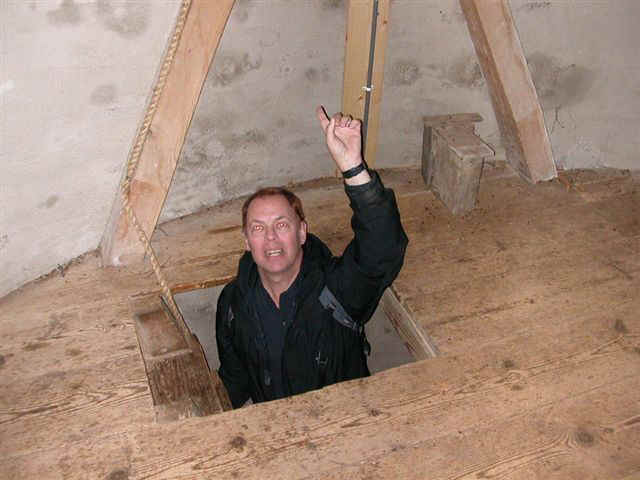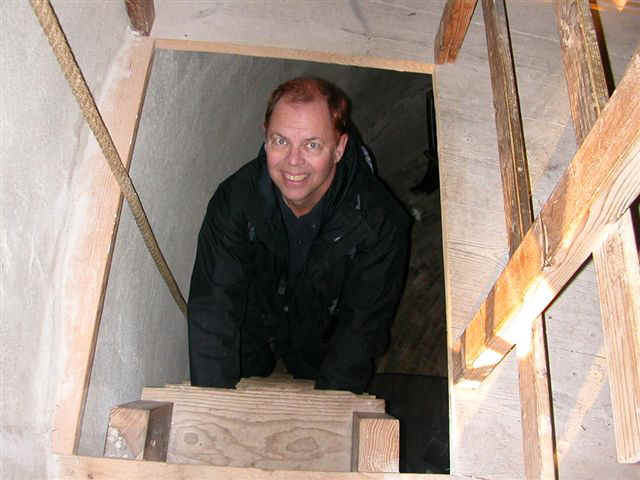 We climbed back down and walked back to town. Tony and I stopped at the Belvedere to rest our feet and have a glass of wine while the kids shopped.
I decided it was worth the $1.00/minute that T-Mobile would charge me to call my father (85) to wish him a Happy Thanksgiving. His first question was, "Have you been on the Ark yet?" When I told him it had moved, he said, "Well I'll be John Brown." He had told all of the folks at the retirement village where he lives that we were going to see the Ark.
We walked back to the train station. Lauren (Miss Sweet Tooth) had to have this decadent chocolate pastry on the way.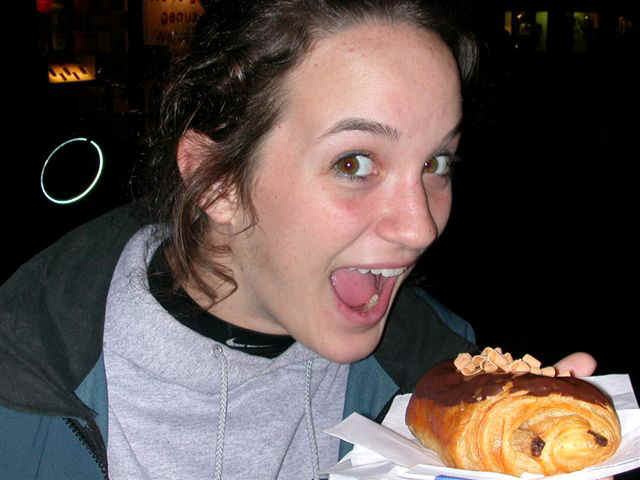 We caught the train back to Amsterdam and then the tram to Rembrandtplein. Jared wanted to drop his purchases back at the hotel, so Tony, Lauren and I waited for him at the Rembrandtbar. We taught Lauren how to play the solitaire game "Corners".
Thanksgiving dinner was at the Indonesian restaurant "Indrapura" http://www.indrapura.nl/. It was a little pricey, €20,00 ($30.00) and up for entrees, but really delicious. Tony, Jared and I each had the "dinner for one" which was a variety of meats on a skewer. Lauren had a pork dish that came with about 10 little bowls of vegetables and condiments.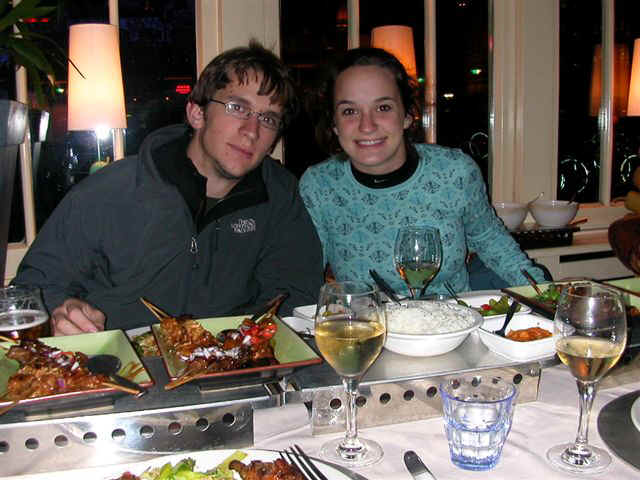 Back at the hotel, we went to our little table above the bar to play cards again, but there were some folks downstairs enjoying smoking something that is not legal in the United States. The smell was so strong, I thought we might all get high. We finally gave up and left.
We made the last climb up the 4 flights of (very narrow, winding) steps to our room...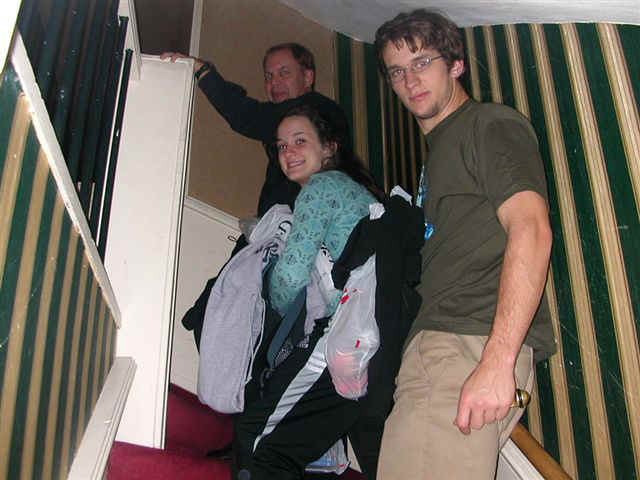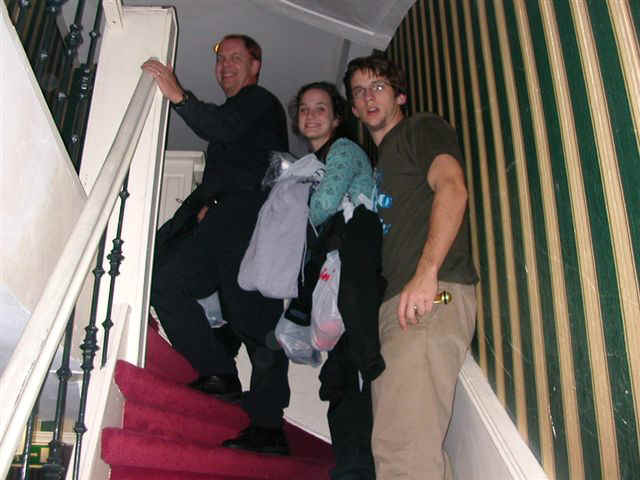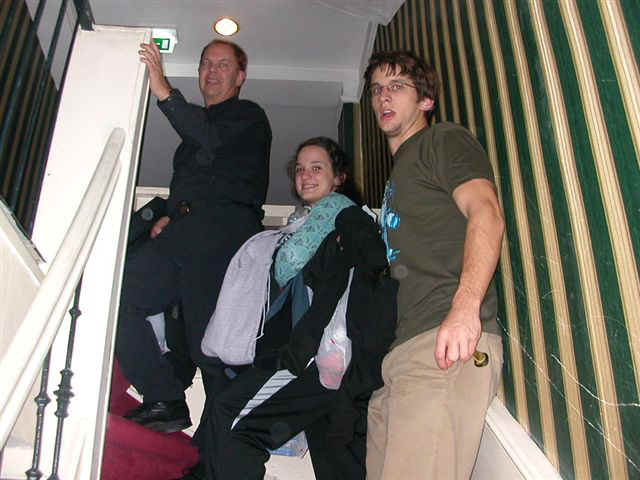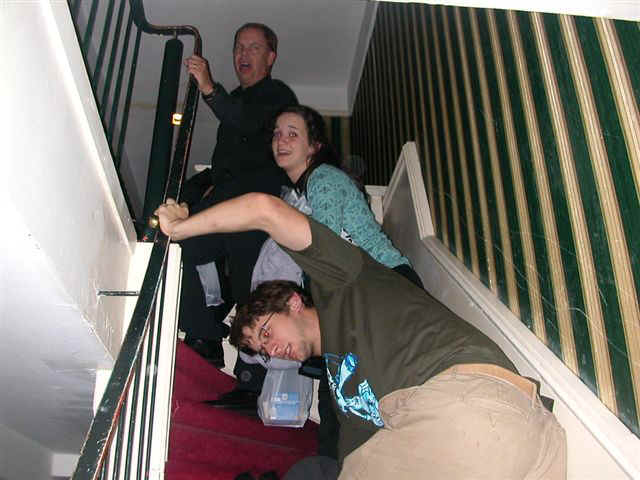 ...and said goodnight to the kids who climbed up one more flight to theirs.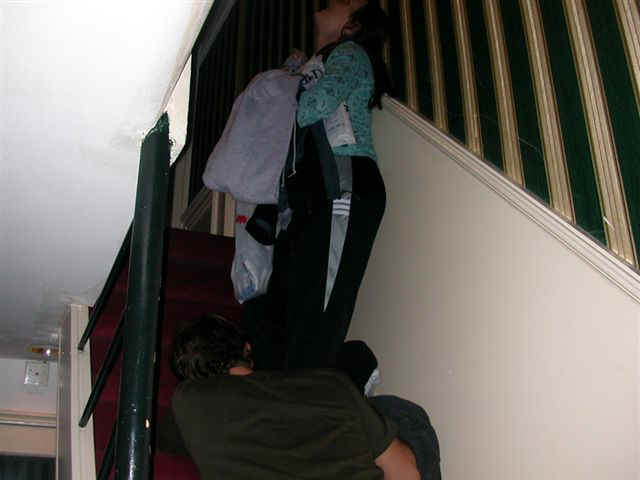 We ASSUME that they stayed in for the night.
On Friday, we woke them up at 5:45AM and called them every 10 minutes to make sure they were ready to leave the hotel at 7:00AM. We had a 10AM flight so we needed to be at the airport by 8AM. We planned to purchase our train tickets at the kiosk, but when we got to Centraal Station we discovered that the ticket kiosks don't take credit or debit cards. They don't even take paper money, just coins. We had to hurry down to the Service Center to buy our tickets. They add a service charge at the Service Center, so the return trip cost €4,10 ($6.00).
Amsterdam airport is difficult to traverse. We arrived on schedule, 2 hours before our flight, and we were none too early. There was a long line to check in. By the time we got checked in, it was time to go through passport control. After passport control, we passed through the duty free shops. We didn't take time to shop because our gate was so far away. The security screening was done at each gate, so once we got into the gate area, we were trapped.
The agents didn't clear the standby passengers until the very last minute, so even though we knew there were enough seats, we were nervous that they would push back without us. We got our seats and hurried on board. We got "good seats" again! The flight was delayed by about a half hour because a cargo loader got stuck and had to be towed away.
I watched 3 ˝ movies on the way home (Hairspray, License to Wed, Knocked Up and ˝ of Mr. Bean's Holiday) while Tony snoozed.
Back in Atlanta, we gave the kids back their passports, put them on Marta and went home to crash.
Aunt BJ and Uncle Tony
bjandtony@bjandtony.com