Brugge, Belgium
December 2007
"Dromomania"
Dromomania, the obsessive urge to travel, is a recognized psychological affliction listed in the Diagnostic and Statistical Manual of Mental Disorders. Sufferers of what's also called "the vagabond neurosis" will "spend beyond their means, sacrifice jobs, lovers and security in their lust for new experiences. They become involved in the minutia of travel, buying the tickets, packing their bags and planning where to go," Dr. Joan Lakin-Marantz, a
New York
psychotherapist, told the Toronto Globe and Mail. "It's distraction against the pain of loneliness." Early in the 20th century, according to the newspaper, a group of French psychologists and psychiatrists took note of Jesus' frequent wanderings from
Nazareth
and concluded that he probably suffered from dromomania.
BJ's company was acquired by a competitor this year, so we were apprehensive about changes to her benefits. We were pleasantly surprised when the announcement came that the new management was giving the entire week of Christmas as a holiday! By Christmas Day (Tuesday), we had celebrated with both sides of our family as well as several neighbors and friends. We had even done a home project and still had 5 days of time off, so what else could we do but travel?
A few phone calls to some of our equally Dromomanic friends and we had a four group ready to travel. Brussels was looking particularly enticing as a destination for stand-by travel, so the day after Christmas, off we went to the airport. We met in the E Concourse Crown Room which was, not surprisingly, quite crowded. The only place with enough seats for our group was in the "Quiet" area (where we clearly did not belong). We tried to contain our chatter as we exchanged stories about our holiday celebrations and were enjoying ourselves so much that we almost missed our flight.
Hurrying down the Concourse toward our gate, we heard our names being paged! We quickened our pace and were breathing heavily when we reached the counter.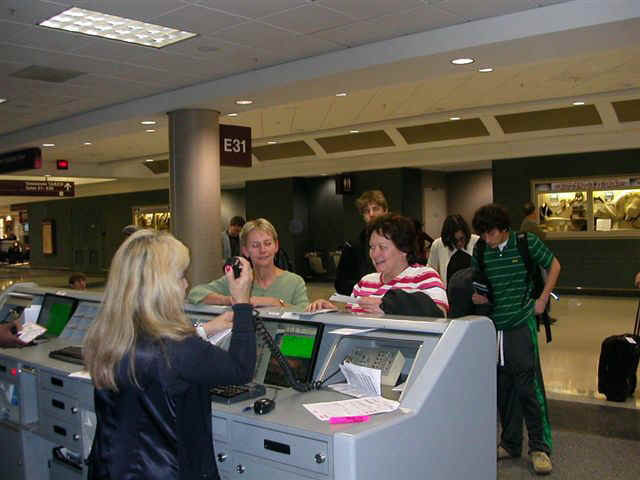 The agent gave us our boarding cards and in a few short minutes, we were sipping champagne! BJ raved about her meal (crab cakes). I had the pasta. We both skipped the dessert and after dinner drinks in favor of getting some sleep. Although this was an older aircraft that had not yet been reconfigured with the new Business Elite seats, we were still able to get some sleep since we were all surprised at the noticeable difference in the recline angle of the older seats.
Our loose plan had us taking a train to Brugge for a couple of days and then back to Brussels for a day before returning to the airport on Sunday. Clearing passport control, we made our way to the train station on the lower level of the airport. A rather unfriendly agent sold us four round trip tickets to Brugge. We asked about when the train left and were told that it left immediately from Track 4. We hurried to the track, forgetting to ask about connections. The train was all but deserted, so we didn't see anyone on the train to ask. We had looked at schedules online and it looked like all of the routes to Brugge required changing trains at either the Brussels Nord station or the Brussels Midi station. We hopped off at Brussels Midi and found a schedule. Unfortunately, the train we had just left went on to Brugge, but another one would be along in a half hour. The next train was the opposite of deserted! We thought it might have been doubling as a school bus there were so many children on it.
When we got to Brugge, we pointed Jill, our trusty GPS toward a B&B that BJ had found online. The Marieke B&B http://users.belgacom.net/marieke/ had gotten some pretty good reviews on the graffiti wall on Rick Steves' Website. It was about an hours walk and rather bitterly cold, so, of course, we had to stop for refreshment on the way. We found the quaint little Taverne 'T Parlasantje with its own pub dog and a nice warm heater.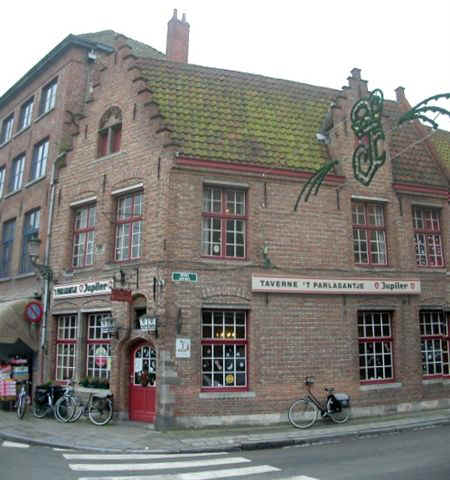 Rejuvenated, we continued our search and found the Marieke. The owner answered the door and gave us the bad news that he had no vacancy. He suggested a new B&B around the corner on Kazemevest Street, but the lady there couldn't accommodate us for both nights. We decided to keep looking. Wandering toward the main square, we asked at each hotel we passed. We found a couple of places with rooms available, but the prices were a little more than we had planned to spend. We finally made it to the main square where the Tourist Information Office was supposed to be.
The square, known as "La Grand Place", was bustling with people and sparkling with Christmas lights around an ice skating rink. Christmas Market booths were selling treats like Gluwein and Wafels.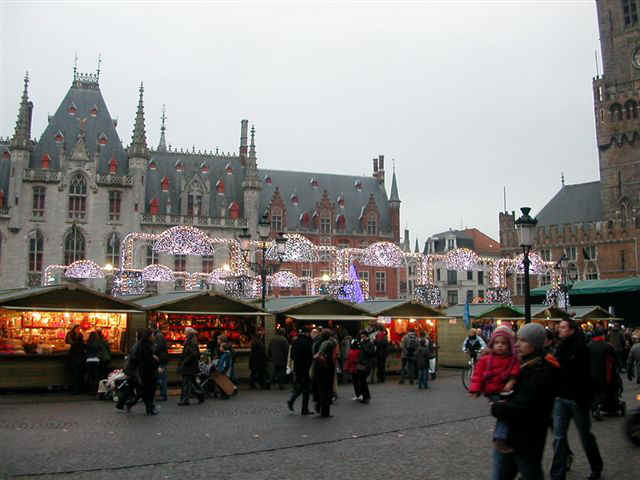 According to our Travel Guide, the Tourist Information office was supposed to be right on the square, but we didn't see it. After wandering around for awhile, we finally found a notice stapled to the wall next to the clock tower saying that the TI had moved. Jill the GPS told us that the new location was not very far from where we had come into town from the train station. We recognized the same "take a number" system we had found at the train station in Amsterdam. The agent asked what price range hotel we were looking for. We decided to try to stay under €100/night. We settled on the Hotel Lucca for €75. It was a 2 star hotel not far from the main square and just a few minutes walk from the TI. We had to leave a €40 deposit with the TI and we were instructed to present ourselves at the hotel within 2 hours.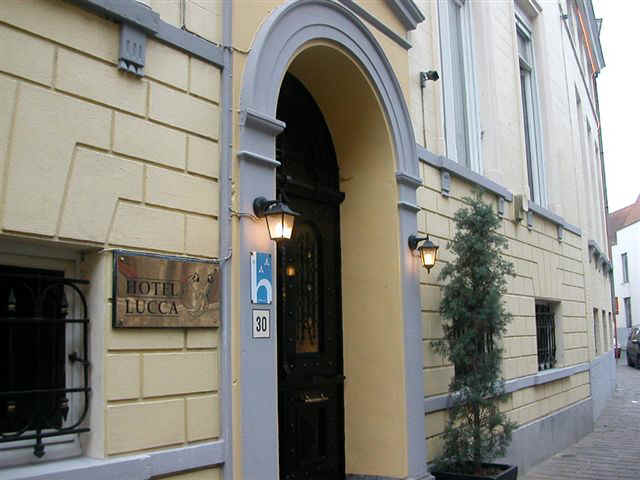 Once again, we decided that we are really 3 star people, but for the right price and as long as we have flip flops for the shower, we can be 2 star people. Our room was very spacious with a queen sized bed and a sitting area. The bed came complete with a green fur bedspread.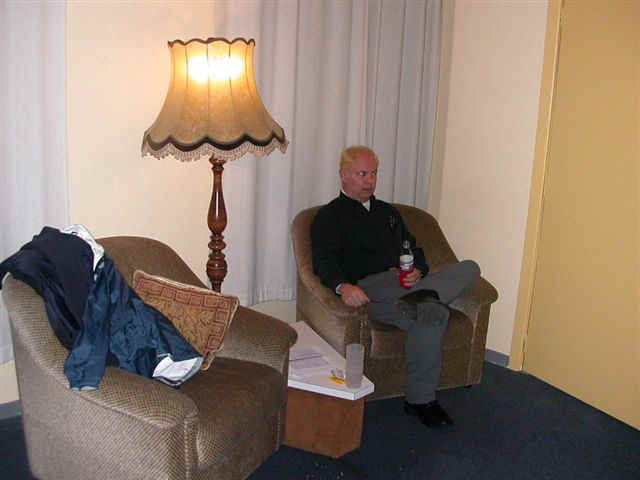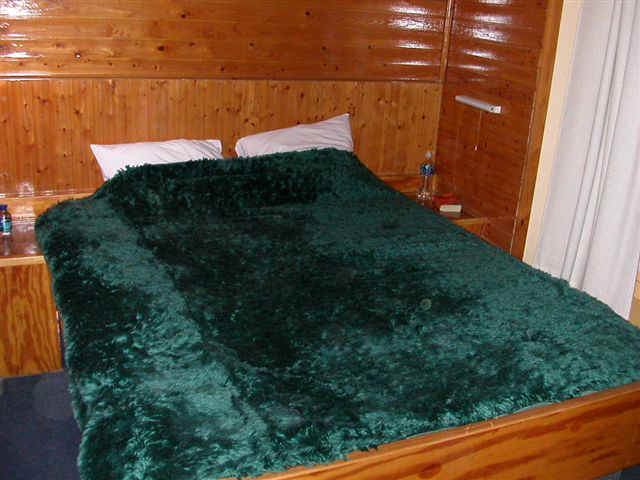 The bathroom had a blue bathtub and double blue sinks. The star deficiency was most apparent in the bathroom. The linoleum was split and buckling, the enamel chipped in the bathtub, and the shower curtain moldy. Thank goodness for flip flops!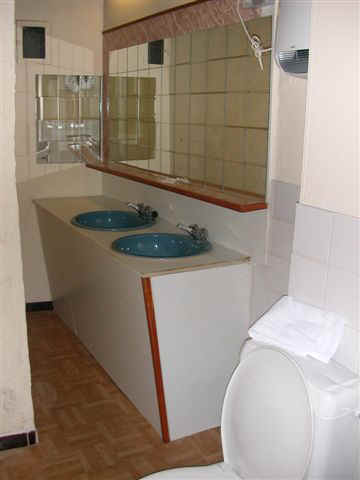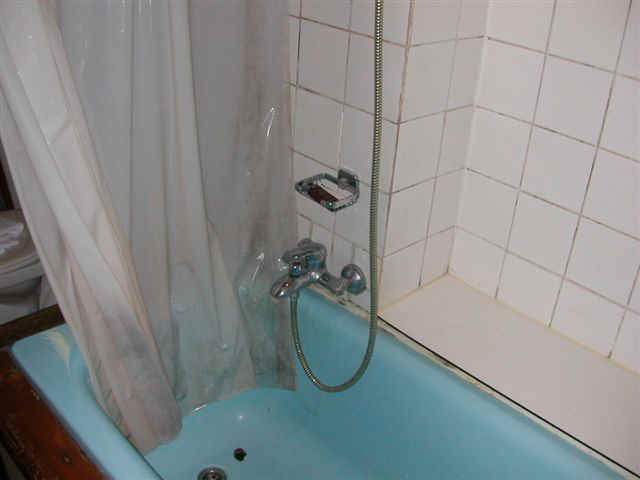 Our fellow travelers' room looked more like a closet than a hotel room. One of them had to sit on their bed for the other one to maneuver around the room.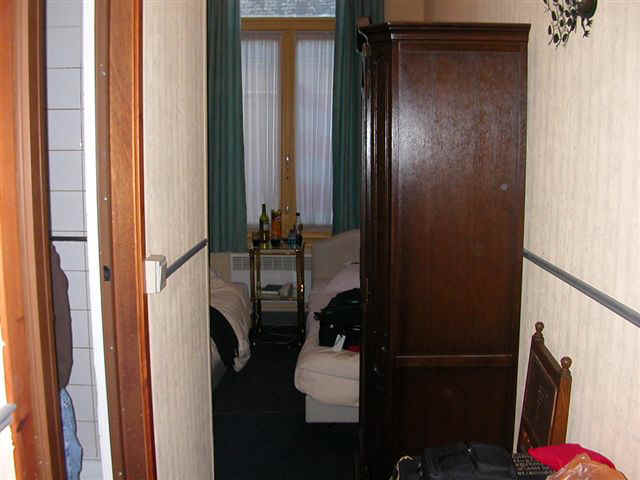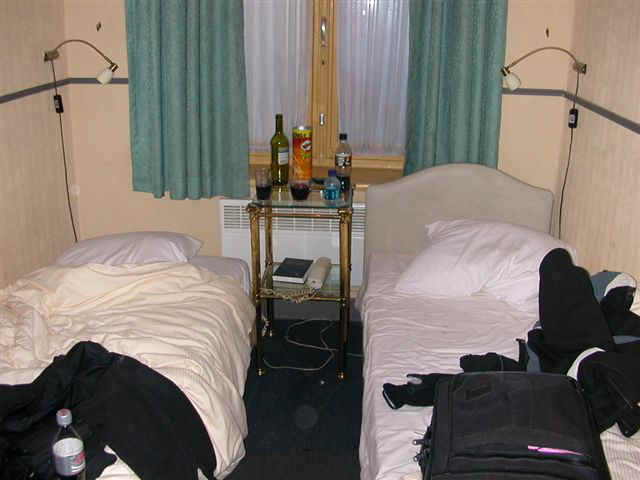 Hungry after all of our travels, we went out in search of some frites (French Fries). We discovered that it is almost impossible get just frites. We were told at more than one place that "it is not possible to get frites without a proper meal." We finally decided to have croques (toasted sandwiches) at the Café Pick.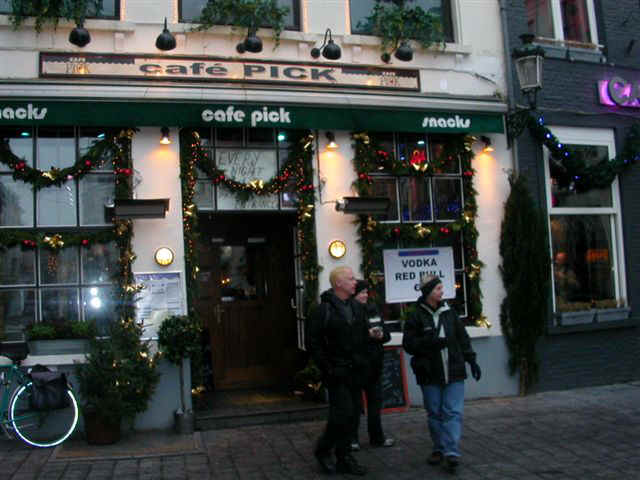 There were no frites, so after lunch, we continued our frite quest. Bingo! We struck pay dirt at Restaurant De Carre. We shared two big bowls of frites with mayonnaise and ketchup. By the way, you have to pay extra for condiments at most places in Brugge. De Carre had taken down their ceiling fans and replaced them with giant rotating wreaths for the holiday season.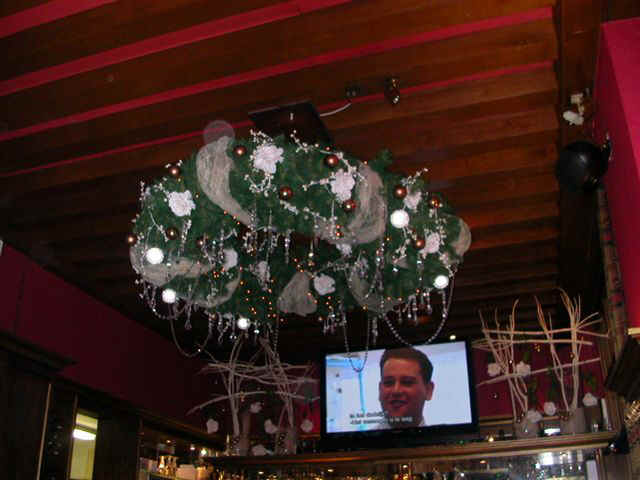 By the time we left De Carre, it was starting to get dark and really cold.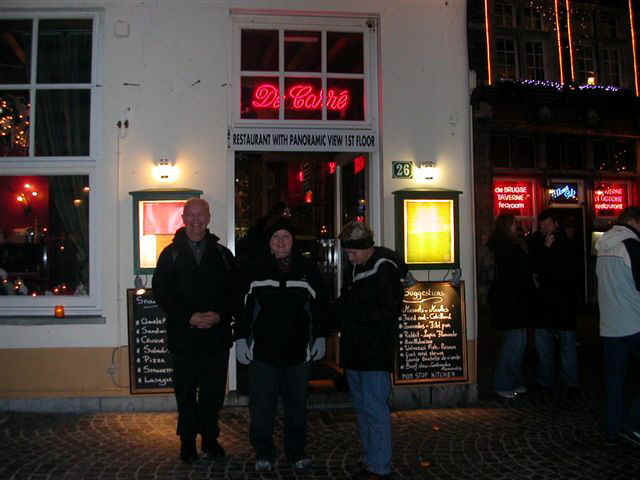 The skating rink looked so pretty glistening with the reflection of the pretty Christmas lights but none of us were brave enough to try skating. We watched the families, children and couples sail around the ice.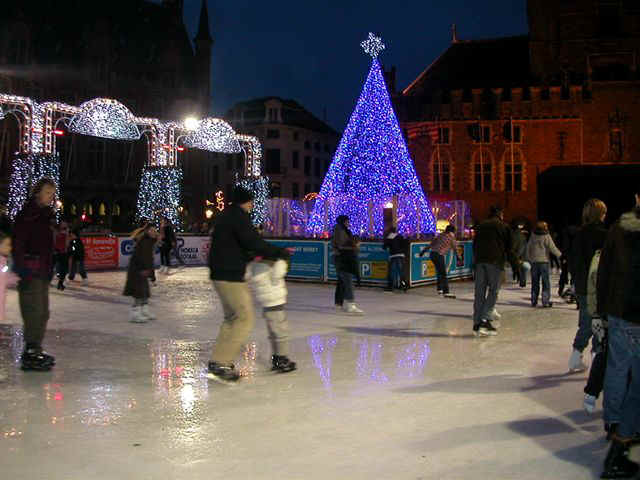 We stopped at De Kuppe which advertised 100 kinds of beer. We nicknamed it "100 Bottles of Beer On The Wall". By now, though, we were beer'd out so we ordered wine.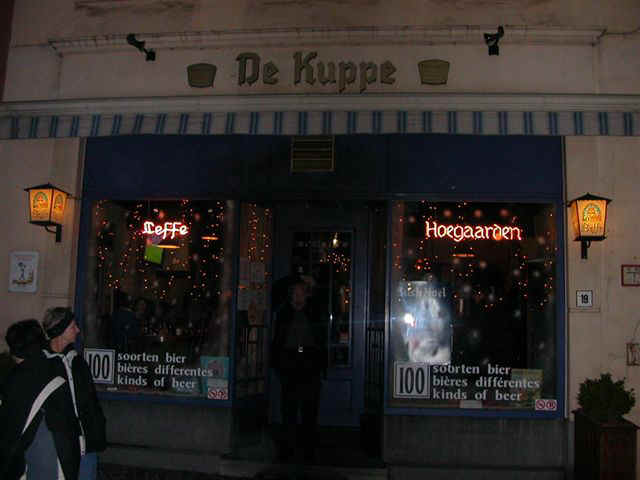 Afterward, we went to the Ristorante L'italiano for pizza and pasta. Italian food is usually a safe bet for a hearty inexpensive meal.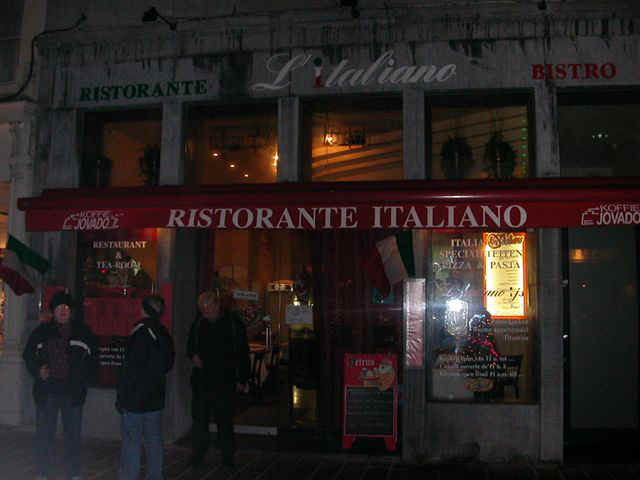 We ducked into La Bodega before heading back to the hotel.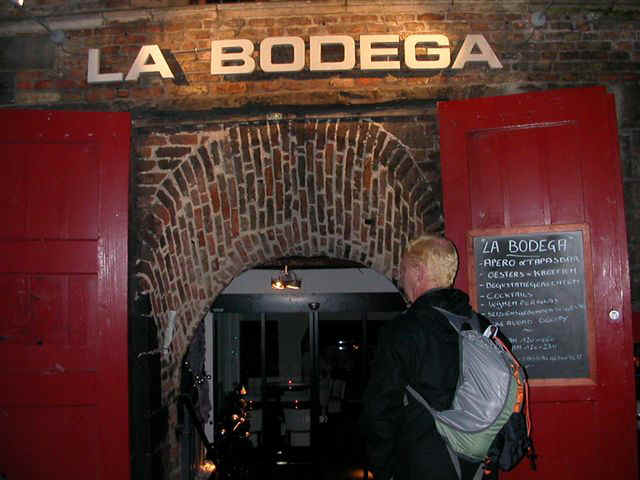 Since we had the bigger room, we gathered there to unwind.
The next morning, we met for breakfast around . The breakfast room was a neat old room with brick walls and ceiling. Breakfast was cold cuts, hard rolls and egg salad with coffee and juice.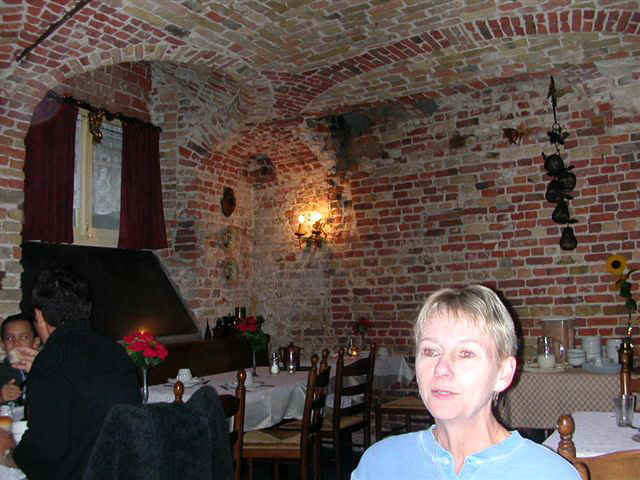 The first activity of the day was to climb the clock tower. We got right up to the window to buy our tickets and the lady pulled the shade down in front of us. The sign on the shade said that only 70 people were allowed in the tower at a time, so we had to wait about 15 minutes.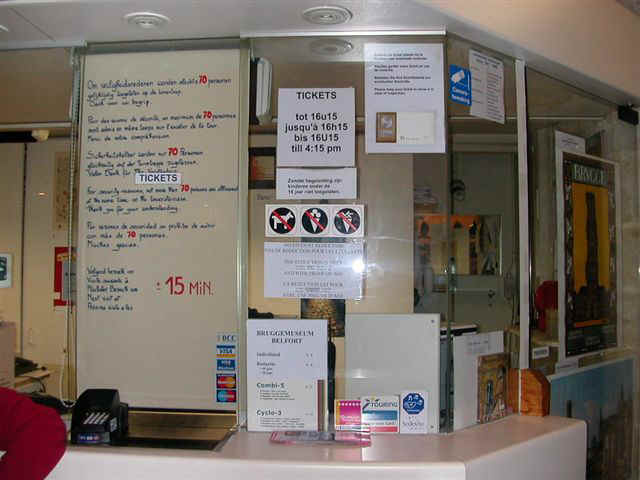 The 366 step climb left most of us breathless. We got hot and started shedding our coats on the way up, but cooled off quickly when we reached the top. The workings of the clock and chimes were very impressive.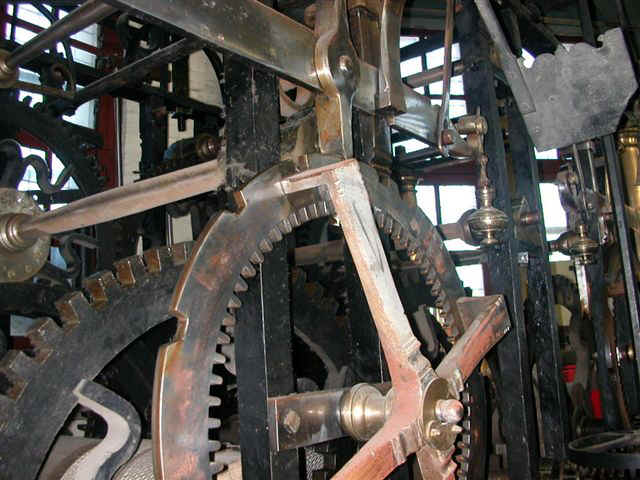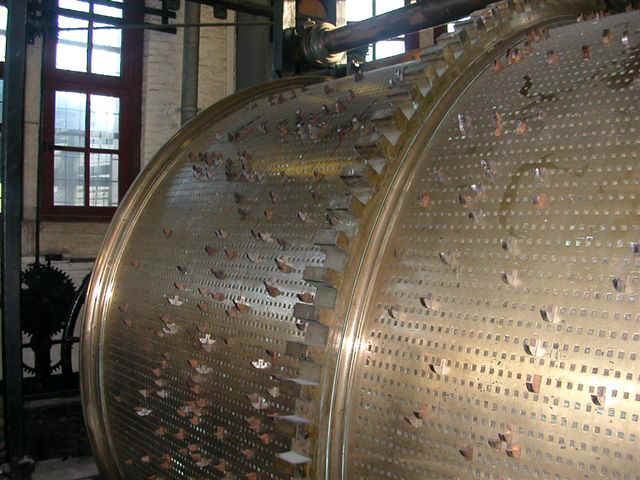 The view from the top of the tower was breathtaking!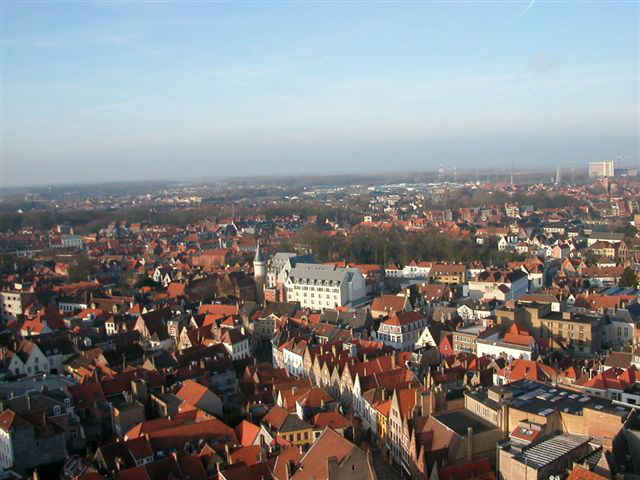 About halfway back down there was a window where you could see the ice skaters on the main square.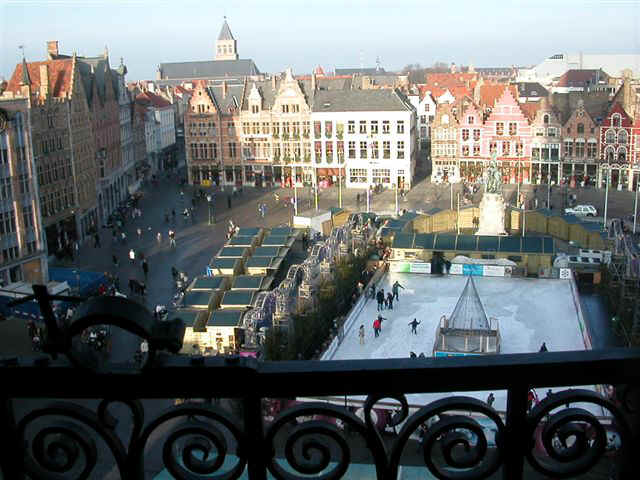 We wandered around and found some of the other famous sites, along with a neat life sized nativity scene.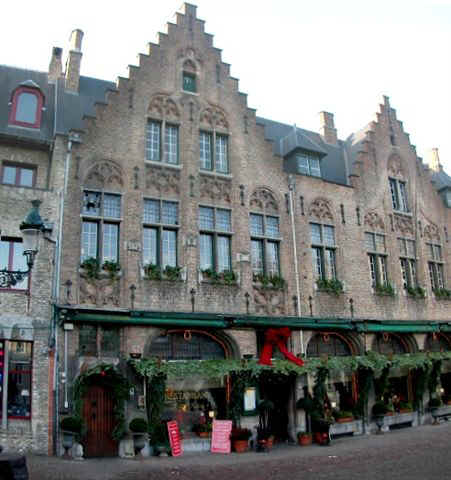 We stopped for refreshments at a place that doubled as a hostel. Its biggest draw was that it had wi-fi! While there, we booked a hotel in Brussels for the last night of our stay. Next on our tour were the 4 old windmills on the edge of town.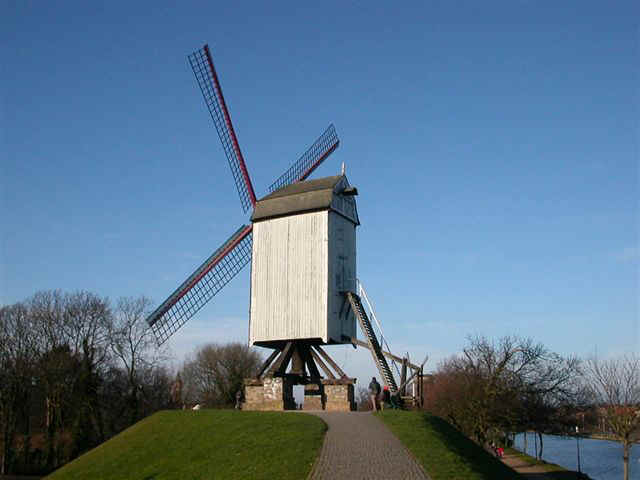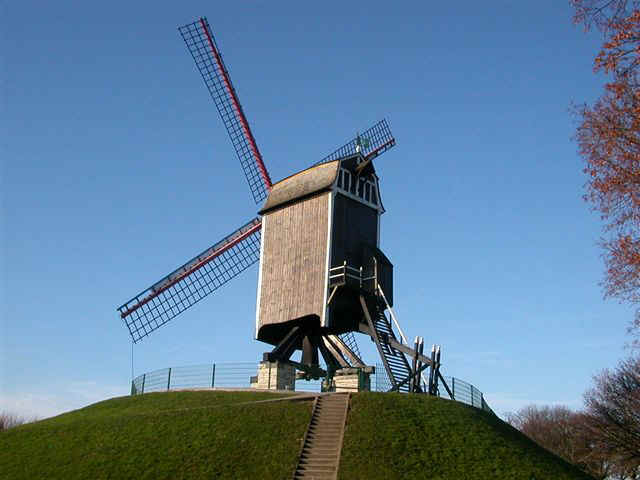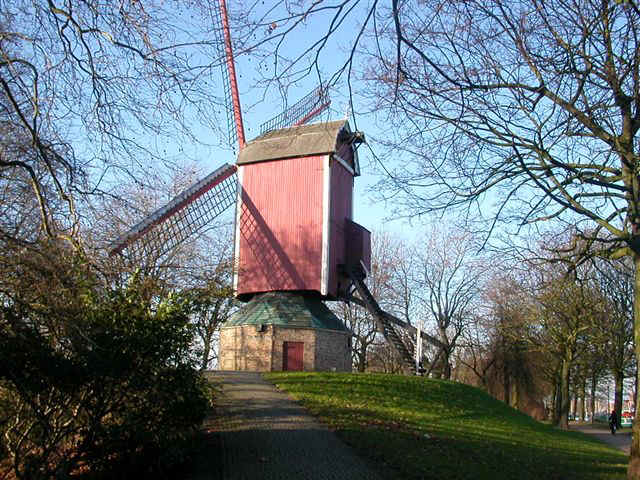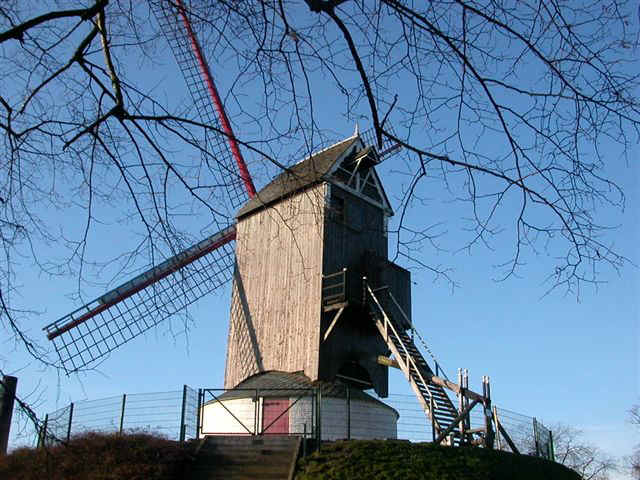 From there, we meandered along one of the many canals until we found a nice place for lunch. We sampled some of the Belgian beers.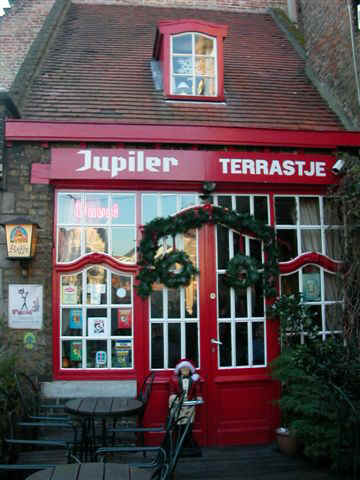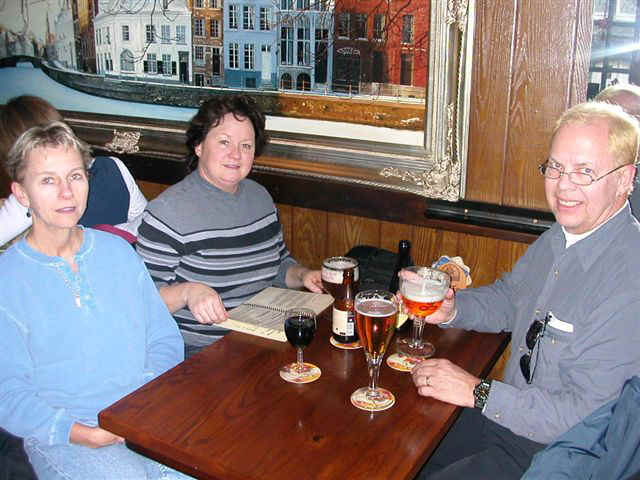 We spent the rest of the afternoon just wandering around. We decided we should try one of the famous Belgian wafels. They were surprisingly light and fluffy!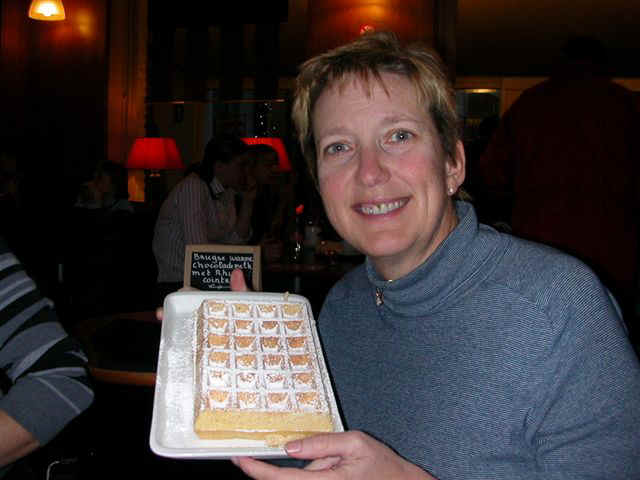 After more meandering, we stopped at Ambiorix http://www.ambiorix-brugge.be/ for a glass of wine. We were a little out of our element since this seemed to be a college hang-out.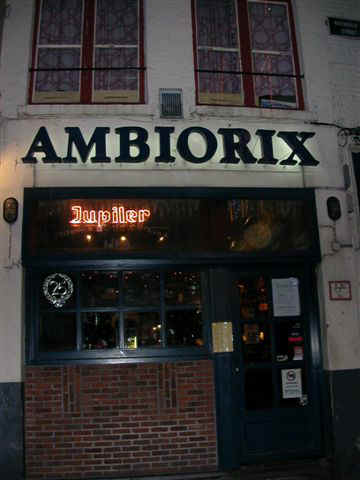 Dinner was at Le Grand Café Belfort, a snooty French restaurant. As one might expect from a snooty French restaurant, the waiters were rude and condescending. The food was adequate though, so we didn't go hungry.
We went back to De Kuppe after dinner for a glass of wine. Our waiter from the night before came over and apologized that he had accidentally over charged us the night before and refunded our money. We were impressed with his honesty.
The next morning, after breakfast, we headed for the train station and caught the train to Brussels. This time we got off at the Centrale station which is just around the corner from the main square.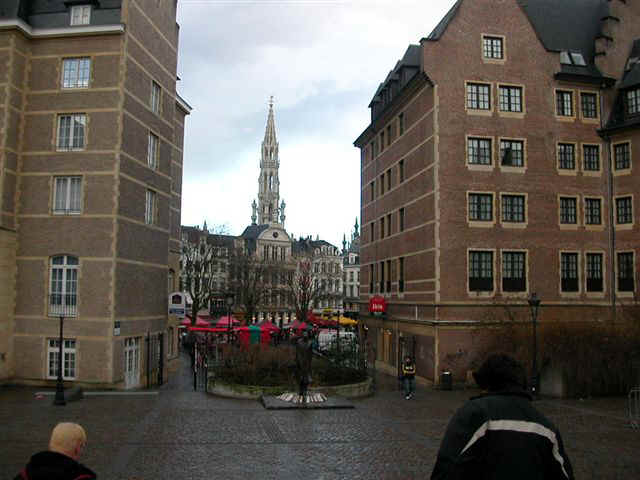 Our hotel, the Mozart, was very quaint. We had a bit of a misunderstanding over the rate. We thought we had reserved one double (€80) and one twin room (€95). The desk clerk said the rate was €80 for a single room. We finally agreed on €90 for each room.
There were paintings everywhere! A local artisan was carving designs into the plaster walls as we went up the steps to our room.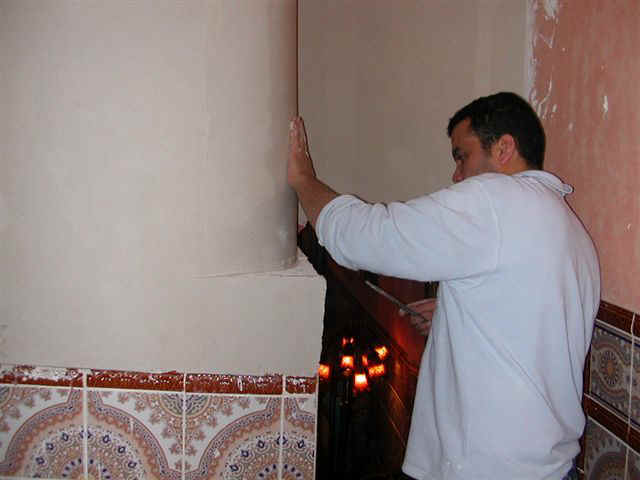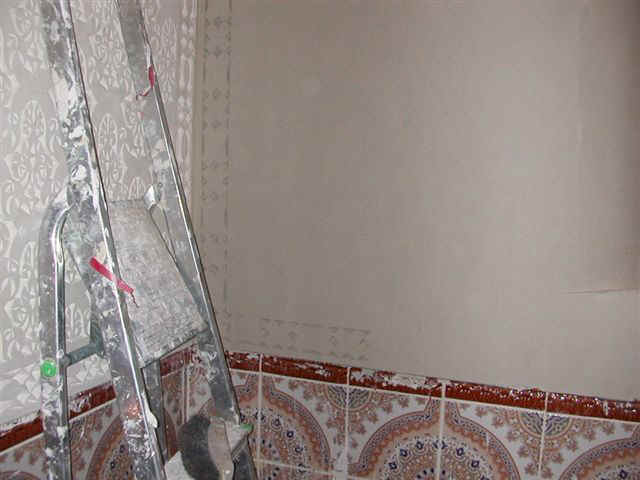 Everywhere you looked, there were paintings or colorful tiles.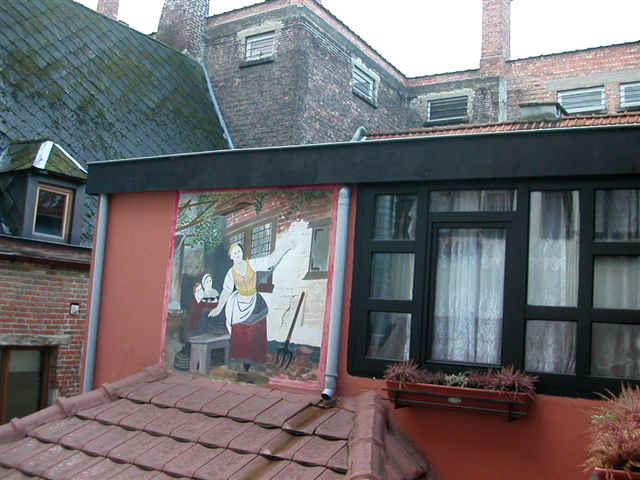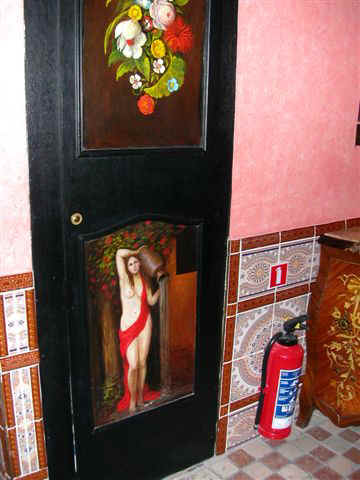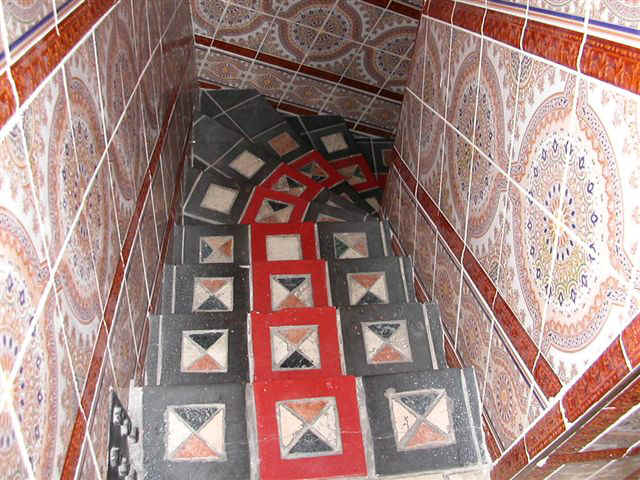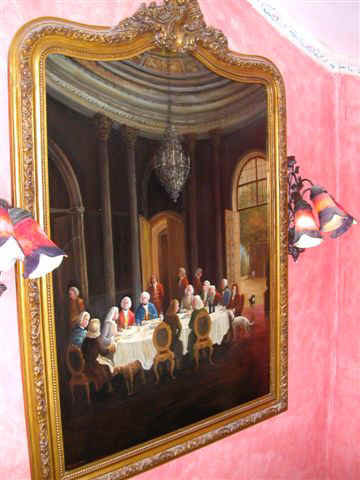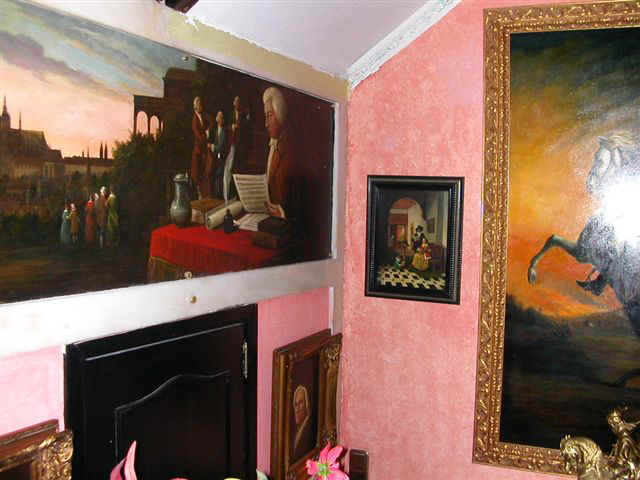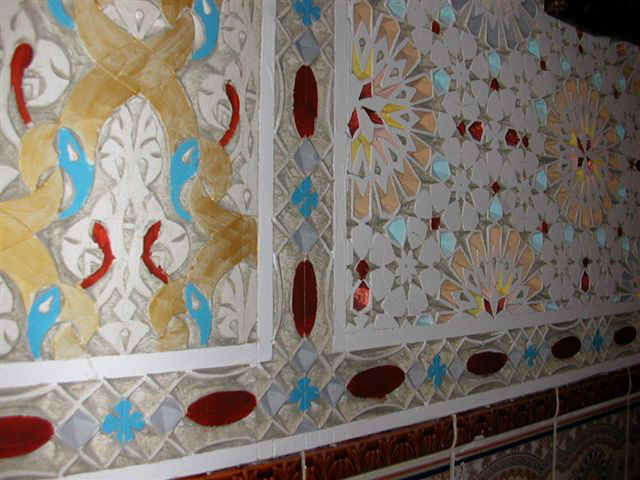 The hotel was a maze. We went up stairs, down stairs, out into a garden,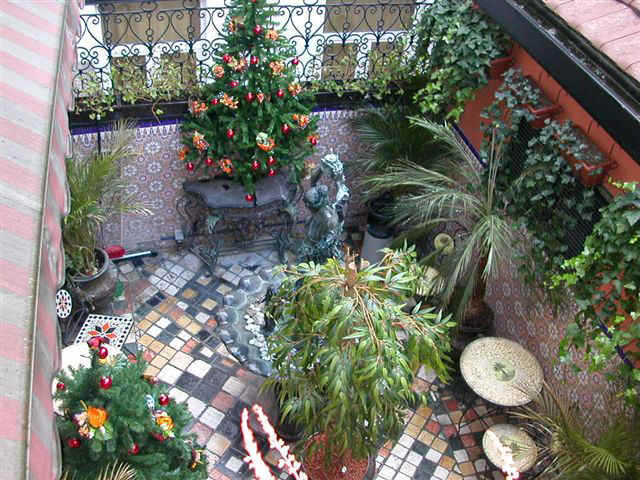 back inside, up more stairs and through a door where we met a woman in the hallway at the top of yet another flight of steps inside a doorway.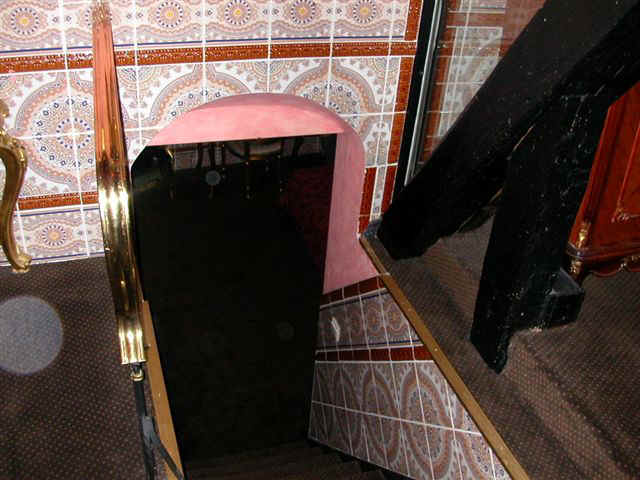 She apologized and said she was just cleaning up. I thought that was odd until I realized that we were actually inside our room. Down the stairs was our bedroom.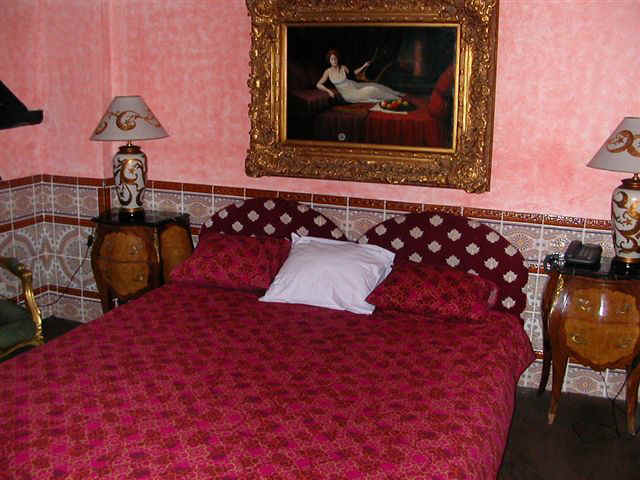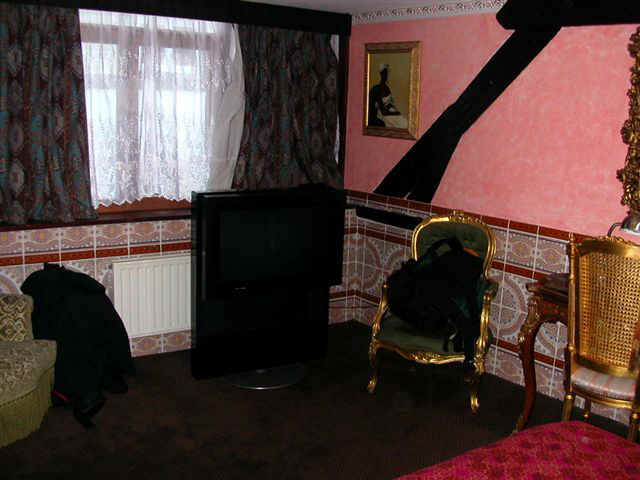 Up the stairs was our bathroom.
We set out to see our friends' room. Once again, their room was not much larger than a closet! We won the room lottery again!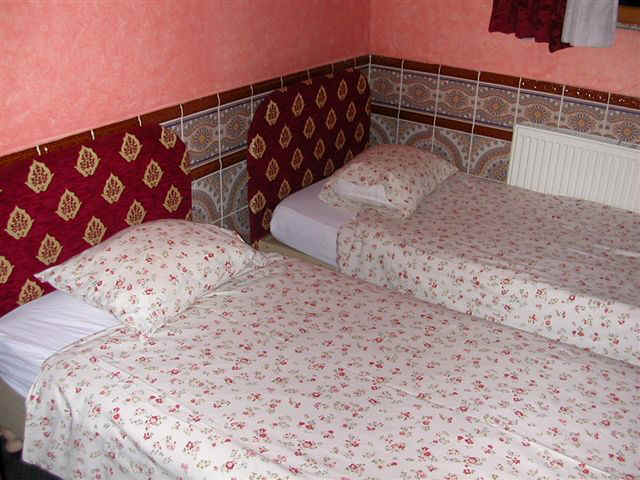 Outside of their room was a strange door that was about 3 feet off of the ground.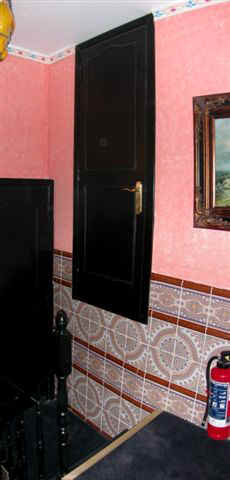 We struck out to see the city. Our hotel was just off of the Old Town main square, known as "the Grand Place", so we spent a few minutes admiring the buildings and the HUGE Christmas tree!

There was another life size manger scene in the square.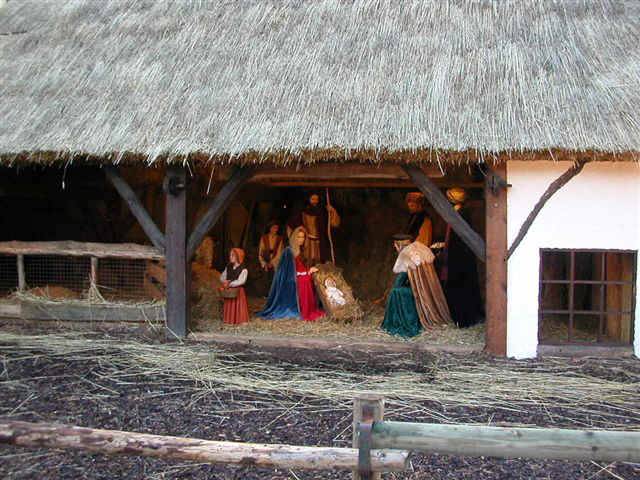 We loosely followed a culinary walking tour that included a number of Chocolate stops and bars. We started along Rue des Bouchers, known as Restaurant Row. Elaborate displays of seafood were outside the restaurants and barkers advised everyone that their restaurant was the best.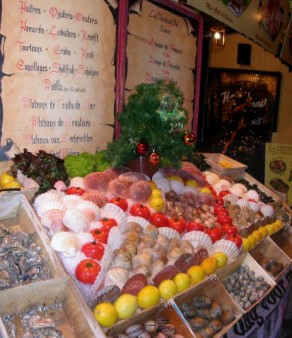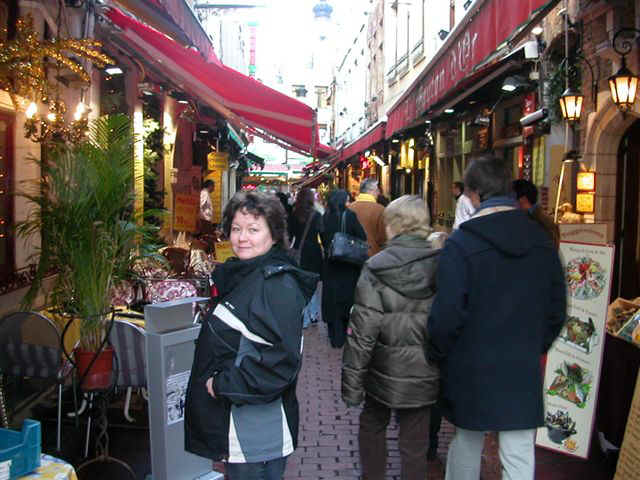 We weren't ready for lunch yet, so we kept walking.
Quite by chance, we happened upon the Delirium Café http://www.deliriumcafe.be/ , which boasted over 2000 beers! We figured it was worth a stop.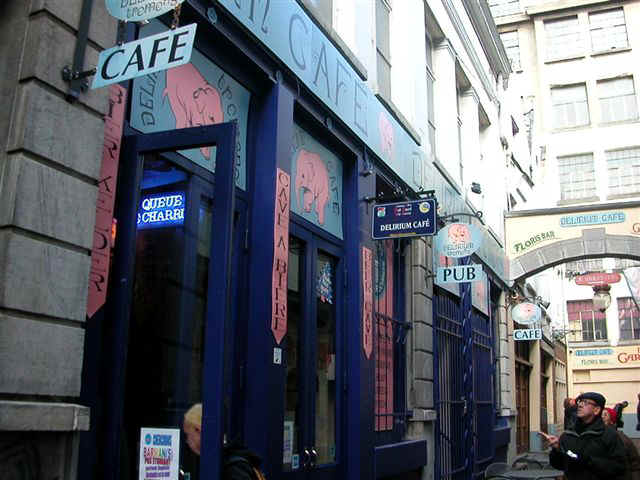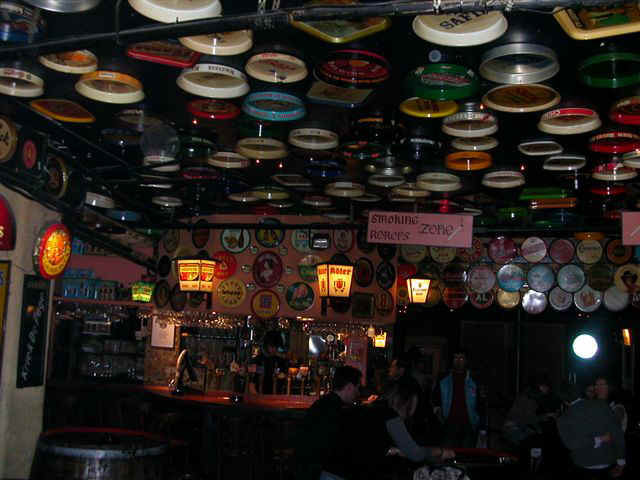 As we were perusing the beer list, I noticed that the Delirium Café was a stop on our tour! The beer list was HUGE!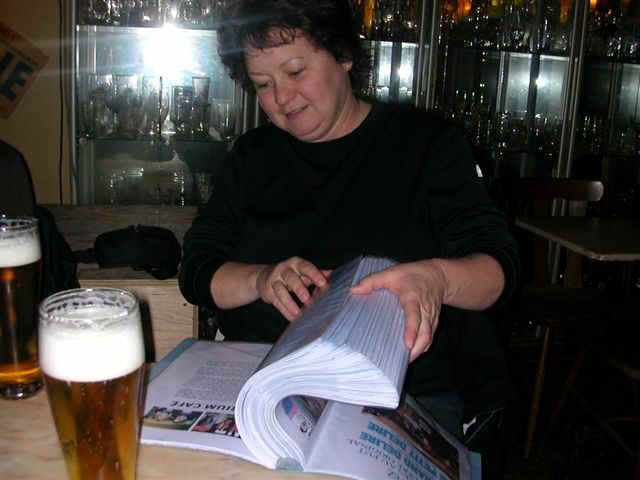 One strange tourist attraction in Brussels was the Manneken Pis, a fountain in the form of a young boy relieving himself. This was to be the next stop on our tour. As we were leaving the Delirium Café, we noticed a number of people at the end of the alley peering through a metal cage so of course we had to go and investigate. We found the Jenneken Pis, the female version of the Manneken Pis.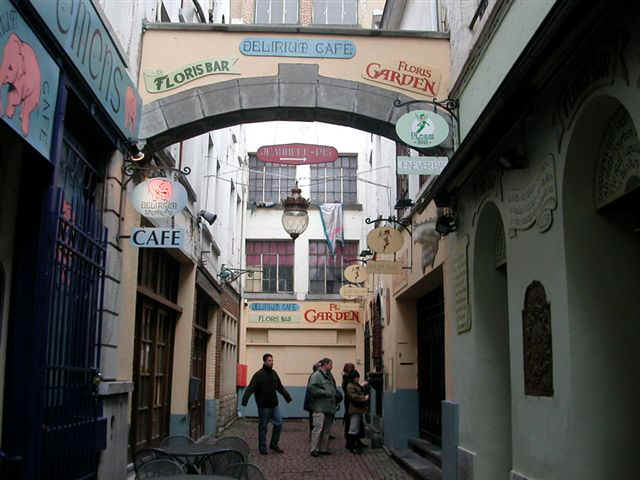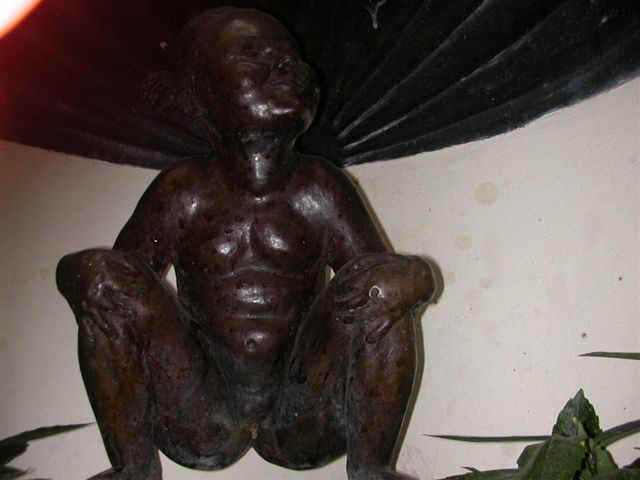 The Manneken Pis was all dressed up, as he apparently frequently is.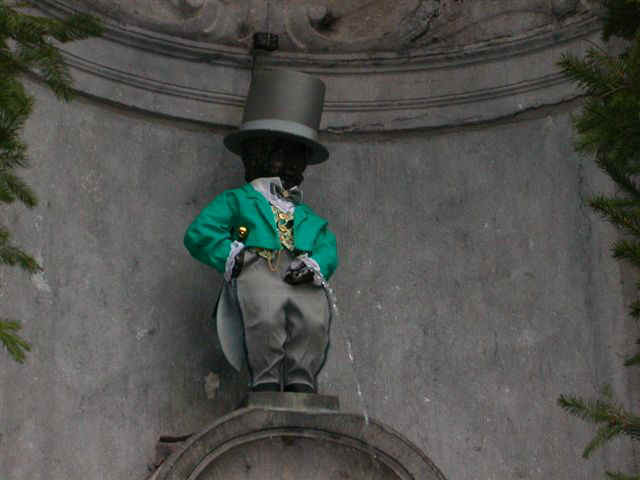 Our tour recommended dining at the Poechenellekelder near the Manneken Pis. As we approached, we found their version of the nativity scene with a rather comical pig watching over the Baby Jesus.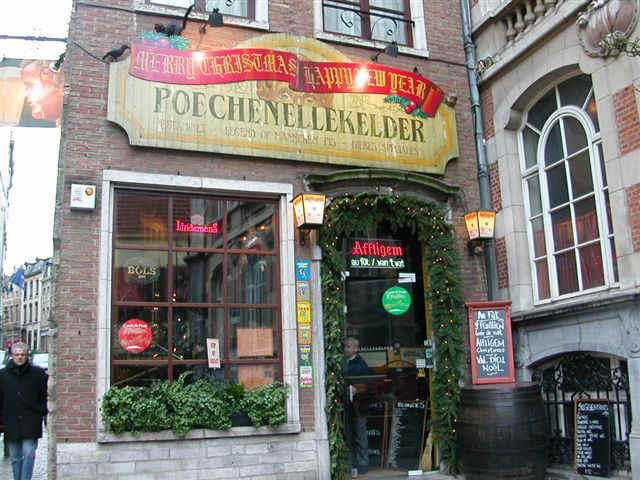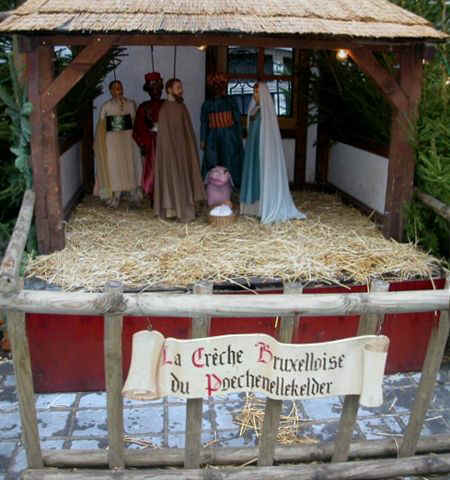 We tried the Kriek (cherry flavored beer) and were surprised at how refreshing it was. We don't usually like fruity beers. Lunch was tomato soup and some stinky cheese.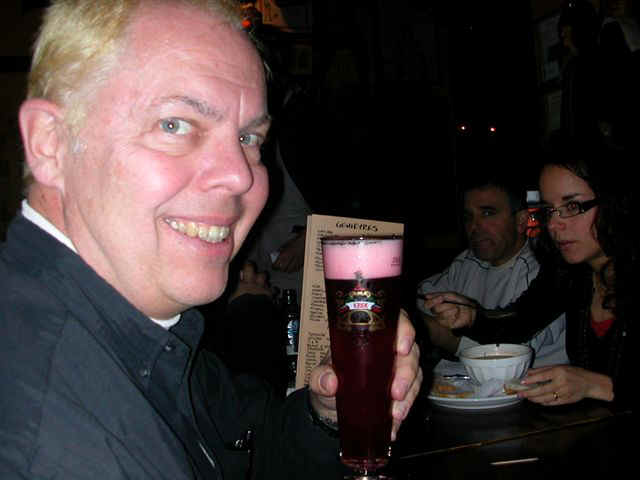 Next, we passed the Opera. It was time for us to be Manneken & Jenneken Pis, so we stopped into the pricey restaurant adjacent to the Opera building.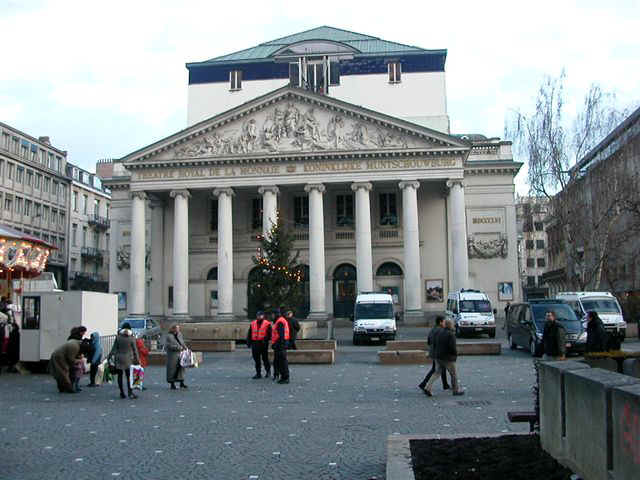 We found a booth and took turns going to the restroom. When we had all relieved ourselves and the waiter had not stopped by to take our order, we decided to escape and find a less expensive place for a glass of wine. Just as we were sliding out of the booth, the waiter decided to stop by to take our order. We ordered glasses of red wine, but when the waiter brought us white wine, we didn't argue. We were prepared to be disappointed, but it was actually quite good.
Our next stop was at A la Morte Subite http://www.alamortsubite.com/ENG/histoire.html, a very historical (and crowded) bar. We had a glass of wine and enjoyed a little people watching.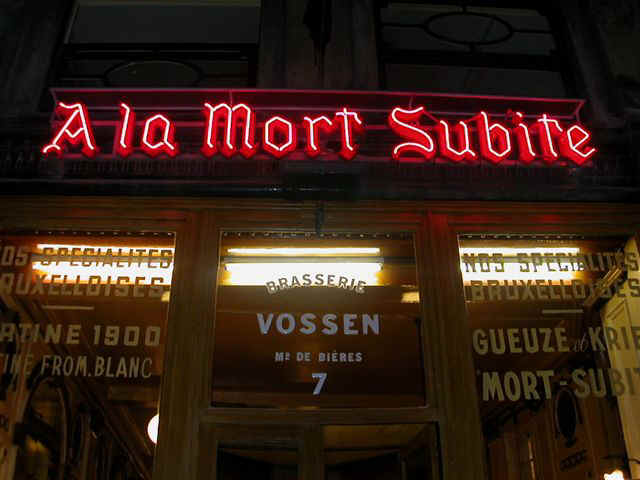 It was starting to get dark, so we hurried to see some a few more sites before it got dark.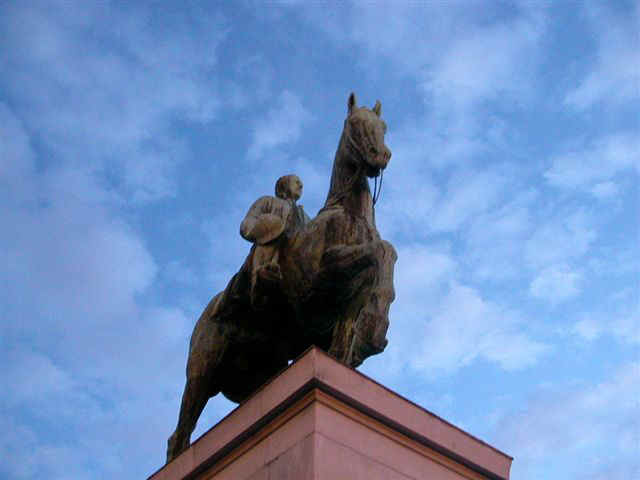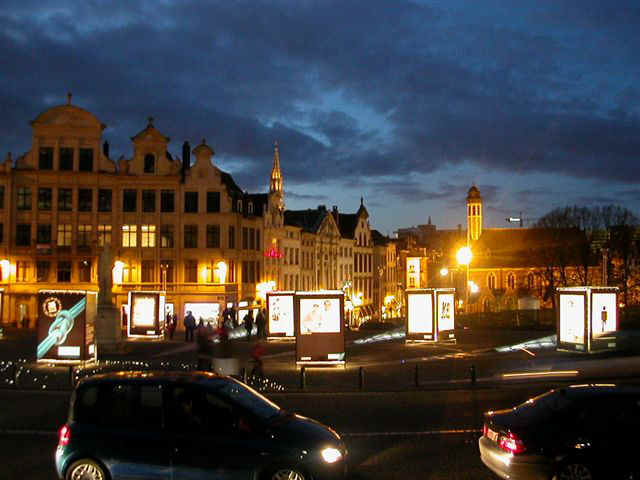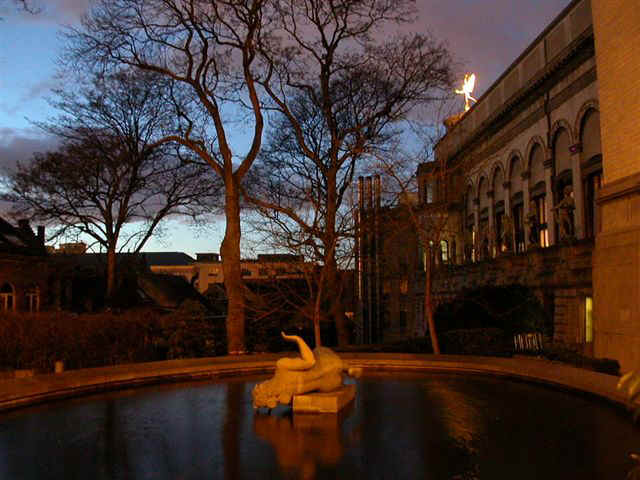 After traipsing around for a bit, we happened upon The Black Sheep, a tiny little pub hidden away at the bottom of a dark staircase. It had seating for only about 14 people.
On our way back to our neighborhood, we passed our friend the Manneken Pis again. He was dressed (or not) less formally this time.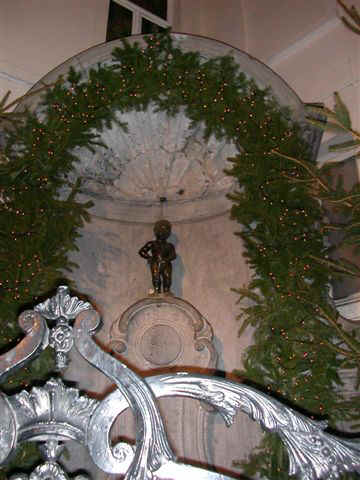 Ready for dinner, we made our way back to the Restaurant Street. We made one pass through all of the barkers and then regrouped at the end of the street to discuss our dining decision. We decided that all of the restaurants seemed to serve the same thing so we would let price make the decision. The first restaurant we came to on our backward pass had a €12.00 menu so we decided to stop in. We were taken to a remote table on the top floor and handed menus that did not resemble anything we had seen on the street. The food and wine on the menu was more than we had planned to spend. We decided to make our escape since no one had taken our order yet. As we made our way out of the restaurant, one of the waiters muttered obscenities at us. We were glad to be away!
Around the corner, we found a quiet little Chinese restaurant called the "Chinois Cathay". It was quiet and relaxing and the food was quite good.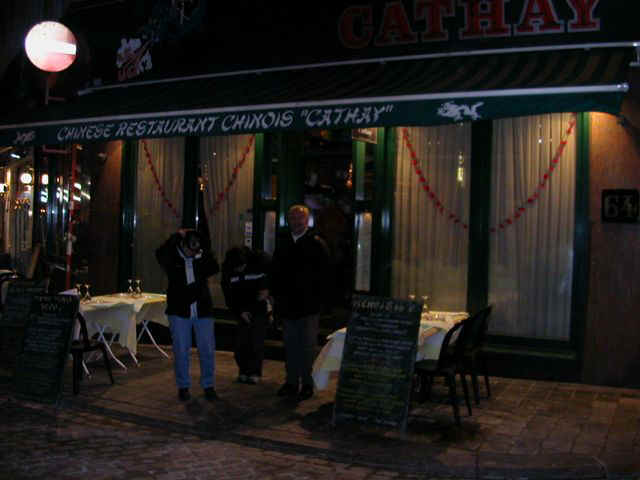 Back at the Grand Place, a children's choir was performing Christmas music accompanied by a beautiful colored light show. It was mesmerizing.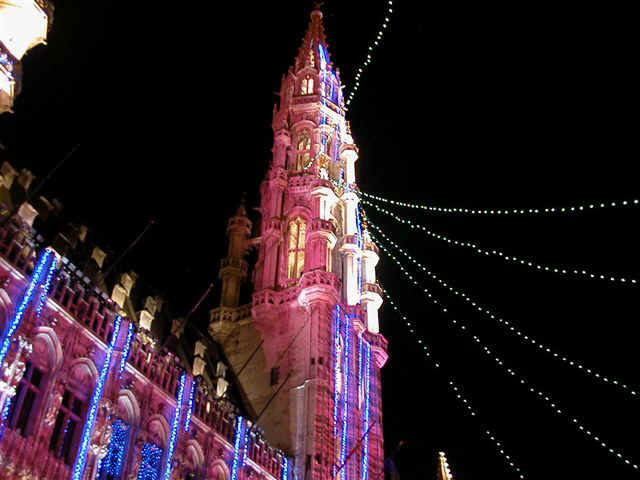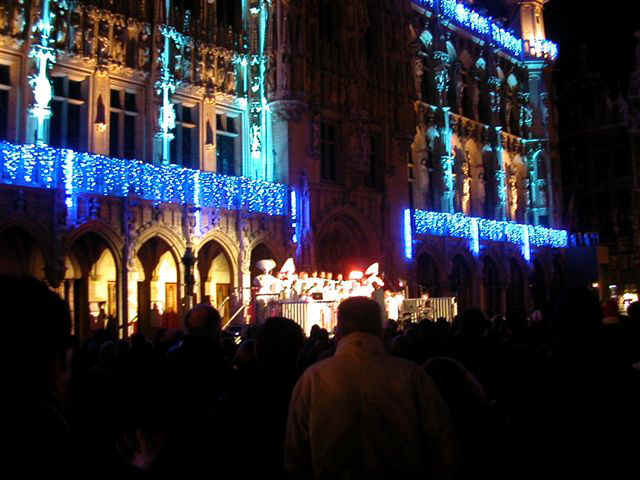 We weren't quite ready to go to bed, so we ducked into a place called Dada on the street behind our hotel.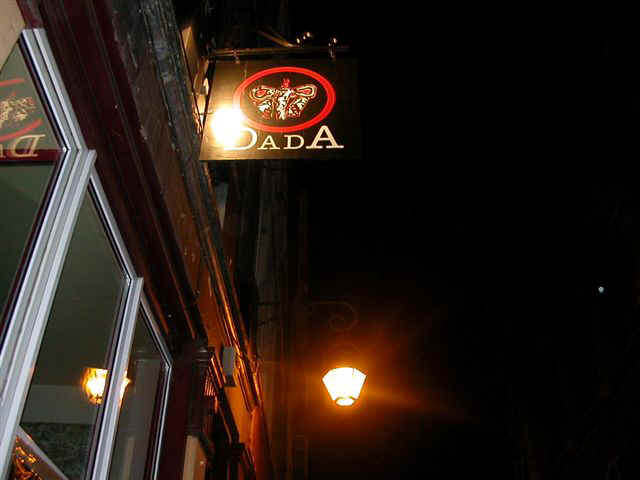 We ordered a bottle of wine and four glasses. The glasses were so dirty that I had to ask the bartender to wash them. He washed them in a sink of standing soapy water and dried them on a dirty looking towel. We all wiped our glasses again before pouring the wine. We played a rousing game of "99" and then headed back to our hotel.
When we got back to the hotel, the plaster wall carving was almost finished.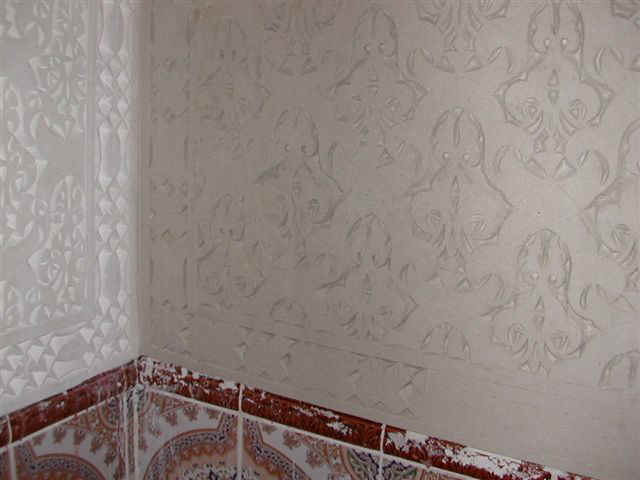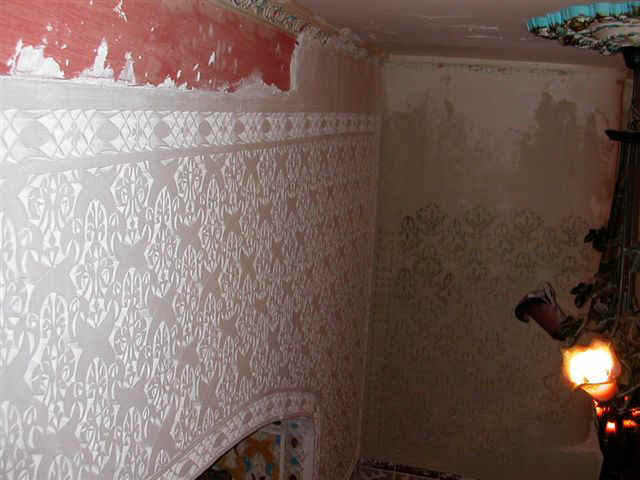 Again we visited in our room for a few minutes before retiring for the night.
The next morning, we caught an early train back to the airport and checked in for our flight. It was a LONG walk to our gate and there was nothing to eat or drink near the gate, so it was a LONG walk back to get a beverage.
We made the LONG walk back to the gate and waited to be cleared on the flight. Business Class again!
Stay tuned for the next adventure!
Signed,
The Dromomaniacs (BJ and Tony)
bjandtony@bjandtony.com