Deer Valley, Utah
January 2008
"Table for Fourteen Please?"
It had been 2 years since we skied! While I missed shushing down the slopes with great speed (well, with medium speed… well, I guess comparatively slow speed when you think about how fast the other skiers are going), I didn't miss stuffing myself into the bulky clothing and clunky boots and carrying the awkward equipment to and from the car. But, when a ski trip was suggested by the same group we skied with twice before, I mostly remembered the great time we had sharing a great big house, eating breakfast & dinner together, laughing, playing cards and just enjoying each other's company. I signed us up right away!
In the past, we had rented a house in Huntsville, Utah near Powder Mountain and Snow Basin resorts. The house could generously be called "rustic", but it served our purposes perfectly, sleeping up to 19 people. I didn't know what our accommodations would be for this trip.
My friends have really embraced the evite, www.evite.com, which I also like because if you forget the details of an invitation, you can just log in and not only see the details, but see who is coming as well! The evite for this trip just showed the dates, no details about the accommodations, but I later learned that one of our friends from the previous trips had very generously volunteered his newly acquired rental property in Deer Valley.
Things at work had really started to heat up since Travelport had acquired Worldspan so I wasn't sure if I would be afforded the time to go on this trip. I changed our response to "maybe" and then immediately changed it back to "yes" and decided that we WOULD go even if it was just for a few days.
As the time drew closer, I learned that I would be needed for some Travelport meetings at our Denver location the week before the trip. I decided I could go to Denver Monday through Friday and then pop over to Salt Lake City Saturday through Tuesday and be back in Atlanta for some important meetings on Wednesday.
The next big challenge was packing. Those same moths that had gotten into our closet and stitched up the seams of our bibs, making them fit a little tighter two years ago had been hard at work again. This time their stitching had made both of our bibs uncomfortably tight, so we decided that it was time to buy some "Big Girl and Big Boy" bibs. Not wishing to take a chance, I bought some "Huge Girl" bibs that I can use for several years, even if those pesky moths get hold of them again.
I packed for my business trip in my roll-aboard suitcase and my ski trip in a duffle bag, both of them small enough to carry on if it was necessary. I decided to go ahead and check the ski bag on my way out, since weekday business travel usually means competing for overhead space with a lot of inconsiderate businessmen who put their laptops and jackets in overheads that were clearly meant for roll-aboards and duffle bags!
Since the evite showed the trip starting on Saturday, we decided that Tony should join me in Denver on Friday evening. We would spend the night there and then fly together to Salt Lake City on Saturday morning. About mid-week, while I was in Denver, I glanced back at the evite to see who was coming and to get the details on the trip. Thank goodness I did because I noticed our host's response had changed to "I'll be there - and there's room if anyone can come in earlier. The house is open starting Thursday!"
Tony and I pow-wowed over the phone and decided that instead of the Denver overnight Friday night we would just meet in Salt Lake City Friday night. The flights worked out perfectly. There was a non-stop from Atlanta that arrived in Salt Lake at the same that the puddle-jumper arrived from Denver.
I found a great deal on a rental car with Enterprise www.enterprise.com. We reserved an economy car for $13.47/day! I emailed John, the host to let him know that we were planning to arrive Friday night and would be at the house around . He responded that for Friday night, there would be six of us. His business partner Jim, Jim's wife Lyn, our friend Mark, me and Tony.
Both of our flights arrived within 10 minutes of each other. I picked up my luggage and met Tony at the Enterprise counter. Kyle at the Enterprise counter was very friendly, introducing himself and shaking our hands. This was his second day on the job. He spouted the company line very well, "You know it snows out here in the canyons a lot, you might want to upgrade to a 4 wheel drive." We declined, since the roads were clear now and we didn't really plan to do a lot of driving. We also declined the insurance and fuel options, disappointing Kyle, but he cheerfully walked us out into the parking garage and took us to our, drum roll please, 4 wheel drive 7 passenger Jeep Commander!
Tony familiarized himself with all of the controls while I mounted Jill (the GPS) on the windshield and plugged in the address of the house in Deer Valley. I tried to call our friends at the house a few times but nobody was answering their cell phones. Tony suggested we stop for dinner on the way, but I was pretty sure the crowd we were joining would be busy in the kitchen preparing something delectable, so I vetoed his suggestion. 45 minutes after landing, we were on Queen Esther Drive looking for the street number of the house. It was dark and impossible to find the house numbers, but when we saw people stirring around in the kitchen of one of the houses, we decided to stop there.
We pulled into the driveway and were able to see that we were at the right house! The gang was surprised to see us, expecting us to call for directions. We told them to check their cell phones and they sheepishly admitted that they had missed calls. Thank goodness for Jill!
One of the benefits of being one of the first to arrive on a trip like this is that you get dibs on the best bedroom! Ours was the main level master (there was also a master suite upstairs). We had our own flat panel TV and plenty of closet space. Our bathroom opened onto the entry hall.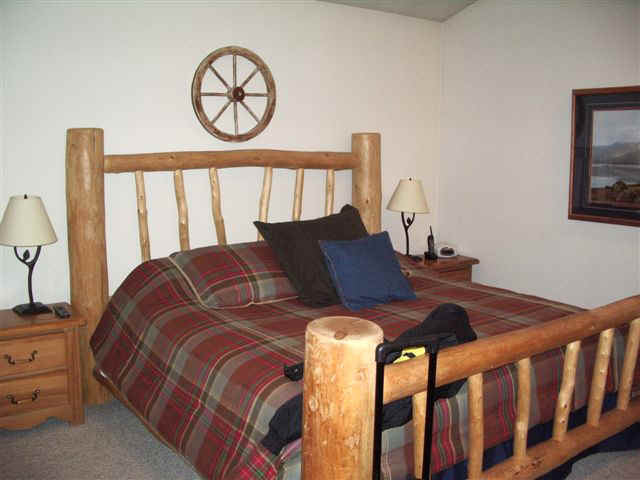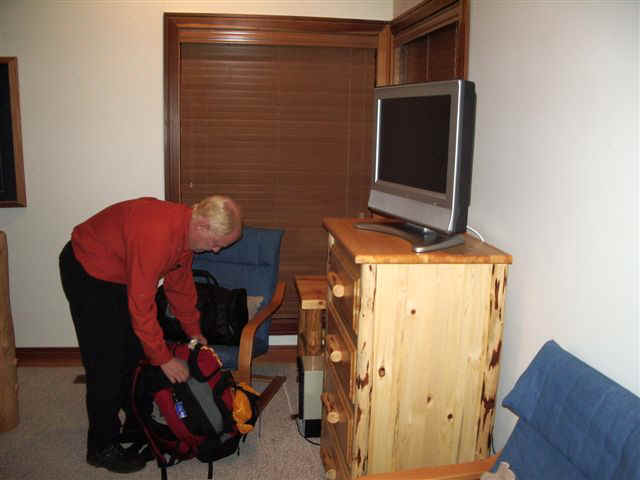 This house was AMAZING. It was HUGE, but unlike our last ski rental, this one was REALLY, REALLY NICE! We dropped our bags and took the tour. The place just went on and on.
The upstairs master had a closet that was as big as the other bedrooms. It had a private bathroom with separate tub and shower. The upstairs master also had its own flat panel TV.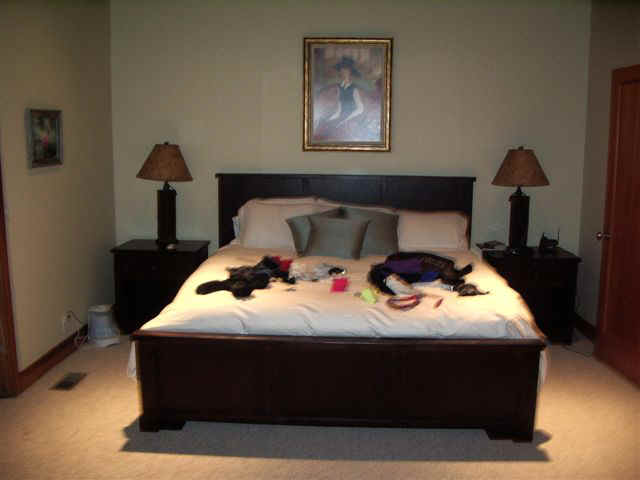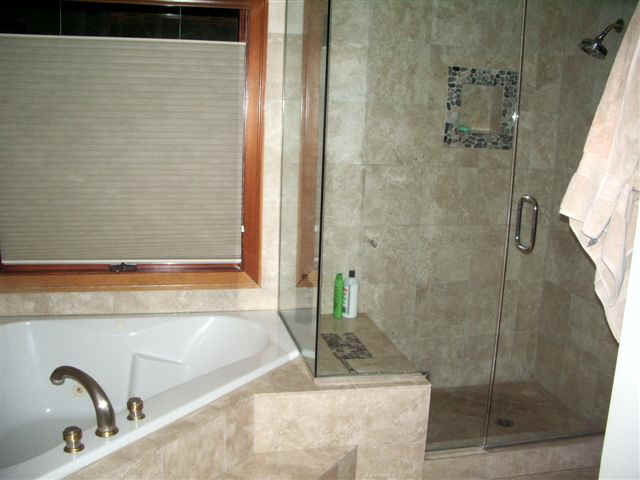 Back on the main level, there was a living area with a fireplace that opened onto the dining area.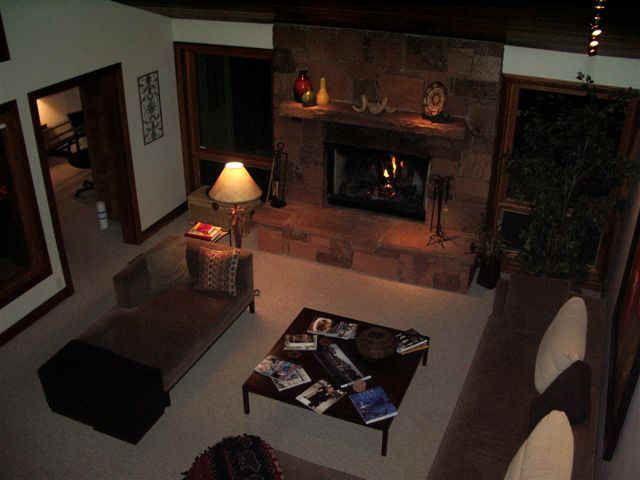 Off of the living area was an office with its own sitting area and a flat panel TV. Wow, we were starting to think that this place had more (and nicer – not difficult to do) TV's than we do!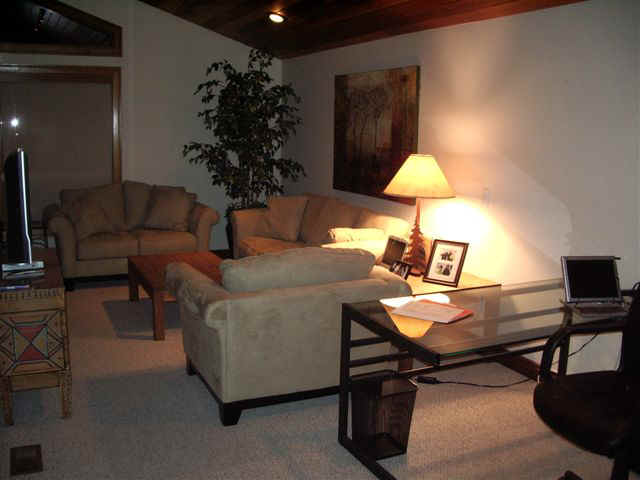 Continuing the tour downstairs, we found another living area with a fireplace and a flat panel TV.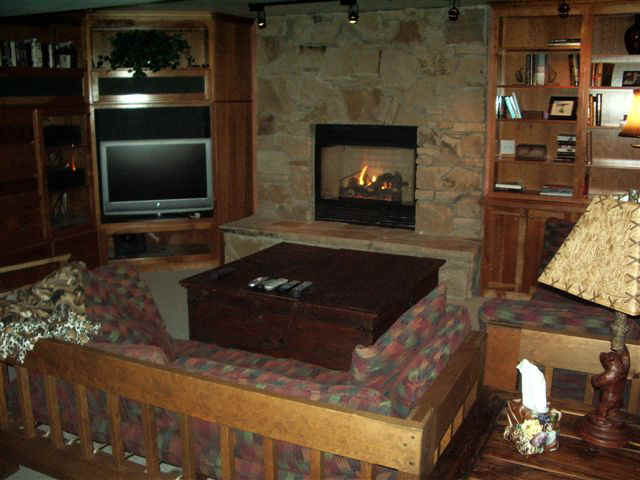 The bunk room was next. It would sleep 10 people if it needed to! The two bunk beds had a double bed on the bottom, a single bed on top, and there was a double trundle bed under the bottom bunk! This room had its own TV too!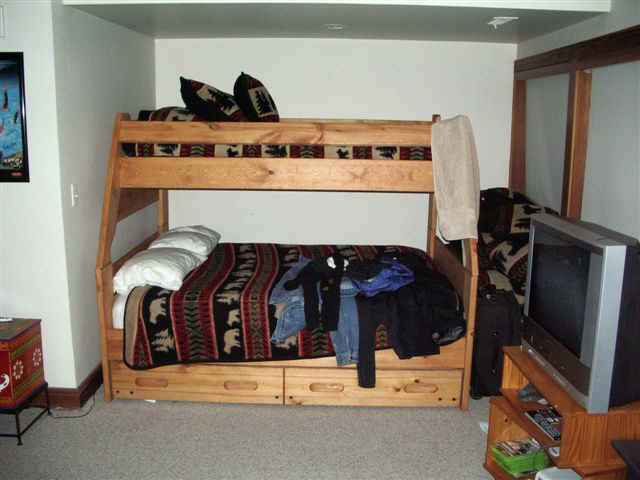 There was a community bathroom and closet area for the bunk room residents.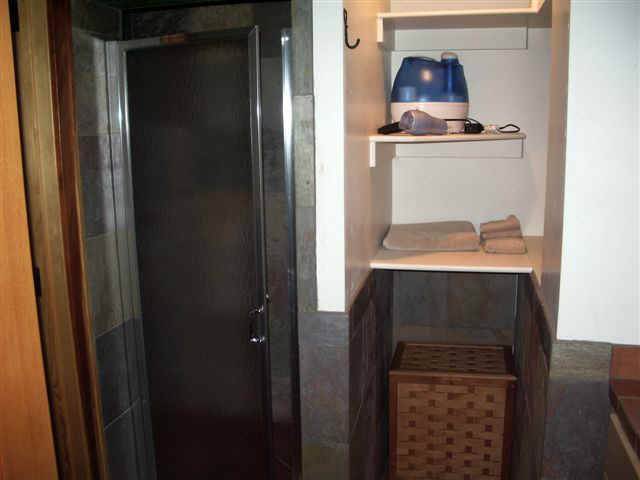 We made a detour outside to see the hot tub. There was a heated mat on the walkway leading to the tub!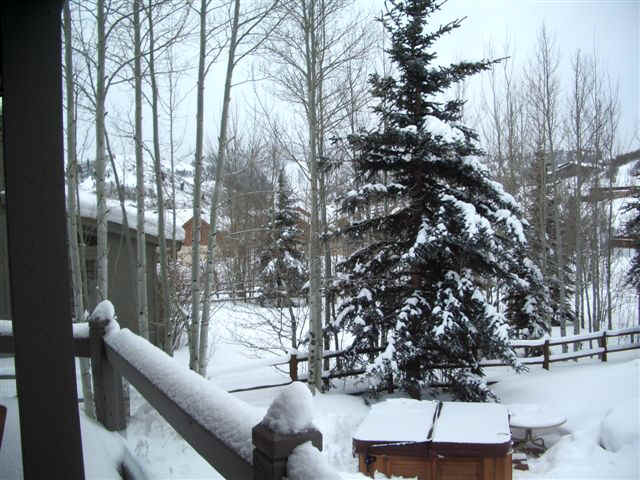 At the end of a long hallway, was a private suite which was designated for the couple that would be bringing their baby. They had a private bathroom. Oh, and their room had a TV too! I lost count!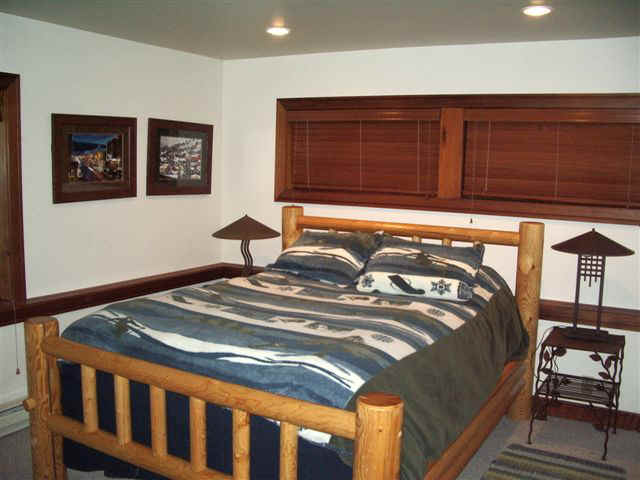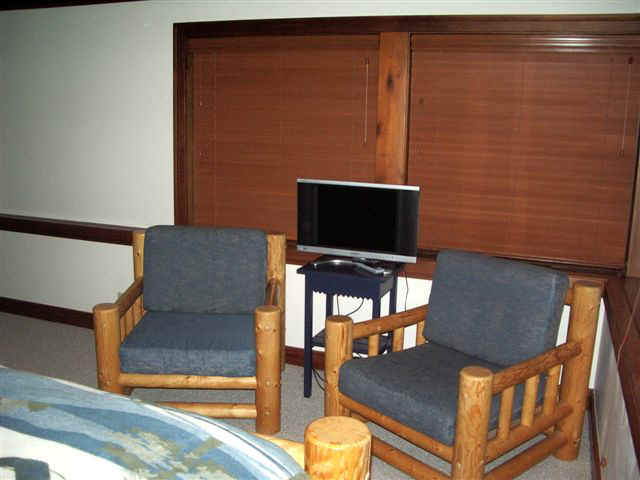 There was another half-bath in the hallway.

One more bedroom was beneath ours. There was another full bathroom near that bedroom. Oh, and guess what? Yep – that bedroom had a TV.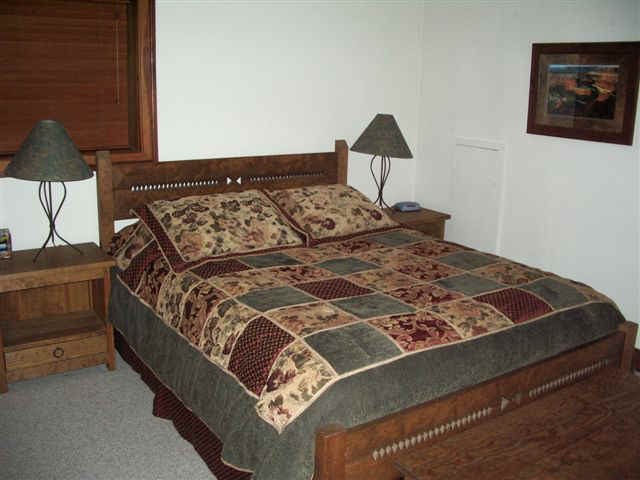 With the tour almost over, we returned to the main level to finish the tour with a glass of wine from the wine rack which was above the wine refrigerator. Next to the wine center, we found the best feature of the place. The Dining Room Table! It sits kitty-cornered on the main level and seats 14 comfortably.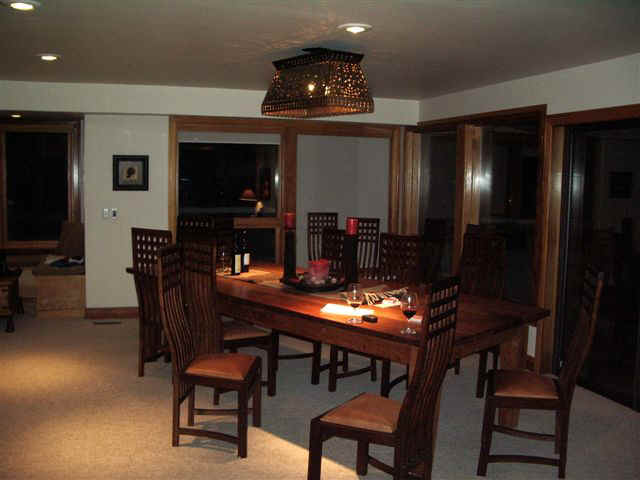 There was a little reading nook tucked in next to the dining area.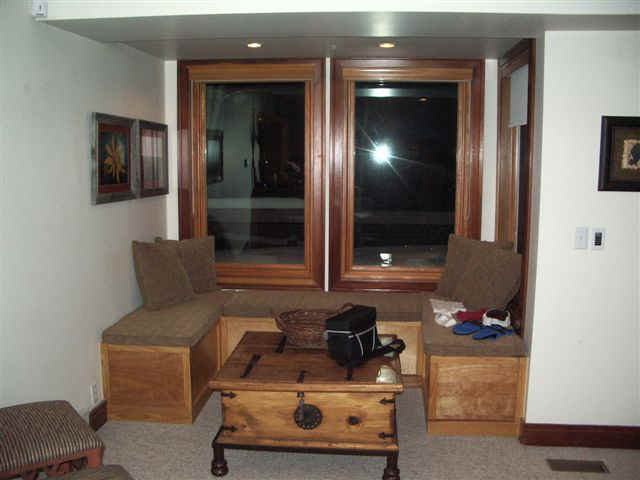 The kitchen was bright and cheery and arranged so that it had multiple preparation areas for our competing chefs, which as it turned out on this trip, were mostly males!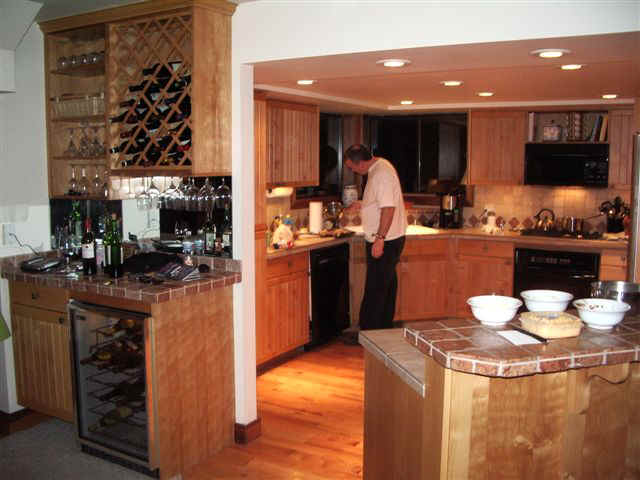 They had laid out an appetizer buffet of chips, salsa, crackers and homemade pimento cheese. While we noshed on the appetizers, Jim prepared prime rib and John grilled broccoli for our meal. Thank goodness we had not stopped for dinner on the way!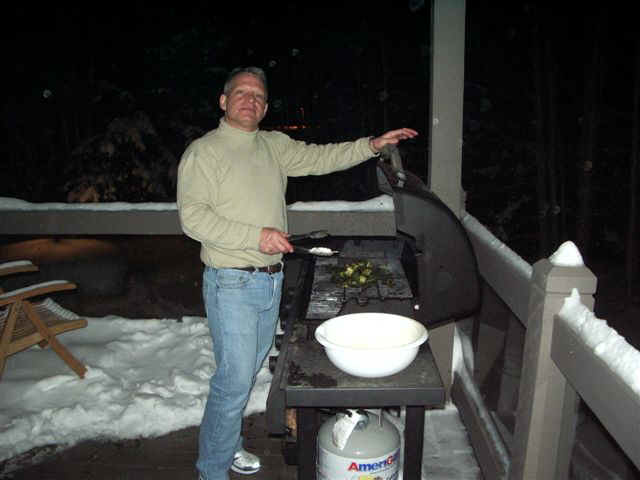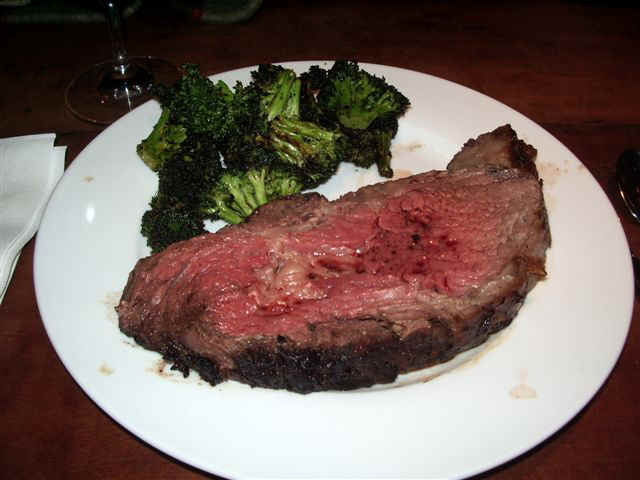 After dinner, Mark entertained us with his juggling. He needs to brush up a bit before he performs publicly.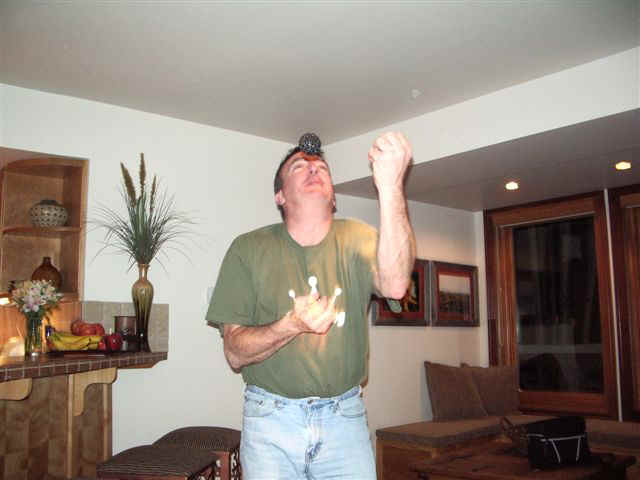 We slept well and awoke to a winter wonderland and the smell of sausage!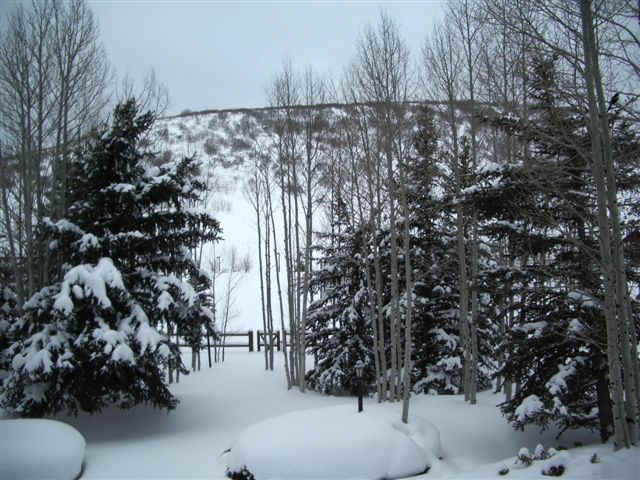 Jim and I had a little work to do, but since the house had wi-fi, it was no problem to answer a few emails over breakfast.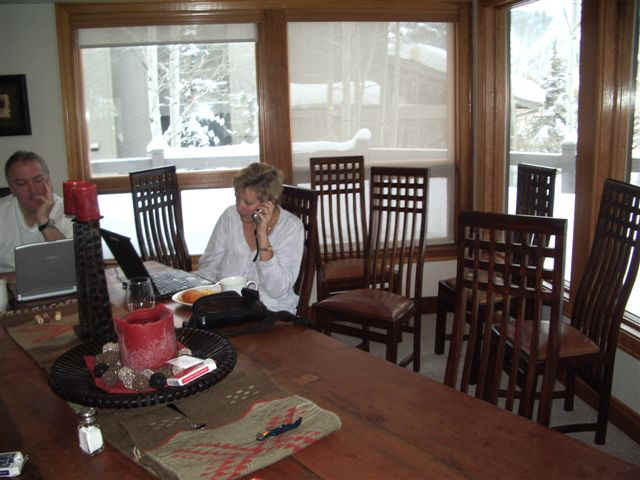 Soon, we heard the sound of the snowplow clearing our driveway. What a nice service! I remembered the running start we had to use to get up the driveway of our last snowy rental house!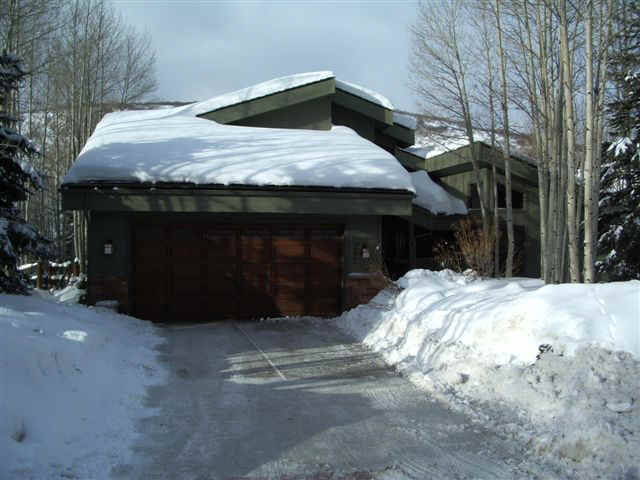 Jim, Lyn, John and Mark declared that they would ski that day. They were going to take a van and drop it in Salt Lake City for the folks who would be arriving that day before starting. Tony and I had already discussed that our plans for the day did not include skiing so we volunteered to make the run into Salt Lake to pick up some of the crew. I think the original plan called for the seven people plus a baby to all ride together in one minivan, but they quickly realized that the plan was unworkable. Brian, Sherry, Tryggvi, Lee Ann and Baby Ryen filled up the minivan, so there was no room for Scott, Kirsten and Mike. We took the Jeep Commander and picked up the stragglers at the airport.
We headed for Canyon Sports so we could rent our equipment. Tony and I told the salesman that we were only planning to ski for 2 days. He advised that it would probably be cheaper to rent our equipment at the slopes for 2 days rather than renting for 3 days in town. Since there was precious little room in the car, we decided to take his advice. We had planned to stop for a few groceries, but there wasn't one square inch of space in which to put them, so we just made a stop at the liquor store and then headed back to Deer Valley.
When we got back to the house, we found Mark and John had decided not to go skiing after all. They had been busy taste testing some cocktails. There was still grocery shopping to be done so Sherry and I left Baby Ryen with the eight questionably capable baby-sitters and headed out. A chair was placed on its side at the top of the stairs in lieu of a baby gate. We were going to pick one up at Wal-Mart but when we got there, we discovered that they didn't have any wide enough for the opening.
When we got home, we heard in great detail about the incredibly dirty diaper that had to be changed. I think they contemplated putting the baby in the dishwasher until Sherry got back, but ultimately I think Kirsten managed to get it all cleaned up. Ryen was very happy to see her mom.
Dinner that night was Pork Roast with fingerling potatoes, roasted green beans, and garlic toast. A 5 star restaurant has never made a lovelier or more delicious presentation!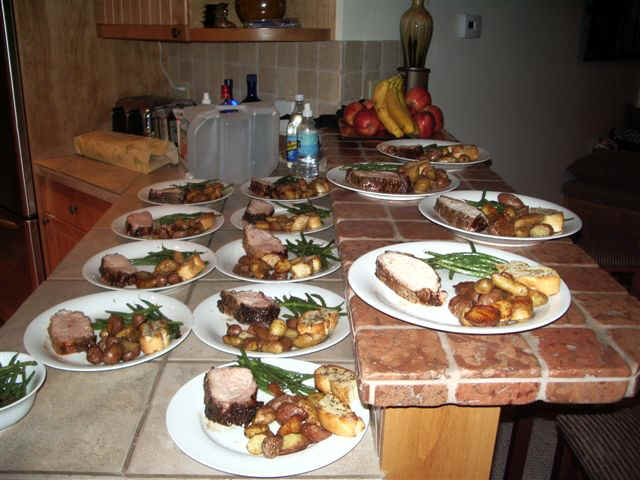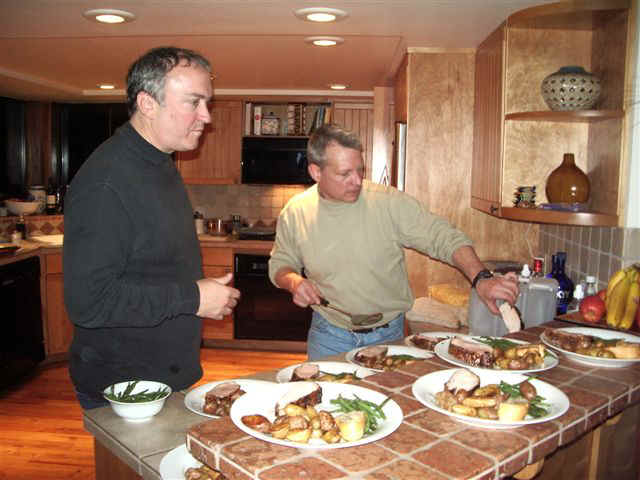 Over dinner, John and Jim told us how they had bought the house. They said they looked at 55 properties in one weekend, but when John saw the dining room table in this house, he had to hide his delight from the sellers.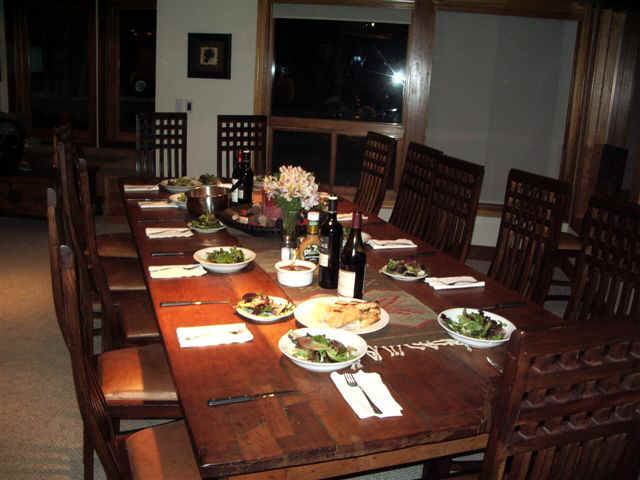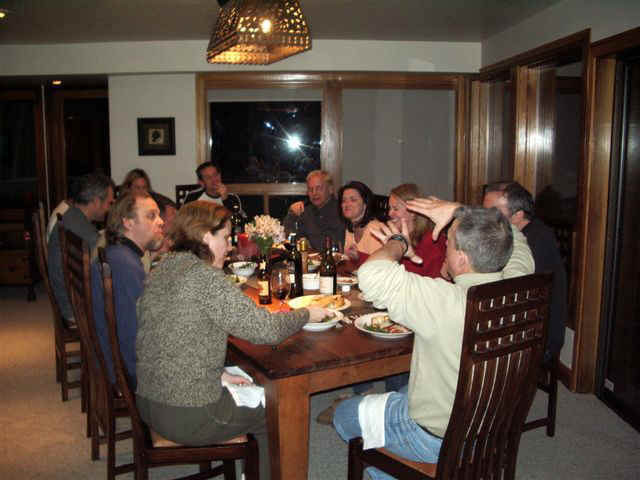 Loading the dishwasher was a bit of a puzzle. If the plates stood on edge, they interfered with rotating sprinkler head thingy.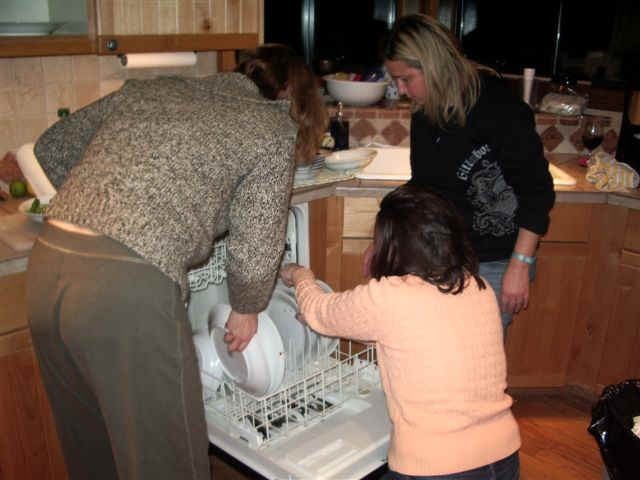 As has become customary with this crowd, Texas Hold-Em was the evening's activity. Mark, the Poker Nazi, was the table captain. He won. I think it was because everyone else went all in just to get away from him! Kidding! He does run a tight ship though at his poker table. But don't worry about remembering the rules, if you break one, he'll be sure to remind you.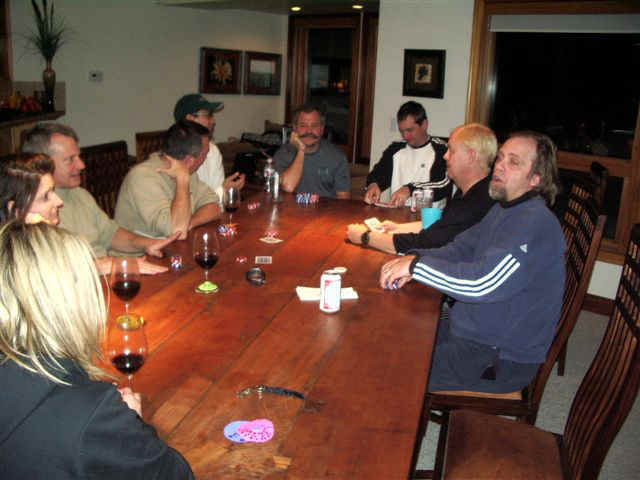 Sunday, the skiers had decided to go to Deer Valley. Tony and I left before the others because we needed to rent our equipment. We didn't leave before the bacon was done though. Have I mentioned that bacon is my favorite food?
The snow-boarders (Mark, Mike and Brian) decided to wait for Kristi's flight to arrive and then drive over to Powder Mountain. They weren't sure how to get there so I loaned them Jill. I think I may have sold 4 more Garmin Nuvi's. They loved her. She even showed them how to get to the Shooting Star Saloon.
Baby Ryen got dressed to go out and enjoy the snow, but she didn't like it very much. Sherry thinks Ryen is going to be a beach girl like her mom.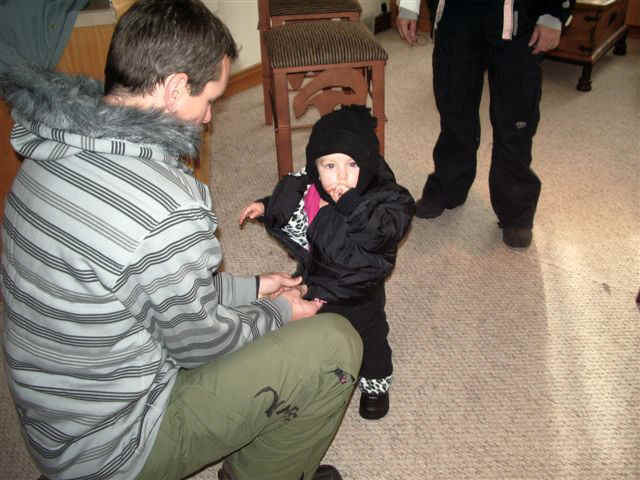 At Deer Valley, we filled out all of the paperwork without noticing the prices. We were shocked when the 2 days for the two of us came to $188.00. That fellow at Canyon Sports sure steered us wrong. We would have been much better off renting from him for 3 days than renting at Deer Valley for 2. I don't know if I am convinced I like this renting thing.
It was pretty and sunny on the lower slopes. After a few runs we decided to head up top.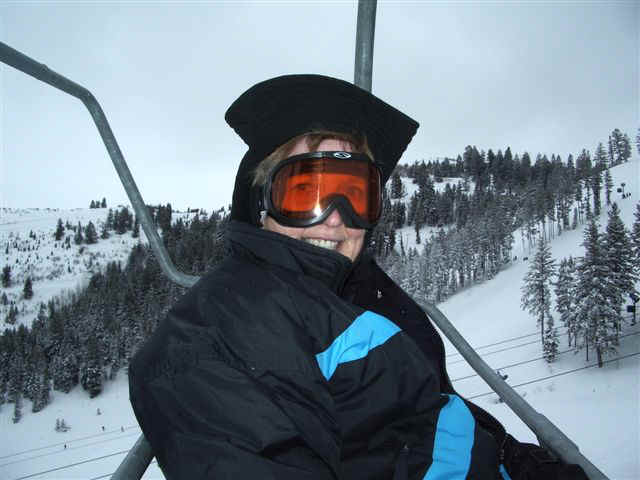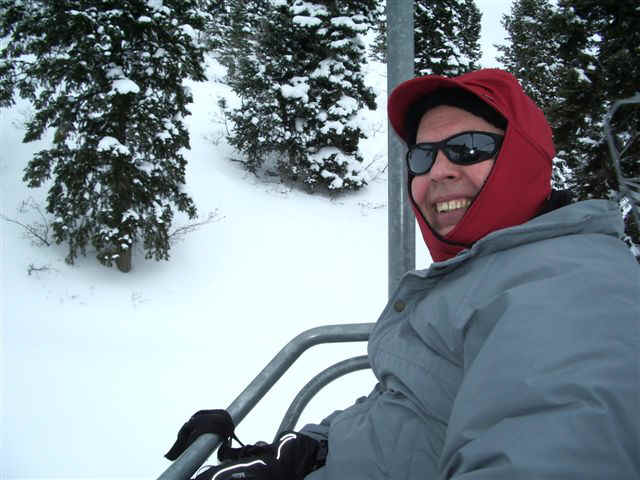 The higher we got, the foggier and snowier it got. By the time we got off the lift, we had a hard time seeing the trail markings.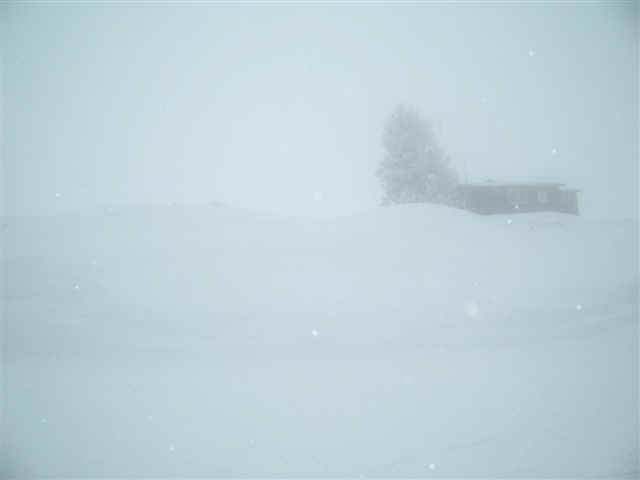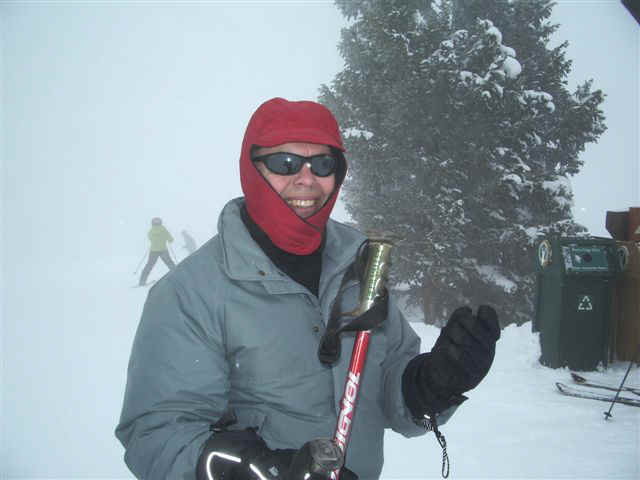 A little further down, it cleared up a bit, but it was still kind of gray.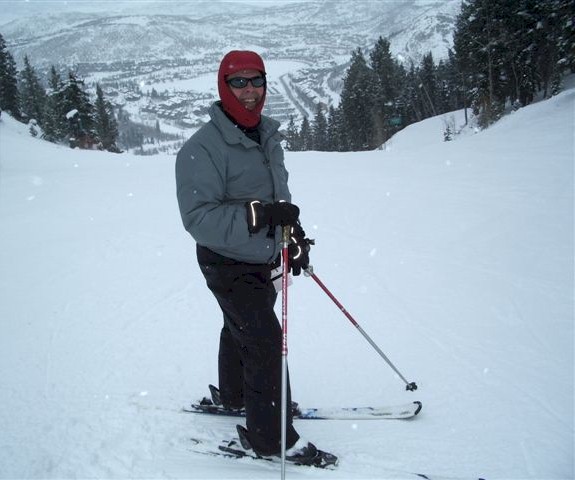 We were glad when we got the call from the group that we were meeting for lunch at the mid-mountain Silver Lake Lodge. We split a few slices of pizza and enjoyed some of the locally brewed beer.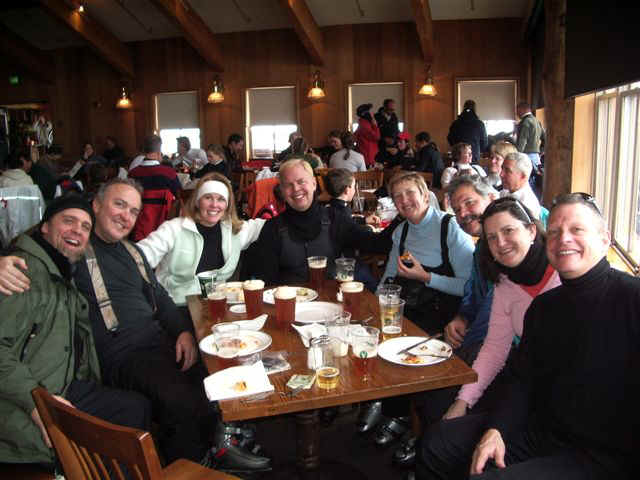 After lunch, Tony said he wanted to make one more run and then head back to the house. We went back up to the top and posed for a group picture.
Tony left me with Scott for the afternoon. I think Scott was relieved to ski with me after spending the morning with the reckless daredevils. After a few more runs, we found Tony in the lodge at the bottom and headed back to the house. John was making his signature quesadillas for our afternoon snack!
We had lasagna for dinner. The after dinner Poker game went on well past . Girls RULED! Kirsten and I finally ousted Mike, the last male at the table, then after pushing the stack of chips back and forth a few times, we decided to split the money and go to bed.
Monday's breakfast was sausage, grits and eggs. The bartendress was serving Bloody Marys and Screwdrivers.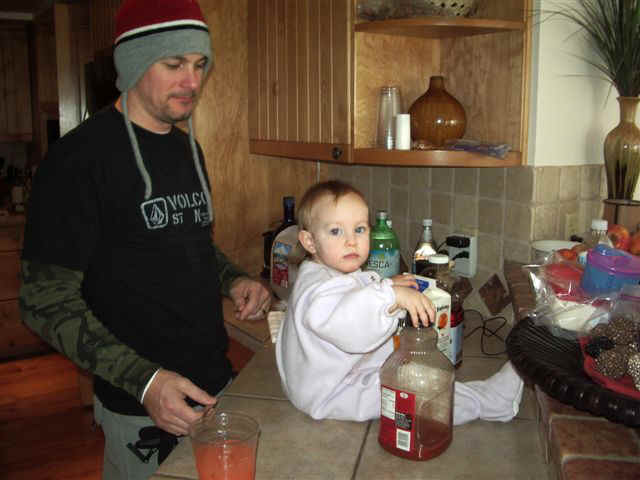 Before we left for the slopes, I decided to go out and take some pictures of the little playhouse in the front yard. It was hard to negotiate my way through the thigh high snow, and I was starting to think it might have been a mistake not letting anyone know where I was going. If I got stuck out there, at least it was a comfortable little house.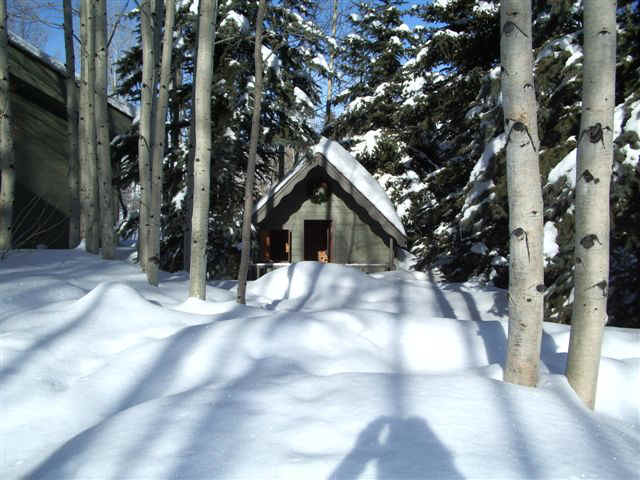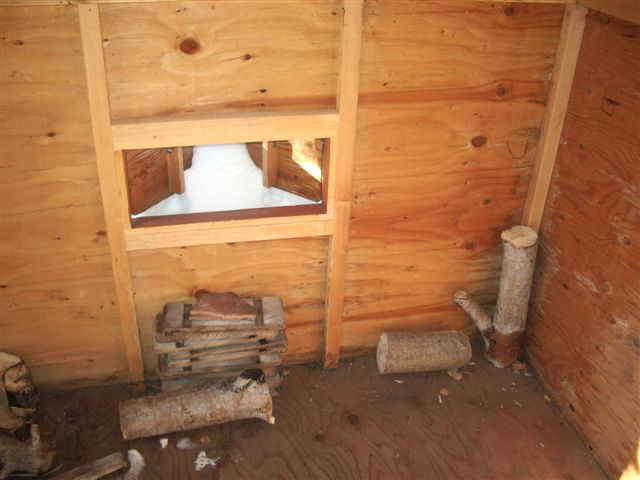 We went to Park City for the day. It was sunny and beautiful. There were lots of easy blue slopes that Tony and I enjoyed. At the top of one of the lifts, Tony found a purple cylinder that looked like a magic marker. We picked it up and inspected it. It had a surgeon general's warning on the side. We looked inside and found something that looked like a cigar. We met the group for lunch at the Pig Pen Saloon. The boys went ga-ga over Toni, the waitress. She was a cutie. We handed our cigar find over to the group for inspection. The consensus was that it was a joint.
Tony was finished skiing after lunch so he volunteered to do our grocery shopping. I decided to explore some more of the mountain on my own. I turned on my MP3 player and worked my way across the mountain, taking various lifts and runs. When I had gotten just about as far away from the base as I could get, my phone rang. It was Tony, wanting to know where I was. The rest of the group was at the base. I looked at my watch and was surprised to find that it was . I started panicking because I knew the lifts closed at 4 and I wasn't sure how I would get back to the base. Thankfully some of the upper lifts stay open past 4 so I was able to work my way back. I found the group at the Pig Pen Saloon. They were happily enjoying libations served by Toni, the waitress from lunch.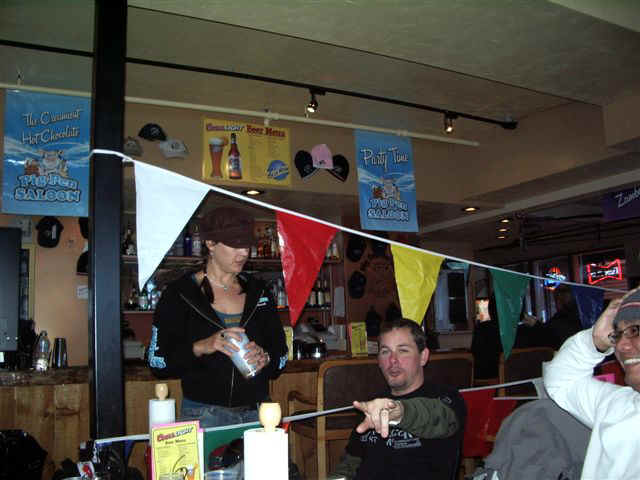 Tony and I left them there and drove back over to Deer Valley to turn in our skis. We were surprised that we weren't given a receipt when we returned the equipment. We even spoke to a manager and were told that they don't issue receipts. We didn't want there to be any mix-up, so we had them initial our rental papers.
By the time we got back to the Pig Pen to pick up our friends, they had enjoyed quite a few beverages. They were very entertaining! We poured them into the car and took them back to the house. There was a nice selection of appetizers waiting for us. We enjoyed those while our chefs prepared Stuffed Pork Loin with Beans and Rice. We had to be back in Salt Lake City early the next day, so Tony and I did not participate in the Poker that night. I didn't hear who won.
We had planned to take the nonstop back to Atlanta, but as we were driving to the airport, I checked the availability for the flight. It looked pretty tight so we started thinking about alternatives. I tried to call a couple of friends to get advice but couldn't catch anyone at their desk. I had discovered a route through Chicago that had worked well for my sister's family a few weeks prior so we decided to try that. We went ahead and checked in for the flight so we could get through security before trying to change our itinerary. We decided not to check any bags so we would have all of our options open.
We found the Chicago gate and the agents were not busy so we asked about changing our itinerary to go through Chicago. They were really nice and checked the availability as well as the weather in Chicago to make sure we wouldn't get stuck there. They cleared us in First Class and sent us on our way.
In Chicago, we barely had time to stop into the Crown Room before our connection left. We checked to see how we would have done on the flight. To our surprise, it still had not left Salt Lake. It had taken a mechanical delay. Sometimes you just get lucky!
We thought we might get first class on the next leg as well, but no such luck. This time we got coach seats right in front of a screaming baby. To make things worse, we had a good bit of turbulence so the seatbelt light never went out. This only really became a problem when the mom behind us couldn't take Baby Big Lungs to the bathroom for a diaper change. Peuw!
We landed at . Another GREAT trip! Thanks to our good friend John and our new friends Jim and Lyn for their hospitality. If you want to enjoy this great house, see http://www.vrbo.com/88858.
BJ and Tony
bjandtony@bjandtony.com