Pisa, Italy
November 2008
"What does this mean?"
We decided to take the entire week of Thanksgiving off this year - very unusual for us. The next challenge was for our niece and nephew to get the time of from school (college now - my how time flies). BJ's sister threatened us with death if we caused them to lose the Hope Scholarship. Lauren consulted all of her teachers early to get permission to miss her classes. We're not sure if Jared got permission or not, but he said he did.

Flights to Europe on the dates we had chosen to travel were WIDE open so we had our choice of destinations. Ordinarily we wouldn't consider flying through New York because it is such a hassle but since we had the whole week off, we decided to chance it and try to get to Pisa. We made a reservation in the little town of Lucca at the B&B Le Violette www.leviolette.it The rate was very reasonable at €65 double. They did not require a credit card to reserve which is always a plus when traveling standby. BJ emailed several times to confirm our late arrival in Lucca.

We had planned to take a noon flight to JFK, but suddenly the night before we were to leave, the availability on the flight went to zero. This made us a little nervous so we decided to leave on the earlier flight. That would mean we had an 8 hour layover in New York.

Much to our surprise, Jared and Lauren arrived at our house at precisely 7:30AM so we had plenty of time to make it to the airport for a 10AM flight. Tony dropped BJ, Jared and Lauren off and went to park the car. It was an uneventful stroll through security. Jared didn't even get strip searched like he normally does.
Our membership in the Crown Room allows us the advantage of going through the First Class Security line. On previous trips, this hasn't been much of a benefit since it dumps out into the regular security line, but since we last traveled, they have reconfigured the security checkpoint so that the First Class line is separate. We had time for coffee in the Crown Room while we waited for Tony.

At the gate, BJ and Tony were cleared in First Class. With their buddy pass status, Jared and Lauren were relegated to coach. BJ and Tony sat behind some friends who were going to Budapest for the holiday.

The other four friends (two moms & two sons) who were traveling with us tried for the next flight to New York and made it with no problem. One of the travelers was a little "under the weather". Between not feeling well and the early flight, he had a hard time making it from their arrival gate to the Crown Room where we were to meet. They finally got a cart to bring them part of the way.

We enjoyed a few snacks and beverages while we visited and waited for our flight. Lauren worked on an essay that had been due on Friday. Jared tried to work on his assignments but his laptop suddenly stopped working so he occupied himself watching a football game.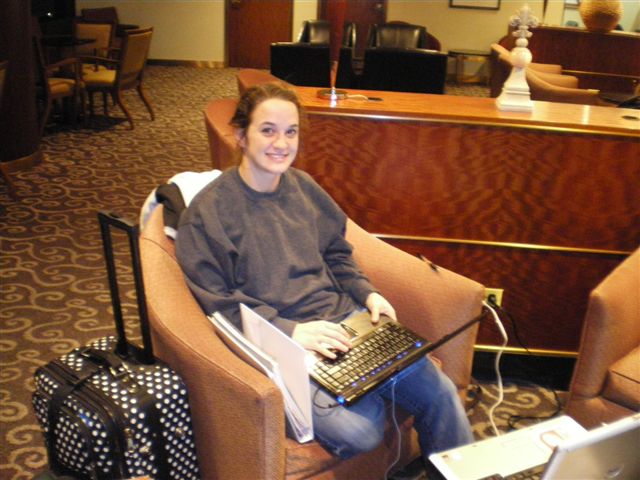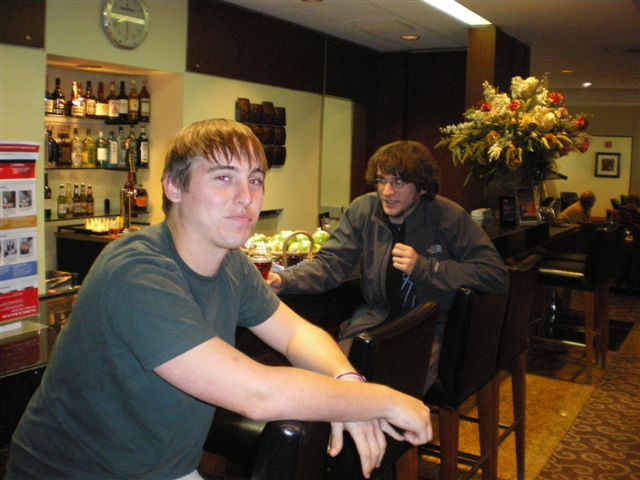 When we got to the gate, we were happy to see our names on the cleared list so we got in line to board the flight. Five of the eight of us were boarded. Jared and Lauren and one other of our group were pulled aside and told that due to Weight and Balance issues they might not get on.

There were a few nail biting moments, but they were finally given boarding cards and allowed to board.

After take-off, BJ noticed a drip hitting her lap and then another one. Air conditioner condensation was dripping on her. Fortunately there were other empty seats so she moved across the aisle. BJ and Tony both tried to watch Baby Momma but fell asleep before the end. There was a screaming baby in the business class cabin, but thanks to the noise cancelling headphones it was hardly noticeable.

The sky was grey when we landed in Pisa. We found our way to the information desk and inquired about going to town. There was a bus for €.85 or the train. We told the train agent that our plan was to stop in Pisa to tour and then go to Lucca. When we said we were a group of eight, he said if we were a group of ten, he could give us a discount. We didn't see anyone else who looked Lucca bound so we went ahead with the purchase at full price. Since we were planning to spend less than 6 hours in Pisa we could just buy a ticket to Lucca and stop in Pisa. It was a bargain at €19.20 for eight people.

We found the baggage check (deposito bagagli) at the far end of platform 1 at the train station. It cost more to check our bags than it did to buy the train tickets. We paid €27 to check 9 bags.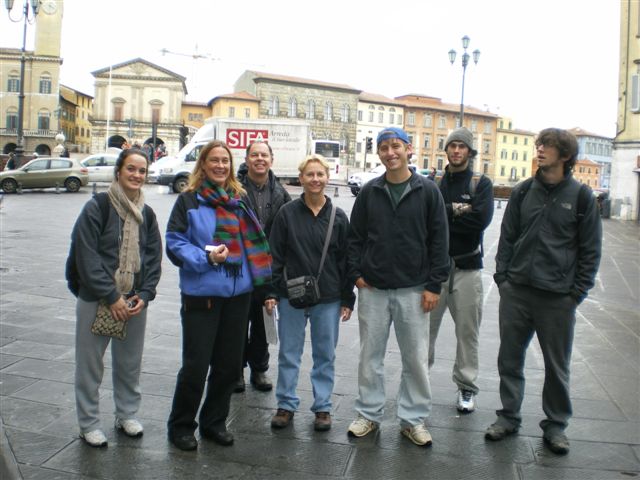 We followed the walking tour from Rick Steve's book. The first sight, Piazza Vittorio Emanuele II was under construction and surrounded by a plywood wall so we could not see it at all.

Next, we saw a statue of the noted Italian sculptor, Niccola Pisano. He sculpted many of the pulpits in the churches around Pisa.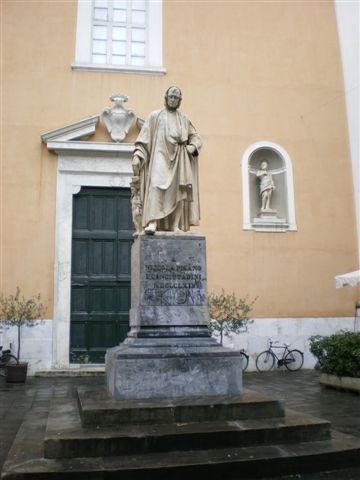 We followed the pedestrian shopping street (Corso Italia) to the Ponte di Mezzo (bridge) over the Arno River.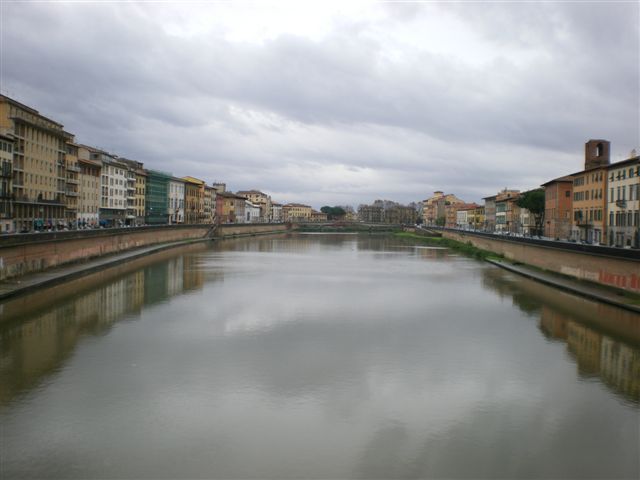 We kept going north on Borgo Stretto, taking the detour to Piazza Vettovaglie to see the open-air produce market. Back on Borgo Stretto, we turned left on Via Ulisse Dini just before the pharmacy. This led us to Piazza dei Cavalieri.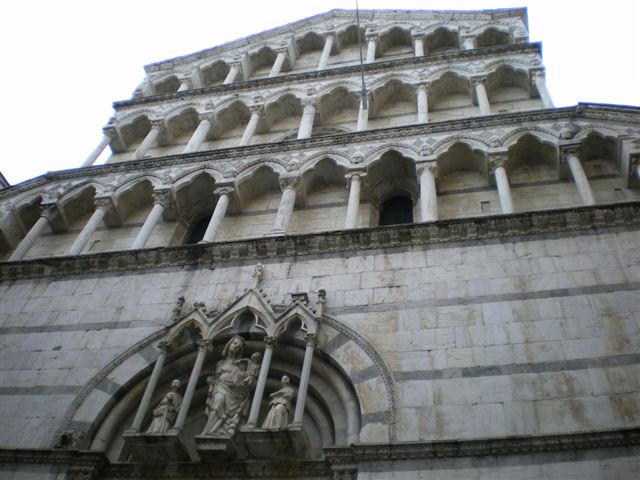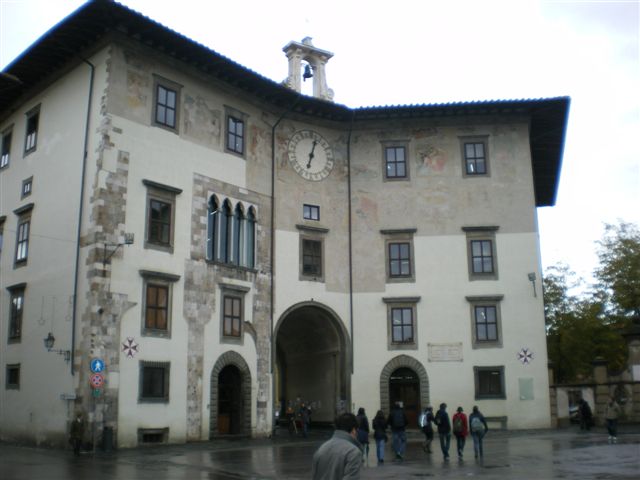 BJ, our self-elected tour guide, read to us about the Piazza from the Rick Steve's guidebook.
We posed for a few pictures with the statue of Cosimo I de' Medici (the 16th century ruler of Pisa).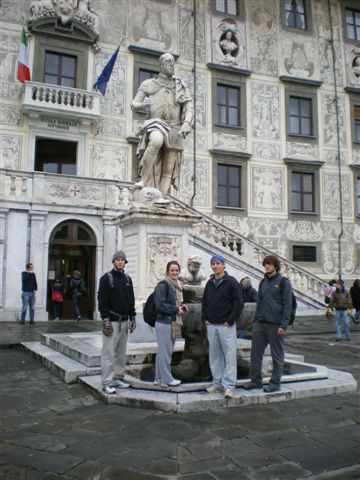 We peeked into the church of San Sisto to the left of the clock building. It was a very simple church compared to the more lavish ones we would see later in the trip.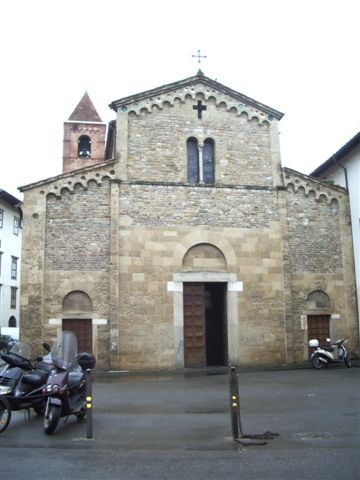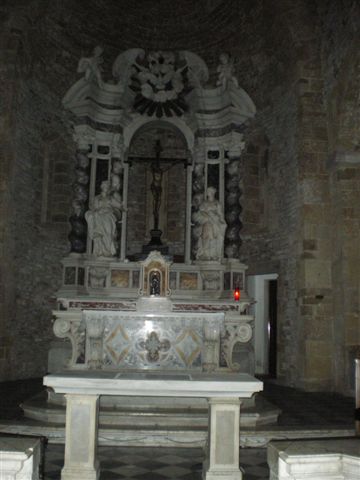 Via Corsica turned into Via dei Mille. We were starting to get hungry so soon after we turned right on Via Santa Maria which would take us to the Leaning Tower, we stopped for a bite of pizza at Trattoria la Lanterna. The pizzas were cooked in a wood fired oven. We enjoyed a leisurely lunch before continuing on.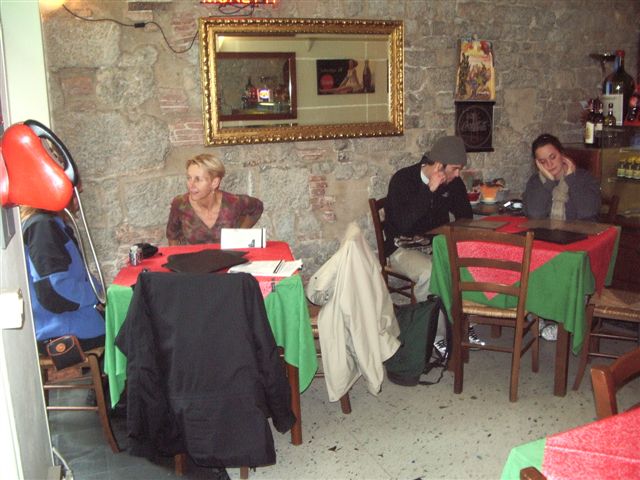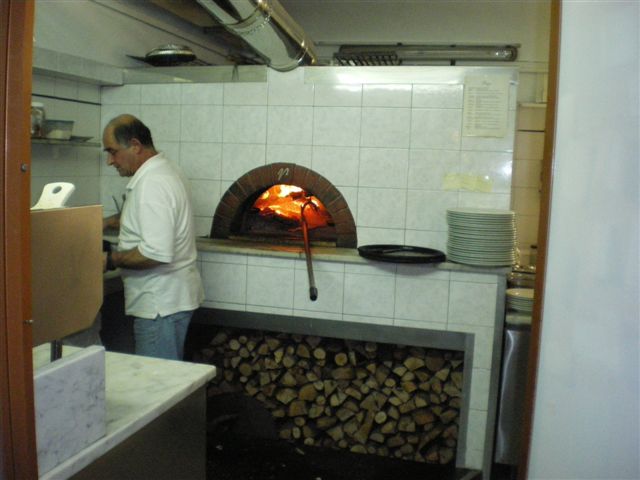 After snapping a few pictures of the Leaning Tower, BJ went to purchase tickets to climb it.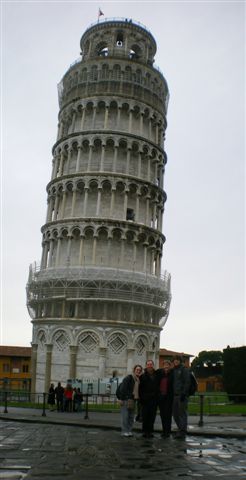 It was steep - not just the climb, but the price. €15 per person. The adults (except for BJ) decided to bag it. BJ bought the tickets for the 2:30PM time slot which gave us a half hour to tour the Duomo. The Duomo which normally costs €2 during high season was free!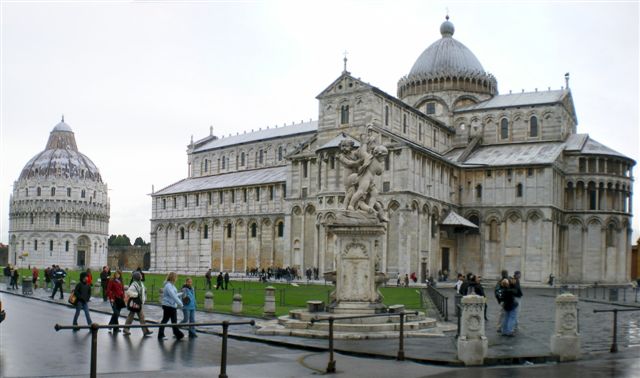 It was so beautiful that we almost lost track of time and missed our time slot at the tower.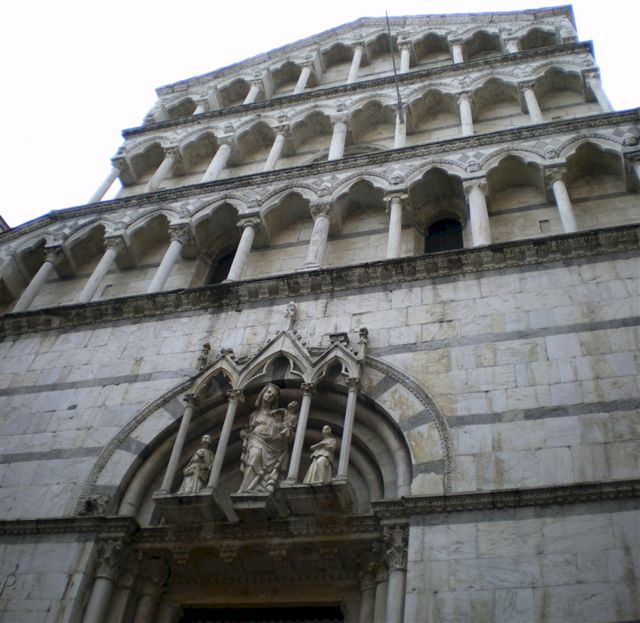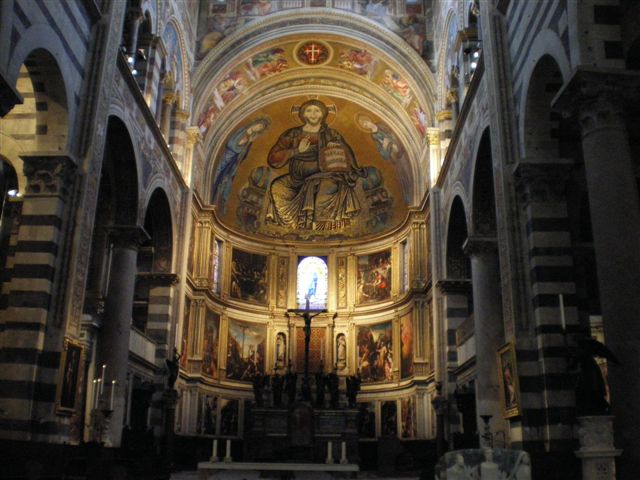 Everyone left their backpacks with the adults while we climbed the tower. Lauren had a small purse and was told she couldn't take it up either. Jared had to run it over to the restaurant where the adults were waiting. BJ had her fanny pack under her coat so the guard didn't notice it. The climb up was very strange. It was almost like being on a rocking boat as we swayed from side to side climbing the spiral staircase. At one point, it almost seemed like we were walking downhill going up the steps.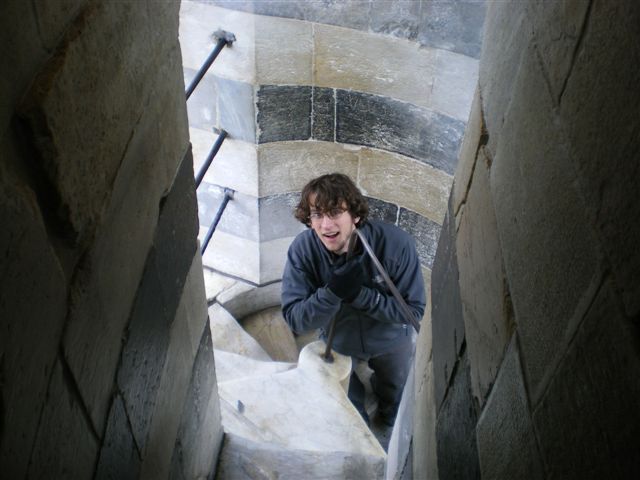 BJ had hoped to be able to see the divisions between the parts of the tower that were built by different architects, but didn't see anything obvious. The tower was built by at least three architects beginning in 1173. After 5 years, with just the base and first arcade built, it was already sinking on the south side, causing it to lean. They finished four stories and then construction halted and the tower sat, unfinished for almost a century. The next architect started working again in 1272. He angled the next three stories in the opposite direction of the lean, but then the unfinished tower sat for another hundred years before the belfry was added to the top.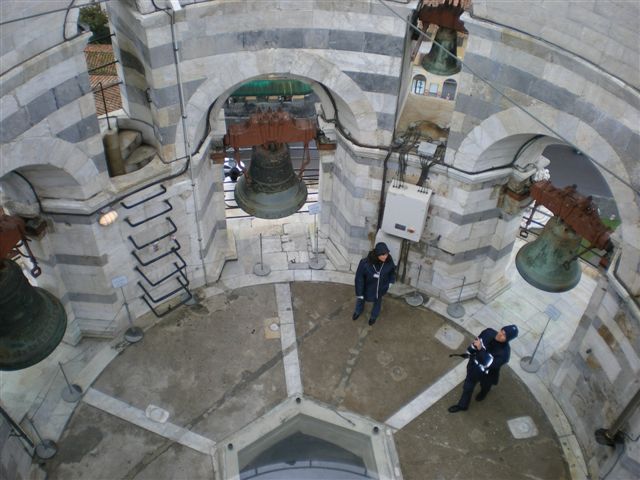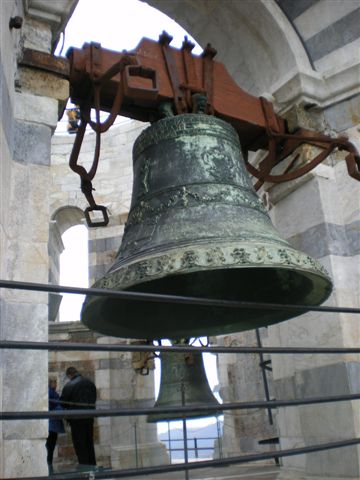 There were multiple attempts to stabilize the tower. The base was reinforced in the 1500's but when engineers pumped out groundwater in the 1800's the tower started to lean more. In 1990, the Tower was closed and over $30 million was invested in stabilizing it. Multiple attempts (anchors, counterweights, etc.) were unsuccessful. What finally seemed to work was removing over sixty tons of soil from the side opposite the lean, straightening out the lean by about six inches.

At the top was a great view of Pisa and the surrounding mountains. We took lots of pictures before making the rocky descent.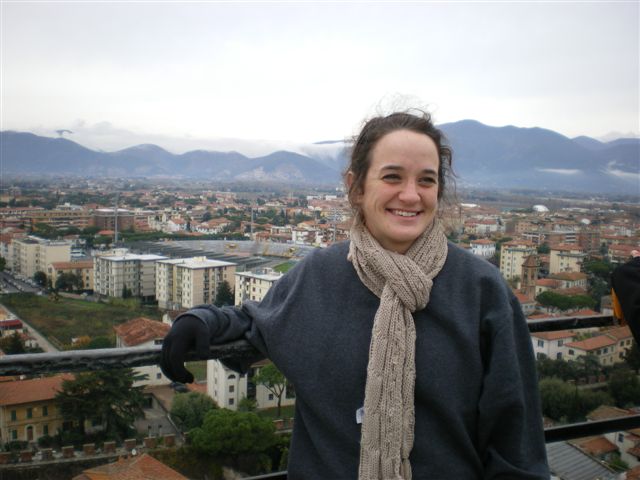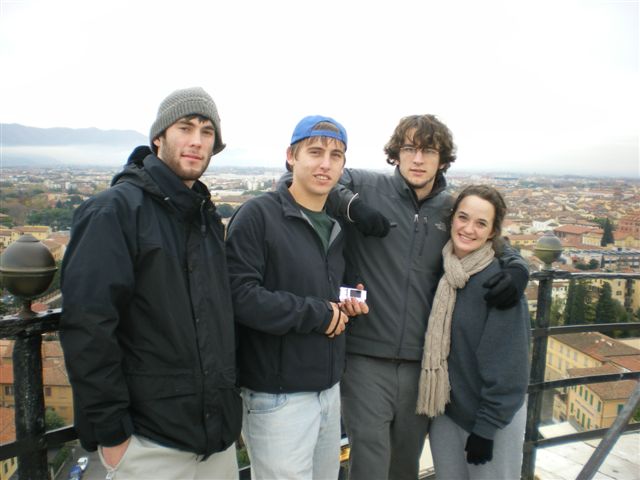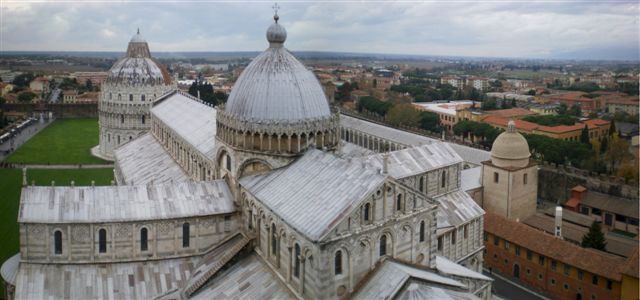 Back at the bottom, we found the other adults at Antica Trattoria Antonietta and went back to the Field of Dreams to take some pictures of us pretending to hold up the tower.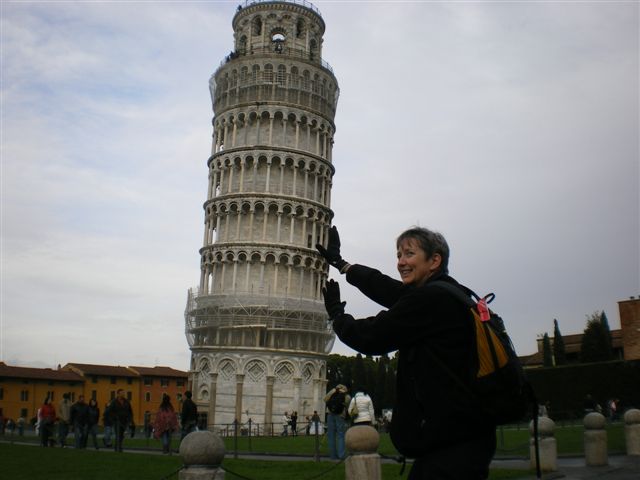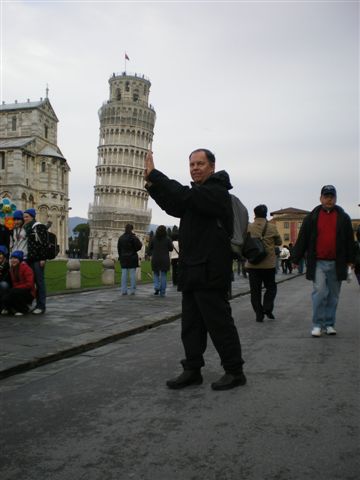 We overheard some other tourist saying, "What does this mean?" and holding their hands in the air like all of the people pretending to hold up the tower. BJ chuckled and told Tony about it. When we walked back by, the other tourists were still puzzling over what the hand gestures meant. Tony stopped to explain it to them. We told the rest of the group. For the remainder of the trip, everyone kept holding their hands up and saying, "What does this mean?"
BJ had read on the internet that legend said students from the University of Pisa who walked all the way around the
Baptistery would never graduate so none of the college kids we had brought with us were allowed to walk around it, in case the legend was true! We were curious about the acoustics inside the Baptistery but we didn't get to witness them for ourselves. Our book said that a priest standing at the baptismal font could sing three tones within 10 seconds and make a chord.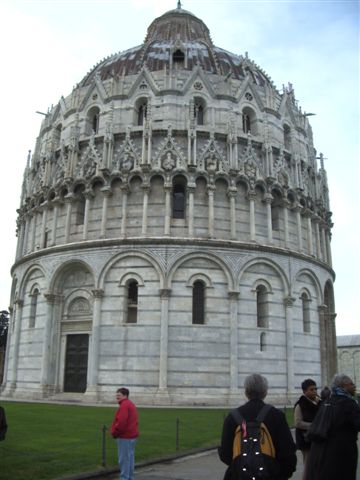 As we were leaving the Field of Dreams, the sun popped out and caused the Tower and Duomo to take on a beautiful glow.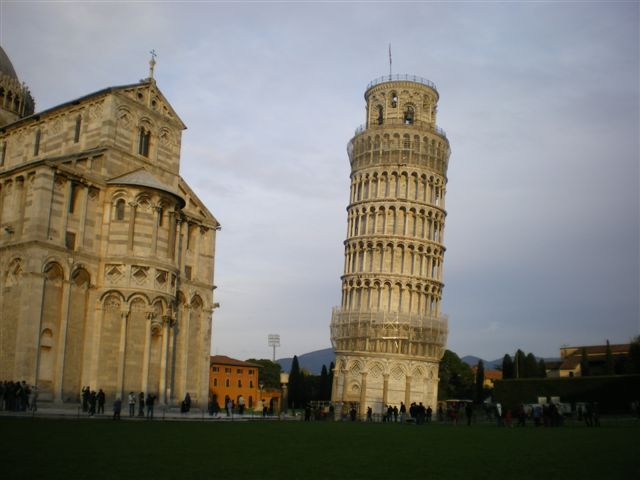 The kids bought a soccer ball and passed it back and forth while we walked back to the train station. Their play was intermittently interrupted when an adult would yell "Car" and they would have to duck out of the way.

By the time we got back to the train station, we had a few people who were desperate to find the restrooms. They were not well indicated so we had to stop twice to ask. We finally found them inside a door with the words "Bagni Docce" over it. We paid €.60 each for the relief.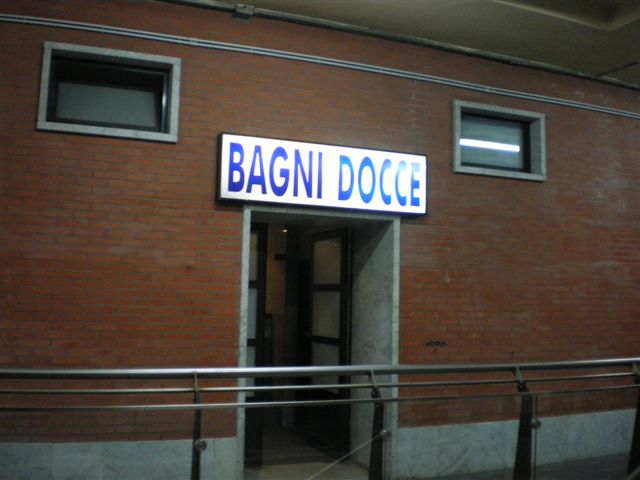 On the departures board, we saw a train leaving for Lucca in 10 minutes so we hustled to the baggage check to retrieve our bags. There was a lot of construction at the airport which confused us about which track we would leave from. We almost missed our train, but jumped on at the last minute. It was a very short train and there were no seats together so we had to split up and sit with strangers. BJ talked to some men from England who wanted to know what the demeanor was like in the U.S. since Obama was elected. They were bemoaning the exchange rate for the pound. We were very happy, since for us; it is the best exchange rate we've had in years.

Although it was completely dark by the time we got to Lucca at around 5PM, we easily found Le Violette. When we rang the bell, no one answered. We rang a second time. We were getting ready to panic when Anna, the proprietress, buzzed us in. She showed us our rooms and told us that we would be the only guests. Another advantage to traveling in November! We had requested 4 double rooms with private baths. She only had 3 rooms with private bath but the 4th room had exclusive use of two hall bathrooms. The rooms were spacious enough to accommodate a rollaway. The bathrooms were small but adequate and clean.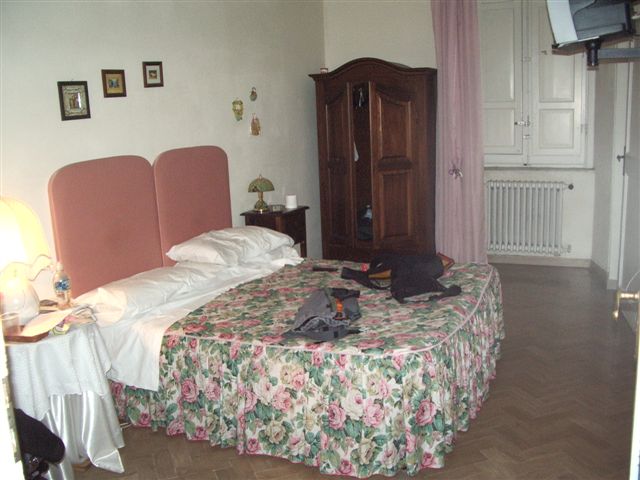 BJ was a little confused when Anna asked if she would like to "prepare breakfast" in her room. BJ thought maybe she would be expected to prepare breakfast, but it was just a problem with translation. We elected to have our breakfast served in the common area.
Everyone dropped their bags and we set out in search of something to eat. We wanted to try a Rick Steve's suggestion (Gigi's) but it was closed so we went around the corner to L'Antico Sigillo. We had some wonderful warm bread while we waited for our pasta. We couldn't give the pasta a great recommendation but it filled us up and was just fine for eight weary travelers.

We looked around for a wine store, but didn't find one so we stopped at Trattoria da Leo to ask if we could buy a bottle of wine. They sold us a bottle of their house wine but asked us to bring the bottle back.
The adults went back to the B&B to enjoy their night cap, allowing the children (did I mention that the "children" are now 18-21?) to stay out a bit longer. We made the mistake of not setting a curfew so we were starting to get worried when they hadn't returned to the B&B by eleven. That's a pretty long day for having just had a few hours sleep on the plane. They finally got back around 11:30 and we sat around and talked until after midnight. We were really glad that we had the B&B to ourselves so that we could enjoy the common area without disturbing other guests.

Tuesday, BJ was responsible for waking everyone up. Jared was missing from the room he was supposed to be sharing with Lauren. She found him asleep in the next room down the hall with black marker on his face and on the pillowcase. He didn't know how it had gotten there. Apparently the other boys had broken into his room during the night and written "Italy 08" on his forehead using a sharpie. Those mischievous boys. Tsk Tsk Tsk.

Anna had our scant breakfast of packaged croissants and melba toast ready at 9AM. She brought coffee, cappuccino, tea and hot chocolate to those who wanted it. For those who like their coffee hot, it is a good idea to get to the table 1/2 hour before breakfast. Tony had made a Diet Coke run for the addicts in the group.

BJ read aloud about Lucca from the Rick Steve's book while Tony pointed out things on the map. One by one, everyone left the table until BJ was left alone, reading to herself.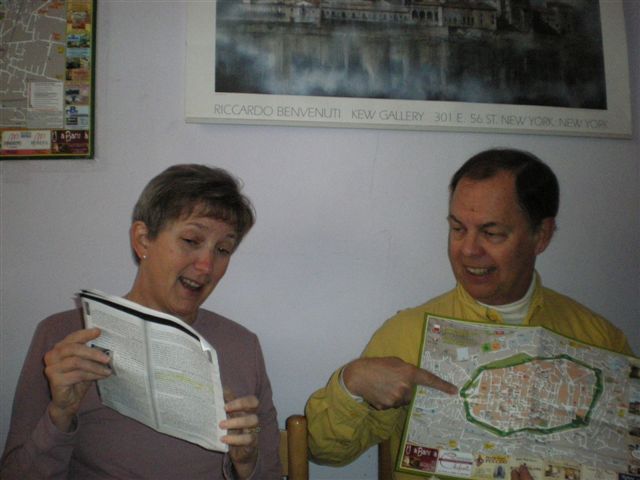 We got away from the B&B by 10AM. Our first order of business was to walk around the town on top of the ramparts that protected the city. The wall, built around 1600, stretches for 2.5 miles. It is a 100 foot wide mound of dirt faced with bricks, made to withstand a cannonball attack.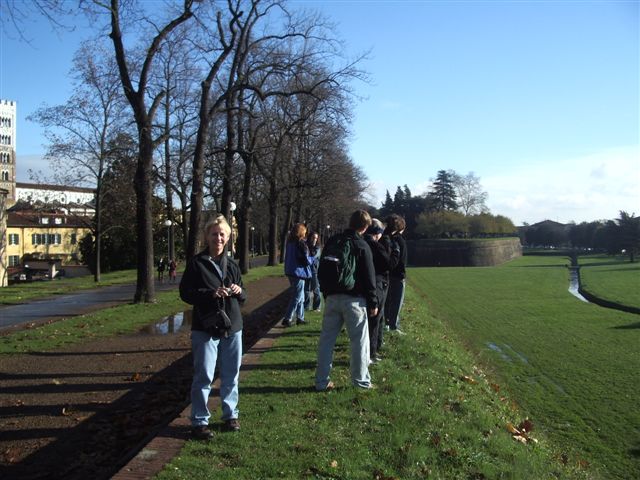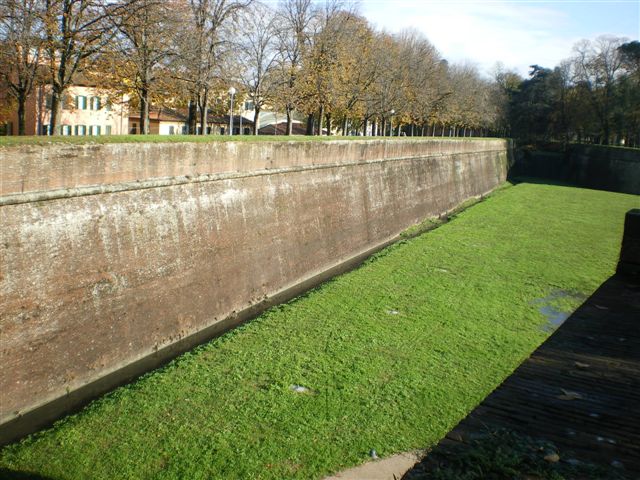 Jared made us all nervous by getting to close to the edge of the 3 story drop and jumping from surface to surface.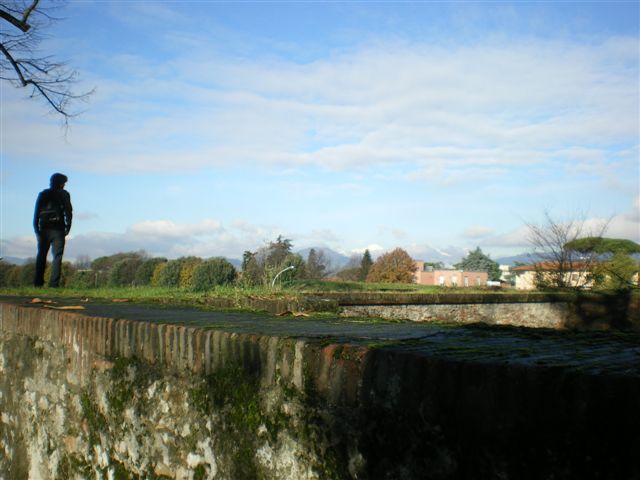 We were amazed at the weather. The weather channel (www.weather.com) had predicted nothing but rain for the entire time we would be in Italy, but we saw nothing but blue skies and sunshine!

After making it all the way around the wall, we stopped for a pizza lunch at Lo Skianto.
Lunch was followed by a leisurely stroll toward the Roman Amphitheater. When we passed the San Michele Cathedral, there was a huge Great Dane puppy eluding his mistress. We tried to help her corral him, but he was having none of it. Finally, he just ran up to Lauren and stood next to her. She held him until the owner could make the collar.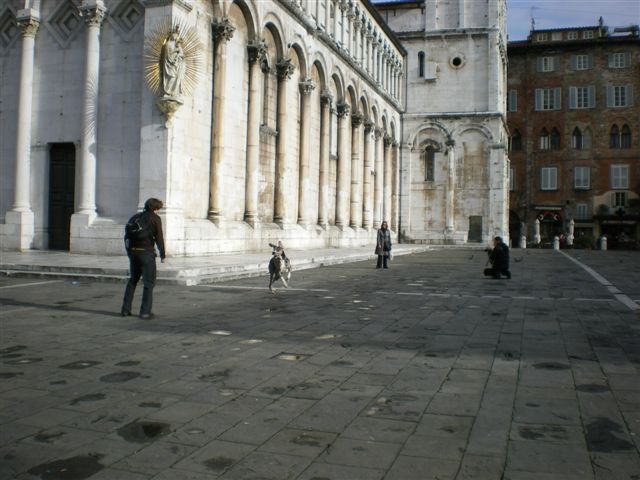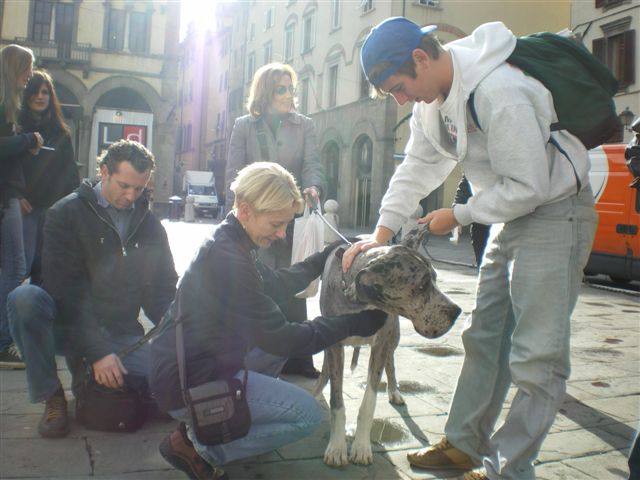 We stopped to look inside a little church. It was simple inside but had an interesting tomb at the altar.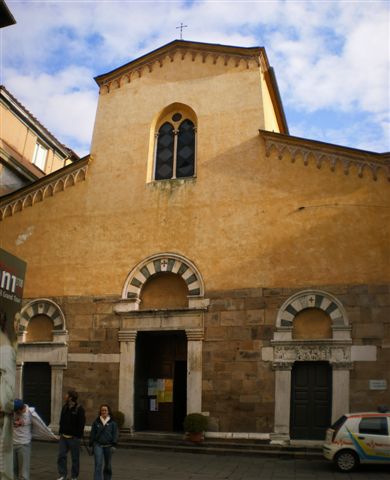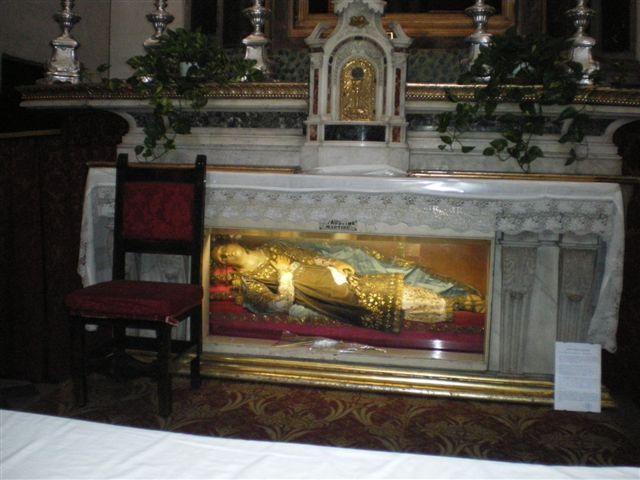 On the square outside the church was a fountain. We noticed that workers from the area restaurants were bringing bottles to the fountain to fill.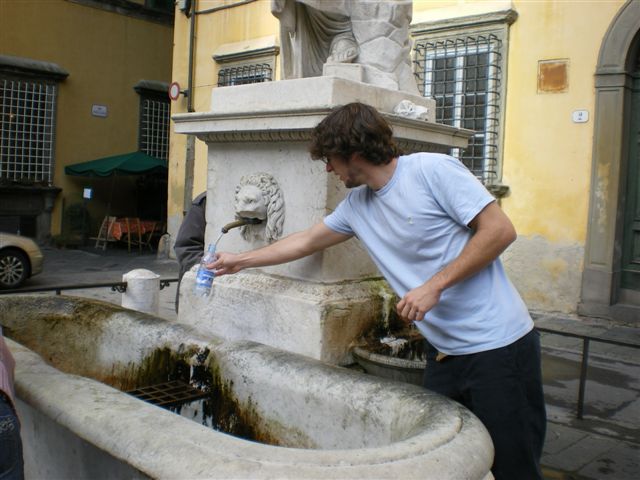 We met a couple from Texas who were in town for the day from their cruise ship.

We continued on to the Amphitheater where part of the group shopped while the rest relaxed in the sunshine.

We exited through the north side so we could see the bits of old Roman arches that remain.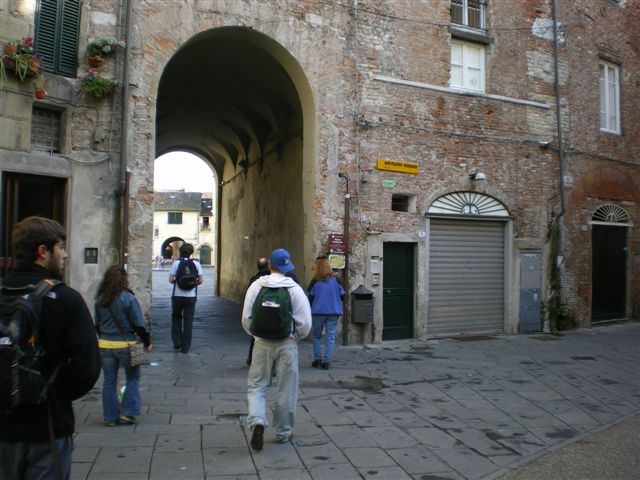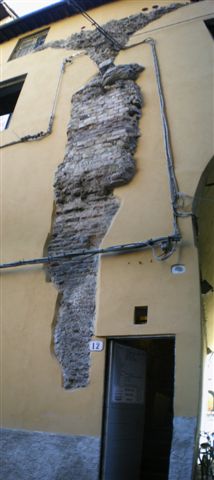 We followed the directions from the travel guide back up Via Fillungo stopping to look at the sites. When we got back to San Michele, we realized that was where we had captured the puppy. We gave it a better look this time, noticing the archangel Michael and the steps behind him that let church officials make his wings flap.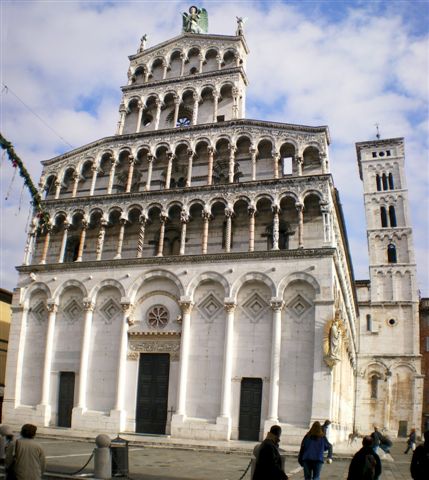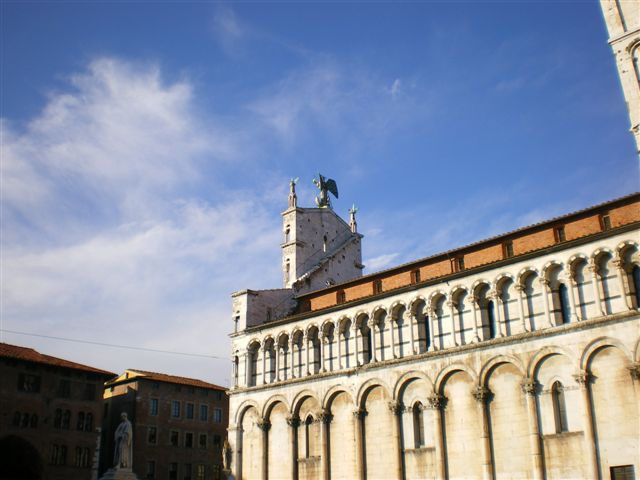 We stopped at Vecchia Trattoria Buralli on Piazza San Agostino for some wine and a snack. There was a painting of local politicians drinking wine over the refrigerated case. They served us bread with tomatoes and mozzarella. We ordered french fries and a meat platter. The staff was very helpful and cheerfully helped us brush up on our Italian. They ran us out when they closed at 4PM but not before giving us directions to the grocery store.

The grocery store was outside the walls. Exiting through the Baluardo San Frediano, there is a pedestrian path that leads to Viale Carlo Del Prete. Take a left and the grocery store is on the right side of the road. When we walked through the wall, we marveled at how thick they are and how much effort must have gone into building them.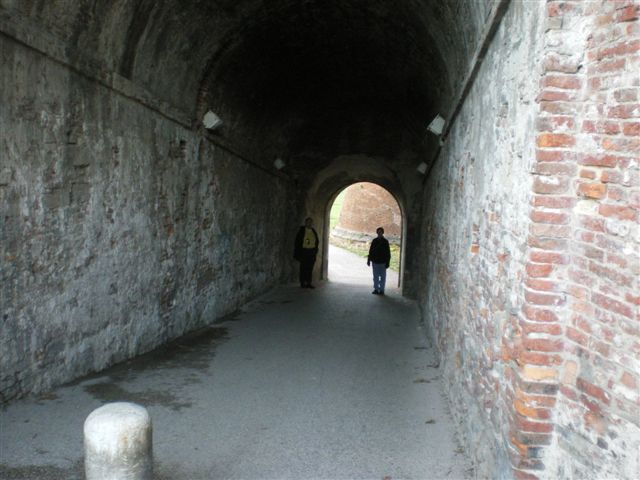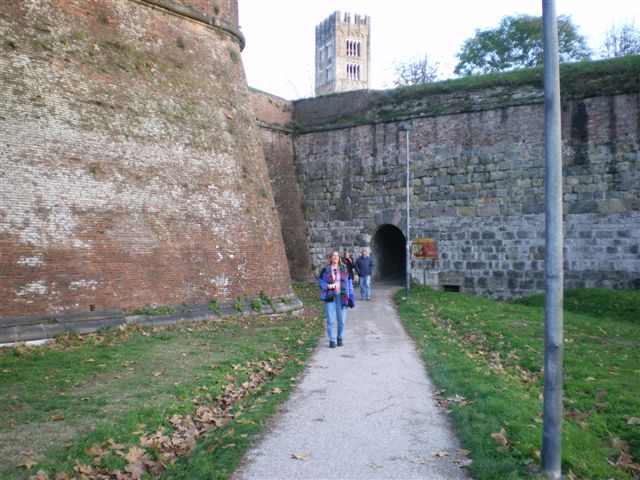 The adults went to the store for diet cokes & water and a few snacks. The kids were given permission to explore on their own. All agreed to meet back at the B&B before dinner. We were surprised when we got back to the B&B to find that the kids had beat us back. Lauren had found an internet cable at Anna's desk and was surfing the net. The kids introduced us to the current YouTube Cult Classic, "Old Gregg". http://www.youtube.com/watch?v=h0S6vL0-u58 Its a really STRANGE video, but it has some pretty funny lines which we quoted for the rest of the trip, like "Do you think you could ever love me?" and "That's as close to Baileys as you can get without getting your eyes all wet."
Since we needed to return the wine bottle anyway, we decided to have dinner at Trattoria da Leo. Some of us were tired of pasta so we sampled the wild boar. It was served with polenta and was much more tender and tasty than we expected but the cooked olives were bitter.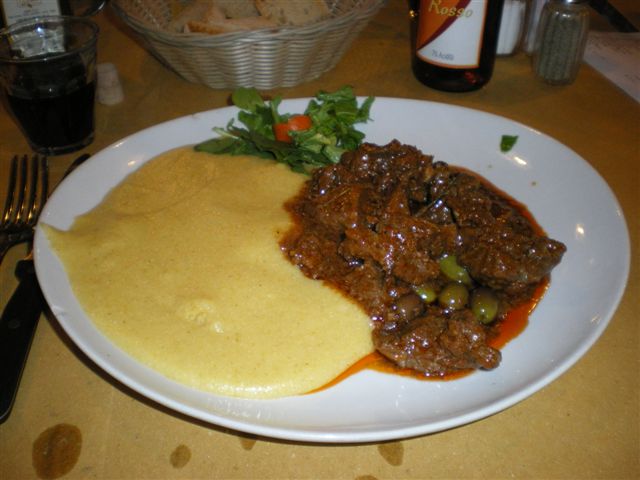 We shared several rich desserts. We took more house wine back to the B&B for our night cap.

We remembered to give the kids a curfew, although we felt pretty good about them after touring the town. As long as they stayed inside the walls, we didn't think they could get in too much trouble.

Back at the B&B, BJ logged onto www.facebook.com She saw that Lauren had posted some pictures from the trip so she took a gander. She was shocked to discover how the children had spent their free time during the afternoon. There were pictures of them jumping a 5 foot wide abyss between walls with a several story drop below. Only two of them had done it before a woman stopped and threatened to call the police.
When the kids got back, we spoke sternly to them about their antics. Tony and BJ were concerned about being able to return Jared and Lauren to their parents in one piece!

We decided to spend our last day in Italy in Florence. We checked the train schedule on the computer and decided on a 10:20 train that would have us in Florence by noon. Anna served the usual breakfast and we headed for the train station. Everyone got a much needed nap on the train.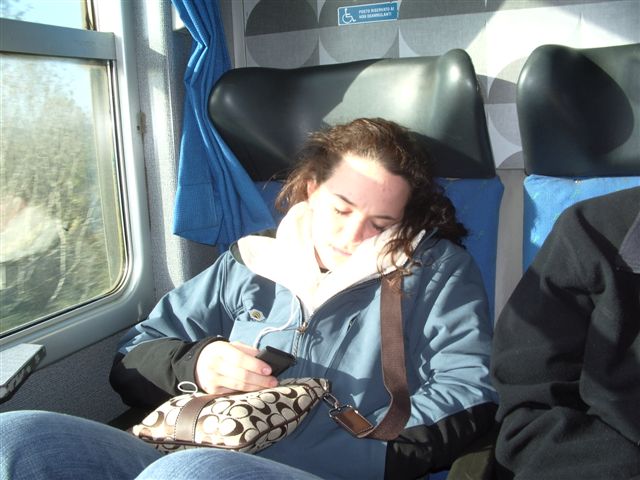 Our first stop in Florence was at the Osteria Il Giardino for pizza.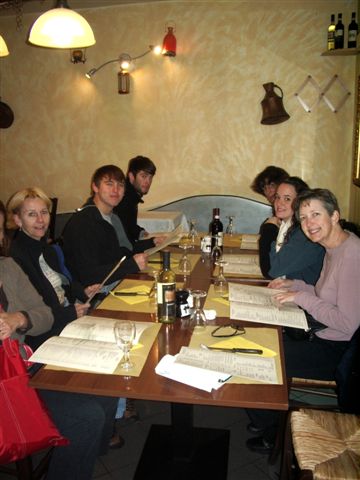 Then it was on to the Accademia Gallery to see the famous statue of David. During the summer months it is recommended to have reservations, but in November, we were able to walk right in. The statue of David was very impressive. We thought maybe his hands and feet were disproportionate to his body, but the carving was amazing. It was not permitted to take photographs of David. Two very masculine looking women were positioned to enforce the rule, so BJ who is normally a rule breaker, was subdued. Also in the museum was a room full of plaster casts that were molds for other statues.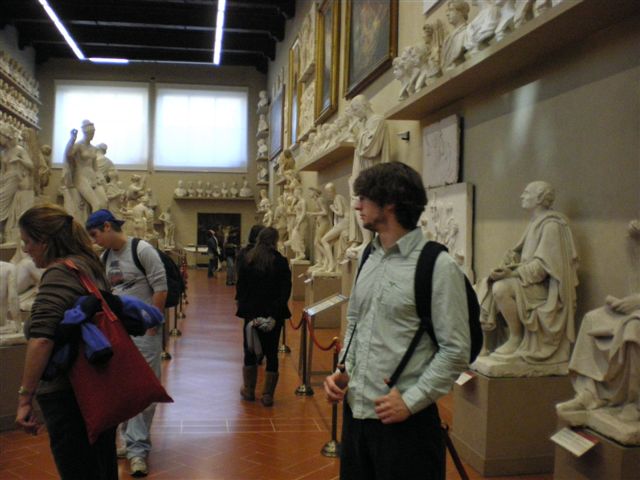 We walked toward the Duomo, stopping at Soccer Town so everyone could buy Italian Soccer Jerseys.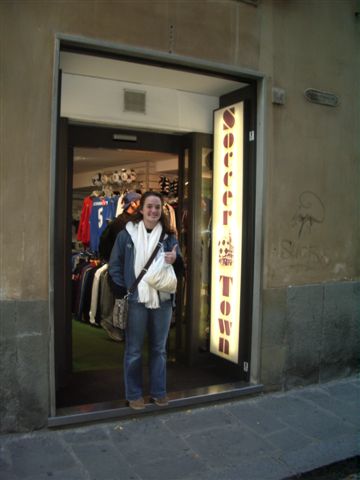 The Duomo is HUGE! From the corner where we approached, it was impossible to get the whole thing in a picture.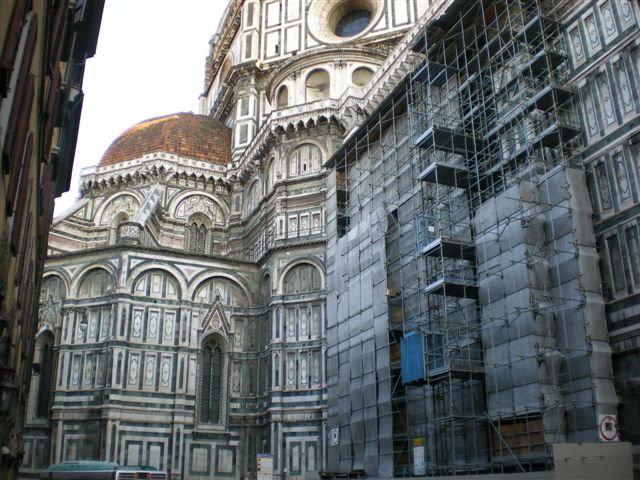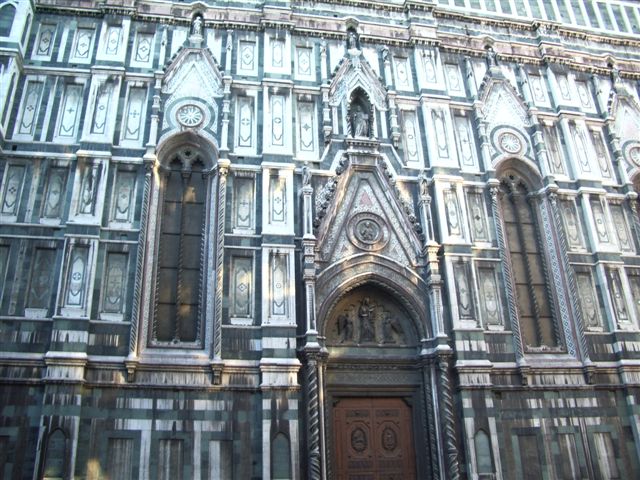 We walked around the outside to see the elaborate doors and windows.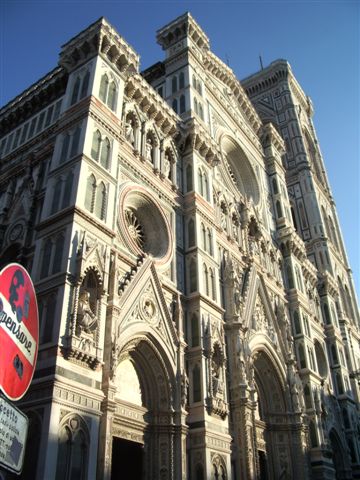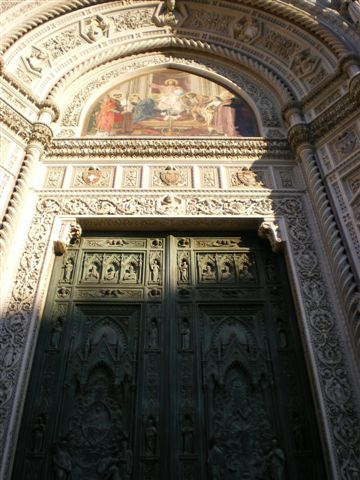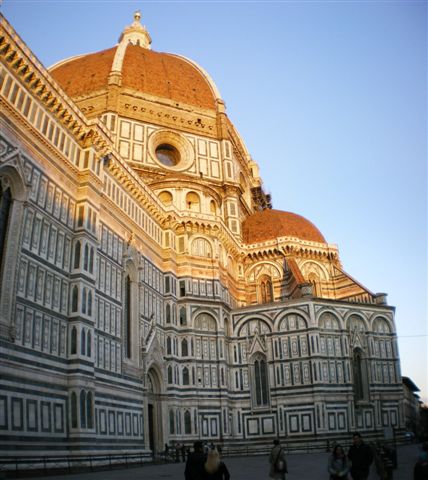 We went inside to look around. Two of the boys wanted to climb the dome. The rest of us waited in the chapel. They said some of the paintings were disturbing, depicting scenes from hell with hot pokers being utilized for torture.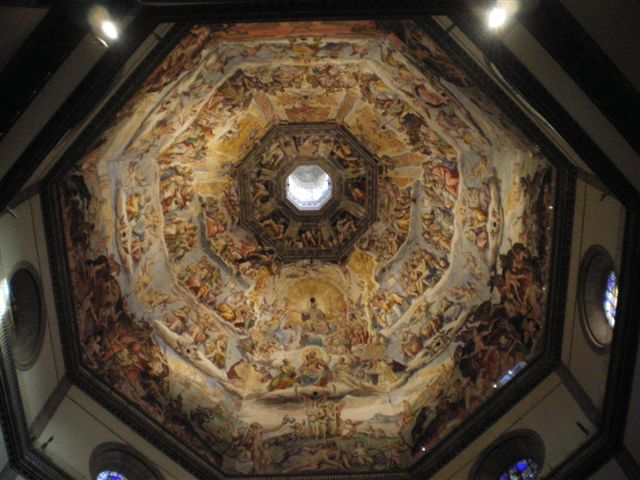 After checking out the exterior of the Baptistery and its elaborate doors, we continued down the shopping street.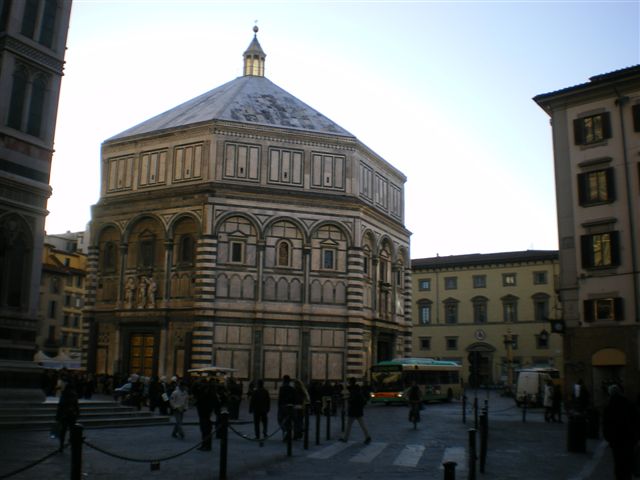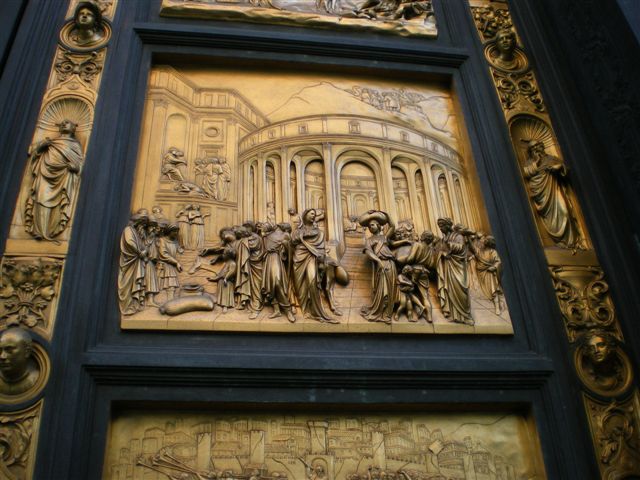 We stopped for some rather expensive but delicious Gelato.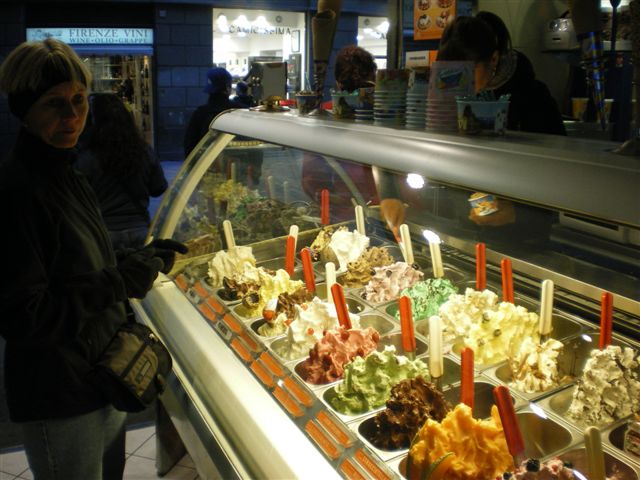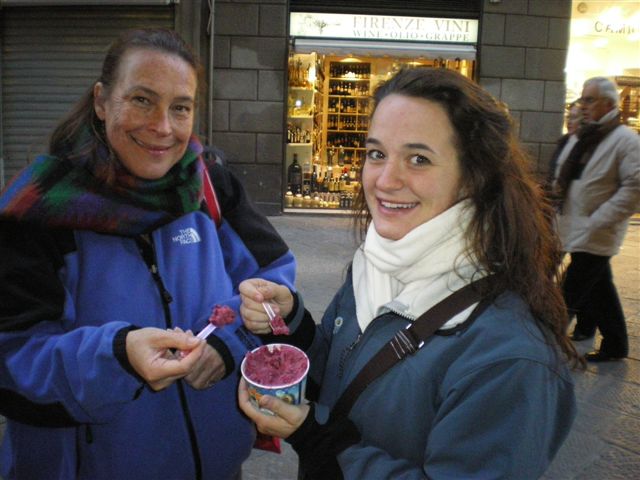 The kids kicked the soccer ball around Piazza della Signoria with its open air sculpture exhibit and Palazzo Vecchio (City Hall) while we finished our Gelato.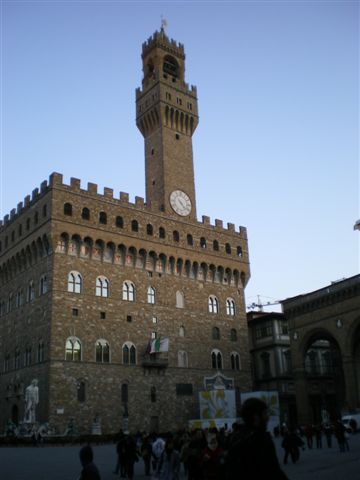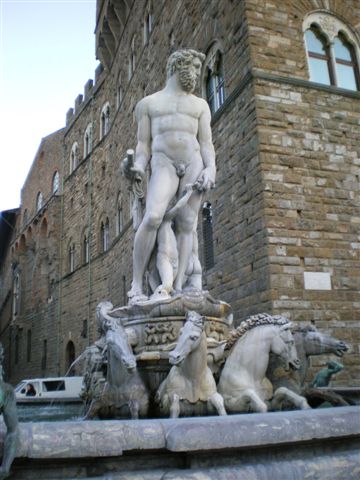 We continued on to the Ponte Vecchio, a bridge with shops on both sides. Most of the places were jewelry stores.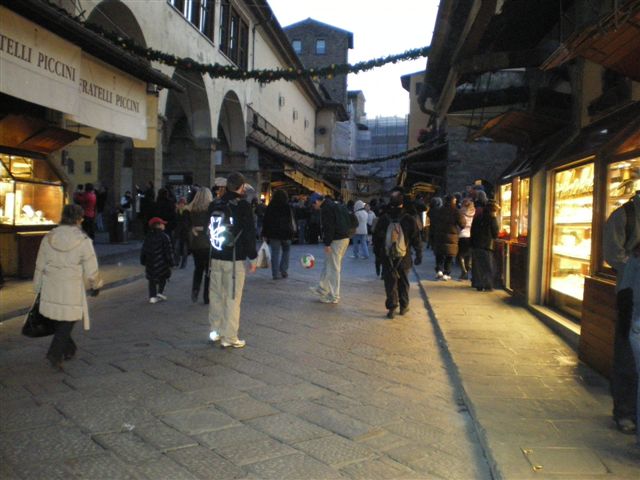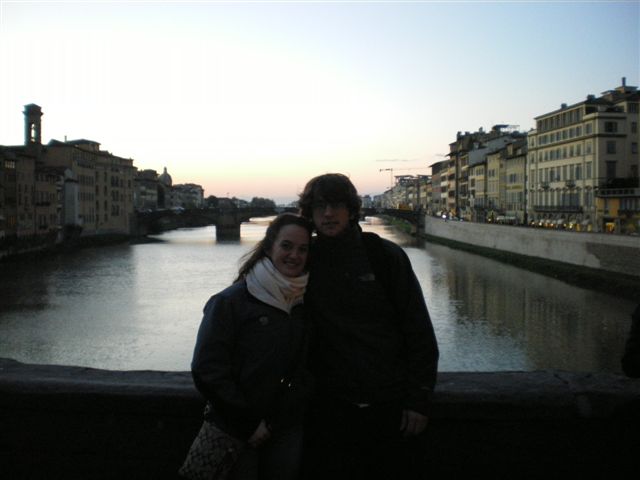 On the way back to the train station, we found an open air market that had mostly leather goods. There is a Wild Boar statue out front. Rubbing his nose is supposed to guarantee that you will come back to Florence.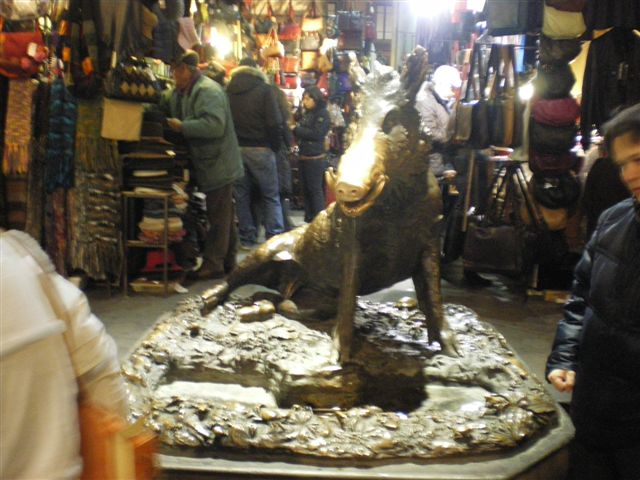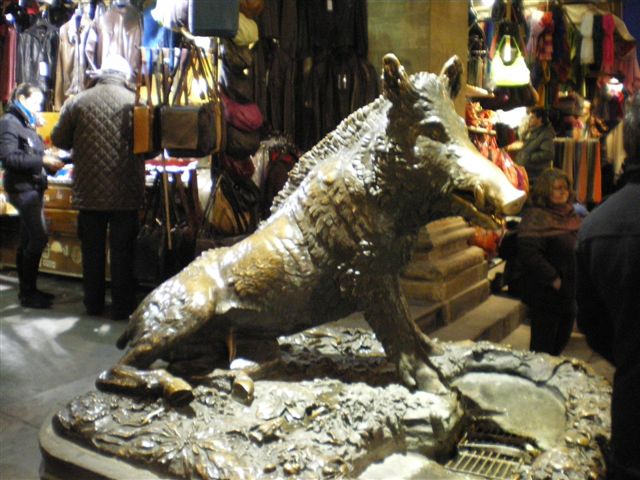 We passed some artists drawing beautiful chalk pictures on the street.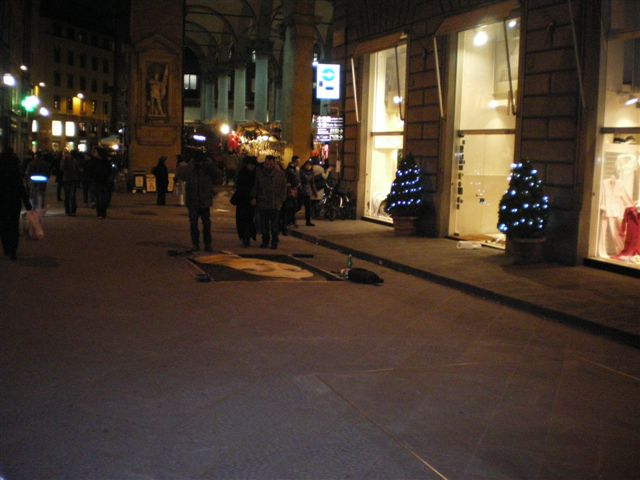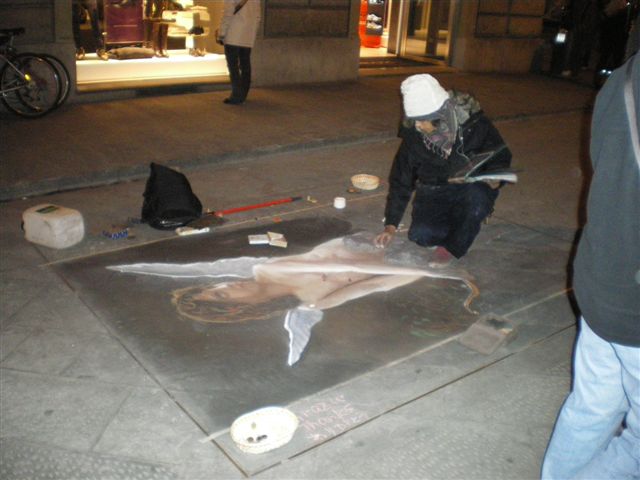 We made it back to the train station 2 minutes after a train was scheduled to leave for Lucca, but it was still at the
track, so we ran to catch it. The train was very crowded so there was no place for us to sit. We found a couple of places between cars where we could stand or sit on the floor. After a few stops, we were able to get seats and catch another nap.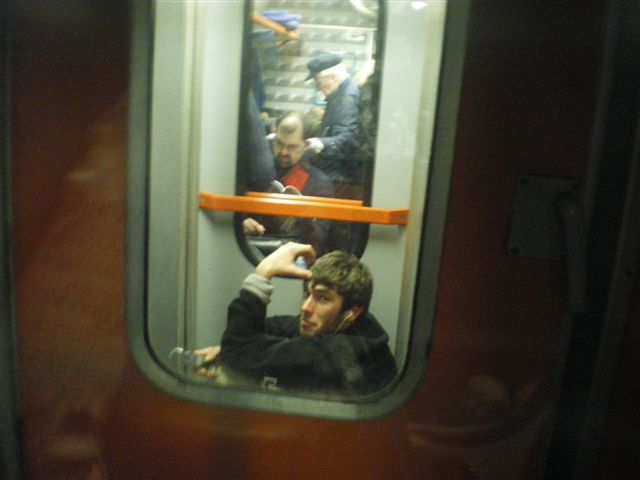 Back in Lucca, we made a quick stop at the B&B and then set out in search of dinner. We decided to try the Gigi Trattoria that had been closed on Monday. It was open and after waiting a few minutes, we were able to get two tables for four. We enjoyed an array of home made pastas. One observation that we had about the restaurants in Lucca is that we were never given a bread plate, so we couldn't dip the wonderful bread in olive oil. Even Anna at breakfast did not give us a bread plate for our croissants.

We gave the kids a midnight curfew since we needed to get up early to catch our train to the airport. They blatantly
ignored it, even after several increasingly insistent text messages from us! They finally came sheepishly rolling in. We let them know that such disobedience will not be tolerated and that future trips with Uncle Tony and Aunt BJ are in jeopardy!
The next morning, it was Tony's turn to wake everyone. The kids knew better than to drag around getting ready to go to the airport so they got up and ready without much prodding.
We paid Anna the agreed upon €65/night for the four rooms and offered to pay extra for the room Jared had slept in and the ink on the pillow case but she smiled and waved us away.
We took one last look back at Lucca and the wall that the kids had jumped off of before crossing the street to the train station.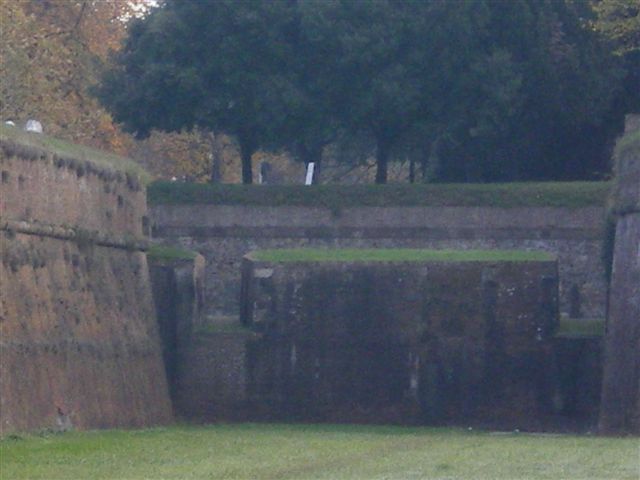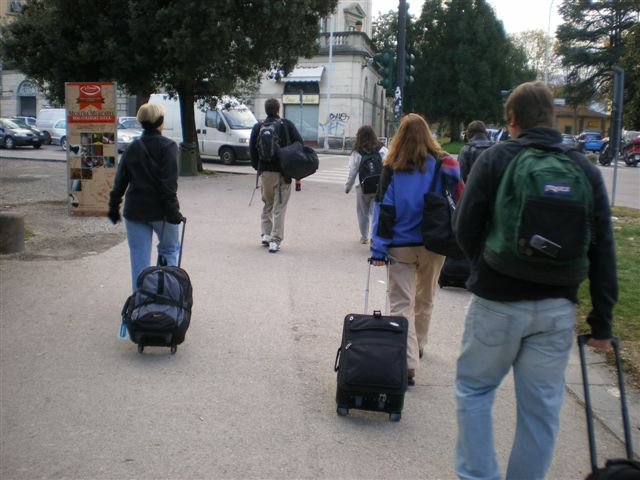 The kids took full advantage of the 20 minute train ride though for an additional nap.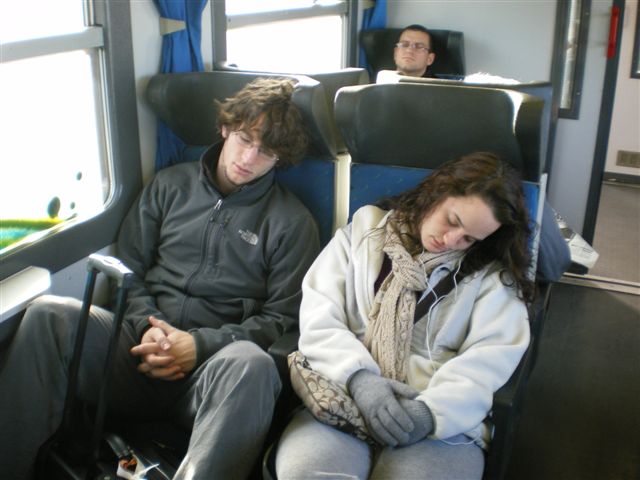 We all got business class to New York and slept most of the way. We landed ahead of schedule, but not early enough to catch the earlier Atlanta flight. We headed to the Crown Room where they were having a Tommy Bahama promotion which included massage chairs, a hammock, a putting green, and specialty drinks.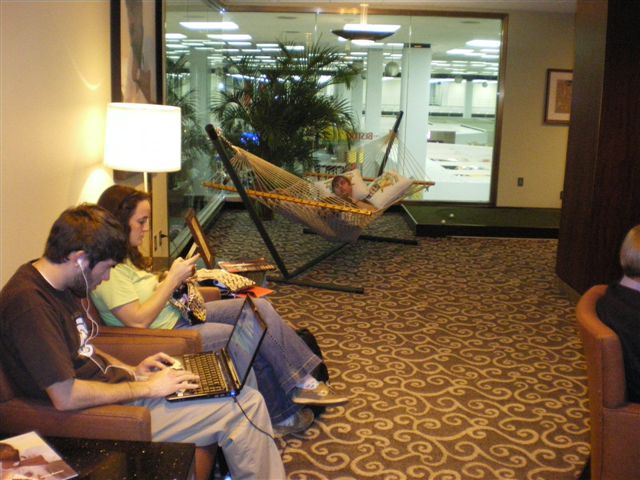 BJ was enjoying a relaxing chair massage when Tony interrupted to say that the flight had fallen apart and it did not look like our niece and nephew would get on.

We checked for connections through various cities but did not find any good alternatives. We decided to just stand by for the direct flight and see what happened. There were over 70 standby passengers for the flight, but at the last minute, we were all given seats. Something ELSE to be thankful for on Thanksgiving!
Another great trip!

BJ and Tony
bjandtony@bjandtony.com