Cinque Terre, Italy
September 2008
"Kick me in the ..."
BJ's work has been pretty grueling lately. She has worked every weekend for the last four (weekdays too), getting ready for a big cutover at work that was to take place this weekend. On Tuesday, as her team was dotting the i's and crossing the t's on the implementation plan, she got word that the implementation had been postponed for 2 more weeks. She was awfully disappointed because the new date would interfere with her plans to attend the Annual Delta Ladies' Golf Tournament (it would be the first one she had missed since she started attending in 1991).

But, as long as she had gotten a last minute reprieve from having to work THIS weekend, we decided we might as well go somewhere. We met up with one of our traveling buddies and started brainstorming about where to go. Flights to Stockholm were the most open, but for some reason all of the hotels were either full or too expensive. Our friend had never been to Ireland and flights were also very open, so Dublin (DUB) was a possibility. We also considered Budapest (BUD) since we had enjoyed it so much on a previous trip, but Delta isn't currently flying direct to BUD from Atlanta so that would be less convenient. We couldn't make up our minds, and decided to sleep on it. Wednesday afternoon after a few instant messages, we decided the destination would be DUB and we'd just have a "Bud" in DUB. BJ stopped by the desks of a few co-workers to invite them on the trip. They were enthusiastic and everyone went home to pack. We would be a group of six. The weather would be fairly cool in DUB so we packed accordingly.

Thursday (the day of departure), one by one, things started unraveling and by 10AM, the group had dwindled to just BJ and Tony. Since we had been to Ireland so many times, we decided that we'd rather go somewhere else. Tony had been wanting to look at retirement property in Beaufort, S.C. so that was a possibility. BJ still wanted to fly somewhere though because it would be several weeks before she would have another opportunity.

Seat availability was a lesser concern with just two of us traveling so this opened up more possibilities. Rome (FCO) is always a favorite but we would want to get out of the city. BJ remembered tales from our friends about their trip to Cinque Terre, but that was a 6 hour train ride from Rome. The train ride from Milan (MXP) would only be 3 hours. Milan was not a sure thing, but looked possible. We finally decided (at 1PM) to try for the 5PM flight to MXP and if we didn't get on, we would just drive to Beaufort the next morning.

BJ tried to print off as much information from the internet about Cinque Terre as she could. Here are some of the websites she found:
http://www.cinqueterreonline.com/
http://www.cinqueterre.it/en/index.asp
http://www.prolocomonterosso.it/eng/default_ing.asp

There was no time to go to the library or bookstore to get a travel guide. We stopped at two bookstores at the airport but neither had a travel guide for Italy.
BJ had trouble getting away from work in a timely fashion and the security line was long at the airport so we barely had time for one glass of wine in the Crown Room before heading for the gate. Our gate was E37 at the very end of the concourse so by the time we got there, we heard, "Last call, Party of 2 Morris". We got our boarding passes (1B and 6A) and got onboard. When Tony's seatmate learned that we were traveling together, he offered to swap seats with BJ so that we could sit together. BJ later regretted making the swap because the in-seat video didn't work in seat 6B. No matter though, she could entertain herself by interrupting Tony while he tried to watch a movie.

Dinner was a surprise. Usually the beef is a favorite among business class travelers so the non-revs are rarely offered beef as a choice. On a trip to Italy however, it was the pasta that was not available. The beef was delicious!

We slept pretty well and awoke to dreary rainy weather in Milan. Since we didn't have a travel guide, we looked for a Tourist Information bureau at the airport. There wasn't one, so we followed the signs to the train. At the Biglietteria we were told that to get to Cinque Terre we needed a different train, to go upstairs to #6. We had to go back out into the terminal to get upstairs. The only #6 we could find was an exit. There was a blue Trenitalia booth behind us, but a sign said that it was closed and we should go to the other booth between #3 and #4. We traipsed down there and waited in line. The girl inside said we should go to #6 and get on the bus to Milano Centrale Train Station. So, back to #6 we went, after stopping at an ATM for some money. The bus tickets were €7,5 ($10.75) each, which we bought from the driver.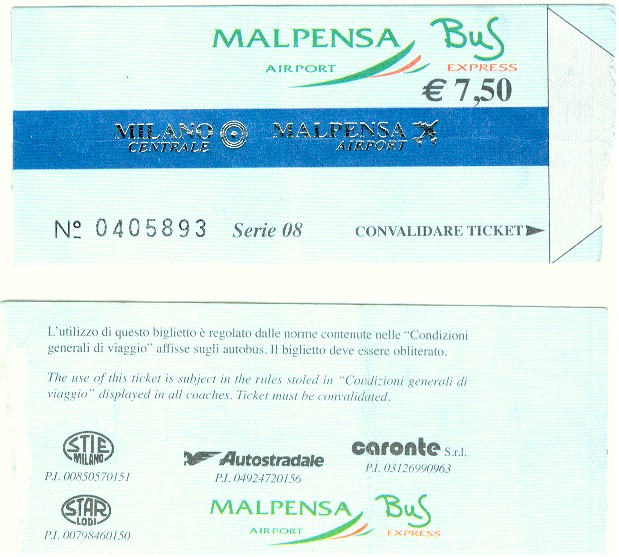 It was hot on the bus, but we thought it would be a short ride. Not so. A little over an hour later, we arrived at the train station. There, we bought a ticket to Monterosso, the first little village in Cinque Terre. The train would not leave until 12:10 so we had a couple of hours to kill.

We decided to walk down the street to find a cafe, but it was pouring rain, thundering and lightening so we elected to find a place to sit in the train station. There were no sit-down bars or cafes so we finally found a stone bench where we could sit and wait. The train station was huge with a high arched ceiling.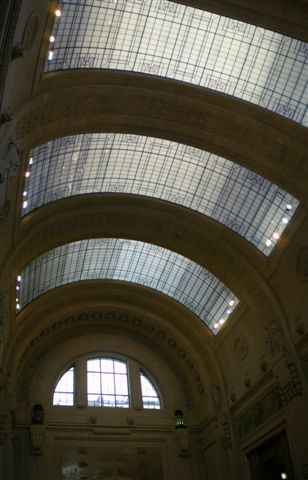 The restrooms at the train station cost €,80 ($1.15). The ladies room had toilets with no seats. The men's room had no toilets, only the French Style hole in the ground with 2 footprints.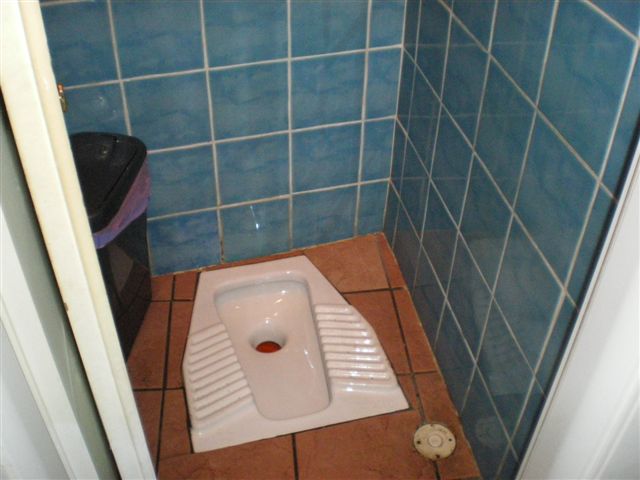 We bought a sandwich and a couple of beverages to take on the train. Our ticket, €41 ($58.75), was for Treno 653, Carrozza 008, Posti 93 Mediano 91. The agent explained that this meant Car 8, Seats 91 & 93.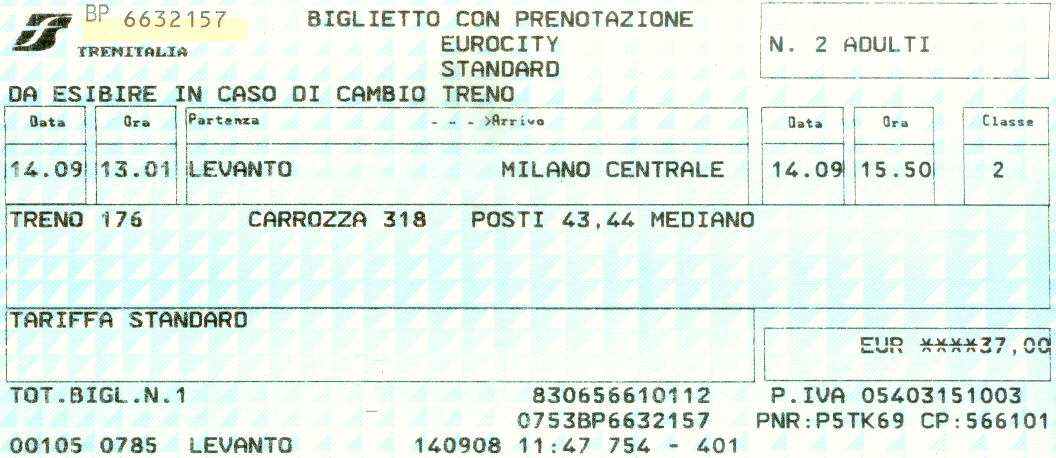 We found our compartment which we shared with 4 other people. The seats were comfortable so we dozed a bit on the 3 hour ride.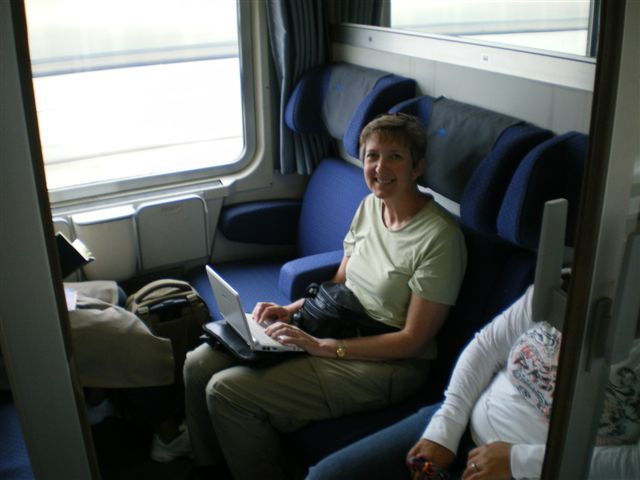 The weather improved significantly and by the time we arrived in Monterosso it was sunny and HOT. We had packed for Ireland. BJ had followed the packing list so she had her zip-off leg pants. Tony had only long pants and mostly long sleeved shirts. He instructed BJ to kick him in the ... if he ever elected not to pack his zip-offs again.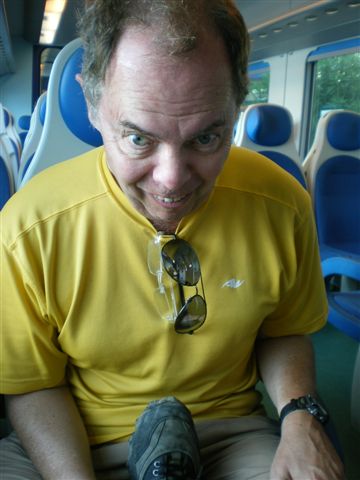 We stopped outside the train station to get our bearings. There was a rocky beach with lots of folks sitting under umbrellas and swimming.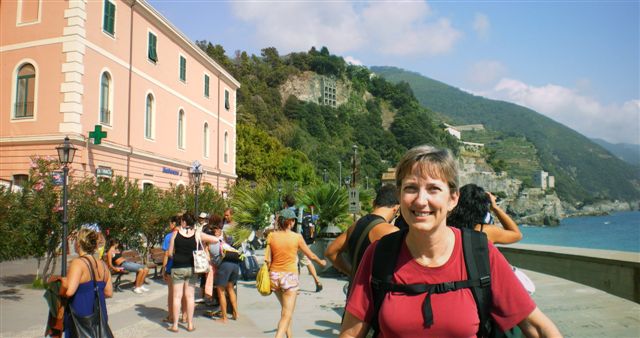 Since it was high season, we were both nervous about finding a room so we went immediately to the Tourist Information office. (Turn left out of the Train Station).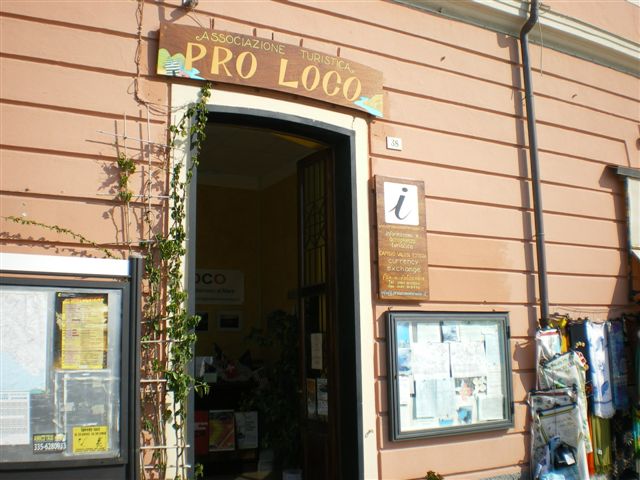 There was a sheet outside with a list of the accommodations in town.


BJ asked about a B&B and was informed that there were none available, only a couple of private apartments. The agent offered to call to find out the price. It would be €35 ($50) per person per night. Armed with a hand drawn map, we set out to find #14 Zuecca where Rita Borelli would be waiting for us.

We got a little lost since only a few of the streets are marked. We asked another tourist for directions and from behind her, a lady started babbling in Italian. We understood her to say that she was "Rita" so we followed her to the apartment; it was through the door at #14, up 2 flights of steps into a garden, up another flight of steps, through a doorway and up another flight of steps.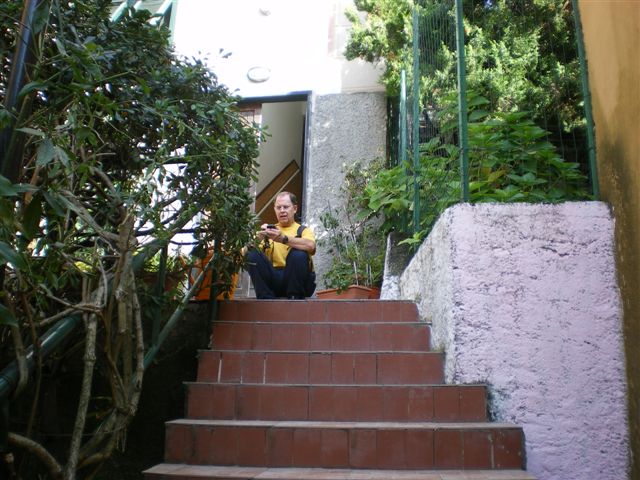 By the time we got there we were burning up and breathing hard. The apartment consisted of a bedroom with a king sized bed & 2 bunks, a kitchen and a bathroom.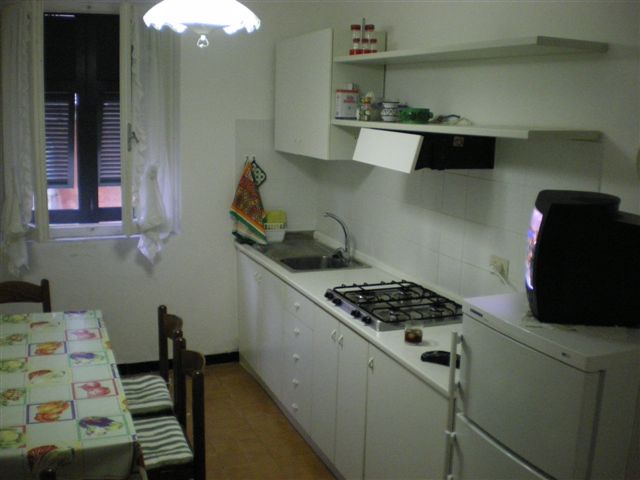 It looked clean enough, Of course it was not air conditioned (and we had not brought our fans). Rita said we could pay her at 7:30. We weren't sure why we couldn't just pay immediately but there was a bit of a language barrier.

We set our backpacks down and BJ changed into her zip-offs and a short sleeved shirt. Tony wore his long pants and the T-shirt that he had brought to sleep in. BJ found what she thought was a fan in the bathroom and plugged it in. It turned out to be a heater.

We set out to see the town. The first stop was at the bottom of the hill at Bar Centrale for a beer and a sandwich. Next was a shop where Tony bought some shorts.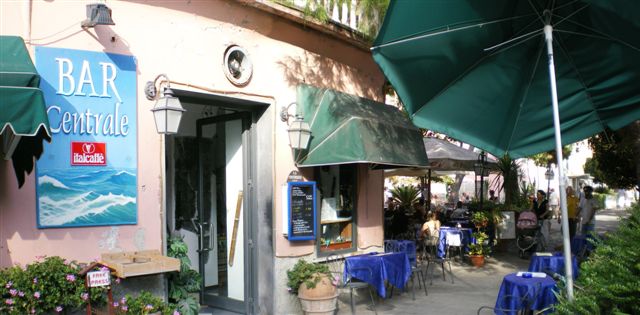 Monterosso seems to be the home of the striped buildings. We saw two striped churches and a striped building with fake painted shutters.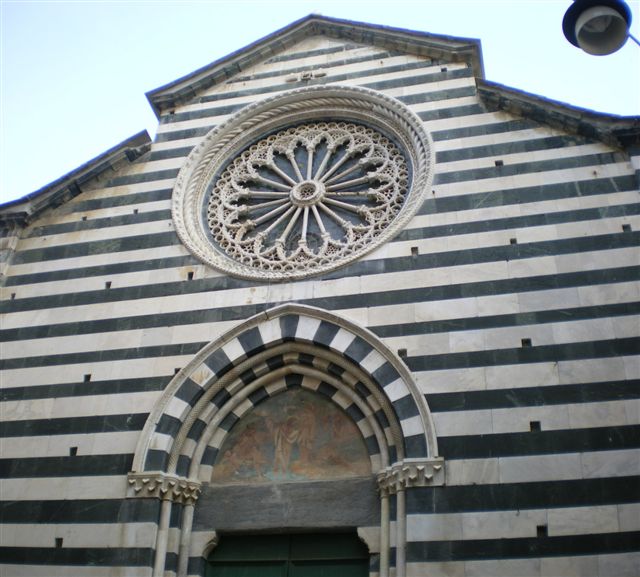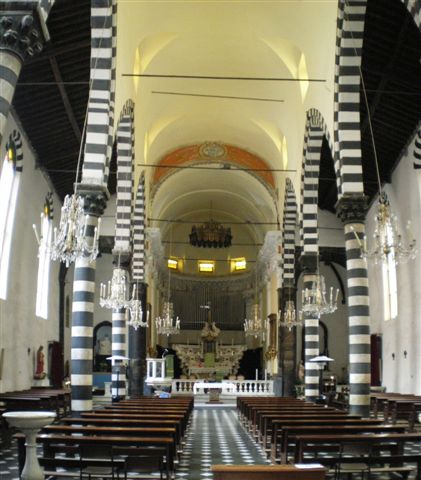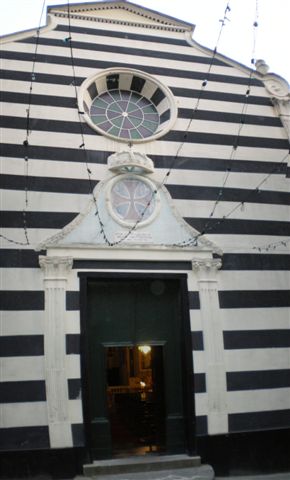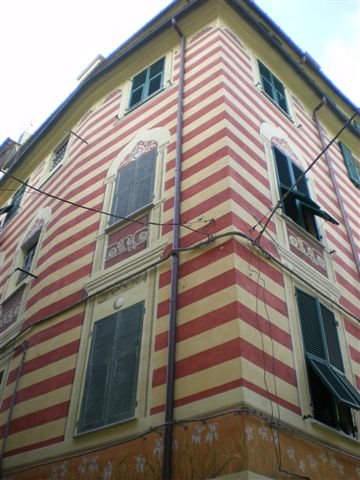 Out on the pier, there was a nice view of Monterosso and the surrounding mountains.

We walked through the tunnel and down to the far end of Monterosso where we saw some interesting architecture.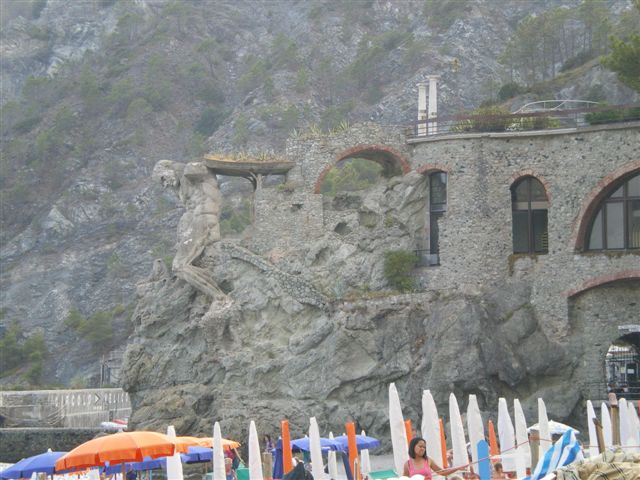 We stopped at Enoteca Sassarini for a glass of the local white wine. It was pretty good - tasted a bit like Chardonnay.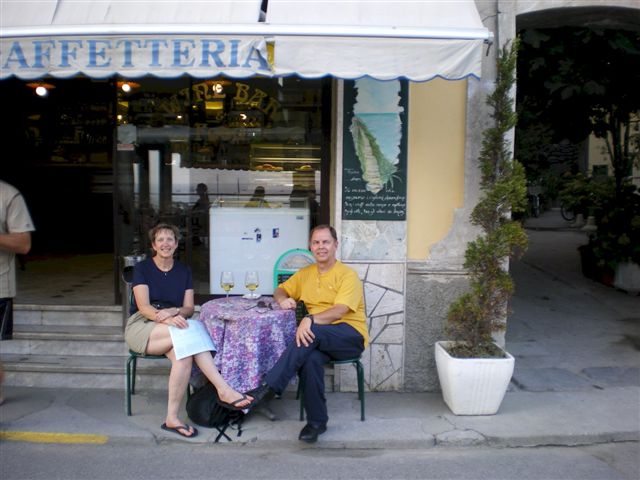 We made a quick stop at the train station to see what time we would need to be there for our return trip on Sunday. We bought a bottle of water from the machine to cool off. We could have also bought beer from the machine!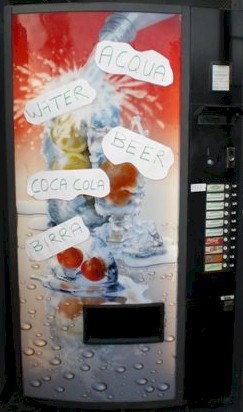 We made one more stop on that end of town, this time at a little cafe called Nuovo Eden overlooking the water for a glass of the local red wine. We commented on the reasonable prices for such a touristy town. The wine was only €1,5 ($2.15)/glass. It was a light red wine similar to a Merlot. The waiter, a little old man who walked very slowly, brought us a bowl of potato chips and olives.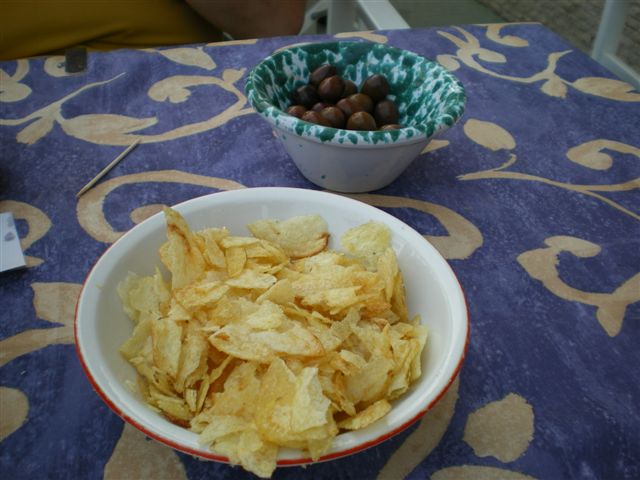 It was getting close to 7:30 so we decided to head back to the apartment to pay Rita. We stopped at the Spar to get Diet Cokes and Water. BJ found a circuitous route back to the hotel. She went upstairs to pay while Tony stocked the refrigerator with the drinks and filled the ice trays. Upstairs, BJ met Rita's sister whose son is living in the United States.

We grabbed our flashlights since part of the steps to the apartment were dark and headed out to find something for dinner. BJ spotted a restaurant (L'Alta Marea) that looked crowded so she surmised that it must be good. She tried the local Anchovies which she decided were slightly better than the canned ones at home but were very salty. They were more tender and juicy though. They were served on crostini with lots of garlic and oil.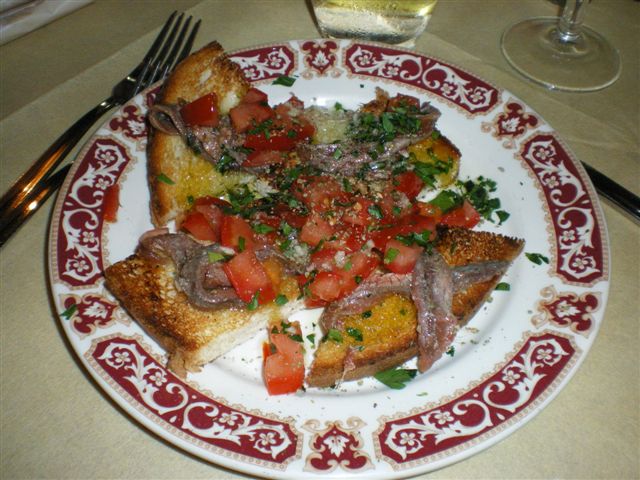 Tony had a salad and we split two pasta dishes. It was a toss up as to which one was better. The homemade pasta with pesto sauce might have had a slight edge over the ravioli.

We made one more stop for a glass of wine at the Enoteca Da Eliseo before heading back to the apartment and to bed.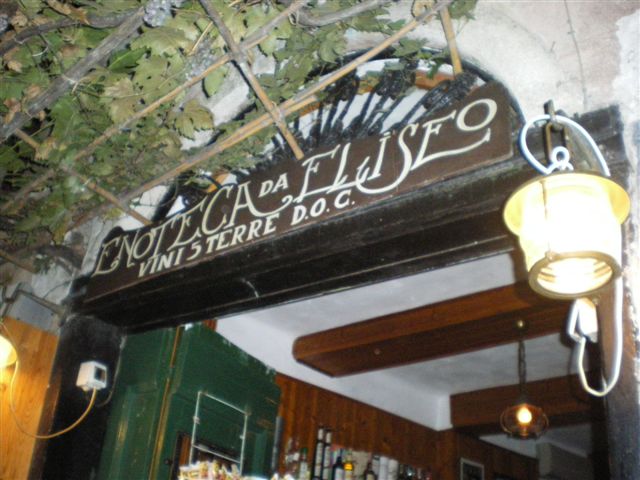 Surprisingly, it was not unbearably hot for sleeping. BJ woke up at 7AM and started the write-up while Tony slept until around 9.

Today's activity would be a hike to the other four towns in the Cinque Terre and then a train or boat ride back to Monterosso. It was raining as we were getting dressed so we packed our raincoats as well as the bottles of water we had frozen for the hike. By the time we were ready to start our hike at 10AM, the rain had stopped but it was still cool so BJ zipped the legs back onto her zip-off leg pants. Tony wore the shorts he had purchased the night before.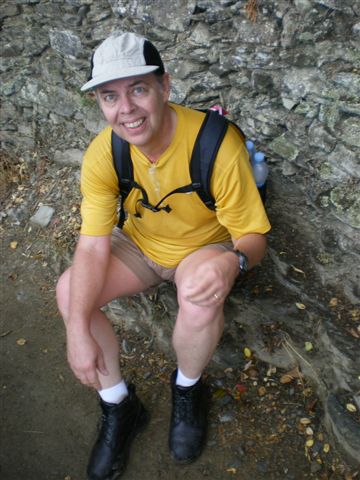 When we got to the trail head, it started drizzling. The path was straight up out of Monterosso.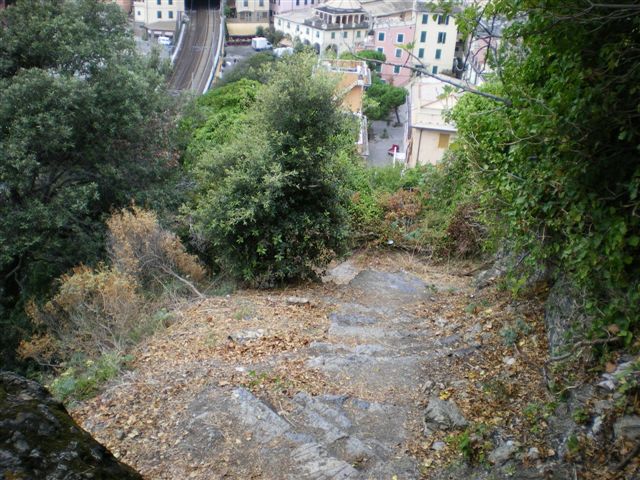 The hike had us immediately overheated so we didn't put on our raincoats. We looked like two drowned rats after a few minutes in the rain.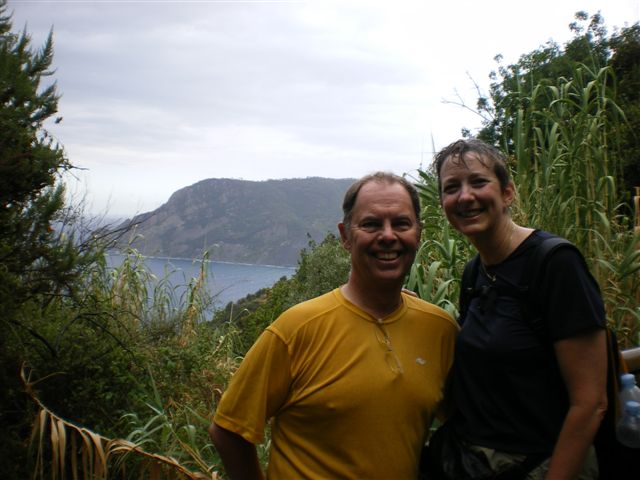 In fact the drizzle kept us pleasantly cool. So cool, in fact that our frozen bottles of water did not melt quite as quickly as we had hoped. We had a little routine: Drink the melted ice, walk for a bit until the ice stopped rattling in the bottle, drink the melted ice, repeat.
There was a kiosk just outside of Monterosso where we bought a pass for the Cinque Terra National Park for €5 ($7.15) each.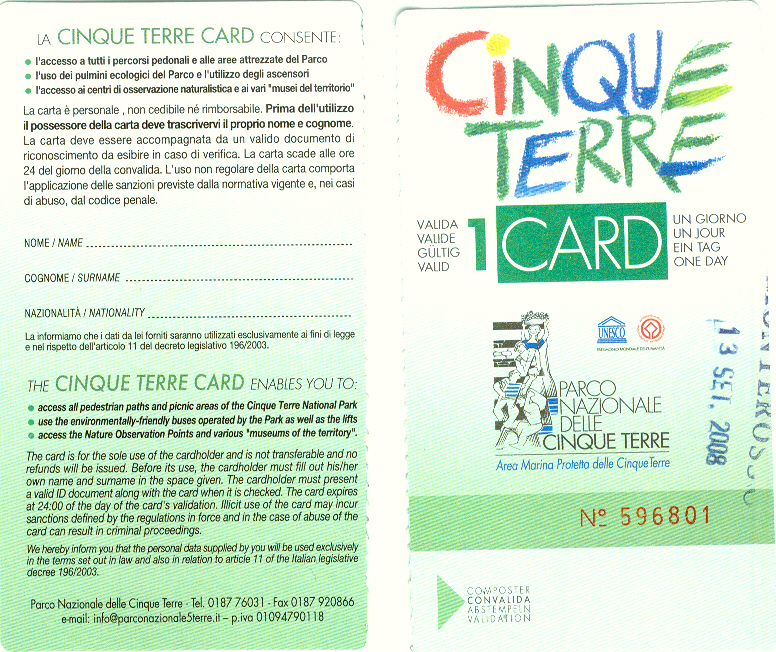 Once we got past the vertical part of the hike, it was quite pleasant (or would have been if it had not been raining - now fairly steadily). The hike took us high above the ocean and we had a nice view of Monterosso albeit a bit hazy.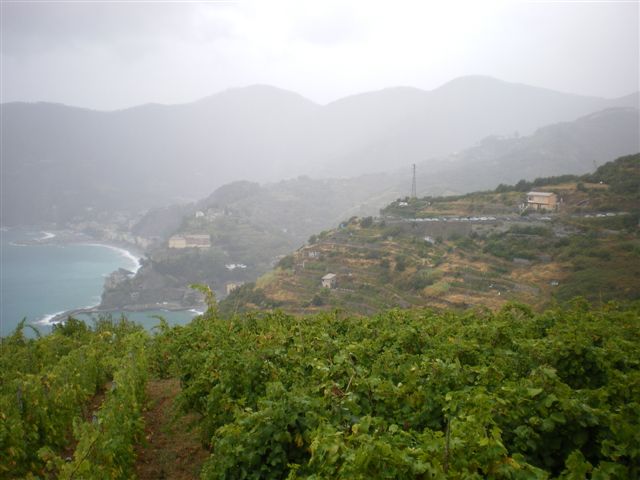 We encountered a few people hiking in our direction and a few hiking the other way. The path was narrow with a steep drop off on the ocean side so sometimes we had to find a wide spot to pass.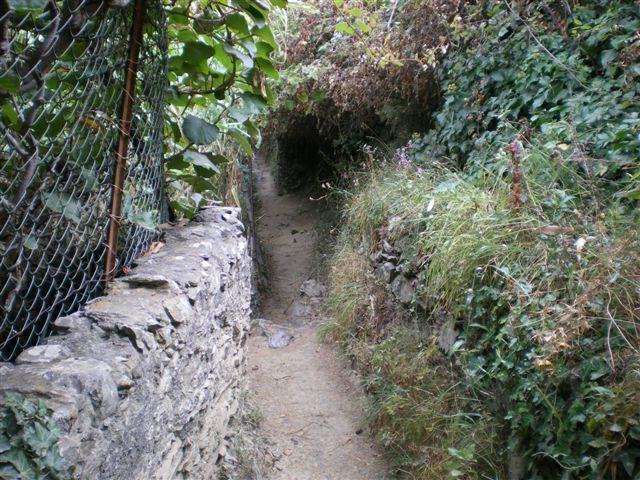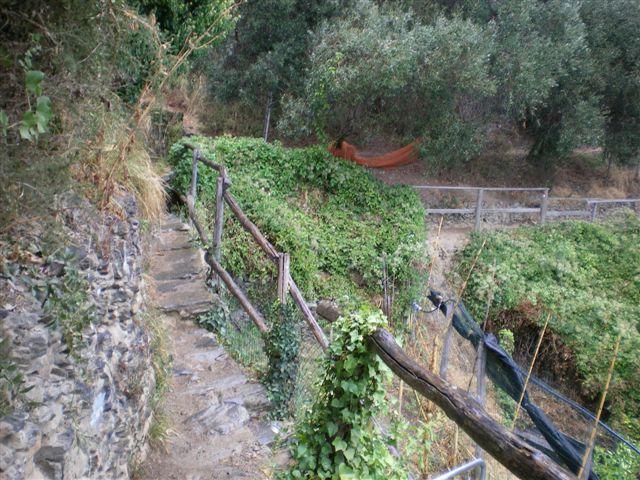 We found a key on the trail with the name of a hotel or B&B Fenelli on it. We didn't recognize it from the list of places we had gotten from the Tourist Office in Monterosso so we thought it must be in Vernazza. We took it with us figuring whoever lost it probably wouldn't come back to the trail to find it.

We followed the markings for Trail #2. The trail was pretty well marked with red and white blazes and there were numbered signs starting at 30 and descending to 1 as we neared Vernazza.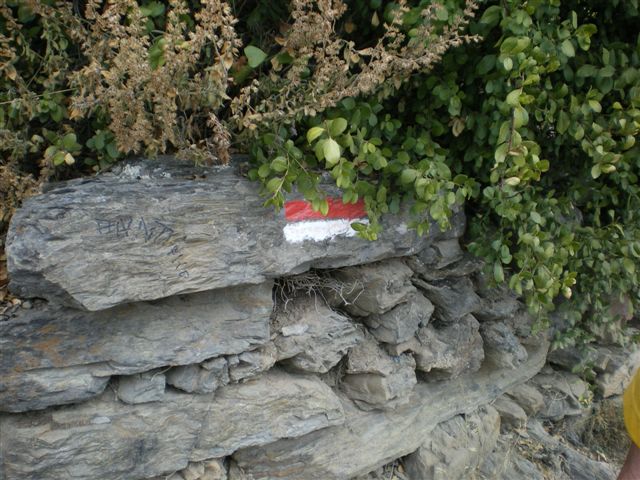 About midway between the two towns there was an emergency station where you could push a button for medical, fire, or rescue help. Thankfully we didn't need to push any buttons! A fall from this height would have been very serious!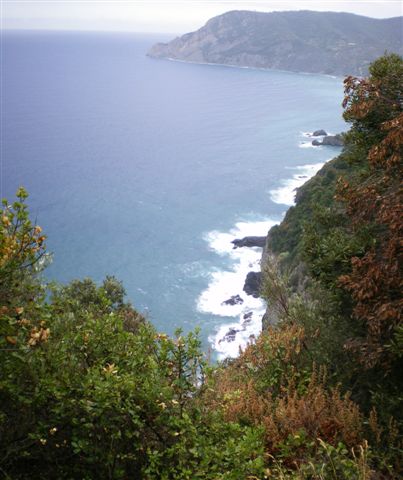 Shortly before we got to Vernazza, we found some stray cats living on a ledge. Someone had set out buckets of cat food with instructions to hikers to please feed the cats. They even had their own little tent!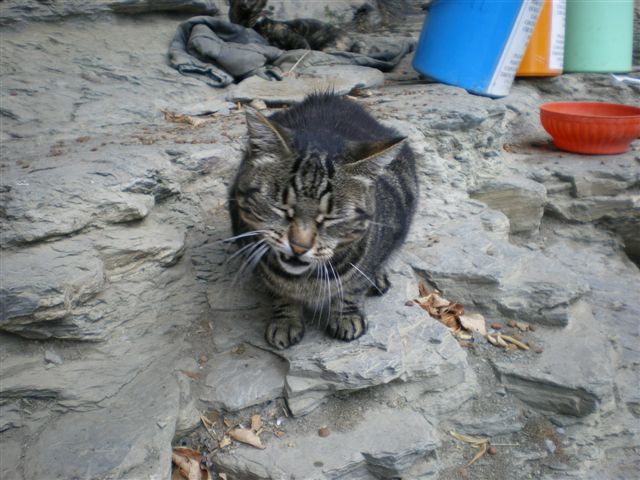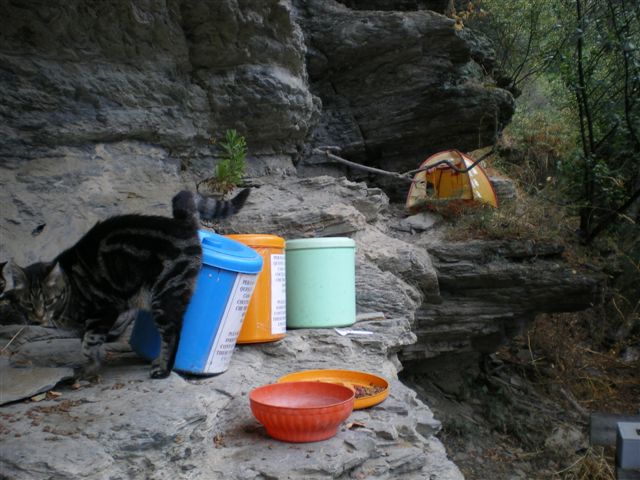 The view of Vernazza was enchanting.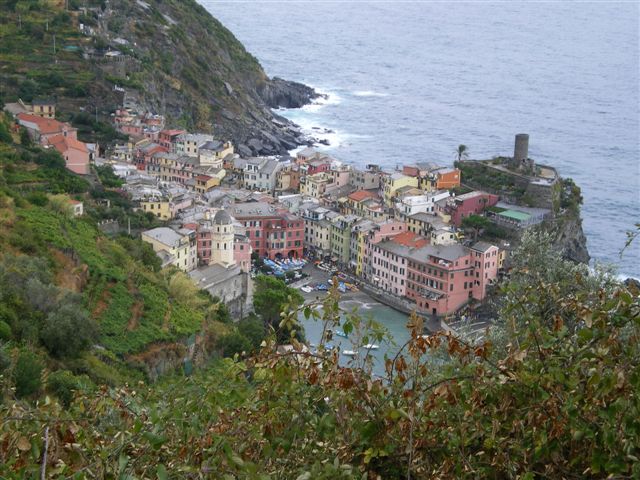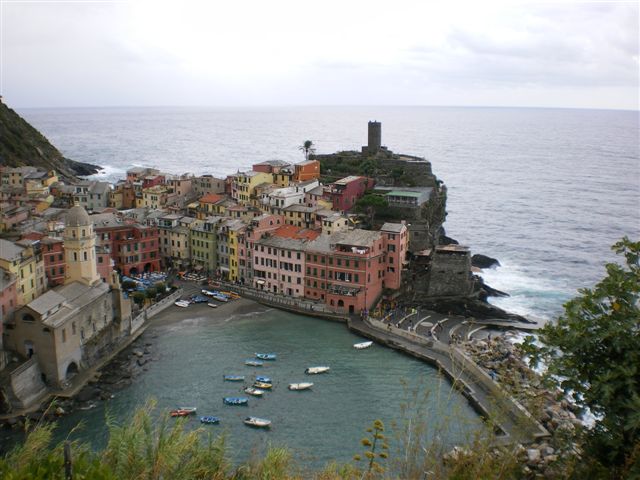 The descent into town was as steep as the ascent from Monterosso and the rain had made it slippery so we took our time, holding hands where there were no handrails.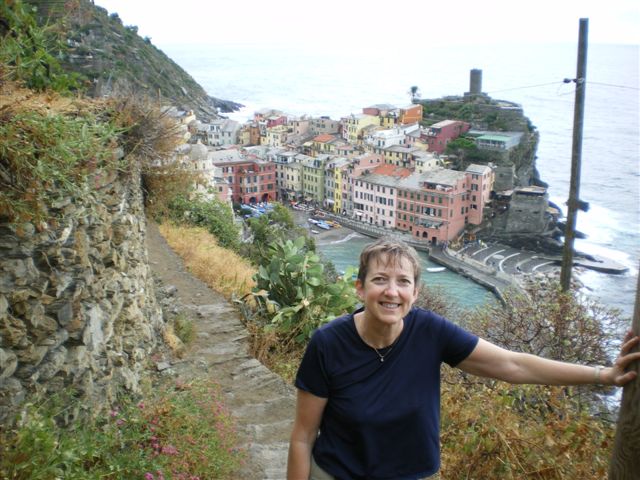 Along the way, we had seen a track and wondered what it was for. At the base, we found the contraption that was used to carry things up to the top of the trail. We weren't sure what things they carry up there, but suspect it is the grapes at harvest time.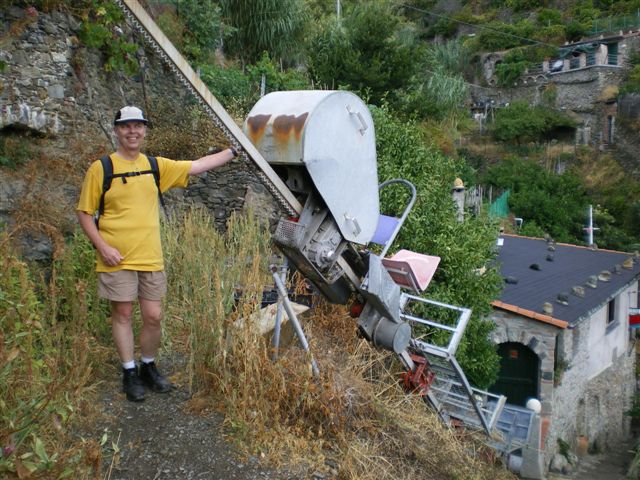 In town, we went searching for the Blue Marlin at the recommendation of our friends.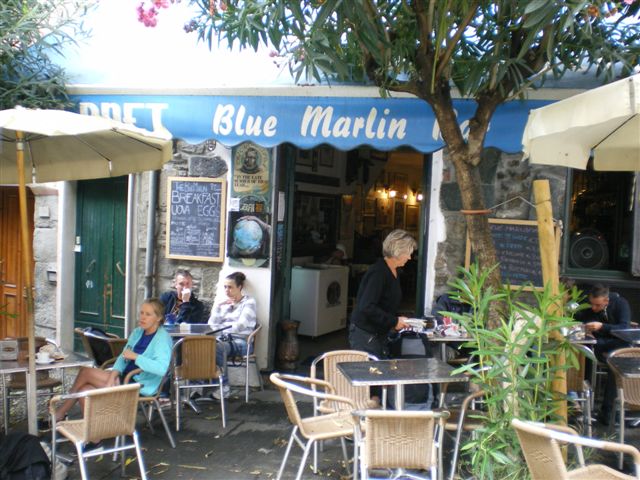 Here, we had a much welcome beer and pizza. We showed the waitress the key we had found but she was not familiar with the place. The weather cleared off nicely while we ate but it was still a little cool. Tony wished he had his zip-off leg pants. We noticed that the prices were a bit higher than they had been in Monterosso, more in line with what we had expected in a resort town.

Next we stopped at the Ananasso Bar on the water front. We found an outside table that was almost in the sun and ordered another beer. We asked again about the key. This time the waiter was familiar with the place and took the key. It was here that we saw our first ever Rasta-Mullet! Hair, cropped short in the front with long dreadlocks in the back. This is apparently not an uncommon hairstyle since we found a number of examples on the internet. BJ couldn't get a very good picture since she was trying to be discreet.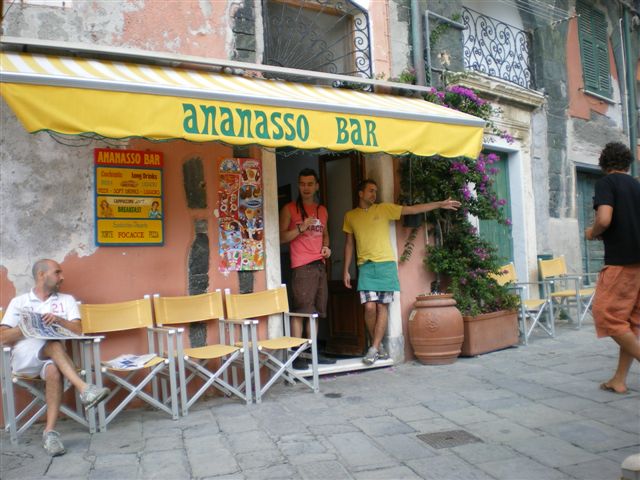 After our morning's experience we weren't ready for more hiking so we decided to take the train. We read through the information that BJ had printed from the internet on the villages and decided to go next to Manarola which was famous for its wine. We went to the train station and asked about a day pass for the train. The agent advised that since we already had our pass for the park it would be cheaper for us to just purchase individual train tickets. A 10 KM ticket was €1,40 ($2.00).

We bought one ticket for Manarola and one from Riomaggiore back to Monterosso for each of us. We caught the next train to Manarola. As we got off of the train, we saw the trail that we would take to Riomaggiore.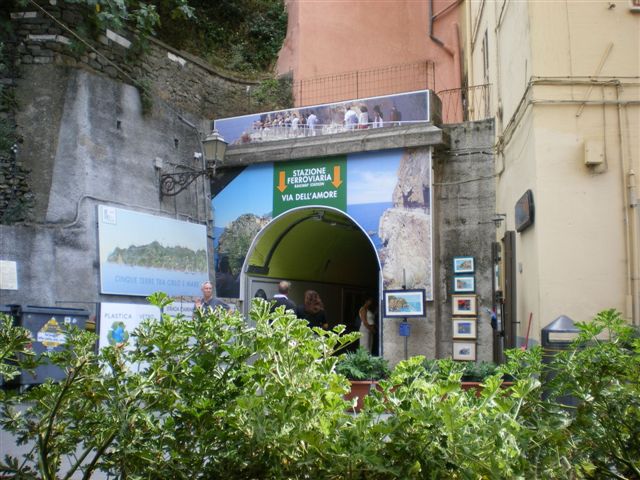 We headed into town in search of a Farinata (a typical Ligurian and Tuscan dish made with chick pea flower and mixed with water, salt and olive oil) and glass of wine. We crossed the large platform over the train tunnel and walked down the narrow street to the waters edge.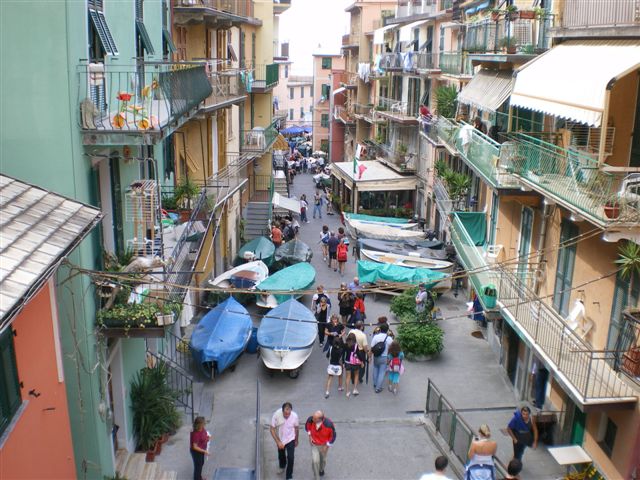 We found a table at a cute little cafe called La Planacia. BJ went to find the restroom while Tony waited to order wine.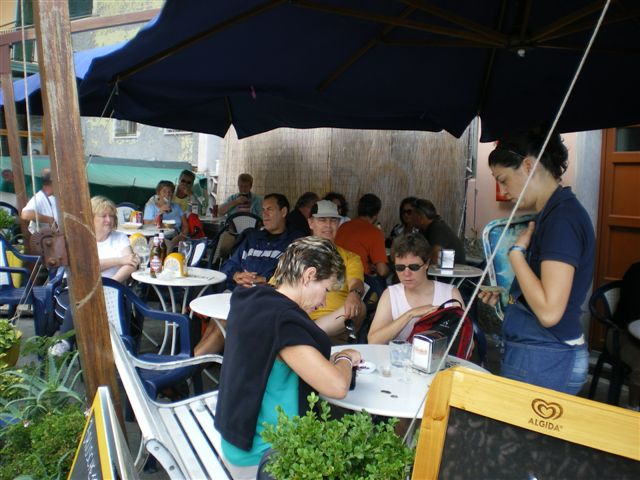 When BJ returned from the restroom she found that Tony, overrun with excited gelato ingesting children, had not yet had a chance to order. We decided to find a less chaotic place to enjoy a glass of wine and walked across the way to another place. Once seated, we glanced at the menu and noticed the €10 ($14.33) price for a glass of wine. We hastily made our exit in search of something more in our price range. Back across the train platform, just at the entrance to the train station, we found a sunny little place called the Ristorante Aristide and ordered a glass of the local wine. Manarola must be famous for their white wine. It was a fruity chardonnay-like wine, quite pleasant but perhaps not as delicious as we thought the internet write-up had touted. In retrospect, the write-up just said it was famous, not delicious.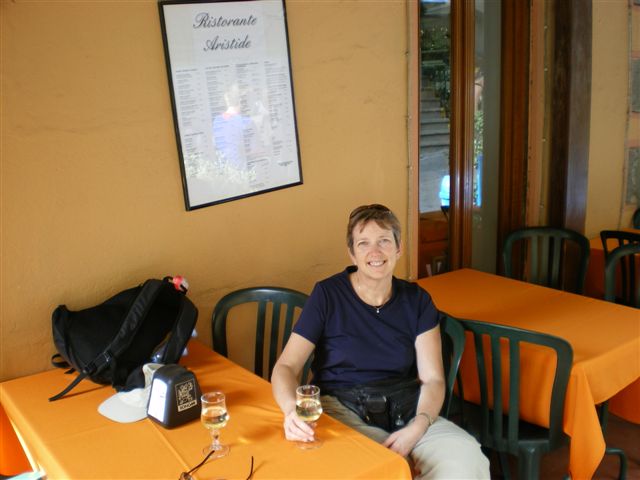 We started up to the top of town to see the church, but when it came into view, we decided it was further (and higher) than we wanted to climb.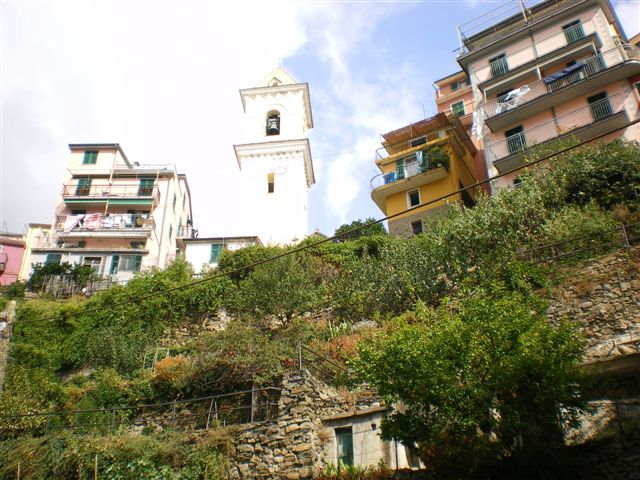 We turned back toward the train station and the entrance to the lover's lane walk, getting there just as a huge tour group for the elderly was starting the walk. This was going to be the snail's walk for us. The tour group paused at the top of the ramp to gander at the view so we shot ahead.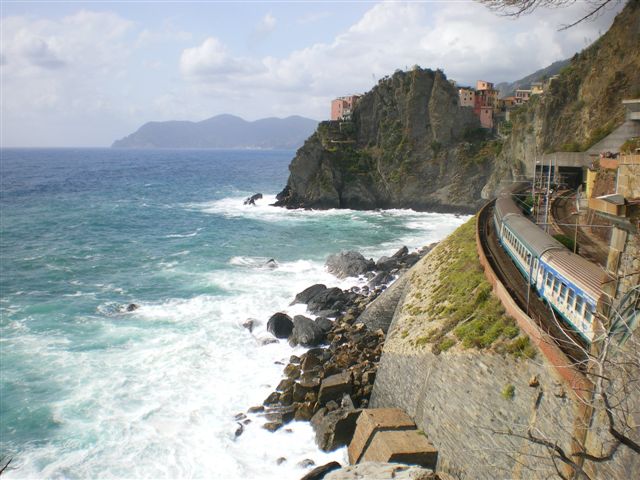 We hadn't gone very far when we spotted this little table for two over the water at the Bar dell Amore that was calling our names.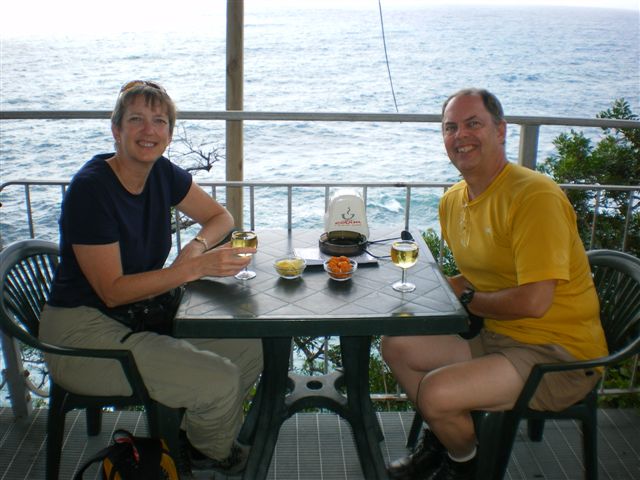 We weren't sure whether we should stop for a glass of wine or try to stay ahead of the elderly tour group. The wine won out and we sipped merrily, munching on the complimentary potato chips and rice cakes as we watched the elderly group crawl past. We lingered over our wine long enough for them to clear out of the way so we could continue the walk at a comfortable pace.
As we sipped our wine, we marveled at how the little village of Manarola seemed to be wedged in a crevice.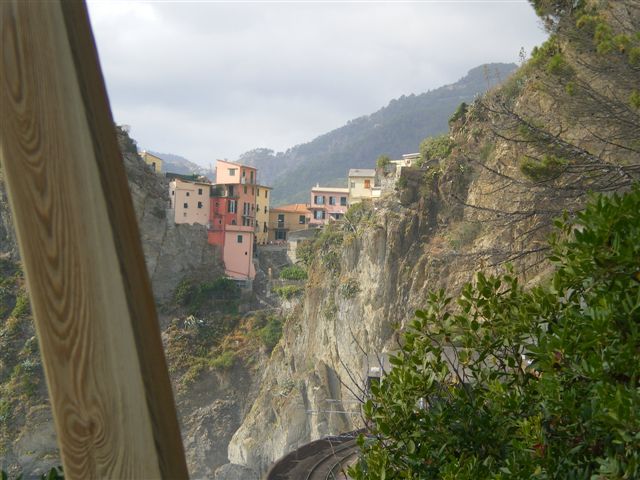 The walk was as-advertised: "an easy to walk, paved path a distance of two kilometres".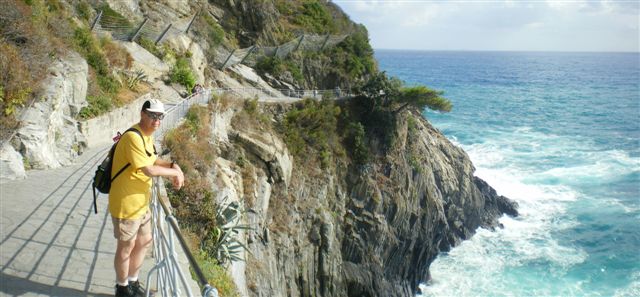 We found this interesting silhouette of two lovers surrounded by padlocks. The sign behind it said "TRA CIELO E MARE" which translates to "BETWEEN HEAVEN AND SEA".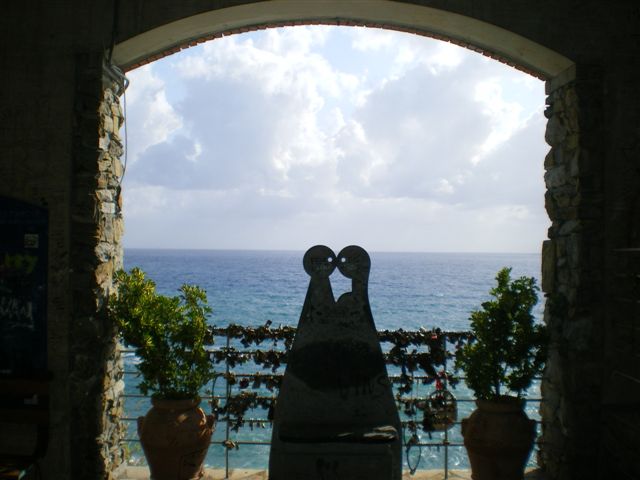 At the end of the trail just before we came into Riomaggiore, there was another little place overlooking the water where we could see the waves crashing against the rocks. It was called A Pie De Ma Bar & Vini. It was a relaxing place to have another glass of wine.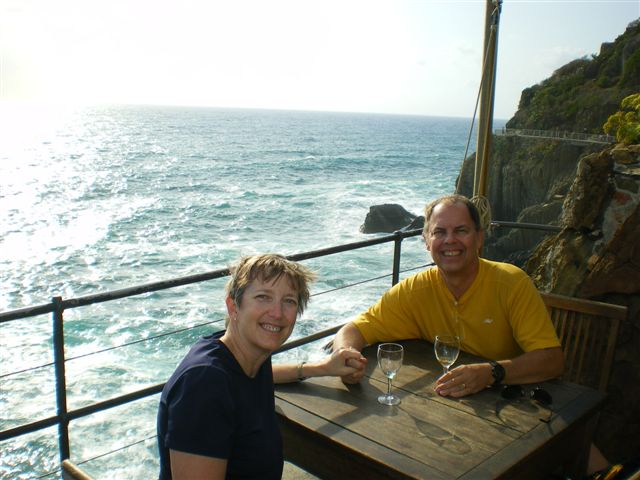 Next we went in search of a Farinata. We had been told that it could be found at a pizzeria. We found two places that advertised it. When we ordered at one of the places we were told that it would be available at 6:30PM. The next place simply said no. The third place had some!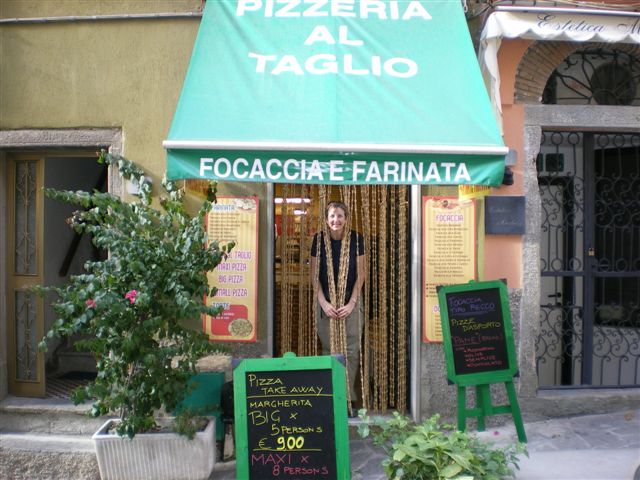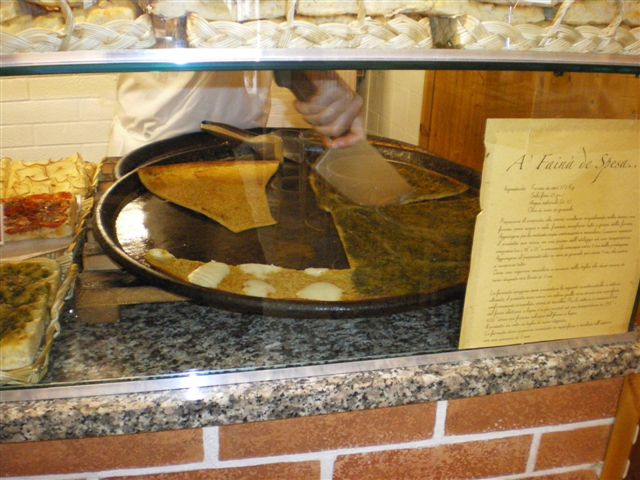 We had a choice of pesto or cheese. We chose pesto. It may not have been the most representative sample since it seemed a little stale, but we got the idea. It is not a dish we would spend a lot of time searching for on our next trip.

We made our way back to the train station and caught the train back to our little town of Monterosso. After touring the other towns, we decided that we were happy with our choice of places to stay. We thought we might plan another trip during shoulder season when it is not so hot where we would backpack to each of the villages and spend one night in each.

From the Monterosso train station, we went back to our room to relax for a few minutes (and let Tony change into some long pants) before dinner. For dinner we had decided to go back to Nuovo Eden where we had been the day before with the old waiter and the €1,5/glasses of wine. After looking at the menu, we weren't too sure if we wanted to eat there because a number of the selections had an asterisk next to them. The explanation for the asterisk was *frozen entree. We ordered a half liter of wine and decided to think about it. The waiter brought our wine with a bowl of olives, potato chips and this time, some peanuts. We munched on the snacks and watched the other diners. After we saw several other people get pasta dishes that looked and smelled good, we decided to risk it. Tony got the lasagna with meat sauce and BJ the pesto gnocchi. "Lurch" brought us a basket of warm bread with our entrees. The pesto sauce on the gnocchi made a wonderful dipping sauce for the bread. The entire meal with wine cost less than €20 ($28.65)! Quite a bargain.

We had one last glass of wine at the paninoteca nearest our room and then it was off to bed.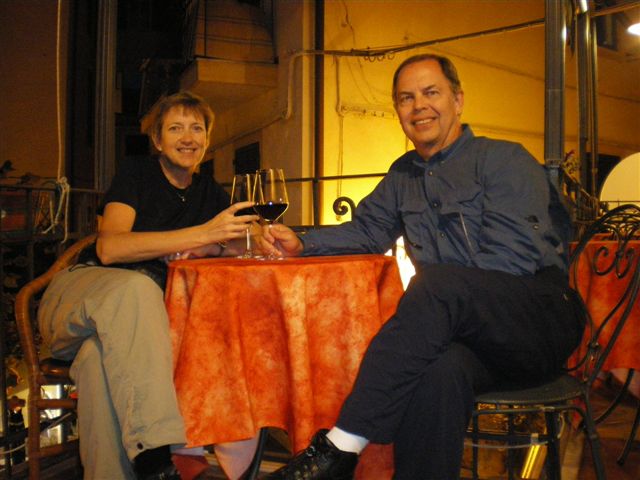 It was much cooler for sleeping and got even cooler as a rainstorm blew in during the night. We could hear the rain beating against the shutters and the whistling of the wind. We slept until around 9AM. We took our showers and were watching a little TV in the kitchen when a knock came at the door. It was Rita's sister telling us that we had to be out of the apartment at 10:30. She was very nice and wished us a pleasant journey instructing us to leave the key under the mat as we left.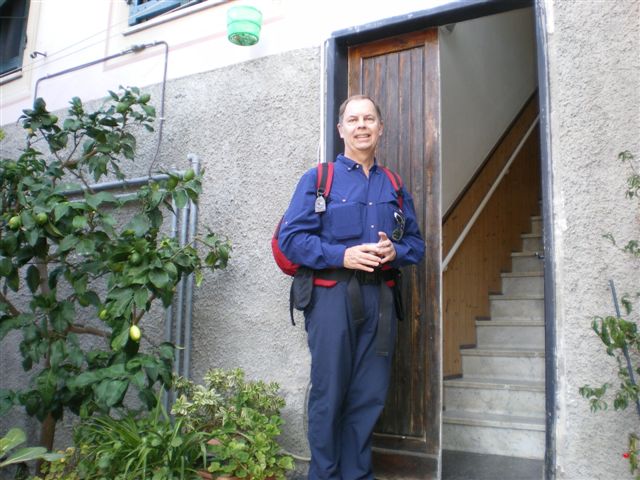 We took one last look around Monterosso as we walked to the train station.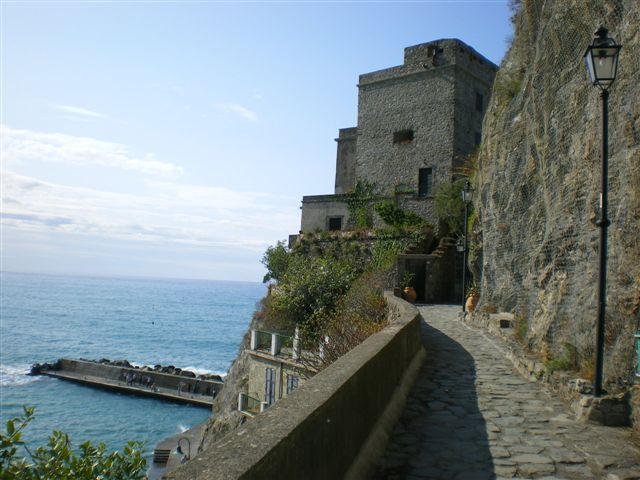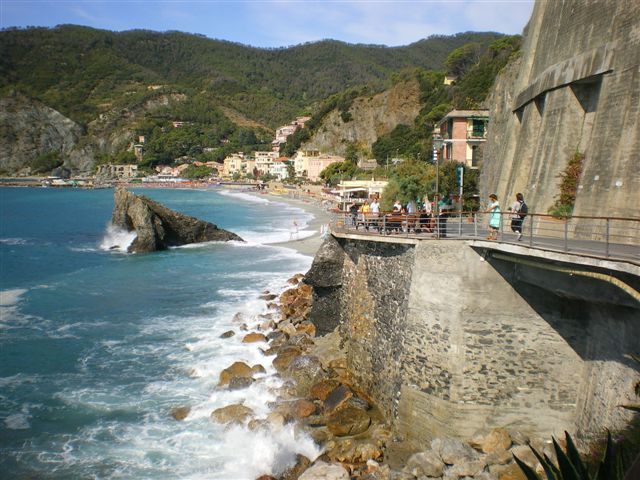 We considered going to the only Terre of the Cinque that we hadn't seen yet (Corniglia), but decided instead to head back to Milan. It would be a 3 hour train ride plus a 1 hour bus ride and we still had to find a hotel. We decided to take the 10:55AM train. We didn't have a ticket, but we had seen a sign the day before that the ticket office was open every day from 7:30AM-7:30Pm so we were sure we could get a ticket for the 10:55AM train to Milano Centrale. Not so. When we got to the train station, the office was closed. There was a hand written sign saying that the office would open at 12:30PM. Only the window selling tickets to the villages in the Cinque Terre was open. We asked about a ticket to Milan and were told to just get on the train and find the conductor straight away and purchase a ticket from him.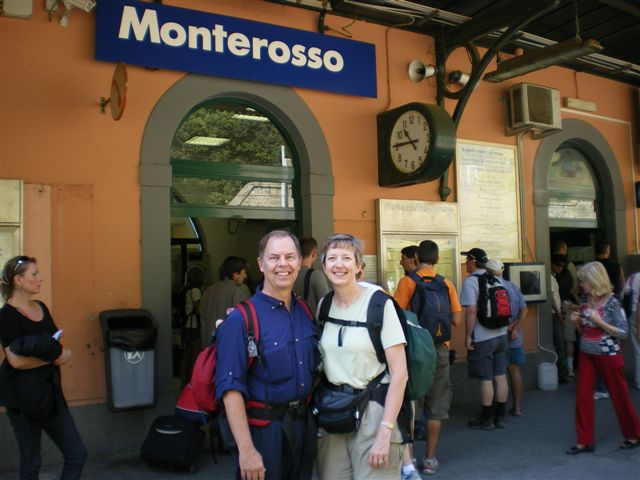 While we were waiting (and maybe bickering just the slightest bit), a woman approached and asked us where we were from. She was from Alabama and seemed pleased to find some fellow Southerners to talk to. She had been in Italy with a friend since the end of August. They had been on a cruise. She talked about how few Americans there had been on the cruise and how the Europeans don't seem to understand the concept of standing in line and waiting your turn. We had noticed the same thing. You can be standing patiently in a line and someone will come and stand beside you, merging into the line ahead of you if you let them. She said her nature was to stand back, but she learned to elbow her way to the front in the gelato line.

A train approached going in what seemed like the right direction and we started to get on. A couple of English speaking women asked us if it was the train to Milano. We said we thought it was but they weren't convinced. One of them was from the UK and one from New Zealand. They had gotten on the wrong train the day before. We milled around and asked others and finally decided that it was not the right train. We talked about how confusing the train system was and they told us that the conductors were rather unforgiving, charging a €50 ($71.65) fine for traveling without a ticket. One of them was traveling to Milan and the other was staying in Monterosso. We told them about Rita Borelli's apartment for €70 ($100)/night. They said that it was €100 less than the cost of staying on the waterfront.

When the Milano train arrived, we found the conductor and asked about purchasing a ticket for Milan aboard the train. He said that it would cost an extra €50 each to purchase it on the train. We decided not to take that train. We would regroup and come up with another plan.

We first decided to go to Corniglia and sightsee until the ticket office opened. We checked the schedule and found a train that left 30 minutes later. We crossed over to track number two and found a ledge in the shade to perch on while we waited. After about 10 minutes of waiting, Tony suggested instead of heading in the opposite direction from Milan, perhaps we should consider going to Levanto. We decided this was an excellent idea so we crossed back to track #1 and found a train leaving for Levanto in the next few minutes.

We thought we would have 2 hours to kill in Levanto, but when we got there, we found a train leaving in an hour for Milan. We didn't have time to go into town so we took a short walk around the grounds of the train station and then sat in the cafeteria and played cards until our train arrived.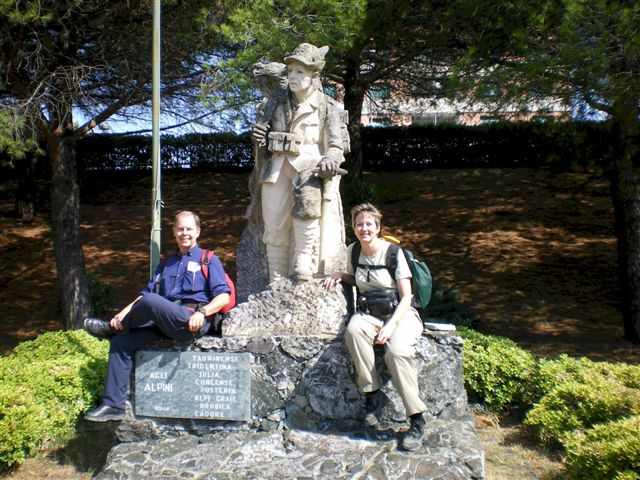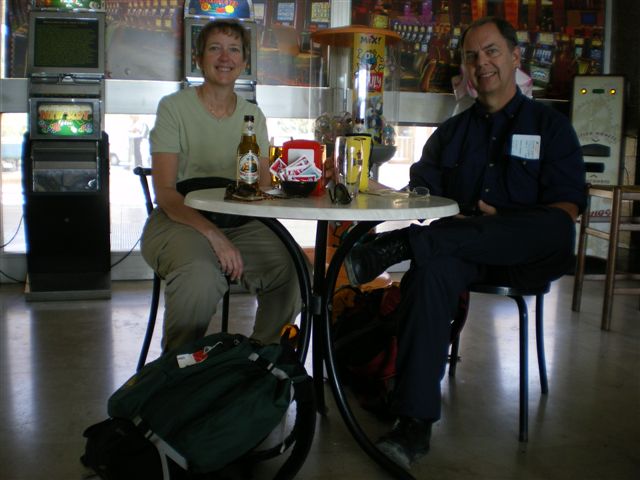 Our reservations were for car #318, seats 43 and 44. It was a LONG train so we had to run to get to car #318. BJ headed to the dining car to get some refreshments. Unlike the dining cars on some of the other trains we had been on, there was no seating in the dining car on this train. The long bumpy walk from car #318 to the dining car left BJ a bit bruised from banging against the compartments and handrails but she made it back to our compartment with some Paprika flavored Crik Crok potato chips. She didn't want to try to carry drinks so we mixed up some Crystal Light Ruby Red Grapefruit in the water bottle we had to drink with our snack.
We had thought we would take the bus back to the airport and find an airport hotel for the evening, but after the long train ride, we decided to find a hotel near the train station and save the 1 hour bus ride for the next morning. The area around the train station was pretty much shut down, we assume because it was Sunday. We found one restaurant that was open, the Cafe Panzera. We got a table outside and ordered pizza.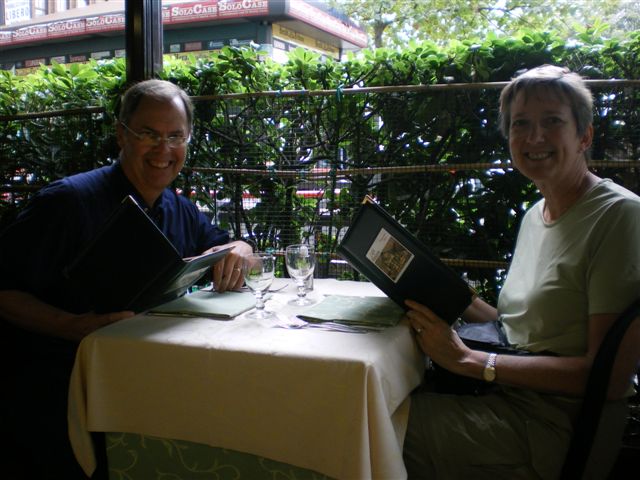 Next on the agenda was to find a hotel. We knew from experience that we were 3 star people. There were lots of hotels to choose from near the train station. We stopped to inquire at a few, finding them to be more than we wanted to spend. We spotted a sign advertising a 3 star hotel for €59. It was a little further from the train station than the more expensive hotels. We thought we'd give it a shot so we programmed Jill, the GPS to take us there. When we got there, the price was not the advertised €59 ($85), but €130 ($186). We decided to keep looking. We found the Hotel Flora just around the corner for €100 ($143). After a conversation with the desk clerk, we got him to knock off €10 since we would not be staying for the included breakfast.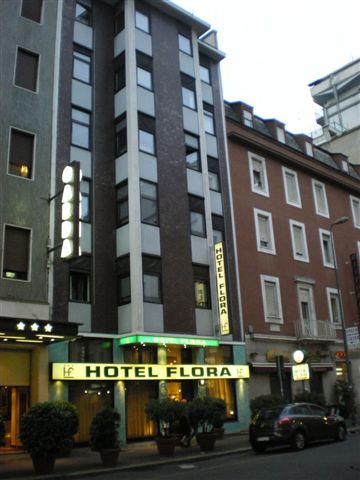 Once we settled in the hotel, we went for a walk.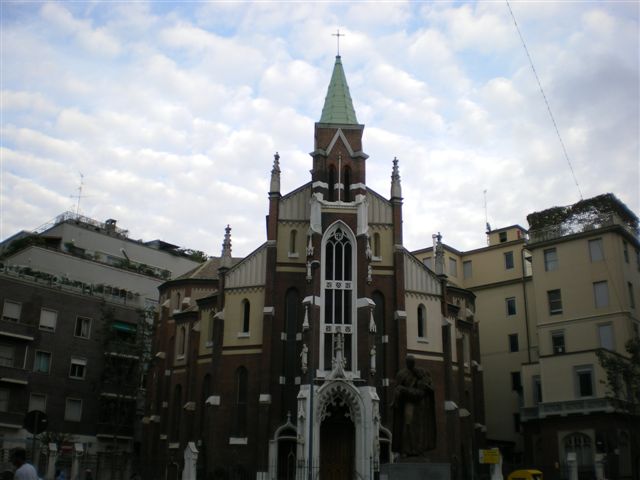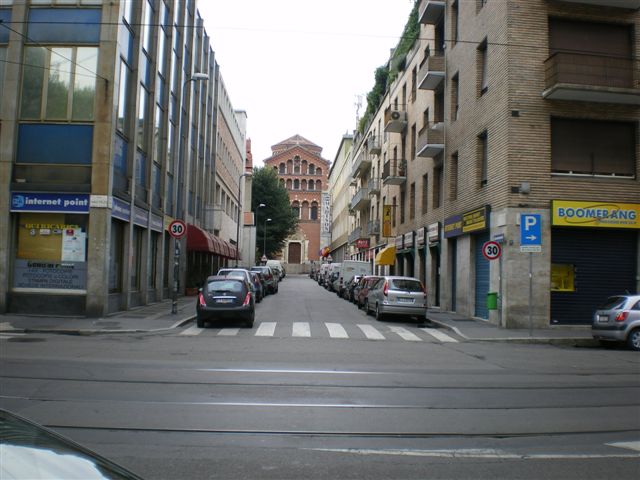 We noticed a lot of people wearing race clothing. Tony figured out that we were very near where the famous Formula One Monza car race was being held. Some of the pit crew sat down next to us at the Bar Baldassarre.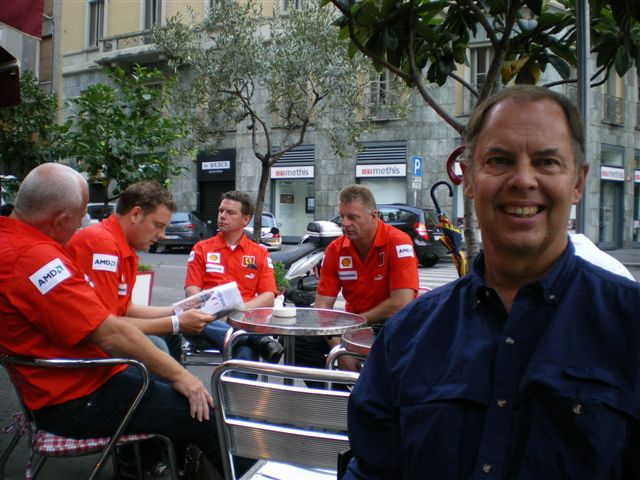 We went back to the Cafe Panzera for a glass of wine before dinner. It was very crowded. We enjoyed watching the staff interact with the customers. The waiters acted very haughty as though the customers were imposing on them.
We went to la Malmaison near our hotel for a little Tortolini Alla Bolognese. They had some interesting translations on their menu and wine glasses the size of BJ's head! Crespelle agli asparagi was translated to Crespelle with sparrow-grass and Bresaola di Valtellina was translated to Valtellina Spice Cured Bee.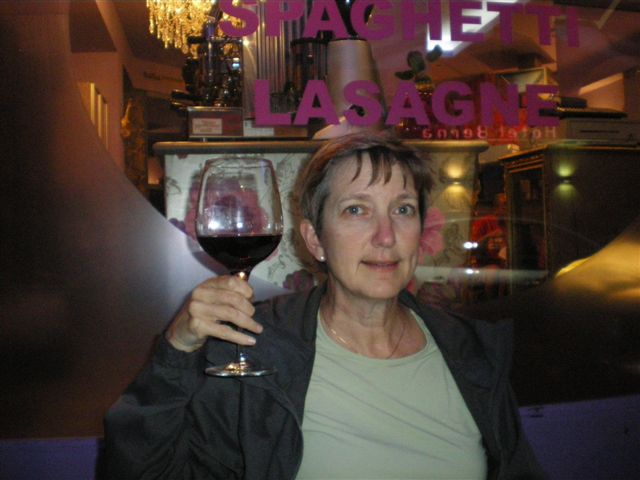 The 6:40AM bus to the airport the next morning was completely full! We got seats together on the last row. On the plane home, we got Business Class seats together on the FRONT ROW! Yeah!
Lesson learned? Never deviate from the Packing List!
Another great trip!

Destination Information For This Trip In A Nutshell

BJ and Tony
bjandtony@bjandtony.com