Beaufort, South Carolina
January 2009
"Budapest or Beaufort?"
What a nice surprise! BJ's employer gave her the MLK holiday off! Of course that got us thinking about a trip. Where to go, where to go... Tony's been wanting to go back to Budapest since our biking trip (when BJ took the unfortunate tumble down the escalator with her bicycle). BJ didn't mind returning to the scene either (sans bicycle) because it is such a beautiful city. After a couple of days of discussion though, we decided to, instead, spend the time trying to decide where we want to live when we retire. Since the Ireland idea fell through, Tony has been looking at other options that might get him the water view that he wants. North Carolina held some interesting options, but the places we had looked at were really just too far from a major airport to suit our taste.
Our friends Carol and John had told us about their retirement property in the town of Beaufort, South Carolina so we had been looking at real estate in that area on the internet. Tony mapped out 9 properties that met his minimum criteria. Some were houses and some were lots. He used Microsoft Streets and Trips to create a route to each of the properties.
Rather than get tied up in Friday afternoon traffic, we elected to get up at Oh-Dark-Thirty on Saturday to start our drive. Tony reminded BJ to wear waterproof shoes since we would be stomping around waterfront lots. BJ elected to wear her trusty hiking boots that were both comfortable and waterproof.
The Oh-Dark-Thirty departure had us nearing Augusta around 9:30AM. BJ couldn't interest Tony in a stop at the Laurel and Hardy Museum in Harlem, but was successful in talking him into stopping for a bagel in Augusta. Jill, our trusty GPS, told us that there was a Bagel Factory near our route, so we entered it as a waypoint. Jill turned out to be not-so-trusty since the Bagel Factory was non-existent. There was, however a Dunkin' Doughnuts nearby so we made a stop there. We would prefer a little mom & pop type establishment, but any bagel in a storm will do!
When BJ got out of the car at the Dunkin' Doughnuts, she discovered that the the heel of her hiking boot had separated from the bottom of her shoe and was flopping when she walked.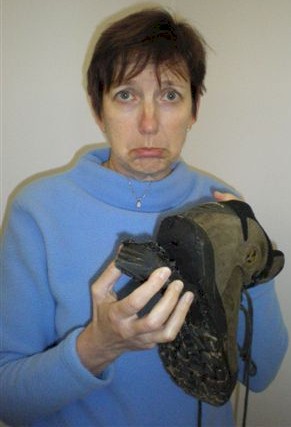 This wouldn't do at all for stomping around the waterfront lots and was somewhat embarrassing to boot. After flopping into the Dunkin' Doughnuts, we decided we better find a Wal-Mart. Jill redeemed herself by taking us directly to the nearest Wal-Mart. BJ waited in the car while Tony went in to get some Shoe Goo. The Shoe Goo should have done the trick, but when she started to apply it, BJ discovered that the problem wasn't just rubber separated from rubber. There was something like black foam between the shoe and the heel. Every time she applied the goo, it pulled off another layer of crumbling foam. After applying almost the entire tube, the heel still wasn't stuck to the shoe but there was a big chunk of something that looked like crushed Oreo between the heel and the shoe. Thankfully we were still in the Wal-Mart parking lot, so BJ decided to go back in and buy another pair of shoes. She trailed black foam all the way to the shoe department where she found a pair of black boots on sale.
We had elected to drive the VW Jetta TDI on this trip because it gets over 50MPG on the highway. The only draw back is that diesel fuel can be hard to find and for some strange reason, more expensive than premium unleaded fuel. We had been observing a steady decline in fuel prices during our drive and we thought we had hit rock bottom when we passed a little Mom and Pop station near Sheldon that advertised $2.19/gallon. We whipped in and were even more pleased to see that the price on the pump said $2.09. We changed our mind when we noticed a hand written sign taped to the pump that said the price posted was per half gallon.
We weren't dangerously low on fuel, but we were in need of facilities so when we noticed a couple of portalets outside the Sheldon Boys and Girls Club, we decided we shouldn't let the opportunity pass. We were very pleased with how clean they were and that they even had toilet tissue! It was a good thing we had stopped because we didn't pass another opportunity before arriving at the first property on our list.
We followed the GPS directions to Paige Point Bluff and were surprised to find that it was a dirt road. We were happy that we had decided against bringing the motorhome. It would have been very expensive to have it towed if we got stuck!
We developed a method for recording information about the properties we looked at. We used the Microsoft mapping software to flag the location of each property. Each of the properties on our original list was given a number 1-9. Any other properties we looked at between, was given a fraction. We took pictures of the Real Estate sign first and then pictures of the property so we would know which picture went with which property.
We didn't care for Property 1 (498 Paige Point Bluff); a lot listed at $89,900, but just a little further down the road, we found Property 1.1 to be more interesting. It was on a power line right of way. We found the listing on the internet. It was listed at $110K.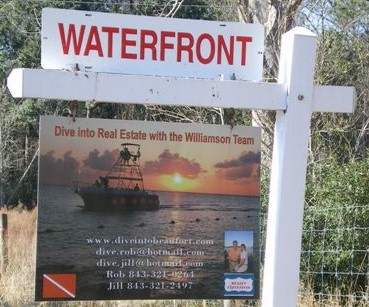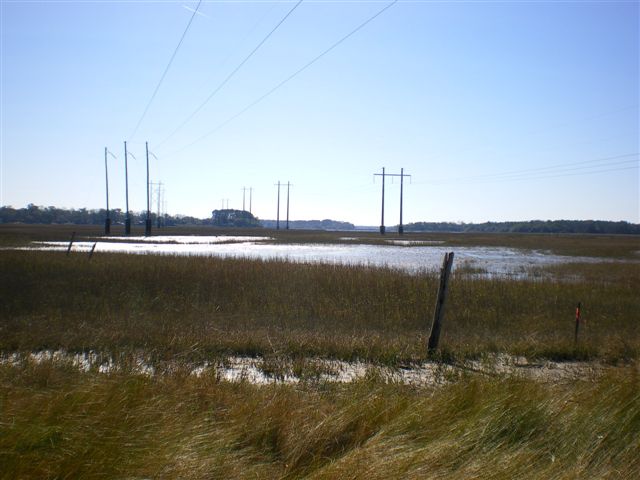 Property 1.2 at 669 Paige Point Road was great! It was right on Huspa Creek. We were pretty sure that it was above our price point, but we took some pictures anyway. Back at the hotel room later, we found that we were right about the price. It was listed at $647,900.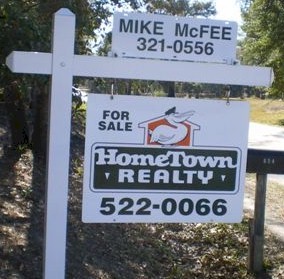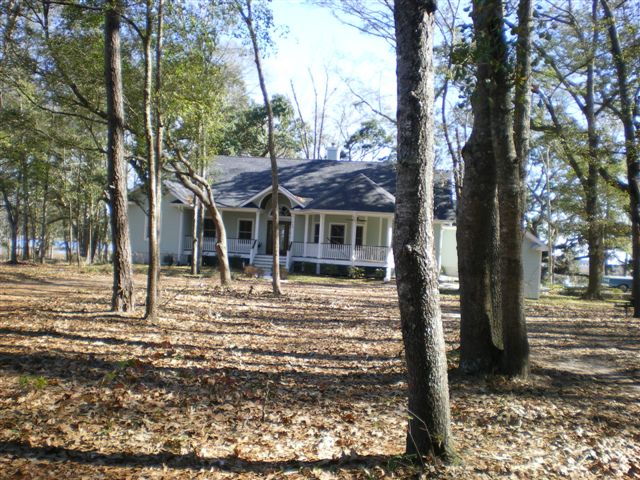 Property 1.3 was a lot near 1.2, also on Paige Point Road/Huspa Creek. We liked the looks of it. The property dropped off near the water so it might not be in a flood zone. Once again, our research back at the hotel that night revealed that this too, was out of our price range at $760K.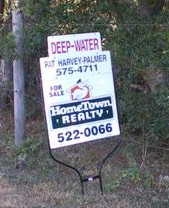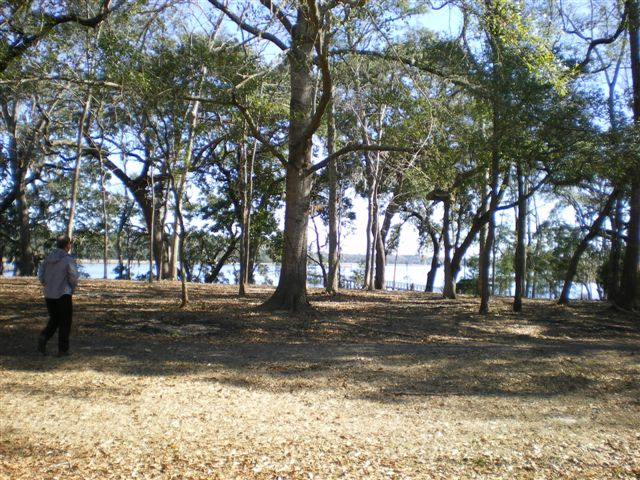 We continued to follow the GPS directions to Property 2. We had to make a big loop to get to a bridge over the river. We decided that the properties on the 1 side of the river didn't fit our requirements.
Property 2 was very difficult to find. We had almost given up when we finally spotted the sign behind a tree. It was an interesting lot, but when we re-read the the ad, we discovered that it did not include the "unbuildable" lot between it and deep water.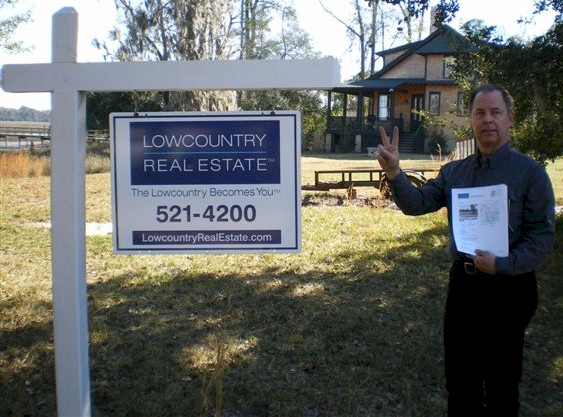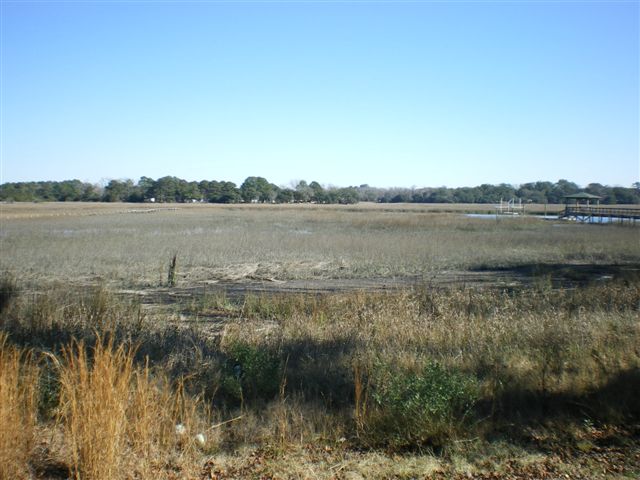 Our path to Property 3 took us through downtown Beaufort. We stopped at the Magnolia Bakery Cafe for Lunch. BJ had the Crabcake Sandwich and Tony the Chicken Cordon Bleu Sandwich. We tried one of the local brews.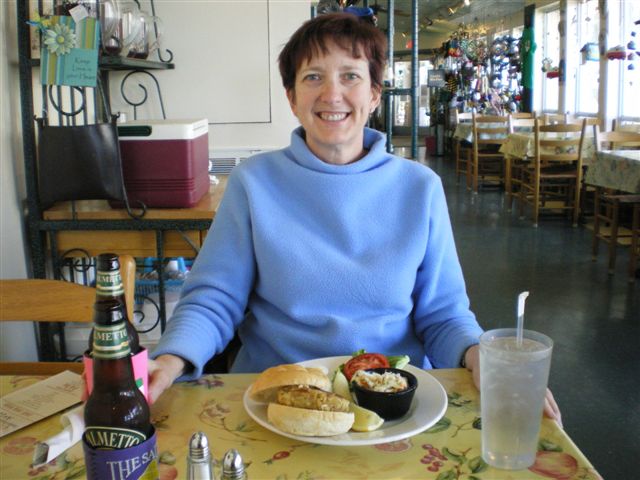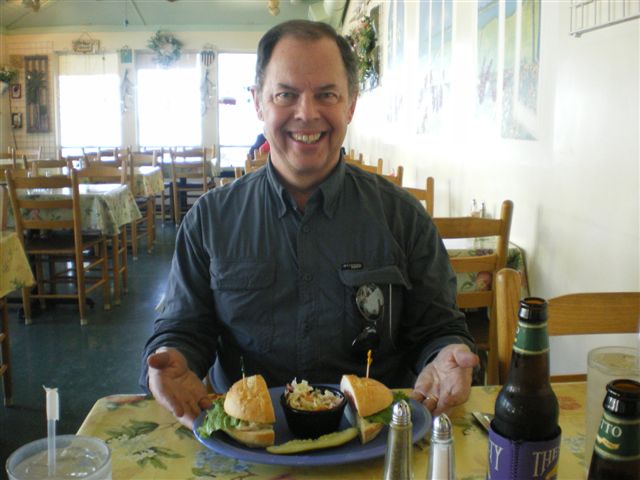 After lunch, we continued on to find Property 3 (27 East River Drive) on Lady's Island, listed at $419,900. It was actually across the road from the river so it didn't meet our requirements.
There was a house for sale by owner across the road. We called it Property 3.1. Not surprisingly it was also outside of our price range.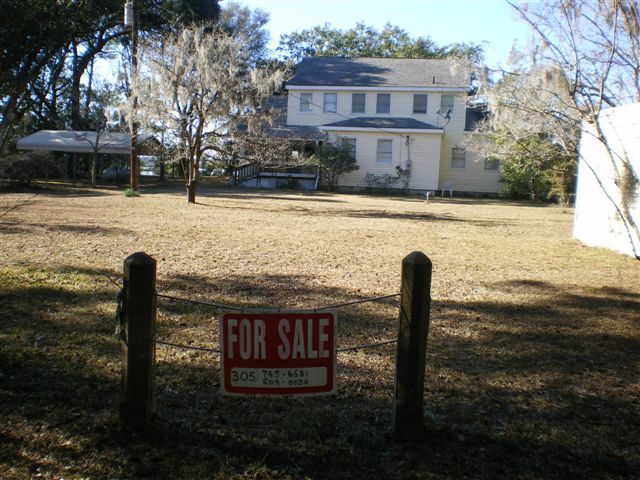 Property 3.2 was a lot on W. River Drive at Windy Point Drive that appeared to be on big water.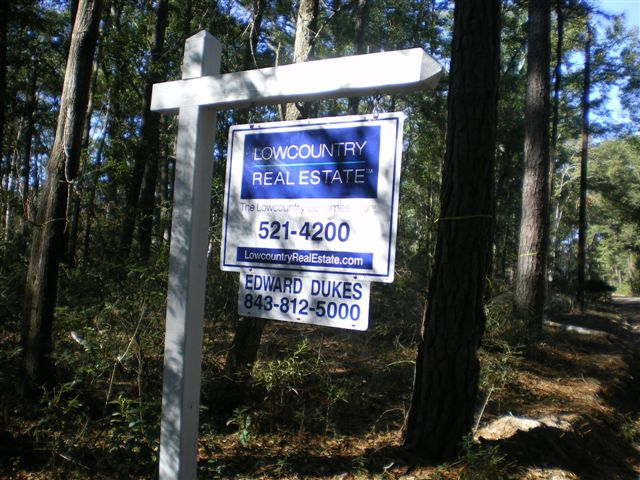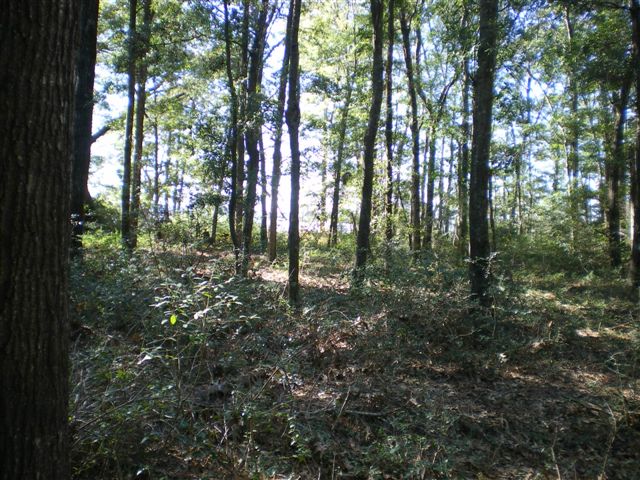 Property 3.3 was a house on big water at 34 E. River Drive. Our later research found the price to be $396,500.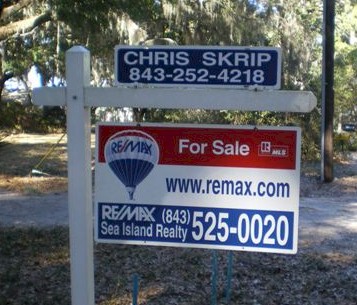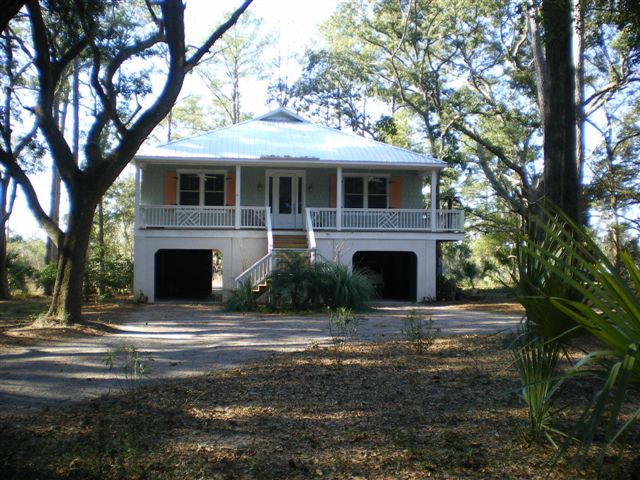 Property 3.4 was a house with a carriage house. We found it listed for $599K.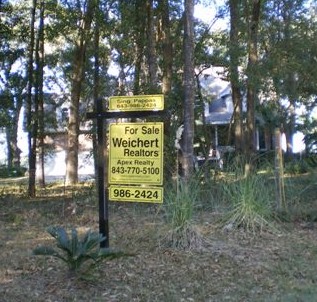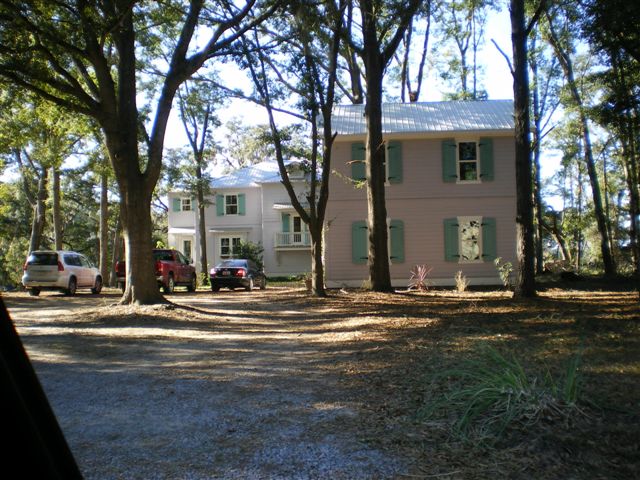 3.5 was a lot For Sale By Owner. It would have been perfect but a call to the owner revealed it was WAY out of our price range.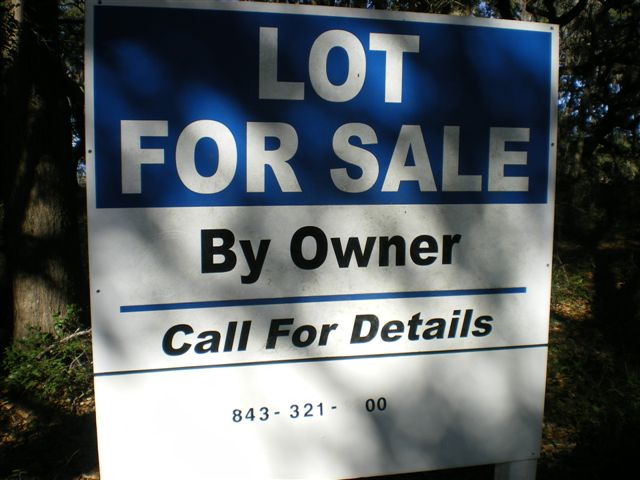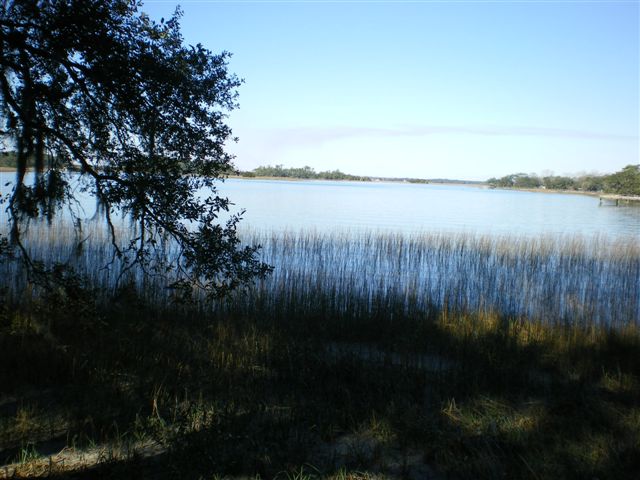 3.6 was another house on E. River Drive. Priced at ~$300K, it could be a possibility.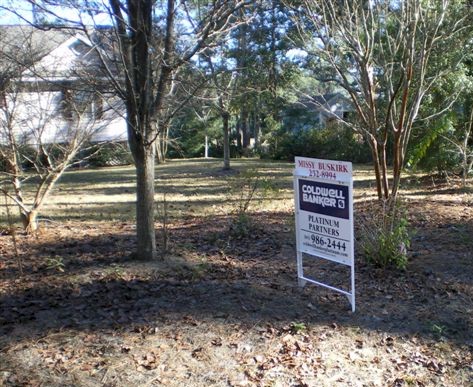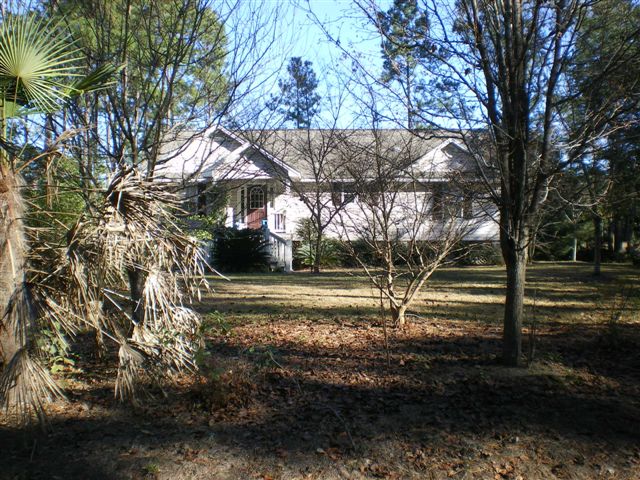 Property 4 (207 Old Plantation Dr. W), a lot priced at $185K, was not actually on the water. It was across the road from the water.
Property 4.1 was a very nice lot with a dock just down the street at 220 Old Plantation. We found it listed at $600K.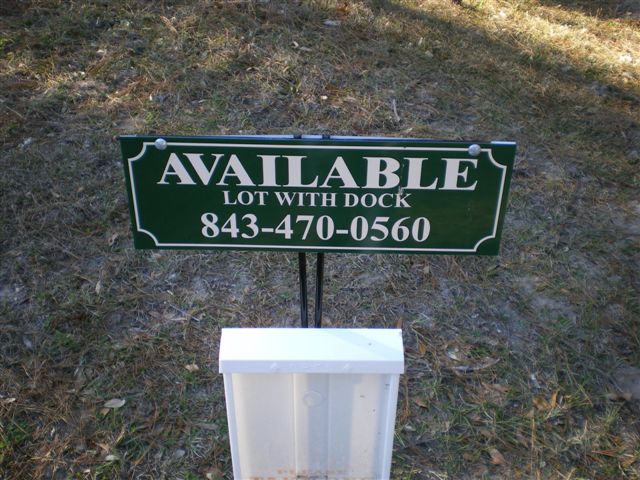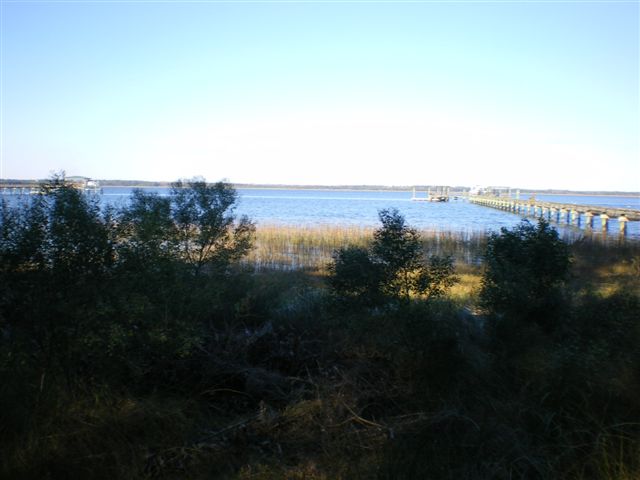 4.2 was another lot just down the road from the same agent. We didn't walk out, but there was a pine needle driveway that led to the water.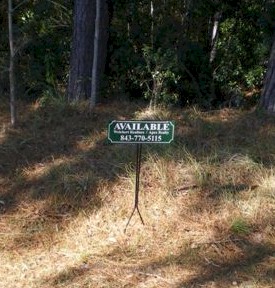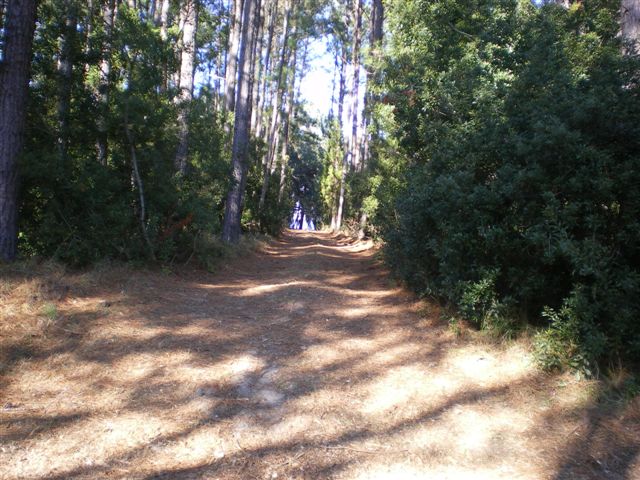 Property 5 at 10 Hudson seemed overpriced to us at $475K.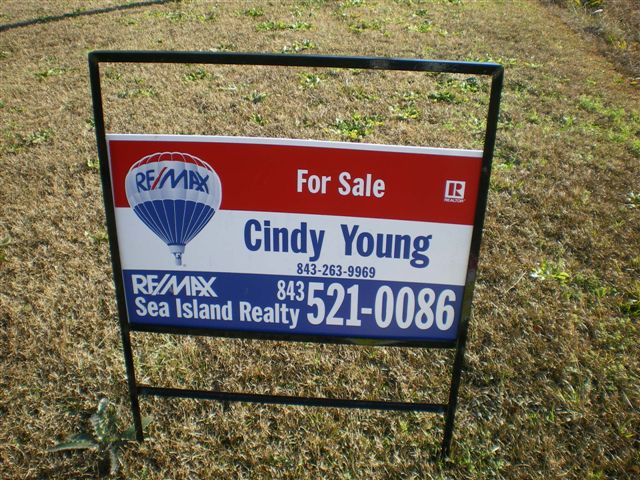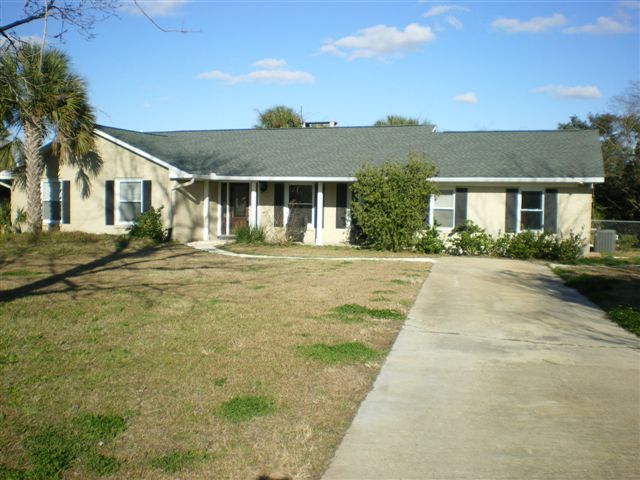 Property 6 at 18 Mariners Court ($450K) was in a cluster home community in Port Royal Landing. It backs up to water, but the side is right on Highway 21. There was no sign so we're not sure if it is still for sale.
Property 7 ($397K) was a brick house on a nice looking marsh, but at low tide, it wouldn't be possible to keep a boat in the water..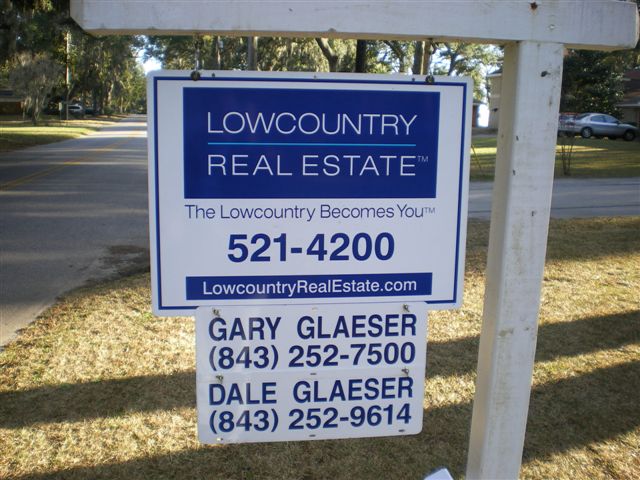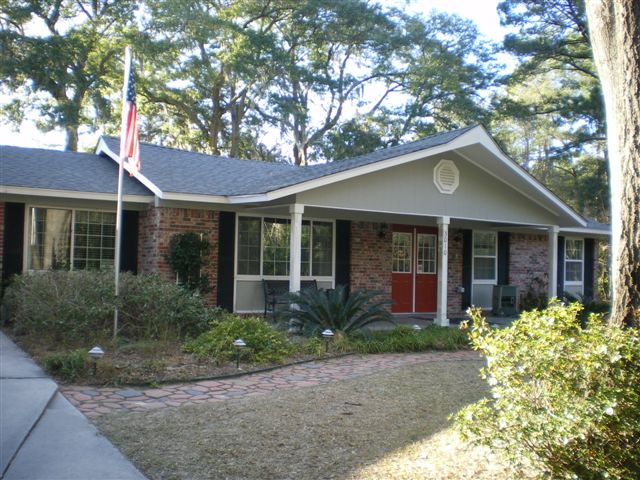 Property 7.1 was a couple of doors down from 7. It had no dock and at low tide, no water.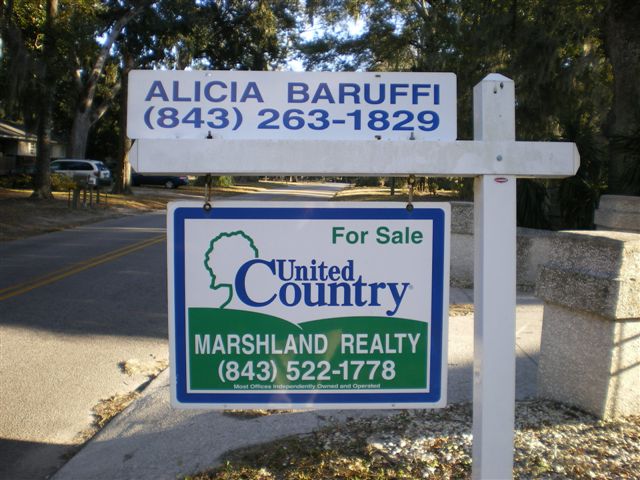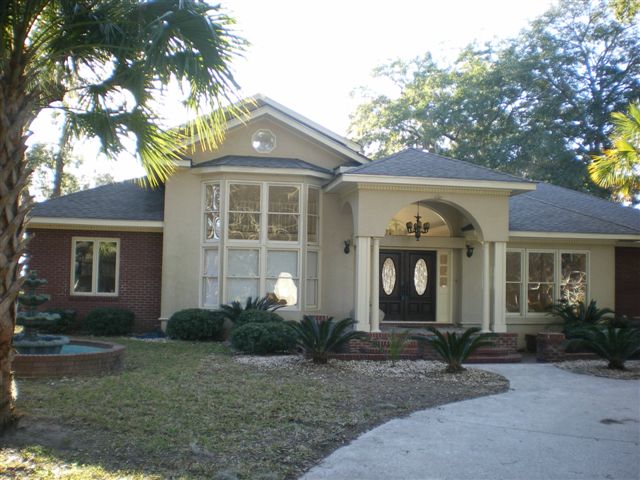 Property 8 ($375K) at 592 Broad River Boulevard was interesting. It was behind a horse farm and there was a small lake between the house and the river.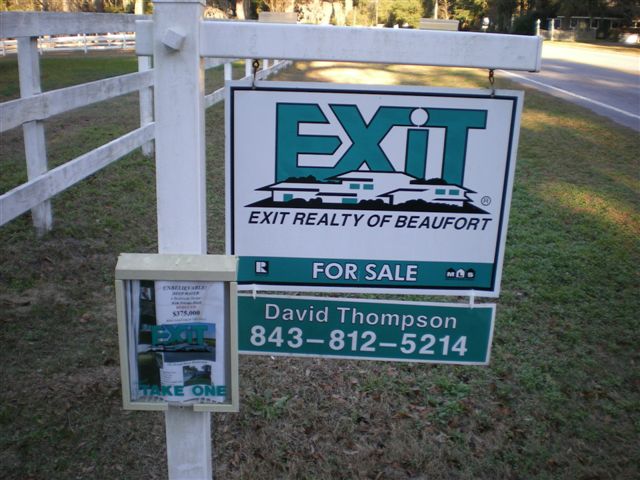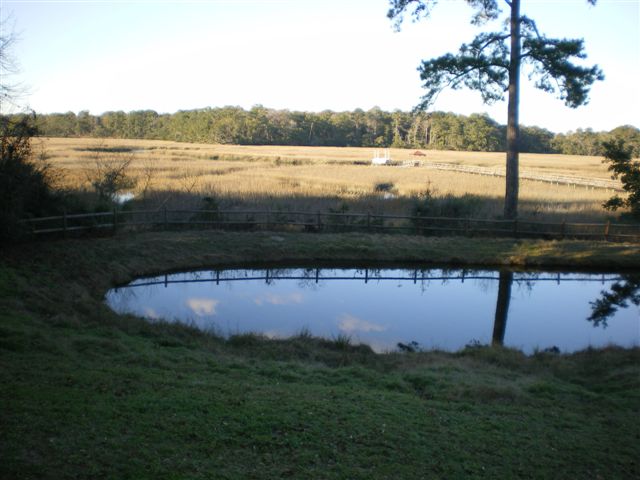 The last property on our list at 6078 Vaux Road ($410K) was the most promising. It dropped off in the back to a creek that was deep enough for a boat. It was in a quiet neighborhood with friendly people. The only drawback is that it was a small lot with a shared driveway. There was no garage or covered parking.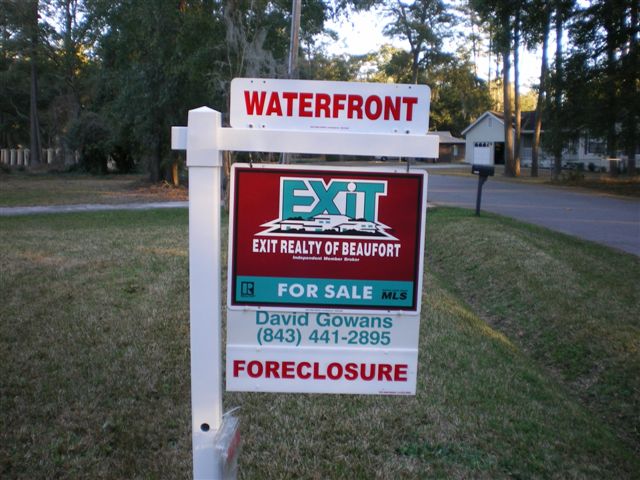 We decided to head back to the hotel and think about what we had seen. The Hilton Garden Inn was nice, but we decided that next time we will stay at the Best Western, closer to the waterfront. We drove down to the waterfront to find something for dinner. There was a nice river walk with lots of bars and restaurants to choose from. We settled for a burger at Luther's Rare and Well Done. It was a happening little place.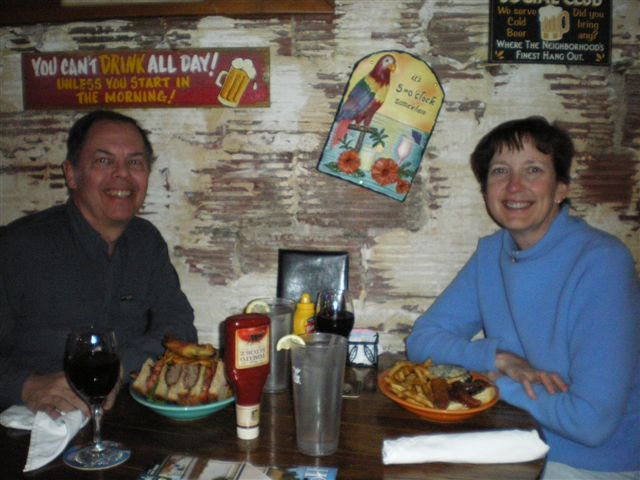 The next morning, we decided to drive out to Property 9 one more time. While we were looking around, the son of the neighbors who share the driveway drove up. He was pet-sitting for his parents. He came over to talk. He gave us a bit of history about the house and information about the creek. He said that they had caught over 30 kinds of fish right off of their docks. He also said that sometimes dolphins and manatees come up into the creek. An agent was showing another couple the house while we walked around in the yard. We decided to call the listing agent and have him come out and show us while we were there. The best part about the interior was the pine floors. The main level was a very open plan with a fireplace at the kitchen end and a wood stove at the other end. There was a small bedroom and a full bath on the main level, two bedrooms upstairs with a shared bath and two finished rooms in the basement. The laundry and storage were in an unfinished portion of the basement.
We walked outside to see what the water level looked like at a different time of day. It did not seem to be subject to much change with the tide.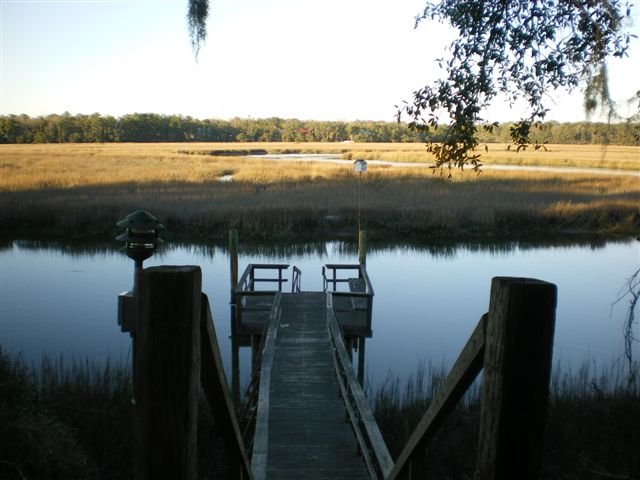 Back home, a couple of days later, we decided to make an offer on Property 9. It was in foreclosure so the agent was dealing with the bank. There have been several offers and counters, but as yet, we have not been able to come to an agreement.
At any rate, it was another great trip!

BJ and Tony
bjandtony@bjandtony.com