New York, New York
February 2009
"A Facebook Success Story"
I joined Facebook last year and immediately loved it. Lots of my friends were skeptical about it and couldn't understand why an adult would want to join. I tried to convince them that it is not just for teenagers but some of them continue to be non-believers. Others accept it readily. I even communicate with an 80 year old friend via Facebook. Its a great way for busy people to catch up with friends and family.
Shortly after I became a fan, I attended a reunion for all of the classes that graduated from Jefferson High School in the 1970's. It was at the reunion that I saw my old friend Vivian. She was not in my class, so I had not seen her at any of my class reunions over the past 30 years. We spoke to each other at the reunion but didn't have much time to talk. She casually mentioned that she was on Facebook, so when I got home, I invited her to be my "friend". We caught up by writing on each others "walls" and I soon learned that she had invented a toy called "Catnap Kitties" that she was getting ready to launch. More Facebook conversation revealed that she would be debuting her toy at the Toy Fair in New York City the following February.
I volunteered to help her out at the Toy Fair since I had some extra vacation built up. She readily took me up on my offer. She had also recruited her young niece Mallory to help out.
Vivian and I continued to communicate via Facebook during the months before the trip. She posted on my wall when the first Catnap Kitties were available on her website in December. I wanted to be the first to purchase, so I hurried to buy one. I was disappointed to learn that I was not first, but thirteenth to purchase the toy. I named my kitty "Thirteen". Thirteen is a very cool cat. He purrs like a real cat. I've never been much of a cat person, but Thirteen is pretty easy to care for and doesn't give me the same haughty, superior look that most cats do.
Vivian invited us to have dinner with her family a few weeks before the trip so we could talk about our plans. She gave me a rundown on what the Toy Fair would be like and how to market her toy to the buyers. We saw how much equipment she would need to take on the airplane and Tony decided that he would fly up with us to help carry things. He was planning to do a turn-around, flying back home that same evening. Vivian and her niece Mallory had booked their tickets on Air Tran so Tony and I listed a Delta flight that left at about the same time.
The night before we were to leave, Tony took a quick look at the return flights and discovered that they were overbooked for the next few days so he decided not to go. He still volunteered to pick Vivian and Mallory up and help them get their bags through the airport. They were supposed to pick me up at work on their way, but after he loaded the car, he called me to say there was not room for my luggage. My office is only a few miles from the airport so I asked a friend to take me.
When I checked in for my flight, I discovered that it had taken a delay. One benefit of being chronically early is that it gives you additional options, so by simply hurrying just a bit, I was able to take an earlier flight. Vivian and Mallory's flight was still showing an on-time departure so this would put me into New York slightly ahead of them. "The Secret Life of Bees" was the movie on the plane. I was in a bulkhead seat and the TV screen that serviced my area of the plane retracted into the ceiling as we were making our final approach so I missed the end of the movie. I was glad I didn't miss the great view of the Statue of Liberty. I am always amazed that she isn't singeing the wing of the plane with her torch as we fly over.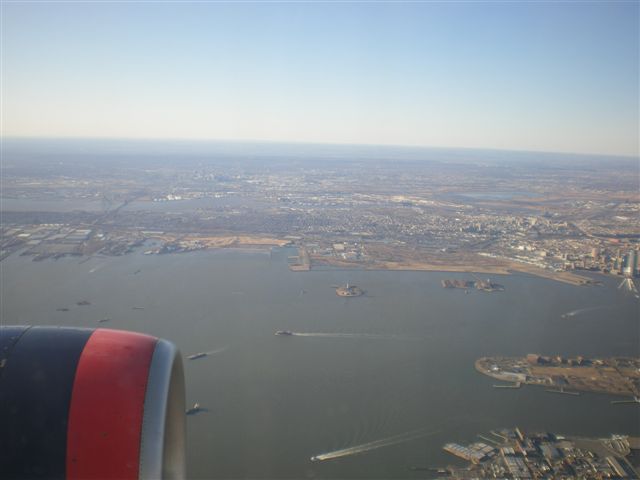 Just as we touched down, I turned on my phone and had a message from Tony telling me that Vivian and Mallory's flight had taken a delay. No matter, I would just have a glass (or two) of wine in the Crown Room while I waited.
The Crown Room was pretty crowded, but I found an empty stool at the bar. I flipped through the Fodor's New York City Travel Guide that Tony had picked up at the library for me. Surprisingly, it was the 2009 edition so I shouldn't run into the same problems we had on the Amsterdam trip with an out of date travel guide. After a couple of drinks and some snacks, I stepped outside to catch the bus to the Air Tran terminal, arriving a few minutes before their plane landed. I called Tony to ask what their luggage looked like and I had already retrieved most of it by the time they made it to Baggage Claim.
We waited in a long line for a taxi. The trip to our hotel only took about 20 minutes. There was a TV and an interactive moving map in the back seat of the taxi. When we arrived at our destination, our bill popped up on the screen and we could use the touch screen to add the tip and then slide a credit card through the convenient credit card machine mounted on the plexi-glass screen between us and the driver.
Our hotel was the Roosevelt at Madison and 45th street. I wasn't sure what to expect, but I was pleased by the elegant looking lobby. When we checked in, the agent commented that she would give us a bigger room since there were 3 of us. Our room was just perfect for the 3 of us. There was a walk-in closet with plenty of room for all of our (well, their) luggage. There were 2 double beds, two comfy chairs, a desk, a chest of drawers and a flat screen TV. Vivian wanted her own bed so Mallory and I said we would share.
The bellman asked if we needed a restaurant recommendation. He gave us coupons for free drinks at Eamonns Irish Pub and recommended the Trattoria Dopo Teatro for Italian food. We decided on Italian. I had the three course pre-theatre menu which included a salad, pasta entree and dessert. Vivian had the rigatoni and Mallory the tortellini. We had a little difficulty with the wine list since they seemed to be out of any of the reasonably priced bottles of wine on the menu. We finally decided to just have a glass of wine.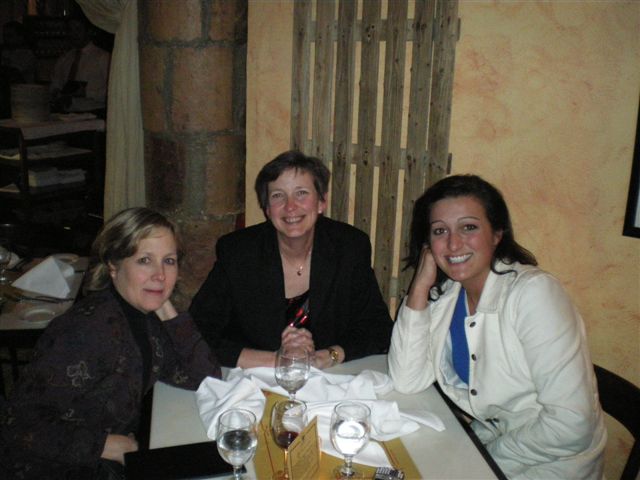 After dinner, we walked up to Times Square to look around. It was all neon and bright lights. We snapped a few pictures and then headed back to the hotel.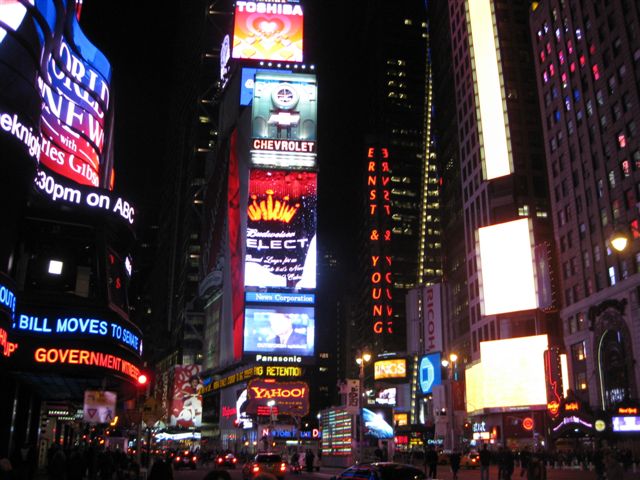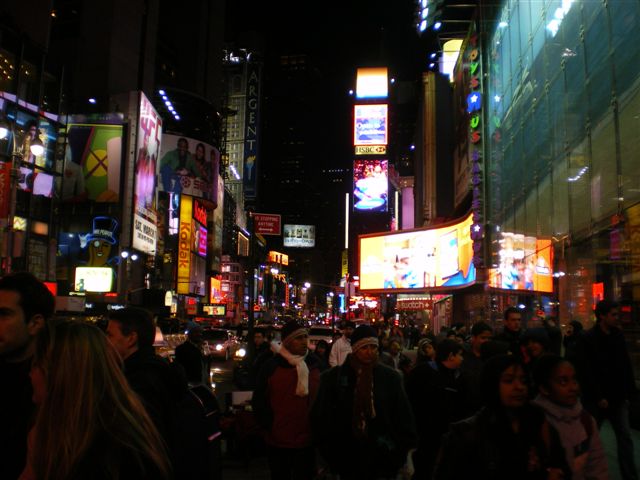 We stopped at the Duane Reade Pharmacy to get some bottled water for the room. There are almost as many Duane Reade Pharmacies in New York as there are Starbucks. On the way back to the hotel, Vivian commented, "I sure did like that rigatoni!". What I heard was, "I sure did like that ride with Tony!". We laughed and laughed.
Mallory made friends with the bartender, so we left her in his care while we went upstairs to unpack.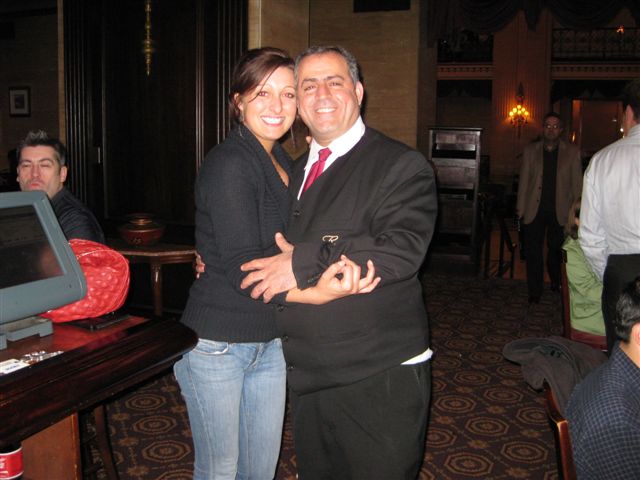 Saturday morning, Vivian got up early and went down to the lobby for a cup of coffee. I took my shower and went down to join her. The bar area transformed into a Starbuck's (one of at least 200 in New York) during the morning hours. You could get a bagel (toast it yourself), cream cheese, and a cup of coffee for around $7. What a (ahem) bargain! There was a fireplace at both ends of the bar where you could sit and enjoy your coffee.
Vivian had shipped two boxes of Catnap Kitties to the hotel, so we picked those up and grabbed a cab to the Javits Center.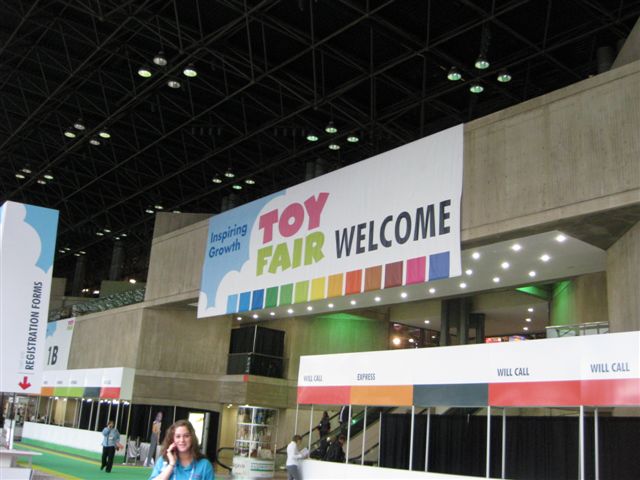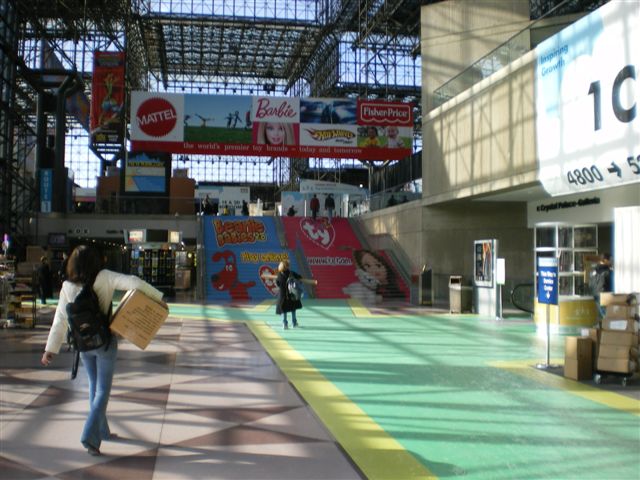 We got the booth set up in short order, leaving just a few final touches to be done the next morning.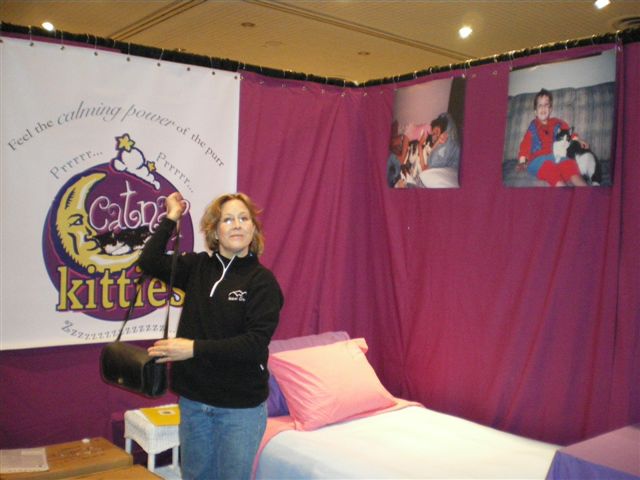 On our way our out of the center, we stopped by the Lego booth to snap a picture with this man made completely of Legos. We weren't sure why he had a chicken on his head.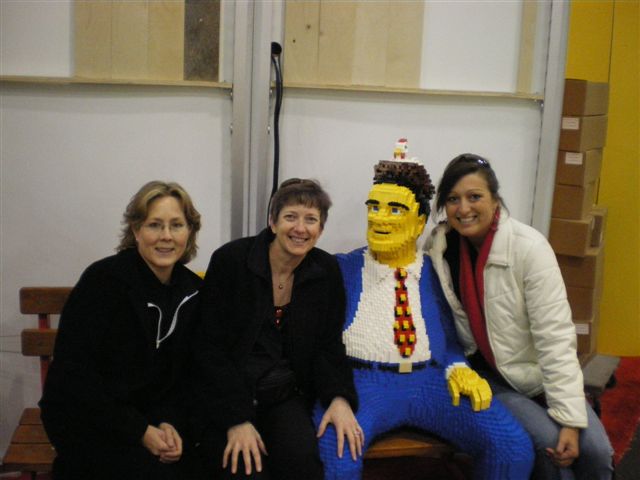 We set out on foot to explore the city. Our first stop was for a quick lunch at Ambrosia. It is a Deli/Salad Bar/Pizza Cafe. They had just about anything a person could want. Mallory got some sort of doughy hot Italian concoction. Vivian got a grilled chicken submarine sandwich and I got a pepper turkey panini. We found seats in the back with a man who did not seem to speak English. He left and a Polish girl sat down. She spoke excellent English and was happy to talk to us. She was in town for a convention. She told us about places that we should visit in Poland.
After lunch, we struck out for Rockefeller Plaza. We watched the ice skaters gliding around the rink in front. It was pretty cold, so we weren't tempted to join them.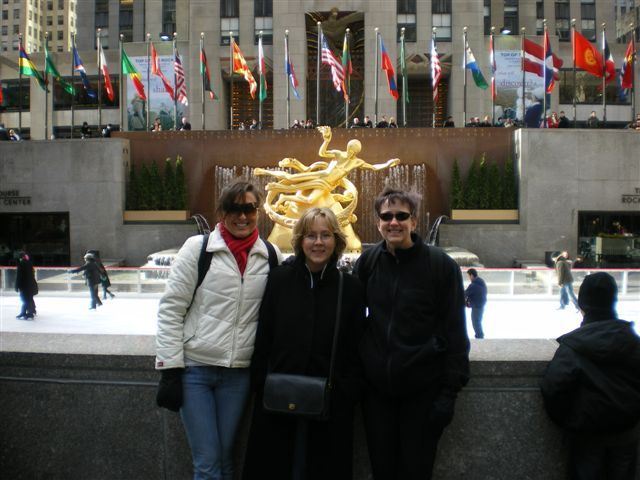 We walked on to the NBC Studios. We asked about a tour, but they were all booked up. We enjoyed browsing at the store and taking pictures with the cardboard cutout of Matt Lauer.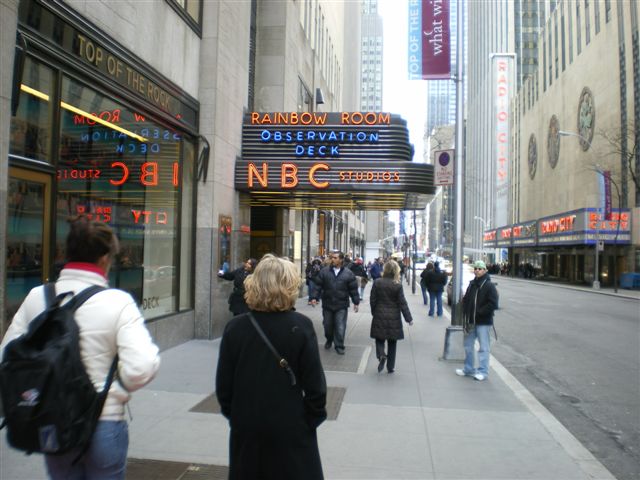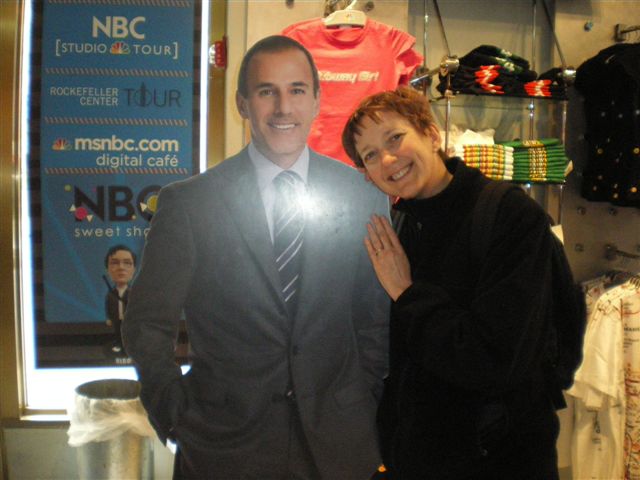 We got the same response at Radio City Music Hall when we asked about their tour. They were all booked up as well.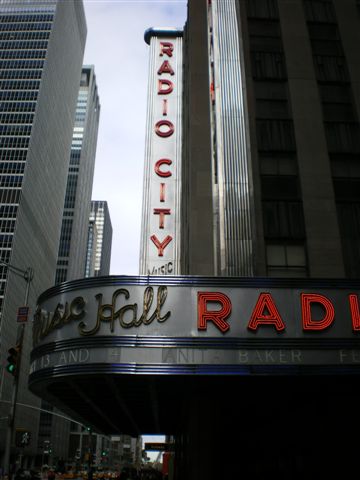 Next on our walking tour was St. Patrick's Cathedral. It was very elaborate and reminded me of some of the churches I had seen in Europe.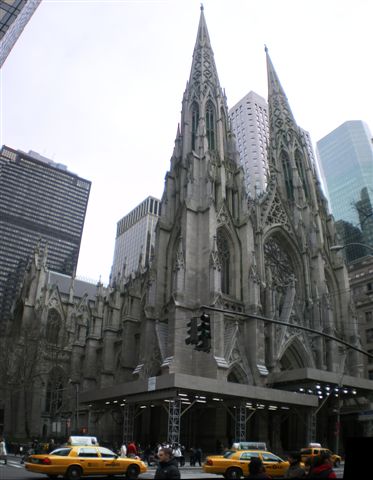 Not far from St. Patrick's, we passed St. Thomas Church with its beautiful front doors.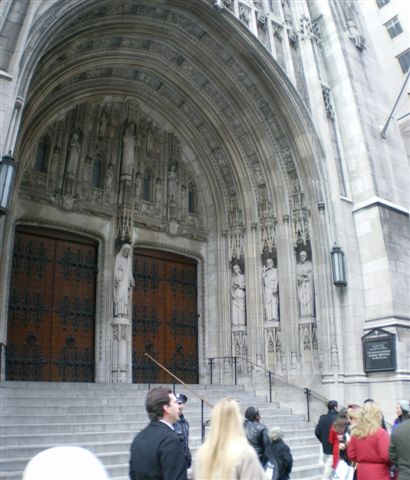 We dashed across the street to the Disney store so Vivian could get a Mickey Mouse watch (her first) for herself and her 10 year old daughter.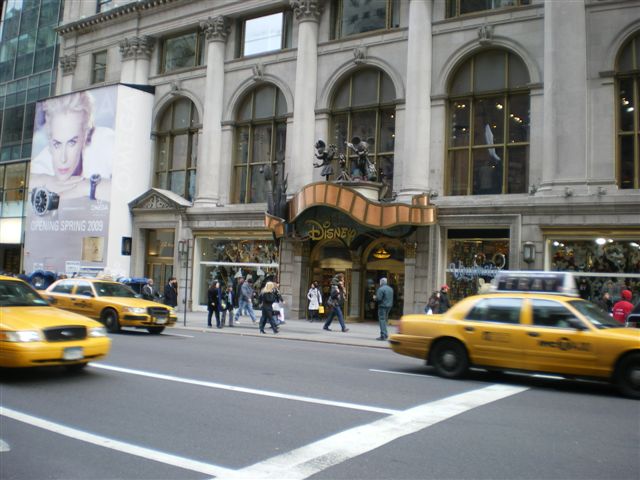 Mallory found some matching shirts for herself and her two nieces.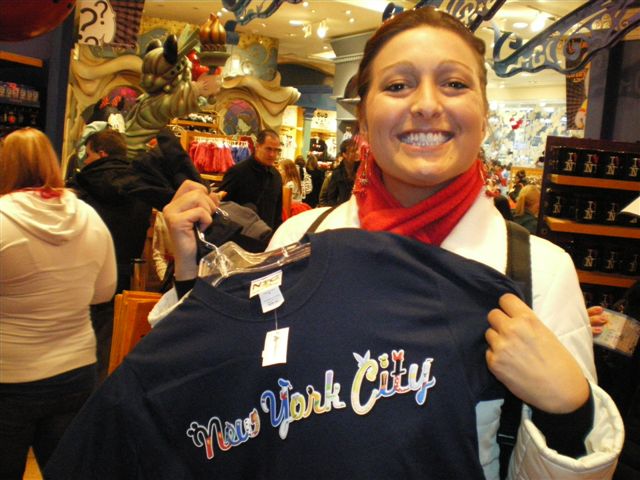 We ducked into the Trump Tower for a cup of coffee at the Starbucks (imagine that) on the second floor. We gazed out on the Prada store while we sipped our coffee.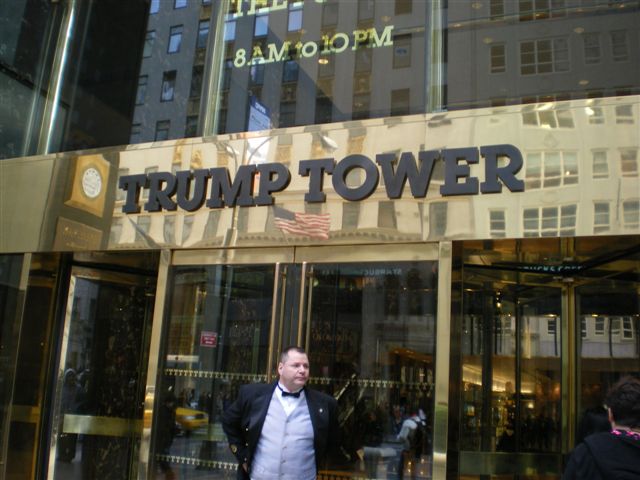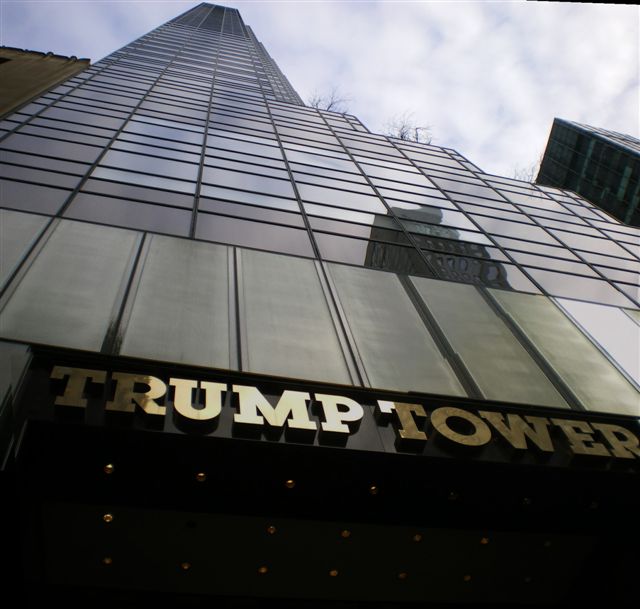 Of course we had to stop into F.A.O. Schwarz to look around.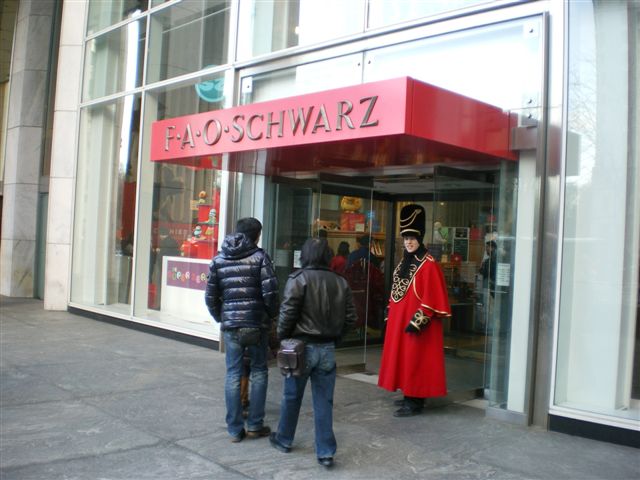 What trip would be complete without a visit to the giant piano! A young couple was dancing away, tickling the ivories. The poor girl probably regretted her sock selection for the day when she took off her shoes to play the piano and discovered the large hole her toe was protruding though.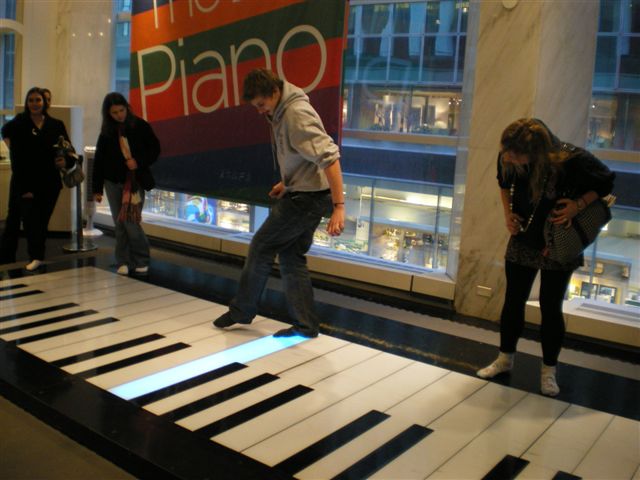 There were more giant Lego people.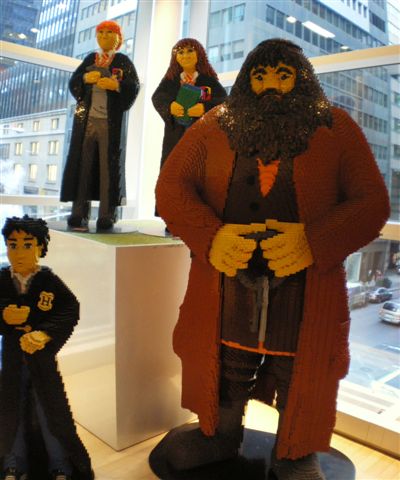 Outside, we saw the Plaza Hotel which we were familiar with from "Home Alone 2: Lost in New York".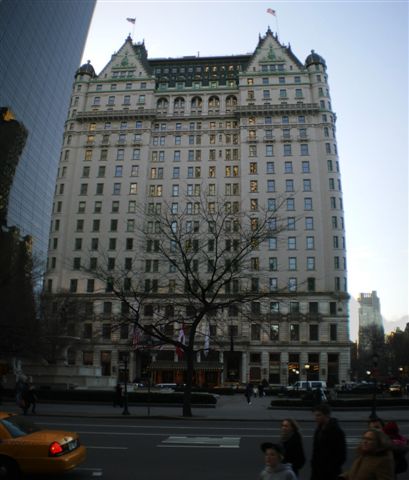 We passed a few horse and buggy teams as we entered Central Park.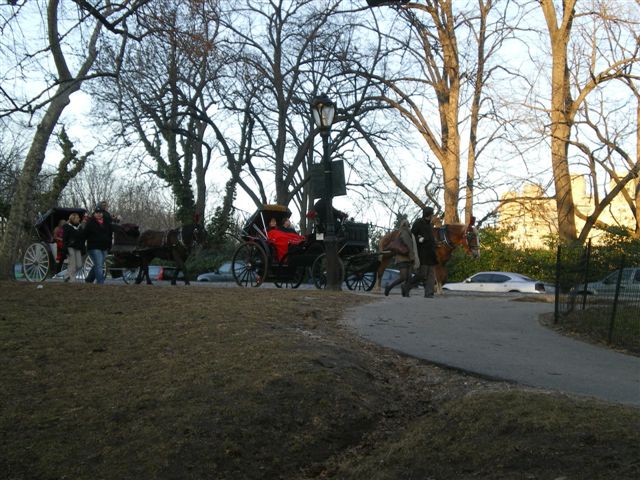 We followed signs to the Woolman Rink and watched the skaters swirling around on one side of the lake while the Rangers coached young hockey players on the other side.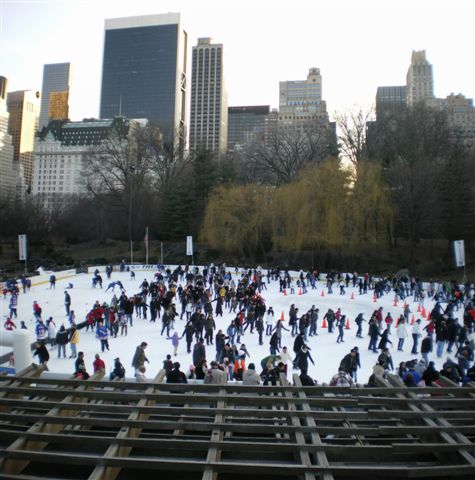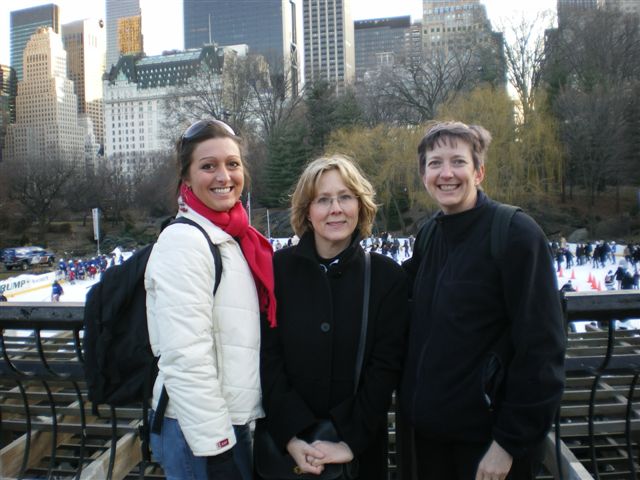 We climbed over a big rock and continued our walk though the park.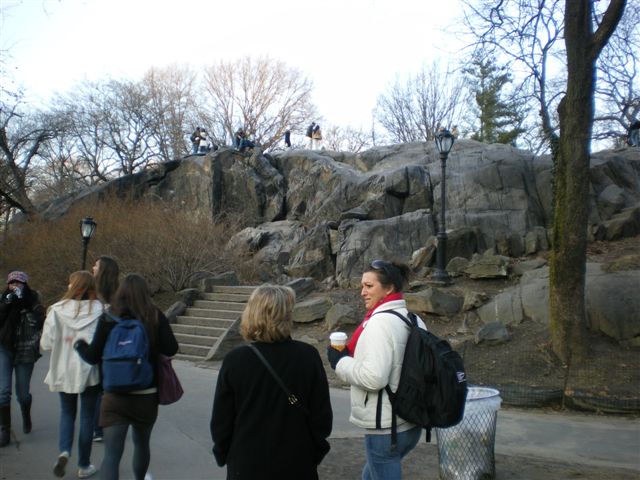 We emerged at the Metropolitan Museum. There was a suggested donation of $20 per person, but we chose not to follow the suggestion, donating $10 for the three of us. We were required to check our backpacks so we checked our coats as well.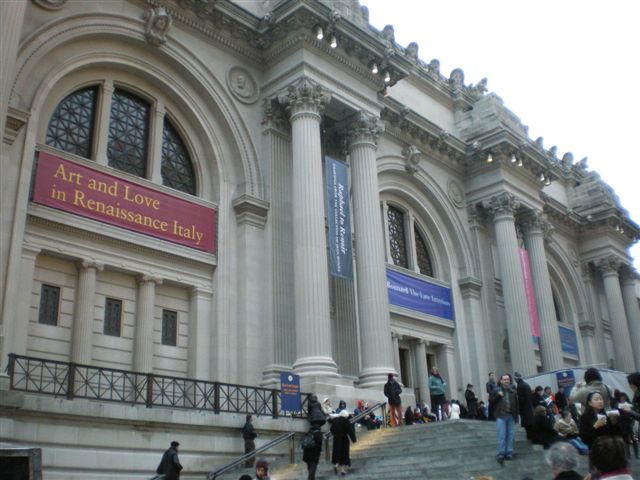 The map of the museum is not very easy to follow so after we made the same loop twice, we stopped to ask an attendant for directions. She said to just walk around to The Great Hall and then follow the dots. Too bad the dots were just on the map and not on the floor!
We finally made it to the Sackler Wing, where we admired the Temple of Dendur exhibit.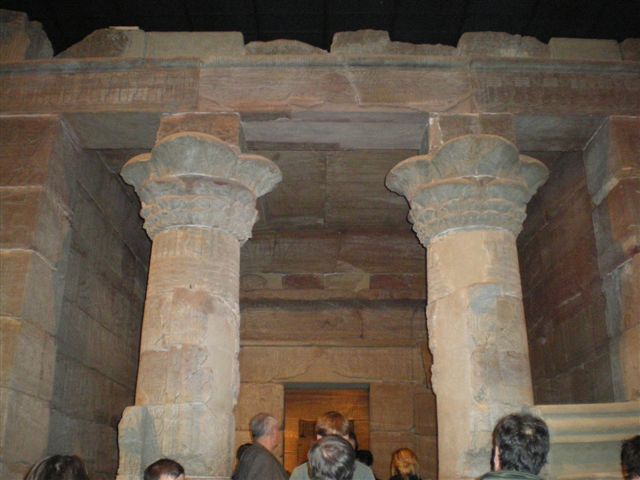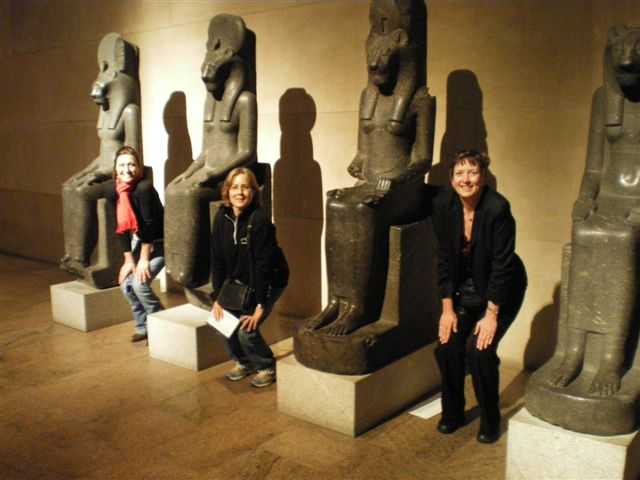 Next, we went to the Arms and Armor room. Vivian knew a lot of the history surrounding the eras of the armor in the room.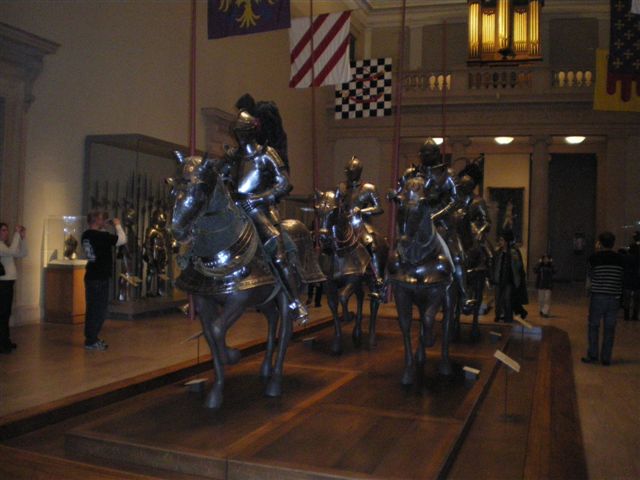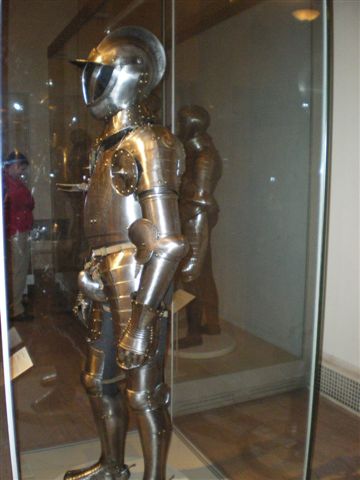 We made a quick spin through the European Paintings, eavesdropping on a tour guide who was describing how the tempera paints were made from egg yolks.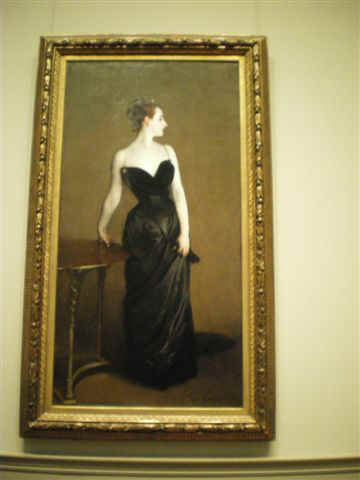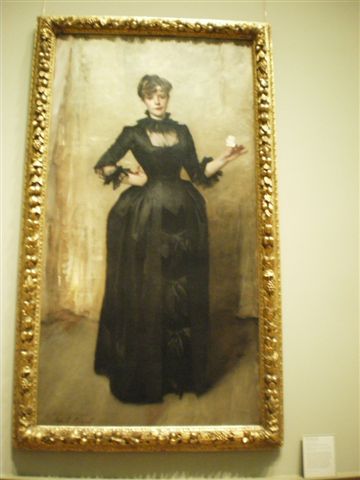 On our way out, we stopped through the European Sculptures. A nice man stopped to tell us the story of Perseus, Medusa and Andromeda.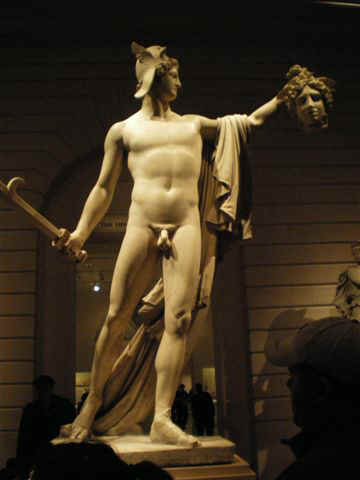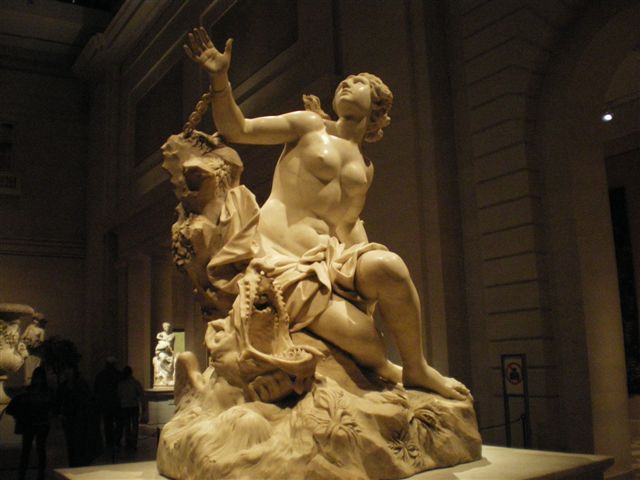 We retrieved our coats and backpacks and set out to find a place to relax and have a glass of wine. Our feet were killing us so we were hoping to find a place close by. We walked and walked, but with no success. It was Valentine's day so we were afraid we might have trouble getting into a restaurant, we weren't prepared to have trouble even FINDING a restaurant. Finally we stumbled on the Lenox Hill Grill. At first, we passed it up because there were very few customers, but after walking a few more blocks and finding no more places, we turned back. It turned out to be perfect for our Valentine's Day dinner.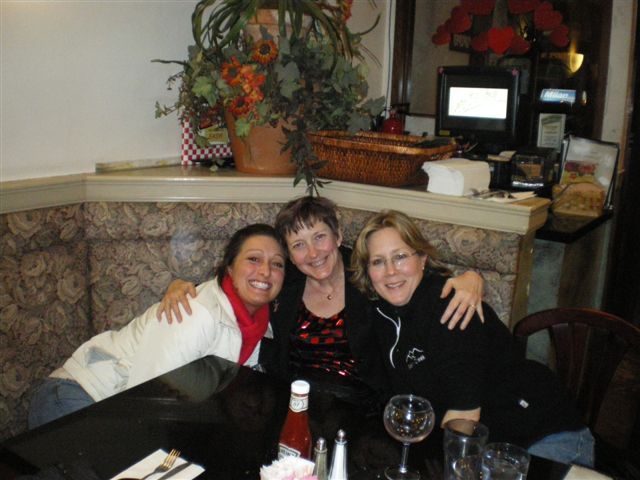 Mallory wanted to experience all of New York, so she ordered a Manhattan. She wasn't quite prepared for how strong it tasted.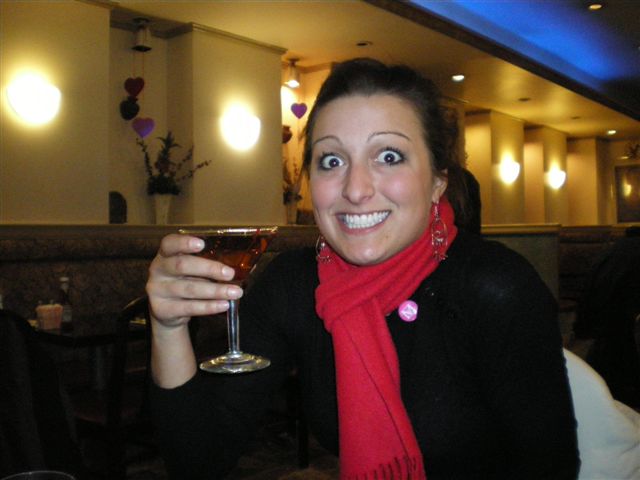 We were glad the restaurant wasn't crowded so we wouldn't feel rushed. We were too tired to eat right away so we enjoyed a glass of wine while we studied the menu. I was disappointed that they were out of the Eggplant Rollatine, but the soup and salad was delicious.
The waitress was very friendly. She said that she is moving to Georgia and she is upset because she has so many coats and she won't get to wear them.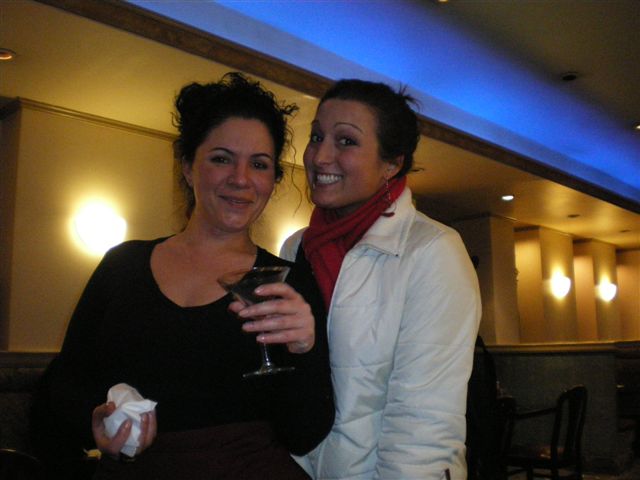 Back at the hotel, we got everything ready for the Toy Fair the next day. We put fresh batteries in all of the Catnap Kitties.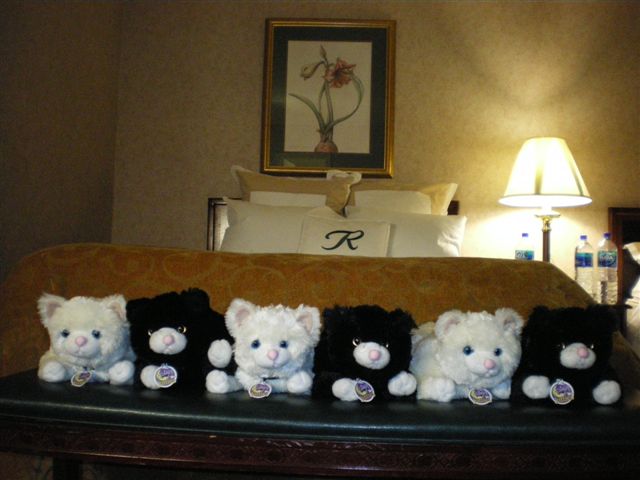 Sunday morning, after our usual coffee routine, we caught the bus to the Javits Center. Vivian was unhappy because we arrived later than some of the buyers. The show was supposed to open at 10AM but people started arriving before 9AM.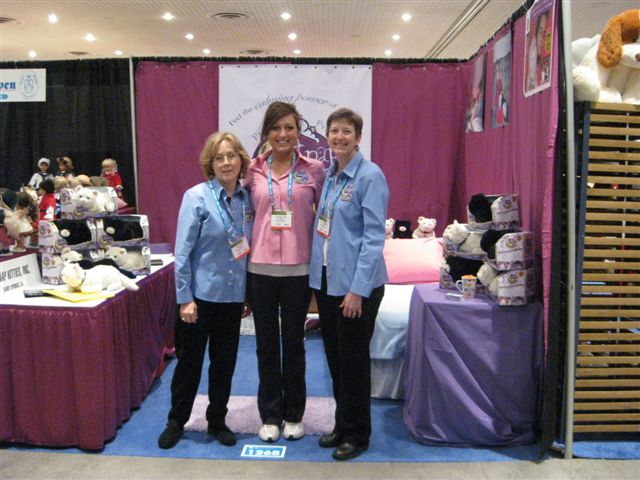 The show was really slow on Sunday. I looked at my watch at one point, expecting it to be almost time to go home and found that it was 11AM. Vivian had taught me the spiel, "Would you like to feel the calming power of the purr?" So I tried it on everyone who passed. At first, I would get my feelings hurt when people ignored me, but after awhile, I developed a thick skin. The people who like cats were really taken with the product, others didn't seem to understand it. The toy is meant to be used as a soothing toy to help a child go to sleep, therefore it is really not loud enough to compete with all of the ambient noise in a trade show. If I could get someone's attention, I would put the kitty up to their ear so they could hear it and feel it vibrate.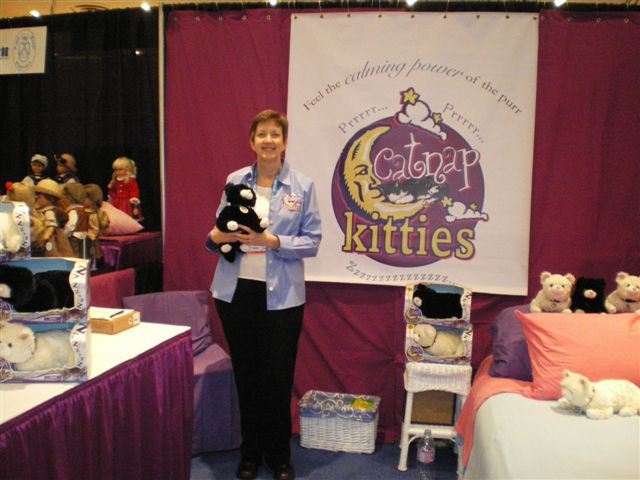 We met the people who had booths around ours. There was a German doll manufacturer who spoke decent English and a German stuffed animal manufacturer who spoke no English on either side of us. Directly across from us was the wife of a Delta pilot who had written some books about medieval maidens and created dolls to match the books. I enjoyed comparing notes with her about our travel adventures.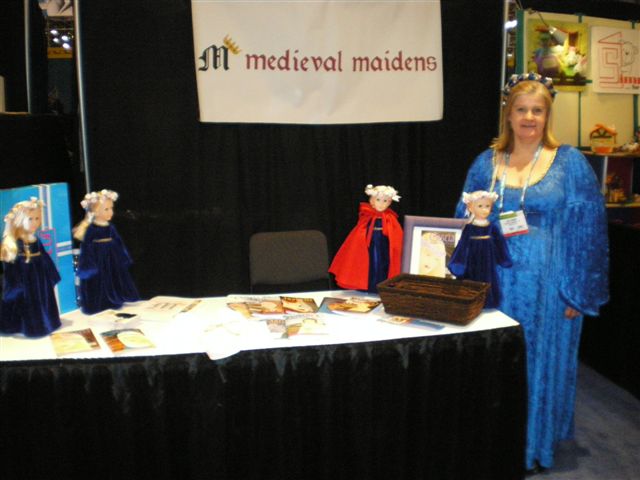 I went for a walk to look around at the other booths. I covered about a third of the top floor. I found Thumbelina, the world's smallest horse. I didn't try to ride her.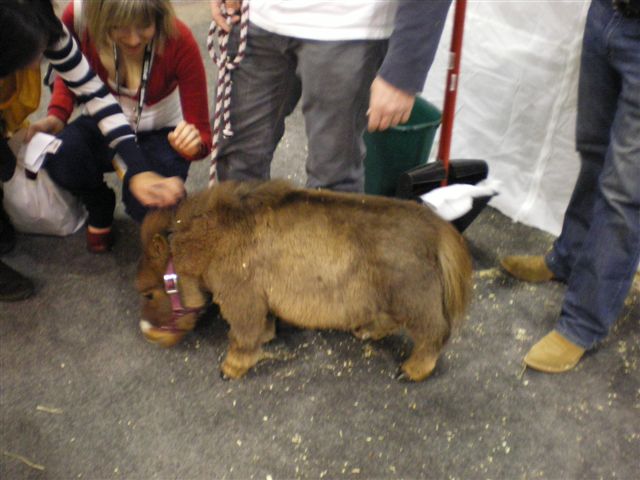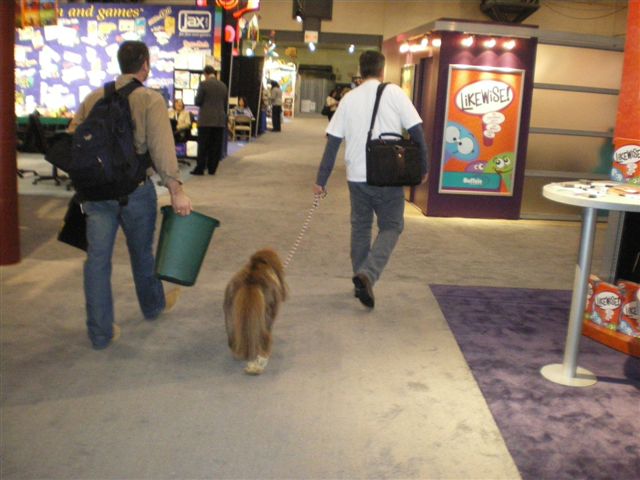 Finally, after what seemed like days, it was 6PM and we could pack up the booth for the day. I had written orders for only 12 kitties but Mallory had only sold 6 so I was the top salesperson for the day.
Vivian wanted to try a restaurant called "Napes" that she had seen on the map. It was near our hotel, but it was closed. A number of places we passed were closed on Sunday night. We remembered that we had free drink coupons for Eamonns Irish Pub. We were surprised at how good the food was. Mallory had a burger, Vivian had the Chicken Pot Pie and I had the Flounder. We sat next to a woman who felt it necessary to tell us how many calories were in everything we were eating.
We stopped by the Duane Reade again for bottled water. I thought I might pick up a bottle of wine to take back to the room for the evenings but they don't sell wine at the Duane Reade. I asked about a grocery store or wine store but they didn't know where I could find one.
Mallory introduced us to her bartender friend back at the hotel. I wasn't willing to pay $15 for a glass of wine at the bar so I went to the room with Vivian. We watched "Big Love" on HBO. It is a series about people who practice polygamy. We tried to watch "Brothers and Sisters" afterward but I fell asleep.
Monday was much better at the Toy Fair. The time seemed to fly by. Mallory and I wrote several more orders for kitties. Vivian had meetings with various vendors and buyers. She even got to record a spot on MSNBC called "Share Your Story". She is afraid she will end up on the cutting room floor though because she wasn't willing to answer their question about how she thought the stimulus package would affect her business.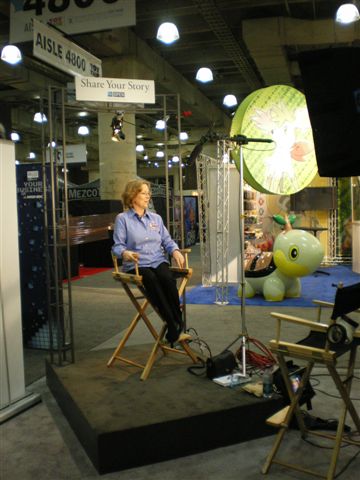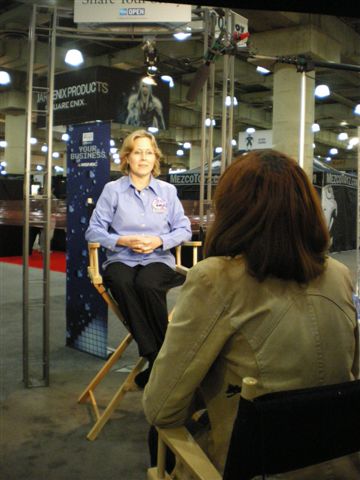 For dinner we went to a restaurant called Joe Allen that Vivian had enjoyed on a previous trip. Mallory had made friends with some folks at Eamonns the night before so she decided to go out with them instead of the two old women (us). I was surprised at how reasonably priced Joe Allen was. We ordered a half liter of the house wine while we studied the menu. We each ordered a salad and split the Penne with hot Italian sausage so we could leave room for the dessert that Vivian had been dreaming about since her last visit. The Hot Fudge Pudding Cake with Vanilla Ice Cream and Hot Fudge Sauce looked melt in your mouth delicious when they set it in front of us. I took a small bite and it was so good, I had to put my spoon down and take a picture.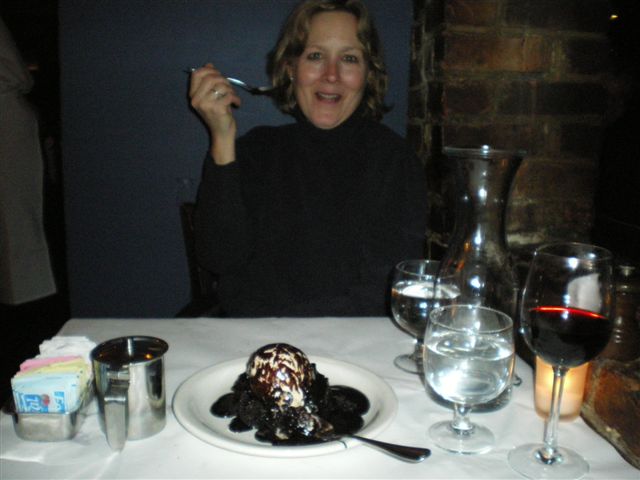 Oh my gosh! Vivian and I joked that the dessert was better than sex. We moaned with each bite that just melted in our mouths. At one point, Vivian commented that she thought I was eating too slowly. She said that she would be through her half and into mine if I didn't hurry. I scooped up a big bite to catch up and discovered that there was something in it. I thought it was something like cupcake paper so I scraped it off to the side and was about to take another bite when Vivian took a closer look at what I had found. She said, "Its stretchy and rubbery. I think its a condom!" I dropped my spoon and we looked at each other, wide eyed. She held it up and I took a picture. We burst out laughing.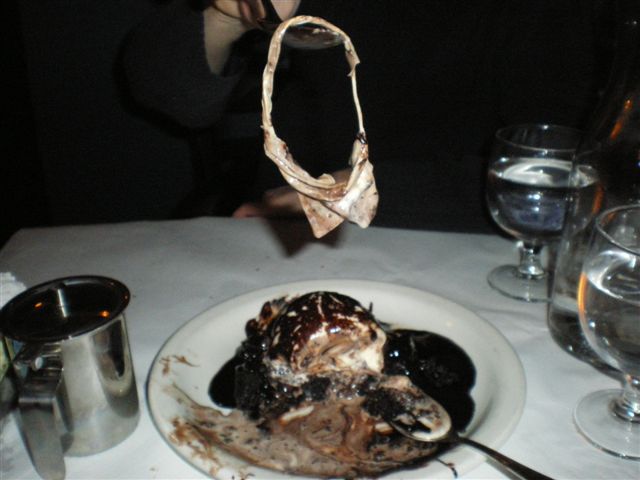 The waiter came over to see what was going on. We told him that we thought the dessert was better than sex but said that we hadn't expected to find a condom in it. He was mortified. He said that it was part of a latex glove that their dessert maker had accidentally dropped. He took it away and asked if he could bring us something else. We said we didn't think so. He said they would comp our dessert and our wine. We didn't say anything, but when he walked off, I told Vivian that I felt sure they would comp our entire meal. Sure enough, moments later, the manager came over to apologize and tell us that our meal was free. I feel really bad posting this on the web site because I don't want to affect their business but the story is too good not to tell.
We found Mallory waiting to cross the street on our way back to the hotel so we all walked back together. Mallory still hadn't eaten so she went out for a sandwich. Somehow she managed to get a limo ride to a sandwich shop for free. Lots of things are free when you are young, pretty and have a charming Southern accent!
Tuesday, Mallory and I decided to take a Catnap Kitty try to get on the Today Show before going to the Toy Fair. We got up really early (6AM) and got ready. Mallory convinced me that a dab of Preparation H under your eyes would get rid of the dark circles. For me, it got rid of the dark circles but replaced them with swollen lower lids and a never ending supply of tears!
We shook hands with Al Roker and managed to get on TV very briefly. Thankfully Tony set up the Tivo so I could see it. Al Roker was so nice. He walked around and shook hands with everyone. We were surprised at how short Matt Lauer is.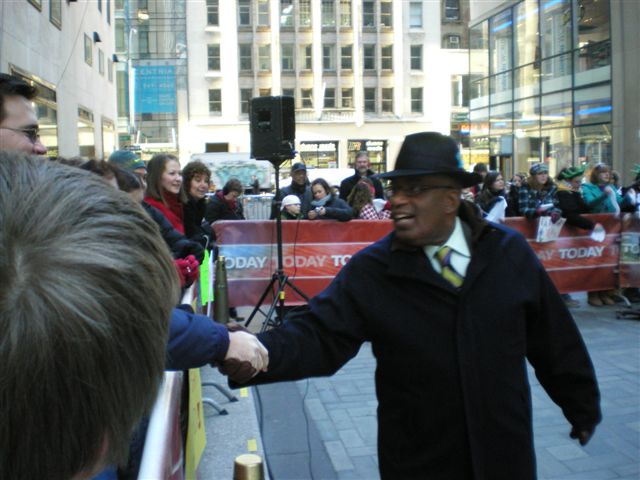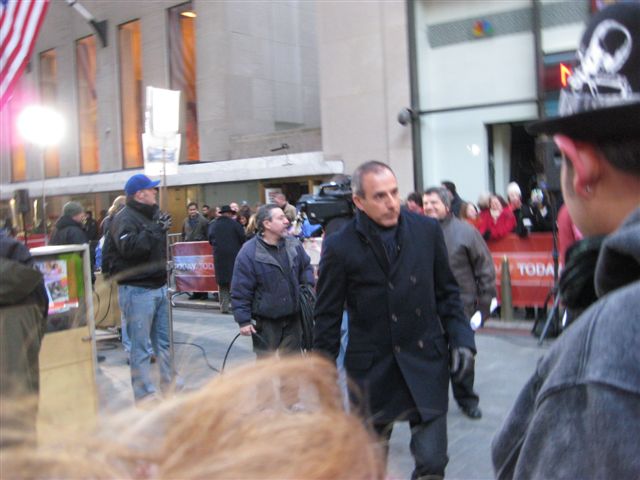 We went back to the hotel and Mallory took a nap. I tried to get her up with no success, so I caught the last bus to the Javits Center by myself. Traffic was really bad, but I got there in time to relieve Vivian so she could get some lunch. Mallory took a cab and got there mid-afternoon. I sold a few more kitties, securing my spot as the top salesperson.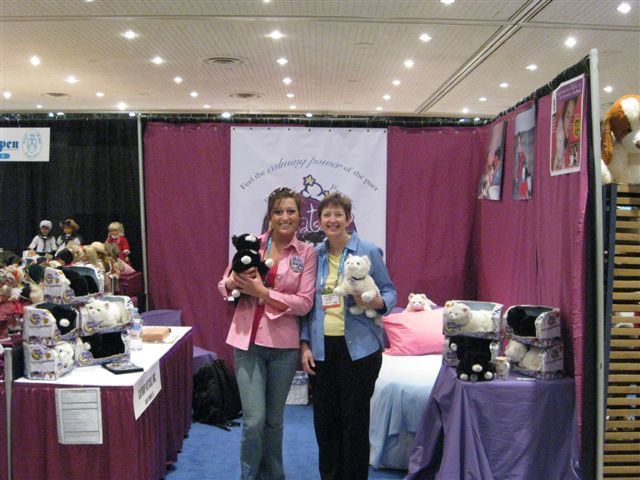 Tuesday night, there was a cocktail party for New Inventors upstairs at Connolly's Pub. We met lots of people. I met three guys named Tony. One was an Australian who is a game inventor. He had invented a game that had something to do with animal noises. Another Tony was a salesperson for a competing game label. There was a cute couple from Canada. I can't remember what they had invented. After a couple of pints of Guinness, we decided we needed to get something to eat so we went downstairs. I had a delicious roast beef panini!
We walked around looking for a grocery store or wine store, but had no success. We went back to the hotel.
Wednesday was the last day of the show. Vivian got up and took an early bus. I took a shower and tried to roust Mallory. I decided to walk back to the Today show and see if I could get on again. I took one of the Catnap Kitties. I got there just as the crew was going back inside, but I managed to stand outside the window where I could be seen while they were doing an interview with Steve Harvey on his book "Act like a Lady, Think like a Man".
Back at the hotel, I tried again to roust Mallory with no success. I caught the bus to the Javits Center. It was a really slow day. Most of the people who stopped by the booth came to ask if we had any closeouts we wanted to sell. A couple of people came by asking for donations for children's parties or causes.
Mallory walked over, arriving at the Javits just as it was starting to rain. The rain turned to snow and then back to rain.
We couldn't wait for 4PM to come when we could pack up. They had taken our cardboard boxes away so I fashioned one out of a piece of cardboard to get our samples back home. We packed up in record time and caught the 4:30 bus back to the hotel. We changed clothes and headed out to get tickets to a show.
The weather was rather miserable, cold and wet. I had a raincoat but Vivian had to put a grocery bag on her head until we could get to a store where she could buy an umbrella. Mallory was embarrassed to walk with us until Vivian got rid of the grocery bag.
We stood in line in Times Square at the TKTS booth. One of the attendants highly recommended Altar Boyz so we bought tickets.
We would have eaten at Joe Allen again, but after our previous experience, we decided to find something different. Seeda Thai restaurant was across the street from the theater. It was pretty deserted so I wasn't sure if it would be good, but it turned out to be delicious. Vivian and Mallory looked to me for advice on ordering since they hadn't had Thai before. We did okay except that Mallory's green curry was a little too hot for her.
The show was great! I snapped a couple of pictures and then Mallory got her camera out to take some. She had no sooner turned it on than the usher came and took it away from her.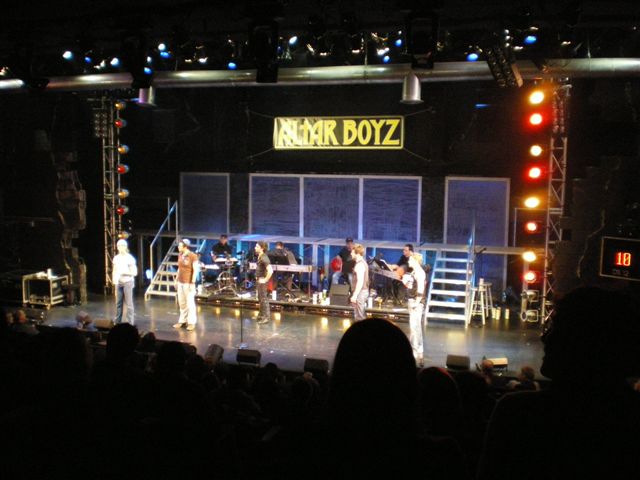 After the show, Mallory met some of her new friends. Vivian and I stopped by the M&M store and then went back to the hotel to pack and update our Facebook!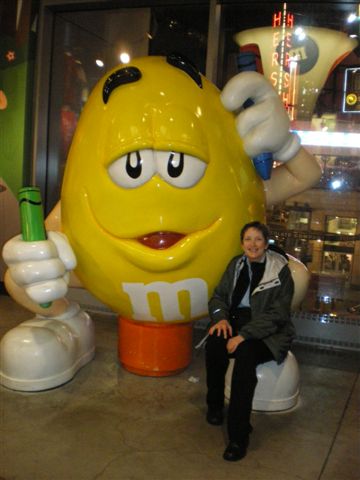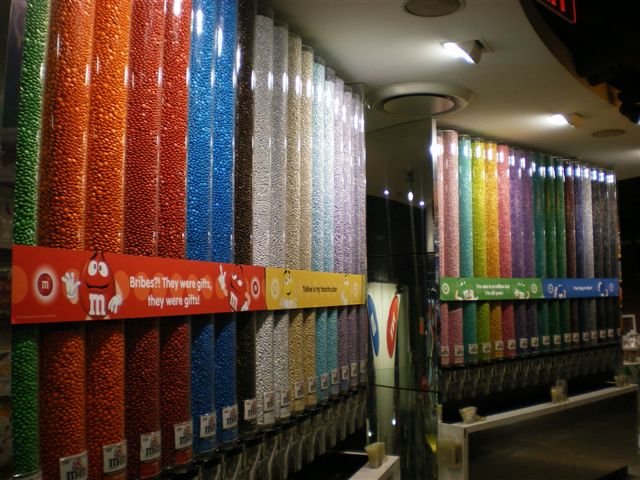 Mallory came in at 5:15AM! Youth...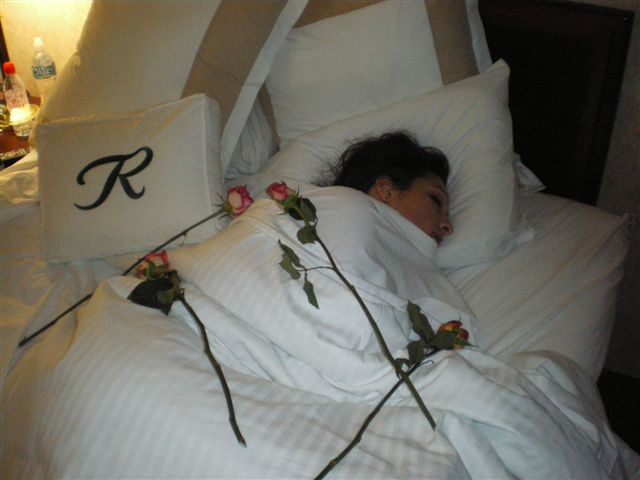 Thursday, Vivian and I got up and made one more trek to the Today show since she hadn't gotten to go yet.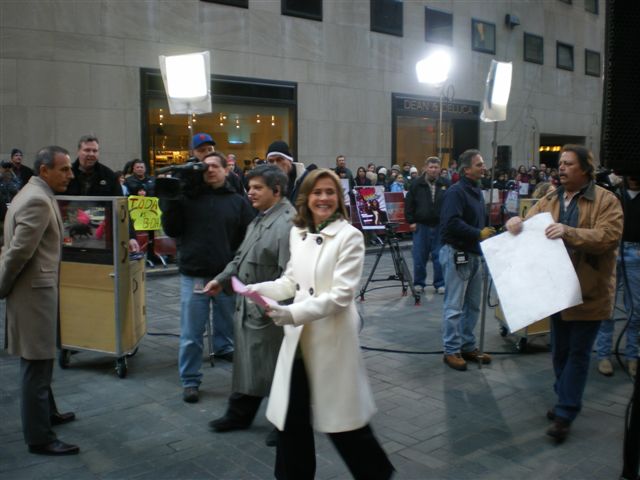 We stopped back by Barnes and Noble so she could buy a book for the plane. They had (surprise) a Starbuck's so we got a coffee and a bagel. It was half the price of the same thing at our hotel (no surprise). We called Mallory at 9AM and told her to be ready to leave the hotel at 9:30AM. Surprisingly, when we got back, she was packed and ready.
We caught a cab to the airport. He charged us $25 to get to Air Tran and then another $5 to take me to Delta. I was planning to take the noon flight, but got there early enough to try for the 11AM flight. As I was walking down the jet way to the plane, I got a call from Vivian. Their noon flight had been delayed so they had been bumped up to a flight at 11:20. It worked out great! I got back to Atlanta in time to go back to the office, get my car and then pick them up.
It was a great trip. I highly recommend hooking up with an old friend via Facebook. You never know what fun it might lead to!

See you on Facebook!