Munich, Germany
September 2012
"Oktoberfest"
We have been planning to go to Oktoberfest in Munich for years, but something always seems to come up in September that prevents us from going. The first time we seriously made plans to go was 2001, and of course, the September 11 destruction of the World Trade Towers put a kink in everyone's travel plans that year. Even this year, after we planned our Oktoberfest trip, some friends planned a destination wedding in Northern Ireland in September. We decided to make it work anyway! We would travel to the wedding in Ireland and then hop over to Munich for a few days.

It wasn't quite as easy as we had thought, but we made it. We had a fabulous time at the wedding and then took a Ryan Air flight to Munich... well... not quite to Munich... What Ryan Air passed off as "Munich West" was about as far from Munich as Birmingham is from Atlanta. If we had taken into account the cost of a checked bag, a bus/train ticket, the cattle-like treatment and the 2 hour train ride, we might have opted to take a REAL airline to the actual Munich airport. Lesson learned: Do the research before buying a ticket.

We spent our last night in Ireland at the Airport Hilton, taking the shuttle to the airport in plenty of time to check in at the Ryan Air desk. We had pre-paid €25 to check a bag because we thought we would be bringing Tony's lederhosen, but after realizing that we would have a tight connection to catch the bus & train to Munich we didn't want to be waiting around for a bag so we forfeited that money and Tony traveled sans lederhosen. We carefully read all of the emails from Ryan Air before we left home so we would comply with all of the rules. We checked in and printed 2 copies of our boarding passes to make sure we weren't charged a €60 fee.

We waited in a long line at security and then had a long walk to the gate. We arrived over an hour before flight time and a queue had already begun to form. We fell into line with the other cattle, waiting to be herded into a bus and driven out to the plane. We both had backpacks instead of roll-aboards because BJ had learned on an earlier trip that they rarely scrutinize the size or weight of anything being carried on one's back. We saw several passengers get singled out and made to stuff their roll-aboards into the size-wise bag measurer. The penalty for a bag that is too big is a hefty fee to gate check the bag. It didn't look like the flight would be full so we took a window and an aisle seat, leaving the center seat vacant. It worked! Nobody wanted that center seat so we ended up with the row to ourselves. The man behind us took a different tack, faking a TB cough to keep an empty seat next to him. His method worked as well, and his cough miraculously cleared up after take-off, thank goodness!

We had researched how to get from the Allgäu airport in Memmingen to Central Station in Munich. We could either take the Allgäu Airport Express for €19,5 each, or take a €3,00 public bus to the Memmingen train station and get a Bayern-Ticket for €26 for both of us. Both options would get us to Munich at about the same time (around 3:30PM). There was a one hour time change from Ireland to Germany, but even so, it would take us much longer than we had anticipated.

Our flight was supposed to land at 13:35 and the public bus to the train station was to leave at 13:37 according to the Sunday schedule so we had decided we couldn't make the connection. We'd rather take a train than a bus, but it looked like based on timing our best option would be the Express Bus. Thankfully though, we landed early and had plenty of time to catch the public bus! We met another American on the bus and tried to coordinate our train tickets, but in the end, it got a little confused and she ended up having to pay full price rather than add an extra €4,00 to our Bayern-Ticket so we could travel as a family.

By the time we got off of the train at Munich's central train station we were tired of sitting so we decided to walk to the hotel rather than take the metro. It was a pleasant walk, taking us through the touristy shopping section of Marienplatz.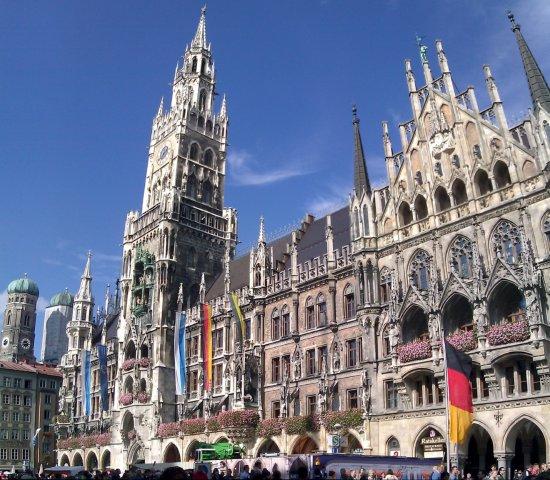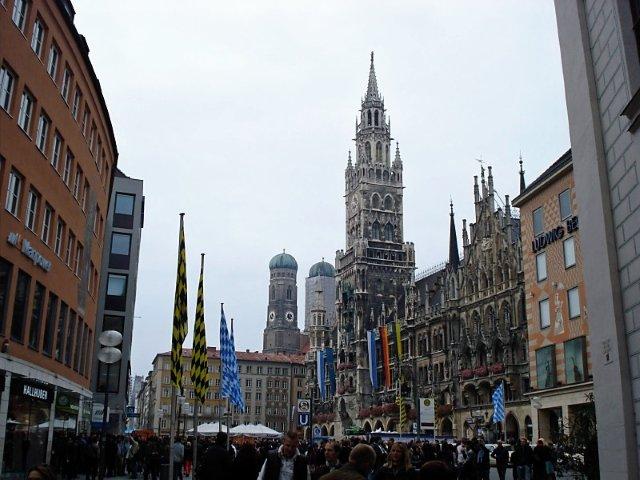 We were following the directions on our GPS which has, upon occasion, failed to take us to the right destination so we were just getting a little nervous when we spotted the Hilton sign. Our friends had already checked in so we dropped our bags and met them in the Executive Lounge. We visited for awhile & enjoyed the manager hosted cocktail party. We decided we would meet for breakfast in the lounge and then head for Oktoberfest the next morning.

We had a leisurely breakfast and got bit of a late start the next morning. We decided to walk from the hotel to the festival. This time, to be sure, we got a map from the concierge and used it rather than rely on the GPS. Our route took us over the Isar river past the pretty Volksbad building.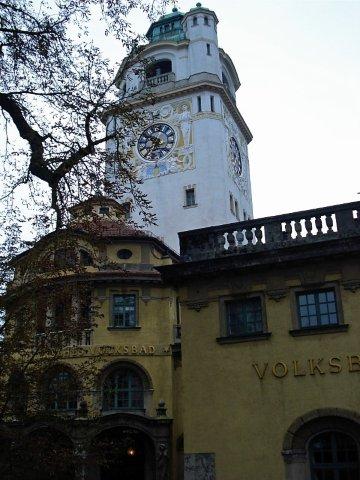 Along the way, we stopped through the Viktualienmarkt with its Maypole center.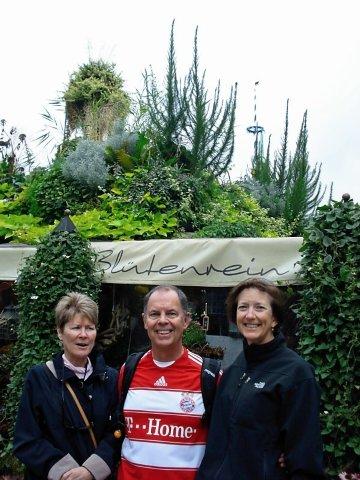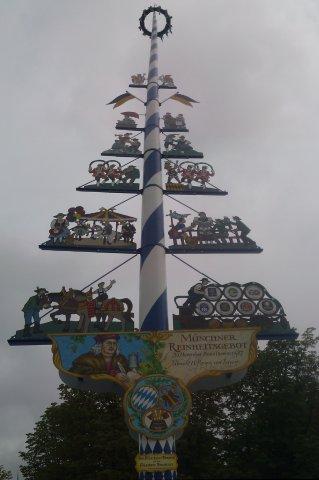 The skies had gotten a bit cloudy by the time we arrived at Oktoberfest which, in retrospect, was probably a good thing because it was not terribly crowded.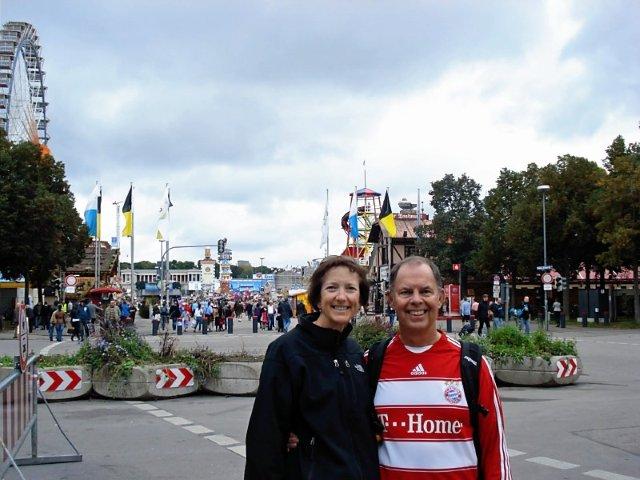 We wandered around a bit, looking at the rides, booths and doing some people watching.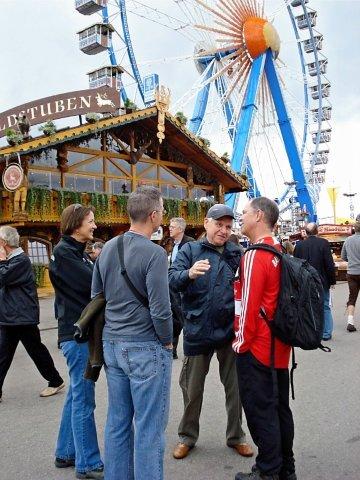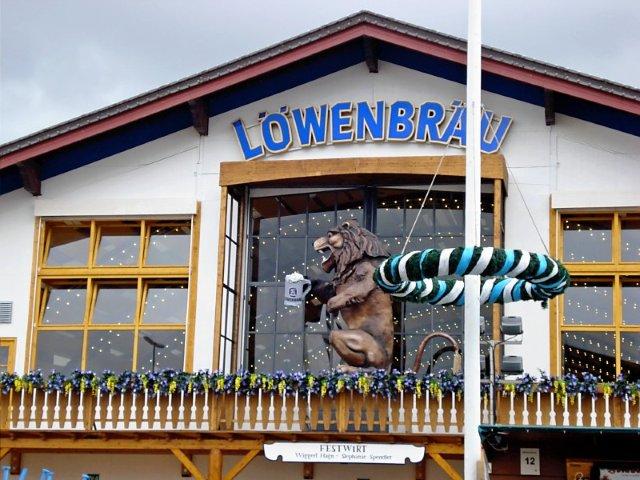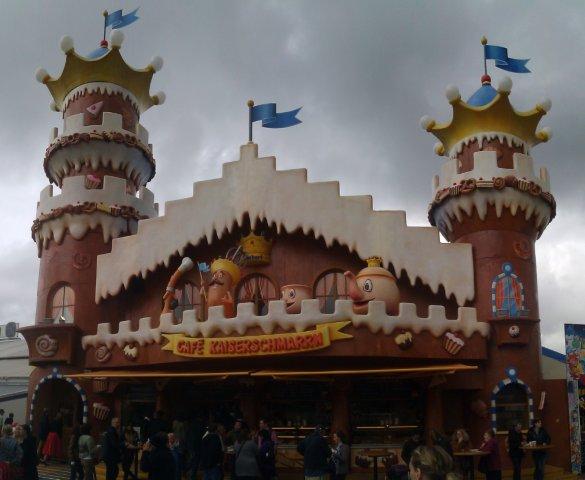 We went into the Paulaner tent to see if we could get a seat, even though we didn't have a reservation.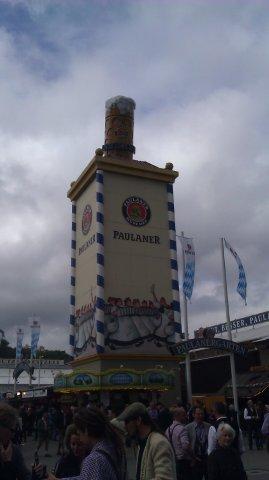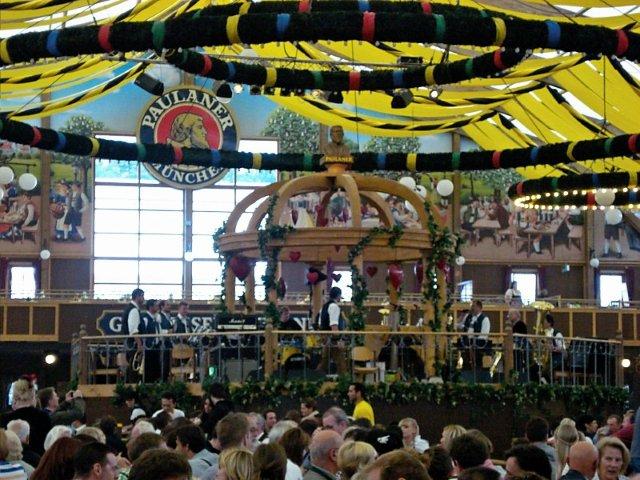 We were pleased to learn that the tables have a reservation sign on them that says what time the reservations are for. We found a table that was reserved at 4PM. Since it was just after noon, we were able to sit there until 4. That gave us plenty of time to share a few giant beers, some wursts, a big pretzel and one of the DELICIOUS roasted chickens.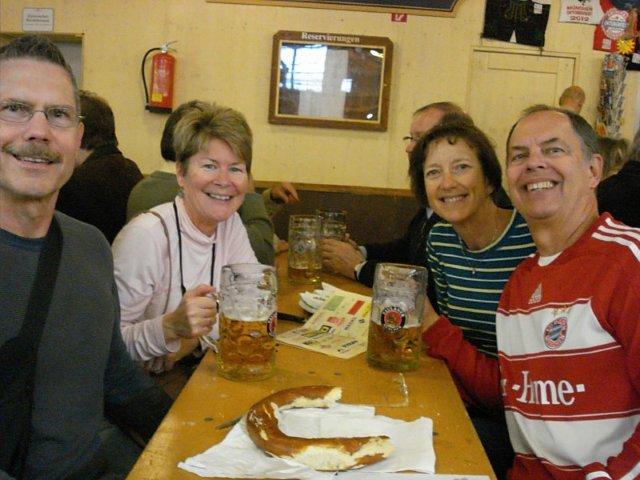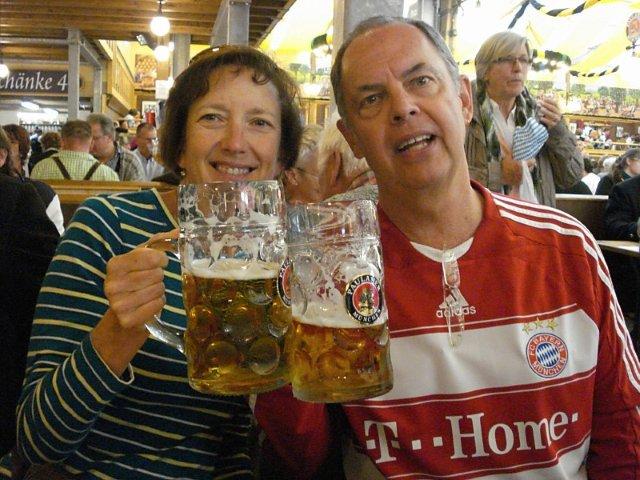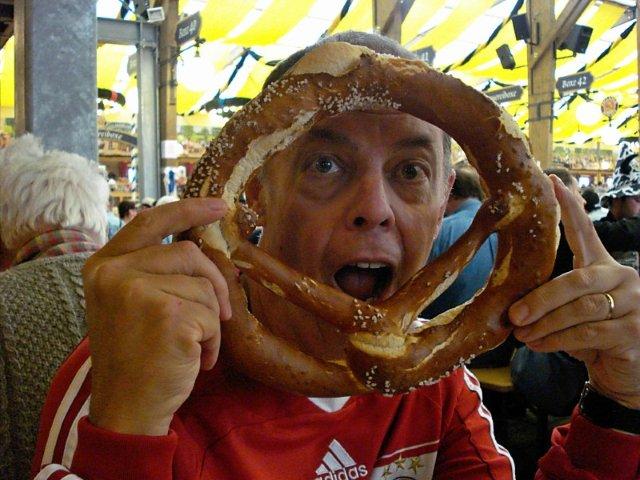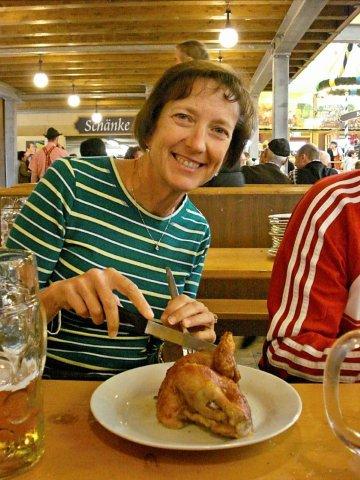 Two of our other friends were meeting us at Oktoberfest so we texted them our row & table number in the Paulaner tent. They texted back that they were in the tent but didn't see us. One of our party stood on the bench to look for them and accidentally fell over onto the table full of men behind us. She was embarrassed, but later we laughed about her "man-diving" experience. Many texts later, we finally discovered that there were two Paulaner tents and our friends were at the other one. We were soon happily reunited!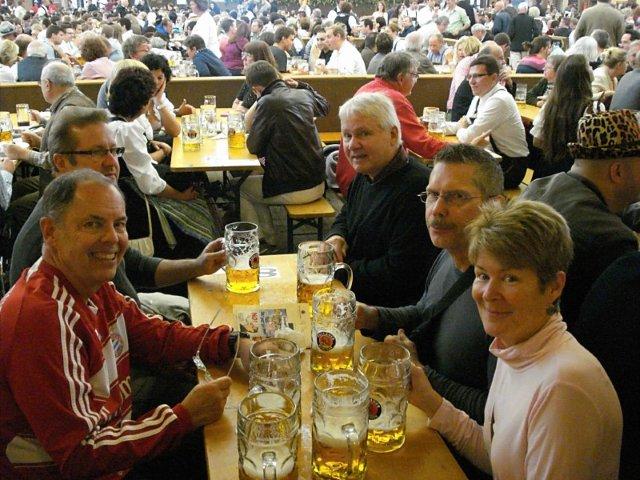 We were amazed by the number of people in the tent, the size of the pretzels and the number of heavy beers the servers could carry!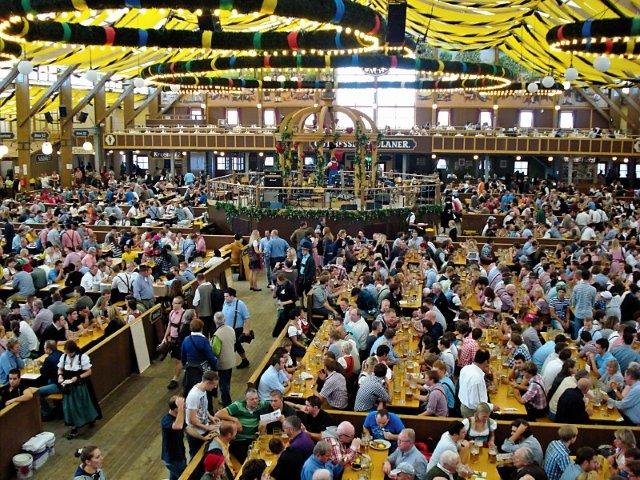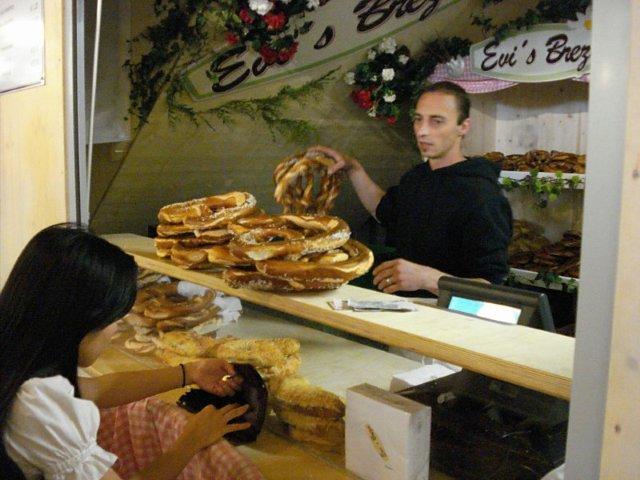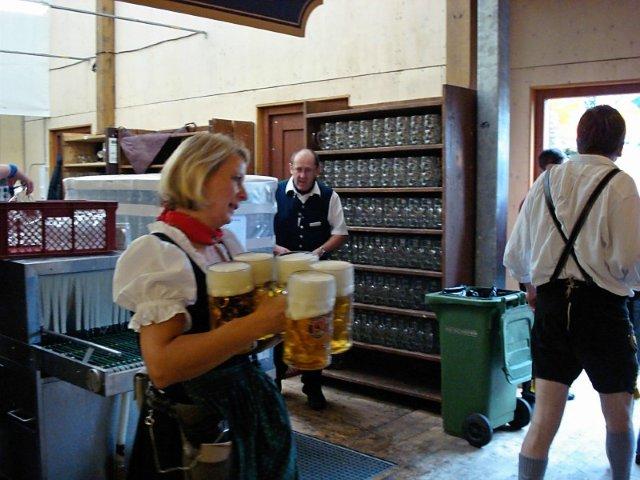 As the time neared 4PM, we decided to relinquish the table and find a place outside one of the other tents. We sent our friends ahead and after another round of texting back and forth were, again, unable to find each other. We finally agreed to meet back at the Paulaner tent that we had just left and walk together back to their table outside the Spatenbräu tent.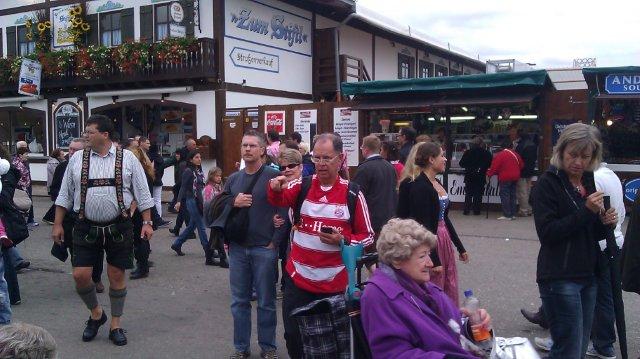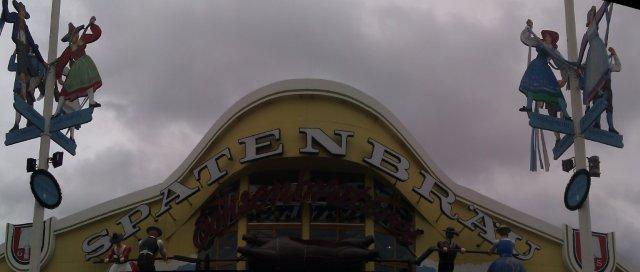 Along the way we saw lots of beautiful horses pulling wagons with kegs of beer.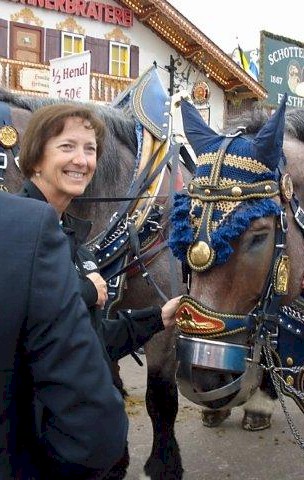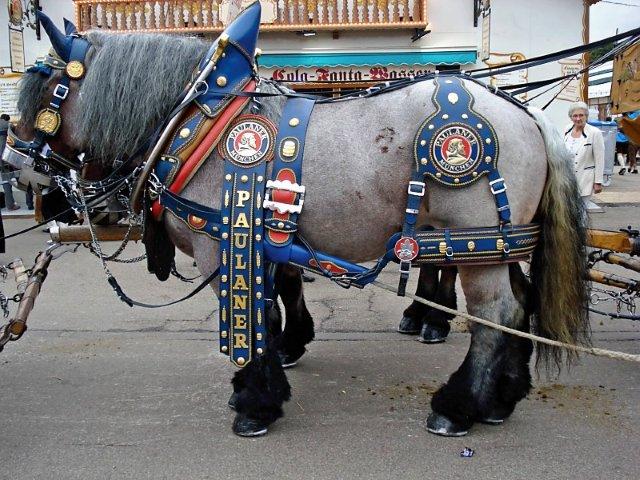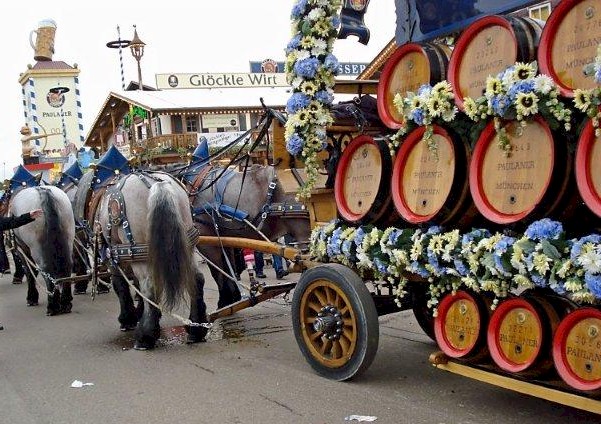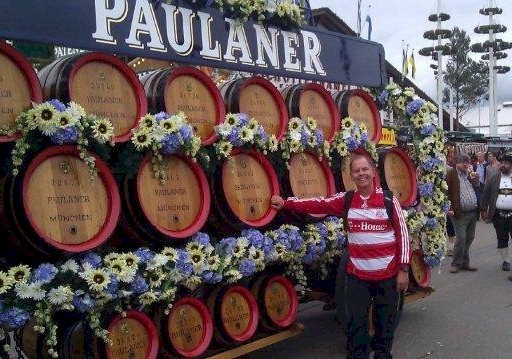 Outside the Spatenbräu tent, we shared a table with a really nice young German fellow who was very hospitable. After he left, we were joined by four handsome firemen.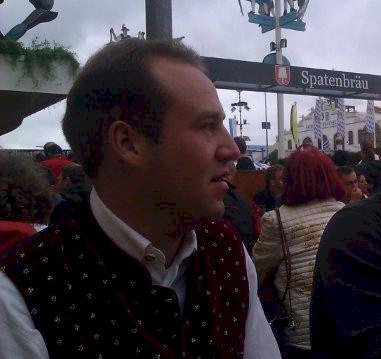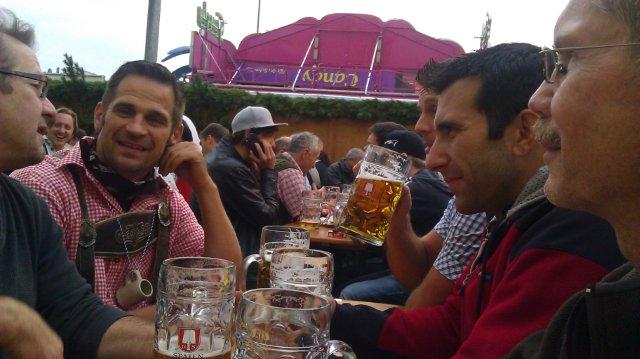 We left the Spatenbräu tent in search of dinner, but found that without a reservation, we were out of luck at the fest. We decided to head back into town. We found s'Wirtshaus conveniently located just as some of our party was about to burst to use the restroom! They had a clean restroom, an English menu and good food so we were pleased.

Our friends had a metro pass that was good for 5 people so we just had to purchase one fare to get back to the hotel. The downside for our friends (who were staying at a different hotel) was that they had to go out of their way to accompany us back to our hotel. At this point, there were six of us, but two had rented a car and were heading out of town for a day so there would only be four of us heading to Oktoberfest the next day.

The following morning we awoke to bright blue skies! We decided to take the metro to Oktoberfest so we would have time to walk around a little and then have lunch. We could take any of the trains that came through Rosenheimer Platz station directly beneath our hotel. We needed to connect with the U4 or U5 line to get to the Thereienwiese station. We decided to get off at Karlsplatz to make the connection rather than going all the way to Hauptbahnhof Central Station. This turned out to be a wise move because it was much less crowded. When we got to Hauptbahnhof on the U5, there were metro employees whose job it was to shove as many people onto the train as possible. There was barely breathing room. When we got off of the metro, we were pushed along with the crowd outside into the bright sunshine. We were quite surprised by how crowded it was until we learned that Tuesdays (today) are "Family Days" when the rides are discounted.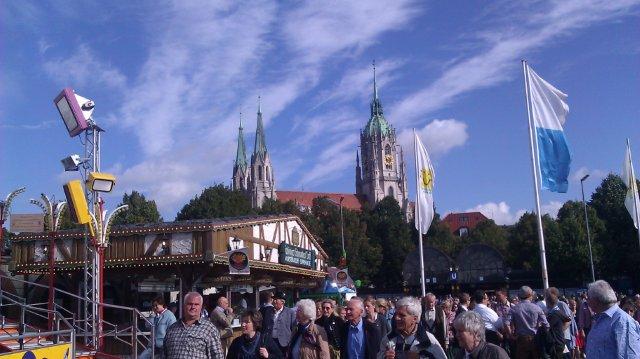 We really liked the looks of the Steckerlfisch cooking near the entrance to the park.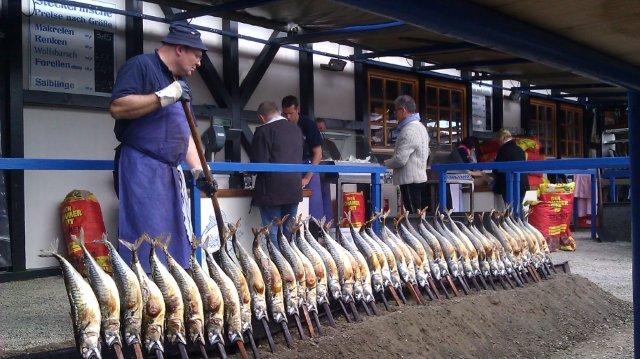 We took a quick stroll around the grounds and then tried to get a seat in a beer tent for lunch. No luck. It was just too crowded. Even walking around outside, we were elbow to elbow with people. We snapped a few pictures of the grounds and the beer wagons and then caught the metro out of there.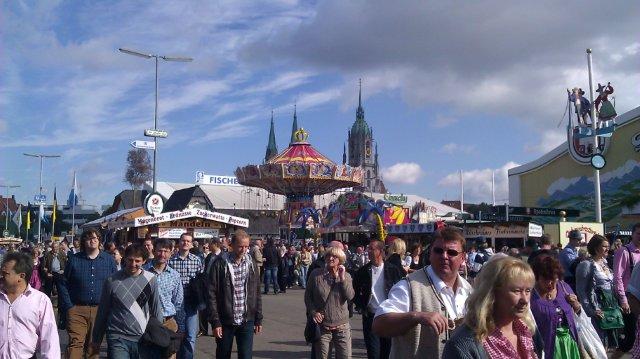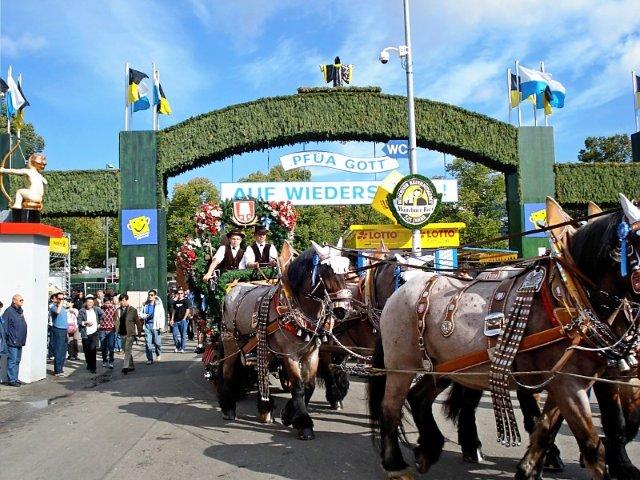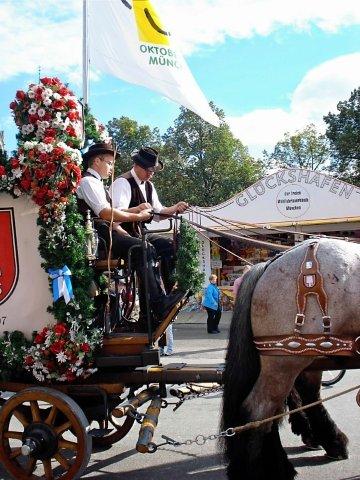 We wanted to explore the Englisher Garten, a green space we had seen on the map. We took the metro to the Odeonsplatz. Near the station along Ludwigstrasse, we found another more refined festival going on, the Bayerischer Landtag celebration. We passed through on our way to the garden. The gardens were beautiful. We found a Japanese Tea House but it was closed.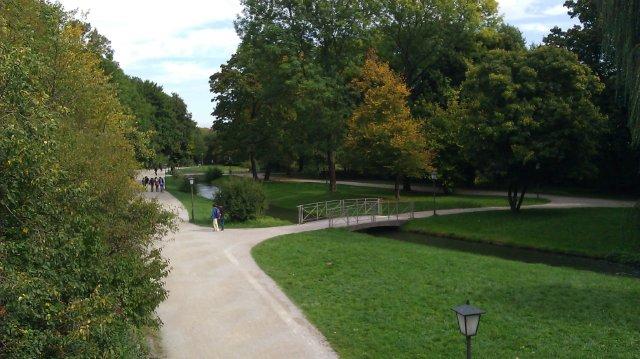 Ready for lunch, we made our way back toward Marienplatz with a bratwurst on our mind. The Am Marienplatz fit the bill! It was a bit touristy but then we are tourists!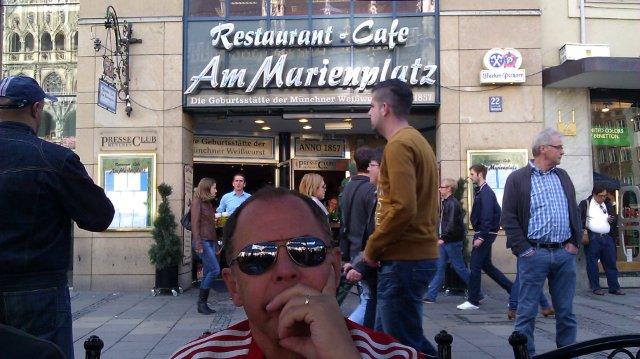 After lunch, it was time to shop! We stopped into the Breiter store where Tony was looking for socks. BJ wandered upstairs to the women's section where she started looking at dirndls, just out of curiosity, not intending to buy one. The salesclerk approached to assist. Not understanding the german sizes, BJ asked what size she might wear. The clerk opened her jacket and looked her over appraisingly. "You need size 36 because of your big hips." No sugar coating it! BJ picked out a pretty one in a size 36 and started for the dressing room. The clerk grabbed a box from the shelf and shoved it at BJ, "You need dirndl bra." BJ went to the dressing room and started changing clothes. The salesclerk burst in & started helping get everything in place. When BJ got the dress on, she discovered that the top was standing out in the front about 6 inches. The clerk said, "You need size 34" and went out to find the right size. Unbeknownst to BJ, she was chatting with Tony and our friends about the fact that BJ did not have the appropriate décolletage for a dirndl.

The size 34 was TIGHT. BJ came out of the dressing room barely able to breathe. She told the clerk that she thought it was too tight but the clerk argued, "It is DIRNDL, it is supposed to be tight." She instructed BJ to sit down to make sure she could sit in the dress. Everyone agreed that the dress looked good, so even though BJ hadn't intended to buy it, we left with it in a bag! We were laughing so hard that we forgot to ask about the paperwork to get the VAT tax refund.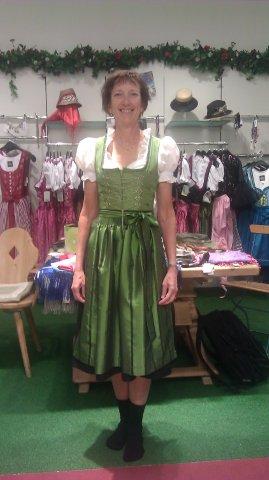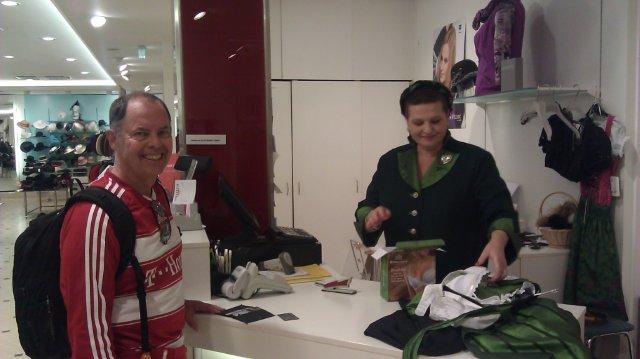 Tony already had some lederhosen but needed some socks so we did some more shopping on the street.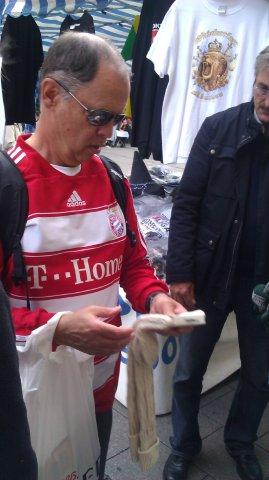 We stopped into a sports shop so our friend could get a bell for her bicycle. We found this years Bayern Munich Football Jersey. They've added a star, removed the white stripes and dropped the "Home" since Tony bought his jersey.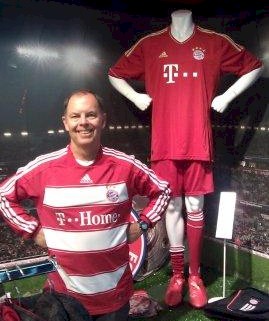 Next, we made an obligatory stop at the Hofbrau House for a final beer with our friends. They were planning to head home the following day, leaving us for our last day in Germany by ourselves.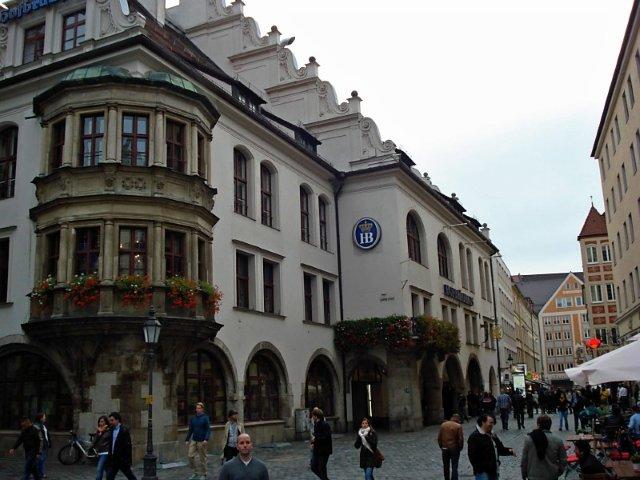 For our last day, BJ decided to dress in her new dirndl.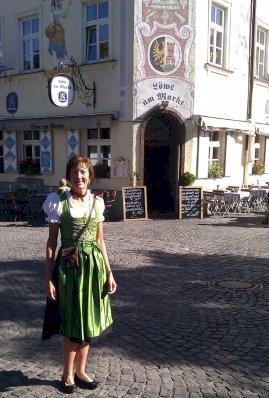 The weather was perfect and we were not up for a crowded metro ride so we decided to do the walk again. We stopped through the Viktualienmarkt again and discovered that all of the shops were closed.

Later we found out why. Today was "Unity Day" another holiday causing Oktoberfest to be very crowded again. Since there were just two of us today, the festival grounds were much easier to navigate without losing one another.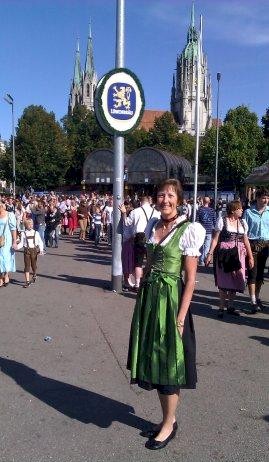 We thought we might have a better chance to get a seat in the Hippodrom tent and we were right! We found a table near the stage and took a seat. We were told that there was a reservation that would arrive in 1 hour. This was fine with us because we were just planning to have lunch & move on.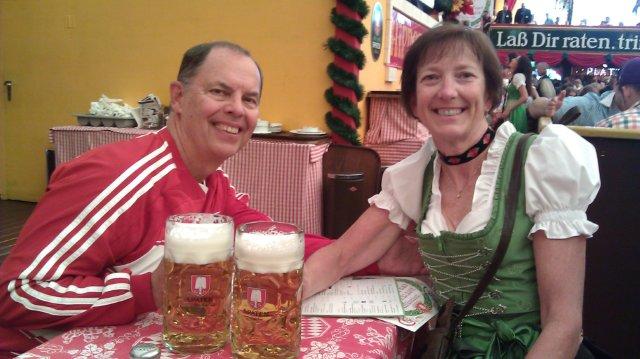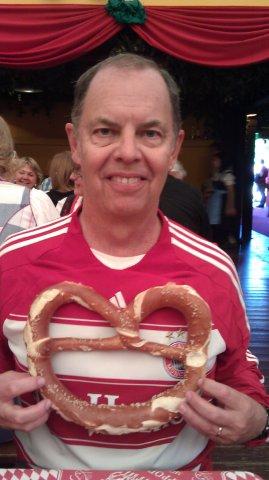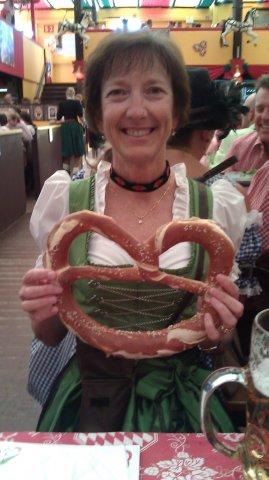 Shortly after we sat down, the server came to tell us that the folks with the reservation had arrived early but that there were only 5 of them so they didn't mind if we sat there. We even crowded several other couples in off and on.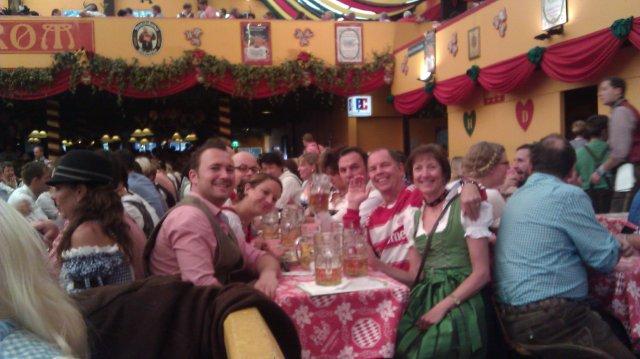 At one point, BJ only had room for one cheek on the bench. Tony made a grand gesture during a toast and knocked BJ onto the floor. Security arrived immediately to get control of the situation. Our table-mates explained that the Hippodrom is frequented by the wealthy people and raucous behavior is not tolerated. Security decided that we were okay to stay so we were not escorted out of the tent like some other folks we saw.

We did see some people standing up on the benches but Security was on them immediately, making them get down.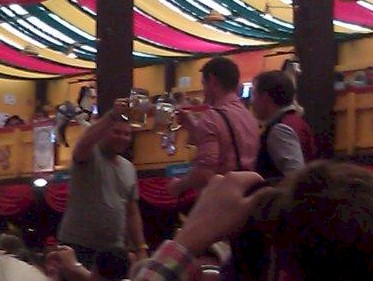 After lunch (which lasted longer than we had planned) we wandered around to the kiosks looking for a necklace to match BJ's dirndl.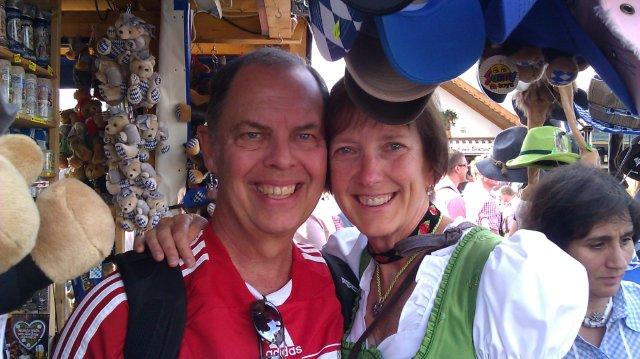 We headed back to the hotel for a nap and spent our last evening in the Executive Lounge with our friends who had returned from their drive.

The following morning, we went downstairs to the metro station where we discovered that we couldn't buy a metro ticket with a credit card or a large bill. We had to go back up to the lobby and buy the tickets from the desk clerk. After all of this, we were afraid we would miss the train so we hurried to the platform. We saw that the next train to the airport was approaching so we jumped on, but as we looked at the map, we decided that we were on the S1 line going the long way to the airport and not the direct S8. We decided to get off at the next stop and catch the S8. We still got to the airport in plenty of time.

Just before we went through security, BJ remembered to try to collect her VAT refund from her dirndl purchase. Even though we didn't have the right paperwork, they still gave us the refund after some light chastising.

The security line was long so we didn't have much time for duty-free shopping. Tony got some chocolates for his mom and then we headed for the gate.

The Munich airport offers 30 minutes of free wi-fi so we waited until about an hour before the flight to look at the stand-by list. Munich is one of those airports that handles a lot of cargo so even if there are seats available, they might not opt to fill them with stand-by travelers. It looked like this would be the case so we started discussing what to do. We decided that if they offered us only one seat, we would split up and BJ would go home. Tony would get in touch with our friends back at the hotel and ride with them to Stuttgart to fly out the next day. We divided up the passports & money so we would be ready to act quickly.

As suspected, we were called to the counter and asked if we would split. While BJ was getting her boarding card, another stand-by passenger decided that he wanted to turn his seat back in and give it to his buddy that he was traveling with. The gate agent explained that if he turned his seat back in, it would go to Tony since he was next in line. The passenger said that would be okay so we were thrilled to both have a seat even if we would be in coach and not seated together. We were just ready to be home after 11 days away from our beloved furry family, Lucy & Lola!

Tony, at least, had an aisle seat. BJ got a center seat and her video didn't work inititally. She was starting to panic since she hadn't even brought a book. The flight attendant call button was part of the video so she had to wave her arms to get a flight attendant's attention, but the video started working after the attendant reset it.

We hadn't ridden in coach in recent years, but it really wasn't too bad. We were able to have wine with our meals and watch movies so the flight went by pretty quickly.

Our fur-babies were thrilled to have us back home. We checked the next day and our friends did not get a seat on the Stuttgart flight so they had to take a train to Frankfurt and come home the following day, making us even happier that we had not had to split up.

Two weeks after our trip, we were able to wear our German clothing at another Oktoberfest, this one in Helen, Georgia!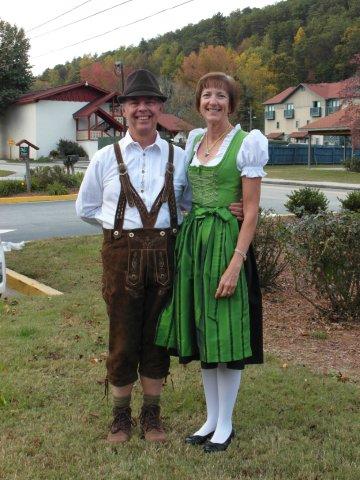 We thought maybe we had missed our chance to experience Oktoberfest and that we were too old to enjoy the boisterous crowds, but we loved it and hope to get to go again. But for now...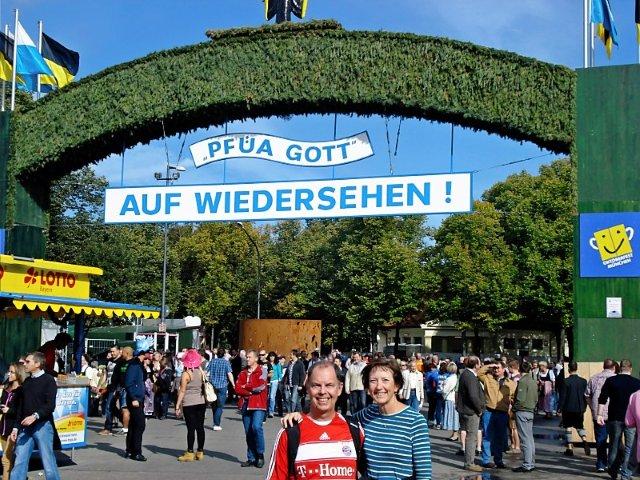 BJ and Tony
bjandtony@bjandtony.com