Colmar, France
November 2012
"Colmar without Kids"
Our traditional November trip has centered around taking the kids somewhere. (Kids is a relative term, since we have no biological ones of our own. We usually borrow a niece and/or nephew for the occasion.) This year, none of the 'kids' were available. Some of them had moved into adulthood and gotten real jobs with little to no vacation while others were busy with college. So we were stuck with the adults this year.

We picked a week that suited everyone's schedule and then started checking flights to see where we could go. Our choices out of Atlanta have become a bit more limited since the Northwest merger. Many international departures now depart from old Northwest bases.

We finally decided to fly to Stuttgart. We would rent a car and drive to Colmar in the French wine region of Alsace.

The day before we were to leave, Tony made an online purchase that we needed to pick up right away. The seller would meet us in Las Vegas which was only a problem because the return flights from Las Vegas were fairly tight. We made it, but just barely, scoring the last 2 seats on the second flight we tried for. We got back to Atlanta late Monday night, tired from a long day in the air.

Tuesday morning, Lucy, our sad chihuahua, moped around the house while we packed. When it was time to leave she was in full blown depression, withholding her puppy kisses as her punishment for our leaving her.

We made it to the airport in time for a quick visit to the sky club with our friends before hurrying to the gate. The agent gave us all seats in business class! We weren't together but were close enough to hold hands across the aisle on take off. We celebrated with Champagne on the ground, followed by a nice meal in the air. The movie selection was not to our taste so we were able to get lots of sleep.

We landed in Stuttgart refreshed and ready for adventure. BJ had reserved a car with Alamo, and then found a slightly better rate at Dollar. She planned to cancel the Alamo car but ran our of time. At the Dollar counter, the agent required written proof of the insurance coverage provided by out credit card. Without it, we would have to buy the coverage from Dollar. We had the proof on our Kindle but that was not sufficient. We had only encountered such a problem before in Ireland. Rather than argue about it further, we decided to take the more expensive Alamo car that BJ had forgotten to cancel. Not only was the rental hassle free, but we were upgraded to a Mercedes E class wagon.

The 5 of us piled in the wagon and headed for Colmar. It took us about 3 hours, a little longer than expected due to some road construction. Figuring out how to use the car's navigation system was the biggest challenge we faced.

On the way, we emailed the B&B Martin Jund in Colmar to inquire about rooms. Our friend had added unlimited international data to his Verizon cell phone plan for the trip, a feature we had not known was available.
Just outside of Colmar, we spotted this replica of the Statue of Liberty. It was hard to get a good picture since we were speeding around the traffic circle where she resides.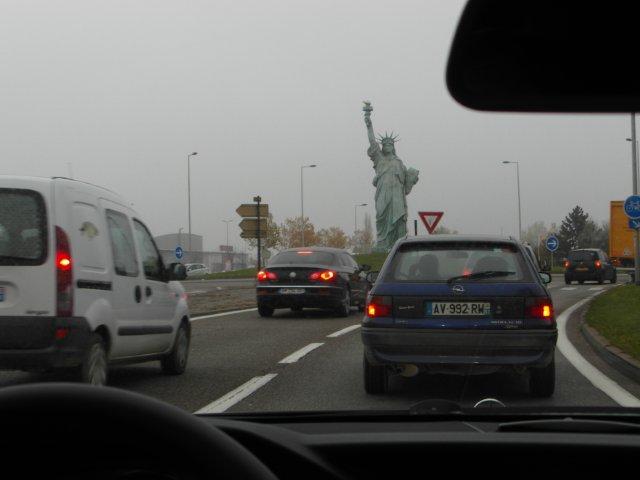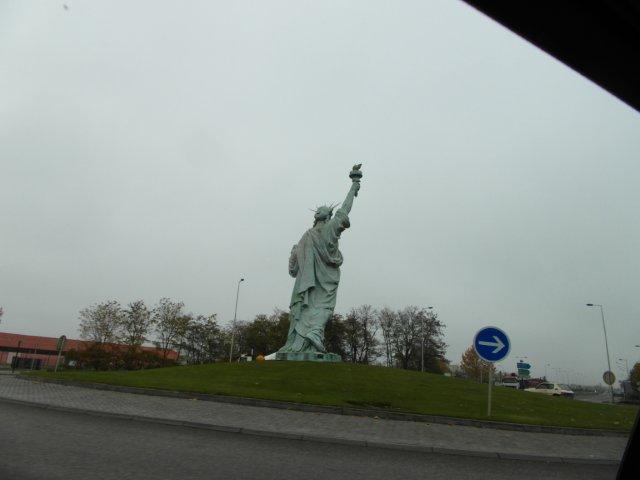 By the time we arrived in Colmar we had rooms reserved at a cute little place above a winery!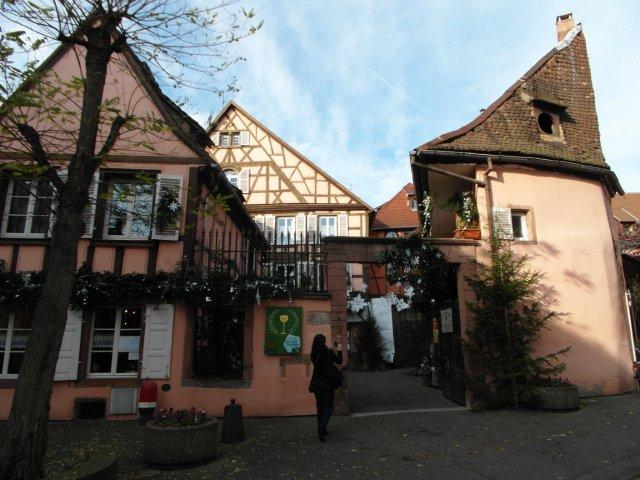 We found a 'pay and display' place to park on the street. The rooms were a bit shabby but spacious and fairly clean. The building was really neat, supported by giant ancient beams. Each room had a kitchen and bathroom. Breakfast was an extra 6.50 per person.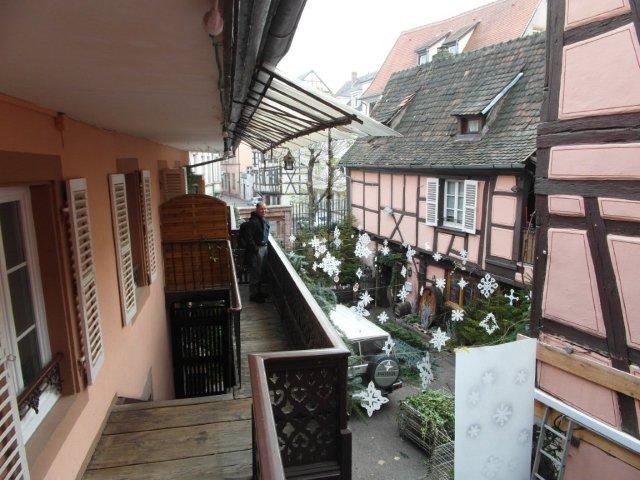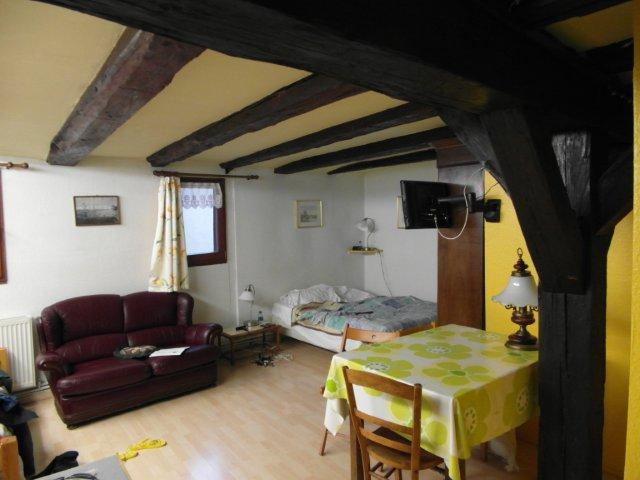 We dropped our bags and headed out on foot in search of lunch. Not far from the B&B, we found the Ciao Restaurant. We ordered a variety of Pizza, pasta, and a local specialty called tarte flambée. It was a creamy Pizza on a cracker thin crust. We sampled some of the regional wine with lunch. It was a bit lighter than what we would normally drink.

After lunch, Tony wanted to run back to the B&B to drop something off while the rest of us went to the TI to pick up a map of the wineries. We we waited patiently at the TI, but no Tony. We were just starting to get concerned when he came through the door. His excuse had us all in stitches. He had been hurriedly looking for the TI when he saw a sign in the distance. Just as he was almost close enough to read it, a woman standing by the sign expunged a long, loud, passage of gas. Tony was taken aback. He didn't want to look at the sign for fear the woman would think he was staring at her, so he walked on by, missing the turn for the TI.

After we reconnected, we decided to take a walking tour of the town. It is such a cute town with all of the quaint old buildings! Some of the quaintness was obscured by construction.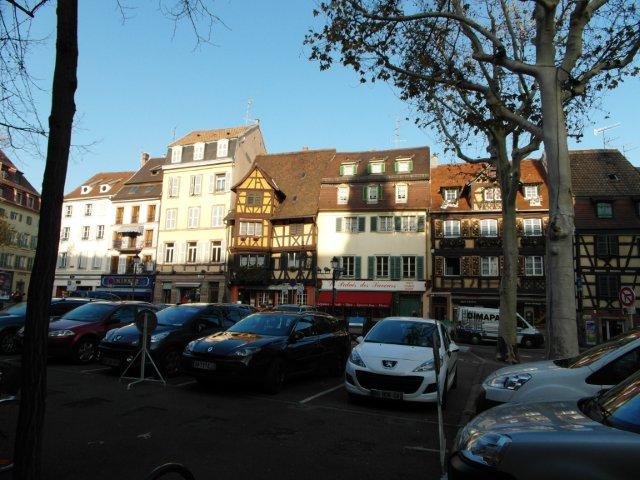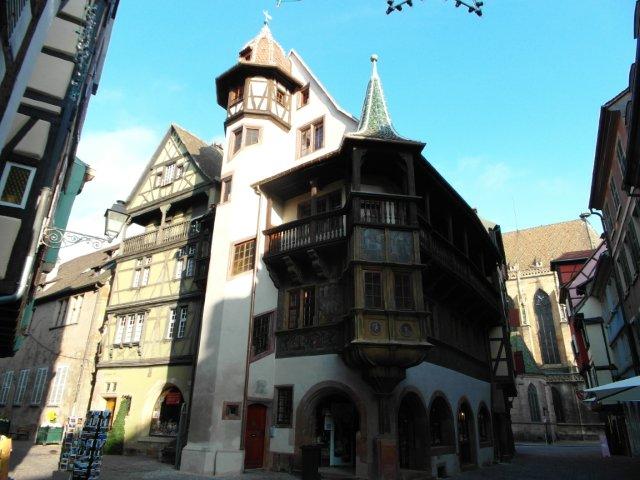 The whole town was busy preparing for the upcoming Christmas market.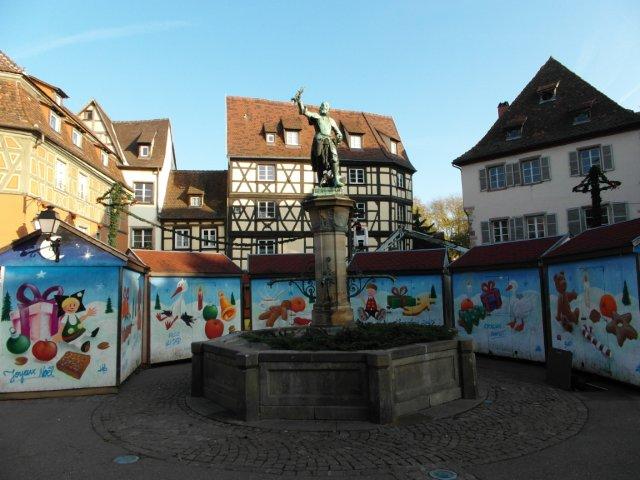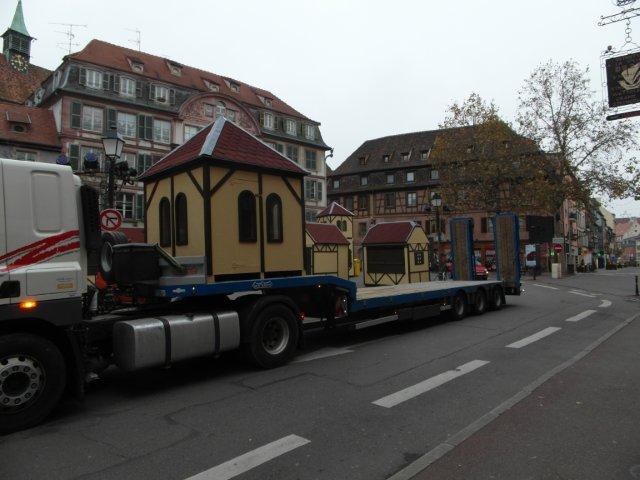 The tour took us by the old market which is still in use.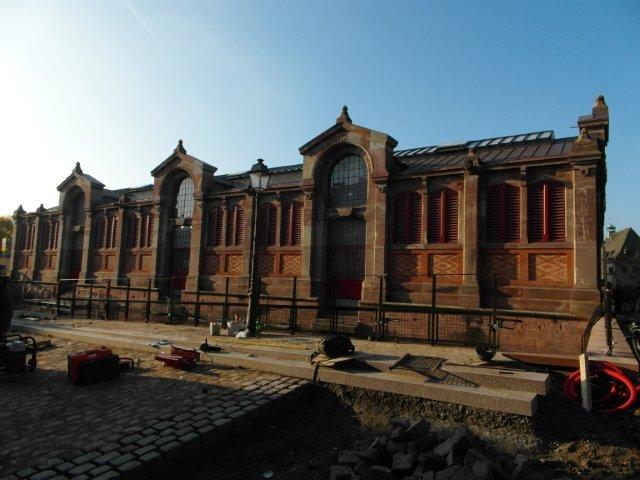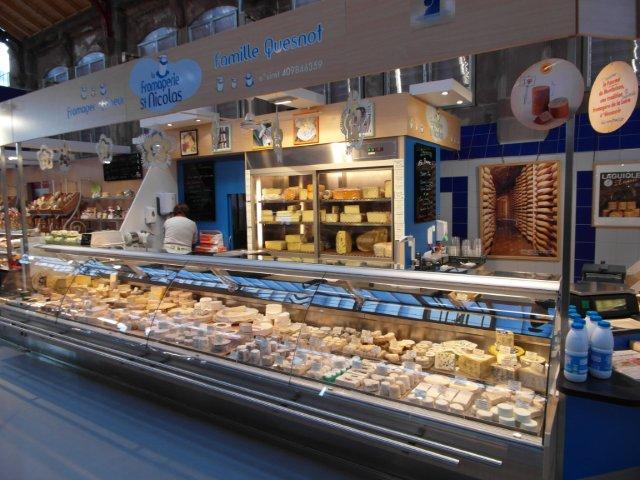 Mid-tour, we took a break for a glass of wine at Le Comptoir de Georges, overlooking the canal in Petite Venice. We had a gorgeous view of the canal from our seats on the covered terrace. We were even visited by swans who were confused as to why we weren't feeding them. The terrace is normally open, but had been enclosed for the Christmas market. Otherwise it would have been too cold to sit there.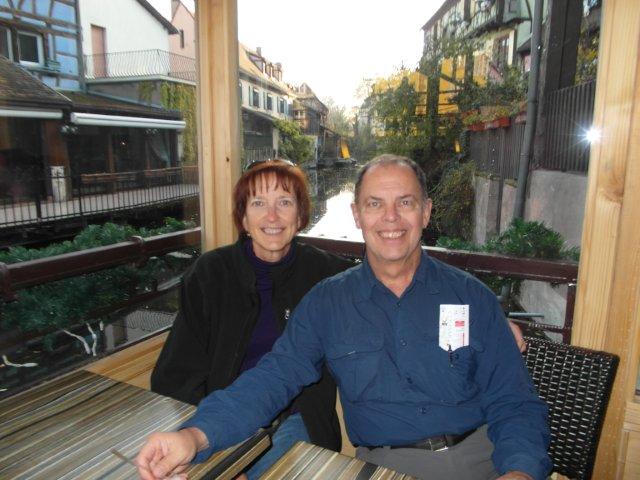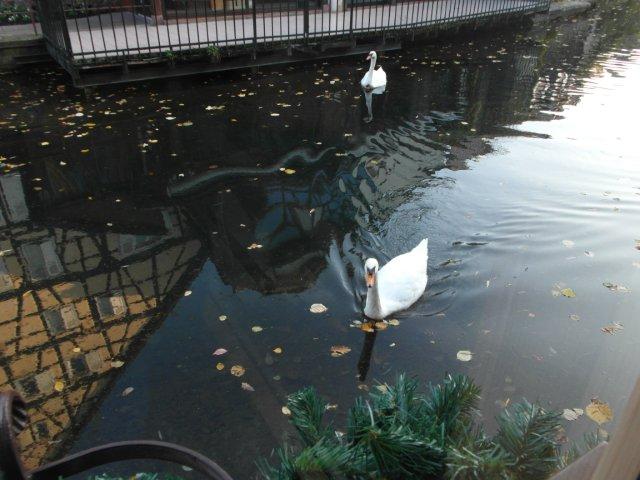 We continued the tour through the late afternoon, hitting some of the sights in the misty dark. The fog gave the church a beautiful glow.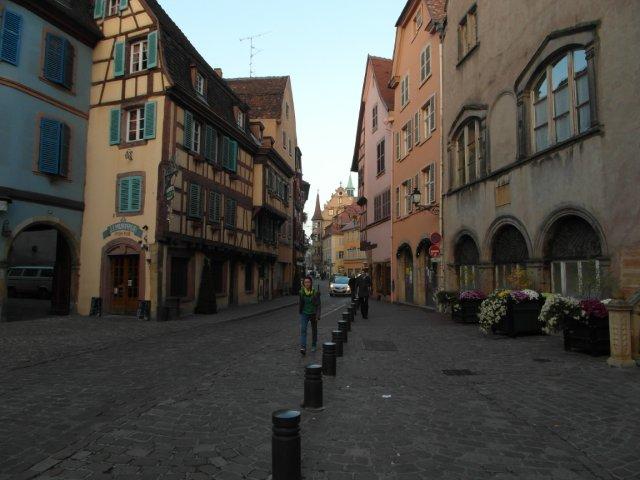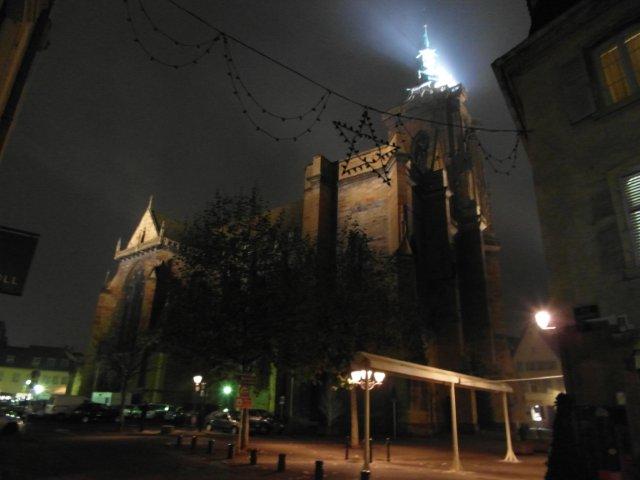 We stopped at Jupiler for a cappuccino to revive us before ending the tour at the house of heads.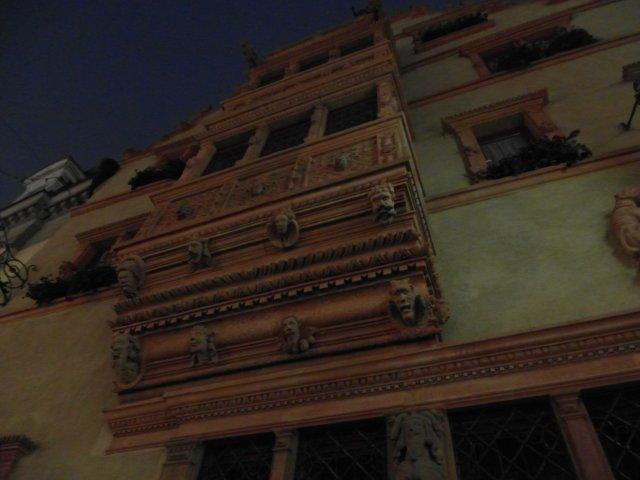 On the way back to the B&B, we found a little wine shop and tasted some of the local wines.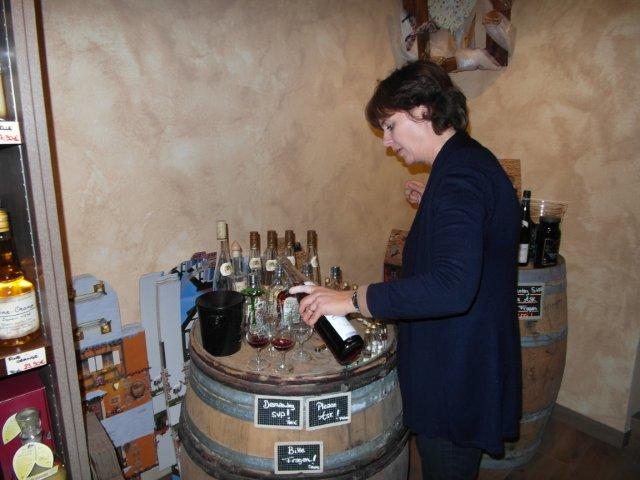 We stopped by the Monoprix, Colmar's equivalent to Walmart. We needed to pick up some Diet Cokes for our addicts.

Dinner was at a Rick Steves recommended restaurant, the Winstub Schwendi. We had rosti, a Swiss dish made with potatoes, meat and cheese, French onion soup, and tarte flambée.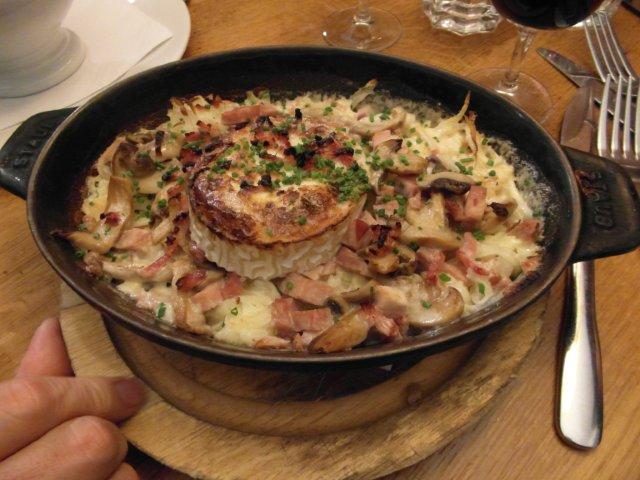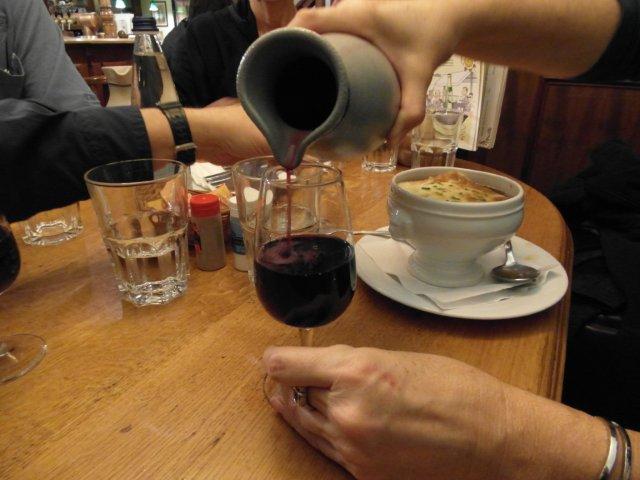 We slept well and were wakened by the school children gathering in the yard next to our room.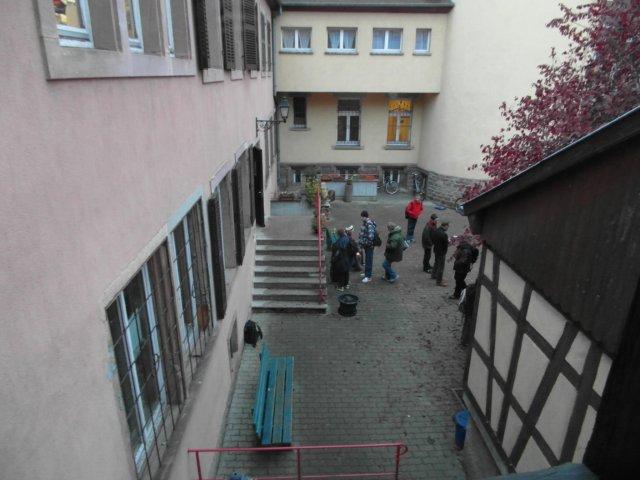 We met for breakfast at 9. Breakfast consisted of grape juice, coffee, bread and cheese.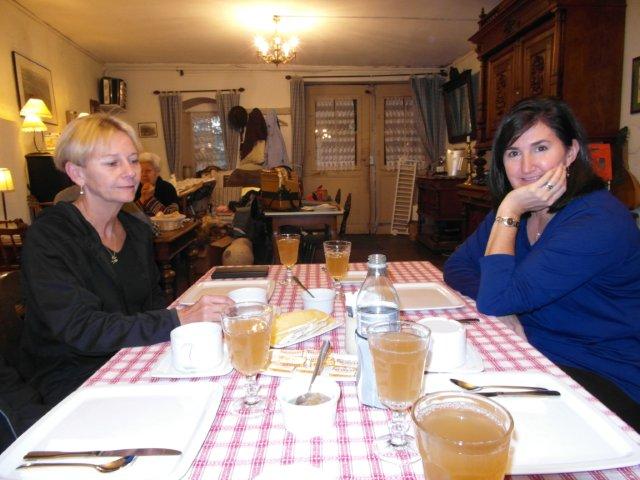 Today's plan had us hitting a few towns on the wine road south of Colmar. It seems we were a bit ambitious with the 'several' term. Our first stop was at Eguisheim. It was a bit early for tasting wine (even for us) so we took a walking tour of the town.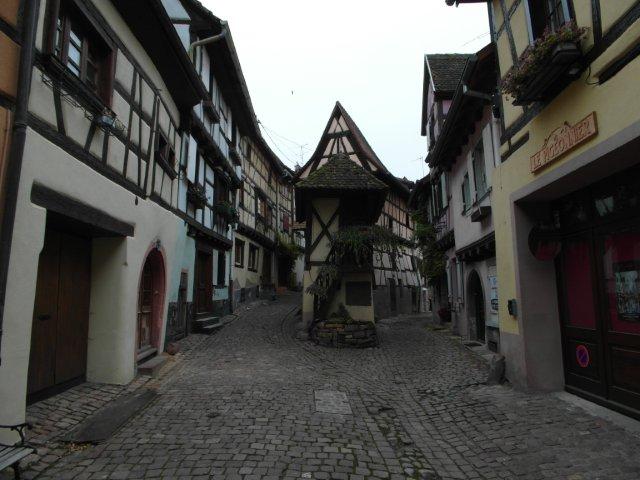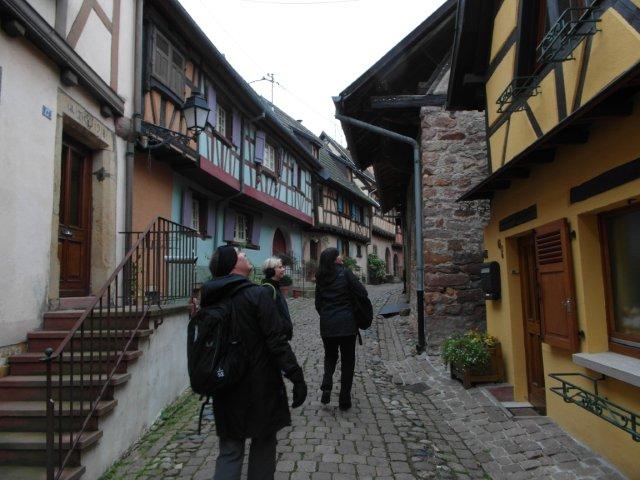 We completed the loop back at the TI and then walked up Grand Rue to the main square.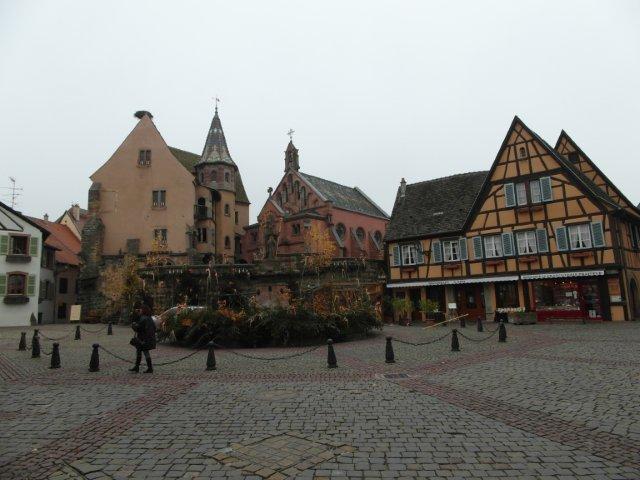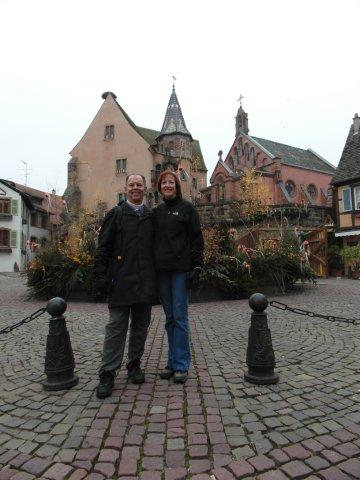 We tried to go to Emile Beyer at Rick Steves recommendation but they were busy remodeling so we went next door to Joseph Freudenreich et Fils. We got a great education from Luciana as she explained about the wines we were tasting and the region. A transplanted Brazilian, she was very friendly and helpful with suggestions for restaurants and other things to see in the area.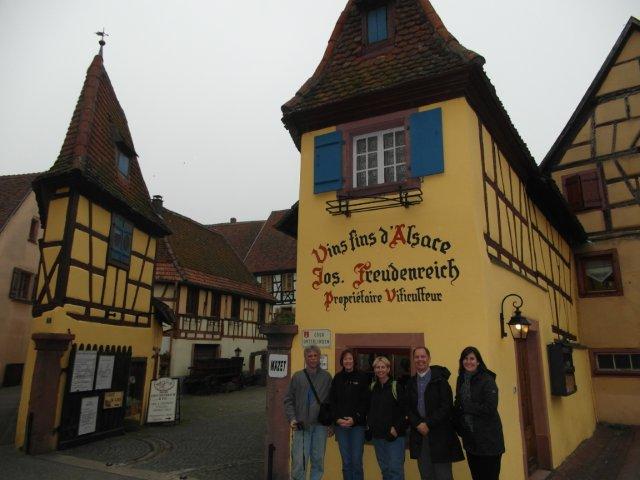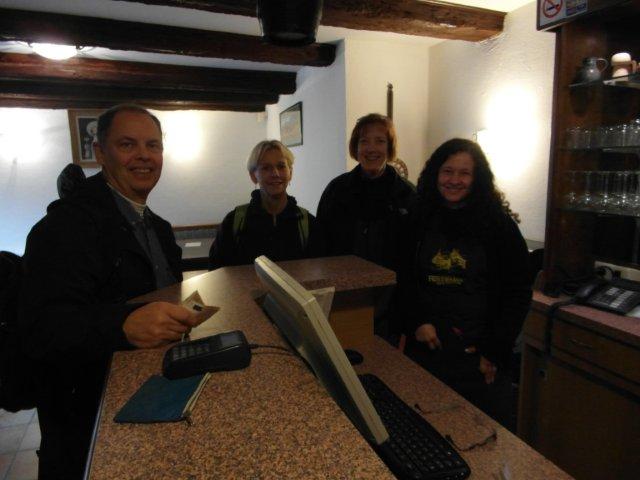 We had lunch at Restaurant Kas'Fratz. The daily special was chicken in wine sauce which we split and added an onion tart. Others had soup, salad, tarte flambée.

Next stop was Munster, a disappointment after cute little Eguisheim. We never even found an open cheese shop. We had to settle for a nutella crepe and a cappuccino. We saw some storks nesting on top of the former monastery in Munster. The stork nests are said to weigh half a ton.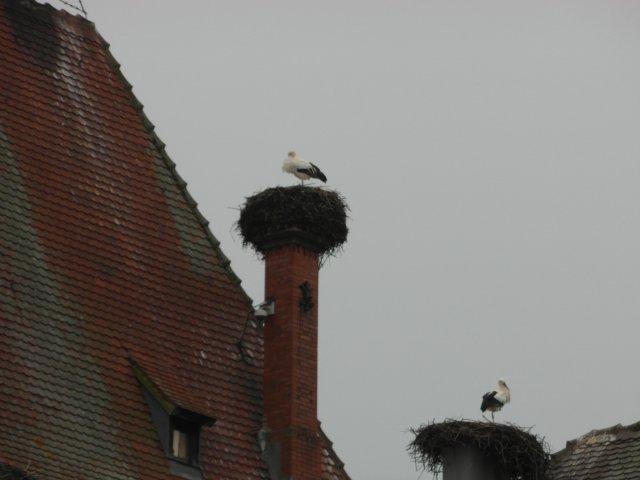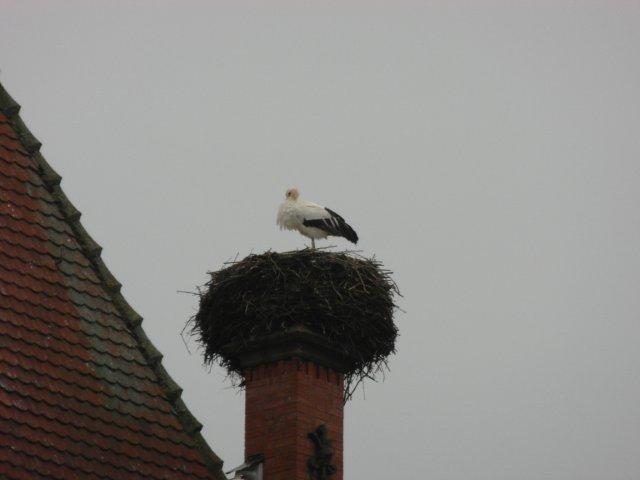 We got back to Colmar in time to sample the wine at our B&B and get a tour of the cellar.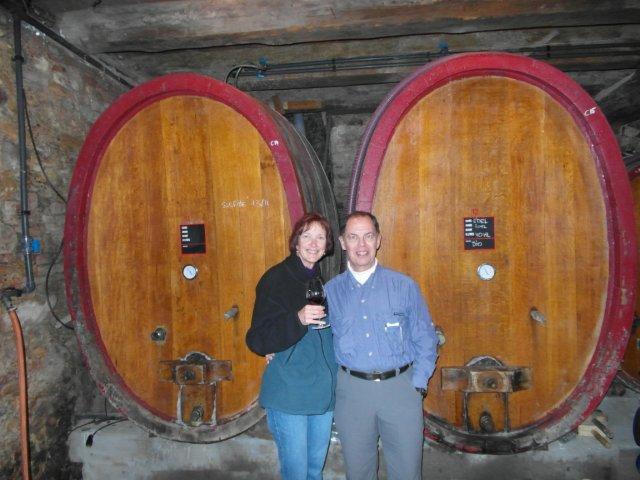 We made another stop at the Monoprix to get some cheese and bread for breakfast the next day.

We found the Italian restaurant Le Sereno with a shrimp risotto special. Tony had gnocchi since he has a mild shrimp allergy.

The next morning, BJ took a long walk to the train station to get a picture of the water tower.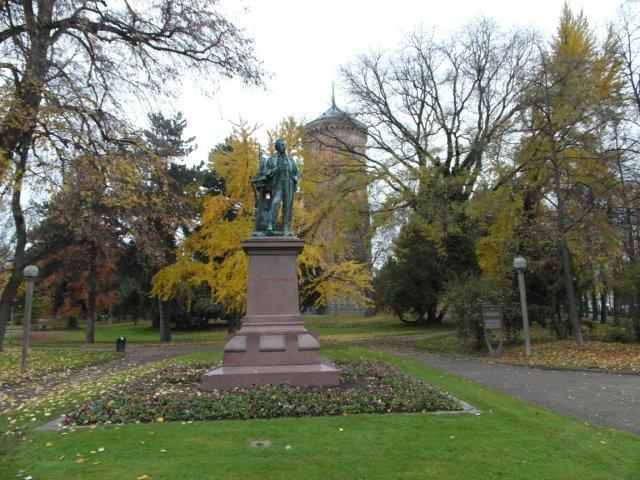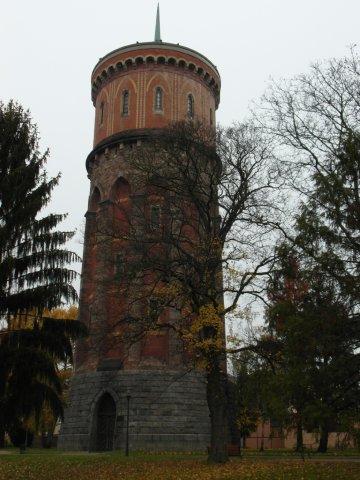 She saw some other interesting sights along the way.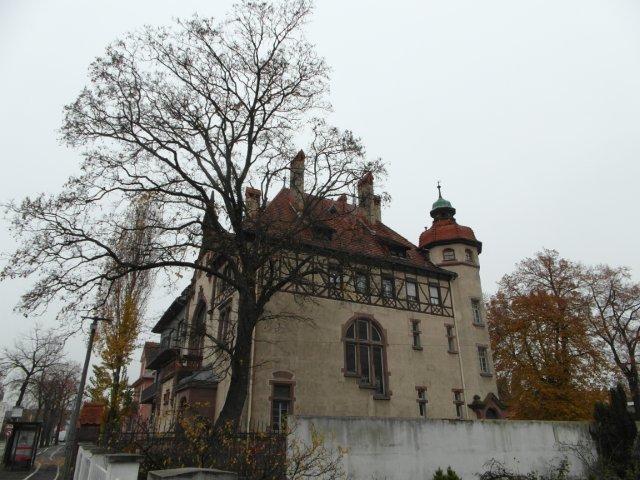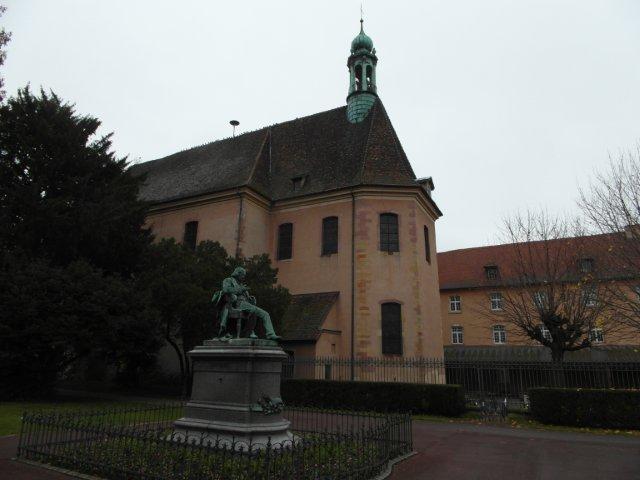 When she got back, we had breakfast in the room, feasting on the local Munster cheese, French bread and charmant (champagne).

We drove north to Riquewihr, arriving at 10:30. We were in need of coffee but found that very few places were open. We found the Patisserie Salon de Thé Vilmain and settled in for cappuccino. We stopped at the TI for a town map and took a brief walking tour.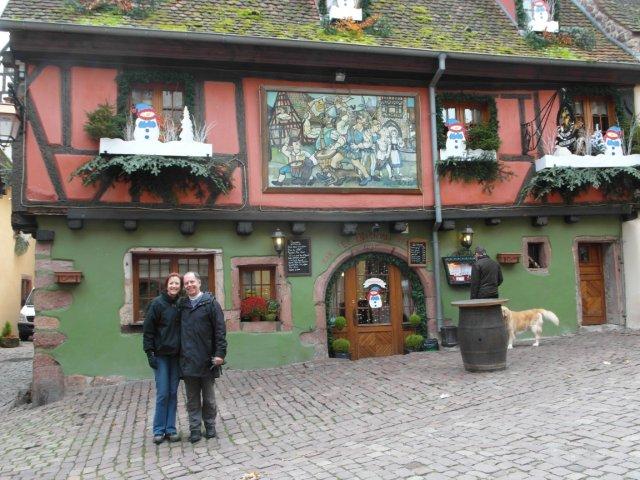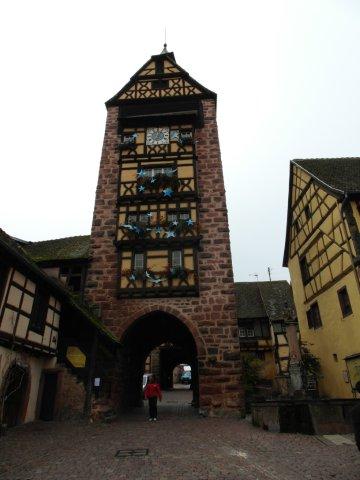 We stopped at a little shop where Tony tried the just-released Beaujolais nouveau. We continued the walking tour until we found Cabeau Des Vignerous. We wanted to try the local dish baeckeoffe. Thankfully we split it because it was a large pile of fatty meats and sausages.

Bj's camera had a problem so she quickly ran back to retake some pictures while Tony went to put another euro in the parking meter.

We stopped into an open winstub, literally open, the Gustave Jung. It was cold but blankets were provided.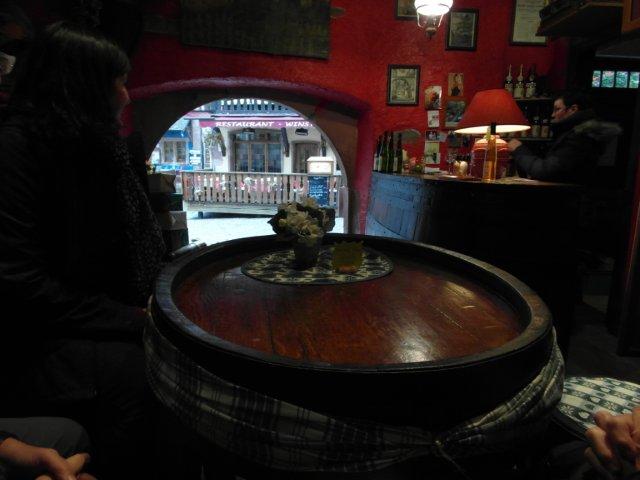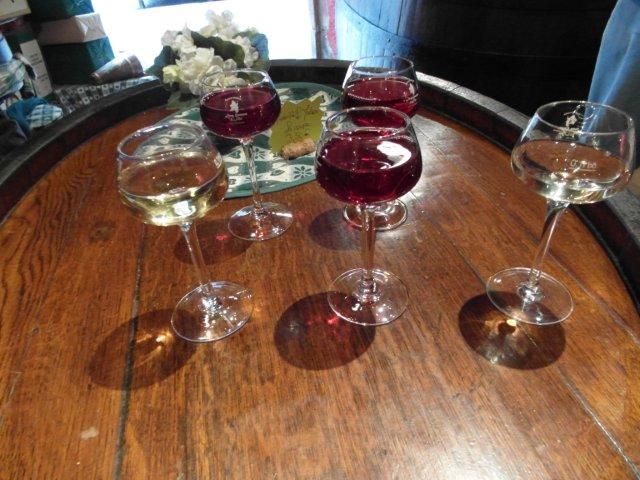 As we were sampling the wine, an older animated gentleman came in. He spoke almost no English except 'Jimmy Carter' when he learned we were from Georgia. He was quite animated, trying to tell us about his daughter or son (we weren't sure which) who had lived in California and been a porn star or a limo driver (we weren't sure which). He seemed to be very fond of Brigitte Bardot, repeating her name several times.

We decided to head back to Colmar for the evening. We took a few minutes to freshen up. We heard noises coming from the winery so we peeked in to see the bottling operation in progress.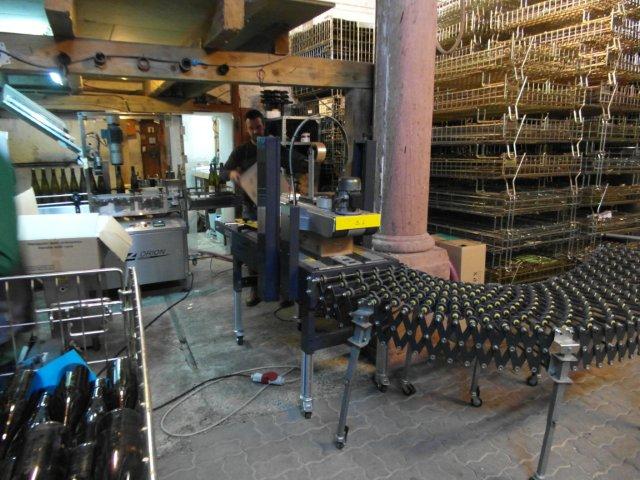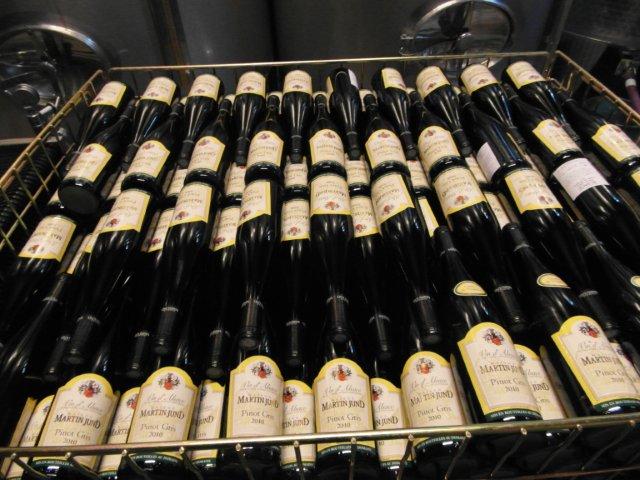 We stopped into Colmar's Irish pub, JJ Murphy's. After a couple of beverages, we set out in search of dinner. We were tired of the traditional food and Pizza so we decided to try the Vietnamese restaurant next to our B&B. The food was good and it was quite the price performer. Also, it was a short stumble home after dinner.

The following morning BJ went to a nearby bakery for fresh bread to go with our cheese and champagne for breakfast. We checked out of the B&B and took one last stroll around Colmar before heading back toward Stuttgart. We wanted to get an early start so we would have time to find a place to stay before dark.

The GPS had taken us on a rather circuitous route to get to Colmar but kept us on highways on the way back. We made one stop for fuel (both petrol and coffee). The toilet situation was a little confusing. There was a turnstile with a charge of 70 cents to use the toilet but we were given a receipt for 50 cents. Thankfully before we bought our coffee, we figured out that the 50 cent receipt was actually a voucher. All of the merchandise in the store appeared to have been marked up 50 cents.

We picked a little suburb of Stuttgart called Leonberg because one of our travelers had heard of the Leonberg dog breed. We found a spot to park and a nice man to ask about a hotel. He looked at our Mercedes rental car and assumed we would want an expensive hotel. He pointed us further out of town. We decided to stop for lunch and then walk around.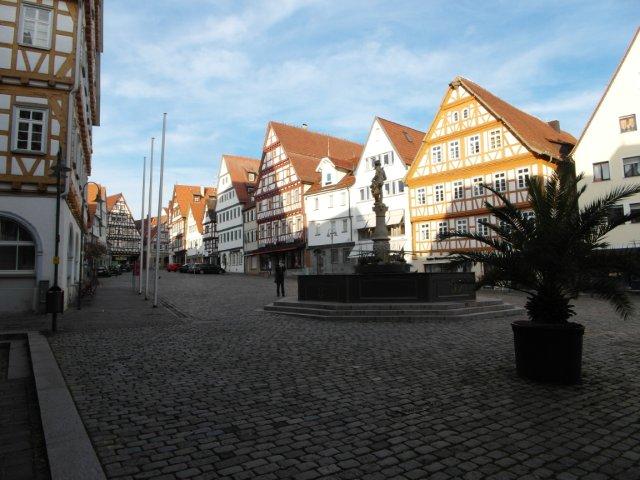 We had lunch at Knöpfle's and then inquired down the street at the Hotel Ochsen. They had rooms for 25 Euro per person but asked us to come back in an hour to see them. The place looked a little questionable anyway so we decided to keep looking. We found the Hotel Sonne which was slightly more at 30 Euro double or 40 Euro single.
The rooms looked clean, albeit a little smokey, but it was a bird in the hand. We headed out to explore the town. We found the Bei Inge & Hansi im Adler sports bar and stopped in to catch a soccer game. More wandering around the town revealed very little open. We found the Weinlokal Kabinett and stopped in for a glass of wine. The waiter spoke perfect English. A quick gander at the menu told us this might be a good choice for dinner. We asked where we might find a grocery store. He gave us elaborate walking directions to the Rewe. We asked him to hold a table for us and set out for the store. We got a little confused but found it. Our table was waiting for us when we got back. We enjoyed a nice dinner of turkey and pork. We could have easily shared a meal since the portions were very large. The prices were very reasonable.

Back at the Sonne, we finished off some of the snacks we had accumulated on the trip and said goodnight.

We slept well but apparently we were the only ones. Our travel companions complained of loud techno music playing into the night.

We had a 20 minute drive to the airport with a short stop for fuel very near the terminal. We returned the car and bid farewell to our friends. Then we jumped on the train to town. We checked in at the Hilton near the Mercedes museum. Our room was not ready so we dropped our bags and headed to city center. According to the GPS it was 4km to the Rathaus but that didn't take into account the twists and turns, climbs and descents. We were anxious to get some exercise after our rather decadent days in France.

We started the walk bundled in coats and gloves but before long started shedding layers.

We found the lovely little café Planie where many locals were enjoying a leisurely Sunday brunch. We enjoyed some people watching over coffee before resuming our march to town.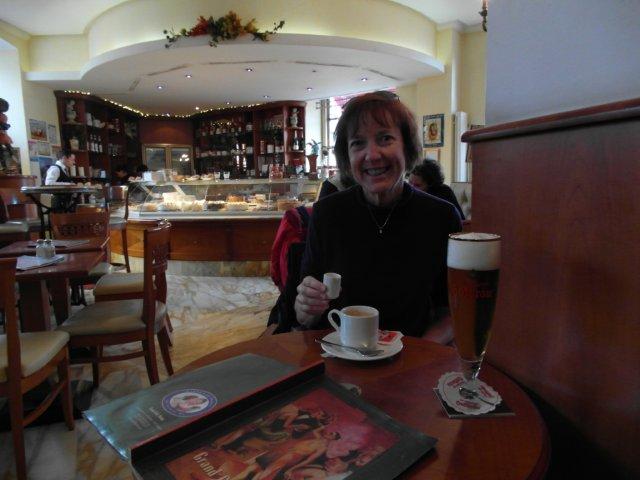 We found a delightful little Christmas village had been erected near City center complete with ice skating rink.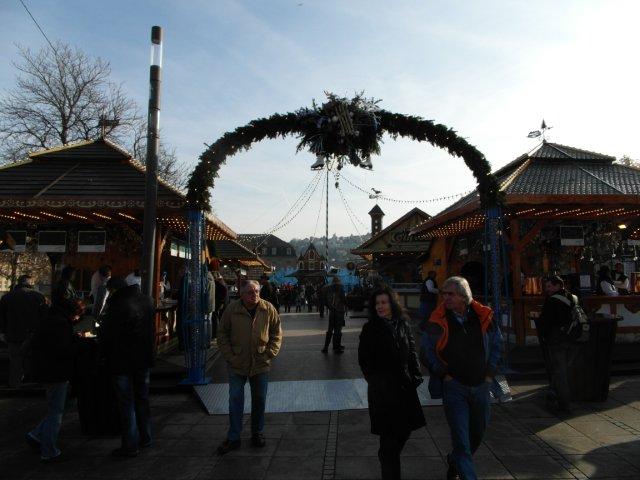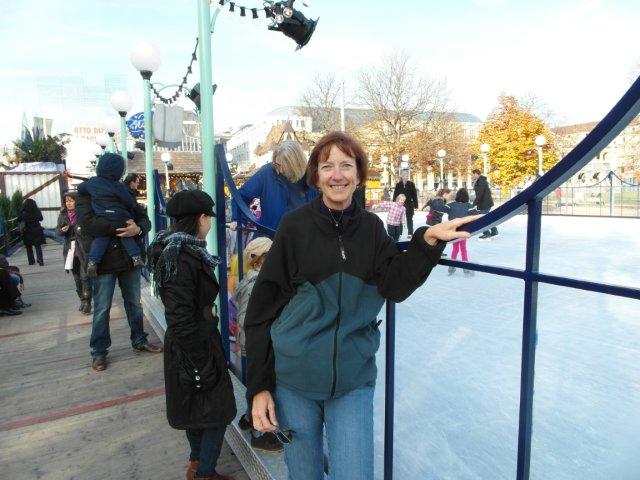 We headed to the Hauptbahnhof TI office to pick up a map. Unlike most other European cities, Stuttgart charges a fee for the city map but only 50 cents. The map has a nice walking tour that we used to familiarize ourselves with the city.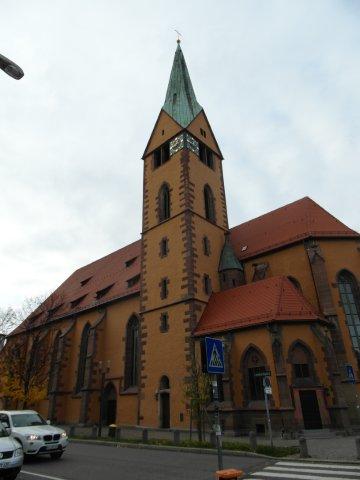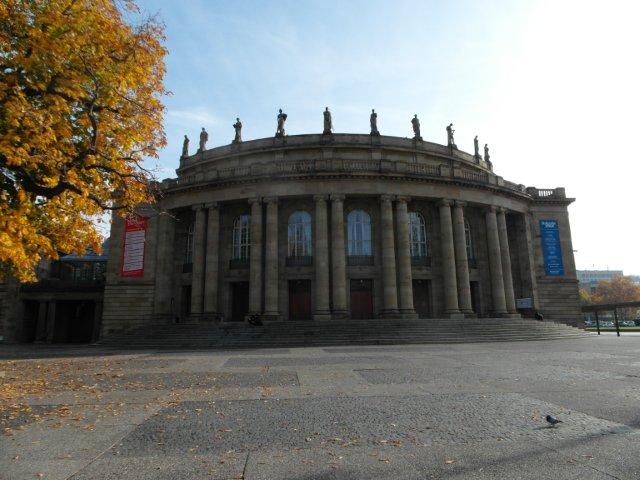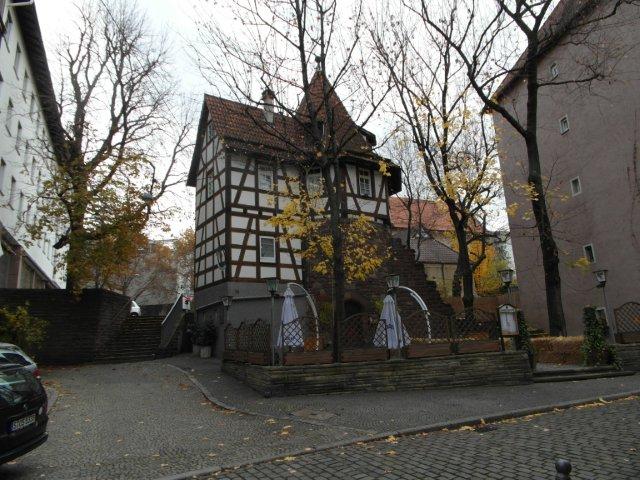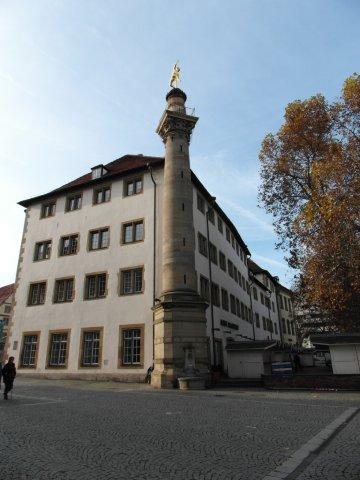 After the tour, we stopped for lunch at Brauhaus der Schönbuch. We tried the maultaschen soup. Our Quickdic translator had described it as tortellini. On some of the menus in France it had been listed in the section with the tripe, liver and kidneys so we were a little hesitant to try it, but it was delicious, served in a clear broth.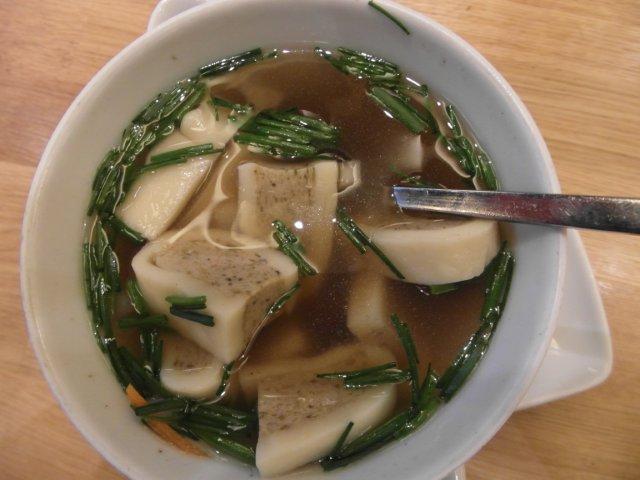 We also shared some weisswurst and a schnitzel with fries. The accompanying beer was quite flavorful. We lingered a bit and played some cards.

We discussed taking the train back, but in the end decided we still had some calories to burn off. We found a slightly more direct route back, but even so, BJ's pedometer reported that we had logged 13 miles that day. Not bad.

We still had leftover cheese and bread and a bottle of pinot noir from Eguisheim so we decided to have dinner in the room.

We slept well by adjusting our beds to the firm setting.

The 6AM alarm woke us and we hurried to get packed and checked out so we could start the long walk back to the S bahn. We took a shortcut that should have cut a few minutes from the walk, but then we took a wrong turn that out us on a busy bridge over the train station. We had to backtrack, and then had trouble at the ticket machine so we missed the first train. The next one was a few minutes later so no worries.

We changed trains at Bad Cannstatt and boarded one that said Flughafen (Airport). We were quite surprised when the conductor announced that it was terminating at Vaihingen, several stops before the airport. We got off along with the other bewildered travelers and milled around on the platform waiting for an announcement. We were starting to get concerned. We always like to get to the airport at least 2 hours prior to our flight and it was looking iffy. Finally an announcement was made, only in German. We asked another traveler to translate and he said another train would be along soon.

We barely made our self imposed 2 hour window so we were happy. The flight was fairly open so it was a low stress wait at the gate to get our business class seats!
Another fun trip!
BJ and Tony
bjandtony@bjandtony.com