Umbria,Italy
May 2014
"Graduation Celebration"
We would never, ever, on purpose, plan a trip that required us to be in a particular place at a particular time. I mean, it adds a level of stress that is just unheard of for airline employees. But, when our friend mentioned that she had reserved a villa in Italy for her daughter's college graduation celebration, well, how could we pass that up? Besides, it was only a holiday weekend and who would think of traveling on a holiday weekend?

The invitee list consisted of about 15-20 people, some friends of the graduate and some friends of the mom. Most would be traveling as airline standby personnel, but a few took the less adventuresome option and purchased a confirmed seat.

The graduate and her mom left on Wednesday and traveled to Rome. Another group of friends (party of 5) tried to get on the Rome flight Thursday but there weren't enough seats so 3 of the group ended up in Zurich and took the train to Milan where they picked up a rental car. We (Tony and I) decided to leave on Friday. Our decision was multifaceted. We didn't want to compete with our friends earlier in the week, Tony needed to work, and flights looked good for Friday... right up until the day of travel. Then things started to fall apart.

I had made a list of all Delta departures going to Europe. I prepared a spreadsheet showing all flights sorted by departure time.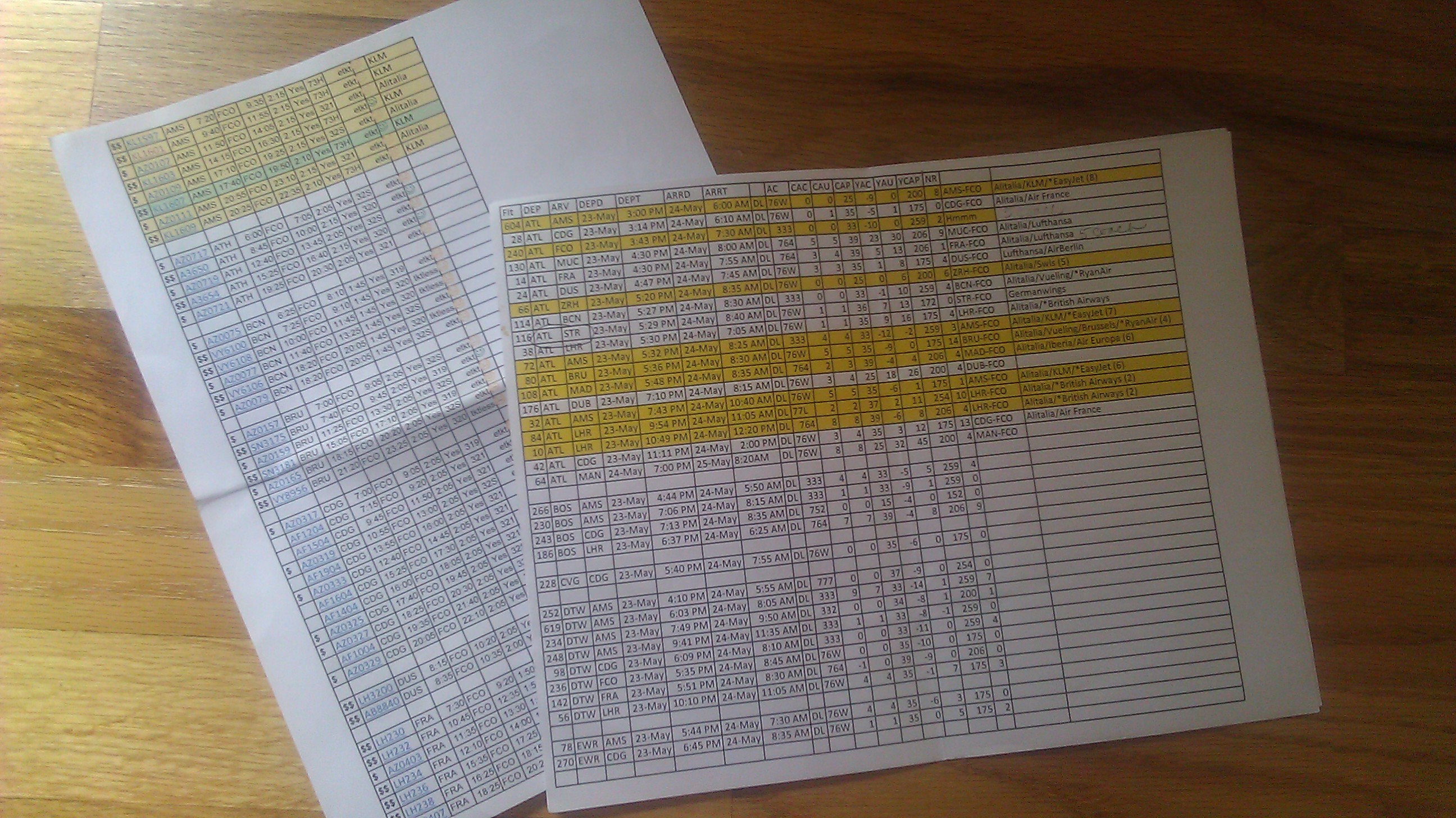 We could not stand by for all of them so we narrowed it down to six. We would try for 3 Amsterdam flights, the Rome flight and a couple of London flights. I had also researched connections on other airlines that have reciprocal agreements with Delta for employee stand-by travel.

The day before we were to leave, we 'watched' to see if our friends would get on. They were trying for the direct flight to Rome. It looked like only two would get seats so they decided to send the most junior travelers. The other three transferred over to the Zurich flight. They all got seats in business class but faced a long train ride once they landed.

By the time Friday rolled around, it didn't look like there would be any possibility for us to get on a flight. We've become so spoiled that we balk at the possibility that we might have to take a seat in coach class, but on Friday, even if we were, (heaven forbid) willing to sit in coach, it was extremely doubtful we could get a seat.
We got to the parking lot just in time to catch the employee bus, but found that Delta has changed the parking situation so we had to drive to a different parking lot. The sign at the new lot said, "Lot Full", so we drove back over to the General Offices and thought we would walk over and take the shuttle from the Hilton Hotel. Just as we were getting our luggage out of the car, our cousin John drove up behind us and offered us a ride to the airport!

We went to the airport with the attitude, 'You can't win if you don't play.' We stood by for a 3pm flight to Amsterdam and then, just for kicks, the non-stop flight to Rome. We realized that would be a no-go when we heard the gate agent announce that they needed two volunteers to give up their seats in exchange for compensation and a later connection to Rome through Munich.
Our next opportunity was a flight to Dusseldorf. We hurried to the gate and saw on the Gate Information Display that there was 1 Business Class Seat and 1 Coach seat available. Our position on the stand-by list was #4 & 5 behind a party of 3. Assuming we would not get on this flight either, we started trying to get on the stand-by list for the next Amsterdam flight (a rather painstaking process when done using a smart phone). We heard the gate agent call the party of 3 ahead of us and were encouraged when no one approached the gate. She called us next and apologized that she only had 1 seat in business class. It was Tony's turn to sit up front since I had my turn last on the return from Amsterdam.
As soon as we got our boarding passes, I started trying to book a connecting flight from Dusseldorf to Rome, another painstaking process on a cell-phone especially since my phone battery was nearly dead. I got most of the way through the process and was relieved when we boarded and I found a USB port in my seat where I could get enough power to complete the process. Our connection opportunity would be on Air Berlin, but it was a sub-minimum connecting time, giving us just an hour from landing to get to the connecting gate. I was looking to see what terminal Air Berlin uses and found an online check-in option. I decided to use it and lo and behold, it gave us seat assignments and emailed us boarding cards right then and there!
The flight in coach wasn't too bad. I watched 3 movies, had beef stroganoff & a few glasses of wine for dinner. I had enough leg room in my window seat and was counting myself lucky to at least be in an Economy Comfort seat. Just before landing I went to the restroom and when I returned to my seat, I realized I wasn't in Economy Comfort after all, but in the row behind Economy Comfort. No matter, I had enough room.
We landed a few minutes early and were first in line at Immigration so we had plenty of time to make it to the Air Berlin Gate. We realized that Air Berlin has strict baggage requirements when we saw someone get pulled aside and questioned about their rollaboard, so I quickly got out of line and converted my rollaboard to a backpack. We cruised through check-in and took our seats without any problem. There was plenty of overhead space. The flight to Rome was about 2 hours and the Air Berlin crew was very nice, offering us a beverage and roll. Upon exiting the plane, they gave us a piece of chocolate.
A bus took us from the plane to the terminal and after a bit of wandering around, we found the rental car center and picked up our SIXT Fiat Panda. I could have sworn I reserved a car with air conditioning but that is not what we got. No matter, it was cool enough when we rolled the windows down.
The GPS said it was 2 hours to the Villa Eleonora near Collopepe. We made a couple of errors and a couple of stops so it took us about 2.5 hours. We found the villa and realized we were the first of the group to arrive.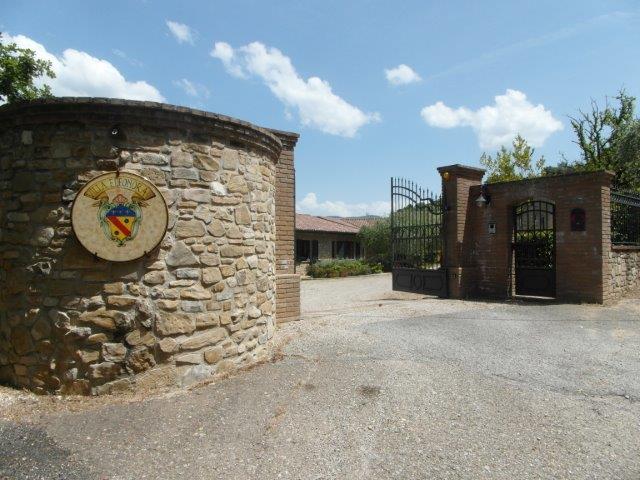 Marta, the representative of the owners, greeted us and showed us around the property. The place was huge and would be easy to get lost in. There was an indoor pool, an outdoor pool, a room with pool tables, an exercise room with a ping-pong table and too many bedrooms to count. The house and the grounds were lovely!
Marta explained that the beautiful ceramic tables were made by Domiziani in the nearby village of Deruta especially for Villa Eleonora.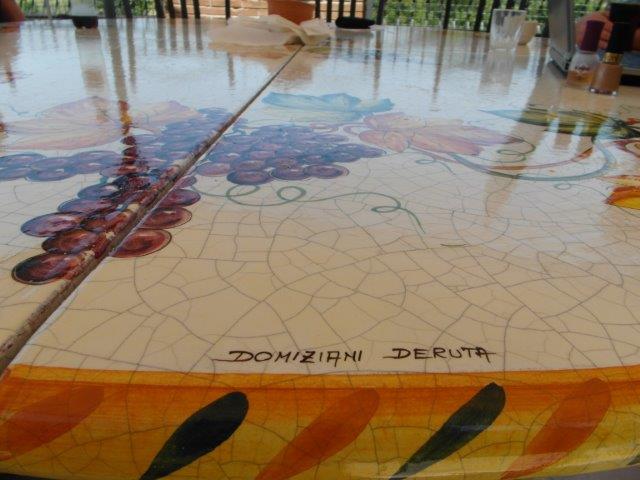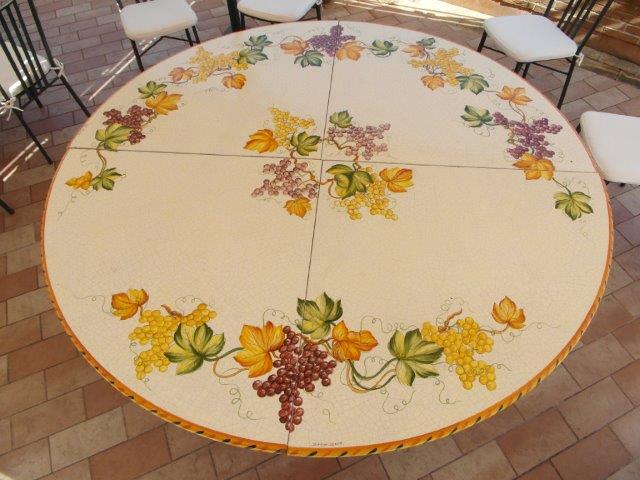 Our friend had assigned bedrooms in advance so we knew our bedroom was in the guest house. We dropped our bags and waited for the others to arrive. We had a beautiful view from our room!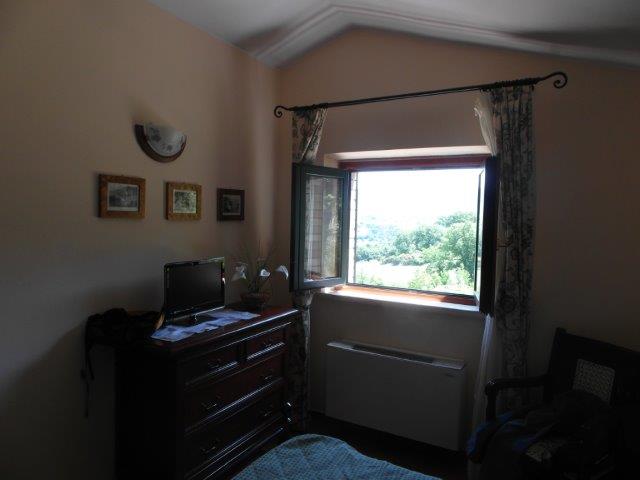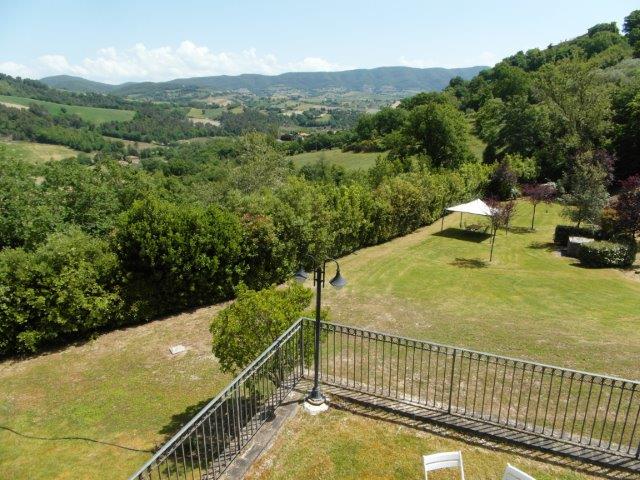 Everyone drifted in and marveled over the accommodations. The kitchen window opened to the front of the house so the groceries could be delivered inside without having to walk around to the door. The refrigerator was reasonably sized but still would only hold a day's worth of groceries for our large crowd.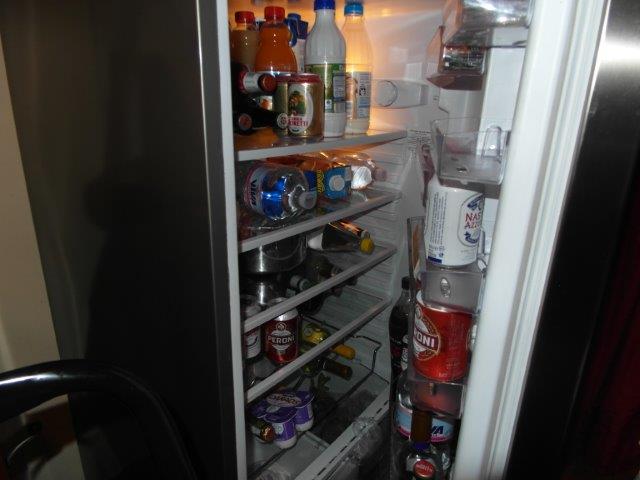 I took a walk to help me wake up a bit as the drive had made me sleepy. I found that the road made a nice loop taking me to the top of the hill, then back down to the main road where I could climb the hill again back to the villa. My route took me past poppy fields, vineyards and olive groves!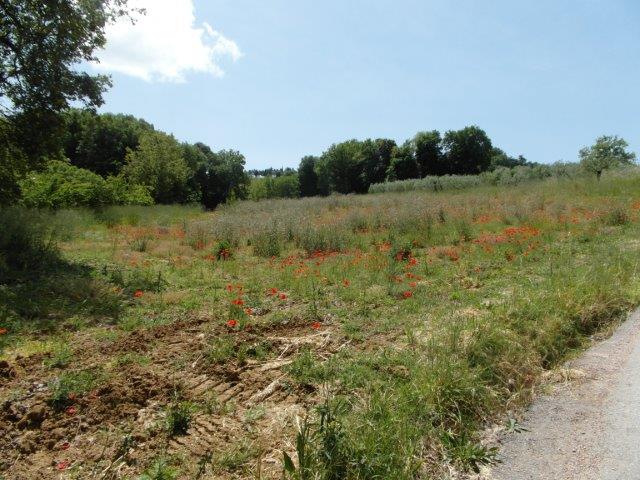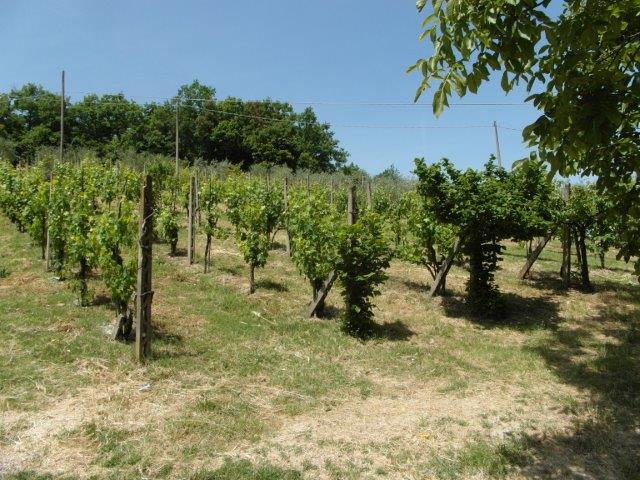 The first night was Sandy's night to cook and she prepared gorgonzola pasta with peas and prosciutto. It was delicious!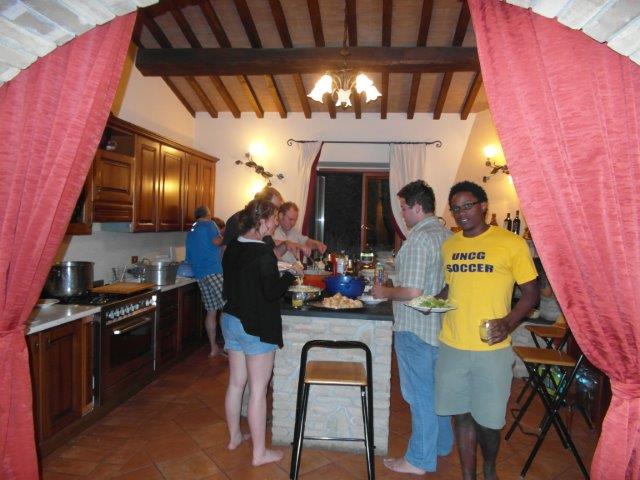 We played Left, Right, Center after dinner & Michael was the victor. Then there was a lively ping-pong tournament.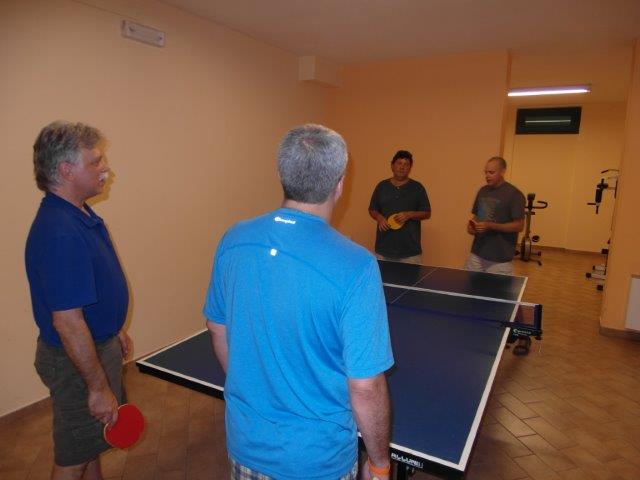 Tony and I made it up until midnight, proud of ourselves for having made it up so late on the first night.
Sunday, the group took an outing to Montefalco to the church and winery. It was our night to cook so Tony and I drove into Marsciano where we were told there was a grocery store open on Sundays. The GPS didn't know where a grocery store was, so we drove around looking for one. We stopped and asked a boy who was walking but he spoke very little English. We found a parking lot that had grocery carts in it and thought we had scored, but it was closed. We asked a group of ladies at a pizzeria but they also did not speak English. They called a fellow over who indicated for us to follow him in his car. He took us to another grocery store that was closed and then finally to one that would open an hour later. He told us to go to a bar and wait. We did as we were told, and had a glass of wine at Ristorante Rosatelli.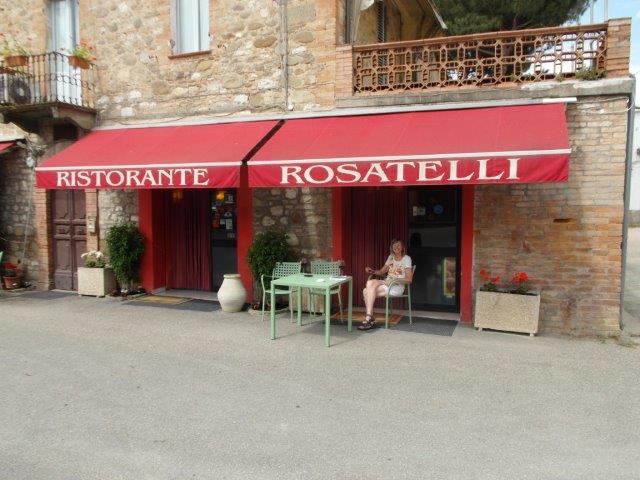 We needed a euro coin to get a grocery cart but neither of us had one so we had to use four of the little red baskets to hold all of our groceries.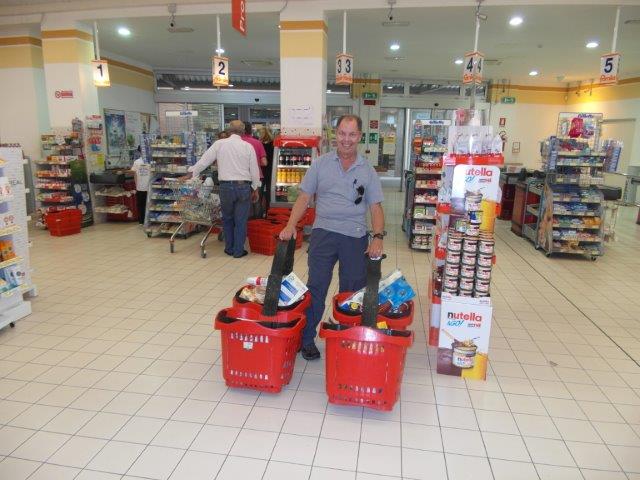 We decided to make a pasta with tomato sauce for dinner so we picked up a spice packet that said "Spaghetti" on the label. Little did we know that it was going to be almost too spicy to eat!
Everyone pitched in and helped prepare dinner. The pasta dish was appropriately nicknamed "Butt-Fire Pasta".
We played Left Right Center again. This time Claire took the pot. We managed to stay up until after 1AM before going to bed.
Monday, the group outing was to Orvieto, about an hour from our villa. It was a scenic drive.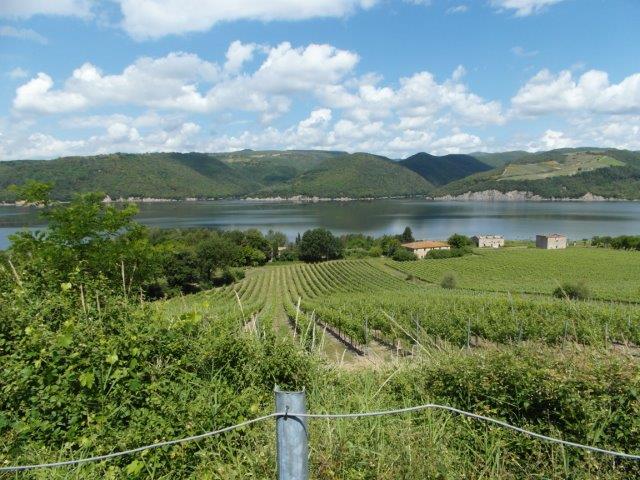 We had to take multiple cars so we agreed to meet at the Duomo at noon. We parked close to town and had a short walk up cobblestone streets past lots of colorful shops.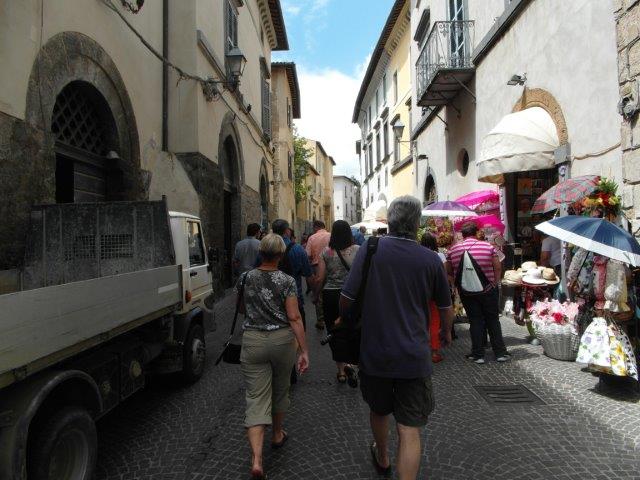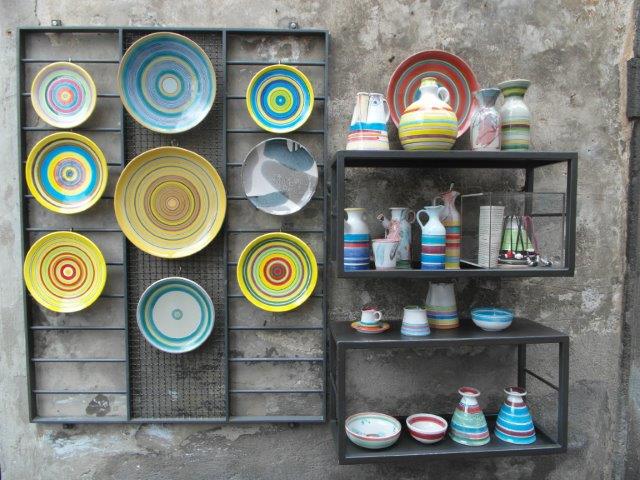 We stopped at the Bar Caffetteria Hescanas for some refreshements just across from the Duomo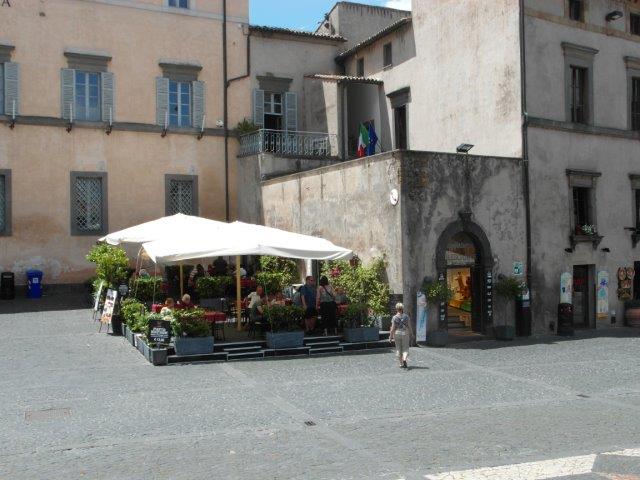 We toured the Duomo marveling at the frescos inside. Some of the scenes depicting the end of the world were rather disturbing. No photography was allowed inside.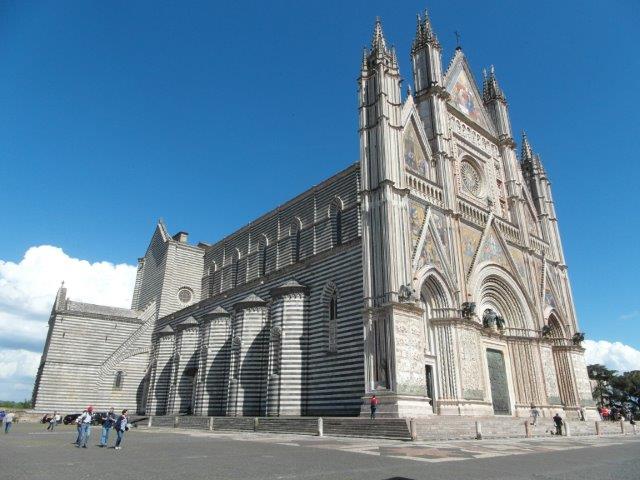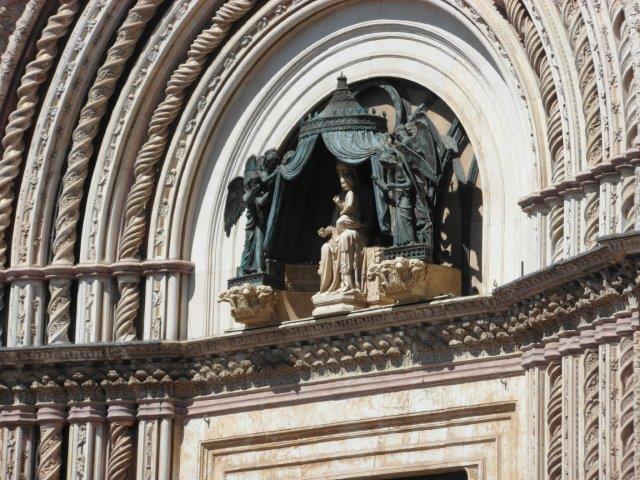 We wandered around a bit looking at the scenic overlooks around the city.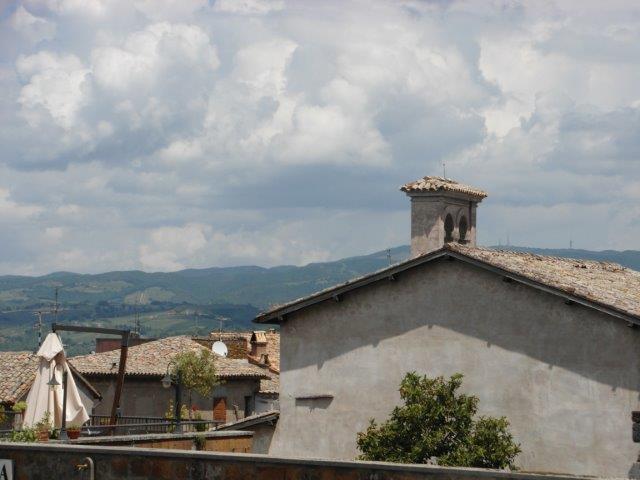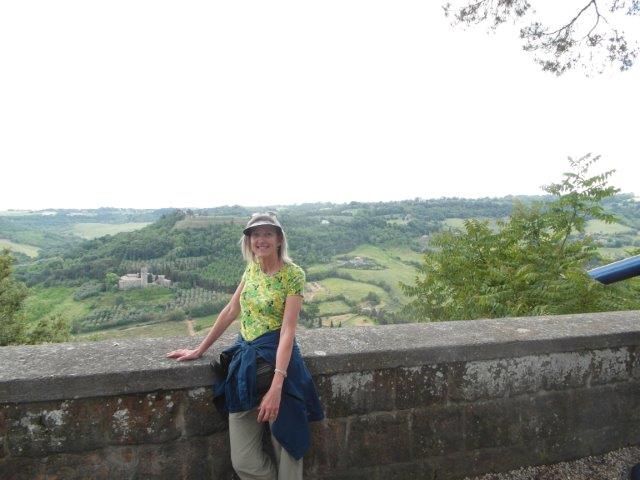 We had a pizza lunch at the Bar Duomo on a little side street.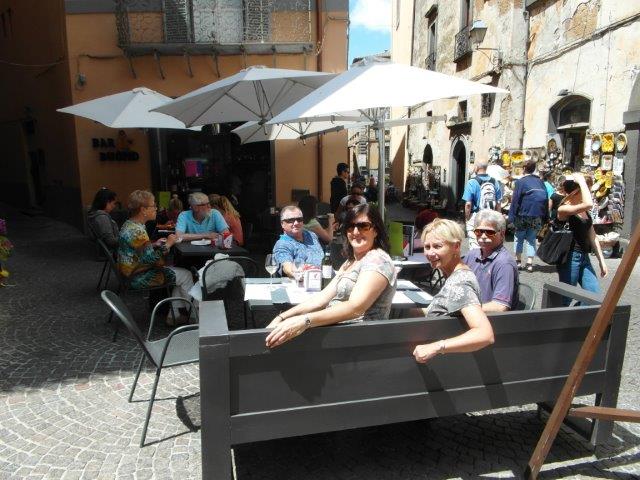 After lunch, we had time to do a little shopping and wandering around before our parking meter ran out.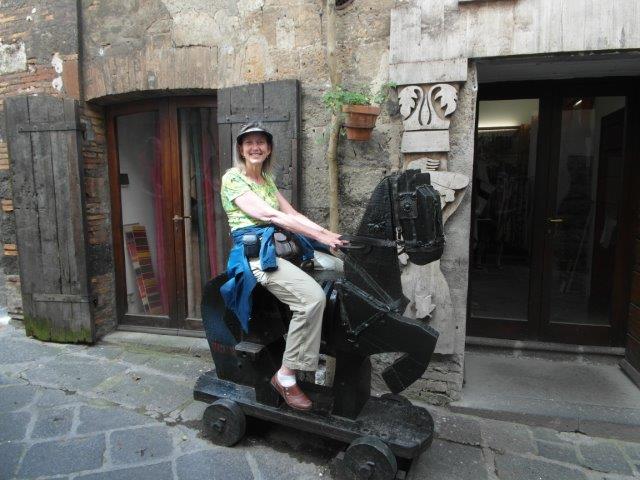 The drive back to the villa was quiet as several of us were napping. Tony had skipped the outing so he was waiting for us at home. He wanted to go for a walk so we did the same loop I had done on Saturday. I picked wild flowers along the way so we would have a nice table arrangement at dinner.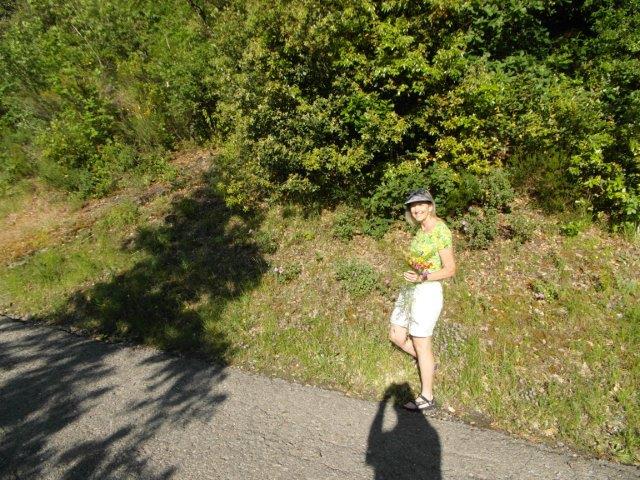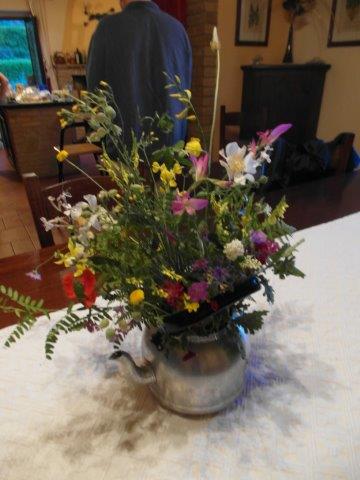 Kristi decided to make a vodka sauce using the left over "Butt-Fire" pasta sauce and adding some cream to tone it down. Kelly fired up the grill and cooked chicken and asparagus. It was a delightful meal but the pasta sauce was still too spicy.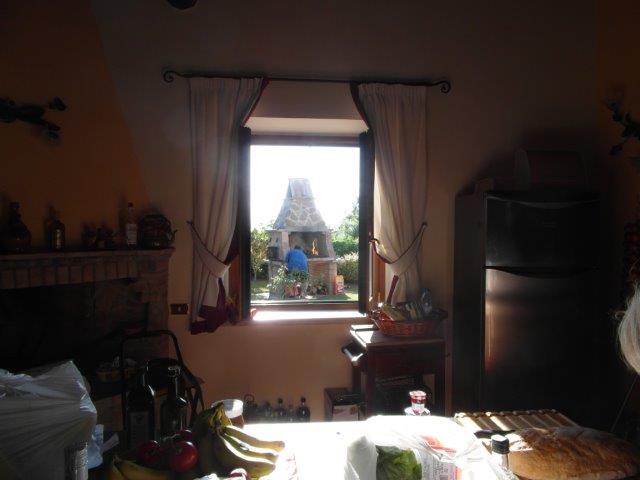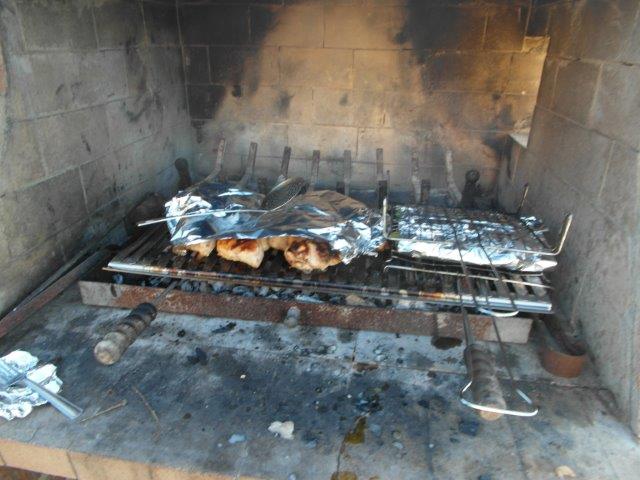 The weather was perfect for dinner at the big ceramic table on the patio.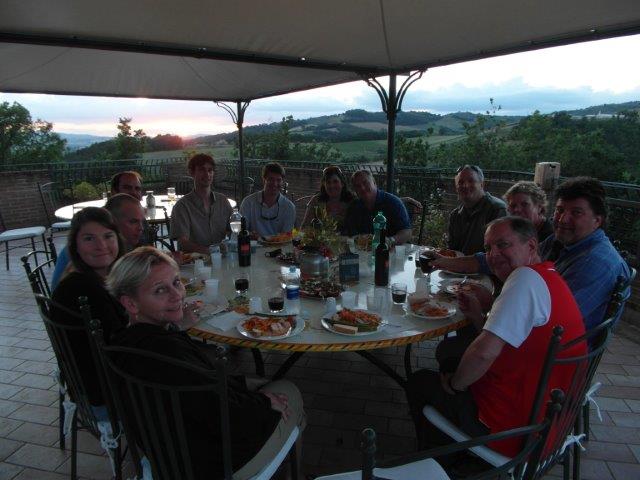 Dessert for the "kids" was Kindereggs!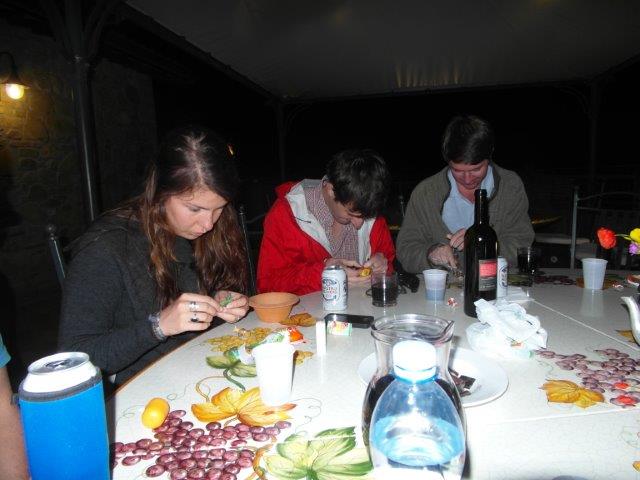 The Left Right Center winner for the evening was Kevin. We started a card game but it was a bit chaotic with so many people. I tried to teach the youngsters how to cut a deck of cards with one hand but only one of them "got it".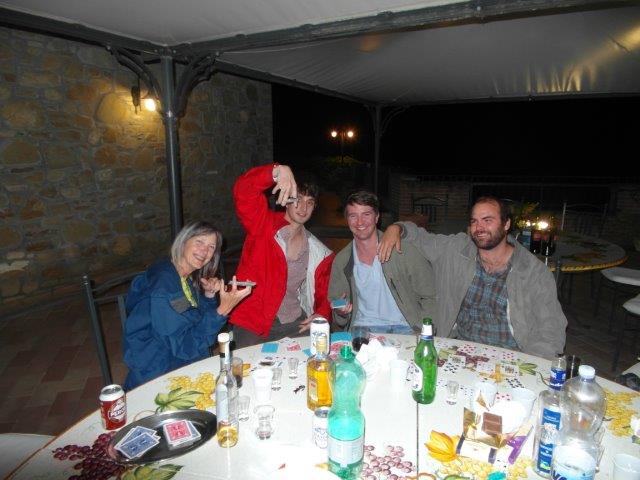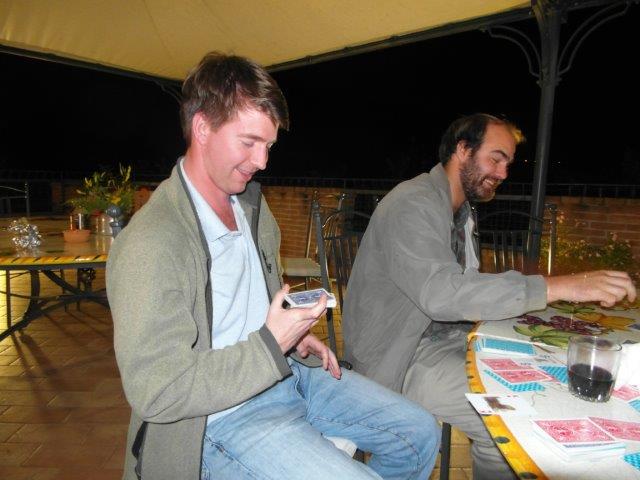 We were late to bed again and slept like rocks!
Tuesday, we awoke to rain. The group was going to Assissi for the day but Tony and I decided to have a quiet day on our own. We went to the Fongoli winery in Montefalco. We wanted to pick up a couple of boxes of their house red wine for the group but they were busy and couldn't box it up for us. We took a self-guided tour of the winery and the grounds.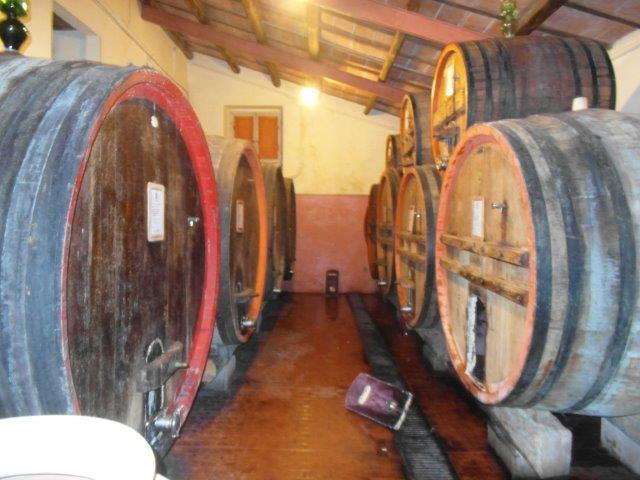 Just as we were about to leave, the owner came out and said they had time to do it now so we wandered around the property while we waited.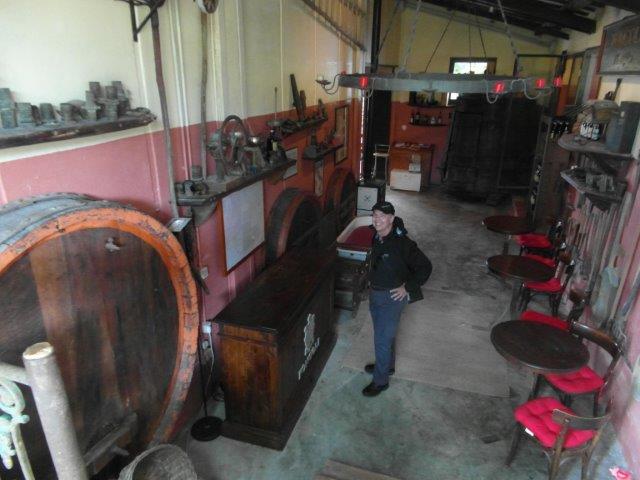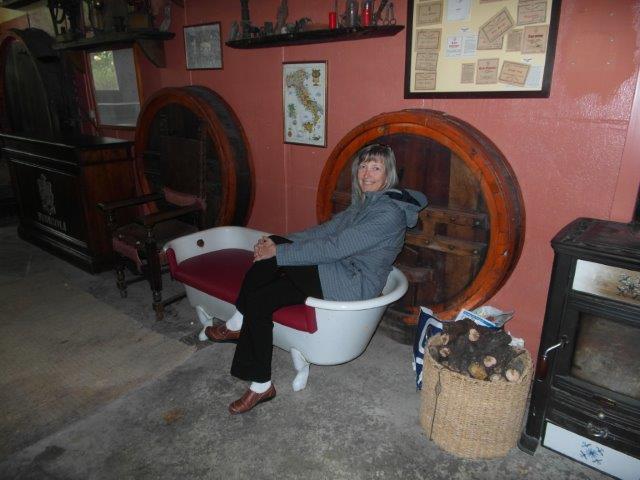 We went from there to Bastardo where we had seen a sign for a grocery store. We needed sour cream for tonight's dinner. I looked on my phone to see what the Italian term for sour cream is. I found a great web site that even showed me a picture of the container. We found everything we needed!
Lunch was at Pizza Roma back in Collepepe, a great little place called Pizza Roma that sells pizza by weight. I had a piece of zucchini pizza and a piece of mushroom pizza. Tony had sausage pizza.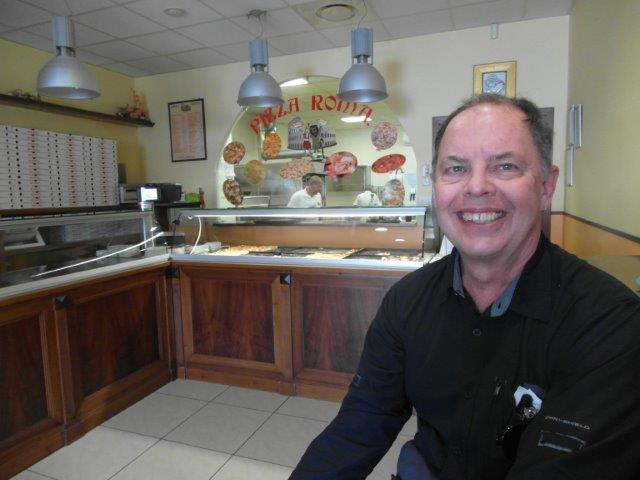 By the time we got back to the villa, the rain looked like it might be over. I went for a short walk and picked some more wild flowers for our table arrangement. When I got back to the villa it started raining again. It was great weather for a little nap.
We got a call from the others asking us to put water on to boil to cook pasta for dinner. We would be having Spaghetti Pie for dinner! Mmmm!!! It was delicious but took a long time to prepare.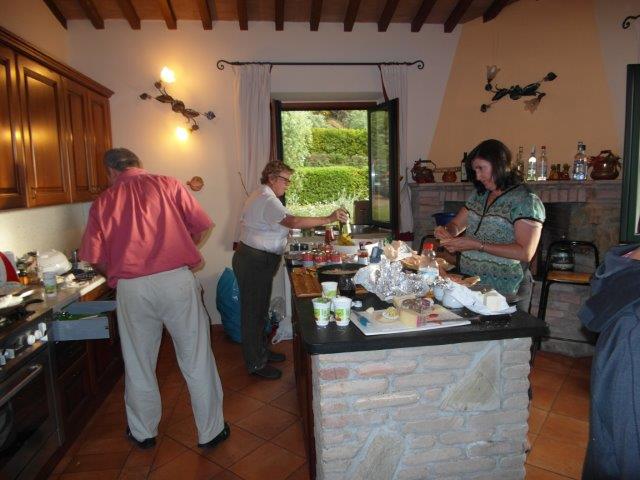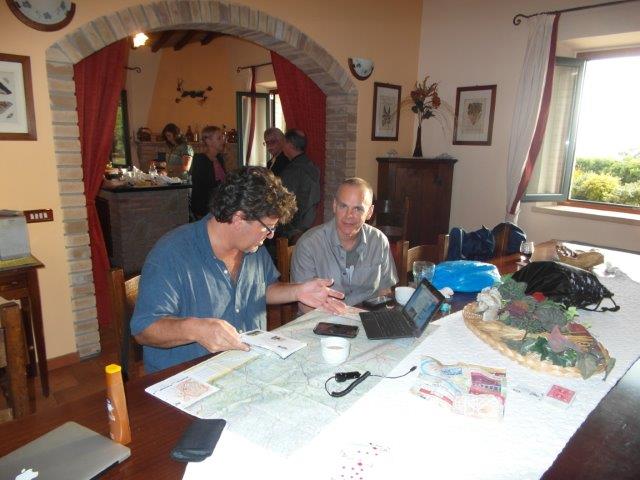 We didn't eat until after 9. We ate at the big table inside and then played Left Right Center again. Kelly won this time. The kids had a ping-pong tournament while the adults played cards.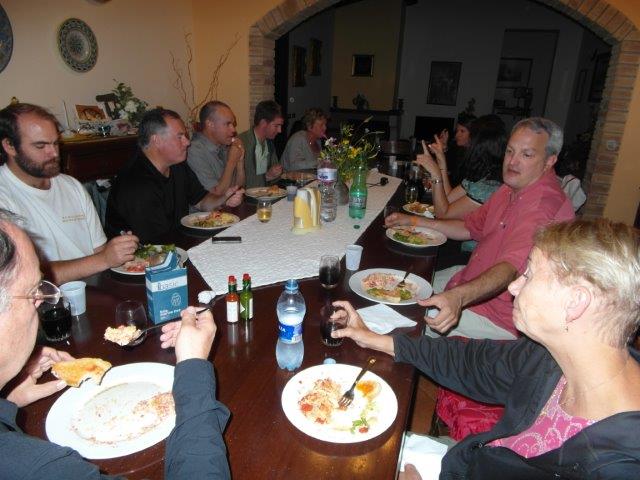 Wednesday was the day I was to have planned an outing. I chose Perugia. We parked at Piazza Partigiani and took the escalators up into town.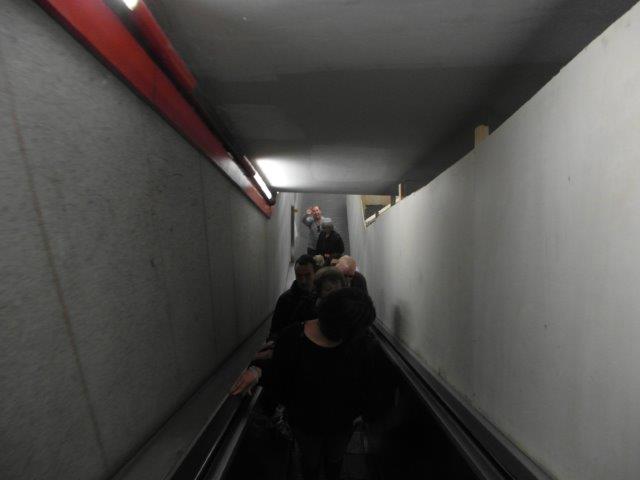 We walked through an elaborate underground section that and then tried to find the beginning of a walking tour I had printed from the internet.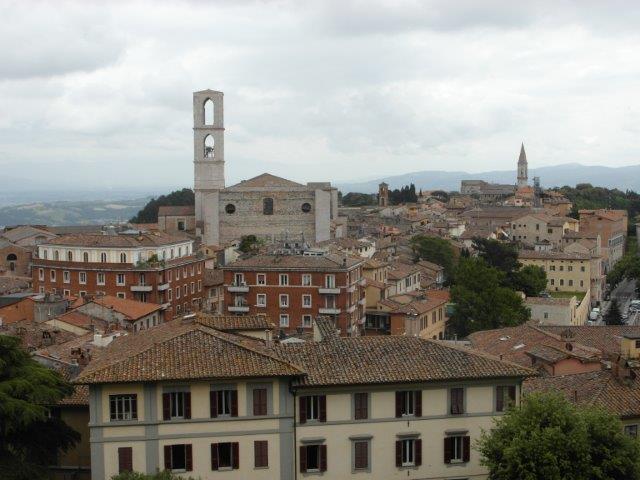 We couldn't find stop number one so we elected to walk toward the main square, Piazza IV Novembre. We stopped for some refreshments at Bar Centrale.
We visited the Cathedral di San Lorenzo and admired the Fontana Maggiore. The town symbol is a griffin and a lion.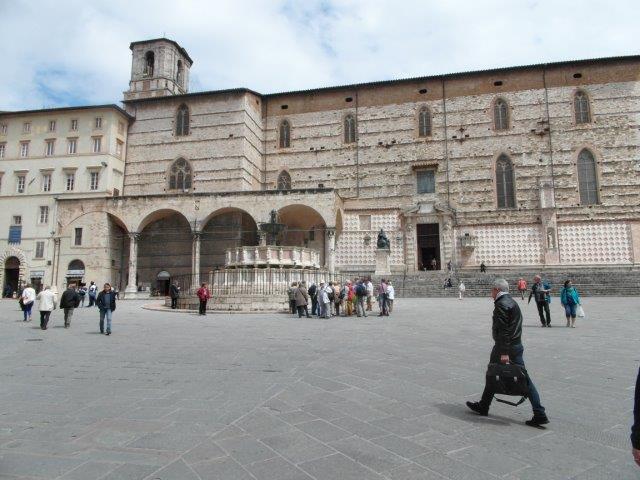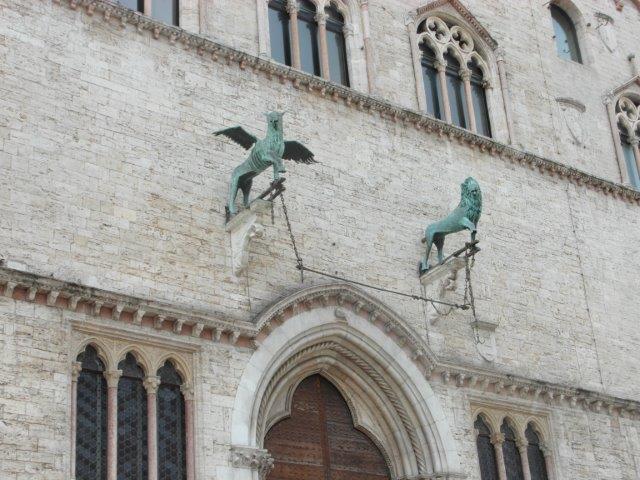 Most of the group went to the National Gallery Museum while Tony and I explored the town. We tried to use the GPS to find some of the sights on the walking tour but kept ending up back in the main square.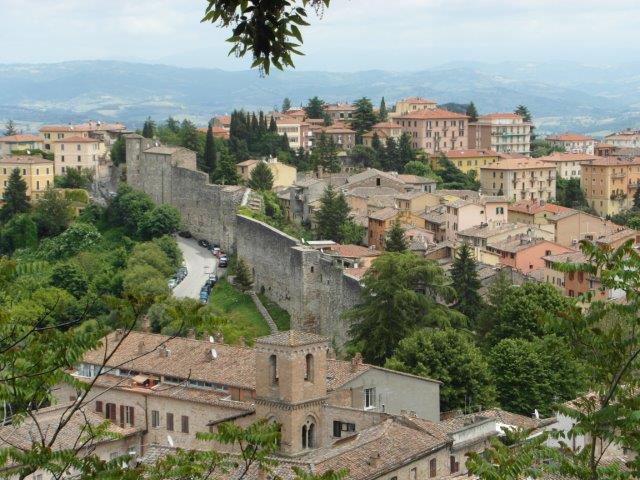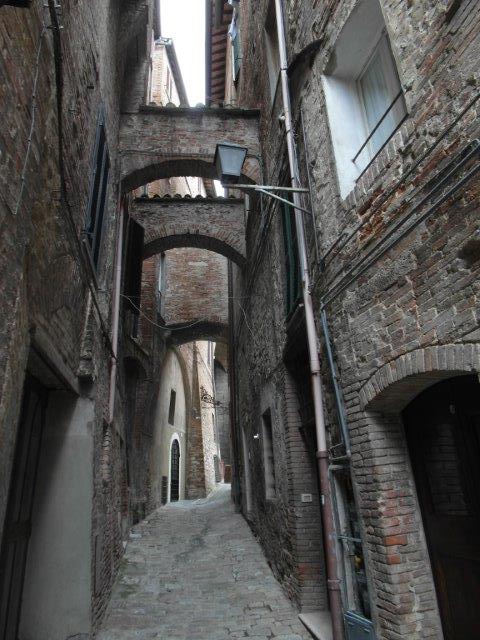 We gave up and sat down at the Bar Caffe Stuzzicheria del Grifo to wait for the others.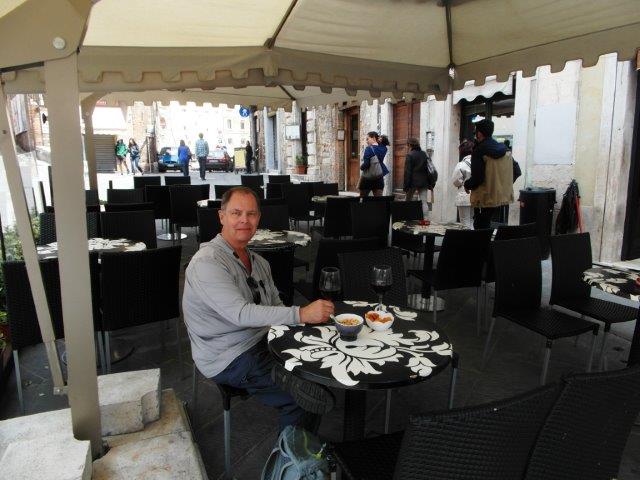 We had lunch at the Ristorante Pizzeria Taverna La Gabbia.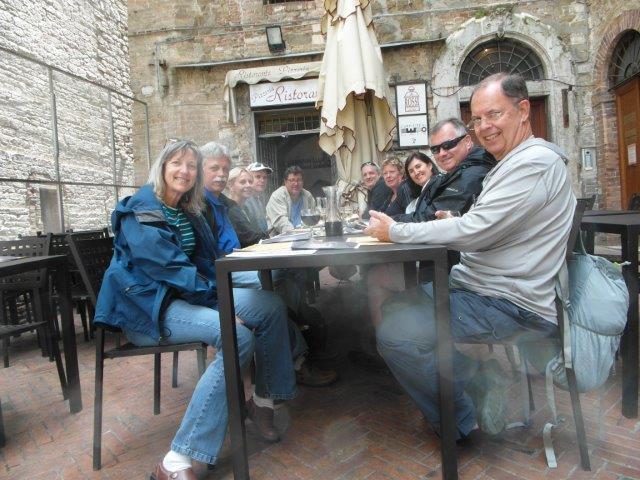 We were going to try to find the Porta Marzia after lunch but it had started to rain so we hurried back to the parking deck. There was a beggar standing next to the parking meter so we gave her the change when we paid our (rather expensive 9.20 Euro) parking ticket.
Getting out of town was kind of exciting. We're not sure we took the most direct route and ended up on some tiny winding roads.
Dinner was Nancy's famous risotto accompanied by some of Kelly's delicious grilled veggies.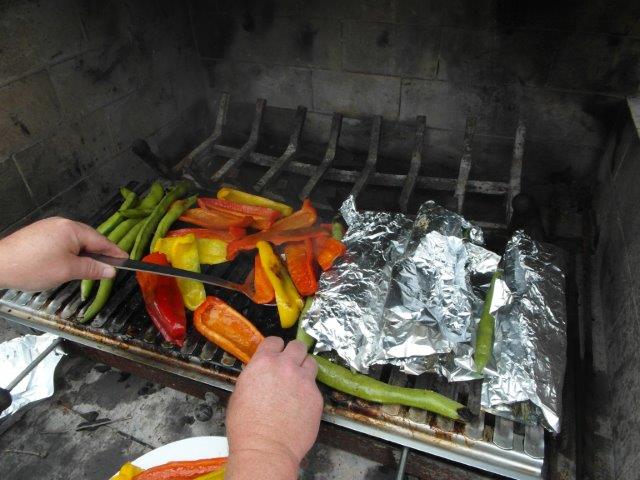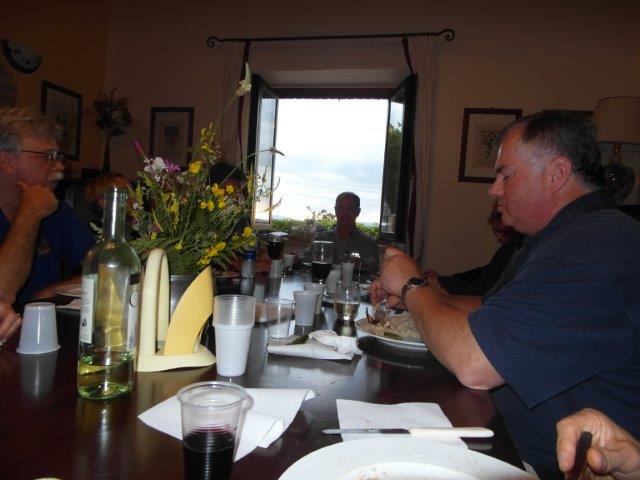 After dinner, John dominated the ping-pong table, defeating all competitors.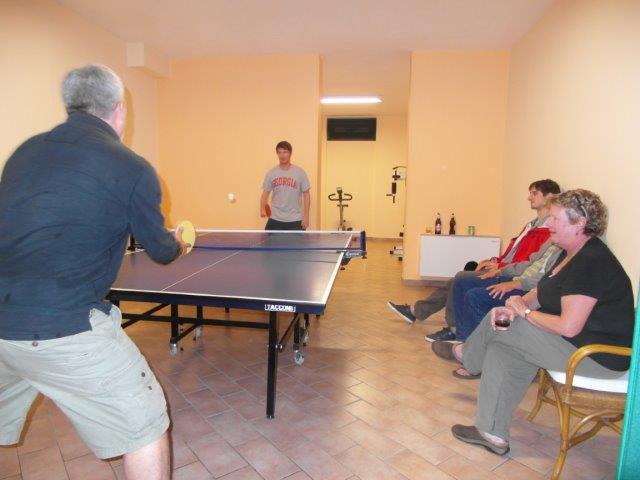 Thursday the group took another outing while some of us opted for another relaxing day at the villa. Dinner of eggplant parmesan was prepared by the "children". We were impressed with their cooking skills! While they cooked, we played cards at the big ceramic table outside. We were really glad for the tents over the tables since it was a rainy night. The sunset through the rain was really pretty.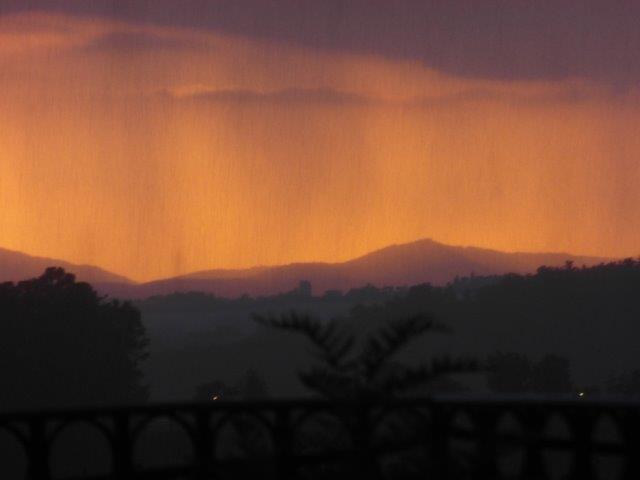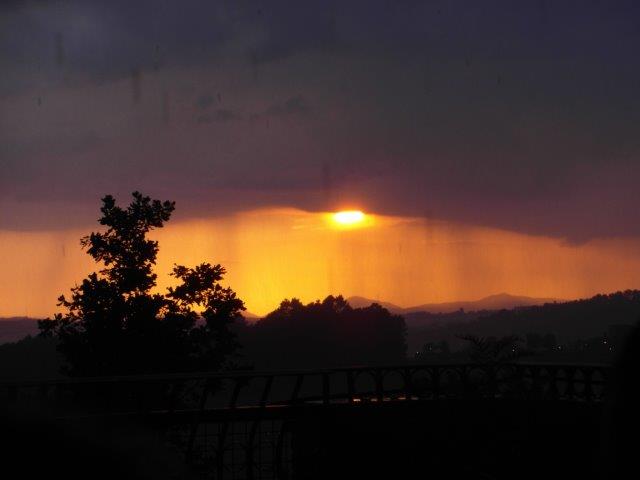 Friday, we decided to head for home so we wouldn't all be competing for a limited number of available seats on Saturday. We got up really early and looked out the window at the blanket of fog over the valley.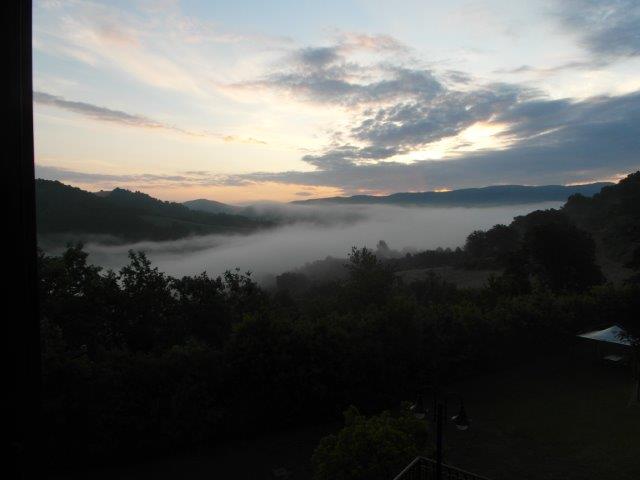 We decided to try for a connection from Rome through Detroit since it had more available seats than the non-stop to Atlanta. It was an uneventful drive back to the airport and thankfully we arrived in plenty of time since navigating the Rome airport is very confusing. We had to take a bus from the rental car area to the check-in terminal and then take another bus to the gate area. We were surprised to get business class seats and surmised that our good luck was the misfortune of some other more senior travelers who were late getting to the gate and were relegated to coach.
It was an awesome trip with great friends! Congratulations to Claire for graduation. We were honored to be included in the celebration!
BJ and Tony
bjandtony@bjandtony.com