Burgandy & Provence, France
July 2014
"River Cruise on A-ROSA, Round 2"
We had the opportunity to travel again on A-ROSA, the German River cruise company that we traveled on last July. A-ROSA is a cruise line which has traditionally catered to German clientele. A-ROSA began marketing their river-cruise product to folks in North America last year and we were fortunate to be on the inaugural cruise (for North Americans) out of Basil in July 2013. We met some wonderful friends on that cruise! Two of them (Shelley & Dean) contacted us to see if we'd be interested in taking another A-ROSA river cruise. OF COURSE we would!!!.

This cruise would leave and return to Lyon, France and travel on the Rhône and Saône rivers. The first obstacle we faced was getting to Lyon. We love the thrill of the hunt for available seats so there would be no confirmed tickets for us, we would utilize our retiree flight benefits! An awesome reward for our combined 64 years of service to Delta Air Lines! I created a spreadsheet with all flights leaving the United States for Europe. I narrowed the selection down to seven flights that had the most seats available in business class. With highlighted list in-hand, we went to the airport.

The first stand-by opportunity was to Paris. By the time the flight left, it was obvious that we would not get seats so we went to the gate for our second opportunity which was to Munich. It was a bit of a nail-biter, but we managed to score the last two available seats on the plane and they were in business class to boot! While we were sipping our champagne and congratulating ourselves, I booked stand-by tickets from Munich to Lyon on Lufthansa. Or, I thought that's what I was doing. I guess I had Paris on my mind, because when I did the online check-in for the flight, I noticed that I had booked Munich to Paris instead. I had to scramble to book the Lyon flight before having to turn off my electronic device.

The flight to Munich was wonderful! We both commented that our meal was the best we have had in a long time on an airplane. Tony's chicken was moist and tender and my eggplant lasagna was delicious. We watched a movie during dinner. I watched "Bad Words" and Tony watched "Divergent", both enjoyable. We slept well in our lie-flat seats!

We landed in Munich with plenty of time to go to the Lufthansa desk and explain our situation. The agent was very friendly and helpful. He "un-checked" us in for the Paris flight so I could apply for a refund and gave us seats on the Lyon flight! We had a few hours to kill, so we stopped at a café for a very expensive coffee and diet coke ($10.60 for the two drinks).

We had a nice flight on Lufthansa. We had a 2 across – window/aisle.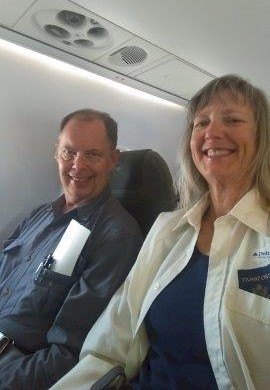 They served a cheese and basil sandwich that was pretty good!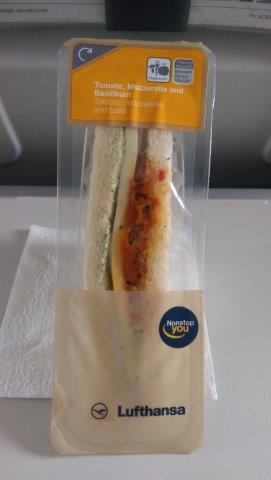 Upon landing in Lyon, we started looking for the public transportation. I had researched a metro/bus connection that would get us to the hotel, but we saw a sign for the Rhone Express and decided that might be more pleasant. The cost at the automated machine was 13 Euros each. We tried to pay with a VISA card, and then a check card, and then cash. There wasn't an agent to help us, so we started trying every card in our wallet. Finally the American Express card worked and we got our tickets. (We later learned that we had both a debit from our bank account and a charge on the AMEX. We are working on getting a refund now but it doesn't look promising.) The ride to central Lyon was just under 30 minutes. We decided to walk from the station to the hotel as a way to help keep us awake.

The walk was pleasant as long as we stayed on the shady side of the street. Some of the curbs at street crossings were "Roll-aboard" friendly and some weren't. We took a detour through the park that I had read about on trip advisor but the gravel paths weren't very "Roll-aboard" friendly either so we took the first exit and finished our walk along the street.

At the Hilton, our room wasn't quite ready so they sent us to the Executive lounge overlooking the river to relax and wait.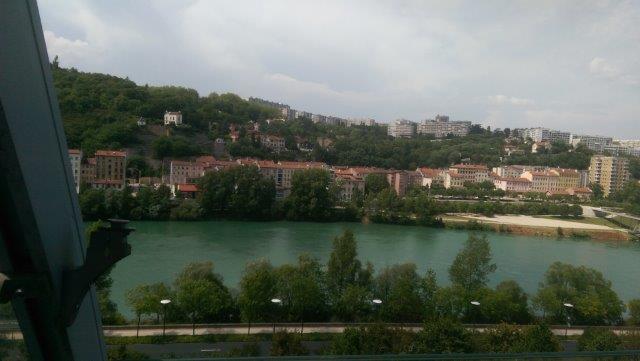 The Hilton had a nice spread of snacks and beverages in the lounge.

Our room was very nice, overlooking the park that we had walked through. I tried to go to the park but a guard posted at the entrance said it was closed because of the weather (at least that's what I think he said as he pointed to the sky).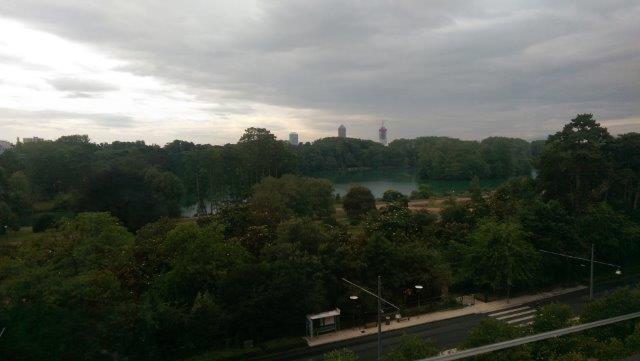 We wanted to watch the World Cup Soccer game between Germany and France. We were pulling for Germany, but since we were in France, we decided to keep a low profile. We watched the game in the Executive lounge along with some other Americans. We were pleased that Germany won.

We slept well and had a leisurely breakfast at the hotel before heading for the cruise ship. The dock was only a few miles from the hotel and it was a beautiful walk along the river so we again opted to walk. There were lots of folks walking, biking and skating on the path. At one point, I converted my roll-aboard into a backpack and we took a dirt path to get closer to the river.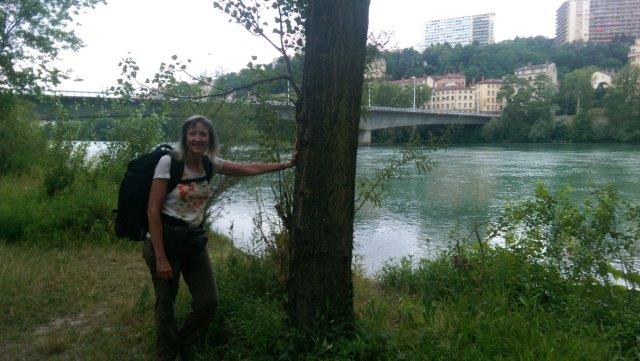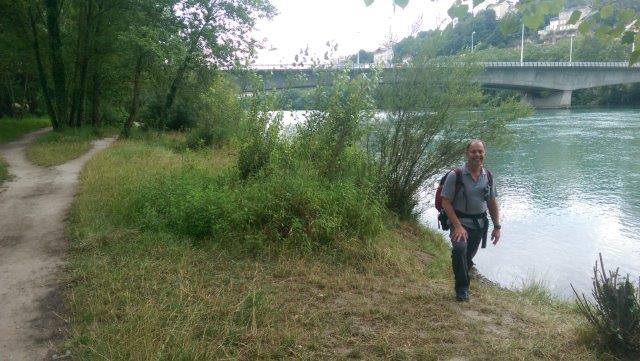 It took us about an hour to get to the Quai Claude Bernard where the A-ROSA Stella was docked. Here's where our vacation really started!
The Cruise
Saturday, Day 1
When we arrived at the ship, we were greeted by Stefan. A sign indicated boarding time was at 2PM but Stefan said we could leave our luggage and relax in the lounge until check-in opened.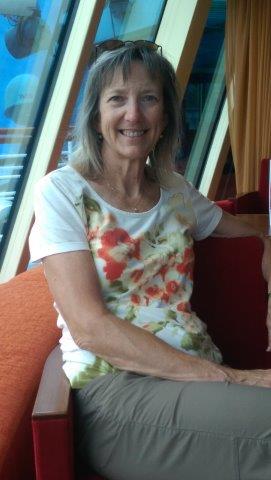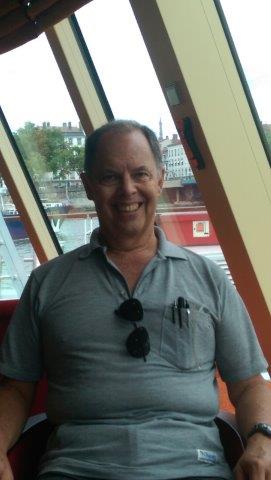 There were several folks in the lounge who hadn't yet disembarked from the previous cruise. At 2PM, Stefan arrived with a rose for me and said that we could check in.
Our cabin was almost identical to the cabin we had on our previous A-ROSA cruise aboard the AQUA. The color scheme was slightly different but no more appealing than before, all oranges and reds, not complimentary colors on the color wheel. The cabin was comfortable though with plenty of closet space and a small but clean and functional bathroom.

We unpacked our luggage and went back to the lounge to wait for our friends. We noted a number of differences this year. The average age of the passengers was much older this year (probably closer to late 70's/early 80's). There were lots of folks with canes and crutches. There were also a lot of British and German passengers this year, while last year's cruise was attended exclusively by North Americans. We would later learn that each nationality had a different contract of carriage. The North Americans were on an all-inclusive package, the British were on a semi-inclusive package, and the Germans seemed to be on a pay-as-you-go basis. We had to use our room cards when we ordered a drink and then were asked to sign a receipt with a zero charge.

Our friends, Shelley & Dean arrived just in time for the mandatory briefing where we learned about safety on board.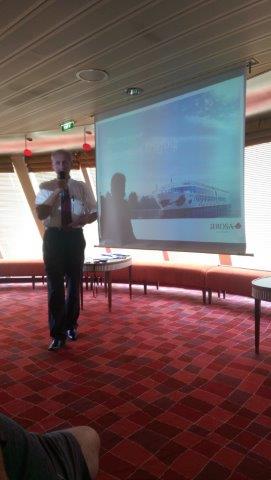 We then listened to Stefan give a description of the excursions. We hadn't signed up for any of them yet, so we were interested in hearing about them.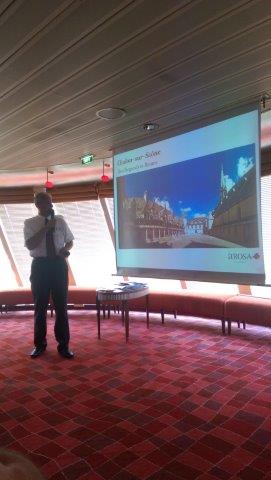 After the briefing, as we were exploring the ship, we ran into the entertainment and were thrilled to find that it was Ingrid and Rasti of the Duo Lipstick, a real highlight from our last cruise with A-ROSA! Not only did we recognize them, but they remembered us and wished me a Happy Birth Month!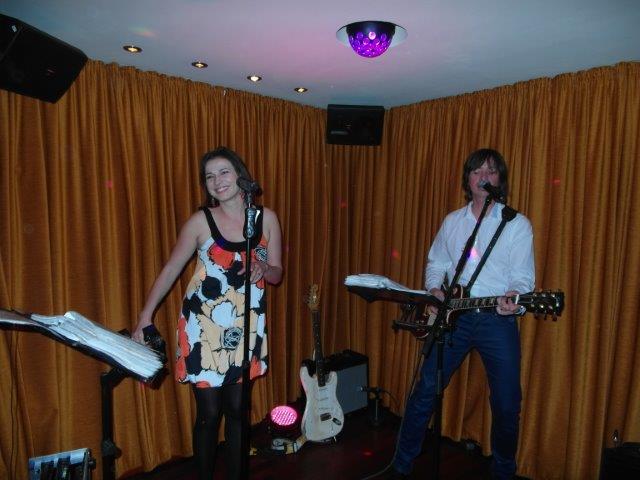 The first dinner was buffet style, another deviation from our last cruise where all dinners were 5 course seated dinners which included wine pairings with each course. On this cruise, there were no pairings, we were offered a red or a white wine.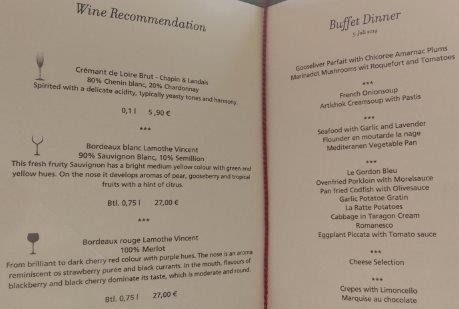 This was rather a disappointment since the food had been one of the enticements that caused us to come back aboard A-ROSA. We shared a table with some Brits. After dinner, we went up on deck to enjoy the scenery as we sailed away from Lyon.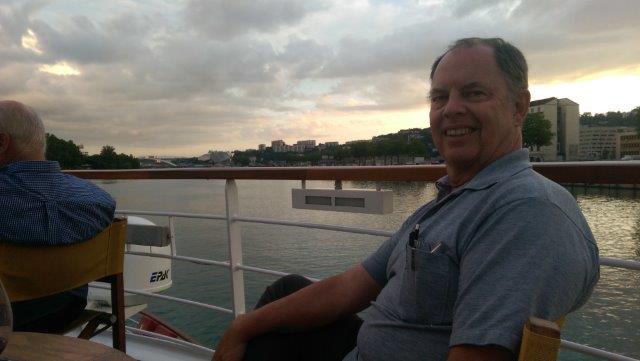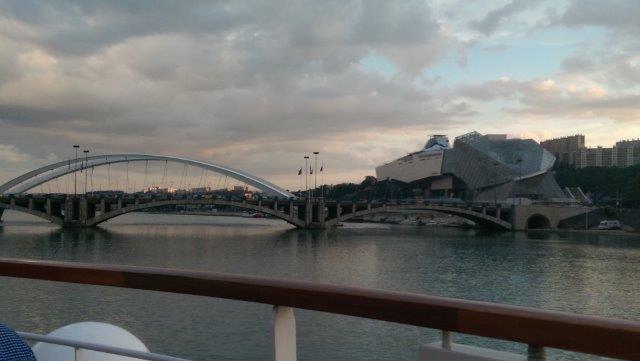 We had an after dinner cocktail in the lounge with Carol and Casey, a mother/daughter from Canada. The lounge was pretty dead, so we made it an early night.

Sunday, Day 2
When we awoke, we were docked in Macon, the sister city to Macon, Georgia! We had slept with the door open and a swan was waiting outside our cabin to see if we had any tidbits to offer. After a quick cup of coffee for me & diet soda for Tony, we met with Marco, the bicycle guide outside the ship to start our first excursion. There were 10 bikers plus Marco.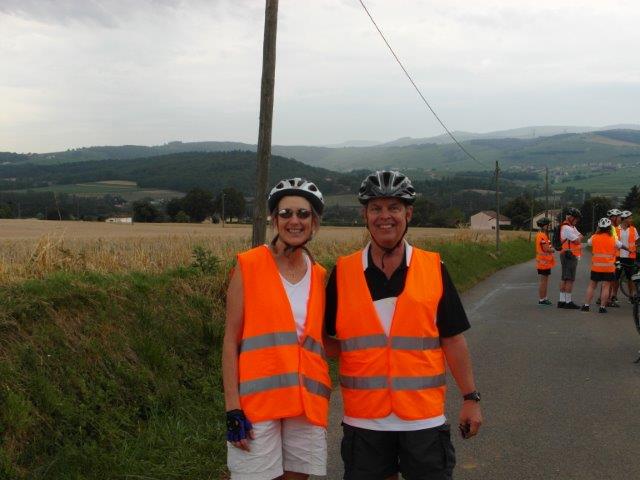 Tony always likes to bring up the rear so he can make sure no one gets separated from the group. There were a couple of hills at the beginning of the ride that caused a few of the bikers to struggle, but once we got past that, everyone kept up pretty well.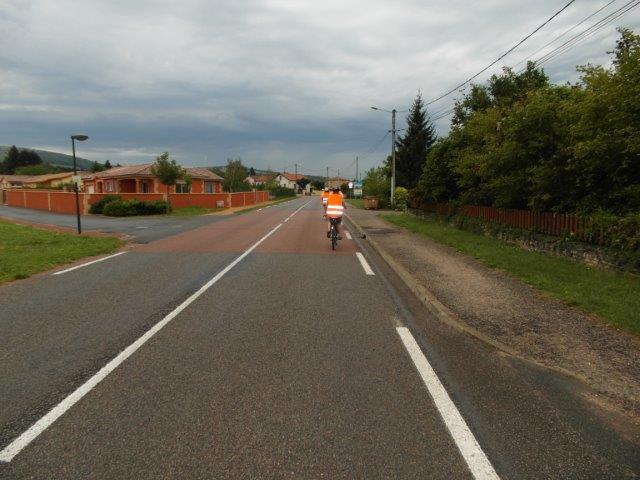 We made a stop to admire a church (and catch our breath).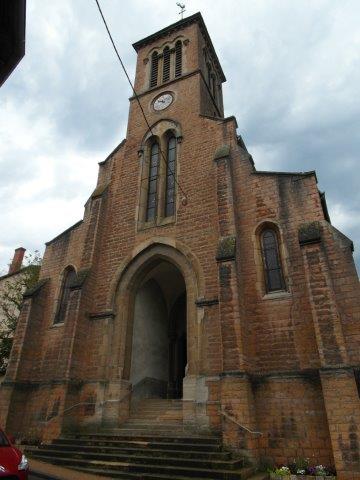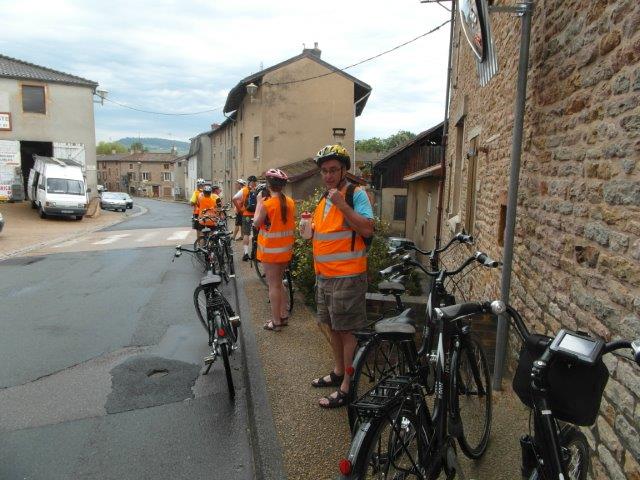 It was a pleasant ride through some pretty countryside to a winery in Prisse.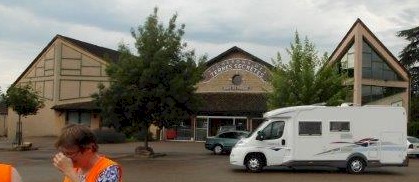 Of course we had to sample their wares!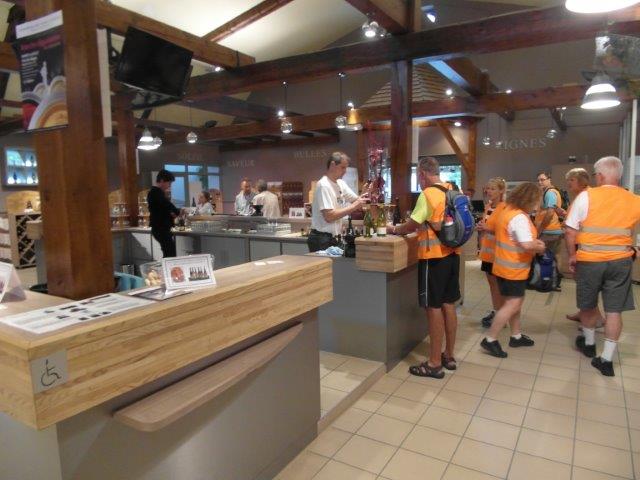 We had a little rain, but not enough to make us wish we had brought our raincoats. The ride there and back was a little over 20km and we averaged about 11km/hour.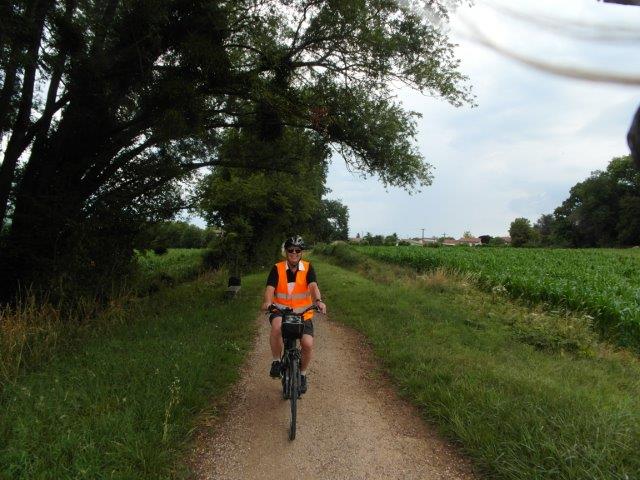 The ride brought us back along the opposite side of the river so we had a good view of our boat and the lovely scenery of Macon.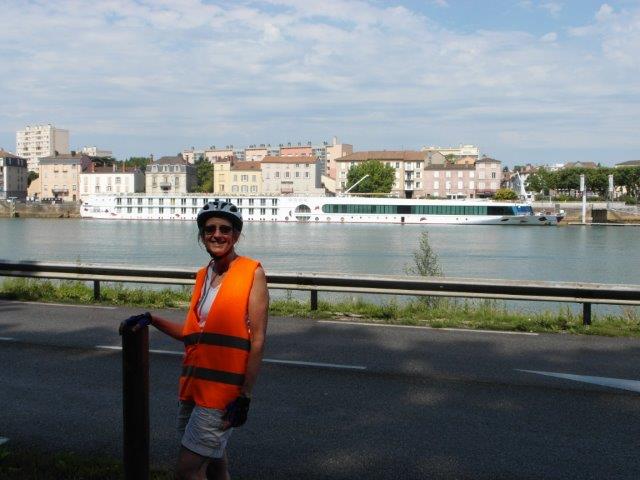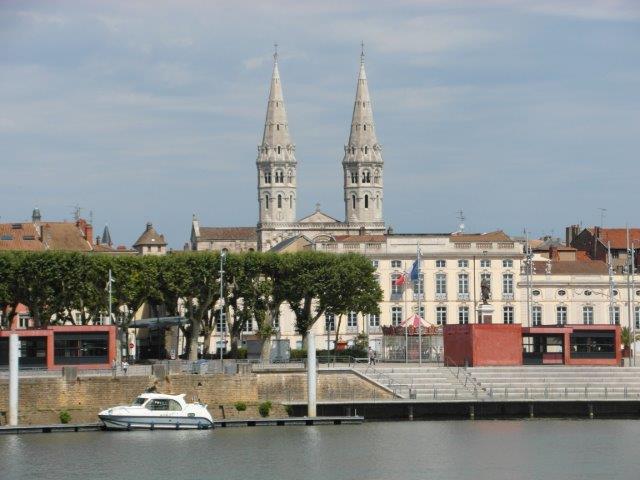 The tour finished up in town where we saw some beautiful old buildings, a quaint square and a lovely church..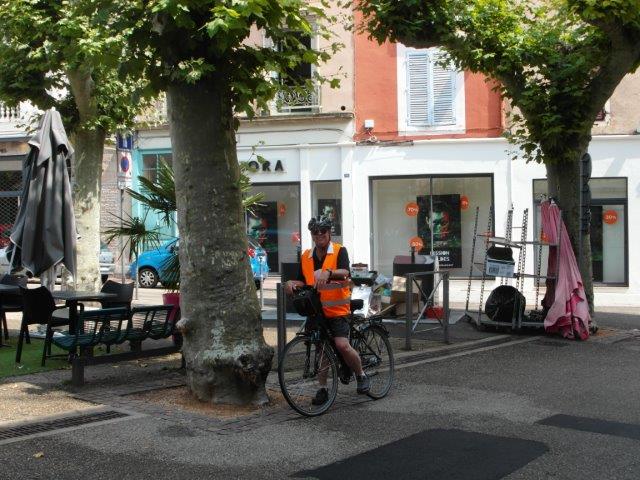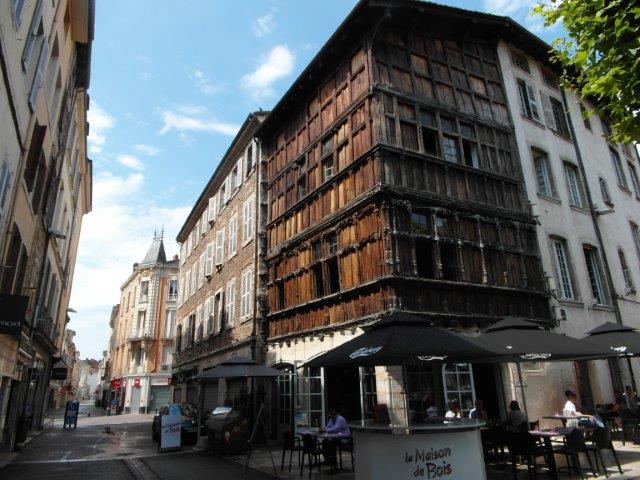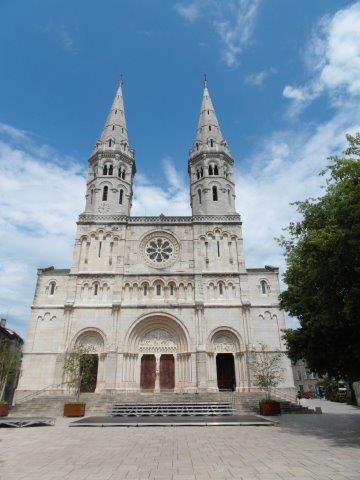 Lunch was a buffet and we kicked ourselves for overeating, vowing that the rest of the week we would limit ourselves to salads at lunch and save our big meal for dinner.

I left Tony on the boat to recover from the bike ride while I took the excursion to the wine museum. I shared a seat on the bus with an elderly British gentleman named Roger who was very sweet and seemed very lonely since his wife had died 6 years earlier. We chatted a bit while the guide told us about the region. While the guide talked, Roger took this opportunity for a little nap.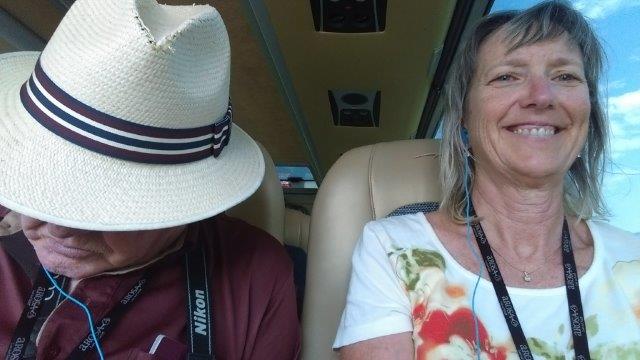 We made a stop at Roche de Solutré (a rock surrounded by vineyards).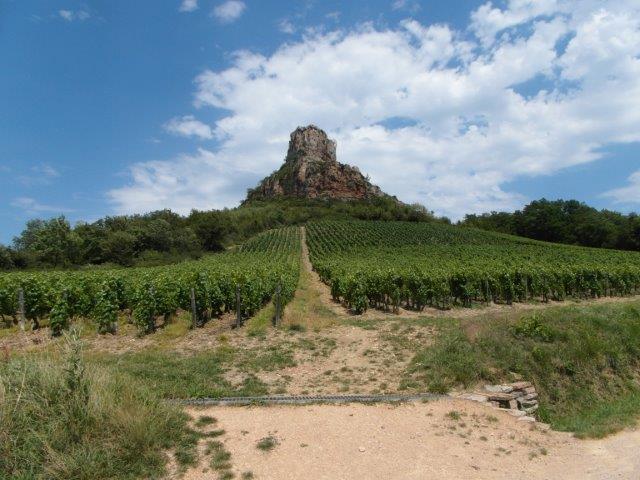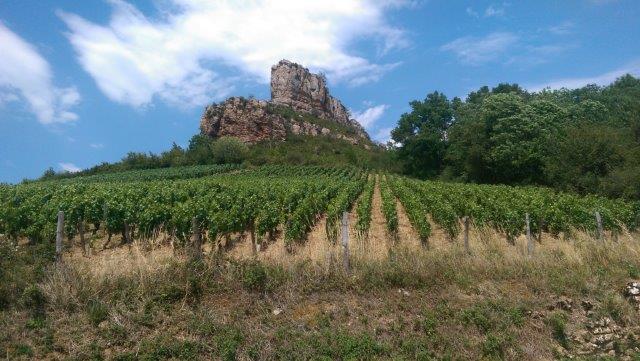 We walked around looking at the vineyards then drove on to the wine museum, Hameau en Beaujolais. The museum was interesting, although there were some bizarre sections. One in particular was pretty creepy with talking manikins and animated grapevines.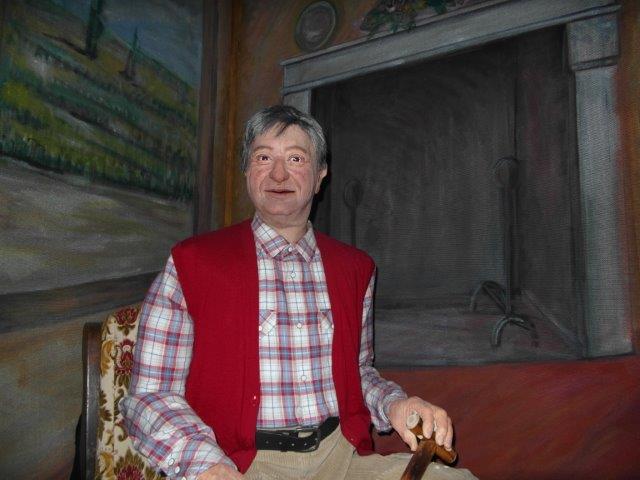 Another was a movie showing bees flying over the vineyards while we stood on moving platforms that made us feel like we were flying with the bees.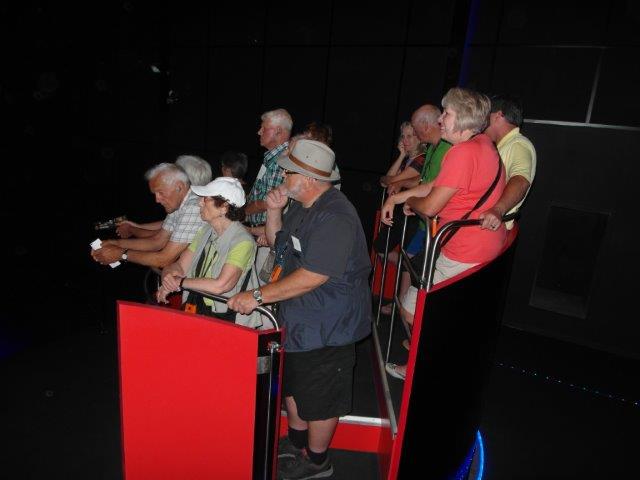 At the end, we tasted 3 George Deboeuf wines and then browsed in the gift shop.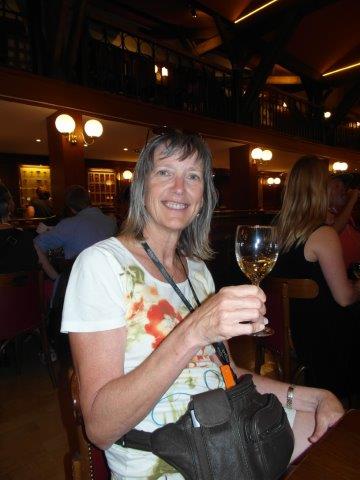 We got back to the bus just as a large rainstorm was starting. Roger enjoyed another nap on the way back to the boat.

Dinner was more like what we were expecting this time, a seated 5 course dinner, although we deemed it not to be as elaborate or tasty as the previous year. We gave them a few points for presentation on some of the dishes though.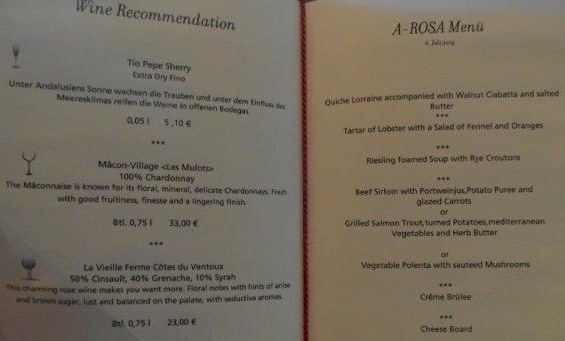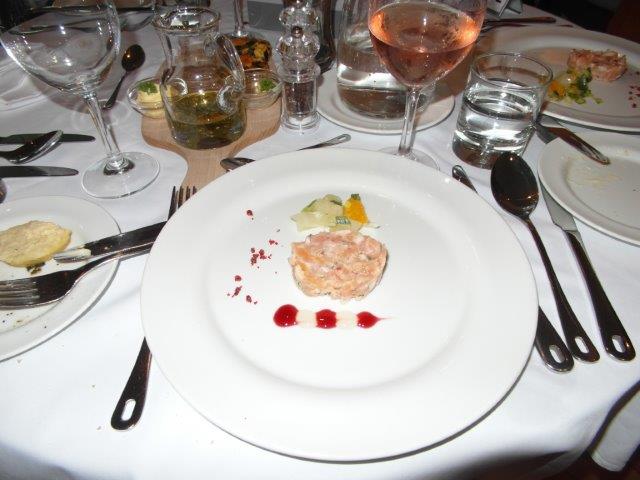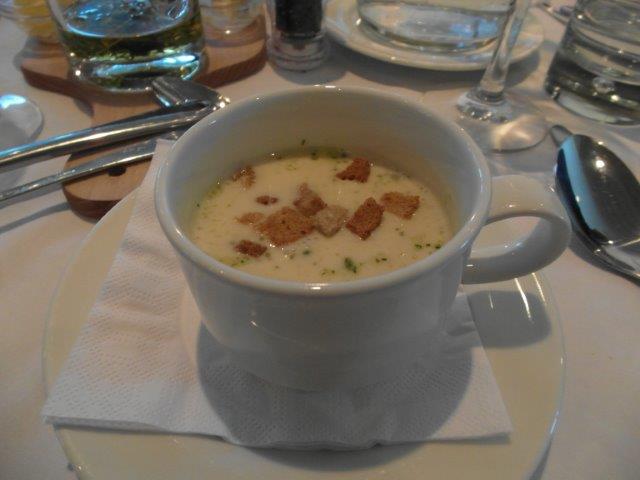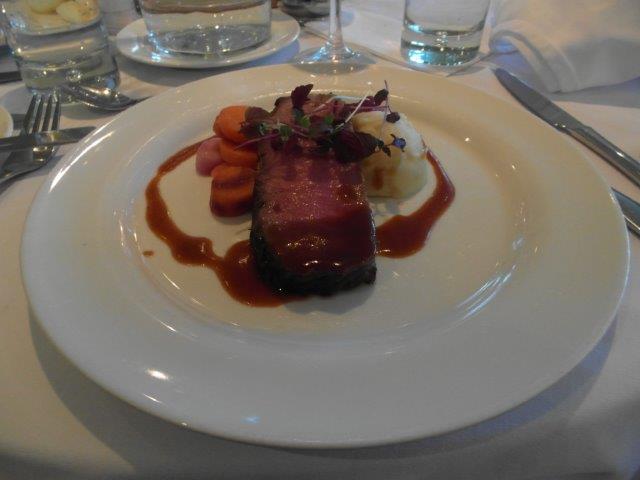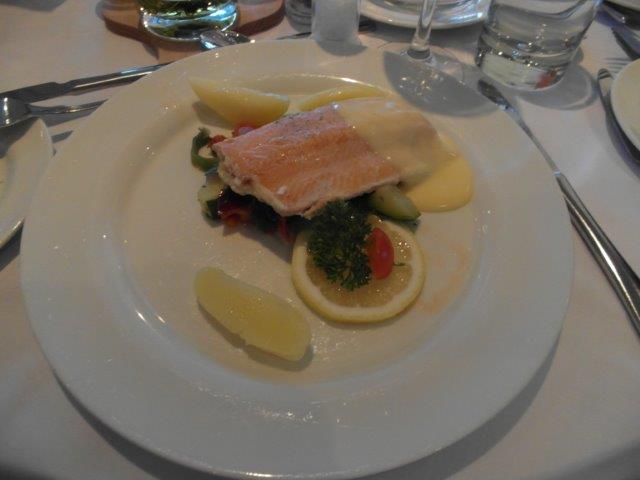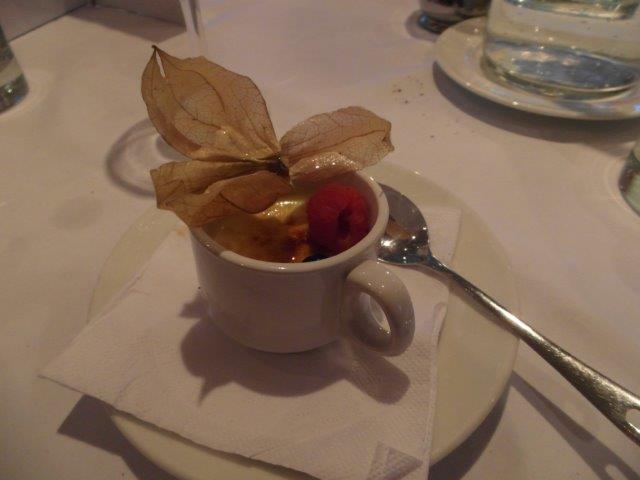 The lounge was hopping after dinner with lots of folks on the dance floor. We met a couple from Virginia. Tony turned in early, but I kept dancing until the music stopped!

Monday, Day 3
We were docked in Chalon sur Saône when we awoke Monday morning. We had to hurry to get our coffee and soda before we met Marco for our bike ride. We were a group of only six plus Marco. Tony and I, our mother/daughter Canadian friends and a German couple. It was a long ride of 42km. The beginning was through an industrial section, but then we got to a beautiful bike path along a canal.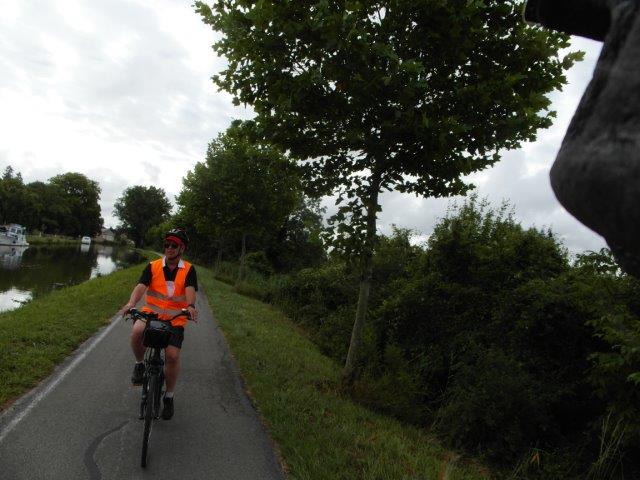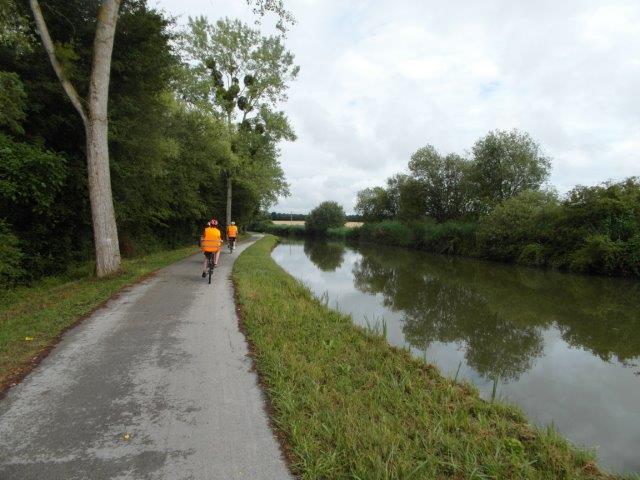 The ride took us to Chagny, where we stopped in a park and studied the bicycle map. Marco showed us where we had ridden. We decided we'd like to come back and ride some more of the bike paths in France.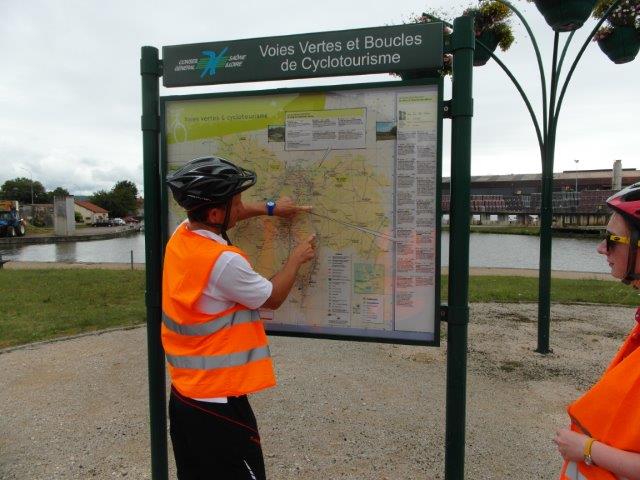 The rain held off until we were on our way back. We had brought our raincoats so we didn't get too wet.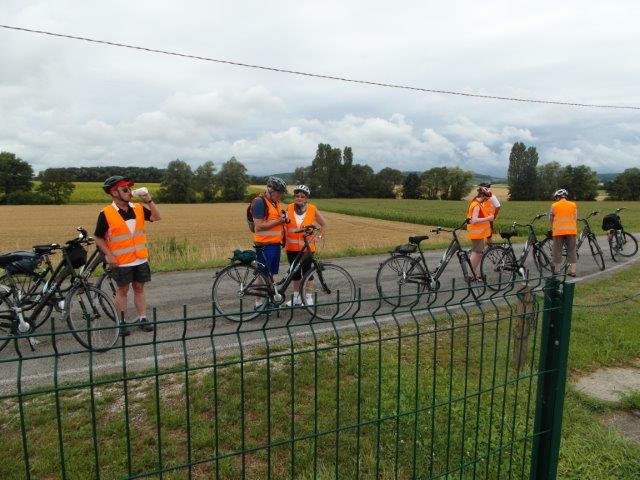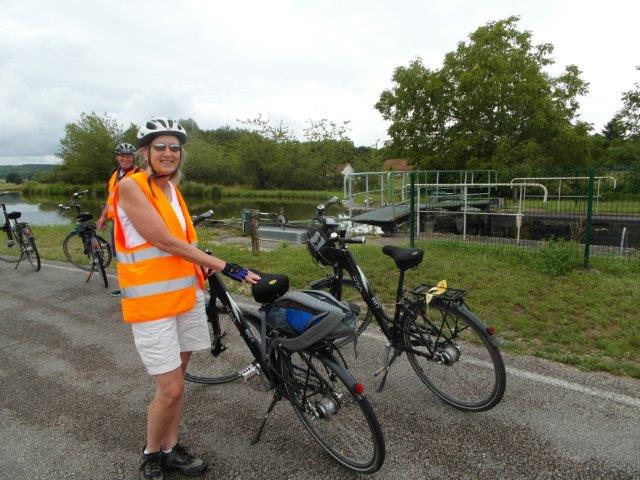 We stopped in Chalon sur Saône on the way back.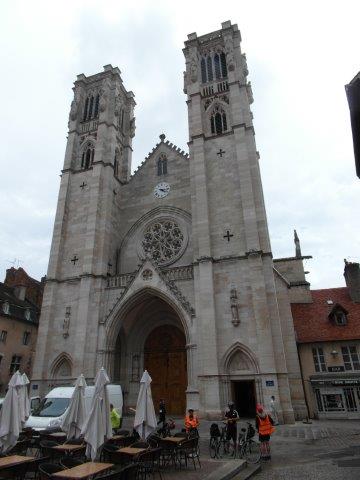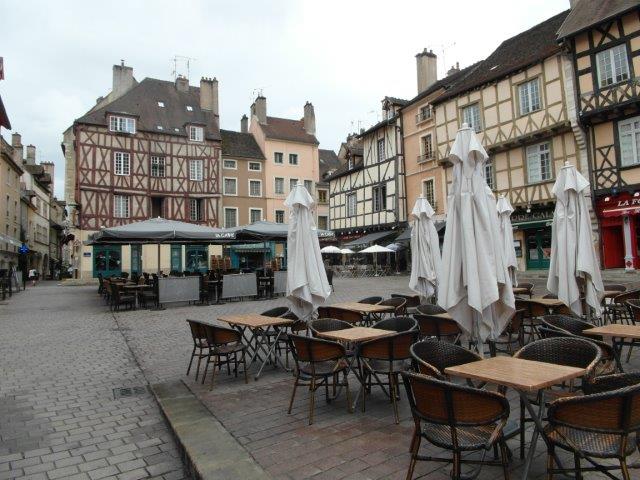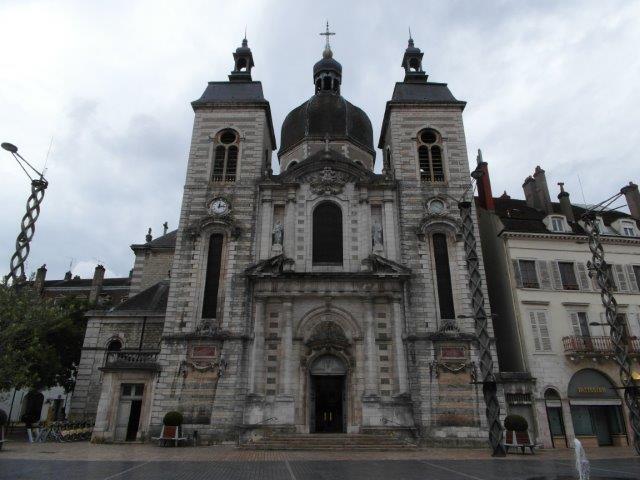 We stuck to our plan to have salad for lunch and we felt much better in the afternoon. We considered doing the afternoon bike ride which was to the next town where the boat would pick up the riders, but it was really raining so the ride was cancelled.

We spent the afternoon in the lounge playing cards and reading our books. I was approached by an older British man named Lionel who said he had never learned to shuffle a deck of cards so I gave him a lesson, then we played Jakkolo, a Dutch game sort of like Shuffleboard. He beat me by 2 points and received an A-ROSA mug (which I didn't have room for in my suitcase anyway).

Dinner was another 5 course seated dinner. It was okay, but still not the caliber we were expecting. The dessert of Lightly jellied Champagne Soup with fresh berries and Orange Sorbet was a refreshing treat.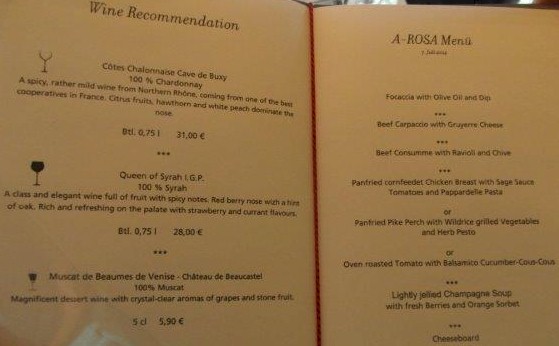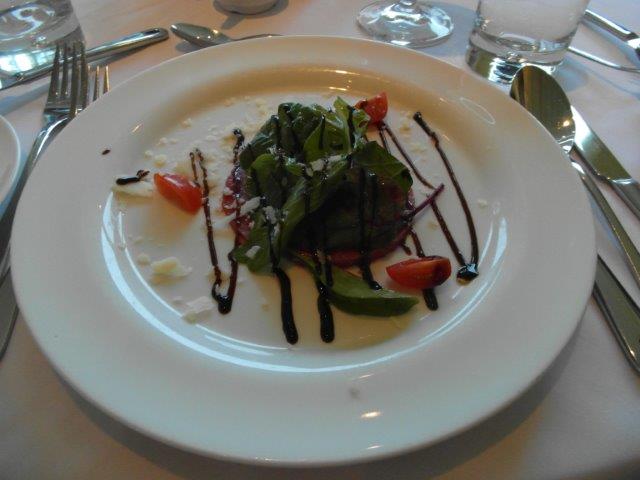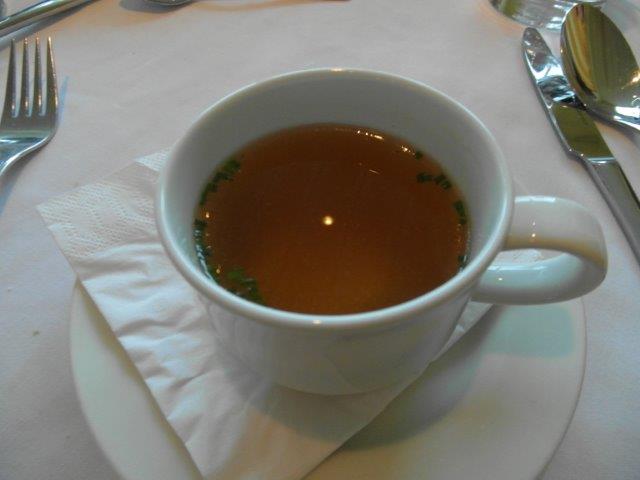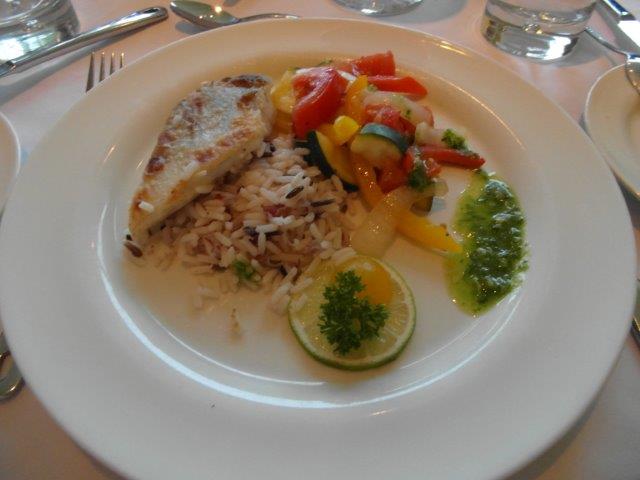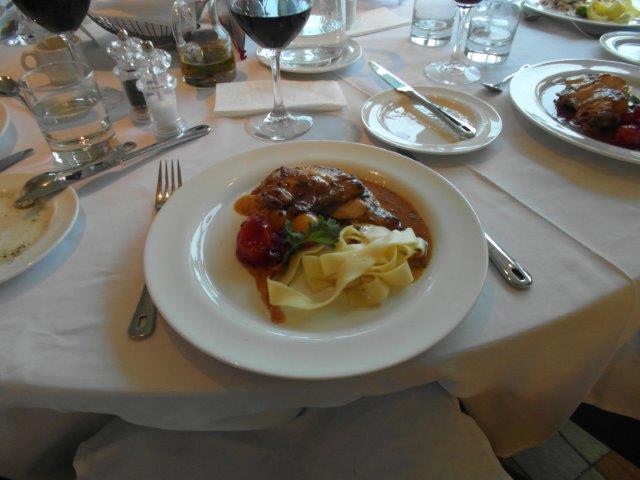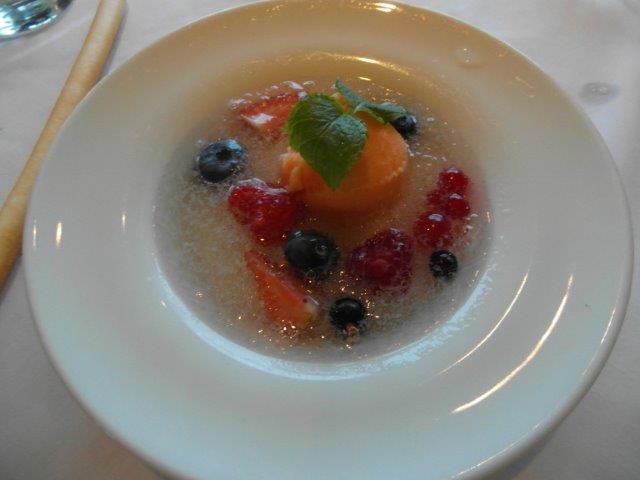 The lounge was sparsely attended again and very few people were dancing but we had some lovely conversation.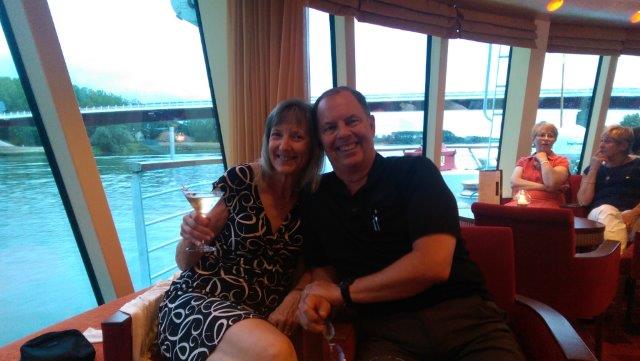 The staff decided to forego the evening snack since there were so few people still awake. We talked them out of some extra peanuts though.

Tuesday, Day 4
We were back in Lyon Tuesday morning. Tony and I decided to sleep in, not remembering that we had signed up for the morning bike ride. Marco was not very happy when he found me having my coffee. We were the only two who had signed up and Tony was still asleep so I asked Marco if I could just borrow a bicycle and take a ride by myself. I rode back to the park we had walked through on our way to the Hilton.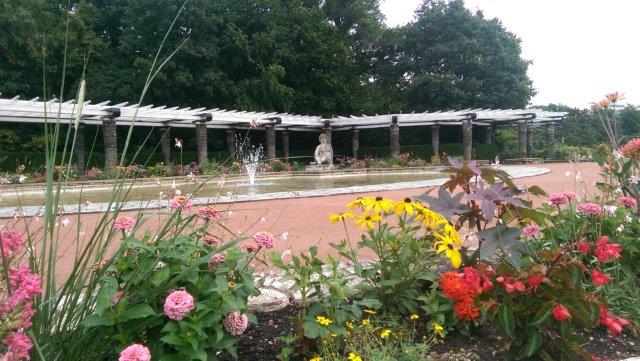 I rode around the lake a couple of times until I found the zoo. It was free to get in! I really enjoyed seeing the animals, especially the giraffes.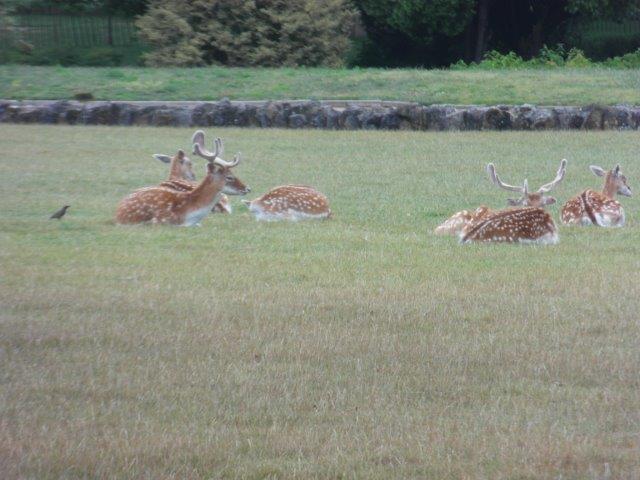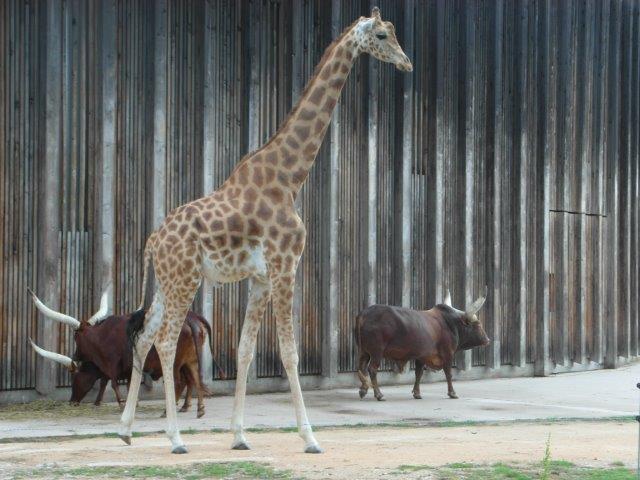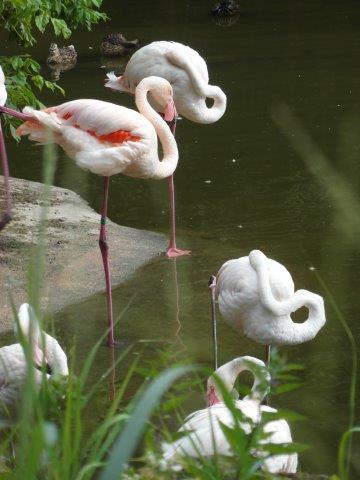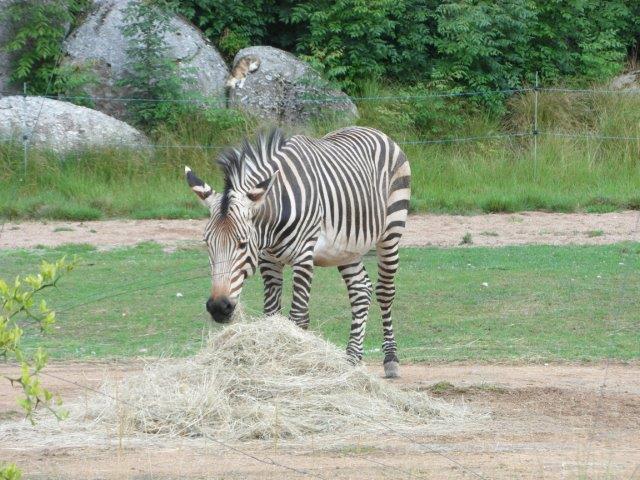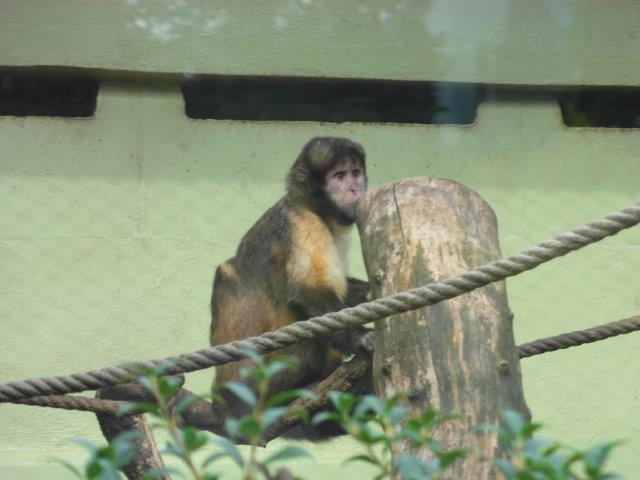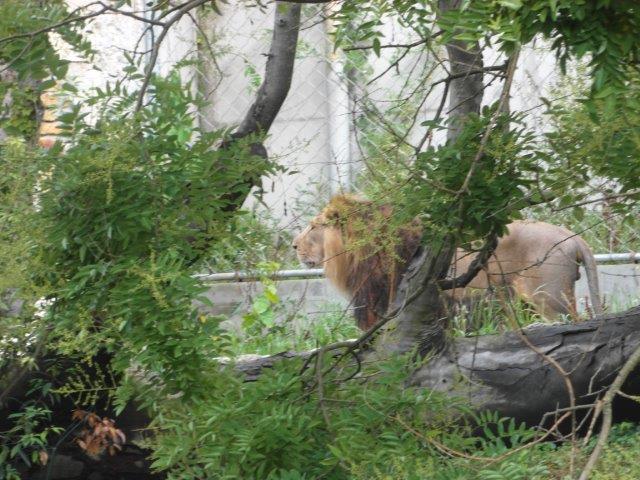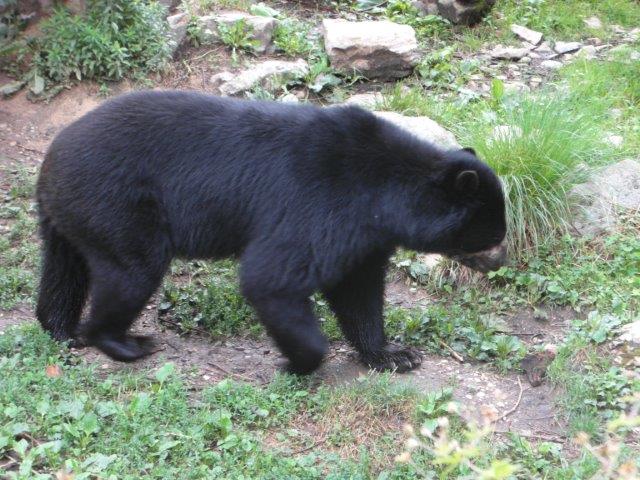 I got back to the boat in time to take a little walk into Lyon before lunch.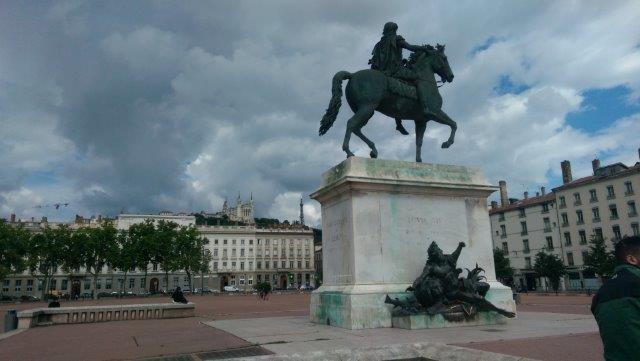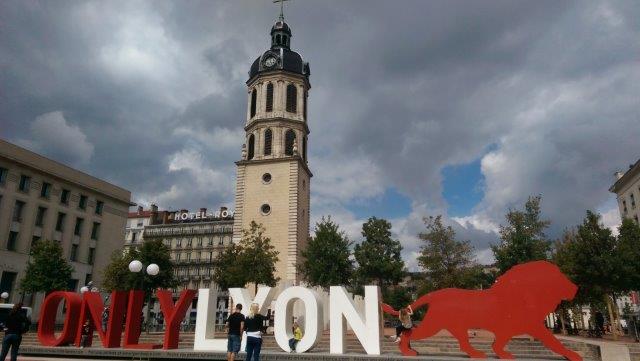 For lunch, we took an excursion to Paul Bocuse's restaurant.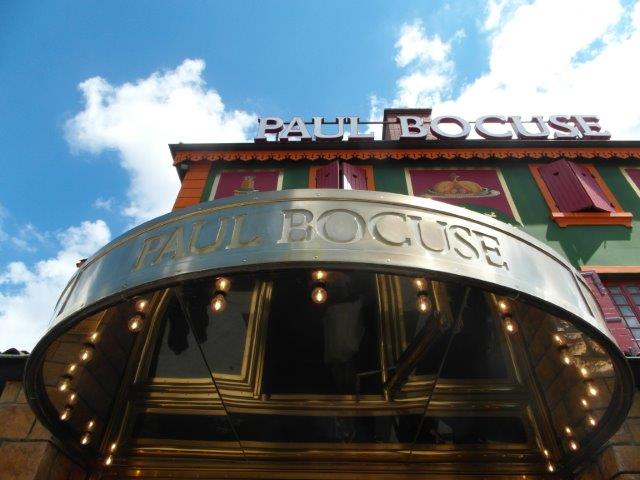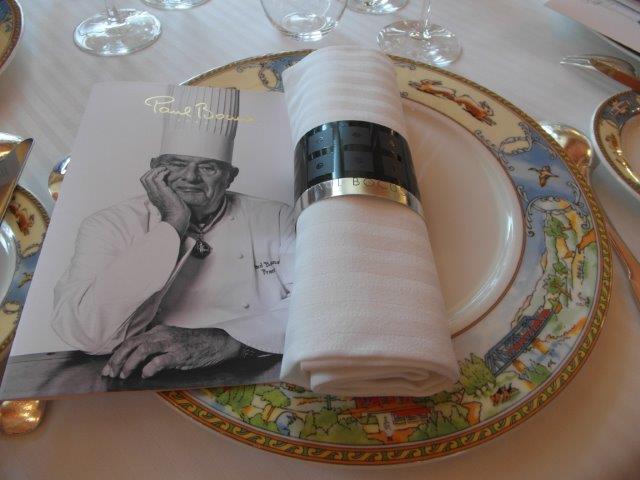 Now THIS is the type of meal I really enjoy!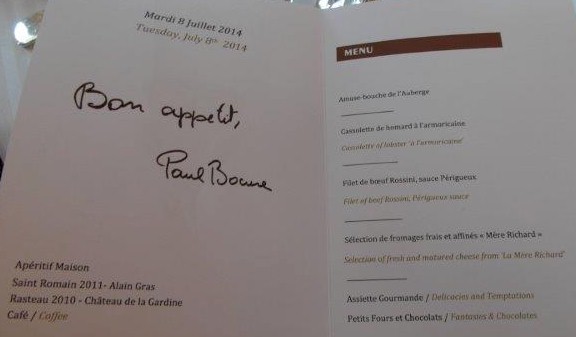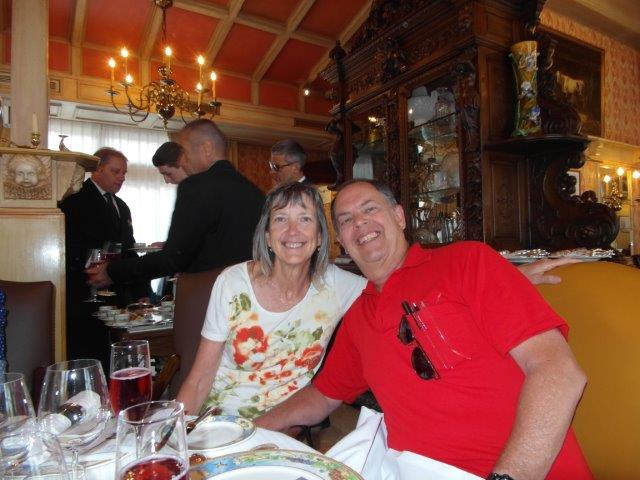 We had an Amuse-bouche de lAuberge accompanied by a glass of sparkling wine. Obviously I didn't like it at all! (Is it rude to lick the plate?)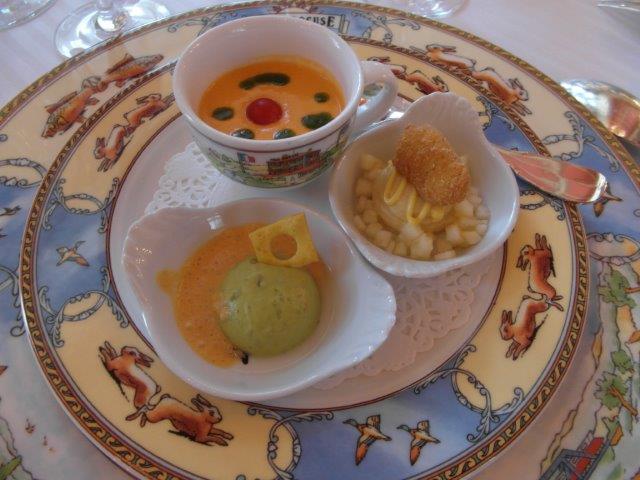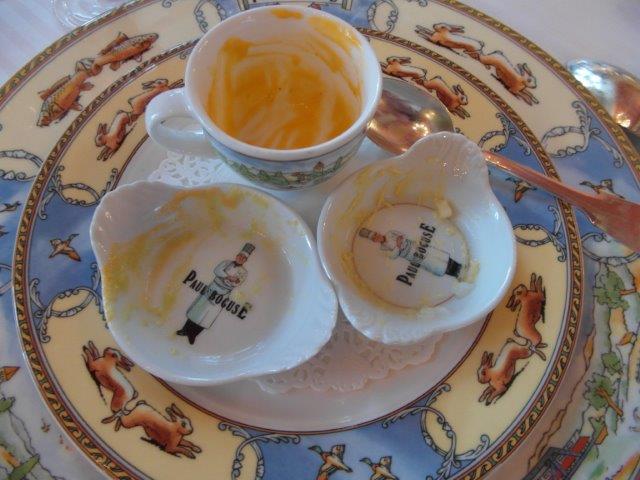 The next course was a decadent bowl of lobster bisque (Cassolette de homard a l'armoricaine) which had tender luscious bits of lobster and melt in your mouth scallops. This was served with a chardonnay wine from the region.
The entrée (Filet de boeuf Rossini, sauce Perigueux) was a tower with a base of potato discs topped by a cut of rare beef. Atop that was a tender piece of duck liver, then a crouton and a mushroom. This was served with a delicious red wine. They generously refilled our glasses several times during the meal.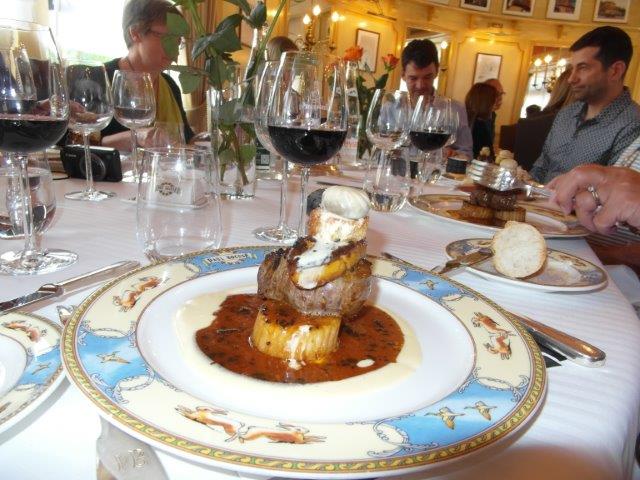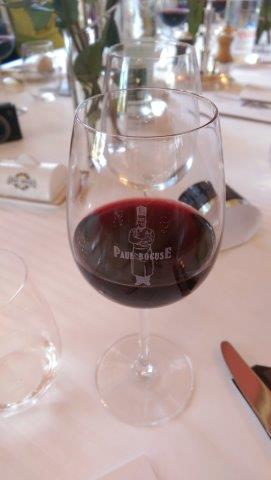 Next came a cheese course (Selection de fromages frais et affines << Mere Richard >>). There was a cows milk Brie and a mound of goat cheese.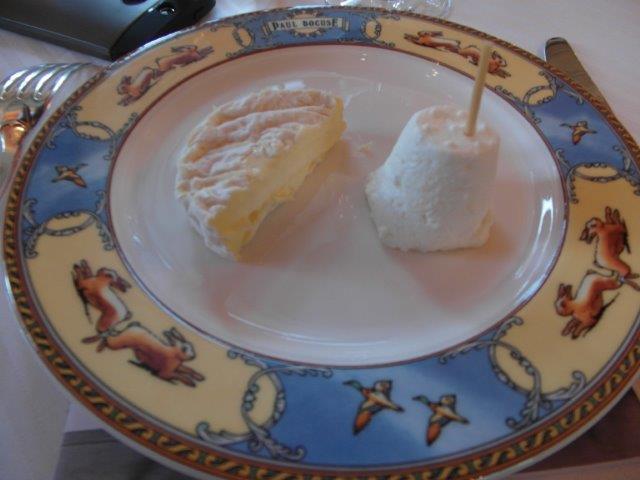 We noticed the dessert cart and thought surely we were meant to share the plates (Assiette Gourmande) between several of us.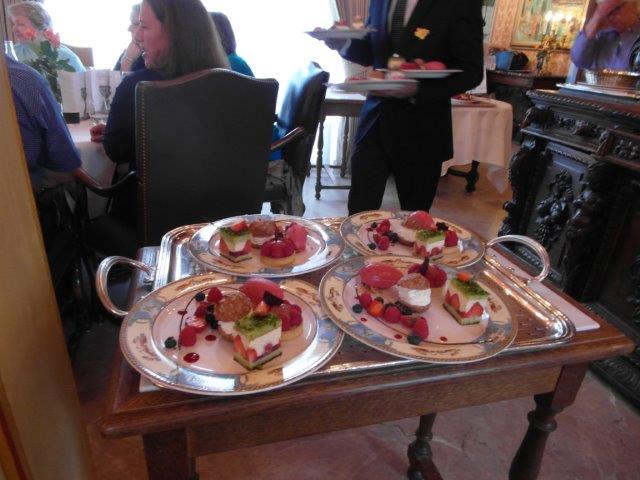 We were surprised when we each got one.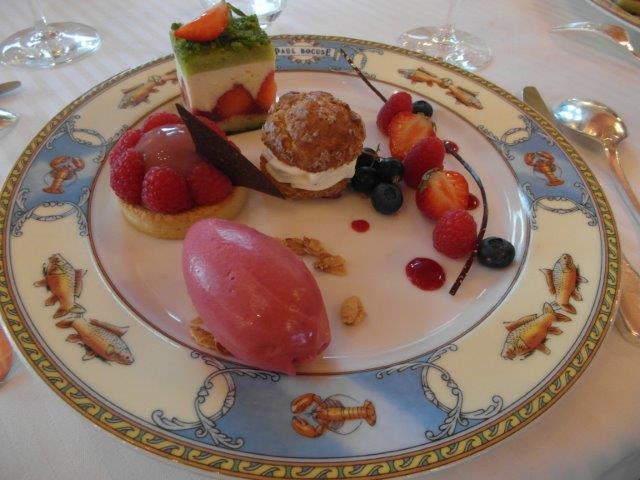 Coffee and Petits Fours et Chocolats were the final course. We used the whipped cream from one of the desserts to top off our coffee.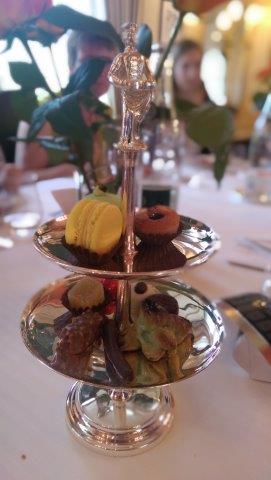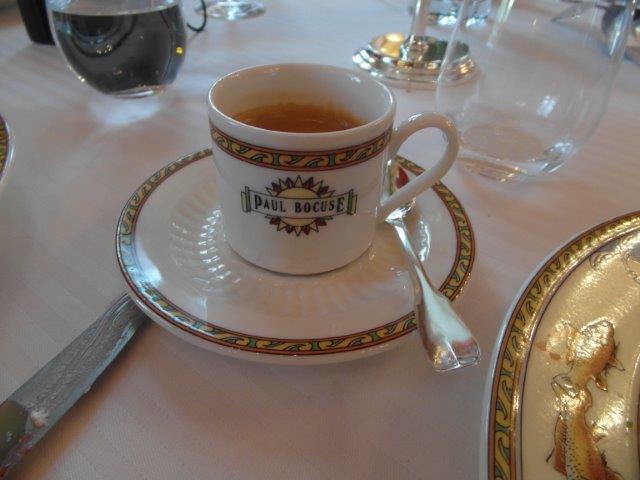 We had a few minutes to wander around the grounds and admire the frescos after lunch.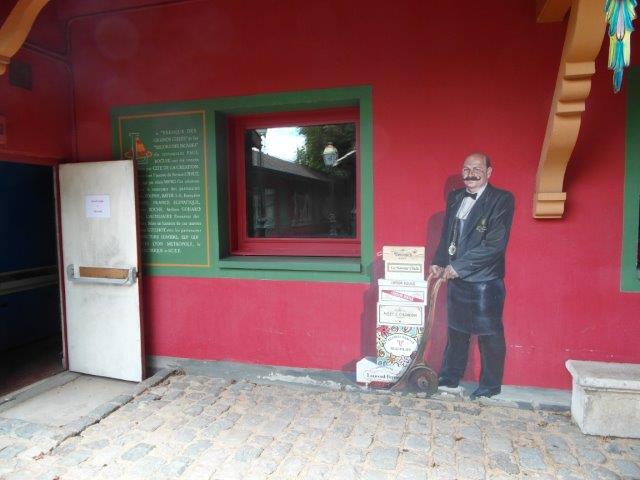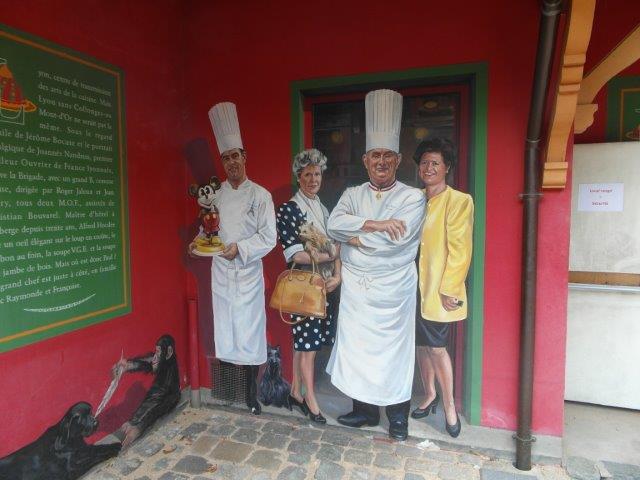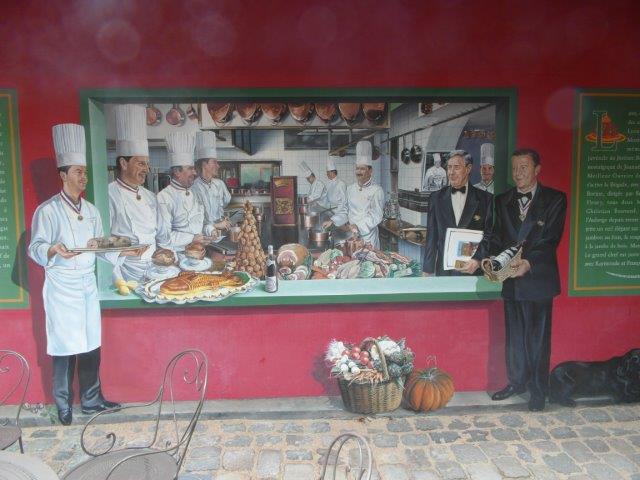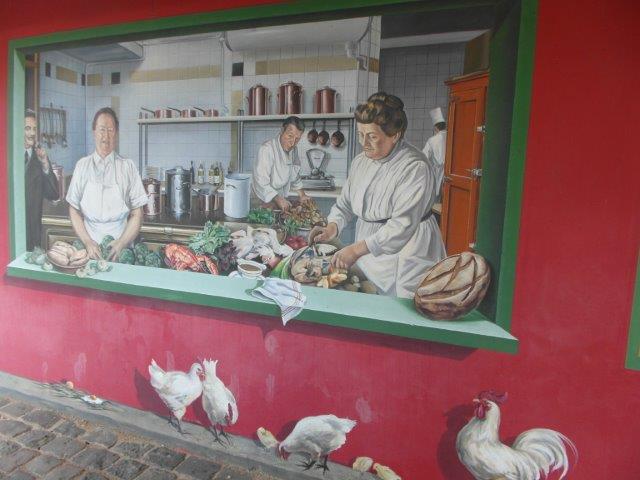 We waddled back to the bus and dozed on the way back to the boat. We really wanted a nap after that huge lunch but we didn't want to miss the sail-away party at 3PM so we went up on deck and enjoyed the sunshine while we went through some locks.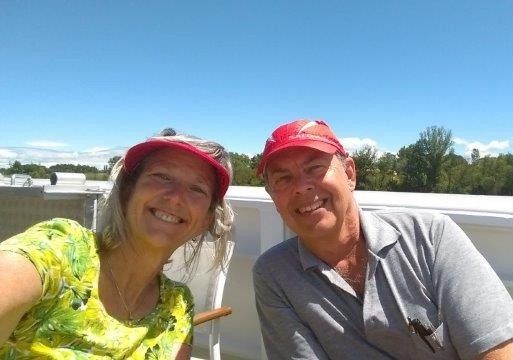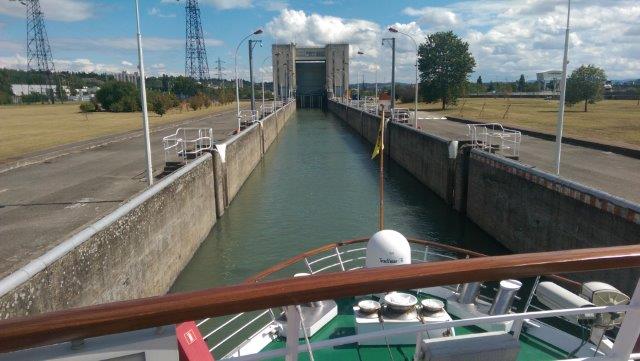 A shower and a nap, and it was time for dinner – another buffet, but we weren't at all hungry. We took a look at the menu and the buffet but just couldn't face another meal so we went to the lounge.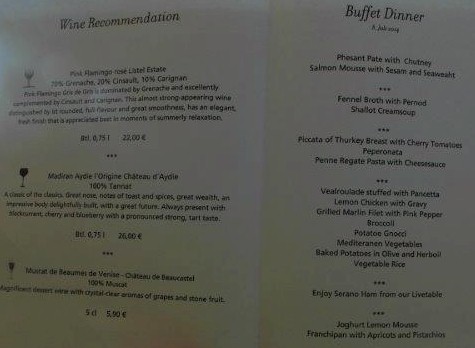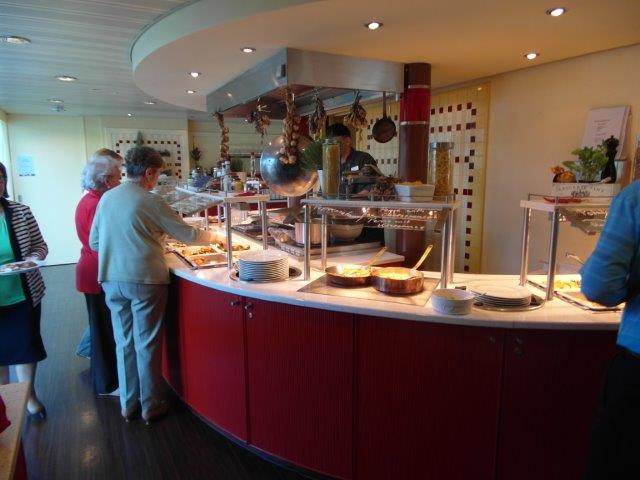 We knew we should eat a little something, so we fixed ourselves a little cheese and fruit to have with our evening cocktail.

Duo Lipstick played until it was time for the World Cup match which was shown on the big screen in the lounge. Germany was playing Brazil which made it very exciting with all of the Germans on board. Germany scored 7 goals with lots of singing, shouting and clapping in the lounge after each one.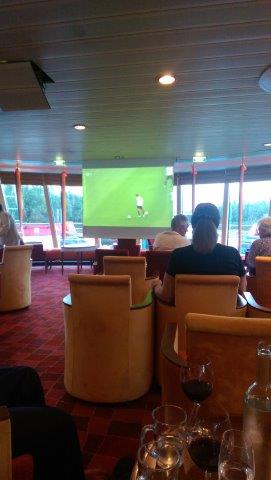 The big screen TV lost its signal when we went down into a lock so everyone moved to the game room to see the end on the little TV. We had to get very close and cozy so everyone could see the TV.

The evening snack was some tiny little savory pastries. We scarfed down a few of these before heading for our cabin around midnight.

Wednesday, Day 5
We passed through a LOT of locks during the night. When we awoke, we still were not at our destination for the day. We had a leisurely morning. I was able to catch up on email while I enjoyed a delicious Latte.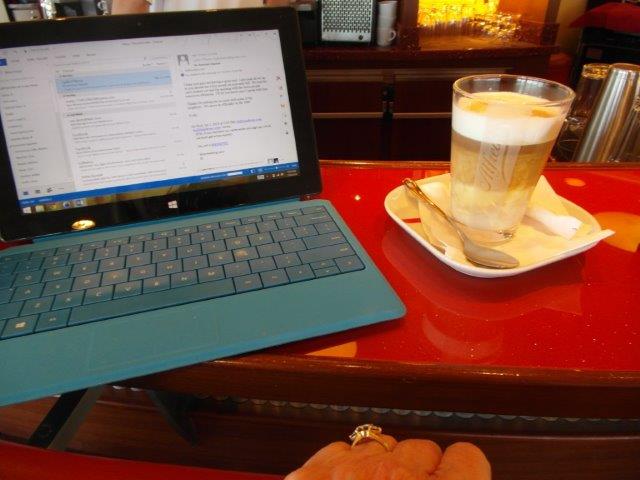 We arrived at Chateauneuf du Pape at 10:30AM but we only docked long enough for the people taking the bus excursion to get off the boat and we were sailing again by 11AM.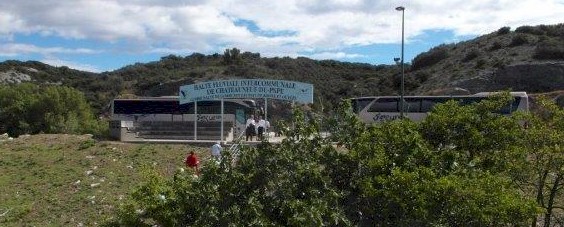 There was something called Matinée Rustique on the sundeck before lunch where they served tarte flambee and French wine while we listened to French music as we sailed.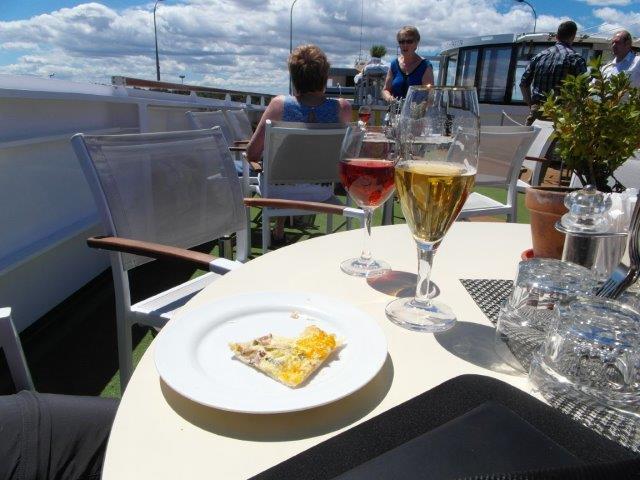 When we docked in Avignon, our friends who had taken the bus tour were waiting for us. (That's Shelley & Dean on the dock.)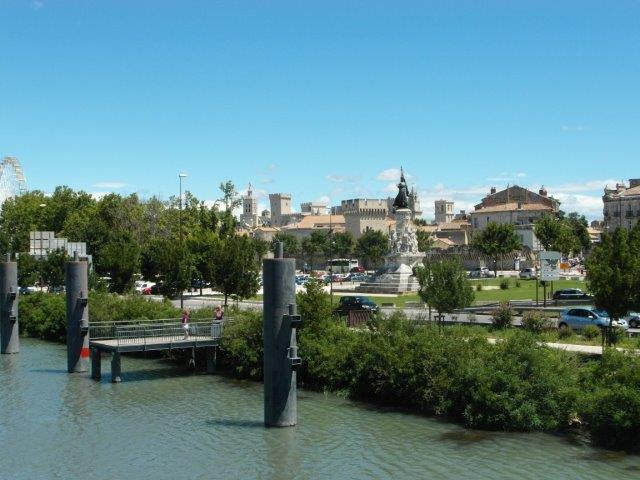 We had lunch with Roger (the lonely British man I had met on my bus tour). There were hot dogs on the deck or a variety of foods from the buffet.
We wanted to take the afternoon bike tour, but we had not signed up in time. Marco said we could wait and see if anyone didn't show up (sort of a non-rev approach to biking), but everyone did, so there were no bikes for us. We decided to walk through the wall into Avignon. The town was incredibly crowded due to a performing arts festival. We were bombarded by performers trying to hand us information. The city was a little hard to navigate, but we found the church, and the Pope's Palace.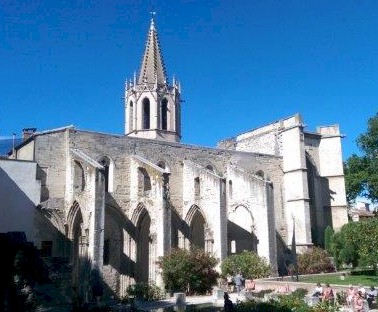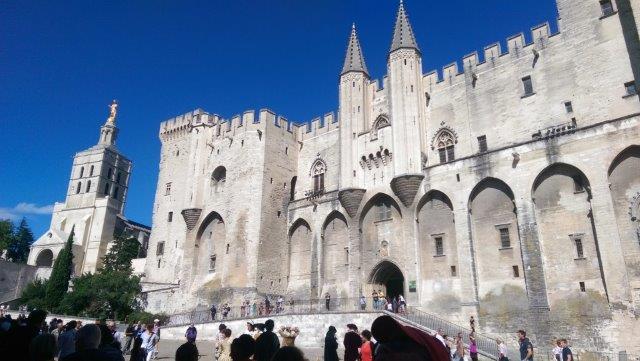 From atop the hill behind the Pope's Palace, we could see the wall around the city and what was left of the the Pont d'Avignon (bridge) after sieges and river currents had destroyed 18 of the 22 arches.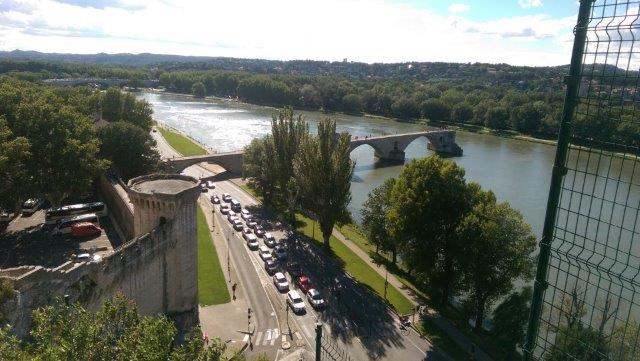 All that remains of the bridge is 4 arches and a chapel that was enlarged in the 1500's.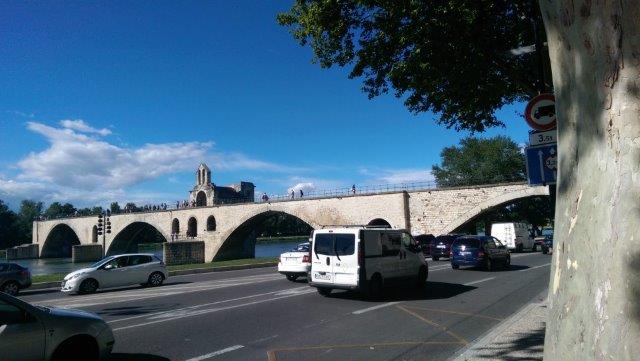 Dinner was a fixed menu affair again. The lamb loin appetizer and the herb crusted veal were memorable, and the dessert was very pretty. We had the pleasure of dining with Bob and Nancy, a couple from Virginia with whom we had a lot in common.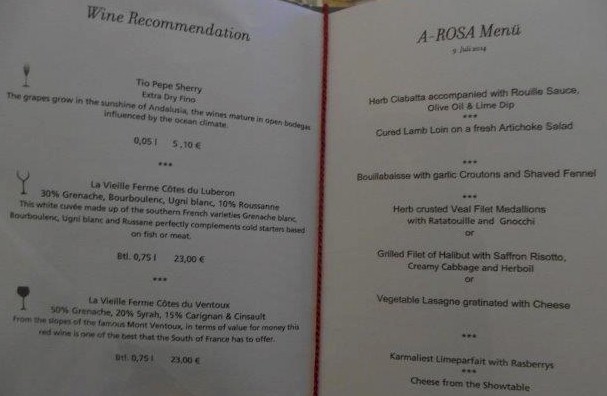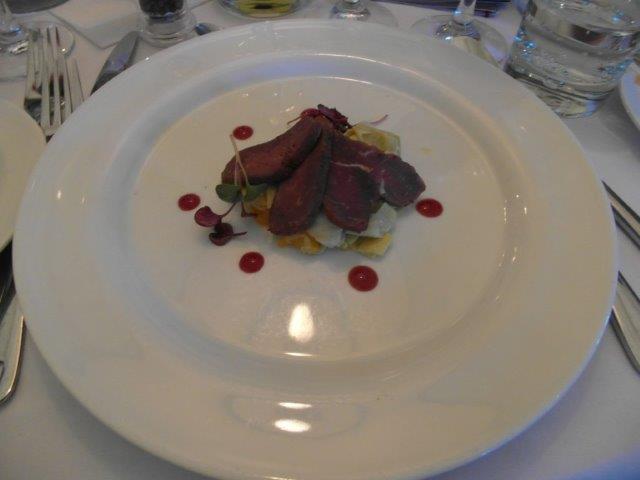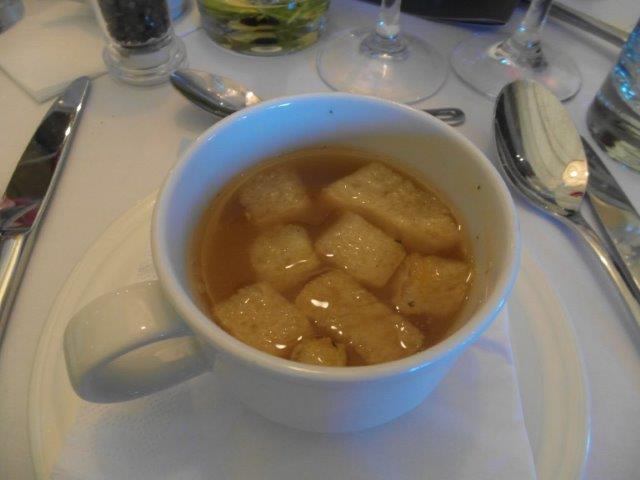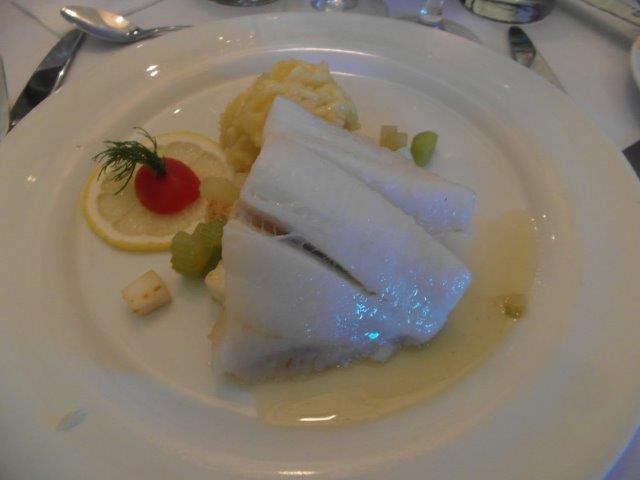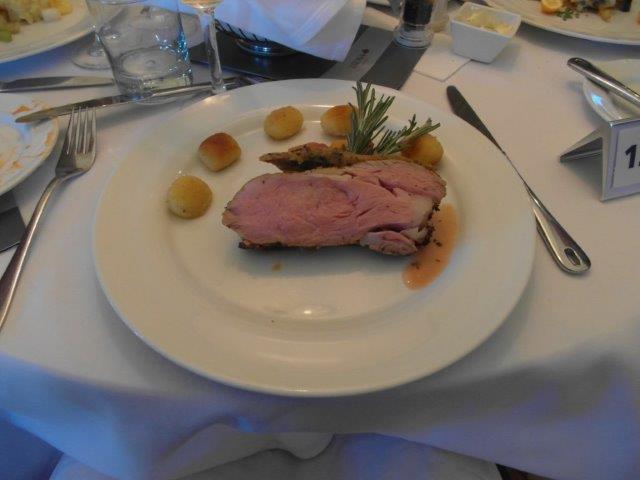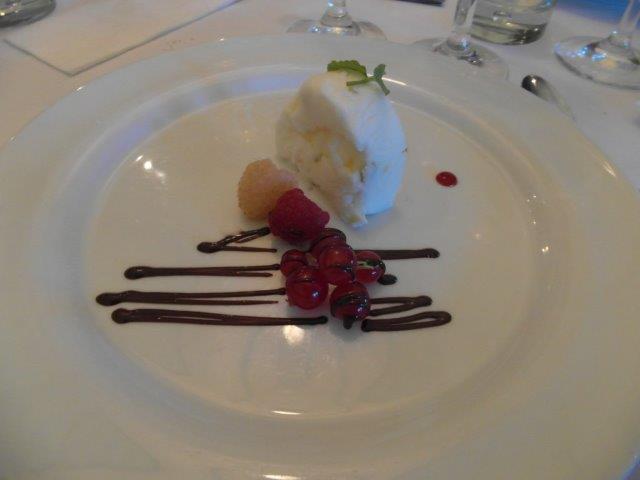 The evening's entertainment was LUC BRIAN (not to be confused with the American Country singer, Luke Bryan). LUC BRIAN is a local artist who entertained us with his electro piano and classic French chansons (whatever that is).
Thursday, Day 6
The boat spent the night docked at Avignon. We had planned to take the early morning bike ride but I wasn't feeling well when I woke up so Tony went to find Marco and let him know we wouldn't be going. I stayed in bed until noon and finally got up just as we were leaving Avignon. I had soup for lunch and was feeling much better by the time we docked in Arles around 4PM, so we were able to take the afternoon bike ride.
This ride took us to the Camargue Nature park where there are beautiful sunflower fields.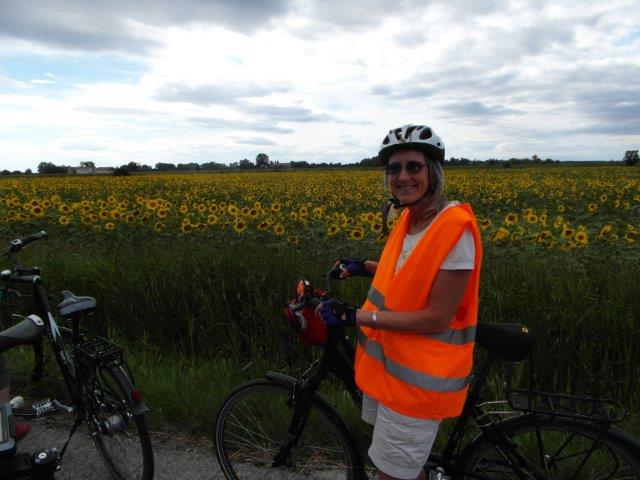 The swampy area of the Camargue is used for growing rice. There are lots of animals as well. The white horses, we were told, are born black and turn white as they mature.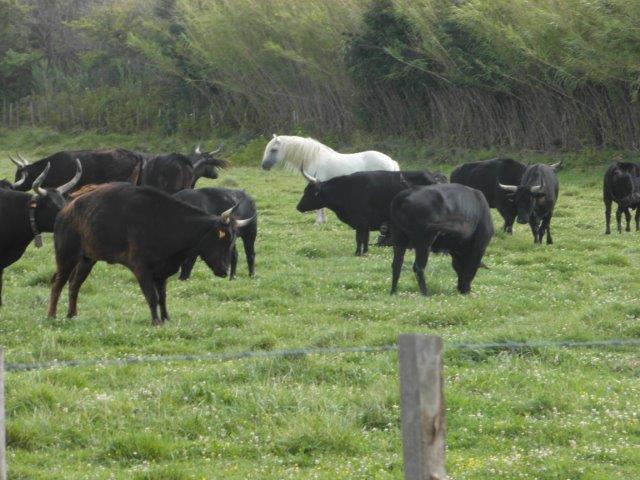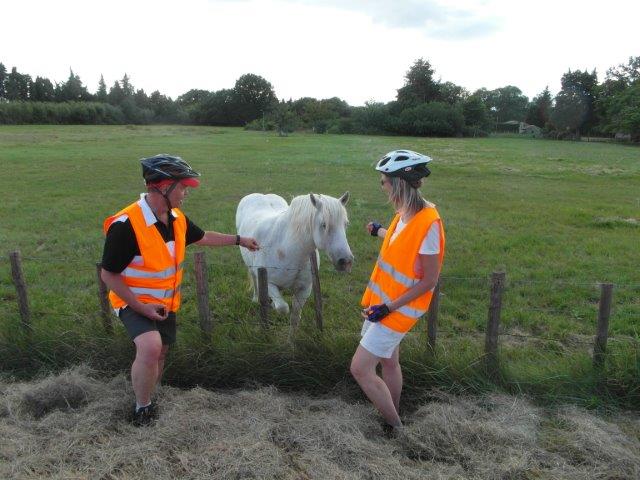 I was surprised Tony would get so close to a horse after his unfortunate injury back in 1993. Horses also played a role in the injuries inflicted on two of our bike riders. The two German girls were looking at the white horses when they ran into each other and crashed. They survived with just a little road rash. Marco administered some first aid and we were on our way again, riding a little slower.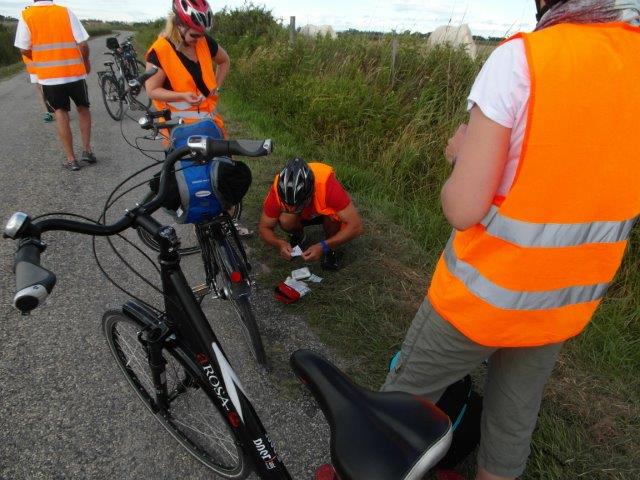 We were worried that we would miss dinner but Marco wanted to show us some sights in Arles before returning to the boat.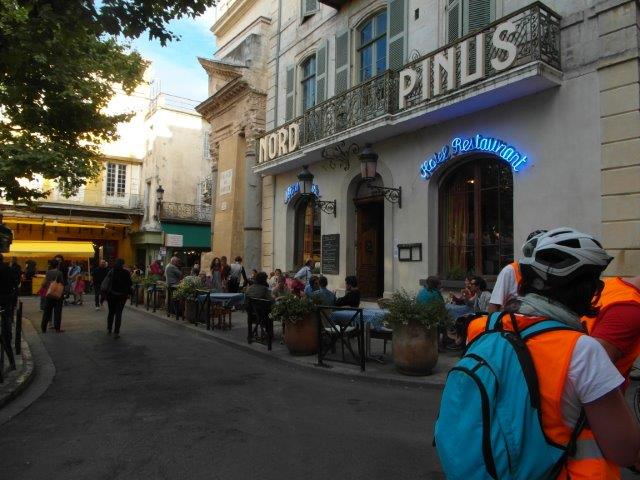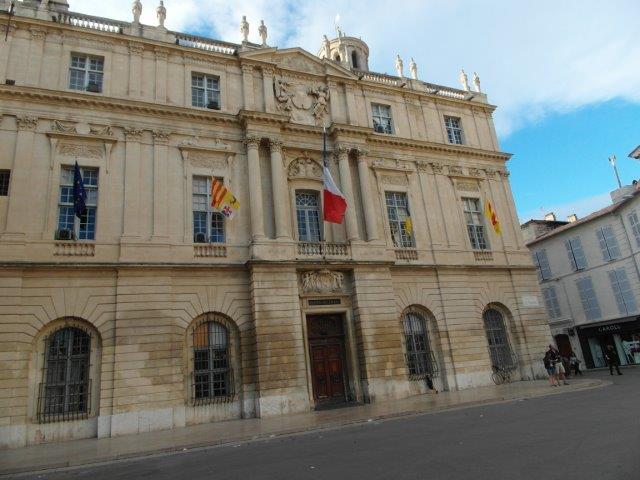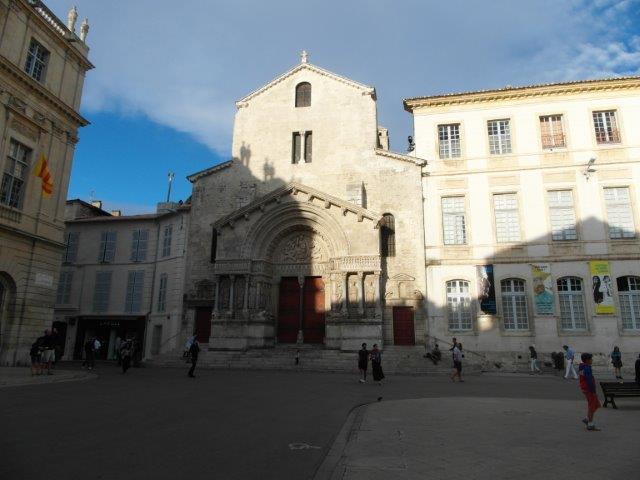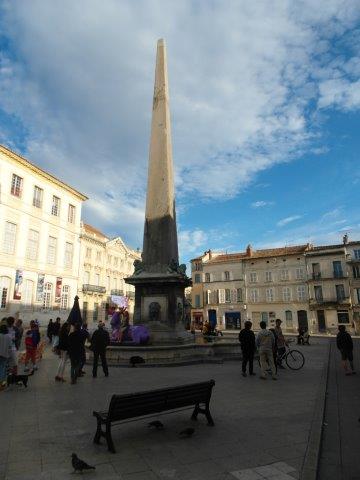 There are still bullfights held in the Amphitheater, but Marco says they do not kill the bulls.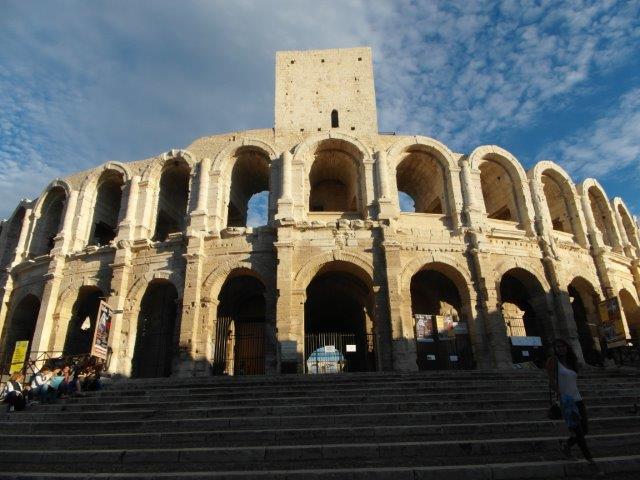 It is hard to believe, but Marco said the Roman Theatre is also still being used as a venue for concerts and other performances.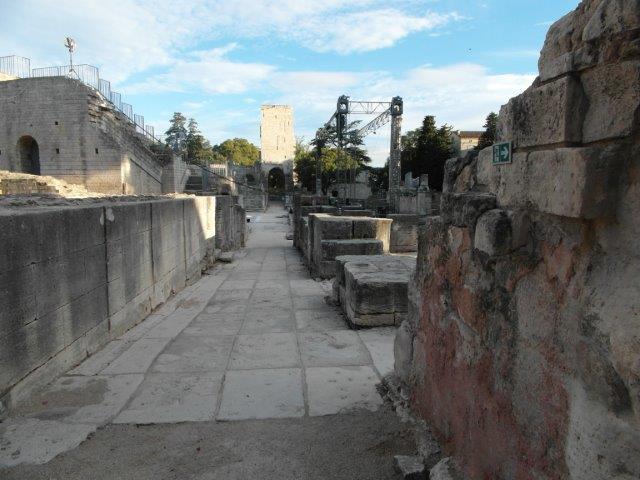 This ride was 42km and our moving average was 16km/hour, better than the first ride but we won't be competing in the Tour de France anytime soon!
We did make it back to the boat before the buffet closed. We were supposed to have a BBQ on the deck, but the weather didn't cooperate. We enjoyed another night in the lounge with the Duo Lipstick and DJ EFFI. The theme was an '80's party! We were still dancing as we left Arles at 10PM.
Friday, Day 7
We passed through a LOT of locks during the night, arriving at Viviers around 8AM. We stayed just long enough to drop off the folks who were taking the tour which would drop them off in La Voulte.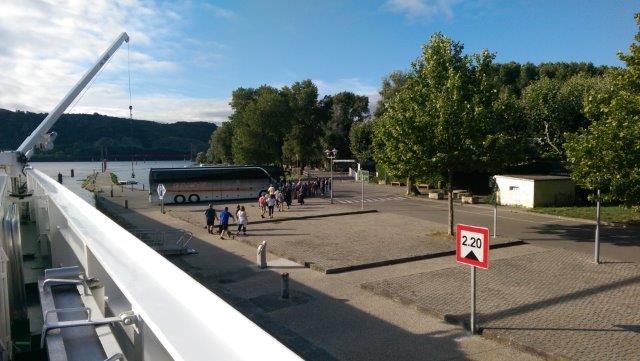 While the group went on their tour, the rest of us sailed to La Voulte through even more locks. It was a lazy day for us. It was a bit chilly to sit on the deck so we spent most of the day in the lounge, playing cards and reading our books. Rasti, the guitar player from Lipstick Duo impressed us with his guitar skills in the afternoon. I had a chance to give private card shuffling lessons to another British couple. Who knew Brits couldn't shuffle a deck of cards?
The staff hosted a Travel Quiz in the lounge which we failed miserably. I think we only got 3 of the answers correct about where we had traveled. We did have some pretty creative answers though.
We enjoyed a glass of champagne in our cabin while we got ready for dinner and the farewell party.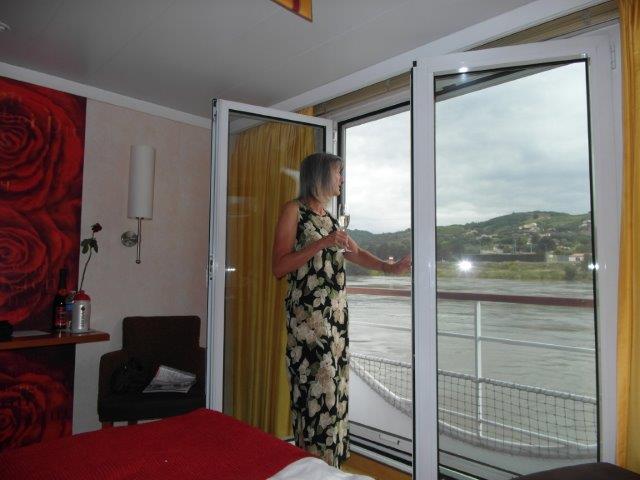 The final dinner was pretty good! We both had the surf and turf which was a shrimp on top of a beef filet.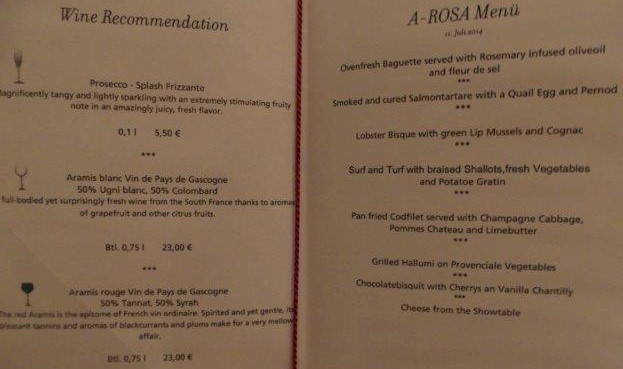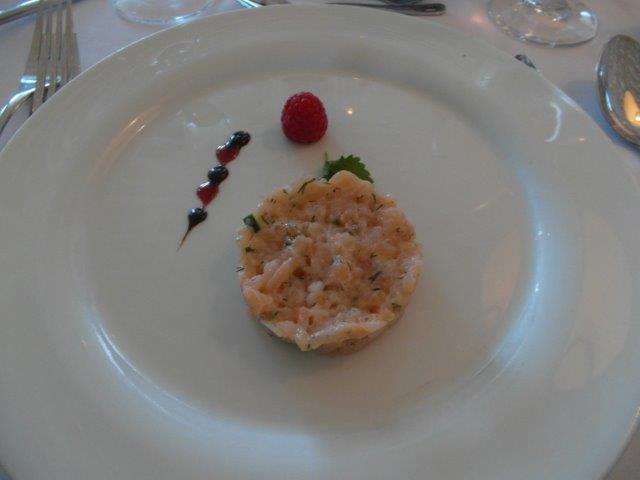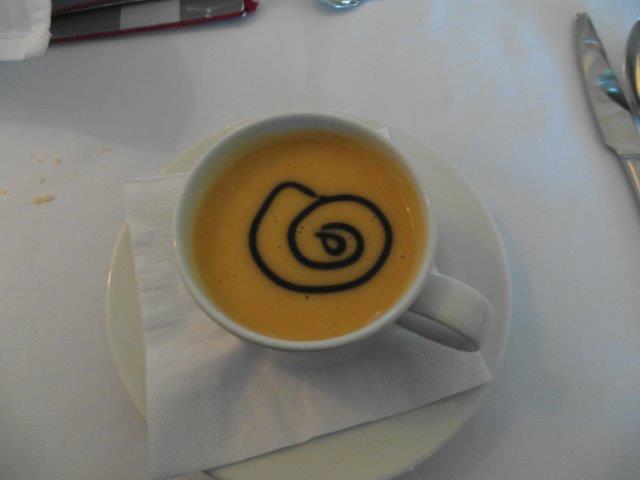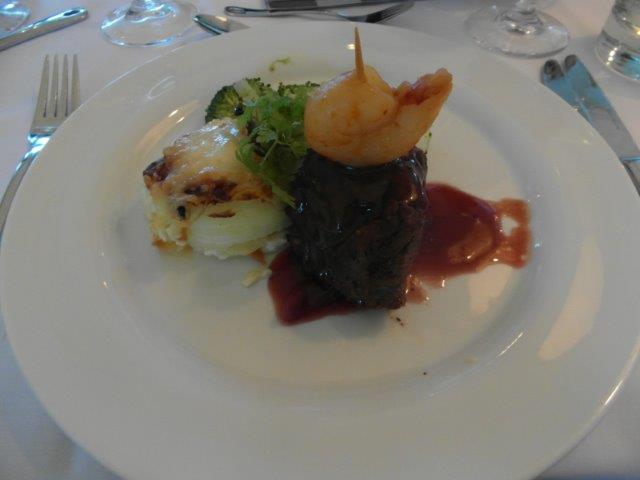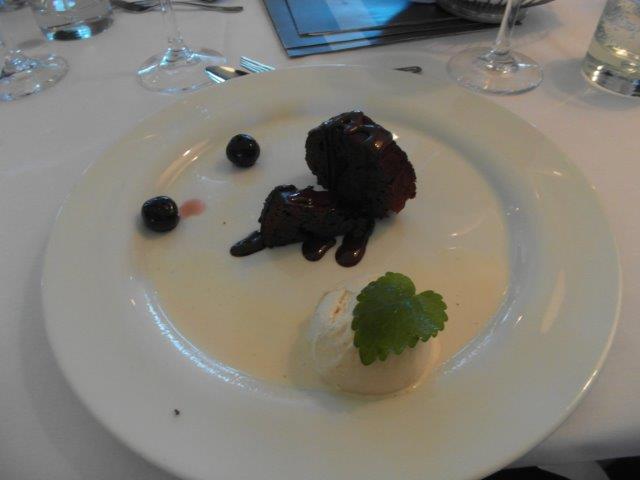 After dinner, it was back to the lounge for the farewell party where the crew was introduced and we had a champagne toast. We said goodbye to our new friends. I especially hope to hear of the progress from my British card shuffling students!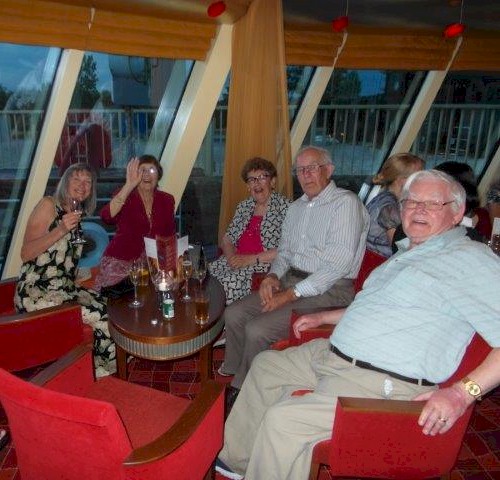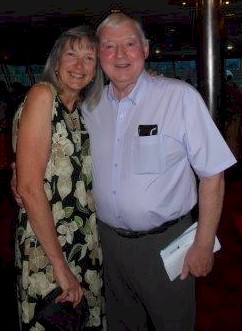 We had a wonderful time with our old and new friends despite what probably sounds like complaining. We were just so spoiled by the previous A-ROSA cruise...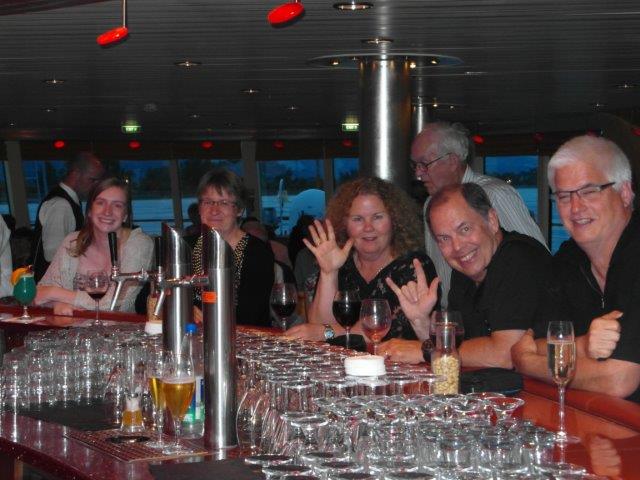 Saturday, Day 8
We had concentrated very little on how we would get home, so we were pleased to have wi-fi on the boat so we could check flights. We had decided that we would try for a 6:50AM flight from Lyon to Frankfurt which would allow us to connect with the nonstop flight to Atlanta. If we didn't get on that, we would try to get to Paris since there are some late afternoon flights from Paris. A-ROSA had arranged a 5:15AM pick-up for us. This meant we had to get up at 4:30AM. We thought we would be on a shuttle with other passengers, but when the car arrived a few minutes early, the driver whisked us away by ourselves. Nice!
The flight to Frankfurt would be on Lufthansa again. We can't get as much information about availability on other airlines as we can on Delta. The only availability we could see on the Lufthansa flight was a red frownie face which means we don't have a good chance of getting on the flight. We got our standby boarding cards and passed through security with plenty of time before the flight. I checked in at the gate and was told we would have to wait until the flight had boarded to see if we would get on. We watched A LOT of people get on the plane so we were quite surprised when the agent gave us a thumbs up! He scribbled on our boarding passes 1C & 1D. Business class no less!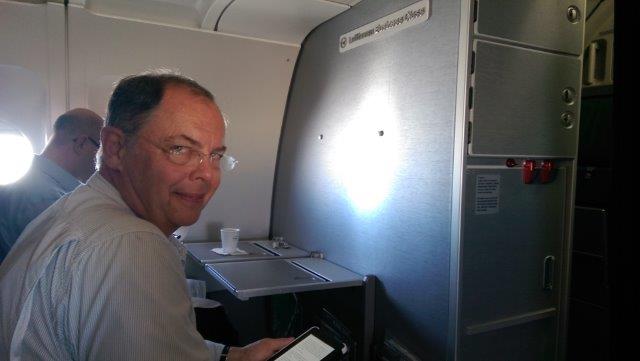 They served us a lovely breakfast and afterward, some apple chips.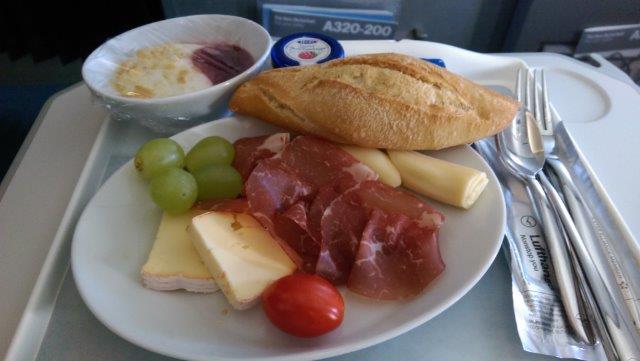 When we got to Frankfurt, we had very little time to get to our next gate which was in a different terminal. We had to ride the sky train, get checked in, go through passport control, make our way to the gate and wait in a huge line for security. All of this took an hour and a half! We felt pretty good about our chance to get a seat if we could just make it in time. Thankfully we did! We had just taken our seats in business class when we heard the agent say they would not be boarding anymore non-revs because of payload optimization. We just slid in under the wire! It was a great flight home in lie-flat seats!
Conclusion? We would still recommend A-ROSA, but maybe to a slightly different audience this time. Send me an email if you are interested and I'll tell you more.
BJ (and Tony)
bj@bjandtony.com