Carina
The Daughter We Never Had...
A friend at work mentioned that she had to leave early one day to go to the airport to pick up her new German. "New German?", I asked. She said she had been hosting foreign interns for a number of years and has had over twenty in her home. She lives over near Emory, convenient to Marta so the young people who were here for their internships wouldn't need a car. I thought this was very interesting, but at the time, didn't consider pursuing becoming a host. Our house is not convenient to public transportation and probably wouldn't be the right location for an intern.
The next day, coincidentally, my friend got an email from one of her former interns who was looking for accommodations for the sister of a friend of a friend. The internship was just a few miles from our house and would last 6 months. I said I would mention it to Tony, but I was sure he would not be interested since he likes his space. Much to my surprise, he didn't immediately poo poo the idea. We discussed it for a few days and decided that it would be fun. We were apprehensive about having someone living with us, but figured we could tolerate it for 6 months. After a flurry of emails, we were expecting our new "daughter", Carina, to arrive in May.
We rearranged some furniture in the two upstairs bedrooms to make a little mini-suite for Carina. She would have a bedroom and a den with her own private bathroom. We moved the kitchen TV up to her den and split the cable TV one more time, which meant we had to add a booster. (Apparently there's a limit to how many times you can split the cable before the picture suffers).
My friend recommended that we come up with a list of house rules so there would be no confusion later. I think Tony threw in some rules he was hoping I would abide by too!
Carina's emails were understandable, but I was worried that we might have some difficulty communicating. I speak barely enough German to get a room and something to eat and drink. Tony speaks slightly more than I do, but we are far from being able to carry on a conversation.
On the day she was to arrive, I made a sign that said, "Carina - Willkommen en Atlanta, Y'all". We found each other at the airport with no problem and I helped her carry her two HUGE suitcases out to the car. She spoke English well enough for us to communicate, so I was relieved. She even said she knew what "y'all" meant.
From the day we brought her home, we just fell in love with her. She was sweet, considerate, quiet and respectful. At first, she spent a lot of time in her room, but gradually started spending more time with us. Tuesday nights and Sunday nights were our family nights when we watched "Gilmore Girls" and "Desperate Housewives" together.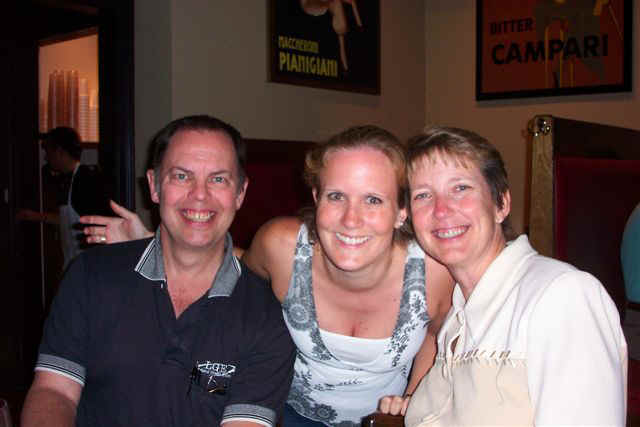 She spent a lot of time out on the deck (which we never do) until one day when she showed us her bug bites and told us she thought she might have bed bugs. I told her, "You're in Georgia, honey. Those are mosquito bites." We gave her some bug spray. Speaking of bugs - they must not have any in Germany because she was pretty freaked out by the occasional Palmetto Bug, Cricket or Spider.
Four interns shared 3 cars, so she had access to a car much of the time. She took English for Internationals two nights a week. Most of her classmates were Spanish speakers, but that didn't seem to keep her from learning English. We tried to help her with her homework, but even as native English speakers, we had trouble with some of it. ... plural possessive past perfect participle ...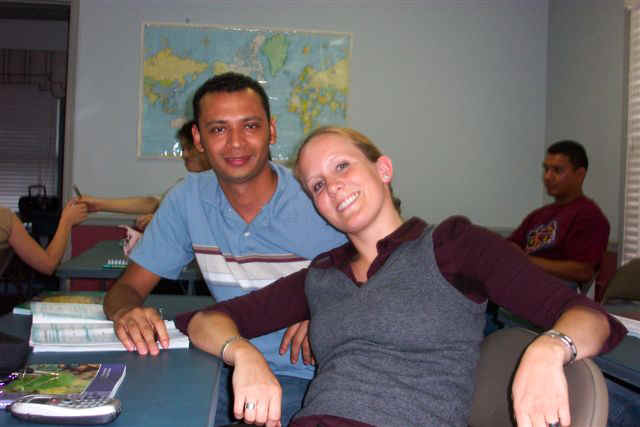 To begin with, most of Carina's friends were other interns. They had several group outings. She went with a group of girls to Savannah for Memorial Day Weekend, and they took a raft trip in June.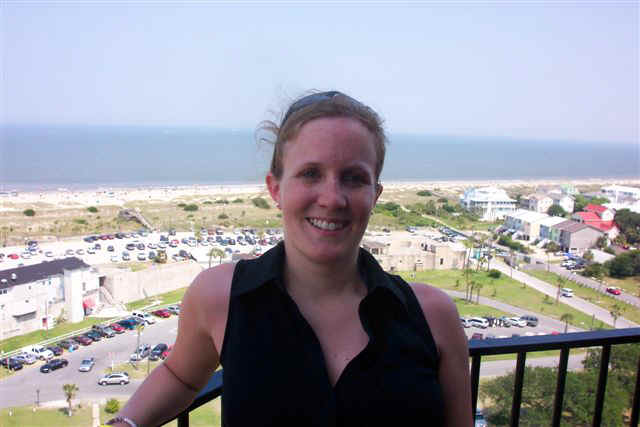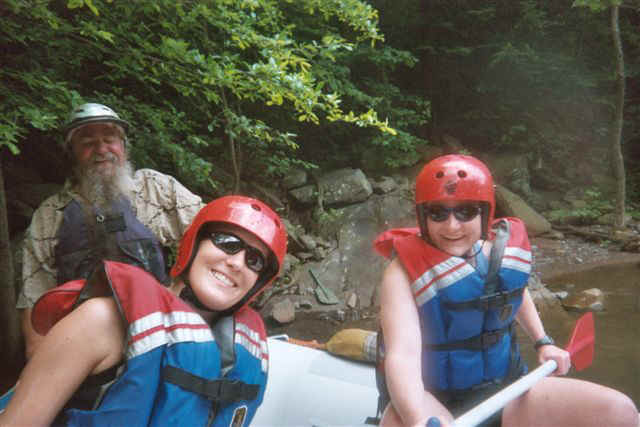 We're really not sure why, but they even went to Helen. Maybe they missed Germany...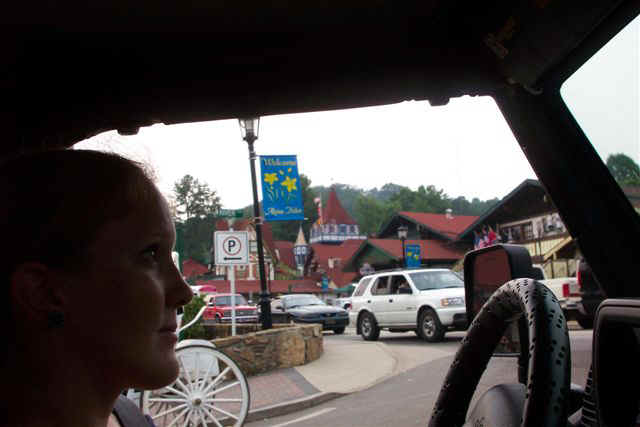 We celebrated her 27th birthday over pizza with some of her co-workers and other interns in June.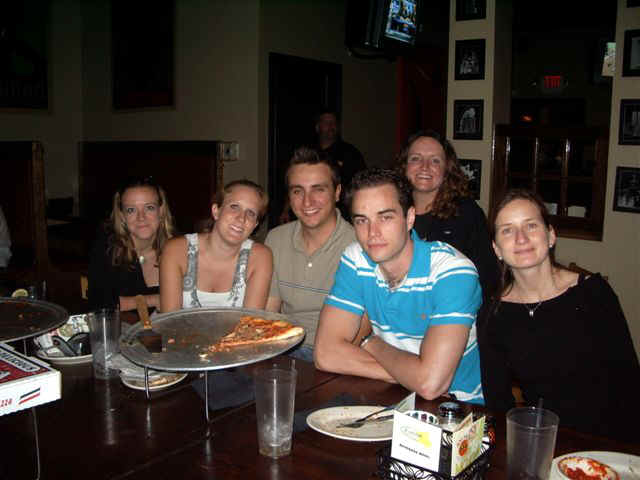 Carina showed her adventuresome side when she and her friend Cindy decided to try stand-by travel. When they asked about using buddy passes to go to New York over the 4th of July, I told them no way, but surprisingly, the flights were available. Inexpensive accommodations, however, were another story. They ended up staying in a youth hostel called "Jazz on the Park". It wasn't the nicest place in the world, but I think they stayed out dancing most of the night anyway. Carina was really tired when she got home. We took them to New Orleans the next weekend.
The internship was supposed to end in October, but Carina was having so much fun that she decided to apply for an extension. We were delighted when she was approved to stay until mid-December. She said she would like to stay longer, so we helped her fill out an application for the Green Card Lottery for 2007. We won't hear whether she got picked until later this year.
Carina's friend Patrick came to visit and they flew to Miami and drove down to Key West. We went to the SunDial restaurant when they got back. We enjoyed doing the touristy thing in our own city for a change.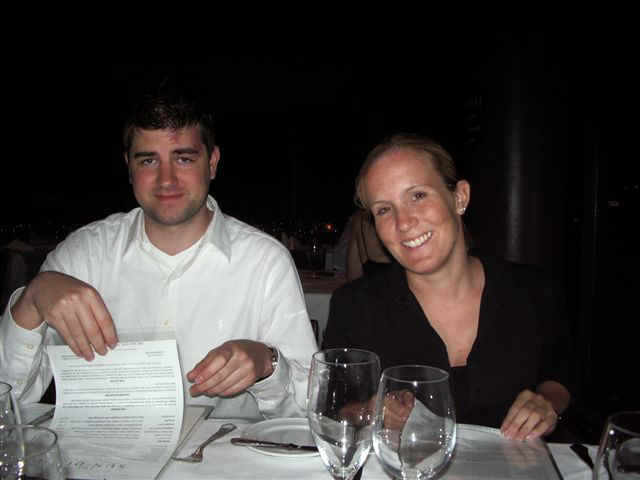 For Halloween, our baby girl found a "Sexy Kitten" costume at Party City. "Daddy" wasn't sure he should allow her to go out dressed like this.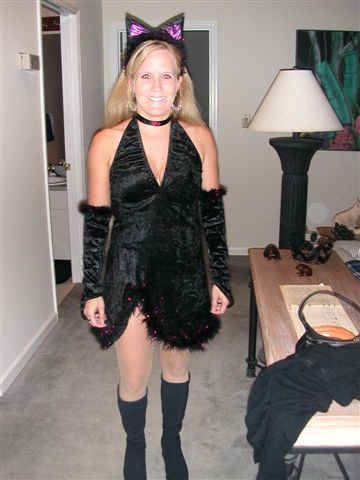 Carina's favorite night clubs were of the Hip-Hop and Techno variety - not places we'd ever even heard of. The Vision seemed to be the main attraction. It was there that she met Geller, the disk jockey for Q-100.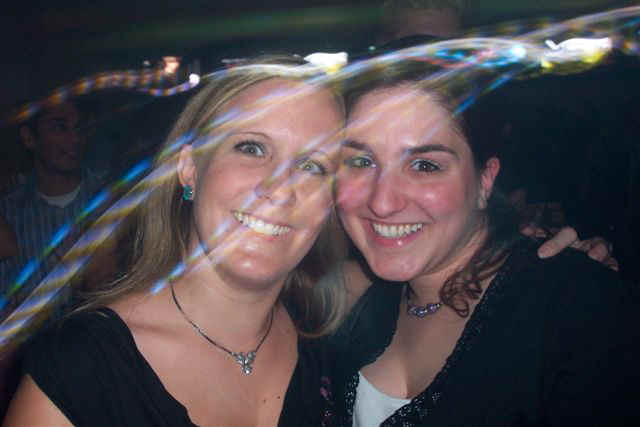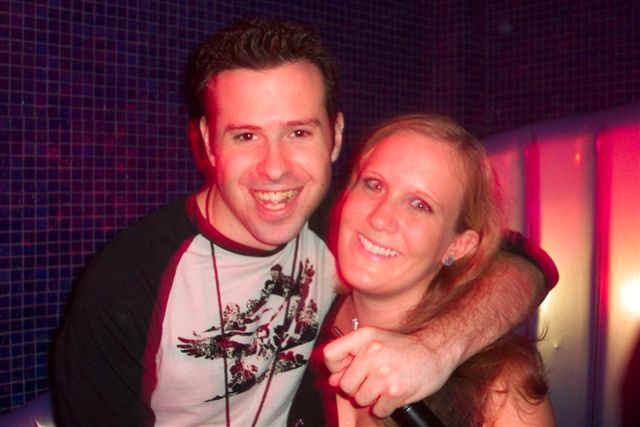 Carina had her heart set on a real Thanksgiving in America, but we were traveling to Rome over Thanksgiving, so when we got back, we went and bought a turkey and made dressing, sweet potatoes, squash, green beans, and pee-can pie! We even invited Tony's mom and brother over because you have to have a lot of family around to make it seem like a real Thanksgiving. Carina loved her new uncle and "Oma".
We took Carina to visit a friend of her sister's who owns a restaurant in Newnan. Its called "Andre's off the Square". Andre prepared a nice dinner for us.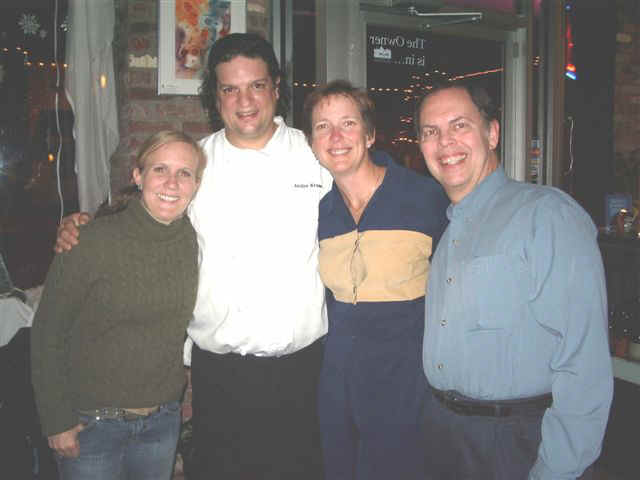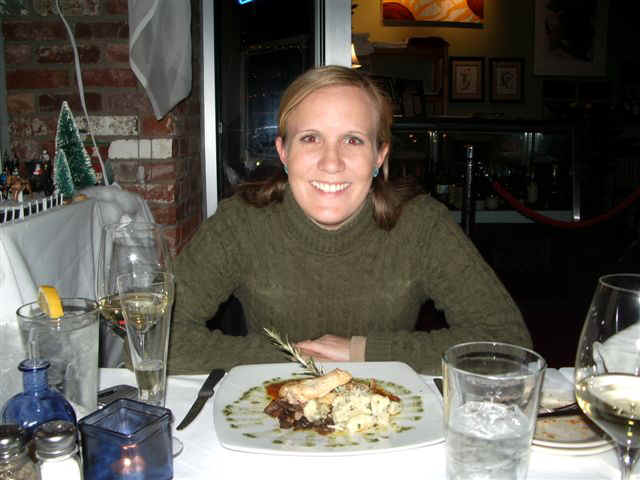 On our way out of town, we passed the Redneck Corner Cafe. Carina says in Germany, a redneck is called a Land Egg.
Too soon, it was December. We put up a few decorations and Carina went to a costume party at The Vision. That Halloween Costume did dual duty. This time she was a "Star Tailor" which must be a German thing because her friend Tanya knew exactly what she was. I helped her sew the stars on her dress, so technically, I guess I am the Star Tailor!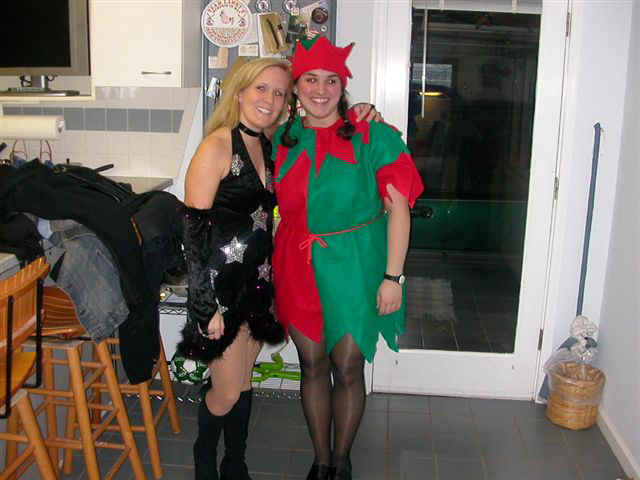 Carina packed her bags, but thankfully she didn't take all of her things because she promised to return for a visit in January! She said she was just going off for "Winter Camp" and would be home soon. We were brave and didn't cry when we took her to the airport.
Stay tuned for the story of her next visit!
Update - March 2009
Carina and her entire family came over to help her American Mommy (me) celebrate her 50th birthday last year. While she was here, her GREEN CARD came in the mail! That's right! She won the Green Card Lottery and is now a Permanent Resident. She moved back to the U.S. in October and got her own apartment. We helped her move in and get settled. Now she is looking to buy a condo so we're helping her with that!
BJ and Tony Morris (a.k.a. Mommy and Daddy)
bjandtony@bjandtony.com