Tampa
October 2003
"Everything that could have gone wrong, didn't"
This trip had a lot of opportunity to be disastrous but turned out great! We were headed for Brooksville, Florida to judge a barbecue contest called the "Hernando County Rodeo & Barbecue Festival". We had trouble reserving a rental car, since it was Columbus Day weekend, but finally got one at Enterprise. The cost was more than we usually pay, but it seemed that none of the other rental car companies had cars at any price. We decided to fly down Friday night and stay at a hotel near the airport so we would only have to get the car for one day. The flight, which had looked very available the day before, suddenly looked like it was going to be full. At the last minute though, the gate agent took a handful of us down the jetway and instructed us to take any available seat. Upon arrival in Tampa, we realized that we had forgotten our parking pass, directions and information about the barbecue.
The next morning, we kind of lost track of time and by the time I remembered to call the desk to ask about the hotel shuttle back to the airport to get our car, it was almost nine o'clock. We caught the nine thirty shuttle and told the driver we needed to go to the airport to pick up an Enterprise rental car. He stopped at the Enterprise office just outside of the airport to drop us off, but before I let the van leave, I asked Tony to check inside to make sure that was the right place. It wasn't! Whew! He took us on to the airport. The Enterprise agent was a little bit pushy about trying to sell the extra insurance and stuff, but we finally got the car and started out for Brooksville. About the time we got on the toll road, we both realized that we were short on cash. Each time we paid a toll, we set aside that much money for the trip back. We got a little lost, but finally found the festival. We bluffed our way in without our parking pass and got to the judges tent just as the judges meeting was over. We found the fellow in charge and he was nice enough to allow us to judge even though we were late.
This was a KCBS event so there were four categories to judge. Chicken, Pork Ribs, Pork Shoulder and Beef Brisket. We both met some interesting people at our judging table. After the judging, we went to the entertainment tent where they were having Karaoke. I sang, "Coal Miner's Daughter" and "You Ain't Woman Enough To Take My Man". Tony said I did okay. A couple in the audience asked me to sing something with them - they wanted to sing a duet but the wife was too nervous to sing her part by herself. We sang "Picture" in what was supposed to be the style of Kid Rock & Sheryl Crow. It was pretty far off target, but they were happy.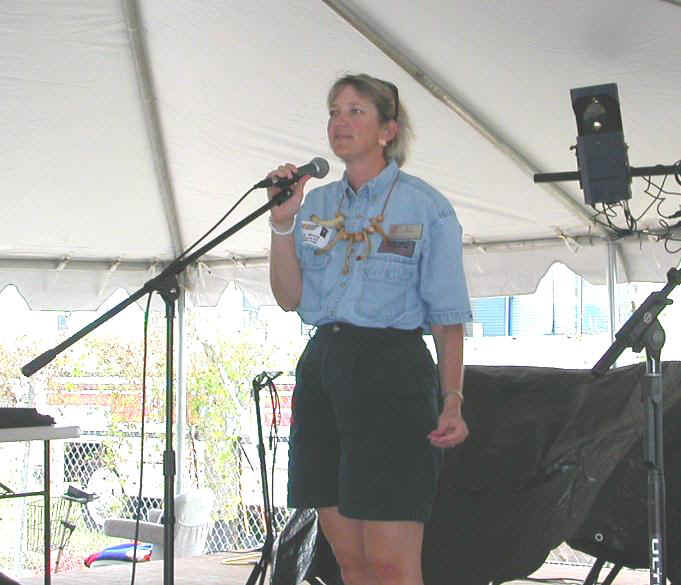 After Karaoke, there was a rodeo for special needs kids, and then the awards for the barbecue competition. Backyard Gourmet and ButtRub.Com were grand champion and reserve grand champion. Butt Rub sells a rub for barbecue. Their slogan is "A little Butt Rub makes everything better."
We waited until shortly before the rodeo to buy our tickets because it looked like rain. Being low on cash, we were delighted to discover that we could use a credit card to purchase our tickets! After we bought the tickets, it started sprinkling, but it never really developed into a rain and the rodeo was very enjoyable.
We spent the night at a very nice Comfort Inn in Weeki Wachee, about twelve miles from the Festival. There was a twenty five cent toll on the exit ramp. The only booth that was open was the one that said, "Exact Change Only". We were fortunate enough to have a quarter! I don't know what you would do if you only had a twenty. We got up at 5AM and got on the road back to Tampa. We made good time and had enough money to pay all of the tolls. We even got on an earlier flight than we had planned.
When we got back to Atlanta, we went to catch the Hilton shuttle. Just as we were approaching it, we heard an explosion. The engine of the Comfort Inn shuttle (two down from the Hilton shuttle) had blown up! We got home without further incident and are looking forward to eating our barbecue leftovers!
BJ and Tony Morris
bj@bjandtony.com