Nice, France
Venice, Italy
November 2003
"What language should we speak?"
This trip started out like many others, with flights that had looked very favorable for stand-by travel earlier in the week starting to "fall-apart" as we say in non-revenue lingo. The original plan for the trip was to fly to Frankfurt, take a train to Trier, rent bicycles and ride along the Mosel river to Koblenz. (You may recall that this has been our plan before – we have yet to successfully execute it.) The only unknown in the plan was our ability to rent bicycles in Trier in November. We had rented bicycles at the Trier train station before, but the Trier Tourist Information Web Site: http://redaktion.trier.de/praefectus/trier?set_tourismus_enhttp://www.trier.de/tourismus/english/leisure/cycling.htm indicated that the bicycle shop might only be open April-October. We had decided to try to rent our bicycles in Frankfurt instead and carry them on the train with us to Trier.
We reviewed the needed German phrases: "Sprechen Sie Englisch?" and "Zwei große Biere gefallen!" and made our way to the airport Friday afternoon for a 5:55PM flight to Frankfurt. It was still showing several seats available and we were optimistic because we had saved some special high priority passes (S1R) for the trip. A friend called us several times to give us updates on the availability of the flight. When she called to say it looked like there would only be one seat available, we started looking for alternative destinations. The Shannon flight left before the next Frankfurt flight and still showed a decent number of seats, so we decided to try it. Language would not be a problem in Ireland! "Two pints of Guiness please!" After checking in at the information counter, we headed for the gate. The agents at the Shannon gate were already making "denied-boarding" announcements. This is a really bad sign for non-revs. If the airline is willing to offer revenue passengers compensation to take another flight, they are not likely to board any non-revenue passengers on the plane. We headed right back to the information counter and asked them to put us on the standby list for the next Frankfurt flight, reminding ourselves of our German phrases: "Sprechen Sie Englisch?" and "Zwei große Biere gefallen!" Tony wandered off in search of a Diet Coke while I waited at the gate. He had no sooner left than I heard the gate agent make the familiar denied boarding announcement. I decided to remain optimistic and hope that they were just making a list of people who were willing to take the denied boarding compensation "just in case". It soon became obvious that they were not making the offer "just in case". Wanting to eat international food, we decided to head for our favorite Mexican restaurant and regroup for a departure the next day. On the way, we reviewed our needed Spanish phrase: "¡Una jarra de cerveza por favor!"
After some quick research on flight availability, we determined that our best chance to get "across the pond" was going to be to go to Nice (since Tony had never been there before) from JFK airport in New York. I downloaded a French translator and we familiarized ourselves with the necessary phrases, "Parlez-vous anglais?" and "Nous voudrions deux verres de vin si vous plait!" We would abort the bicycle idea and just make it a touristy trip. We lightened our backpacks by removing all of the bicycle specific stuff, but were able to keep most of the same clothing. Nice is a nice destination for a couple of days, but probably couldn't hold our attention for much longer, so we planned to hook up with our friends who were traveling to Venice later in the week. I downloaded an Italian translator and we familiarized ourselves with the necessary phrases, "Parlate inglese?" and "Gradiremmo prego due vetri di vino!" We had a few errands to run Saturday morning, one of which was to go to the Marietta library for a travel guide to Nice. On our way from the library to the airport, we decided to do a touristy thing and have lunch at "The Big Chicken". For this, we needed the Southern phrase, "I'll have the chicken liver snack and some sweet tea please!"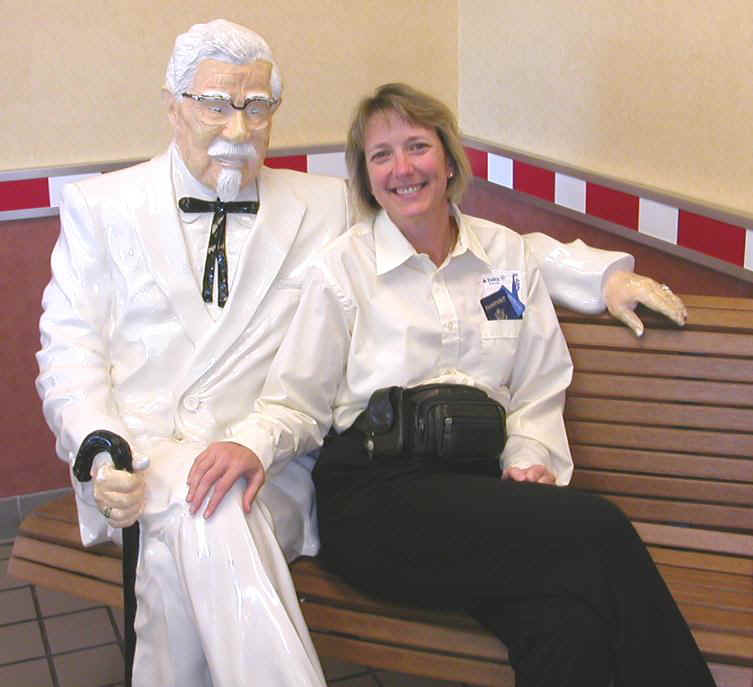 The flights to JFK and NCE were uneventful. The food and beverage service was good although the selection of video entertainment left a great deal to be desired. The best movie on the plane was "Legally Blonde II, Red, White and Blonde", if that tells you anything. They have improved the video game selection though.
On arrival in Nice, we first checked with Air France about our travel plans to Venice on Tuesday, then stopped by the tourist desk to get a Nice map and book of hotels. A short bus ride took us to the main station (Gare Routiere, 3.5 Euros each) near the Place Messena.. (We highly recommend the public restrooms at the Jarden Albert 1er; only .35 Euro and they're very clean!) After wandering around for several hours looking for a good place to stay, we finally settled on the ideally situated Hotel Canada on Rue Halevy for our accommodations.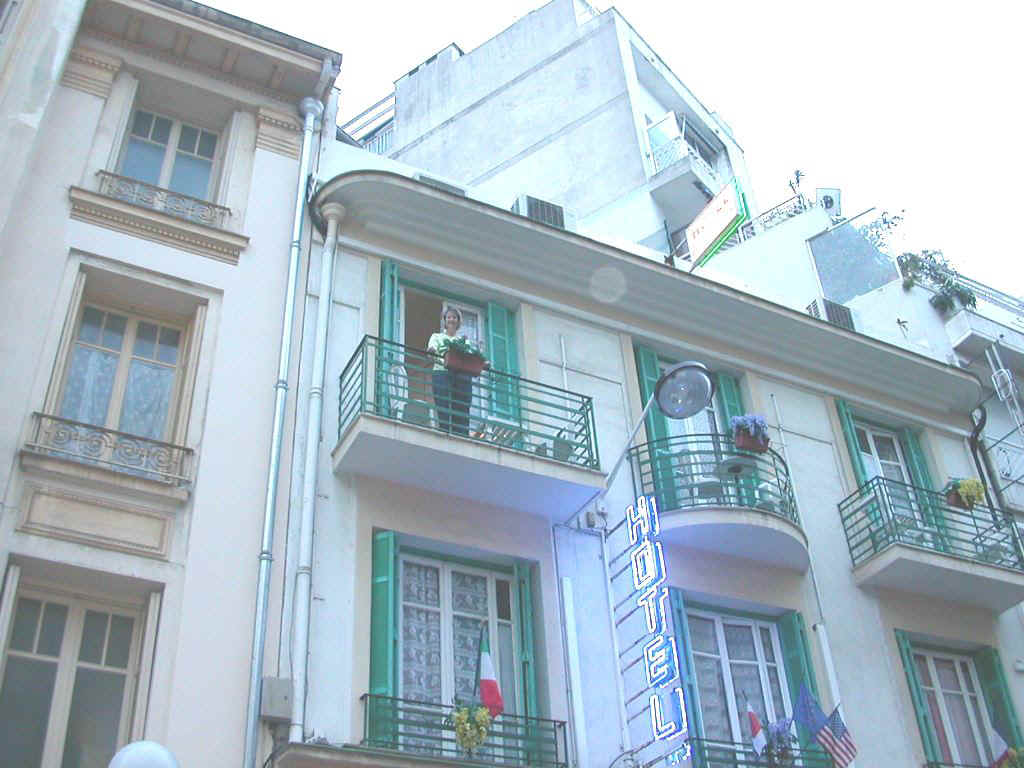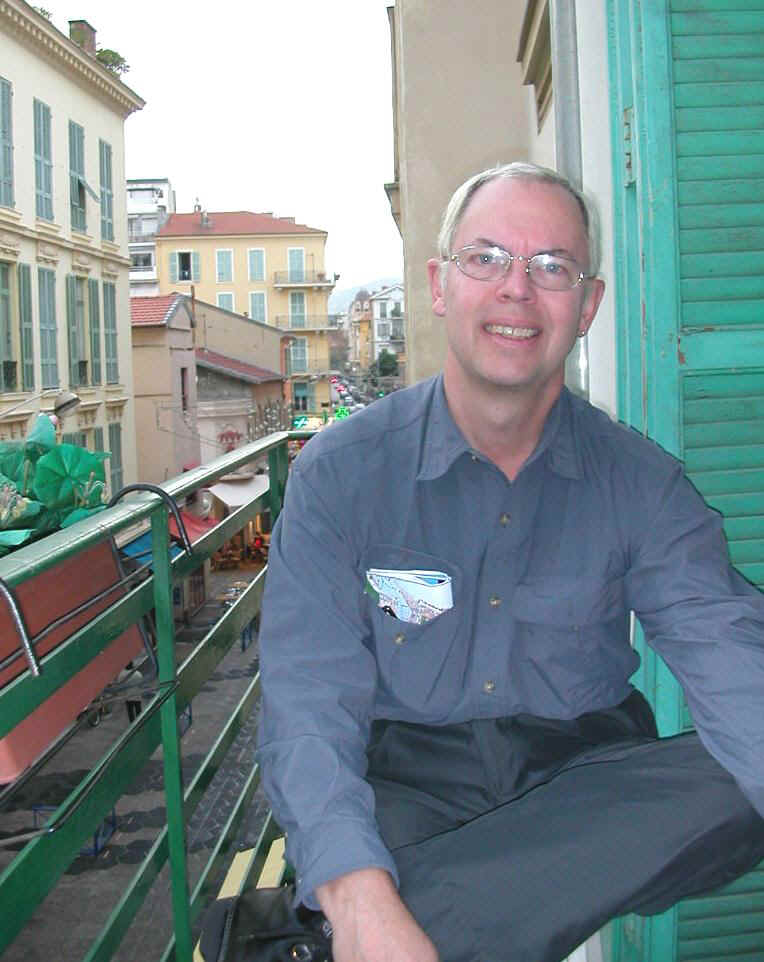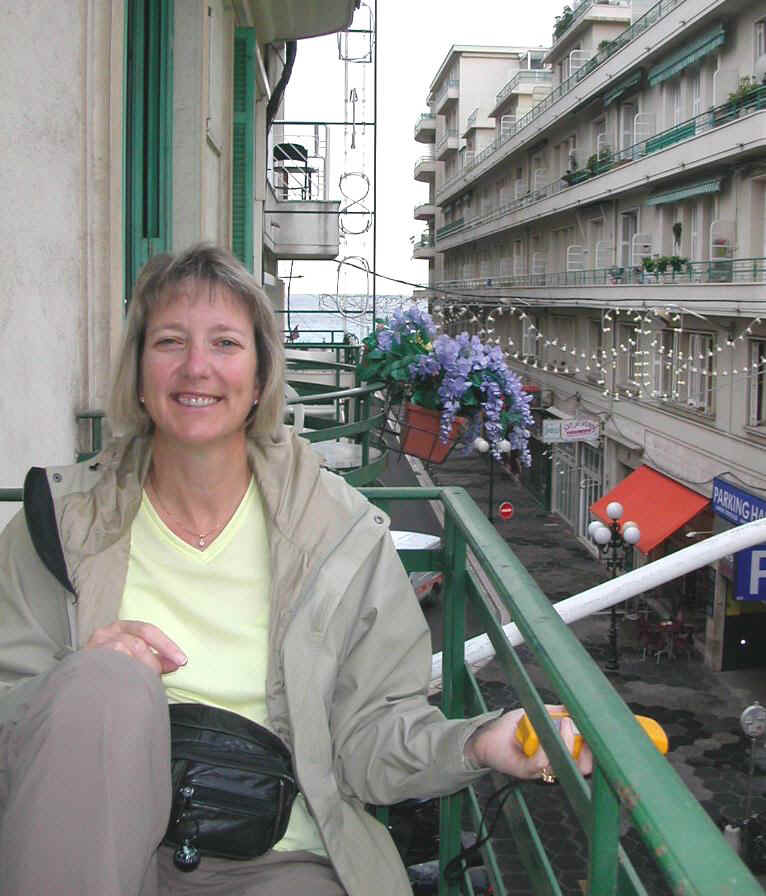 The price was right and we soon learned why. Tired and ready to drop our backpacks, we didn't follow our normal policy of asking to see the room before agreeing to stay. This was a two star hotel. We think maybe we are three star people, at least in Nice.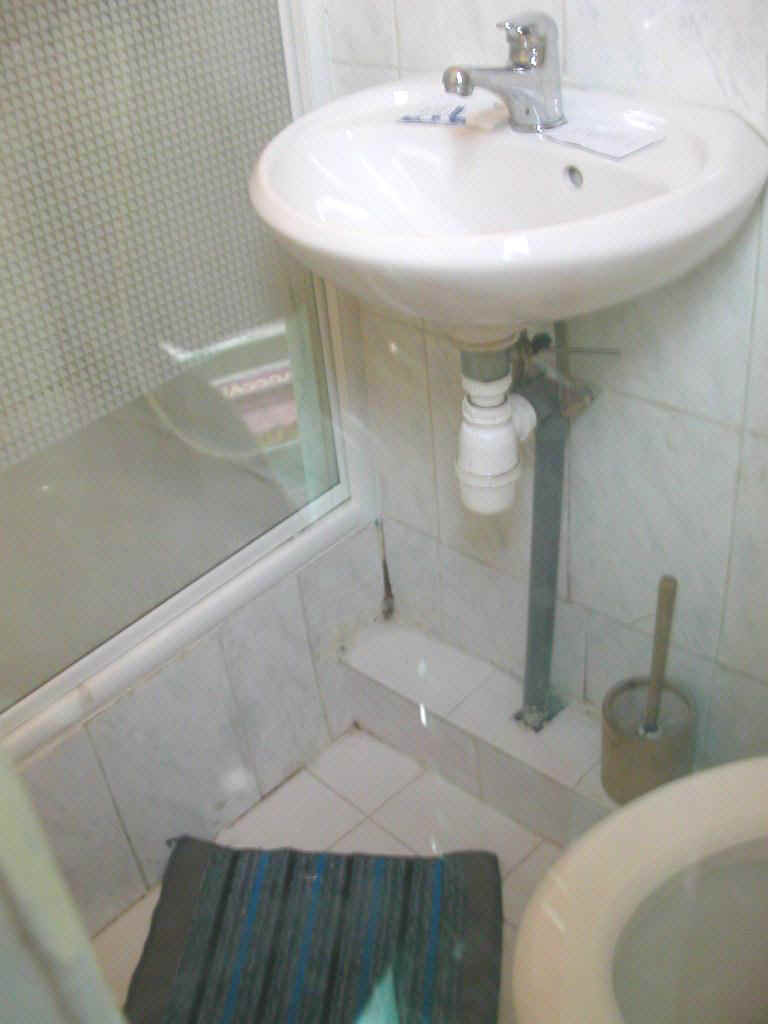 The bathroom was smaller than the one in our motorhome. We had to sit side saddle on the toilet and the shower was exposing us to some other "cultures" that we were not interested in learning about. The bed had a "uni-pillow"( instead of two separate pillows) that was placed under the bottom sheet instead of inside a pillow case. If we go back, we may stay at the Hotel Mercure Promenade Des Anglais.
The weather was great; mid to upper 60's and sunny! We took a long walk along the coast, where we encountered lots of folks roller-blading, jogging, and walking their dogs.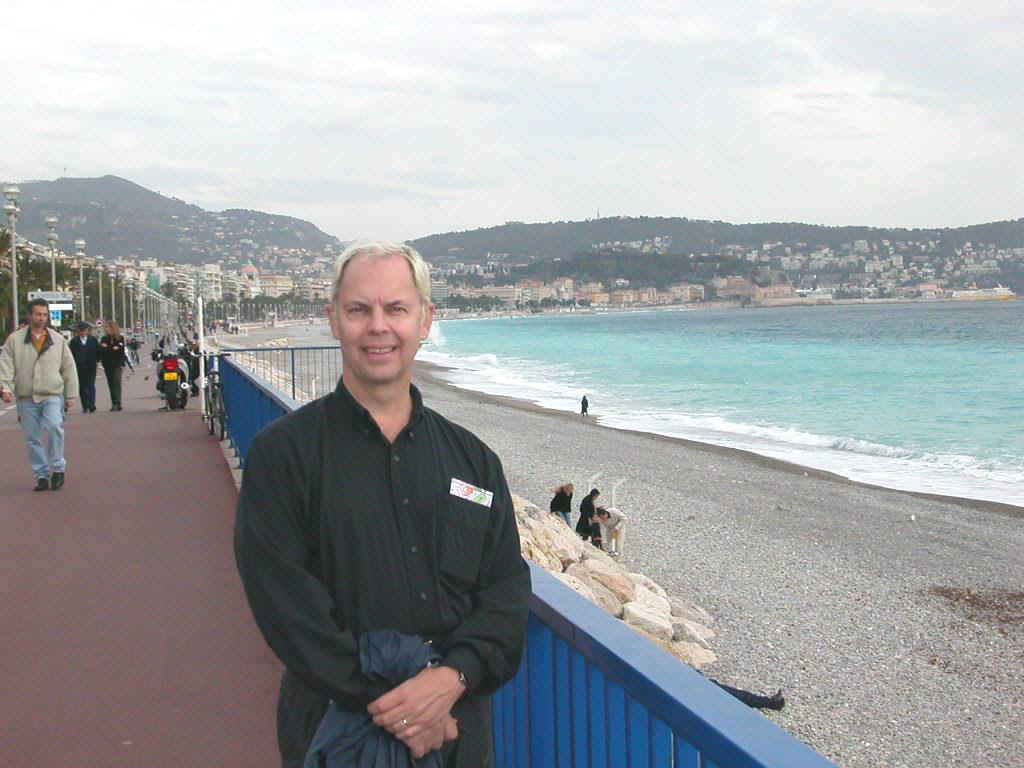 Almost every restaurant and sidewalk café boasted that "Beaujolais Nouveau est arrivee!" so we HAD to partake. Our first bottle, Cellier des Gones is not a brand we usually see in the United States. (When trying to recall the name later, we could only come up with "Done Been Gone".)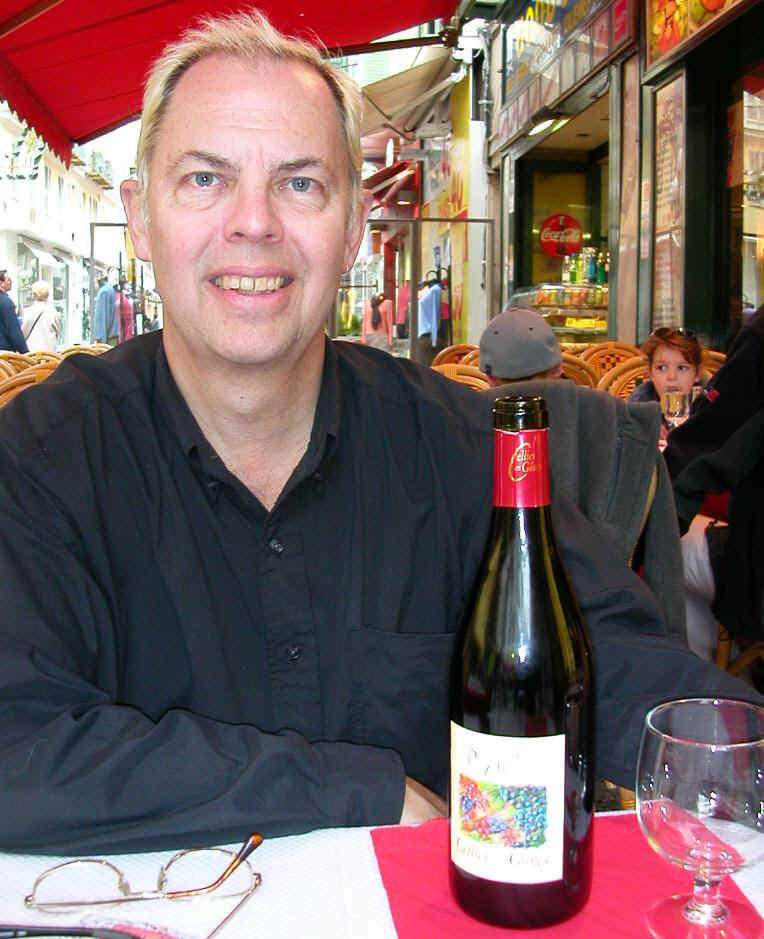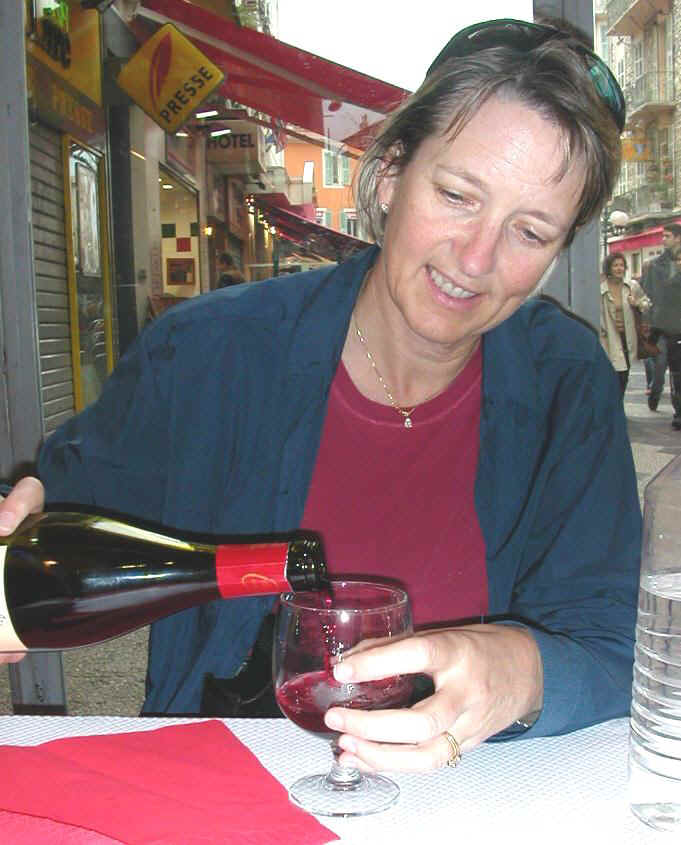 Dinner the first evening was at a lovely little place called LePhare du Cours Creperie Bretonne Glaces Artisanales at 20 Cours Saleya where we ordered from the menu Touristica. Our meal started with Onion Soup (French, of course), then main courses of crepes; one ham, egg and cheese and the other spinach and goat cheese. For dessert, we had an apple tart and a chocolate crepe. Walking home after dinner, we stopped by the merry-go-round, but it had closed for the evening.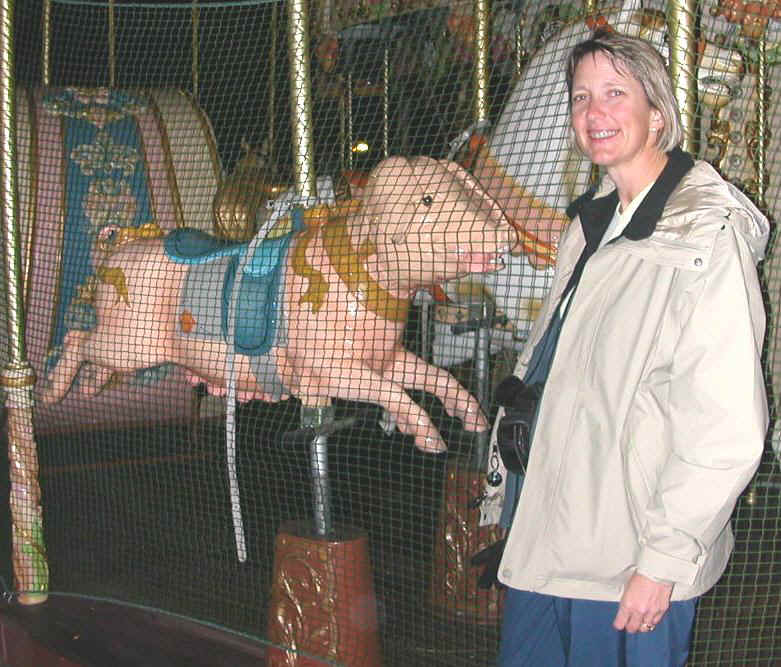 We were awaken the next morning at 5 AM to the soothing sound of a garbage truck outside our window. After a quick shower, we decided to walk over to the port. It was spitting rain when we left the hotel. Tony wanted to go back and get our rain pants, but the weather had been so pretty the previous day, I was sure the sun would pop out soon. The farther we got from our hotel, the harder it rained. We stopped for café au lait at the Brasserie Le Royal Martines and then continued our walk through the antique district and into central Nice.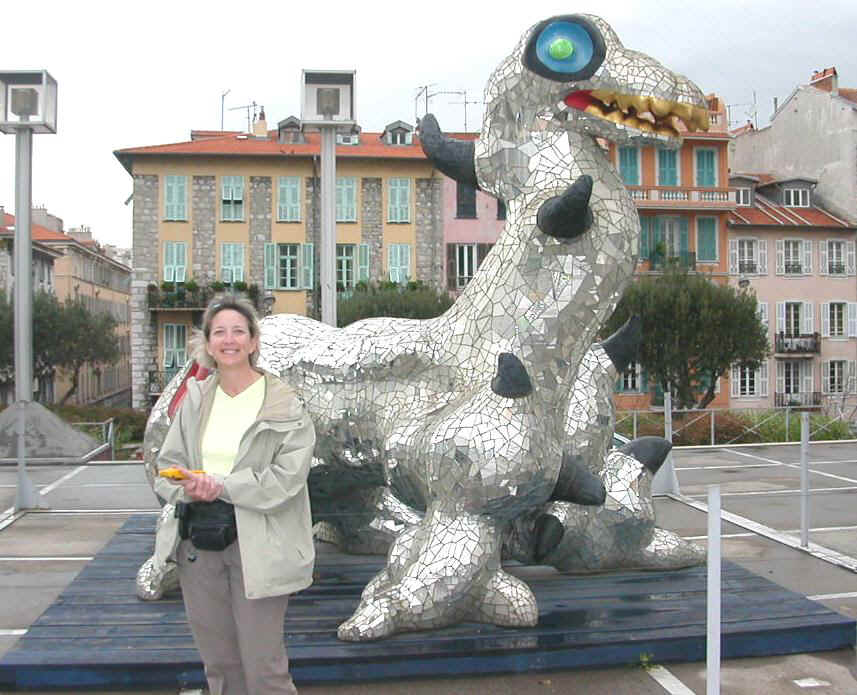 After a bierre and a sandwich we decided we should head back to the hotel to dry off. Several hours later, we again headed out with the Frommer's guide to find one of the recommended restaurants for dinner. The "Le Safari" restaurant was chosen so we made reservations, then we went to the Bar Les Fleurs for an outdoor glass of wine while we watched the vendors at the Marche aux Fleurs pack up their wares as darkness approached. With more time before dinner, we decided to slip into the Thor Bar on our way to the restaurant and discovered some English speakers! The bartender, from Scotland was in Nice to improve her French and the bar manager was from Alabama, just seeing the world before she started law school. Le Safari turned out to be a wonderful restaurant. I ordered the highly recommended but "unfortunately named merda de can (dogshit), which, as a gnocchi stuffed with spinach is a lot more appetizing than it sounds" (quote from Frommer's) and Tony had Gorgonzola Gnochi.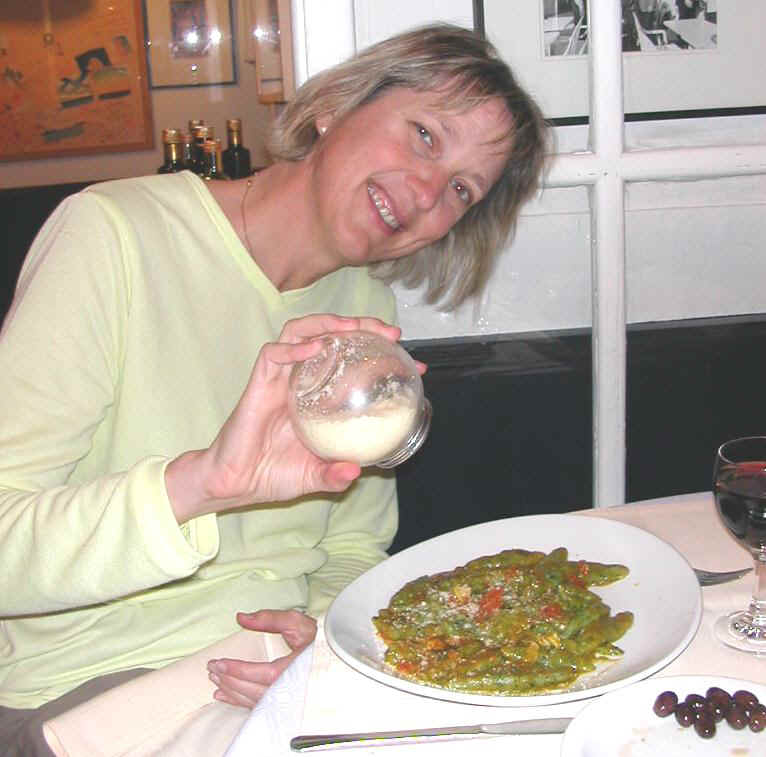 Tuesday was another travel day. Leaving the hotel, we walked less than a block to the bus stop in front of the casino where we were able to buy tickets to the airport from the bus driver. We checked in with Air France and were given seats immediately. Our flight took a slight delay, so we were a bit concerned about our connection. When we arrived in Paris, we were directed to the transfer desk. From there we were sent to check-in position 6 which turned out to be a flight back to Nice. We finally found the flight to Venice at check-in position 2. The agent indicated his annoyance at our late check-in for the flight by looking at his watch, but gave us seats, and then told us that the flight was delayed for 45 minutes. After a glass of Beaujolais Nouveau at the airport bar we boarded our flight and enjoyed a nice little snack on the plane along with a complimentary mini-bottle of Georges Duboeuf Beaujolais Nouveau. We ARE familiar with this brand and years ago gave it the nickname "George Da Bush".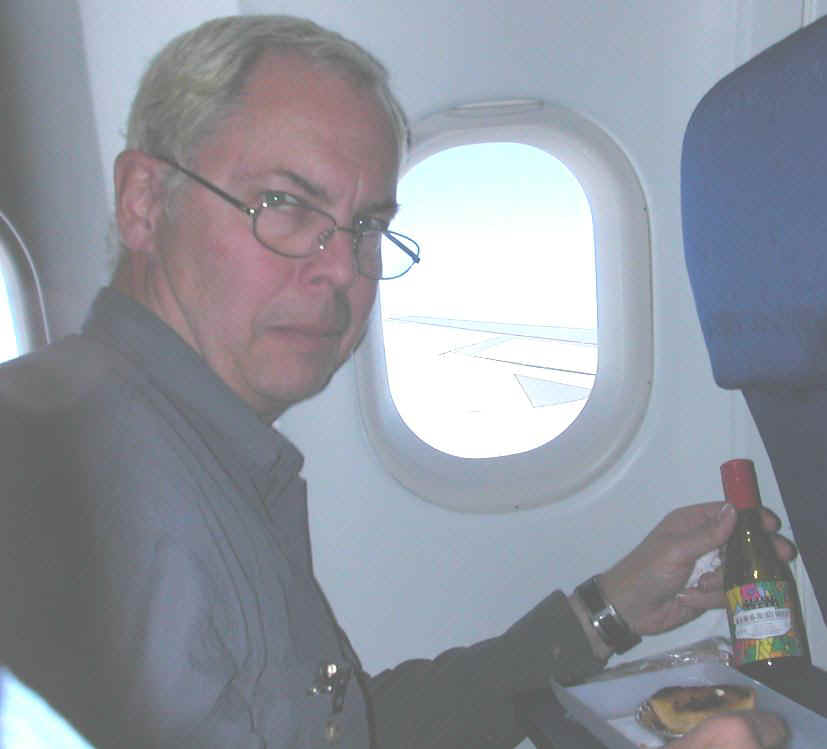 Once in Venice, we took a short bus ride to the Piazzale Roma and then walked to our hotel near St. Mark's Square (the Hotel Fontana, where we stayed this past January. It's also a "2 Star" hotel, but one that we like enough to keep coming back to). After dropping our bags, we set out for our favorite Venice hang out, Vino Vino, only to find that it was closed on Tuesdays. So we wandered around a bit more, looking for another wine bar we enjoyed on our previous trip. We were never able to find it, but did find another one that was just as good and nearer to our hotel. By the time we got to Venice, I had become completely language challenged. Not wishing to appear presumptuous, I always try to ask (in the appropriate language) whether the person I am speaking to speaks English. Several times in Italy, I appeared to be tongue-tied while I tried to decide whether to say, Sprechen Sie Englisch?" or "Parlez-vous anglais?" or "Parlate inglese?" For dinner, we went to the Snack Bar Borsa. At first, we were the only customers so we were afraid we had made a poor choice, but after we were seated, the place began to fill with residents and gondoliers. My pennette with mushroom cream sauce was excellent and Tony's pizza Diavola was good as well. While "in the neighborhood", we decided to go ahead and make reservations at a trusted restaurant for dinner the next night since there would be nine of us. The Osteria Da Carla had served us two good meals on our last trip and they were happy to reserve us a table for the next night. On the way back to the hotel, we stopped at the Gelateria Sommariva Di Sommariva Marto for dessert of tiramisu and lemon tart.
Wednesday after breakfast, we headed off to a shopping street to get some diet cokes and kindereggs. It was raining pretty hard so this time we donned all of our rain gear (and learned that Tony's shoes leaked). Cokes in hand, we hurried back to the hotel to dry out. We were expecting our friends around 1PM and were trying to decide what to do until then when they knocked at our door! Four of the travelers were not able to make the trip due to an unexpected problem at home, so we were a five group instead of a nine group. Our friends were traveling with a teenage boy, so our first stop was at McDonalds to try to fill him up. After that, we decided to tour St. Mark's Basilica to get out of the rain. We were quite surprised when we got to St. Mark's square and discovered that it was flooded. According to Rick Steve's guidebook, "Venice floods about 60 times a year – normally in March and November. Floods start in St. Mark's Square. The entry of the church is nearly the lowest spot in town." Thankfully they are prepared, though and have wooden benches that they place end to end to make elevated sidewalks.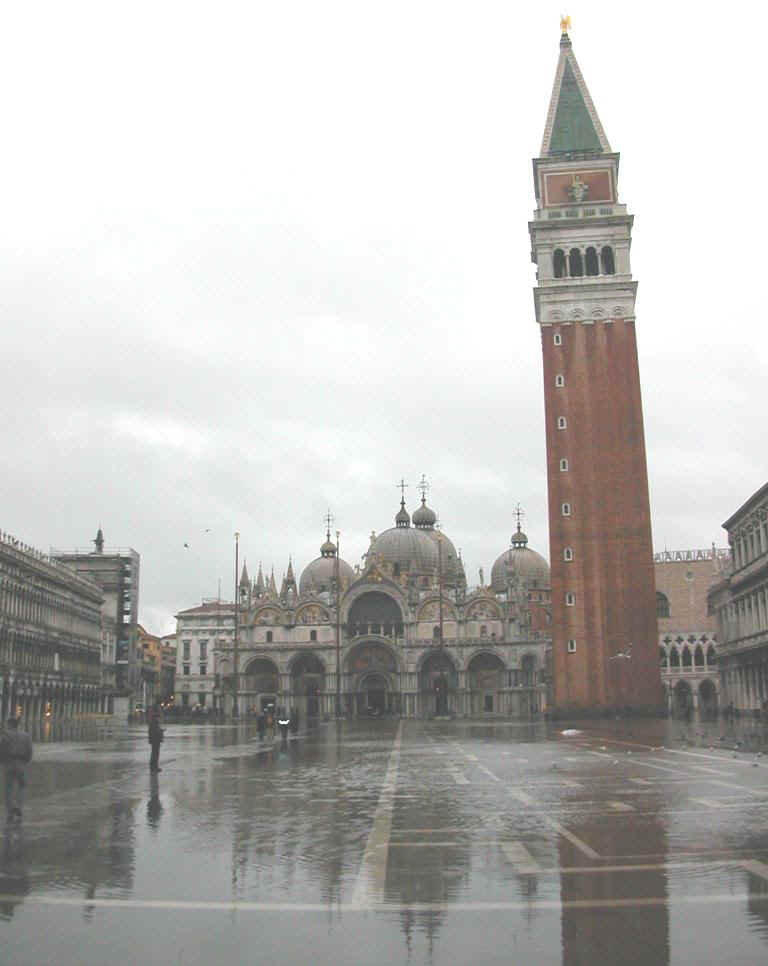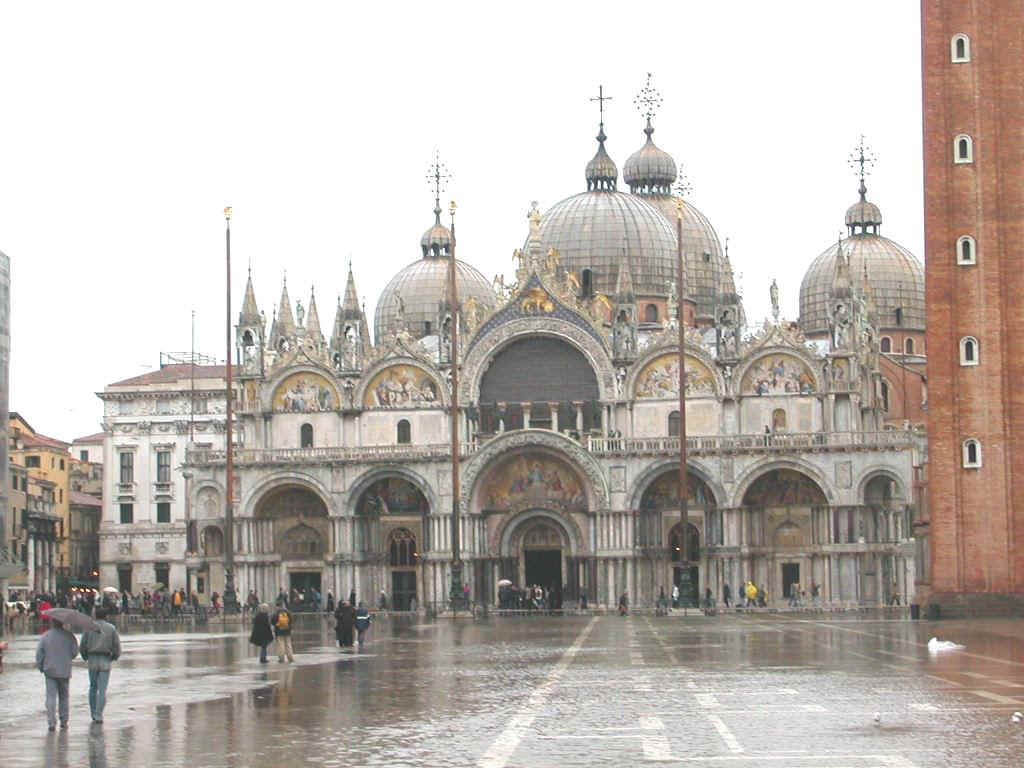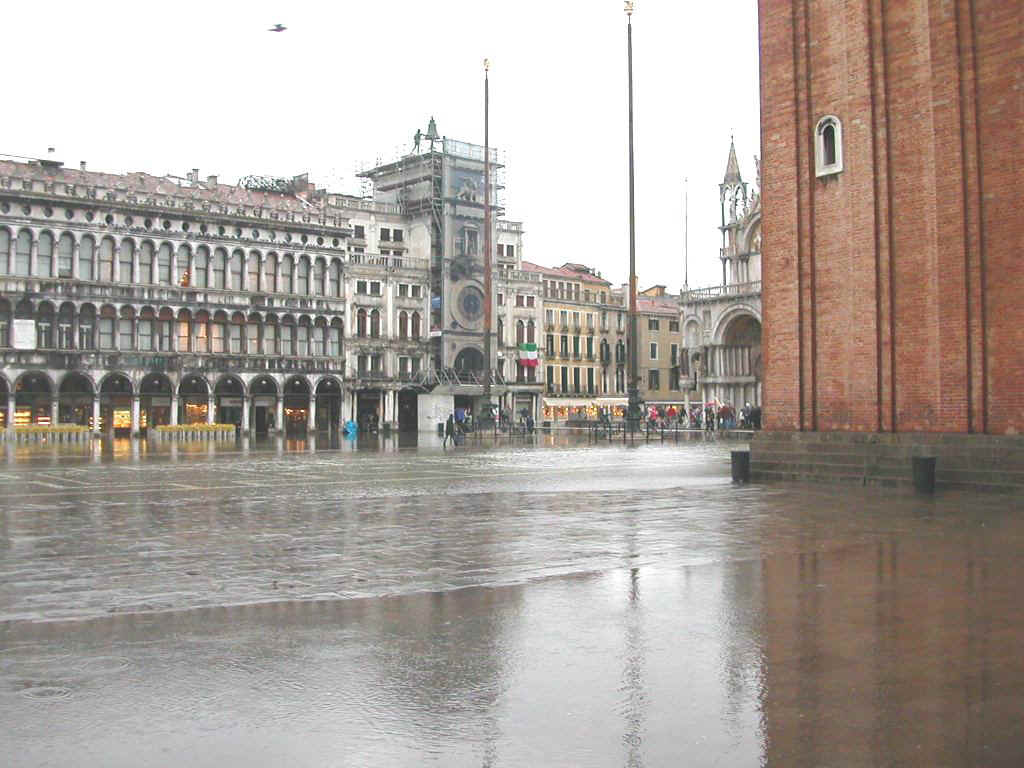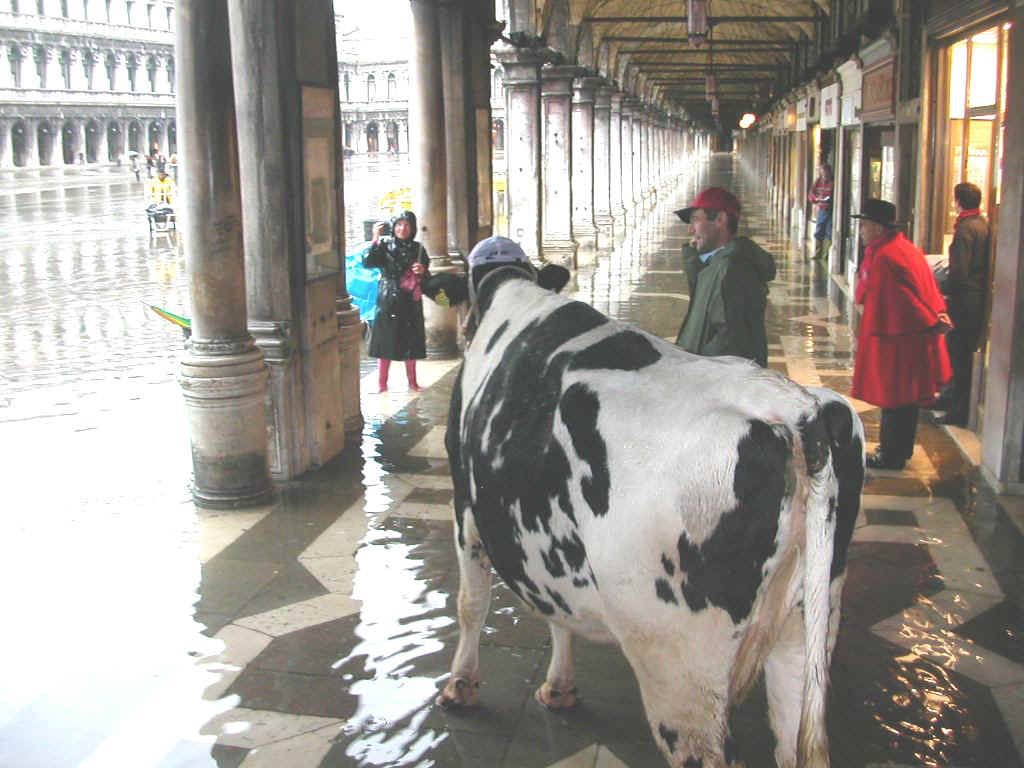 After we toured the church, we stopped by the Osteria Da Carla to change our dinner reservation and then started over to Vino Vino for a glass of wine. The flood had made it inaccessible, so we walked across the Accademia Bridge to an outdoor restaurant on the Fond. Zattere ai Gesuiti for a bottle of wine.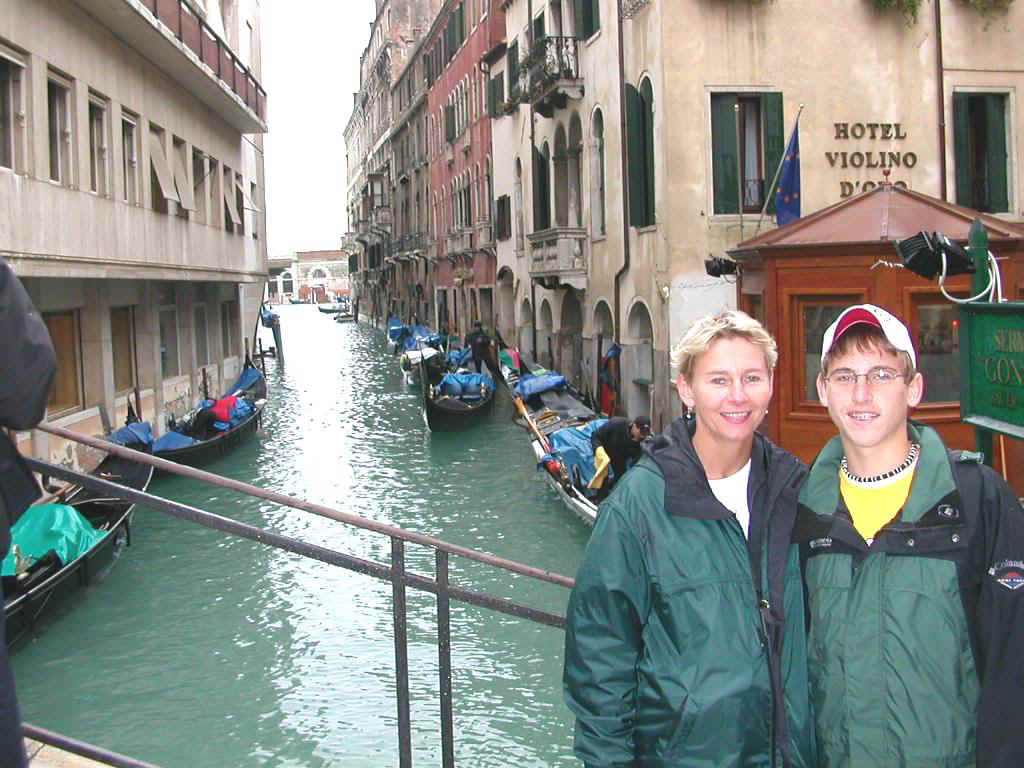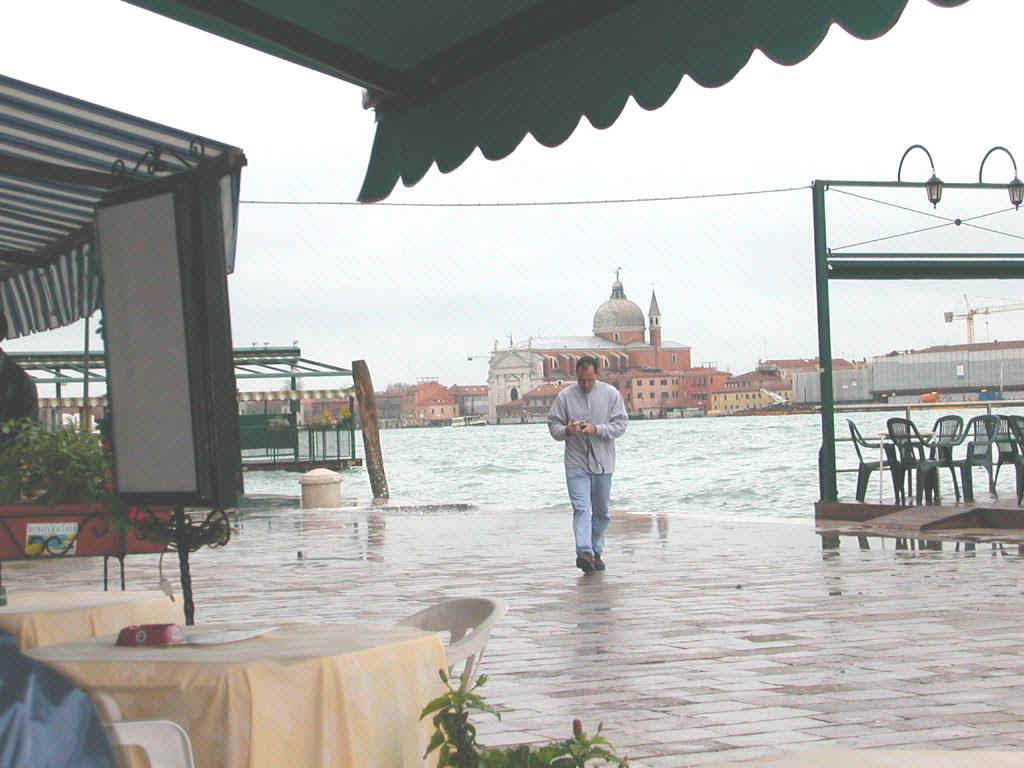 Lunch was next at a Rick Steve's recommended restaurant, Trattoria al Cugnai ("run by three gruff sisters", according to Rick). We sampled tortolini, gnocchi, and gorgonzola. After lunch, we walked around some more, did some shopping on the Rialto bridge, and had a mid-afternoon veggie sandwich snack. Back to the hotel to freshen up and pick up a deck of cards, then we were off to Vino Vino. Thankfully the rain had stopped, the tide had gone out and the flood waters had subsided. We played BS, a game we had learned from the kids on our last Ireland trip. At the Osteria Da Carla, we had tortolini pomodoro, pork in walnut and mushroom puree, steak in peppercorn sauce and flounder in a curry sauce. Kindereggs were dessert for us kids, while the adults had a glass of wine back at the hotel. The teenage boy (bottomless pit) went out for a pizza snack after dessert.
Thursday, we walked over to Piazzale Roma to take the Grand Canal Cruise on vaporetto #1. On the way, we toured the fish market and took the S. Sofia Traghetto.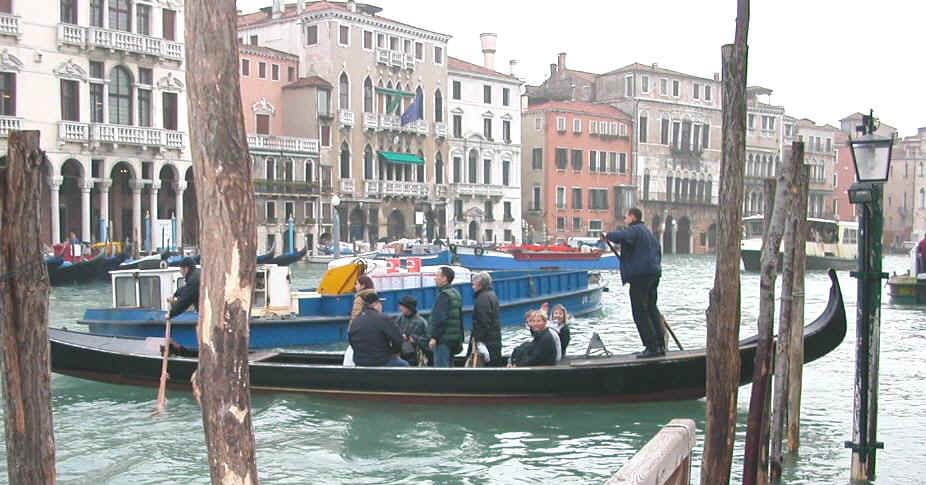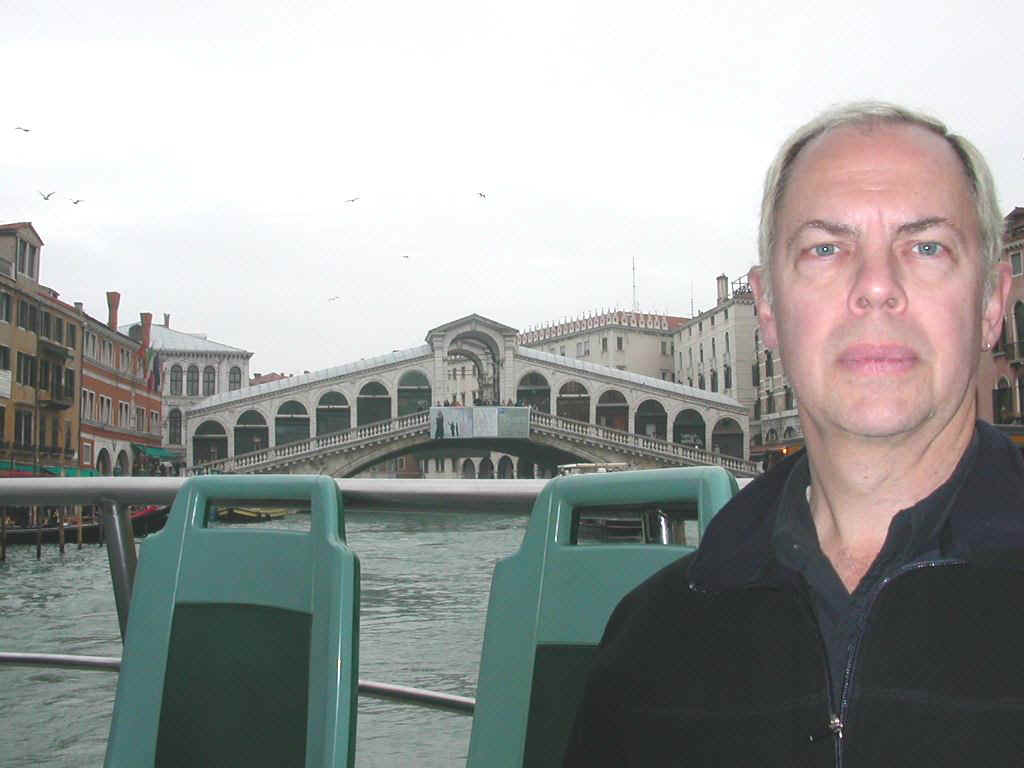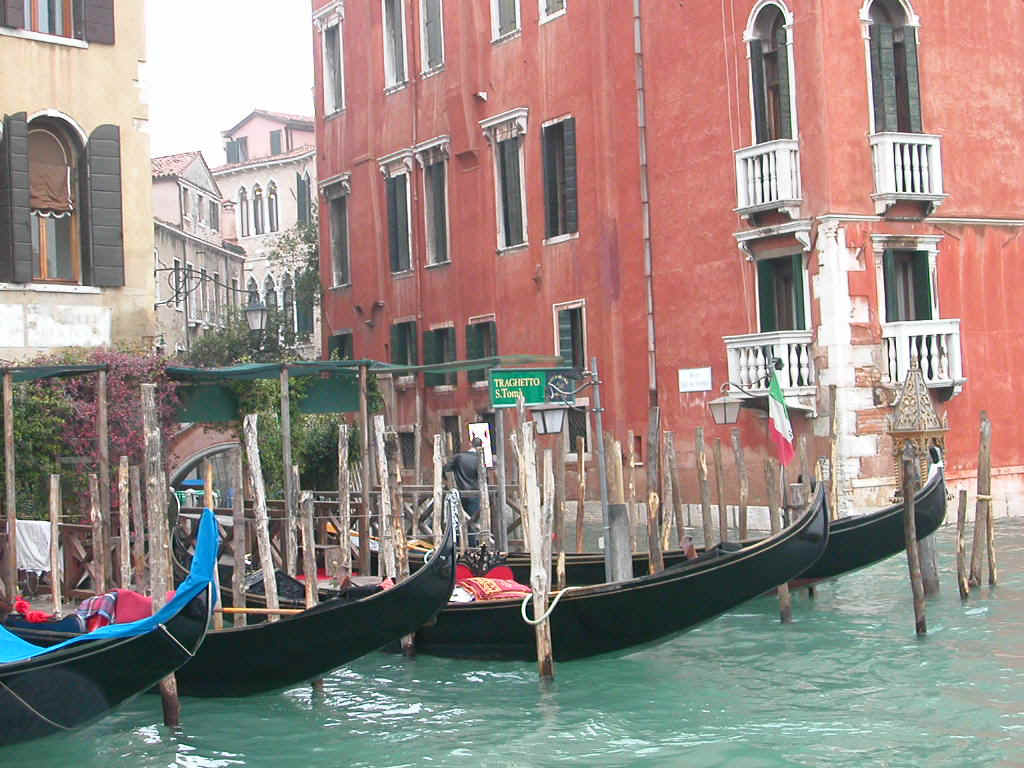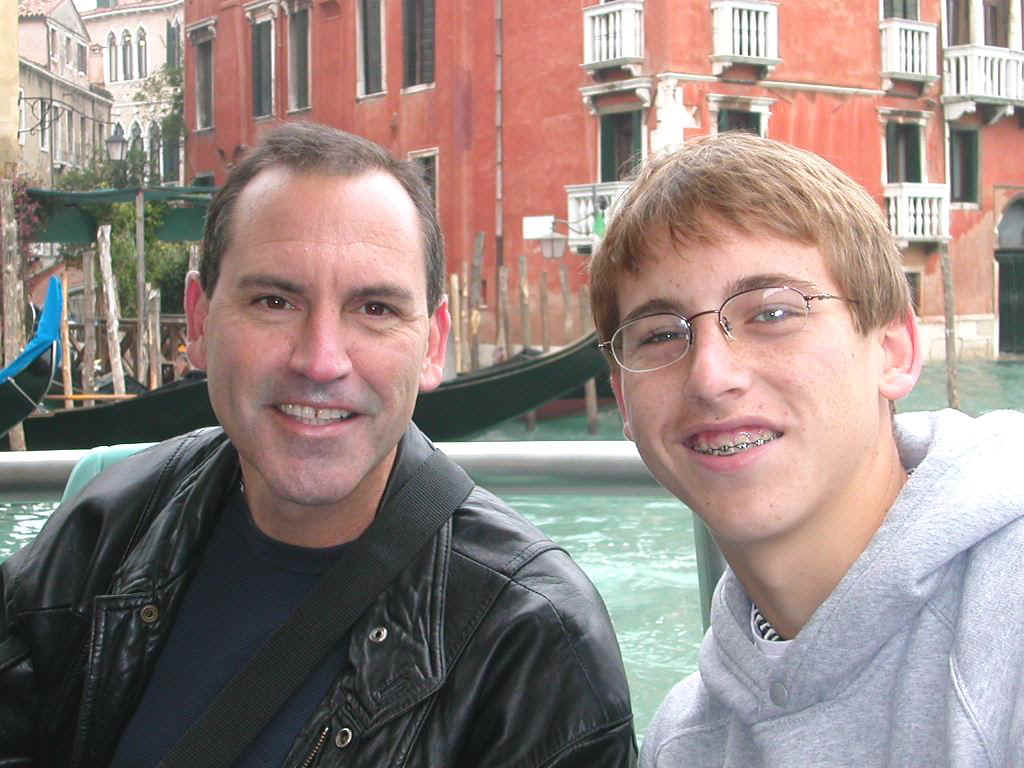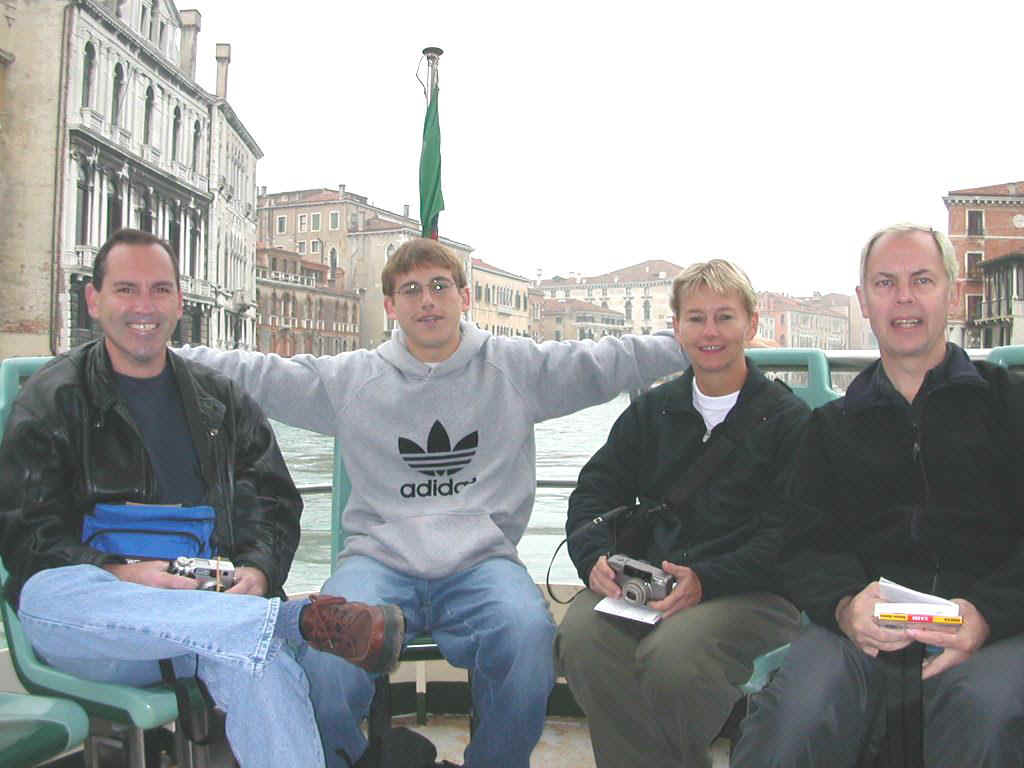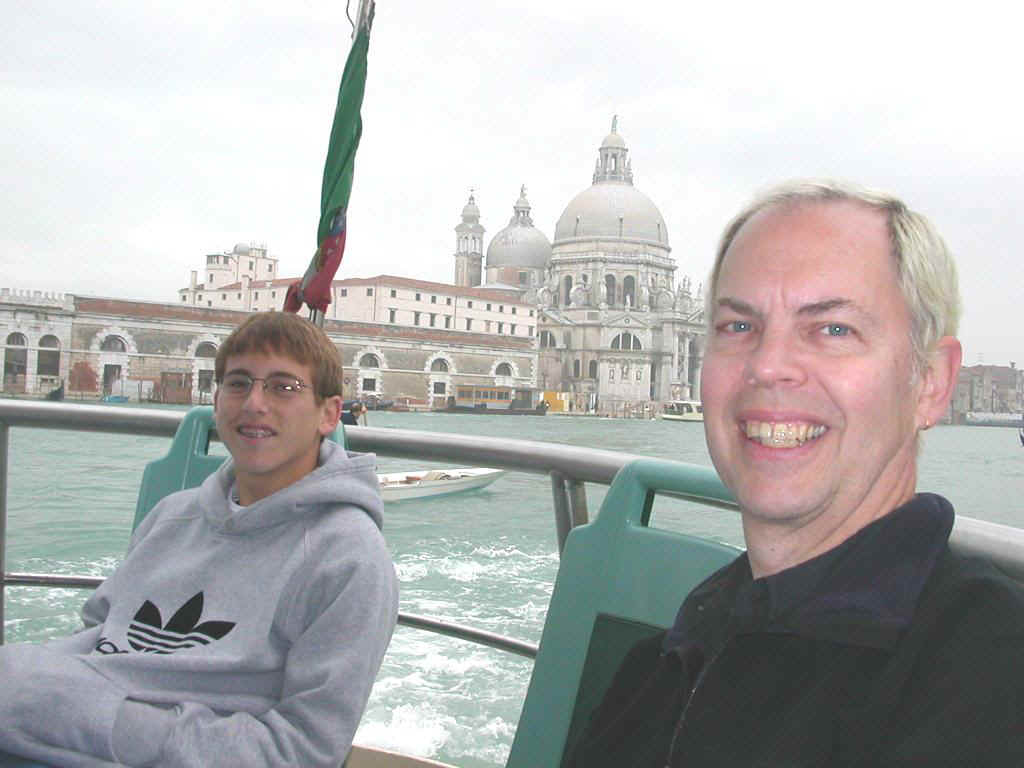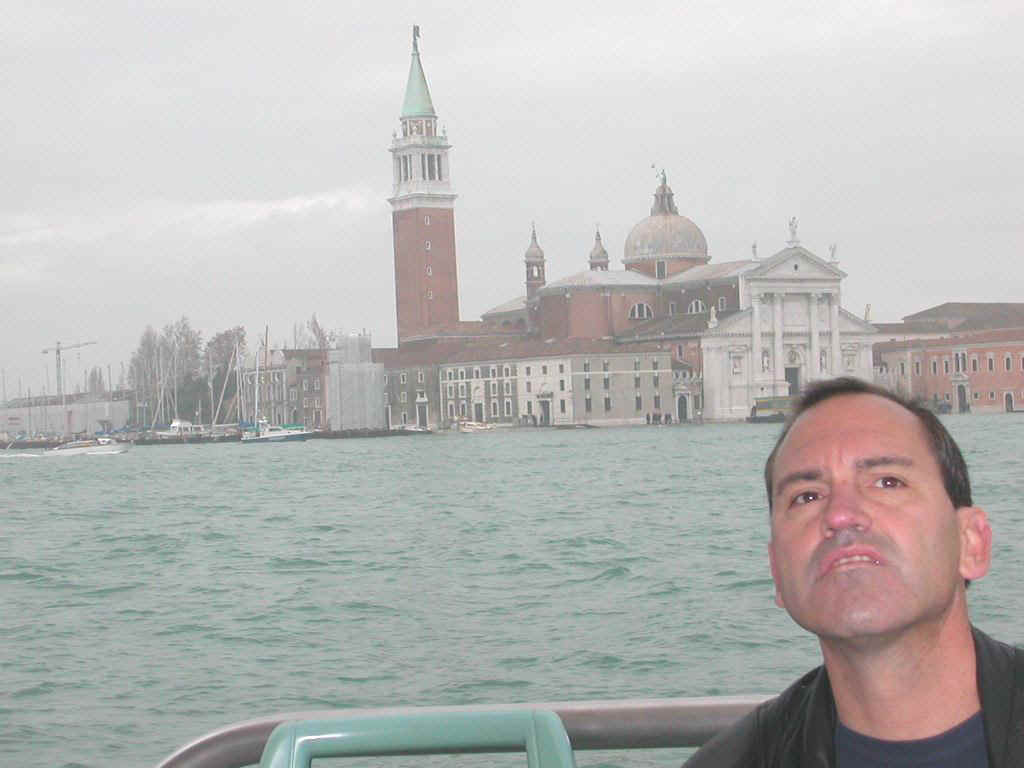 Shortly after we got off of the vaporetto at San Zaccaria it started to rain so we stopped at Bellavista for a pizza lunch. After lunch, we caught vapporetto #41 over to Murano island. It was a very long boat ride and we didn't find the island to be a "must-see". On the way over, a lady with some very full grocery bags discovered that her milk carton was leaking. She tried to do some rearranging but ultimately left a trail of spilled milk when she got off the boat. We took a wrong turn and got into a residential neighborhood, but were able to find our way back to the dock by following the trail of milk. After a short shopping spree and a stop in the .5 euro public restroom, we boarded the vaporetto back to Venice. This time we got off at the first stop, Fond. Nuove and had birre alla spina at the Al Cupido Bar. It was starting to rain again, so we found the quickest route back to the hotel.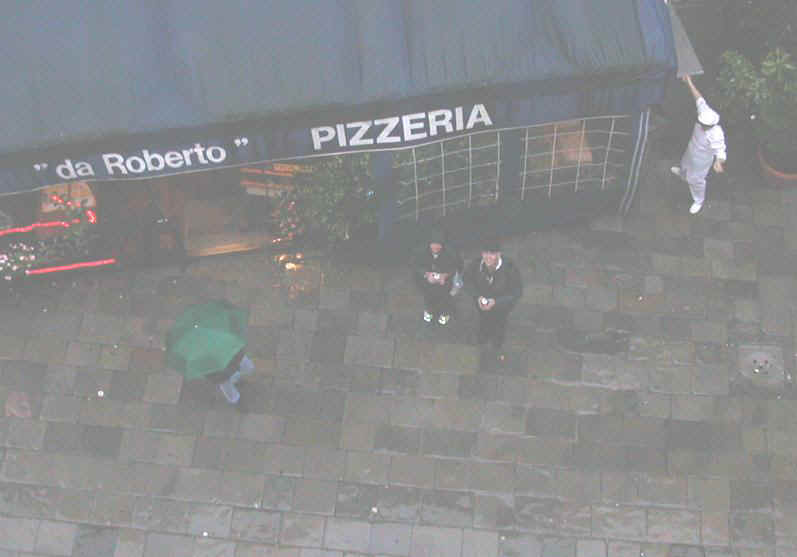 We played BS, 99, PIG, Go Fish, Old Maid, and Rummy until it was time for dinner. Tonight we got a recommendation from the hotel for a good nearby restaurant. The language barrier was a small problem and we are not sure whether we ate at the right restaurant or not, but we enjoyed our dinner just the same. I understood that the name of the restaurant was Daramiggio and that it was across one bridge and on the right. The restaurant we ate at was called Trattoria al Greci da Giorgio. It was across one bridge but it was on the left. We had shrimp, anchovies, gorgonzola, pizza diavola, tortellini and fettucine. Once again, the evening was completed with a glass of wine back at the hotel.
Friday, while we were getting ready for breakfast, Tony saw a news story about an Alitalia strike. This could be trouble! After breakfast we took a very crowded vaporetto #51 to Piazzale Roma where we caught the ATVO express bus back to the airport. We didn't see any signs of a strike and when we checked in for the flights we were all immediately given business class boarding cards! Again, the food and beverage service was excellent, but the entertainment was disappointing. Back in New York, passport control was a zoo, as was the security screening area, but we finally made it back to the gate to get back on the same plane we had just gotten off of! We were happy to be back in Atlanta! We're ready to start planning that Trier to Koblenz trip again! Ha! We WILL make it one day.
BJ and Tony Morris
bj@bjandtony.com