Dublin, Ireland
December 2003
"Quest for a pint of Harp"
With our last European trip only a few days behind us, I was reluctant to agree to a transoceanic destination for this vacation. We discussed several alternatives, including St. Thomas and Phoenix, but Tony finally talked me into Ireland. Flights were no problem at all this time. We got great seats and were pleased with the meal. Tony ordered the filet. He said it was good, but tasted a more like pot roast than filet. I had the chicken. It was supposed to come with asparagus but the flight attendant must have eaten mine because there was none on my plate! The movie selections weren't memorable, but that was okay because we needed to sleep. Feeling pretty good after a night's sleep, we arrived in Dublin.
Our first stop was at the ATM to stock up on Euros (they are getting more and more expensive!) followed by a quick run by the Tourist Information counter to purchase the 2004 Ireland Accommodation guide. Next, we were off to the Alamo counter to pick up our car. Renting a car in Ireland has become pretty stressful the last few times because there is a hassle about the insurance. The rental car companies in Ireland seem to think that all Platinum or Gold Mastercards include rental car coverage for Ireland but that all Visa cards do not. We have contacted our Mastercard vendor and have been told that they do not provide insurance coverage in Ireland. The Credit Union through which we have our Visa card does provide the coverage. This time, we thought we had all of our bases covered by bringing a letter from the Credit Union regarding the coverage. What we forgot to do was to print off our reservation! The Alamo folks didn't have a record of it. We finally got everything sorted out and they presented us with a contract for the car and a damage report showing that the car had scratches on both sides and dings in the front and rear. When we got to the car, we could only see that it had a few scratches on the passenger side, so Tony figured he had carte blanche to add the scratches and dings that were already on the damage report!
Tony had loaded up the GPS with Ireland maps, so we positioned it on the dash and started out for Waterford. We made our first stop in Carlow around lunchtime. A cute little pub called the John Tyndall advertised homemade vegetable soup on a signboard out front. We asked about lunch and the barmaid said that they wouldn't start serving lunch until noon. Since it was 11:45, we decided to have a Harp while we waited. They didn't have Harp, so we ordered a Carlsburg. Then we discovered that you could get soup or a toast (their term for a toasted ham and cheese sandwich) anytime – apparently they don't consider that lunch. Irish vegetable soup is one of my favorite things. It's just warm pureed vegetables served with brown bread and it is delightful. Tony liked his ham cheese and tomato toast too.
After lunch, we continued our drive to Waterford. We stopped at the first public parking lot we could find and headed for the Tourist Information Center. There, we picked up some brochures about walking and biking trails for future reference and got directions to the Bed and Breakfast that looked the most promising from our guide. We wanted to stay within walking distance of town. The one we picked was 1km from town, near the Waterford factory. We started out walking toward it, but encountered another B&B along the way, so we stopped in to ask about a room. It turned out to be much closer and even a bit cheaper (only 25 Euro per person). It was called the Shelmalier and was run by Mrs. Flynn. We left the car there and walked back into town, stopping at the Woodman Pub for a pint of Harp. They didn't have Harp so Tony ordered a Carlsburg and I had a Smithwicks (pronounced Smithicks). We called a friend at work to verify that the T-Mobile "Worldphone" was working (and to rub in the fact that we were sitting in a pub having a beer while they were working). We walked around town a bit and decided to stop in at one more pub before we looked for a place for dinner. The Temple Bar also did not serve Harp, so Tony had a Carlsburg and I had a Tennets. The Temple Bar had – get this – a Pringles Machine!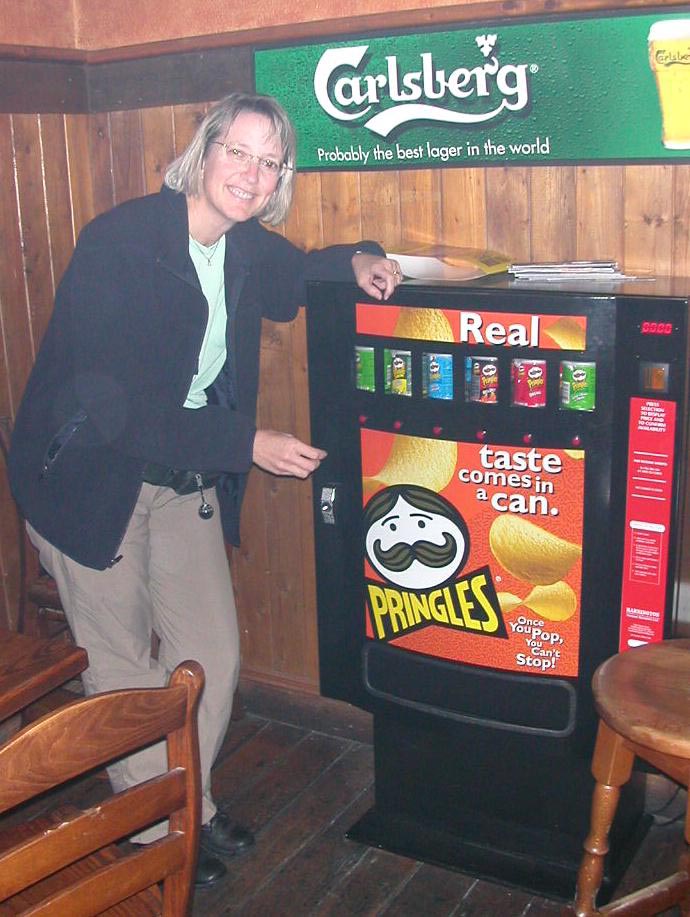 I just had to buy a can of those addictive Salt and Vinegar Pringles! After the appetizer of Pringles, we were ready for dinner so we set out in search of a casual dinner spot. Waterford is a pretty touristy town with couple of walking streets and a large shopping section, but we had trouble finding a place that looked promising for dinner. We finally decided on Geoff's Café and Bar. It was very crowded, so we grabbed a seat at the bar and ordered a ham, cheese and tomato toast. No Harp again, so we each had a Stella Artois. Apparently we got our order in just in time because shortly after we got our food, they cleared all of the condiments and menus from the bar. We checked our watch and saw that it was exactly 8PM. We made a note that we should try to dine before 8PM every night to be safe. One more stop at Sheff's, the pub closest to our B&B. Still no Harp, so Tony had a Carlsburg and I had a Guiness.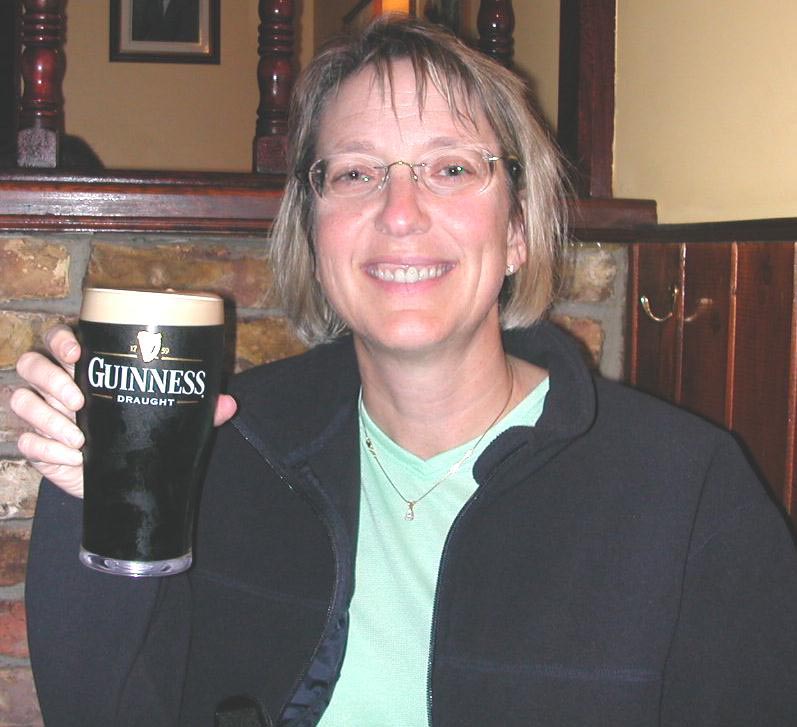 The Irish have what seems to me to be a rather ineffective way to heat their homes. They have a flat metal radiator that is warm to the touch, but doesn't really heat much more than the area immediately around it (Note from Tony: these are fairly common throughout the world… not just Ireland… but we're from the land of forced-air-heat and don't see radiators very often). AND, they only keep it turned on during the day, so we awoke Saturday to a COLD room. We showered and dressed quickly and headed to the breakfast room where Mrs. Flynn prepared us the traditional Full Irish Breakfast consisting of ham (they call it bacon), sausage, a warm tomato, a fried egg, toast and brown bread. After breakfast, we packed up and bid farewell to Mrs. Flynn. We stopped at the Waterford Crystal Factory on our way out of town.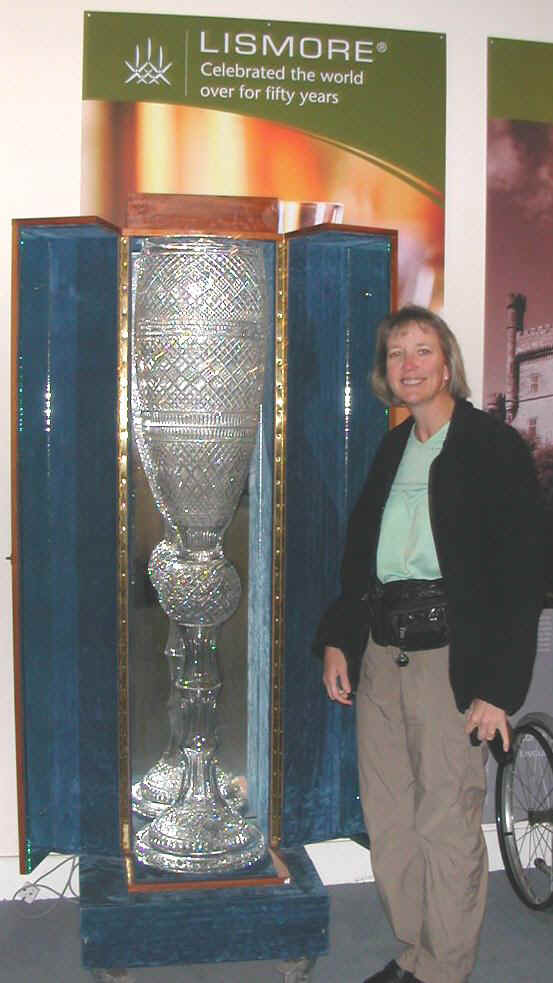 The craftsmen weren't working on Saturday so we didn't get to take the tour, but we walked through the show room and purchased a few gifts.
I had gotten some information from the Waterford Tourism web site: http://www.waterfordtourism.org/ about some lovely drives in the area so we started with the "East Waterford Galtier Coast" drive. We took the N25 out of Waterford and then the R682 to Tramore. If there was anything to see in Tramore, we didn't find it. Our drive continued on to Dunmore East via the R685. Dunmore East was quite picturesque, just as we had been told by the bartender at the Woodman Pub the night before. Next we turned North on the R684 and drove through Passage East, Checkpoint and back to Waterford. We saw some of those "blue butt" sheep perched precariously over the road.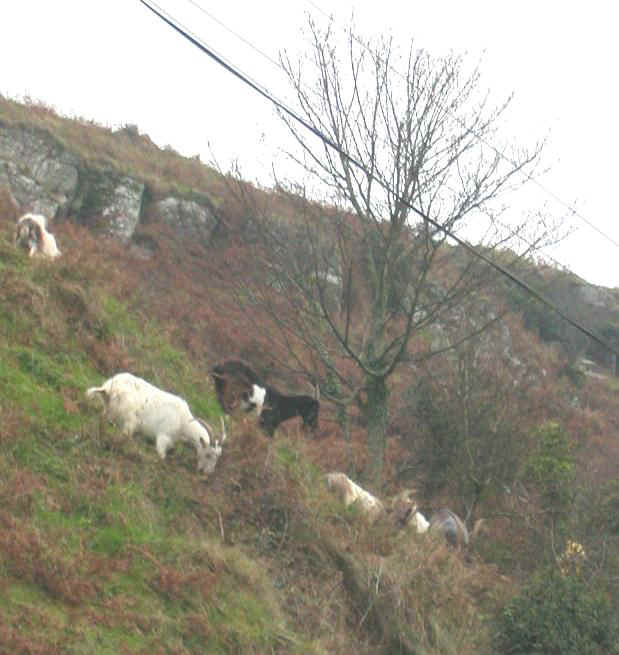 We decided to do the first half of the "Dungarvan & The Copper Coast" drive and planned to spend the night in Dungarvan. We took the N25 out of Waterford again, but this time turned on the R681 to Kill and then Bunmahon. In Bunmahon we were able to pick up the coast road to Stradbally. There were some beautiful views on this drive. We stopped a couple of times along the way for some photo opportunities.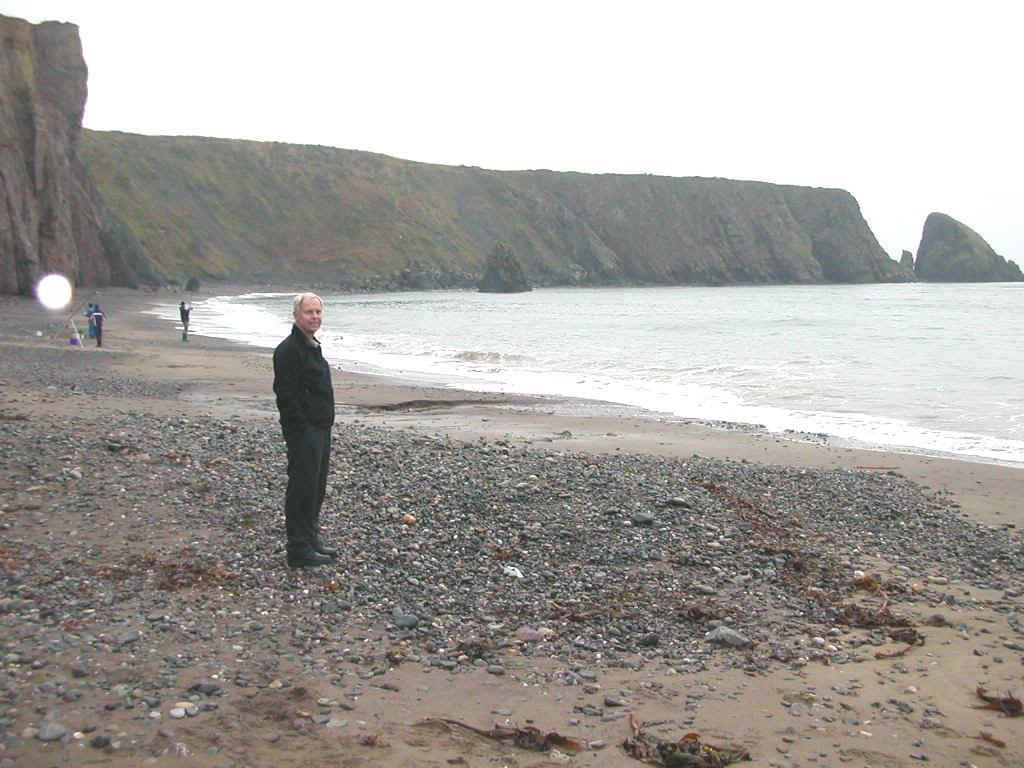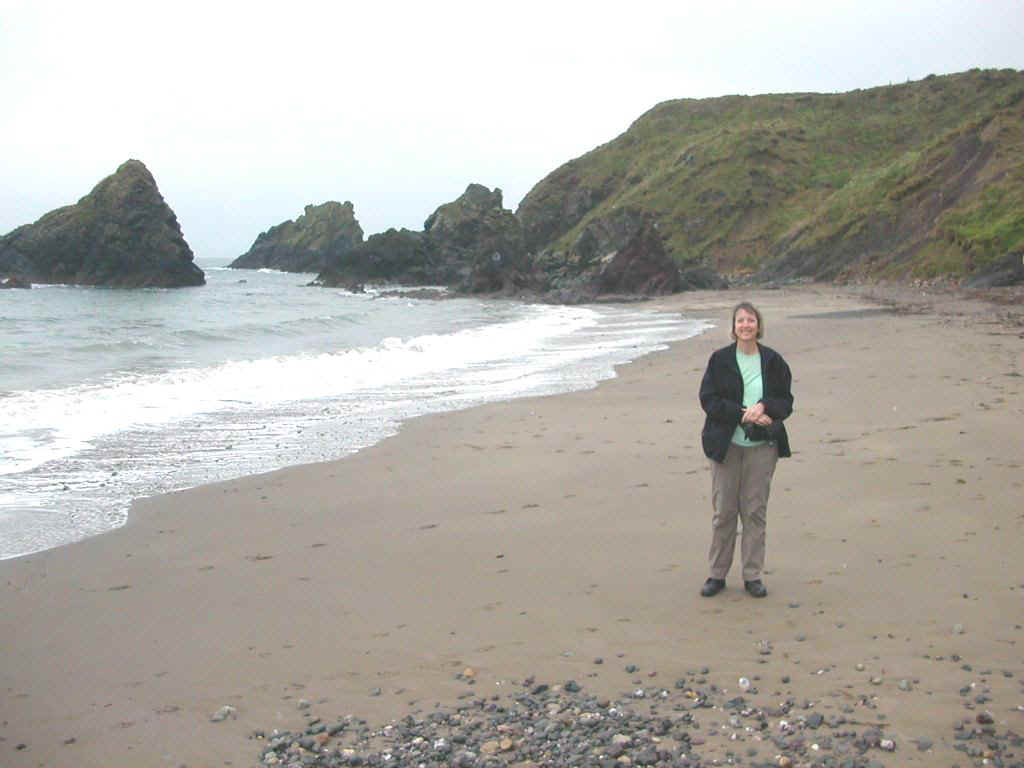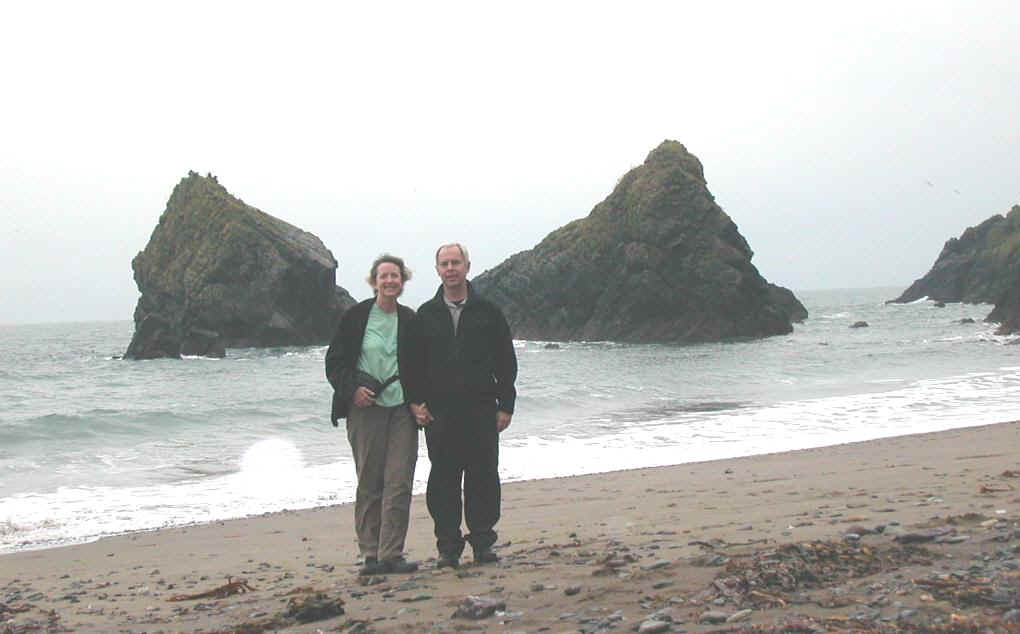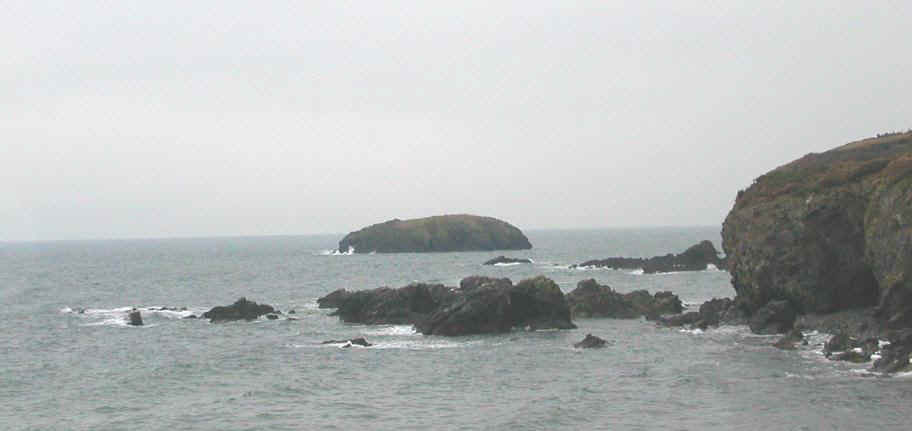 When we got to Stradbally, it was nearing 2PM so we decided to stop for lunch. Stradbally is a one pub town, so we went into O'Currin's hoping for lunch and a Harp. They didn't have either so we settled for a Carlsburg and got a sleeve of Pringles Salt & Vinegar potato chips from the store next door. We got to Dungarvan around 3PM and immediately spotted the Dungarvan Park House with a Harp sign out front! Inside we were told that they didn't serve Harp (on draft) so we had a Smithwicks and played Rummy.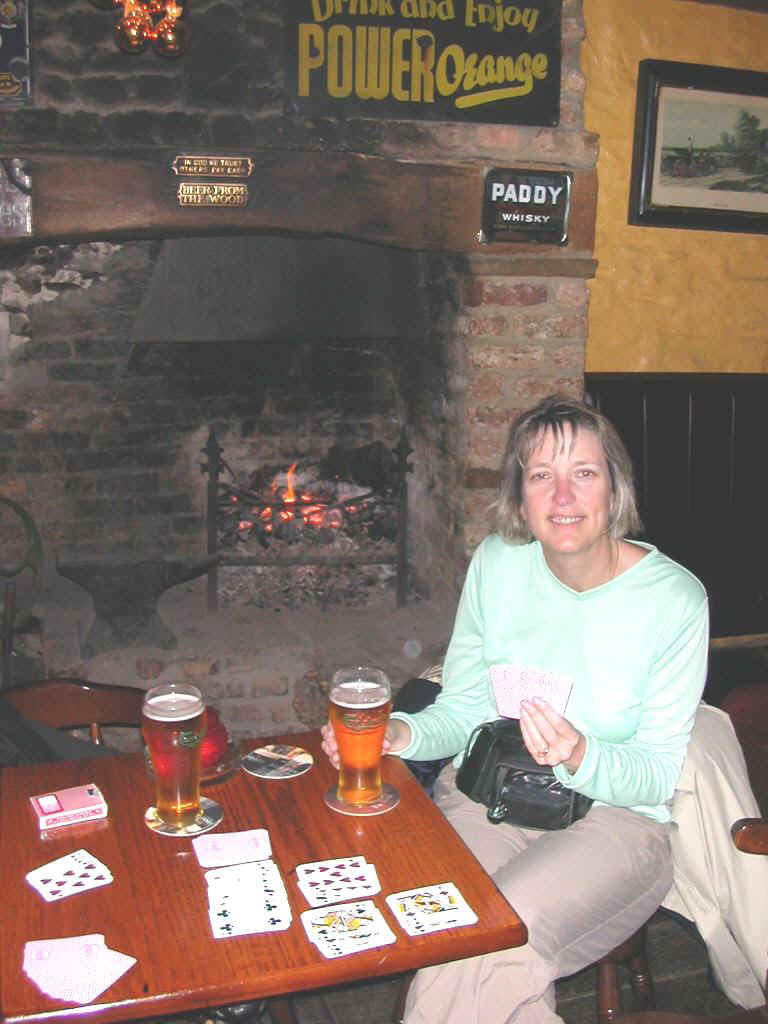 The bartender told us the Irish rules of Rummy. It sounds a lot more complicated than the American rules! We finished our beers and went in search of the Tourist Information Center, but found it was closed. We spotted Merry's Pub which was also a B&B so we inquired about a room. The price was a little higher than we were hoping (35 Euro per person) but it was a really nice room with a real live blowing heater so we splurged. We dropped our bags and went out in search of a Harp. Kiely's didn't have Harp so we had a Carlsburg. Dinner time was quickly passing, so we ducked into a restaurant called "The Tavern" - An interesting name for a place that didn't serve beer or wine. We had a hankering for fish and chips. They had two kinds on the menu, "Deep Fried Plaice" and "Deep Fried Cod". The waitress recommended the Cod, so we decided to split an order. Apparently "Deep Fried" in Ireland must mean "poached". Tony's not a big fish eater to start with, and the poached cod didn't do much to change his mind. At least he could eat the chips (fries). We bought a couple of candy bars for a snack later then made another attempt for a Harp at Downeys but had to settle for a Heinekin. We finished the evening at our "home" bar, Merry's. I had a "glass" of Guiness – that's what you order when you just want a half a pint. Tony had some sort of awful Irish liquor that tasted like licorice (Note from Tony: Mulligans).
Breakfast at Merry's was in the bar that smelled of stale smoke from the 21st birthday party the night before. I had the Full Irish Breakfast, but Tony just had toast. At Merry's the Full Irish Breakfast included a different kind of sausage, blood sausage. I looked this up when I got home. The web site I found called it Drisheen and said that it is a mixture of heavily peppered sheep and beef blood. http://archives.tcm.ie/businesspost/1999/01/01/story290098.asp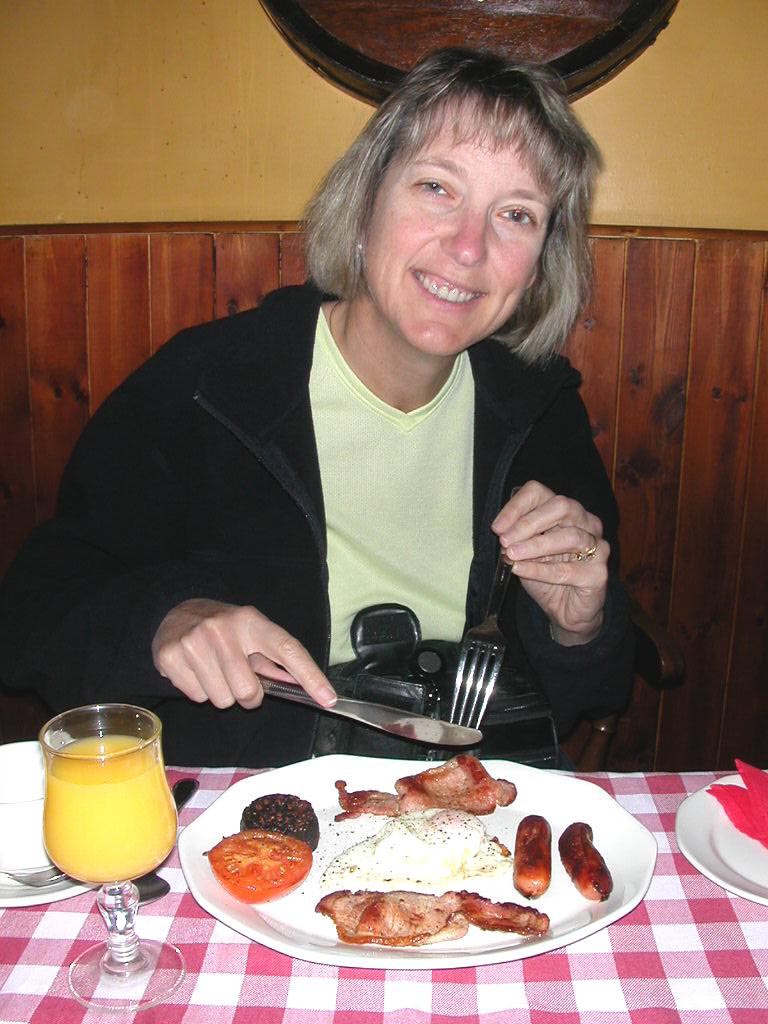 We chose the "Comeragh Drive" for Sunday's route. This drive started on the N25 to The Pike and Lemybrien and then turned onto the R676. There was a beautiful view of the valley with the sun bursting through the clouds. This picture doesn't do it justice.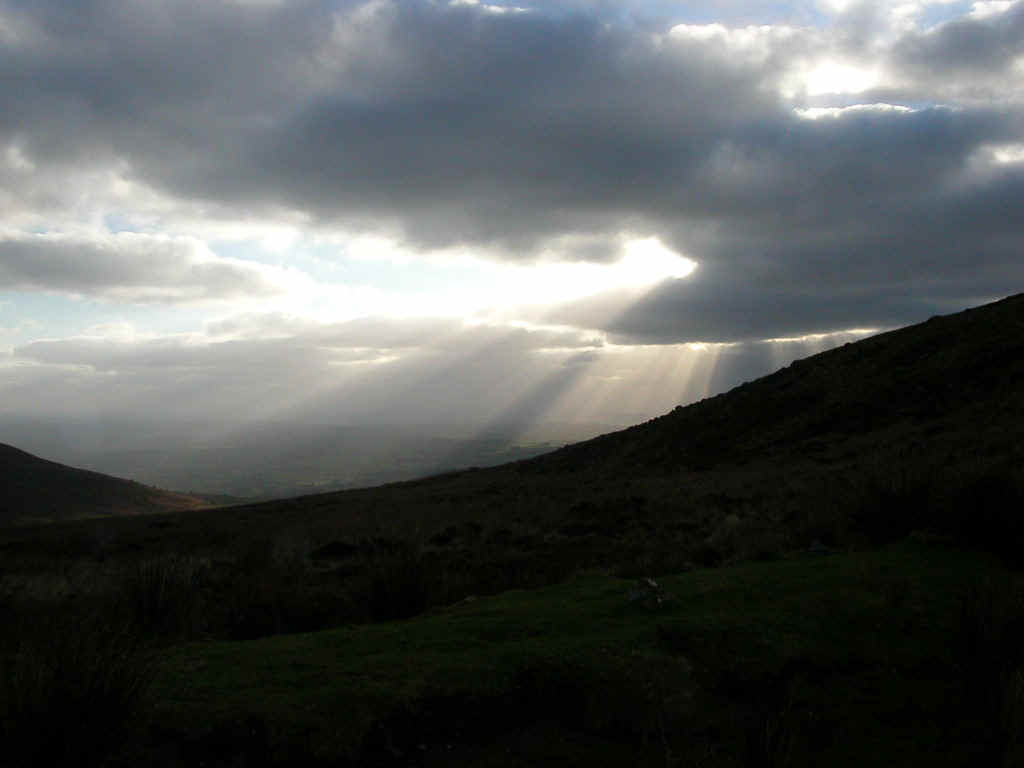 We took a detour to Mahon Falls where we had a nice hike to the falls.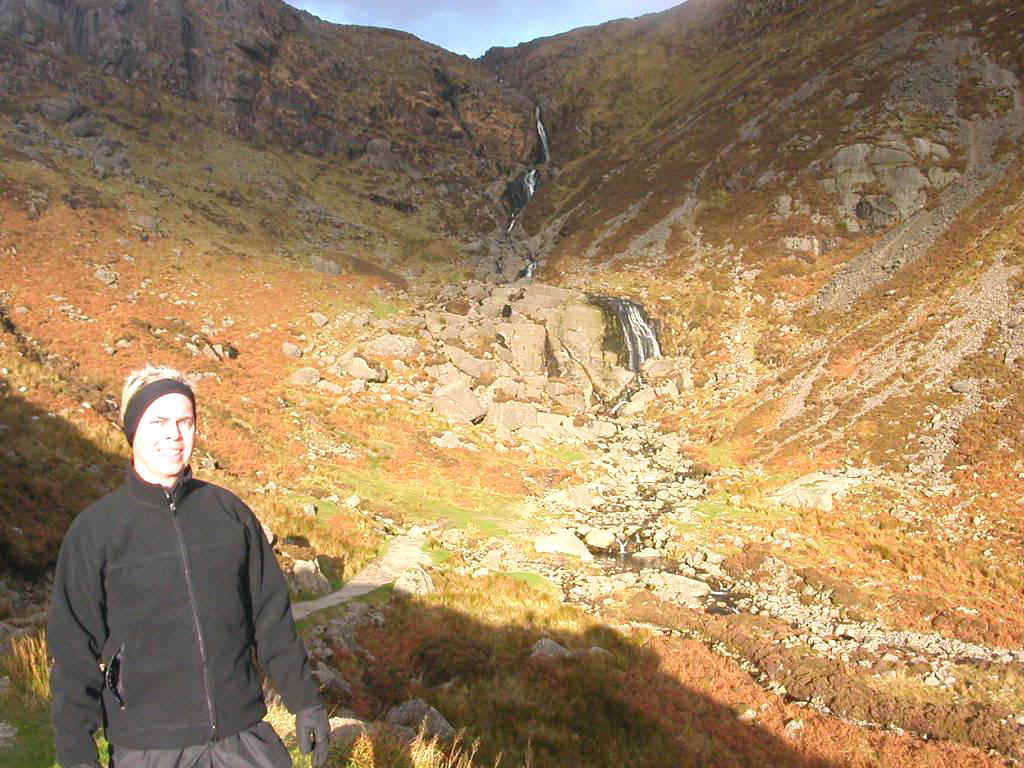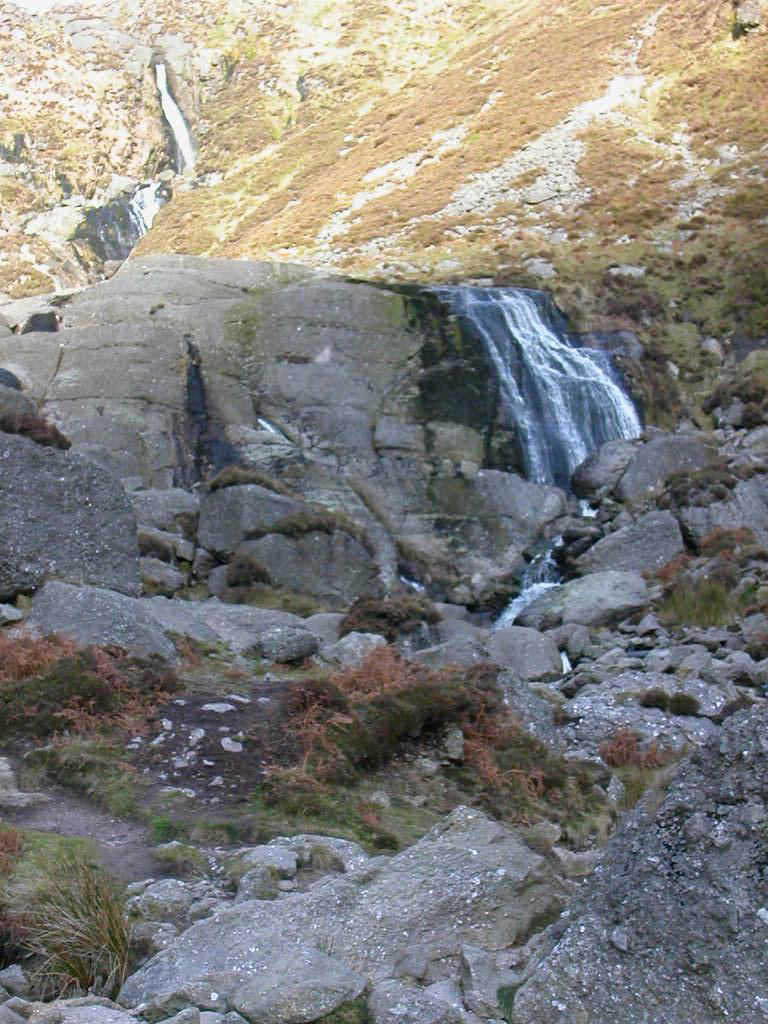 The sheep had left us some treats along the path. We weren't sure if they were Goobers or Raisinets but we tried not to step on them.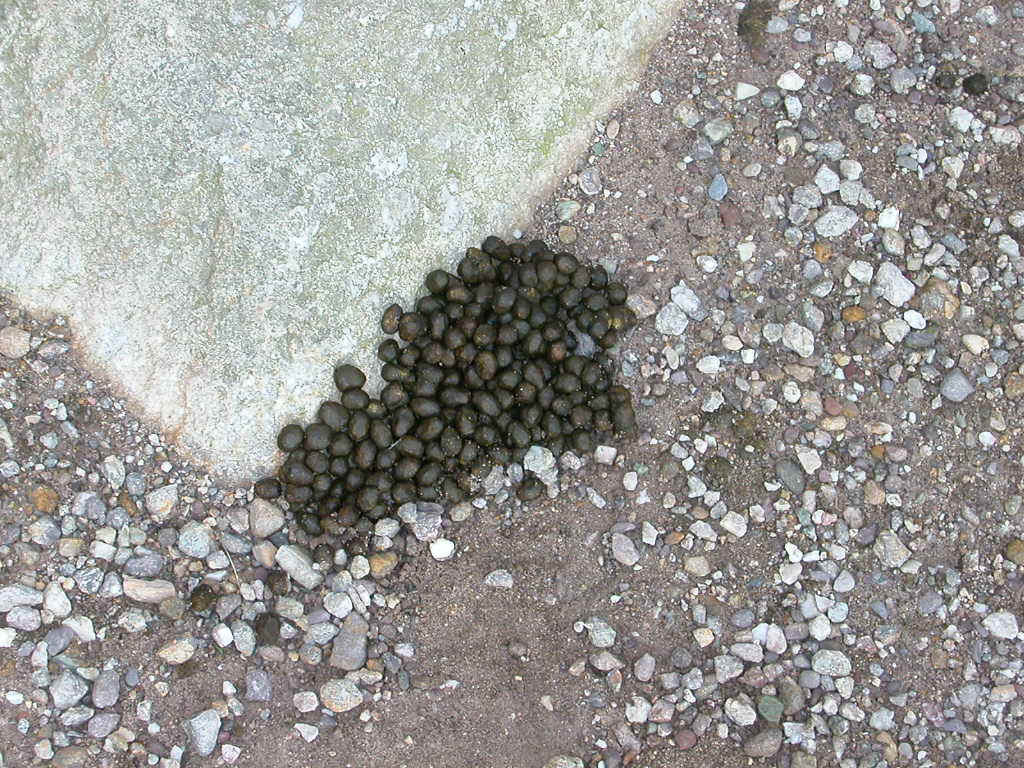 It was a gorgeous day, very cold and a little cloudy but when the sun shined through the clouds it made a lovely view. Here's a photo from the path to the falls. Again, the photo just doesn't do it justice.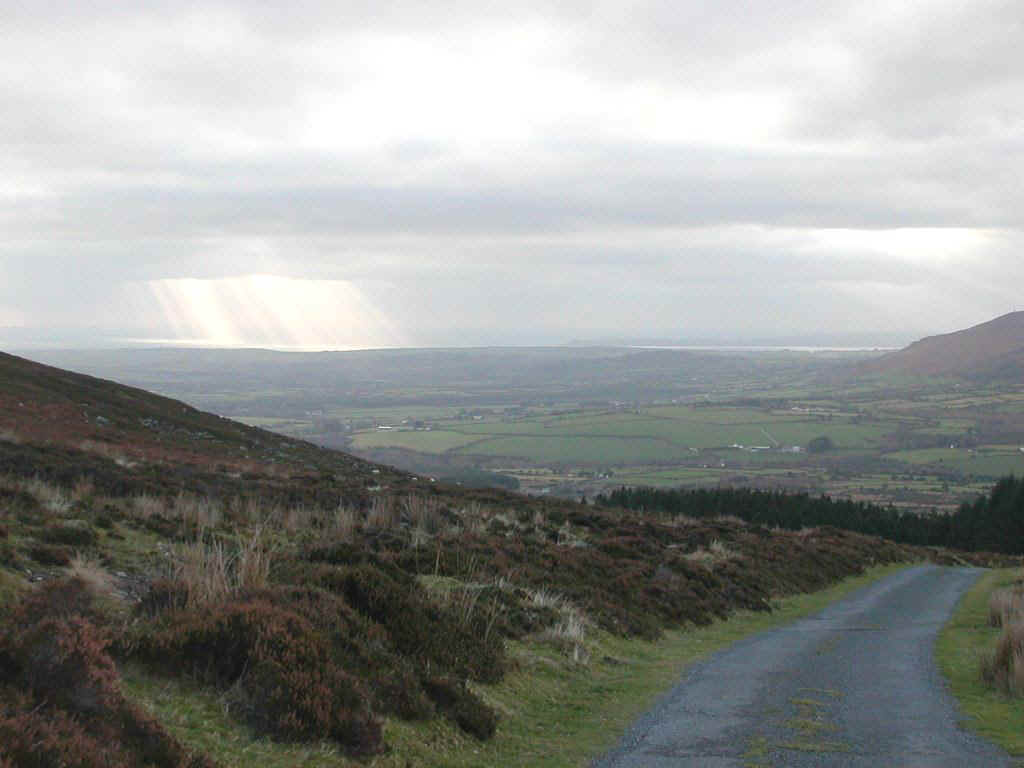 We stopped for lunch in Clonmell. Fennessey's Bar had a sign painted on the outside that said, "Food Served All Day". Inside, we found that they served neither food nor Harp, so we had a Carlsburg. We stopped at a fancy restaurant called Scampers on the way back to the car and had wonderful beef vegetable soup. The beef looked and tasted like ham, but it was good all the same. While walking around town, we came across this sign for an Undertaker and Car Hire. I guess we could have rented a Hearse!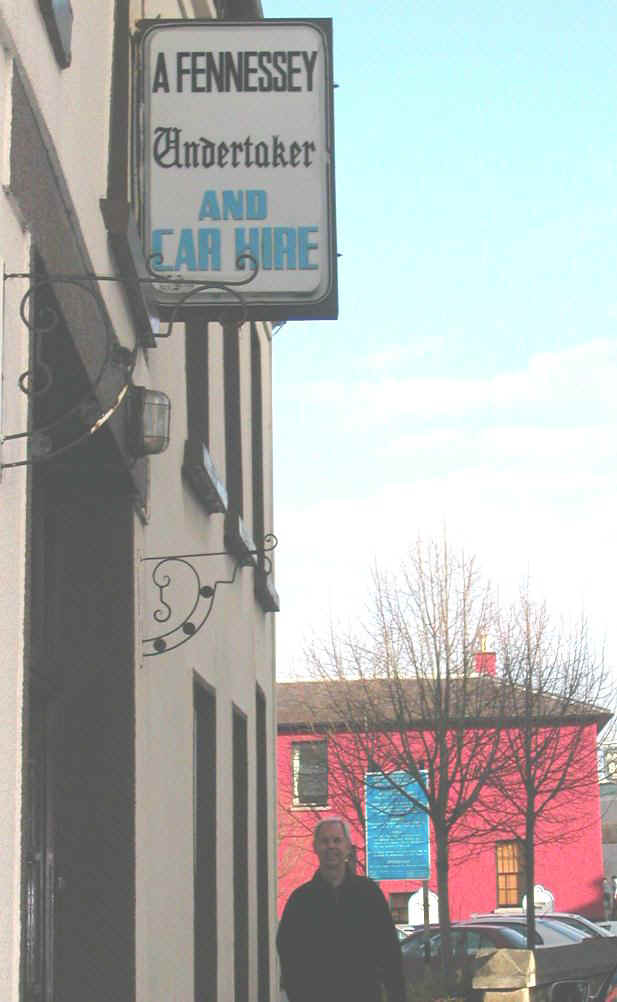 Port Laois (pronounced Leash) looked like a right sized town and the guide showed that it had several B&Bs that would be open in December so we decided that would be our destination for the night. The Tourist Information Office was closed so we set out on our own to find a B&B. The one drawback to the B&B guide is that there are no directions to the B&Bs and we rarely had a street level map of any of the towns. We stopped into a hotel and inquired about a room but it was more than we wanted to spend so we kept looking. We were about to give up and go back to the hotel when I stopped into a hardware store to ask for directions to one of the B&Bs in our guide. The proprietor was so nice! He left his store and walked with us to the B&B that we were looking for. It was called "8 Kellyville Park" and was run by Dermot O'Sullivan. Nicknamed, "Dos", Mr. O'Sullivan was quite a character. He showed us to our room, told us that it was inhabited by a ghost, and that to get hot water in the shower, you had to raise your fists to the sky and shout, "Up Ireland" three times. I laughed and he told me that the last person who laughed had lost a finger to the ghost. After we got settled in, we went out looking for a Harp. Lockey's Bar didn't have Harp so Tony had a Carlsburg and I had a Macardles while we played another game of Rummy and watched soccer. No Harp at Barmondays either so I settled for a Carlsburg and this time Tony had a Smithwicks. Both Dos and the fellow at the hardware store had recommended Egans for dinner. Egans didn't have Harp and they didn't have Fish and Chips, even though their signboard out front said they did so we settled for a Warsteiner and soup. We finished the evening at the Square Bar where we played another game of Rummy. No Harp there either, so I had a Guiness and Tony had another Smithwicks.
When we awoke the next morning, we checked to make sure that we had all of our fingers. I was elected to take the first shower, but I couldn't get the hot water to come out. Tony did the "Up Ireland" routine and had hot water immediately. I'm not saying it worked – I'm just saying it is bizarre! Breakfast at 8 Kellyville Park started with cereal. Another weird thing – the Cheerios box said "Nestles Cheerios". Over here, I think they are made by General Mills. Dos' Full Irish Breakfast included yet a new kind of sausage. It looked a little like the blood sausage except it wasn't as dark and tasted like liver. He called the grilled tomato "Tomato pudding" and he also served two mushrooms with breakfast.
Wishing to position ourselves for an easy drive to the airport Tuesday morning, we decided to spend Monday night just north of Dublin. We took a circuitous route around Dublin to get to the coast. It started out really cold Monday morning and the temperature just kept dropping.


We stopped at Lynch's Ferdia Arms in Ardee for a Harp and guess what!?!?!? They had Harp! Tony was a happy boy!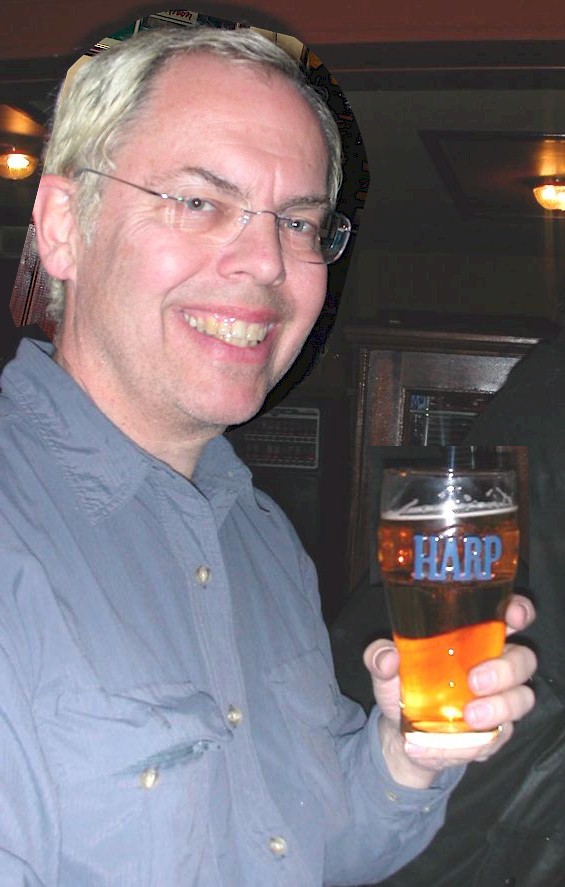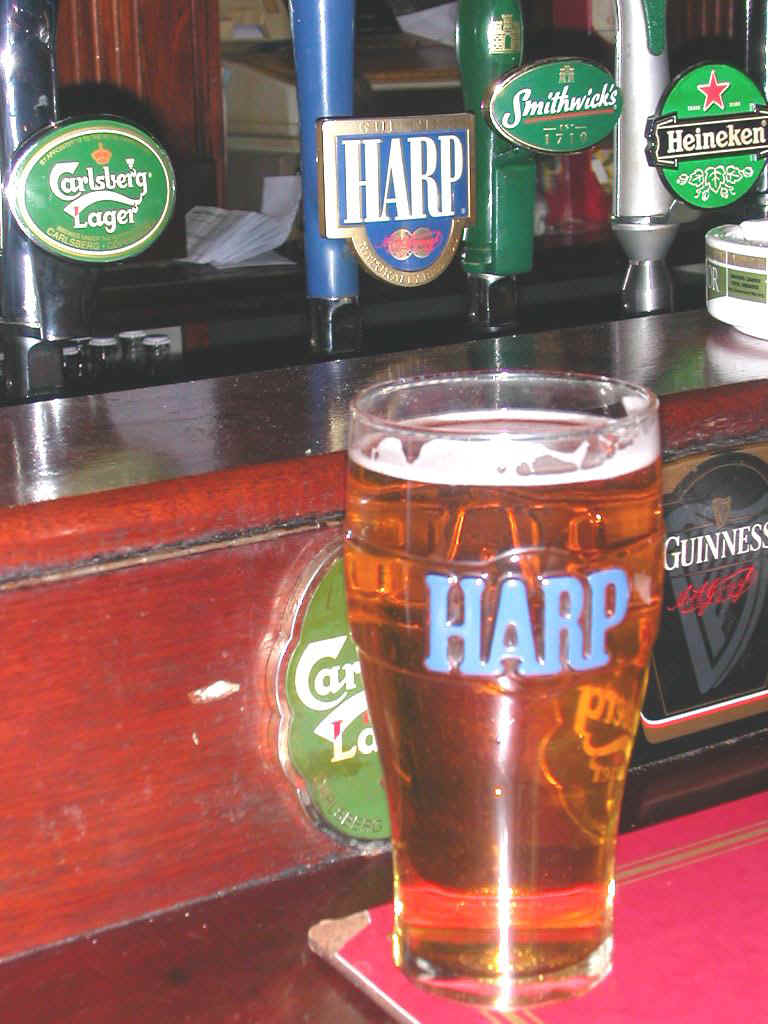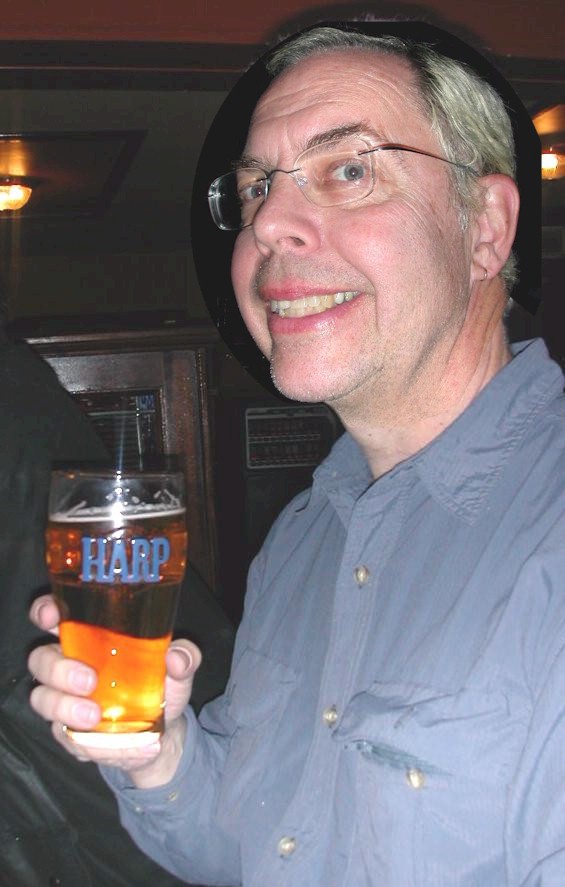 We found a beautiful coastal drive from Annagassan down to Drogheda. We gave a ride to an elderly lady who had missed her bus. We remembered a lot of Drogheda from our walk through there in January 2001. We continued along the coast, taking in the beautiful views until we got to Skerries where we decided to spend the night. We stopped for a Harp at the Michael Collins but had to settle for a Carlsburg. We enjoyed the traditional Irish ballads sung by some of the bar patrons. After stopping in a card shop for directions, we found the Jantol House B&B. It was quite nice. Then we set off in search of a pub at the harbor where we had been many years before called Joe Mays. We took a wrong turn and had a long walk, but eventually made it to the pub. No Harp there either so we had a Carlsburg. Dinner was at a place called, "Stoop Your Head". We finally got our fish and chips – real fried cod this time. We also shared a bowl of their chicken sweetcorn soup. Of course they didn't serve Harp, so we had a Stella Artois. Our final stop was at Keane's Bus Bar where Tony had an Irish Mist and I had a Guiness.
Tuesday, we got up, showered and left for the airport, before the heat came on. We got a little concerned when the first two gas stations we passed were closed, but we soon found an open one and made it back to the airport with no problems. We got great seats again and the plane actually pushed back 25 minutes early (Note from Tony: Be advised… this is the second time that we've been on a flight that departed early from Dublin… if you are nonrevving out of DUB, make sure you arrive with plenty of time to spare). We had a short layover in Shannon – just enough time to walk through the duty free shop and find that the crystal I had bought from the Waterford factory was cheaper at the airport store. The flight home was great – I had the turbot and Tony had the beef filet. Both were excellent. The movies were okay too. I was really pleased when I found "Sea Biscuit" playing on one of the channels even though it wasn't on the schedule.
Back home, I discovered that I had missed my big opportunity to have a "Hawg for the Holidays". A friend called to tell me that if I had been listening to the local radio station, and phoned in when they called my name, I would have gotten a holiday ham and a key that might have cranked a brand new Harley! Oh well. At least we had a Harp!
BJ and Tony Morris
bj@bjandtony.com