Prague, Czech Republic
February 2004
"We're In!!!"
Our return to Prague (after 8 years) was pretty uneventful. We had done our homework and selected a connection through Amsterdam that looked like our best option (for seats in Business Class). We had also done something we don't normally do; we booked a hotel room. We WERE going to Prague!
The day before we were to leave, Tony went to the library to get some guidebooks. Unfortunately a Rick Steve's guide wasn't available so we took a Frommer's and several others. Tony noticed that one of the guidebooks mentioned that Americans wishing to enter Prague must have a US Passport that is valid for 3 months beyond their intended stay. This caused us a bit of consternation because my passport was to expire in 2 months. I went to the Czech web site: www.czech.cz and found information that led me to believe that the passport expiration requirement was only for acquiring a visa. We didn't need a visa for pleasure travel of less than 30 days so I felt that we shouldn't be concerned about this requirement.
We had great business class seats to Amsterdam with the usual great service that we look forward to on these flights. Warm nuts and champagne were followed by an appetizer and salad. Tony had the beef filet and I had the BBQ duck. And, of course, we both had the ice cream sundae. I watched Cold Creek Manor, a thriller that I wouldn't really recommend (Tony can't even remember what he watched, to give you an idea of ITS "memorability"). We then had a nice nap and awoke shortly before landing. On this trip, we had a long layover, so rushing through the airport wasn't necessary. This was good because it was more than a mile from our Delta gate to our Czech Air gate. We even had time to clown around in the airport!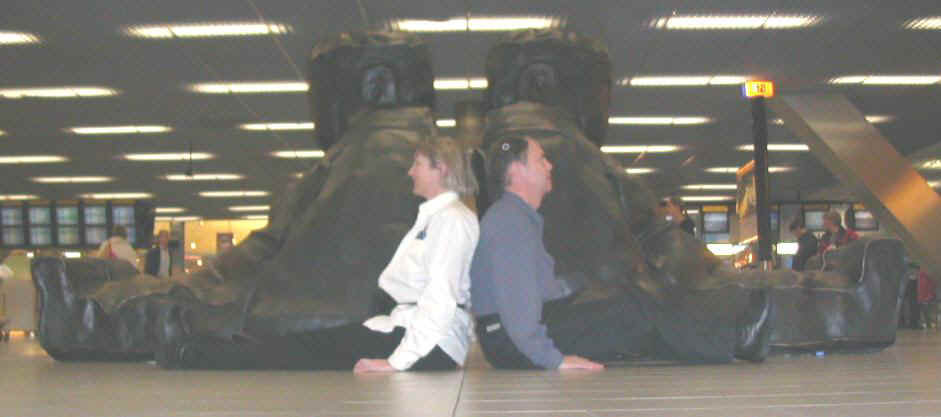 We "Czech"ed in for our Czech Air flight and headed for the gate where we studied up on our list of Czech words.
Hello - Hálo!
Good Day - Dobrý den
Goodbye - Nashledanou
Thanks - Dekuji
Please - Prosím
Excuse me - Prominte/Dovolte prosím
Sorry - Pardon
Yes - Ano
No - Ne
Do you speak English - Mluvite anglicky? (mlu-vee-te an-glits-ki?)
Two - Dva (dvah)
Beer - Pivo
Beer Hall - Pivnice
Beer on Tap - Sudové pivo
Wine - vino
How much is it? - Kolik to stojí?
Write down - Napsat
I don't understand - Nerozumím
Where's the bathroom - Kde je toaleta (gde ye toa-leti)
Double Bedroom - Dvoulužkový Pokoj (Poh-koy)
Shower - sprcha (sp'r-kho)
Night - noc
What time - v kolik hodin
Dinner - Vecere (Ve-cher-zhe)
Breakfast - Snídane (Snyee-dan-ye)
The Check - úcet prosím (oo-chet)
Shortly before departure, we were given seats and joined the line to board the aircraft. The gate agent inspected our passports and sent us onboard with no comment. Once on board, we began looking in the seat pockets to see what kind of magazines and info they had. We found a Prague guide and I was alarmed to find the same "passport must be valid for 3 months" warning that I had earlier discounted.
I spent the flight worrying that as soon as we arrived in Prague they were going to turn us around and send us back to Amsterdam. We went straight to immigration, planning for Tony to hand them both of our passports with his on top. A sign instructed that each person must enter passport control separately, so we decided that I should go first since he didn't want to vacation without me. I very nervously handed my passport to the official who glanced uninterestedly at the photo, handed the passport back to me and waved me through. Tony merely held his passport open to the photo page and was waved through. We waited until we got just out of sight and high-fived at our good fortune to be "in"!
Our first stop was at an ATM where we got 8000 CZK (Czech Republic Koruny or as we called them, "Krowns" around $300). Next, we bought our transportation passes. A 7 day pass for all of the busses, trams and the underground was 250 CZK each (approximately $10.00). We caught Bus 119 to the Dejvická stop (a 20 minute ride) on the green Metro line. We took the green line four stops to the Mustek station where we connected with the yellow line. A note of caution, be sure to note the last station in the direction you need to go because that is the sign you need to look for to decide which side of the station to wait on. To get to our hotel, we went three stops on the yellow line to Križíkova. Leaving the train station, we had but to turn right and walk about 200 yards.
The Ibis Praha Karlin, our home for the next 4 nights, appeared to be a nice enough hotel. Tired of sitting on an airplane, we were anxious to stretch our legs. We dropped our bags in the room and decided to walk toward the Jewish Quarter, Josefov. We encountered our first beer sign about 5 blocks from the hotel at the restaurant U Kazdu, advertising Gambrinus for 16CZK. We quickly did the math and decided that this was exquisitely affordable (about 64 cents) so we stopped in. The only problem we encountered was our "big" bills. The ATM had given us 2000 CZK notes (about 80 dollars). The bartender did not appear to be pleased to be presented with an 80 dollar bill for two 64 cent beers.
We continued our walk along the river until the wind drove us to move in a few blocks. While we were exploring, we found an underground grocery store near Námestí Republiky. I went ahead and picked up all of the kindereggs that I would need for the trip. (I have a tradition of enjoying a kinderegg every night while I am in Europe). Outside the grocery store, we stopped into the Restaurant d'Esprit for a beer. This turned out to be much more expensive than our first beer! 35CZK for a 12 ounce bottle of Budvar. Thats about $1.40! But it had a much needed restroom, so it was well worth the price. A note about the bathrooms - there are lots of indications for Men and Women. The men have it easy - they are always either a pictogram of a male or an "M", but if the women's room is not marked with a pictogram, it can either be a D for Dama (Ladies) or a Z for Zeny (Women).
We did some more exploring, in Staré Mesto (also known as Old Town). Here we found the Tourist Information office but it was closed on Saturday and Sunday - something to keep in mind if you don't book your room in advance. We just happened to be near the old town hall around 4:45 when we noticed people were gathering around the clock. We figured something was going to happen on the hour so we decided to hang around and were rewarded with a view of a procession of figurines (we later learned were the 12 Apostles) that peeked out of two open doors at the top of the clock. The clock chimed 17 times to indicate 5PM.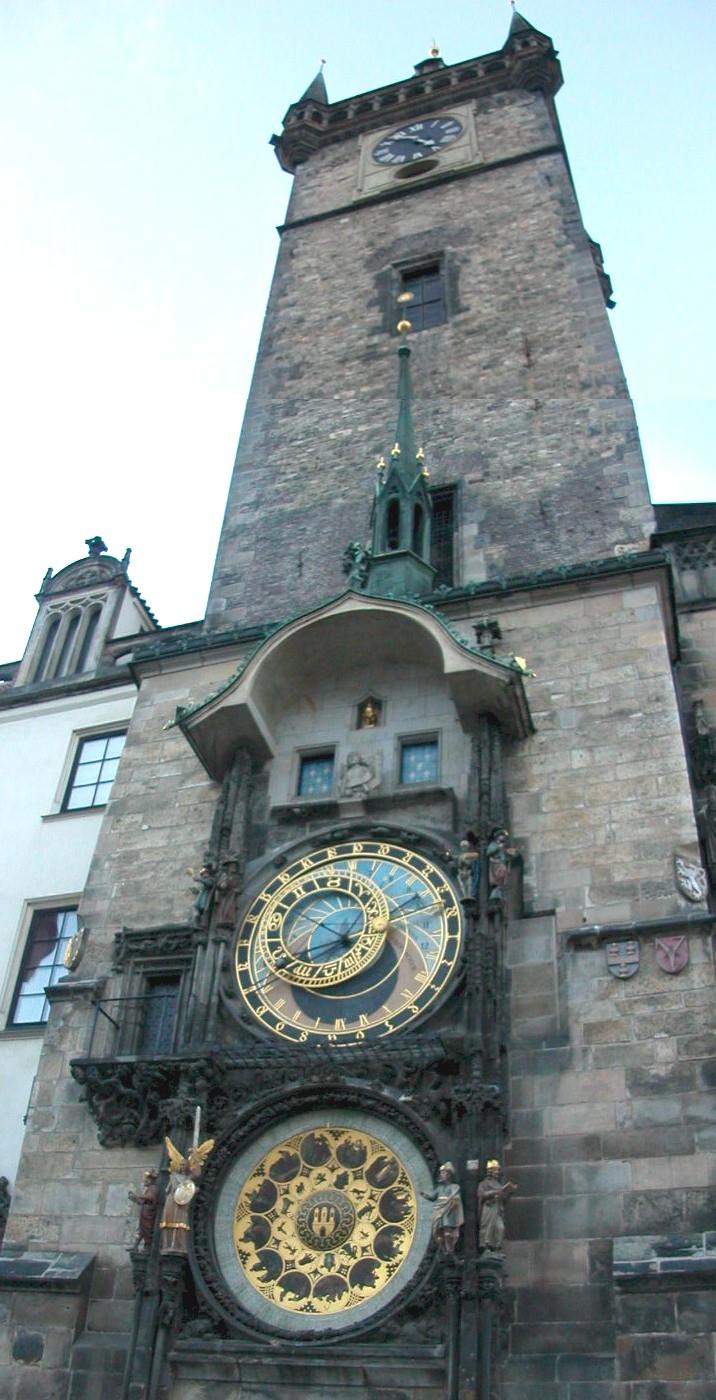 We thought we'd stop off for one more beer before we looked for a place to dine. We found the Zdar Restaurant and bar on Anenské street advertising 25CZK Gambrinus (that's roughly a dollar... for a half liter of draft!!). When we'd almost finished our beer, we decided to have a look at the menu. The garlic soup sounded good, so we decided to split a bowl. It was heavenly! Tony decided he would have to try to reproduce this at home. It was so good, we decided we should just stay for dinner so I ordered the goulash with dumplings and Tony had the pork schnitzel with french fries. Ordering was easy because the menu had been translated into English.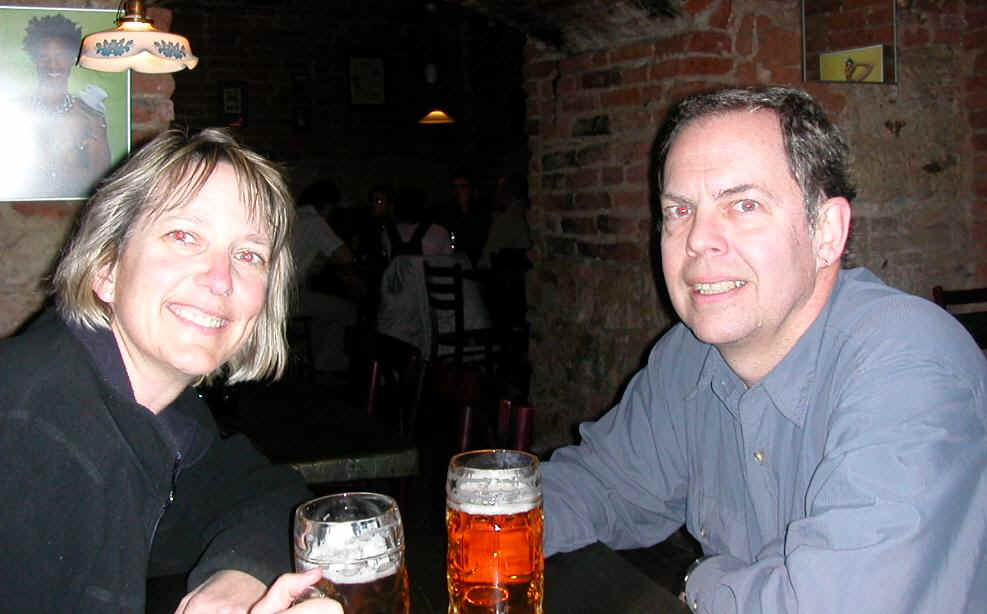 By now, the long day of travel was starting to take its toll so we decided we should find the nearest Metro station and head back for the hotel. The Staromestská station was only about 4 blocks away and on the yellow line so we had an easy ride back to the hotel. There was a lively crowd at the hotel bar so we decided to stop in for a last beer of the evening. This turned out to be our most expensive beer of the trip. 50CZK! That is an outrageous $2.00!
Upon retiring to bed, we discovered that instead of a top sheet, the bed had a duvet covered in a white sheet under the spread. The top of the duvet was at about waist level in the bed, so we pulled it up to shoulder level only to discover that it now did not cover our feet. We decided that they had made a mistake and put a single bed duvet on a double bed so the next morning we laid it on top of the spread so they would see their mistake. The next night, the same duvet was at waist level in the bed again. Nosing around the room, I found another duvet so we turned them both lengthwise and covered both our shoulders and our feet!
Sunday, we decided to make a trial run of our intended path to the airport so we would know how much time we needed to allow, (we had a 7:15am flight on Wednesday morning). We thought we'd try a different route back to the airport, since there is a "direct bus" from the end of the yellow line Metro. We caught the yellow line at the Križíkova station and rode it all the way to the last station near the airport, Zilcín, found the stop for bus 100 and noted the departure and enroute times.
Back on the yellow line, we decided to get off at the Karlovo Námesti stop where we could explore Nové Mesto (New Town) and Vyšehrad. We loosely followed Frommer's directions for "A Good Walk", making a detour into U Dobré Myšlenky for a Staropramen Lezak (22CZK or 88 cents!). A note about the beers, in addition to the price, on the signs, they also advertise something that looks like degrees. I'm not sure what that was, but the Staropramen Lezak was 12 degrees. (Note from Tony - I read about that "degree" thing. It refers, not to alcohol content, but to "specific gravity at the start of fermentation". Further note... a higher degree of specific gravity at start of fermentation can yield a higher alcohol content at bottling time.)
We continued our walk to Vyšehrad, a fortified hilltop that was the former capital. The grounds were beautiful, surrounded by a wall with a walkway atop it.

The church, Kapitulni Kostel sv. Petra a Pavla had impressive stone spires.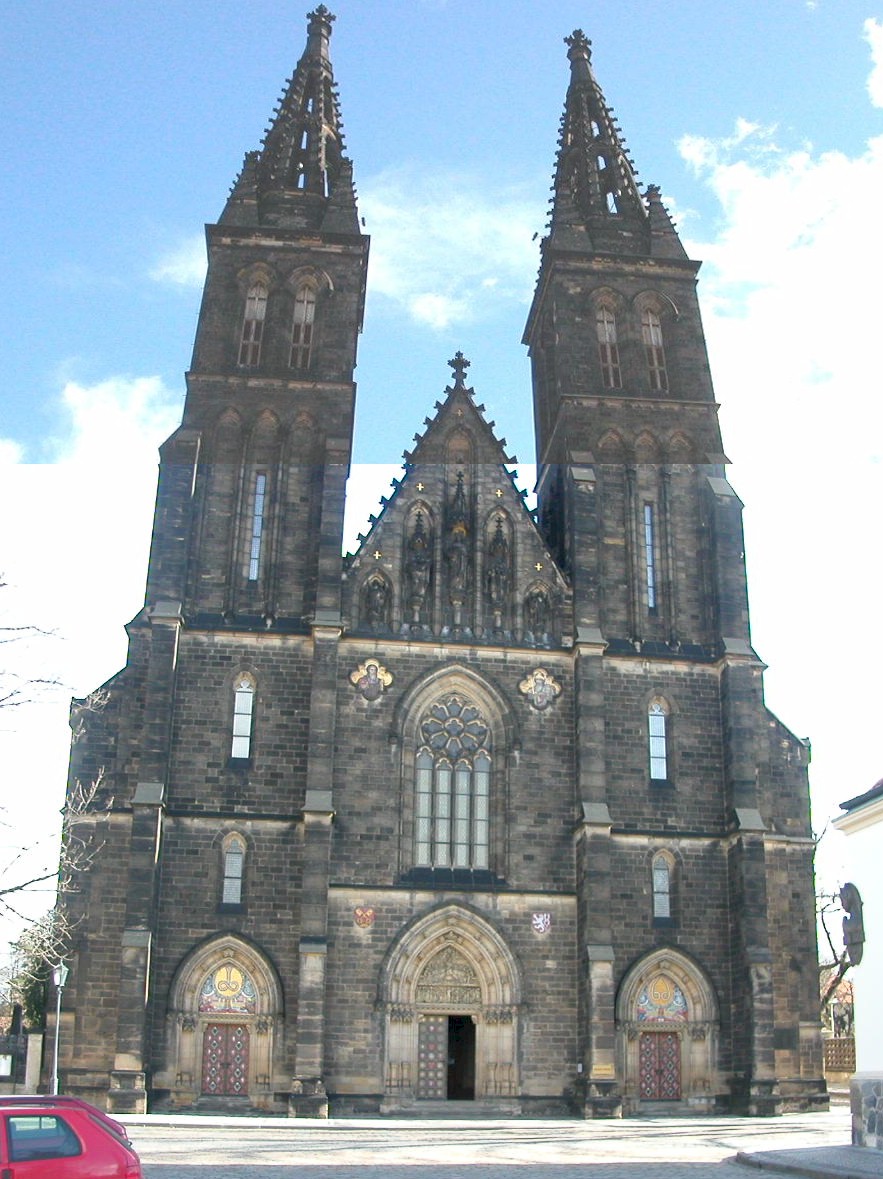 It was closed for lunch, but we were able to peek in a window. Outside was a park with several statues.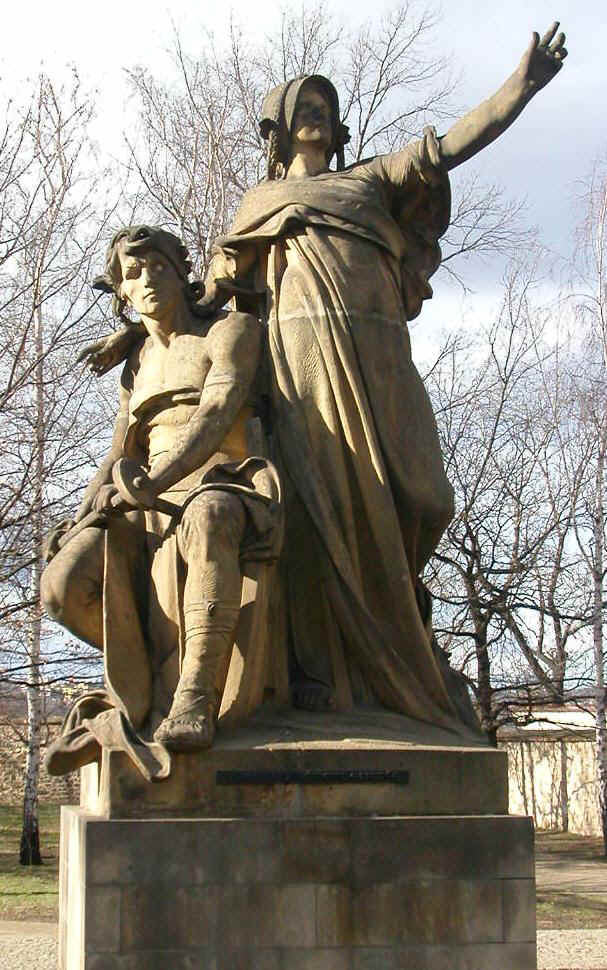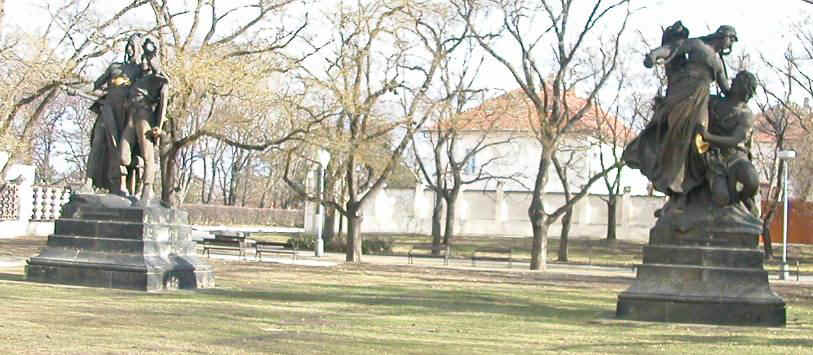 A Romanesque rotunda was on the east side of the compound near the east gate.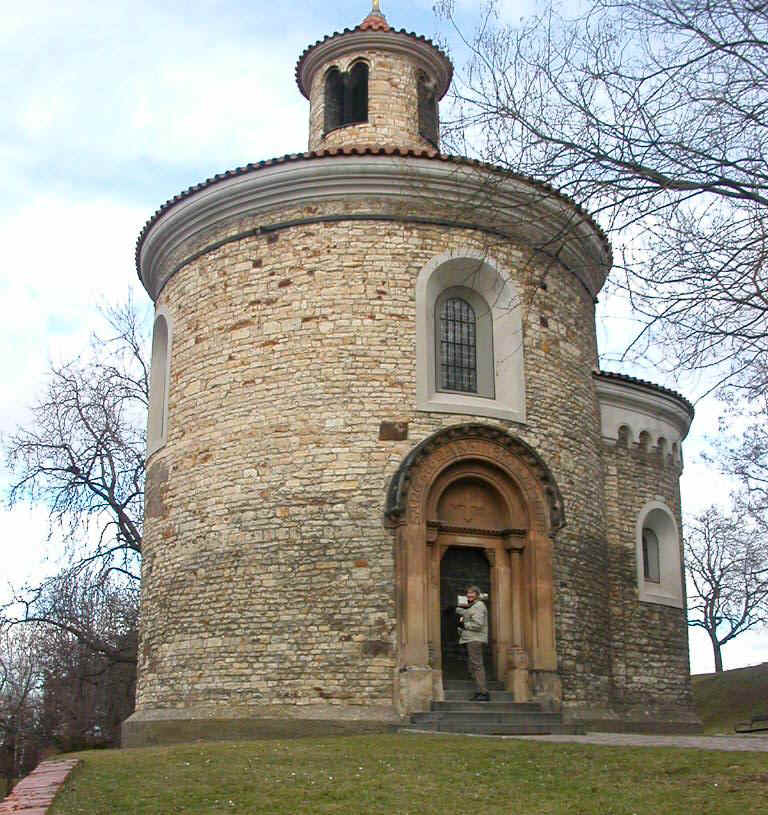 Lunch was (again) garlic soup and "Mr. Palacky's delicacy" at U Pomniku accompanied by a couple of Pilzner Urquell's. (Mr. Palacky's delicacy turned out to be a breaded pork cutlet - we think the delicacy part may have been the hair that Tony found in his last bite.) The cost for the whole meal, including beer, was 191CZK ($7.64).
Continuing our exploration, we went by the Tancici Dum (Dancing House), a building with unusual architecture and some mixtures of old and new architectures.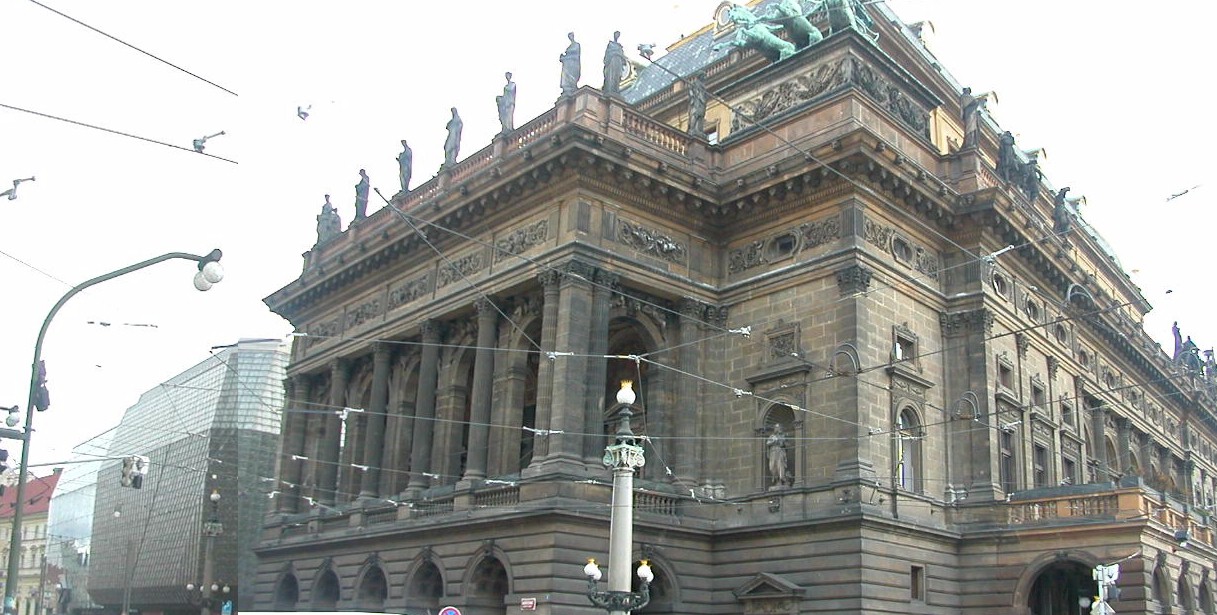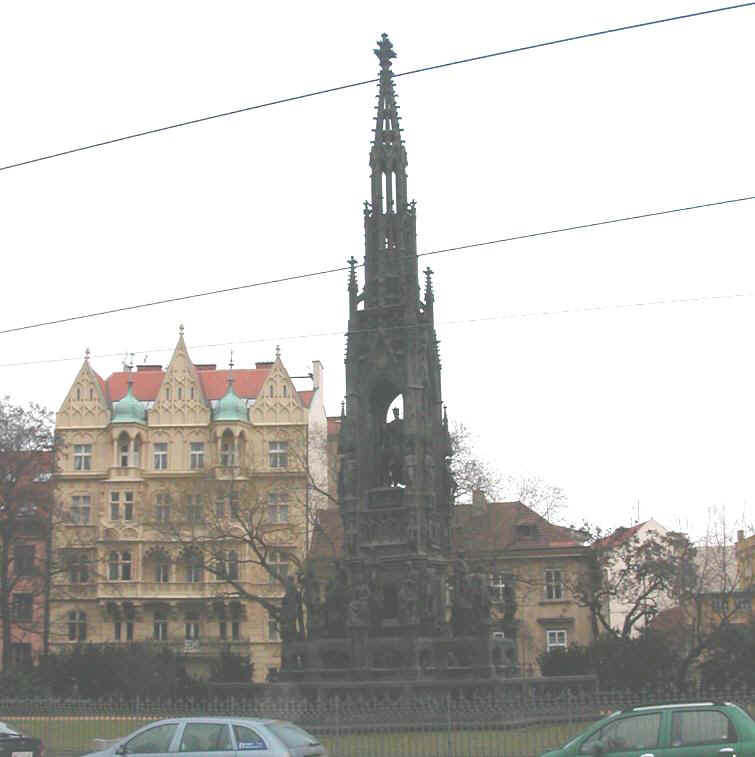 As we were wandering around Nové Mesto, it started to snow so we ducked into a cellar bar, the U Karla IV, for a Pilsner Urquell break.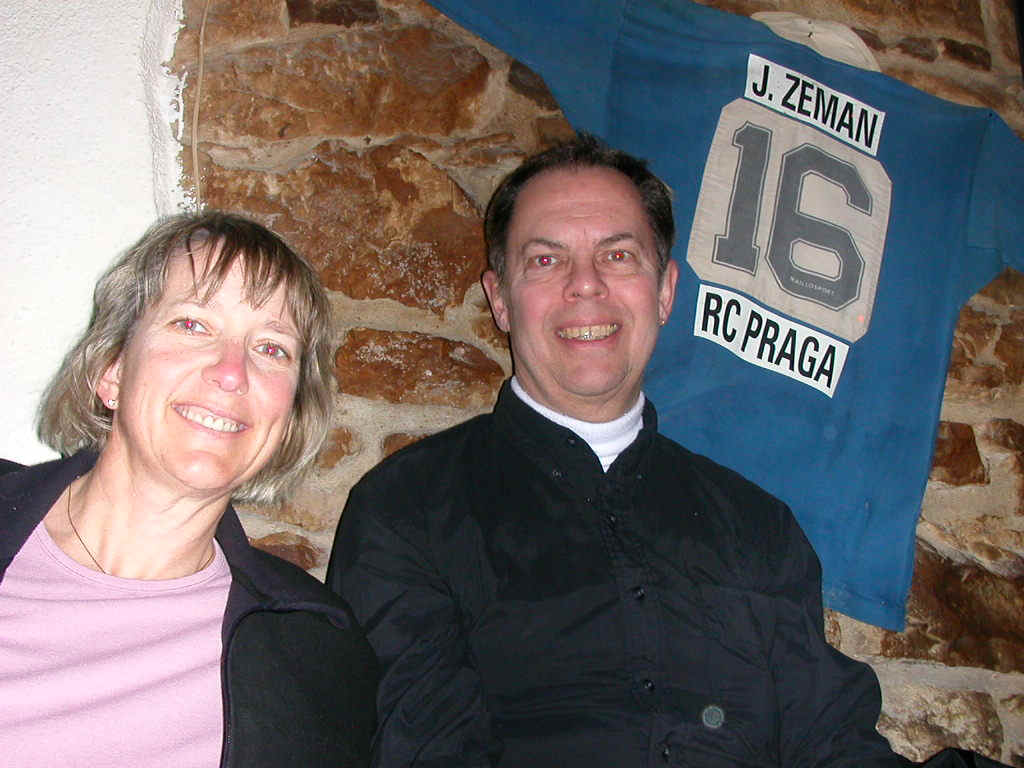 When we emerged from the cellar, it had stopped snowing so we did a bit more wandering before we decided to head back toward Karlin to look for a dinner place close to our hotel. The sunset was so pretty on the square as we passed by.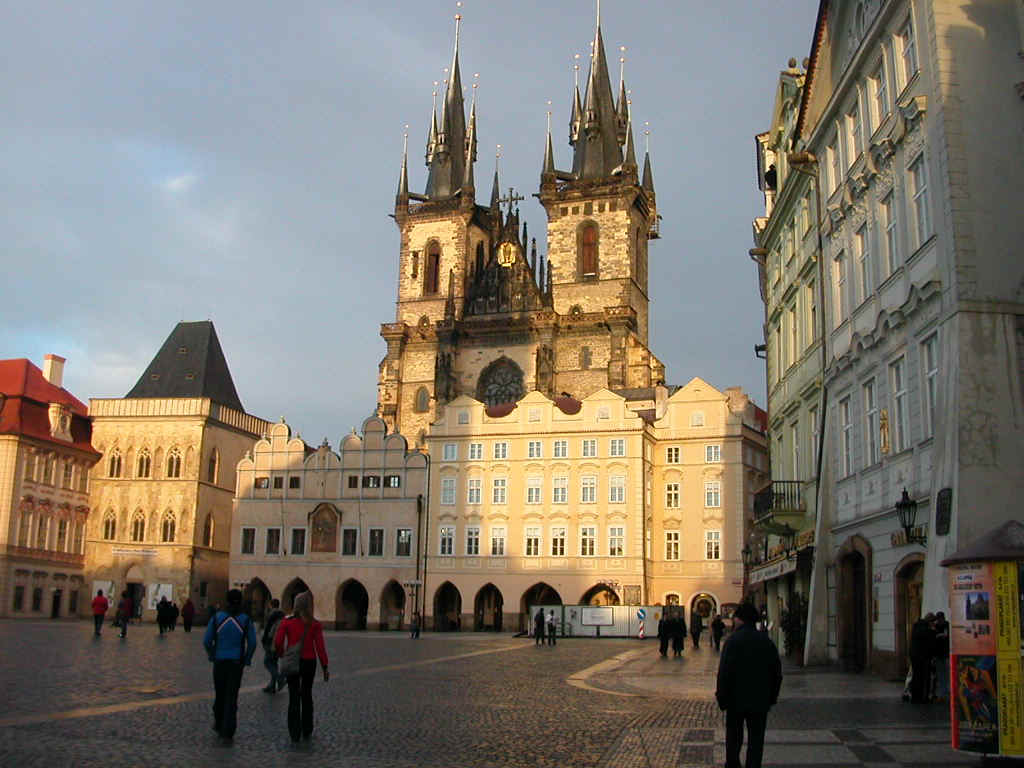 There was a nice looking little pizza place across the street from the hotel, but we decided to keep looking. We found a nice restaurant called the U Zabranskych on Križíkova Street where We enjoyed a couple of Pilsner Urquells and Tony had goulash on a potato pancake while I had a pocket steak. (This was just a thin piece of steak folded in half like a taco and filled with something that tasted like blue cheese but was more the consistency of string cheese. It was good!)
Monday would be the day for exploring the area around the Prague Castle (Pražský Hrad). We took the train to Malostranská and again attempted to follow one of Frommer's walks. This took us up Nerudova Ulice. It was a steady uphill to a set of steps that led up to Loretanska Ulice where we stopped to put on our rain pants because it had started to snow fairly heavily. We found the "inconspicuous gateway" that led us to Strahovsky klaster, one of the cities' richest monasteries. There was a beautiful view of Prague from atop the hill.

Back down at Loretánské námestí, we took some pictures of the Baroque church, Loreta.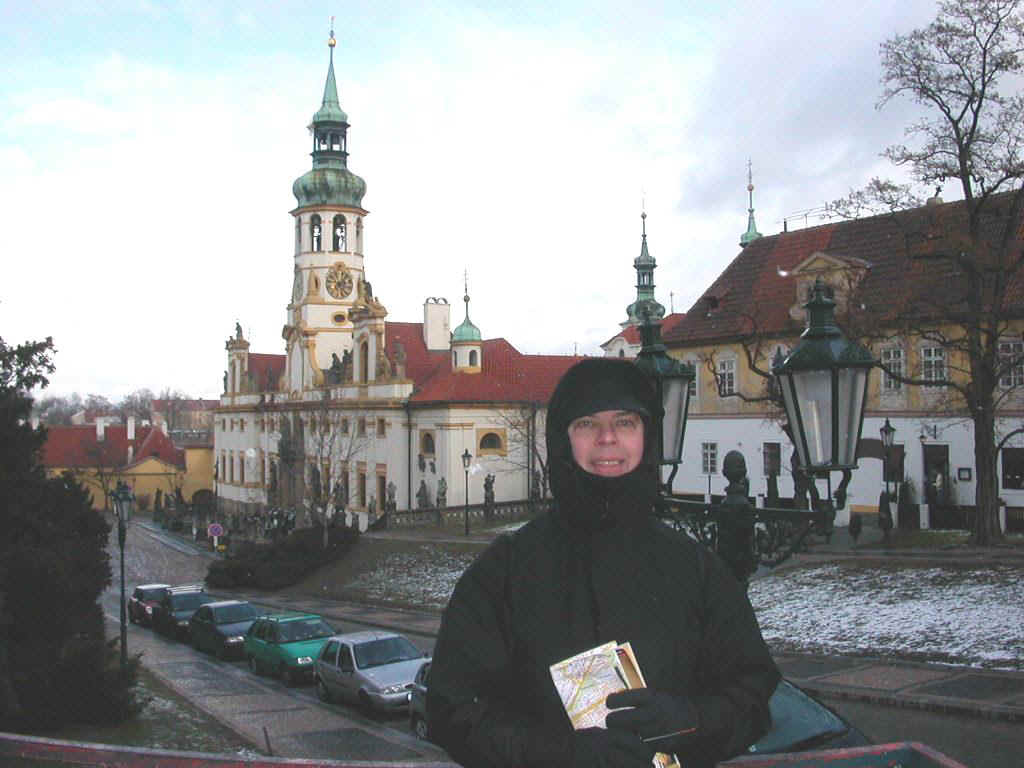 We continued our walk to the castle. A quick photo and we were ready to head downhill.

It got very touristy near the pedestrian bridge, so we turned off onto a side street and ducked into the Galerie Chimera for a Krušovice. Then we started our exploration of Malá Strana (Lesser Quarter). This walk took us back up Nerudova Ulice to a tiny passageway at number 13 which led to Trziste Ulice and the Schonbornsky Palac (which is now the US Embassy. Policemen with mirrors were inspecting the underside of cars for bombs, so we decided not to linger.)
We stopped for lunch at U Zlateho where I had wonderful lightly breaded ginger chicken and Tony had another delicious bowl of goulash.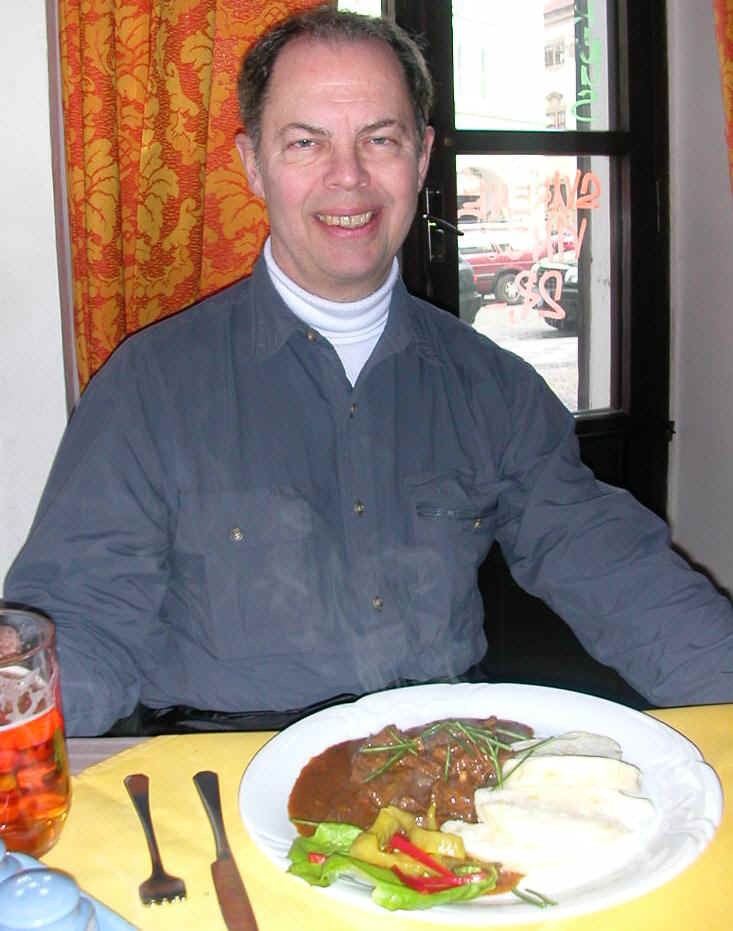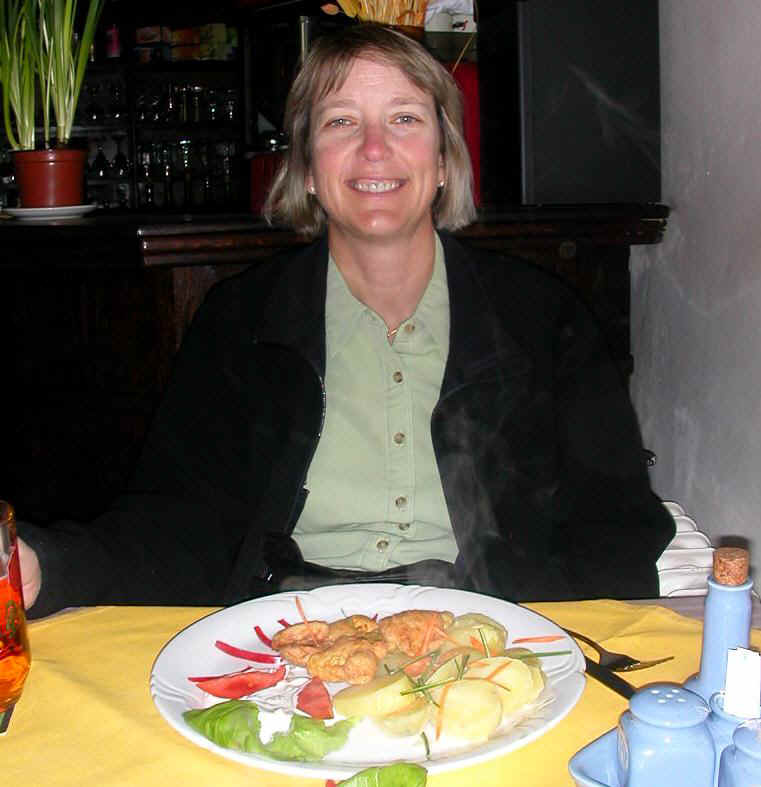 I was a member of the clean plate club!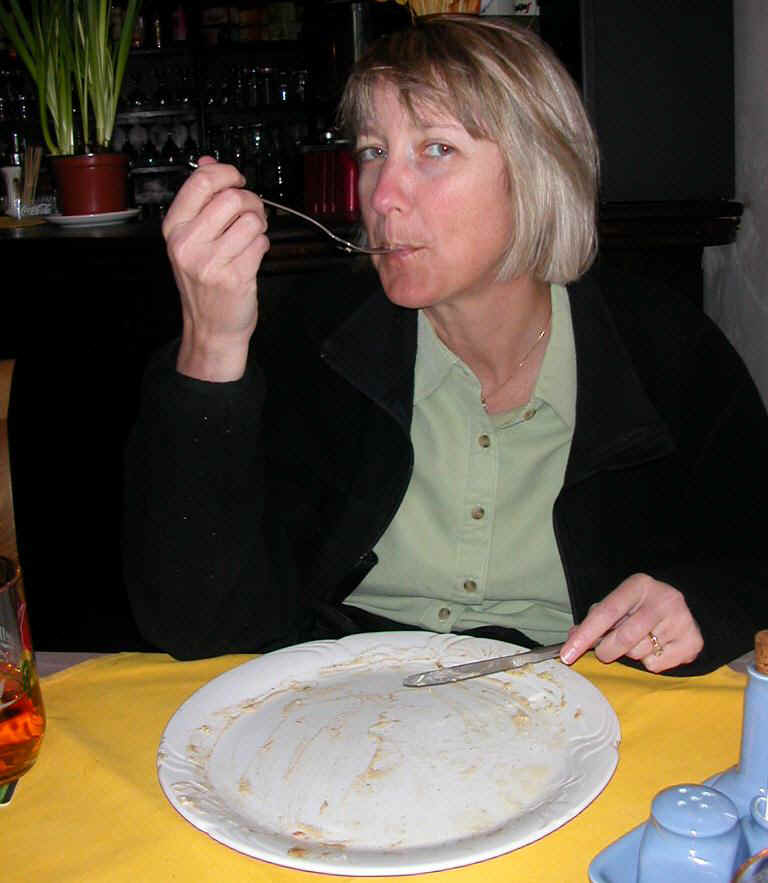 We continued on to Kampa island for a look around. It looked like it would be an inviting place to spend some time outdoors in better weather. We crossed the Karluv Most (Charles Bridge) where, despite the cold, artists were selling their paintings of the beautiful cityscape.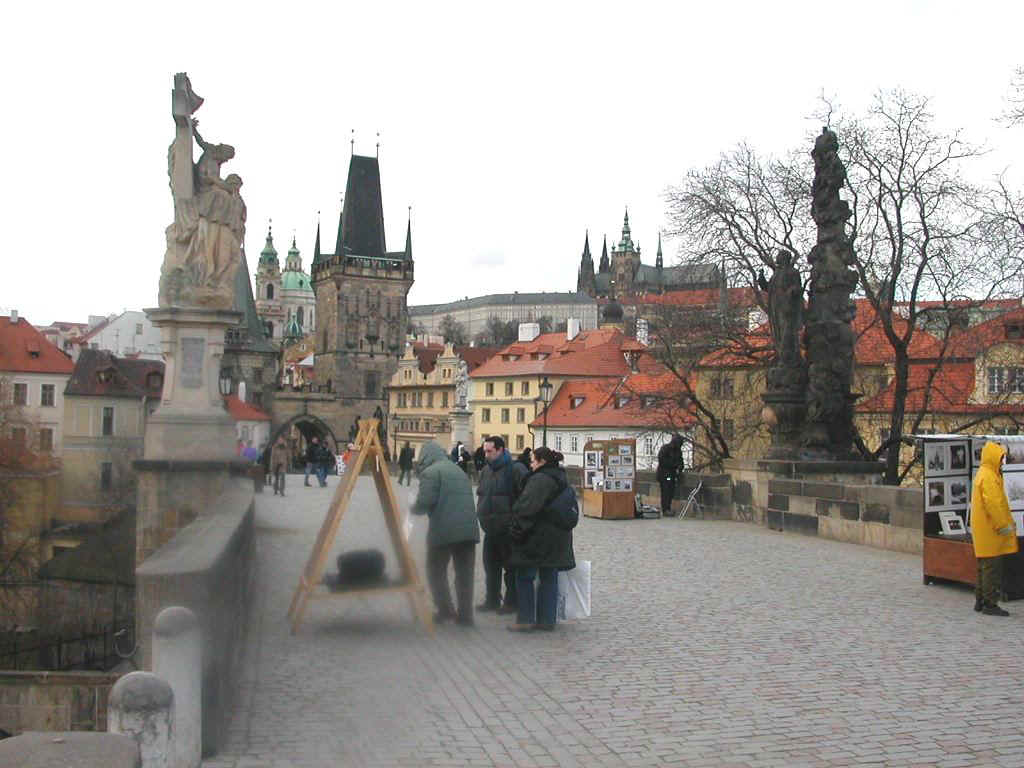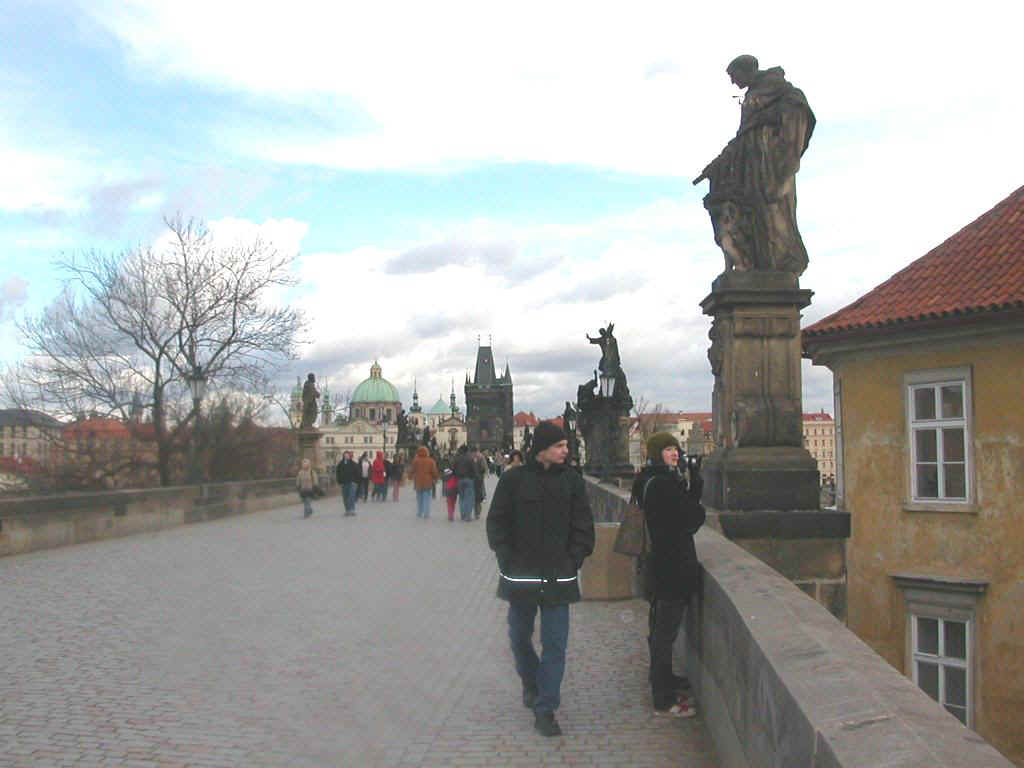 We passed another bridge that was not so crowded, but there was a beautiful view.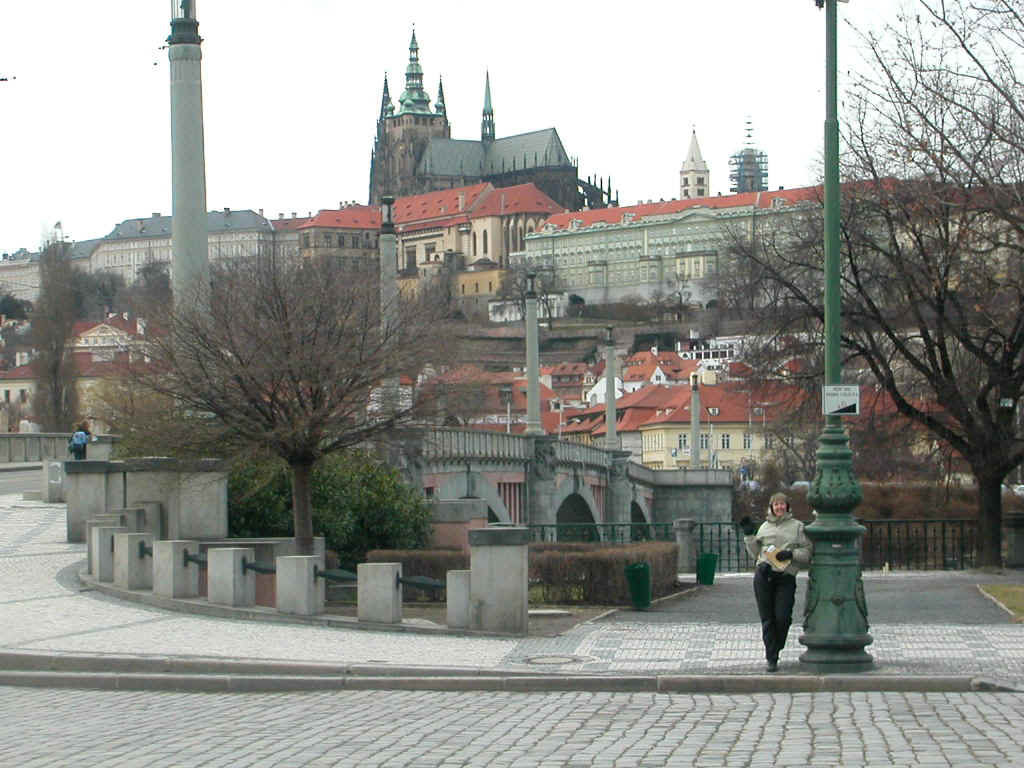 As we were passing through Josefov (The Jewish Quarter) on our way back to our hotel, we stopped at the Cafe bar Blatouch for a Staropramen. We decided to try to find a place to eat dinner on Sokolovská on our way back to the hotel. We passed several quiet looking places with very few patrons before we came upon the Restaurace Hamburk. It looked like a happening place, filled with folks so we went in. We found a nice corner table and ordered dva pivos (two beers). This time I tried the Staropramen dark. It was delicious. The menus were entirely in Czech, so we were glad that we had stopped and picked up a Czech - English dictionary. We pored over the menu for a long time before finally deciding on dábelská (?) kureci (chicken) smes (mixture) and kureci (chicken) steak Hamburk (the name of the restaurant) šunka (ham) eidam (cheese) kren (horseradish).
Tony went to the restroom and I finally had time to lean back and take a look around the restaurant after all of that strenuous menu translation. I glanced over into the bar area and did a double take at the girl behind the bar that looked like she was wearing a black jacket with a flesh colored tank top underneath. When Tony got back to the table, I said, "Look in the bar and tell me if that girl in the black jacket has a shirt on." He discreetly glanced around and said, "NO!" Later she took the jacket off and served beers to some of the folks in the dining room completely topless! We were stunned! It didn't look like a strip club or anything and she was the only person in the place without a shirt on. Our food was good, but we didn't stay for dessert (Note from Tony - Sadly).
Tuesday we decided to have a shopping day to try to spend some of the extra CZK we had. We took the Metro to the Museum stop. The Museum was so pretty, all covered in snow.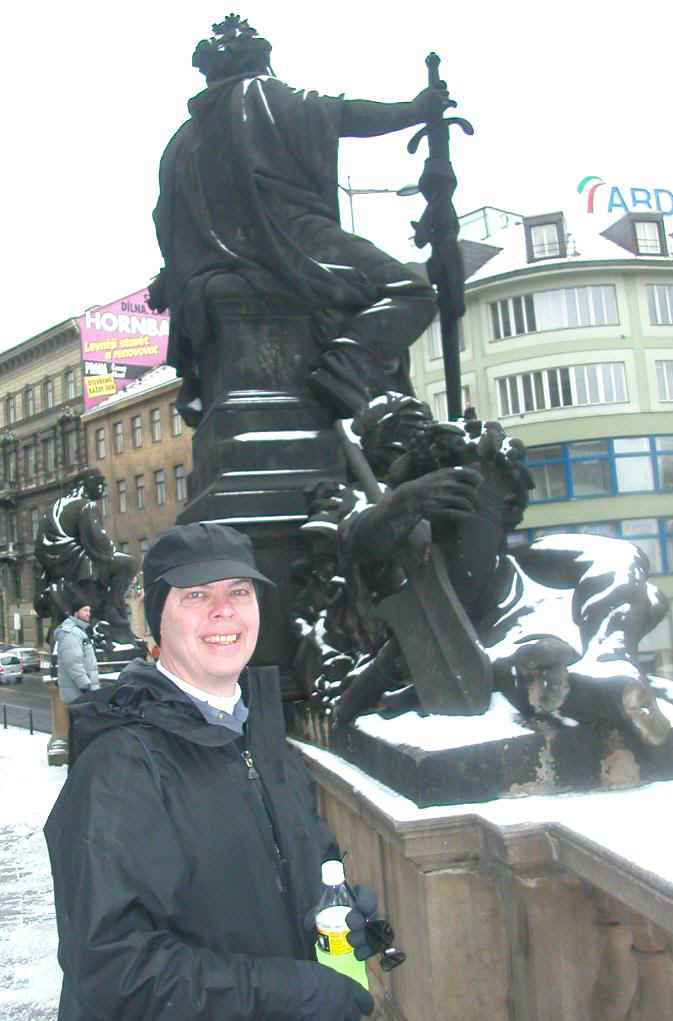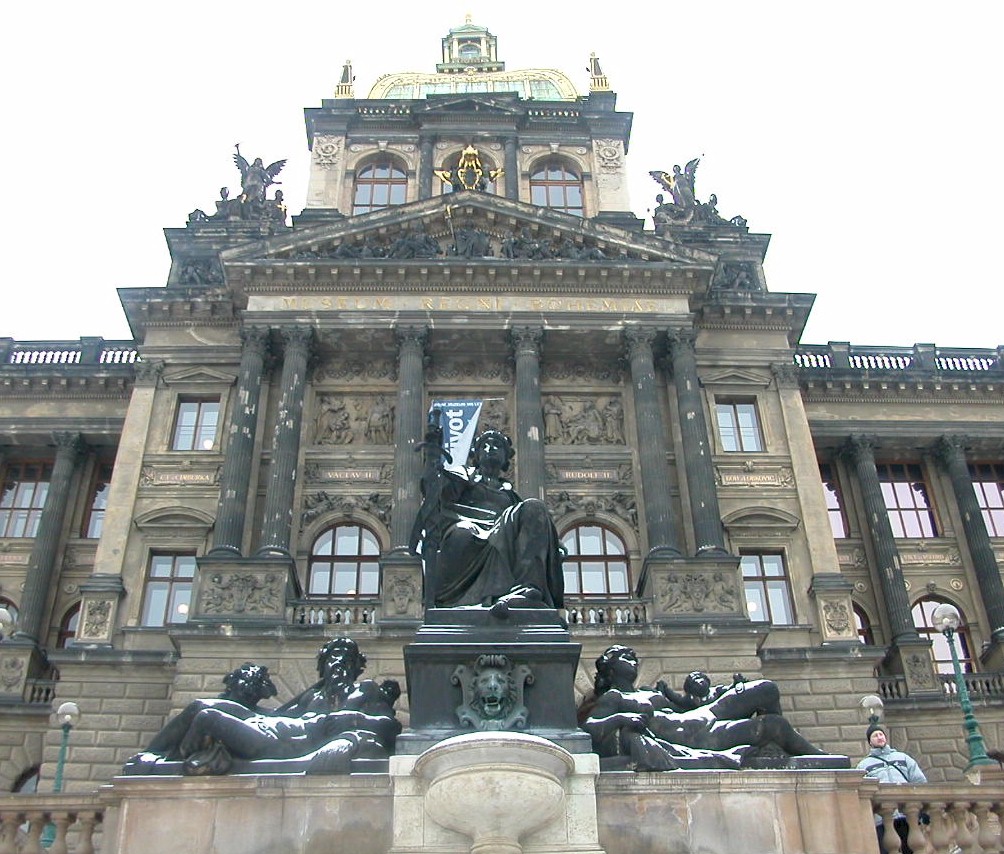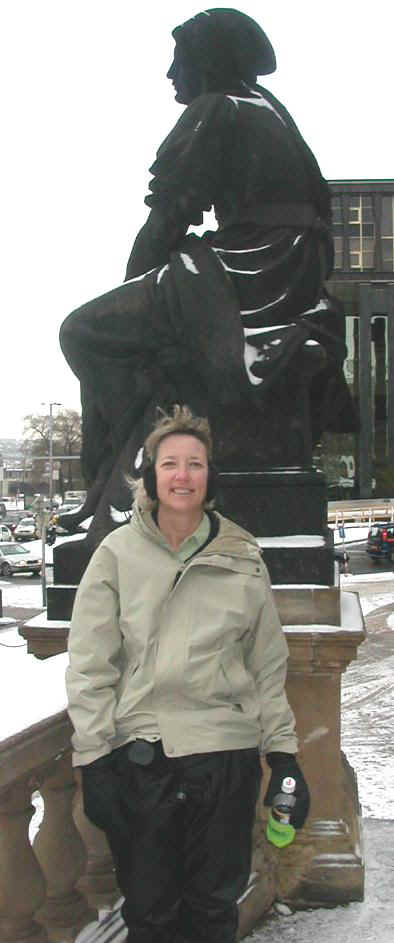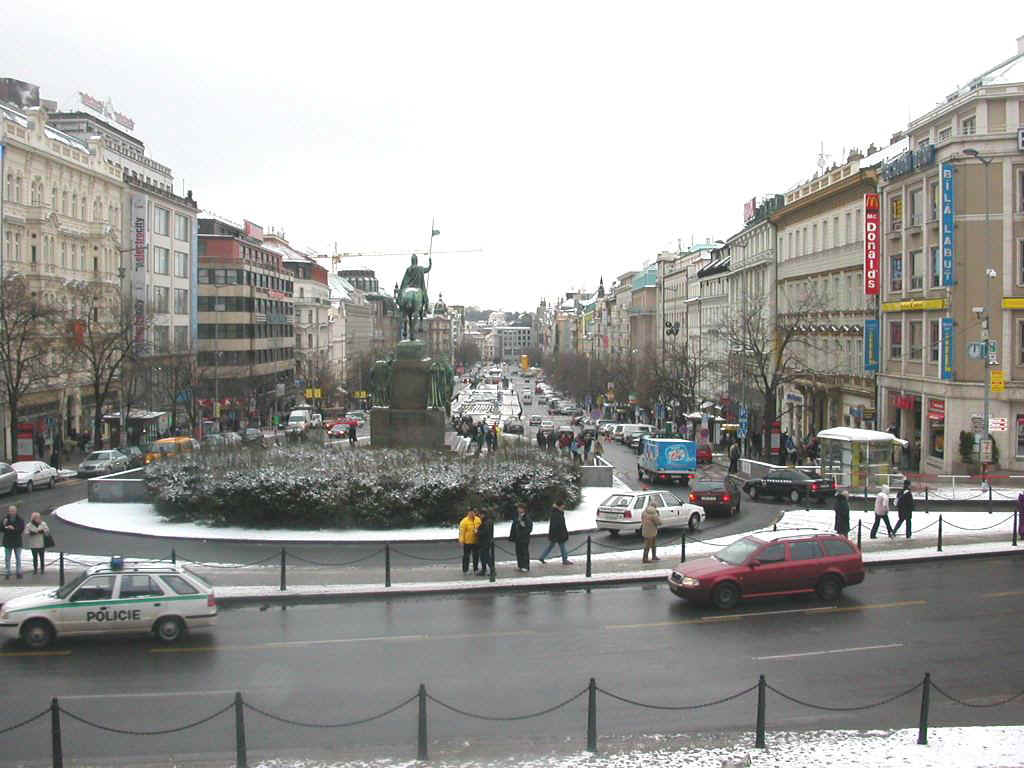 In and out of lots of glass and souvenir shops along Václavské námestí, we just couldn't seem to find anything we wanted. We had a pizza-like pastry for breakfast and kept looking. We walked to Mustek and then down Na Príkope but nothing struck our fancy. We looked at Bohemian Glass, jewelry and Marionettes but the only thing I bought was a set of Russian dolls. We backtracked to Ríjna and then to Národní where we stopped for a Krušovice at Krušovice Pivnice Viola across from the Czech National Museum.
Our next stop was at U Pivrncova Putyka where instead of lunch, we just opted for some "Niva" cheese and bread with our glass of Radegast. Apparently the decorator for this pub was some sort of cartoonist who specialized in humorous nude cartoons.
By now, tired and cold we decided to stop for another 16CZK Gambrinus at U Templáre. We broke out the cards and played our own version of "German Whist". I guess you could call it "Czech Whist." We decided to make spades always trumps because we couldn't remember when we changed it. Tony beat me about 20 hands in a row.
For our last dinner in Prague, we decided to stay with a winner and go back to the Zdar Restaurant and bar for dinner. We started (yet again) with the garlic soup, then I had pork risotto and Tony had chicken schnitzel. We tried the fried American potatoes with feta just to see what they were. They turned out to be just potato wedges, but I think they had been boiled before they were fried.
Wednesday morning, up around 4:00am, we headed back home. After a close connection in Amsterdam (remember that 1 mile walk on the way out? We had to negotiate it on the way home, but we'd taken a de-icing delay out of Prague, so we had only about 40 minutes to make the transfer AND get activated on the standby list) it was back into Business Class for our return to Atlanta. Tired, but happy.
By the way... remember that 8000 CZK we started with at the airport ATM? After 4 days, we still had so many CZK's left over that at check out time from the hotel, we used 3500 CZK to reduce the amount that we charged to our credit card. In 4 days, we'd spent only 4500 CZK for 3 meals a day and beer. That's $90 per person!! Prague is STILL the best bargain in Europe.
BJ and Tony Morris
bj@bjandtony.com
P.S. Our friend Marily and her two kids took a Thanksgiving 2005 trip to Prague for a wedding. She found a hotel through one of the links on our website and gave it a thumbs up rating. The hotel Denisa is located near the metro station Dejvicka. website: http://www.avetravel.cz/ email: denisa@avetravel.cz