Columbia River, Oregon
April 2004
"The Ship Set Ground..."
For our next trip, we chose the Pacific Northwest as the destination, and decided to leave on Saturday. Thursday evening, as we were headed out to our favorite Mexican restaurant for dinner, Tony decided to check his email. Serendipitously, he had a note from one of the Interline Travel Agents (Perx.com) advertising a Glacier Bay Cruise on the Columbia River sailing on Saturday. It looked like a real deal on an "adventure cruise". We called Perx and spoke with Sam who couldn't confirm our trip, so he asked us to call back the next day.
Friday, I was stuck in meetings and tying up loose ends most of the day. I finally got in touch with Sam and we confirmed our trip at 2:30PM. Friday night, we finished packing. Based on our expectations of Portland weather in the spring, we took mostly warm clothing and rain gear, but threw in a few lighter things as an afterthought.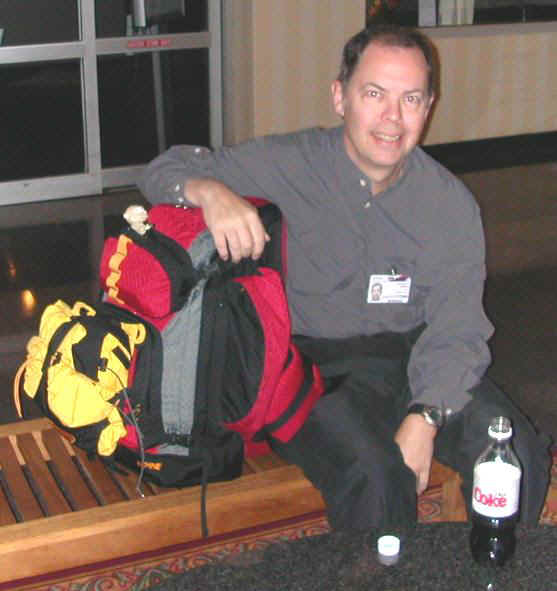 Saturday morning, the flight to Portland was fairly open so we were able to sit together in the front row. On the way, we watched a decent movie (Paycheck with Uma Thurmond and Ben Affleck) and had a breakfast frittata with bacon, potatoes, and fruit.

We had been unable to find any information on the web about where the Portland dock was, aside from a reference in the brochure that just said it was downtown. Arriving in

Portland. we bought a couple of all zone tickets on the light rail and a man on the train advised us to go to the Skidmore Fountain stop. From there, we walked through the Saturday market and down to the river. About 9 blocks later, we found the boat docked at Montgomery Street. We made a note that the Yamhill District or Morrison stop would be closer for the return trip.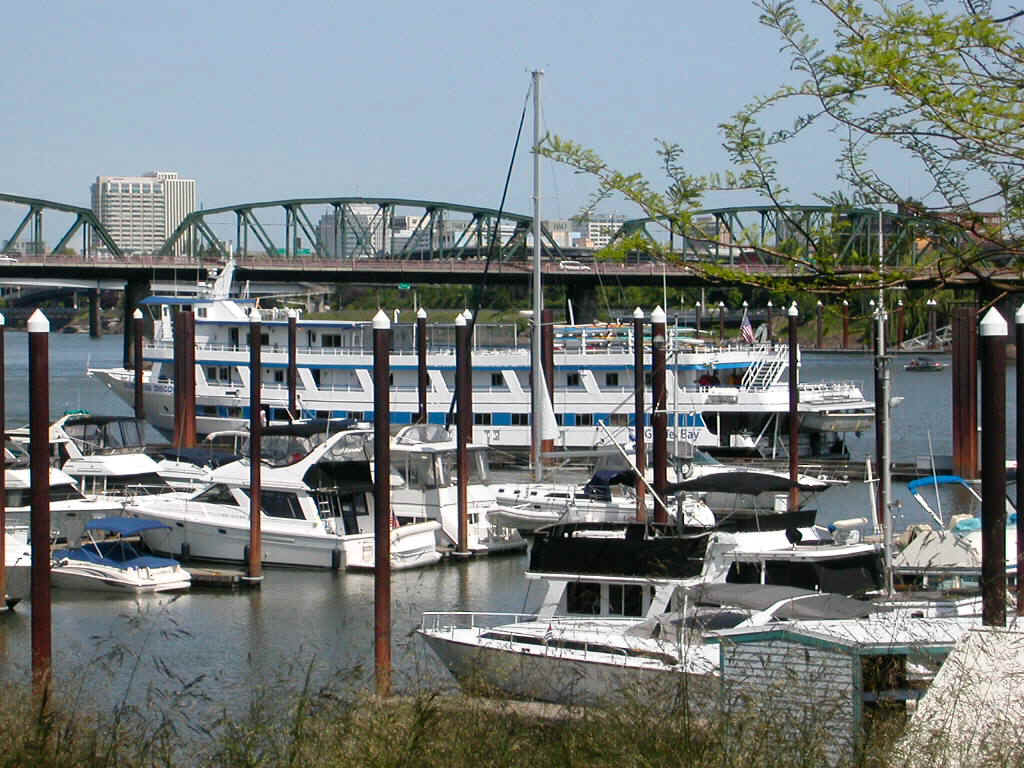 The travel agent had said we could board the boat between noon and 4PM, but when we asked the crew, they said boarding would be at 4 and we should check in at the hotel. The desk clerk at the dock hotel (River Place Hotel) had no information, but the bellman thought they would probably set up a table outside for check in. We wandered around the river front area for a bit, and then stopped for a local brew (Full Sail) at McCormick and Schmick's.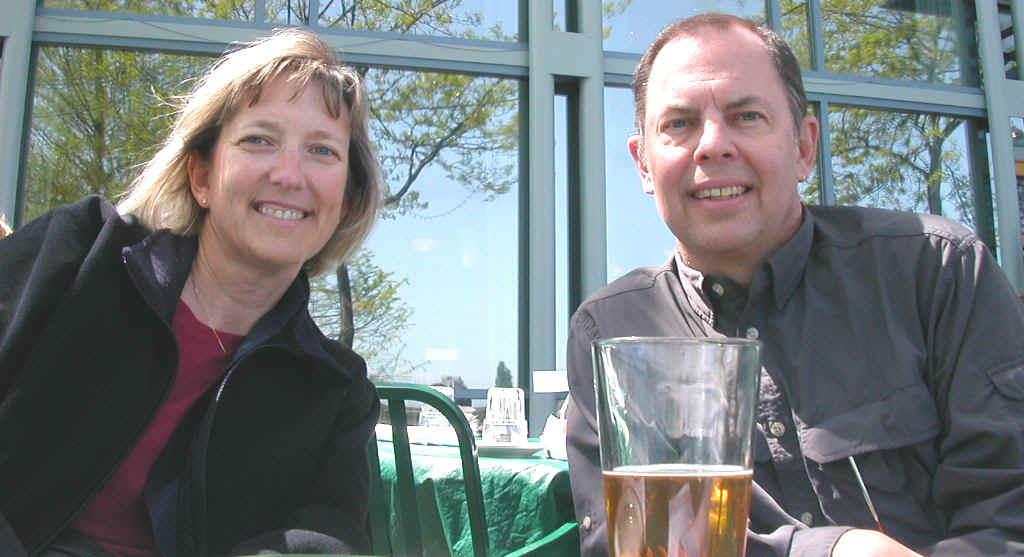 We enjoyed people and dog watching until around 3, then headed back toward the boat. Still no check-in table, so I made a couple of attempts to call the cruise line, but never got through. Finally, we saw the crew leave the boat with luggage carts, so we followed them. As it turned out, the check-in was at the Marriott, about a block and a half from the dock.
We met some of the crew and all of guests at the hotel. All 12 of the other guests! There would be 14 passengers aboard the Wilderness Discoverer (Capacity 88) for the week. With 25 crew members, the crew to passenger ratio was 1¾ to 1! We were shown to our cabin (205) by Chris who explained the intercom system and showed us the show-let.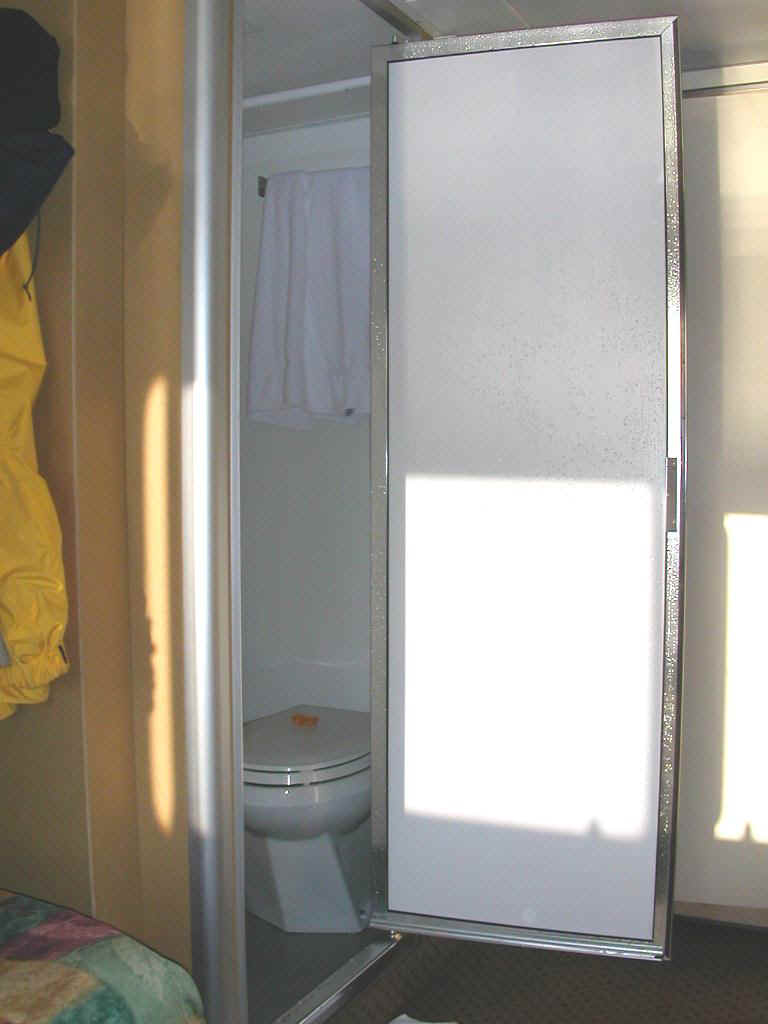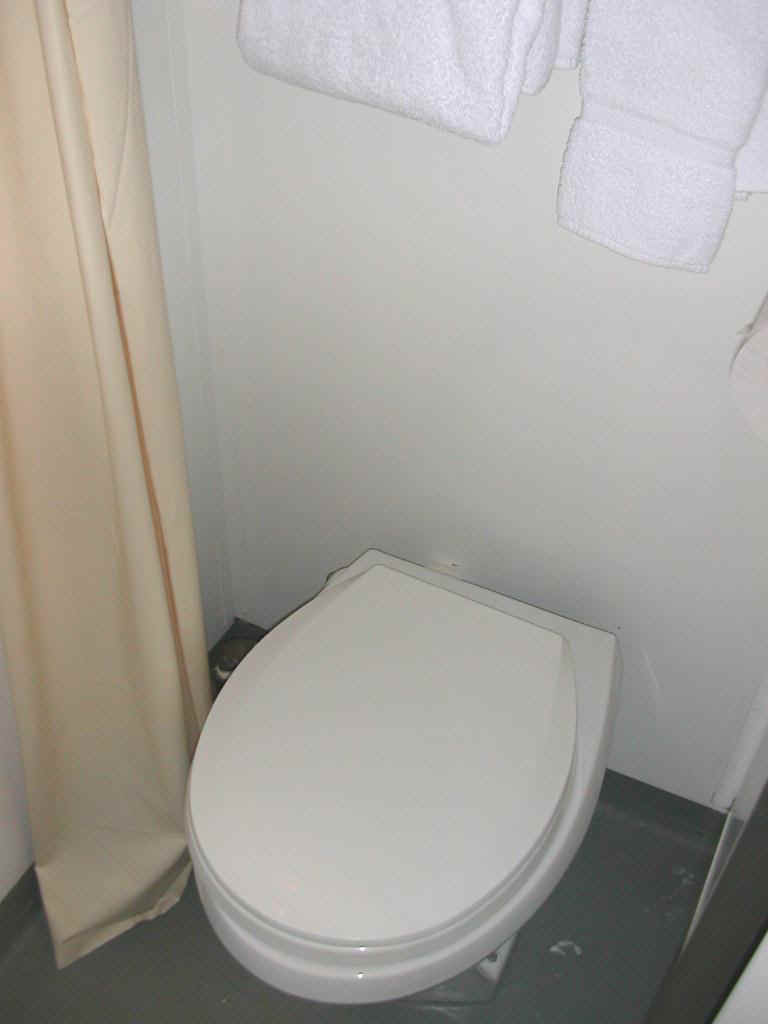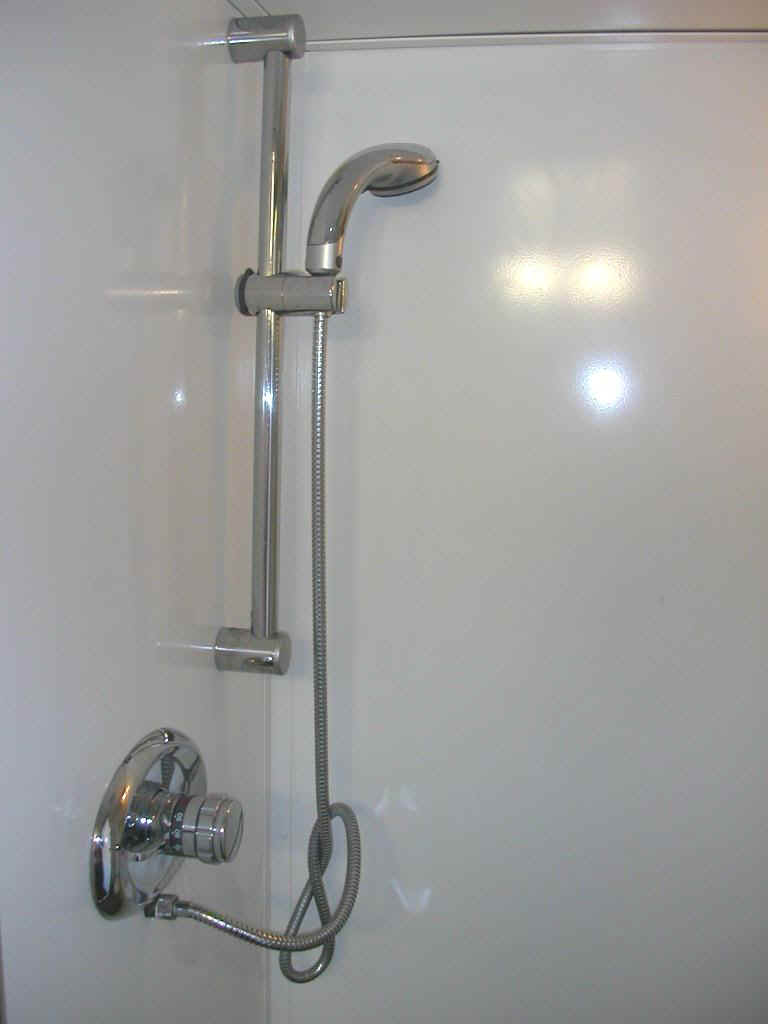 Chris used the more politically correct pronunciation, putting the emphasis on the shower, but later we learned that other passengers were referring to it as a shoilet. Since there were so few passengers, upgrades were available for an additional cost, but we were comfortable and settled in, so we elected to remain in cabin 205.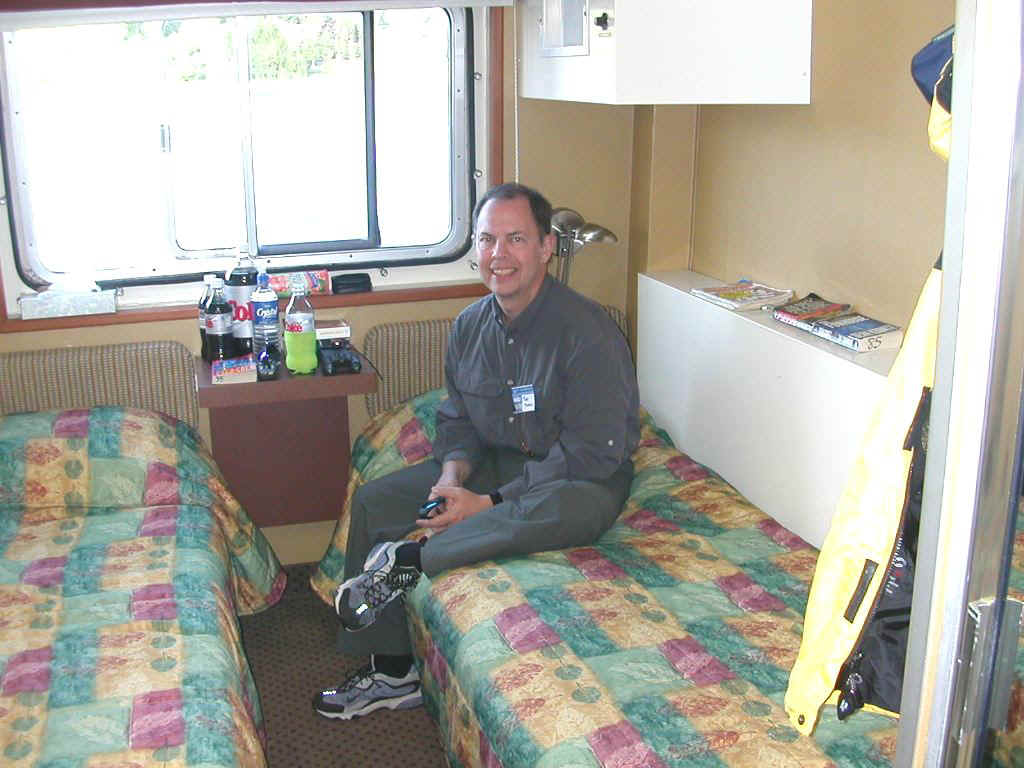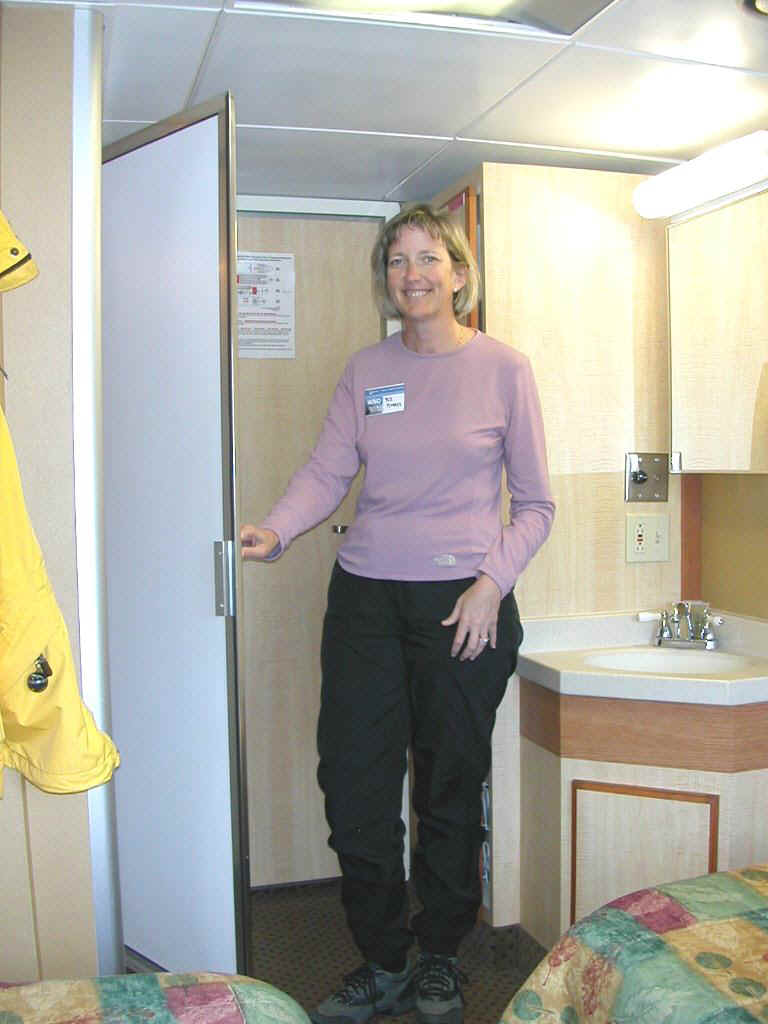 After unpacking, we went on a tour of the ship. We stopped by the cabins on the sun deck to see what we were missing. The cabins on the 400 deck were much roomier and had a separate toilet & shower.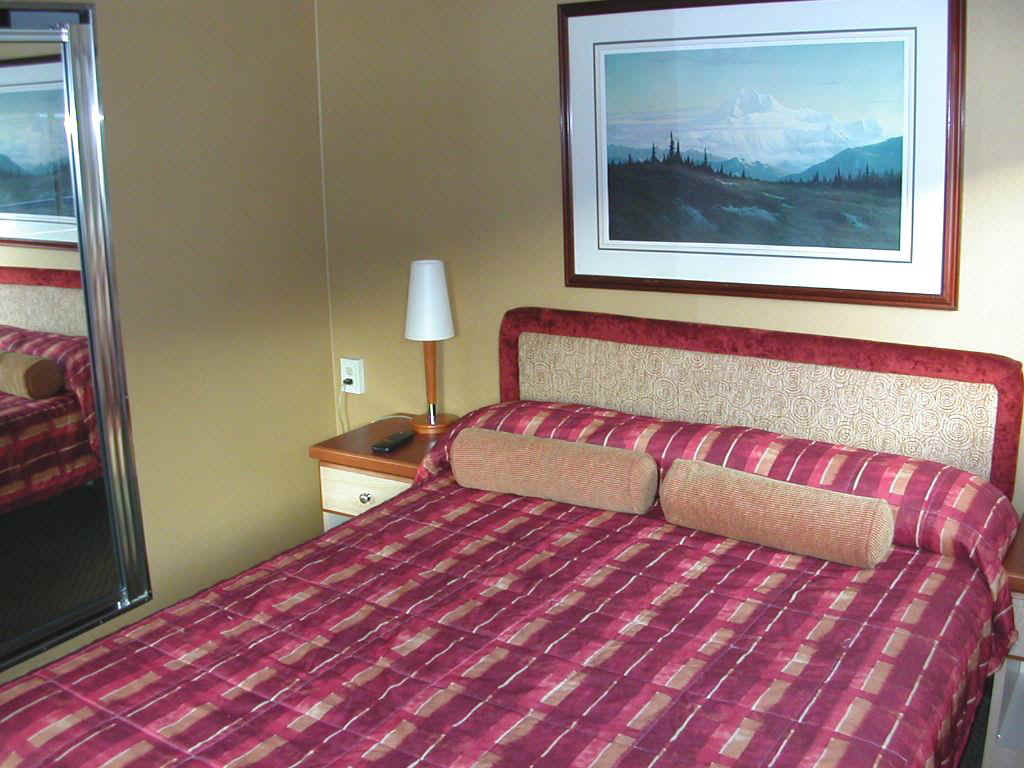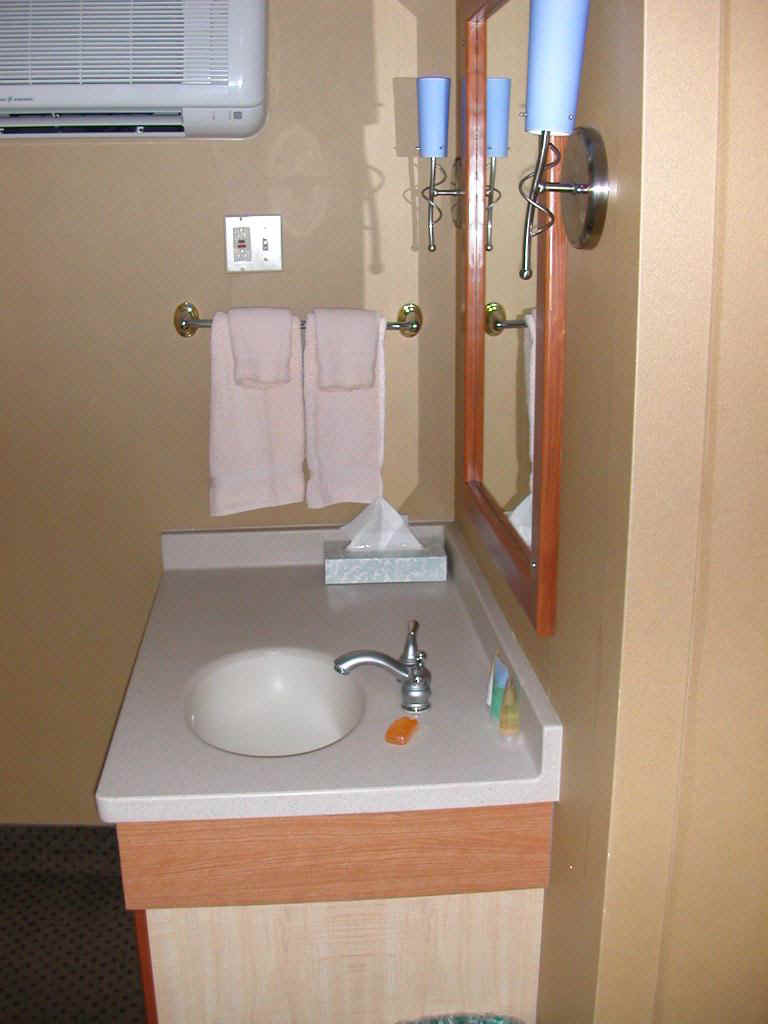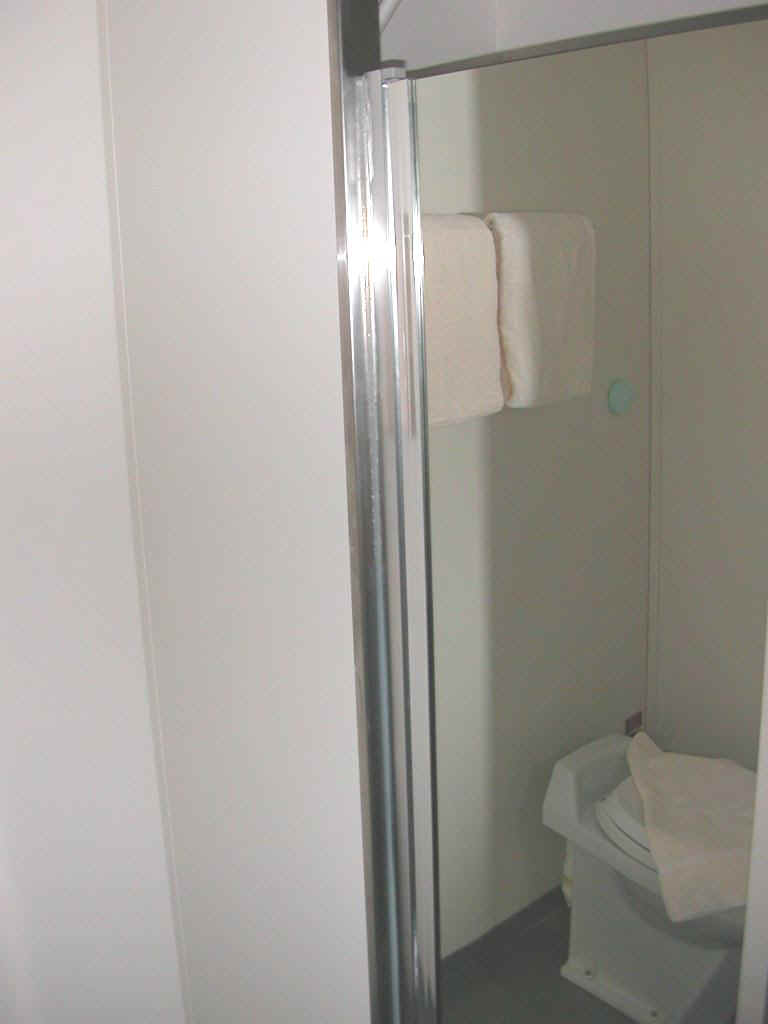 Around 5pm, we set out from Portland on the Willamette (rhymes with dammit) River, soon reaching the Columbia River. We had a beautiful view of Mount Saint Helens.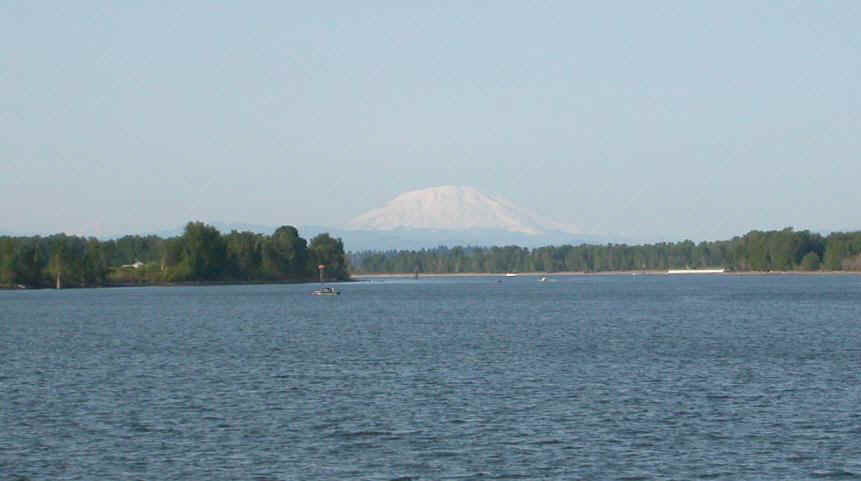 Delicious Butterscotch cookies were available for snacking. Afternoon cookies were a daily occurrence. Richard, the head naturalist, gave a talk about our route and introduced a few of the crew.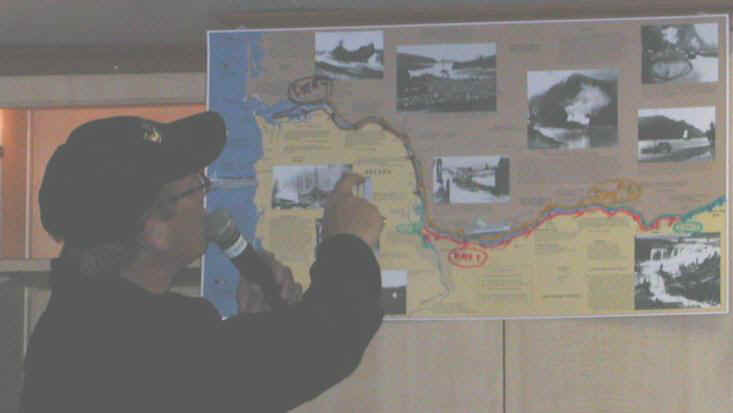 We were asked by a show of hands, for our dinner choice. Seven chose the poached halibut & seven chose the sirloin.
We met Talon, the bartender as we enjoyed a glass of wine before dinner. Talon was Mr. Personality. He entertained us with stories about his bar in Alaska, his gambling grandfather, and his brothers that all have gambling names. Talon made no secret that his 22nd birthday would be coming up in a couple of days so he made sure to remind us at every opportunity. (Remind you of anyone?)
We enjoyed dinner with Cindy and Karl from Ohio. Karl suffered a stroke a year and a half ago. He boarded the boat in a wheel chair, but that was the last time we saw the wheel chair. He was able to get around the boat with relative ease and even took a turn at kayaking! Dinner tonight consisted of shrimp cocktail, salad, poached halibut with rice and broccoli for me and sirloin with mashed potatoes for Tony. Dessert was bread pudding and a birthday cake for Jane who was celebrating a birthday (we won't disclose her age, but she is slightly older than Talon).
After dinner, we were asked to sign up for tomorrow's kayaking expedition and the upcoming jet boat ride. Then we gathered in the lounge for a route talk and Portland Trivia contest that netted Tony this "fabulous" post card as his prize (Richard referred to ALL of the prizes as fabulous).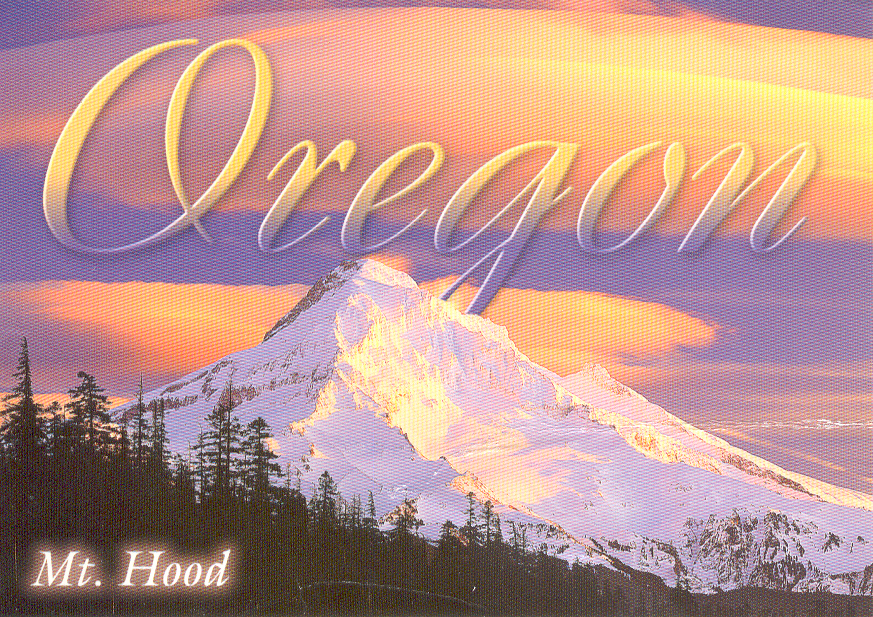 Since we were still on Atlanta time, we retired pretty early. The hum of the engine put us right to sleep, but we woke up around 11PM when the captain engaged the bow thrusters in the Bonneville Lock. We went right back to sleep and didn't wake again until 4:30AM when the smell of bacon started wafting in our window! The sunrise was beautiful from our cabin window.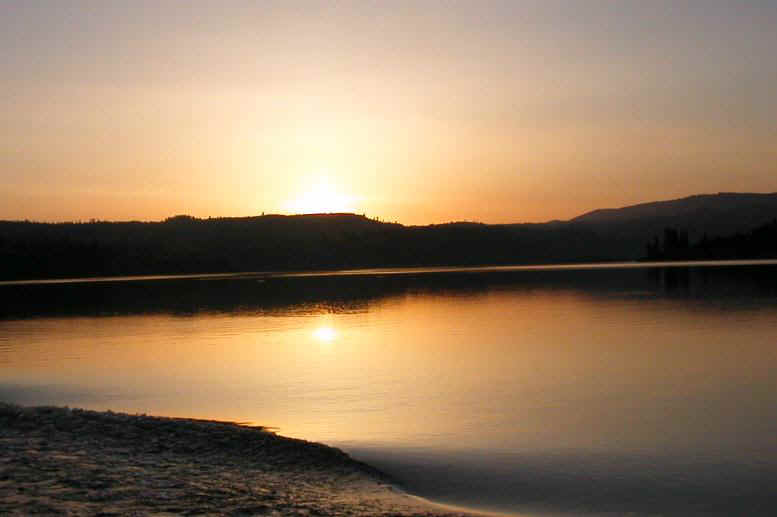 Following a surprisingly pleasant shower in the shoilet (I was glad I had brought flipflops!), we had Sunday breakfast with Deena & Tom from Virginia. They had upgraded to one of the 400 deck rooms. They said it was nice, but the walls are not insulated and the noise from the adjacent cabin was disturbing. We enjoyed a full breakfast consisting of fluffy scrambled eggs, crispy bacon, hash browns, cheese blintzes, fruit, muffins, a variety of cereals, and toast. After breakfast, we went up on deck to watch as we entered the Dalles Lock. We had never been (awake) in a lock before and we found it very interesting. I took 22 pictures of the Dalles Lock, but I'll only show you a few.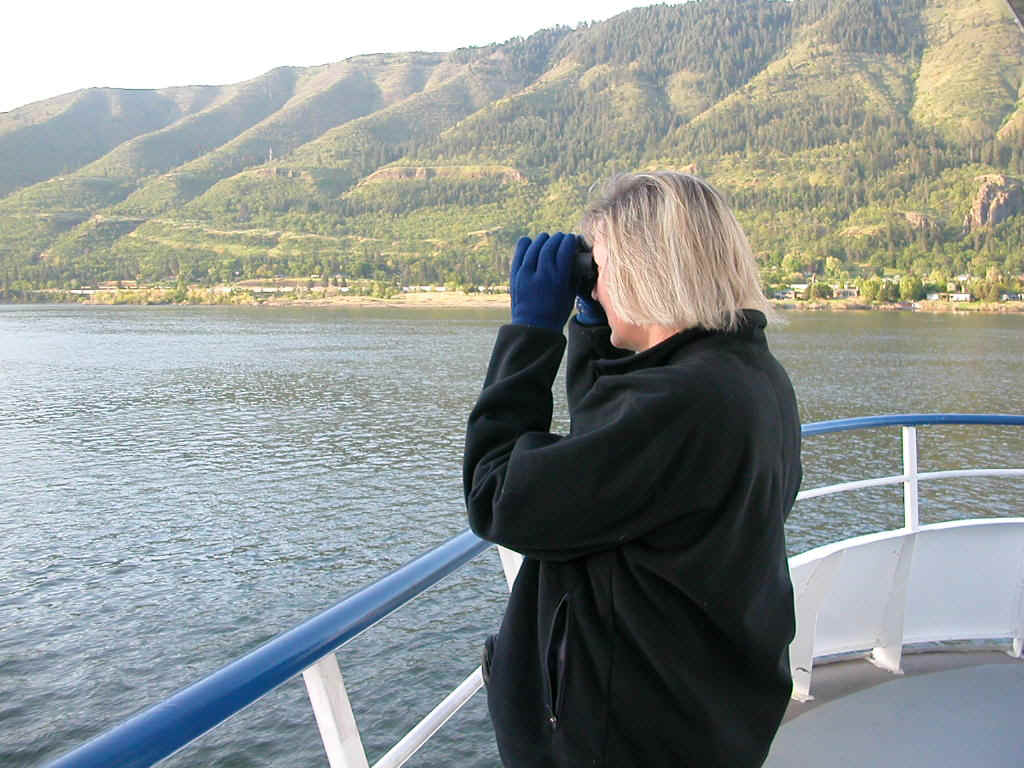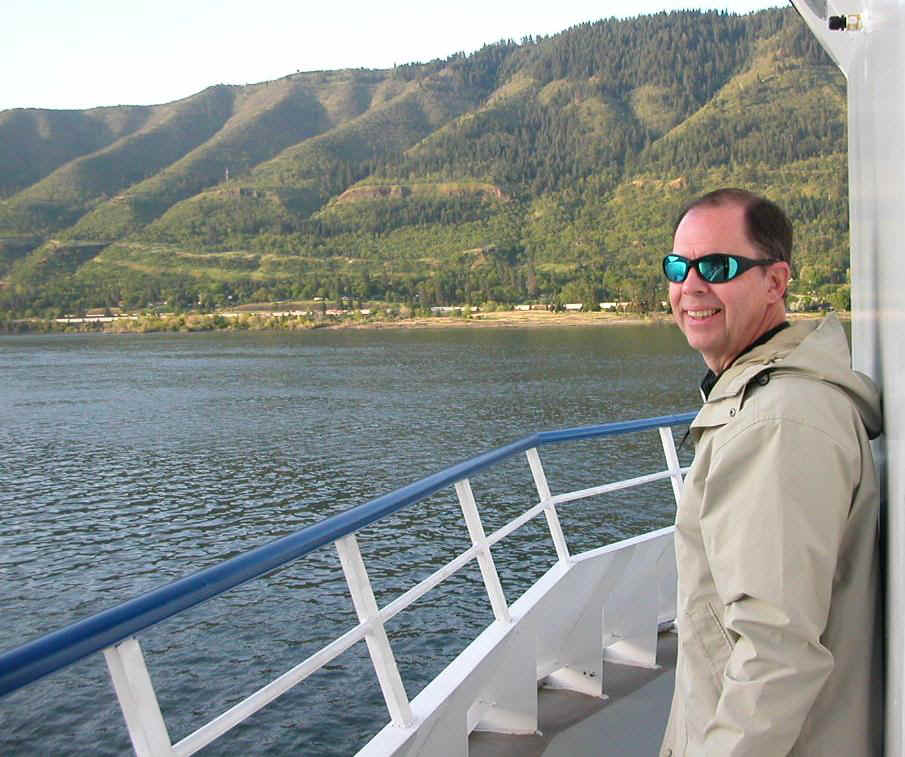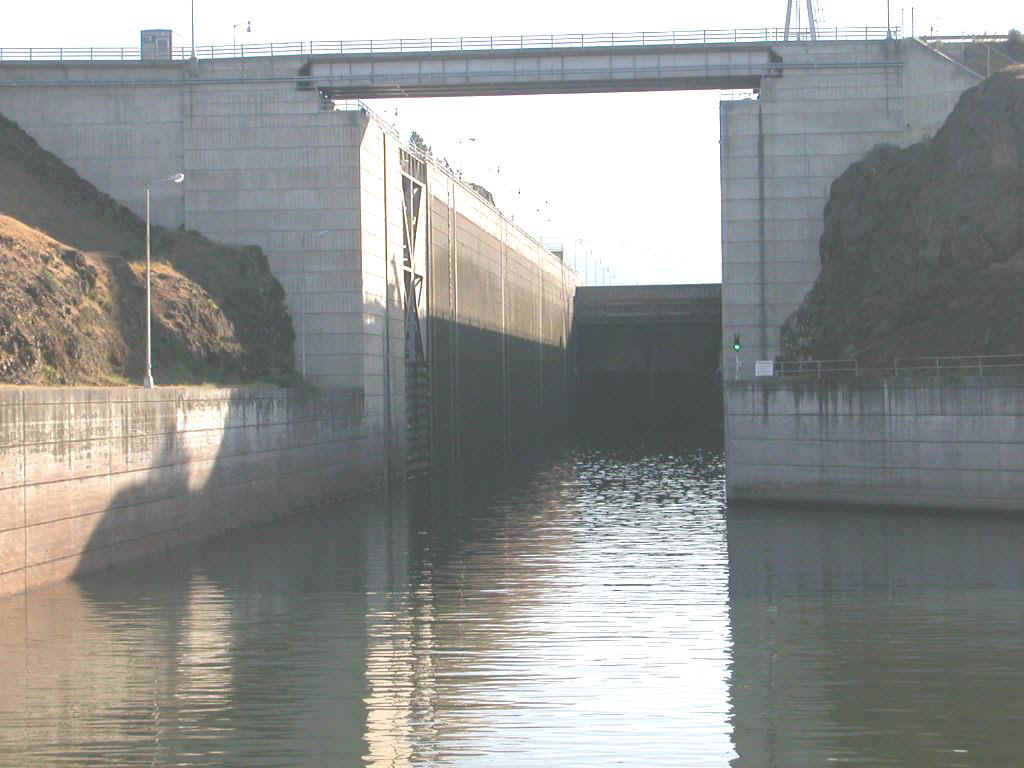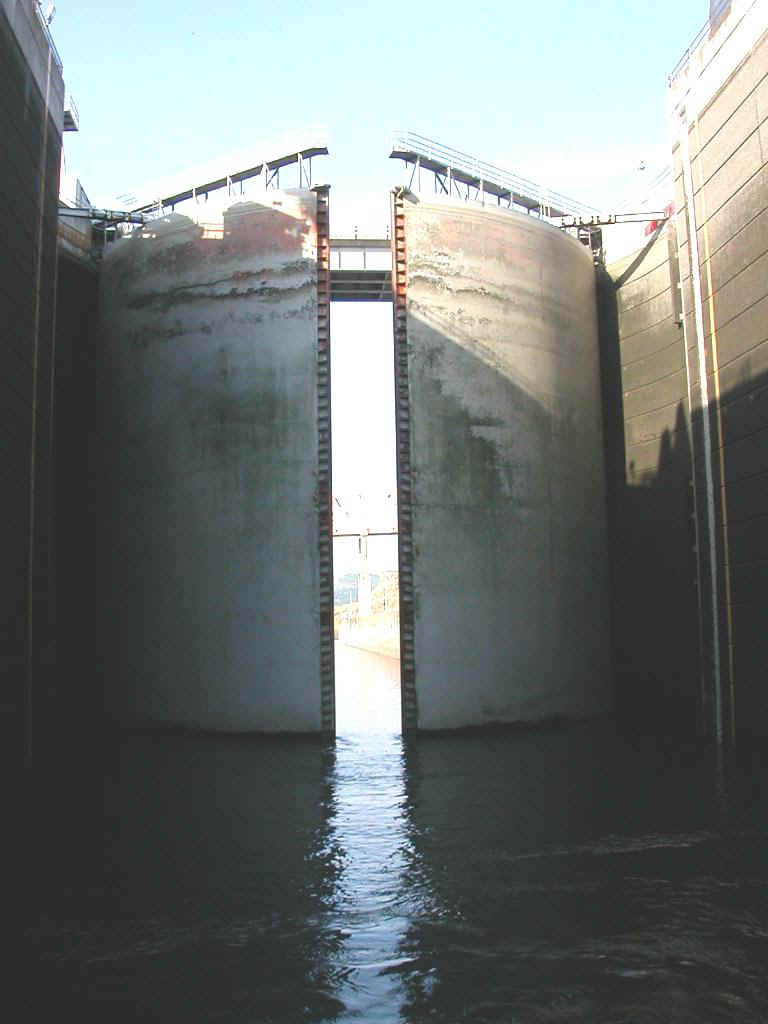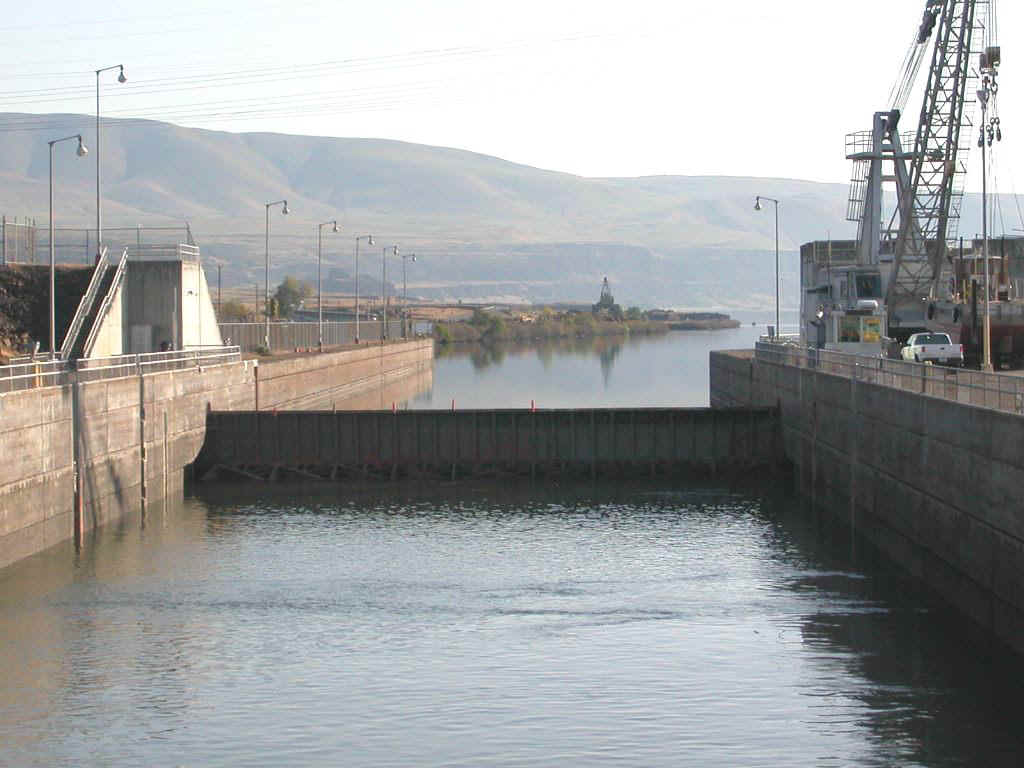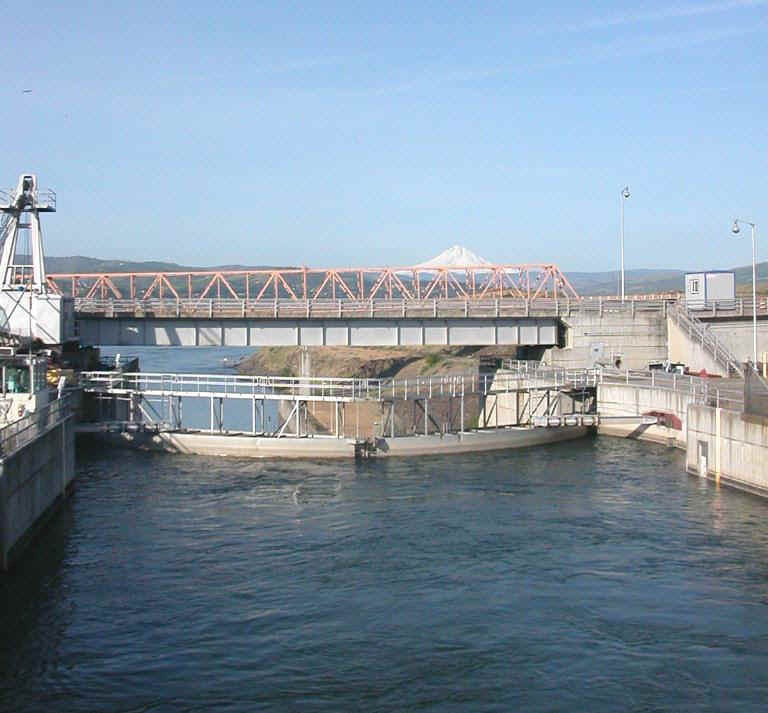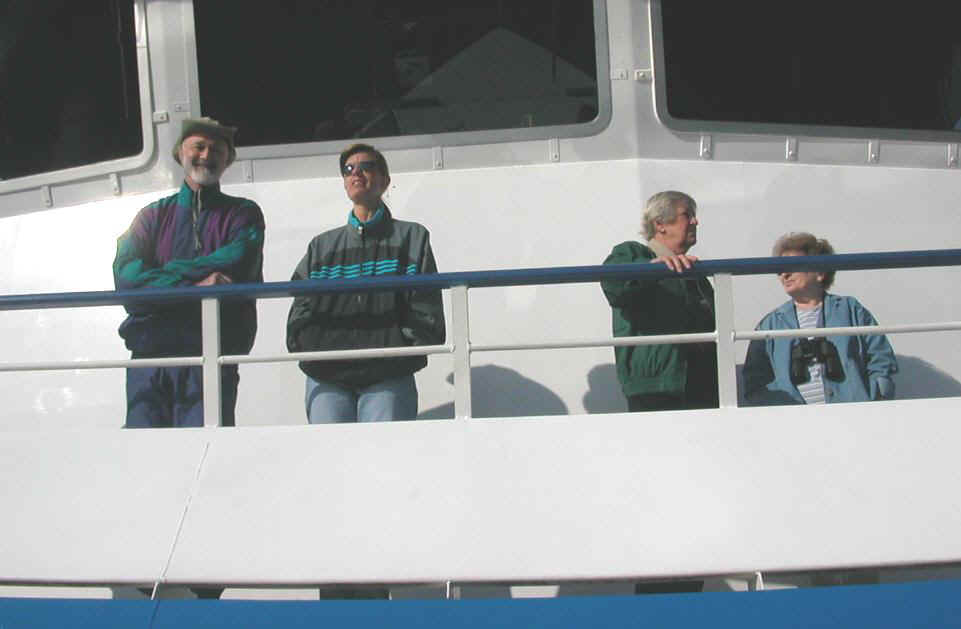 We gathered on deck for our kayak safety instructions. Saren used Jeff and Richard to demonstrate the proper way to don the spray skirt and personal flotation device. Then they showed us how to get into the kayak and paddle.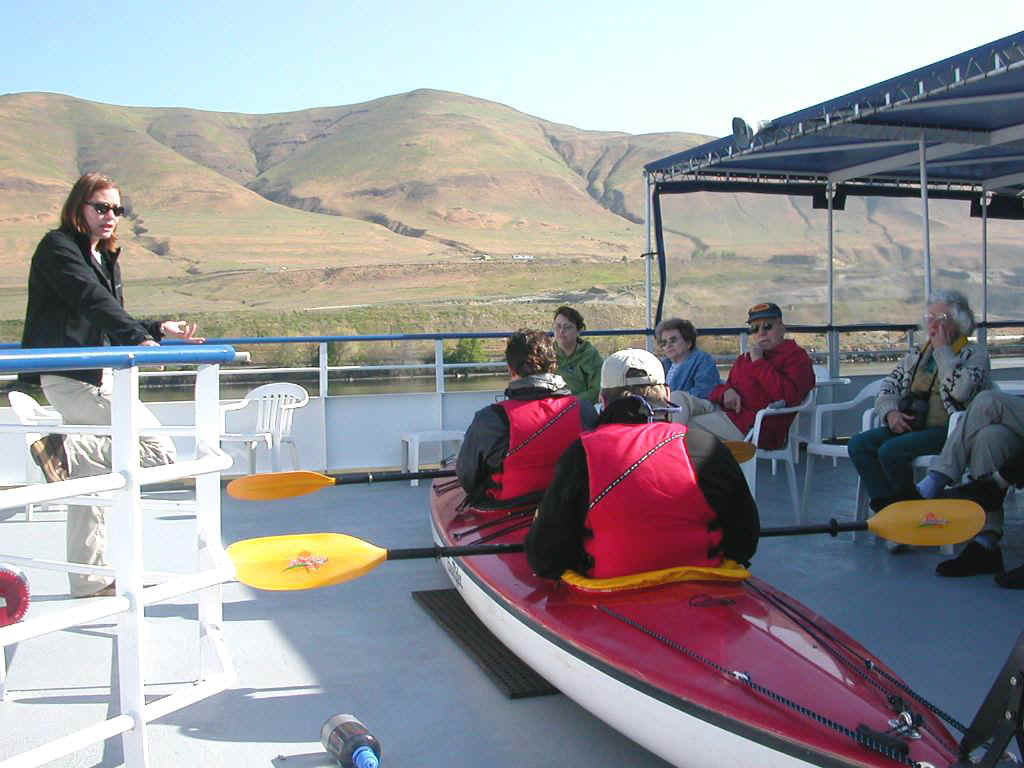 We anchored at Miller Island and donned our equipment for our first kayak adventure.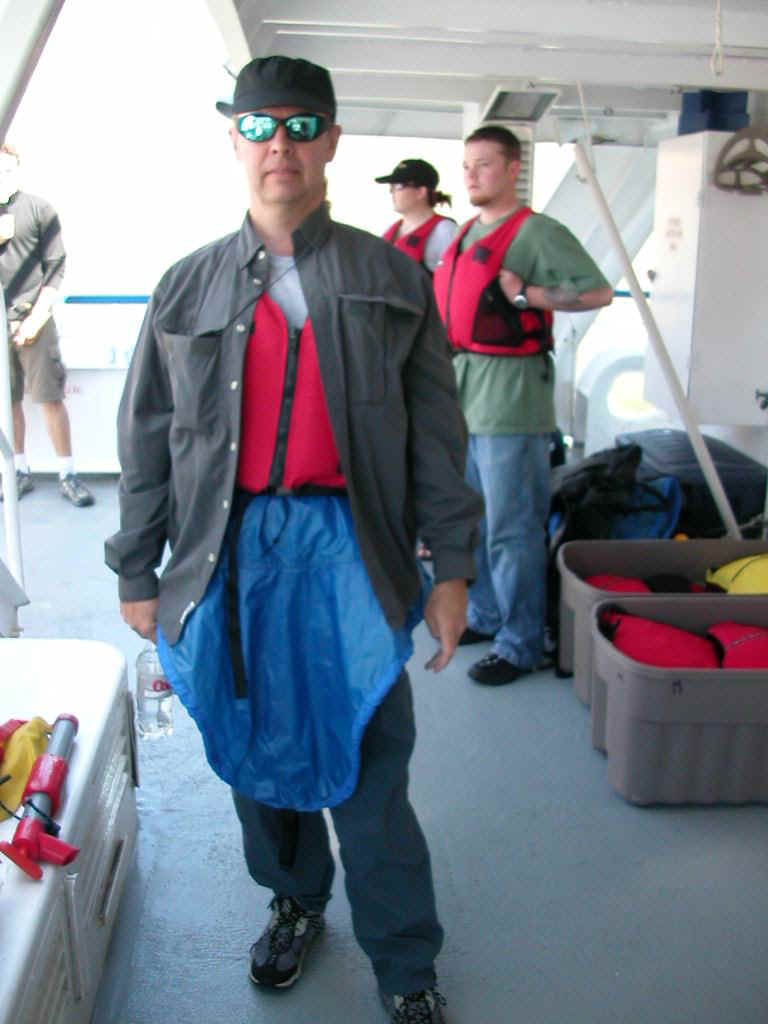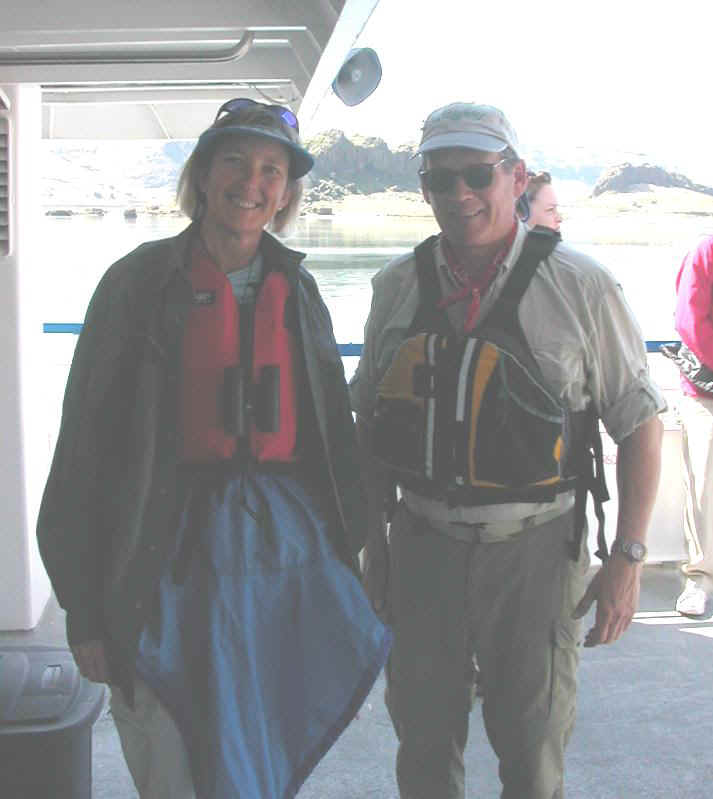 They had a platform that they put the kayaks on for easy boarding and the kayaks are really wide so there was not much chance of turning over.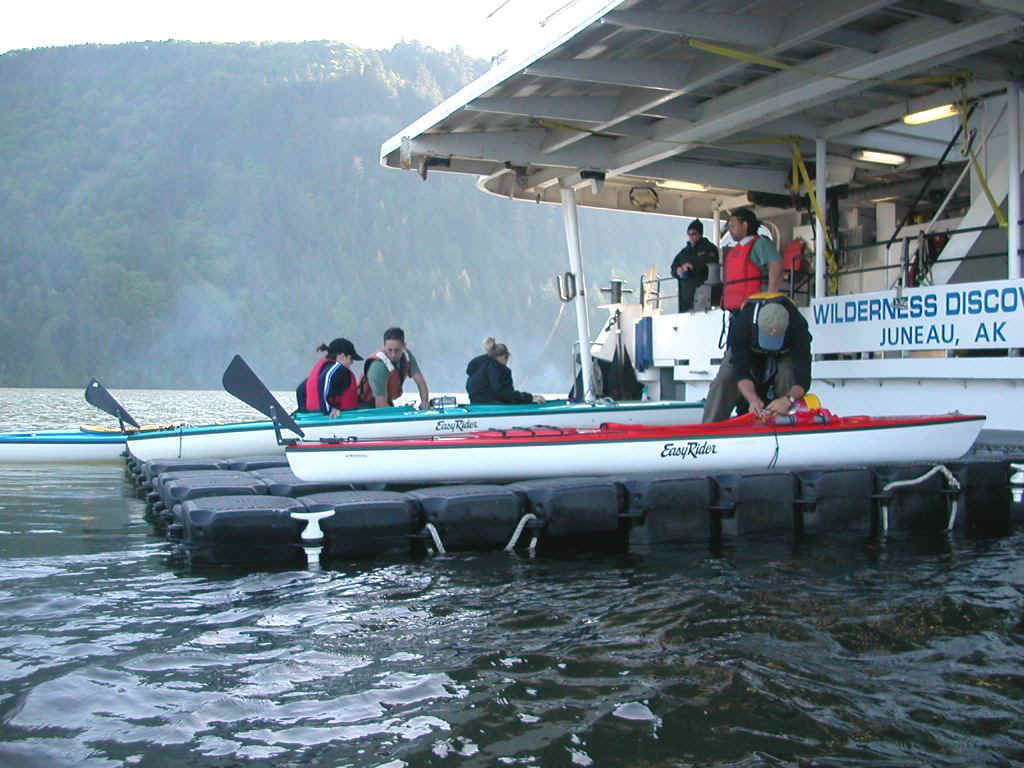 Saren led the group and pointed out petroglyphs, pictographs, Lupine, Balsamroot, California & Ring-Billed Gulls and a nesting osprey on a buoy.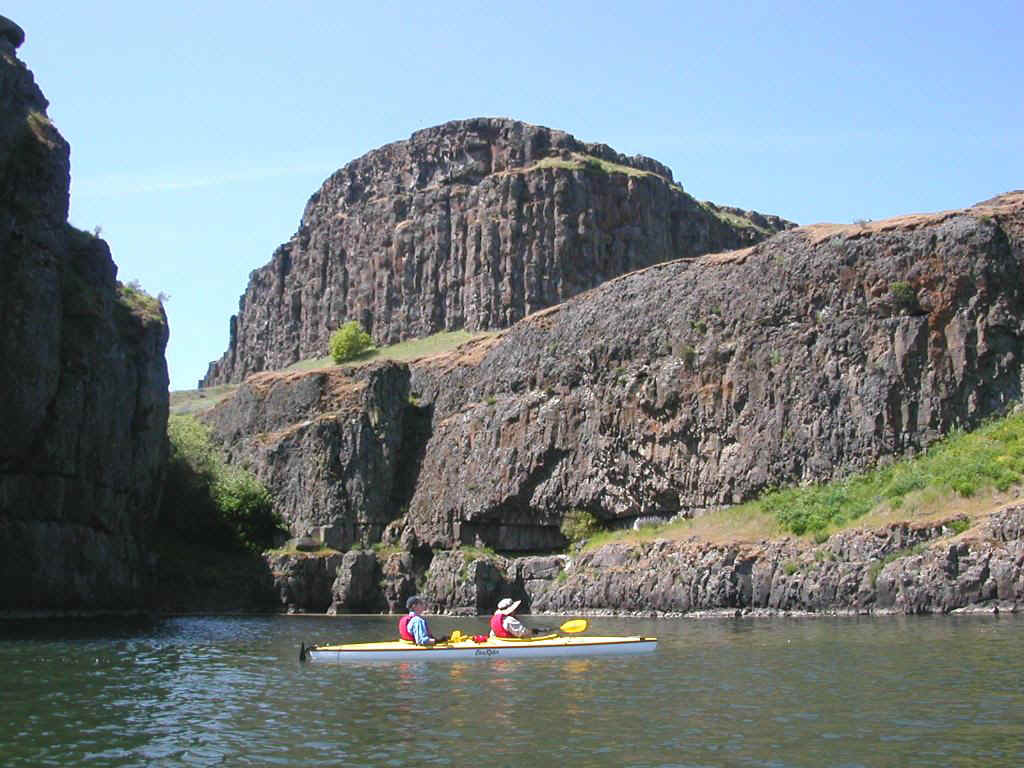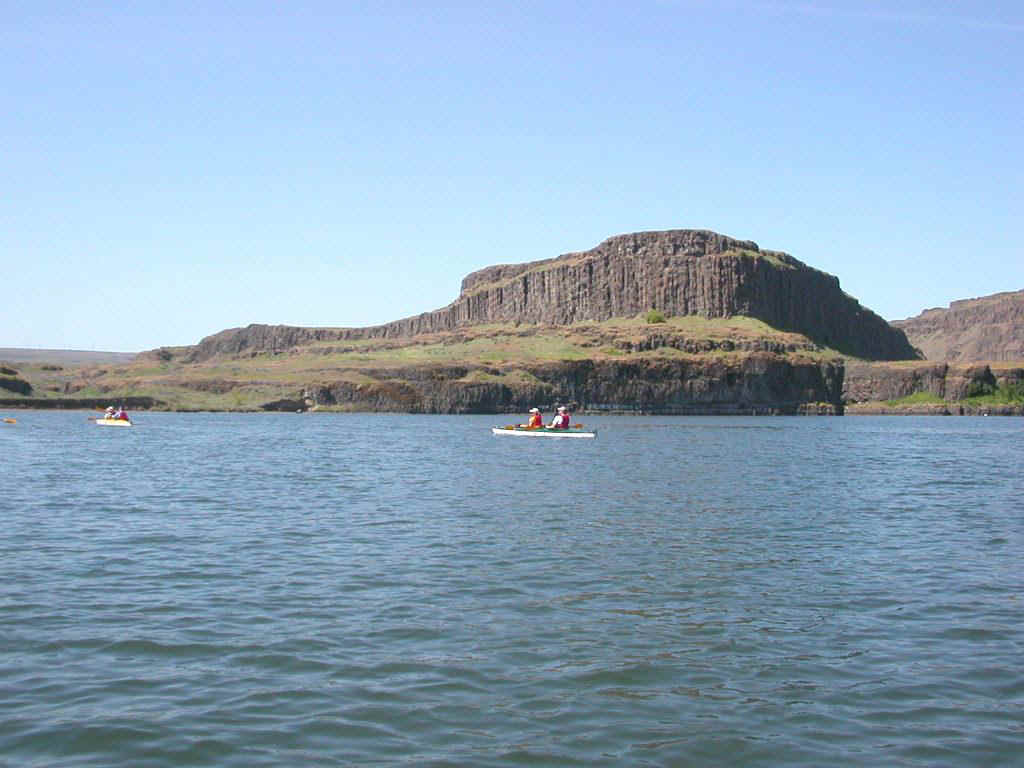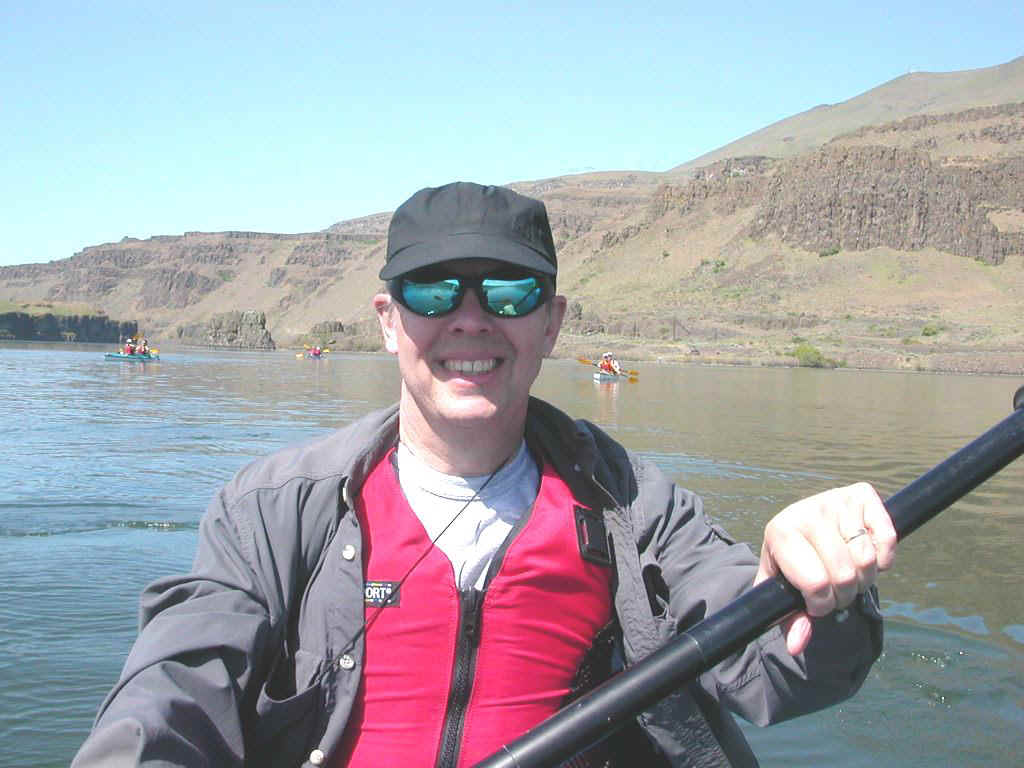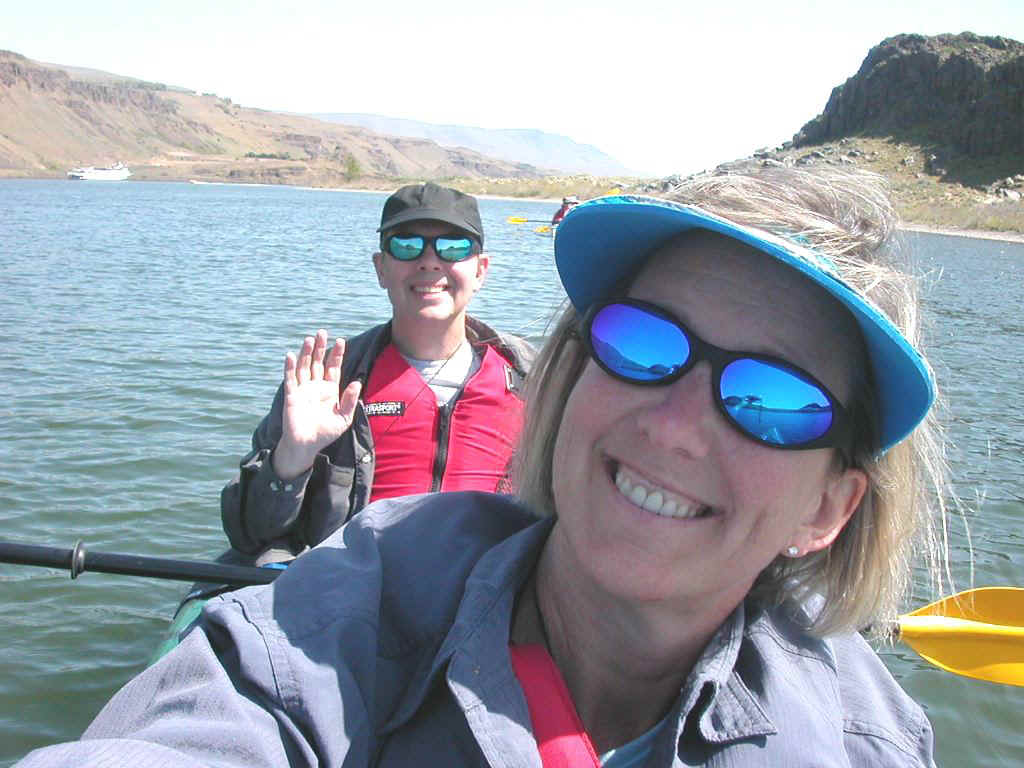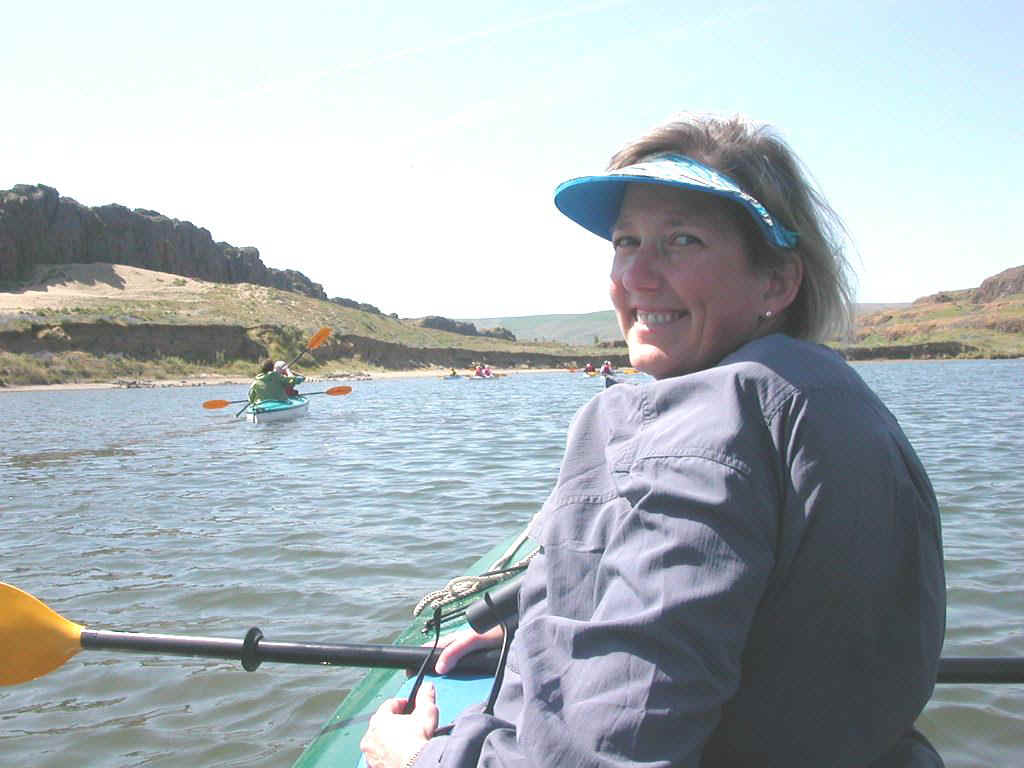 When we started back for the boat, we realized that we were now paddling upstream and into the wind. It was a difficult paddle for the beginners, but we knew lunch was waiting on the boat, so we made it back.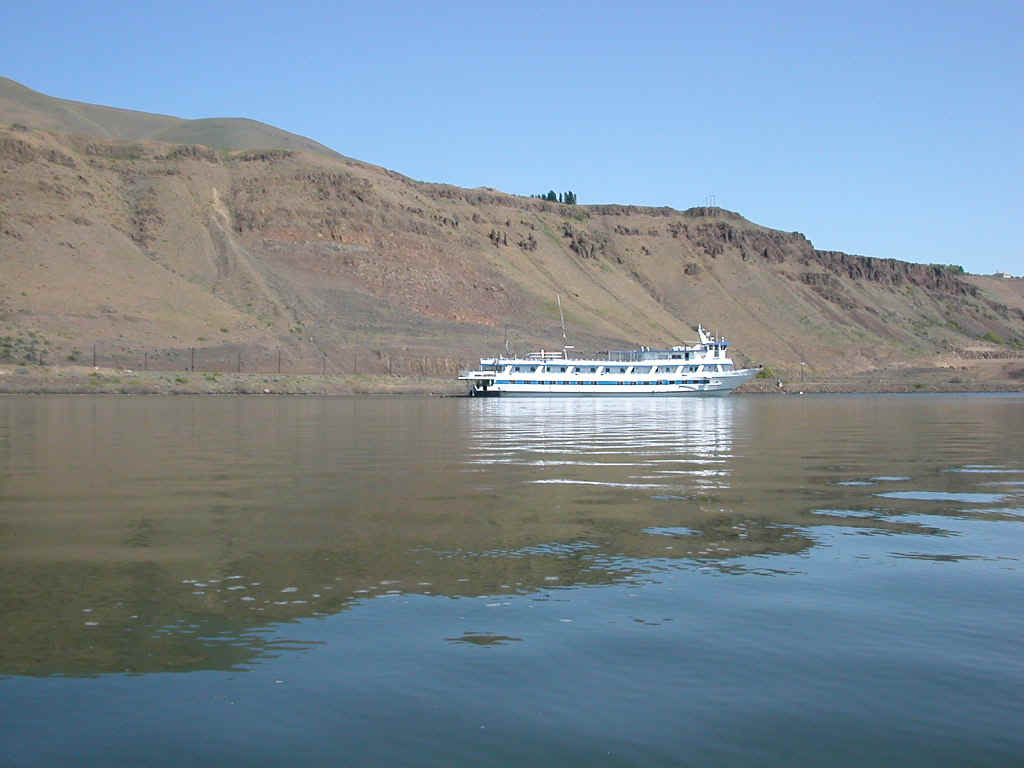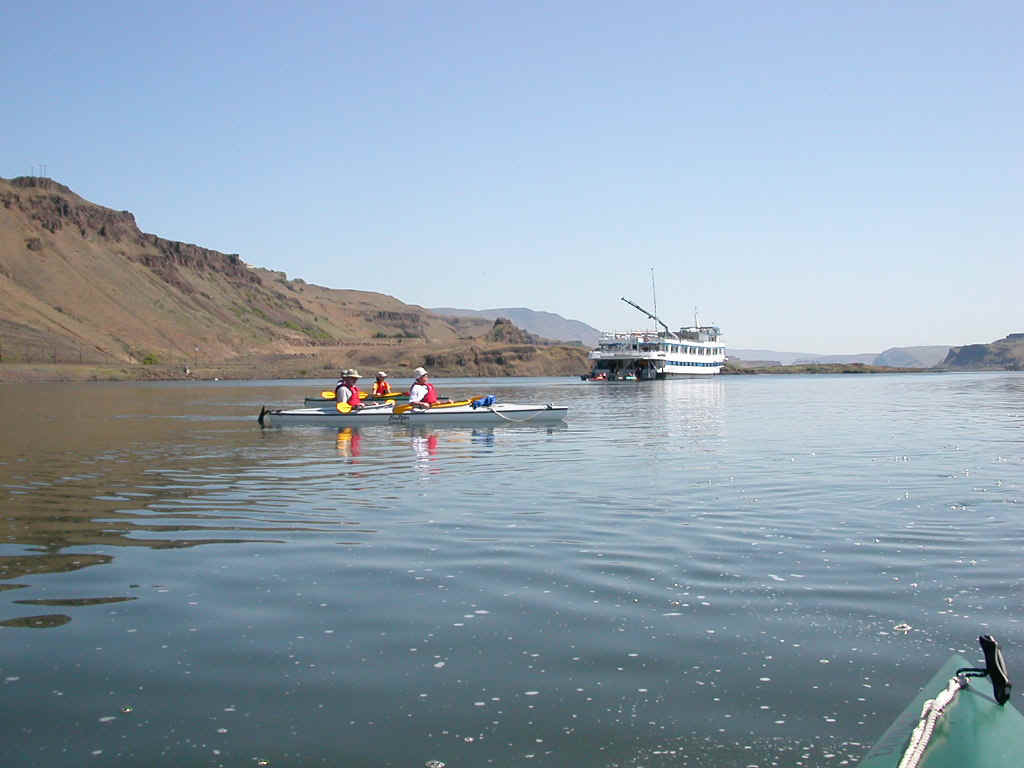 We had lunch with Jane, Maurice, Dori and Glenn from Tyler, Texas. Really, only Glenn could claim to be from Tyler. Dori was originally from Minnesota, Jane from England, and Maurice from Scotland. They had an assortment of interesting accents. We had all worked up an appetite for the clam chowder, tossed salad, and turkey & pepperjack sandwiches that Chef Larry Jackson had prepared for us.
After lunch, one of the naturalists gave a presentation on Cililoh Falls, (which can no longer be seen because of the dams). The area that we had kayaked was where Cililoh Falls had been. Immediately after the Falls talk, we heard the alarm for the safety drill. We hurried to our cabin to get our PFDs (Personal Flotation Devices) and assembled on the 400 deck. After inspection, the captain dismissed us to return our PFDs to our cabins.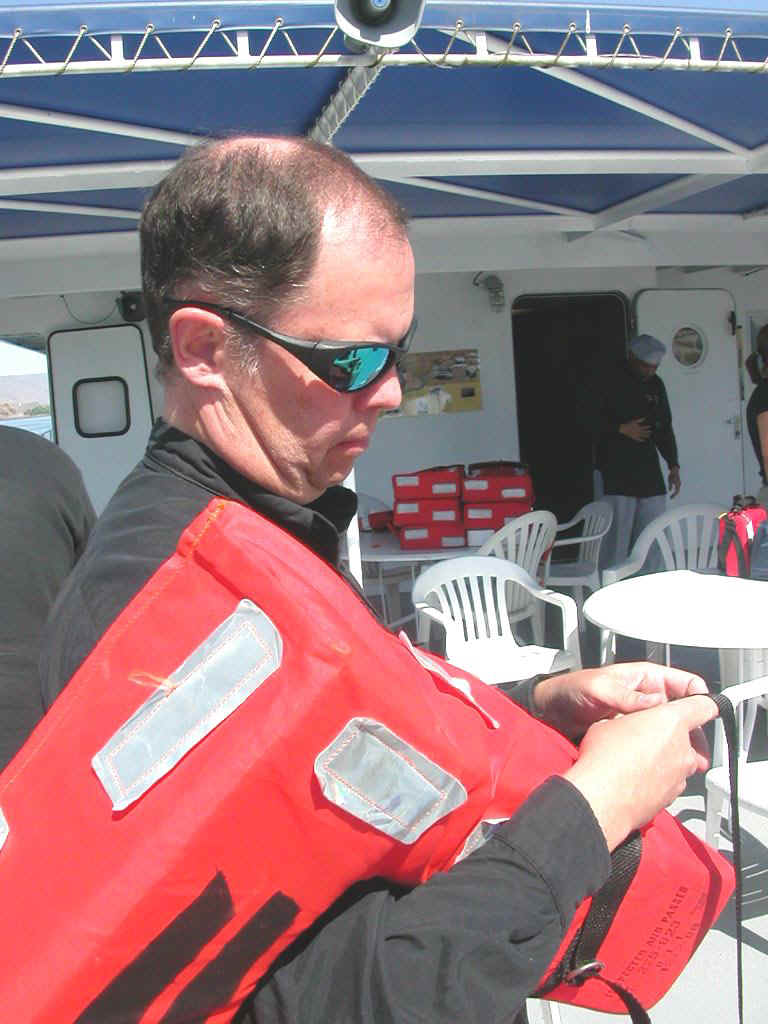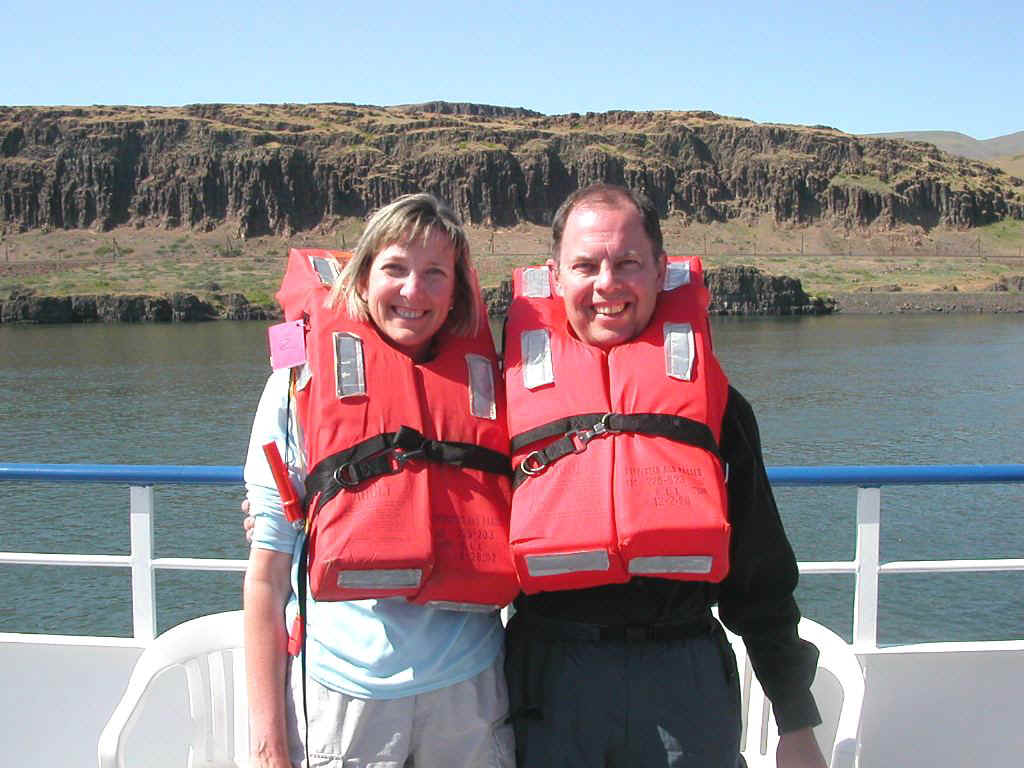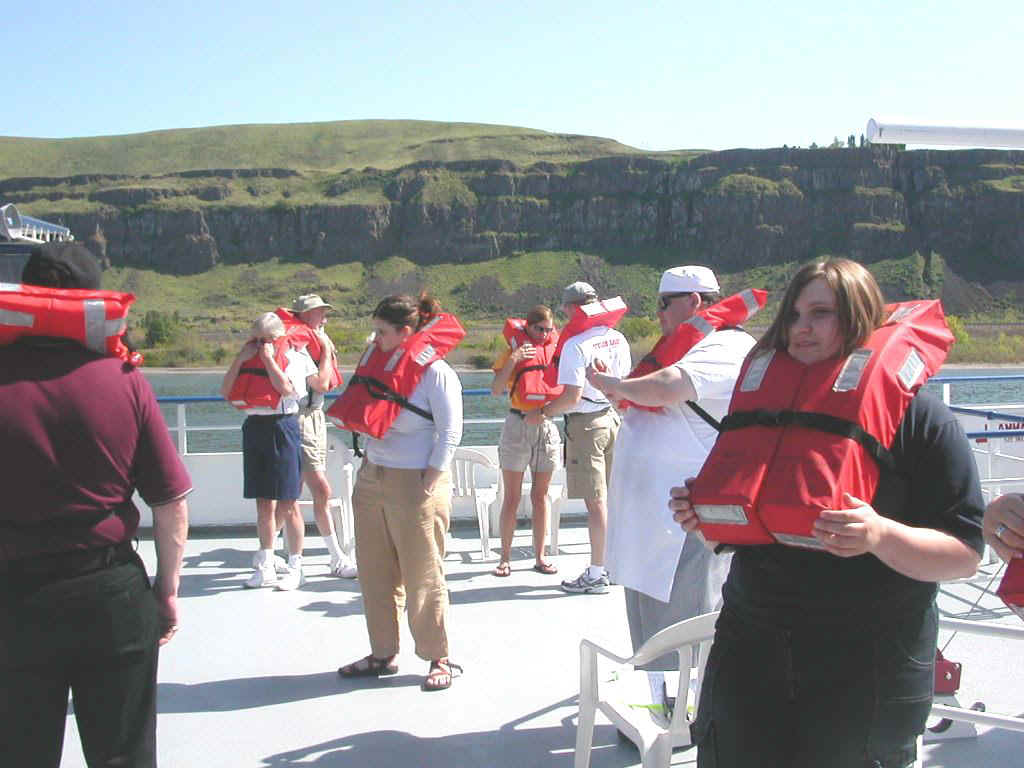 Back out on the deck, we passed under an interesting draw bridge. One section of it rose so that we could pass under.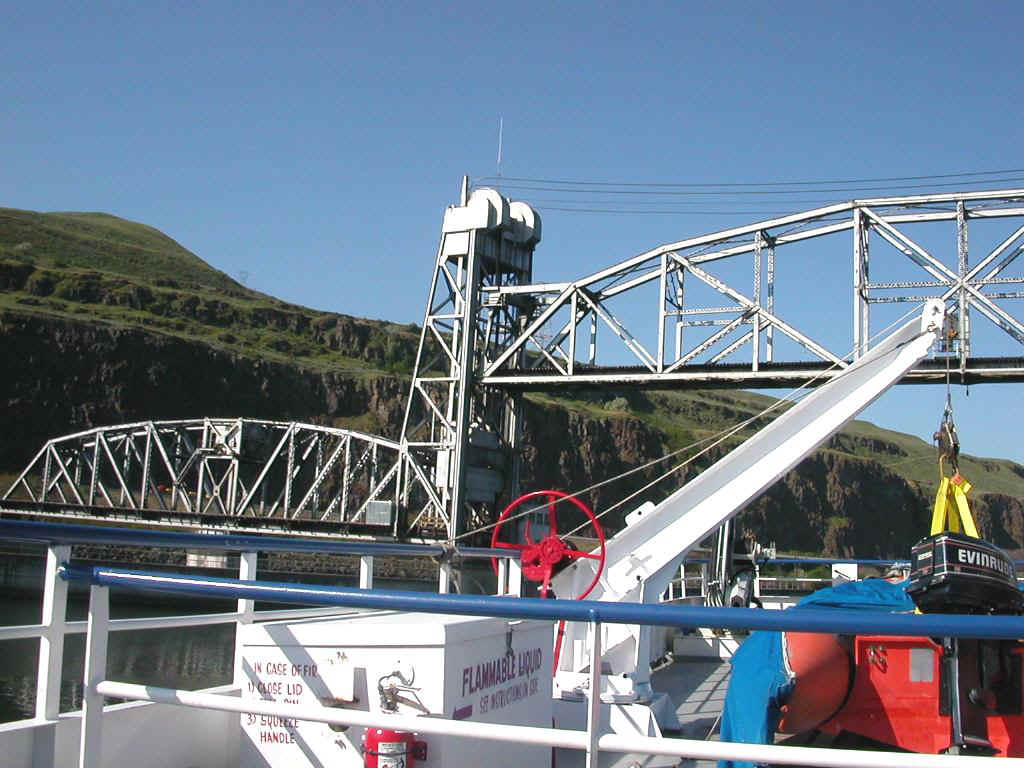 Still in awe of the lock technology, I took twenty pictures as we passed through the John Day Lock. Here are a few of them.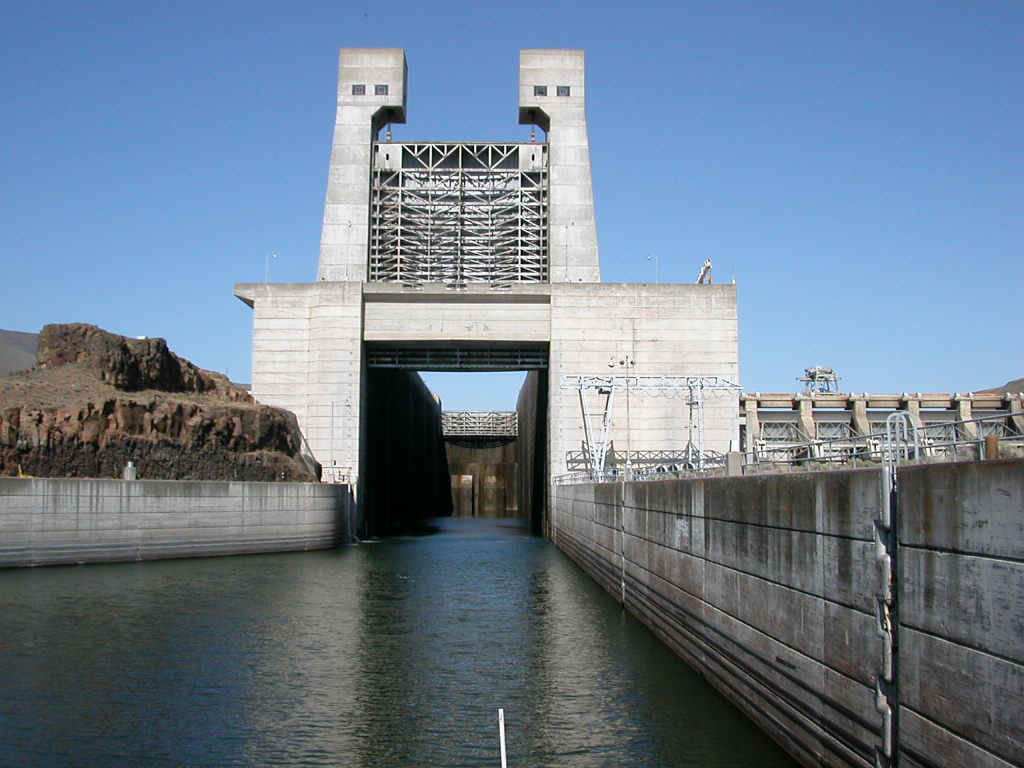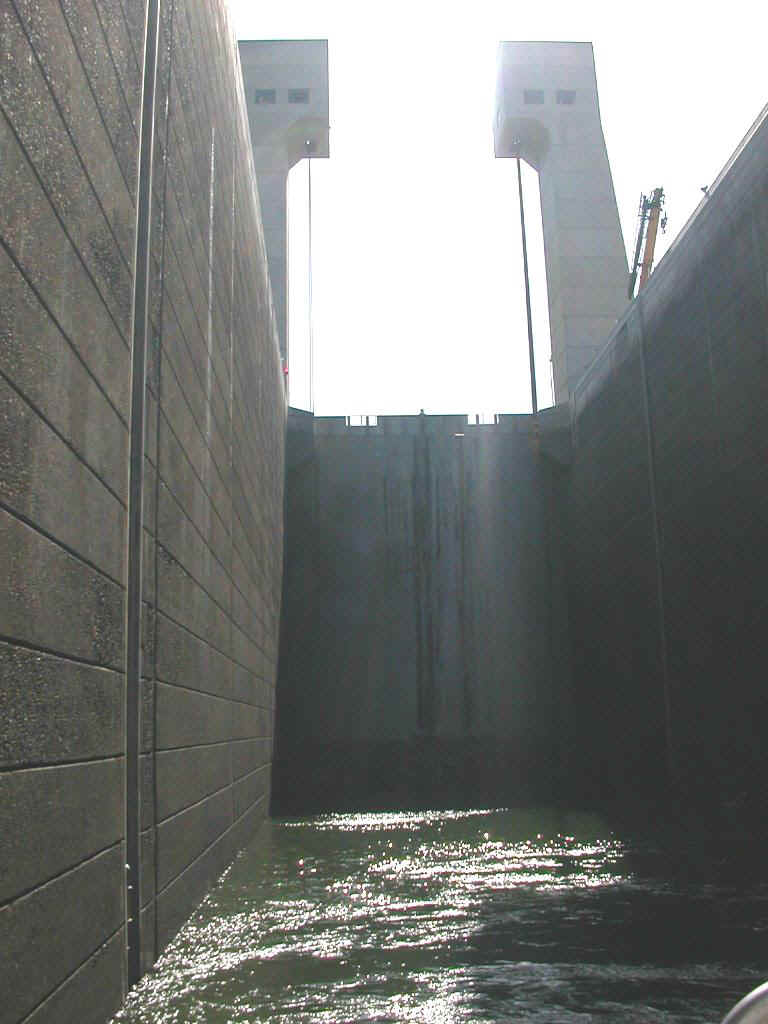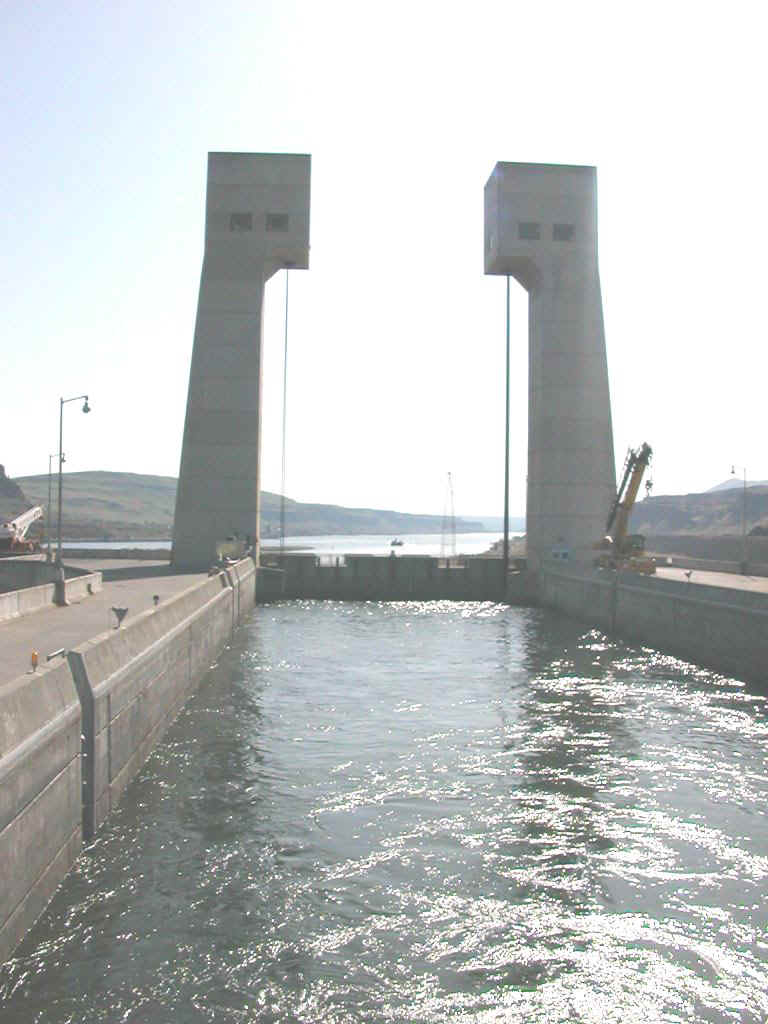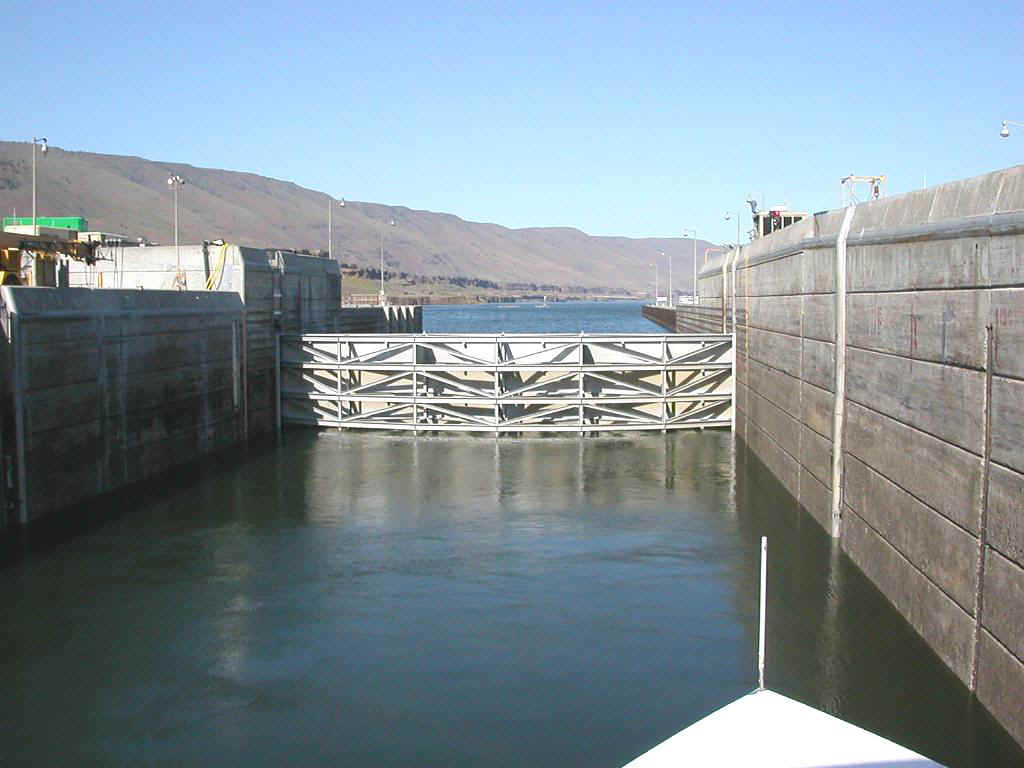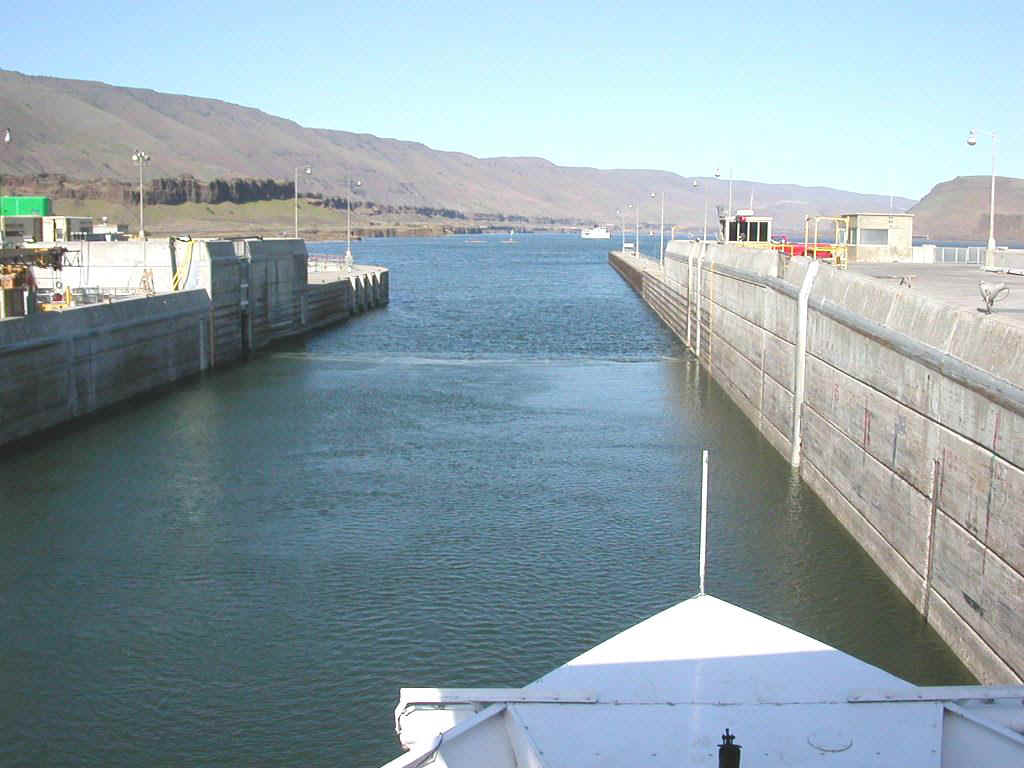 Spending the afternoon on the sun deck, we decided that we had brought too many warm clothes. Thankfully. we both had zip-off legged pants and a couple of lightweight shirts. Those items, along with some Woolite got us through the trip.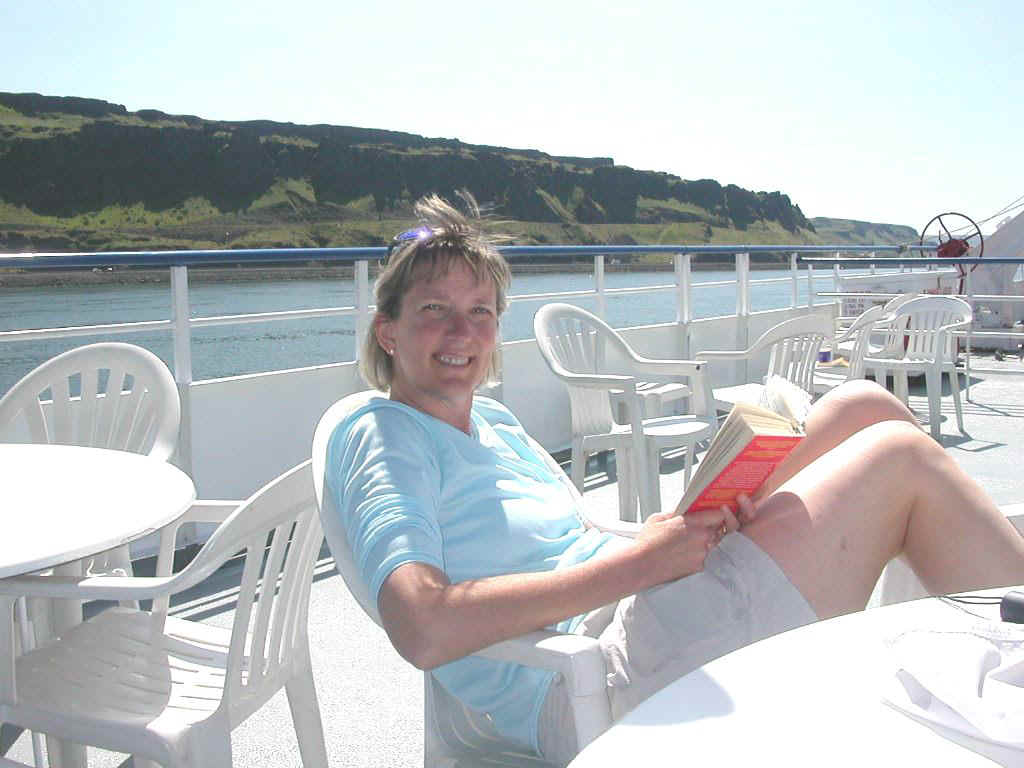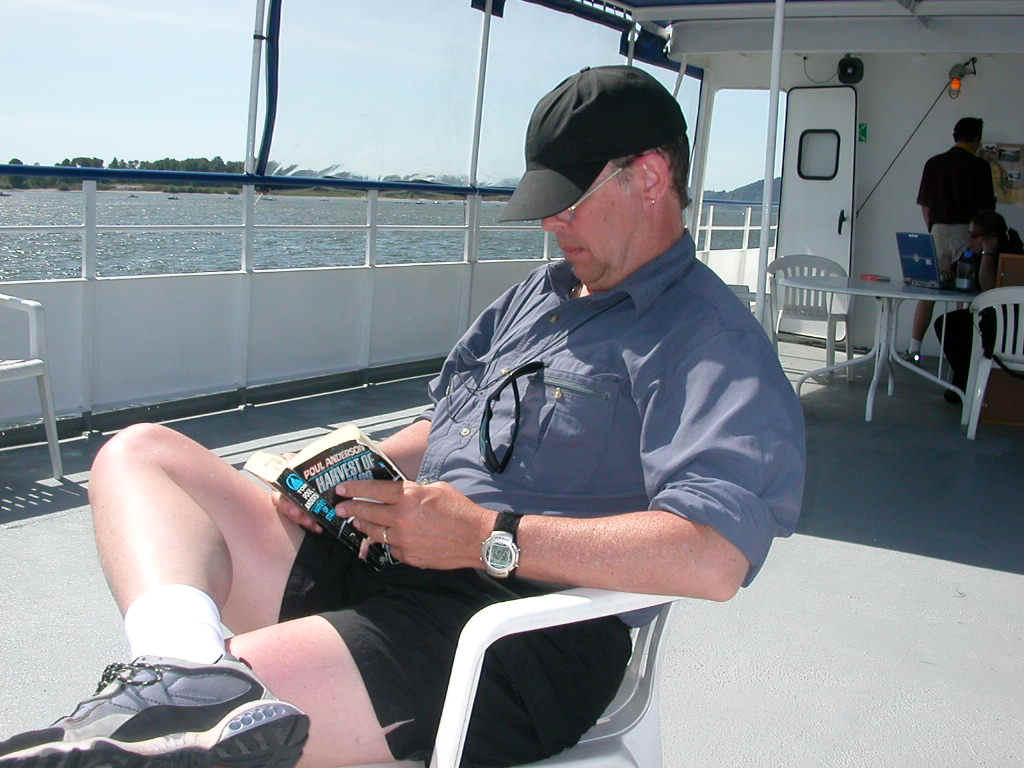 The naturalists, Jeff, Richard and Saren took turns bringing points of interest to our attention. They were joined by Tom, the guest speaker in pointing out various birds and animals. We saw blacktail deer, beaver, big-horned sheep, California sea lions, llamas, goats, river elk (their term for cows) and even a full moon from a fisherman. We saw Mount Hood, Mount Saint Helens, Mount Jefferson and Mount Adams. The bird sightings were quite extensive: Osprey, Bald eagle, Western grebe, Bufflehead duck, Double-crested cormorant, Canada goose, Violet-green swallow, Tree swallow, Cliff swallow, Barn swallow, Starling, Crow, Raven, Red-tailed hawk, Cinnamon teal, Lesser scaup, Franklin's gull, Ring-billed gull, California gull, Tundra swan, Long-billed marsh wren, White pelican, Rufous hummingbird, Turkey, American kestrel, Water ouzel (dipper), Swainson's hawk, Western meadowlark, Greater yellowlegs, Western belted kingfisher, Horned lark, Savannah sparrow, Killdeer, Northern shoveler, Purple martin, Black-billed magpie, Gadwall, Mourning dove, Rock dove, Turkey vulture, Sage thrasher, Say's phoebe, Red-shafted flicker, Valley quail, Chukar, Forster's tern, Caspian tern, Red-winged blackbird, Northern shrike, Robin, Western kingbird, Common merganser, Prarie falcon and Muscovey duck!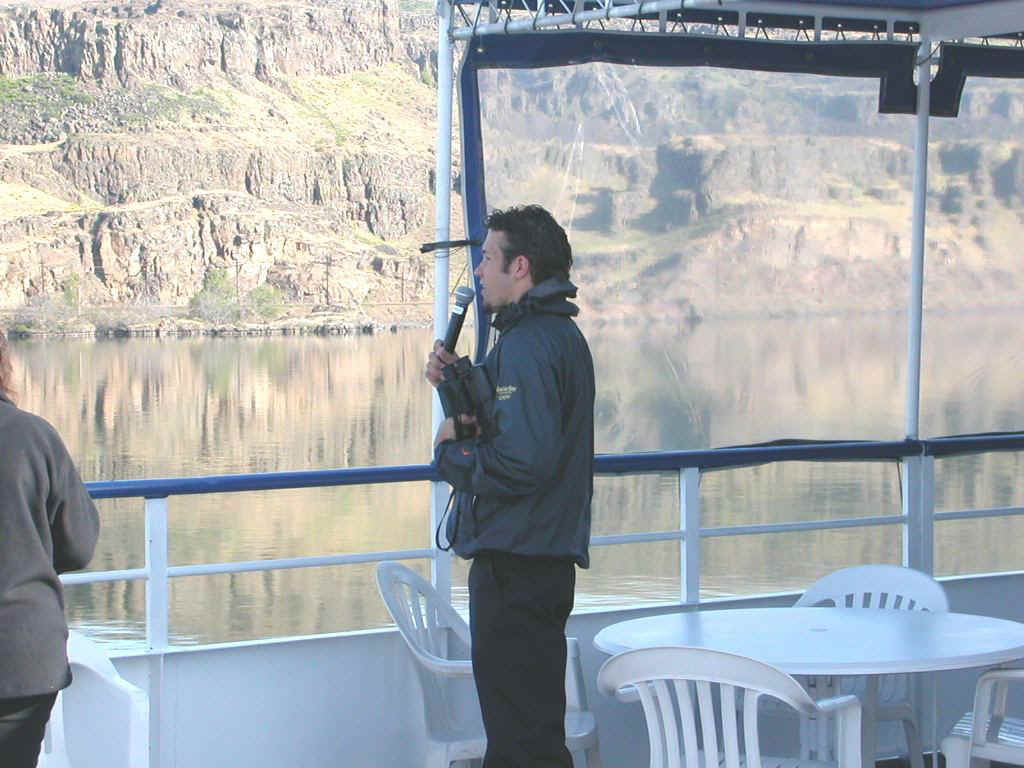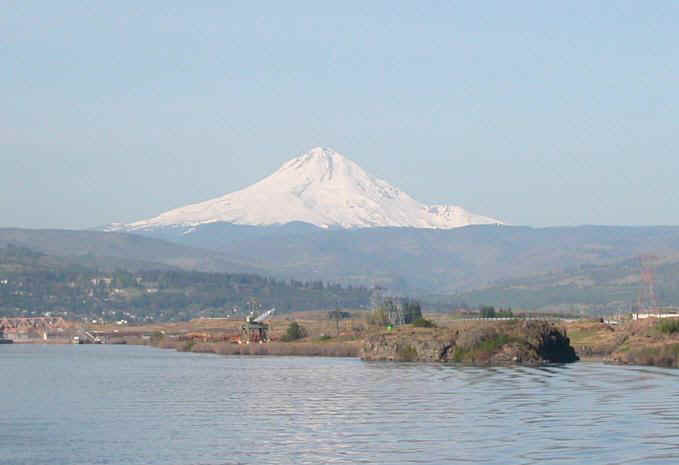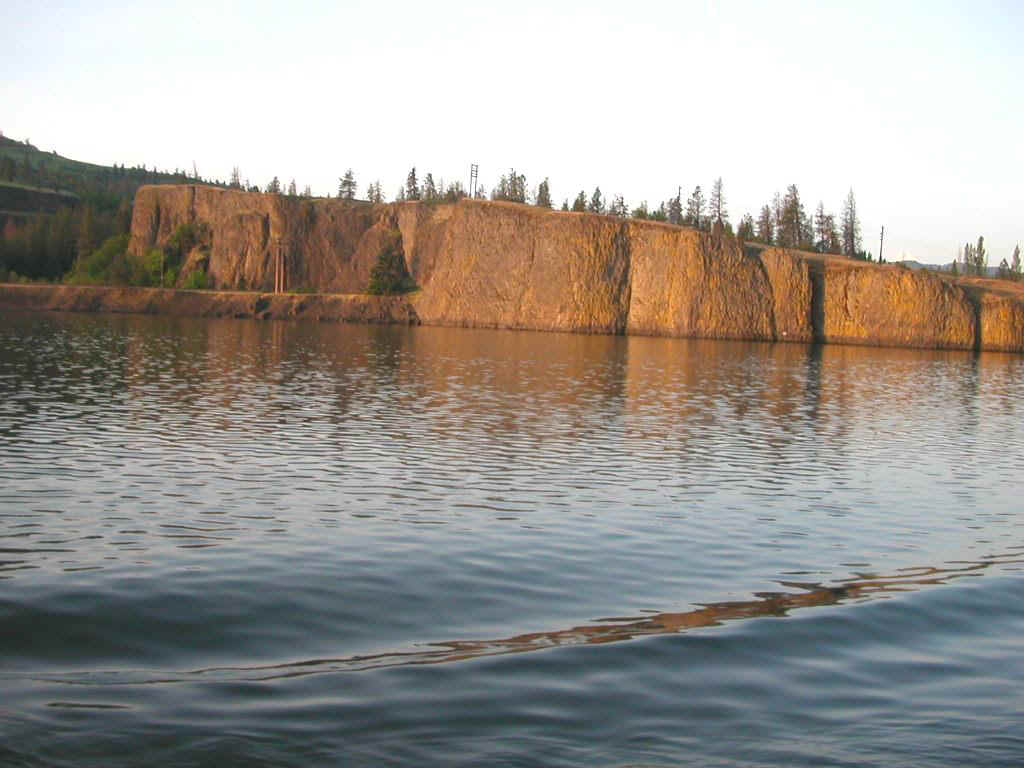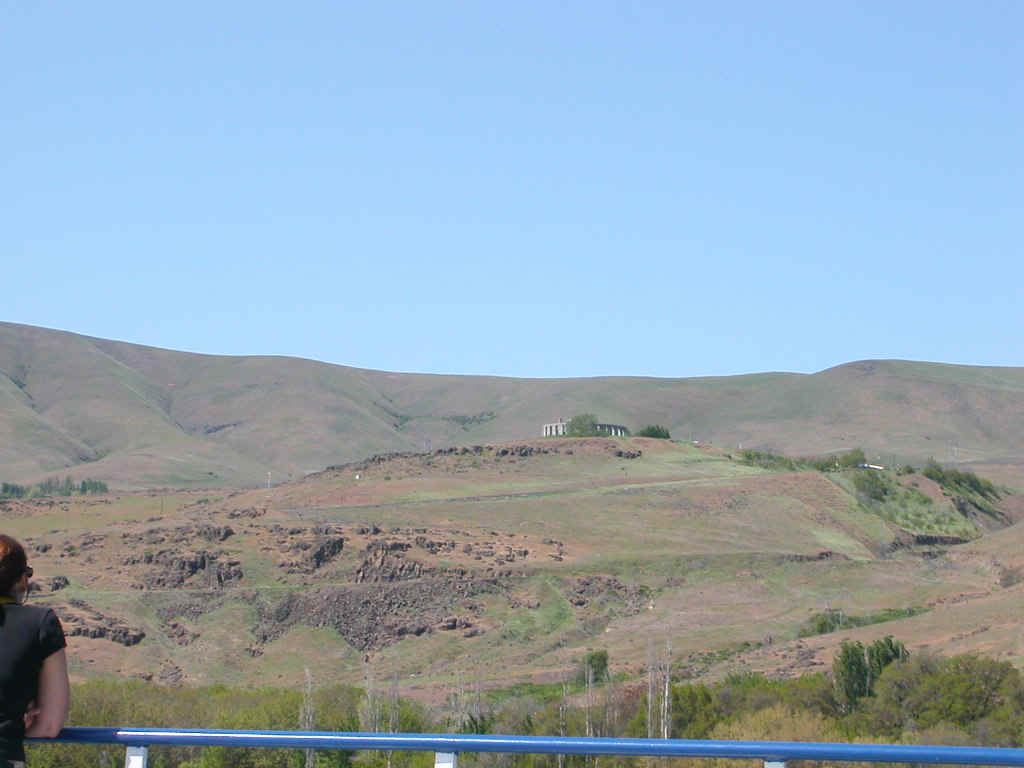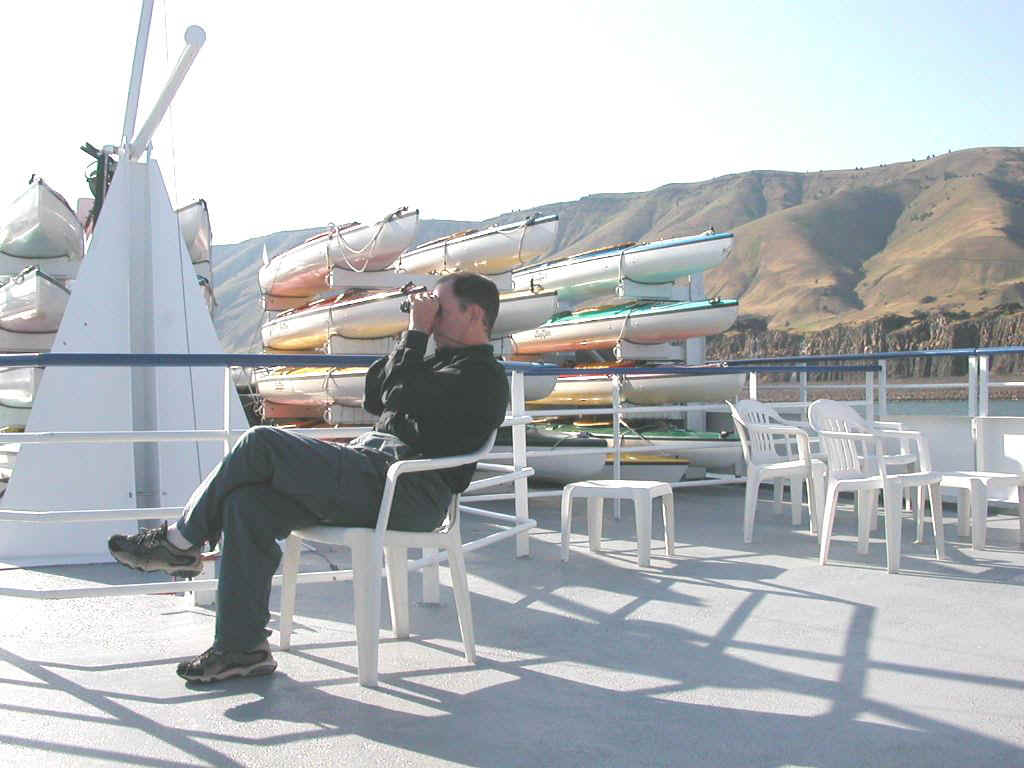 The afternoon cookie of choice was oatmeal! Charles of the Galley was reputed to be the chief cookie baker.
The Happy Hour special today was Bloody Marys. Talon gave us his special recipe, but we had to swear not to reveal it. Tonight, we dined with Cindy and Karl again. I had the Crawfish Cakes with Scallops, Rice, Green Beans and Carrots. Tony had the Pork Tenderloin with Duchesse Potatoes. Dessert was chocolate cake.
Following dinner, we were introduced to the stewards, Melanie, Bri, Mikaela, Chris, Stephanie, Sally and Talon. Saren told two truths and a lie about each one and we had one day to try to find out which statement was a lie. We learned lots about the crew this way. Melanie plays 9 musical instruments, Bri was a gymnast, Chris lost 40 pounds on the Atkins Diet, Sally has a glass tube in her eye, to name a few.
Our guest speaker, Tom, gave an entertaining talk on birds after dinner. It was followed by a video on the optional white water rafting and train ride excursions.
Monday, we woke up at 6AM in the Ice Harbour Lock. We joined Deena, Tom, Julia and Joan for a breakfast of egg and Canadian bacon muffins, cream of wheat, hash browns, and fruits.
We cruised through the Monumental Lock (by now, the locks were becoming old hat, so no more lock pictures). Monday morning was spent relaxing on the deck with our books.
We lunched with Talon, Jane and Maurice on salad, Lasagna and Garlic Bread before taking the skiff over to shore for a hike.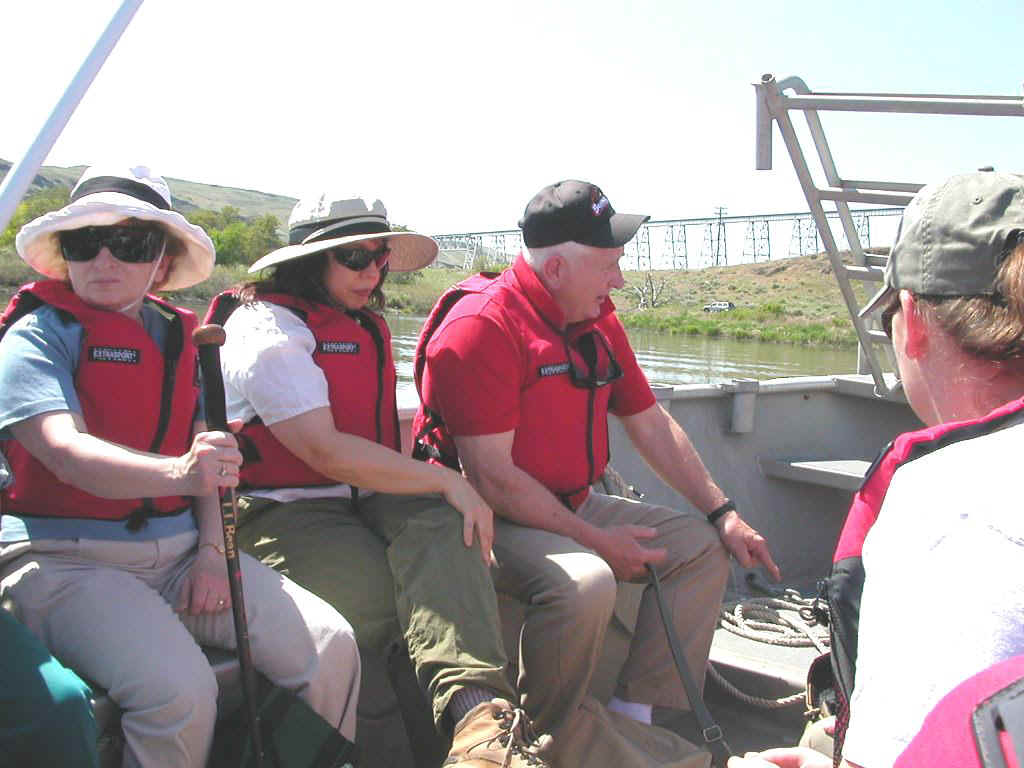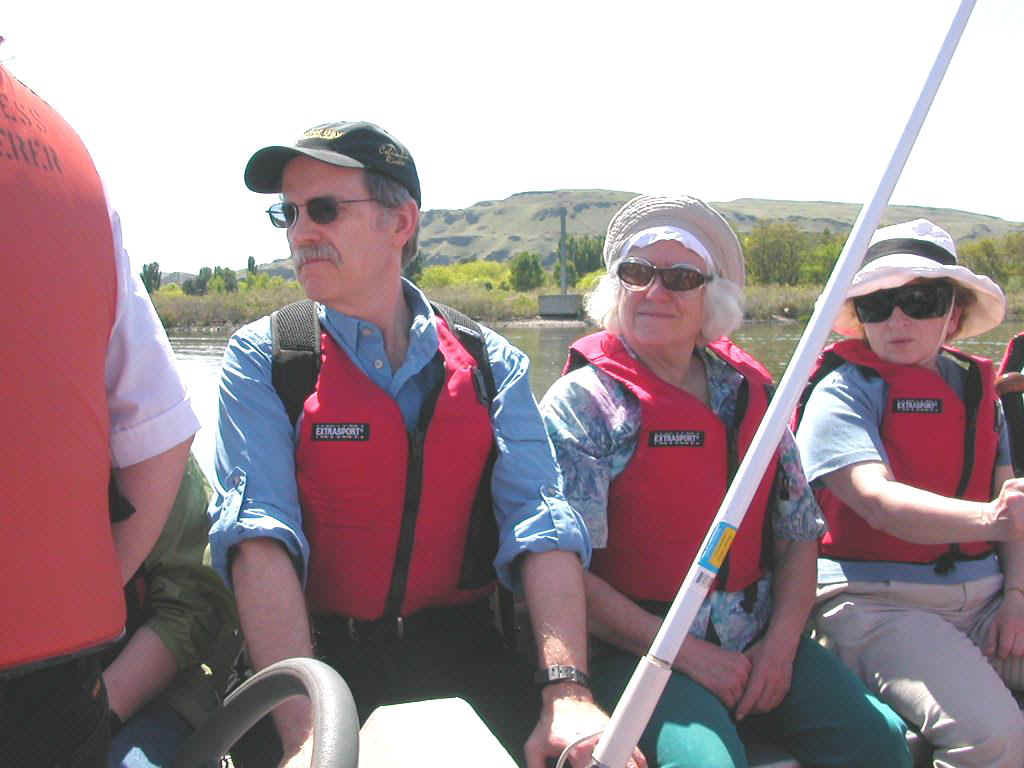 We were warned about sunburn, rattlesnakes and deer ticks before the hike. The hike to the top of Marmes Rock was only a mile and a half, but we gained 635 feet in elevation so it was a pretty challenging hike. We were rewarded with a beautiful view.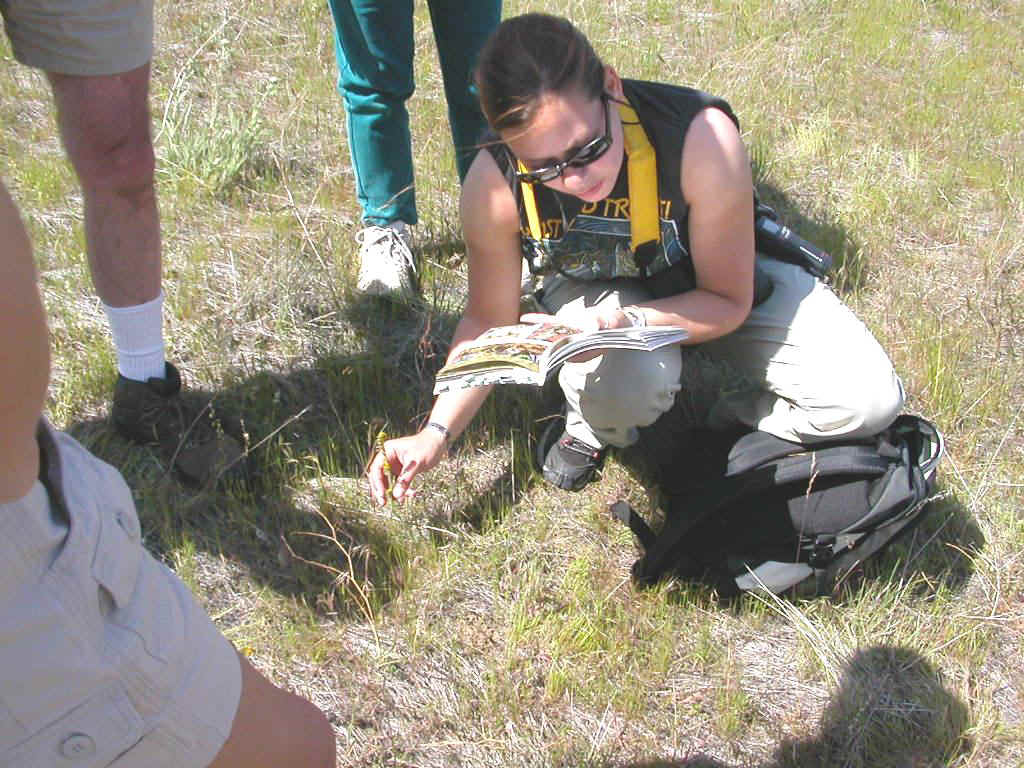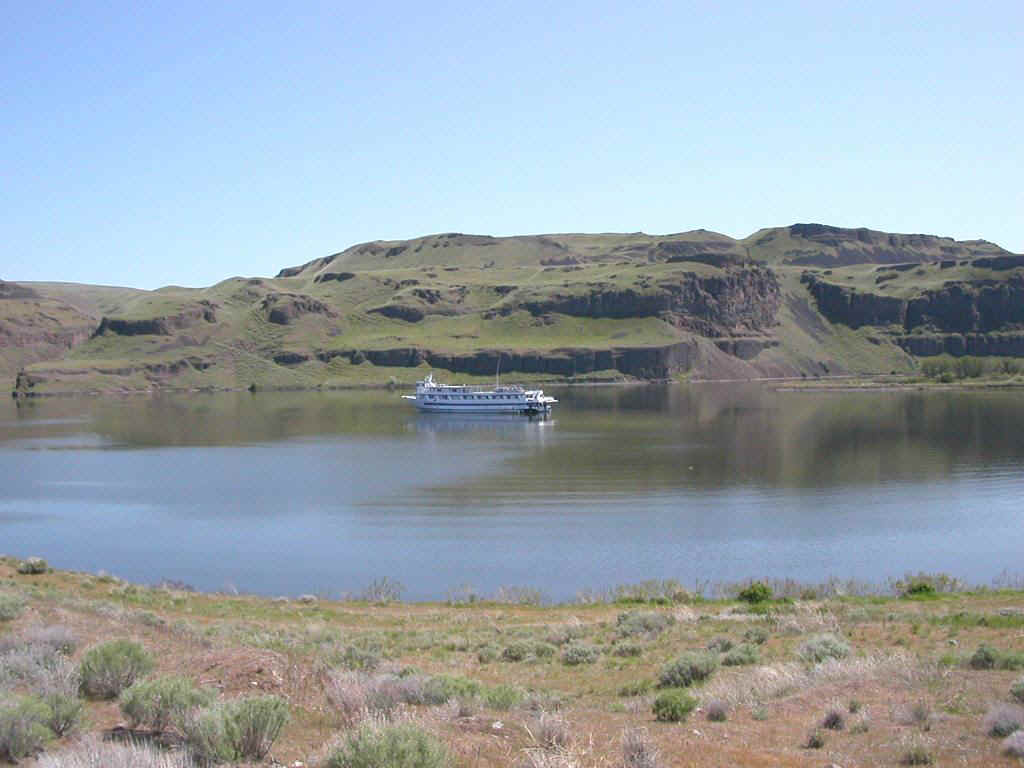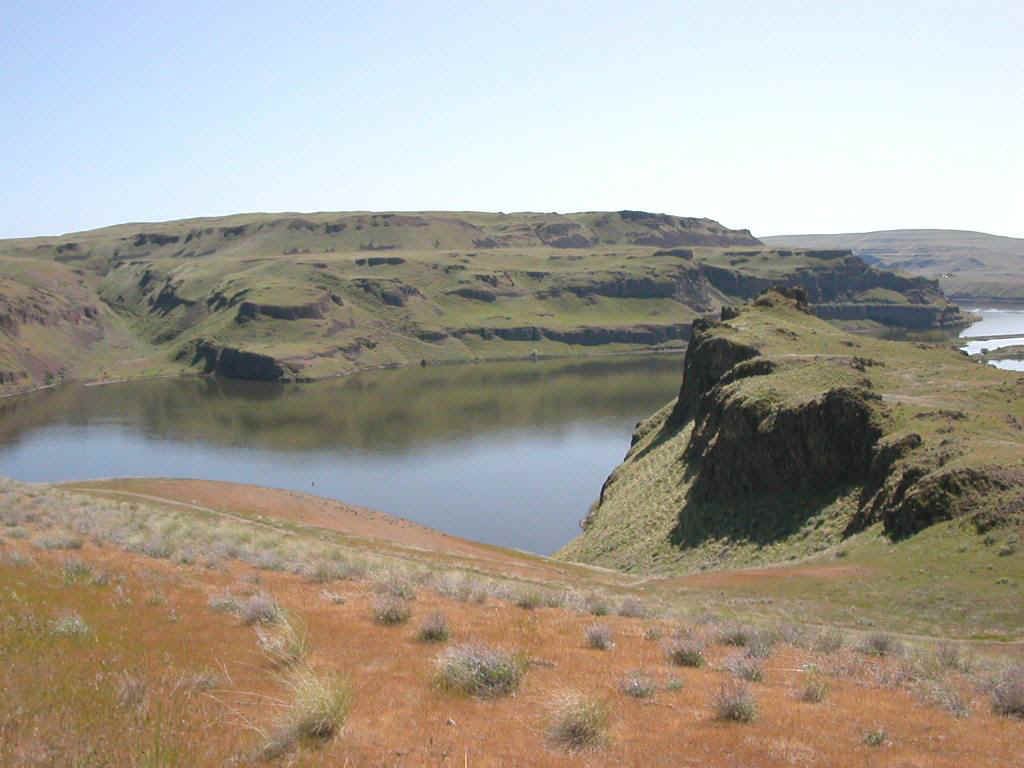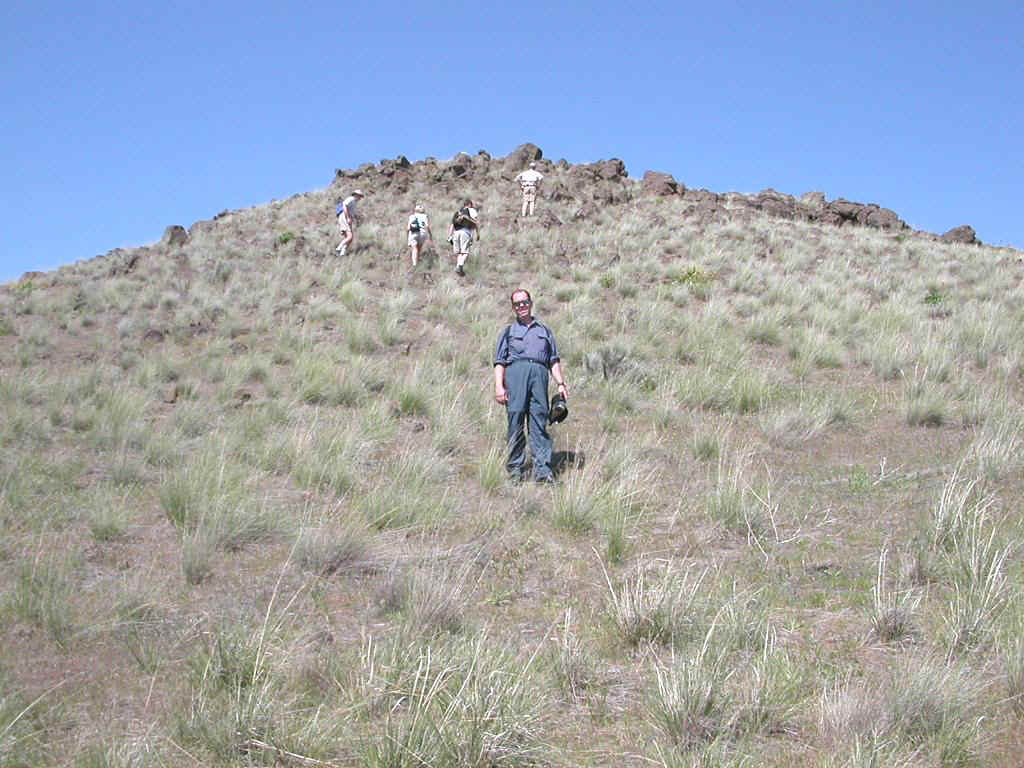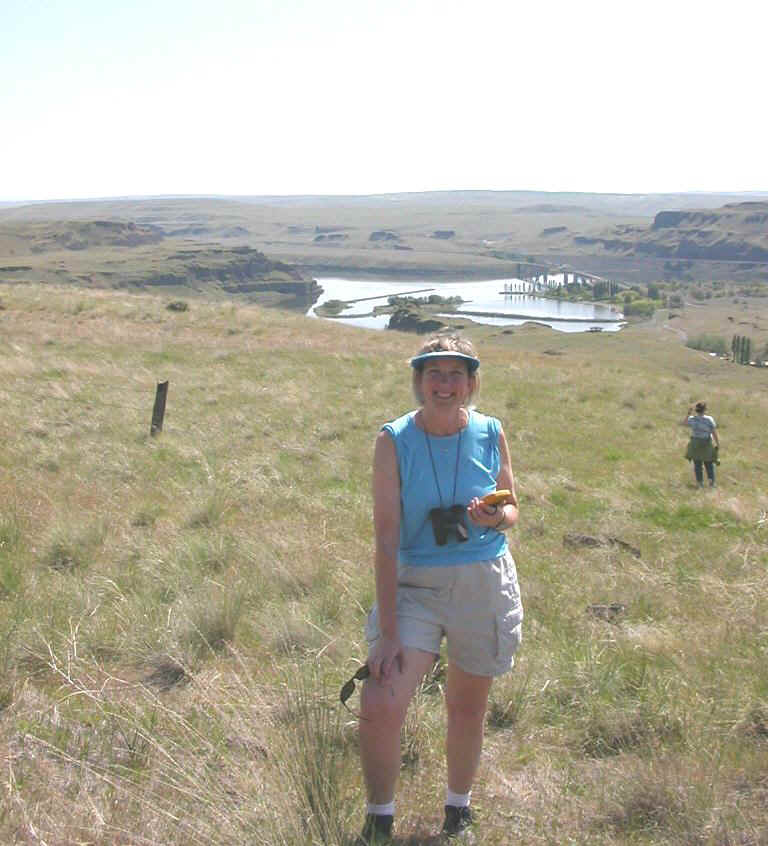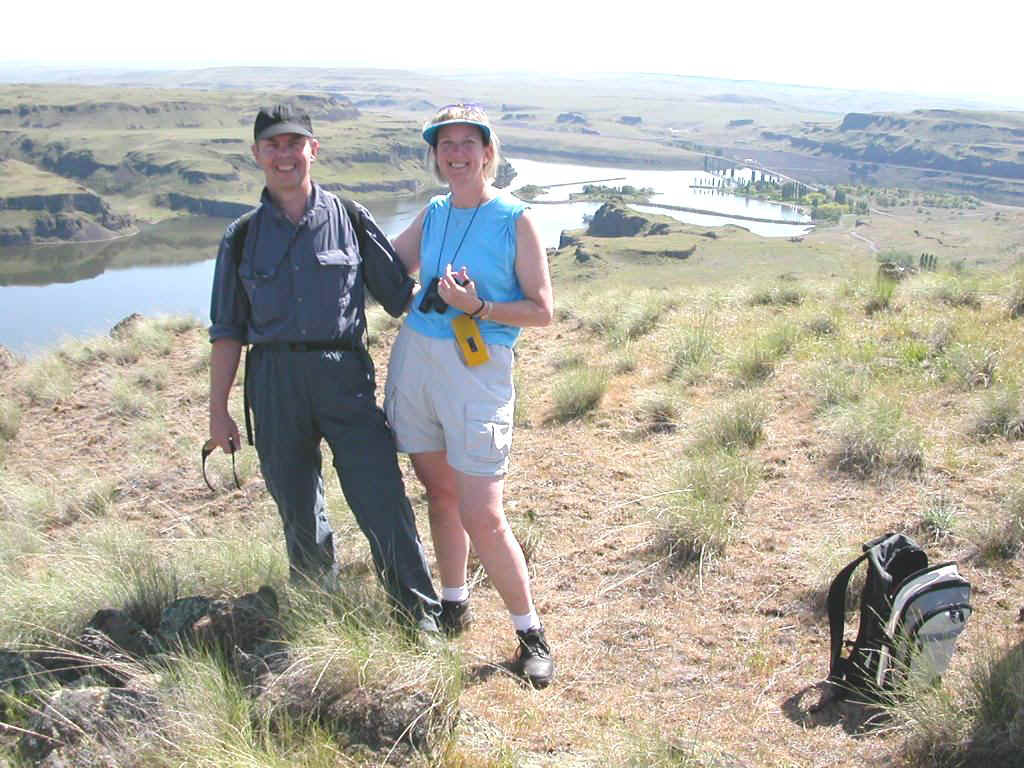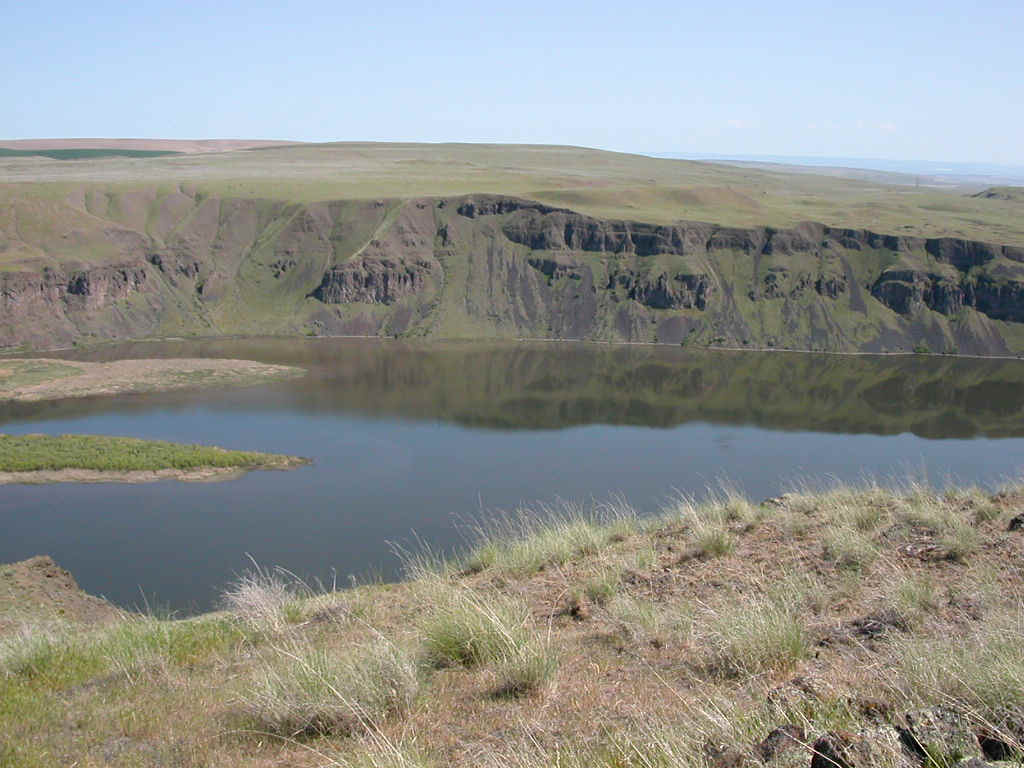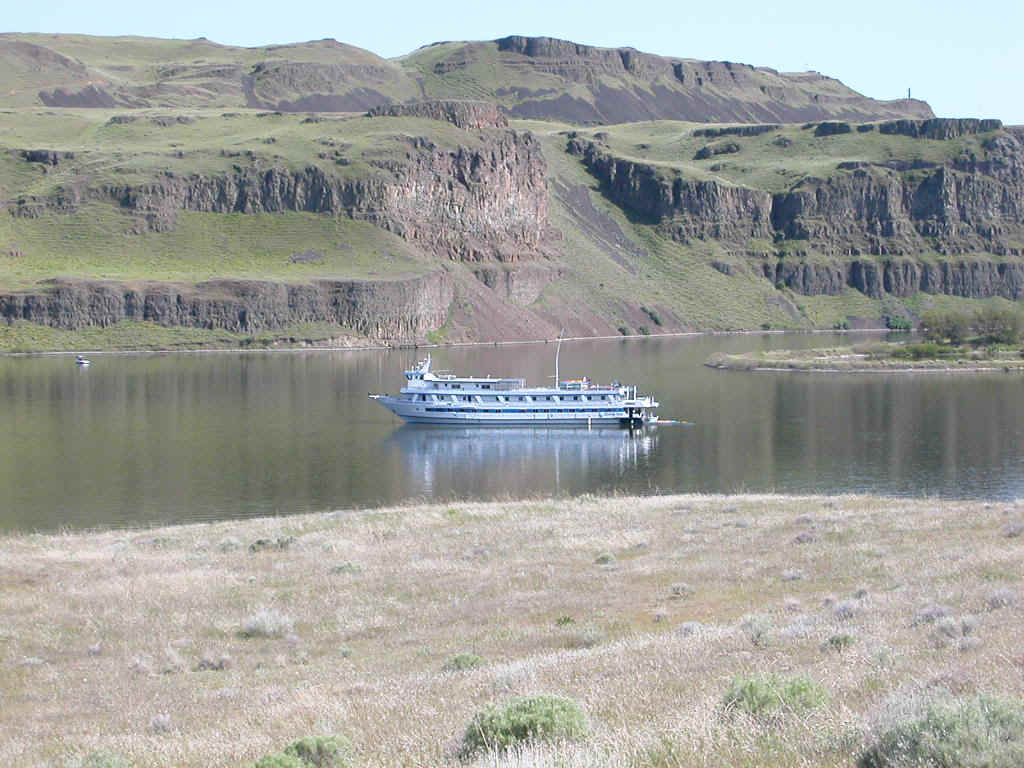 Hot and sweaty, we rode the skiff back to the boat for some Rice Krispy treats before boarding our kayaks to paddle up the Palouse River. The crane that puts the platform in place for boarding the kayaks had malfunctioned, so we had to get into the kayaks from the deck of the boat. The deckhands held the kayaks in place and made it easy though. We saw lots of birds and a beaver while we were enjoying the serene silence of the canyon.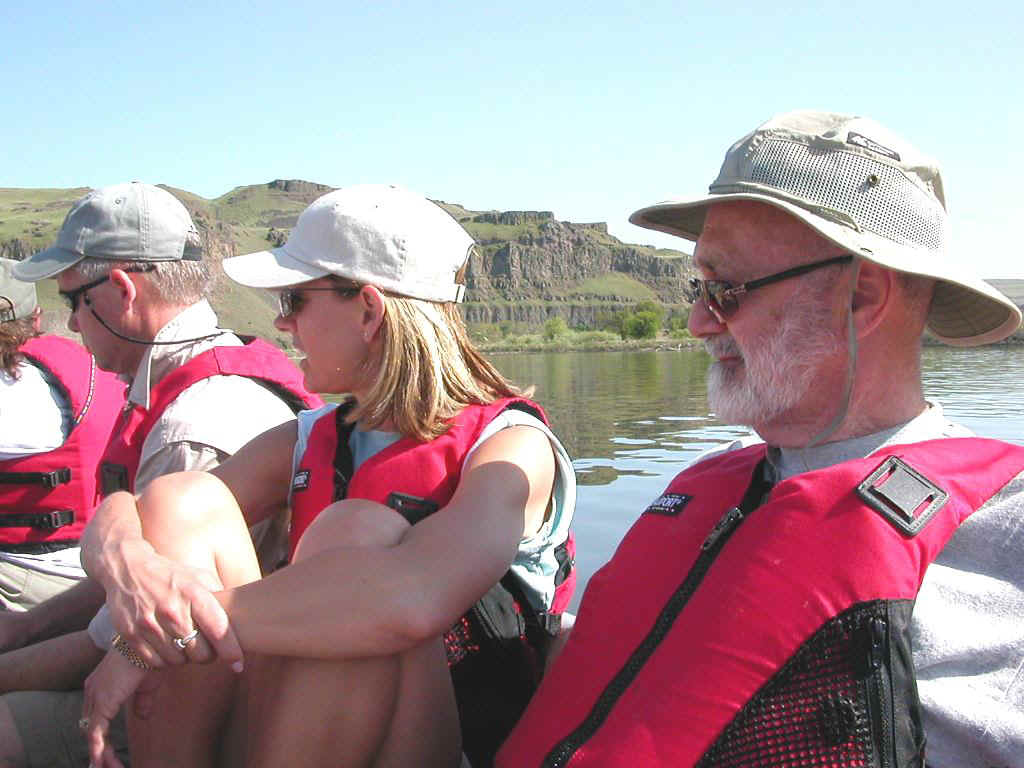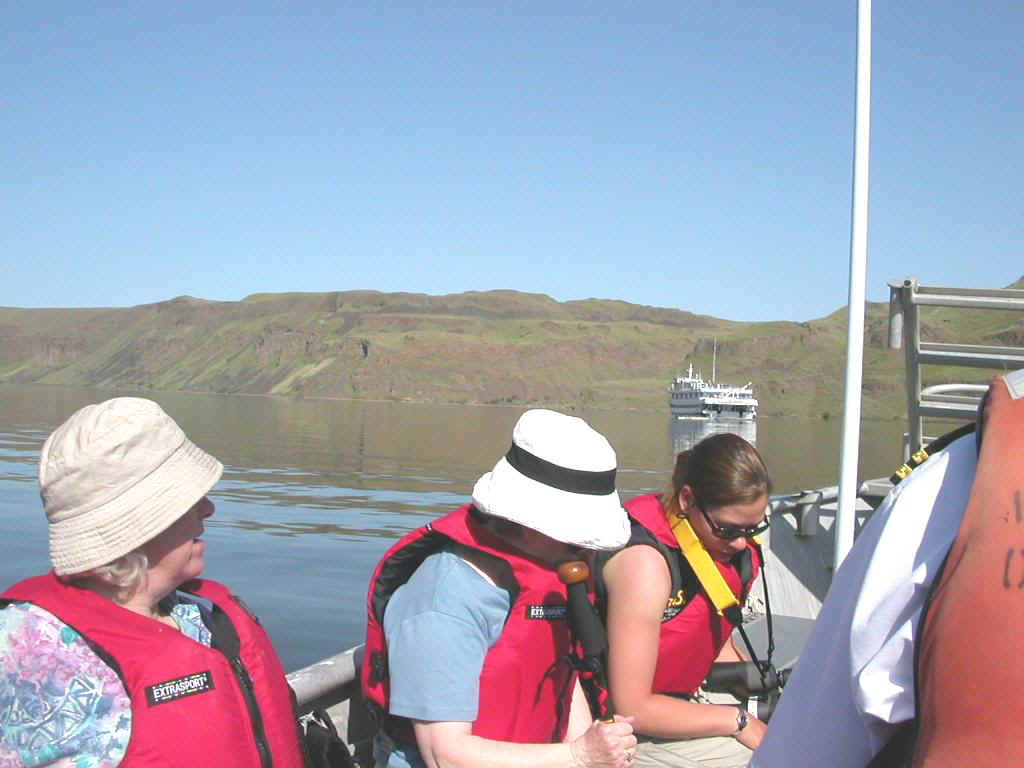 Alaskan beer was featured at Happy Hour along with corn dogs, chicken wings and veggies. We dined with Karl and Cindy again and were joined by Stephanie, the Assistant Hotel Manager. I had the Salmon with rice and squash while Tony opted for the prime rib with a baked potato. Over our dessert of strawberry shortcake, we were introduced to the deckhands and engineers, Shawn, Rhett, Mike, Chris, Big Chris, and John. We played the truth and lies game with them as well.
Jeff gave a talk, but we were both exhausted from the days activities so we skipped it and went straight to bed.
Tuesday, we awoke in the twin towns of Lewiston and Clarkston near the confluence of the Clearwater and Snake Rivers. After breakfast with Deena, Tom, Tom and Yvonne of cheesy eggs, bacon, sausage, oatmeal and pancakes, it was time for the Jet Boat Ride. Tony opted out of the jet boat ride and decided to explore Clarkston instead (after all, there was a casino there!). The rest of us boarded a Beamer's Jetboat piloted by Captain Dan and his faithful assistant, Radar.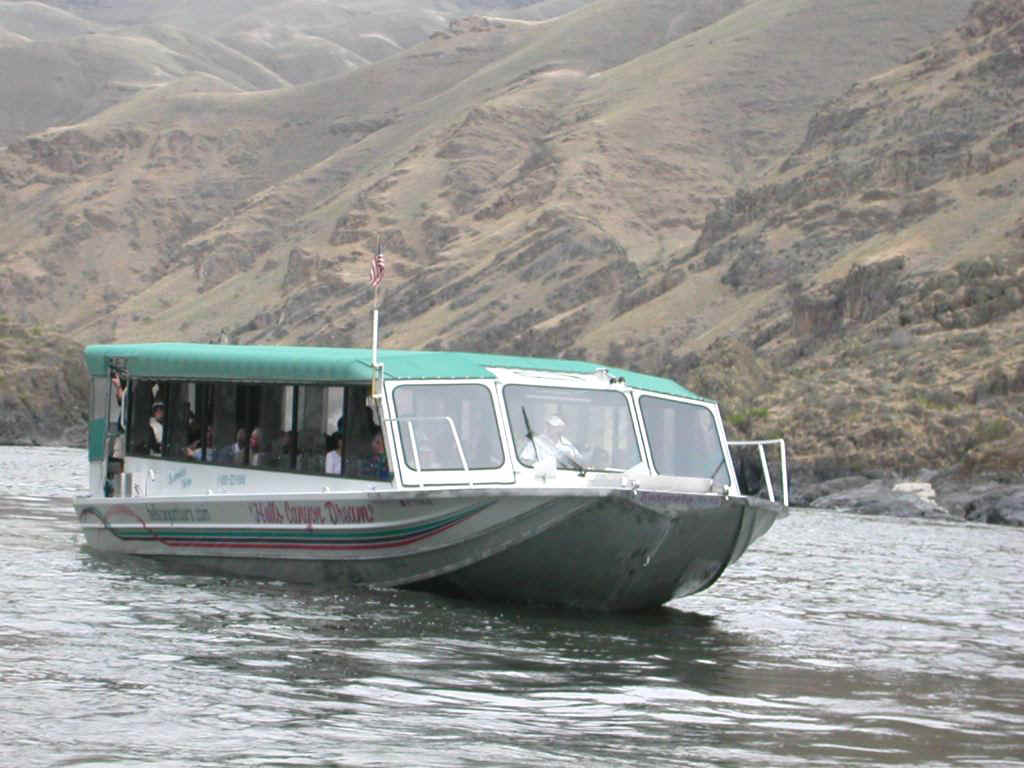 We saw fascinating geologic formations and canyon views narrated by a very knowledgeable Captain Dan.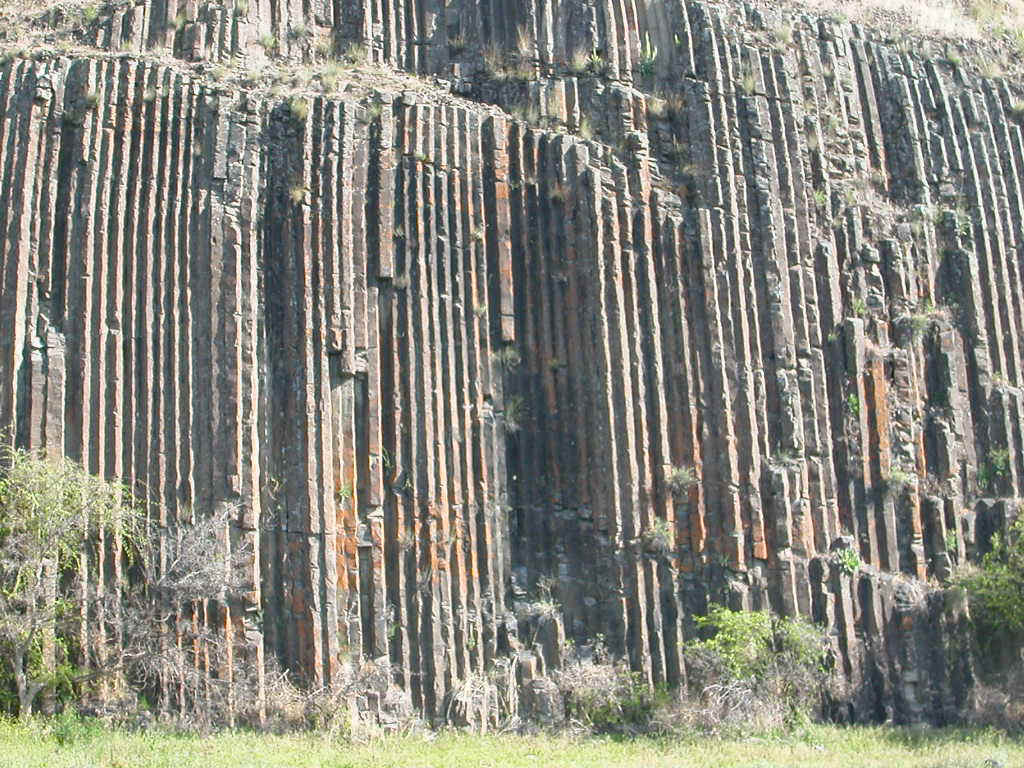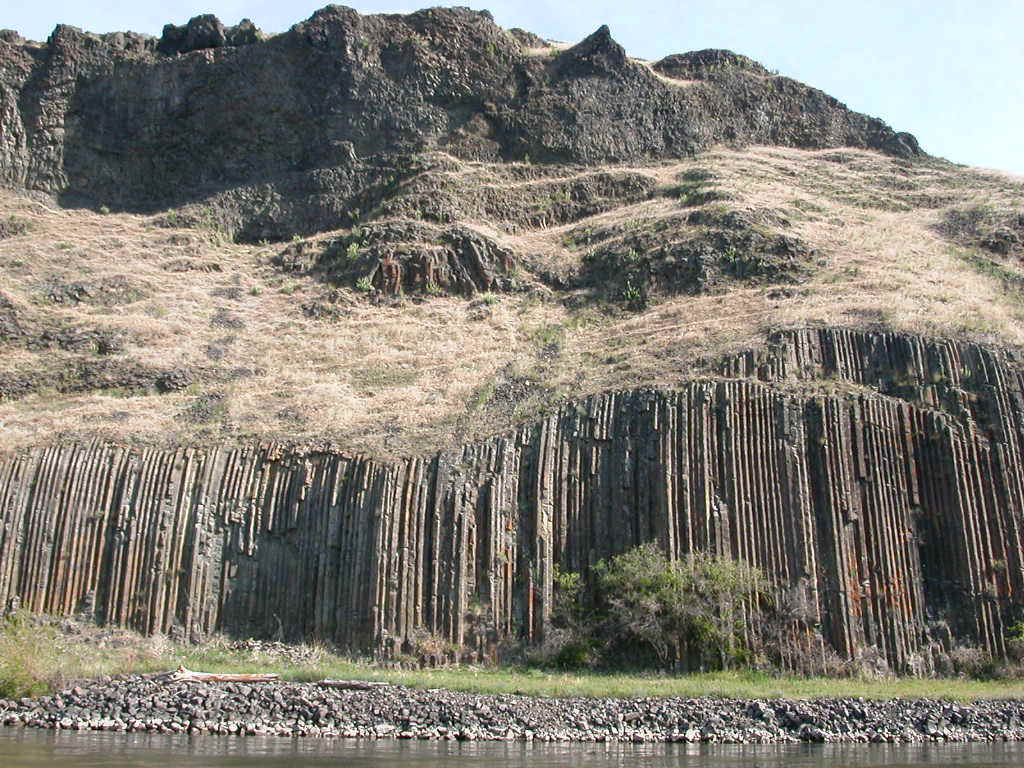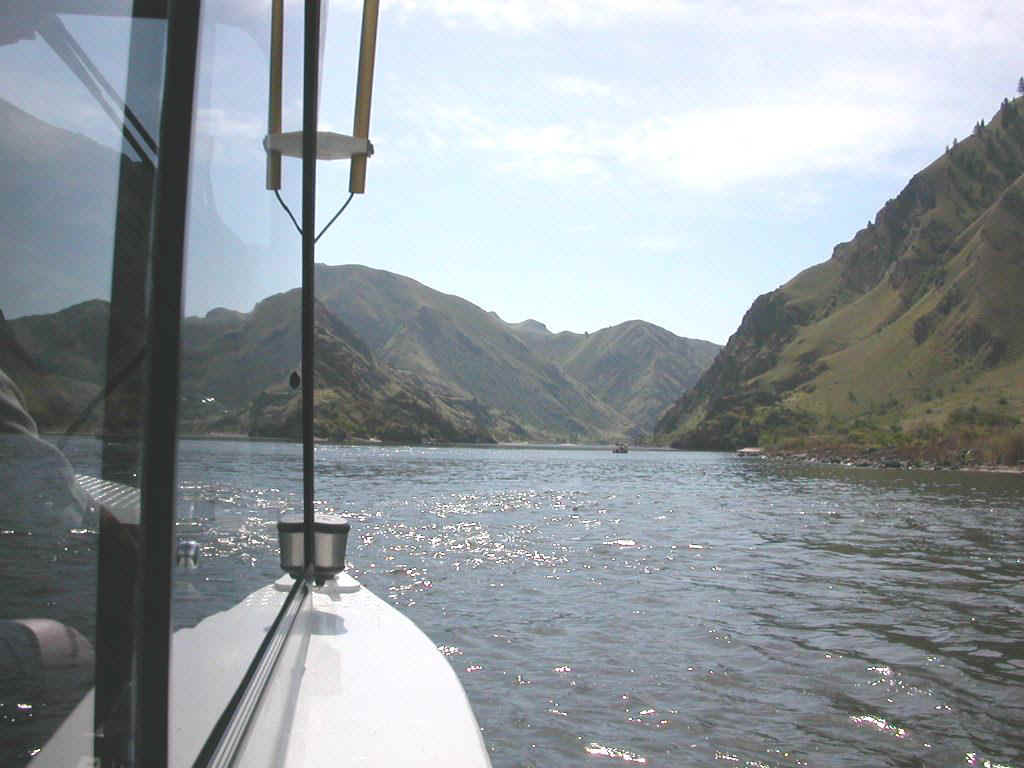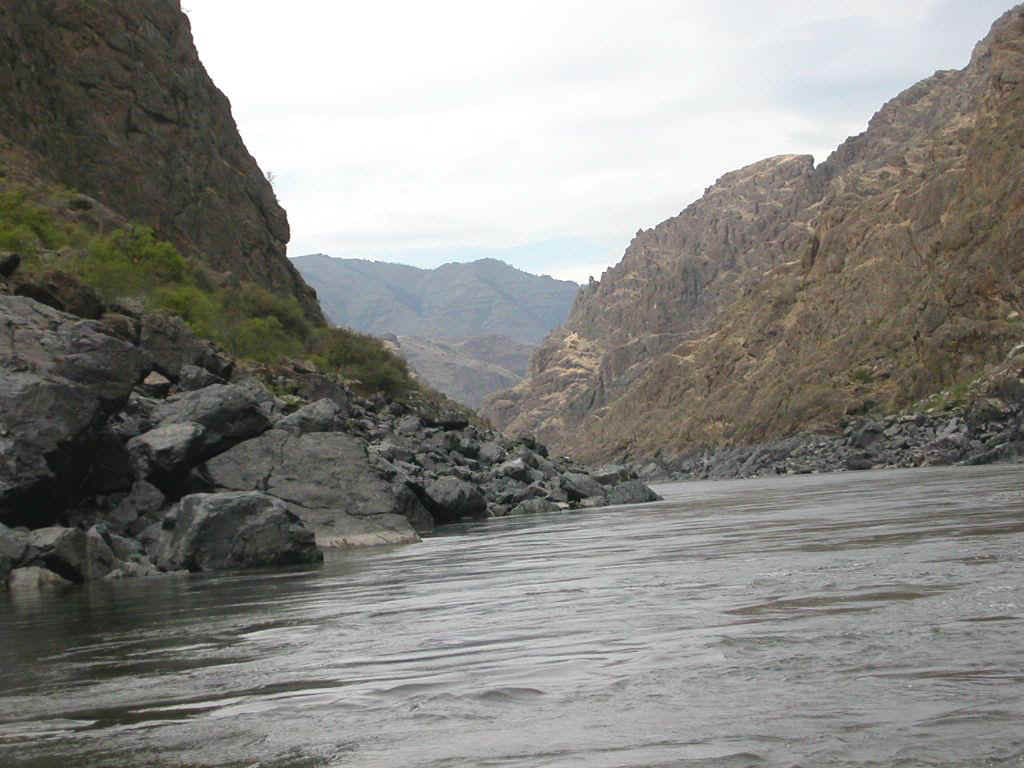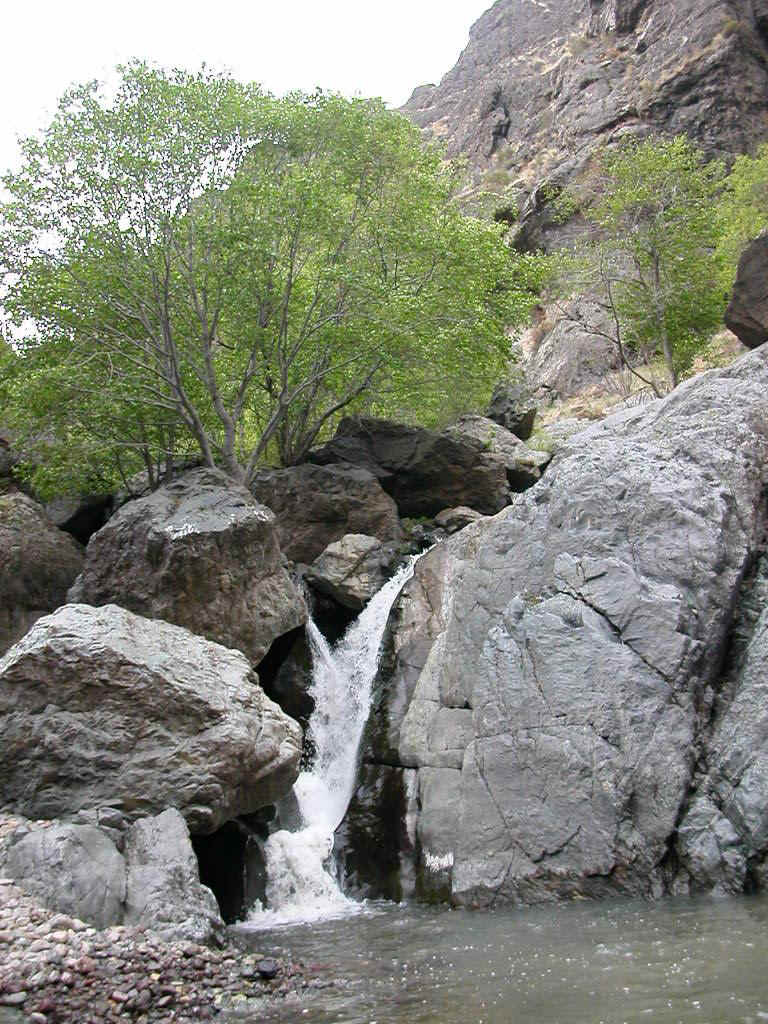 We had a good view of some big horned sheep on the side of the canyon. Captain Dan spun the boat around so that everyone had a chance to see.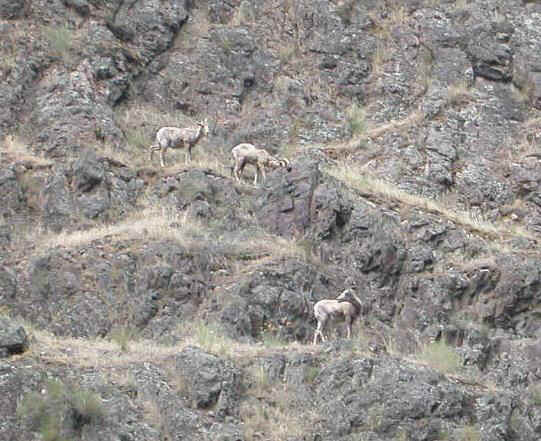 We stopped for a snack at the Hells River Canyon recreation area and lunch at Beamer's Restaurant. I enjoyed a chat with Melanie, one of the young stewards from our ship during our buffet lunch of salad, rice, potato salad, pasta salad, and BBQ chicken.
At Jeff's request, Captain Dan stopped the boat and let us get out to see some obscure petroglyphs and pictographs. We were warned to be careful of rattlesnakes and had to avoid some poison oak while we climbed up wall of the canyon.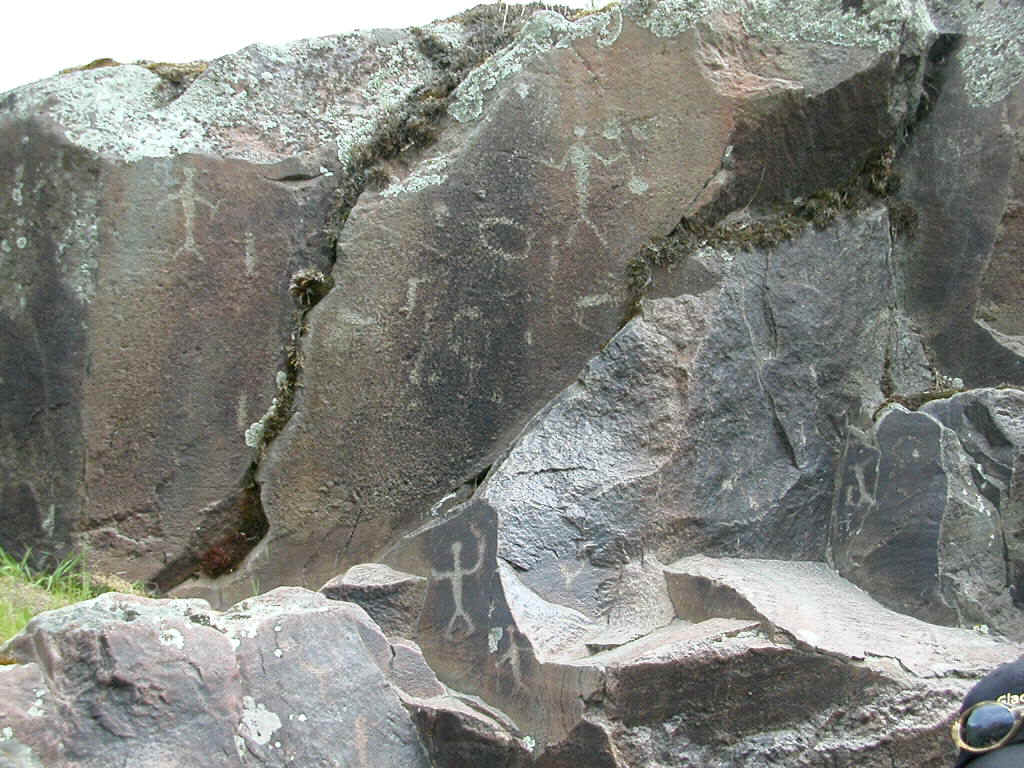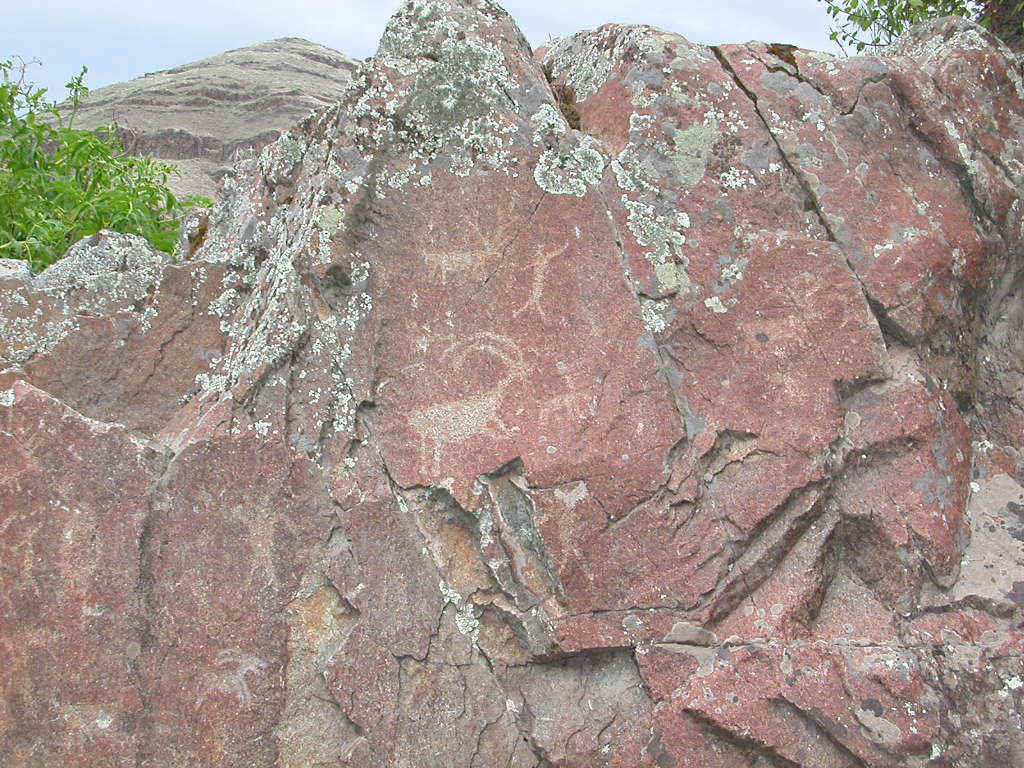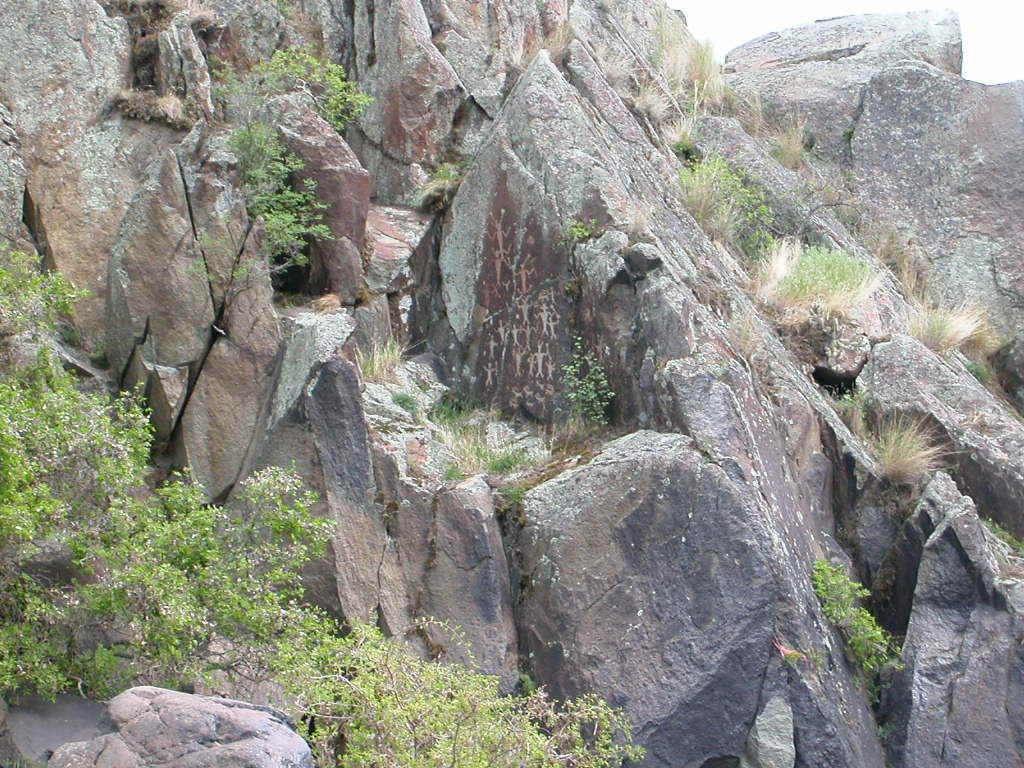 Meanwhile, in Clarkston, Tony walked to a park, a casino, and a grocery store. When I got back to the dock, I made a quick tour of the Clarkston Joanne's store and dollar store.
Talon's happy hour special, gin and tonic, accompanied appetizers of mussels.
We dined with Cindy, Karl and Grandma Joan. Joan is the grandmother of Saren, one of the naturalists on the boat. I had the Snapper with rice and green beans while Tony had chicken. Dessert was a wonderful key lime pie. We were introduced to the kitchen staff over dessert. Larry, Head Chef; Guillermo (G for short), Sous Chef; Tony and Charles, Galley Assistants.
Saren gave an interesting talk in the lounge after dinner following the life of a salmon that she affectionately named, Francesca.
Tuesday night, Wednesday morning (around 3:30am), we heard some loud bow thruster like noises and some scraping but we thought we were passing through another lock so we went right back to sleep. Wednesday morning, we learned that we had run aground during the night. We had breakfast of bacon, omelets, cream of wheat and hashbrowns with Deena, Tom and Julia while we waited for the Captain to come and describe what had happened.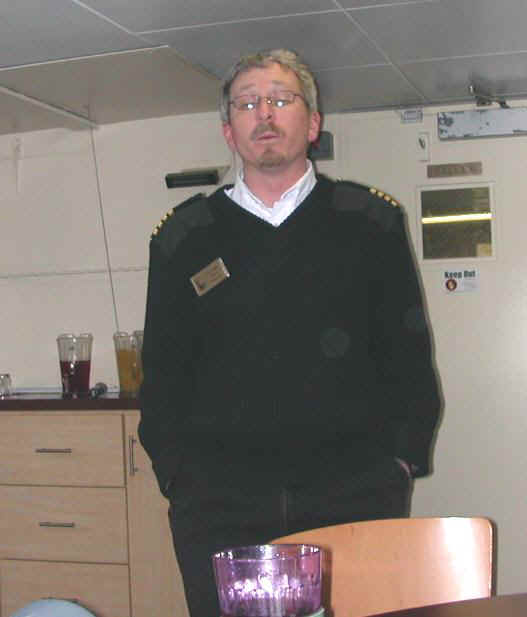 Apparently when we were coming out of one of the locks we swung a bit wide of the channel and ran aground. The captain didn't think any damage had been done, but the Coast Guard requested that we go straight to the town of Hood River and get a diver to inspect the bottom of the boat. This changed our itinerary a bit so we would miss a day of kayaking and instead spent the day steaming up river to arrive in Hood River around 3AM.
After breakfast, Maurice taught me to play Cribbage while Tony played Skip-Bo with the crew. Then the naturalists organized everyone for a game of Columbia River Pictionary. Our team, the Flying Geese, beat the other team, the Bald Eagles 25 to 24.
Jane and I became absorbed in a jig-saw puzzle while the rest of the group watched a video on Lewis and Clark.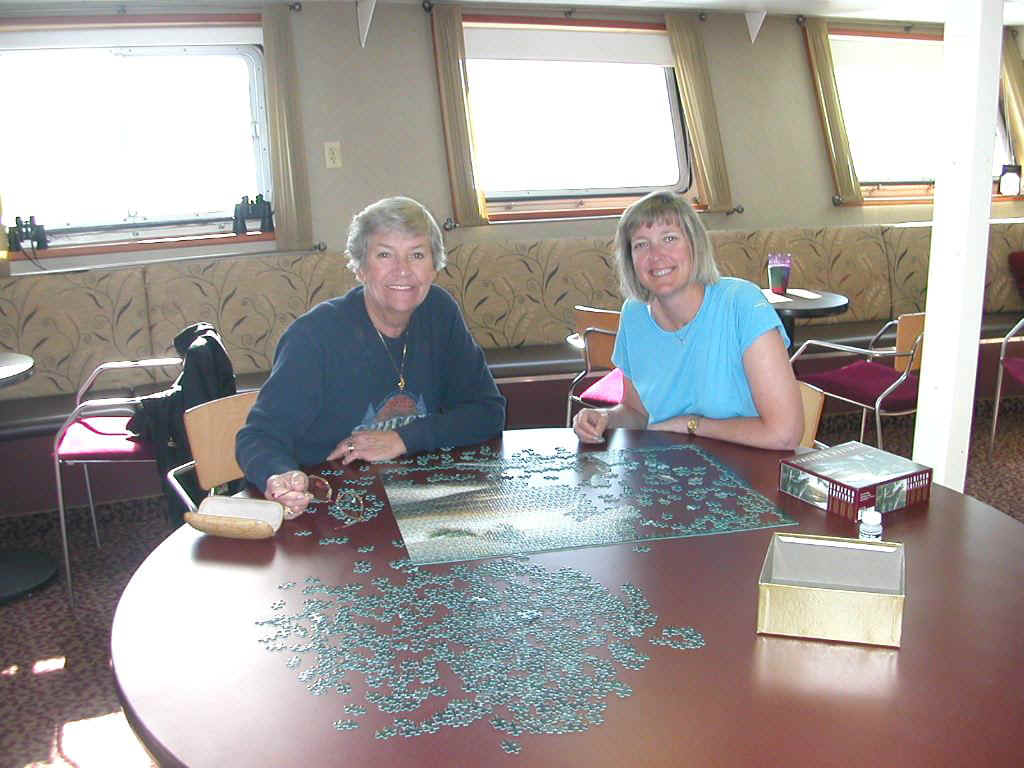 An informal lunch of cold cuts, veggies and cookies was followed by another bird talk by Dr. Tom, our guest speaker.
Jane and I continued to work on our puzzle while the crew and some of the guests made pirate costumes. Then we spent some time up on deck enjoying the beautiful sunshine.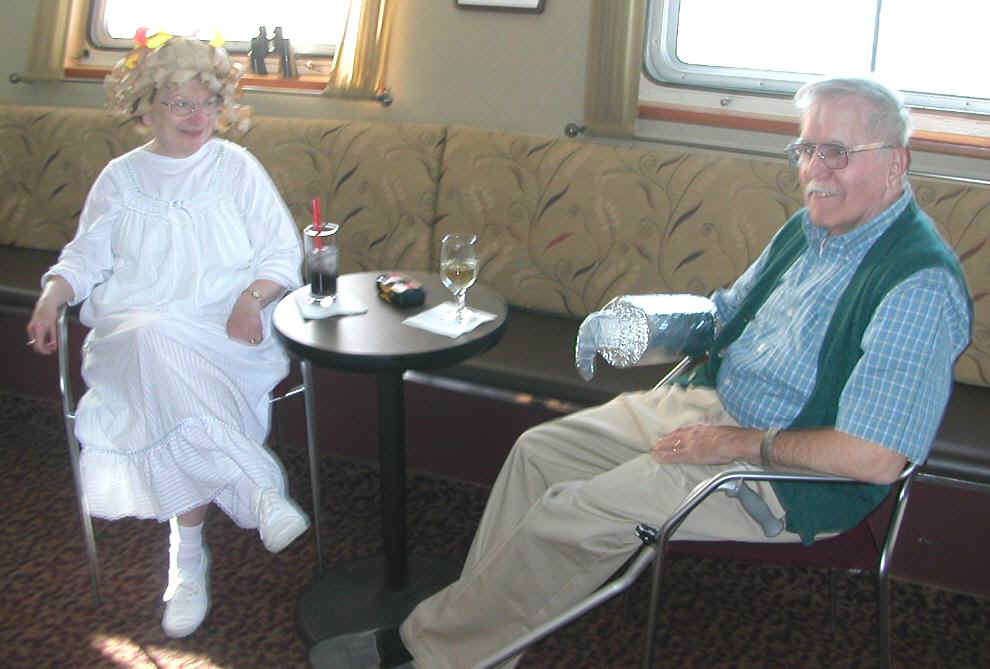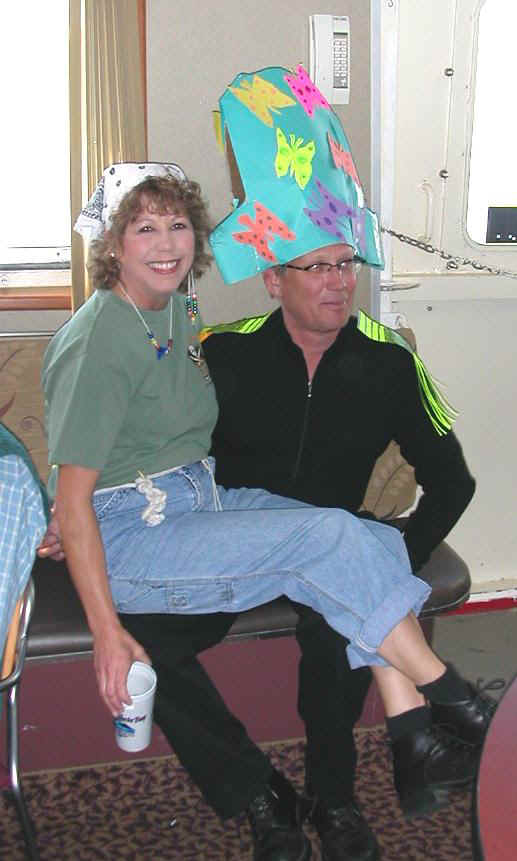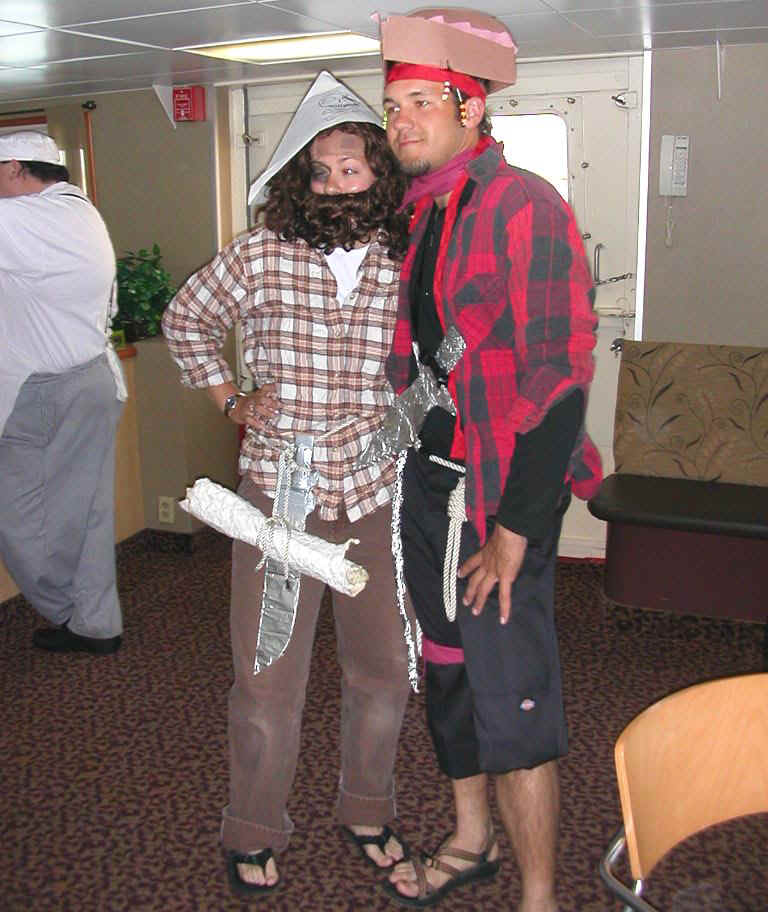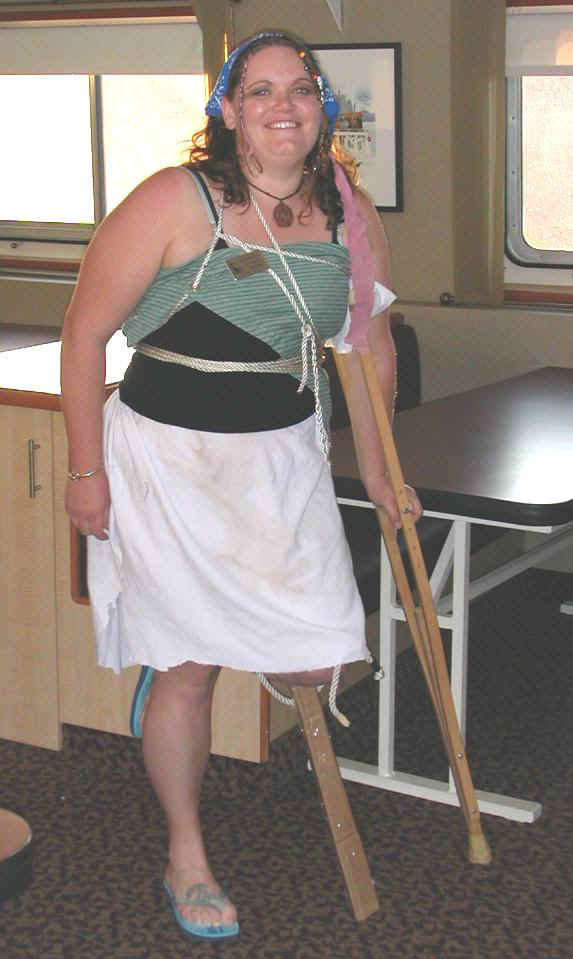 Happy Hour specials were Alaska Ale and Black Opals. Dinner was a BBQ buffet with Crab Legs, Ribs, Beef Kebabs, Chicken, Corn, Baked Beans, Potato Salad, Slaw, Corn Muffins and a banana split for dessert. The pirate theme carried through to the evening's movie, Pirates of the Caribbean.
Thursday's breakfast of Saratoga eggs, Canadian bacon, hash browns and blueberry pancakes was enjoyed with Deena, Tom, Julia and Joan. Dori, Glenn, Grandma Joan and some of the crew went on the whitewater rafting trip while Tom, Yvonne, Deena and Tom took the train ride. The rest of us explored the Hood River shops. Tony and I sampled the wares at the Full Sail Brewing Company.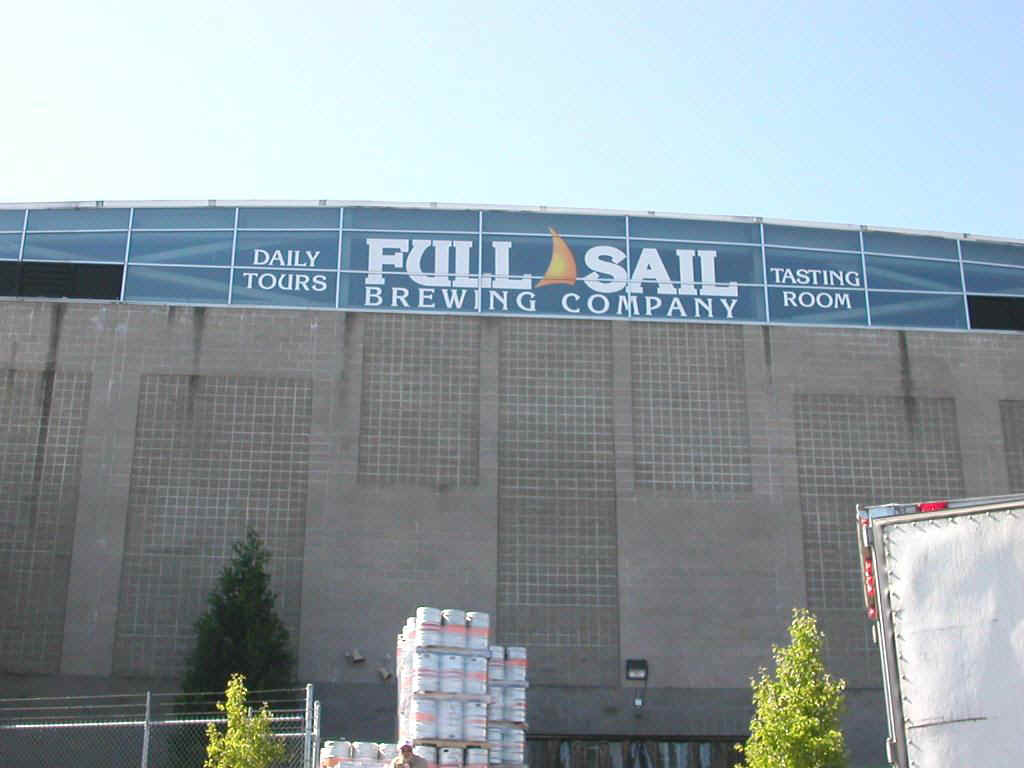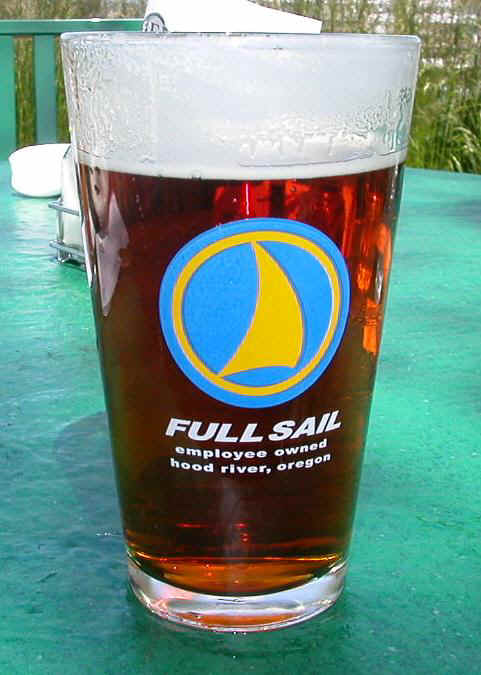 We enjoyed a lunch of Tomato Soup, Salad, Chips and Bratwurst with the Captain, Cindy and Karl. We spent the afternoon on deck enjoying sights like Multnomah Falls. We played Skip-Bo with Joan, Saren, Melanie, and Bri. The kitchen crew brought white chocolate macadamia nut cookies out on the deck for us to enjoy. The deckhands came out to raise the mast and while they were cranking it up, it snapped in two!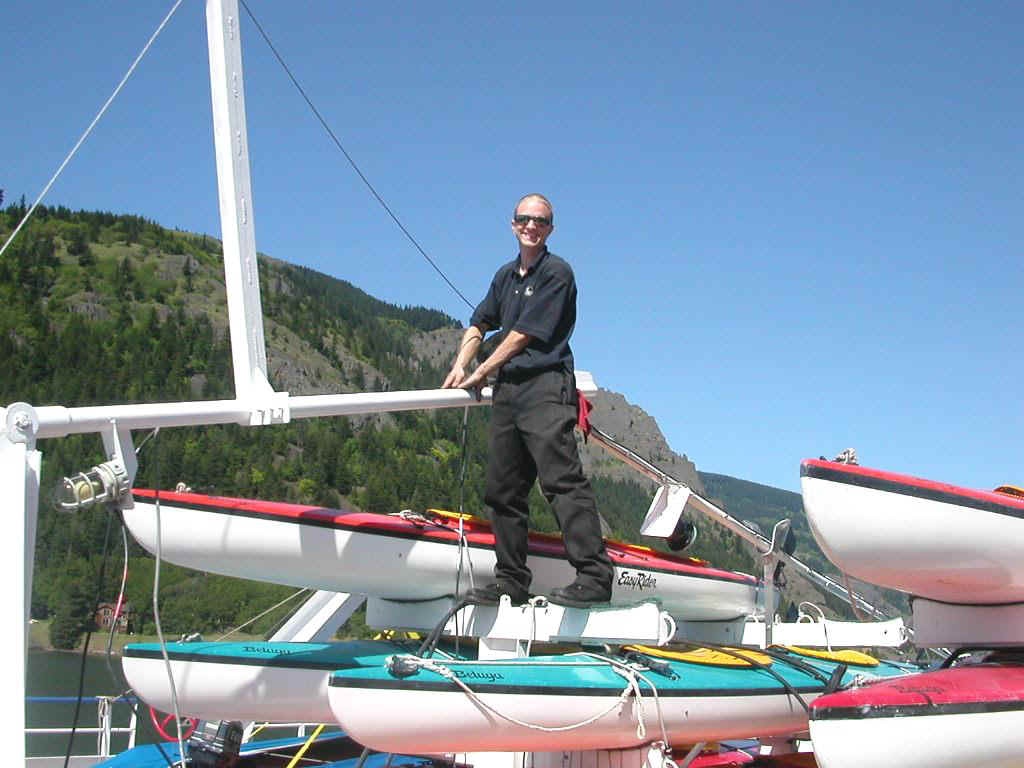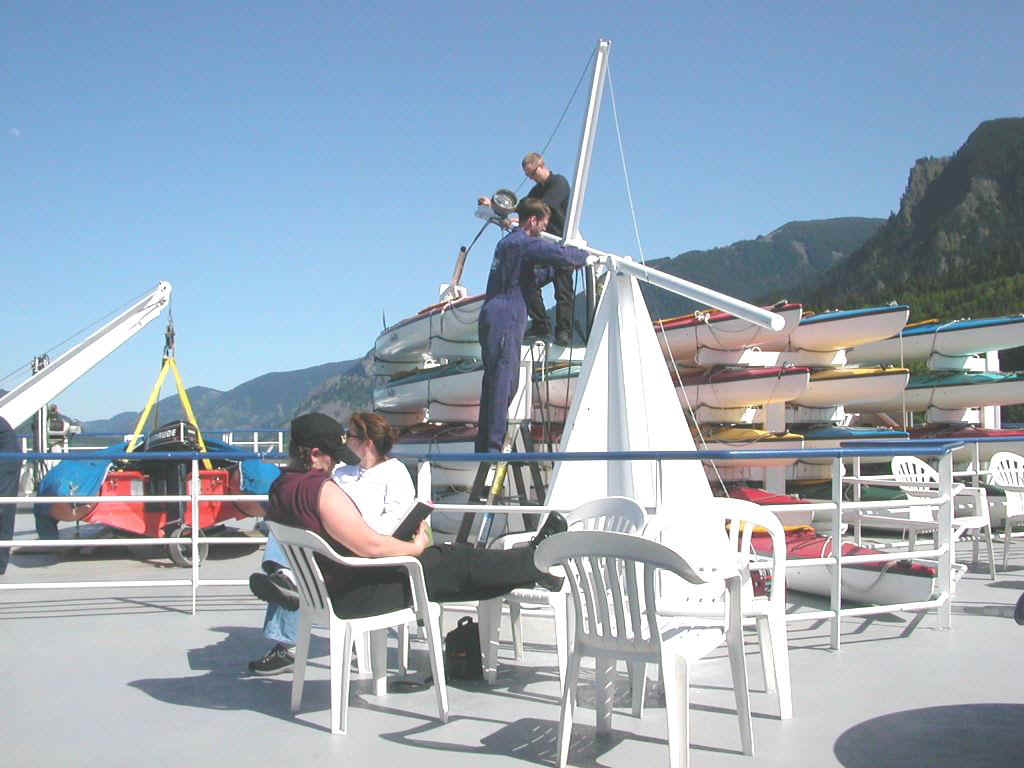 Dinner was again with Cindy and Karl. I had the Halibut Alyeska with rice and squash. Tony had Chicken with scalloped potatoes. Dessert was Pineapple Upside Down Cake. We enjoyed a slide show with pictures from the whitewater rafting trip that day followed by a video about salmon traps at the turn of the 20th century.
Friday breakfast consisted of biscuits with chipped beef gravy, hash browns, eggs and cream of wheat. We chatted with Tom, Deena, Tom and Yvonne over breakfast.
Richard advised that we might want to wear gloves and a jacket for our kayak adventure in the Lewis and Clark Recreation area. We warmed up quickly and tucked our excess gear under our spray skirts. We saw an eagle's nest and several beaver slides.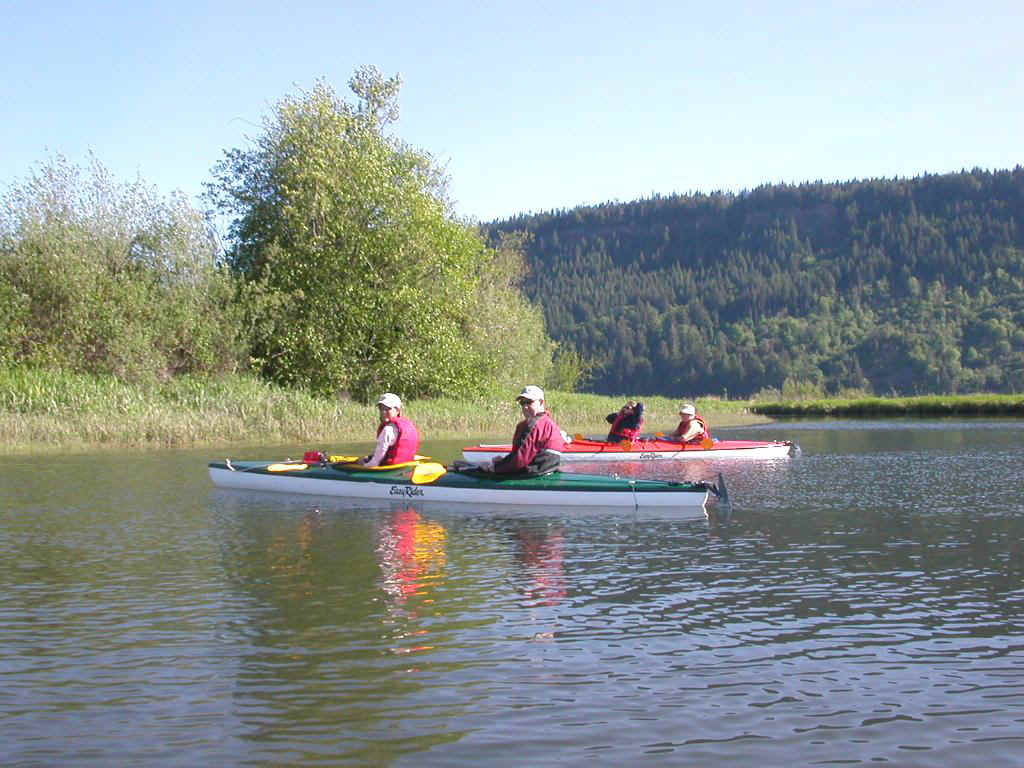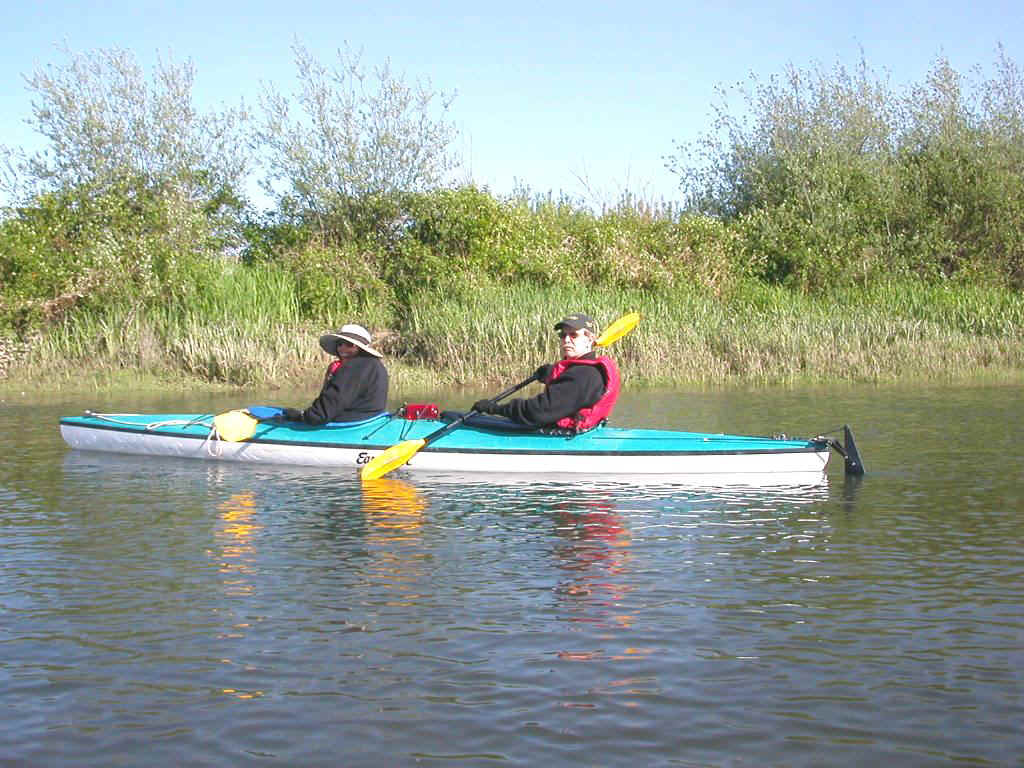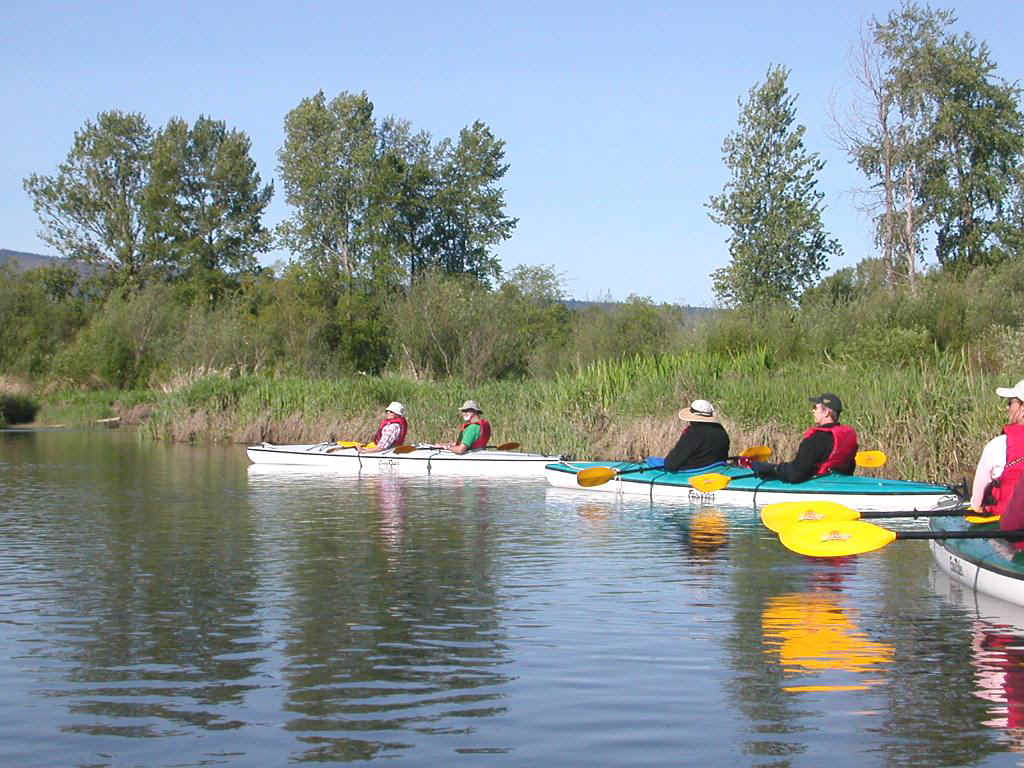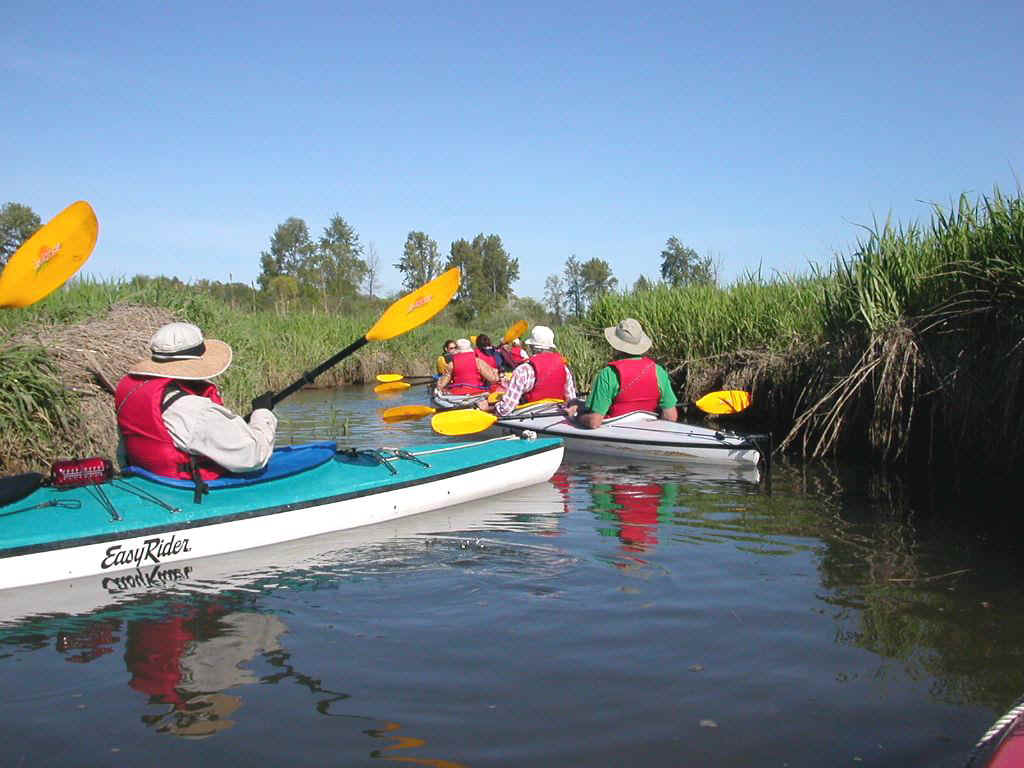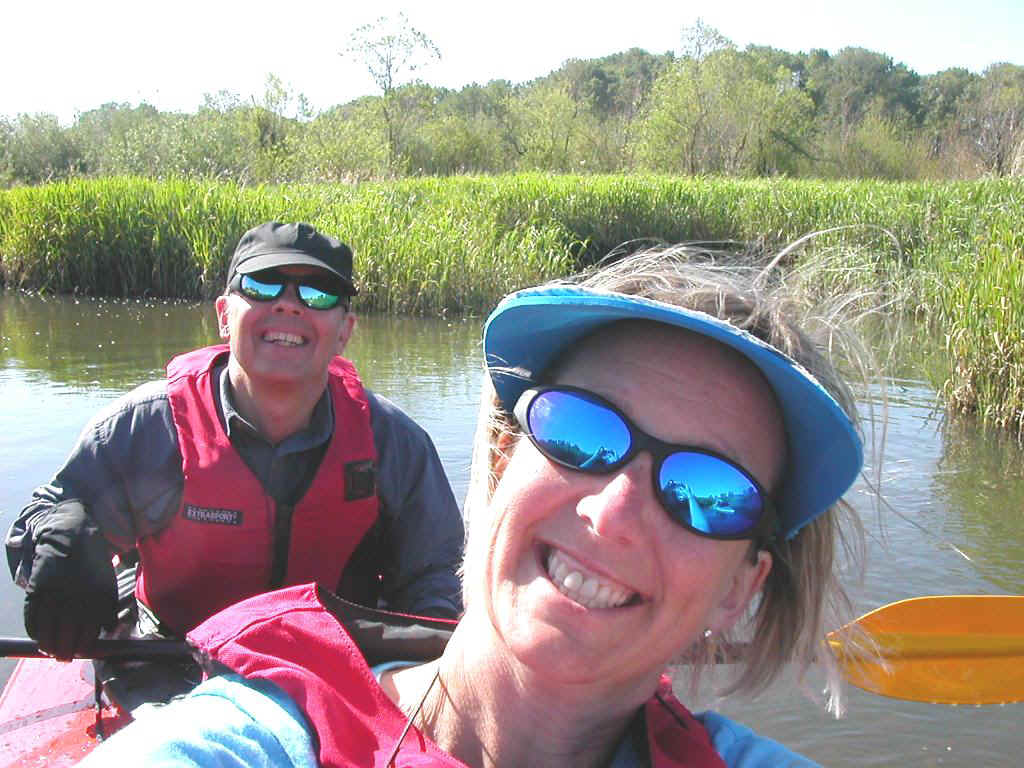 We lunched with Maurice, Jane, Glenn and Dori on Clam Chowder, Salad, Tuna Salad Sandwiches, and Chips. Our afternoon snack was Charles' famous Chocolate Chip Cookies.
Happy Hour preceded the Captain's Dinner and was accompanied by veggies and dip with crab dip and crackers.
The Captain's Dinner began with champagne as we toasted a wonderful trip and our new friends. Dori, Glenn, Maurice, Jane, Tony and I enjoyed French Onion Soup, Salad, Steak and Shrimp followed by delicious Chocolate Mousse. The crew came out for their final introductions.

Saturday, during breakfast with Cindy and Julia of eggs, ham, hash browns, oatmeal, and blueberry pancakes, Richard announced that we had no place to dock. It seems that although we had a reservation at the dock, a yacht had parked in our space.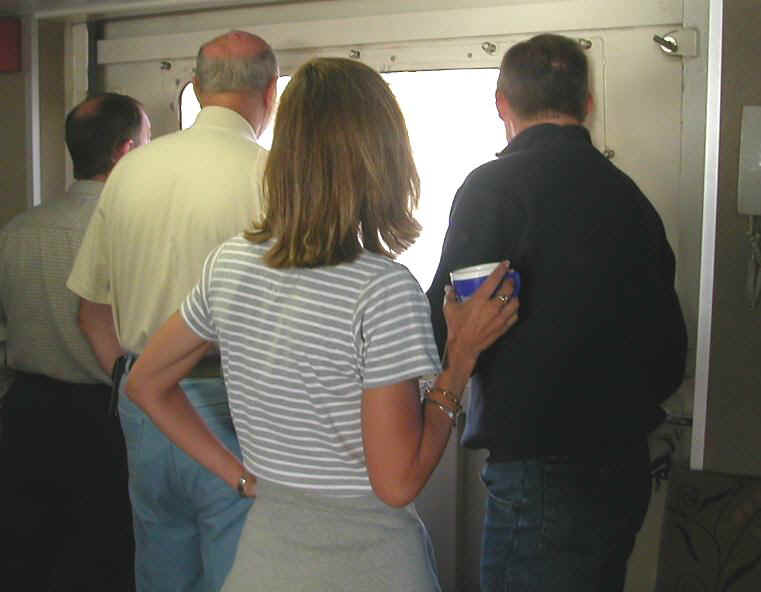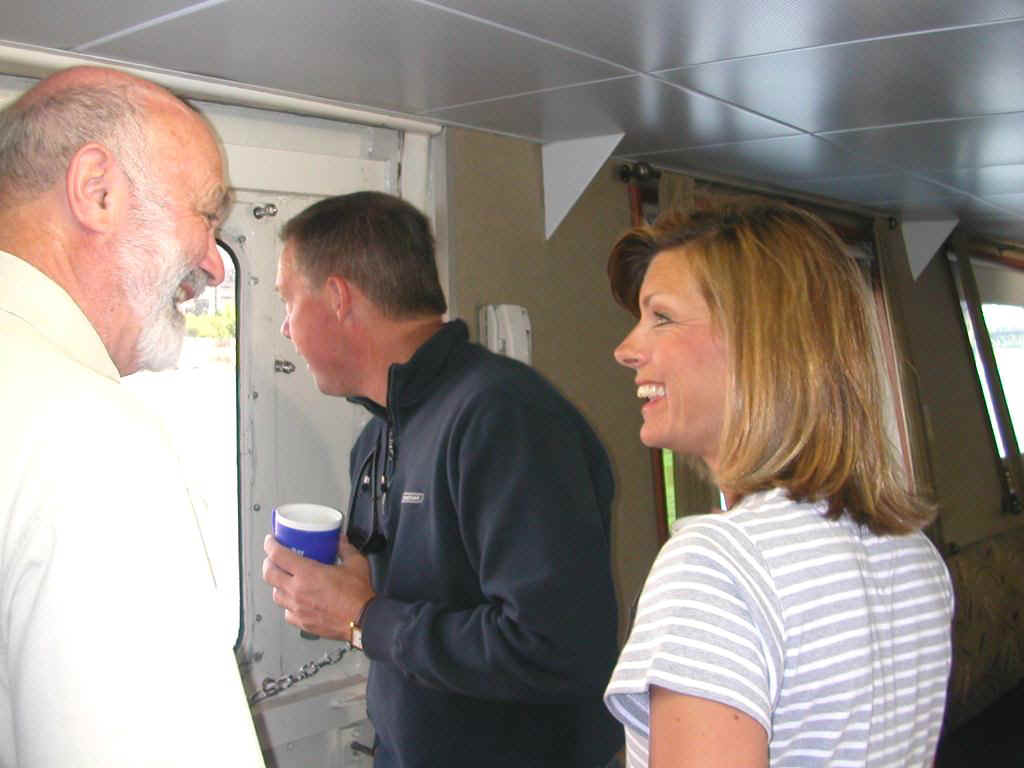 We sent our skiff with a couple of crew to see what they could do. There was a space where we could park, but the fishermen on the pier didn't think it was deep enough. After taking some depth readings, our crew decided we could park there so we sidled our way in. The crew assembled outside the boat for handshakes and hugs as we disembarked. Tony and I walked 6 blocks to Yamhill train stop and made our way back to the airport. We got front row seats again (yay!) and enjoyed the movie Mona Lisa Smile over a lunch of grilled chicken pizza.
It was a great trip! We enjoyed meeting our new friends, Cindy, Karl, Jane, Maurice, Dori, Glenn, Joan, Deena, Tom, Yvonne, Tom, and Julia. Thank you to the crew and staff of Glacier Bay for all that they did to make our vacation comfortable and enjoyable. Richard ("The Mouth of the Columbia"), Jeff and Saren ("Holy Cow") were great teachers who made learning about the Columbia River fun. Sally ("Oh Jeez") and Stephanie kept the crew organized and made sure all of our needs were met. Talon was a great bartender who kept us laughing. The kitchen staff, Jackson, Guillermo, Tony and Charles ("A dozen roses a day for 3 years") we have to thank for these excess pounds we now have to lose. The boat drivers, Captain Paul, Chief Mate Cliff, and 2nd mate Meg, kept us safe and gave us a smooth ride. The engineers ("Hook me up like a tow truck"), Shawn and Rhett kept the boat in tip-top shape, cheerfully dealing with any problems that came up. The stewards, Mikaela, Melanie, Chris andBri kept our cabin clean and served our meals beautifully. The deckhands, Mike, Big Chris, Chris and John carried those big heavy kayaks when the crane was broken and helped us on and off of the platform.
All in all, an excellent trip that we would recommend to anyone!