Rudesheim, Germany
May 2004
Biking on the Rhein
This one would be a quick and easy trip. We'd decided we wanted to do another easy biking trip, in Germany, and we knew we wouldn't have enough time to ride the Trier-to-Koblenz ride along the Mosel. Additionally, we have friends who rode almost the same trip the week before, so we knew what to expect (and where to rent our bicycles… some times of the year, it's a challenge finding bikes). We picked a Wednesday departure from Atlanta, with a (gambling) return from Germany on Sunday. (It's a gamble because I had to be at work on Monday, and traveling standby is, well, not a guarantee). Departing Atlanta on the first flight to Frankfurt, our backpacks (with helmets) were an easy fit into the overhead so we settled in for an uneventful flight. Champagne, warm nuts, beef for Tony and soup for BJ, the cute movie Along Came Polly and it was time for a snooze. Thursday morning, over her breakfast of frittata and ham, BJ renewed a friendship with one of the flight attendants (Nina) that she knew from the Delta Women's Golf Tournament.

Arriving in Frankfurt, we easily cleared customs (with BJ getting the first stamp in her new passport), then picked up a few hundred Euros for this trip at the ATM in Terminal 1 (the Dollar versus Euro is not in our favor at this time, by the way). We boarded the 8:29am DB train to Wiesbaden, which gave us a scheduled 5 minute (actually 3 minute) connection to Rudesheim on the Rhine, the starting point for this trip. In Rudesheim, we quickly located the bike shop / wine store / hotel / restaurant that our friends had found the week before. The bike shop is called RadKranz, and it's near the top of the hill on Oberstrasse, one left turn from the train station so really easy to find. We picked up 2 18-speed hybrids (30Euros each for the 2 ˝ days we expected to be riding), had our first beer in Germany, and then jumped on the 12:30pm ferry across the river to Bingen, where we would begin our ride.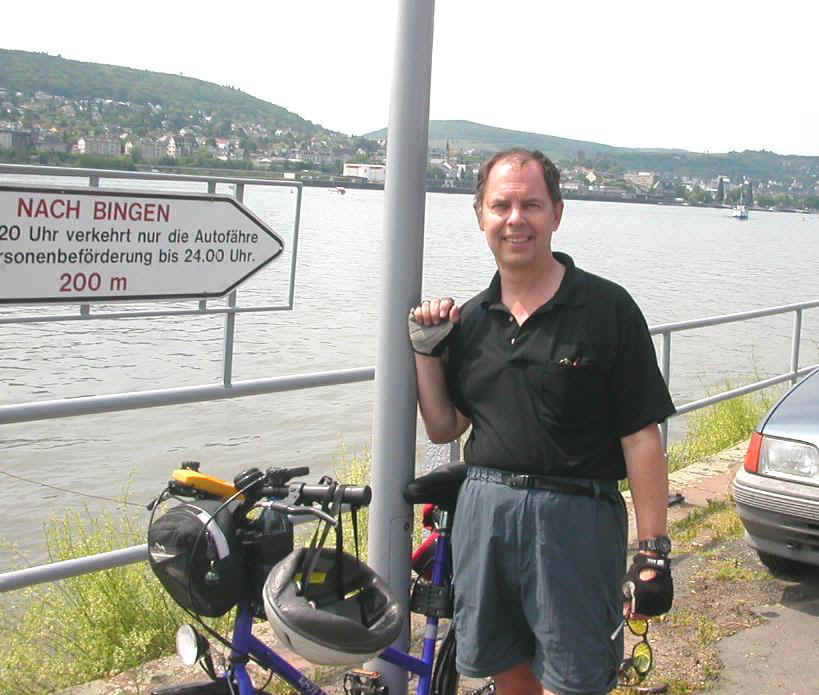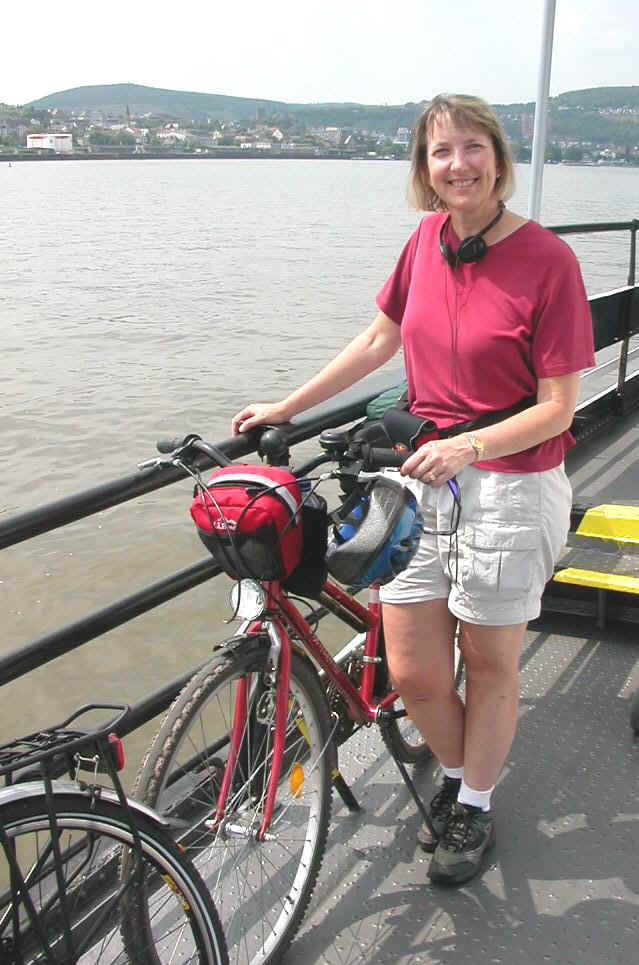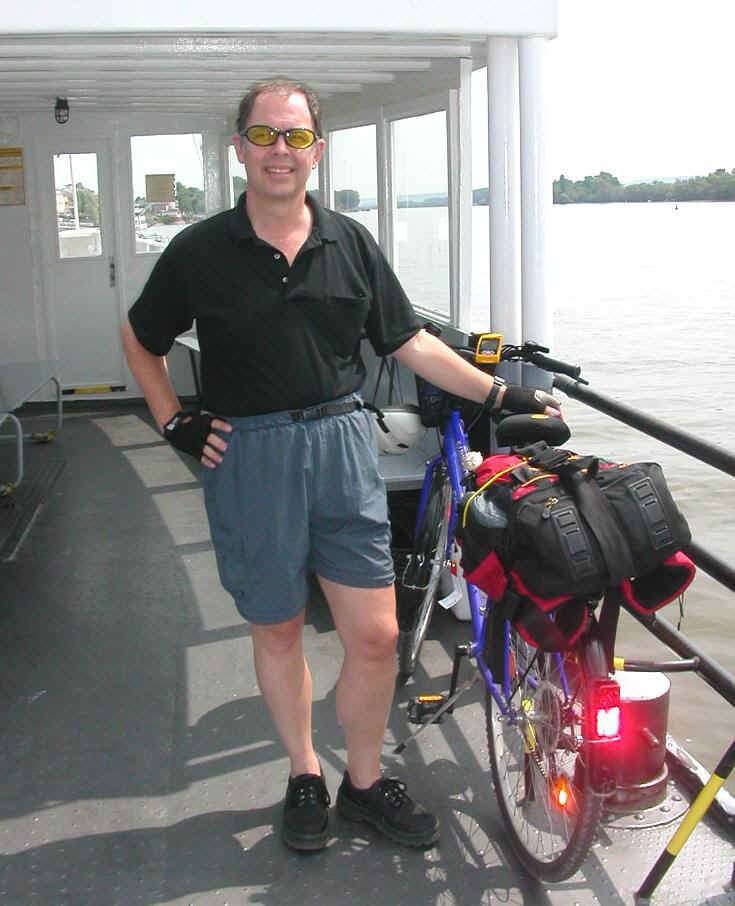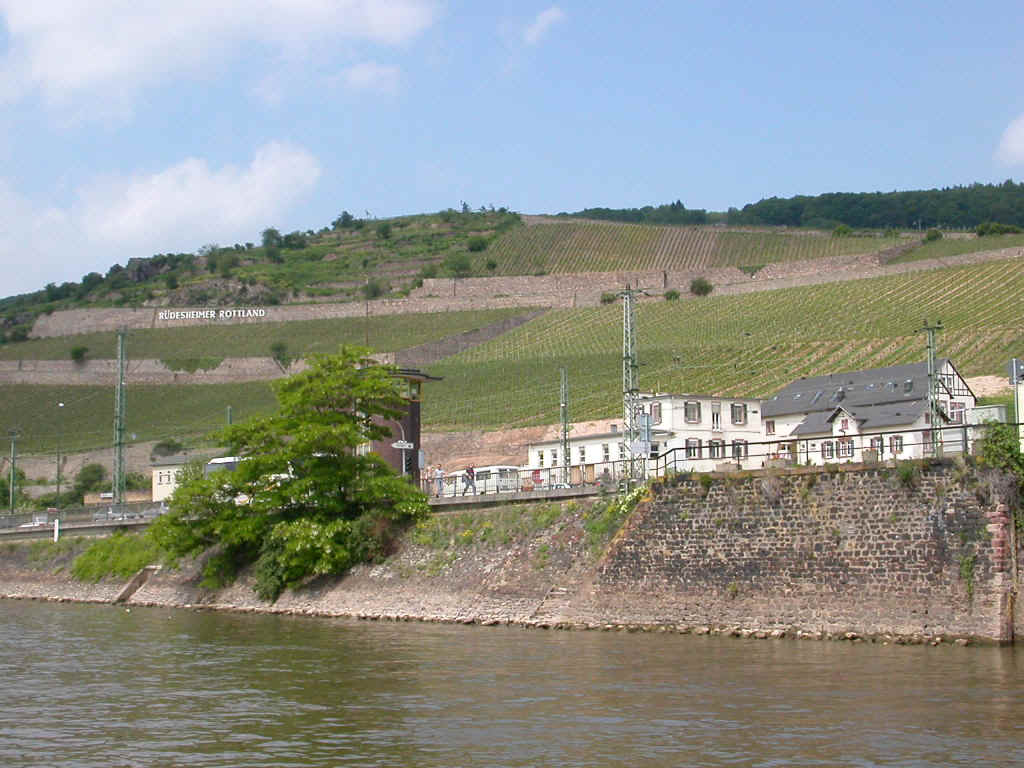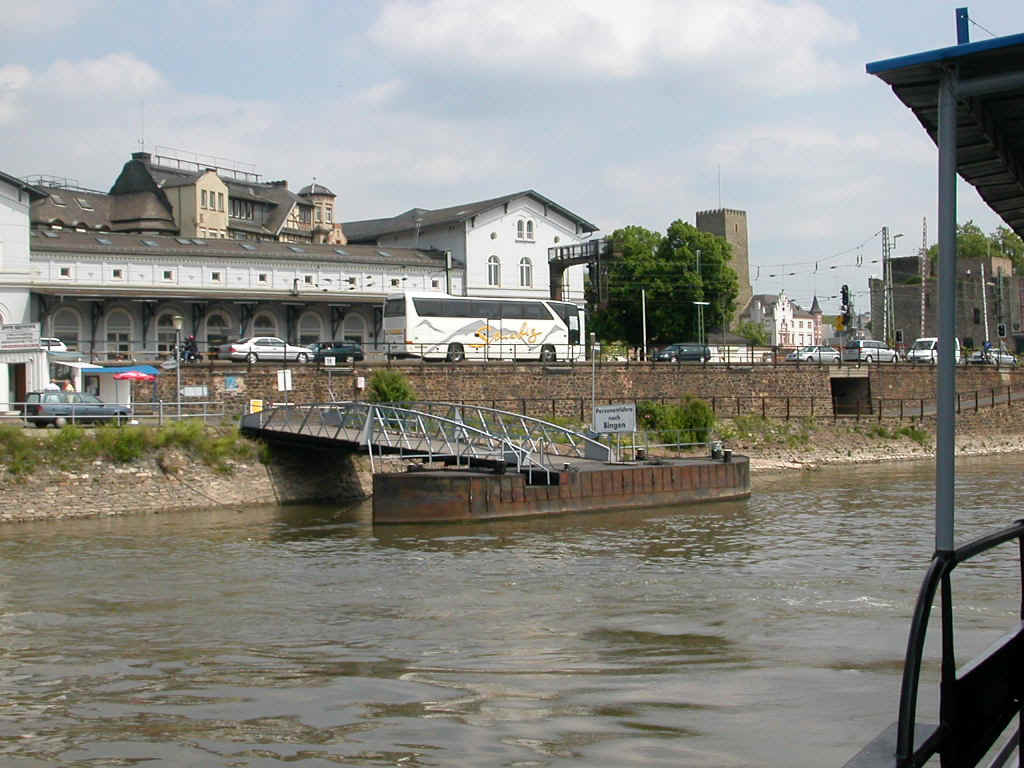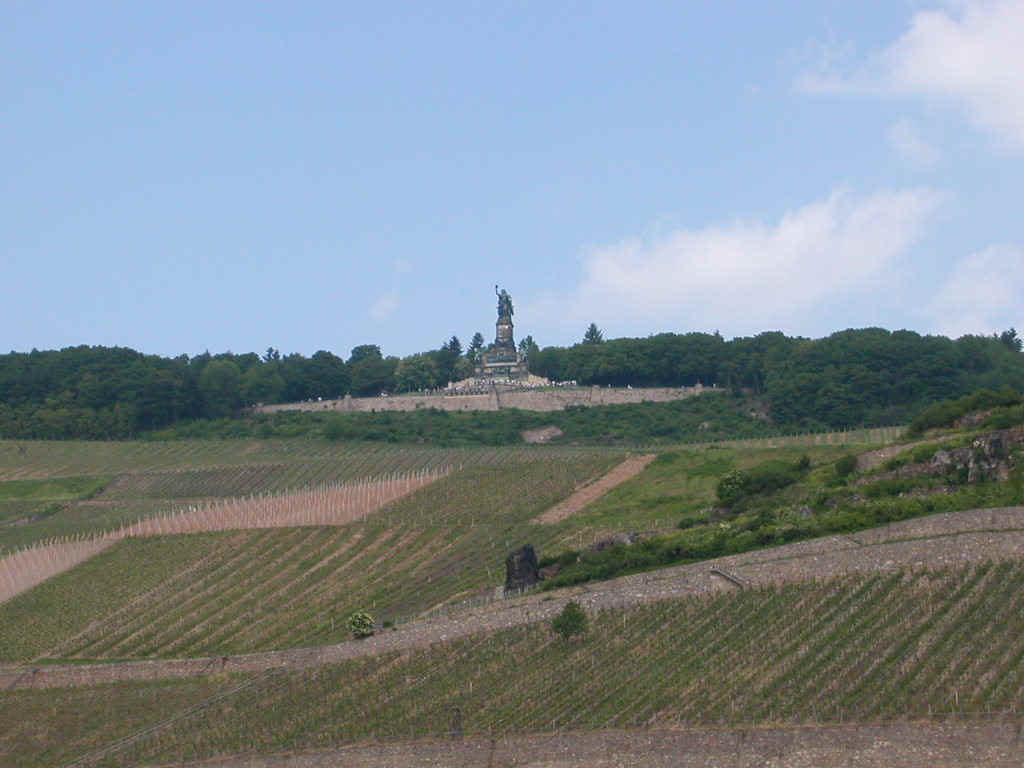 Last time we were in this part of Germany (a walking trip on the same route we'd be biking); the Rhine was overflowing its banks. This time, the river was under control so the bike paths (that we were able to ride on almost the entire way) were open for use. We had an easy ride on a rather crowded bike path to Bacharach, our first rest (beer) stop. As it turns out, today is "Father's Day" in Germany, which is apparently a major holiday. Everybody is off today (and the bike vendor has warned us not to be riding after dark, because "there will be more people out who have had maybe too much to drink"). After a quick beer at the Atkolnischer Hof, we were back on our bikes to St. Goar, our first overnight destination. We covered 31 kilometers in about 2 hours of riding. We tried to check in at the same hotel we'd stayed at on our walking trip but they were full (that holiday). About 50 meters away, still on the main drag in St. Goar, we checked in to the Rhein-Hotel S. Goar (at 55 Euro/night), locked up our bikes, changed clothes then headed out on the town. We enjoyed a late lunch of Spargelcream suppe (cream of asparagus soup), and a cheese and bread plate outside at the Hotel Hauser then walked along the riverfront.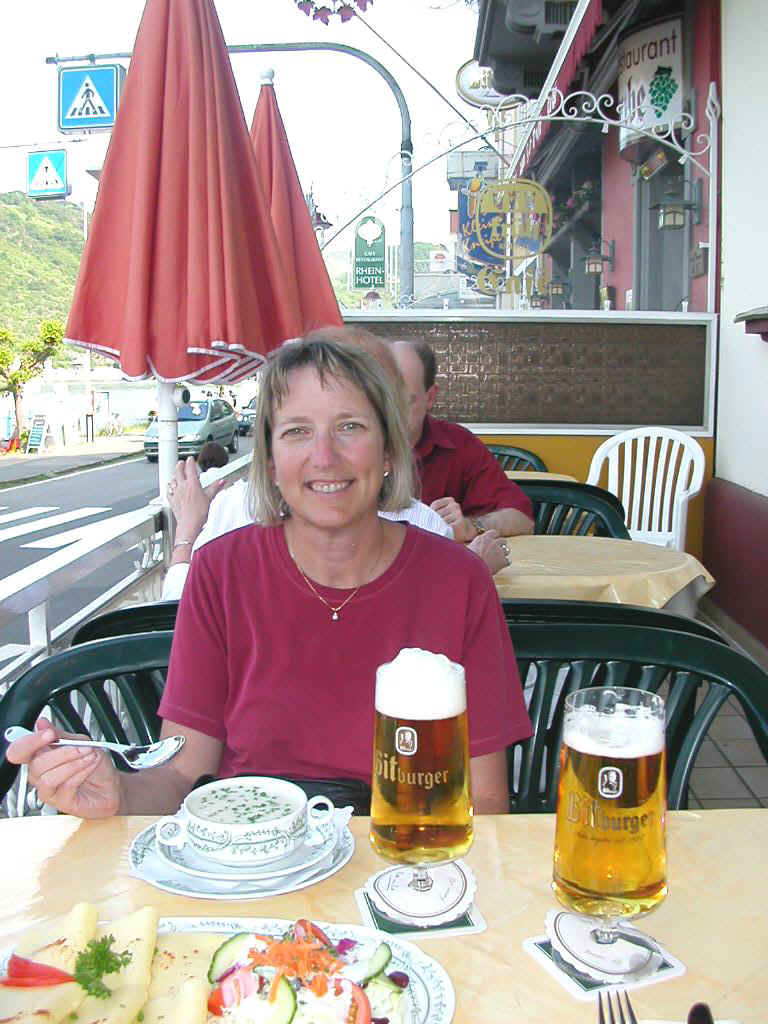 In Germany, the arrival of Spargel, or asparagus, in the open-air markets is a much-looked for sign of spring. Germans are fussy about the quality of their asparagus, knowing and preferring specific regions and even growers. Asparagus is almost always of the white variety, and nice plump stalks are the most prized.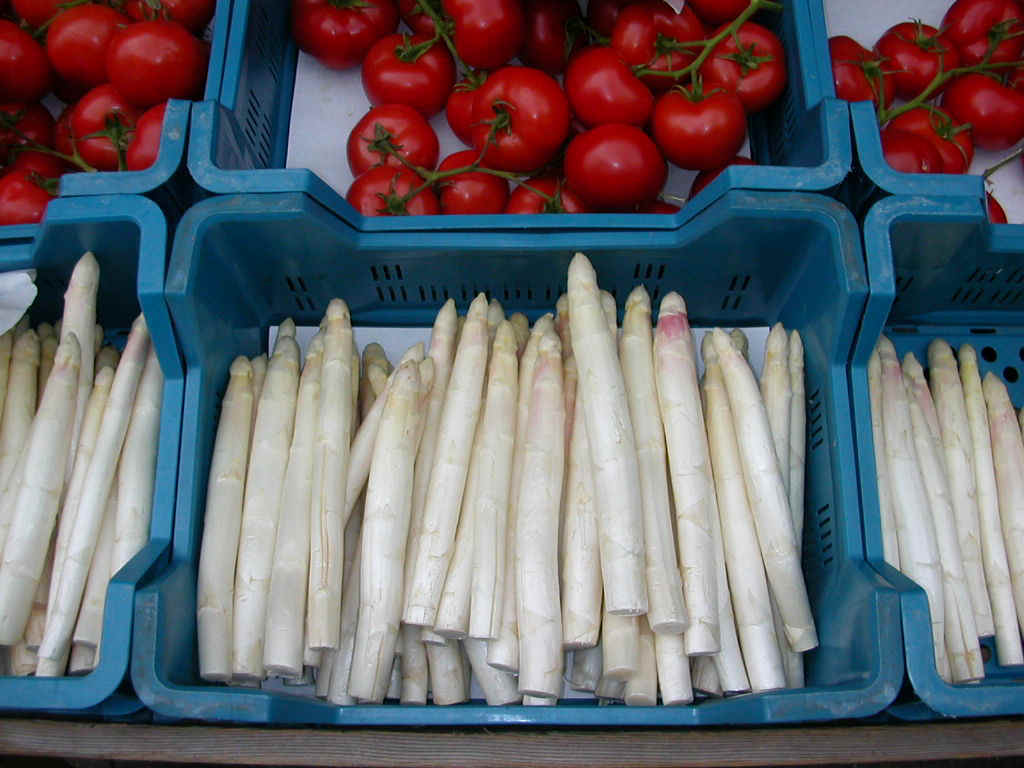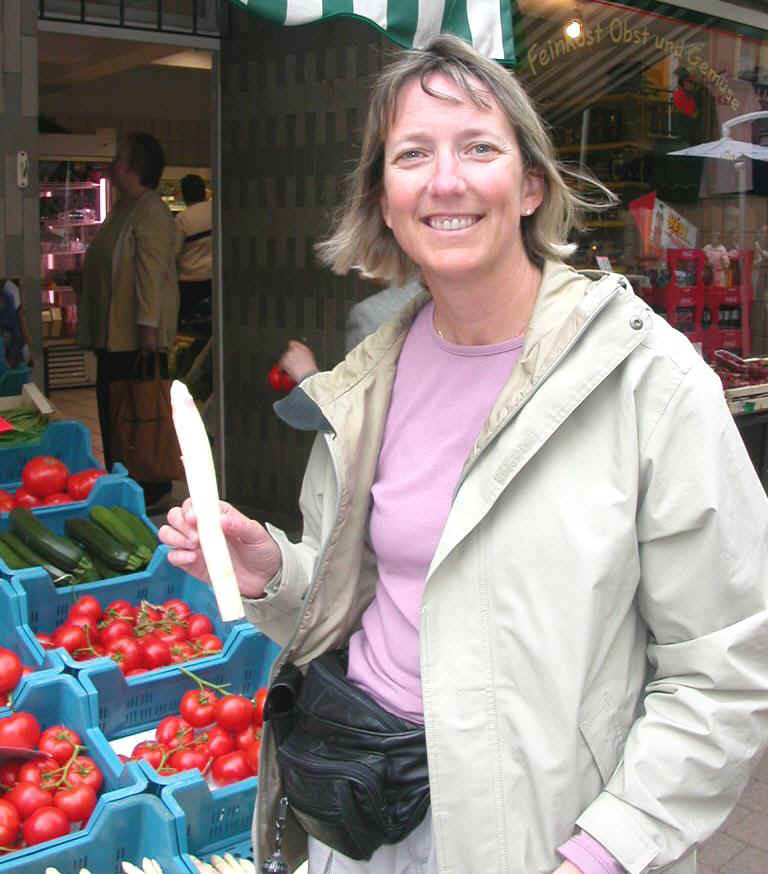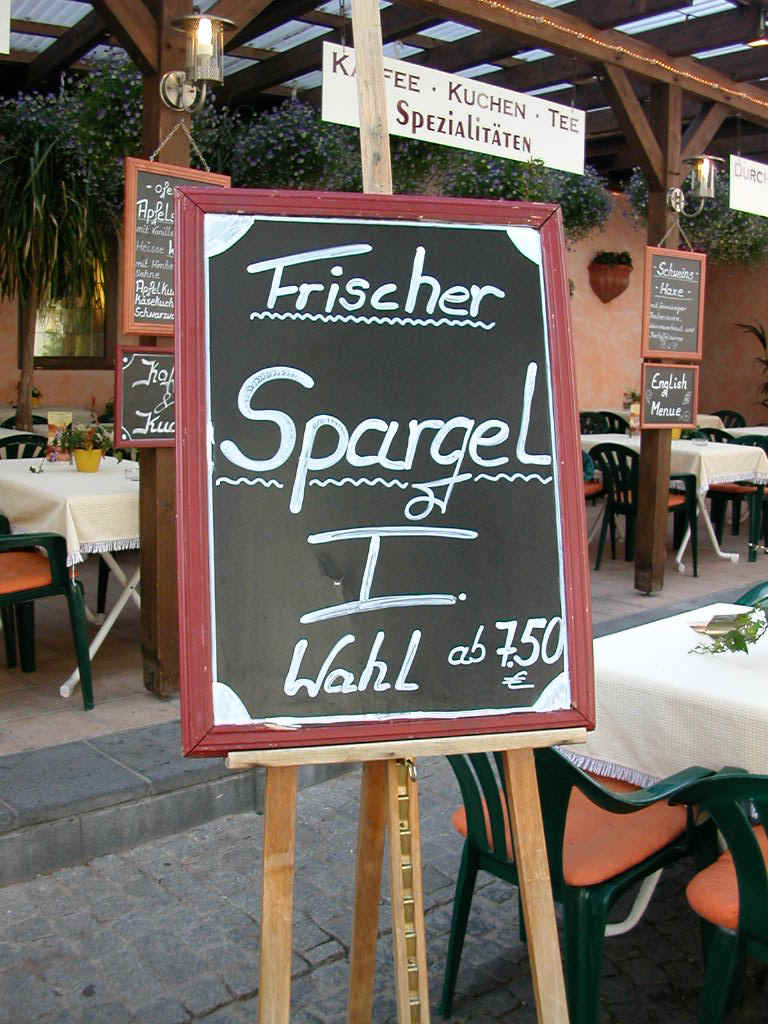 We then enjoyed a glass of wine at Hermey's Garden, watching some kids (and a few adults) playing Kleine Golf (think Putt-Putt). Dinner tonight was schnitzel in cream sauce with "kroketten" ('tater tots) for BJ; schnitzel "Weiner Art" (Vienna Style) and fries for Tony; and a bottle of Riesling at the Hotel Traube. Then to bed early tonight, since we'd had only a few hours of sleep on the flight over.

Friday morning, we headed downstairs for our Continental breakfast (bread, butter, jelly, ham, cheese, bierwurst cream, coffee and juice) around 0800. At breakfast, we studied our Rhine map and explored our options for the next two days.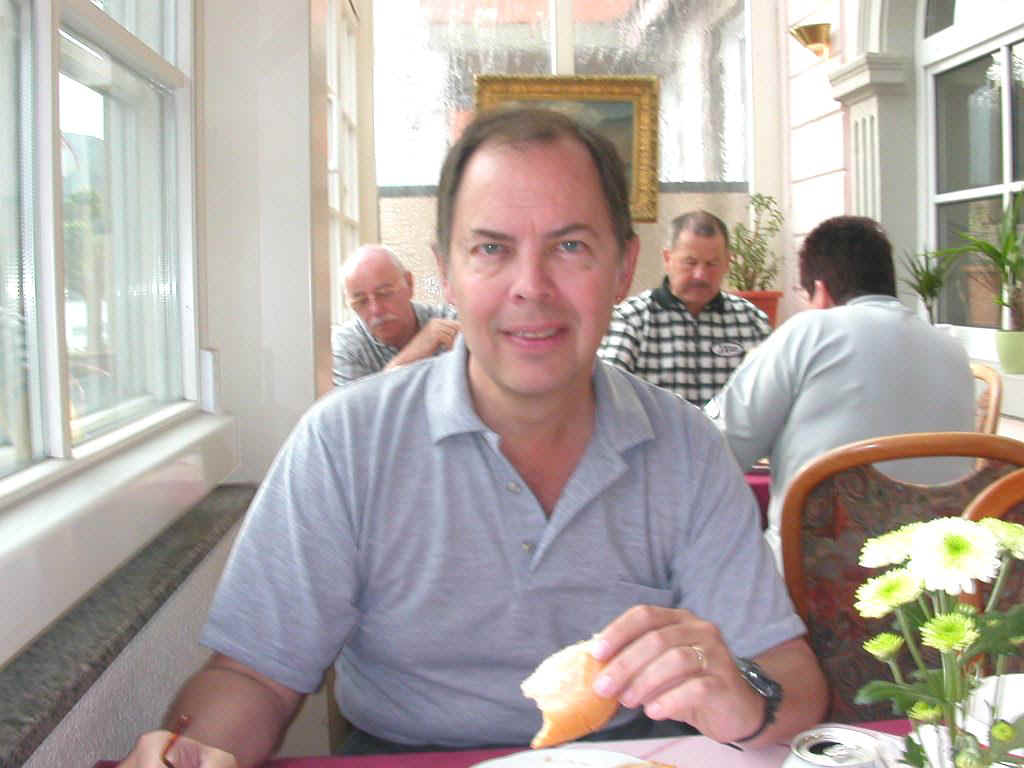 We knew we needed to have the bikes back in Rudesheim Saturday afternoon, so we had to plan where we'd end up tonight; somewhere in range of a day's ride to Rudesheim. We decided we'd stay a second night in St. Goar (at this hotel) and do a day ride to Koblenz, then ride one of the beautiful Rhine cruises back to St. Goar. As a plus, we wouldn't have to carry our backpacks on our bikes with us today. A quick review of the cruise schedule set our return time from Koblenz as 2:00pm. Setting out from the hotel at 9:30am, we expected a pretty easy day; after all, it's "downhill" (down river) in the direction we're going to be riding. Well, it IS downhill, but it's overcast, cool and there is a 10 to 15knot headwind that will be with us the entire day. Arriving into Boppard (an overnight stay town on our walking trip) around 10:45, we enjoyed a quick beer at the Petit Restaurant Stefan Peil.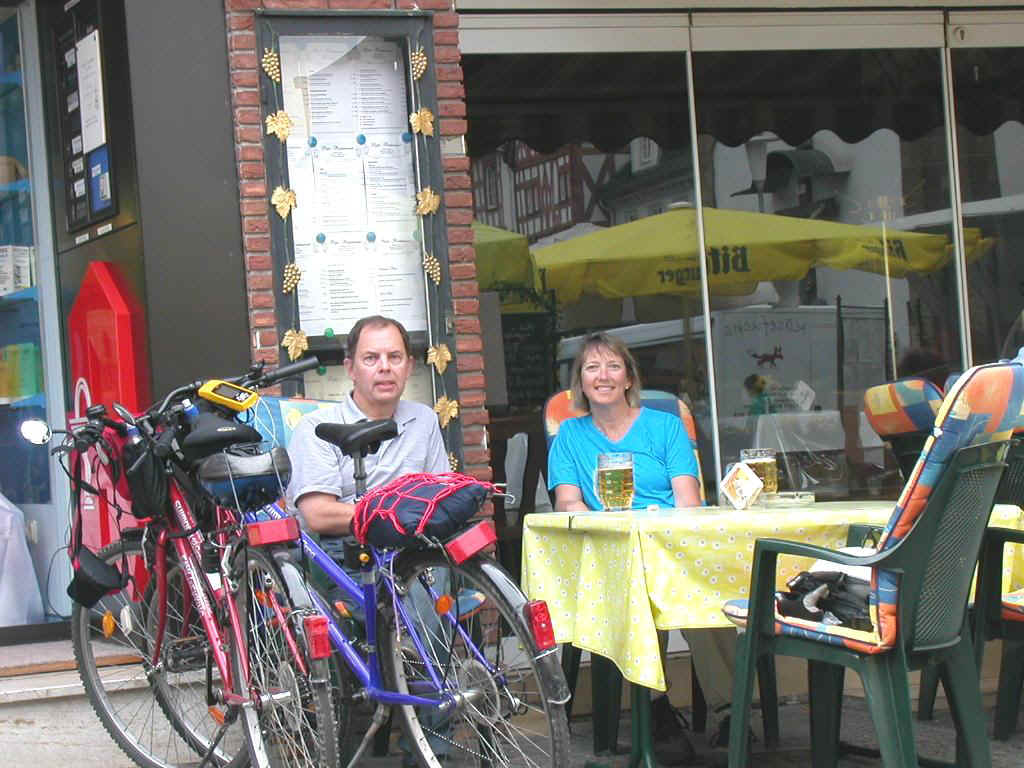 Back on our bikes, still fighting the headwind, we pedaled towards Koblenz. At one point, for several miles along the river, the bike path dove down into the woods and became a gravel and dirt path, rather than paved. After all that coffee and juice with breakfast, and that beer in Boppard, BJ is looking for a hidden spot when suddenly, up a very short hill, my bike threw its chain. As BJ wheeled up to tell me of her "need", we happened to notice, not 3 meters away, the German equivalent of a Port-a-Let… right there on the bike path! It had to be good Karma. I re-seated my chain, while BJ powdered her nose, then it was time to be off. We made Koblenz around 1:20pm and bought tickets on the KD Cruise (20.20 Euros for two people and two bikes from Koblenz back to Boppard. We decided we'd ride a little further today, since it was still early and we wouldn't be fighting that headwind on the return).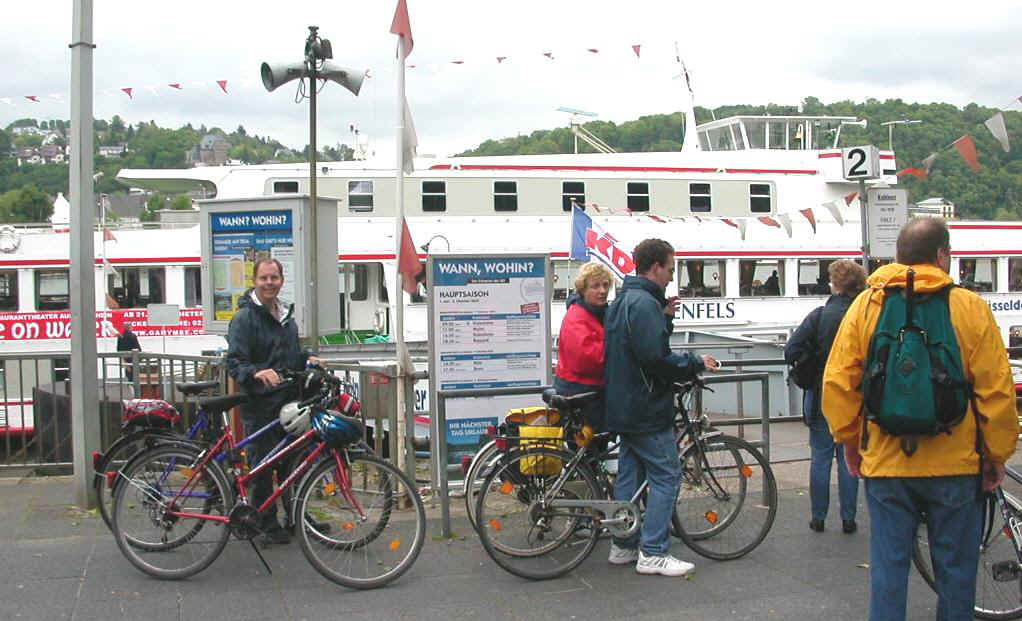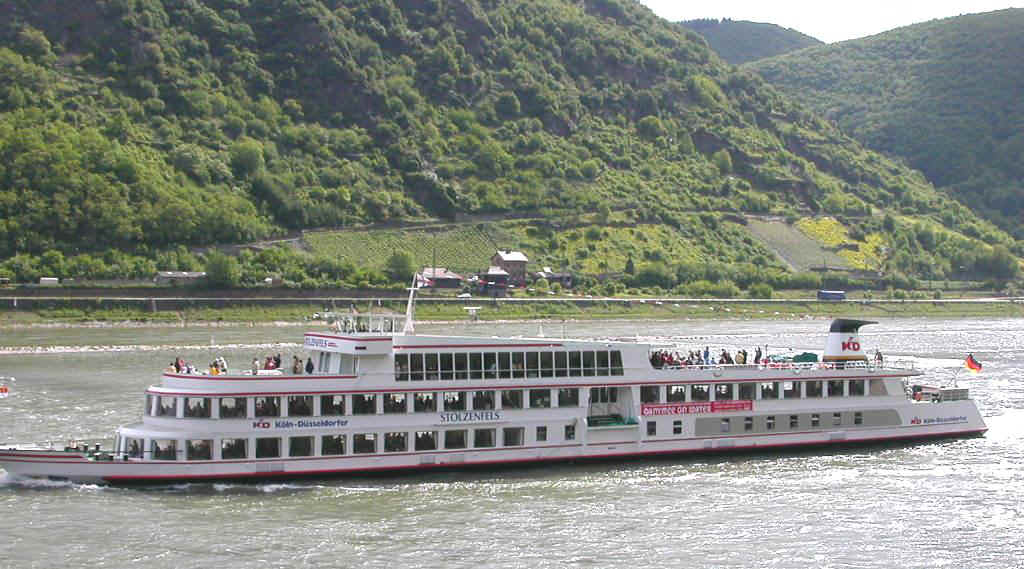 On board the cruise boat, we picked a window-front table in the dining room, where we enjoyed a beer and a cheese plate as we sailed south from Koblenz.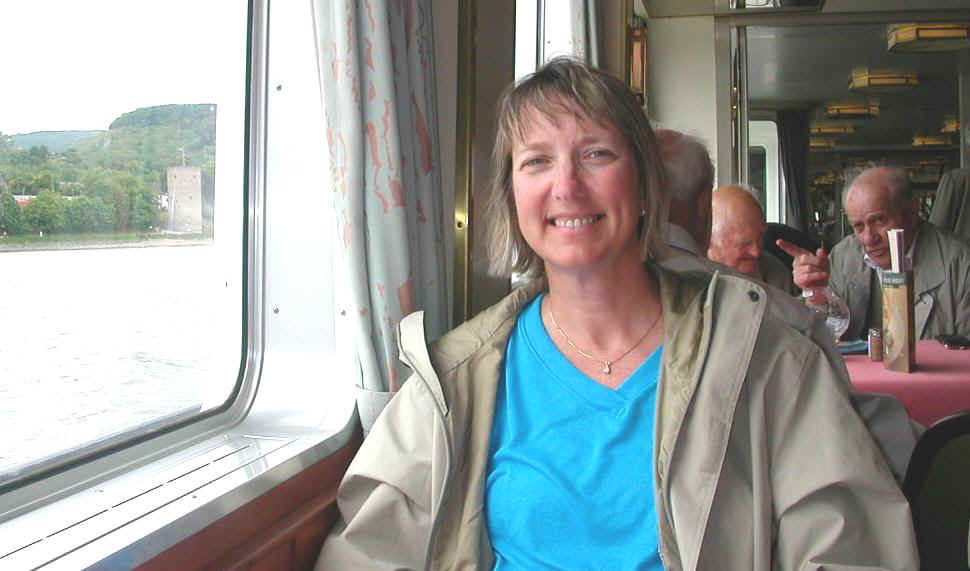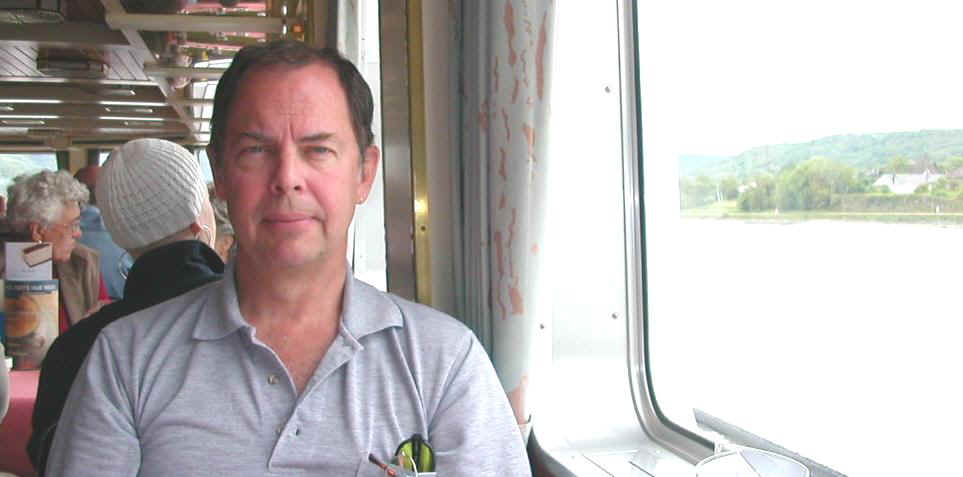 We saw lots of beautiful castles and German villages along the riverfront.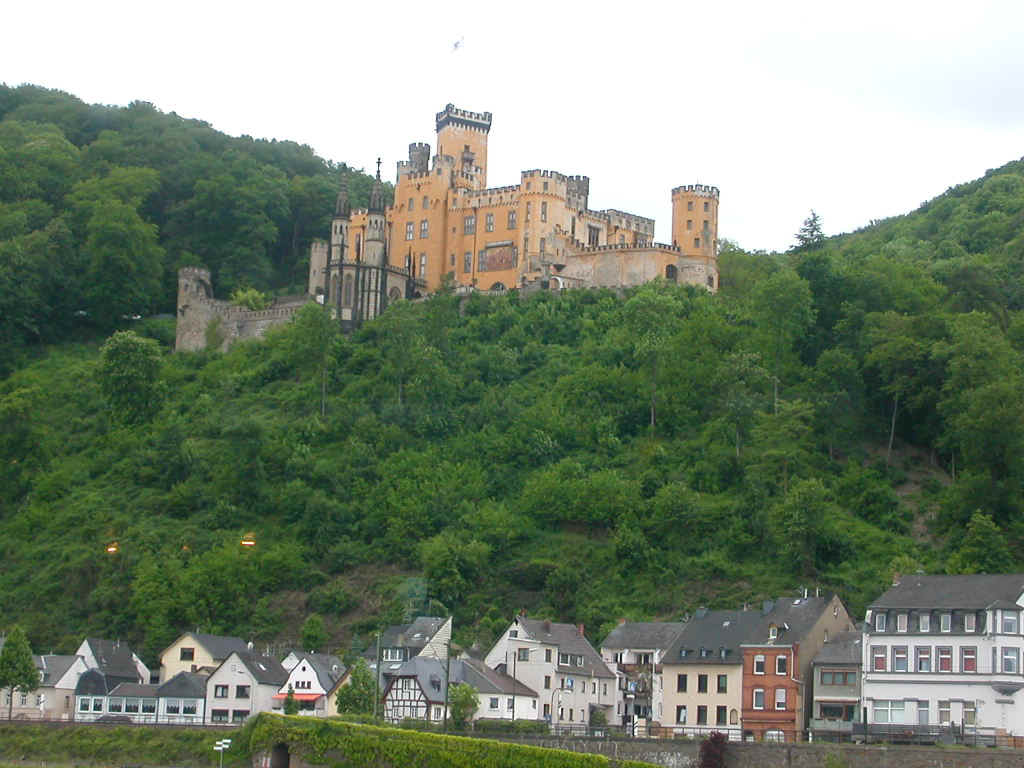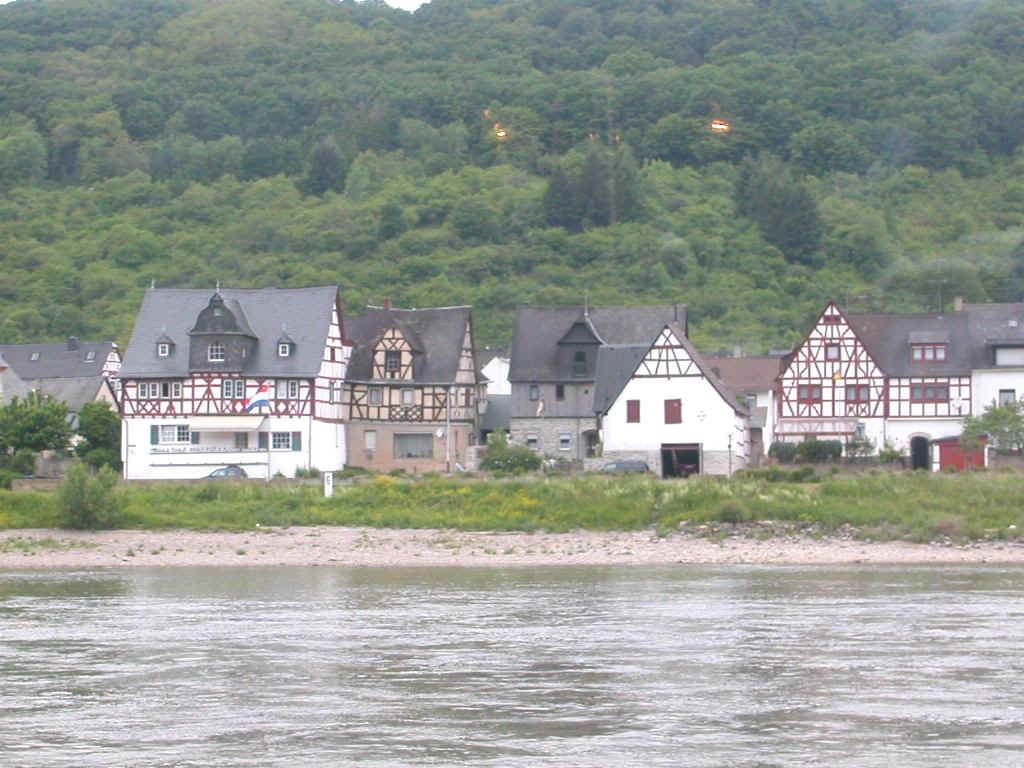 We disembarked in Boppard, and had a quick ride, tailwind and all, back to "home" for the day, St. Goar. Our ride today totaled 51 kilometers of biking, plus a few easy kilometers on the boat. Dinner tonight was at the Silberne Rose (Silver Rose) where we enjoyed another bottle of dry Riesling, another schnitzel Weiner Art, a Balkan specialty (the owner was of Balkan heritage) consisting of goat cheese inside of a spiced ground beef patty.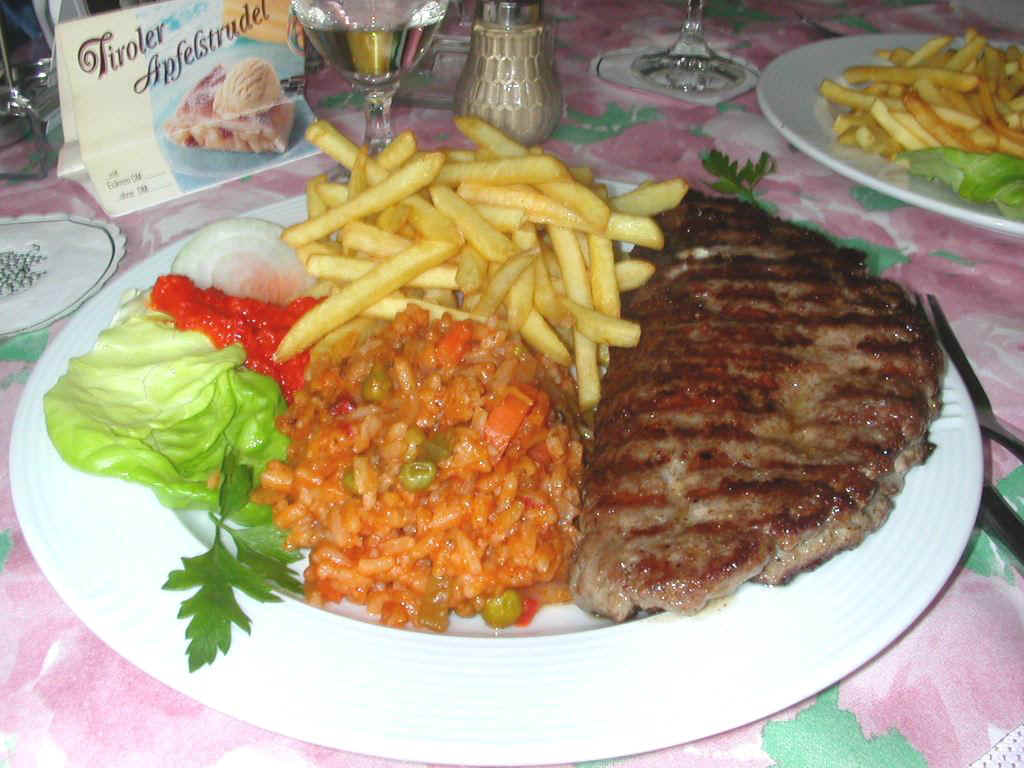 We finished the evening with Apfelstrudel (apple strudel) with ice cream at the Café Loreley Perle.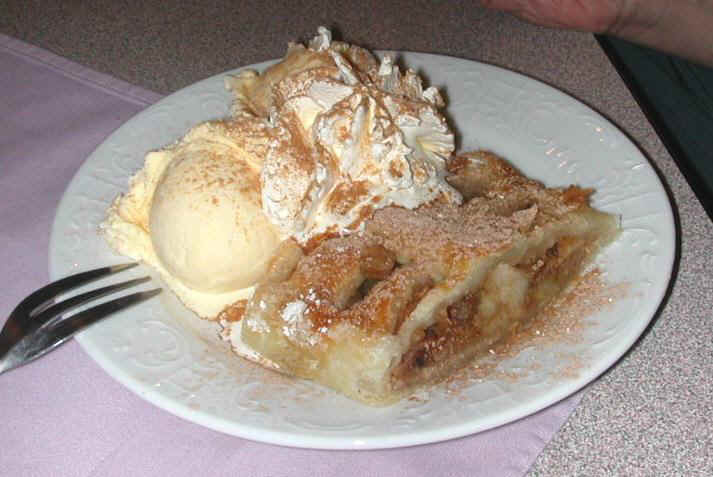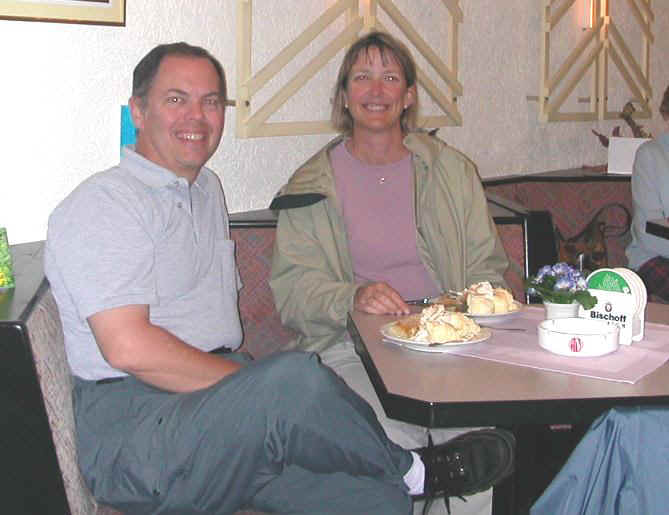 Saturday, our last day biking, had us up around 8:00am again, for that same breakfast, and away from the hotel around 9:30. That headwind we had yesterday is now a tailwind as we bike back towards Rudesheim.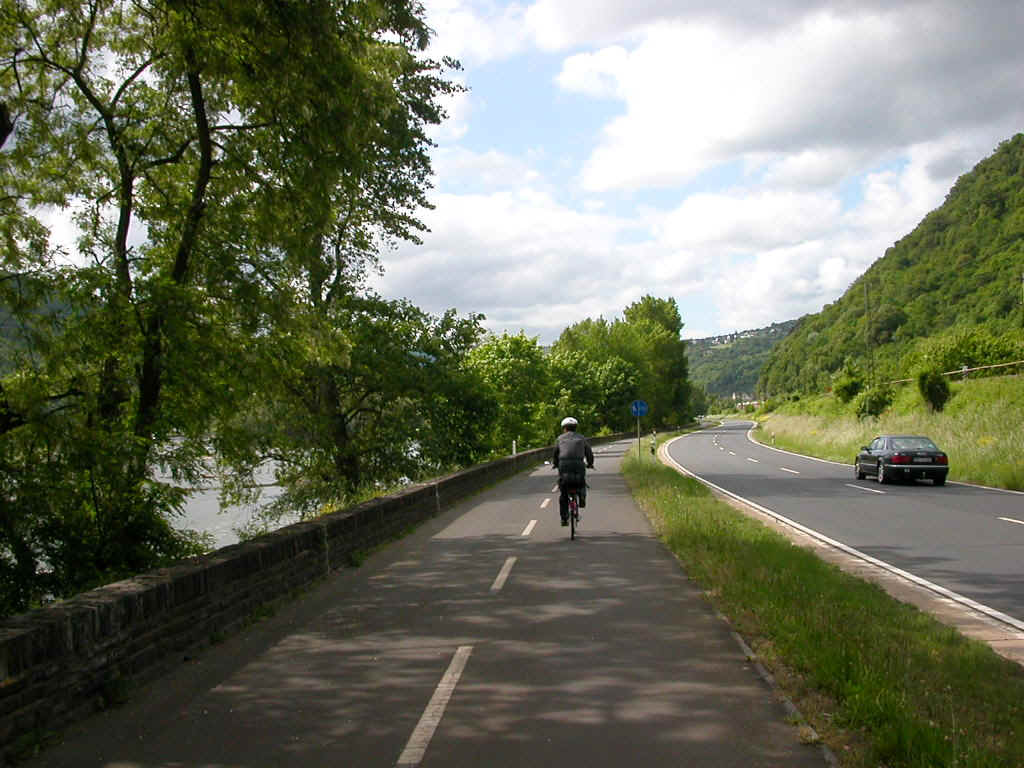 We took our time and stopped to take lots of pictures of the castles and countryside.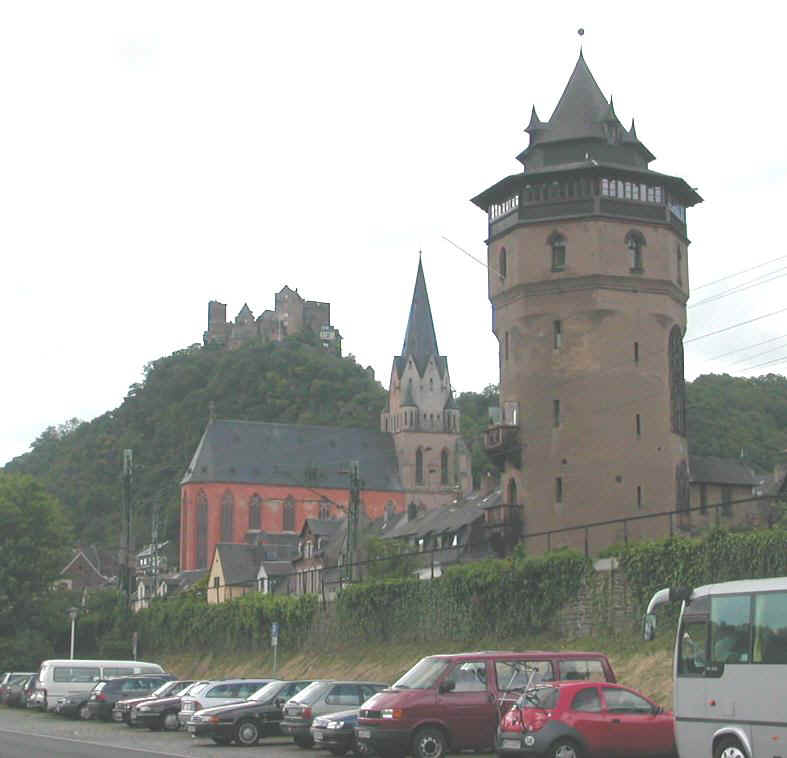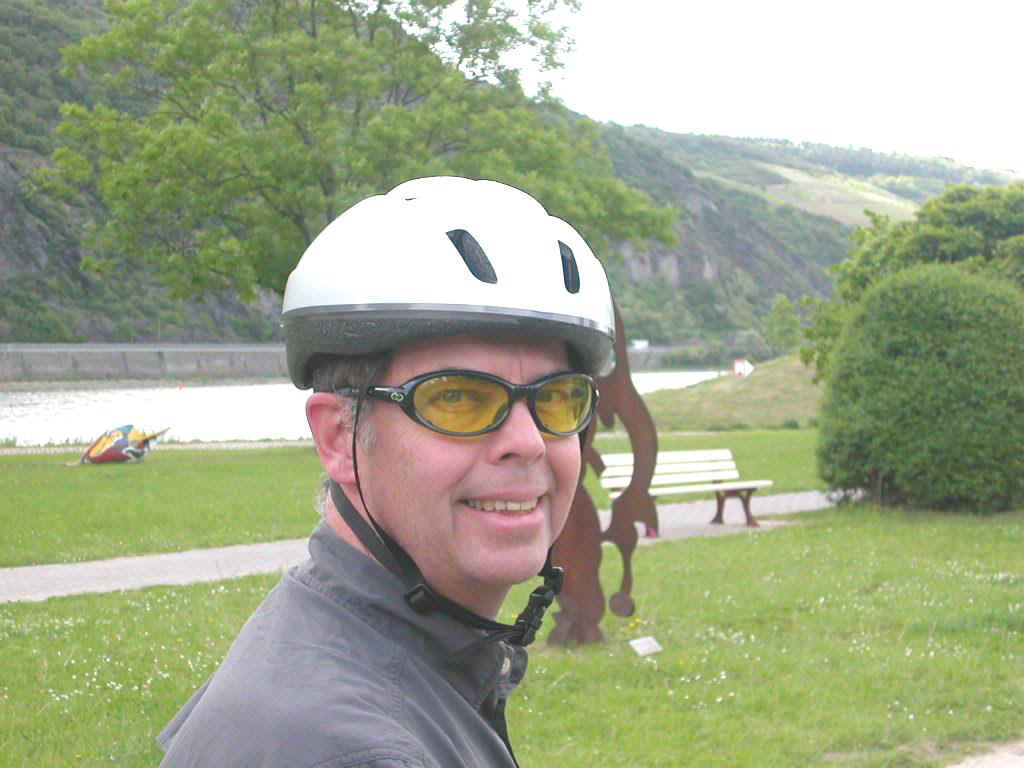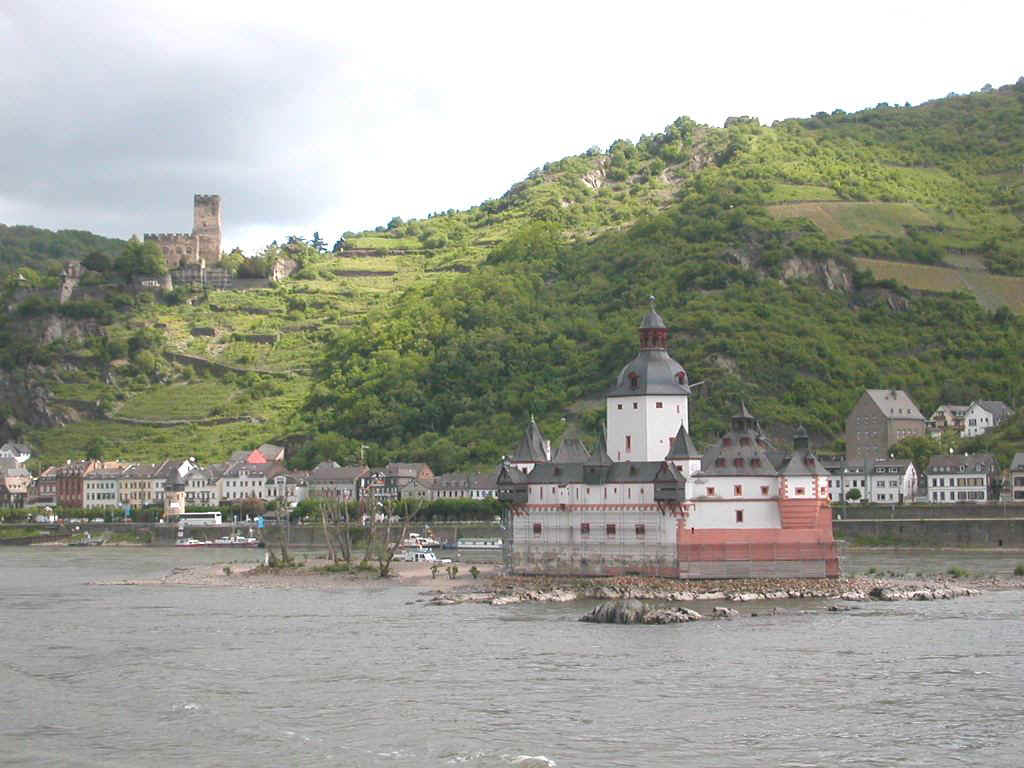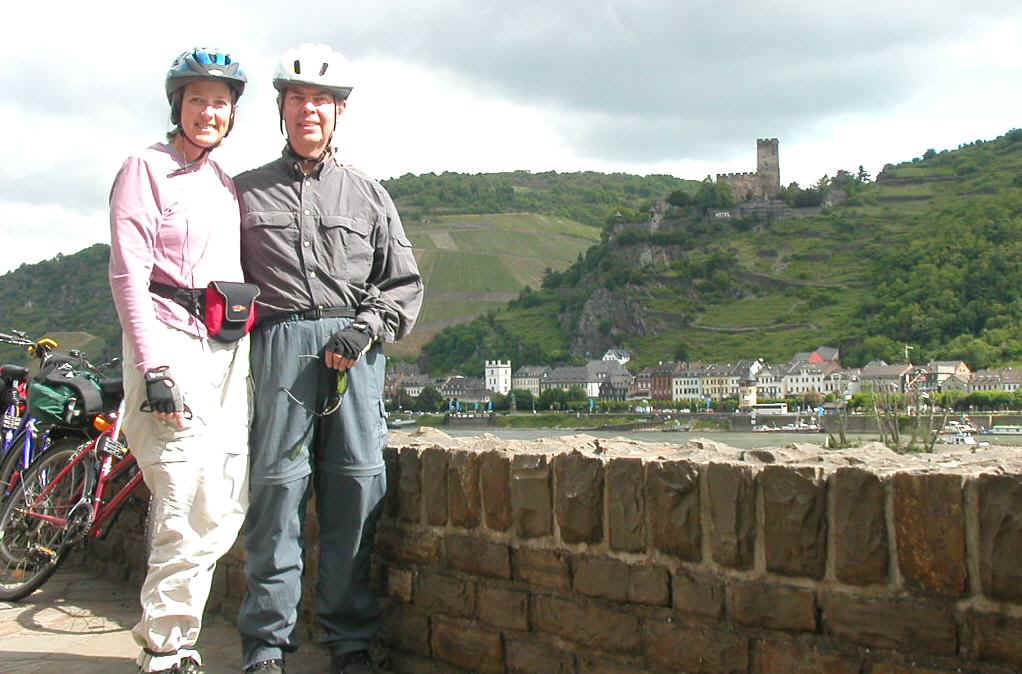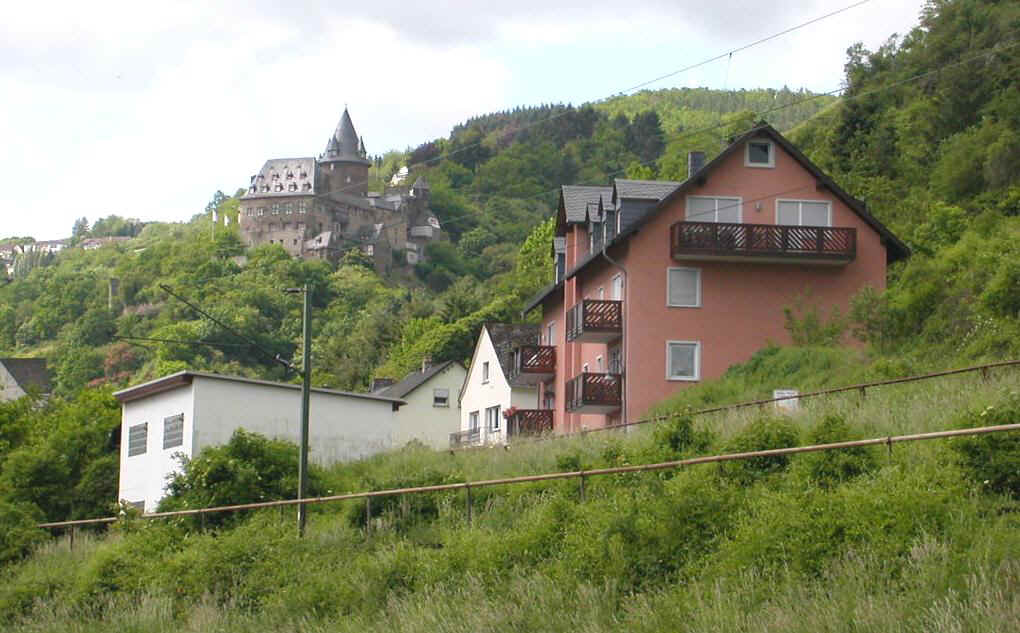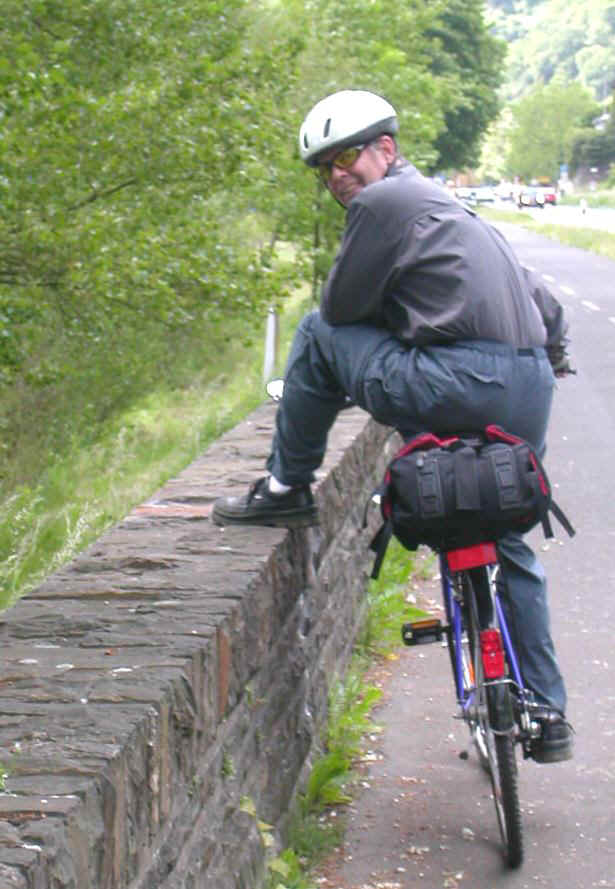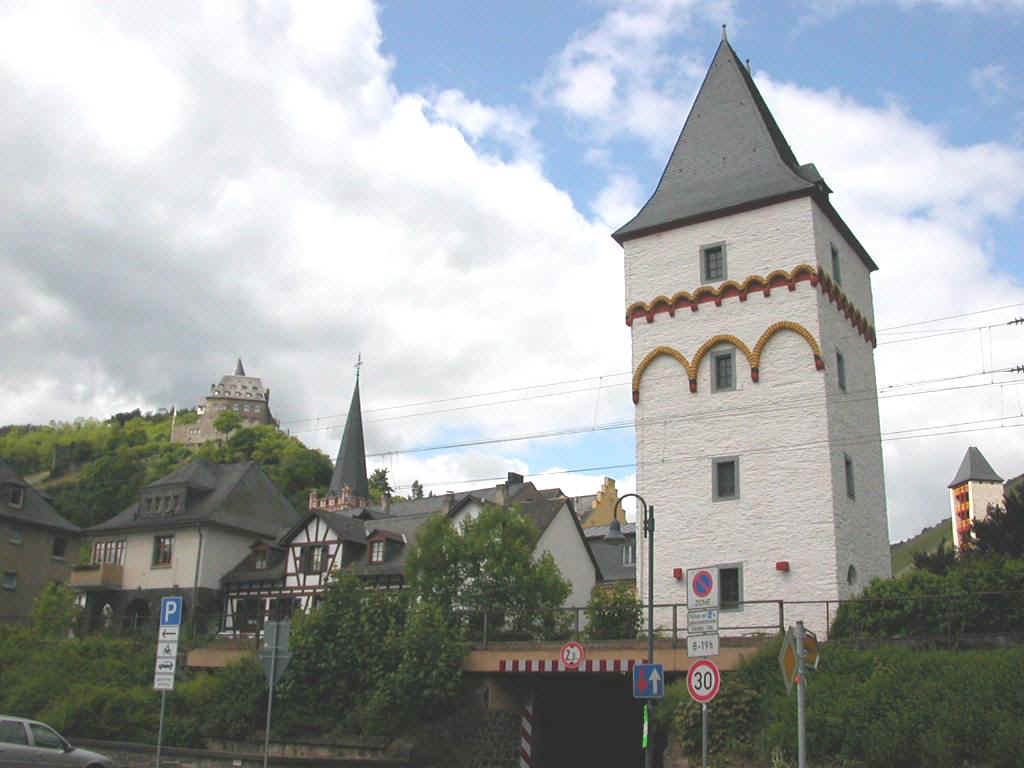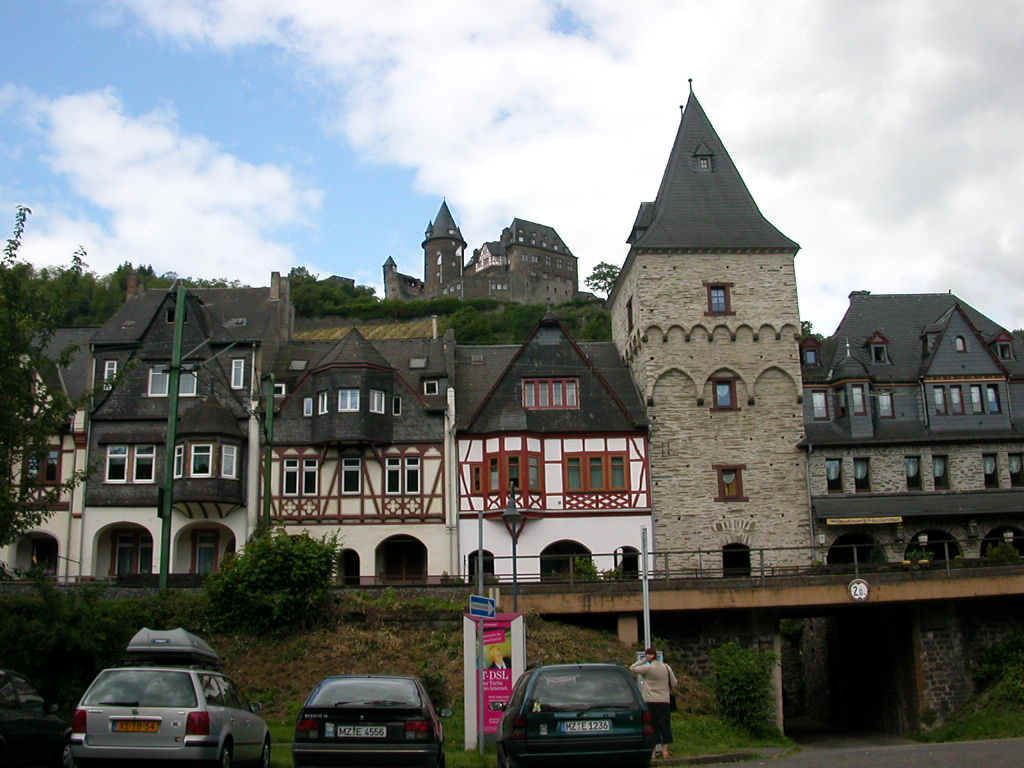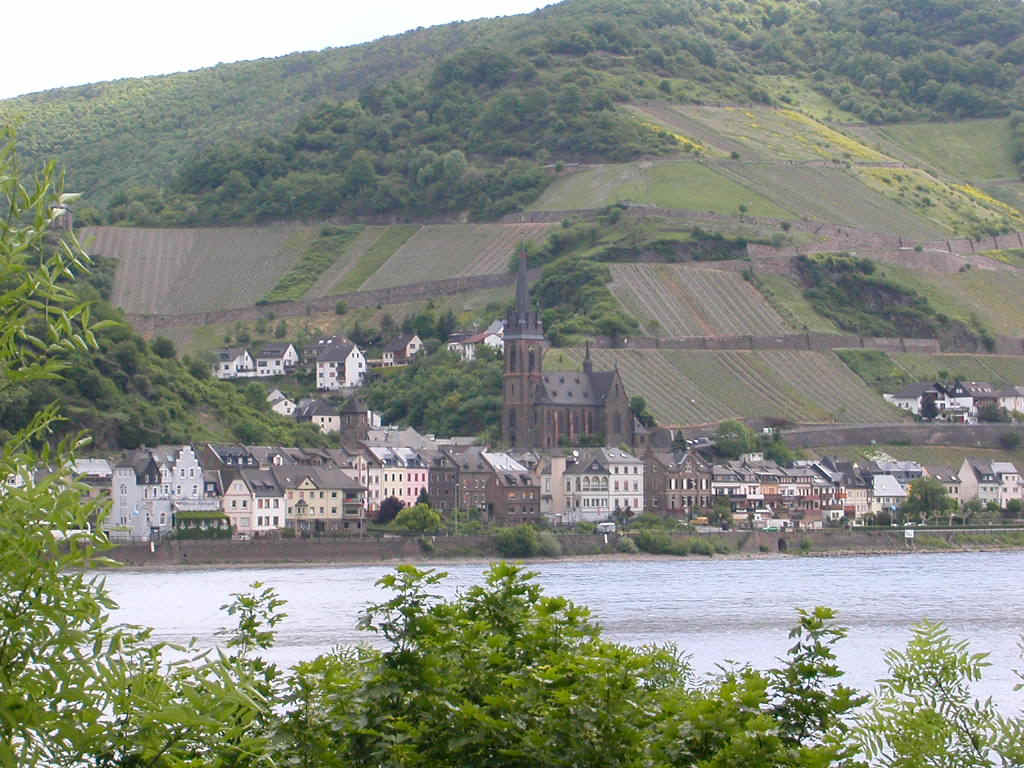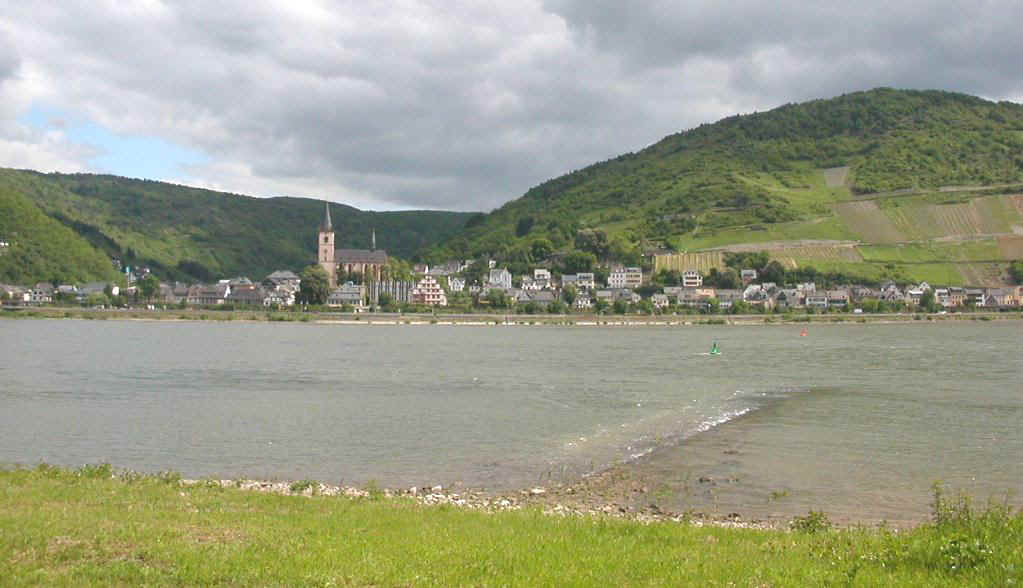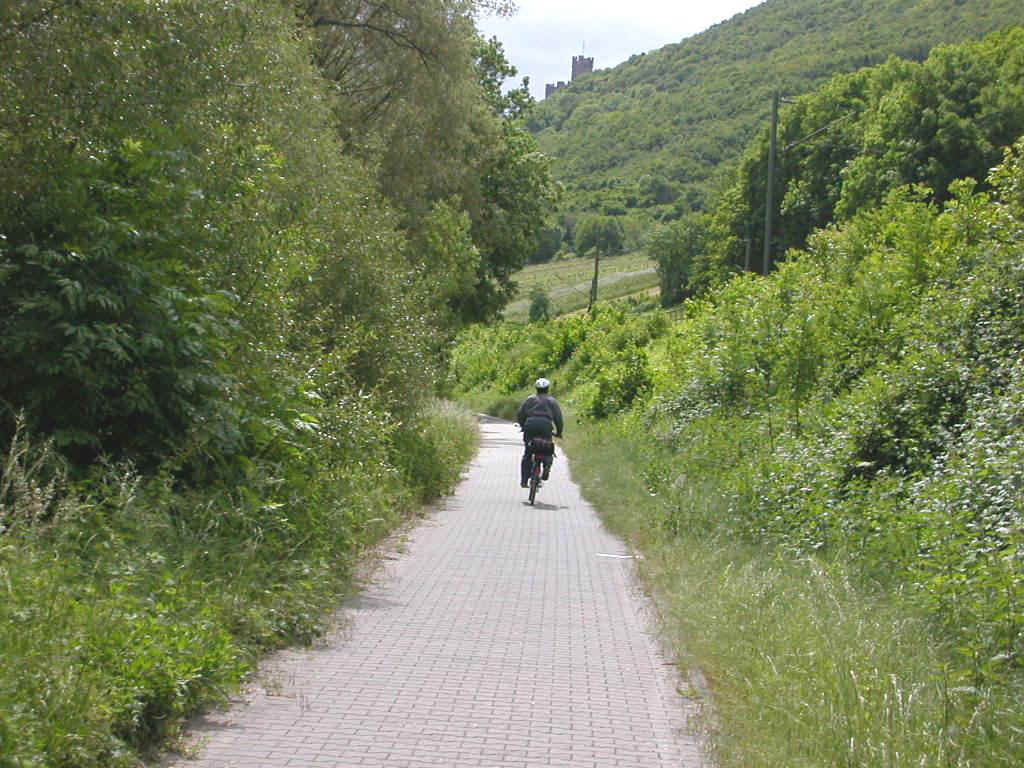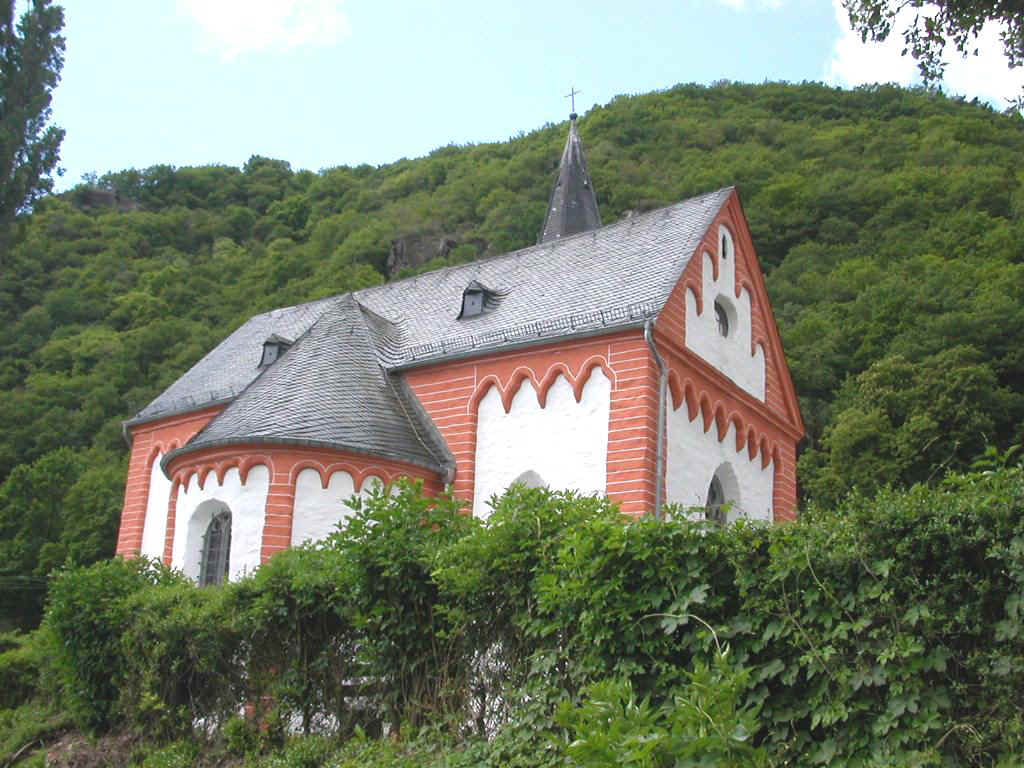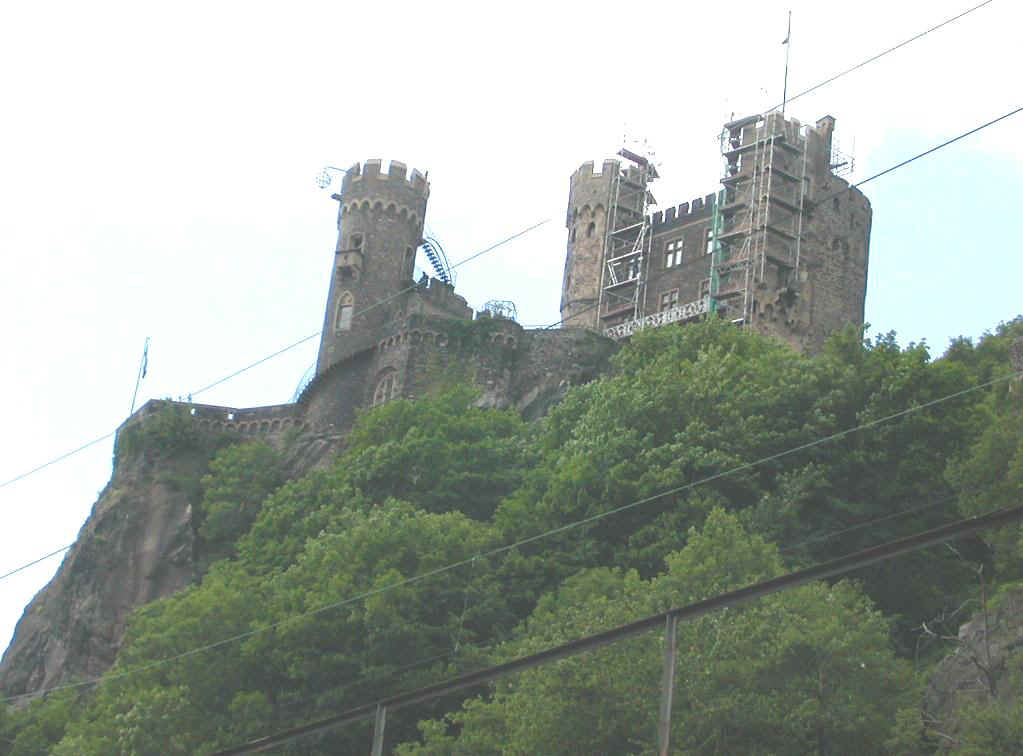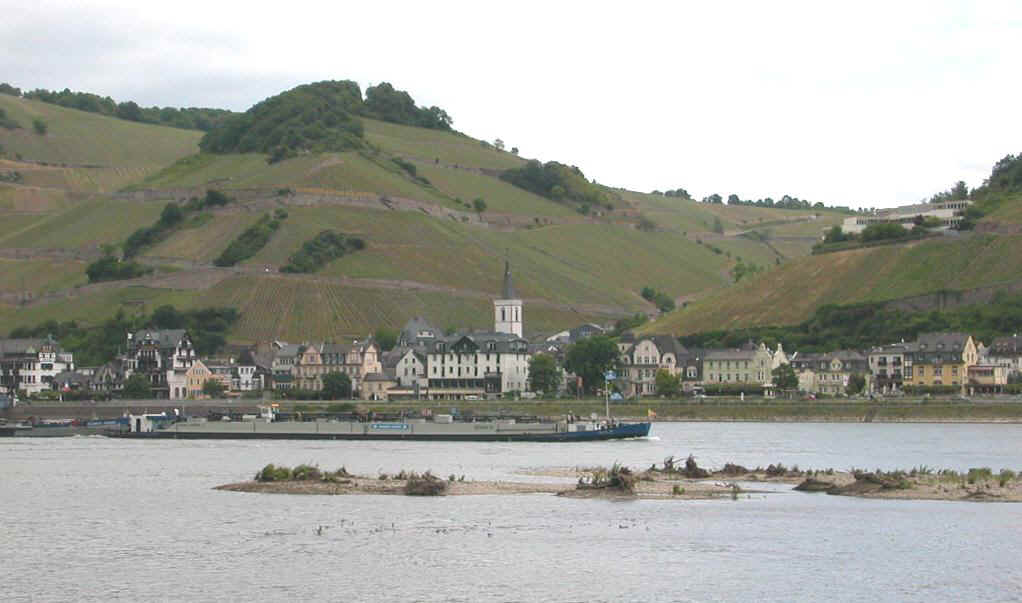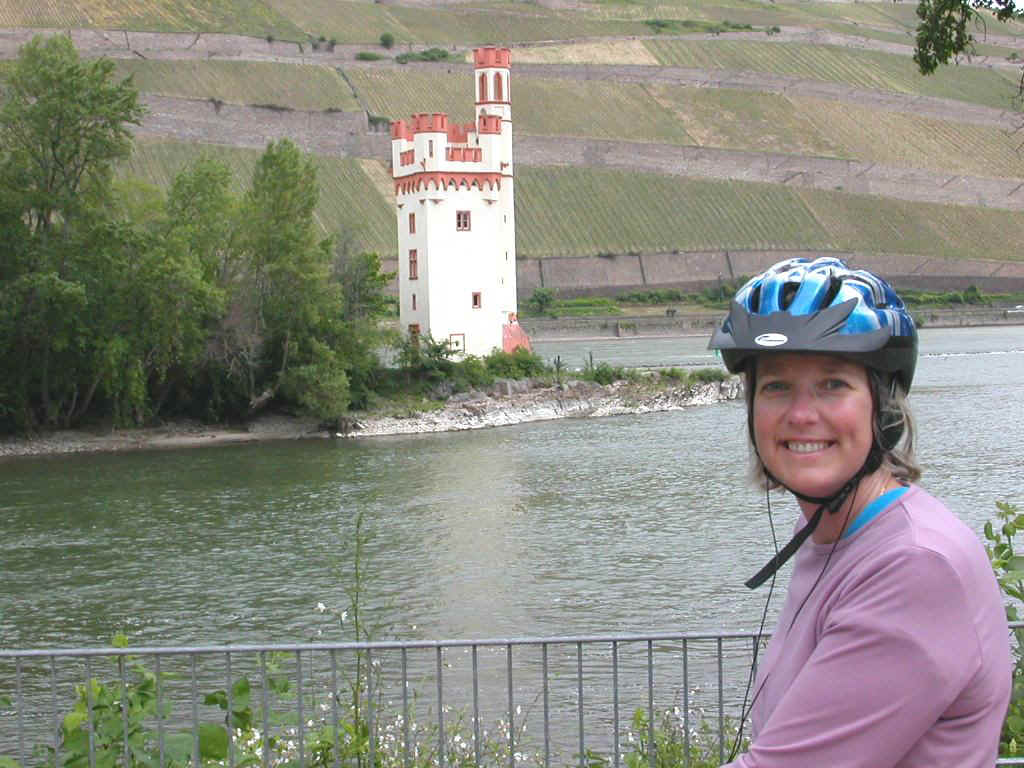 Around 11:00am we took a beer (and bathroom) break at the riverside Kiosk Heim Tulli near Neiderheimbach.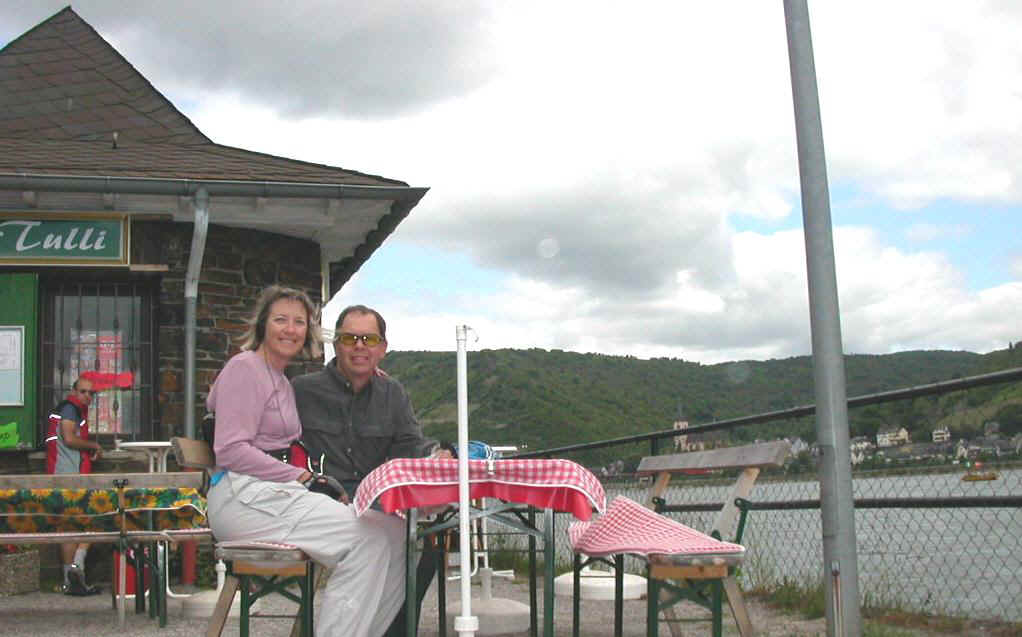 By 12:30 we were back in Bingen, so we enjoyed yet another German beer at Rheinpavillion while we waited for the car-and-person ferry (3.40 Euro for 2 versus the 4.00 Euro for 2 we paid on the person-only ferry 2 days ago).
We decided we'd stay tonight in the hotel where we'd rented our bikes; the Hotel Zum Grunen Kranz Historisches und Weinrestaurant www.gruenerkranz.com. We checked in to the hotel then went to check out the town (again… we've been in Rudesheim several times before and have enjoyed it each time). As we walked around town, we noticed (okay, Tony noticed) a Ferrari festival was in town, There must have been at least 10 different, all red, Ferraris parked, or looking for parking, in town today. At the Hotel Gastatte und Weinhaus Endlich we enjoyed a bottle of Rudesheimer Klosterlay Spatburgunder Deutscher Tafelwein (a really tasty German red wine from a few miles away), a bowl of gulaschsuppe mit brot (goulash soup with bread), and an order of brot herzhaft belegt mit schnittkase (bread spread with butter, and cheese).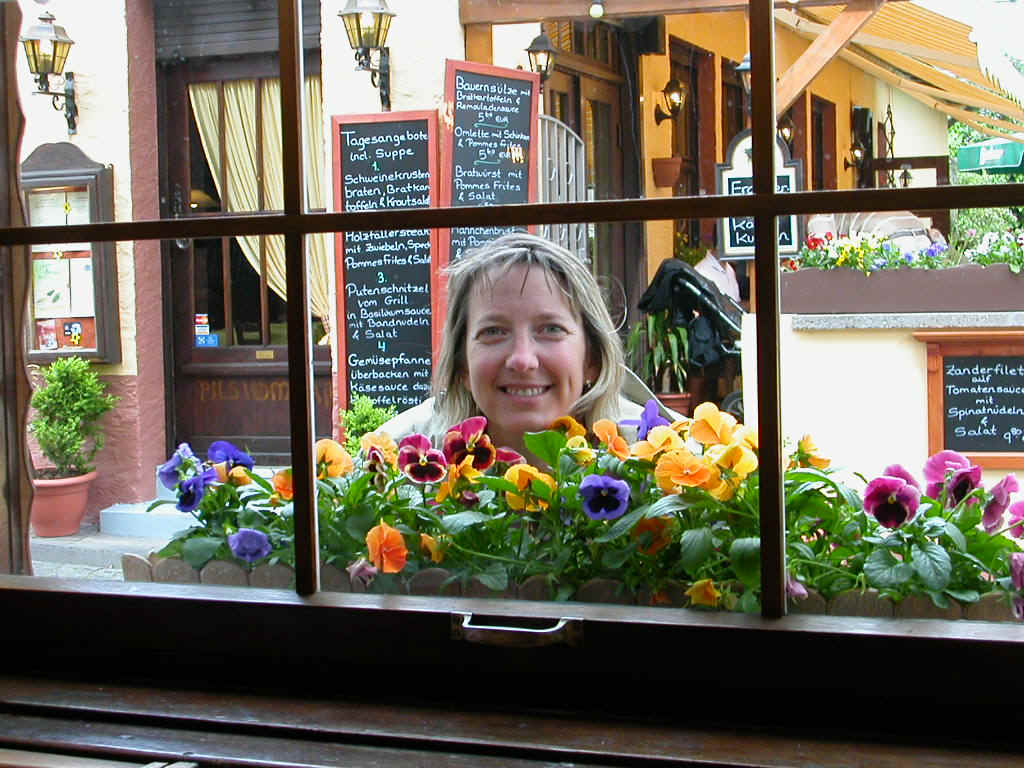 We walked around town looking at the sights, studying menus for dinner and window shopping. Tony found a sunny spot to relax while BJ shopped.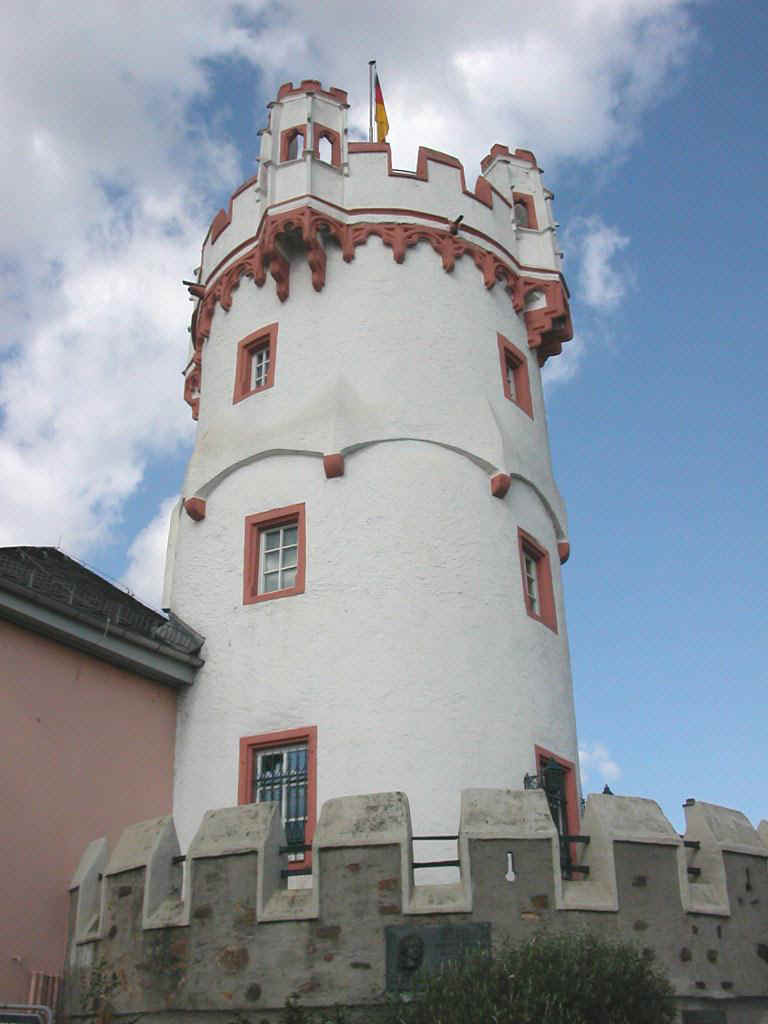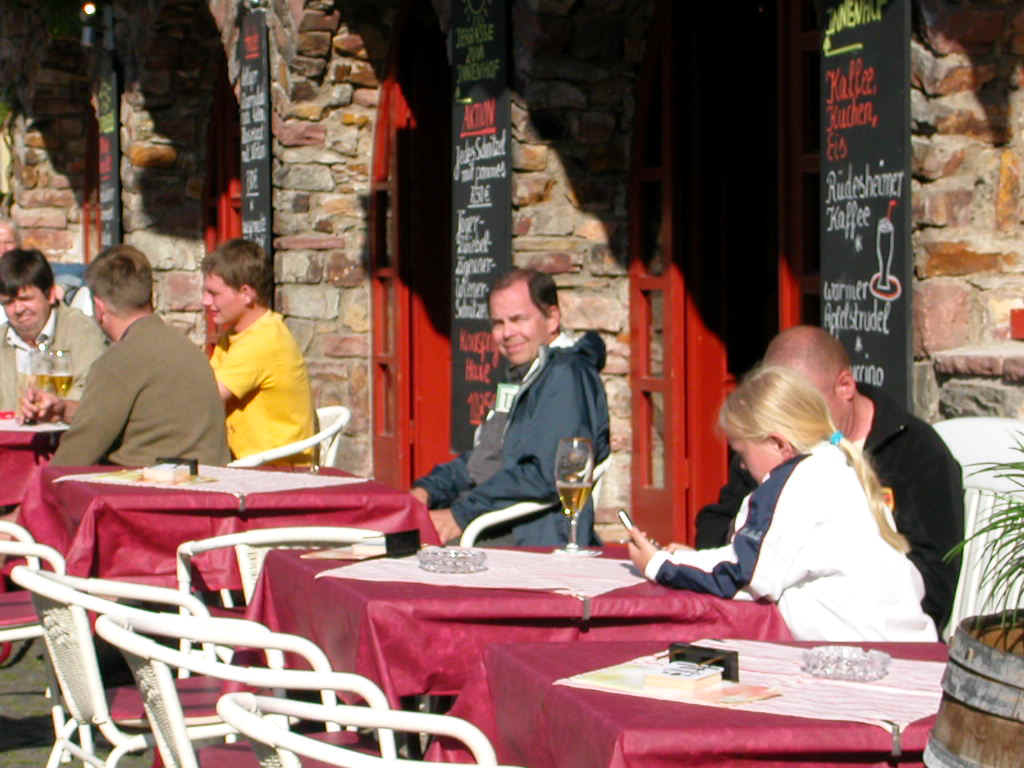 For dinner tonight, we found a tiny little out of the way place that was filled with locals. Definitely not a tourist restaurant, we dined at the Weinstube Sur Lindenau and enjoyed another local red wine, the 2001er Rudesheimer Drachenstein Spatburgunder Qualitatsrotwein Troken Fruchtig with our orders of rostbratwurste mit bratkartoffeln (sausages with roasted potatoes). One last glass of wine back at the hotel (where we let the staff know we'd be leaving before breakfast) then off to bed. We've got to get up early Sunday, to make the 6:11am train back to Frankfurt airport.

Sunday, we were up at 4:45, off by 5:45 and at the train station by 6:00am. As it turns, out, of course, I'd misread the train schedule. The 6:11 train (and the back up 6:40 train) runs only on weekdays. We ended up on a 6:56 train (could have slept another half hour… file THAT away for the next trip) with another quick connection in Wiesbaden, that still got us back to the airport in plenty of time. We checked in for our flight, stopped by Delta Flight Operations to say hey to our friend Ilham then headed to the gate for our 9:45am departure. Champagne, warm nuts (sound familiar?) the movie Welcome to Mooseport etc etc and we were back home.