Düsseldorf, Germany
September 2009
"DTTD - Day Trip to Düsseldorf"
(Or at least that was the plan)
We are always trying to find easy, and simple, bicycle rides and I had long thought of a trip where we would fly into Düsseldorf, rent bikes in town, jump on a train to Trier with our bikes. After spending a night in Trier, we would take a few days to ride "down" the Mosel, then "down" the Rhine, stopping where ever until we ended up back where we rented the bikes, and then fly home. That way we would avoid paying any "drop off premium" for the bikes. The problem was... I could never find any information on "bike rentals in Düsseldorf", despite my most diligent googling.
BJ would be in Palm Springs for the Delta Ladies' Golf Tournament. That's the weekend where "husbands aren't welcome", or so I have been reminded. Faced with the prospect of sitting home on the sofa all weekend, I started looking at flights to DUS. Without missing any work, or spending too much money, it looked like I could fly to DUS on Friday night (spending the first night on the plane), have the day Saturday to research bike rentals while actually IN Düsseldorf, and fly home on Sunday; all in "leather seats". The outbound flight looked worse than the return flight (perfect) and there were relatively inexpensive rooms available at the Hilton.
Shortly before leaving, BJ and I met Carina (our "daughter") for dinner, and she brought two German friends with her. Coincidentally, her friends Maren and Christian were from a suburb of DUS and Christian said he would contact a friend to have them search for rental locations.

By the time Friday arrived, I had the names and "addresses" of two bicycle rental places in DUS.

http://www.fahrradverleih-duesseldorf.de/fahrraeder.html

http://www.gelbeseiten.de/branchenbuch/duesseldorf/fahrradverleih-duesseldorf/sport-freizeit-center-cremers-duesseldorf.html

Off to the airport I went. After a brief stop in the E-Concourse Crown Room it was seat 4C, champagne, warm nuts, the pasta entree, some of the California red wine and the movie "The Proposal" with Sandra Bullock, followed by a 5 1/2 hour nap. We landed on time in DUS and I quickly cleared customs and headed out to look for transportation. The Delta gates are in C-terminal. After wandering around for a bit, I located the steps down to the S7 train station (for future reference, when you come out of customs, turn right, take the escalator down one floor and you can't miss it. Don't be misled by the "SkyTrain" signs that point you to the S1-6 trains. The S7 is the only one that stops at the C-terminal). Not knowing any better, and without my handy (primary) GPS in the "Ready to Navigate" mode, I purchased a 2.30€ ticket to DUS Hbf and jumped on the next every-15-minutes-or-so S7 towards downtown. When the GPs finally acquired, after only 3 stops towards DUS Hbf, it let me know that the Hilton was already 1.2 miles to my right and BEHIND ME. So I jumped off at the next stop (whose name and location I failed to note; that would be important tomorrow) and started hoofin' it towards the Hilton. It was an absolutely beautiful day, with nary a cloud in the sky, presently about 64 degrees, headed for 82. About 30 minutes into my journey, the battery on the (primary) GPS went flat, leaving me at a bit of a loss. I plugged in my handy "iGo" battery thingy <www.igo.com> with the Nuvi GPS tip, and found that I those batteries were flat too! This could be trouble. Resorting to my "backup" GPS (my cellphone; is it any wonder why BJ and I are called Gear Girl and Gadget Guy when we travel?) I quickly found the hotel. It was only about 10AM local time, but I headed up to the front desk to see if either, a room was available, or there was a baggage check. At the front desk, I was quickly greeted, told that my room was already ready, and since BJ is Hilton Gold (and on the way to Hilton Diamond) my room would be on the Concierge Level, and by the way, they are still serving breakfast in the Executive Lounge. Whoo hoo! It is good to be Gold! I dumped my backpack in the room, grabbed a bite to eat and then headed out to look for "fahrrader vermietung im Düsseldorf"!

Heading off in the direction indicated by my phone GPS (and now equipped with a paper map) I started enjoying my walk. After about 20 minutes of walking, I decided that Düsseldorf (at least the part that I was in) had a LOT of random "art", but for a city with as much urban residential housing as I was seeing, I didn't find many restaurants (or bars!). When the Rhine finally came into view, I noticed that I was midway between two bridges. Zooming "out" on the display, I realized that, for whatever reason, the GPS was taking me the LONG way to my first stop. I walked towards the bridge that was closer to my destination, all the while listening to the GPS complain in her annoyed-female voice "recalculating... recalculating... REcalculating...". After a long tiring stroll, I arrived at my first destination. Nothing there. Nothing close. The first address, at least according to the GPS, was the intersection of two bicycle paths. Somewhat depressed, and tired, I started walking towards the second location. Of course, by now, I am skeptical of my GPS's directions, but the paper map verified that I was heading in the right direction. By now, I had worked up a fearsome thirst (if you have read any of the other write-ups, you will have expected this). That dearth of bars was disturbing, but perseverance paid off. I stopped at the Haus Engemann, sat down and enjoyed a small Schlosser Alt (1.3€) followed by a small "Pils" (2.8€). Apparently Alt beer in Düsseldorf is like Guinness in Ireland... the price performer. Well rested and feeling better, I continued my walk towards the second bike rental shop. When I again arrived at the banks of the Rhine, I realized that I had walked a bit too far. Backtracking for a few hundred meters, I finally located my second stop.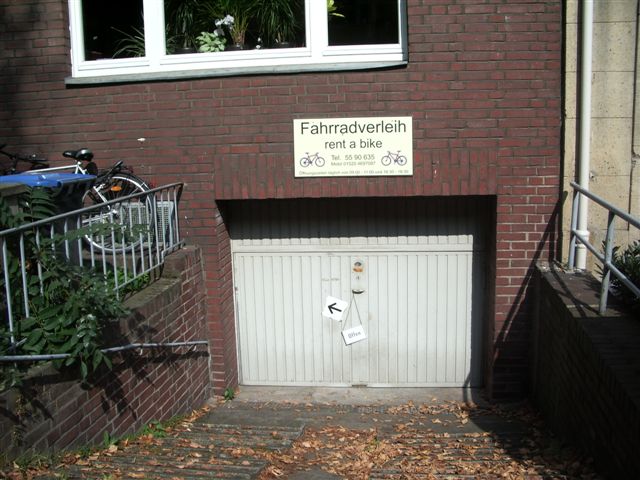 The place looked like the picture on the internet. But the picture on the internet didn't look as much like a private car garage below an apartment building as this. The sign on the door says "Open" but the door that it pointed to looked like the front door of someone's home. I made a note of the location, and decided to email them when I got back home. I headed back towards the hotel, crossing back over the Rhine on the "other" bridge. By now, I had a "feel" for the layout of the town and was less dependent on my electronics. (Before I forget, let me say; the Hilton hotel is a bit north of Düsseldorf proper, and pretty far from the "Old Town". Additionally, the flight crew stays in a suburb called Neuse, and had nothing but great things to stay about Neuse). I finally got back to my room around 4pm and headed down to the Executive Lounge with my book, to relax with a glass of wine. About 100 pages (and several glasses) later, "finger food" was served in the lounge as well. Since I was pretty tired, and didn't think my chances of finding a quaint little eatery nearby were too good, I filled up on snacks, and headed back to the room... where I found a small bottle of wine had been delivered! THAT certainly finished me off, and since I wanted to be up at 6am tomorrow, to be at the airport for my 9:20 flight, I called it a day around 9pm. As I nodded off to sleep, it struck me why I had had so much trouble googling bike rental shops in DUS; there just AREN'T any.

Up on time Sunday morning, had me out of the hotel before breakfast (so sad). With my GPS(s) now fully charged, I headed off for the closest S-Bahn station (D.Derendorf), where I (thought I) arrived just yesterday. It was in the same direction, and about the same distance… it just wasn't the same station. In fact, the S7 that I had ridden out didn't stop at this station at all. Not to be deterred, I bought the cheapest S-ticket I could find (4.65€, since I couldn't get the kiosk to speak to me in English), I jumped on the first of the every-15-minutes-or-so S1 train back to the airport with plenty of time to spare. I had no trouble checking in, and wandered through security and passport control in short order. Today's flight was showing pretty full, but I didn't expect a problem, since it is much simpler getting a single in a decent seat; certainly easier than an eight-group! Delta doesn't operate a Crown Room in Düsseldorf (I know. I checked.) There is an executive lounge operated by Air Berlin, but they don't accept Delta Crown Room members (I know. I checked.) I headed back to the gate about 30 minutes before scheduled departure, so that I wouldn't miss my name being called. Around 0900, the Captain came out and made an announcement that no one likes to hear. "Mechanical problem". There was a bank of "white lights lead to red lights" lights that were inoperative, and since that is a "No Go" item, they would need them to be functioning before we could leave. He announced that the crew was doing their own troubleshooting while they waited for a mechanic, and requested that we stay in the area, for a "quick departure" once they got the repair completed. As if. Thirty minutes or so later, the Captain returned to the podium, announced that the mechanic was looking into the trouble, but that it appeared to be a broken wire, location unknown, and that it may be a while longer, but… stay in the area, for a quick departure yada yada yada. Since I had missed my breakfast, and it was starting to look like this delay may take a while, I walked sat down at the adjacent Caravelle Café, and ordered a bite; weinerwurst und brochen mit senf. Oh yeah, and a beer. A few minutes later, a gentleman sat down on my right and ordered a beer. We started chatting and I discovered that he was on "my" flight as well. He was Finnish, living and working in Baton Rouge Louisiana. A minute or two later, a lady sat down on my left, so Ari, my new Finn friend, and I started chatting her up as well. Marianne, my newest friend, and another passenger on the Delta flight, is a Norwegian, living and working in middle Florida. So very International! After a beer or two, between periodic announcements from our gate, the three of us were well on our way to becoming best friends. By the time that the flight finally cancelled (as we all knew it would), we had downed quite a few beers, some wine, and enjoyed some tasty complimentary food, thanks to our newest best friend, Fritz, the German bartender. We were each fighting to "out nice" one another, by buying "the next round"; including using the 10€ per person voucher that Delta had issued to everyone (else) prior to the dreaded cancellation announcement. When the cancellation notice DID finally come out, it was accompanied by a message indicating that everyone would be rebooked on this flight for "tomorrow" and that Delta would be putting everyone (else) up at the Airport Sheraton. Since my new Norwegian friend would be able to stay another night with her father (who lives in Düsseldorf), she offered her Sheraton voucher to me! You meet the nicest people over beer. Busting up for the day, around 1500, we headed back through immigration and downstairs to collect THEIR luggage (you know I didn't check anything). I accompanied Marianne to meet up with her father, than hooked up again with Ari, in line for a room at the Sheraton. Sadly, the Sheraton would not let "Tony" turn in a voucher for "Marianne", (I know. I tried.) so I was on my own for tonight.

I had had enough walking for this trip, so I headed down to the taxi stand and took a quick (but pricier; 13€) ride back to the Hilton. I wandered in to the front desk, explained that I had spent the previous night at the Hilton, and that Delta had cancelled my flight, and asked if there were any rooms available for the night. Much to my delight, I got not only the same rate as before, I got the same room; Executive Level and all! Happy hour and finger food, here I come again!

Monday morning, I got to sleep a tad later, made it to the airport and checked in (again) for the 1030 departure to Atlanta. (Delta had rebooked everyone from "yesterday's" 0920 flight onto "today's" 1030 flight, not wanting to start cascading the problem onto new passengers.) I ran into Marianne again, but when I finally got logged in to my computer, I saw that Ari had managed to get himself rebooked on the 0920 flight. Uneventfully, I boarded the 1030 flight (Business Class) while my friend had to fight to avoid being seated in the center of a three across; instead of the bulkhead aisle that she had on "yesterday's" flight. For whatever reason, Delta had decided to move people from their original seats, even though this was the same aircraft as before! Go figure. Champagne, warm nuts and blueberry pancakes (for me; cheap white wine and peanuts for my friend), three more movies (Ghosts of Girlfriends Past, The Hangover, I Love You Man) and an aborted attempt to watch Sunshine Cleaners, and we were back in Atlanta, reasonably on time, a day late. In case you missed it, Atlanta was just starting to experience the worst of the Hundred Year Flood Monday afternoon. I had planned on heading home after setting Marianne up in an Atlanta Crown Room while she waited for her flight to Orlando, when we discovered that, because of the weather, her 1555 flight to MCO had, of course, been cancelled. It never ends. The lines to get to the Delta Direct telephones were awful, so we headed off to see if things would be better with a Crown Room agent. They were. Marianne had already been reaccommed onto the 2200 flight (it really never ends) but the agent advised that he would place her name on the standby list for the 1655 and 1750 flights to MCO, if she wanted to try to get on earlier. Since the 1555 flight was already in the process of boarding, we headed down to that gate, to see if she would make it. According to the numbers on the Gate Information Display System (GIDS) screen, she was basically number 16 for 16 seats. As time for departure crept closer, her relative position stayed the same; number 12 for 12, number 8 for 8. I explained to Marianne, that this is the way we travel all the time; that it is part of the adventure. Number 6 for 6. I walked over to check the monitor and discovered that the 1750 flight that she was also on the standby list for, was already showing a delay until 2130. Number 4 for 4. Passenger Marianne, if you are in the gatehouse, please board the plane, and she was gone. Tired from the excitement, I headed home; no traffic; no standing water; BJ two hours behind me coming in from the West Coast. She would get home before I-285 on the west side of Atlanta was closed down for 24 hours due to flooding.

Now to email that bike-shop-in-the-garage to see if they are open in off season.

Stay tuned.

Destination Information For This Trip In A Nutshell