Athens, Naxos and Santorini, Greece
July 2009
"My Big Fat Greek Birthday'"
One of the kids who sometimes travels with us on the annual Thanksgiving "Kid Trip" decided to ditch college in favor of finding a job for the summer on the Greek Island of Ios, something that is apparently a popular idea with kids his age. We decided that was a good excuse for us to go over and visit. After we started planning, but before we left for the trip, our young friend abruptly decided to come back home due to an altercation of some sort, but we didn't let that stop us from going. We held a couple of planning sessions at Manuel's Tavern, deciding that our trip would entail a one night stay in Athens on both ends and two nights on each of two islands in the Cyclades Islands, Naxos and Santorini. Coincidentally, our server at Manuel's had traveled to Greece and spent time on the two islands we were contemplating.
As you know, we seldom make reservations in advance on these types of trips, but since it was high season and none of us had ever been to Greece before, we decided to make an exception. Plus, traveling as an 8-pack can make it more difficult to find accommodations. In fact, many of the emails that we sent to hotels received "no vacancy" responses. So, with knots in our stomachs, we booked both hotel rooms and airfare (not to and from Athens, but for the return flight from the islands back to Athens). We planned to take a ferry to the islands because we had heard what a beautiful ride it was. We had trouble finding much information on the ferries on the internet, so we decided to wait to book our ferry rides until we got to Greece.
Two of our party decided to fly over a day ahead so they could get in an extra day of sightseeing in Athens. When they arrived in Athens, they took the metro out to the Piraeus port to check on tickets on the ferry. They discovered that coach class on all of the ferries to Naxos on our desired date of travel were full! After a panicked phone call to verify our plans, they quickly snapped up 8 first class tickets (42€ each) for our group on the 7:00AM Blue Star Ferry, since we had non-refundable hotel reservations in Naxos and really needed to get there. After learning of the difficulty finding seats on that ferry, I decided to go ahead and book the ferry from Naxos to Santorini on the internet. I was able to get deck seats From Naxos to Thira (12,7€ each) on Anek Ferries.
Travel to Athens went very smoothly with the remaining six of us in Business Class seats, enjoying a delicious meal. It was a long flight which gave us plenty of time to sleep. We tried to watch the movie, "Duplicity" but it couldn't hold our interest as much as a nap could. We arrived in Athens and were the first ones through Immigration. We followed our friends' advice and went straight to the public bus. (Exit the airport, turn right, purchase tickets at the ticket booth [3,60€ each] and then board the X95 Express Bus). We found seats and settled in for the 45 minute ride to the Evagelismos metro stop. The bus driver was having a great time, entertaining himself by listening to the variations in his voice while he hummed in a monotone as he bumped over raised lane marker dots. Once, he laughed maniacally, making us very nervous, until we saw that he was laughing at a portly scooter rider displaying his propensity to be a plumber.
We spotted the Hilton even though there were no markings on the building. It just looked like a Hilton and there were some Hilton flags out front. We exited the bus and dragged our roller board suitcases across the busy intersection to the hotel. Because of all of our business travel over the past year, most of our group had achieved Gold or Platinum status with Hilton Hotels so we were upgraded to rooms on the executive level. We used points to pay for our room for the first night. We met our friends in the Executive Lounge and planned the rest of our day.
We decided to take the Metro to the Acropolis stop and then find some lunch. We bought a 24 hour Metro ticket that would also get us to the Ferry the next morning. We wandered the streets until we found a cute little sidewalk cafe called NEΦEΛH. They served three different small sandwiches for 1€.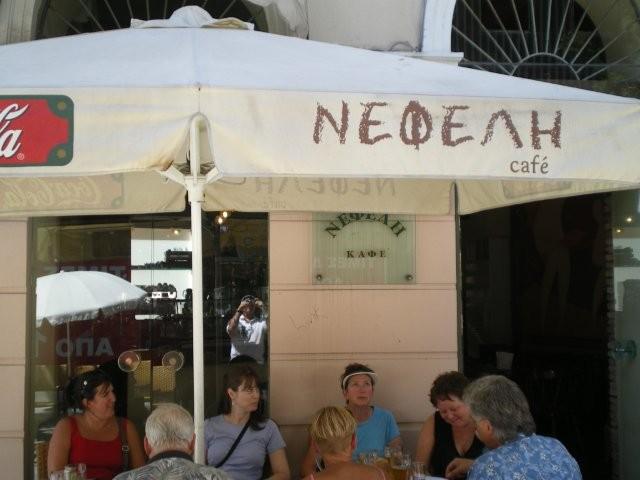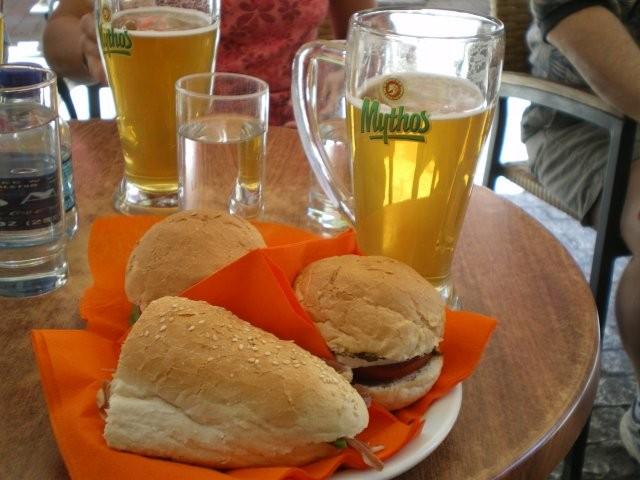 The NEΦEΛH was my first opportunity to use a restroom in Greece (except at the Hilton). I was surprised by the sign that instructed that no paper was to be thrown in the toilet. This is a really hard habit to break and I wondered if it was really necessary.

Our path to from the restaurant to the Acropolis took us past this old church situated right in the middle of a busy business district.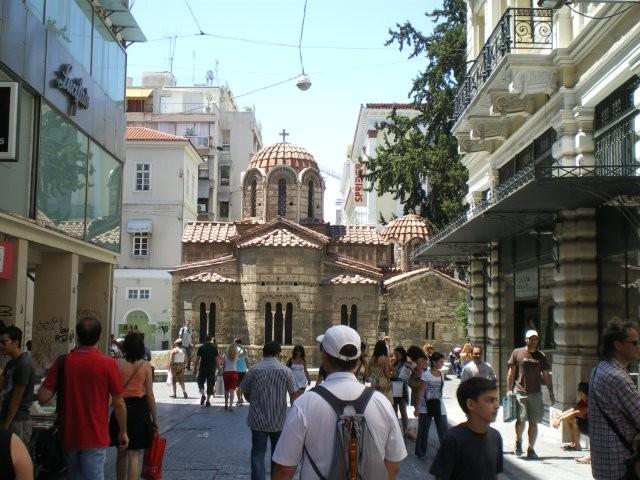 A shopping street led us to the Acropolis allowing our shoppers to browse the gauzy dresses, t-shirts, jewelry and purses. I'm not a shopper, but I'll admit, I was tempted by some of the gauzy shirts and dresses. They looked very cool and it was a hot day. There was also a pretty silver charm I liked. I didn't buy it, so now I have an excuse to go back and get it.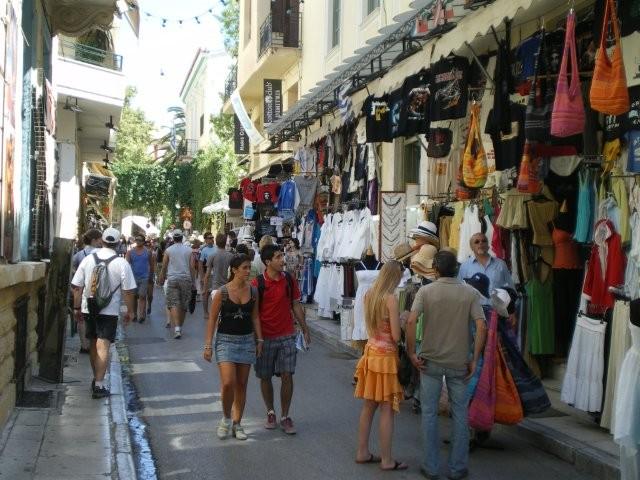 At the Acropolis, we purchased all inclusive (12€) tickets for all of the attractions. The ticket purchase was very confusing. There was the all inclusive ticket and then it looked like for 2€ more you could see something else. I tried to negotiate the purchase of both, but the lady at the ticket booth said that the 12€ ticket got us everything. We hadn't really researched what we were seeing, so we were satisfied could see enough on the all inclusive ticket. We made the hot climb to the top of the hill pausing frequently to catch our breath under the pretense of taking pictures. There was very little shade and we noted that an umbrella would have been a good portable shade provider.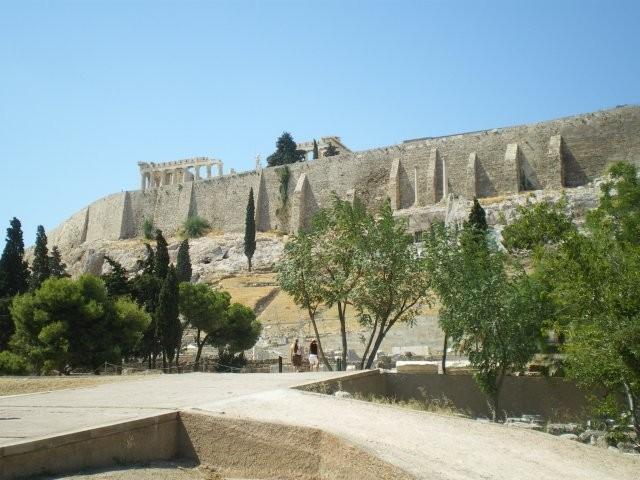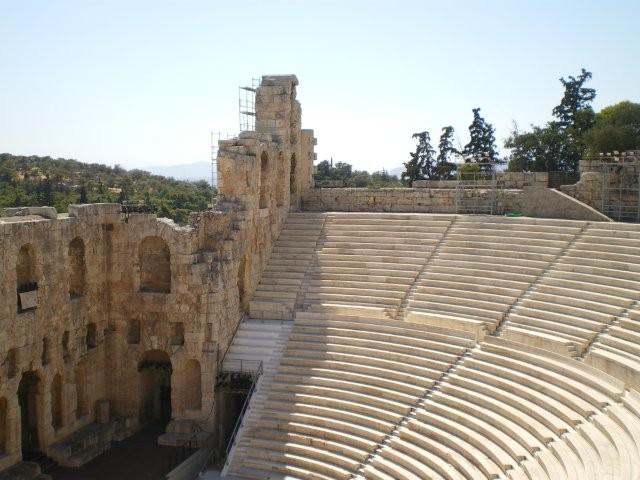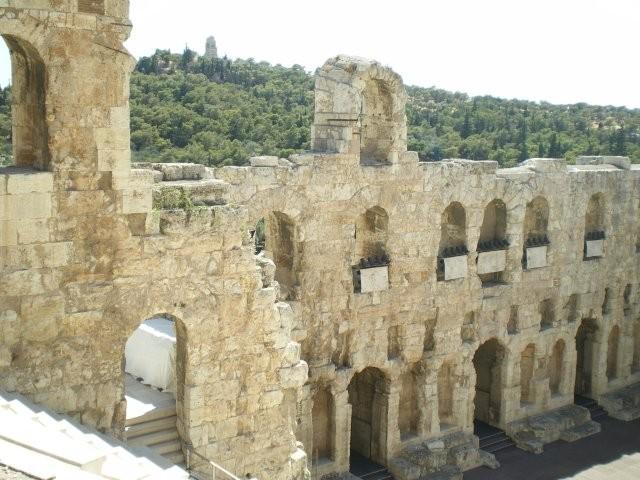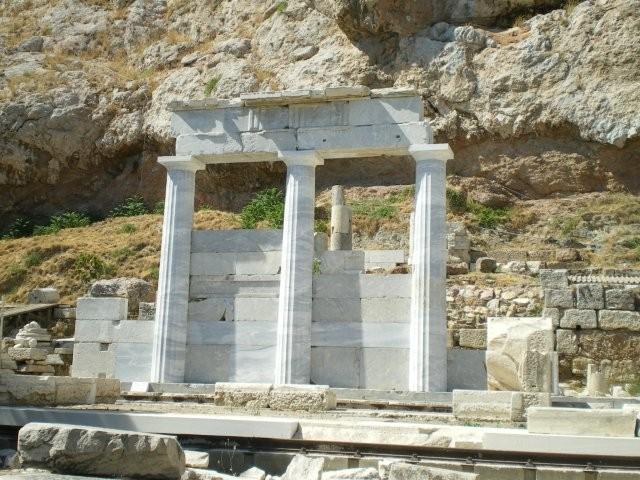 Everywhere we looked were graveyards of old building parts. It made us wonder how the buildings could have fallen into such a state of disrepair. Of course, Tony and I are pretty lax on maintaining our own home, so a few years from now people may be wondering the same thing about our property.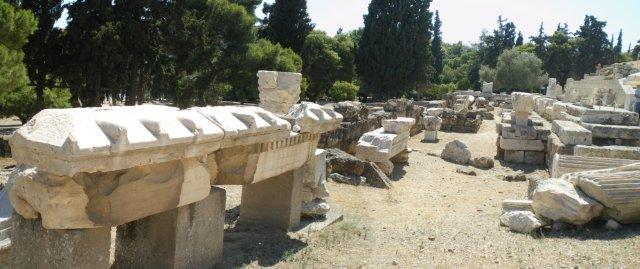 Just through the the Propylaia (the entrance to the top of the Acropolis rock) is a nice shady place with a breeze. Once we stopped here for a few minutes, it was hard to get ourselves moving again.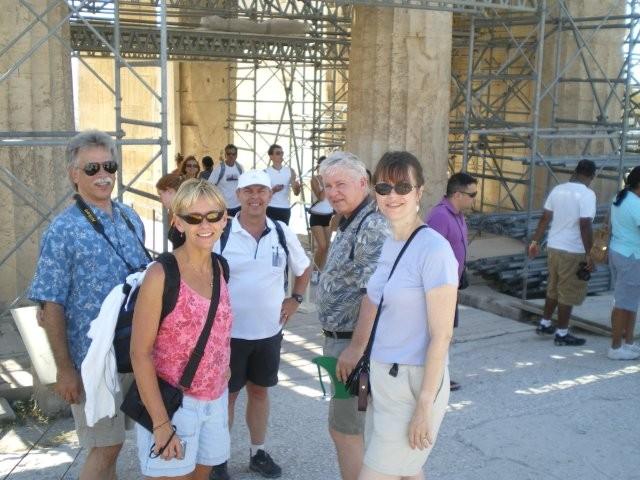 The Parthenon, no different it seems than most historic structures in Europe, was surrounded by scaffolding. Even so, it was easy to imagine how regal the buildings must have been in their day.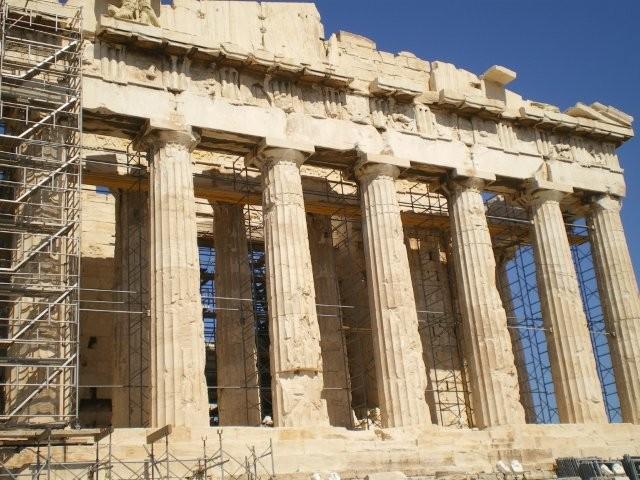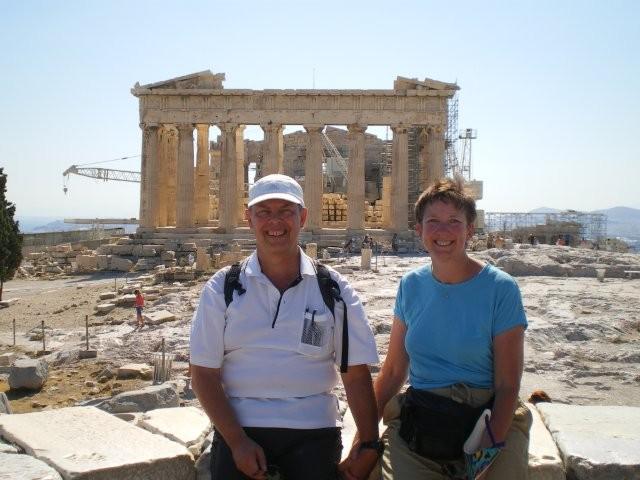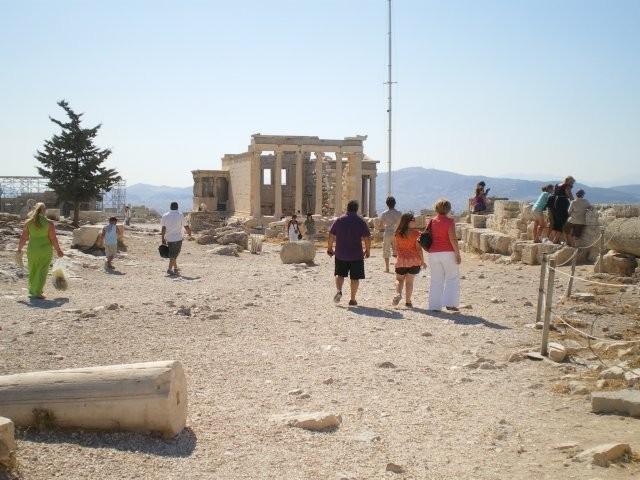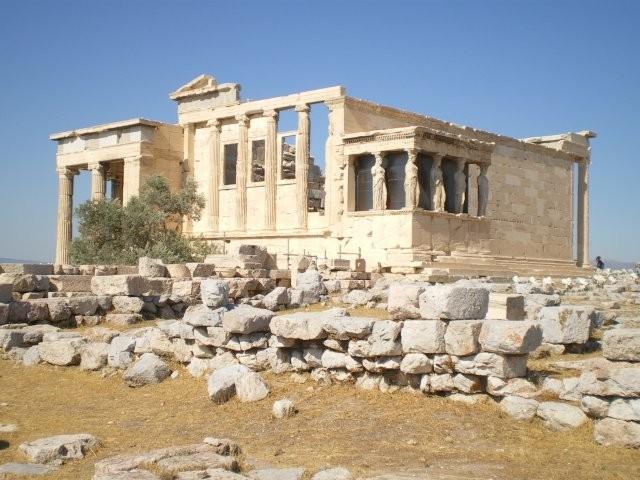 We spent a good bit of time up on the hill, looking at the remains of the buildings and the vast city below.

With all of the modern city buildings that had grown up around them, it was hard to pick out the ruins and churches.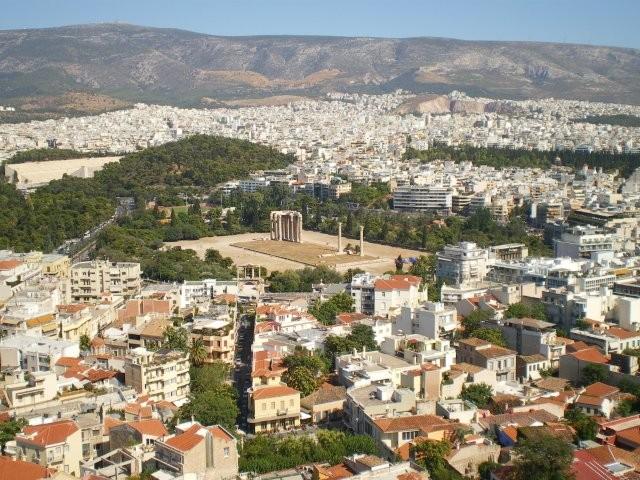 We found a water fountain hidden in the shade behind the Parthenon and just beyond it, there were some clean public restrooms. We didn't see them at first and Tony got yelled at for crossing over a barrier to ask for directions. This was one of two rude Greeks that we encountered on our trip. For the most part everyone was very friendly and helpful.
On our way down the hill, we came upon an ancient church with some very worn paintings on the walls and in the dome. There were some hieroglyphics carved into the stone on the outside of the church.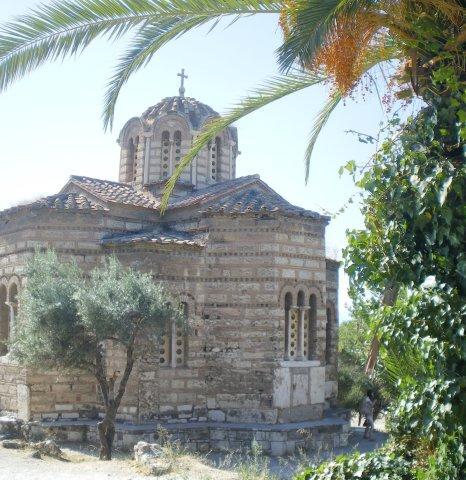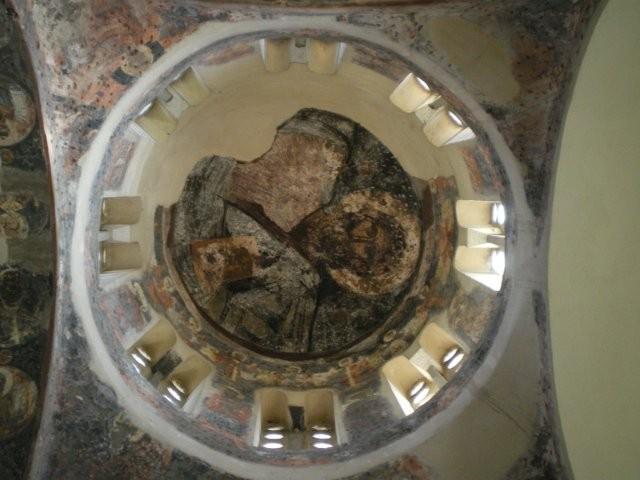 We made a quick stop by the museum to see statues and artifacts. We're not really museum people, but it was a small museum and didn't take up much time. There were some interesting pieces inside but the most enticing thing about it was the air conditioning!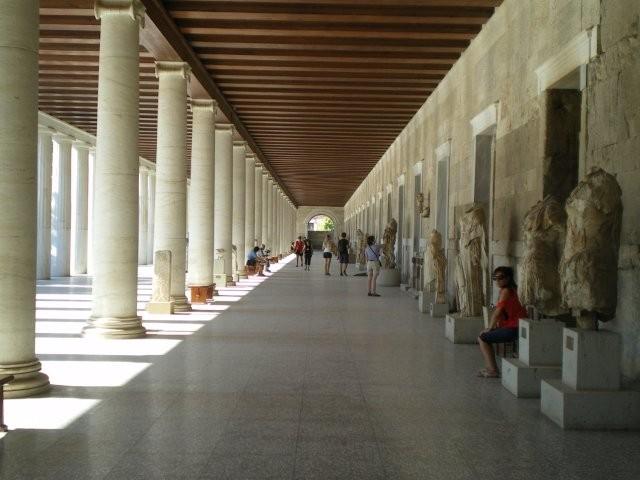 Just outside the museum and down the street, we made a much welcome stop for refreshments at αγορα της αδριανου εστιατοριο (or at least that's what I think the name was). The waiter was very friendly, insisting on taking our picture and giving us each a little shot glass of Samiotiko, a delicious peach liqueur from Limnos. This was the first of many little shot glasses that we were served on the trip. We didn't know if this was customary or if we just looked like shot-drinkers. We didn't want to be rude though, so we drank what we were served.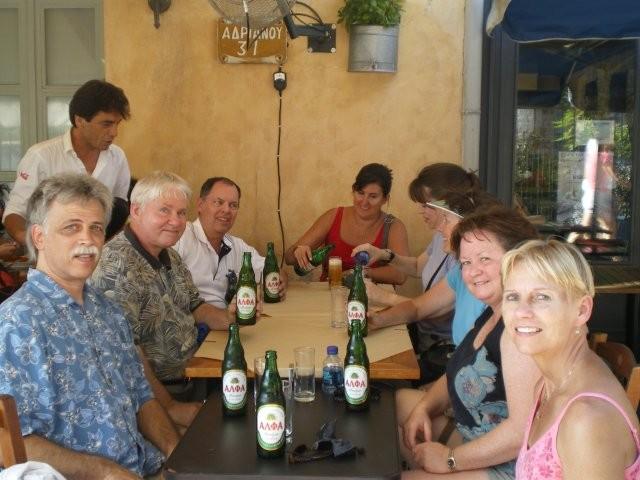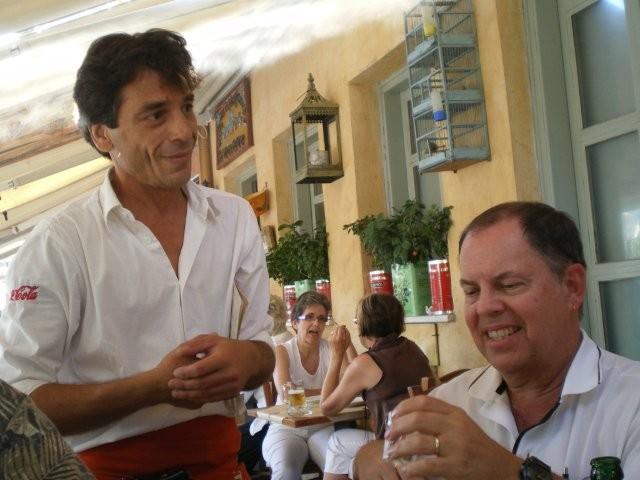 After a brief stop in the restroom where I really, really tried to remember to follow the instructions on the sign that said not to put the tissue in the toilet, we did a little more sight seeing around Athens in the afternoon.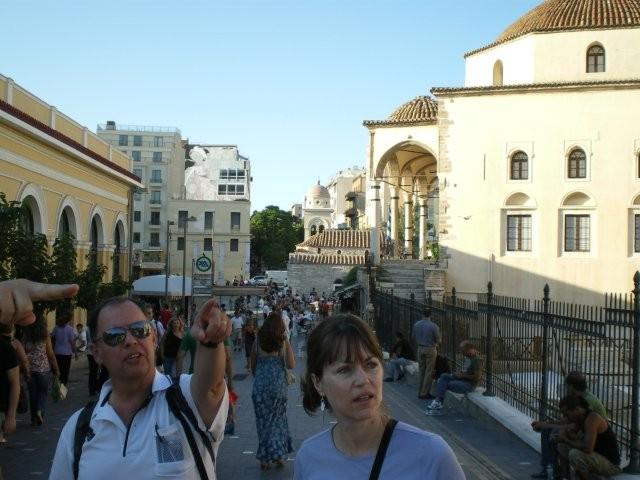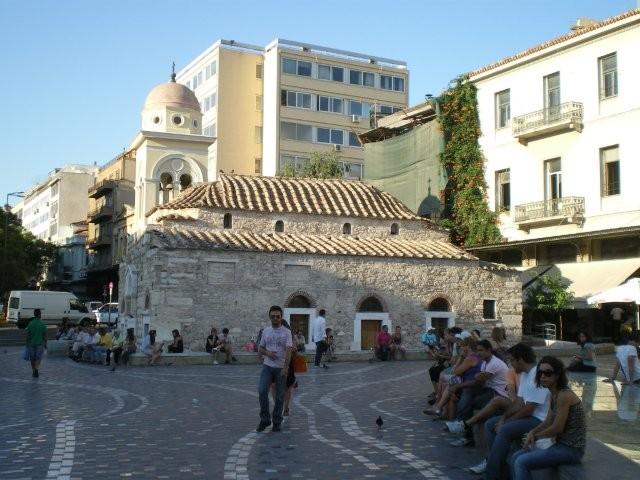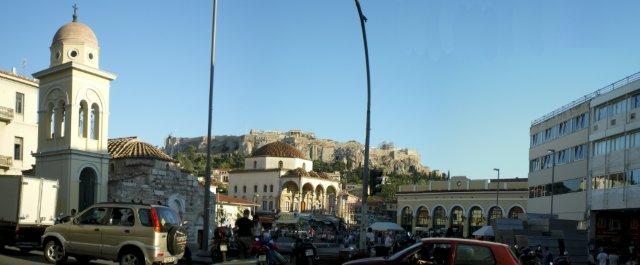 We stopped into a little coffee shop to ask for a dinner recommendation and were directed to a restaurant where the locals eat. It was off of the beaten path and a little difficult to locate but turned out to be worth the search. It was called Μεζεδοπωλειον Το φιλεμα (which translates to "Restaurants The fillets" so maybe I spelled it right!). We fell in love with the server who took time to explain everything on the menu (even though it was written in English, we still weren't sure what some of the things were).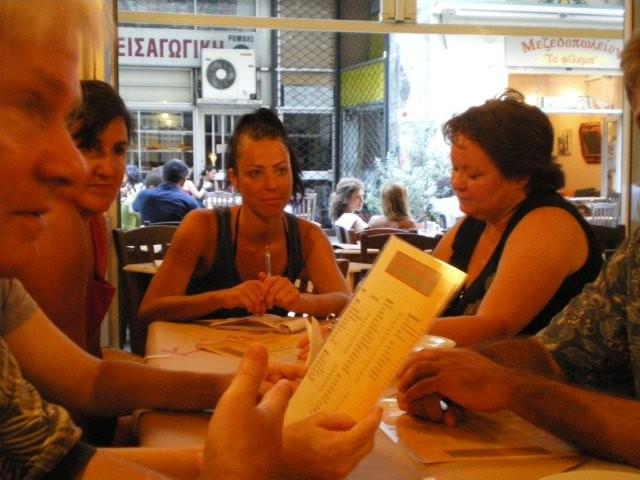 We tried a variety of Greek dishes. We really liked the smoky eggplant salad, grilled Mastelo cheese and stuffed mushrooms. Other dishes were Greek Salad, Lamb, Meatballs, Kebaps and Grilled Chicken. We thought she called one of the dishes Camel Pie, but later decided that it just sounded like camel. Upon returning home and searching Google for Pastourma we learned that the dish can be made with camel but is most often prepared with beef. Whatever it was, it was good! We passed all of the dishes around and everyone got to sample everything
After dinner, we were again served little shot glasses, this time with a clear liqueur called Mastika. It had a bitter taste but we drank it anyway. We were afraid it would be rude not to.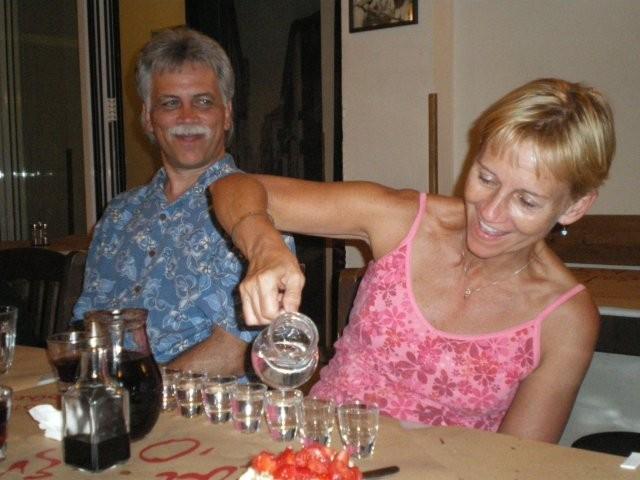 As we sipped our Mastika, the waitress made recommendations for our trip to Naxos. She suggested that we go to Mikri Vigla beach and the villages of Filoti and Apiranthos. She also recommended a Tavern near the pier. She couldn't remember the name but said when leaving the port to turn right and the Tavern would be the 1st or 2nd stop.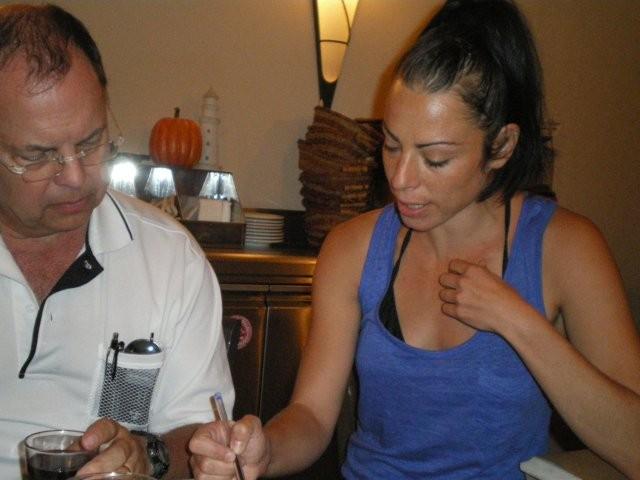 We had time for one glass of wine in the Executive Lounge back at the Hilton before heading off to bed around 11:00PM. Our 4:30AM wake-up call came vewy vewy early. We wanted to be at the Metro station at 5:30AM when it opened so we would be sure to get to the ferry for our 7:00AM sailing.
We dragged ourselves and our roller boards back across the street in the pre-dawn hours to the still-closed subway station.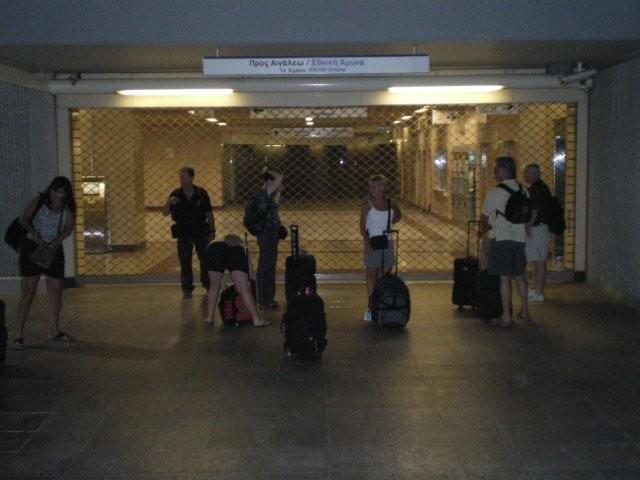 We caught the first train on the blue line and took it two stops to connect with the green line which we took to the port of Pireas.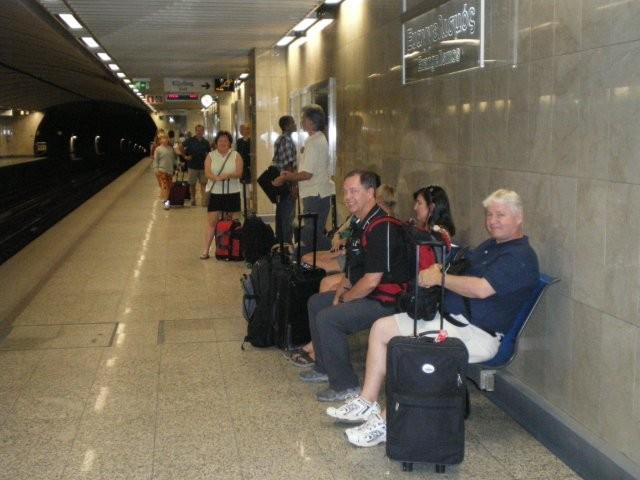 There were vendors on the ferry docks selling warm delicious smelling pretzels and sweet rolls but we didn't stop and then later wished we had. We boarded the ferry and went forward to the Business Class lounge. We selected an area with a view out the front window.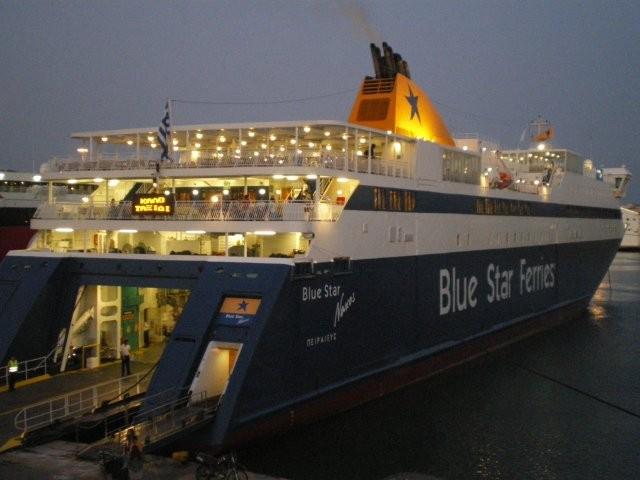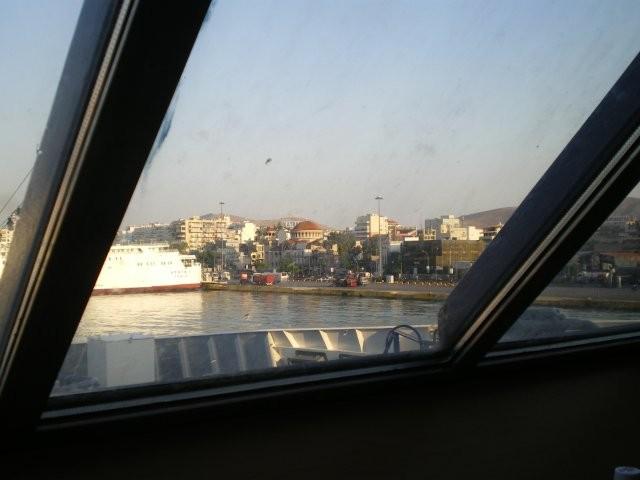 We ordered coffee, and a few breakfast items and wished for the pretzels we had passed up. The waiter tried to make a trade for some of our electronic gadgets but we weren't dealing. A couple of the group (me included) fell victim to a bit of motion sickness due to the winds and 8 foot seas. Those who didn't get sick agreed that a six hour ferry ride is just too long. Even the fast ferries take around 4 hours. A 45 minute flight from Athens or Milan would be preferable.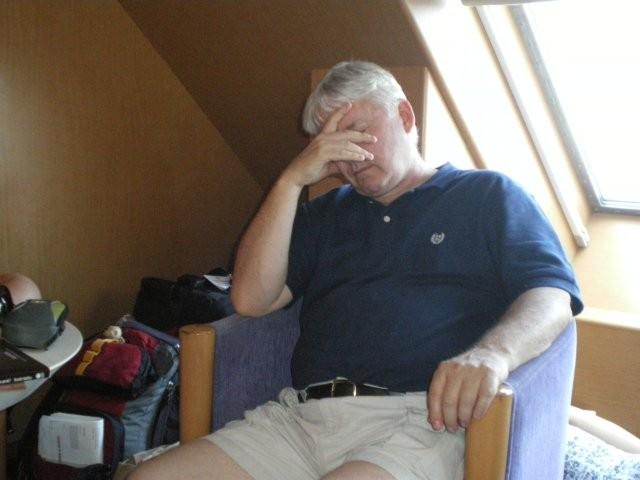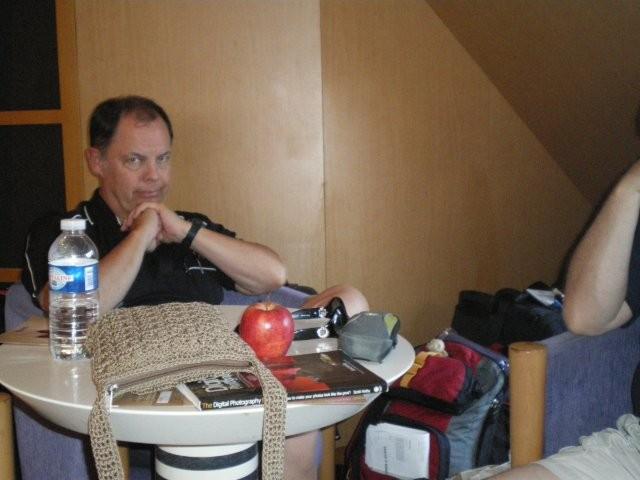 The restrooms on the ferry were fairly clean, but there were the signs about no tissue in the toilet again. Of course I forgot again, and this time I noticed that the small amount of tissue did clog the toilet. I slinked out quietly and pretended it wasn't me.
We finally landed on Naxos. Slightly dazed, we made our way through the sea of hoteliers holding up signs until we finally saw a lady holding a sign for our hotel, the Anatoli. I was a little nervous about the transportation connections since I had made the hotel arrangements on the islands. I didn't want to be responsible for leaving us stranded at the port. The proprietress and her son loaded our luggage and one of our group into a jeep while the rest of us piled into a small bus for the half mile ride to the hotel. It was an uncomfortable ride for the center passenger in the back seat but thankfully it was short. When we arrived, we were greeted by Miguel, the hotel's enthusiastic yellow Labrador puppy and were served a shooter glass of Citron (pronounced Kitron), the local liqueur. We decided that it tasted and smelled like Formula 409 cleanser, but again, not to be rude, we drank it.
We would have preferred 4 double rooms, but since we were an 8 group traveling during high season, we had to take what we could find. At this hotel, we had booked 1 double room and 2 triple rooms. We found that one of the triple rooms was actually a 2 bedroom suite with 2 bathrooms, perfect for 4 of us to share, giving us the optimal guest to bathroom ratio! And speaking of bathrooms, the one Tony and I shared was reminiscent of the ones we had in Barcelona and Nice. It was so small that in order to use the toilet, Tony had to stand with 1 foot in the shower. When seated on the toilet, the sink was in one's lap. Dropping one's drawers, sidling into the toilet, sitting with one thigh against the shower and one thigh against the wall while concentrating on not dropping the tissue in the toilet was a major challenge in this cramped space. The shower had a very modern "Star-Wars" like contraption in it that seemed a little out of place.

By the time we got settled, it was time to head back down to the port for a very late lunch at the place that our server from the previous night had recommended. It was an interesting walk back to the port. We passed a donkey, a church, a hospital and a funeral procession (mourners and a priest marching with horseshoe shaped wreaths in front of a covered pick-up truck that may or may not have held a casket).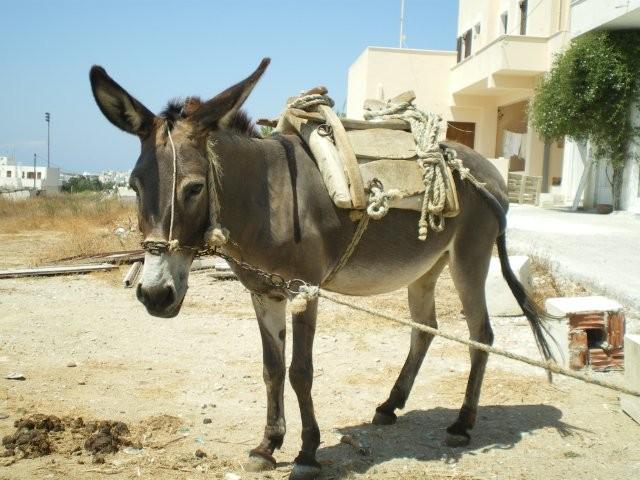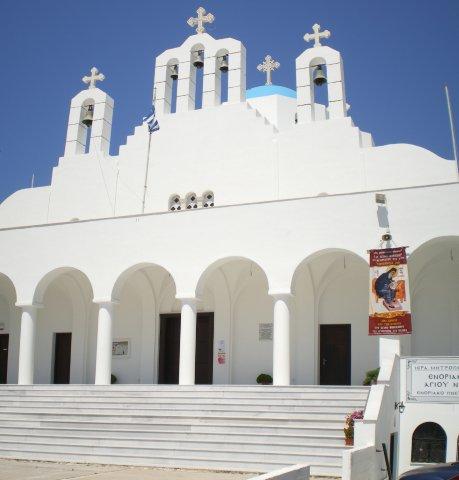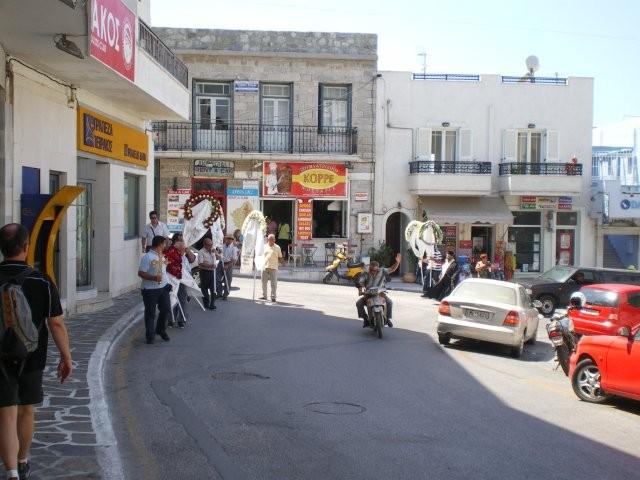 The street by the port was lined with restaurants. Many of them had live octopuses hanging out front. Well, they weren't "live" anymore. They were... uh... fresh.. At least when they were hung up. We weren't sure if they were planning to serve this or were hanging it out as a warning to other octopuses. Tony thought maybe they were drying it for octopus jerky.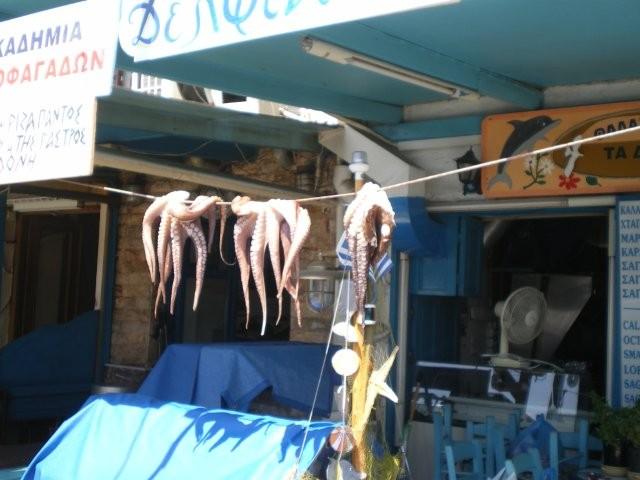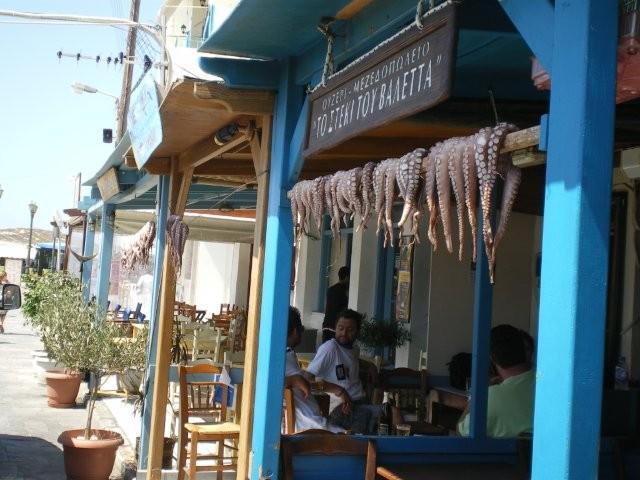 We found what we thought was the recommended restaurant. Traditional Greek Food was again the fare. I am completely befuddled by the Greek language. It looked like the name of the restaurant was "6ins Eipnvns". Using Wikipedia's Greek alphabet, the closest characters I could find that made sense were "διης εις". Google translates this to "diis peace" and since there is a picture of an angel on the sign, I thought maybe part of this was close to correct, but upon further Googling, I have found that the name of the restaurant is really Irini's. Go figure.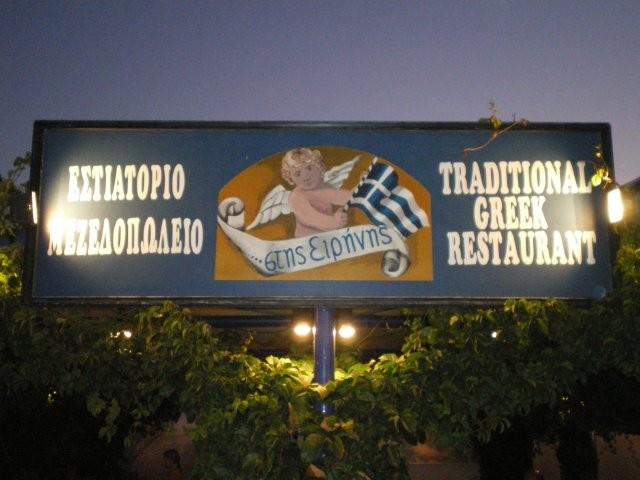 I tried the Naxos Salad which was a variation of a Greek Salad except with Goat Cheese instead of Feta. The goat cheese was whipped into a froth almost like whipped cream. None of the Greek salads had lettuce and by the end of the trip, we all had a strange craving for lettuce. From the hot entree section of the menu, I ordered something that mentioned toast, tomato and goat cheese, imagining it to be like an marinara sauce with goat cheese for dipping. When it came, it looked more like the Naxos salad on top of a thick piece of toast. I had my fill of Greek goat cheese at that point so I helped Tony eat his Greek Macaroni and Cheese (pastitio).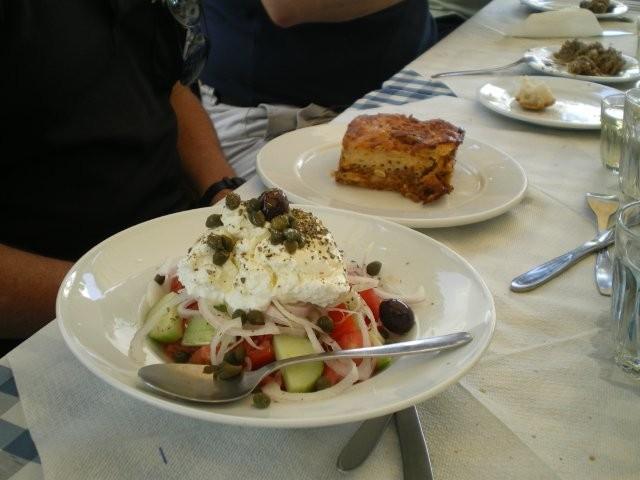 While we were eating, a man came into the restaurant playing a clarinet. It was the WORST clarinet performance any of us had ever heard. There were more squeaks than when Lucy played "Glow Little Glow Worm" in the 1952 Saxophone episode of "I Love Lucy", and there wasn't really an identifiable tune. The clarinetist (if you could call him that) stopped by our table to ask for a donation. We waved him away so he went to the only other occupied table. The man at that table must have liked the off-key squeaky clarinet music because he invited the man to sit down and accompanied him with vocals that sounded more like moaning than singing. The song never seemed to end. We hurriedly finished our meal so we could get away from the horrid sound.
After lunch, the group decided to stroll over and check out St. George beach. Tony split off and headed back to the hotel to relax and enjoy an afternoon by the pool. The walk to the beach took us past an area where large square sections of rock had been placed along the edge of the water to prevent the waves from washing away the road.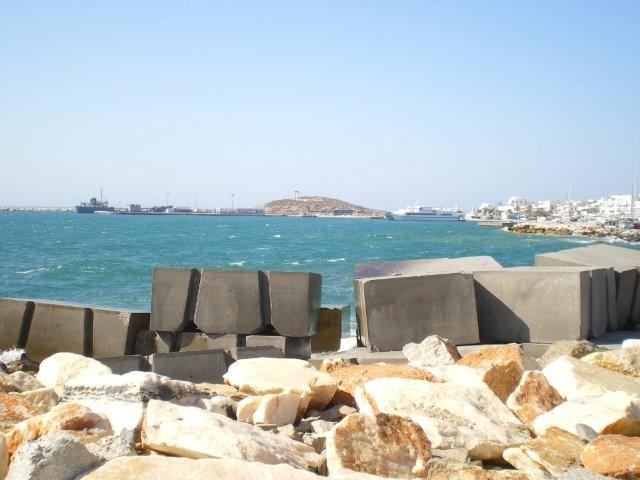 The beach was described in the guidebook as a "very popular and overcrowded sandy beach with shallow waters, just perfect for families." We did notice a number of children and grandmotherly types (sadly, about our age).

Before we had gotten very far in our stroll down the beach, we found the Beach Bar Finkas which advertised free Wi-Fi. Since several of us had wi-fi enabled cell phones we thought it would be a good opportunity to make some free phone calls back home. We looked like some serious geeks, seated at the beach bar with all of our gadgets out and nobody talking to each other.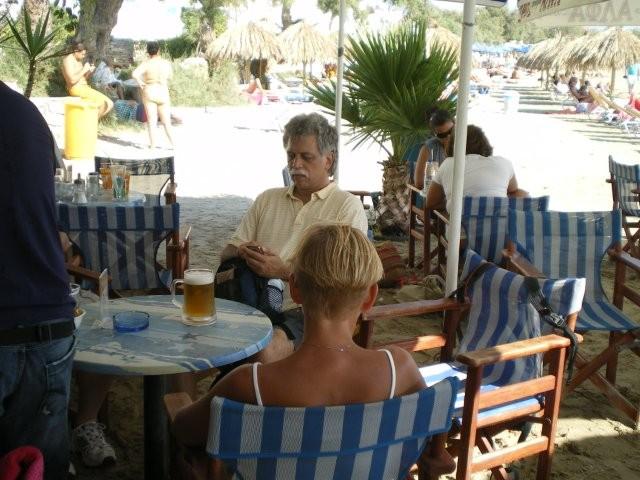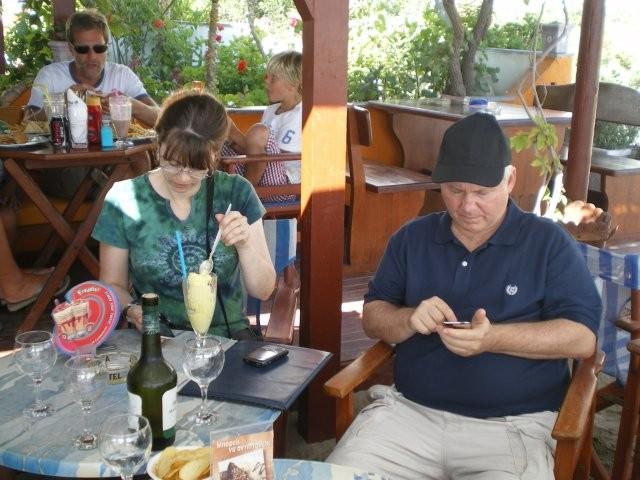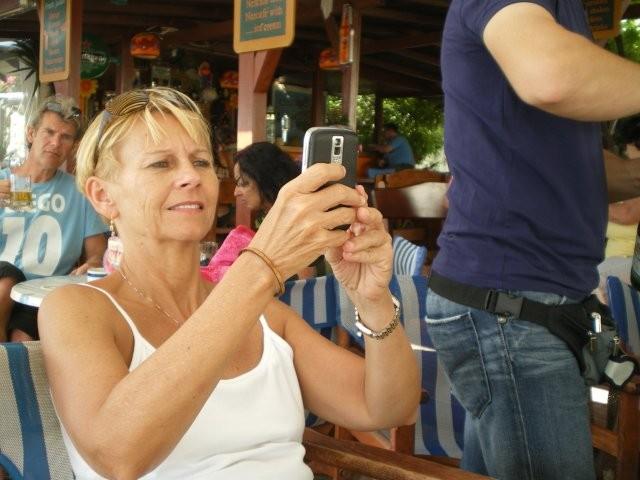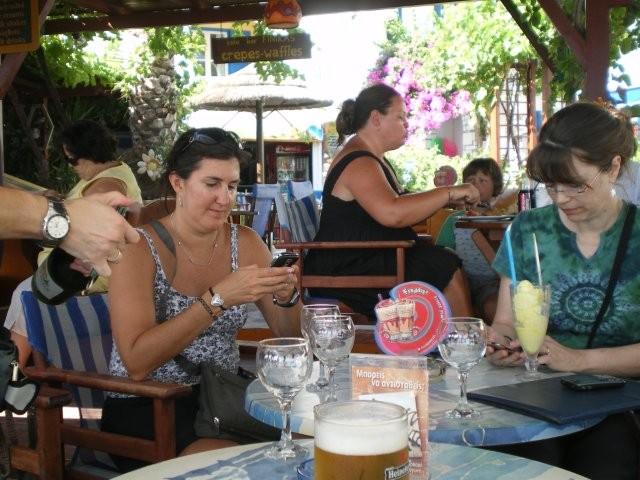 We watched the beach bar staff roll out a cart and strap a flat screen TV to it. We commented about how windy it was and how dangerous it seemed to put the TV out like a sail, but when they turned on a soccer game, the fans among us decided it was a great idea. We sent Tony a text message and he made the hike to the beach to see the soccer game.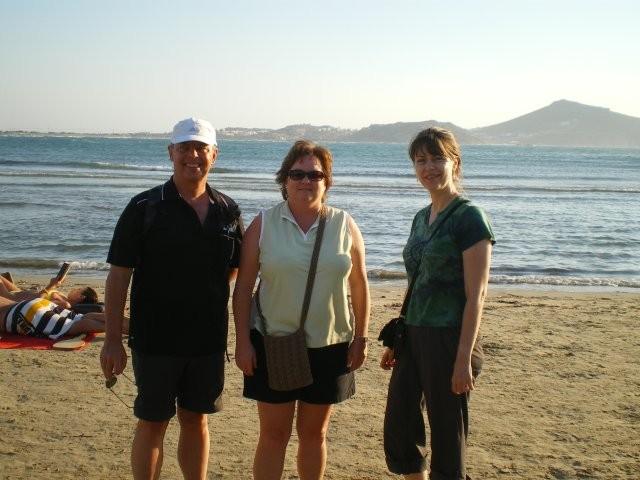 After the game, we walked back to the port to pick up our ferry tickets for the trip to Santorini. Even though we had booked them online, we were required to pick them up at the Anek Ferry Office. A couple of folks decided to retire early and skip the rest of the evening so they headed back to the hotel. The rest of us went to Mojo to watch the sunset. Situated right on the water with an unobstructed view of the horizon, it is the perfect place to watch the sun go down. The drinks were expensive and the wine, a little skunky but the beautiful sunset made up for it.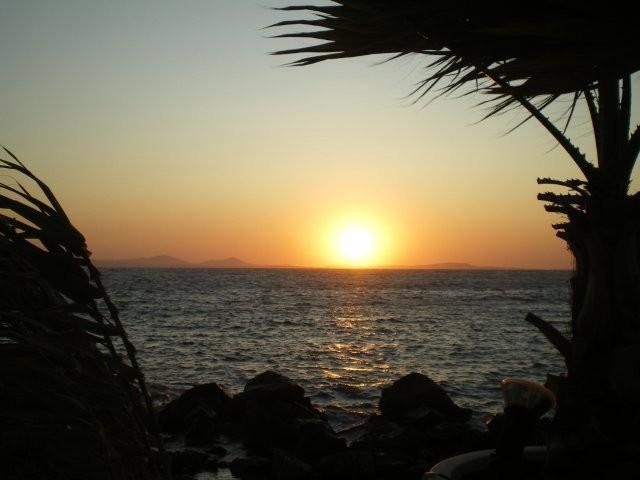 We browsed the menus of the restaurants on the main street looking for a place for dinner. The smell of roasted corn from a street vendor was giving us an appetite, even though it seemed like we had recently eaten lunch.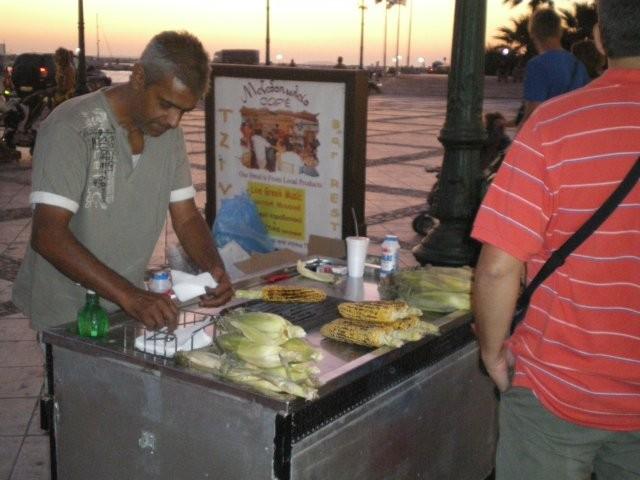 We settled on ΠΑΡΑΔΟΣΙΑΚΟ ΚΑΦΕΝΕΙΟ-ΟΥΖΕΡΙ ΔΑΝΑΚΟΣ (which I probably didn't spell right because it translates to "Traditional cafe-OUZERI DANAKOS"). It was one street off of the main drag behind the Promponas shop and Brooke, the proprietress, was very friendly. After we were seated, we learned that she was an American. Tony picked up on that right away, recognizing that hers was not the normal Greek accent. Brooke seemed happy to see some fellow Americans and had lots of advice on what we should see on Naxos. We again had traditional Greek food, including tomato balls and the shrimp special (6" long shrimp in the shell in a red pepper stew). Removing the heads and peeling stew covered shrimp is a messy job but it was worth the reward. A bowl of lemon soup was served for each shrimp eater to rinse their hands.
After dinner, we were served shooters of Raki, a bitter tasting liqueur. Of course, we didn't want to be rude, so we drank it. Interestingly, Google results list the origin of the word Raki as Araq, meaning perspiration in Arabic. Coincidence, we hope!
We asked Brooke where we could go to see traditional Greek dancing with men waving white napkins over their heads. She walked with us down the street and through an alley to Fragile and introduced us to George. (That's not how she pronounced his name, but when we tried to repeat it, we botched it so badly that she said, "George. Its George"). She advised that the dancing wouldn't start until around 2:00AM. We had no intention of staying until the dancing started, but we did sit down for a drink. The boys the drank licorice flavored Ouzo while the girls stuck with red wine. At midnight, we celebrated my birthday. George played a birthday song we didn't recognize but the words were in English so we knew it was a birthday song. George and the waitress threw stacks of paper napkins into the air to commemorate the occasion.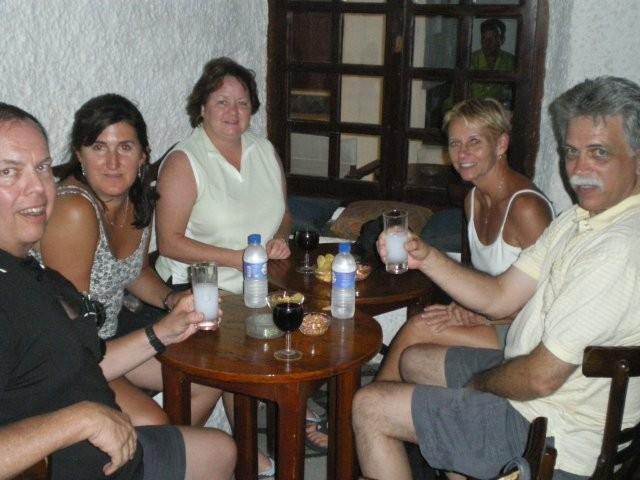 As we were getting ready to leave, George brought us shooters of a sweet white wine. We didn't want to be rude, so we drank them. We're not sure exactly what time we left to go back to the hotel but we know it was after midnight. The streets were still teeming with people and the restaurants were still filled with diners.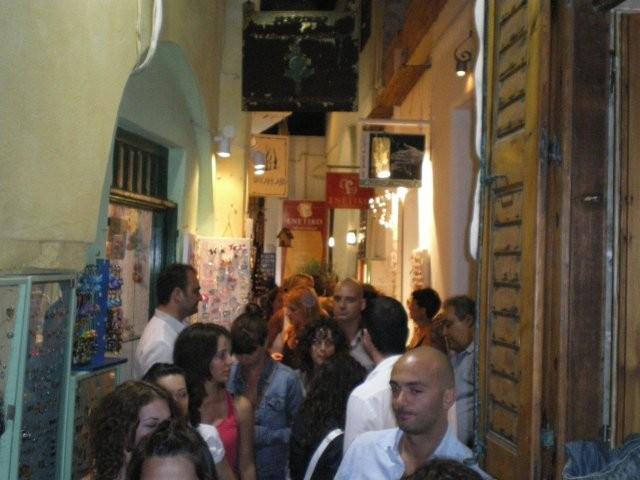 Back at the hotel, we gathered in our room to review the day. We started on the balcony but decided that we were too loud so we moved inside. We shared some sweet Greek treats and then it was time to retire.
The morning of my birthday found us still vewy vewy sweepy. We drug ourselves out of bed and met the others for an unusual combination of breakfast items (bread, ham, cheese, yoghurt, honey, cold eggs, cereal and a vat of nutella spread). We discussed our plans for the day. We felt like we had seen most everything we could see on foot so we decided to rent scooters for the day.
We walked to the square where we immediately spotted Moto Naxos. I was a little nervous when I saw one of the staff wearing a neck brace. They were quite busy at Moto Naxos. Too busy, in fact, to rent scooters to us.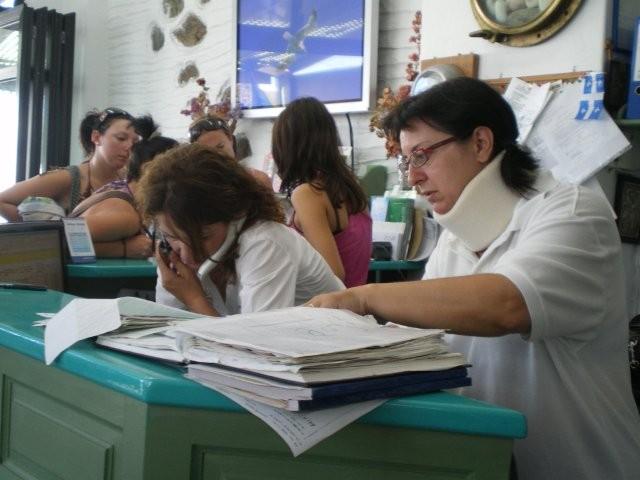 While we waited to be helped, part of our party went to the competing shop (Naxos Moto Rent) across the street where they were helped right away AND we found the scooters to be cheaper at only 10€/day instead of the 12€-15€ across the street!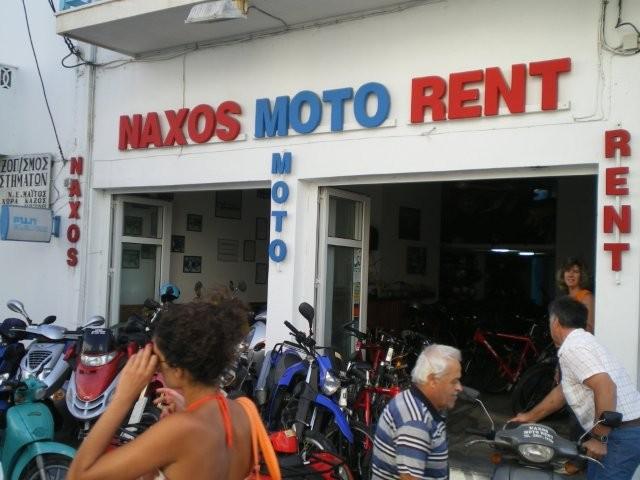 The salesperson asked for our international drivers licenses and our passports. We presented our Georgia drivers licenses. There was some jabbering in Greek but eventually she started filling out the paperwork. She recognized that Tony and I had motorcycle designations on our licenses and did not make us take a test ride, but most of the others were asked to take a scooter around the block to prove they could ride before renting. She pointed out that they should be careful because they weren't insured yet. Insurance was included in the price, but since we had not done the paperwork yet, we weren't covered. One of our party had no scooter experience so they recommended that he rent a 4-wheeler instead.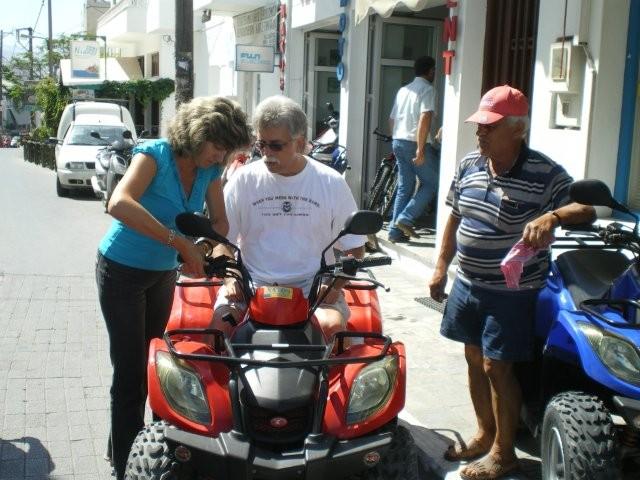 It took a little while for all of us to get our scooters, but we were eventually on the road feeling like caricature versions of the characters in the movie "Wild Hogs".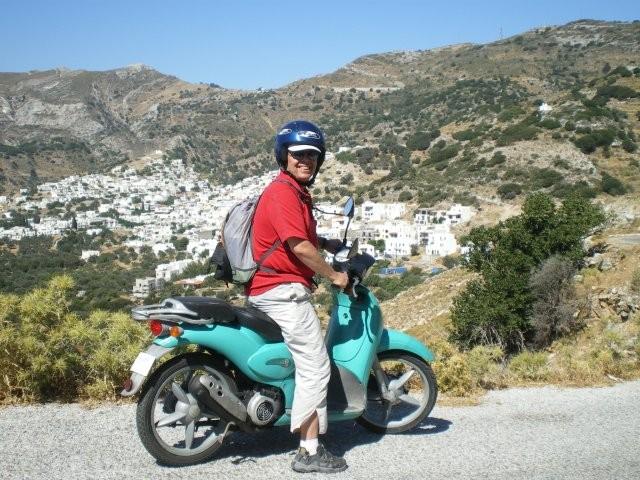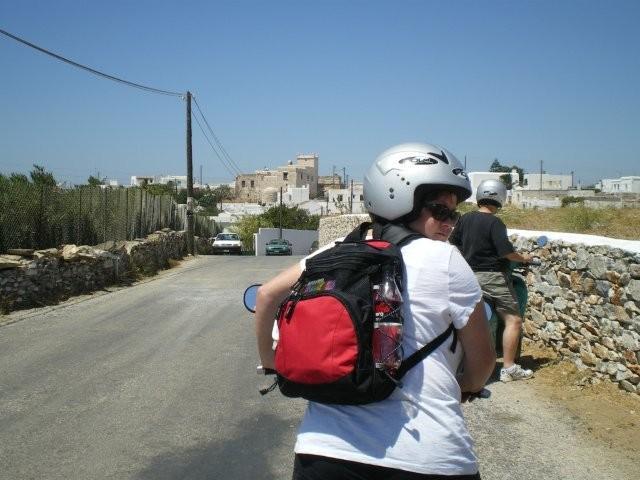 We had a loose plan of where we wanted to go, but because Garmin let us down by not including street maps for the island in our European map set so we soon found ourselves confused as to where we were. We had to resort to using an old fashioned paper map, reading a compass, and (much to the chagrin of the males) stopping to ask directions.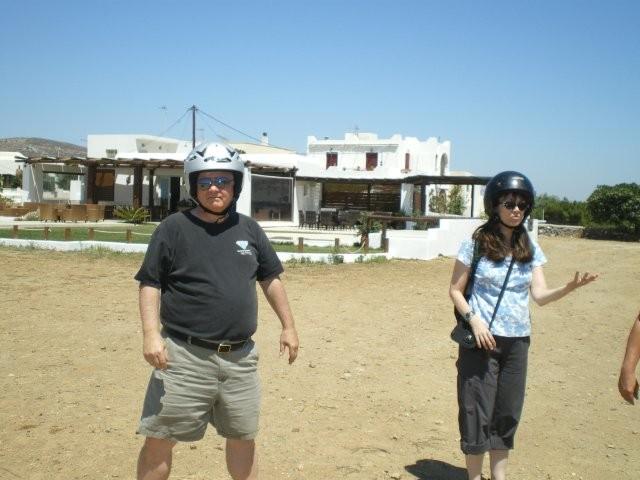 We stopped for some refreshments at ΤΖωννης (Johnny's Tavern-Restaurant). The staff spoke very little English but were very friendly. They saw us looking at a fruit tree and brought us a plate of what they called apples but they tasted and looked like pears.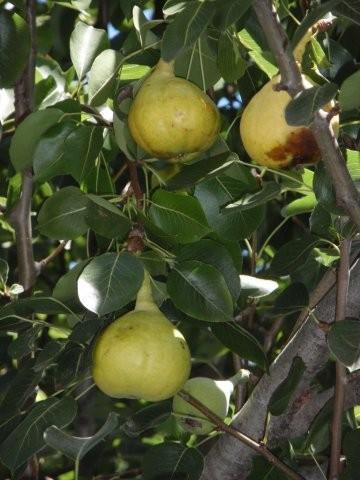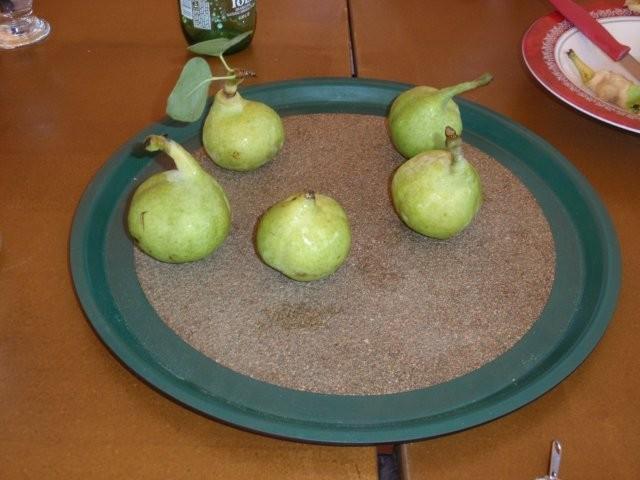 We made a quick stop at a roadside pottery store to see some of the local pottery.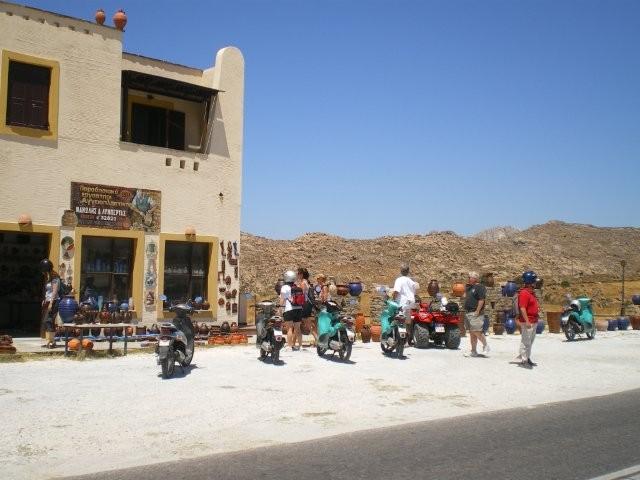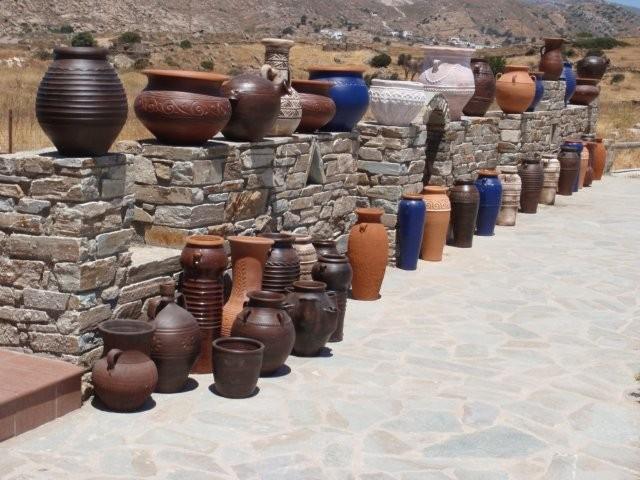 We noticed a sign for a traditional old olive press that wouldn't take us too far off course so we made the turn. Apparently some of us (me included) couldn't read the sign that probably said "No motor vehicles past this point". I started up a narrow street on my scooter toward the olive press followed by the pair on the 4-wheeler. We were soon accosted by some angry Greeks, yelling, pointing and gesturing. There was no place to turn the 4-wheeler around, but after some maneuvering with three wheels on the pavement and one wheel hanging over some steps, the teetering 4-wheeler finally found purchase and roared back down the narrow street. Tony had followed the trio on foot and witnessed the frightening near topple of the vehicle. I relinquished my scooter to Tony to take back down the street while I went to take pictures of the olive press. Nobody else had the nerve to face the angry Greeks, so I was the only one who got to see the press. I took some quick pictures and high-tailed it back down the hill, myself.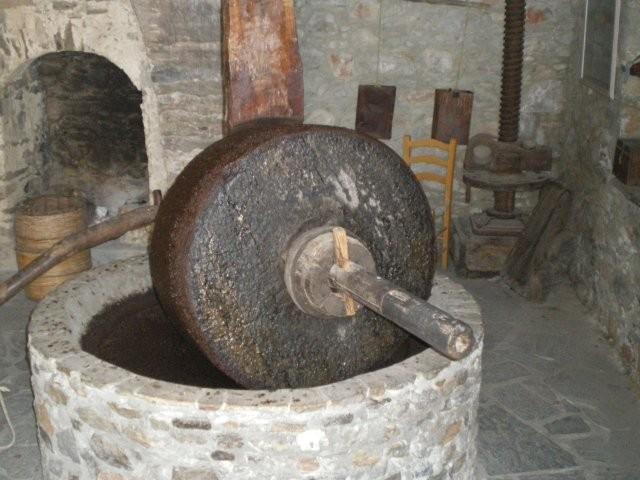 Our next stop was in the quaint little village of Halki. We had been told of the world famous Fish & Olive pottery shop that we should see. We parked our scooters and walked into town. The smell of meat cooking over an open flame attracted us to the open air Ο ΓΙΑΝΝΣ Tavern, covered by a canopy of grapevines. We found a table and a few of us sat while the rest shopped.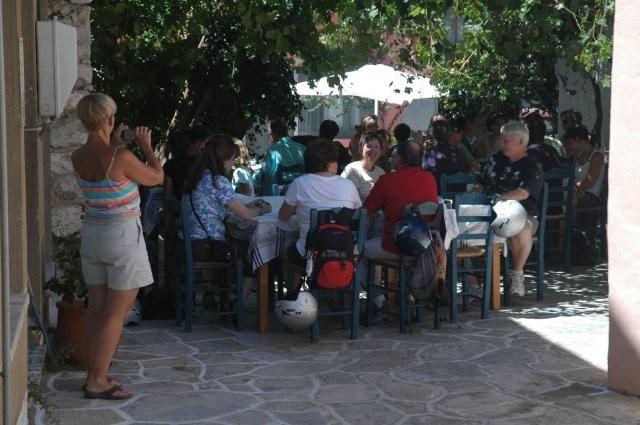 While we were sitting, we heard some loud horn-honking. After a little while, it dawned on us that perhaps we had parked our scooters in the wrong place so we sent one of our guys down to check. Sure enough, when he went down to check, all of our scooters had been moved to the opposite side of the street. I guess its a good thing we hadn't locked the steering column.
Of course, we over-ordered, most of us choosing the roasted pork from the rotisserie. We could have easily split the large portions. The only drawback to the meal was the annoying yellow jackets that were intent on eating our food, especially mine. At one point, I even got up and went to sit at another table but they followed me. We sat for what seemed like forever waiting for the check and finally figured out from watching others that we were supposed to go to the kitchen door to pay.
Our scooter ride took us up to the top of the highest peak on Naxos, Mount Zas. We hugged the inside of the curves on our scooters to make sure we didn't go flying off of the mountain.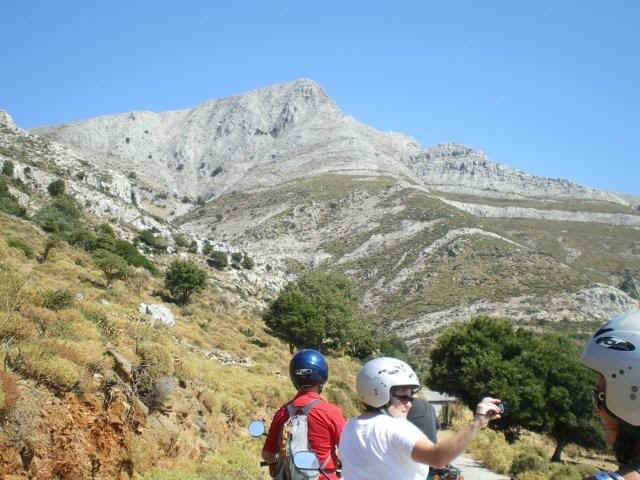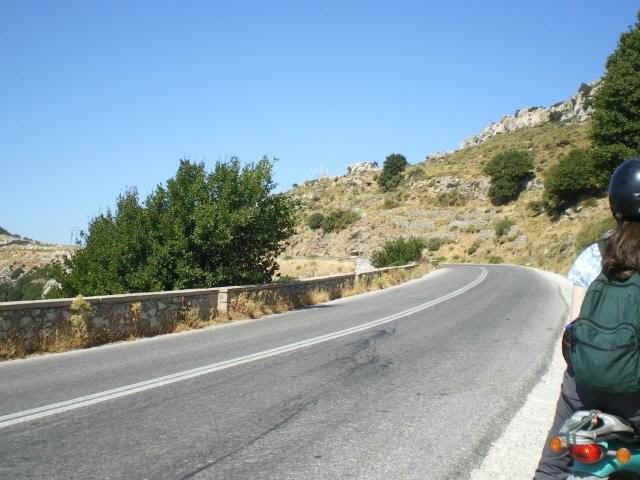 We didn't cover nearly as much ground as we had expected to on the scooters so before we had seen all of the beaches and villages that we intended, we had to turn back to avoid being caught out after dark. We made one final stop for a beer at ο Ντεμπελης before starting our descent back to Naxos Town.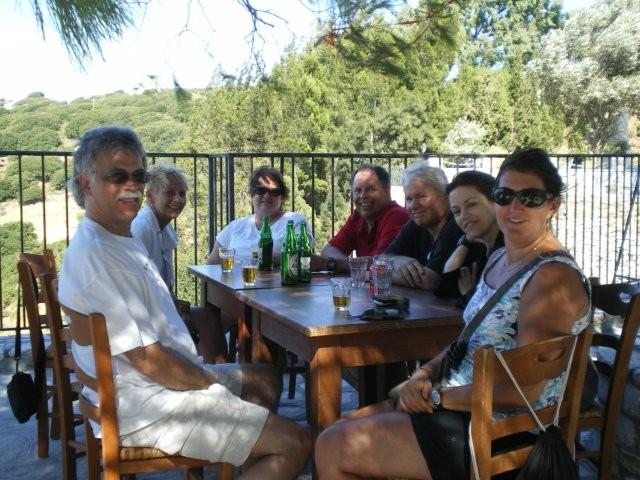 The ride back was a bit treacherous. The winds had picked up significantly to the point where it sometimes felt like our scooters would be swept out from under us. We were relieved when we made it back into Naxos town and relinquished the scooters to the shop. On wobbly knees we walked back down to the port. We decided to watch the sunset from atop the Flamingo Restaurant. We shared an assortment of ice cream and several carafes of wine while the sun sank behind the ships in the port.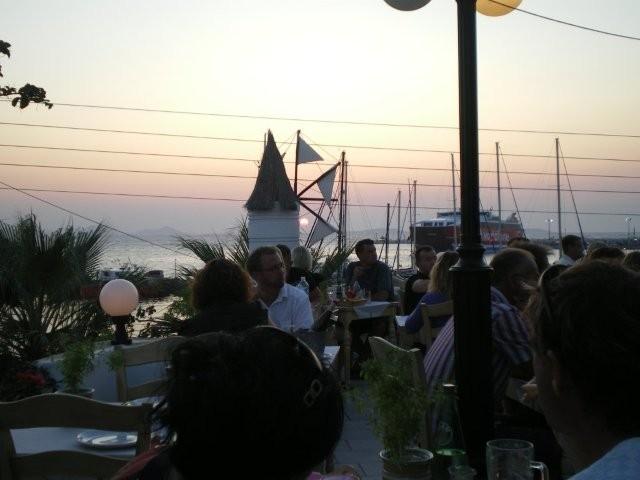 As we were getting ready to leave, the waiter learned that it was my birthday so he insisted that the girls join him in a Greek dance. He snatched my camera away and handed it to a surprised diner, instructing him to take pictures. The unknown photographer did a good job of capturing the moment and even returned the camera when he was finished!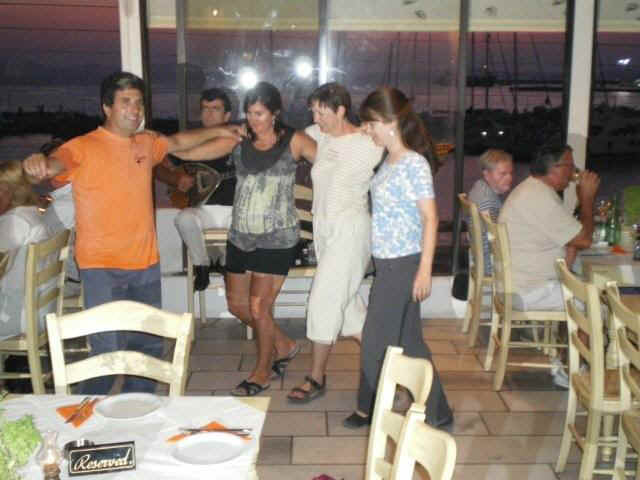 I made pizza my choice at Il Girasole for my Big Fat Greek Birthday dinner. Our table was on the porch of the restaurant right next to the street so we had an excellent vantage point from which to watch the street performers.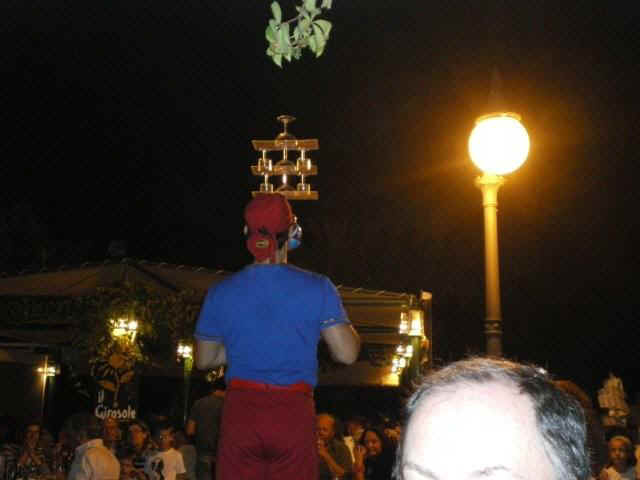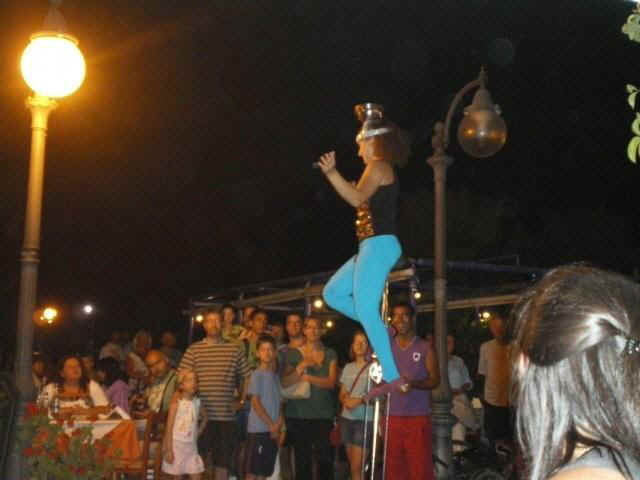 We had a final birthday drink at Fragile. Of course, George served us some little shooters of sweet wine as we were getting ready to leave. We couldn't be rude, so we drank them. Again on the way back to the hotel, we marveled at the number of folks still out so late (or actually, I guess it was early since it was past midnight).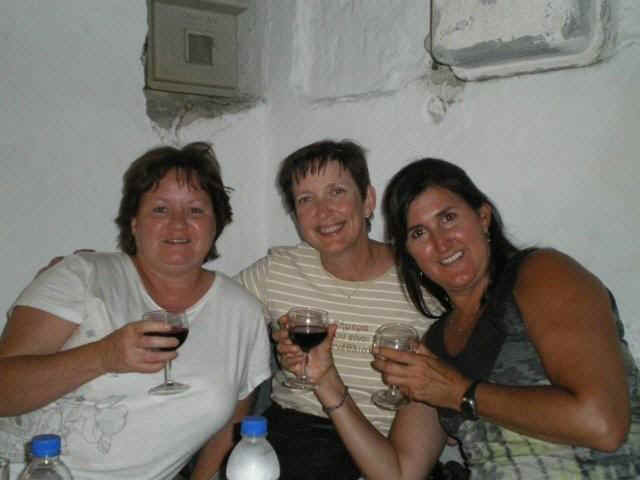 We were up early the next morning to catch the 9AM ferry to Santorini. As we were assembling our luggage in the lobby, we were each given a nice little Naxos-shaped souvenir bottle of the Citron liqueur. The proprietress had to take us in shifts to the port since she could not fit all eight of us in her car. We were there in time to be first in line for the ferry. We entertained ourselves watching an old man fish. We decided that he was just entertaining himself, not really intent on catching anything.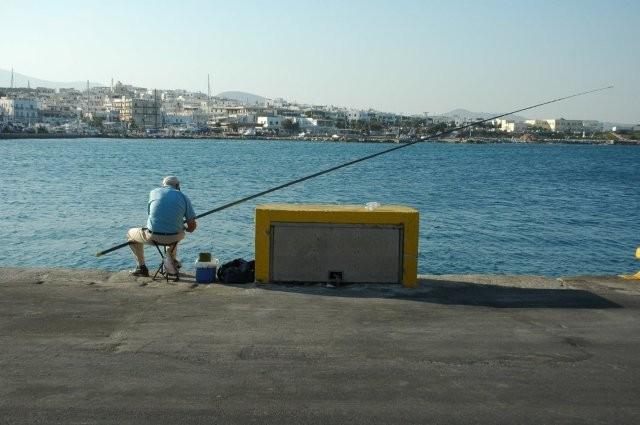 We had a nice conversation with a Turkish man who had been on Naxos for the past month. He had been sleeping on the beach and had been robbed while he slept.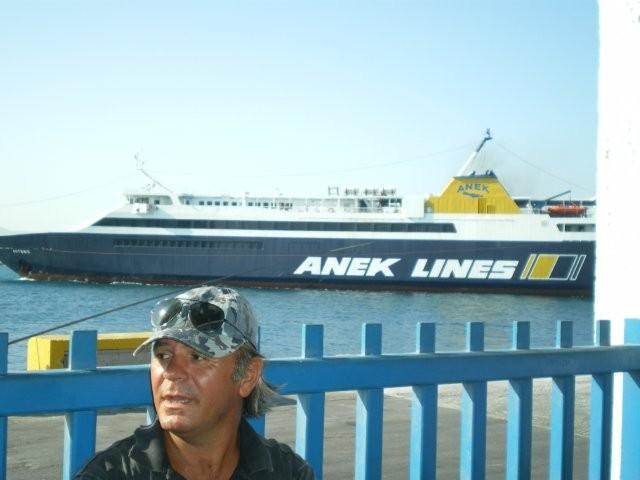 The ferry ride was much shorter from Naxos to Santorini (just over 3 hours) than it had been from the mainland to Naxos. We liked sitting outside in the pleasant breeze except for the droplets of oil that got on us. We made a note to wear dark clothing the next time we sit outside on a ferry.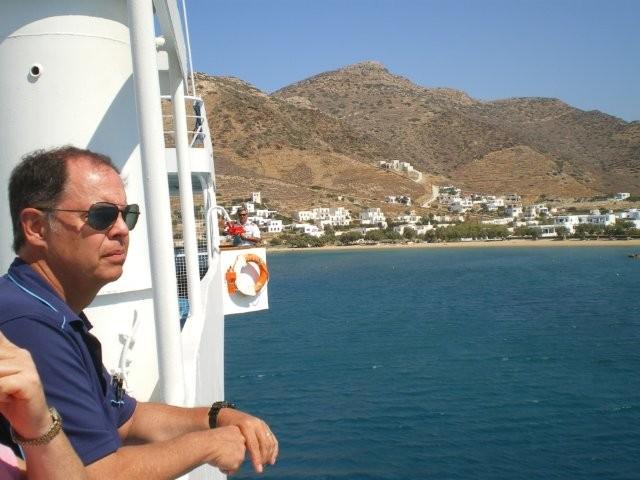 I took a walk around the boat. It did not seem to be as "class" divided as the Blue Star Ferry had been. The interior lounges with their upholstered seats were practically empty with the exception of one family playing cards and a number of young men in their late teens to early twenties sleeping on the sofas. They all donned their backpacks and got off when the ferry stopped on Ios. We weren't surprised by this since our research had told us that the island, with its party atmosphere, attracts mainly young people.
As we approached the port of Santorini, we noticed the zigzagging road up the mountain and immediately started to dread the ride. At least nobody was feeling sick from the ferry BEFORE we started the ride up the mountain. At the pier, we were again greeted by a throng of hoteliers holding up signs. We passed by all of them, not seeing the sign for our hotel, Artemis Village. I was starting to become concerned when we spotted the Artemis bus. The driver introduced himself as Artemis and enthusiastically shook all of our hands. Artemis assured us that he would do anything we needed while we were there, but he could not lift our luggage into the bus. No problem. That is why we brought boys on the trip! They're not real smart, but they can lift heavy things!
The ride up the mountain was worse than we had feared. Artemis honked the horn and passed cars and scooters as he made the hairpin turns. Pebbles crunched under the tires and went skipping down the side of the mountain as the bus skirted the edge of the road. I said a prayer of thanksgiving and extricated my bloodless fingers from Tony's grasp when we finally reached the top.
Artemis pointed out a few things in the little town of Karterados as we passed through. He pointed to Jerry's as a good breakfast place. We deduced from this that breakfast must not be included at our hotel. When we got to the hotel, we unloaded our luggage and piled it by the steps to the office as Artemis instructed. He introduced us to his wife Anna, who offered us iced coffee. I was going to decline but was afraid it would be rude so I took it. It was actually very good. Some of the group asked for iced tea instead, and it was a delicious peach tea, palatable even for someone like me who hates tea. (I know, I know, how can a girl who grew up in the South hate tea? I don't know, but I do, much to my mother's chagrin.)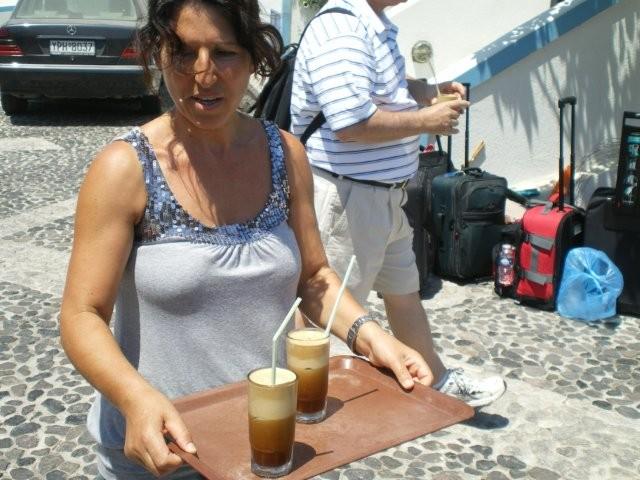 We sat around for awhile, sipping our tea and coffee, wondering what we were waiting for. Artemis finally told us that our rooms weren't ready yet. We had, again, had to take what was available for an 8 pack. At this hotel, it was two triples and a double. Artemis wanted to know our family relationships so he could decide who to put in which rooms. He didn't understand that we are just very close friends who travel well together. He kept asking if we were mother and daughter which was very insulting to those of us he thought were the mothers!
Tony and I won the room lottery, getting a double room with a balcony with an ocean view.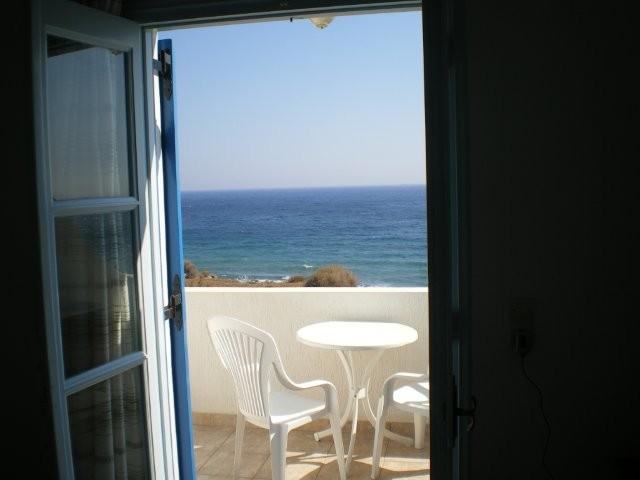 All of the rooms were adequate and clean, although some of the bathrooms were a bit unusual. With no shower enclosure, it was difficult to keep things dry.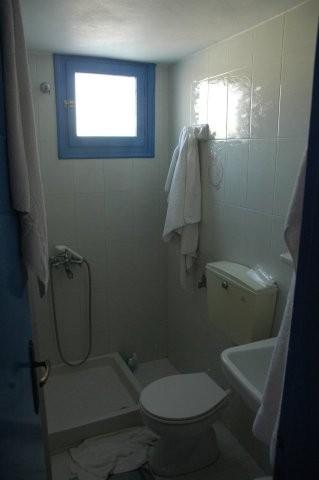 Each room had a refrigerator and one of the rooms had a kitchenette. Anna brought us a bottle of water and told us not to drink the tap water. She said if we needed more water, we should buy it at the grocery store.
Artemis told us that he would take us anywhere we wanted any time we wanted to go, but he wasn't quite ready to leave when we were ready for lunch so we decided to walk down the hill to a seafood restaurant that he recommended on the beach. We agreed that we would meet back at the hotel at 4PM for a ride into the main town of Fira.
The walk to the restaurant afforded us some beautiful views from atop the hill overlooking the ocean. We exchanged cameras with some other tourists, offering to take a picture of them if they would take a group shot of us. The ocean made a beautiful backdrop!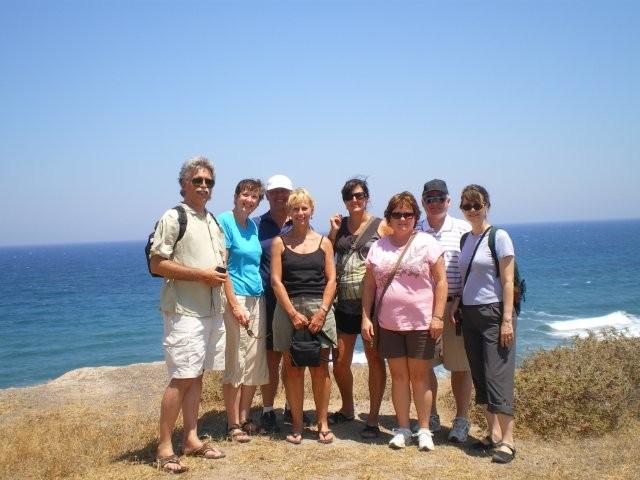 The restaurant (Panos) had a variety of fresh fish which could be selected from a glass case. We shared our standard appetizers of grilled cheese with fresh lemon and eggplant followed by a variety of entrees including a couple of selections from the glass case. The small whole fish were the least favorite among the diners at the table, but were a big hit with the scrawny stray cats that gathered around looking for scraps. "Meow (translation: excuse me), meow (translation: do you have any fish to spare?). Meow (translation: excuse me), meow (translation: do you have any fish to spare?). Meow (translation: excuse me), meow (translation: do you have any fish to spare?)..." Ad infinitim.
After lunch, we walked out to put a toe in the ocean and get a closer look at the black sand beach.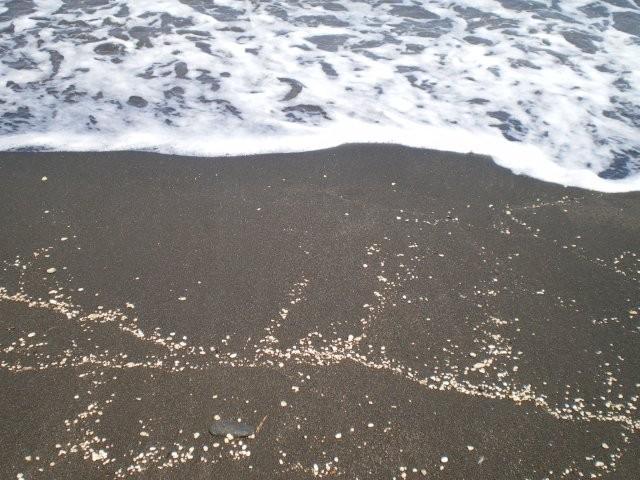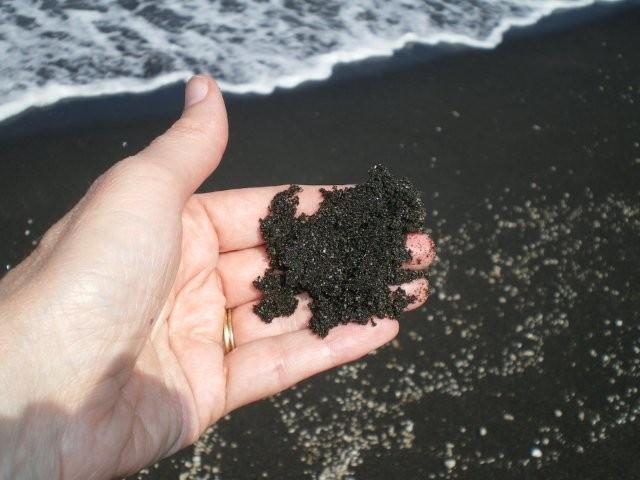 We huffed and puffed our way back up the hill to the hotel to find that Artemis still wasn't ready to take us into town. He wanted to wait for some other guests so he wouldn't have to make multiple trips. We discovered that the hotel had free wi-fi so I used the time to make some phone calls. My father was thrilled that I called him all the way from Greece. Wi-fi calling is SO much better than paying $1/minute!
Finally Artemis was ready to take us to Fira. On the way, the Australian sounding passenger in the front seat questioned Artemis several times about what time he would be back to pick us up. Artemis said 10PM. I thought the fellow wanted to go back later, but 10PM sounded okay to me. We were dropped off at the bottom of the hill and pointed in the direction of shopping and a beautiful view.
We had noticed everywhere we went they were selling blue charms that looked like eyes. We asked one of the shop owners who explained that the Greeks believe that people with blue eyes can make them sick. "Not just any kind of sickness, but a special kind of sickness kind of like a hangover." She even thought that I could make her sick, even though my eyes are green. I didn't really understand this, but there were several blue-eyed people (including Tony) on our trip and I HAD felt some of these symptoms after my birthday celebration so I bought one of the charms and put it on my necklace. After that, if I caught one of the blue-eyes looking at me, I flashed them my charm and immediately felt better! Some of the blue-eyed people found this very annoying.
I have done some reading on the internet about the "Evil Eye" or "Matiasma" since we returned home. An especially interesting article appears in the ForteanTimes.
After I finished my shopping, we trudged on up the hill past the pretty white church.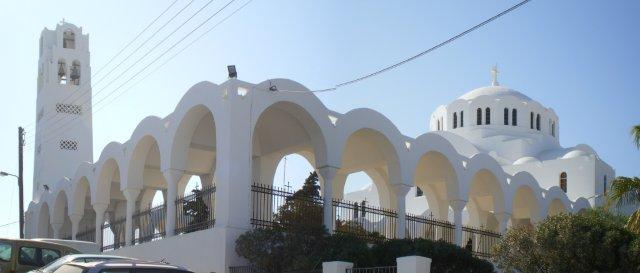 We were rewarded by a beautiful view of the volcano and the pretty white buildings lining the cliff.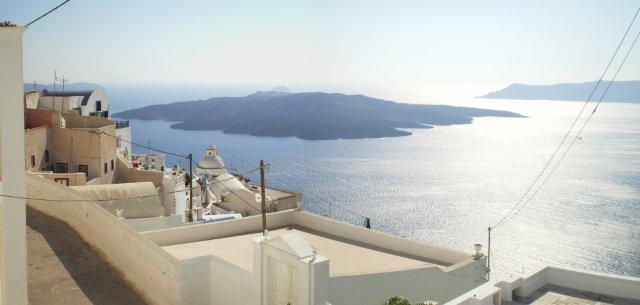 The sun was beaming down and it was very warm so we decided to find a shady place where we could relax and enjoy the view. The Arcobaleno had just what we needed. The beer was a little more expensive, but we were paying for the view. The waiter was somewhat indifferent until we got ready to leave and then he became very animated in his attempt to get us to stay.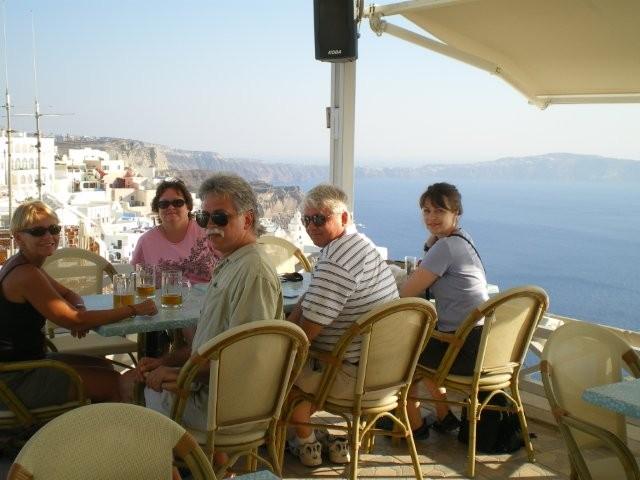 Of course, drinks were expensive at all of the places atop the cliff so we decided to drop back one street for dinner. We decided on the Roof Garden of the Camille Stefani restaurant. It was highly recommended by two men sitting out front. They claimed to have no affiliation with the restaurant but we were skeptical. The view from the roof garden was of the other side of the island away from the beautiful sunset so we thought we would finish up in time to go back and have drinks while the sun set. Not so. Dinner took longer than we expected but it was again, delicious. We ordered a liter of wine, but the waiter said it would be better to have a half liter at a time and then explained that he had to go up and down steps to bring it. We thought it would be better if he made fewer trips, but chose whatever made him happy. I had the stuffed tomato which was delicious. Everyone shared their meals. We even tried the Octopus salad.
We passed a creperie so we got a couple of nutella filled crepes to share. My favorite was the nutella and banana but others like the nutella and Grand Marnier. This was not our first dessert of the day. Earlier, we had shared a nutella gelato and a baklava!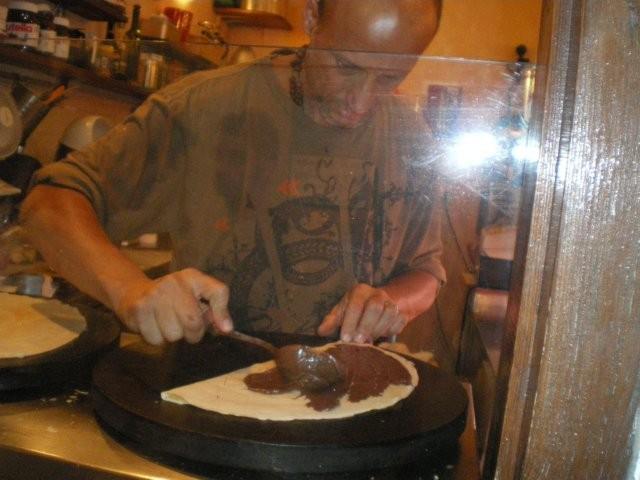 We found our way back to the steps where Artemis was to pick us up. The Aussies were already there waiting so we struck up a conversation with them. They explained that the reason they kept questioning Artemis on the pick-up time was that he had been 45 minutes late the night before. He was only about 10 minutes late this time. We had time to find out more about the Aussies who were actually on vacation from visiting relatives in Scotland. They had some good advice about things to see on Santorini.
We met by the pool for a final glass of wine to review our day. The stray cats recognized us and came around looking for more fish but they had to settle for a little head-scratching this time. We agreed to sleep in the next day and meet at 10AM. We were all exhausted from having to get up to catch so many early morning ferries.
We slept well and met the others in the office the next morning. Anna offered hot or iced coffee. We asked about a ride to Fira, but Artemis was not ready to leave yet, so we had to wait. He needed to drop some people off at the airport on our way.
We finally got to Fira and got on the bus toward Oia Tickets for the bus cannot be purchased in advance. They must be bought from a ticket seller who walks up and down the aisles of the bus. Acting on the advice from the Aussie Scotsmen, we got off at the second stop in Imerovigli. We planned to walk back to Fira along the cliff's edge. This turned out to be my favorite part of the trip. There were winding paths that went past white Mediterranean houses, hotels and churches built into the cliff. We decided that WHEN (not if) we come back, we will stay in one of the hotels that has a swimming pool on the edge of the cliff where we can sit and gaze out at the ocean and volcanic islands.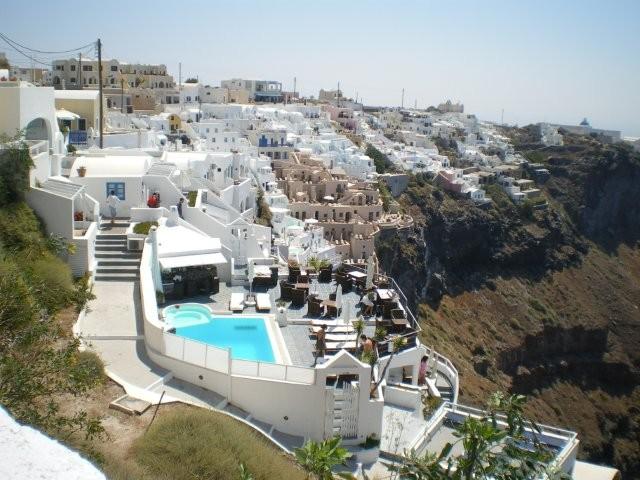 We stopped to admire the view and one of our party pointed out some statues of virgins on a patio in the distance. I looked and at first, they did look like statues, but upon further study determined that they were closed white umbrellas. That became the joke of the trip. Every time we saw a closed umbrella, we would say, "Look, a virgin!"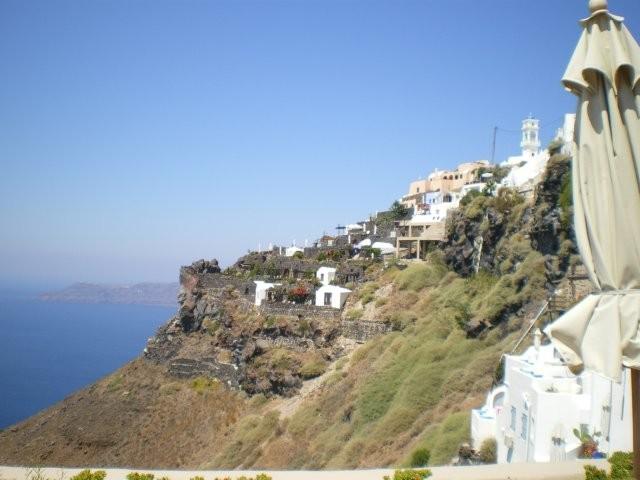 We stopped for some refreshments at The Flame of the Volcano Restaurant before proceeding to Fira.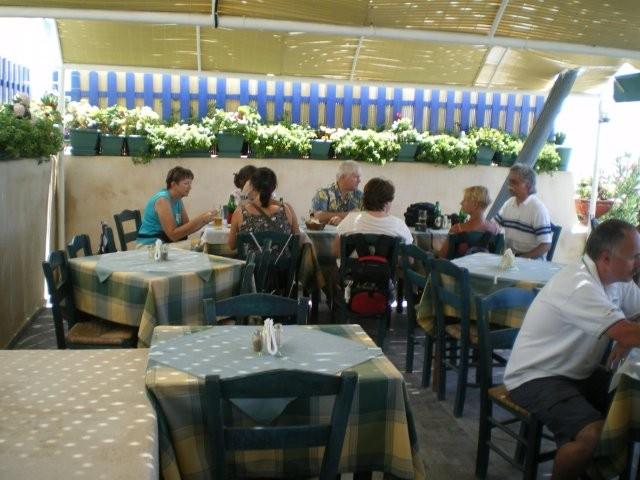 When we got closer to Fira, we had to step aside to let some donkeys and their riders pass. I joked that I only got pictures of their Asses. Get it? Donkeys, Asses... Bahahahaha!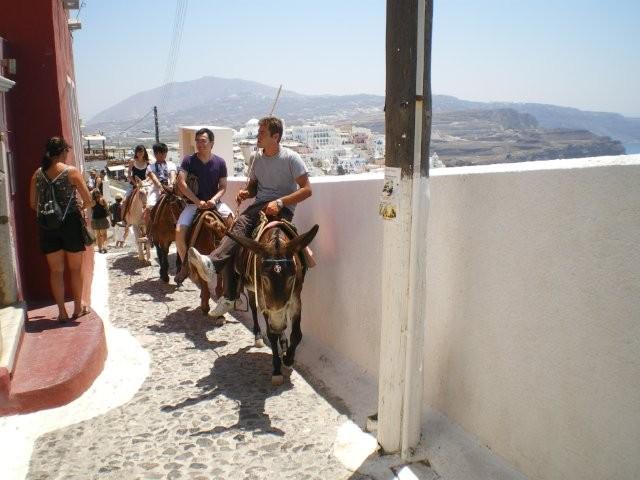 We wanted to have lunch at Nikolas Taverna (which had been recommended by our neighbor) but it was not open for lunch on Sunday. We went to Dionysos instead and were very pleased with our lunch.
We caught the bus to Oia so that we could be there for the sunset. We stopped for drinks at a spot that had no view to the west, so we sent out a search party to find a better location for dinner. They went out in several directions and came back in shifts to tell us what they had found. Eventually, we all got separated and wished we had brought the walkie-talkies that were back at the hotel. Text messages work almost as well though, and we eventually found each other.
We found the perfect spot to watch the sunset. Fanari Villas had a private patio with a round table that would seat 8, just perfect for us. It was the most expensive meal of the trip, but we were happy with the splurge. We could complain about the slow service or the small portions, but could not complain about the view. The menu had some interesting translations:
"small clods of flower cheese"
"Cretan mouthful crackers"
"Drunk shrimps with ouzo which are trying to lay on crispy perfumed slices of bread to save themselves from hang over"
We shared an appetizer of grilled octopus and a variety of entrees.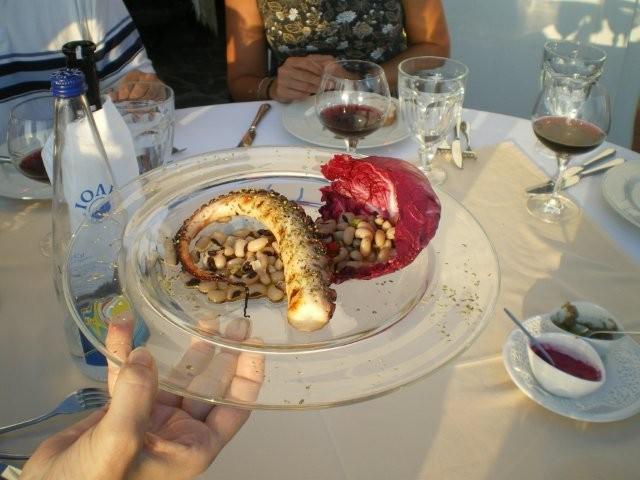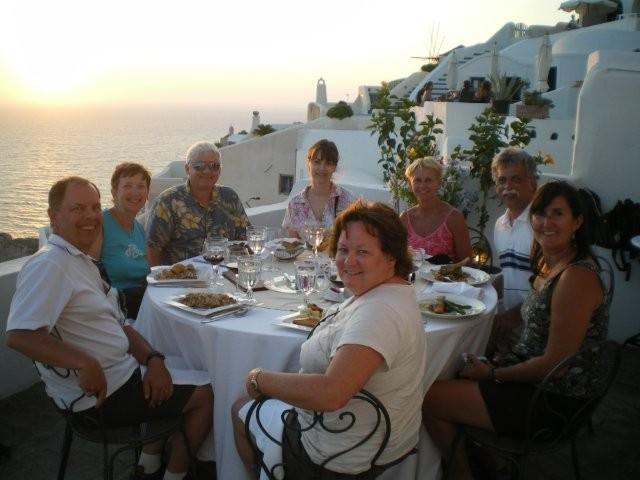 After the sun set, we were treated to a beautiful display of colors. We had plenty of time to take lots of pictures since our waiter was in no hurry to bring the check.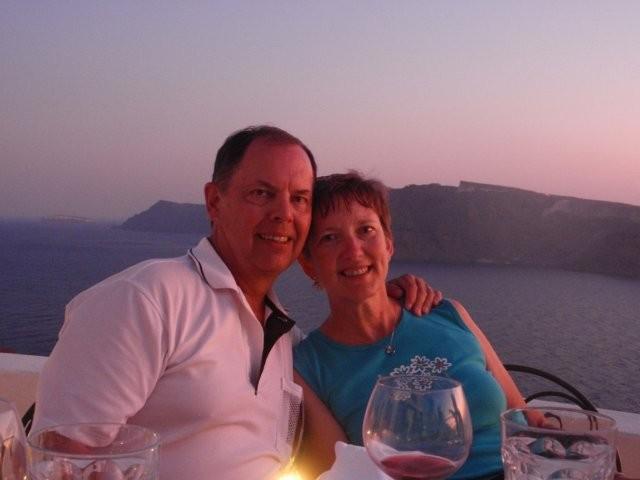 By the time we finally settled the bill, we had to run back to the bus stop to catch a bus that would get us back to Fira in time to meet Artemis at 10PM. The bus was so crowded we had to stand up in the aisle and the ticket seller squeezed us against the seat to get by so he could sell tickets. We didn't realize until we got back to Fira that Tony had not been able to get on the bus. He had sent a text message but the bus was so crowded I couldn't get to my cell phone to retrieve it. Another bus had left 10 minutes later and he was on that one. We were able to convince Artemis to wait for him.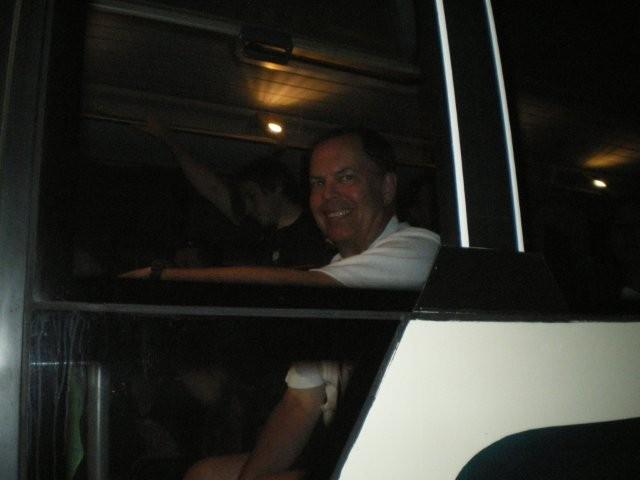 We gathered at the pool again, back at the hotel for a glass of wine. Since we were flying the next day, we figured we'd better dispose of any liquids we couldn't carry on the plane. This, of course, included the little bottle of Citron that we had gotten in Naxos. This Citron was not clear like the others, it had been colored green, making it even more similar to Formula 409 Cleaner. The green Citron tasted no better than the clear had.
The next morning, we met in the lobby with our suitcases. We had an 8PM flight so we would check our luggage at the hotel and do some sightseeing, returning to the hotel in time for Artemis to take us to the airport. We hoped he would be on time!
After an iced coffee and a short wait for Artemis, we piled in the van. We were following a couple on a scooter so they could drop their scooter off & Artemis would pick them up. We thought Artemis was going to run over them. I am sure they were glad when that ride was over.
Our plan for the day was to go to the Santos Winery, take the tour, maybe have lunch and then go to Fira. From there we could catch the bus to the little village of Monolithos just below our hotel and walk back.
Artemis dropped us off at the winery and told us where to catch the bus to Fira. We took the winery tour along with a couple of other tourists and enjoyed visiting with them while we sampled the wines. There was only a snack bar at the winery so we decided to go back to Fira for lunch.
The only bus stop we could find was on the opposite side of the road from the direction we wanted to travel so we went in search of one on the correct side of the road. We walked about a quarter of a mile and were standing in a parking lot when a bus to Perissa stopped. The ticket seller opened the door and asked us where we wanted to go. We said Fira and he said, "Get on. This is not a bus stop, but you can get on anyway." We're still not sure what we should have done. We think maybe the one bus stop served both sides of the road.
Nikolas Taverna was too small to be able to seat us all at the same table so we had to split into two groups of four. While the menu was printed in English, the specials on the chalkboard over the kitchen were only written in Greek. We asked the waiter for a recommendation and he directed us toward the salmon. It was excellent but pricey. A favorite from the regular menu was the stuffed cabbage.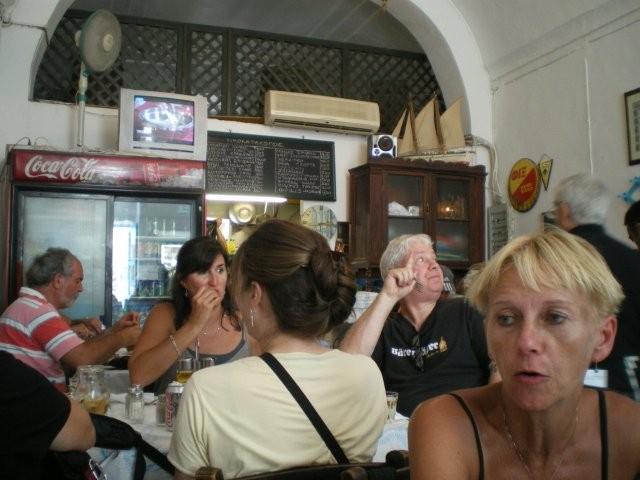 We made one more stop for a beer at Portioli before heading back to the bus stop. Tony ducked into the restroom while the rest of us made our way to the bus stop. The busses in Santorini are more than prompt, usually pulling out a few minutes before the posted time. When we got to the bus for Monolithos it was already rolling. Everyone got on board, but Tony was a few minutes behind us so I asked the ticket taker to wait. He was not so inclined, but he asked how far behind us Tony was. I pretended to see him in the distance and yelled as loud as I could, "Run, Tony, run!" The bus rolled forward toward me. I yelled louder, motioning now as if he could see me. The bus rolled forward a few more inches. I kept standing in front of it yelling for Tony. Finally, he came running from behind one of the busses and we got on board as the bus rolled out of the parking lot.
Monolithos is not much of a village, more like a wide place in the road. We got off of the bus in front of a market. We went inside to get drinks and were surprised to find that they sold Cannabis tea. We thought this was illegal.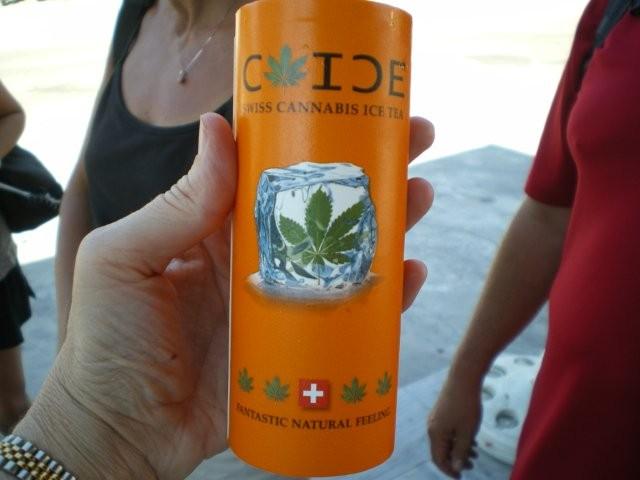 We took our time walking back along the black sand beach to Panos, picking up a few souvenir volcanic rocks along the way. We came upon a sign someone had left us on the beach.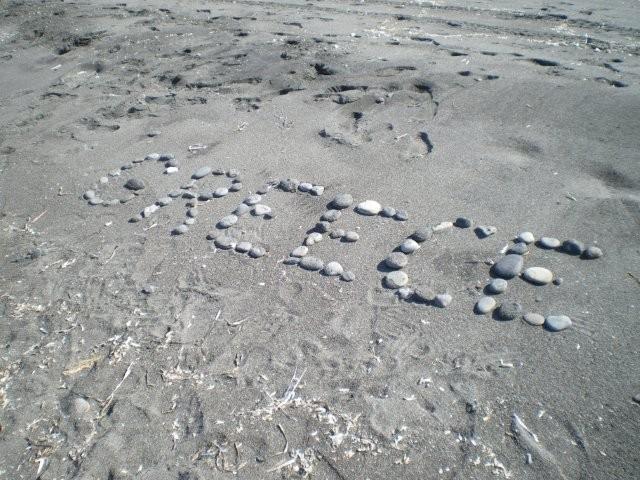 We took a break at Panos before heading back to the hotel. Artemis was waiting to take us back to the airport, right on time!
It was a short flight back to Athens, with only enough time for the flight attendants to hand out some hard ouzo flavored candy. If we had realized how late we would be getting in, we would have booked an airport hotel instead of taking the 45 minute bus ride back to the Hilton just to turn around and ride it back the next day. The bus was very crowded and there was standing room only. Our group got separated with some of us in the very back and some of us in the middle. At one of the stops, we noticed a couple of suspicious looking guys making their way through the bus, brushing closely up against people. When we got to our stop, they grabbed some of our party's luggage under the pretense of helping them, but once the confusion was over, we realized that one of our guys had gotten his wallet lifted. It put a bit of a damper on the evening. (After we got home, the Hilton called to say someone had turned in the wallet and they were forwarding it. We're not yet sure what was left in it.)
At the Hilton, we were again upgraded to the executive level. Some of our rooms had a complimentary bottle of wine and some fruit, so we enjoyed that along with some snacks we had purchased from the duty-free shop in the Santorini airport in lieu of dinner.
The next morning, after breakfast in the executive lounge, we caught the bus back to the airport. Again, standing room only but this time we were more careful to watch out for pick pockets.
We checked in for the flight but were told to come back in about an hour to see if there were seats. We talked to some other stand-by passengers who had been trying to get on a flight for a couple of days but because of cargo loads had not been boarded. As departure time got closer, we started to get a little nervous. Finally they started calling names at the counter. It seemed like a free for all. We were told to hurry to the plane, but of course, we still had to go through passport control and a security screening. Tony and I got separated at security. He thought I was ahead of him and I had the passports but I was really behind him. He needed his passport to get to the gate so he was relieved when I thundered up behind him. We were able to relax when we took our seats and were given a glass of champagne!
With headwinds, the flight home would be 12 hours. This would be longest flight we'd ever been on. And, to make matters worse, the video equipment was not working so we couldn't even pass the time by watching movies. Surprisingly, the time went by pretty quickly though and we were home before we knew it.
It was a great "Big Fat Greek Birthday" spent with friends in a beautiful location doing what I love!
Thanks for reading. See ya' next time.
To see additional (better) pictures of our trip, visit photographer Brian Hudzik's site http://blog.brianhudzik.com/?p=84
Destination Information For This Trip In A Nutshell
BJ (and Tony)
bjandtony@bjandtony.com