Girona, Spain
May 2009
"Biking near Barcelona'"
It had been just a few weeks since our last trip but when you can get a group together, you go. Our friends had been talking up another bike trip for several months, and once a date was settled on, we started trying to find a place to go. There would be six of us and the requirements were pretty simple; business class seats, cheap hotels, bicycle rentals, good weather, downhill rides in all directions, cheap food, cheap wine, speak English, tailwind, airport shuttle… hmmm... maybe not so simple after all. After seeing that Barcelona (Bar-thi-LONE-ah) looked good for leather seats, our friend started doing some serious "Googling". She discovered that Spain has their own version of Georgia's "Silver Comet Trail" (an old rail bed that has been converted to a well maintained bike path) called the Via Verde (The "Green Way"). A little more reading had her convinced that we wanted to get to Cadaques (Cadth-AH-kez), on the Mediterranean Coast. We mapped out the Vies Verdes nearest to Cadaques, even though it wasn't going to be a perfect "fit". During our pre-trip planning session at Manuel's Tavern, the group decided we would wing it, and finalize our biking plan when we got to Spain. Bike rental would take place in the town of Girona, so we began the email process to set things up for the group. On departure day, a downpour of Noah-proportions had us a bit concerned, but another pre-trip meeting in the E-Concourse Crown Room eased the tension. The best laid plans, as they say, gang aft agley. The only one of the group currently traveling as a retiree, ended up in coach. I may try to talk BJ into rethinking her 52-and-out plan! Retiree status does have its drawbacks. Champagne, warm nuts, the beef (me), pasta (BJ), some red wine and the movie Taken and it was time for a snooze. Tomorrow we would be in Spain!
Thursday morning, after hitting the ATM, we headed over to the Barcelona Aeroporto train (renfe) station for the short ride to Barcelona Centralle, where we caught a regional for the 90 minute ride to our first night's home base, Girona (gee-RRRROH-nah). On the ride from Barcelona to Girona, we met an interesting (very chatty) gentleman. At the moment, he was traveling alone, from Australia, to his summer home in the south of France. So far, he had already been going 28 hours, but had less than two hours to go. He and his wife (who would be along in another few weeks) had bought a place in a small town, and he regaled us with stories about life in the slow lane.
Uncharacteristically, we actually had reservations for the first night, in Girona (and the last night, in Barcelona) so we headed out to find the Hotel Costabella. Oh look… a bar… right on the way… After a short bathroom (and beer) break at the Café Terrasa Nuria, we continued our trek to towards the hotel. We stopped at the Tourist Information center to see if they had any suggestions on where we should ride, since we still had not finalized our biking plans. Taking a few notes, we thanked the staff at the TI, picked up a Tourist Map of Girona and headed for the hotel. Did I mention that it was a loooooonnngggg walk to the hotel?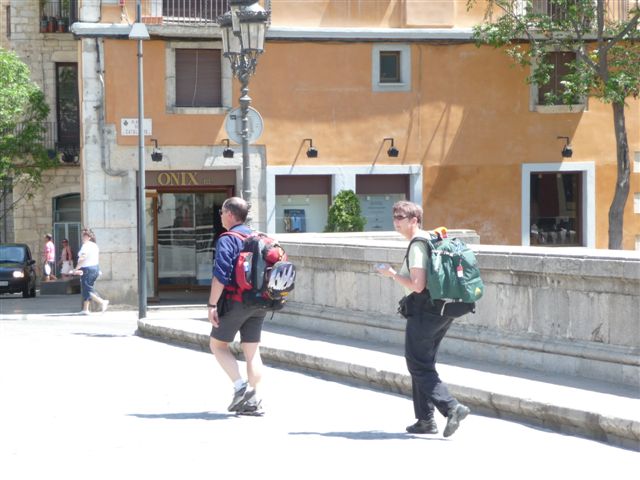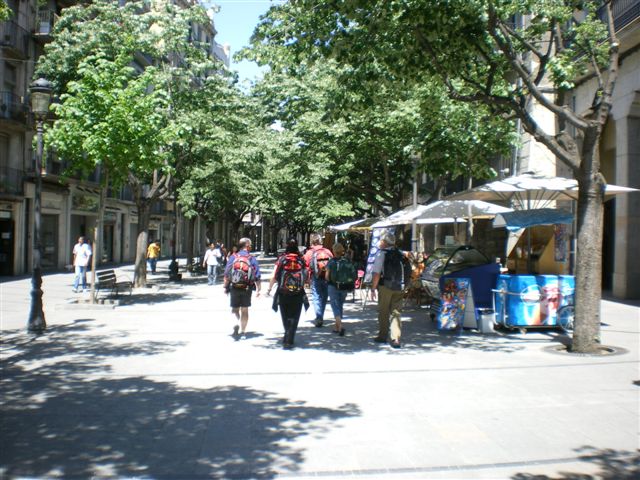 Several times on the walk, we all chanted the "never book a room in advance" chant. The walk took us outside of Girona. There was a nice view back into town at the round-about.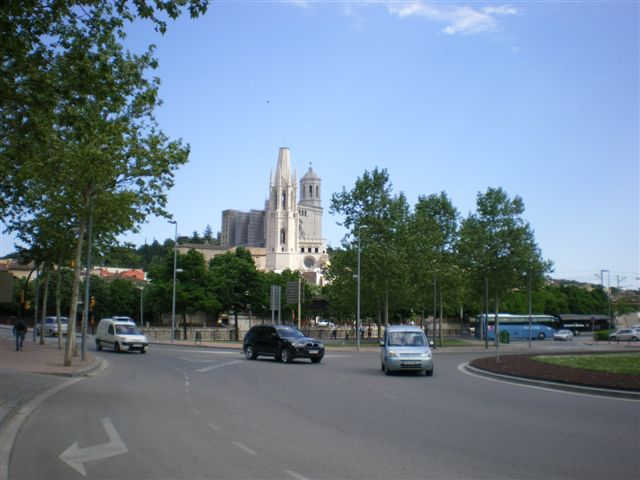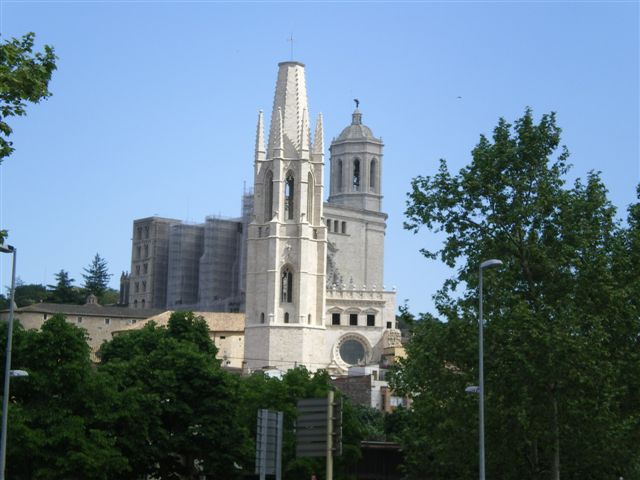 About two miles from where we started (and perhaps a half mile from the "neat" part of Old Town Girona), we found our hotel; just past the hospital! We checked in ("Morris, party of two. We have a reservation and so do our friends."). The group headed off to the rooms to drop our backpacks and relax. A little while later, we all hooked up and took the walk back into Old Town to do some sightseeing.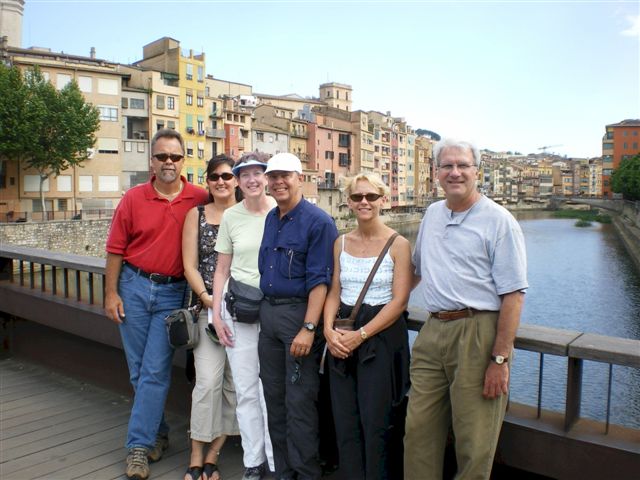 Oh look… a bar… and right on the way… after a short bathroom (and beer and the best sandwiches we've ever had) at the Konig, we decided to check in with the bike shop before it closed. We followed the GPS to Cicloturisme at Impressors Oliva 4 where we found the very helpful English speaking Dutch girl, Saskia! We queried her about where to ride, and she discouraged us from trying Cadaques and suggested instead that we head southeast towards the coast, sticking with the Vies Verdes and then pointed out a few medieval towns that she thought were particularly interesting. That worked for us! Avoiding the hills and staying off of most public roads was what we had in mind. And we could always come back another time and make the trek to Cadaques. We bought a map that showed the bike trails. Saskia made a couple of restaurant recommendations for our dinner in Girona that night. We promised to see Saskia bright and early the next morning and headed back to Old Town across one of the many pedestrian bridges.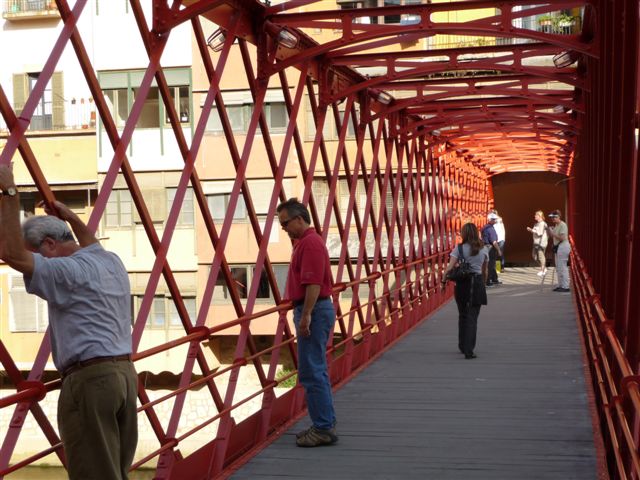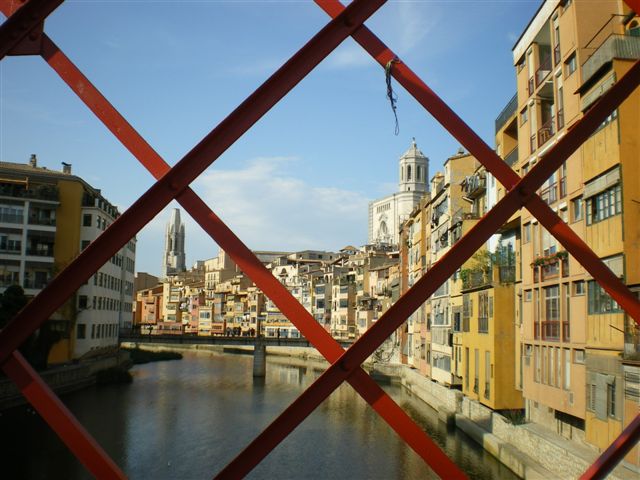 There was a flower celebration taking place in Girona this weekend so everyone was busy setting up floral displays.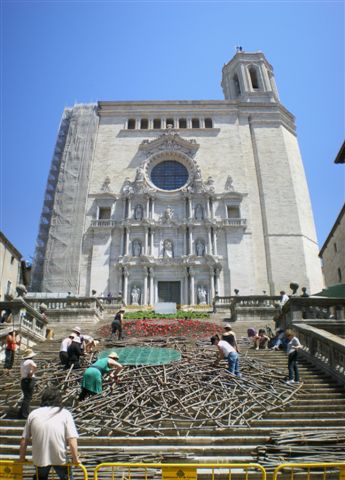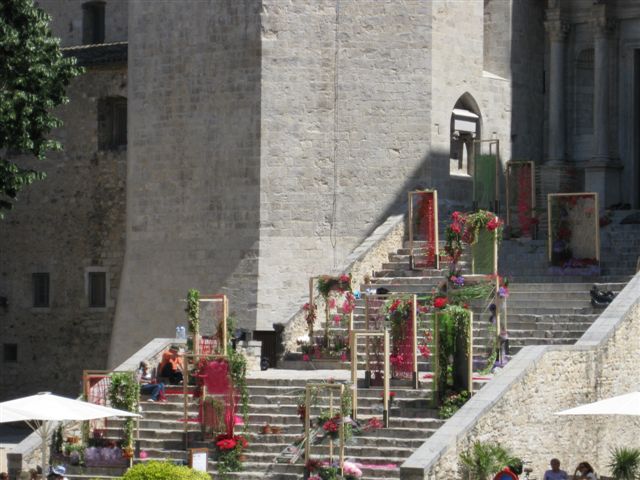 Even the river had a display of flowers in it. The water was so clear, we could see the fish swimming near the bridge.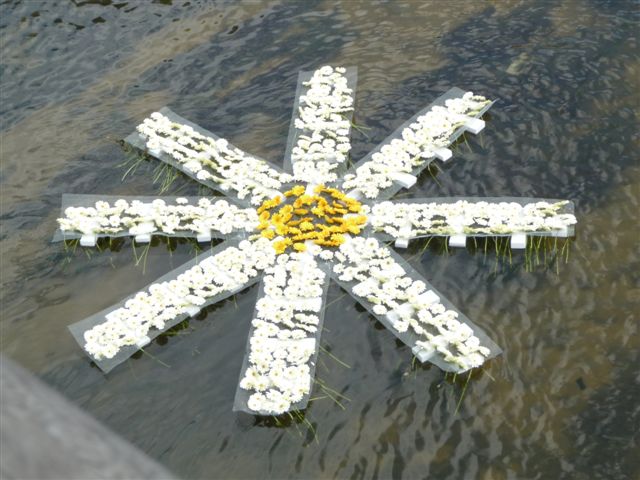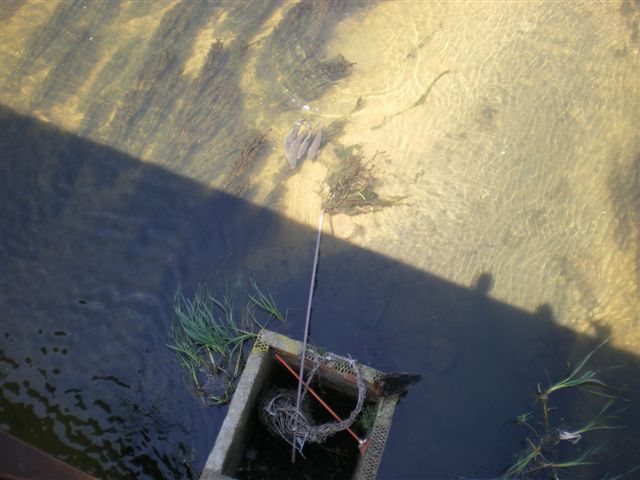 Just as we were starting to fade from the long day of travel, Oh look… a bar… right in front of us! We stopped for some refreshing sangria at an outdoor table at L'Arcada followed by some special coffee. The special coffee was so strong it would grow hair on your chest!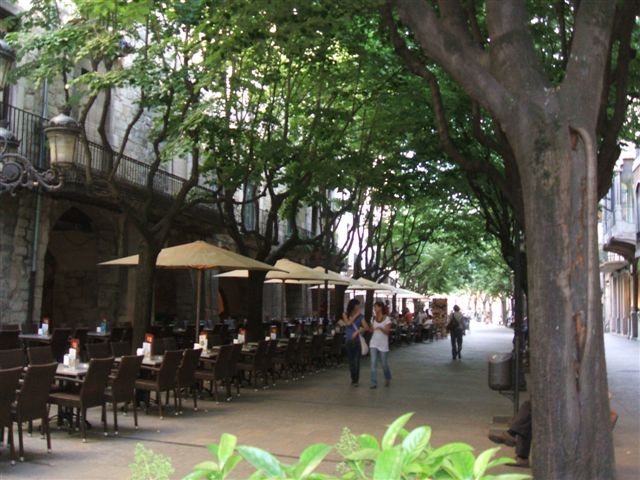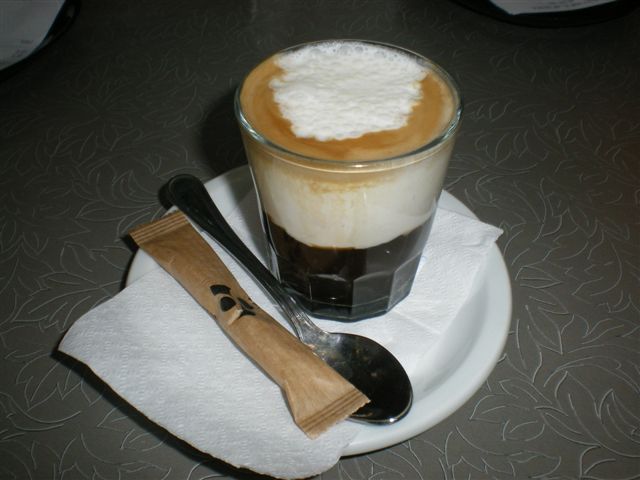 Refreshed, we took a leisurely stroll through Old Town, passing the picturesque Girona University and Convent de Sant Domenec.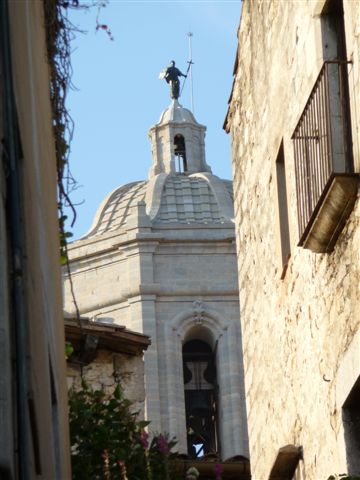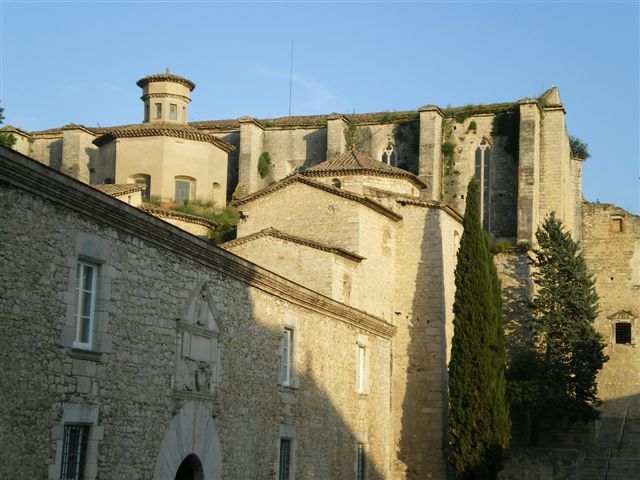 At one time, Girona was a walled city. Part of the wall still exists.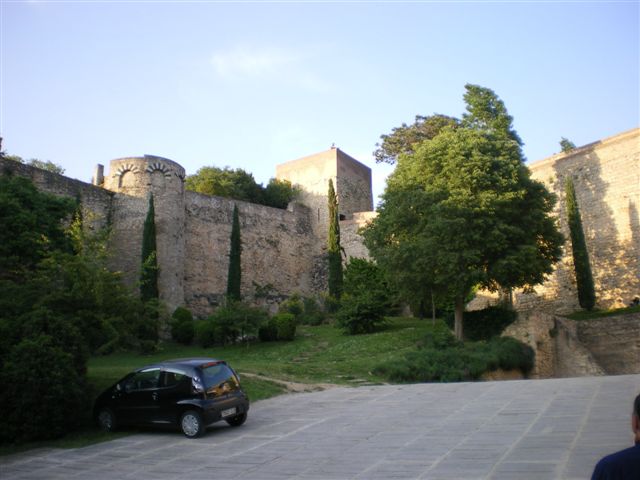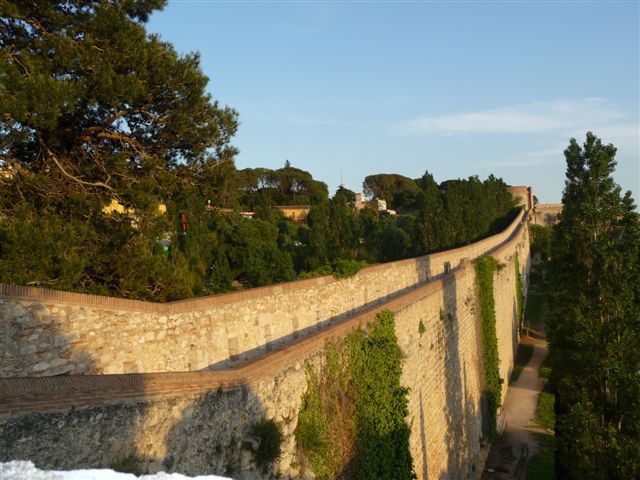 Here we take walk along the upper reaches of the wall.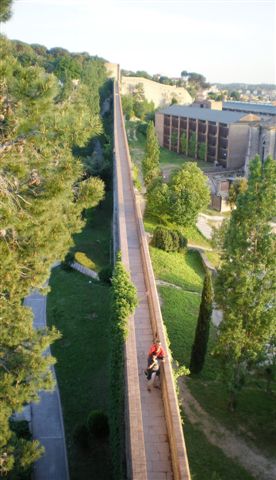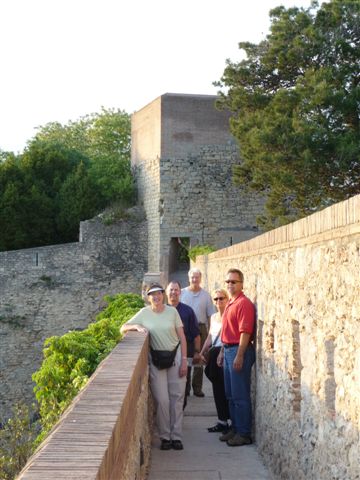 The view is fantastic.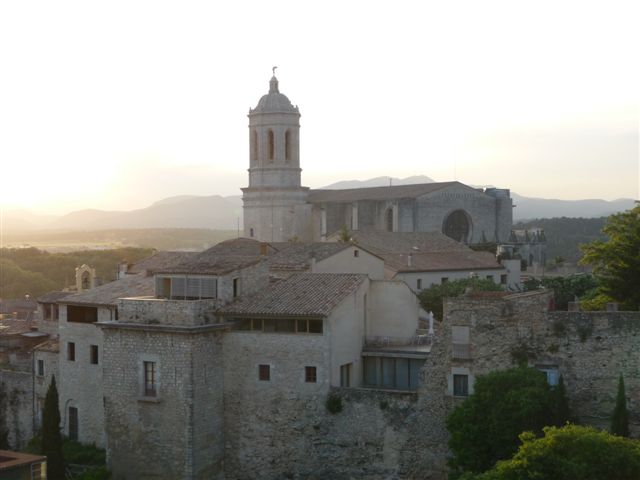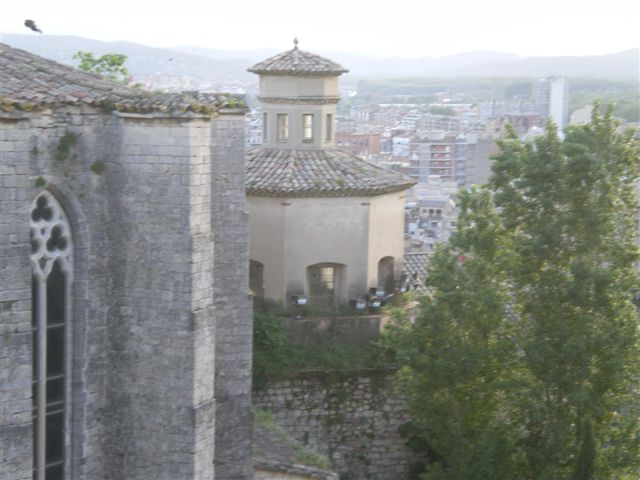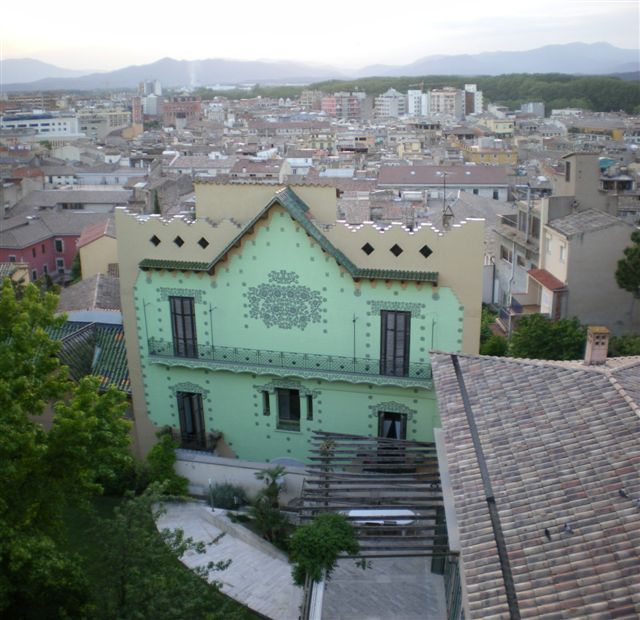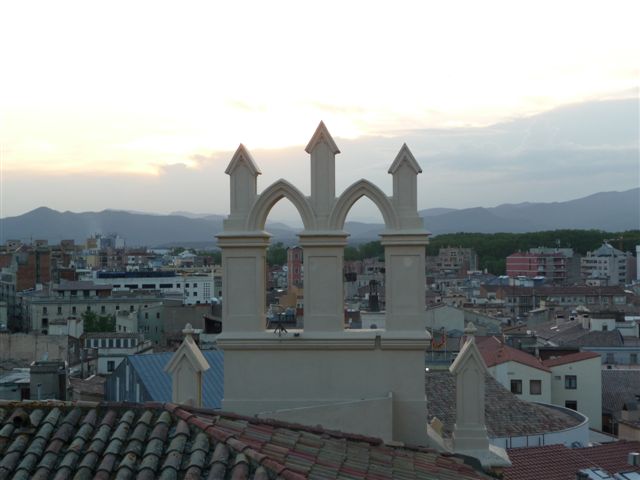 As evening approached, we set our sights on a tapas dinner. After a short search, we found the Zanpanzar Euskal Taberna (recommended by Saskia). Laid out on the counter was row after row of interesting looking tidbits, each on a small plate, and with a toothpick stuck in it.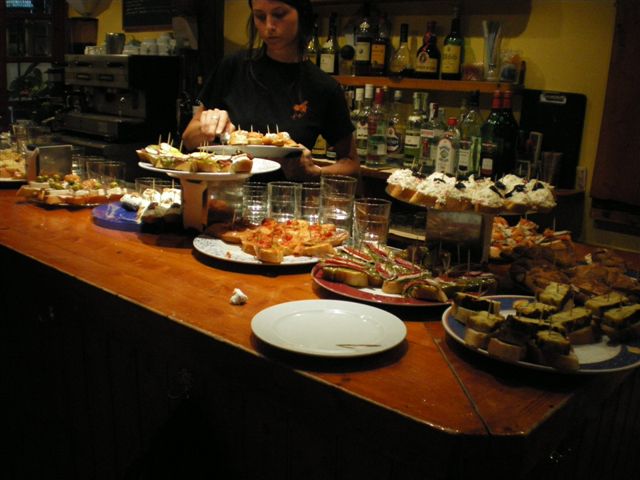 We each took a variety of treats, without really knowing what we were getting or how much it was going to cost. The Zanpanzar has a dim-sum-like way of pricing their product. Eat as much as you want, and when you are all done, you are billed for the number of toothpicks on your table. Thirty one toothpicks, two liters of water, two deserts and more wine than we should have had yielded a total bill of just €110; (less than $150 with tip), and we were all stuffed (and perhaps a little tipsy). It was time to take the walk back to the Costabella for some much needed rest after our first day in Spain. We attempted to stop at the Mercadona (grocery store) on our way back, but it was closed. When we got back to the hotel, around , the desk clerk wanted to know which of us were the Morrises. Uh oh. What now? As it turns out, when we checked in, we were given the reservation for Michael Morris instead of BJ Morris; and the hotel had registered our room against his credit card. Joking with the clerk, we asked for room service, and for a limo for the morning ride to the bicycle rental shop. Once everything was straightened out, we all headed off to bed.
After all of the walking the previous day, we elected to take a taxi to the bicycle shop. The hotel ordered us a car for 6, and 6 of us got in, with our bags, barely.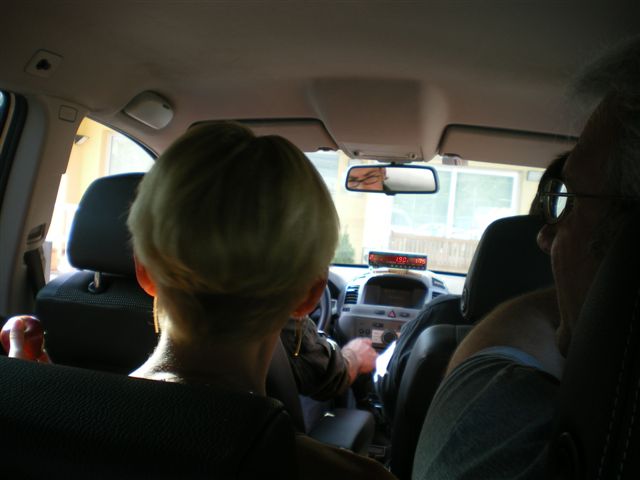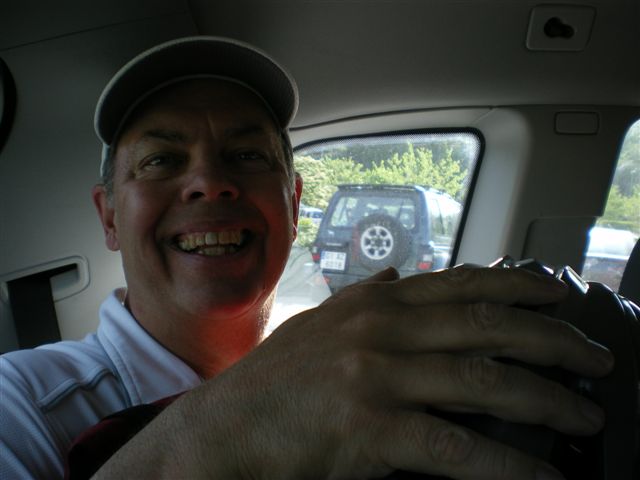 With poor planning, we all managed to get into the car, with the doors shut, with no one having the address of the bike shop handy when the driver asked where we were going. I shouted "cycletourismo" and the driver nodded his head and headed off. That was all he needed! So, we picked up our bikes, mounted our soon-to-be-patented "cutting board bike racks" and headed off.
With SEVENTY FIVE METERS under our belts, we stopped for the first time today. Coffee, Diet Cokes, and bread would be our breakfast today at the sidewalk cafe La ToRRatxa. With that out of the way, we got underway for real. After spending the customary "too long" getting lost trying to get out of town, we located the Vies Verdes " Narrow-Gauge Railway Route ", and promptly took a wrong turn, unnecessarily climbing a long, steep hill. At the top, after we caught our breath, we made the quick ride back down the hill, got back onto the bike path proper, and headed towards today's destination of Sant Feliu de Guixols. The bike path varied between paved paths and dirt paths and sometimes ran alongside the highway.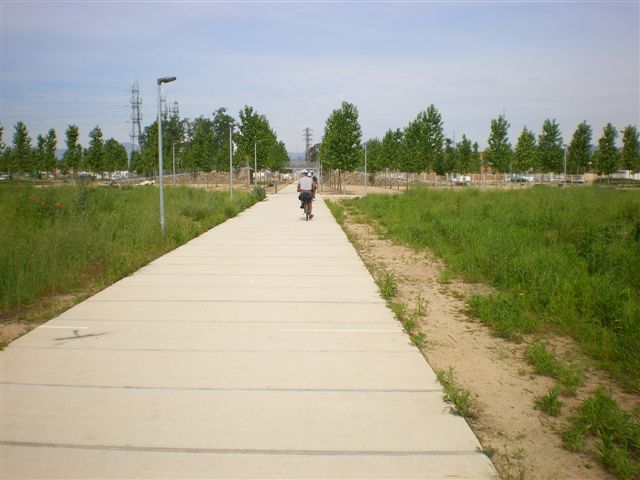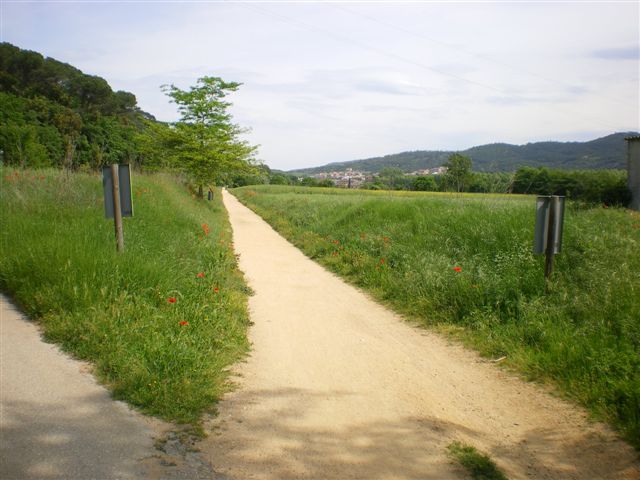 The bike shop had advised that it was required to wear helmets when riding on the streets but not on the bike paths. BJ and I ALWAYS wear helmets when riding since my unfortunate head injury. We brought our own, but the bike shop provided them for the others. They weren't too keen on wearing helmets that had been sweated in by the previous wearers. I can't really blame them.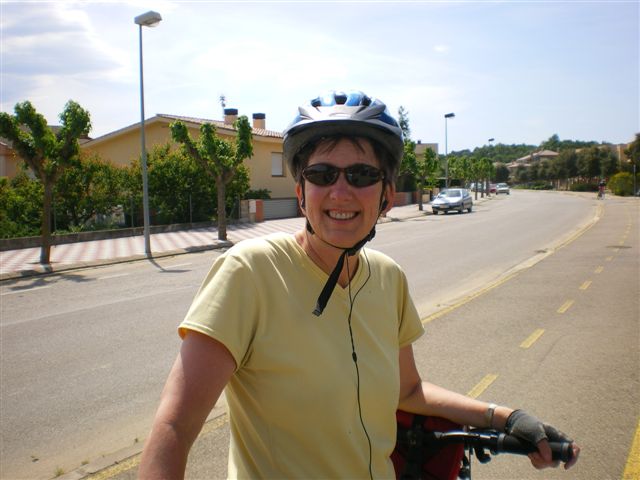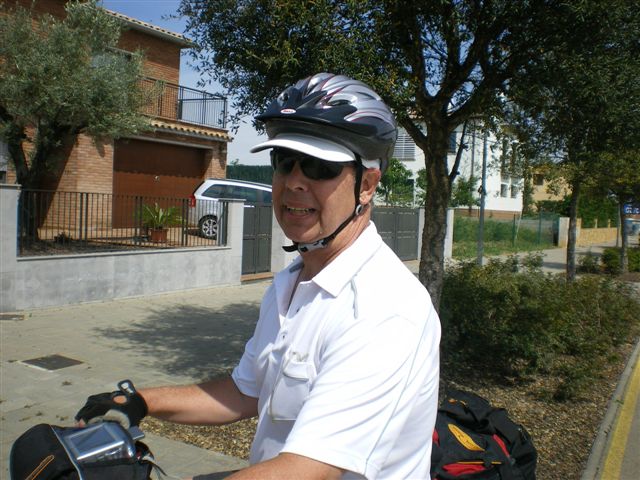 Based on a recommendation from the bike shop, we would have lunch at a place called Font Picant. The shop had said "it is a little more than half way; maybe two thirds… around Llagostera (Yah-go-STAIR-ah). You will see it just after you go through a tunnel." With that in mind, and the hope of a nice lunch (and a cold beer) we pressed on… and on… and on.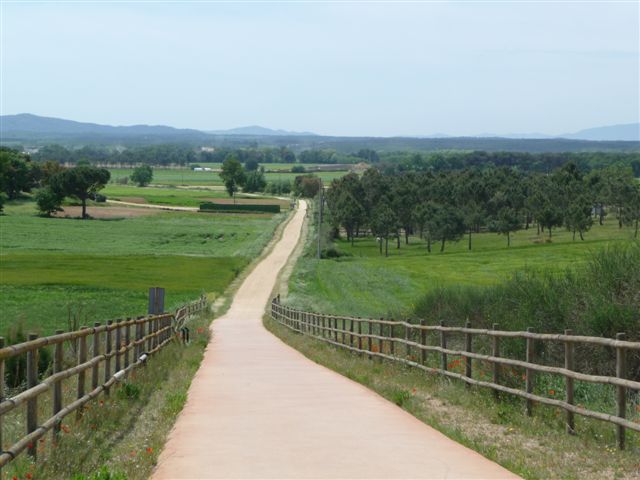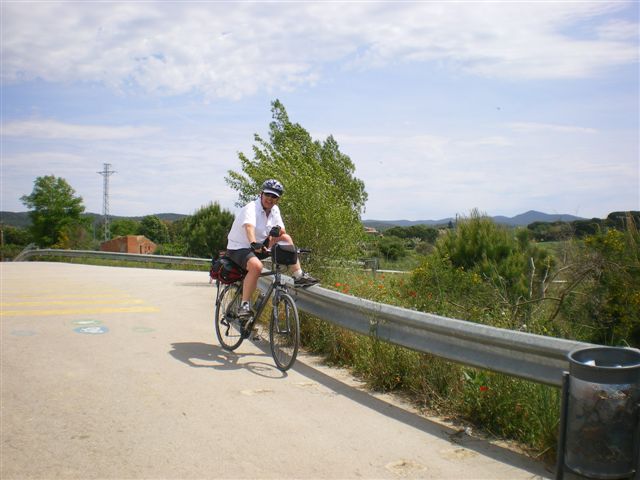 Finally, after what seemed like forever, we found a tunnel.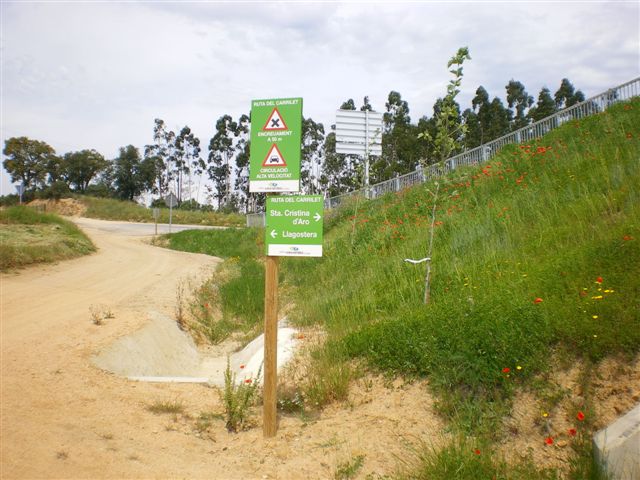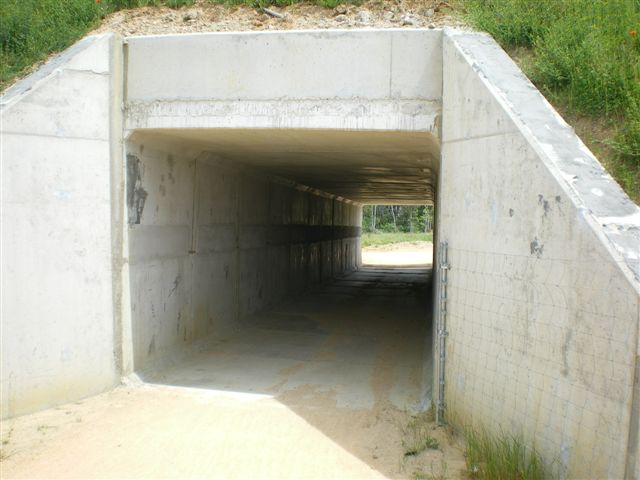 From the tunnel, we started a (much appreciated) long downhill coast. After quite a long ride, we came upon the Restaurant Ca la Maria.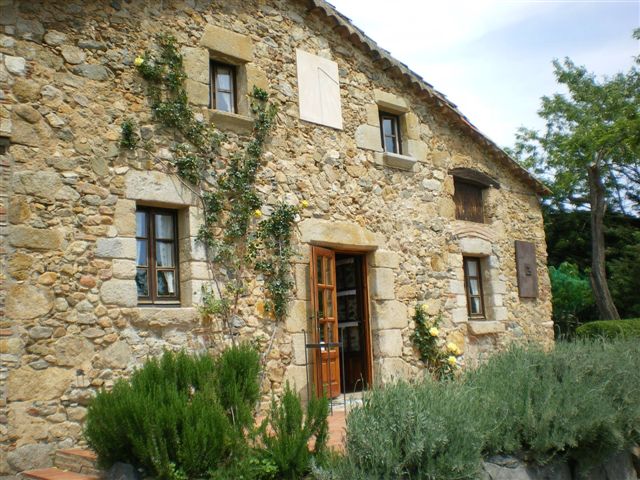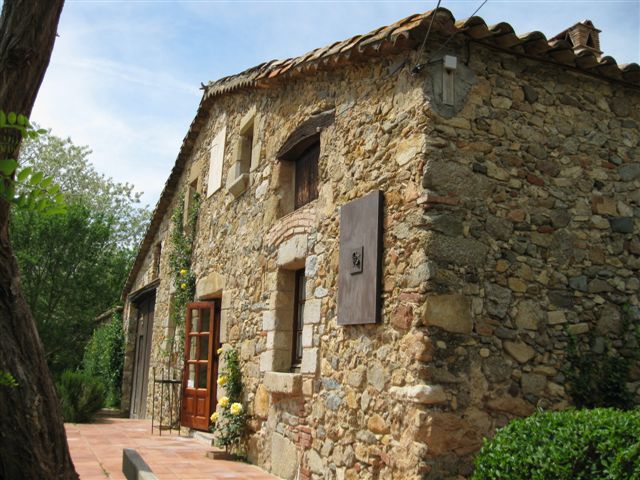 It wasn't what we were looking for, but it was well past the tunnel, and there was no way we were going back UP that hill to see if we had missed it. Bird in the hand, we went inside. Hoping to just have a beer and move on, we THINK the server (who spoke no English) said we had to order food as well; they would not serve beers only. (The Restaurant Ca la Maria is beautiful; perhaps too beautiful, fancy and nice for the likes of us. But this is where we were.)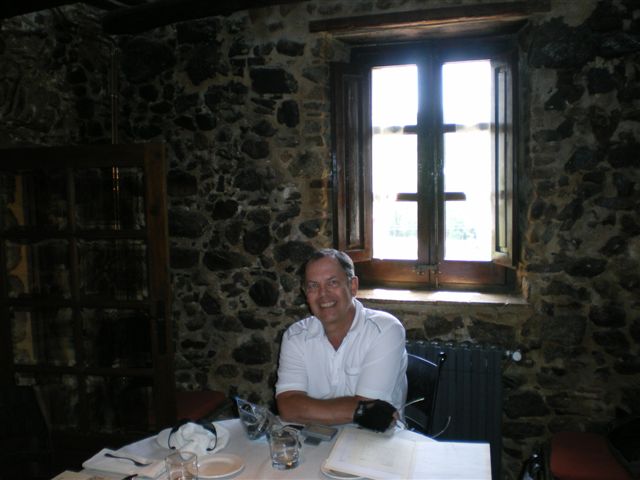 We decided we'd order our beers, and then as little food as we thought we could get by with. We selected three items from the appetizer section of the menu. The waitress let us know that our order was "pequeño" (small), but said it would be okay. She brought us two complimentary dishes of honey glazed pork rinds to snack on with our beers.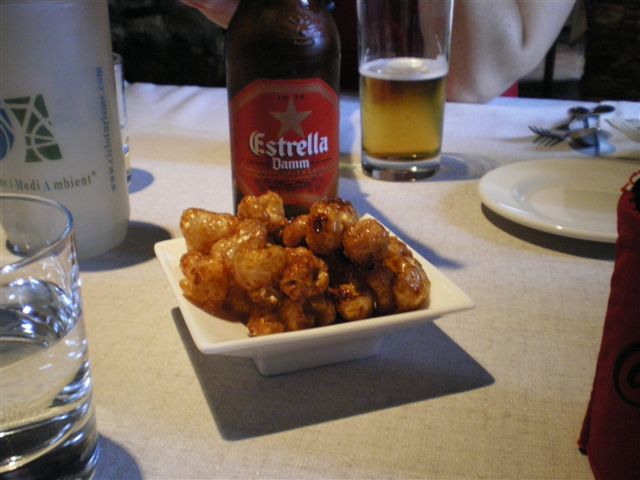 Our food came, a platter of lettuce and shrimp, something that looked like (very tasty) fatback (probably the trendy "pork belly") with spinach and something called croqueta gambeta, that looked like hush puppies, tasted like fish and had the texture of Elmer's glue.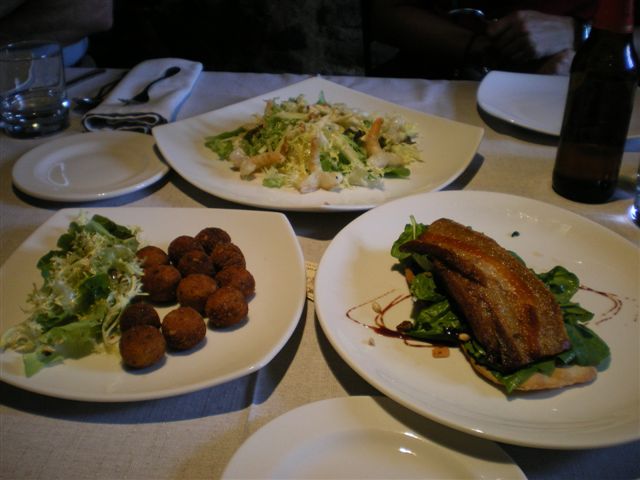 Another round of beers later, we paid our €73 ($102) tab and remounted our bicycles. We had no sooner gotten settled in our saddles, coasting downhill some more when lo' and behold, the Font Picant.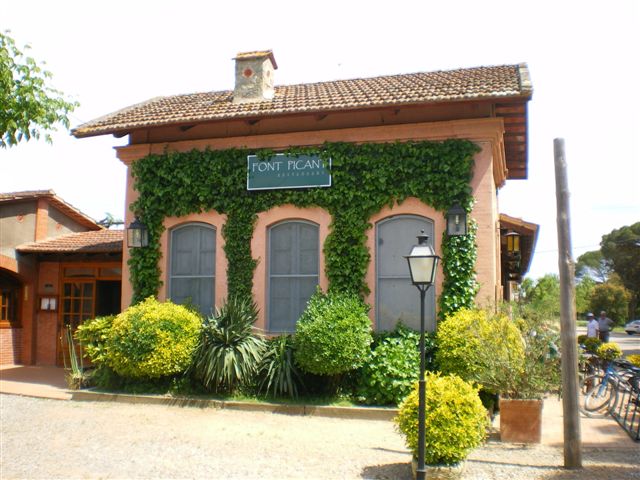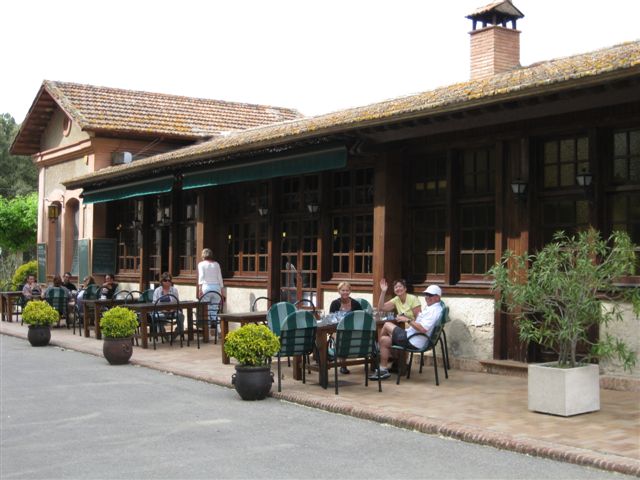 So we did what we had to do; we stopped again. This time it was beers and French fries, and a now-necessary bathroom break. The Font Picant has free wi-fi, so with BJ's new UMA capable Blackberry Curve 8900, we were able to make free phone calls back to the states. Afterwards, we jumped back on our bikes and finished the short ride into the seacoast town of Sant Feliu de Guixols . The final kilometer into town was a steep downhill that had us concerned about how we would get out of town tomorrow, but… can't worry about that now. It's time to find a hotel. We rode along the bay front and decided that there would likely be more reasonable hotels a block or two off the waterfront. At the end of small square, we found the Hotel Plaça. Double rooms with a bath were well inside our price point (€79double) and the hotel had a secure room to hold our bicycles, so we were sold. After checking in, we all headed upstairs to shower and relax before heading out to see the town. Before meeting the group for dinner, BJ and I went up on the roof to check out the garden and hot tub. BJ panicked just a bit when she thought the door had locked behind us and none of the others knew where we were.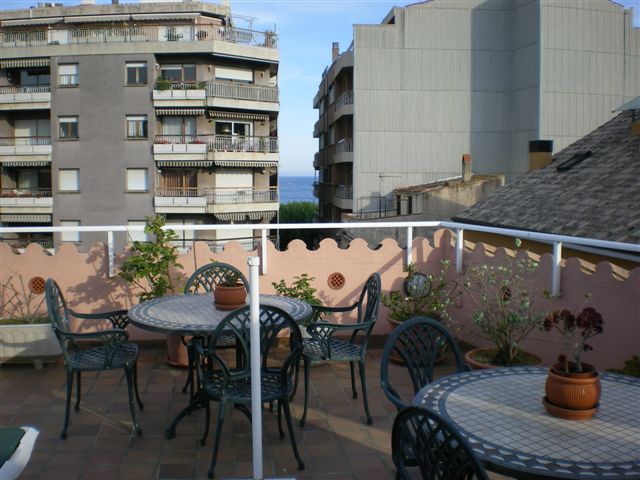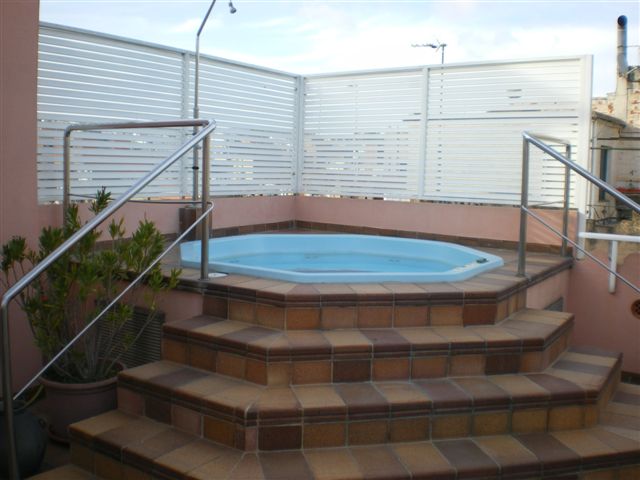 It was definitely going to be an early night tonight, since we were all tired from the ride. We stopped at a bay front concession stand and had a beer, then went looking for a place for dinner.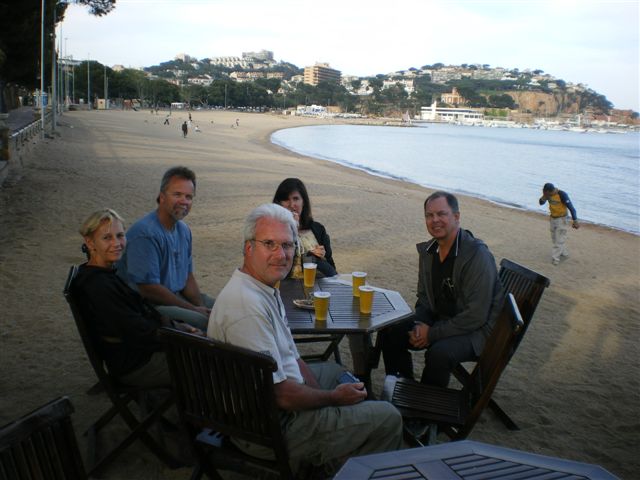 After a bit of back and forth, the group settled on the La Lyonesa, which sounds French. The menu looked very Italian. Did I mention that this area is called Catalunya? The language is not exactly Spanish; nor is it French. It's Catalune. I speak none of the three. BJ speaks very rusty high school Spanish and even more rusty college French. Entrees included something like a stuffed cannelloni, a gnocchi with pesto much like the merda de can (dogshit) we had in France, seafood paella and pizzas. Dessert in honor of our birthday girl was a chocolate crepe which she cut into 5 pieces to share. Five pieces? There are six of us! BJ and I shared a piece but not before poking fun at our friend for the oversight. The food, and service, (and sangria, that was new to us, but became a frequent source of refreshment on this trip) was excellent! Heading home, several of the group stopped at La Gaviota, "the bar hosest to the clotel" (which in sober means "the bar closest to the hotel") while BJ and I headed on off to bed. It had been a long ride ( 25 miles , with a moving average of 7.7 miles per hour) and tomorrow we had to get back up that kilometer-long hill we came down this afternoon. It had been a GREAT day.
We met on Saturday morning at 0930. After checking out of the hotel and loading up our bikes, we rode perhaps 35 meters before stopping for breakfast at the Granja Bar Nuria. (These people MUST have their coffee in the mornings!!) Coffee in Spain is served in tiny little cups. For a slightly larger cup, order a Café Americana.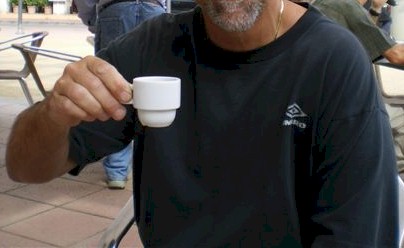 Surprisingly, we were the only ones drinking coffee at the Granja at . The rest of the clientele was having beer! We ordered a ham and cheese sandwich to split 5 ways (still poking fun at our friend). We watched the activity at the nearby street market while we enjoyed breakfast.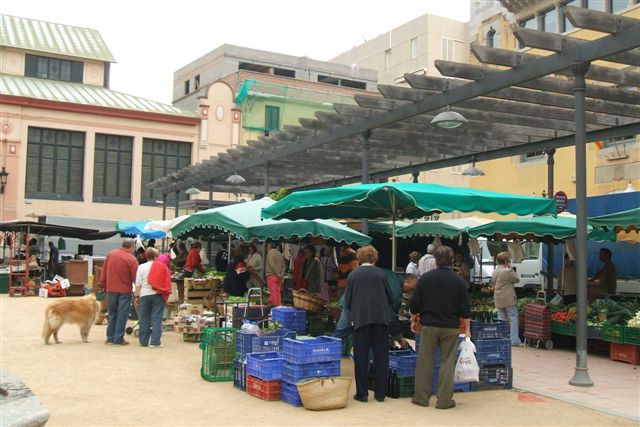 We'd laid out a loose plan of riding northward along the coast, then turning inland and finding some of those medieval towns that we had heard about. If all worked well, we would spend the night tonight in Pals. We finally worked up the courage and started out of town, up that long hill we'd finished the ride with yesterday. The climb didn't seem as bad as we had thought it would be and after only a brief rest at the top, we moved back to the waterfront and started out on a nice level ride at a decent pace. Pretty soon, one of the bikers started complaining about how his bike was getting really hard to pedal. We stopped at the top of small hill, at a roundabout, to decide which way to go. In the middle of the roundabout was what we thought was a small flock of what must obviously be lost sheep. Turns out they weren't real.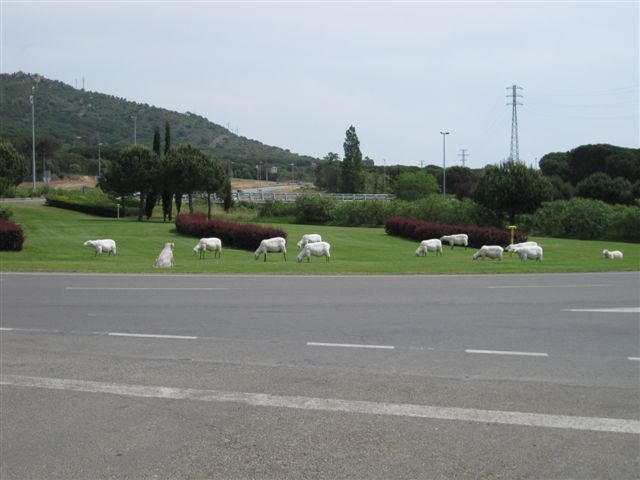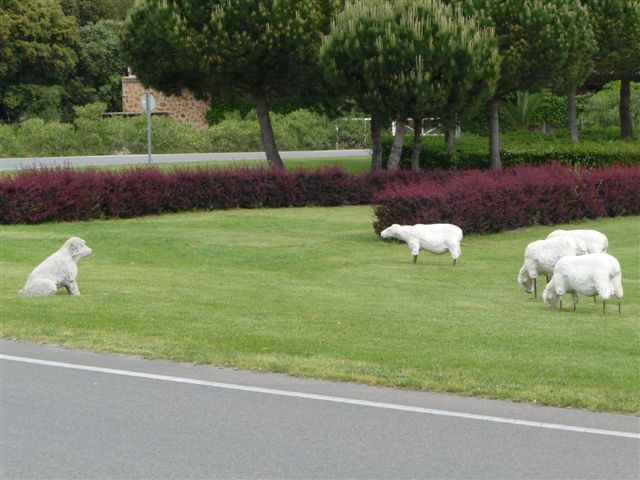 And at about this same time, the biker announced that he had a flat tire. Fortunately, at the last possible moment, we had agreed to buy the spare tube that the bike shop offered (after the assured us that they would buy it back if we didn't need it). Between the spare tube, and the tools that BJ and I always (previously unnecessarily) carried, we had the tire repaired in under 10 minutes… then spent ANOTHER 10 minutes trying to figure out how to get air into a bike tire with a presta valve.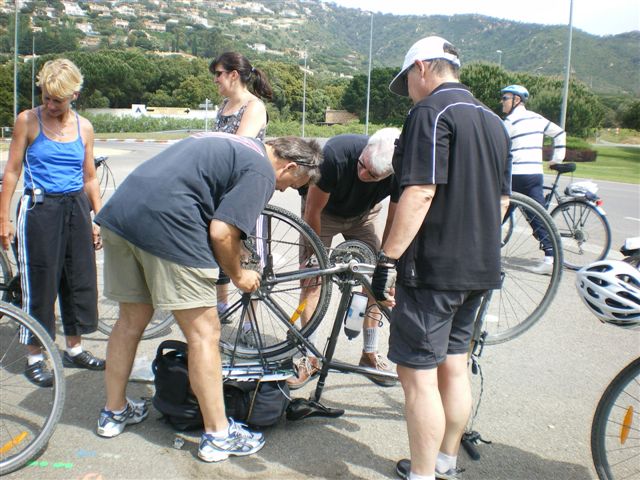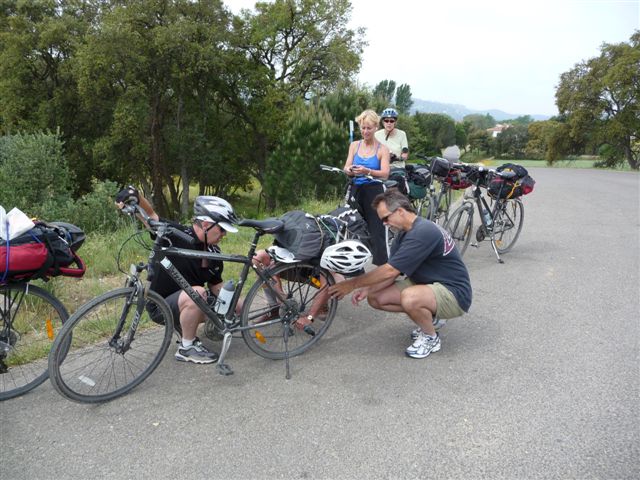 After a short delay, we were off again. We made a brief stop for lunch in the town of Platja d'Aro, (these people MUST have their lunch!) at the Rincón Latino Pizzako.
Then continued the ride up the coast to Sant Antoni de Calonge.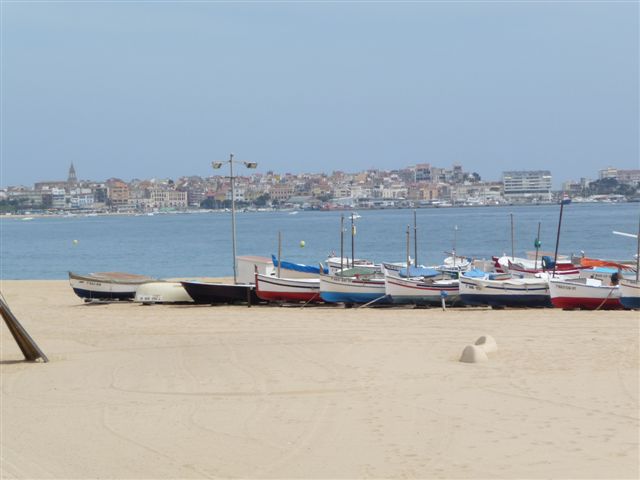 After Sant Antoni de Calonge we cut inland, and promptly got lost (whoo whoo! First time today!) We had our GPS (with no information on bike paths), a compass, and a 50:000 to 1 map of the bike paths but somehow we kept missing the turns to stay on the paths.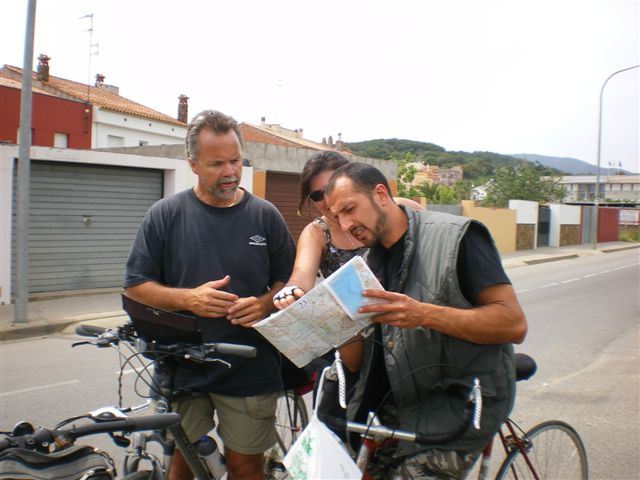 While nice when you are on them, some of the paths in Spain are not as well marked as they have been on other trips in other countries. We kept ending up on bigger roads than we wanted (and the GPS kept trying to keep us on the main roads) and so there was a lot of doubling back to look for the entrance to the bike path that we frequently missed. There were lots of beautiful poppy fields along the way.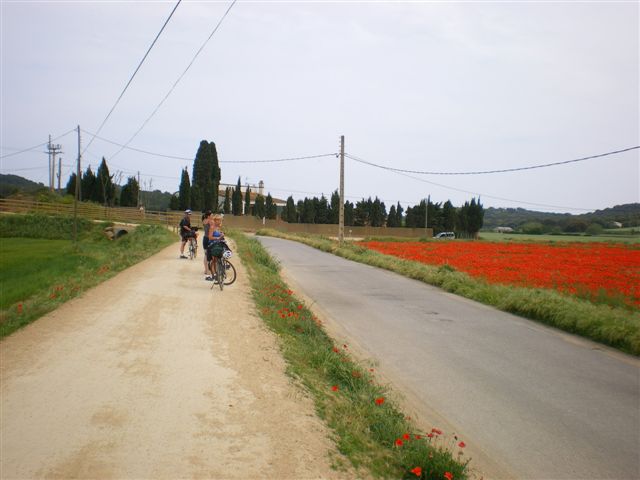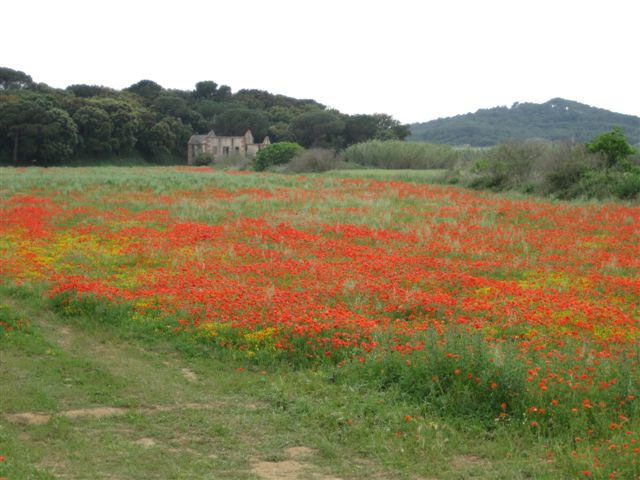 Continuing northward, we rode through the town of Mont-Ras and then into Palafrugell where we stopped for a bathroom break (and the obligatory beer) at El Café del Centre. Rested up, and with the afternoon creeping by, we remounted and rode through Regencós (seemingly now staying on course) and then up a short hill into the town of Pals . (Note: medieval towns are ALWAYS on the top of a hill; part of the defense system. Duh.)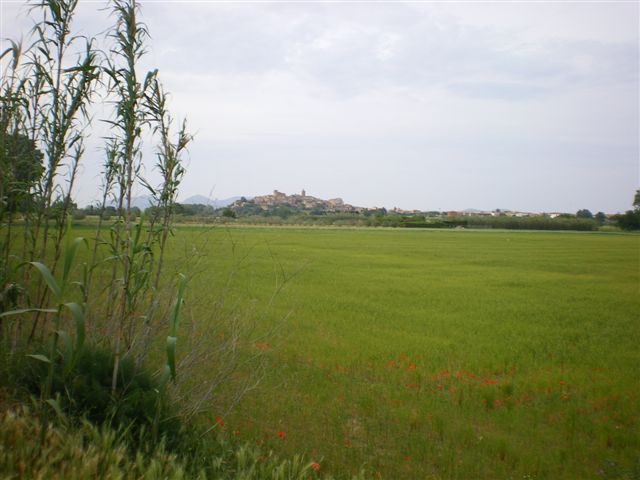 Surprisingly, the group wanted to find a place to stay tonight BEFORE sitting down to a beer, so… we located the Tourist Information in Pals and inquired about accommodations. They advised that the only place in town was the Hostal Barris. We had heard stories (and seen) hostels before, and were a bit worried. Apparently, hostal in Spain doesn't mean the same thing that hostel does elsewhere.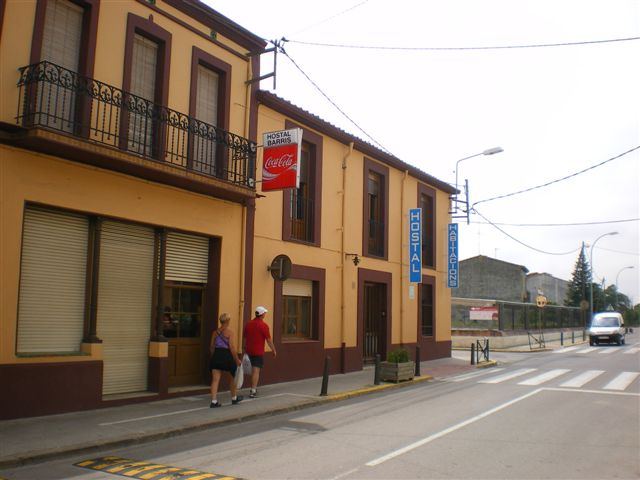 These were not dormitory-type rooms with the bathroom down the hall. For €50 per room, we had clean double rooms, with bath ensuite, a nice flat screen television, a (non-functional but the thought was appreciated) air conditioning unit and even a small refrigerator. And for an extra €4 per person, we signed up for the light breakfast that was offered (these people MUST have their coffee in the mornings!! The thought of unlimited coffee alone was worth the €4 to them.) As we did yesterday, we all headed to our rooms to shower and clean up before taking a tour of Pals. Strolling into town, we realized that it was starting to get dark (another 25 mile day at a slightly slower 7.5 mile per hour moving average, and several wrong turns) so we decided to find a place for dinner right away. We settled on the Restaurant El Pedro. What a great choice (the only choice in Pals)! The restaurant featured steaks, and paella, so that's what we had; four steaks, two paella, and lots of wine and sangria… lots. With a clean glass for each selection. At one point, we heard a big crash and decided that rather than wash all of these glasses, they just dropped them.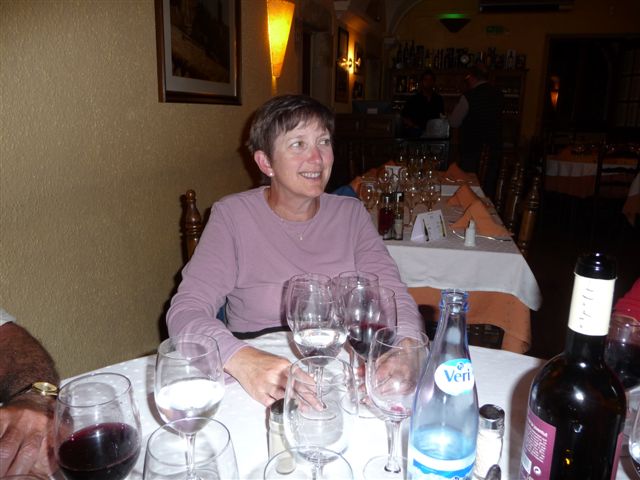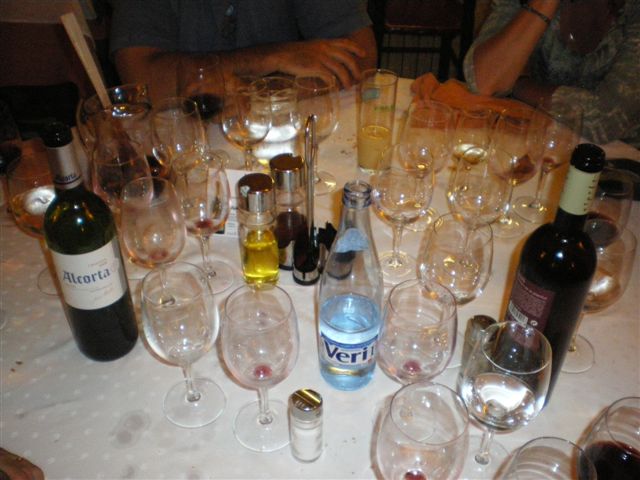 We followed the dinner up with some aperitifs; Ricard (for the digestion) and a white Muscat port (for the ladies) that had been recommended by our buddy from the train. Settling up, we headed downstairs and decided that we liked the El Pedro, it was still open, and… a bird in the hand. So we sat back down in the courtyard and enjoyed one more round before taking the short hike back to the Hostal Barris. Another great day.
As agreed, we all met up in the dining room on Sunday morning (Mothers' Day). And as expected, breakfast was a simple affair of pastries, juice and coffee… unlimited coffee. Previously, orders of coffee generally yielded tiny little espresso cup sized portions and these folks (who MUST have their coffee in the mornings) had done some serious grumbling about it. But today would not be a problem! After our leisurely breakfast, we arranged with the hostal to leave our bags and bikes in their garage, so that we could get back into Pals and do some power-shopping and sight seeing.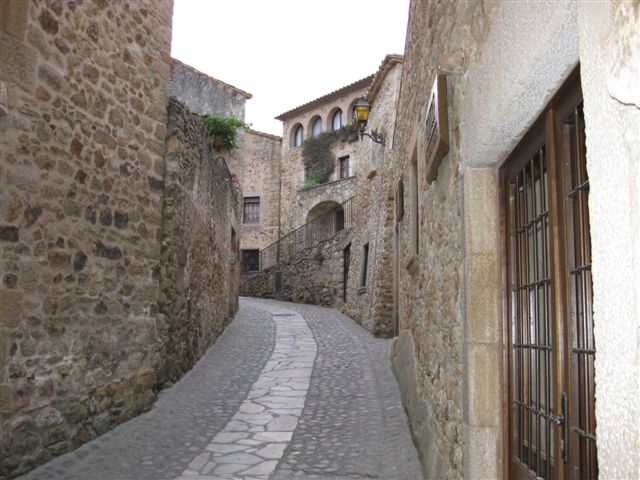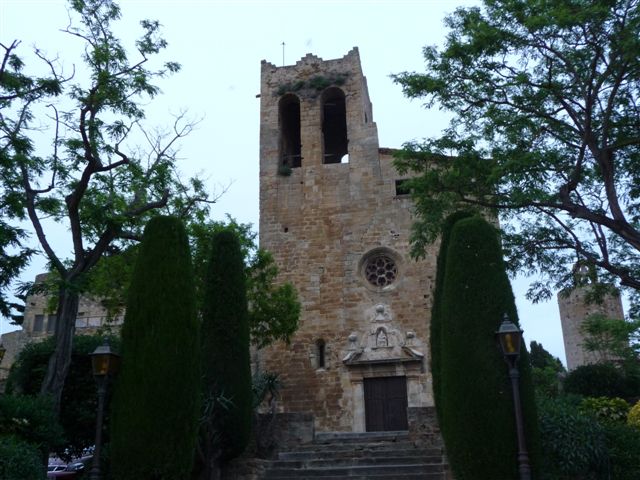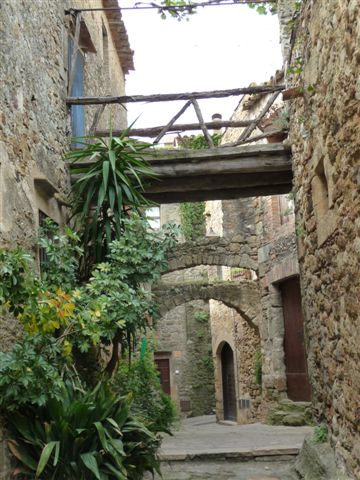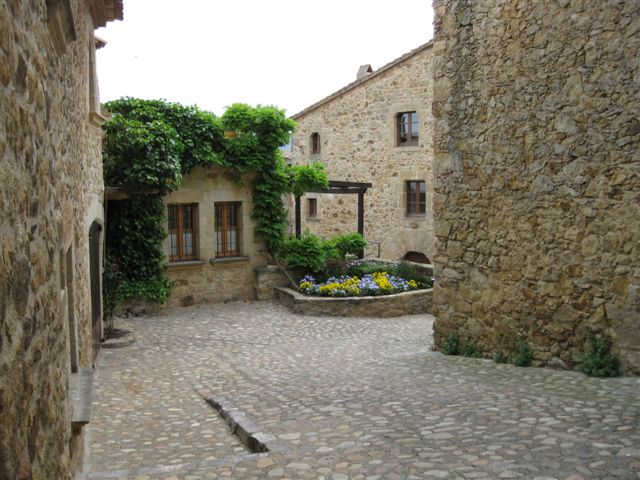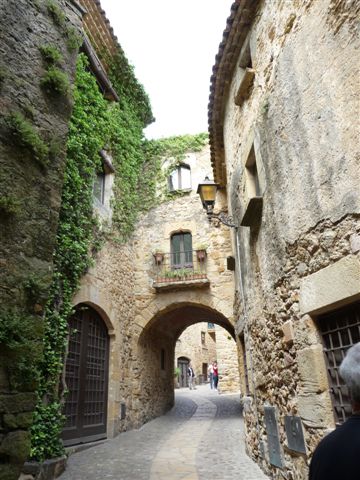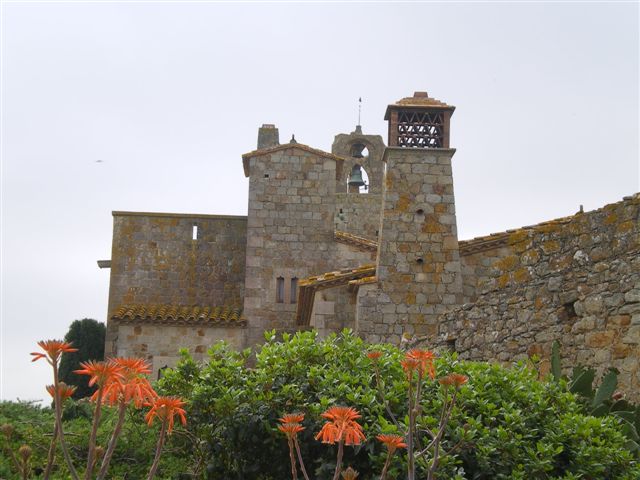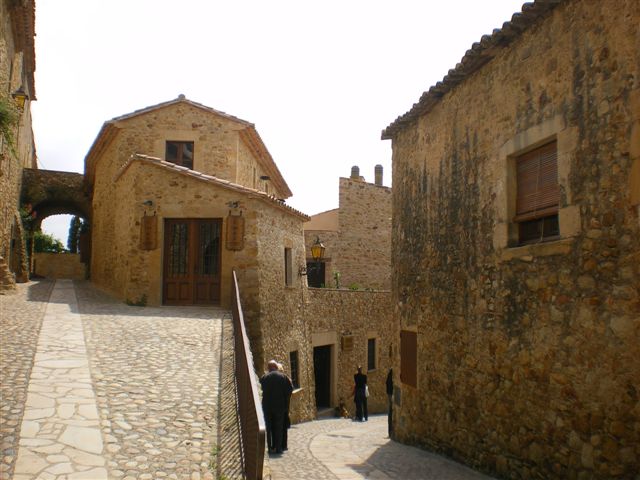 I bought a few soccer jerseys ("tricots" as Carina calls them) while the "ladies" shopped for ceramics. And the €4 Spanish leather belts were not ignored by the "boys". We got back to the hostal, loaded up and prepared to ride about today. Getting such a late start had me concerned, because we needed to be in the town of Flaçà in order to catch a train back to Barcelona by Monday, for our flight home on Tuesday (Somebody has to worry. It doesn't have to be me, but if no one else is worrying, I will pick up the slack.) There were several more towns that we wanted to see, and considering out late start, and our penchant for getting lost, I had serious doubts. Did I mention that these are the first bike rentals we have had in Europe that didn't come with headlights or taillights? We plotted a course towards, Flaçà that included Fontclara and then Palau-sator. As we were leaving Pals we stopped for one last picture.
BJ had a spurt of energy as she rode along the shared bike route/road out of Pals and pulled into the lead. She stopped to make sure everyone was behind her, coincidentally, just at the turn for the bike path. We verified with some passing Italian bikers that we were on the right course.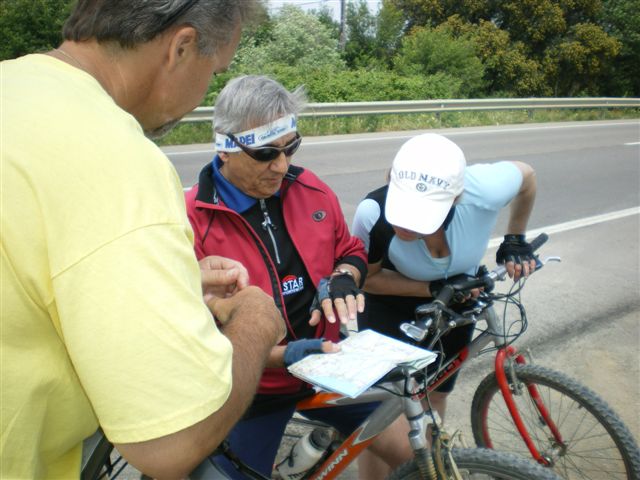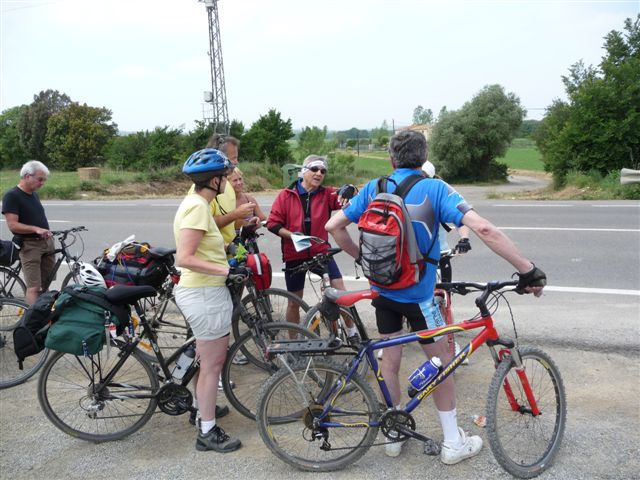 Rolling into Palau-sator around 1330 local, we stopped for lunch.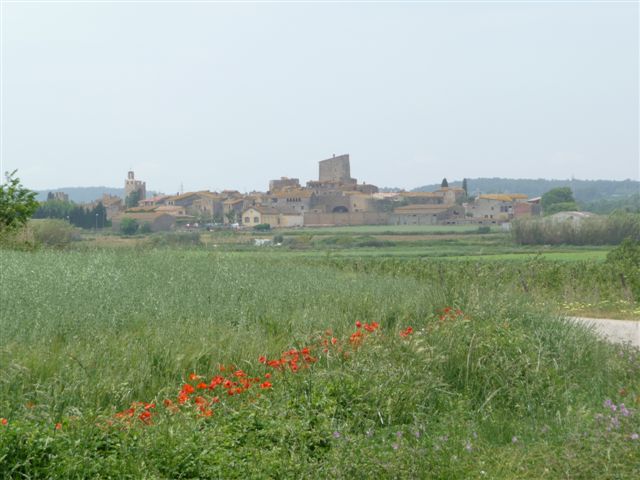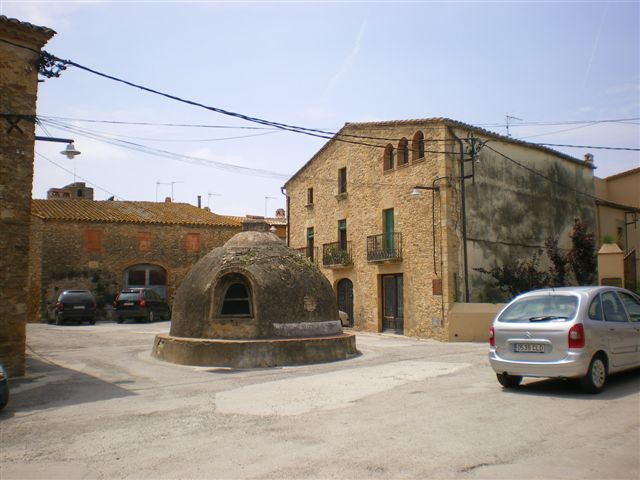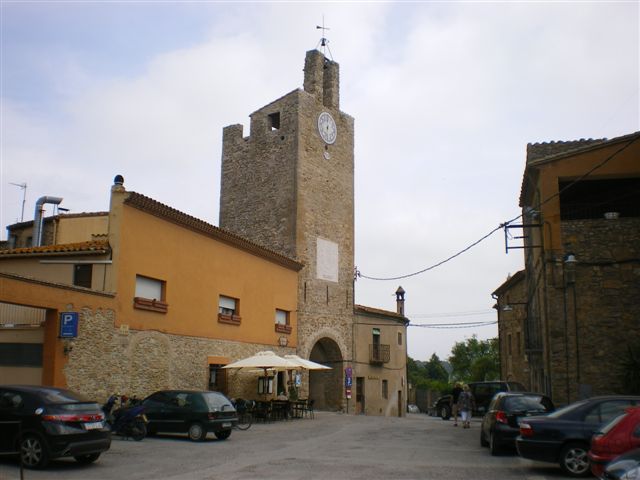 There are several nice looking places in this tiny town and we settled on the Restaurant Sa Torre. It was an excellent choice, as we all enjoyed our lunches, but time slipped by.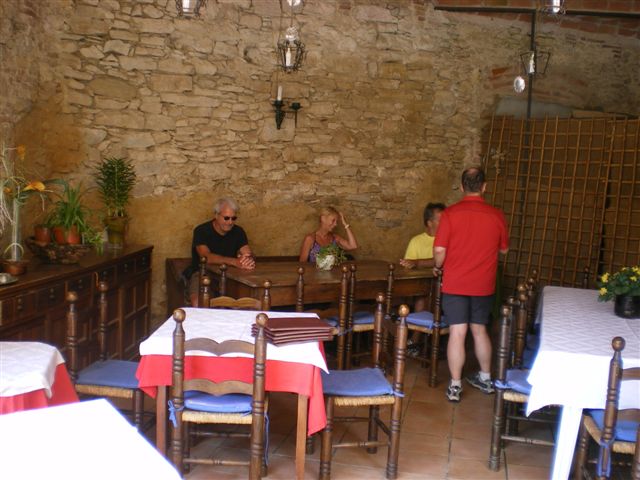 Around 1500, still at lunch, we took a moment to call our mothers (it being 0900 at home by now) then settled our bill at the restaurant and headed out; me still watching the clock, the map and our lack of progress. We rounded a corner and screeched to a halt when we saw a multitude of sheep being herded toward us. Real ones this time!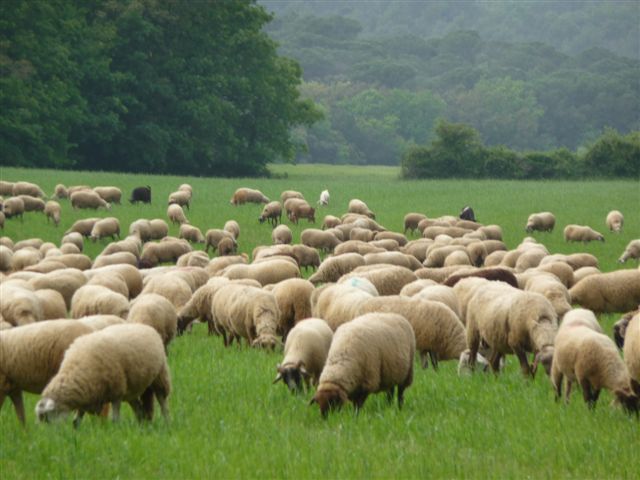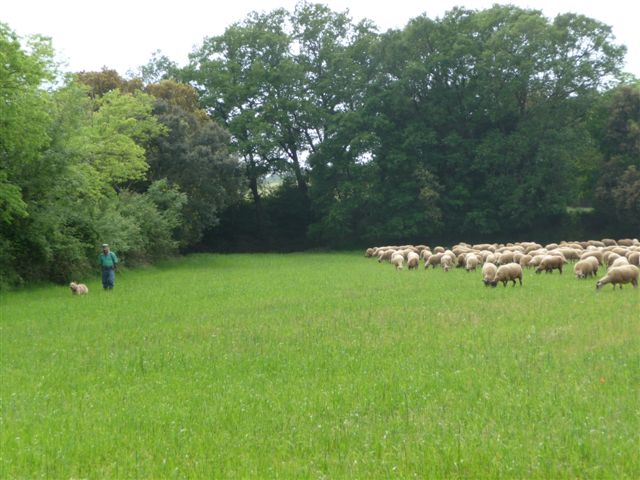 We continued on through the town of Ullastret then took a southwesterly course and skirted the town of Corçà on the north side. We had targeted Púbol for the night. When we rolled into town, we stopped at the Can Bosch for beer and sangria.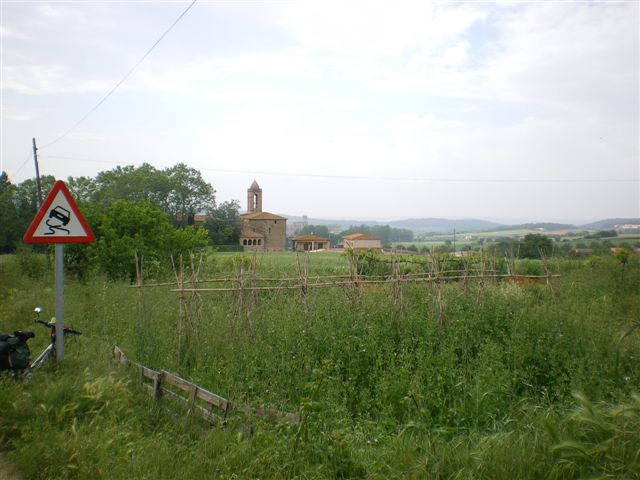 As we were leaving, we asked about accommodations in town. We were directed to the nearby town of la Pera. With the route now being partially bike path, and partially on otherwise unoccupied public roads, we seemed to be making good time. And it helped that we weren't getting lost today!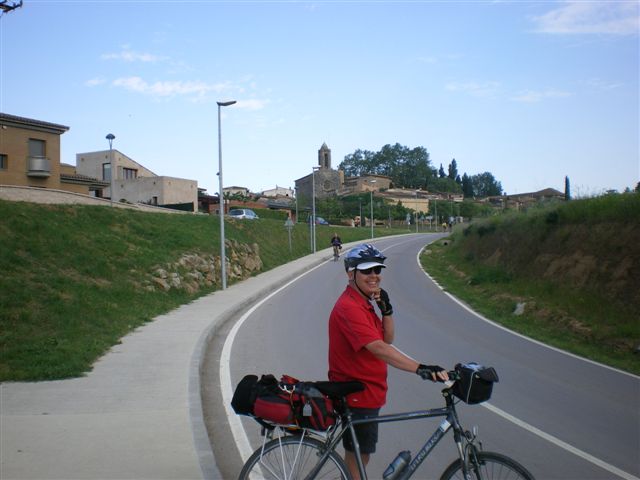 We would spend the night in la Pera which would give us a short ride tomorrow, so we could get our bikes back on Monday afternoon. We decided we'd stay in la Pera, that is, until we actually GOT to la Pera. Nothing much there other than some very friendly and helpful people who suggested that we ride on to Flaçà for a bigger town with more opportunities to eat and sleep. The friendly people suggested an alternate route to Flaçà by way of Riuràs which had us riding through something like dry quicksand. Lots of slip-sliding. We rolled into Flaçà, looked around and not seeing much in the way of hotels and restaurants, headed for the train station. Why not just train back to Girona today, spend the night there tonight, turn in our bikes a day early (saving €10 each) and then we will have longer in Barcelona? The group agreed so we bought our train tickets, took a much needed bathroom (and beer) break and then lined up on the platform.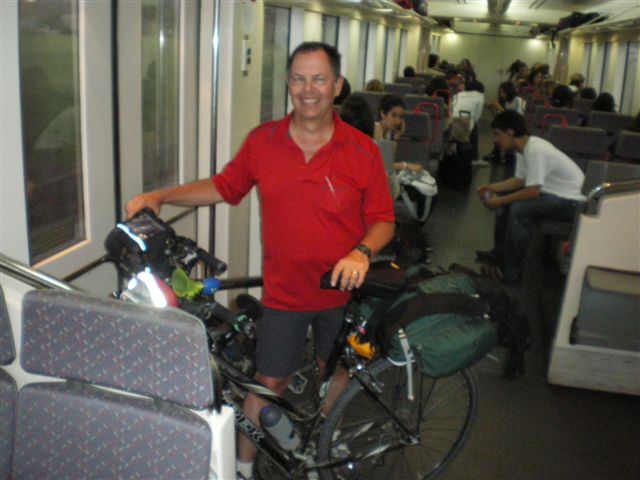 Sadly, there are no pictures of the six of us loading up the bikes (with the backpacks still attached) which was a bit of an ordeal; perhaps less of an ordeal than when we got to Girona and tried to get the bikes OFF the train. It seems that nice tradition of waiting until the people get off of the train before the people on the platform try to get on the train has been lost on the Gironese(?). Back in Girona, we knew we didn't want to stay at the CostaBella (just too far to walk. We were tired after only 15.5 miles at 6.8 miles per hour) so we started towards the TI. Before we'd gone too far, we found the Hotel Ultonia, which had rooms that met our price point (€70 per room) including breakfast (these people HAVE to have their coffee in the mornings). The room that was assigned to BJ and I was on the top floor with a rooftop balcony.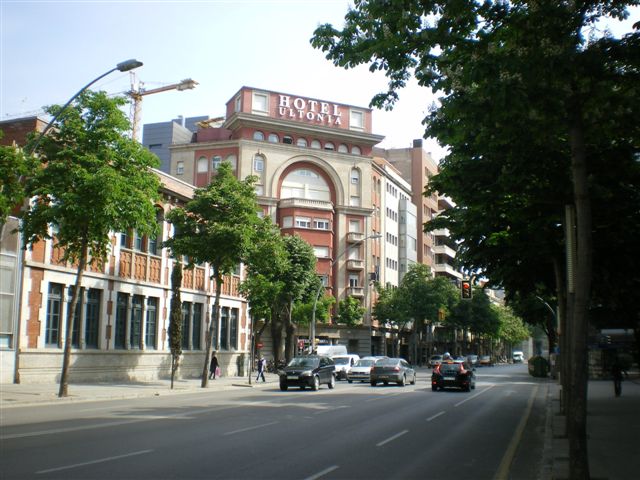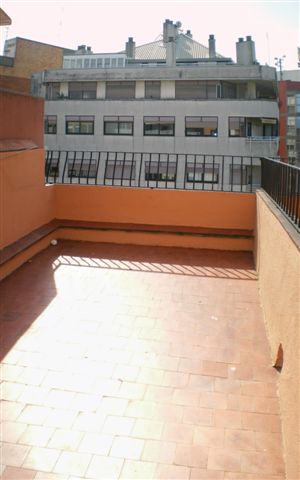 As had become customary, we decided to shower before heading out for dinner. Neither BJ nor I could figure out how to turn the shower on. After conferring with the front desk, we learned that the water has to be off to get the flow shifted up to the shower head. Also unusual was the knob on the wall for flushing the toilet, but we figured that one out (pull, or was it twist, or pull and twist, or push?) without having to check with the front desk. Dinner was outside at El Museu Del Vi. Several of us had the tourist menu with Sea Bass and cannelloni. After dinner, we headed back to the hotel for our (usual) after dinner wine.
Monday morning, we left the hotel early enough to get our bikes back before the clock ticked over to an additional day. Navigating the town on bikes was a bit treacherous and we managed to get separated, but we all made it there (via different routes) by . The staff, however, did not, putting our included breakfast (ending at ) at risk. We tried phoning them but the only number we had was for the shop. We could hear it ringing inside and see that no one was going to answer it. While we were waiting, a group of Swedes arrived to rent bikes. They were interested in hearing about our ride. We had just decided to lock up our bikes and leave the keys when the shop opened up. It was Saskia's day off and the lady at the shop spoke very little English. Using our dictionary and broken Spanish, we were able to get our refund of €10 each for the extra day. We hurried back to the Ultonia for a leisurely breakfast (more unlimited coffee!). Then we took the short walk to the Girona train station and caught the 90 minute ride back to Barcelona, where we would connect with the Metro. We had to use our train tickets to exit the station. Five of us got out, but one of the tickets rejected, trapping one member of the group inside the station. The same thing happened to another man so they worked together to force the doors open and get out.
Metro tickets in the machine are sold in quantities of 5 (was something trying to tell us we should have been a group of 5?). We took the quick ride to the Liceu stop on Las Ramblas (a touristy walking street between two one-way driving streets) and found the OTHER hotel (actually, another hostal) Marenostrum where we had made advanced reservations.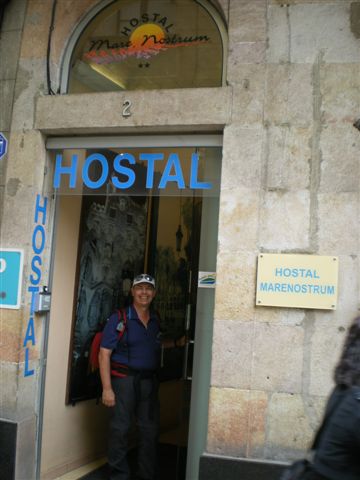 Again, we were pleasantly surprised at our accommodations. Clean rooms, a double for BJ and I; a quad for the four little bears.
Both ensuite, although the room BJ and I stayed in had a "Show Shower". There was a curtain that could be used for privacy, but it could be controlled by the person OUTSIDE the shower.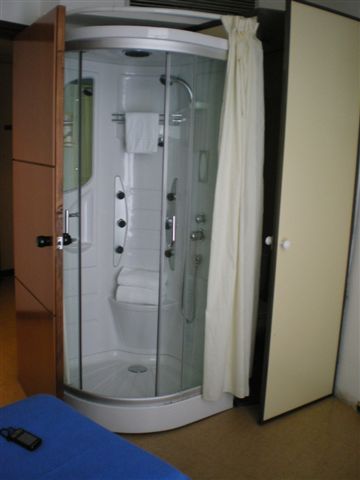 One had to turn sideways to get into the corner room where the toilet and sink were located and once seated, the sink was in your lap. If we gain much weight, we won't be able to stay in this room.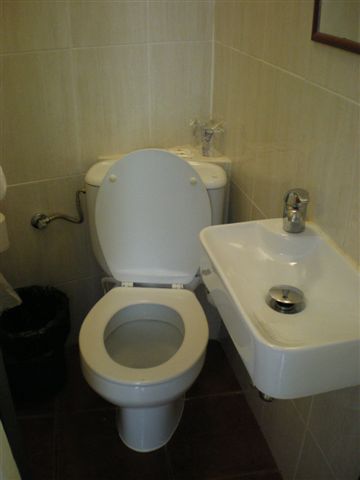 Both rooms had a small balcony with a view of the busy Las Ramblas.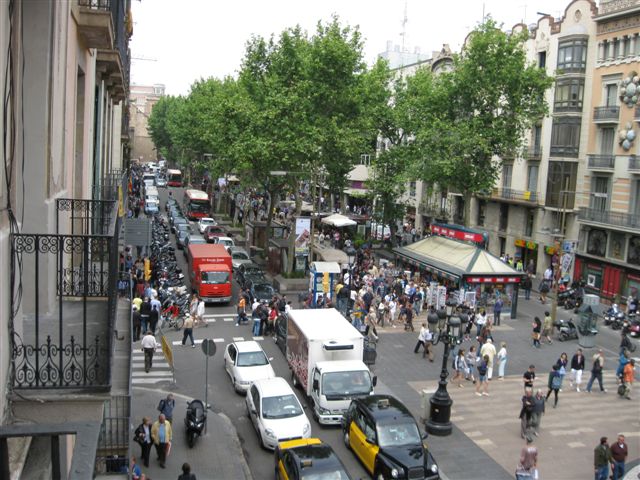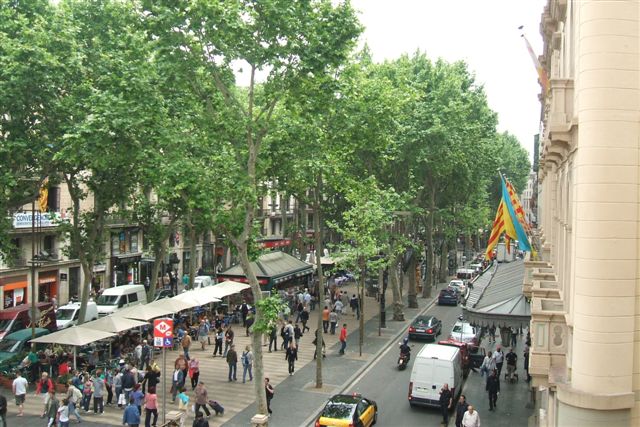 Once we dropped our bags, we headed out to see Barcelona . Our first stop was for an outdoor lunch (and sangria) at the Restaurant Brazil. Pizza and a Greek salad was the popular choice. We continued the walk down to the seaport...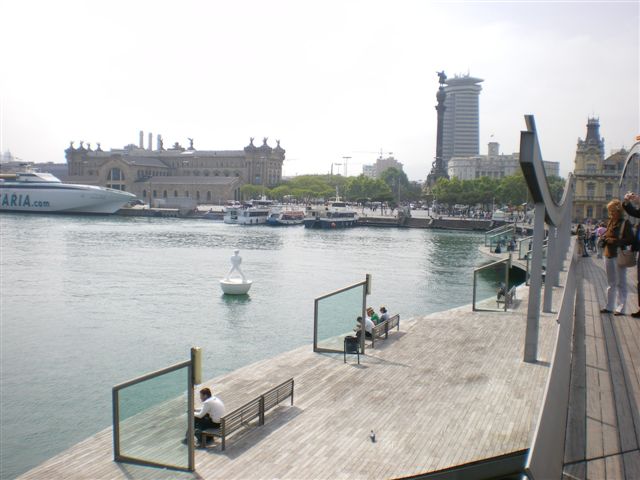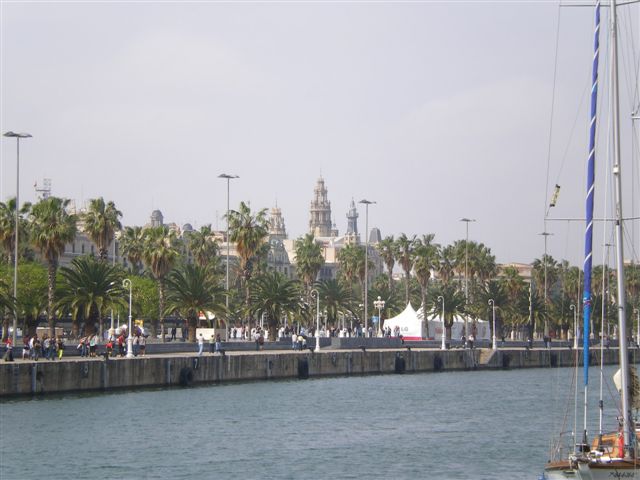 ...then over towards the beach that some of our group remembered from a previous trip. Once we found the beach, we did what we had to do; found the outdoor Princesa 23 café and had a pitcher (or two) of sangria. Sangria here was made with sparkling wine. The effervescence was refreshing.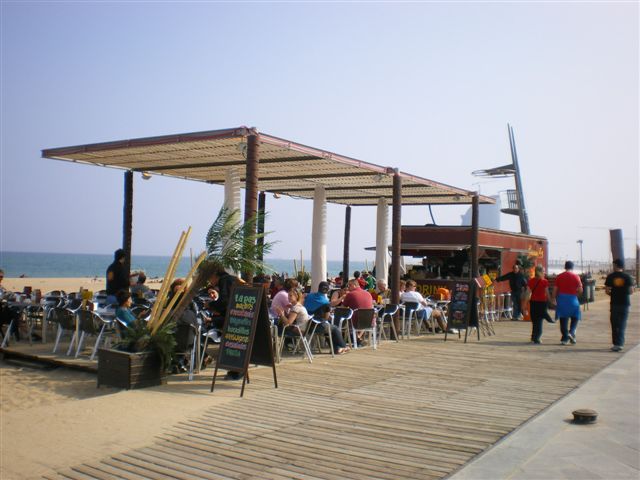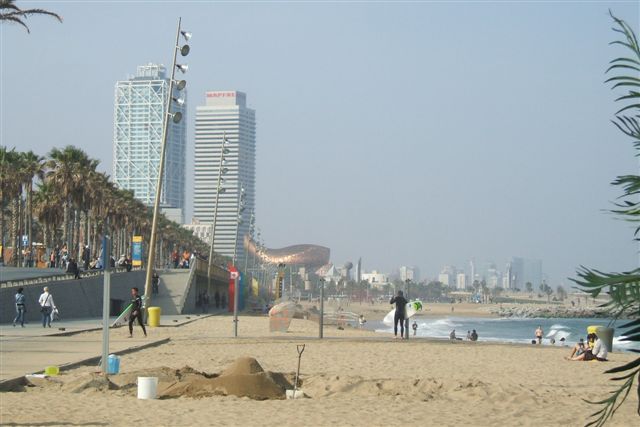 Afterward, we did some more walking about, (perhaps a stop at the Temple Stone Bar for 2-for-1 beers), shopping, gawking, and looking for a place for tonight's dinner.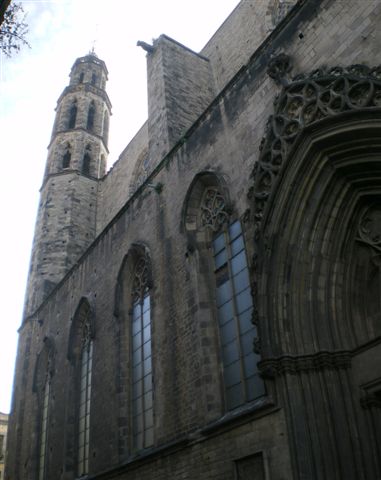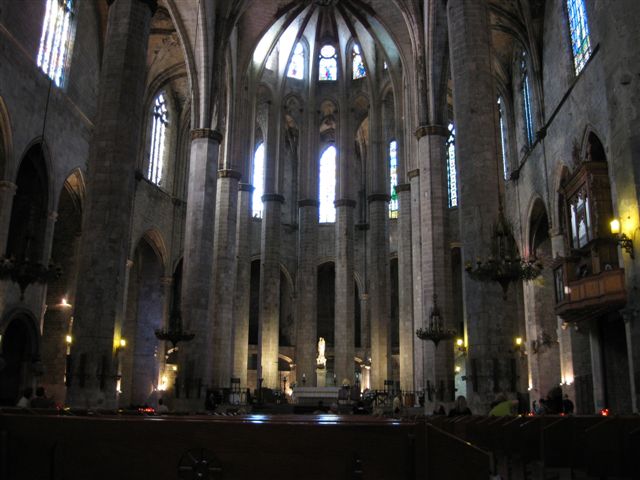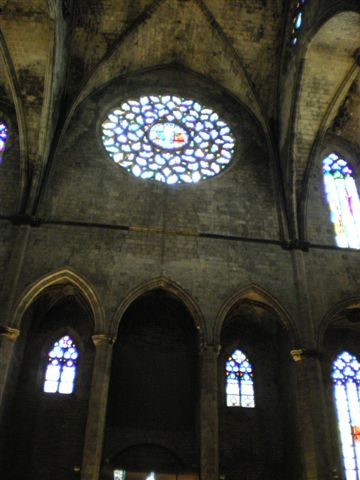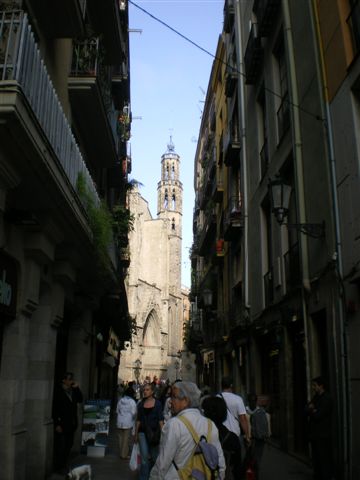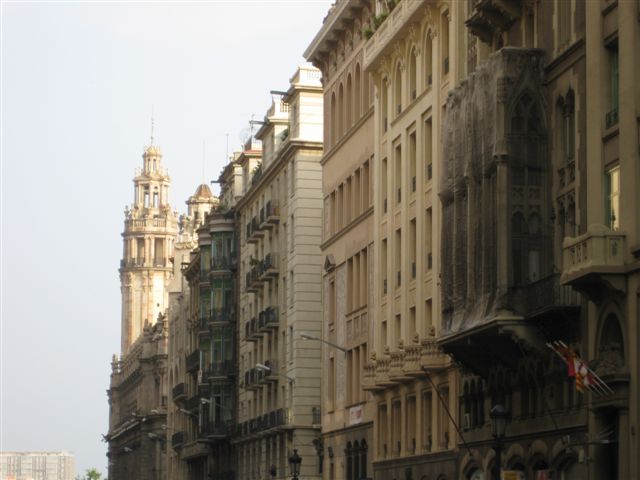 We looked for the Casa Cullretes a restaurant that had been recommended to us but found that it was closed.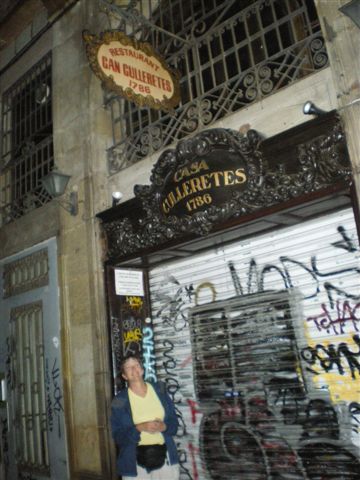 During the walk, we saw a place that looked promising for dinner. (Truth be told, we were most interested in the rotisserie chickens that were cooking on the grill visible from the street; very effective advertising). So around dinner time, we headed to Los Caracoles. We couldn't get a table right away so we settled at the bar beneath meat hanging upside down with little party hats and were entertained by a very personable bartender.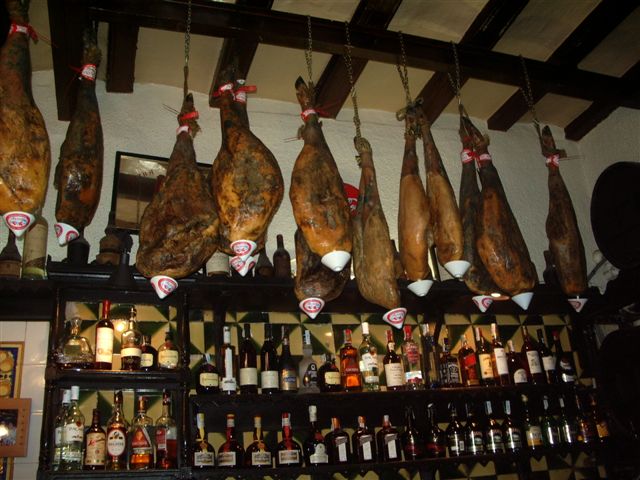 When our table was ready, we were lead through the kitchen which was in the center of the restaurant to our table in the corner.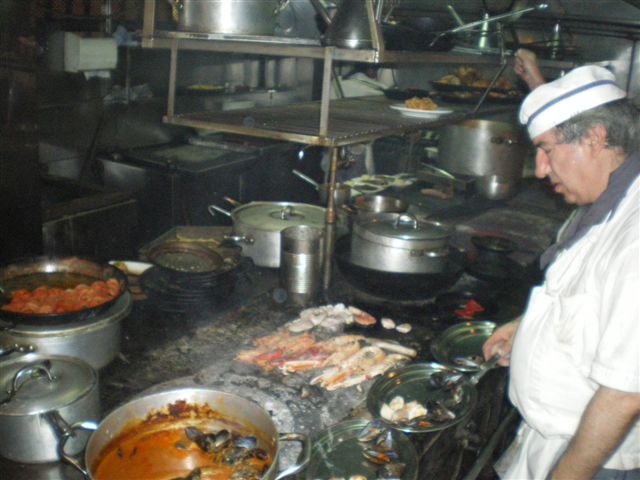 We enjoyed yet another incredible meal. Four of us had the chicken that we had seen earlier and the other two went with the cannelloni dinners. Robed musicians serenaded us during the meal.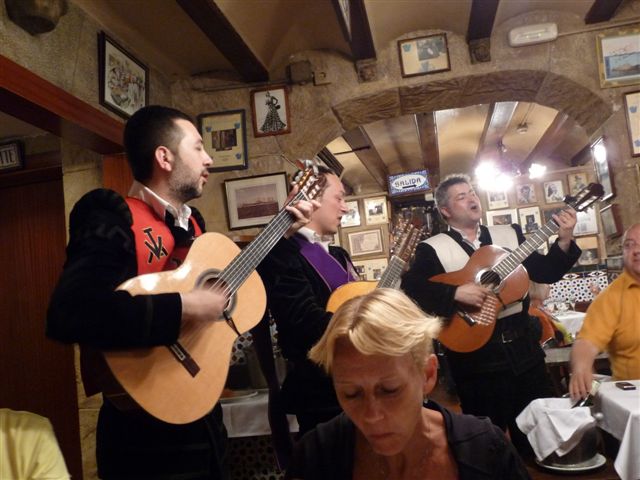 After dinner, it was time to head back to the Hostal Marenostrum (for some of us, at least). We would be making a pretty early start tomorrow, in order to catch the 1000 flight tomorrow. (Did I mention that there was a vending machine in the hotel lobby that dispensed beer?)
Tuesday morning, we were up and out of the hostal by 0700. One of our group had packed the remainder of a package of cookies in the outside pocket of her backpack. When she leaned back against the subway seat, we heard them crunch and saw a few crumbs drop. When we got off of the subway, a few more cookies hit the ground. As we were getting off of the train, the remainder of the package tumbled out onto the floor of the train. She laughingly claimed to be leaving a cookie trail so we could get back. It was a short subway ride, and an equally short transfer to the airport train. We checked in at Barcelona , where we were ALL given our Business Class boarding cards. And after an hour in the Air France executive lounge (as Crown Room members/guests) we boarded our flight for Atlanta . Champagne , warm nuts, blah blah blah. Another great trip on the books. And… as I told EVERYONE, the FIRST bike trip that I have been on where, at NO TIME, did I ever say that I wasn't going to do this again! Everything was wonderful.
Thanks for reading. See ya' next time.
Destination Information For This Trip In A Nutshell
Tony (and BJ)
bjandtony@bjandtony.com