Cinque Terre, Italy
April 2009
"Liberation Day'"
With high season rapidly approaching, and a good bit of vacation time in BJ's bank, it was time to get out of town... a long way out. The recent trips to Live Oak, Saint George Island and Panama City Beach Florida, while fun and relaxing, were road trips. But like Delta's old marketing slogan, "We love to fly". Add to that, our friends Sandy and Scott had been talking up a trip together so it was time to go somewhere. Based on seat availability for Wednesday, London looked like the best choice. Since Scott is an able boatman, we agreed on a short trip renting a canal boat on the Thames. A new adventure! Which came to naught once we actually got to the point of booking the boat. (www.leboat.co.uk) Nothing was available for the dates that we would be traveling (Scott had a very fixed window to travel, and it wasn't very wide). Looking again at the availability list, the group decided we would fly in to Milan. The Lake Como region would be new for all of us. We had to skip Lake Como because Sandy HAD to fly home on Monday, and Delta doesn't operate Milan to Atlanta on Mondays, and Milan to New York was oversold in coach by more seats than showed available in Business; "upside down" in other words. The Cinque Terre region, which BJ and I traveled to last fall (and liked enough to return) was convenient to Pisa and the Monday flight from Pisa to New York looked great.
You can fast forward through this part. These write ups all start to read about the same anyway. Meet at the Crown Room, stroll to the gate, get our Business Class seats, warm nuts, champagne, wine, crab cakes (BJ) and steak (Tony), a movie or two (Marley and Me for BJ and Pride and Glory for me; or at least the first 3/4ths of it... sleep is more important than the movie for me on Eastbound trans-oceanic flights.) Of course, if you skip this part, you'll miss the part where I tell you about a revenue passenger asking me to swap with him, so he could sit with his revenue paying wife, which prompted several other seat swaps, culminating in BJ swapping with another nonrev, who spoke only Italian, and seemed confused about what was going on. We knew it had finally sunk in with him when he exclaimed "Ah! Cambio!" (Cambio means "change" in Italian, and is commonly used through Europe to indicate a place where you can "change money".)
We arrived Thursday morning to a slightly overcast and lightly drizzling Milan. Armed with a little last minute research, we located the Malpensa Express train, which we took to the Cadorna stop, which connected us with the Metro, which took us (5 stops later) to the Milan Centrale train station. With only 40 minutes before our 12:05 departure to Monterosso, we split up; two to buy train tickets, one to buy sandwiches and one to buy wine and water for our upcoming three hour train ride. With only a little time remaining, we found our car, boarded the train and headed for our assigned seats; assigned in a 6-seat compartment with 2 other people already seated. (I mention it only because there were plenty of empty compartments; why Trenitalia fills compartments, with plenty of empty ones, is a bit beyond me).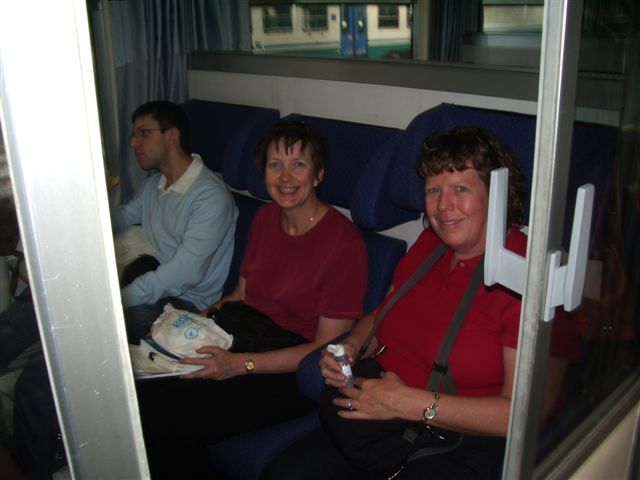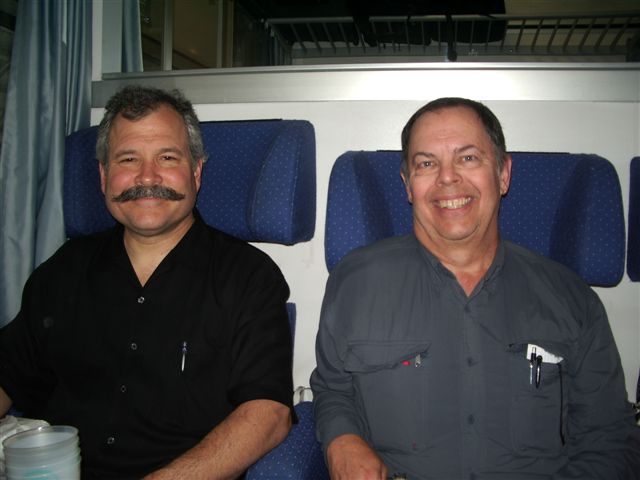 The train pulled out on time, and we settled in for the ride. Noticing that it was a bit stuffy, Scott tilted the hall window into the open position to get a little fresh air. About 2 minutes later, I looked up to see the conductor walking swiftly by our compartment. As she walked by, she quickly shut the open window. It seemed like she slammed it, but perhaps she was just in a hurry and I misread the action. A little while later, Sandy reached out and reopened the vent window. Our cabin-mates (an Italian mother and her son) reached up and opened the little vent window in our compartment as well. The cramped little cabin cooled back down as we were getting a bit of fresh air now. Of course, after about 15 (comfortable) minutes, the conductor stopped by to check our tickets. Slamming the hall window, Window-Nazi she pulled a key out of her pocket and locked it. Then, after checking our tickets, Window-Nazi she bulled her way into our compartment, talking angrily (in Italian) to the two (Italian) folks seated under the open vent, elbowing BJ in the forehead when Window-Nazi she reached up to slam THAT window as well. More bickering (in Italian) took place but our group had already realized; we will just sweat, rather than risk another blitzkrieg. Oh well. That's what the wine was for. And we used it as it was intended to be used.
As we were getting off the train in Monterosso around 3:00PM local, my telephone started to ring. I didn't recognize the caller, but answered the call anyway. Wow. It was someone with the "Visa Fraud Prevention" service that Delta Community Credit Union uses. They had noticed that my debit card had been used at an ATM in Italy 4 hours earlier. I almost NEVER (intentionally) use my debit card, and apparently foreign use triggered an alert. After I answered a few questions (that wouldn't have been useful to a phisher), and told Visa that I would using the card a few more times, the caller was satisfied that I was the cardholder. Walking in to Monterosso-proper, with the skies still spitting a very light rain, we headed for the Tourist Information office in the "new" section of town, near the station. It was, of course, closed. Oh great. Foreign country, rainy afternoon, no hotel. Not my favorite. But BJ had the hotel and room list from our last trip and had created a map with the location of each place, so we pressed on. BJ and I knew that we liked the "old" section of town better, so headed off. Ten minutes later, we were in old section and lo and behold; an open Tourist Information office. This TI had a sheet of Hotels, Rooms and Apartments, with vacancies already highlighted.
(Click the images below to see the list an map.)
Tip: We found a good website (after we got back, of course) http://www.parks.it/riserva.marina.cinque.terre/Esog.php that allows searching by town and type of accommodation. It gives web sites, street and email addresses for the places on the TI list.
The TI did not offer to phone any of the places for us like the other TI had on our previous trip. We felt confident we'd find something so we sat Scott down at an outdoor cafe (under an umbrella; the rain had pretty much stopped by now), to have an espresso and watch our bags while the three of us headed off to find a place to sleep. Our first choice was the Apartamento Gaudio Grazia, but we had a little trouble finding it. The sheet from the TI had a map, but gave no street addresses for the properties. I stopped a young lady who was walking by, and in my best Italian, asked her if she spoke English. She did, and pointed out the apartment that we were looking for, before she walked up the steps and into the Marina Albergo (Hotel) across the street. A quick inspection of the accommodation, however, had us back in the street a minute later. It wasn't what we had in mind. It had one room with 3 twin beds, a futon in the common area, a small kitchen and a single bathroom with what we call a "teacup" bathtub. Regrouping in the street, we looked over the list that we had been given by the TI. Right in front of us, on the list (but not highlighted by the TI) was the Marina Albergo. BJ's sheet showed that it was possibly in our price range at €90-€130 ($117-$169) double. We went in to see if they had rooms and there she was behind the reception desk; the same young woman I had spoken to minutes earlier. It turns out, she was an Italian-American from California, whose family is from the area, and she was working in Italy now. Inquiring about rooms, we were given keys to check out a few rooms. The rooms were beautiful; clean, a refrigerator, king size bed, an air conditioner, flat screen TV, a safe, a nice bathroom, and the hotel had an elevator. We were sold. We were even more sold when we learned that the €90/night rate (10% discount for cash) included a breakfast (continental, plus an omelet if you wished) as well as a six hour (!!!) happy hour from 2PM until 8PM, that offered red or white wine (carafes... serve yourself) as well as local "snacks" like squares of lasagna, cottage fries, salad, shrimp, mussels, Orecchiette pasta, calamari, pesto and bread, flavored orzo and on and on. We checked in for 4 nights and headed off to our rooms to unpack.
After unpacking, we stopped at the happy hour for a quick snack then headed around the corner to the Monterosso "internet-spot" so that Scott (a workaholic) could check his email. He had spent most of our time in the Crown Room on a conference call. Some people have trouble getting away from work. BJ and I are not among those people. The internet spot had wi-fi that would reach to the Bar Pasticceria Laura so at least Scott could sit outside with us while he worked.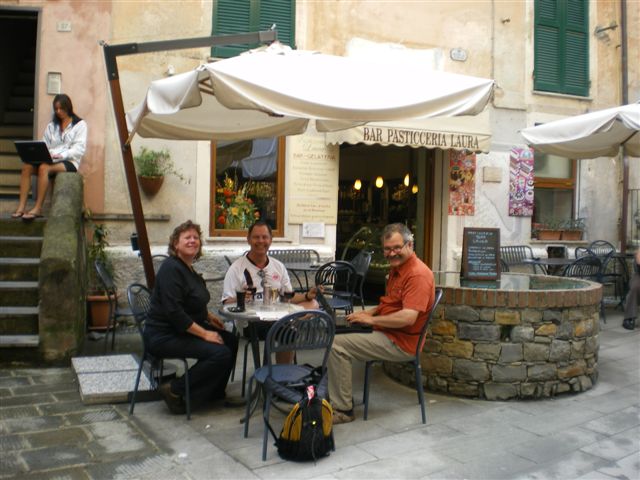 Then we headed to a restaurant/bar mentioned in the Rick Steve's Italy book that was reported to have free wi-fi. It appeared to be closed, but we continued up the hill to the Hotel Porto Roca where we enjoyed a beautiful local red wine, as well as potato chips, olives, peanuts and little rice cakes (in fact, every time we ordered wine anywhere, it was accompanied by the same little bowls of snacks. I like the Cinque Terre!).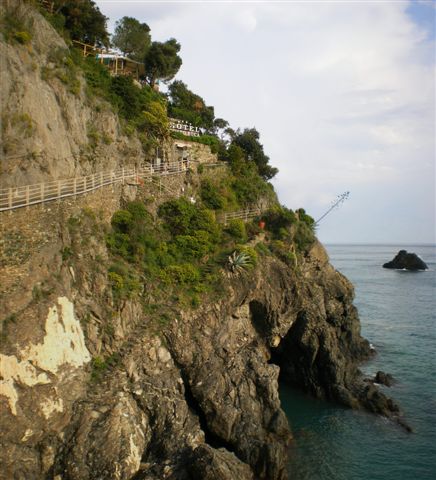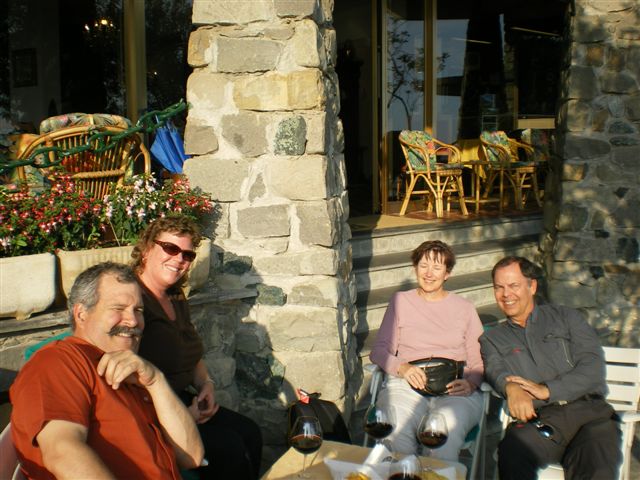 Sitting outdoors in the now beautiful late afternoon, we watched a group of local folks launching a rather large fishing boat, into the bay, from its berth 30 meters from the water, on the beach.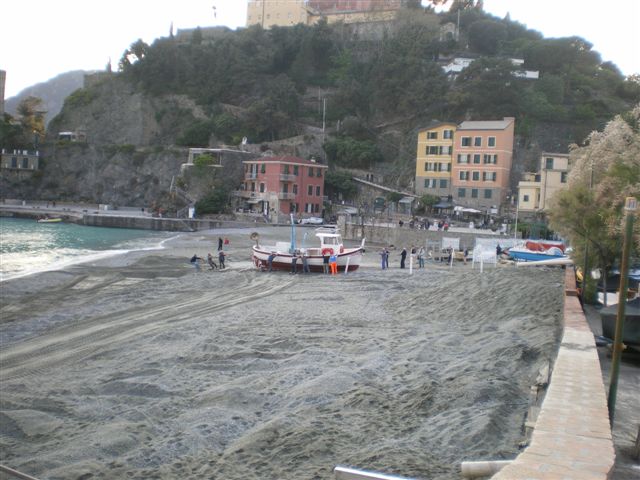 Since Scott and Sandy had never been here before, we walked back to the "new" section of town, and sat outdoors at the Nuovo Eden and had another local wine, some cheese and pesto covered bread. By now, we were all starting to get tired, so we headed back to "our" section of town. After a quick set of excellent small pizzas at Pizzeria La Smorfia, we went looking for "necessities". Unfortunately, the Spar grocery was already closed, but we were able to find the requisite diet Cokes and water, as well a pair of small bottles of lemon cream liqueur and a melon cream liqueur.
On the way back to our hotel, we peeked in the window where they were making the lemoncino.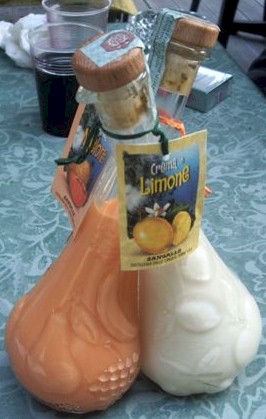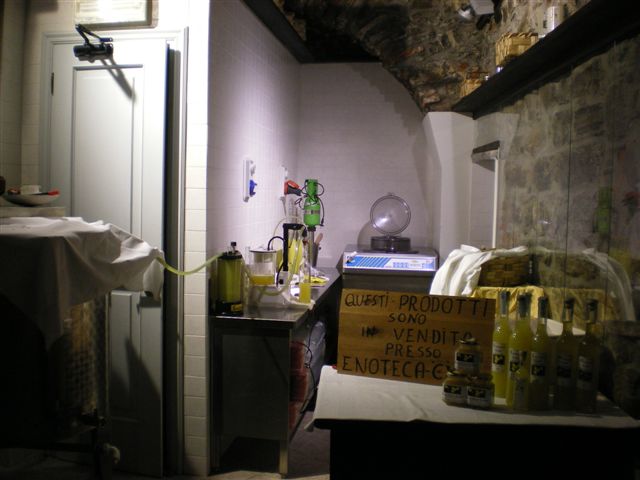 During the night, BJ got a text message around 2AM, which reminded us we needed to plug in the phones to recharge. We both immediately fell back to sleep…
…Until 7:30AM, on Friday morning, when the nearby church rang its bells about 40 times (to be repeated each morning during our stay.) We piddled around until our agreed upon 9AM breakfast get together. After a leisurely breakfast at the hotel, we wandered down to the nearby dock and bought day passes [€20/pp ($26)] on the ferry boats that run between the towns of Cinque Terre, and the two towns at each end; Levanto and Portovenere. The day passes also included a boat tour around 3 small islands (Palmaria, I. Tino and I. Tinetto). (Click the images below to see the ferry schedule, price list and map.)
It wasn't quite time for the ferry, so we went to the Tourist Information office to buy our combination three-day local train card and Cinque Terre Park card (€19.50/pp). The trails between the towns are part of a National Park, and a Cinque Terre card is required if you leave town via any of the trails. The card is also good for some shuttle busses (needed in Corneglia) and other features.
It was a beautiful, cloudless, 70+ degree day. The water was as blue and pretty as the Caribbean. While we waited for the ferry, we used the free sample of sunscreen we had been given at the TI.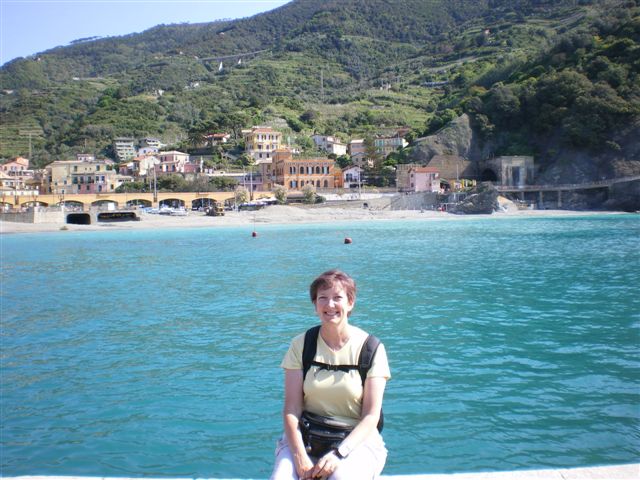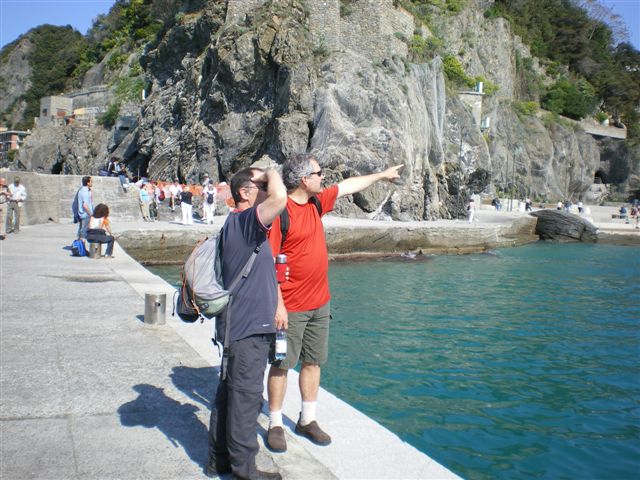 We boarded the 10:30AM ferry, taking seats on the top deck where we would have the best view. The ferry made one stop in the neighboring towns of Vernazza before arriving at Manarola where we would get off.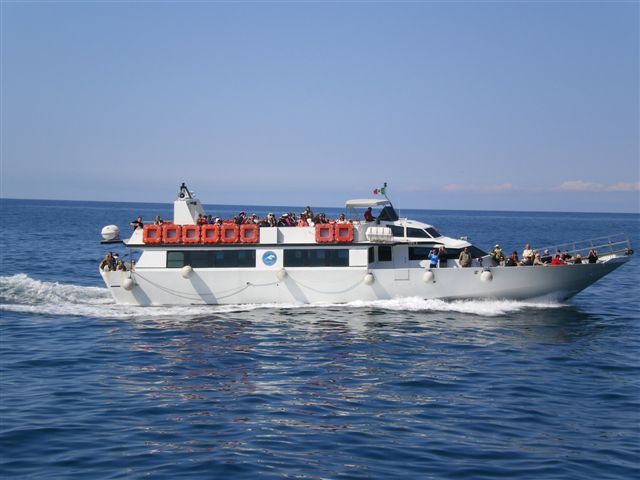 Corniglia is situated high on a hill and is not accessible by ferry. The other towns have built up around the harbors near the water.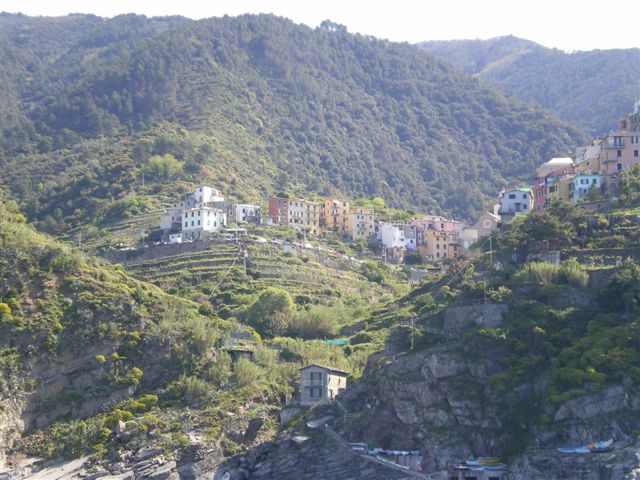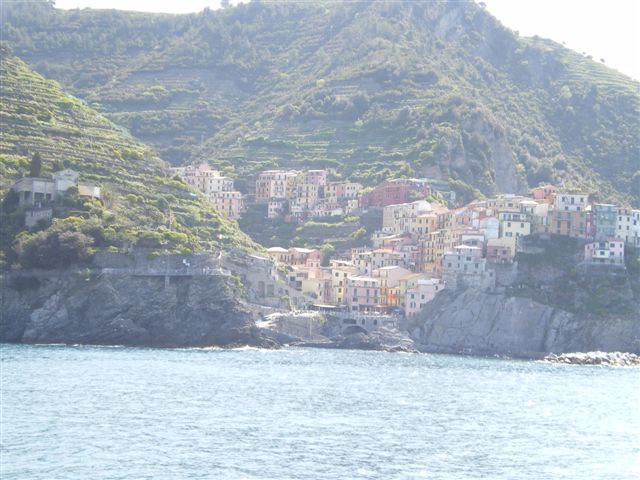 We arrived in Manarola around 11:00AM and took a quick tour. Our plan for the morning was to take the "boardwalk" from Manarola to Riomaggiore.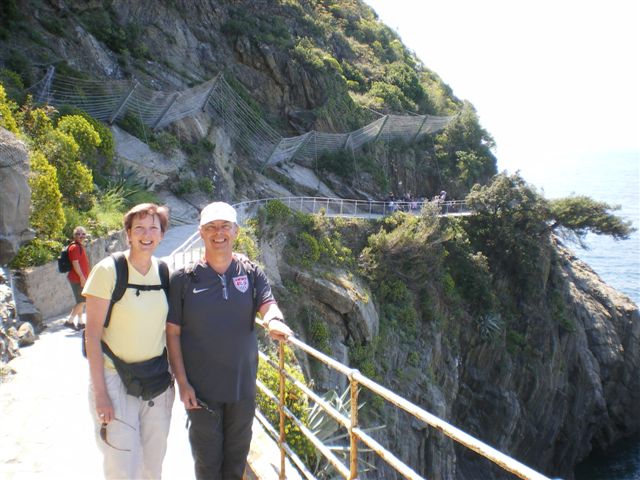 The walk took a little longer than expected, as there seemed to be thousands of school age kids, walking 5 abreast, in both directions. The boardwalk ends at the little bar/cafe A Pie De Ma Bar & Vini with the most beautiful view over the harbor; waves, rocks, birds, people walking by. It is a wonderful stop on a beautiful day.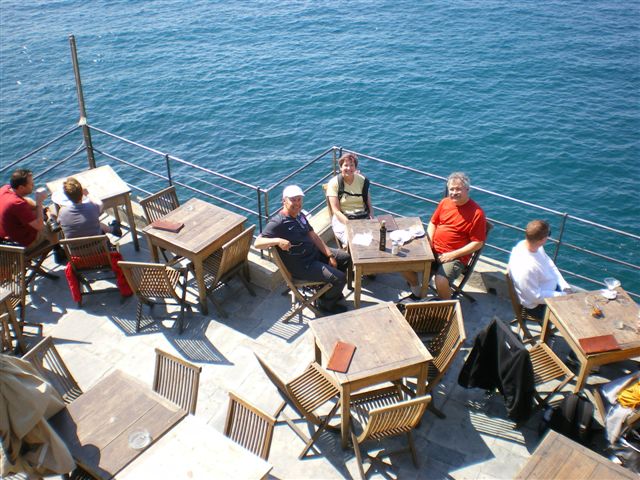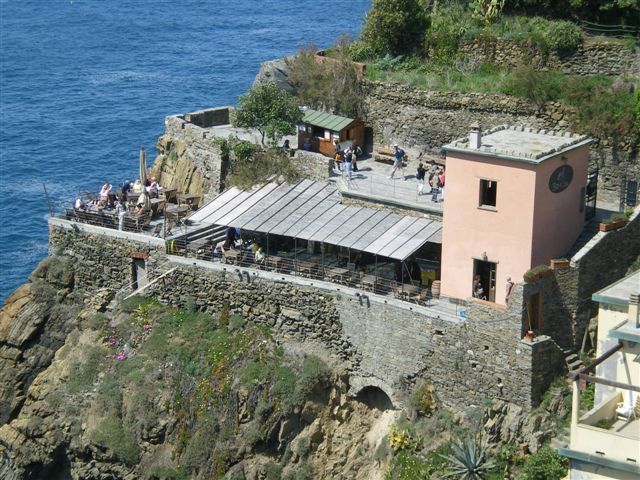 Afterwards, we strolled around Riomaggiore then caught the 12:50PM ferry boat over to the end town of Portovenere. We could see the church and the castle as we approached the port. It looked like it was going to be a rather grey town.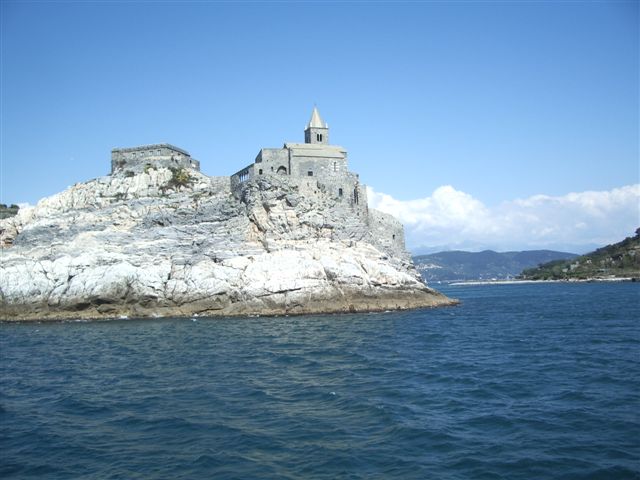 When we rounded the point, we could see the colorful buildings of the seafront.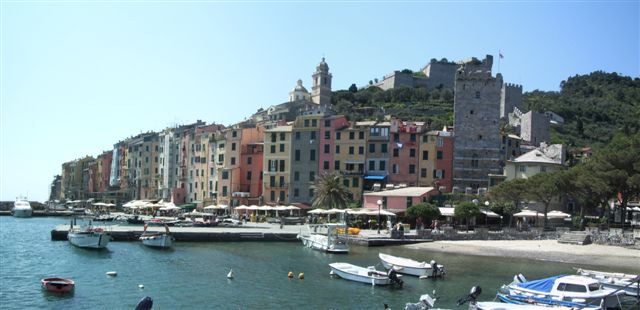 We quickly found the little waterfront cafe Bar Gelateria Doria and had panini for lunch. Next on the agenda was a walk back to the ferry for a 3 island tour. A 3 island tour. (It's hard not to start humming the theme song from Gilligan's Island here, what with the mind-numbing "Three Hour Tour, a three hour tour".) It was a fun ride and on the way, we saw several bunkers leftover from the war.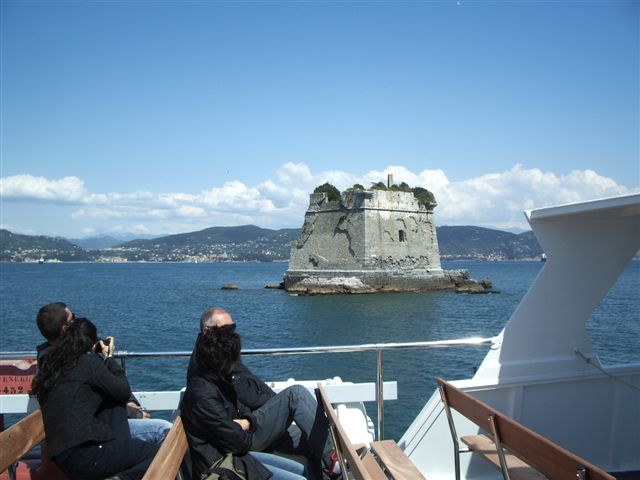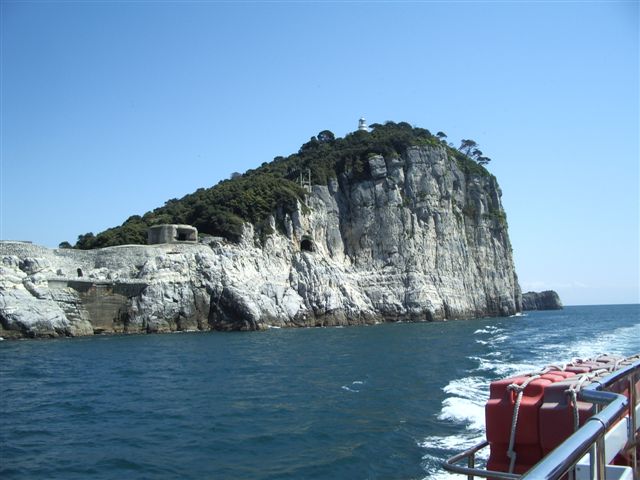 When we got back to Portovenere, we learned that the 4:00PM boat only runs on Saturdays and holidays, so we walked up the hill to the Portovenere Castle and graveyard at the summit.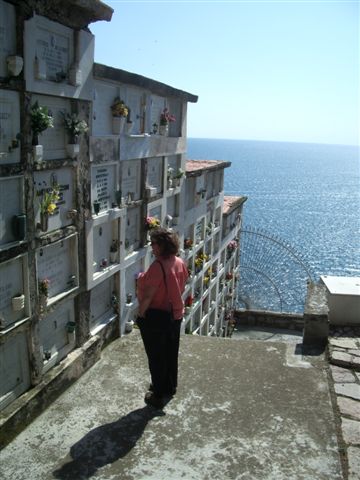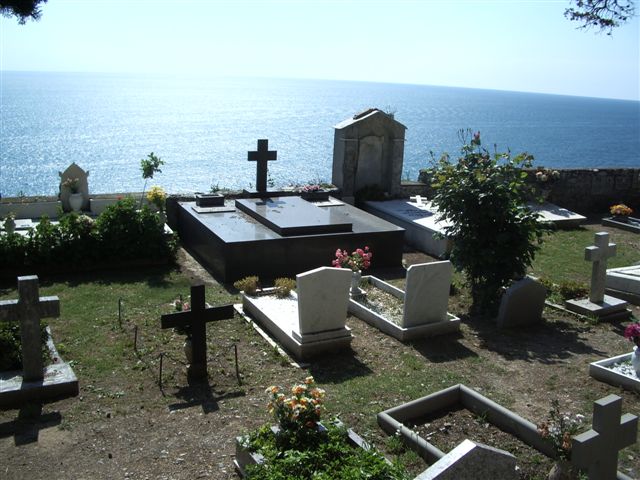 From this vantage point, we were able to see people coming out from the church out on the point, after a wedding. There were several weddings in town today. Did I mention what a beautiful day it was?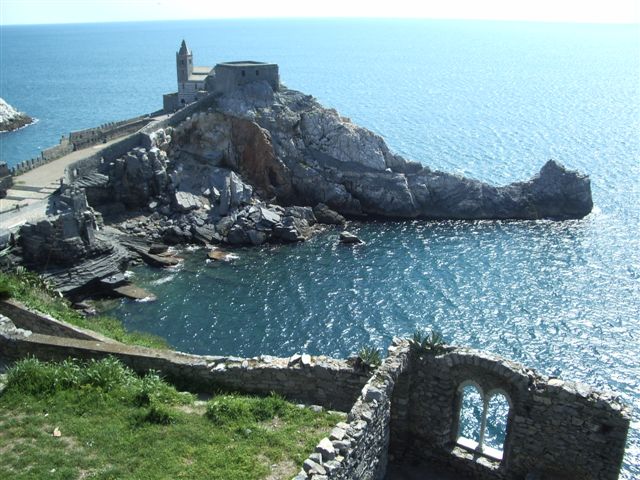 We waited for the ferry at the Lord Byron across from the dock.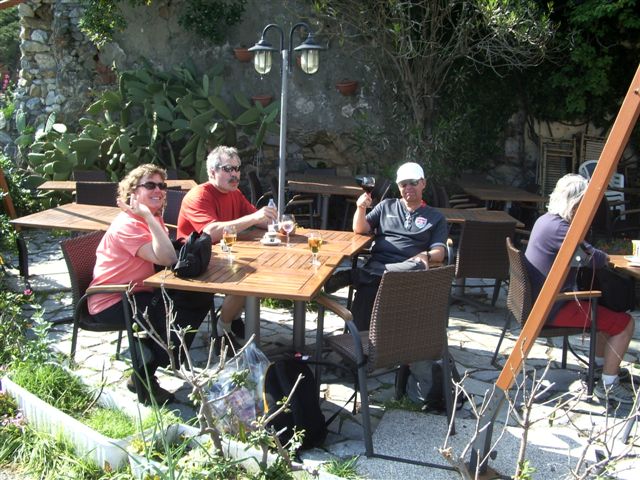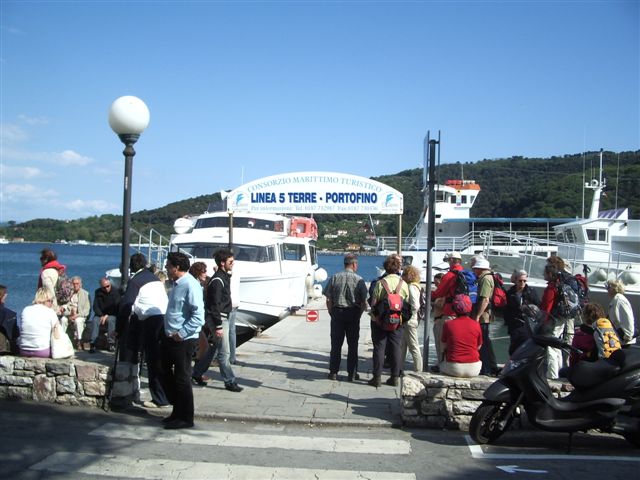 We jumped back on the ferry at 5:00PM (there is no train service to Portovenere, unfortunately) and got back to Monterossa around 6:00PM. Scott headed upstairs to take a little nap, while BJ, Sandy and I grabbed some of the happy hour wine and food (and those Lemon and Melon liqueurs) and headed up to the "Lemon Garden" on the top, back of the Hotel Marina.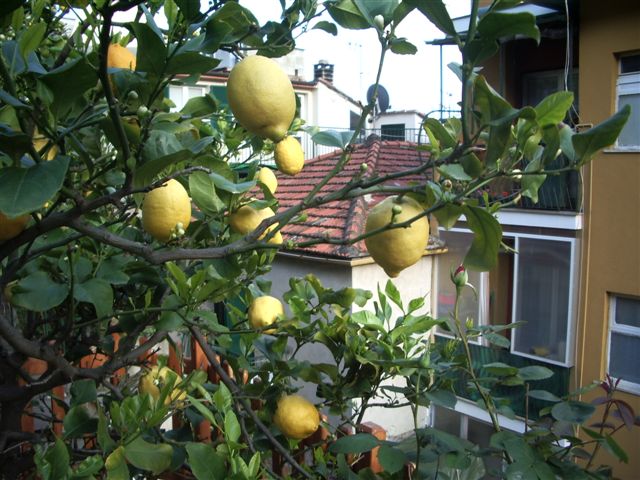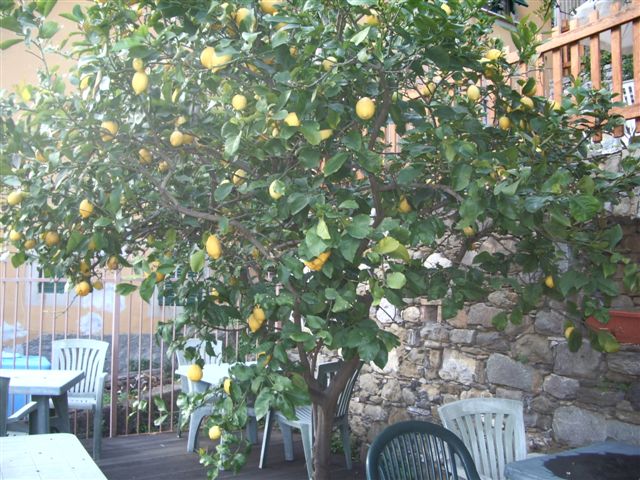 While exploring the lovely upper patio, we found that, if you go to the very top of the Lemon Garden, you have a lovely view of the sea. We didn't realize this, because the Marina Albergo is several blocks up some narrow winding alleys. The view is outstanding from up there.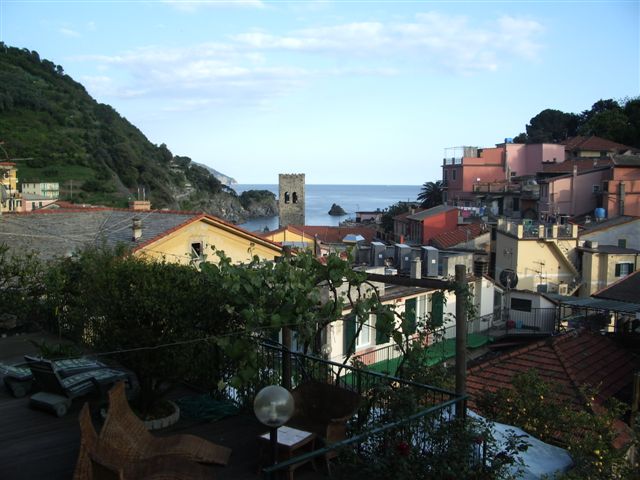 Around 8:00PM, we headed out for dinner at a place BJ had read about, of course, in Rick Steves' Italy. Called to La Venta, it was a little difficult to find (In fact, most everything is "a little difficult to find; narrow alleys, not well marked, etc. Fortunately, the town is pretty small). We finally located it, found a table outside and sat down.
Basically, there were three employees tonight (perhaps 10 tables total). Dad was cooking, his son was our server and either dad's daughter, or the son's wife, ran the kitchen. We enjoyed a bowl of muscles and a cheese platter for appetizers, several plates of gnocchi with pesto, seafood ravioli, veal with mushroom and the best dish, an unusual pear filled ravioli in a cream sauce. We followed this with an excellent chocolate soufflé and a weird chocolate ravioli. This dinner for 4, along with a liter of water, and 3 bottles of local red wine set us back $150, including a 10% tip. A bargain, considering how much we ate (and drank) and how great the food was. We would recommend it to anyone in town. During dinner, Scott overhead the two young women at the next table speaking English and started up a conversation. They were friends from California; one was studying in Milan and one in Florence. They had decided to weekend together in between. We followed their lead in ordering the chocolate soufflé. They raved so much that we ordered two, but after they got theirs, there was only one left for us. The next morning at breakfast, we would learn that they were staying in our hotel as well. After dinner, they were going to head out "clubbing". For us, it was back to the hotel for bed. Three bottles of wine will do that.
The bells had us awake again at 7:30AM on a beautiful, cloudless Saturday morning. During breakfast today, we learned from our new California friends that "there's not much going on at night in Monterosso". (Dinner was plenty for us last night). After breakfast today, we stopped off at the Ristorante L'Ancora Della Tortuga and made dinner reservations then headed to the train station for a local train over to the midpoint of Cinque Terre, Corniglia ("Cornelia"). This town is the smallest and least visited by tourists; perhaps because it is at the top of 382 steps! We took the shuttle (I mean, after all, it is free if you have the Cinque Terre Park card, and free is free. You HAVE to ride if it's free, right?). We strolled around town, did a little shopping and took in the view from several high points in Corniglia.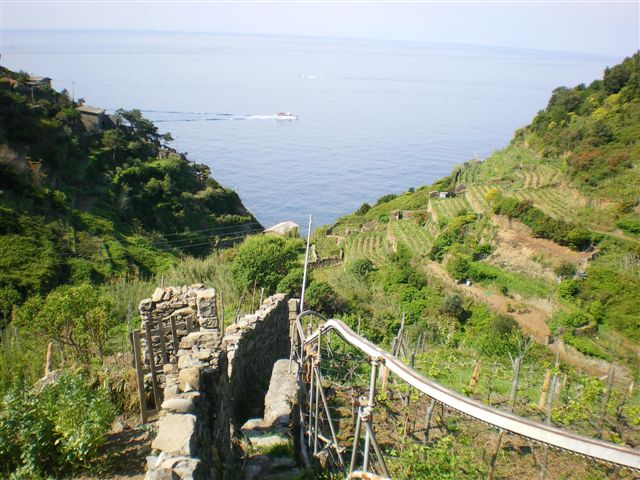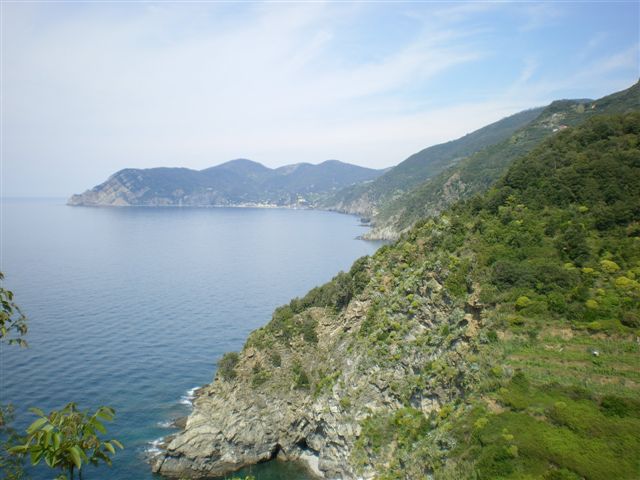 Together, we walked DOWN the 382 steps and started the walk to Manarola.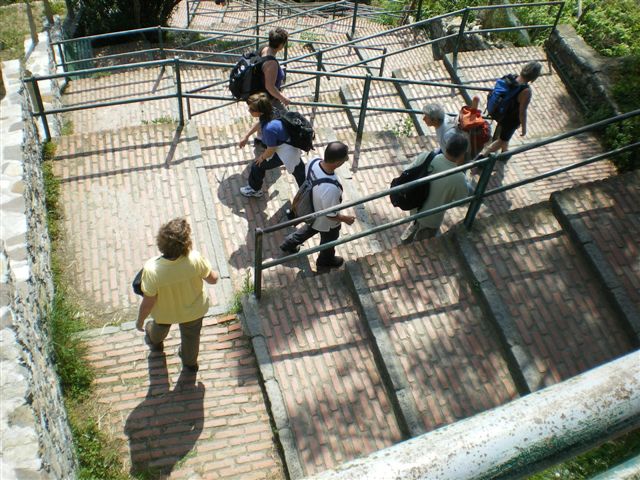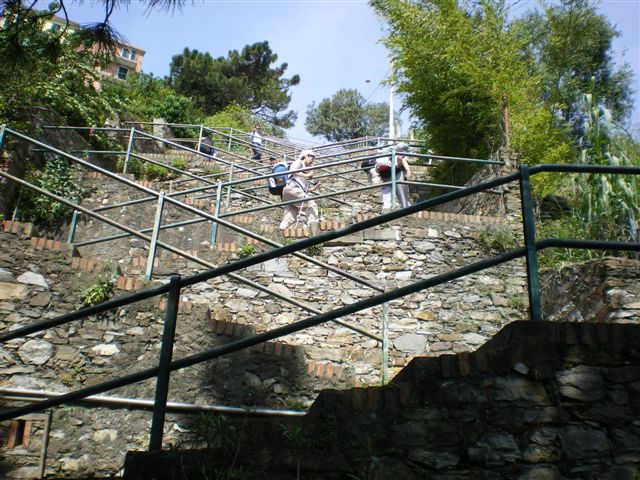 We hadn't had much time to look around yesterday, so we thought we'd give it another shot today. Scott ran ahead to get some water and said he'd meet us on the trail. The trail; we thought yesterday was pretty crowded, what with the kids walking 5 abreast. It had nothing on today. Saturday the 25th of April is Liberation Day in Italy (La Festa della Liberazione), and apparently it is tradition to hike the Cinque Terre trails.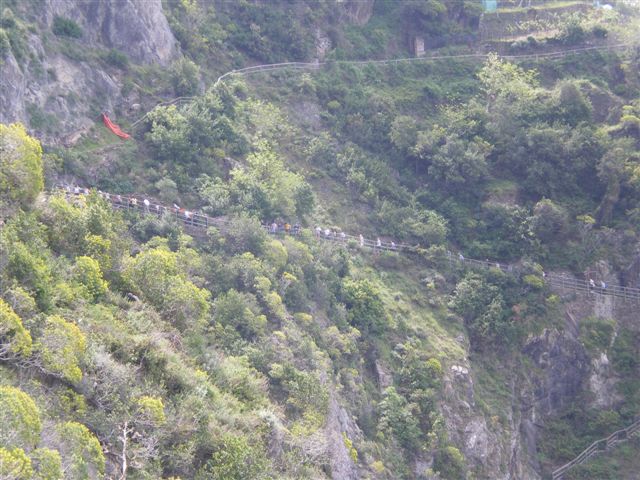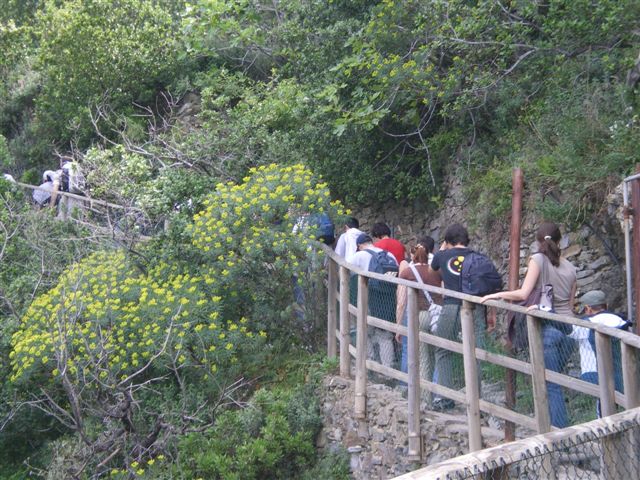 It was a slow slog through the crowds, and when we stopped to zip the legs off of our pants (see the September '08 Milan writeup) Sandy went on ahead to try to find Scott. We eventually made it into Manarola, and immediately came across Sandy. But Sandy hadn't seen Scott and figured he was up in town looking for us. We pushed our way through the crowds to the top of the hill, but no Scott.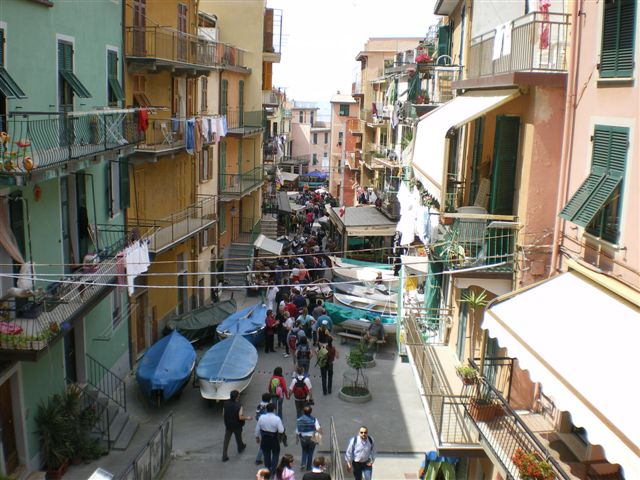 About 20 minutes later, we located Scott; he had been behind us the whole time. Manarola was way too crowded to enjoy, so BJ, Scott and I sat and had a glass of wine at Ristorante Aristide while Sandy shopped. We decided we'd use our train pass, and head to Levanto (the town just past the "other" end of the Cinque Terre) to try to get away from the masses. Levanto is a nice little town, off the tourist trail. It has a lovely beach section (if you like rocky beaches; apparently the Italians do, since all the beaches in this region were stone) and we found the Bar Nadia on the beach, overlooking the harbor, and had lunch.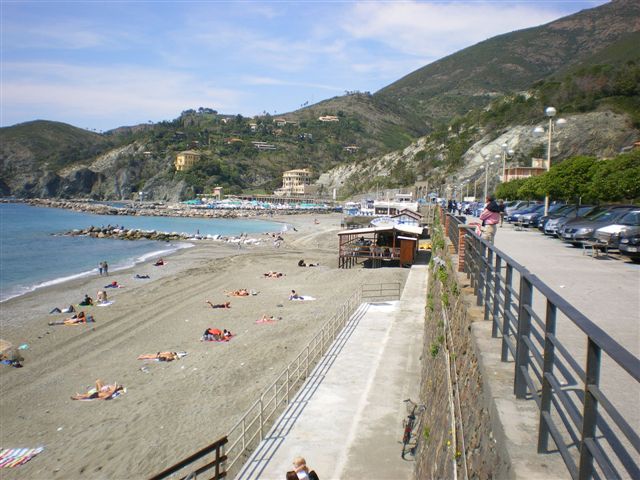 This was followed by a slow walk around town, up to a now-private castle before we headed back to the train station.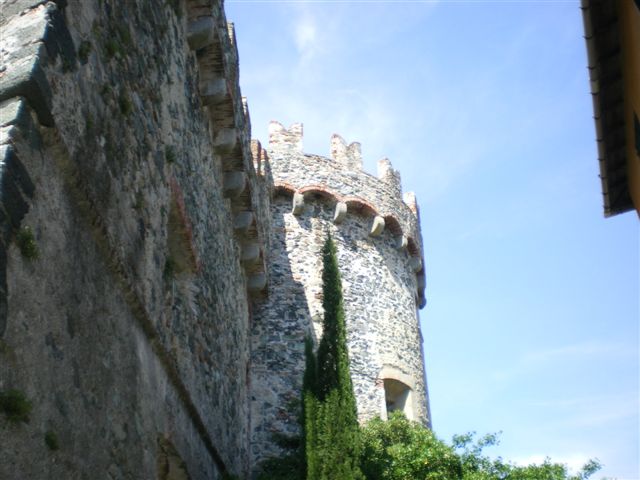 A short train ride has us back in Monterosso where we again enjoyed happy hour snacks and wine up in the Lemon Garden, then we all headed in for a short nap, agreeing to meet at 7:45PM in the lobby. We all got back together shortly before 8:00PM and headed off to dinner. Ristorante L'Ancora Della Tortuga resides in a WWII-era bunker that is built into the side of the mountain between old town and new town, but they have several tables outside, and we were able to get seated there tonight (our reservations helped, since all the outside tables showed "Riserva".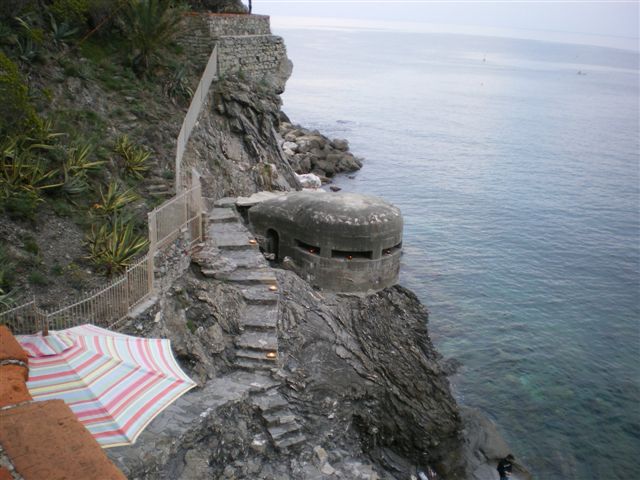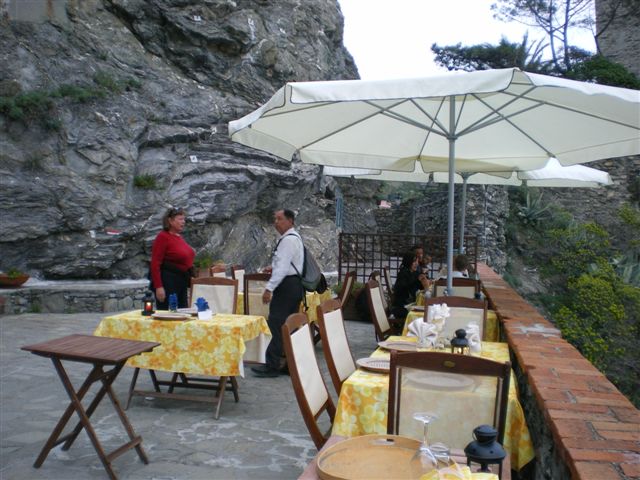 (To be seated closest to the ocean, be sure to ask when making reservations). Tonight we ordered the server recommended seafood sampler platter appetizer that included Smelt, Octopus, squid, shrimp and avocado, sardines, Zucca blossoms, and something else unidentifiable. The seafood eaters were not overwhelmed. Everything was fresh, it was just unusual. There are two types of sardines served in the region (which is noted for the sardines). There are lemon marinated, and there are salted. It seems that the salted ones are even too salty for BJ. She really liked the lemon ones though. While the platter was on the table, we were approached by what must be the dumbest cat on Earth. What cat doesn't like seafood? We would drop a piece of octopus, or a sardine, or a smelt, on the ground two inches in front of the cat, and then laugh because he couldn't find it. (I thought cats had a pretty developed sense of smell as well, but he as hard pressed to find any of these treats).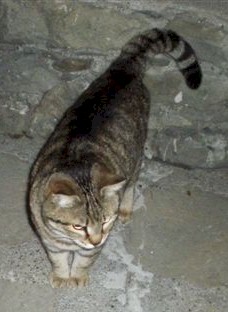 For our entrees tonight, we all had a pasta; spaghetti with tomatoes or flat noodles with pesto and cream or ravioli Bolognese. After dinner we stopped at the Enoteca Da Eliseo wine bar, about 30 meters from our hotel, for an evening nightcap of wine, grappa, lemoncino and orancino while we taught Scott and Sandy how to play the card game 99. The comment, "I like this game because it doesn't require too much High a-Thinkin'" pretty much defined our frame of mind. Around midnight, we all headed off to our rooms for the evening.
Bells at 7:30AM, breakfast at 9:00AM. We decided that today we would train back to Corniglia, and do the Corniglia to Vernazza walk.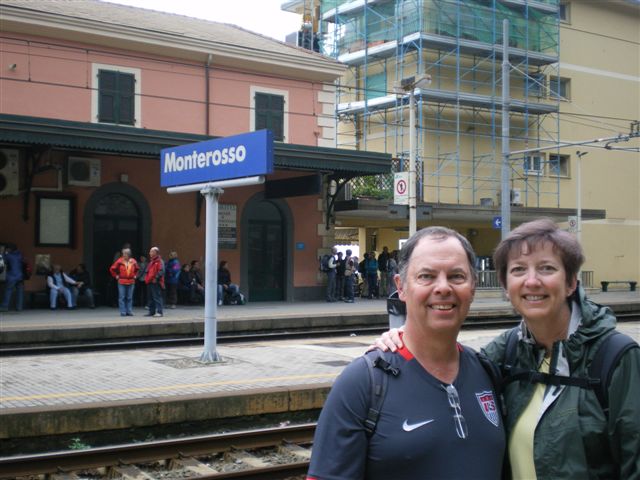 Scott and Sandy had not yet been to Vernazza, wanted to do another trail and BJ and I had already done the Monterosso to Vernazza walk. (My motive was that it appeared from the depiction on the wall of our hotel that the walk would be predominately downhill). Today looked rainy again, so we prepared accordingly. When we got off the train in Corniglia, BJ and Scott chose to walk up the steps while Sandy and I took that (free) shuttle again. I figured that I would get enough hills on the walk (I was right). The ranger who checked our park pass at the start of the trail said it would take about an hour and 10 minutes. The first third of the trail was more up and down, than down, and it was beginning to rain.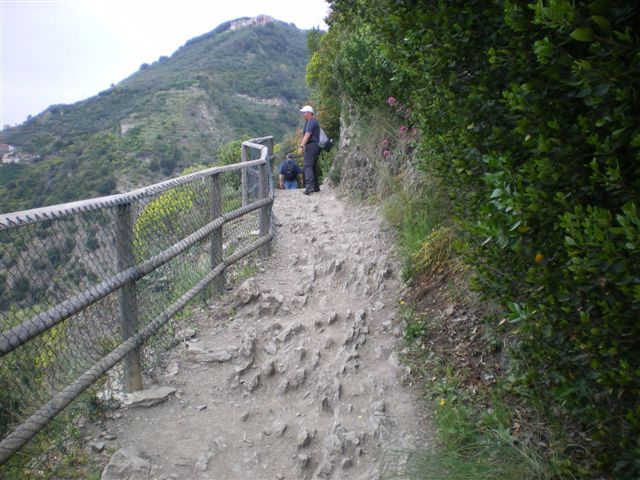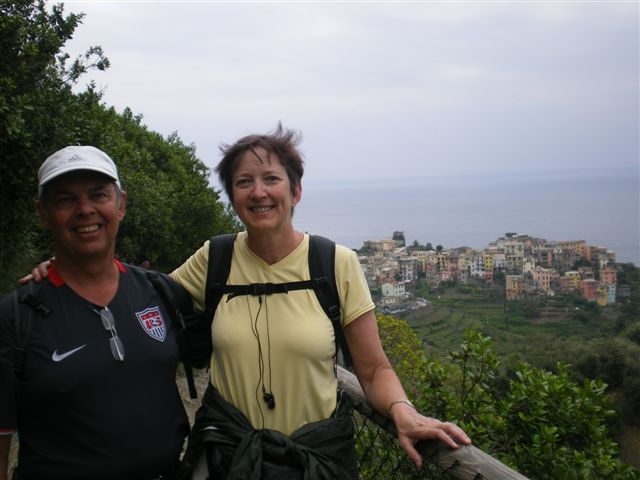 There were a few treacherous places on the trail. A place where the path had completely washed away and another place where a large rock had fallen on the path, breaking the handrail.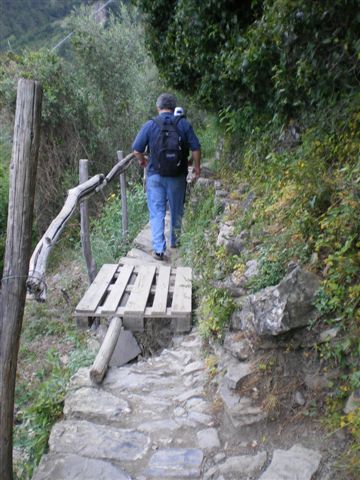 About 40 minutes into the hike, just as it was starting to rain in earnest, we came across the most wonderful thing. A tiny little bar!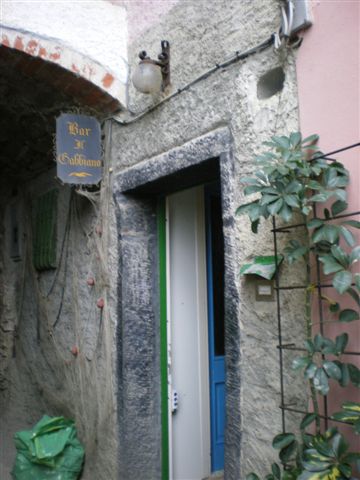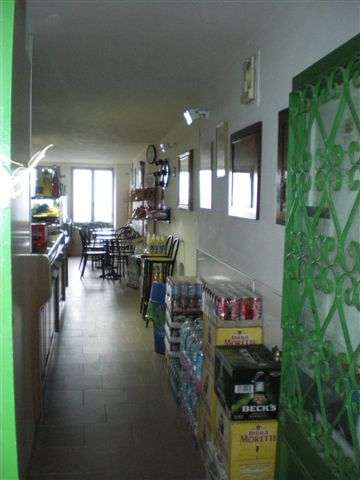 The Bar Il Gabbiano had cold beers and another beautiful view back to Corniglia and Manarola.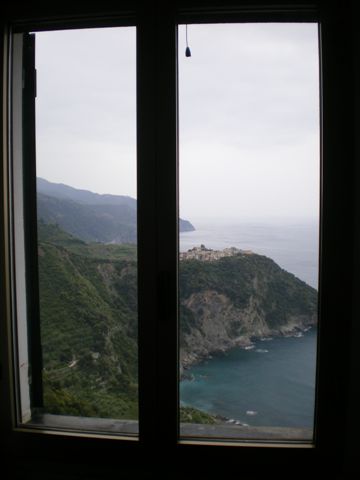 We spent about 45 minutes there, waiting for the rain to stop and enjoying the view, the beer (and the nice clean bathroom). Unfortunately, it didn't look like the rain was going to stop any time soon, so we loaded up and headed out. Most of the rest of the way WAS downhill. But by now, the trail was muddy and the rocks were slippery.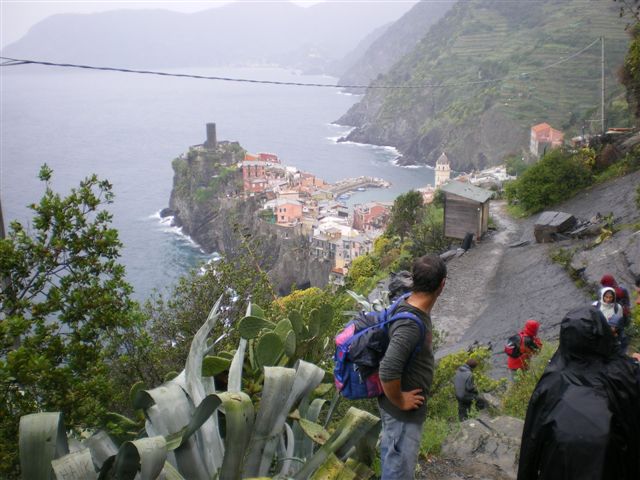 It was slow going, but after another 40 minutes or so, we wandered down into a steadily raining Vernazza. The first place we came to was Da Piva Trattoria, a seafood restaurant. We stopped for lunch, and to dry off. It was a delightful little place. At one point the owner (we assume, since his picture was on the wall) came out and handed a guitar to an Australian woman who was having lunch alone. She played a tune while singing a song, and at the end, she handed the guitar back to the owner, who played and sang as well. This went on for about 25 minutes, while we enjoyed lunch.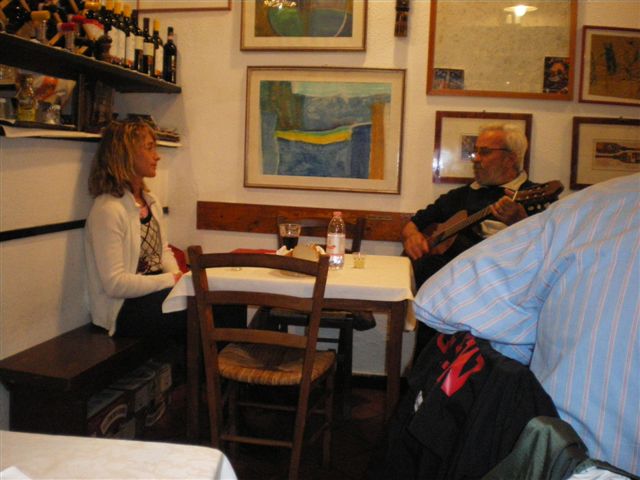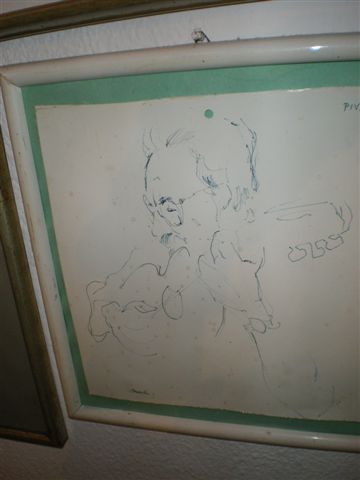 Hearing more English speakers, we found that the couple at the next table was also from Atlanta! Small world. After lunch, with the rain almost gone, we walked up the steep steps to the Al Castello Restaurant which had a great view overlooking the protected harbor at Vernazza.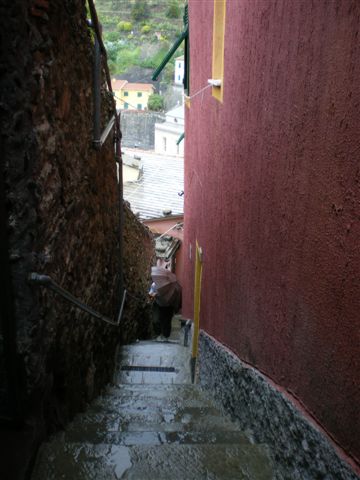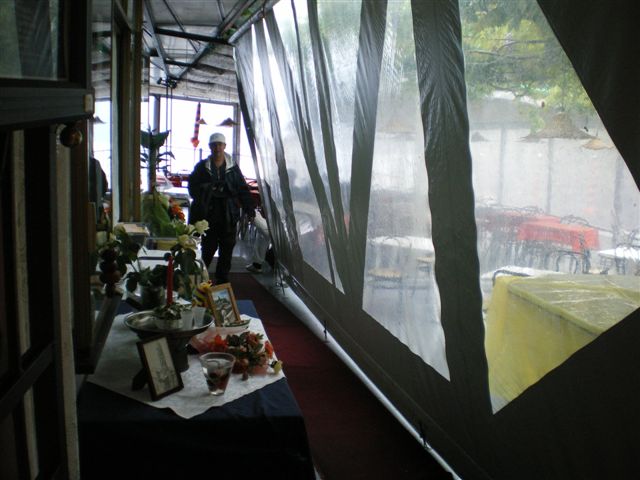 An older man greeted us warmly and said, "Of course" when we asked if we could come in for wine. Further into the restaurant, a waiter told us they were closed. We asked about wine and were again told, "Of course". We wanted a table overlooking the water but they were cleaning up from lunch, so they seated us at an out-of-the-way table. The rainy weather hampered the view anyway so we were not terribly disappointed. We enjoyed some more local red wine while we played more 99. BJ and Scott paid the €1,5 each to climb up to the top of the tower and were rewarded with a lovely view.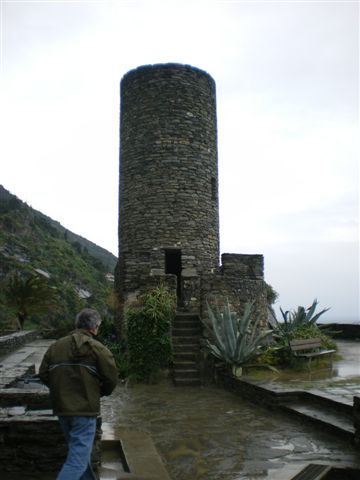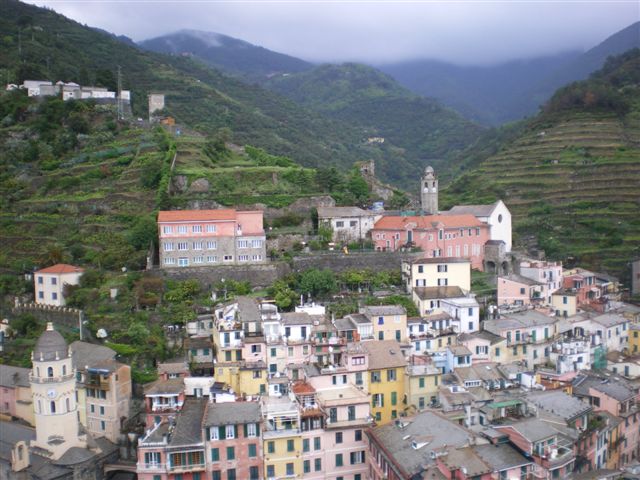 Afterwards, it was time for coffee, so we headed down to the Blue Marlin. A cup of coffee had everyone revived so we took the short walk to the train station and rode the next locale back to Monterosso. We were all hungry for pizza again tonight, so we asked the Californian at the desk where SHE would go for the best pizza in Monterosso. She said that the place we ate Thursday was probably where she'd go, because it was good and very convenient. We pressed her again; don't worry about convenient; where is the BEST pizza in Monterosso. This time she directed us to the Ristorante Pizzeria La Taverna and gave us directions. It was about a 20 minute walk, over in the new section of town. And she was right. It was excellent! After dinner, we stopped again at the Enoteca Da Eliseo for another round of Lemoncino and Grappa Reserva. We called it a night a little earlier this time, since we would need to leave the hotel around 8:00AM the next day.
We had reservations for the 8:41AM train and it took us direct to Pisa Centrale (a two hour ride), where we made the 10 minute connection to the Pisa Aeroporto train, a five minute ride. (Exit the train at Pisa Centrale and follow the universal airport signs.) The flight from Pisa to New York was so open that we were given our seat assignments at check-in time; almost unheard of but VERY reassuring. Champagne, warm nuts, a movie, the chicken (BJ) and the beef (Tony) and a three hour nap had us on approach to JFK. We were actually a little early and it was possible that we would make the earlier flight to Atlanta! That is, until there was no gate available and we had to ride the (very hot) people-mover busses from a remote pad to the terminal before clearing customs and immigration. Now we had just enough time to stop by the Crown Room, boot up our computers and check the flight (and Scott's email) before boarding our (only) coach seats (for this trip) back to Atlanta. BJ and I were home, tired but very happy, around 11:00PM local time; a long day but well worth it.
Next trip - who knows. We love to fly, though.
Destination Information For This Trip In A Nutshell
BJ and Tony
bjandtony@bjandtony.com